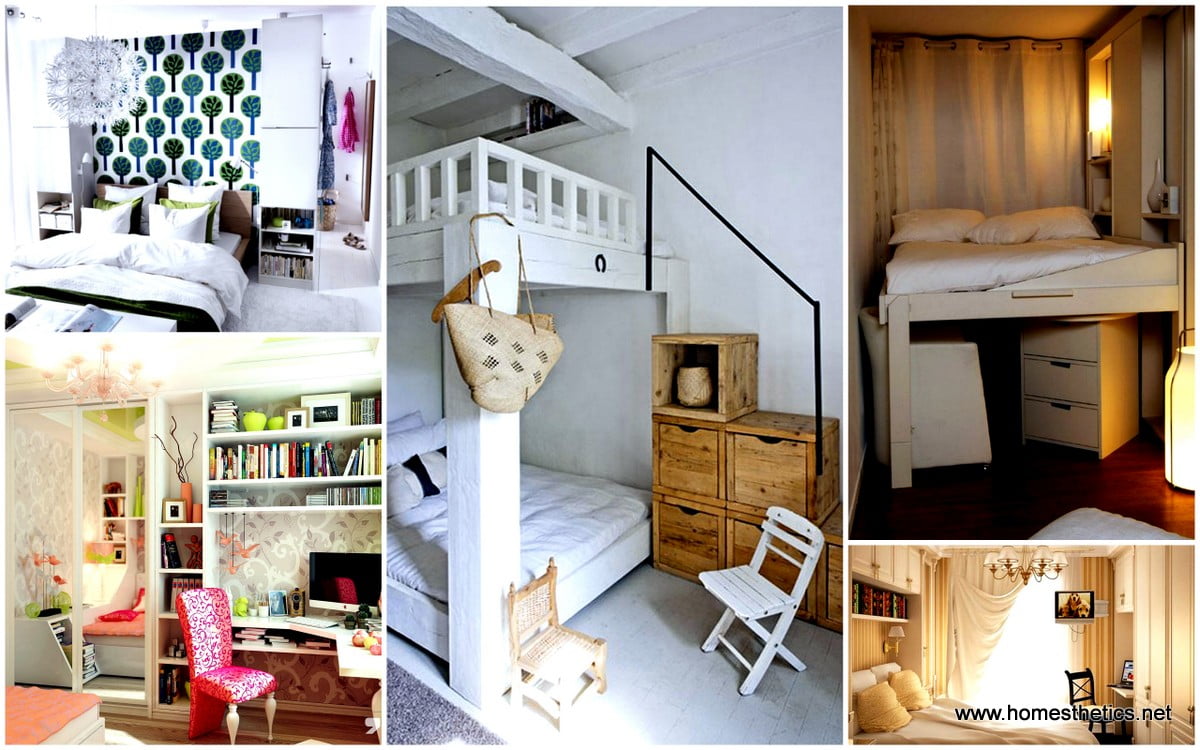 Small rooms are often found in small apartments and modest homes. However, they seem more personal, more connected to the person that lives there; it`s his own little universe that gravitates around him with a few things that are really relevant and nothing more. We`re challenged to create bedroom interior designs on the daily basis,  and, it`s always hard for an architect or interior designer to fit a big, mostly unknown, personality in a small bedroom so therefore we always encourage you to express yourself in your home, to manifest, to put your blueprint into it.
Small Bedroom Interior Designs
There are a few things that may help you if you want to make the room seem larger. For example ,you can use large mirrors in order to duplicate a rooms' length or, even better, you can use mirrors on two parallel walls and create the illusion of a never ending room. Another very important advice it`s to use bright colors and provide the room with a great deal of light, preferably, natural. The most common used color is stark white, being more efficient than dark hues in enhancing the feeling of space, letting the room breathe. Also reducing the over-sized bed or integrating it in a small ensemble may work. Small paintings put together create the impression of a larger room, fragmenting the space around , and also giving the room a much more personal touch and feel.
We suggest you to analyze  the bedroom interior designs bellow and extract that special thing that bends to your personality and taste. Let us know how your project works and what you feel and like. Realize your own universe, choose from millions of texture patterns and colors and furniture and make it unique, cozy and functional.
Homesthetics Conclusion
No matter how small the place is, how hard is to get around the apartment or to find a place for something new around there is always a solution to everything. Just look around you and honestly you will notice at least 2-3 useless things staying around the apartment. Clear everything around you and keep things simple. A simple life is easier to enjoy, so is a simple home.
Related Articles
12 Ways To Put Your Bedroom Corner Space To Good Use
29 Brilliant Easy to Build DIY Platform Bed
21 Mindbogglingly Beautiful Fairy Tale Bedrooms for Kids
21 Super Small Nightstands Ready to Fit in Petite Bedrooms
37 Simply Spectacular Tree Bed Designs to Pursue
Recycled Pallet Bed Frames – DIY Pallet Collection
15 Creative Small Beds Ideas For Small Spaces
30 Small Bedroom Interior Designs Created to Enlargen Your Space
37 Smart DIY Hanging Bed Tutorials and Ideas to Do
Bedroom Christmas Lights Ideas For A Cozy Atmosphere
32 Dreamy Bedroom Designs For Your Little Princess
100 Inexpensive DIY Headboard Ideas for Your Bedroom Design
47 Stylish Floating Bed Design Ideas
53 Incredible Hanging Beds to Float in Peace
33 Epic Navy Blue Bedroom Design Ideas to Inspire You
6 Best Vacuum Cleaners for Mattress  
Intex vs. SoundAsleep vs. King Koil | Air Mattress Comparison & Buyer's Guide
33 Simply Brilliant Cheap DIY Nightstand Ideas