Hanging beds or suspended beds are great elements in interior design, comfortable, interestingly-floating around and practical they ought to be present in everyone`s home. Today hanging beds can be purchased from multiple online stores or crafted using numerous diy hanging bed tutorials brought forward by the crafting community but whether your buying or crafting the simple principles stand: comfortable, sturdy, airy in weight and simply incredible looking the bed must be.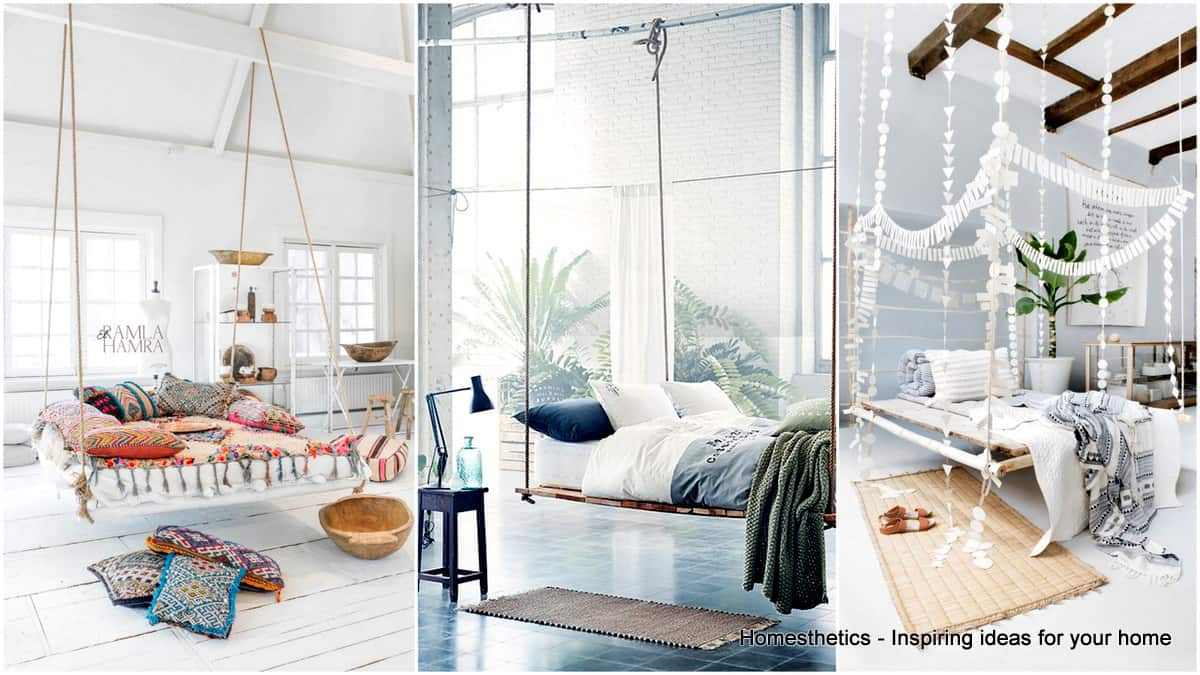 Start by thinking how you are going to use the bed and where it will be positioned and you`ll start to realize how it ought to be to fit your needs and design standards. To help you in this endeavor a selection of incredible hanging beds have been curated; the examples vary a great deal and they range from do it yourself projects that an enthusiast can realize in 30 minutes to high end bed designs brought forward by huge retailers.
If you are looking for something that stays on the floor but still has sort of floaty feel, an easy to build platform bed might be a solution.
Cast a glance and find something inspiring !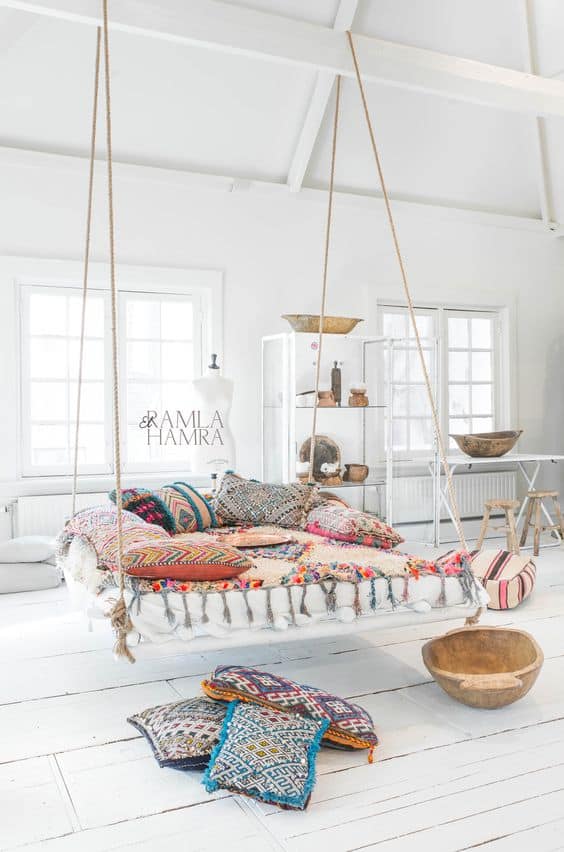 A bohemian decor of extraordinary beauty uses intricate colorful patterns on a white background to create an airy, joyful atmosphere. Notice that the hanging bed uses branches and rope to provide comfort in mid-air.
via elramlahamra.nl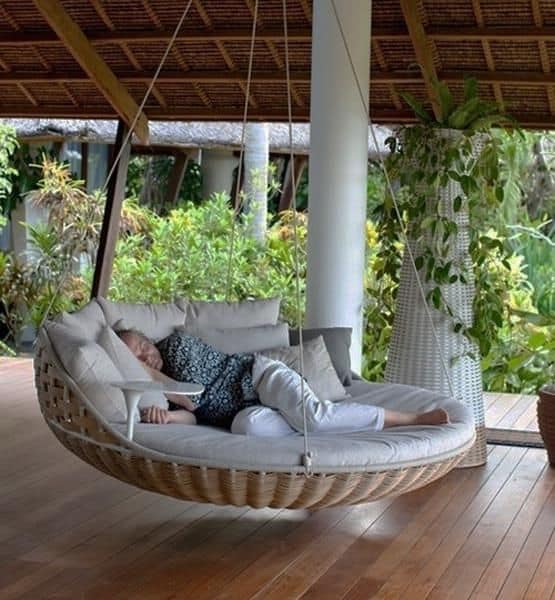 Circular design that uses a radial structure woven with rattan can be extraordinary sturdy and graphic.
Source Unknown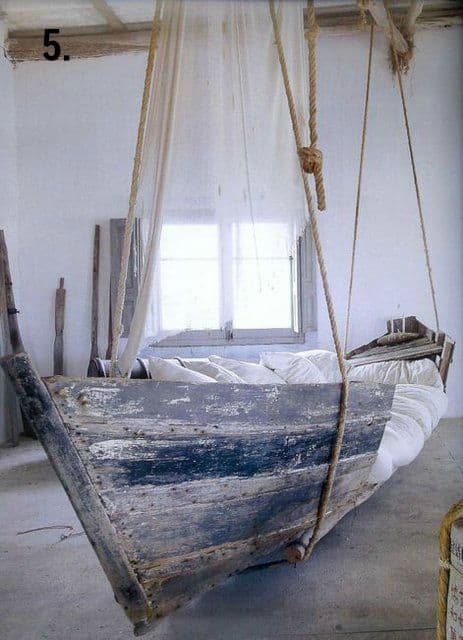 A salvaged wooden boat can sail you towards peace, calm and tranquility. A simple setting can adorn this item of memory beautifully.
via Pinterest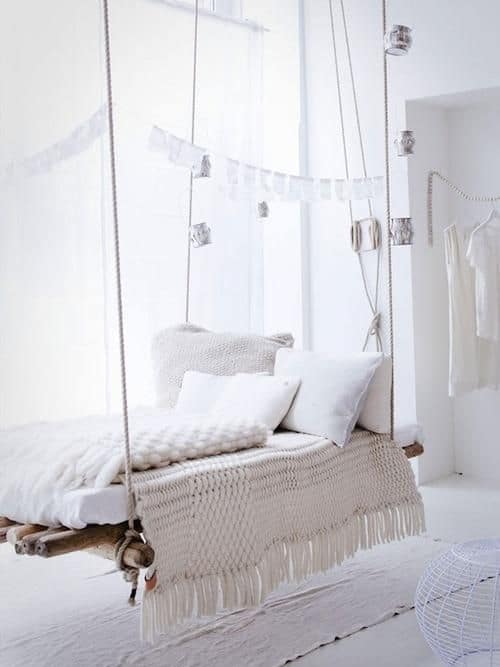 Rope and branches have been used to shape the hanging bed above, here the wood`s naturalness creates a slight contrast with the airy, ethereal white ambiance. Plush textiles bring in coziness.
via bloglovin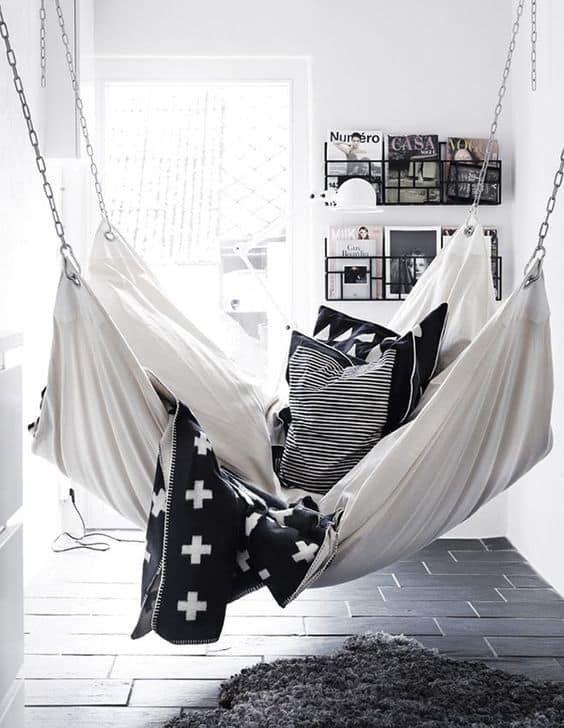 A huge quilt anchored with chains might sound odd at first yet the incredible cozy nest resulted is flawless.
via iamthelab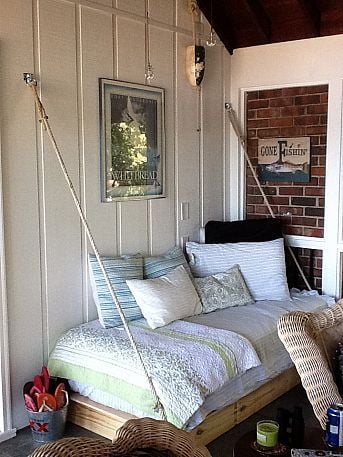 Reclaimed wood and rope can adorn comfort in inexpensive crafts with ease.
via hometalk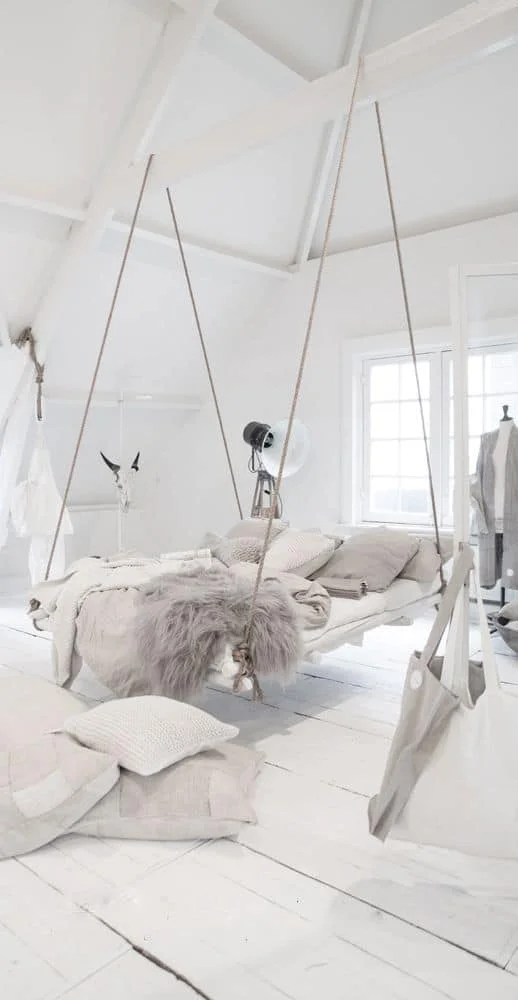 A white attic flooded by light is matched with light tones of beige only to conjure a breathing space filled with coziness.
via Pinterest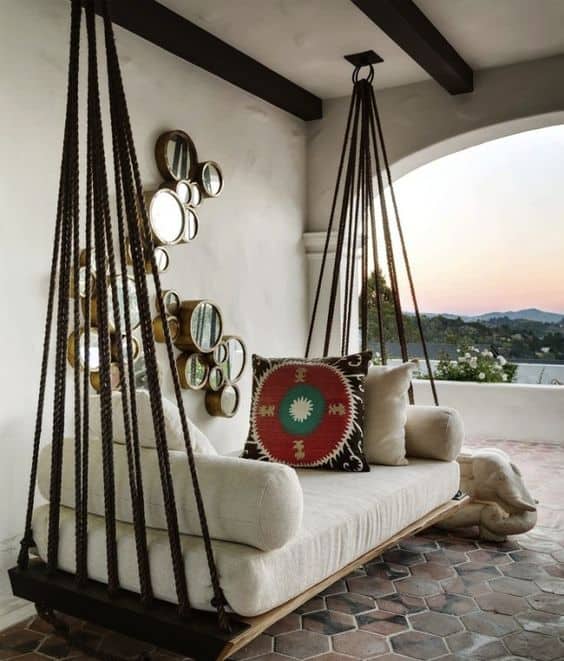 To enjoy expansive views one could use different means of relaxation yet laid back in the end always seems to be the correct answer.
via aphrochic.com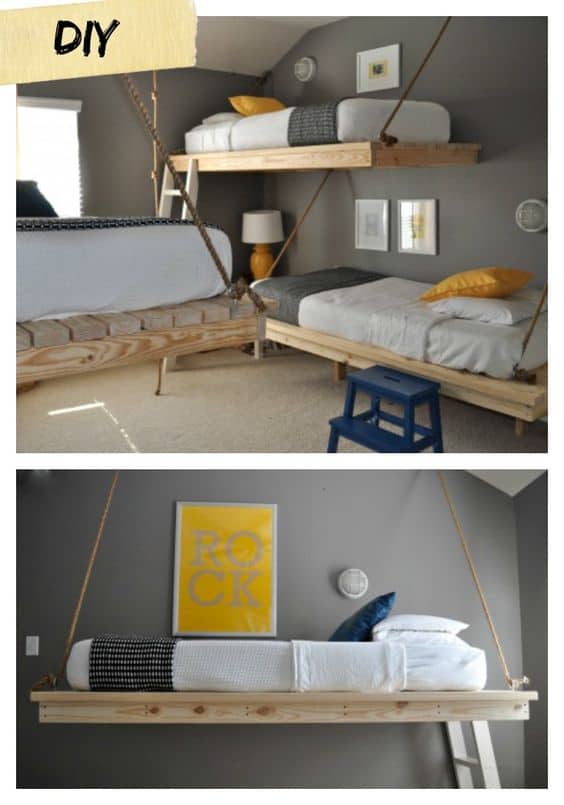 Hanging beds are extraordinarily space efficient and easy to craft, they can shape a children bedroom rapidly without cluttering the room.
via ana-white.com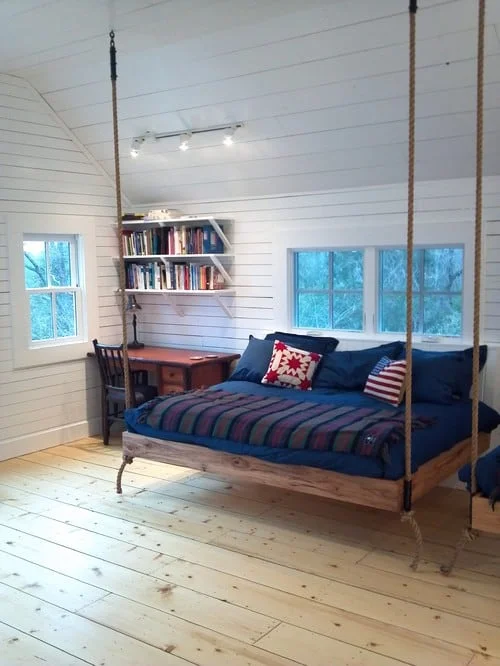 A simple and rapid build that provides a huge amount of sleeping area whilst emphasizing the feeling of space, notice how the flooring seems free.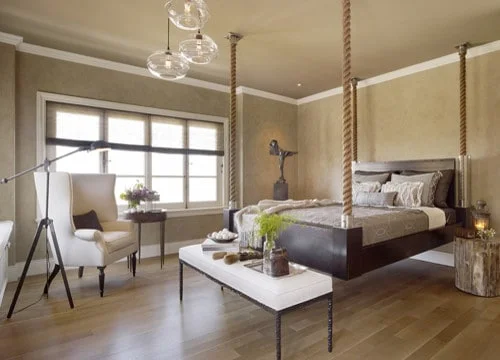 Small rustic accents can anchor a modern interior design into one`s roots elegantly.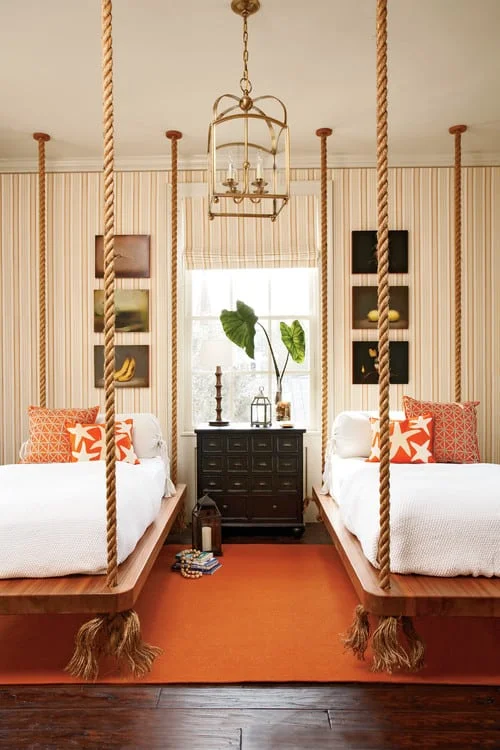 The sophisticated look here highlights the immense array of options in the world of suspended beds. How do you see this marvelous interior?
via Peachtree City Architects & Designers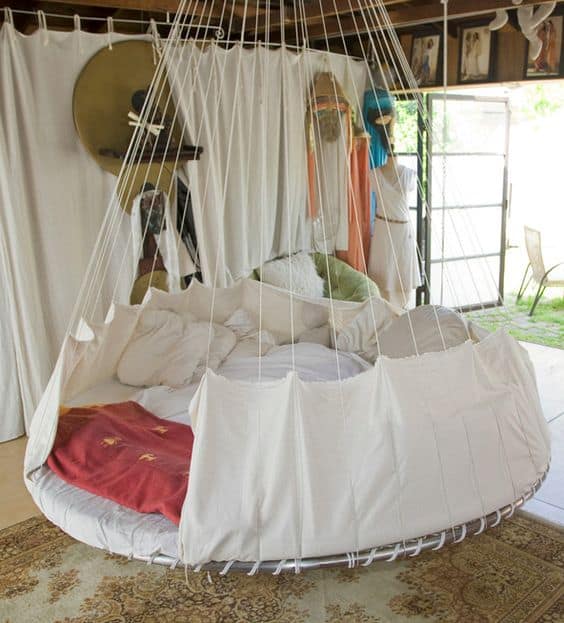 A suspended round bed that provides intimacy and full comfort; a similar item could be crafted out of an old trampoline.
via totalbeauty.com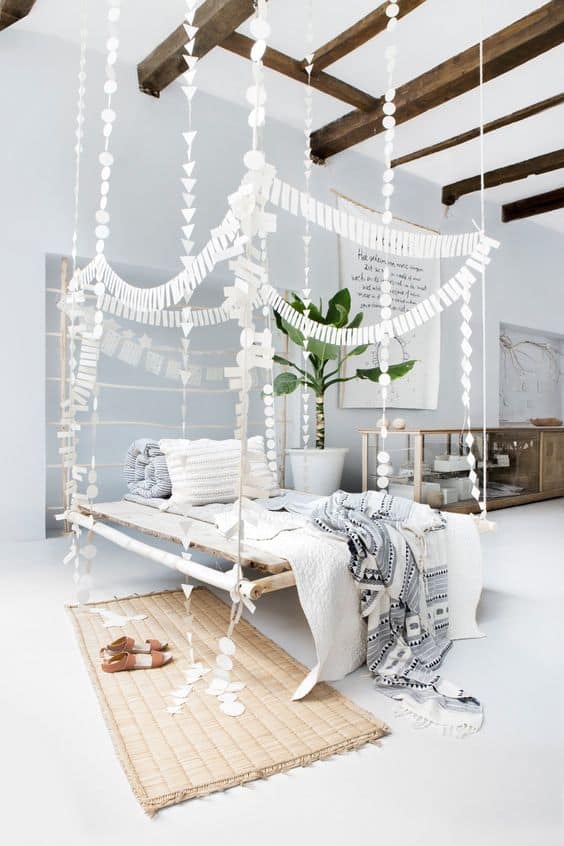 The paper white installation simply changes the perception on this splendid setting, despite the papers 2D limitations the garlands create a great 3D effect of depth beautifully building on the concept of suspension in an airy ambiance.
via decor8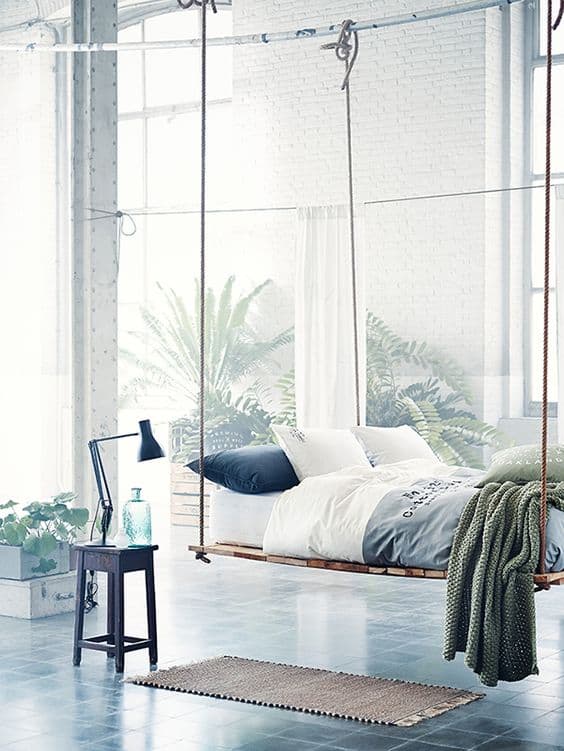 Wooden planks, a matching mattress and four strings of ropes keeping a bed in balance. That might be all it takes to achieve a truly beautiful and equally comfortable suspended bed.
via virlova75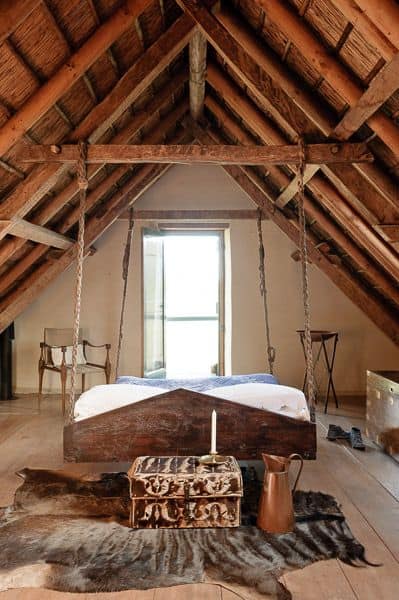 In the attic one could use the already present wooden beams to shape his bed. Here the rustic ambiance is complemented by a new wooden texture.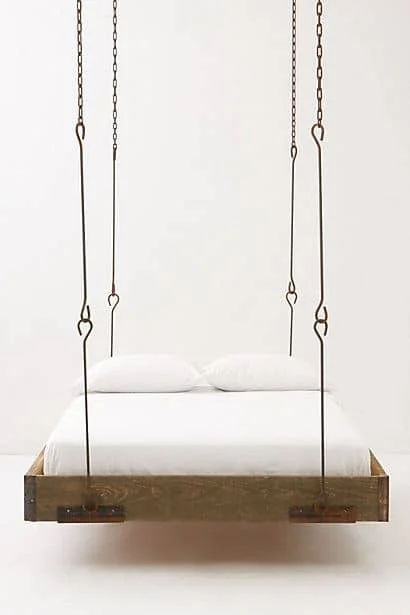 The simplest bed frame that you can craft can be suspended in a matter of minutes. Simply make the frame to match its future mattress.
via anthropologie.com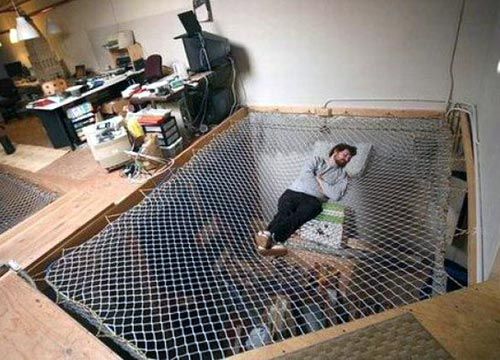 A net in the right frame could represent the ideal concept of suspension yet the space to build this experience on is definitely not easy to find.
via babble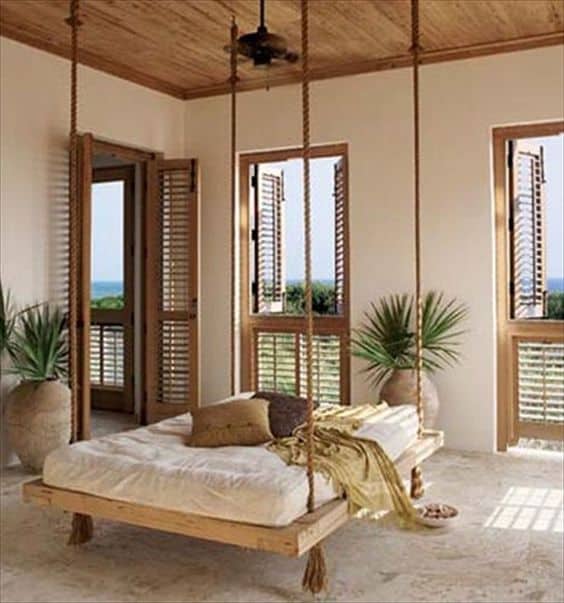 Swing your problems with a simple design in the right ambiance.
via Pinterest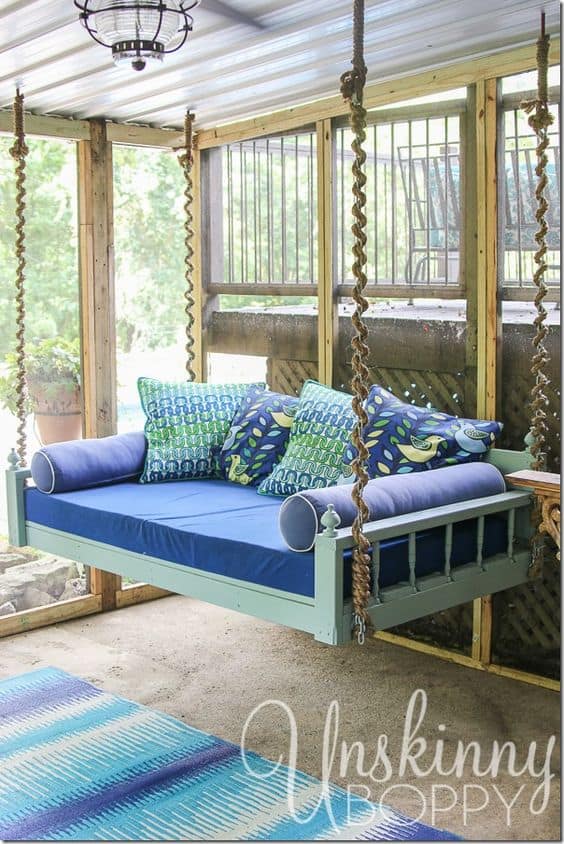 Old furniture pieces can receive a second chance through numerous means yet to provide their owner comfort would be a great treat. Above, an old bench now floats in a splendid color to the owner`s delight.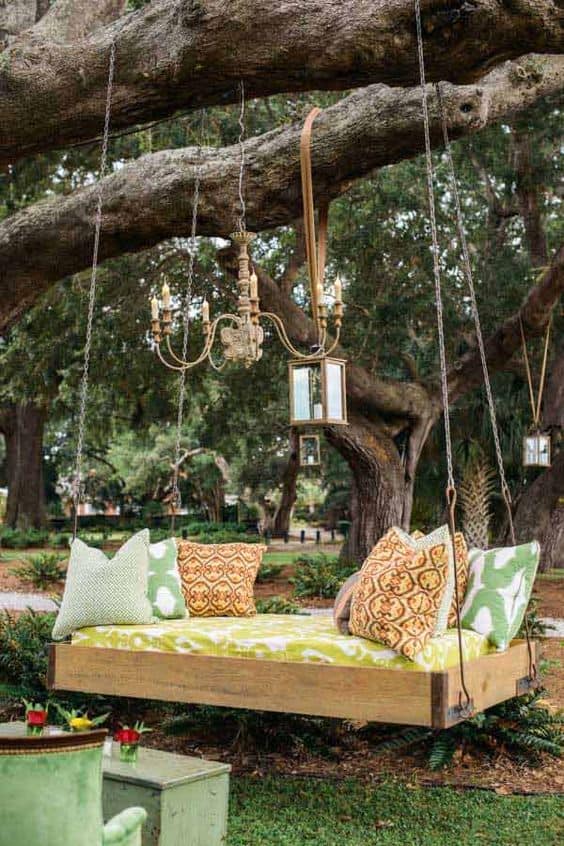 Outdoors hanging beds are something remarkable; to enjoy the summer weather in your bed with a good book and your favorite cocktail would be splendid.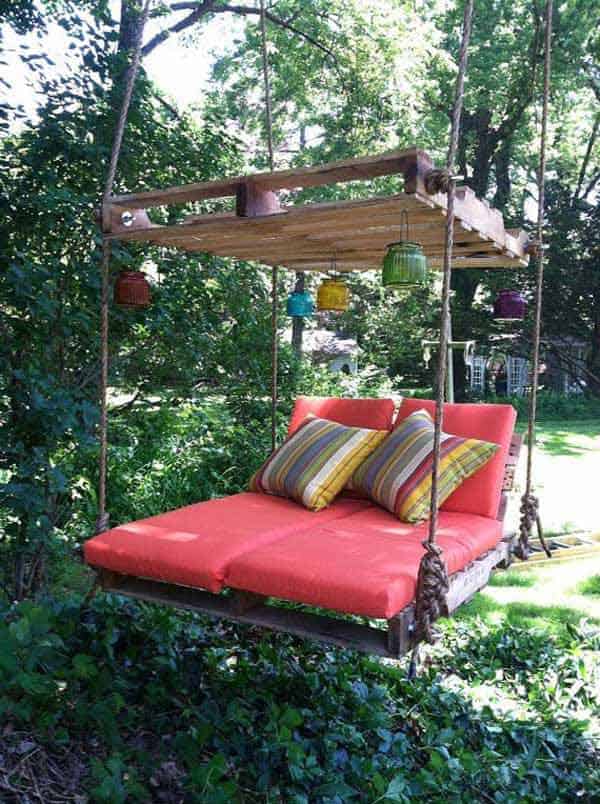 Two wooden pallets can provide the balance that four ropes were looking for in the attempt to satisfy their owner.
via etsy.com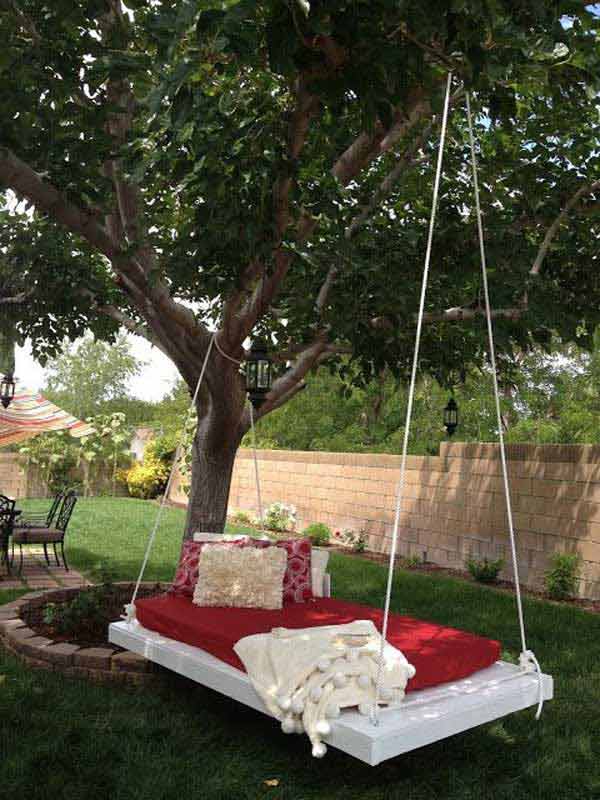 Simple efficient graphic piece of furniture that you can craft and anchor to a tree.
via thedevotedwife.blogspot.com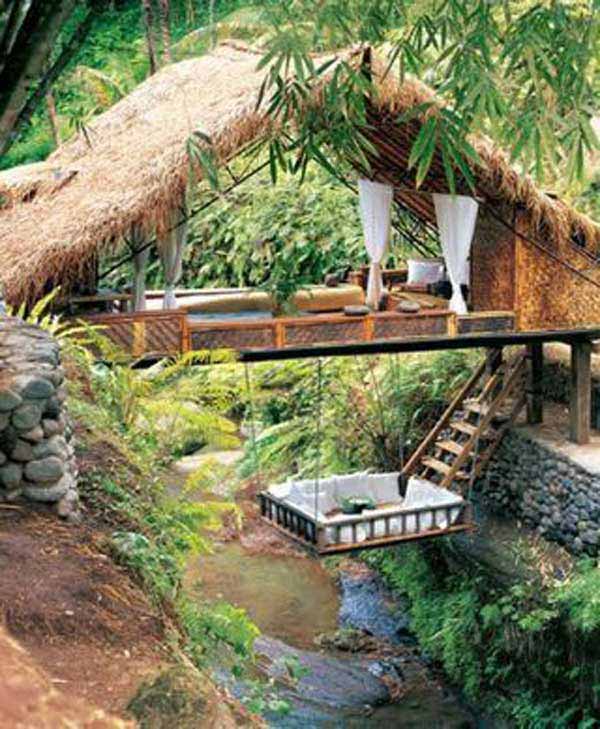 The realm of dreams is filled of tranquility, calm and peace and to slowly fall asleep in the midst of the forest listening to nature`s melodies surely is a dream for many of us.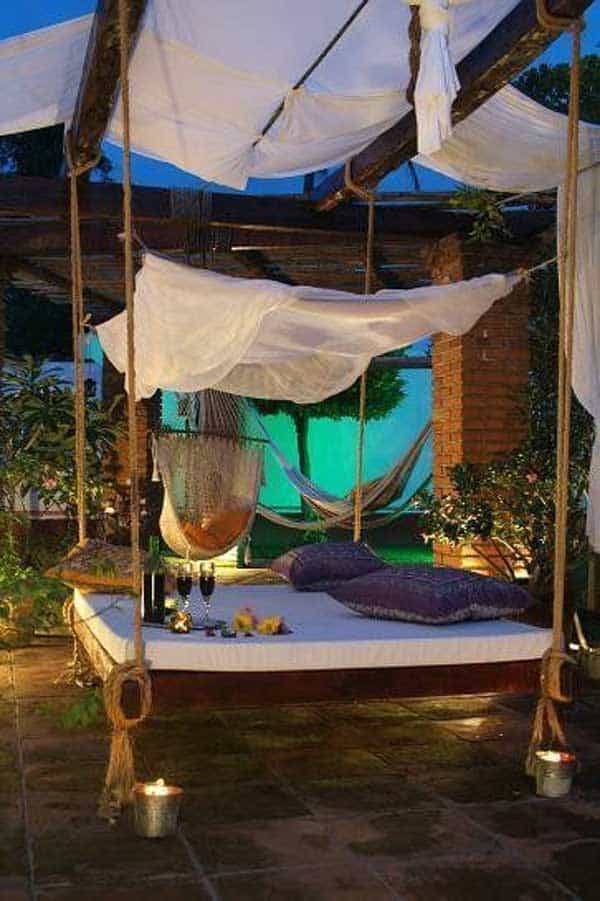 The pursuit of an enthusiast crafter can easily result in an exotic experience, simply follow the right track.
via whimsicalraindropcottage.tumblr.com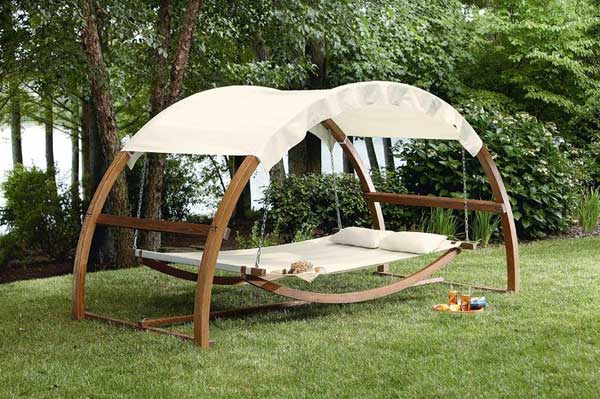 Source Unknown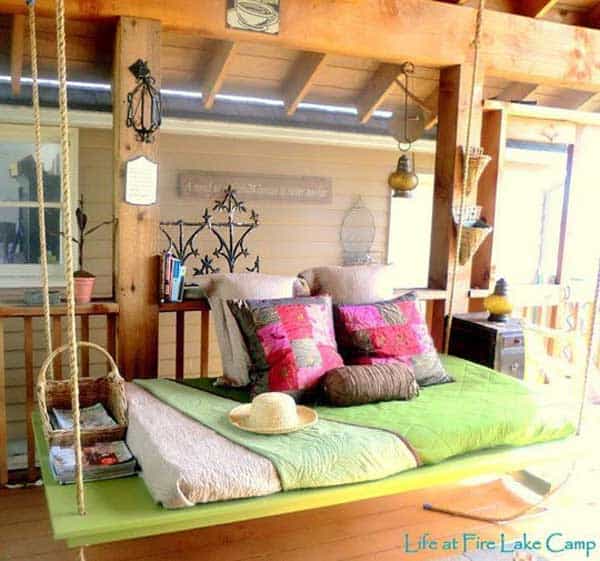 On your porch the hanging bed might bring you a great deal of quietness and calm.
via lifeatfirelakecamp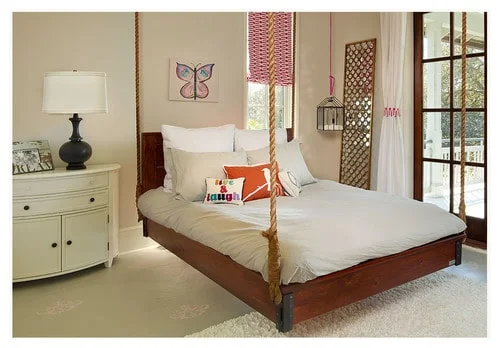 via houzz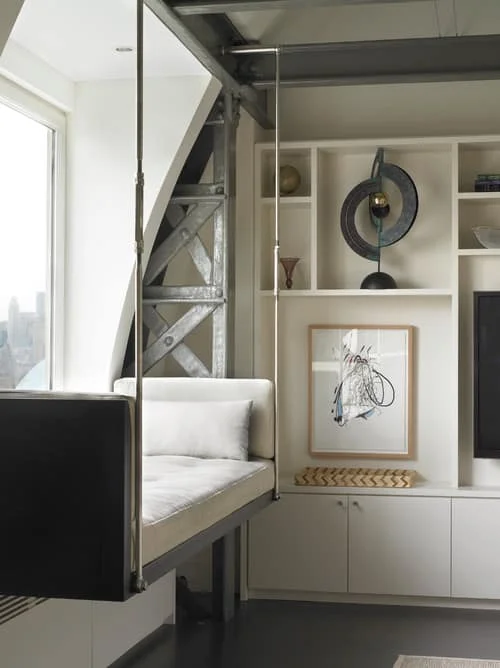 A window seat can surely float in the right ambiance.
via Cambridge Architects & Designers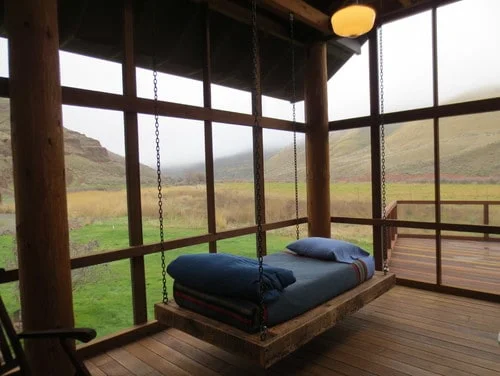 Enjoy expansive views in your home with a suspended bed; regardless of design the experience is extraordinary, worth pursuing.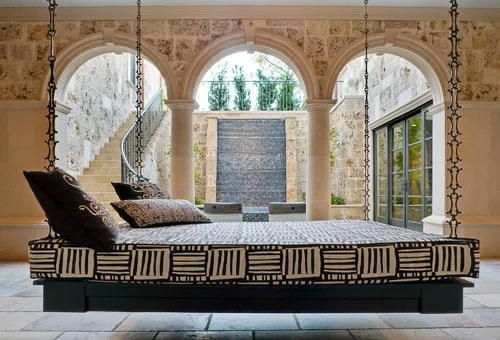 A bed that has been envisioned for the outdoors; the black and white design can be considered neutral if compared with the highly sculptural heavy chains used.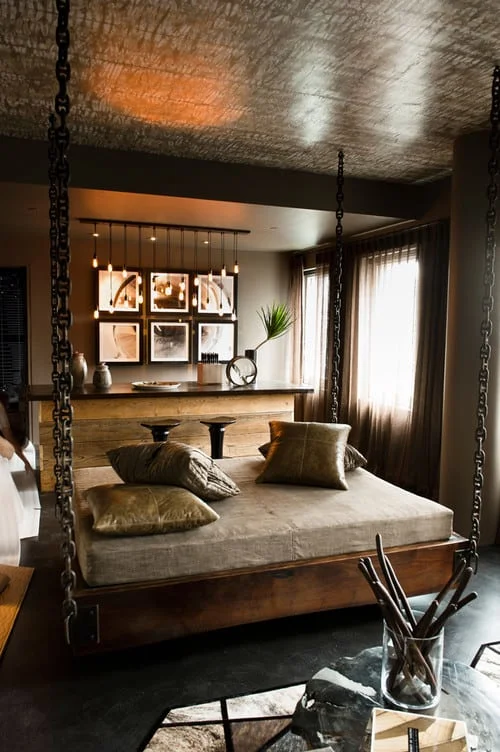 Industrial, rustic and modern at the same time the intense ambiance above is a play of light and texture well composed.
via IPD Partners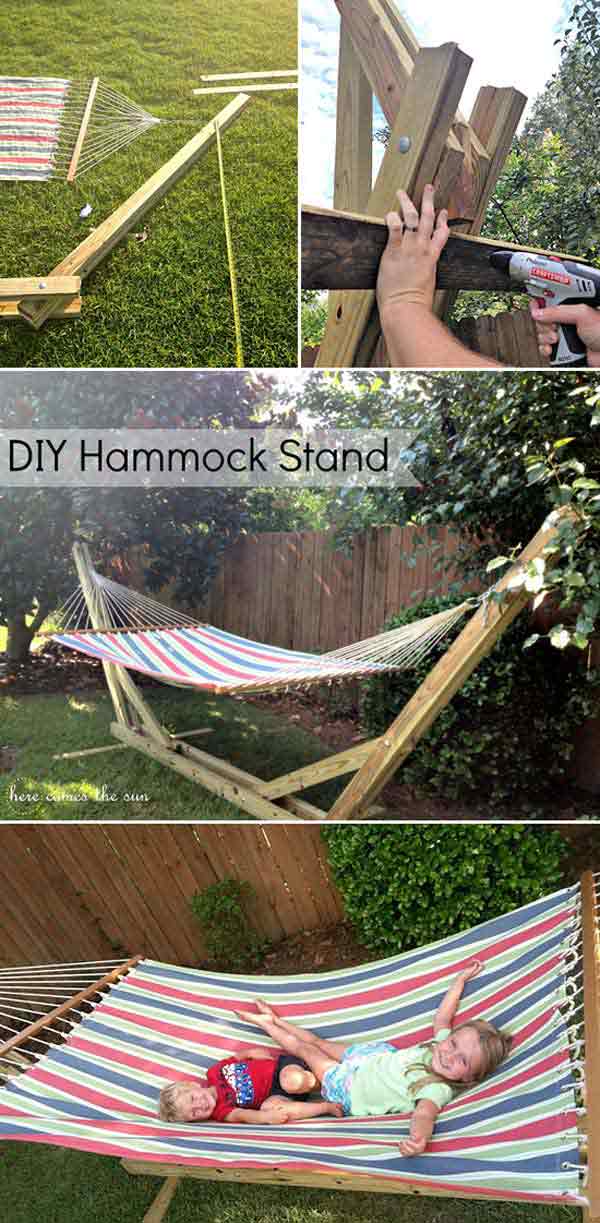 A hammock is a compromise worth embracing when the hanging bed is not an option.
Tutorial @ herecomesthesunblog.net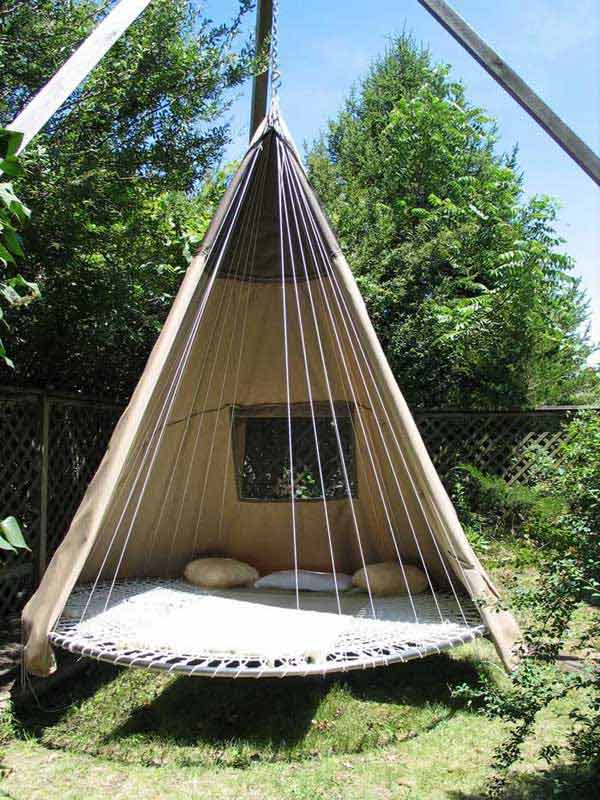 An intimate hanging bed that provides shade when needed is definitely worth considering.
via Pinterest

Pallets and a matching mattress are everything you need.
via richaldito.com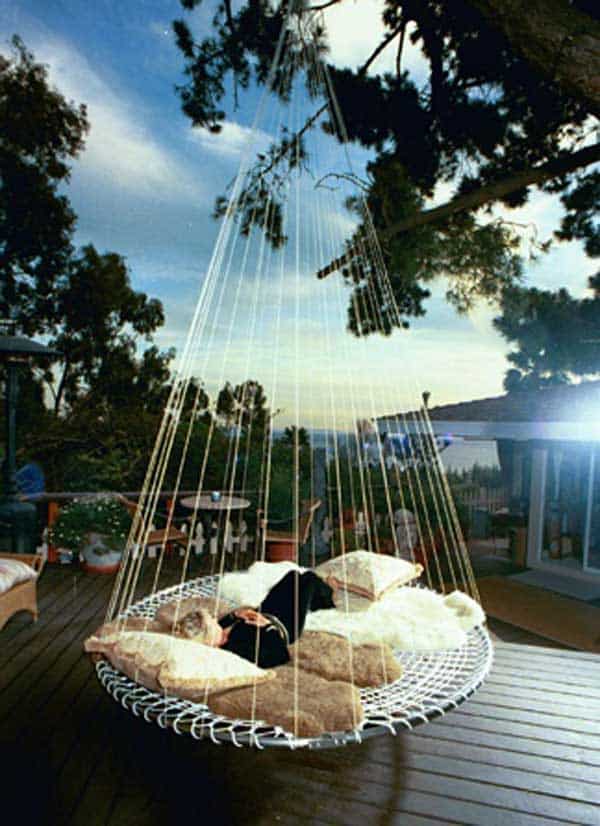 A simple design that follows the weaving technique of a dream-catcher inside a metal ring to provide the needed structure in a flexible form that boosts comfort.
via floatingbed.com
 
Take a boat in which you can paddle away from your problems into the dream world.
via nautical-blonde.tumblr.com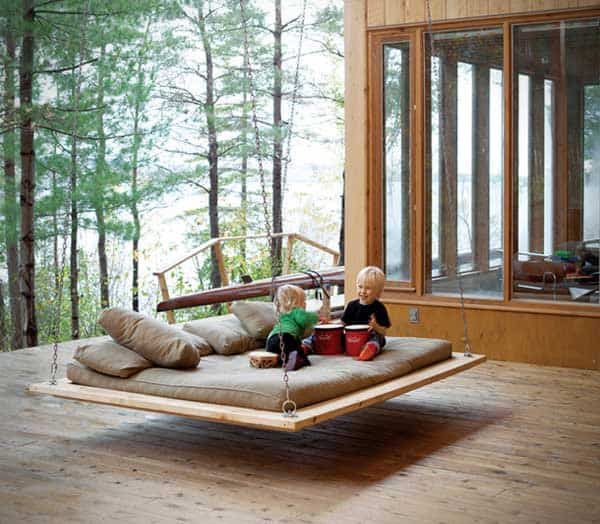 To enjoy the forest of your cabin you might need to shape that suspended bed you`ve dreamt of.
via anthropologie.com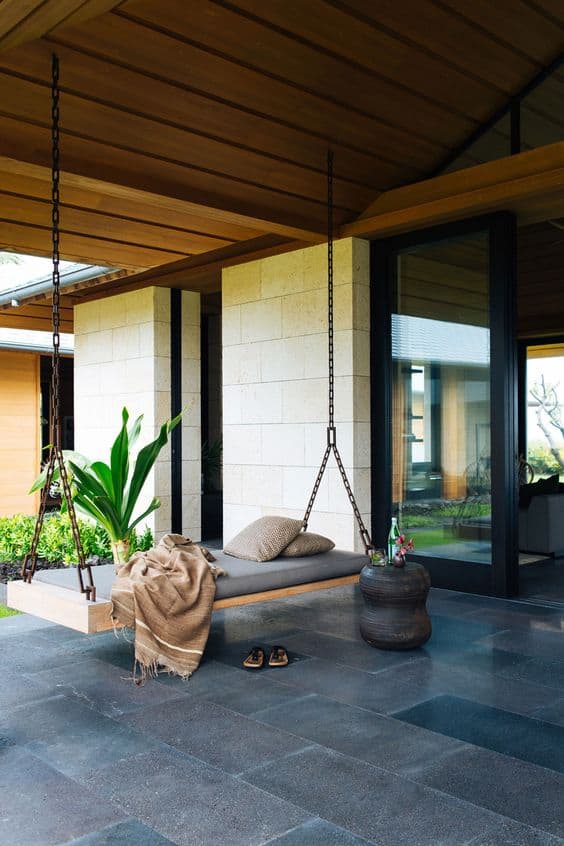 via lonny.com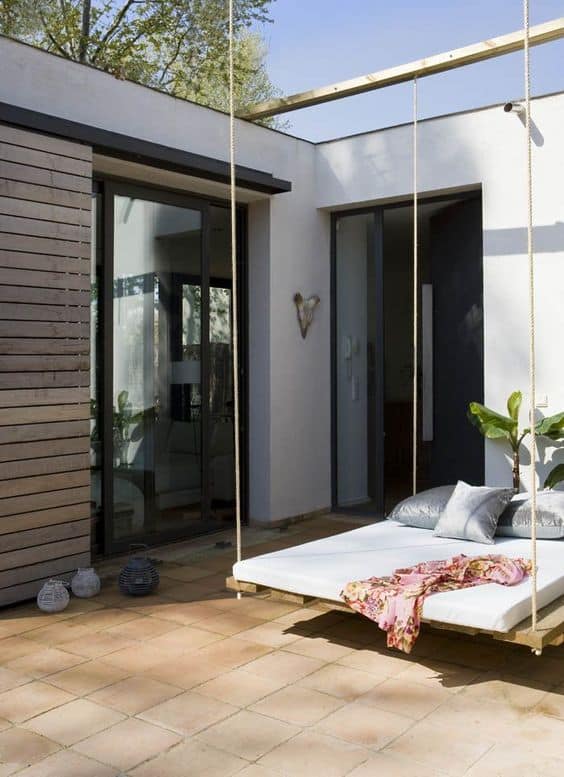 Enjoy extraordinary weather in your backyard in full comfort floating in mid air, enjoying the sun.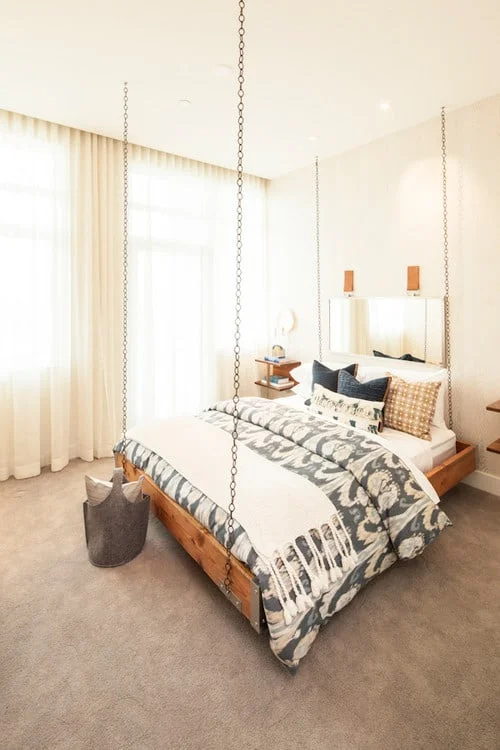 An airy ambiance can nestle a rustic decor with heavy iron chains and a sturdy wooden bed frame.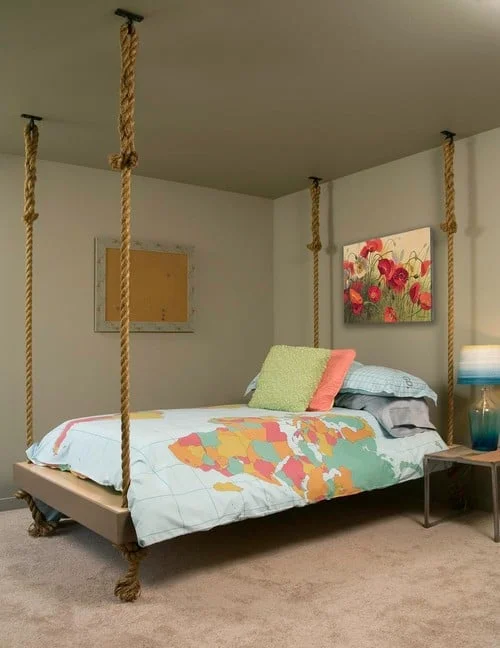 via Gig Harbor General Contractors
The marvelous shabby chic design above looks nothing but adorable and insanely comfortable; a great setting to enjoy your morning coffee in fresh air on the front porch.
via designmom
A bedroom that opens up to your backyard should not be blocked by a stationery bed; there the suspended option greatly contributes in emphasizing the feeling of space.
Source Unknown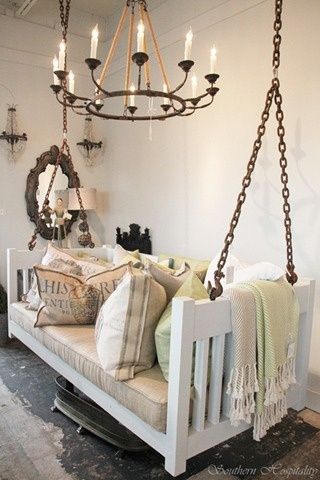 Simple and graphic design ready to rock your world.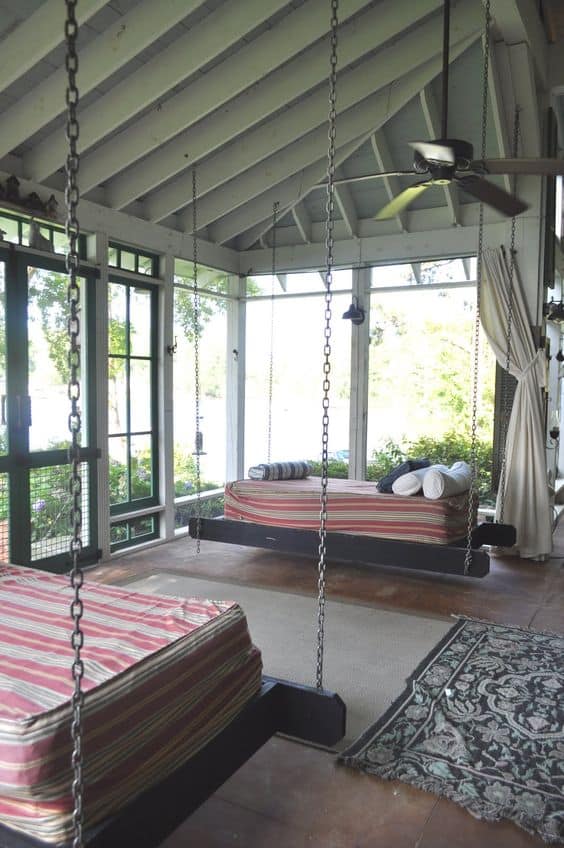 Hanging beds are options often used in small spaces to nestle multiple beds.
Source Unknown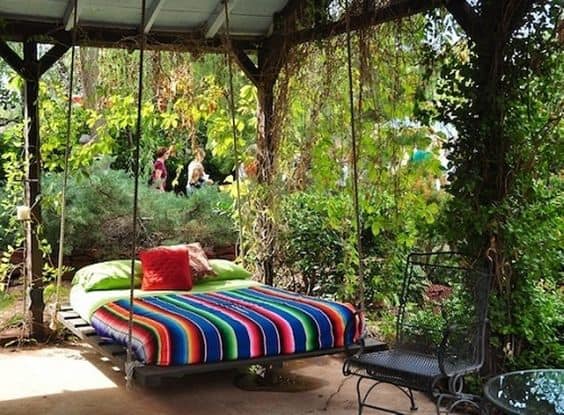 In your garden at the shade of your pergola you can enjoy the coziness and comfort of a full size mattress.
via Pinterest
Expansive views towards calm and peace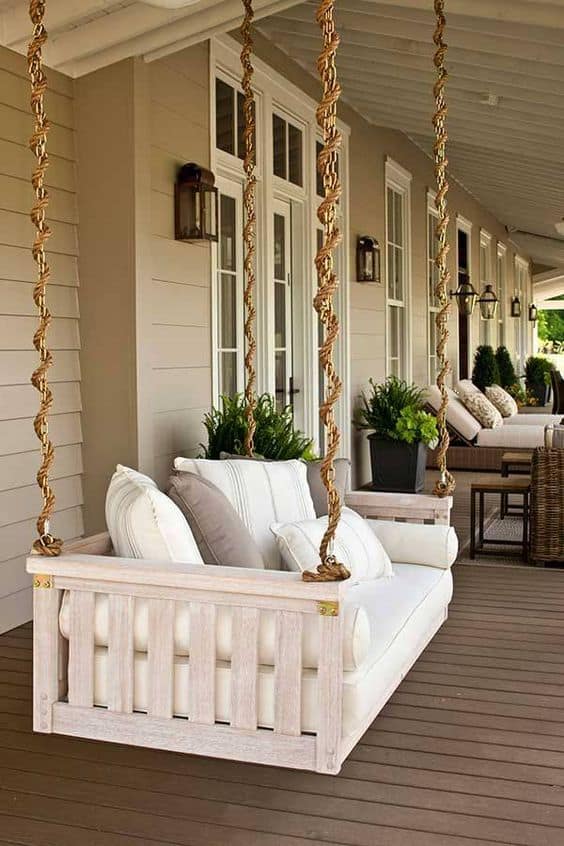 The simple metallic chain has been wrapped in rope here to build that extraordinary natural look that emphasizes the white shabby look.
via southernliving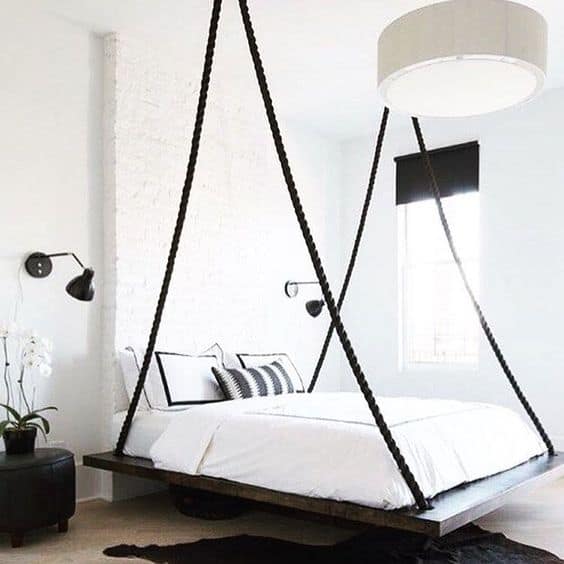 Two triangles formed by heavy rope describe a design that uses only two suspension points.
via jotitdown.co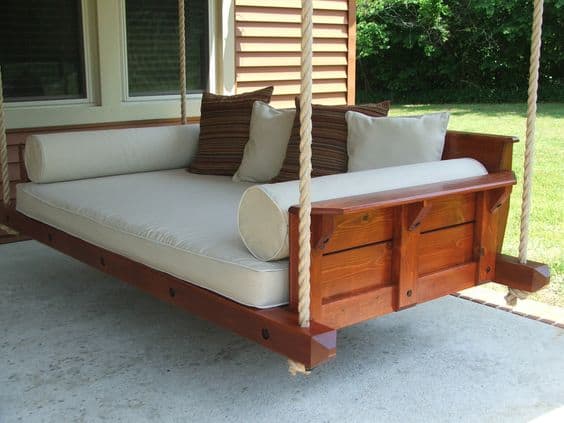 The bulkier the wooden elements the more rustic the look.
via etsy.com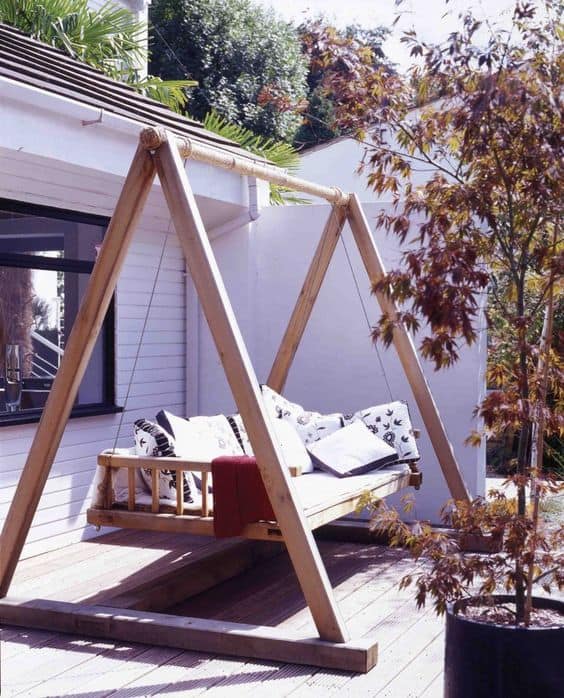 If a tree is not an option nor is it a wooden beam in your terrace or pergola the alternative is a wooden frame; two triangles will provide excellent sturdiness and balance for your bed or sofa.
via gardeninglife.xyz
To use a floating piece of furniture to find peace at the end of a long day or week is an experience that ought to be pursued. Numerous diy tutorials make this task affordable and doable happily; what do you think? We would love to hear your thoughts !
Related Articles
12 Ways To Put Your Bedroom Corner Space To Good Use
29 Brilliant Easy to Build DIY Platform Bed
21 Mindbogglingly Beautiful Fairy Tale Bedrooms for Kids
21 Super Small Nightstands Ready to Fit in Petite Bedrooms
37 Simply Spectacular Tree Bed Designs to Pursue
Recycled Pallet Bed Frames – DIY Pallet Collection
15 Creative Small Beds Ideas For Small Spaces
30 Small Bedroom Interior Designs Created to Enlargen Your Space
37 Smart DIY Hanging Bed Tutorials and Ideas to Do
Bedroom Christmas Lights Ideas For A Cozy Atmosphere
32 Dreamy Bedroom Designs For Your Little Princess
100 Inexpensive DIY Headboard Ideas for Your Bedroom Design
47 Stylish Floating Bed Design Ideas
53 Incredible Hanging Beds to Float in Peace
33 Epic Navy Blue Bedroom Design Ideas to Inspire You
6 Best Vacuum Cleaners for Mattress  
10 Most Comfortable Hammocks to Swing in 2022