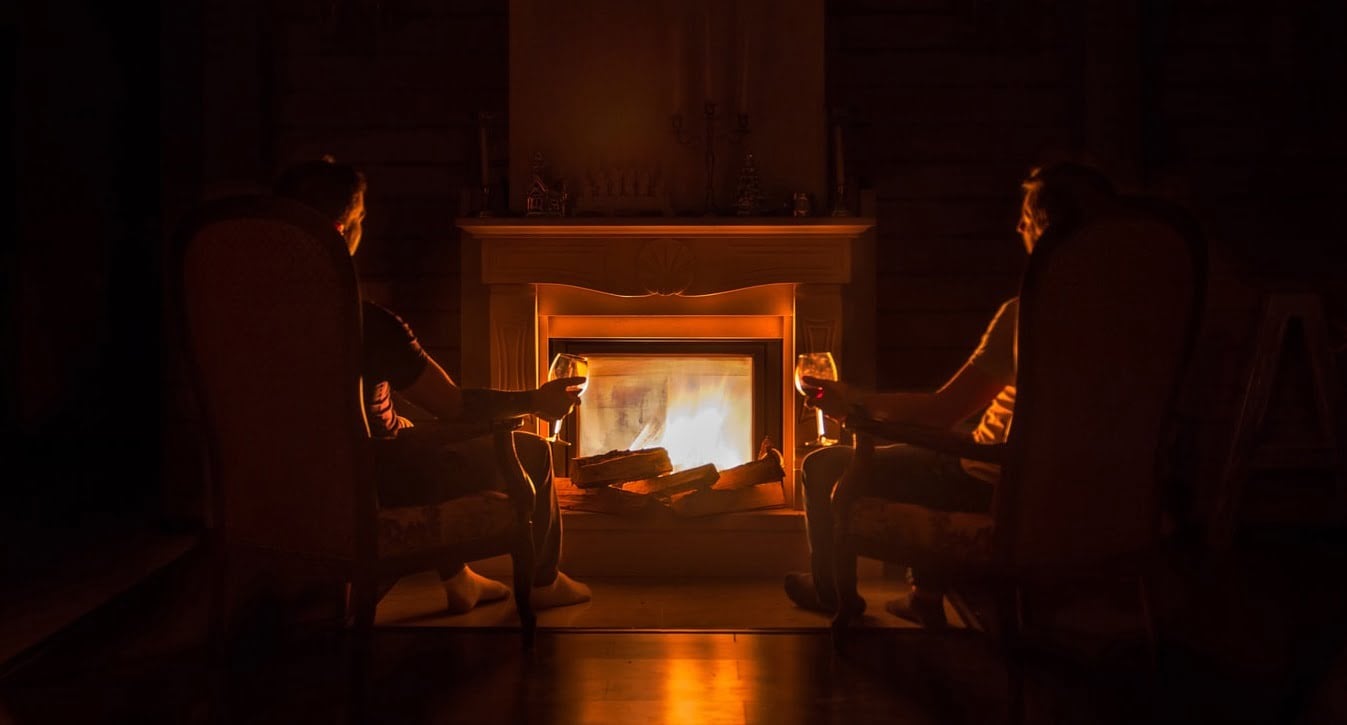 Designing your space by making it more valuable and desirable gives you a home which feels like a vacation spot, every day. And with the right fireplace, you can put your feet up, relax and get cozy with your favorite book. 
The glow and warmth from a fire creates a relaxing effect, which not only provides physical warmth but also emotional comfort. A fireplace is not just a beacon of warmth and goodness during the winter nights, as it can help to alter the entire ambiance, interior design, and the value of your home. 
You can find a variety of options for indoor fireplaces ranging from gas burning, wood burning, ethanol and even electric ones. 
Types of Fireplaces
Are you confused? Well! Without an epic guide for understanding the different features of a fireplace, anyone can be in that situation. We've put together this piece to help you scout the way to the right fireplace for your humble abode!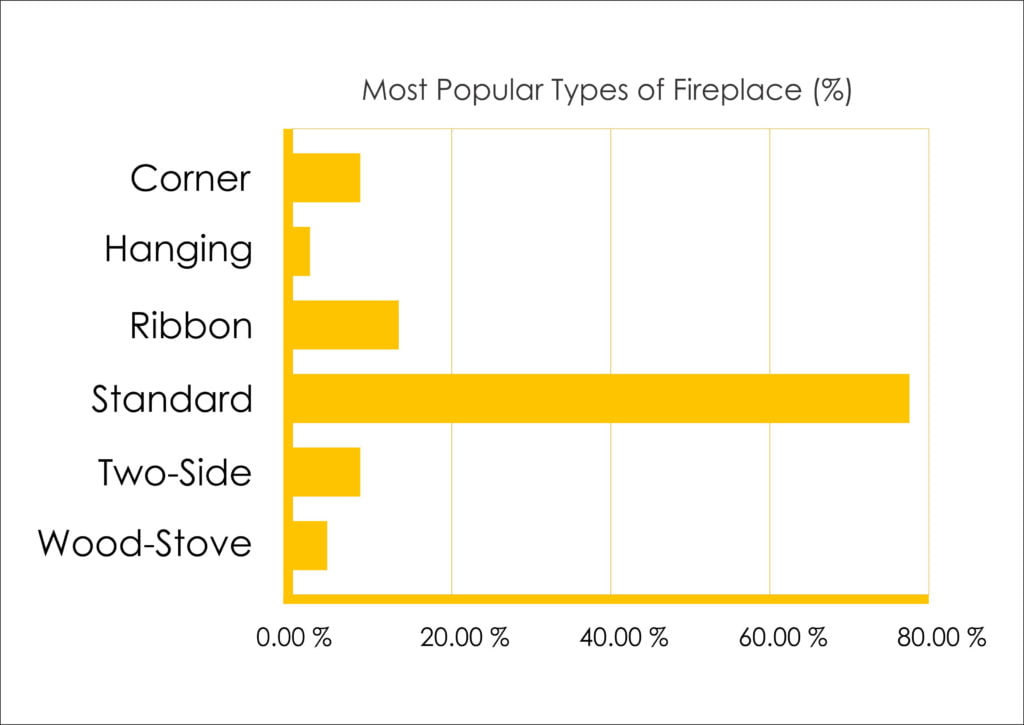 What are the mounting options for a fireplace?
After you select the mounting type, it will not get challenging to pick your favorite fuel type. All of the available mounting options do not go well with all fuel types (E.g.,  hanging a wood-burning fireplace on the wall, is not the best idea, because of its massive size), so you must be careful while selecting a design.
The best mounting options are a free-standing fireplace, built-In fireplace, hanging, wall-mounted, traditional, two-sided, and hanging fireplace.
A free-standing fireplace has a modern look, while they are designed to emulate the look of your traditional built-in fireplace. It usually comes with a mantel. Depending on the fuel type, the free-standing fireplace can either be attached to the ceiling (if ventilation is required) or wall or entirely free-standing.
The free-standing electric design doesn't require ventilation, while you can quickly move this fireplace from one location to another. With the free-standing gas fireplaces, you will need a ventilation source or even a gas line so you can't move it around. 
For a free-standing fireplace, there is plenty of design that you can choose from; it ranges from rustic to contemporary to modern. You can also get them in numerous different sizes and shapes. Also, you have the option for a free-standing fireplace that comes like a piece of furniture with a built-in fireplace. The other available option for you is the entertainment center.
In the entertainment center, you'll get a built-in fireplace that is located on the bottom, which is mostly an electric one. And you can place your television on top of the mantel without any fear of damage. If you're living in a small-sized apartment or home, the built-in furniture fireplaces will be the most suitable option for you.
The fireplace insert should be placed in a built-in traditional fireplace. If you already have a conventional open-hearth fireplace, you can slide your gel, gas, electric, or ethanol insert into the current opening.
It's an excellent way for you to convert your high-maintenance wood-burning fireplace.  It can be replaced with a more energy-efficient and low-maintenance fireplace. Your fireplace insert will occupy the current space, which makes it a great option when you don't want any reconstruction in your home.
This is another alternative for people living in small-sized apartments or homes. The design of a wall-mounted fireplace is perfect for outdoor spaces, which is why it's facing increasing demand. Few wall-mounted fireplaces are self-contained, and you can quickly move it from one room to another.
You'll be getting two options for the wall-mounted fireplace such as- one that utilizes a chimney and one that doesn't require ventilation. Whichever type you opt for will depend on the fuel that you'll be using. You can find tons of size, shape, and style for a wall-mounted fireplace. The popular design at present is the long type that is known as a ribbon fireplace. 
A wall-mounted fireplace is mostly used as a centerpiece in most homes. You can get one either with or without a mantel; it entirely depends on the look you prefer.
A traditional open-hearth fireplace is mostly used along with your wood-burning fireplace. It is built into the wall of your home, and the materials generally used for making it are stone or brick. You'll need to have a chimney or flue for ventilation purposes. This is one of the most expensive high-priced mounting options.
It comes with a lot of construction work. Most people opt for it when their homes have already been constructed for a traditional open-hearth fireplace, without the trouble of having to build one.
Hanging
The design of this fireplace might not be preferred by all, as it comes with a modern, innovative design. It is hung from the ceiling, and it creates an eye-catching focal point in your home. You can also use it for decorative purposes as it works perfectly for a beautiful interior structure.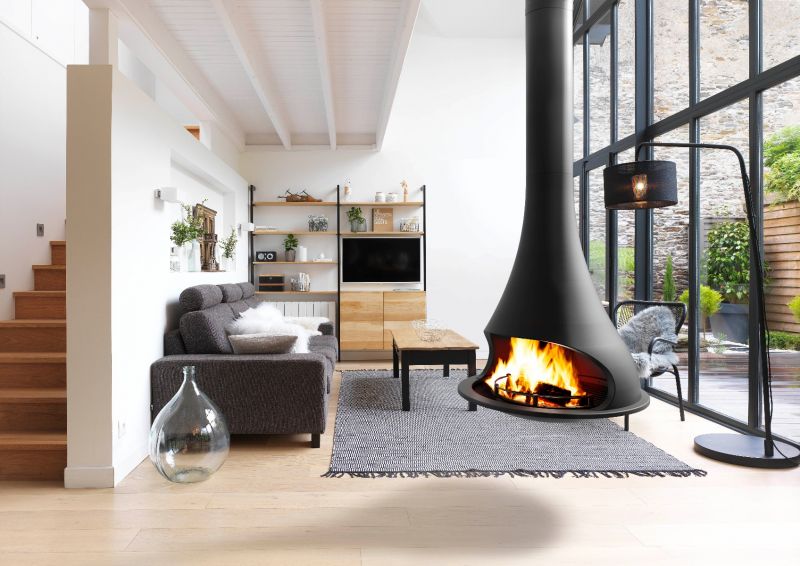 A tabletop fireplace is a portable super-lightweight fireplace, which you can quickly move around the house. It's a great fireplace that you can use for heating your outdoor spaces.
You can just set your fireplace on a tabletop as you enjoy a winter evening with your friends in the backyard. It sets an enjoyable, warm, and cozy vibe around the entire space.
The two-sided fireplace also comes with a futuristic vibe, while two rooms can be heated at the same time. You can use this playful design to work as a divider between your two large living spaces. You get to enjoy the dancing flames from both sides of your living rooms.
It has a double-sided wood range which creates an unparalleled ambiance for your center space. The gas fuel type is mostly preferred for these double-sided fireplaces.
What is the fuel type of the fireplace?
This should be the first question that comes to your mind when you're buying a fireplace. Whichever fuel type you select should have an excellent mounting option with an attractive overall design. You need to bear in mind that the design of the fireplace is suitable for the location that you plan to place it.
The popular options for fuel types are given below:
This is one of the age-old traditional fireplace types. Most of us have been using some wood-burning fireplace to stay warm for decades. As you're reminded of a fireplace, the first image that pops up in your mind is of a fireplace with real wood.
With the name, you can understand that the fuel used here to create heat is wood. You can face a lot of negative aspects with this fireplace apart from the roaring and crackling fire which are preferred by few.
The demand for this fireplace went downhill due to the cost and maintenance aspects of it. You need to get a regular professional cleaning done to your fireplace area. And there is a high expense for installation and wood when you decide to use this fireplace.
However, many people do enjoy using these wood-burning fireplaces, and they love its smoky fragrance. Having this fireplace in your home will give you a cozy, rustic atmosphere. You can get them in various designs, and in recent times you also have the option for a wood-burning stove. This is a great alternative, especially when you don't have enough space for an entire fireplace.
You can use the wood-burning stove by placing it anywhere in your home, and it will give you the same output as the fireplace. However, for venting out the smoke, you'll need a pipe and not a chimney, so installation is easy.
Pros
The appearance and beauty of a real fire, the crackling sound, and the smell of the wood

It uses a renewable source of energy

Firewood is one of the most affordable fuels available 
Cons
It requires a fireplace
It requires regular cleaning
It does not have any remote to turn the fire on and off
You need the right amount of space to store the wood
Improper maintenance or poor installation can lead to dirty smoke being released from the chimney
The fireplace requires an annual professional inspection
The best alternative to your traditional wood-burning fireplaces has been the gas ones till date. Just like the electric fireplaces, this is also a reasonable option with a pretty easy installation process. If you get a little reconstruction done to your existing chimney and a built-in fireplace, you can install the new built-in options.
You might find gas fireplaces to be quite affordable up-front, while it's also highly efficient. If you want to save your money from paying different utility bills for heating   purposes, then selecting this option will be a great move.
Also, the free-standing gas fireplace which uses a pipe can be a good option for you. With this model, you can install your fireplace in any room that you prefer, without having any set up ready to receive a fireplace. If you're not prepared to make any changes to your home structure for installing a fireplace, a pipe will be the best option for you.
If you're opting for the direct-vented model, you'll need a chimney for ventilation purpose. For which you can either use your pre-existing chimney from the wood fireplace or start to construct a new one.
For a ventless model, you'll not require a pipe, chimney, or vent. It comes with several features which promote an overall safe environment. Even though they burn clean for the most part, but there can be a slight risk with this model as it can emit few contaminants into your home.
The final choice that you need to make while selecting a gas fireplace is the type of gas being used. It can either operate with liquid propane or natural gas. If you're going for the propane fireplace, you'll need a propane tank. But, for the natural gas fireplace, you can use the existing gas line.
However, both these options require you to install a line between the fuel source and the fireplace. Overall, a gas fireplace is far more environmentally friendly and convenient than your wood fireplace.
Pros
The supply of fuel is cheaper than using log

Good thermal power

It takes little effort to run this fireplace

Flexible installation process

Easy control flame 
Cons
Rising fuel costs

It requires the connection of natural gas or propane 
A gel fireplace is not as popular as the gas or electric fireplace, but it certainly comes with its own set of benefits. The easy installation process is the best characteristic of this fireplace.
You need a can of gel fuel to use this fireplace. This indicates that you don't need any lines, venting, electrical wires, or even pipes. A gel fireplace is a versatile product, mainly because it's self-sufficient. It's pretty lightweight, which makes it easy for you to mount this fireplace on your wall.
The other characteristic that usually stands out in a gel fireplace is that you get a real flame and not a fake one. For creating an actual burn, you need to light the gel fuel with a lighter.
Also, the fuel type that you're pairing with this kind of flame helps to ensure that your heat output is quite minimal. To get the gel fuel cans regularly can get expensive. And, we don't advise you to rely on a gel fireplace for a primary source of heat. However, the gel fireplace models are great for giving an edge to the design of your home.
Pros
It uses a clean-burning fuel as it doesn't produce any smoke or fumes
It produces heat with real flames, and not with any electrical heating mechanisms
completely heat and fireproof
It has no location restrictions. You can place it anywhere, and it doesn't require any particular type of ventilation
It is a cost-efficient option, with very little maintenance

It has an excellent decorative value 
Cons
It does not emit the right amount of heat

It requires frequent refueling. If you want to burn a fire for the night or afternoon, you'll have to refuel for two to three times

No flame regulation, you don't have any way to regulate or monitor the amount of flame that your gel fuel ignites. With gel fuel, it gets more challenging to extinguish the fire
The electric fireplaces are gradually coming up to be the most popular fuel type that is available. An efficient infrared fireplace is one of the best options that you can select if you're dead serious about having a quality electric fireplace.
These fireplaces help to increase the temperature level in your home by heating the interior coils with electricity. You'll find that most models come with an internal fan which helps to distribute the heat throughout your home evenly.
You'll not get a real flame from an electric fireplace, but they do employ a 'fake flame.' This helps to give the fireplace a realistic look and feel of a flame. You'll also have a crackling 'fake' log with your flickering flame to make it appear like a real fire.
The option to turn off your heating element in the electric fireplace model when your room gets too warm is one of the best features. But, you can opt to keep the flickering flame on while the heating element is turned off. And this helps to maintain a beautiful, cozy ambiance.
It even gets better, as you can control the electric fireplace from your chair. With most of the models, you'll be getting a remote that helps to turn your fireplace on or off. And you get the option to increase or decrease the temperature in that remote.
The main reason why an electric fireplace is a popular choice for many is because of its cost-effectiveness. It's not just an affordable option, but it has a cheap installation process too as it doesn't require any venting. 
Moreover, unlike gas and wood fireplaces, the electric fireplace comes with no requirement of regular maintenance. You can be free of tasks like cleaning the chimney, chopping wood, or inspecting your gas line.
Also, the other benefit of an electric fireplace is your overall safety, for a home with pets and small children. You can also get these fireplaces customized, with different fire effects and flame.
Pros
Use of electricity, with no production of smoke or ash
Easy installation
Ideal for houses, apartments, and hotels
Cons
It does not create the perfect ambiance of a real fire burning
It is more decorative and less efficient
The way a gel and ethanol fireplace tends to work is quite similar. An ethanol fireplace requires liquid bioethanol fuel instead of gel fuel. For an ethanol fireplace, you'll be getting a burner along that you need to fill with bioethanol fuel for repeated use. The standard size of the fuel tank is around 2 liters.
You can also adjust the temperature of your fireplace because of the burner characteristic, unlike the gel fireplace. Turning the fireplace on and off also gets relatively simple. Just like your gel fireplace, this is also quite easy to install, but it is not an efficient product. You can't rely on an ethanol fireplace to heat the entire home.
The other feature that makes it like your gel fireplace is the versatility of this model. It's a lightweight fireplace which is suitable for your tabletop fireplace or the wall-mounted fireplace. Finally, the demand for ethanol fireplace is increasing gradually due to a wide variety of designs that you get to choose from.
Pros
No venting is required

The fuel burns clean with zero leftovers( no dirt, no ashes, no crumbs of anything). It doesn't even produce an oily residue

It has a zero-emission. You don't need to worry about carbon dioxide emissions or other types of harmful airborne fumes 
Cons
It can be dangerous if you spill the fuel and it catches

fire

. For which we advise you to invest in premium quality ethanol burner, that is designed for preventing any spills

It works great for your supplemental source of heat, and not as a primary source
It consumes oxygen, just like the other flame burning sources of heat. So you should have adequate airflow in your home while using the burner
Different Fireplace Design Options
After you've finalized on the mounting option and the fuel type, you need to focus on the design of your fireplace.
You can get fireplaces that are available in numerous shapes and sizes. It has been built with a wide variety of materials that have been selected for its functionality and looks. Then you can look into the other additional design features of the fireplace mantel and your flue/chimney (if it's required).
The combination of these different design elements helps to create the overall aesthetic appeal for your fireplace. It gives you a contemporary, rustic, or a look that lies somewhere in between these two lines.
Styles of Fireplace
When you select a particular form of a fireplace, it's mainly due to the dimensions and materials that have been used to make this piece. You will get an endless list as of fireplace styles, which are ranging from modern to traditional designs.
You need to bear in mind that your mounting option and the fuel type helps to showcase the overall style of the fireplace. The wood-burning fireplaces that come with chimneys are often much bigger and more striking than other types of fireplaces.
  Contemporary Style Fireplace
This style of a fireplace is defined by a universal appeal, which comes with sharp and well-defined lines. You can use them for any home, but it complements the homes that come with equally stylish, chic decor.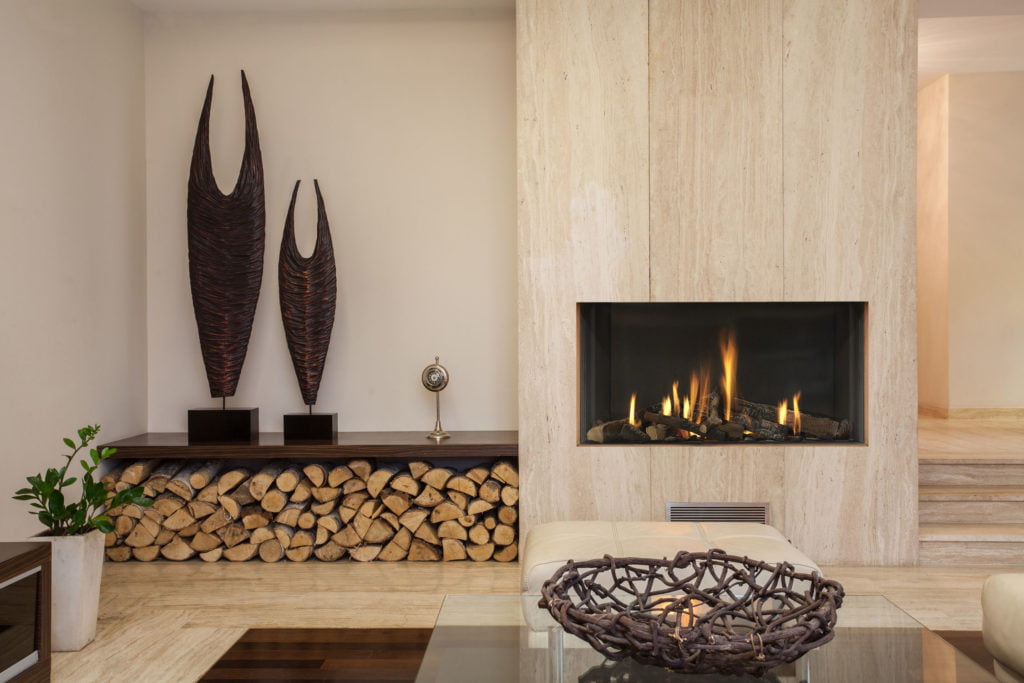 Elegantly, you can utilize traditional materials such as stones or bricks to create a fireplace with a contemporary design.
  Modern Style Fireplace
With a modern style of fireplace, you can take your contemporary design to a whole new level. In these fireplaces, the preference is more towards modern materials like glass and marble, and they usually lack traditional brick or stone materials.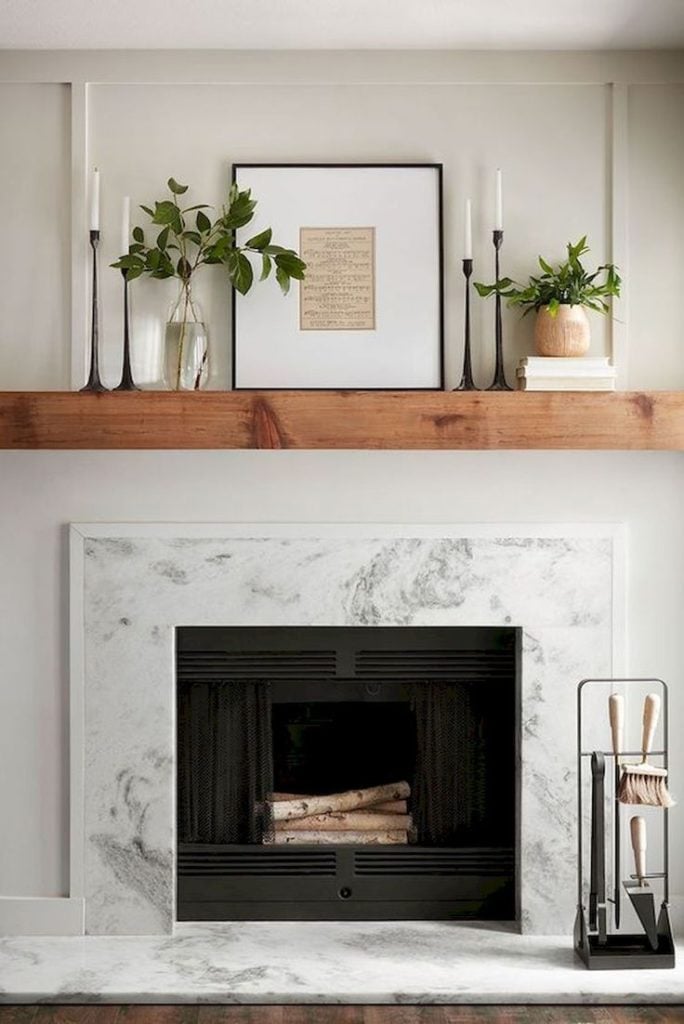 Modern fireplaces stand out mostly for their well-edged lines and innovative design. You'll find some of them looking more like a piece of art than your heating appliances.
  Traditional Style Fireplace
When you think of a log cabin, the type of fireplace that comes to your mind fits in perfectly with the picture of a conventional fireplace. It's generally constructed with your regular bricks and stones. This style of fireplace dictates a more natural environment with a rustic, cozy ambiance.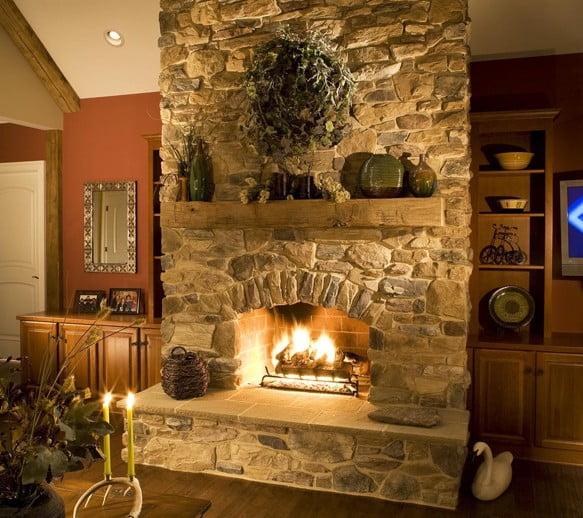 The wood-burning variety is one of the standard traditional fireplaces. Moreover, you can choose to equip a gas or electric fireplace insert in place of your wood-burning fireplace.
Fireplace Materials and Finish
The unique design element that makes a fireplace appealing is the material which covers the exterior of it. And this is what you look at first while picking the design that's suitable for your home. In most homes, you'll find fireplaces that are made of stone, followed by tiles, bricks, wood, etc.
Some of the most common materials for a fireplace are:
  Marble Fireplace
This is the material that most modern fireplaces are made of; you'll get a high-end look with marble that gives it a full dramatic effect.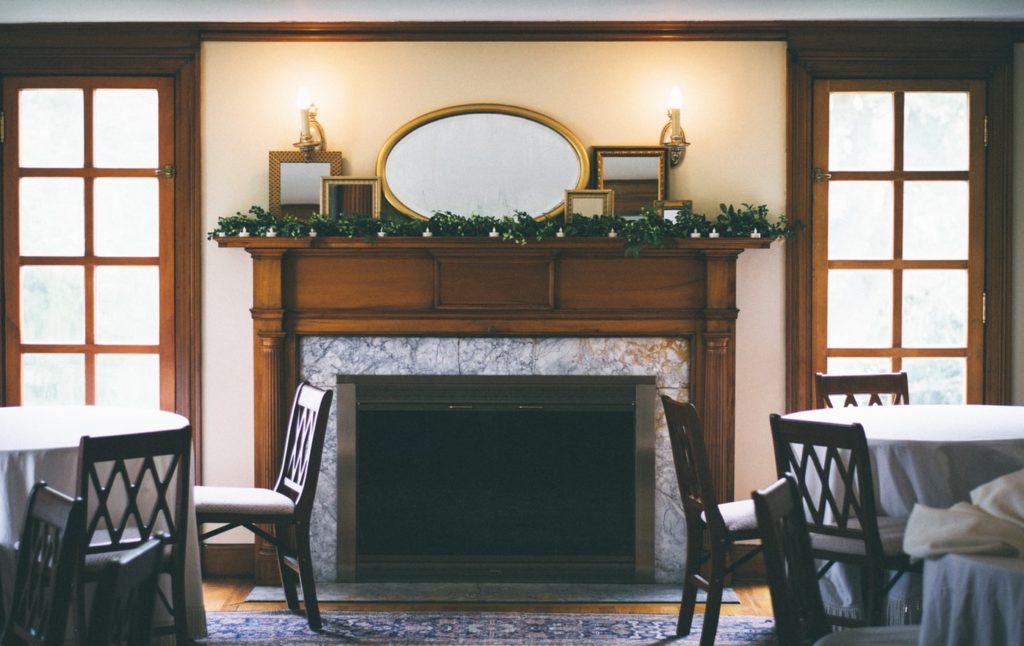 Concrete Fireplace
If you're looking for a fireplace that will give you a classy, industrial atmosphere, you should check out the concrete fireplace. They complement the contemporary furnishing pretty well like how they blend in with loft apartments that have lofted ceilings, wood floors, and plenty of natural light.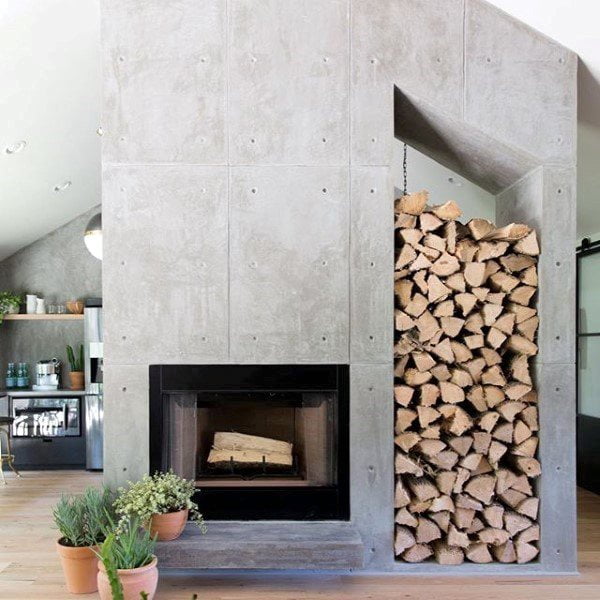 Fieldstone Fireplace
With these natural-looking stones, your home will get a rustic, vintage outlook. A fieldstone fireplace helps to create a warm tradition-style feel, which is excellent for dressing up your living room.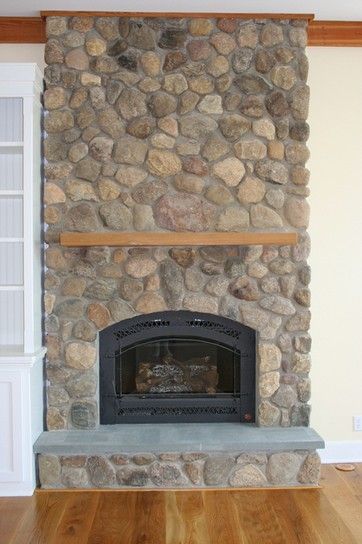 Ledge Stone Fireplace
In a ledge stone fireplace you'll find small strips of material that are used for creating a contemporary style fireplace.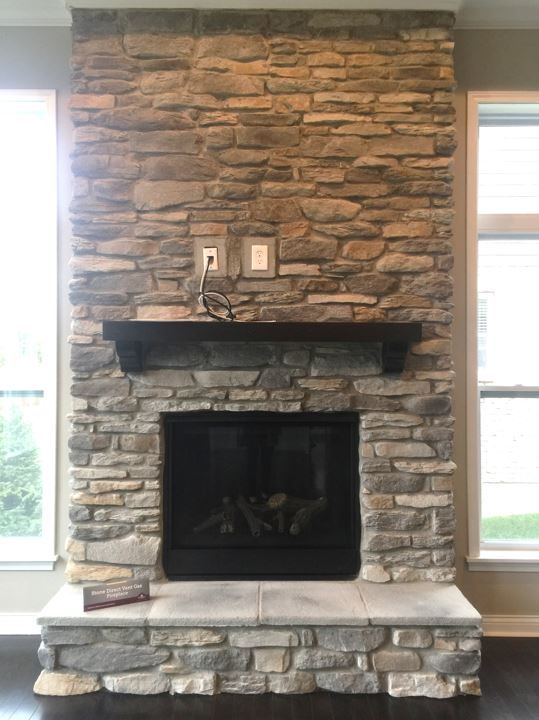 Brick with Wood Fireplace
If you want a timeless, traditional style of fireplace, you will like this exposed brick look. It is combined with a wood mantel and wood millwork for creating an upscale, contemporary design.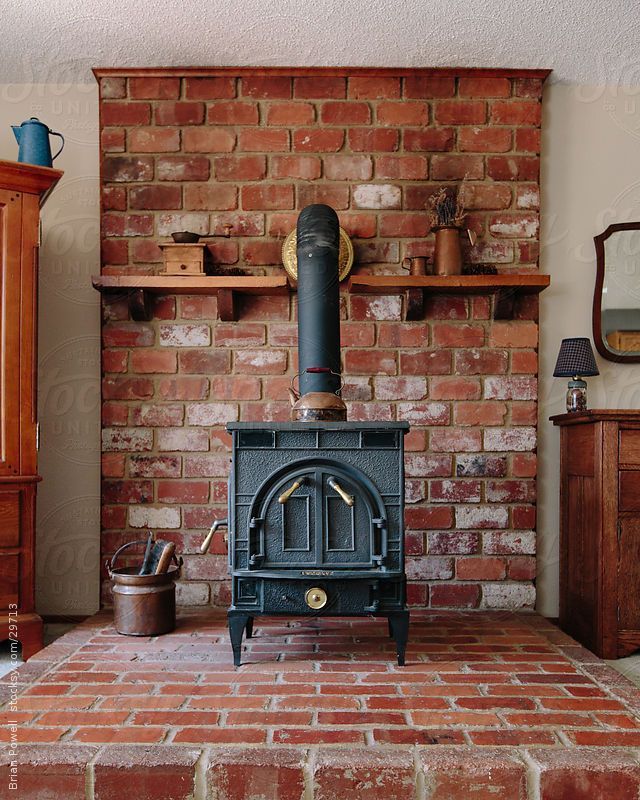 Plaster Fireplace
In the American Southwest corner, plaster is a typical fireplace material. This is an excellent option for constructing your fireplace, which makes it appear like it's coming out of your barren walls.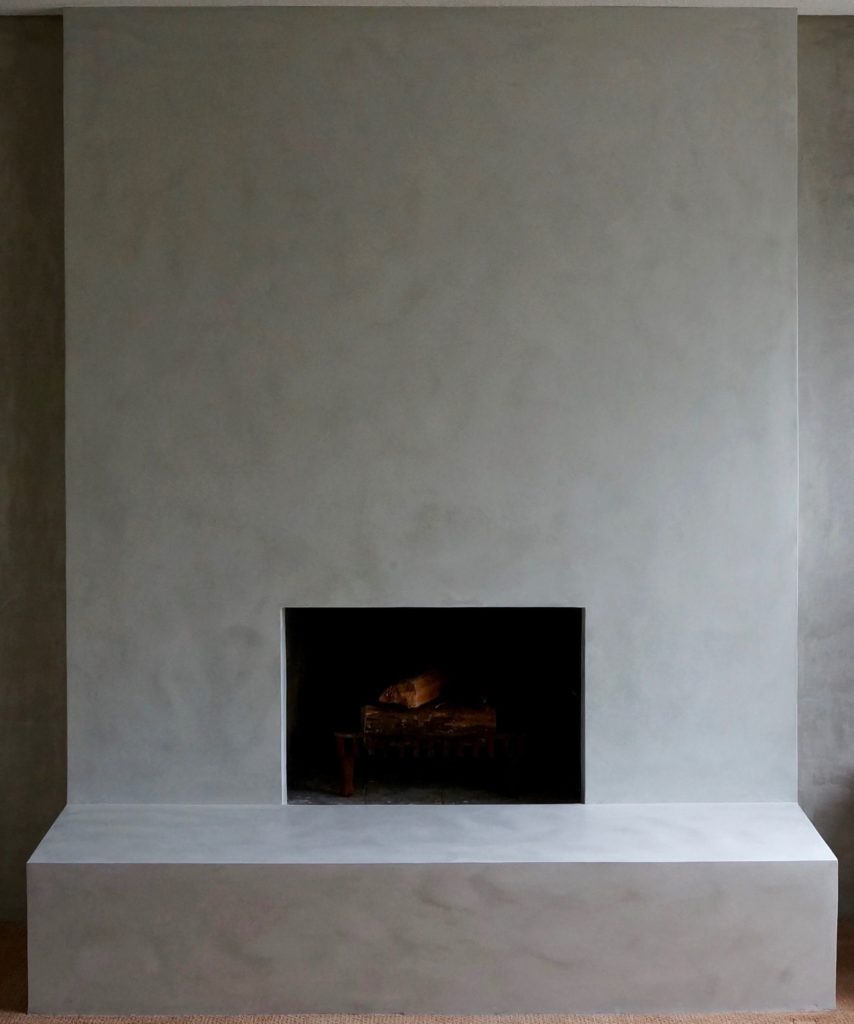 Fireplace Dimensions
The size and shape of your fireplace usually depend on three essential factors:
Mounting option

Fuel type

Location of where you want to place it
A fireplace can span from under two by two feet up to gigantic creations which takes up the space of an entire wall with its chimneys spanning two storeys. The gas and electric fireplaces are usually towards the smaller end. However, fireplace inserts and wood-burning fireplaces are on the broadside.
Fireplace Chimney and Flue
It's only the traditional wood-burning fireplaces that utilize a chimney and flue. Few models of gas fireplaces also need venting, but you can use a pipe for it rather than opting for a chimney. If you purchase a gas fireplace insert that's when you will require a chimney for it.
The most popular types of chimneys for your wood-burning fireplace include:
Reinforced Concrete Chimney
You'll find such chimneys in older houses, but this design has become obsolete in the new design era. One of the main drawbacks for these chimneys is its high tendency to start cracking from the corners.
Masonry Chimney
These chimneys are constructed either with stone or brick, which complements the fireplace area. A tile-lined flue is often paired with a masonry chimney.
Metal-Lined Flue
It looks quite similar to your ventilation pipe on the gas fireplace. A metal-lined flue is generally a double-walled metal pipe for venting out smoke. You can also find a model of metal pipe that is triple walled.
Fireplace Mantel
The decorative framework that you can often find around your fireplace is a mantel or mantelpiece. The built-in, wall-mounted, as well as your stand-alone fireplaces often utilize a mantel. But, you necessarily don't need a mantel for your fireplace.
Along with the classic fireplace look of a mantel, it also comes with a functional purpose. You can use the mantel as a shelf for your decorations and keep other items.
Consider the following tips when you plan to get a mantel for your fireplace:
You must follow the National Fire Code standards that are given for a wood-burning fireplace with a mantel. You should have a six-inch gap between your firebox and mantel. Also, an additional inch of clearing for each 1/8 mantel protrudes.

Get a mantel that matches the style and dimensions of your fireplace.

 Search for a mantel that will suit the decor, room size, and the design of your fireplace.

 You should consider the room size, heart size (if applicable), and the overall decor for selecting a mantel that will create a sense of balance.

 The medium-density fibreboard or MDF does look like natural wood, but it's a non-combustible option for your mantel.

 If you want an affordable option, you can try out the simple wood mantels. For the mid-range option, you have the elegant wood mantels. And for a high-end option, you can get a stone mantel.
Types of Fireplace FAQ
Do you want your fireplace to be the primary source of heat?
While you select the fuel type and you know the fireplace size that you're looking for, it's essential for you also to consider the heating requirements.
If you're buying a fireplace for a large home or room, you should select a style that has more heat output. But, if you want to heat a small room, and you end up picking an overly large fireplace, you'll be getting too much heat than required.
When you're searching for a fireplace, you should look at the different available heating sources. And to get a better idea, you should answer these questions:
Is your new fireplace required to be the primary source of heat?
Will you be combining the fireplace with other heating sources?
It should be noted that a wood-burning fireplace does produce a profuse amount of heat. But, a large chunk of it escapes from the chimney as the temperature rises, and it doesn't spread evenly across your room.
You have quite a few efficient heating options that are available for you such as – ethanol, gas, gel, or the electric fireplaces. Even though it produces less amount of heat, but it's directed into your room, and it doesn't rise to the ceiling.
What type of fireplace installation are you looking for?
The fireplace installation can range from spending weeks on remodeling your home for the new fireplace to the free-standing electric fireplace.
The gas fireplace lies In the middle of the installation spectrum. You need to to get it connected to a gas line. But, if you already have a gas connection, it can get simple to install your gas fireplace. When you have to hire a professional to install your gas line, it can get time consuming and expensive.
If you're building a wood-burning fireplace, then you'll need the help of a professional for the installation process. You can find a few models of gas fireplaces which you can install without professional help. There are also electric fireplaces that have an easy installation process that can be done alone.
Where do you want to keep the fireplace?
You should decide which room you are going to get the fireplace installed. And the location of the fireplace in that room. With an idea about the location of your fireplace, it will be easier to understand the fireplace style for your home.
If you're opting for the wood-burning fireplace, it's best when installed near the exterior walls. The other fuel types of fireplace can be installed on the interior walls.
Are you looking for a fireplace that is lightweight and can be shifted easily without redecoration? If so, we advise you to get the free-standing fireplace rather than the built-in inserts.
The living room is one of the most popular choices for having a fireplace. Finally, the smaller gas and electric models are a good option for the bedroom, dining room, office space, and the outdoors.
The overall cost of the fireplace depends on many different components. The price of a fireplace can range from $1000 to $10,000 or more, depending on the model that suits your preferences.
For the gas, gel, electric, and ethanol fireplace it can cost you around $500 to about $2500. For an affordable option, you have the wall-mounted and free-standing units to choose from. The built-in inserts are slightly on the expensive side. You'll have to pay the most for wood-burning fireplaces, especially for the ones that you're building from the ground up.
If you're getting a wood-burning fireplace which requires regular professional inspection, you have to consider those costs in your budget. These inspections can cost you from $100 to $250.
You'll be paying more than $10,000 for a basic model of a wood-burning fireplace, apart from the additional costs such as- construction, remodeling, and installation. It's also essential that you consider the cost of installation for gas, electric, ethanol, and gel models. A few units you can install on your own, for the others you'll need professional help which increases your budget.
However, even your gas fireplaces will require a yearly professional inspection, which can range from $100-$250.
What are the fire safety precautions for a fireplace?
All the different styles of fireplaces should be used with a lot of caution, especially the wood-burning one. You should follow the fire safety precautions very carefully to protect yourself, your family, and the house. The fire safety of a model should be questioned right from the time you opt for a fireplace.
The safest option for your family, pets, and home are the electric fireplaces. Even the gas, gel, and ethanol fuel type are safe for your children and home.
On the other hand, wood-burning fireplaces can get pretty dangerous if you don't use it properly. For a wood-burning fireplace, you should ensure that you get quality fireplace gate and screen, irrespective of whether you have your children or pets around.
You need to clean and maintain the wood-burning fireplace regularly. Also, you need to have a professional inspection and cleaning done for the chimney almost every year.
To install a gas fireplace, you'll also need professional help to connect your fireplace to the gas line. It might seem like a pretty simple task when you already have a gas connection, but for your safety, we advise to seek professional help.
The gas fireplace should be equipped with a safety pilot, which is the oxygen-depletion sensor. This tool helps to turn off the gas just when there is an increase in the level of carbon dioxide. It's best if you install carbon dioxide detectors on every floor of your home, which ensures fire safety when using a gas fireplace.
 Can you paint fireplaces?
Yes, you can safely paint the interior and exterior of your fireplaces. Most professionals usually recommend you to paint the exteriors with acrylic latex paint, which is heat-resistant for up to a temperature of 200 degrees Fahrenheit. Few manufacturers also make paint for stone, concrete, and brick which you can try out if the heat-resistant part works out fine.
Moving inside, you should use a high-heat paint which can withstand a minimum of 1000 degree Fahrenheit or more. We advise you to use a roller or spray made for textures for applying the paint in your firebox.
Can you recycle the ashes from the fireplace?
No, you cannot recycle the ashes. But, you have different ways to reuse them which includes- to remove algae from your small ponds, as a fertilizer for your garden, a household cleaning product, and as an insect repellent.
In places with frequent snowfall, the fireplace users often prefer to use ash instead of sand or salt on the icy sidewalks. For the adventurous and entrepreneurial soul, you can use wood ash for making lye and soap.
Can you remove the regular fireplaces?
Yes, you can generally remove the fireplace. The cost of it will depend on the amount of work required for the removal process. Those who choose to remove just a few selected parts of the system will bear a smaller cost, but for complete demolition, the charge will be high. Few tasks can be done for around $1000, but for a complete demolition; it will cost nothing less than $10,000.
The different factors that you need to take into consideration while setting the budget for the removal of your fireplace are- structural considerations, materials, finishing, and the number of fireplaces.
Can you use the ashes from your fireplace in the garden?
Yes, you have multiple ways to use the wood fire ash in your garden. If you sprinkle a small amount of ash in your vegetable bed, then it's equal to adding potassium and lime. But, you should avoid using ashes on vegetables that need acidic soil for its growth like peppers, potatoes, carrots, celery, tomatoes, garlic, and blueberries.
Ashes are highly alkaline substances, so it should be used with caution. Adding a sprinkle of ash to your compost pile will benefit a lot of different plants such as- swiss chard, asparagus, beets, peas, kale, and broccoli.
Are the gas fireplaces vented?
You can get gas fireplaces that are both vented and ventless. With an unvented model, there is an equal distribution of heat inside your home, but the drawback is that it carries a lot of carbon monoxide. We advise you to get the vented design, which has fewer safety concerns and is a highly efficient source of heating.
How expensive is a fireplace to run per month?
A gas fireplace is considered to be one of the relatively inexpensive fuel types. The exact cost of running a gas fireplace will depend on two factors- the current price of fuel, and the output of the unit, which is measured in BTUs. Also, you need to consider whether the unit is used for decoration or as a heating source.
There are two subtypes of gas fireplaces, which are: propane and natural gas. If you're opting for natural gas, it will cost you around three times less than propane.
It's impossible to give an accurate rate card of the entire cost since the price of gas tends to fluctuate over time, and it also varies from region to region.
For an estimate, an hour of operation of a 40,000BTU unit will cost you around 50 to 60 cents. You can use this for heating approximately 1200 to 1500 square feet living area.
Are gas fireplaces a good option for heating a home?
Yes, a gas fireplace is an excellent heating-source, and it's also an attractive unit. Some models can very quickly heat around 1000 to 1500 square feet. You can use a gas fireplace quite safely as a primary source of heating small apartments or homes. But, for larger spaces, you should not rely on a single fireplace to evenly distribute heat to every corner of your home.
For your living room, you can use a gas fireplace as the primary source of heat. For places that are far away from the living space, this will work only as a secondary heating source.
What is the cost of a new gas fireplace? How much does it cost for installation?
For the standard gas fireplace model, it will you around $1500 to $2500. The price range depends on the type of gas unit that you're buying, whether it's an insert, unvented, or direct-vented model.
The installation cost for a gas fireplace is more than the price upfront, as it depends on the following factors:
Does a unit require a separate construction or it's an insert?
Do you have an existing gas line or you need a new connection?
Whether the unit requires the construction of a chimney or it's an unvented fireplace.
This shows that your overall installation cost can range from around a minimum $500 to $2500 or more.
Can we remove the gas fireplaces?
Yes, you can remove the gas fireplaces. It's quite simple to remove the direct-vented units that are freestanding models. You need to remove the unit, get the electrical and gas work sorted out, and then you can patch the holes in the wall and get it refinished inside-out. But, if your unit has a chimney, it can get expensive and challenging, which also depends on the type of installation.
Is there any eco-friendly fireplace?
Yes, the best options available for an eco-friendly fireplace are electric and gas. These use very little energy, and they have smokeless flames. But, you should bear in mind that they use fossil fuels to run.
This means that it's releasing carbon dioxide even from a non-renewable energy source. But, the amount of carbon dioxide that it releases into the air is just a fraction of what an open fire produces.
Do fireplaces pose a threat to the environment?
To understand whether a fireplace is harmful to the environment or not, you should focus on the fuel type. The open fires are one of the least eco-friendly combinations; it requires poor quality solid fuel to run, which releases a lot of smoke.
If you're burning wood, then it's not necessarily harmful to the environment. But, you should only burn well-seasoned wood in a sealed glass fronted appliance (e.g., stove). This is a carbon-neutral way to heat your home. However, when these measures are not taken up, your fireplaces can pose a threat to the environment.
The efficiency rating of an open fire is just 30%, with the maximum amount of heat rising up the chimney. You should avoid burning dirty coal or wet wood, as it produces high levels of smoke, which leads to environmental damage, health problems, and air pollution.
Are the electric fireplaces safe?
The electric fireplaces don't produce any heat, and it stays cool to touch. This is even when the heater is in use. It's just the area around your heating vent which will get a little warm. An electric fireplace is one of the safest options available, and it's perfect when you have small children or pets at home.
For purchasing a fireplace, there's a lot to consider and learn. It can feel like a mammoth task when you have such a vast spectrum of fireplaces to choose from. Fear not! We've got you completely covered with this informative guide. You can read through it again to have a clear picture of the right fireplace for your beautiful home.
Till next time!
Related Articles
11 Best Firewood Rack to Consider 
To Mount or Not to Mount a TV Over The Fireplace – Pros & Cons
38 Rustic Country Cabins With A Stone Fireplace For A Romantic Getaway
6 Best Wood Stove Fans  Buyer's Guide
9 Best Pull-Down TV Mounts to Use 
13 Best Copper Fire Pit to Enjoy This Fall
10 Best Rolling TV Stands to Roll | Buyer's Guide and Reviews
13 Best Fireplace Tool Set Reviews
9 Best Indoor Natural Gas Space Heaters
11 Best Infrared Fireplace [Review & Buyer's Guide]
9 Best Indoor Natural Gas Space Heaters
What is a Chimenea [Definition & All You Need to Know]
9 Best Indoor Natural Gas Space Heaters
11 Best Infrared Fireplace [Review & Buyer's Guide]
9 Best Indoor Natural Gas Space Heaters
What is a Chimenea [Definition & All You Need to Know]