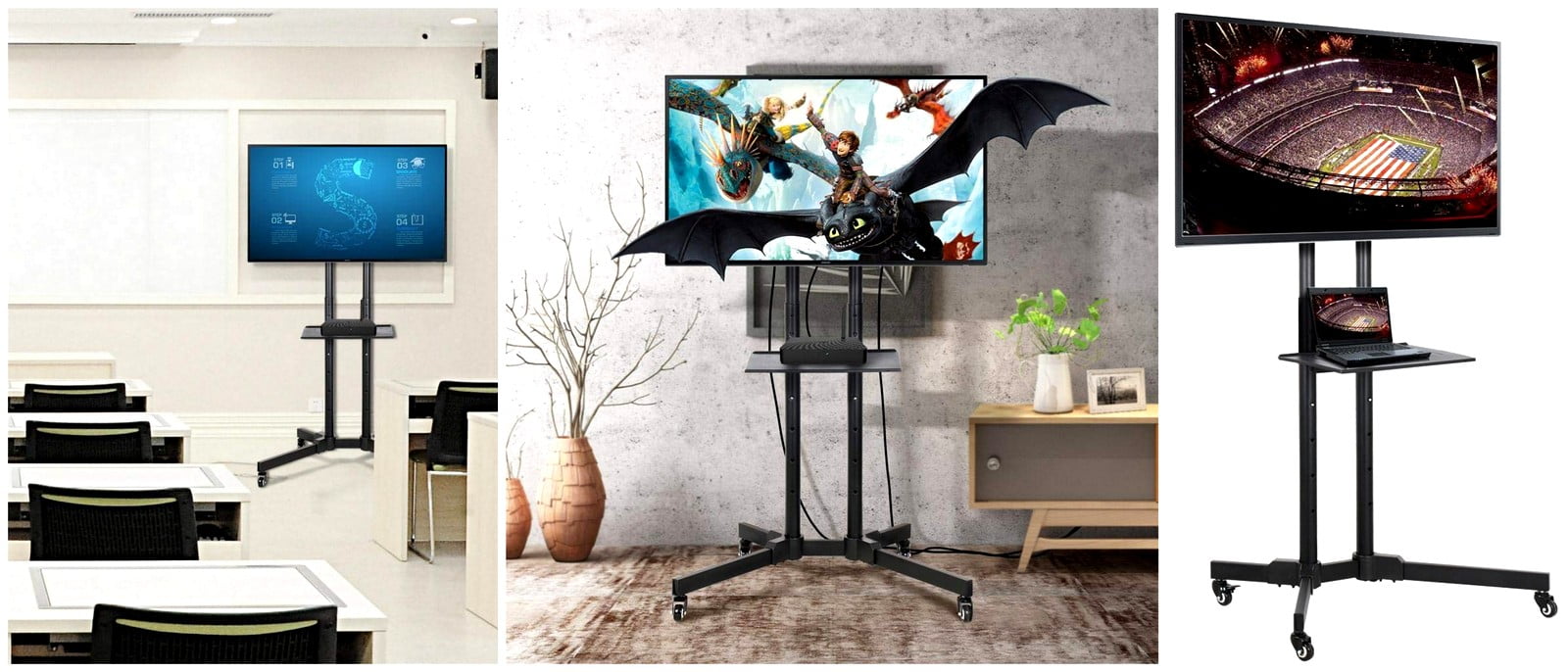 Technology has completely revamped modern-day appliances and has transformed the television industry with the advent of flat-screen, smart, and 4K televisions. That has led to a rise in demand for better quality TV stands to improve the viewing experience of individuals. Enter, the rolling TV stand, which has become very popular as it not only improves the aesthetics of your interior décor but also protects the television from any damage. 
Even though rolling TV stands have been around for a while now, a lot of people have the misconception that you need a lot of money to buy a rolling TV stand. However, that myth has been debunked with an abundance of affordable rolling TV stands for flat-screen TVs available on sale at Amazon. Now, you can get your hands on your very own rolling TV stand that allows you to transport your flat screen TV to any room in the house easily. 
Best Rolling TV Stands
If you're interested in buying a mobile TV stand, you're obviously at the right place, as we're going to be reviewing the 10 best rolling television stands to roll around in your home. When buying any of these options make sure that you check out their details and features, so that you buy one that suits you. So, let's dive into our reviews now:
Our number one pick for a mobile tv cart is the Vivo TV Cart, which will elevate your TV watching experience to unprecedented levels. The rolling stand is made from premium quality material ensures that you get the very best protection for your flat-screen TV. There are a host of amazing features, which makes this product our number one choice, like perfect tilt, universal sizing, and smooth movement wheels so provide you with the best viewing experience.
Pros
Offers an amazing viewing experience

Comes with 2 component shelves

Is perfect for TVs with 37" to 70" screens
Cons
Does have some problems with screws, but they're minor 
Sale
Another amazing mobile TV stand that is available in the market today at an affordable price is the Husky Mount, which is equipped with 4 swivel caster that allows you to move your TV around the house faster without making any noise. What makes it such a great choice is that it allows you to adjust the height of the TV for a better view and has a tray that can store your electronic gadgets.
Pros
Equipped with a great cable management system

Extremely affordable option

Provides great stability and perfect safety for your TV
Cons
Not the best choice for small apartments
Sale
We chose the Kanto MTM65PL as it is perfect for people who want to move their TV around their home with greater ease. The wheels have quick-releasing locks that allow you to whisk your TV around without much trouble. You also get a very attractive looking rolling stand as it is made from premium quality steel and has a powder finish to complete its elegant look.
Pros
Proper stability offered with extra locking mechanism

Provides the optimal viewing experience

Minimal and very sleek design
Cons
The assembly process is a bit complicated
The PERLESMITH Mobile is one of the best mobile TV stands that you will find in the market, and you can tilt it to get the best viewing angle quickly. The easy moving wheels of the rolling stand and its adjustable tray ensure that you get a quality product with everything you want. This rolling TV stand can easily hold TVs that weigh nearly 100 pounds without a problem.
Pros
Equipped with top-notch built-in cable system

Easier movement with high-quality wheels

Clear manual ensuring the rolling stand is easy to install
Cons
Low holding power compared to other TV stands 
If there is one mobile tv cart that is guaranteed to enhance your viewing experience it must be the Yaheetech Portable TV stand. It allows you to adjust the viewing angle of your TV in any angle and can also accommodate TVs of all weight capacities and designs. The maximum loading capacity of this TV stand is around 110 pounds which is more than enough for most TV models.
Pros
Made from premium-quality materials

Additional storage option with component stand

Very reliable TV stand
Cons
Complicated instruction manual
The Rfiver Mobile TV Cart is one of the most popular mobile tv cart models in the market today. It is a favorite due to its premium-quality material build and has exceptional weighing power and wheel movement. You won't be lacking any additional storage space with this rolling television stand, as it is equipped with a tray that is perfect for storing electronic gadgets and laptops.
Pros
Extra-large wheelbase for added stability and safety

Best choice for bulky TVs

Equipped with an excellent built-in cable management system
Cons
Assembly instructions are complicated
If you want a rolling TV stand that goes with the minimalist interior theme of your home, the best option is the Fitueyes TT207001MB Swivel TV stand. The height of the TV stand can be manually adjusted based on your requirement, and it features a modern design, which easily supports TV models that are between 32 and 65 inches. You can also move the television in any direction that you want to elevate your viewing experience.
Pros
Can easily move TV sets to nearly 15 degrees

Has a durable and compact metal body

Equipped with 2 different shelves
Cons
Is an expensive option

Some components don't match with the stand
The North Bayou Universal Mobile TV Stand is one of the most sophisticated rolling TV stands in the market. It can easily accommodate TV models that are within the range of 32 to 65 inches, making it a perfect choice for use in homes, conference rooms, hospitals, and lecture halls. You also get excellent maneuverability with this rolling stand thanks to its 4 lockable wheel casters.
Pros
Very easy installation manual

Equipped with adjustable tray for storing other devices

Aluminum alloy frame for extreme durability
Cons
Some instructions don't match with the hardware of the rolling TV stand
The Mount Factory rolling TV stand is the best choice for storing your TV along with other devices such as your music system, and DVD player. There's also space for storing other items as it comes with a separate component shelf. The interlocking casters and sturdy frame of the mobile tv cart make it one of the best options out in the market right now.
Pros
Highly compatible product

Rolls around quickly and easily

Loading capacity of 110 pounds
Cons
Some complaints about incorrect manual

Screws that come with the stand are made from cheap quality materials
Sale
The last option for a rolling television stand on our list is the Vivo Black TV Cart, which is perfect for any family that is looking for a unique design and want something different for their interior décor. It is made from premium-quality material, so you get a solid frame and body, while it can easily accommodate TVs from 32 inches to 65 inches in length. Moving it around your home or from room to room is easy as it has swivel wheels attached to the bottom.
Pros
Easily transports your TV anywhere in the home

Comes with additional storage options

Long-lasting durability
Cons
Some users don't like the sharp threading on the pipe connector 
Best Rolling TV Stands Conclusion
When it comes to mobile tv cart stands out in the market there are a lot of good options available to you. Picking a TV stand shouldn't be complicated if you know what you want, and the best option for you is going to be the one that matches your budget and requirement. We have listed 10 of the very best rolling television stands to roll your display around the home, so pick one after reviewing its price and features. 
Related Articles
To Mount or Not to Mount a TV Over The Fireplace
10 Best Rolling TV Stands to Roll
9 Best Pull-Down TV Mounts to Use
15 Best Electric Fireplace TV Stand