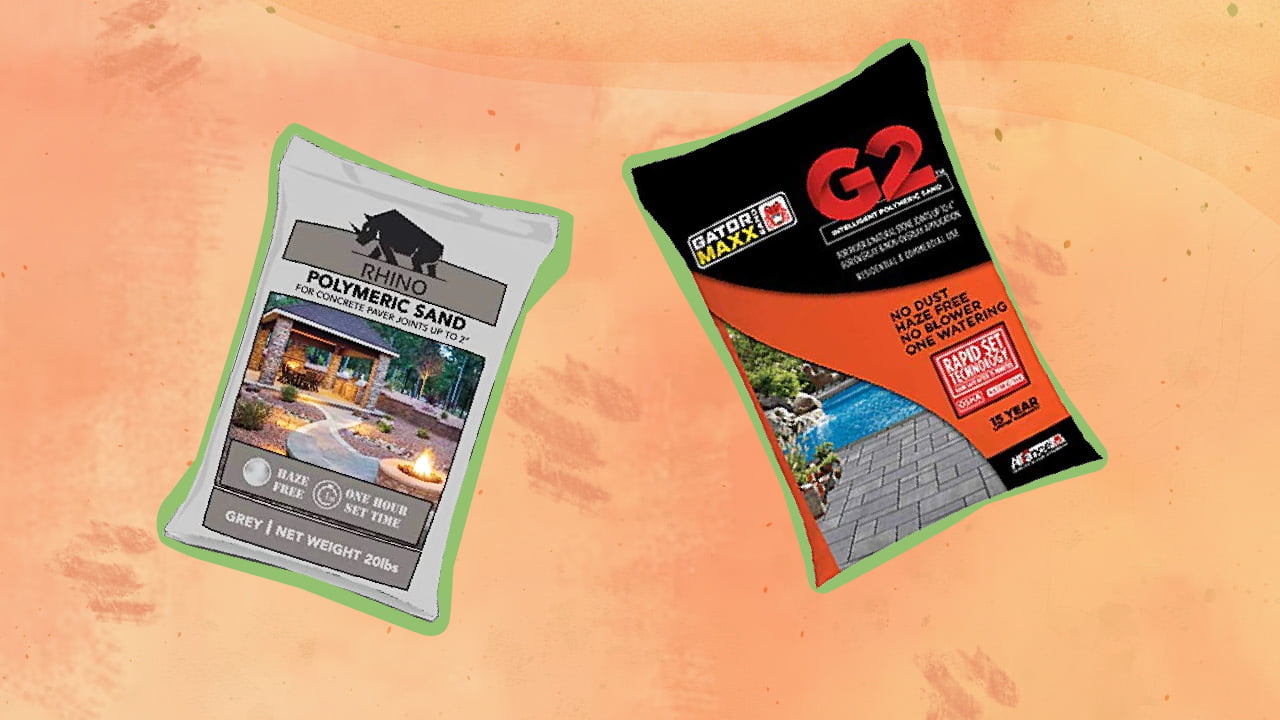 The Dominator Polymeric Sand is popular because of its flexibility, durability, and wide coverage. But, if you're looking for polymeric sand that prevents erosion and deters insects from the joints, the Alliance Gator Maxx Intelligent Polymeric Sand will be ideal. 
As garden soil is ubiquitous to gardening, polymer sand is to interlocking pavers. To maintain the charm of your concrete paver patio, it's important to fill the joints with polymeric sand. While it may not seem difficult, choosing the right product is no less than a challenge. 
To save you from the hassle, I've reviewed the 5 best polymeric sand based on our firsthand experience with our paver projects, in which we tested 10 polymeric sand options on the market.
Further, you can also check out our article on how to apply polymeric sand to gain more on this particular topic.
So, without any delays, let's get to it, shall we? 
5 Best Polymeric Sand
Are you in the market for the best polymeric sand? Whether you're a professional contractor or a DIY enthusiast, you'll want the best polymeric sand for your project. Polymeric sand is an advanced form of sand that binds together when wet and is designed to keep pavers in place and prevent weeds and ants from entering the joints. Here is the list of the 5 best polymeric sand to help you make the best decision for your project: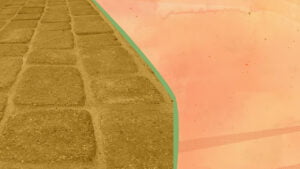 What we like
Easy pour handle

Multiple colors and sizes

Cures within 48 hours

Ideal for pool decks, concrete pavers, and other outdoor surfaces
What we don't like
Using too much or too less water can ruin its integrity
Sold in a 40-pound packet, the DOMINATOR Polymeric Sand sits atop my list because of its strength and flexibility. Powered with ceramic flex technology, a technology found only in the most advanced polymeric sands, it's a blend of polymers of fine sand. 
What I particularly like is it is formulated without cement, allowing easy application. All you need to do is spread a generous amount of the jointing sand on the surface and sweep it to fill the joints properly. 
Again, you will have to use a broom or a leaf blower to sweep off the excess sand from the surface and water the particles with a spray nozzle. Remember that both under-watering and over-watering can inhibit the integrity of the sand– so hiring professionals would be the best bet if you're not confident in your DIY skills.
As the sand particles are small, this joint sand is versatile and works well for sealing both tight joints and wider joints. Besides the easy application, the solid flex technology allows this paver sand to flex without affecting its durability. That means it will soften but stay in place firmly when exposed to water. 
As for curing, this polymeric sand takes about 48 hours to cure fully, provided the temperature is above 50°F, when we trialed this product, it cured in ~28 hours at a temperature of 71.6°F. Coming in an easy-pour bag, it has a long shelf life, ensuring you can store it in a tight container and use it later. 
Also, it's available in various colors and sizes, so make your pick carefully. 
Size: 40-pound | Color: Titanium gray | Coverage: 85 sq. ft. | Working Temperature: 50°F or above
What we like
Haze-free, dust-free, and blower-free formula

Sets within 15 minutes after applying water

Prevents erosion and damage due to burrowing insects

Ideal for natural stone joints, concrete pavers, and wet-cast products
Available in slate gray and beige colors, the Alliance Gator Maxx Intelligent Polymeric Sand is firm yet flexible, so you can rest assured that it's highly durable. Like most other poly sands, it features a unique blend of calibrated sand and polymer binders, effective in sealing joints as wide as 4 inches. 
When it comes to application, it is quite similar to regular sand, except that you'll need water to set it between the joints. Irrespective of whether you're a weekend warrior or a novice DIYer, you won't face trouble using this polymeric sand, after trying out this product we can comfortably say that anyone can install it.
What's more, this polymeric sand meets the ASTM C144 gradation, meaning it's suitable for tight joints. This sand is also OSHA crystalline silica compliant, so it prevents the growth of weeds and the damage caused by insect infestation. 
Additionally, it inhibits erosion caused by freeze or thaw cycles, rain, and wind, which is another feature I like about this polymeric sand. 
This poly sand (haze-free) is also powered with rapid set technology, which is why it becomes rainset within 15 minutes of application. You can use this polymer sand all year round– be it summer, winter, or monsoon. 
Another feature that appealed to me about this polymeric sand is that it is a dust-free and blower-free formula. That means you can skip your dust mask when applying it to seal the joints. 
The Gator Maxx polymeric sand is suitable for a variety of uses, including false paver joints, overlay or non-overlay, and residential and commercial applications. That said, this polymeric sand is slightly pricey, so be prepared to shell out a few bucks more. 
Size: 50-pound | Color: Beige | Coverage: 85 sq. ft. | Working Temperature: 32°F or above
3. BuddingCo Polymeric Sand – Best Joint Stabilizing Sand For Stone Pavers  
What we like
Prevents erosion

Becomes rain safe after 15 minutes of application

Easy to install

OSHA-compliant and ASTM C-144 tested
What we don't like
Available only in one size
Featuring a unique blend of calibrated sand and polymer binders, the BuddingCo Polymeric Sand is similar to regular paver joint sand in terms of application. 
Spread it over a dry surface, sweep it, and spray water to set the sand firmly between the joint width and allow it to dry. Once this sand sets, it will create a durable jointing material while remaining flexible. 
What makes the BuddingCo Polymeric Sand one of the best polymeric sands is its versatility, as it's usable on a variety of surfaces. Besides paver projects, our research indicates that you can use it on the pavement (architecture), parking space, driveway, walkway, patio, and pool deck of your property.  
Available in an 18 lbs. bucket, this polymeric sand covers up to 30 to 40 square feet, which makes it a viable option for a single paver project. That means you will have to order more buckets for larger or multiple projects. 
That's not all; you can use this sand on false joint pavers, unlike other polymeric sands. And aside from the outdoors, this sand even seals gaps or cracks indoors. 
Moreover, this polymeric sand sets at 32°F or above freezing temperatures, so you can set your driveways even in winter. Interestingly, this long-lasting and highly durable sand prevents erosion due to freeze-thaw cycles, wind, and rain. 
Over and above that, this sandy soil is powered with rapid set technology, so it becomes rain-safe after 15 minutes of application. And available in multiple colors, this polymeric sand is OSHA-compliant and ASTM C-144, meaning it is safe for use. 
Size: 18-pound | Color: Gray | Coverage: 30 to 40 sq. ft. | Working Temperature: 32°F or above
What we like
Can handle the rigors of the natural elements

Prevents insect infestation by securing the joints firmly

Rainsafe in an hour

Available in multiple options
What we don't like
Not recommended for places with temperatures under 32°F
The Rhino Power Bond Plus Polymeric Sand is yet another product that you can consider for your DIY sealing projects. 
Coming with professional-grade Loc-King technology, this polymeric sand keeps weeds out of the joints by staying firmly in place. In addition to that is the haze-free technology that makes it rainfast within an hour of application. 
Its ability to fight every weather condition is what made me include this polymeric sand on this list and we have found from using this product that whether it is excessive sunshine, snow, or rain, Rhino Power Bond Plus can withstand the rigors of nature. And that is what makes it a great choice for stone joints, paver joints, and other surfaces. 
Walkways, driveways, or around a pool–this polymeric sand is usable in a variety of areas. Other than that, you can use it with wet cast-based pavers and concrete pavers. 
Before installing polymeric sand, just make sure that the surface is completely dry, or it won't adhere properly. After sweeping the sand in the cracks and gaps, blow off the excess and activate the polymers by misting the surface. 
One bucket of this polymeric sand is about 20 pounds and can cover up to 20 to 40 square feet for up to 2 inches of wide joints. However, you can go for the 50-pound bucket if you need this polymeric sand for large projects. 
What's more, the brand supplies this sand in four colors– slate gray, beige, ivory, and black diamond. One thing I'd like to bring to your attention is that this sand shouldn't be applied to places where the temperatures are below 32 degrees F. 
Size: 20-pound | Color: Slate gray | Coverage: 20 to 40 sq. ft. | Working Temperature: 32°F or above
What we like
Tintable

Prevents weed growth

Deters insects

Can withstand the natural weather
What we don't like
Becomes chunky if not mixed properly
My last recommendation is the ConSANDtrate Polymeric Sand Concentrate, which comes in a 20-pound package. 
Featuring a specific blend of polymers, this poly sand can be mixed with regular sand at a ratio of 10:1. Meaning, you will have to mix 10 parts of regular sand with one part of ConSANDtrate sand for a more concentrated polymeric. 
Not just colors, but you can also mix custom colors with this poly sand, which isn't the case with other polymeric sands. 
After trying out this sand we can state that polymeric sand in joints between paver stones and slabs is easy. First off, you will have to fill the joints with sand and level them with a stiff brush by sweeping them down. Next, use a paintbrush or a blower set to clean away residue from the joints. 
Thereafter, spray water on the filled joint using a garden hose at least 3 times at 10 minutes intervals.
Paver joints, flat rock, and hardscape– you can use polymeric sand from ConSANDtrate for a variety of projects. Not just that, but it can also be used as a crack filler for exposed or concrete aggregate slabs. 
As for the color, this polymeric sand comes in gray, but since it is tintable, you can use it on any surface by mixing it with whichever you want. 
All things aside, you'll be pleased to know that this polymeric sand is weather-resistant, meaning it can withstand harsh rain and severe cold easily. Like the previous product, it prevents weeds from growing between the joints. 
Note that it may become chunky if you don't mix this polymeric sand with regular sand properly. 
Size: 20-pound | Color: Gray | Coverage: 170 to 200 sq. ft. | Working Temperature: 32°F or above
Polymeric Sand Buying Guide
Using the right polymeric sand in your paver project can impart a professional look to your pavers or whichever surface you use it on. 
Through trial and error, I've learned the factors one must consider when choosing polymeric sand for their projects– and this section discusses just that. I've put together a list of all the important factors that you need to keep in mind when ordering poly sand for your paver or other outdoor projects. 
Let's discuss that in detail. 
1. Size Of The Joint
Before you order a pack of polymeric sand, you must take into account the size of the joint you need to fill with it. Most polymeric sand manufacturers sell sand for wide joints, while others manufacture them for filling tight joints. 
For fieldstone patios or paver projects that have large joints, you will have to opt for ones that are made for sealing wide joints. That's because they would create a strong barrier after settling in the gaps. Not just that, but they will also seal oil the elements better than others. 
2. Color
By now, you know that polymeric sand comes in different colors– beige, gray, brown, ivory, and others. 
So, you will have to order and similar in color to the surface where you intend to apply it. Some polymeric sands are tintable, meaning you can mix dry pigments of your preferred color and apply them to the surface to complement your pavers. 
3. Curing Time
Another important aspect that you need to consider when using polymer sand is the curing time. Most polymeric sands come with a drying time of 24 hours, while others take 48 hours to cure fully. 
If you go for those that take 24 hours to dry, your surface will be ready for use the next day of application. On the other hand, you will have to wait for 2 days to use the surface if you opt for poly sands that take 48 hours to cure fully. 
However, keep in mind that the weather plays an important role in determining the drying time of the sand. That is to say, the sand is likely to dry more quickly if the weather is hot than if the weather is cold. 
And if you're in a hurry, opt for polymeric sand that is powered with rapid set technology because they set within 15 minutes of application. So, even if it rains after application, the sand wouldn't be washed away with water. 
4. Resistance
Since you'll be using polymeric sands for sealing outdoor surfaces, choosing a highly durable product is important. 
For your paver project, go for polymeric sand that shows excellent resistance to weather, so the natural elements won't tamper with its binder (material). It should also be water-resistant, so it doesn't get washed away from the joints when exposed to water. 
Additionally, I'll suggest going for polymeric sands that are blower-free, dust-free, and haze-free. 
5. Price
Polymeric sands are sold by various manufacturers at different prices. Some sell them at reasonable prices, while others sell their products at a slightly steep price. 
One thing to keep in mind is that not every expensive product is of high quality, and vice versa. Therefore, you must always weigh the price of the polymer sand with the quantity to figure out if it's worth the money or not. 
Alternatively, you can look for customer reviews to find out if the product actually lives up to its claims or is simply a waste of money. 
Polymeric sand doesn't come with exorbitant price tags, but still, I suggest preparing a budget before scouring for them. This way, you won't overspend on your paver project. 
Top Polymeric Sand Verdict
With the five best options at your disposal, choosing the best polymeric sand won't be a problem. But still, if you're unable to decide which product would be the right one for your projects, I will help by revealing my top picks based on my firsthand experience.
It goes without saying that the Dominator Polymeric Sand is my favorite because of its ceramic flex technology and durability. Meanwhile, the Alliance Gator Maxx Intelligent Polymeric Sand is a close second because of its ability to seal both tight and wide joints, preventing weed growth and insect infestation. 
Remember, good-quality sand will last longer, so go for it even if it costs more. 
Related Articles
Best Lawn Edging for a Legendary Garden