Any space, irrespective of its design and lighting, remains incomplete without suitable furniture - it just revamps the entire decor.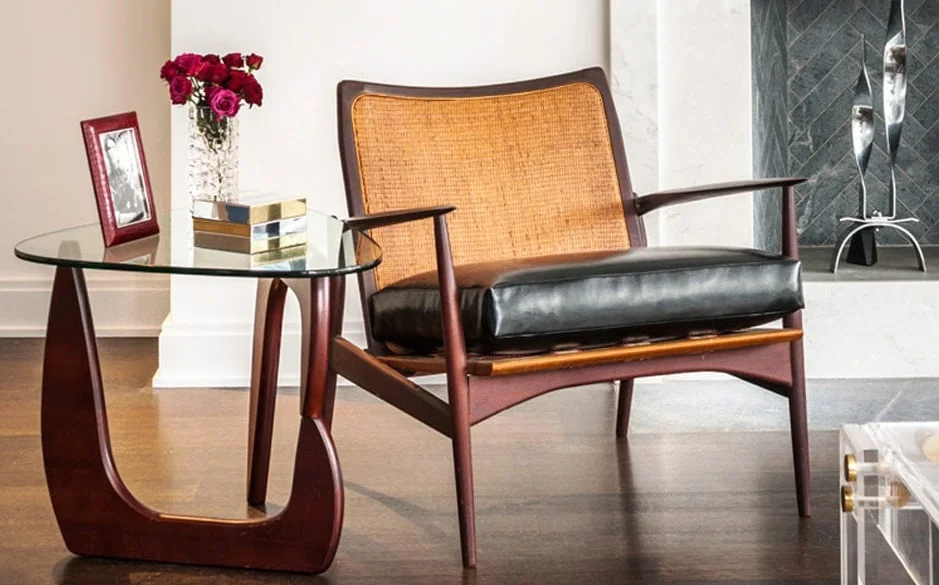 A house turns into a picture-perfect home with the right decor that suits your vibe. We don't even notice how our furniture is extremely influential in creating some memorable moments in our lives. However, the love for mid-century modern furniture has been a statement for around 50 years. You'll find the impact of this iconic design era as an epitome of style in modern homes.
And, while we search for modern designs, it's all about finding the pieces that will complement your natural surroundings. 
We can't help but marvel at the resilience of the mid-century designs, which is ingrained in our aesthetic ideals. Modern furniture is like a piece of art - clean lines, minimalism, simplicity, and profuse with elegance. 
But, what gives this design its longevity? What are the different mid-century furniture styles? In the following guide, we'll be diving into these questions and so much more. Let's get started, shall we?
Types of Mid-Century Modern Furniture
When you start looking for mid-century modern furniture, you'll find an endless variety. The buzz for this design is not going to die, but instead, it keeps getting louder with more people opting for these products each day. Few of these pieces have gained immense popularity and have continued to rule the mid-century modern furniture market. So, without further ado, let's cast a glance over the legendary pieces that have contributed immense to the style!
Most Iconic Mid-Century Furniture Pieces
The Wassily chair was created in the year 1925, by Breuer, an apprentice at the Staatliches Bauhaus. He was indeed the first furniture designer to use tubular steel to make the Wassily chair. Breuer found the inspiration for designing this chair from a bent form of a bicycle frame (handle). It was way ahead of its time to use steel for making a product. 
However, it's due to the development of technology in the mid-century era that made this innovation possible. Mannesmann, a German steel manufacturer, had developed a process by which you could produce seamless steel tubing. And, this same tubing was featured in Breuer's bicycle, which inspired him to use this material in the Wassily chair.
This chair has arms and backrests, along with fabric seats. With the re-launch of Wassily chair in 1960, there were black, brown, and white leather options available.
The Ottoman and Eames Lounge chair was molded to be used by the U.S. Navy during World War II. The same product has been continuously manufactured since 1956. It sounds unbelievable? Well! The hype about its comfortable design is quite relevant when we consider the functionality of this piece. It comes with an aluminum base, and it's upholstered in leather.
This design did stand out when compared to other chairs that were created during this period. It has a modern design that still blends in perfectly with every style of home decor. The chair was initially made with two existing models of furniture; a used baseman's mitt, and a country club chair. The simple design and high comfort factor makes it a statement piece in every home.
The legendary Barcelona chair was built in 1929 and was initially used at the German Pavilion by the Spanish royalty in Barcelona, Spain. It's a well-designed piece of modern furniture made with some of the finest quality materials. This elegant and versatile product can be accommodated in any formal setting or even the living room.
The furniture made by Ludwig is known for its fine craftsmanship, with a clear separation between the supporting surface and its supporting structure. The Barcelona chair also has a combination of luxurious fabrics like chrome frames with leather.
The Tulip Armchair not only resembles a flower, but it's also shaped like a stemmed wine glass. Saarinen had created this design to avoid any clutter in a living space. He wanted to make a chair with a clear and simple design without using the undercarriage of four legs. 
This piece is a part of the last furniture series by Saarinen, which features a single pedestal leg that creates a unified environment of stools, chairs, and tables. The tulip chair has an aluminum stem that is fused with a plastic finish which supports the sculptural fiberglass shell seat. But, the chair looks as though its made of just one material.
The sculptor Isamu Noguchi is a well known Japanese American furniture designer and landscape architect. He created this extremely delicate coffee table by joining a freeform glass top with curved, solid wood base. It was introduced to the public in 1948, and ever since then, it has gained a constant appreciation for its minimalist design.
This simple design, with clean edges, is a stunning creation, that will stand out in every space that you choose for keeping this furniture.
Ball Chair Designed by Sori Yanagi 
This ball chair is a perfect piece of contemporary modern furniture which adds a futuristic and casual element to any environment. It is made of fiberglass, and it has been upholstered with quality fabrics. You can place this chair in any informal or formal setting which makes this chair perfect for all-day ergonomic support.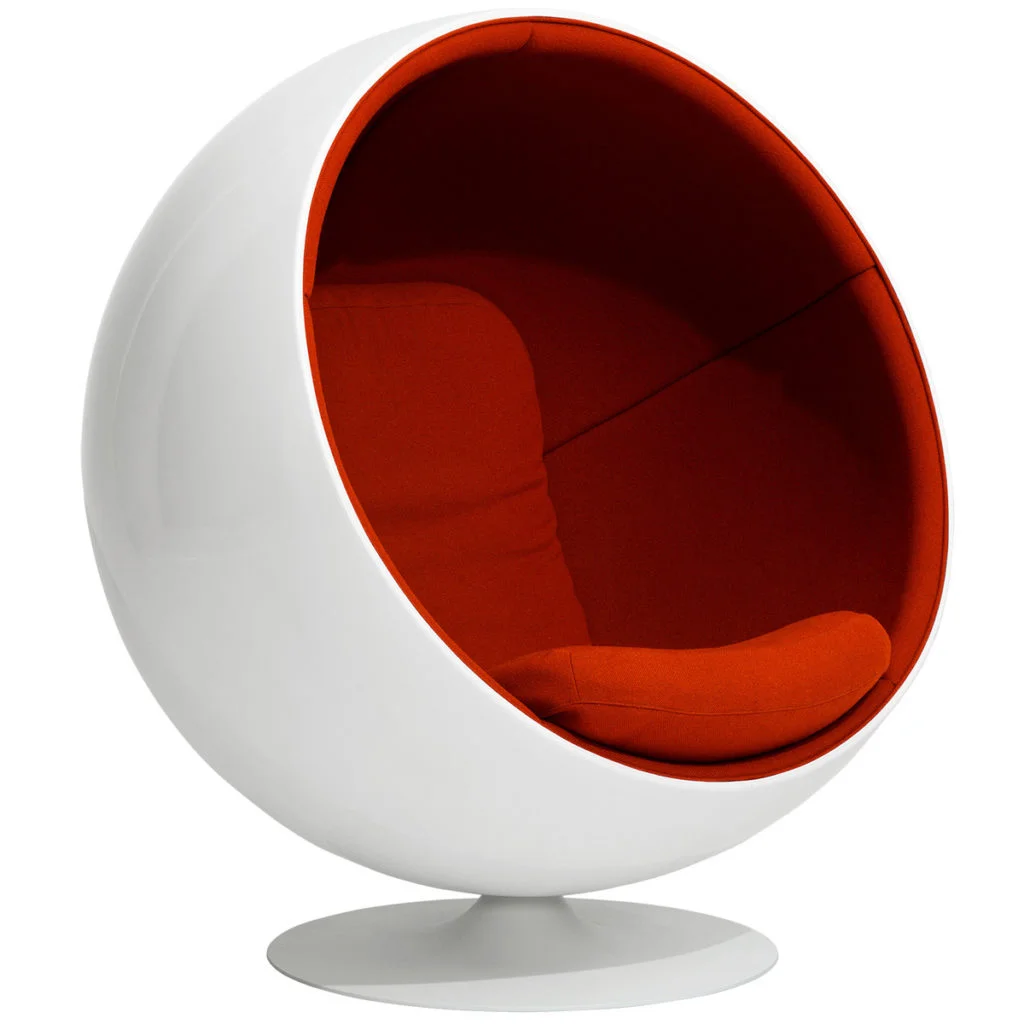 This Florence Knoll sofa dates back to 1954, and it has a perfect blend of minimalism, beauty, and elegance. It is still one of the most famous pieces of mid-century modern furniture. With an ideal combination of functionality and aesthetics, this piece has a reasonable price tag. It's perfect for any style of living room, and it provides a sophisticated design with superior levels of comfort.
The sculptor Arnie Jacobsen had first molded the shape of an egg by using clay to get the perfect shape. After getting the form right, he made the egg chair with a durable foam inner shell that is placed under the upholstery. It is perfect for public space or even the living room; it covers the entire back of the person seated.This unique, stylish design was created in 1958, which is not going out of trend any time soon.
A Brief History of Mid-Century Modern Design
As the name suggests, this design was pioneered in the 1940s-1960s. The mid-century movement came about during the era of modernism. This style has gained immense popularity in the last few decades; however, it wasn't widely recognized in the past. The designs are rooted in the concept of functionality, simplicity, and elegance.
This form of modern style had initially grown in the suburban areas of America, and it's ideologies are based on the principles of the Le Corbusier and Bauhaus. It originated in Germany, but after the horrors of World War II, several Bauhaus architects and designers migrated to America. With the advent of technology along with economic changes, there was a rapid shift in lifestyle.
Many modern homes were built, along with it came the demand for modern furniture. However, the advances in the field of technology did allow the production of a wide range of materials. This modern style furniture played with new materials like vinyl, glass, metal, and plywood. It's quite rare for a design movement to stand the test of time that keeps evolving with a new generation.
But, the concept of engineering functional yet aspirational furniture gave rise to pieces of architectural beauty. The mid-century design comes with geometric silhouettes, clean, simple lines, and multi-purpose usage that can easily blend with the surroundings. No wonder, this old charismatic style of furniture has such high demand even after decades for its immaculate design.
Mid-Century Modern Style Characteristics
Here are a few key features which distinguish the mid-century modern style from all others: 
In the mid-century designs, functionality is essential in every type of furniture.

Superb craftsmanship. The designers take pride in creating pieces that can withstand the test of time.

Minimalism. The uncluttered look with sleek lines come in both geometric and organic forms. It lacks any fussy ornamentation or design.

It uses man made as well as natural materials. You'll find a mix of traditional materials solid wood or stone, with synthetic fibers like plywood, rayon, or nylon.

It comes in modern prints. Even though the focus was on simplicity but it didn't come at the expense of an overall appeal. You'll get designs ranging from geometric prints to boomerang designs.

"Floating" furniture. The mid-century pieces come with short and extremely tapered legs, which gives it a" floating" appearance.

It uses bold colors. You'll find a broad spectrum of colors in use from neutral to bright, and for the graphic designs, there is also a splash of black and white.
Different Types of Mid-Century Modern Furniture
Every piece of furniture that is crafted by the mid-century modern designers is timeless and blends easily with the contemporary style of decor. You can design your kitchen, bedroom, living area to the patio with mid-century modern furniture.
Even though it has a sleek and minimalist style, but it should be placed carefully according to the design layout. This helps to avoid making the design appear dated as it can easily monopolize a room. These pieces can either make or break the entire space. 
The whole house can be redone, as you find the furniture that matches your requirements. We've curated some fantastic ideas that can be incorporated while you redecorate your home with mid-century modern furniture. 
Living Room Mid-Century Modern Furniture 
The living room is one of the most commonly used spaces in the home. And there are a lot of different ideas which you can implement for crafting a well-designed living room. This is a primary spot that helps to set the tone for the rest of your home decor. It's one of the best places in the house where you can showcase your design aesthetics. Let's look into the best mid-century modern furniture for your living room.
You must have seen a few accent chairs in the living room of many homes. It is not just used for extra seating arrangements, but it's a brilliant way to add a new style reference, color, or silhouette to any room. This has become one of the most common pieces of furniture in the entire stack of mid-century modern designs. They look simple yet stylish in every living room.
The size is perfect for you to incorporate it in any living space, be it your bedroom, living room, or even the office. It adds a sense of personality to any space.
A coffee table is a living room essential. To replace a coffee table is quite challenging when you consider all the benefits of having this piece. This long, low table is designed in a way that you can place it next to your upholstered chairs or sofas. It helps to support magazines, books, beverages, and other small decorative items.
Placing the mid-century coffee table in the living room helps to make it the center of attention. And its multipurpose form helps to add visual interest. You will love the entire effect of this classy design in your home.
Many of us must have seen the design of an egg chair, but the name might not have been clear. For those of you who haven't seen an egg chair, we're here to help you understand the complete form of this modern furniture design. It is a very stylish and cute chair that acts like a showstopper among the other decor items.
This design can have a significant impact on the overall outlook of the living room.. It has a super stylish and sophisticated design that complements both contemporary and traditional style of the living room. 
The egg chair helps to carve out your personal space with its structural integrity. This statement piece comes in different colors, and a wide range of textures so you can find the one which will suit the other furniture in the room.
Having a sofa set in the living room is one of the first pieces that we tend to focus on while redecorating our home. You should not compromise on your level of comfort and design when it comes to selecting a sofa. The mid-century sofa sets are an ideal option for the people who appreciate bold to neutral hues in the living room. These sofas are the epitome of elegance, comfort, and style.
It has a significant amount of sitting space, and it provides you with unmatched comfort. This simple design adds the perfect spark of beauty that your living room needs. The slanted, low-set design of these sofa sets have a sleek, retro look which adds an undeniable charm to the room. Each piece comes with raw, exposed material finishes with an inherently stylish low-angled design. 
It can get a little challenging to transform the entire home into a complete mid-century modern design. But, we can insert a few pieces of such furniture into our already existing modern homes. These TV consoles exhibit great minimalism. The stands deliver a classic look, which is indeed a distinguishing feature of mid-century modern design.
 It exhibits expert craftsmanship (appearance), and it will be a safe place to keep the flat-screen TV with sufficient storage space (functionality).
The natural wood designs can easily blend perfectly with any style of decor. The color gives a sense of serenity, and it influences the surrounding atmosphere. As we focus on the functionality, most TV console features four storage spaces in the middle which you can fill with decoration, DVD's or with some books.
 It generally has two open shelves that have been designed without doors, which makes it easier for you to access. The superior design, color, and quality of this mid-century modern furniture make it suitable for the living area.   
Mid-Century Modern Bedroom Furniture
The bedroom is one of the most privy and intimate spaces of our homes. With a mid-century modern design, you can integrate plenty of personal touches by integrating some classic bedroom features. These design ideas are every bit as elegant as they are visually appealing. Let's take a look at some of the most famous mid-century bedroom furniture designs!
How do you complete your bed without a nightstand? It's with these stands that our beds and our rooms start to look complete. We use nightstands for many different purposes like- placing the books that we read every night, to keep our spectacle, regular supplements, eye masks, our cell phone, watch, etc.
It might appear like a small piece of furniture, but it's a simple, elegant, and super functional product. With this mid-century modern nightstand, you can avoid the clutter by storing different tiny items. It usually comes with spacious drawers, which makes it handy to store your essential things. The simple drawer and the hairpin-style legs come together in this design to create a visually-appealing nightstand.
Bed
A bed is like a safe haven which allows you to unwind after a long day. With a bold bedroom set, our space can start to look congested and small, but with the mid-century modern design, the bedroom will not look overdone. Geometric patterns and tapered legs are some of the essential features that are highlighted in this classic design. 
 Lightweight material, lively colors, and streamlined shapes give these mid-century modern beds a sense of timeless appeal.
The sleek lines of this mid-century modern bed help to create a unique sense of flair and add to its elegance. These beds come with a low headboard that you can use for keeping different decorative items or even your night lamp. Having this stylish bedroom set will be a great way to update the existing decor. 
This belongs to the list of comfortable furniture where you can sprawl and read, listen to some music, or even take a nap. If you have a spacious bedroom, you should try to accommodate this mid-century modern chaise lounge. Having a chaise lounge in the bedroom or even your living room makes it the perfect relaxation zone.
It's an elongated chair that resembles a couch except for a few features such as-  it comes with and without armrests while the backrest of the lounge allows you to sit in a reclined position. This piece of furniture has been growing in popularity, and in the new designs, there is enough space for two people to be seated. It complements the decor of the home, and it's known for its durability, beauty, and versatility.
When a bedroom doesn't have a dresser, you're missing out on an essential piece of furniture in your bedroom. It comes with excellent storage space where you can accommodate your linens, undergarments, clothes, towel sets, and many other items. You can use the dresser top to keep family portraits, beauty products, or plant decorations that can enhance the look of the entire room. 
What makes the mid-century modern dresser stand out from the other styles, is it's simple, uncluttered design. It comes with clean lines, smooth finish, straight edges, and raised legs, which can make the bedroom look welcoming, warm, and extremely tidy. These pieces are usually made of natural wood, or plywood, you can also find other models that are made of other non-traditional materials.
Having the right light in your bedroom can transform the entire atmosphere. The mid-century modern lamps are a design-savvy lighting trend. You'll appreciate the chic look of these lamps which come in artful silhouettes, metal details, fine linens mixed with earthy textures. You might also find models that don't require wiring to be done; therefore, it requires no effort to set up the lamps.
This trend is not going out of style, so get these beautiful, sleek designs to set the right mood at home. It will not just brighten up the surroundings with an ambient glow, but it will be one of the statement pieces in your bedroom. You can find a ton of mid-century modern lamps with unique, innovative designs and a touch of minimalism which adds the perfect finishing touch.
Mid-Century Modern Kitchen Furniture  
When you incorporate mid-century modern furniture in the kitchen, it gives an elegant and quirky spin with its retro accessories. This design and theme elude a sense style, organization, and personality in your kitchen. You should focus on creating a high-quality kitchen without having to sacrifice on the space. 
Try removing all the visual clutter such as- bookshelves, excessive furniture, and other forms of visual obstructions. We've found some of the best mid-century modern furniture ideas for the kitchen that will create a massive impact to help you enjoy your cooking time.
Getting mid-century modern kitchen furniture is like investing while enduring style. If you don't prefer having a separate dining space, you can quickly get a table for the kitchen. Just like the other pieces of mid-century modern furniture, even this table has wooden legs, clean lines, and simplistic design. The right table set can transform the entire outlook of the kitchen. 
These beautifully crafted tables will elevate your casual dining nook set to an elegant space filled with warmth and personality. Get this mid-century modern table to create a fun cooking vibe in your kitchen.
Most of the modern kitchens come with an open counter that makes it easier to place the cooking items, which acts more like a bar. You can sit around the open counter to have a meal when you don't want to move over to the table. The best furniture to get for this area is mid-century modern kitchen chairs. 
The clean, sleek lines and simple design can never make your  kitchen design look overwhelming, congested or overdone. You'll find a variety of sizes which are perfect for small to large kitchen space. With these kitchen chairs, you'll be adding a sense of personality that creates the perfect balance while giving you a welcoming, stylish, and classy environment. 
Kitchen Cabinets
It is one of the essential components in our kitchen. It helps to keep the kitchen space organized and clean. The design of the mid-century modern kitchen cabinets is built by focusing on the functionality of this piece. You'll find a ton of colors, material, and a variety of sizes that will give you the perfect dream cabinet.  
It will complement your kitchen space by making it appear more lively with its bold hues. Finally, you'll also find mid-century modern designs with front flat cabinetry, retro knobs, and a sturdy counter-top with an aluminum edge to prevent scratching and chipping. These kitchen cabinets are superior-functional pieces with stunning design and craftsmanship.
Mid-Century Modern Furniture for the Dining Room
The dining room is just as important as your living room when you consider the ample amount of family time spent while eating together. It's the place where you can catch up with your family and share food at the end of the day. If you love to host social gatherings, you'll enjoy these design ideas to help you decorate this place with love and affection.
It's often said that the dining rooms decor can affect your appetite. So, select the pieces which will suit your style and vibe. When you get to enjoy a great meal, it does have a specific relation with the environment. Keep in mind, to select pleasant yet elegant pieces of mid-century modern dining room furniture.
Every dining room requires a set of dining chairs. We're sometimes so caught up in finding the perfect dining table that we forget how the dining chair style has an impact on the overall design. You'll find a wide variety of mid-century modern dining chairs which are, of course, attractive, well-made, and comfortable. This style of dining chairs will not make even the small spaces, to appear overdone or congested. 
These mid-century marvels will impress your guests with the modern, yet sober look of dining chairs. You can get different materials of dining chairs as per your preference; the textures can range from sleek leather to traditional wood. 
With a dining table, you can transform any space in your home into a dining room. Even if the room has no furniture, placing a dining table there will make that room functional. When choosing a mid-century modern dining table, you should go for a design that will make the dining room more welcoming, spacious, and warm.
But, if you pick a large table for a small space, your room will start to appear overcrowded and unwelcoming. These statement pieces have a simple and elegant style. The clean and sophisticated design of mid-century modern furniture is the reason behind its increasing demand. 
Most of the homes, at present times, come in contemporary or modern design which blends in perfectly with these modern furniture styles. The mid-century modern dining table will perfectly complement your same style of dining chairs.
These dining tables don't have any carvings or ornamentation, which gives it a casual and minimalist look. Its classy appearance helps to enhance the overall aesthetics of the dining room.
In every dining room, there is some space allocated for keeping the dinnerware, table linen, for placing decorative accents, and food that you're going to serve. Having a buffet sideboard is one of the best pieces that you can put in your dining room, which has an aesthetic and functional purpose. When you plan to have a mid-century modern dining room, it's quite impossible to overlook the buffet sideboard.
With the entire set of mid-century modern- dining table, dining chairs, and buffet sideboard, there will be everything that you possibly need in a dining room. You'll be flooded with compliments when your friends start to appreciate the sleek, retro look of this piece. The streamlined, minimalist design of this buffet sideboard comes in strong looking shapes which avoids any types of curves.
But, when you select your buffet sideboard to ensure that its height should be a bit higher than your mid-century modern dining table. It also features solid doors, so you can place the items as you feel like and shut the doors. Overall, you should consider the size of the dining room and the dining table as you pick the perfect buffet sideboard for your home.
The dining room serves many purposes that are way beyond just serving a meal. You may often use the mid-century modern dining room to host informal gatherings, as a recreation room, or even a temporary home office. It highlights the importance of having the perfect mid-century modern chandeliers which are flexible, and designed to suit your needs.
Dramatic, attention-getting, a mid-century modern chandelier adds a visual flair that sets the overall mood and ambiance of the dining room. These chandeliers come in a host of designs, but each piece is created to be the focal point when you install it above your dining table. The sleek and refined chandeliers have been crafted to perfection and its made for dining room, both small and large.
Your guests will marvel at the beauty of this dazzling masterpiece that adds much-needed flair to the entire dining space. And, having good lighting is one of the best ways to create an engaging atmosphere. Having a mid-century modern chandelier will benefit your dining room both aesthetically and practically.
Mid-Century Modern Furniture for the Patio
The first thing that you see before entering a home is its well-designed patio. The patio speaks a great deal about your sense of style. It is imperative to design the patio in a way that helps you enjoy outdoor living. It's the best place to relax while reading a book, to spend quality time with family or even for hosting your summer BBQ party!
With a patio, you can lure your family outside to enjoy the beautiful weather that summer and spring have to offer. But, when you choose furniture for the patio, be careful about its durability and resistance of the material to outdoor weather conditions. To make it simple, we've compiled a few mid-century modern furniture for your patio! 
Having a coffee table in the courtyard may seem obvious when you're shopping for new furniture. It can get challenging to keep your books, or a mug of coffee when you don't have a small table in the patio. You can use it to place your refreshments, floral arrangements, and other knick-knacks. During the winters you can use the coffee table to keep the tabletop fireplaces.
 It has a multi-purpose usage and functions equally as a decorative accent. You can find mid-century modern coffee tables which are made of glass, wood, or even marble. The simple design with sleek lines makes it perfect for blending with the natural surroundings effortlessly.
Patio Chairs
The range of mid-century modern patio chairs is ideally suited to transform your outdoor space in modern style. Each set has been created to optimize your area and to adapt to the other design elements. The chairs with cushions are made of the best outdoor fabrics, and it comes in different weaves and colors. It is made of the most durable material which ensures pleasurable outdoor living.
With these chairs, you'll not be compromising on your comfort level while you're relaxing on the patio. These mid-century modern patio chairs will not just look stylish and comfortable, but it will enhance the overall look of your patio. You can get the dynamic duo of patio chairs along with the mid-century modern tables, to create a fun and relaxing environment. 
Renowned Designers of Mid-Century Modern Furniture
Let's go back a few years! The mid-century modern style did run out of trend during the '70s and '80s; the design was considered to be camp. But, in the late 90's the interest in this design started to rise steeply. 
Talking about homes, a desire for more living space, simplicity and comfort led to homes being designed with post and beam structures,  lots of windows, and open plan living to connect the house with the natural environment. Then came the minimalist and elegant design of furniture which became accessible to all. And it became a popular trend among the younger generation who embraced this new lifestyle, with abstract textile, functional design, bold colors, lack of ornamentation, and simple living. 
As the mid-century modern design keeps getting popular, you'll find a rise in the number of designers in this field. The first piece of mid-century modern furniture was a park bench made in 1946, by George Nelson. Later, Charles and Ray James created the Eames Lounge Chair; it's one of the most memorable designs in the mid-century modern genre. 
Few other notable designers from this era include Eero Saarinen, Herman Miller, Marcel Breuer, and Florence Knoll Bassett. The simple Californian aesthetic followed by these designers, and their motto to create simple yet powerful pieces at an affordable price made these designs forever modern.
What Makes the Mid-Century Modern Furniture a Popular Choice in Modern Homes?
The mid-century was the last era of general improvement in the manufacturing world in terms of technology, design, and leadership. These designs were in demand during the mid-century, but things went downhill from the 60s to early 70s. However, within a short period of time, things got better, and ever since then the mid-century modern furniture has been on an upward spiral. 
First, with smaller homes after World War II and with shrinking families, the mid-century modern furniture was the perfect combination. The open and simple designs make the house appear spacious instead of dull or congested. Secondly, the designers had an aim to create pieces that will serve people from all levels of society. The affordable price range for every furniture made it easily accessible without having to break the bank. 
It's quite rare that a design trend holds a firm ground for so many decades. And the growing focus on furniture with traits of functionality and simplicity over luxury is the prime reason for its sustained popularity.
What Makes Mid-Century Modern Furniture Different from the Other Contemporary Furniture?
The contemporary design comes with a lot of variations, that are often inspired by the European-style designs. The nature of such furniture depends on what is being currently used by people. Therefore, contemporary design is a subject of change, which makes it challenging to describe it in terms of a particular set of aesthetics.
It's true that contemporary design also has features of modernism, minimalism, and other common design styles, but it's prone to change. Whereas, mid-century modern design refers to a style that was an offspring of the mid 20th century. Most of the furniture from this era are open and spacious, with tapered legs, which gives it an airy vibe. 
Some of the materials that are used in mid-century modern decor include molded plywood, polished metal, glossy plastics, linens, and woods. In a mid-century modern home, it's common to find neutral-colored area rug on bare floors and carefully arranged furniture. Few designs come with fun geometrical prints with small hints of color.
These modern furniture lacks any form of ornamentation and has a reflection of a classy personality that is simple yet stylish. It's made with strict design rules by sticking to its key characteristics that include- clean lines, tapered legs, bold colors, and simplicity. This style trend has been existing for years on end, with massive influence in the way we live now.
 Both contemporary and mid-century modern designs tend to favor minimalist, open, and uncluttered spaces with plenty of natural lighting. But, we need to understand that the differences are quite trivial. The demand for the mid-century design is to help our homes appear larger, welcoming, and stylish within an affordable price range!
Conclusion
As you plan to re-decorate your home, select some of these best mid-century modern design furniture that you have just read about. It's one of those styles which is always reconceptualized to create some unique and minimalist pieces of furniture. 
The timeless appeal of these legendary models will never lose its relevance. So, investing in these uncluttered and sophisticated designs of mid-century modern furniture will give you the perfect home interior you have always dreamt of.
Related Articles
8 Best Bauhaus Wall Clocks for Clock-A-Holics Everywhere
40 Of The Most Unusual and Bizarre Furniture Designs You Have Ever Seen