Wood lamps are one of the quintessential pieces in any home or office. They make great centerpieces that can brighten any dark area of your home.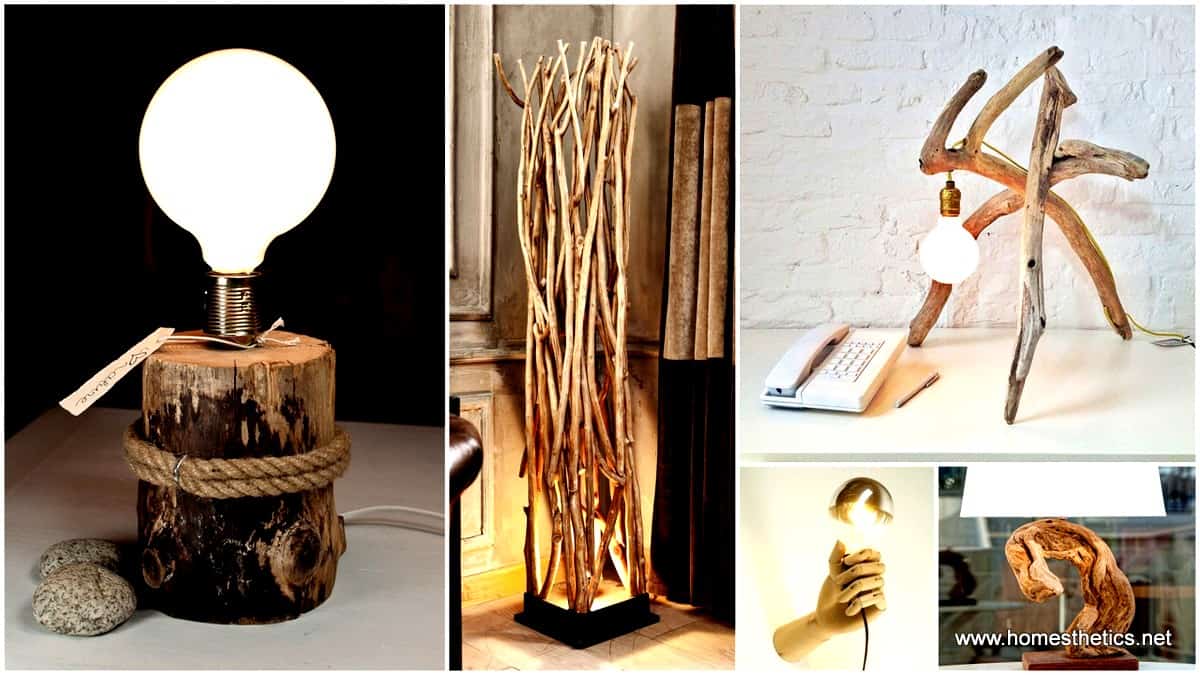 There's something about wooden lamps that can give any room a cozy feel. Make it extra special by adding a touch of your personality!
Today, we'll go through some of the best and most creative DIY wooden lamp projects you can try. You'll have unique home decor in no time.
50 Creative DIY Wooden Lamp Projects and Crafts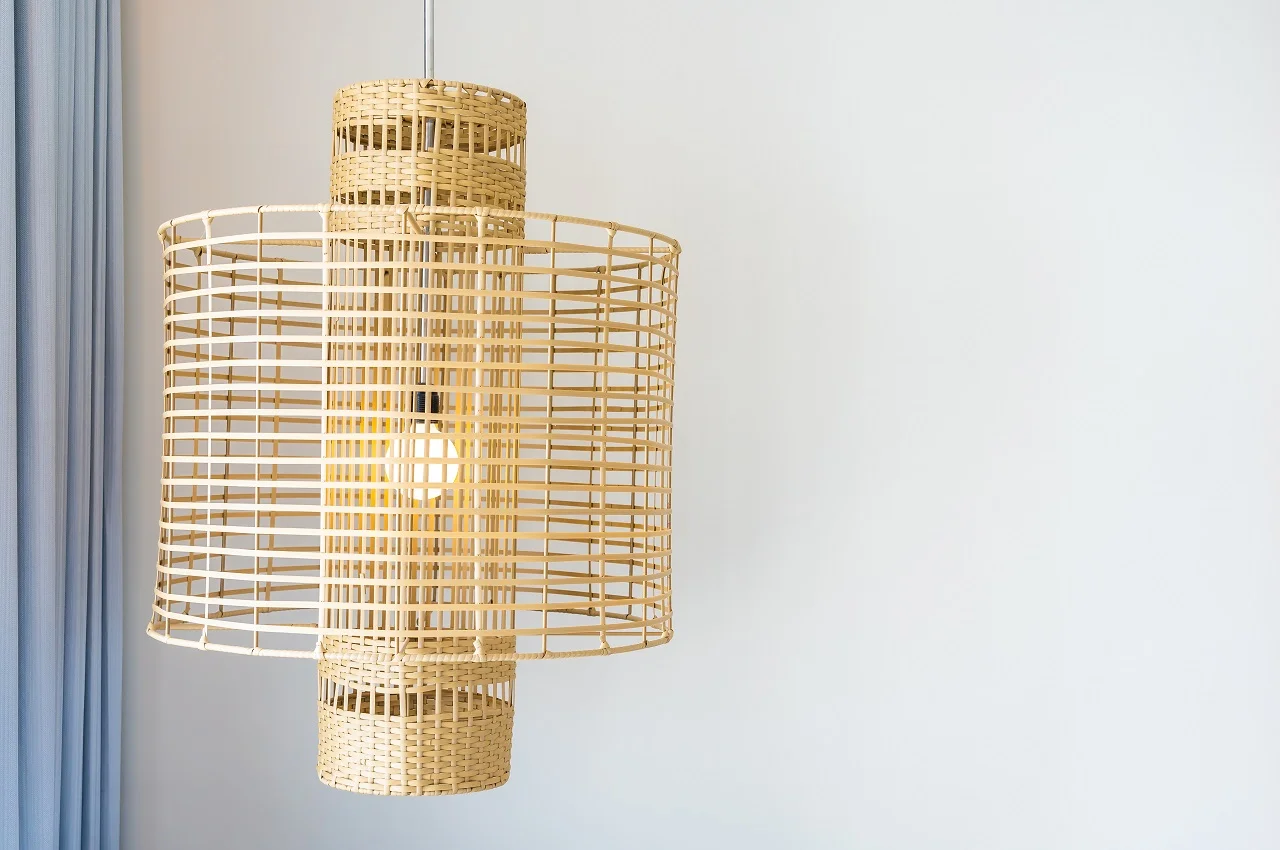 We've listed 50 awesome wood lamps that can transform your space to look like it belongs to an IKEA catalog.
1. Rustic Bedside Table Lamp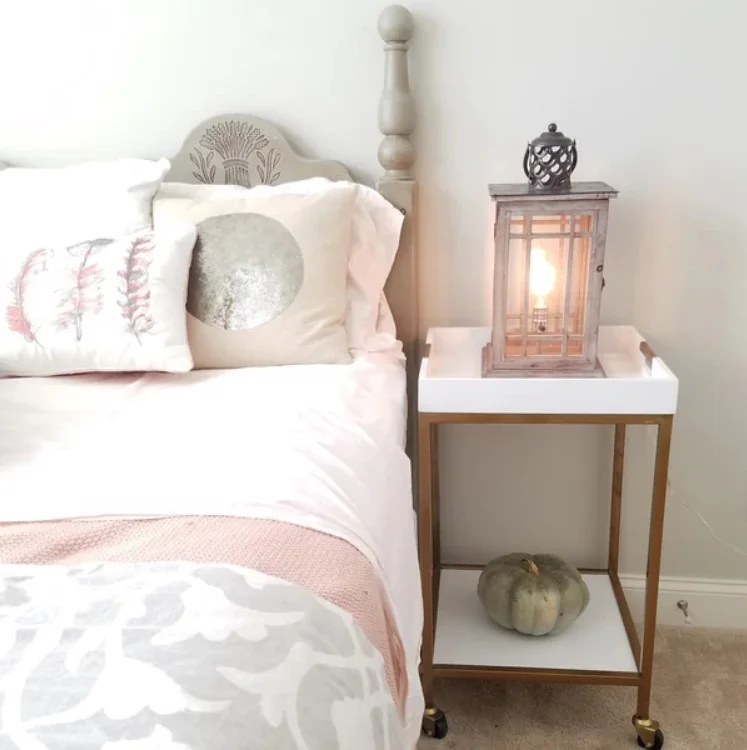 via The Makely Blog
Adding a simple lamp is one of the best ways to complete your rustic-themed room. If you've got a used lantern lying around, consider repurposing it to lamps!
Use a dim yellow bulb to give your room a cozy feel. Paint the outside with your favorite color, and you're done!
2. Wall Bracket Lamps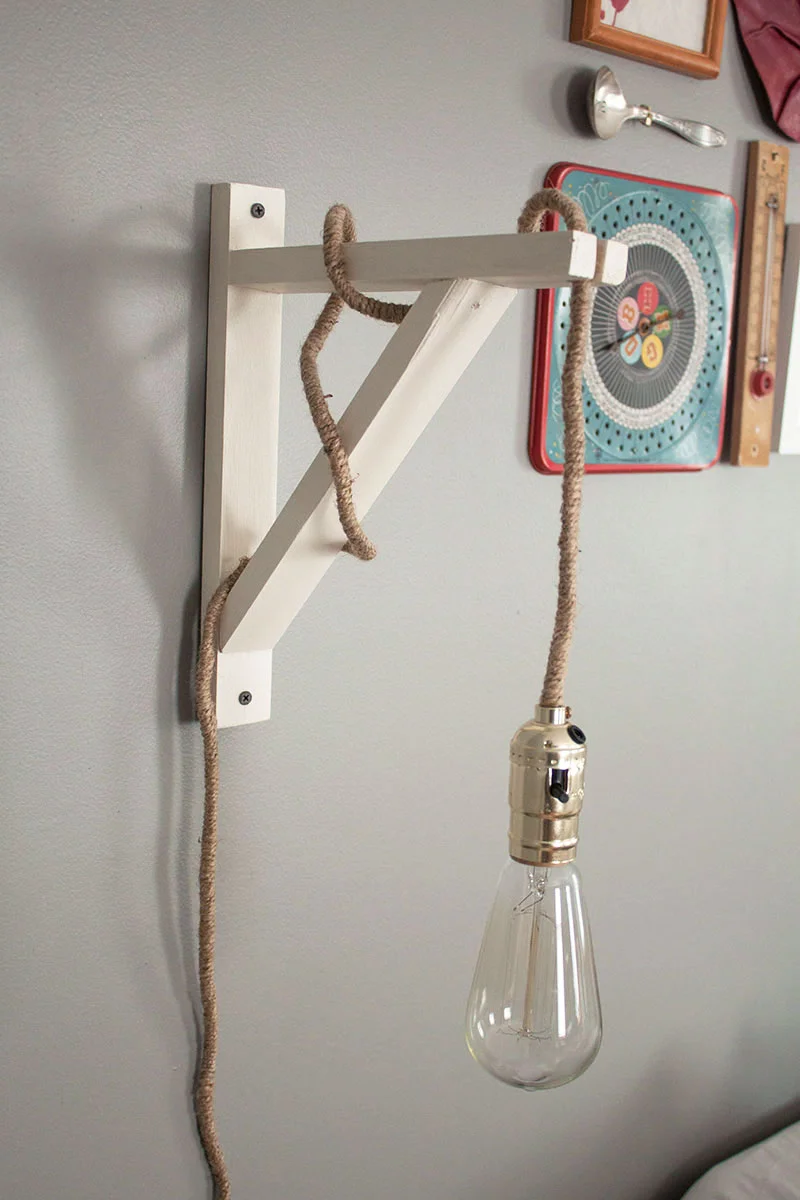 via The Homesteady
You can use wall brackets as base for your lamps. It's one of the best ways to create a unique and simple lampshade at home.
It hardly takes hours to do, and all you need is to screw the brackets to the wall! Hang the light bulb on the bracket, and make sure the wires are covered.
3. Aesthetic Pallet Lamp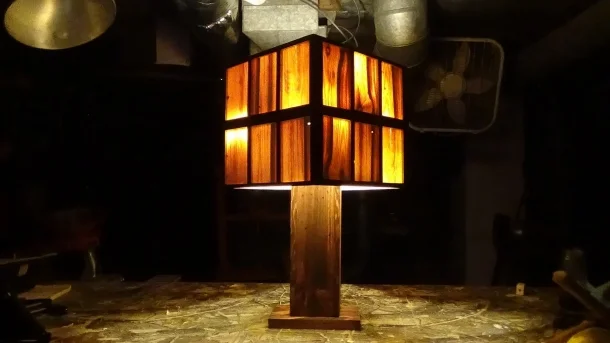 via Cut The Wood
Wood pallets are highly durable and easy to work with. They're highly affordable, and you might even be surprised to find wood pallets given away for free!
Create a unique wood pallet table lamp, and make it feature décor in your room. Sanding the wood is also a good idea so you don't encounter any splinters.
4. Trunk Lampshade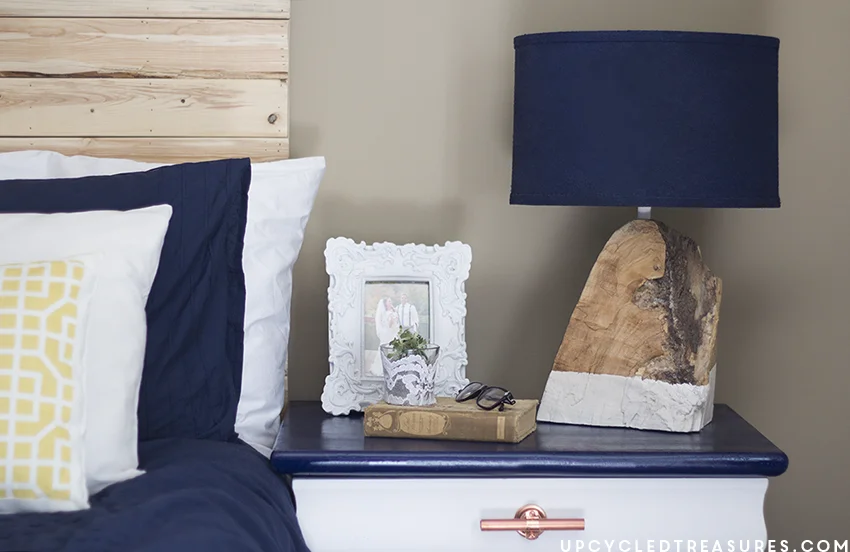 If you chance upon a fallen tree trunk, consider using it as a base for your wood lamp. Creating a trunk lampshade is a good way to mix modern and rustic designs.
Make sure to cut the edge to a size that fits your desk or bedside table. Watch a tutorial to help you sand the edges properly.
5. Geometric Hanging Wood Lamps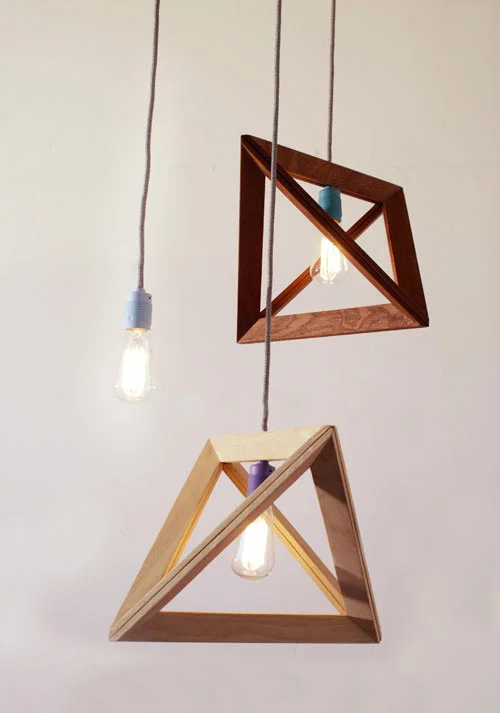 via Herr Mandel
Geometric wood lamps are always a good centerpiece for a small room. It's a good conversation starter and takes little effort to do.
All you need are wooden triangles or cutouts, which you can glue together to form a shape. Look for a guide or tutorial to help you properly shape the dimensions.
6. Simple Wooden Lamp Shade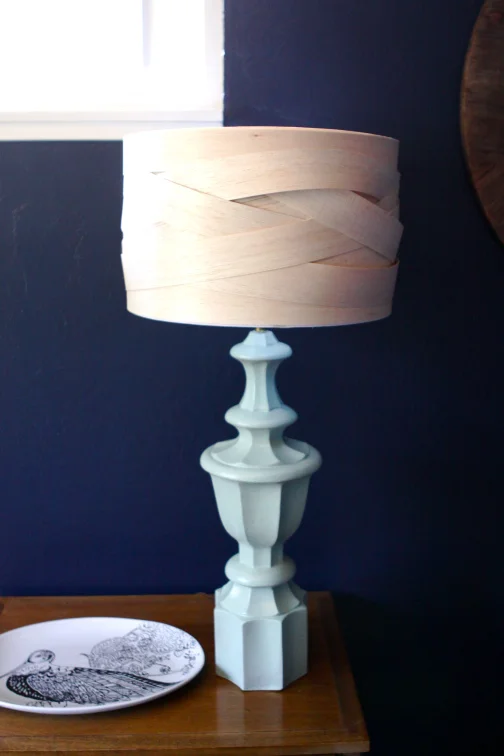 via Crafting Really Awesome Fun Things
Consider this wood lamp idea if you want to spruce your lamp with style. Cover the whole lamp shade with thin wood cutouts to transform it immediately!
You can use wood samples for the cutouts to complete this lovely rustic and minimal wood lamp.
7. Branch Table Lamp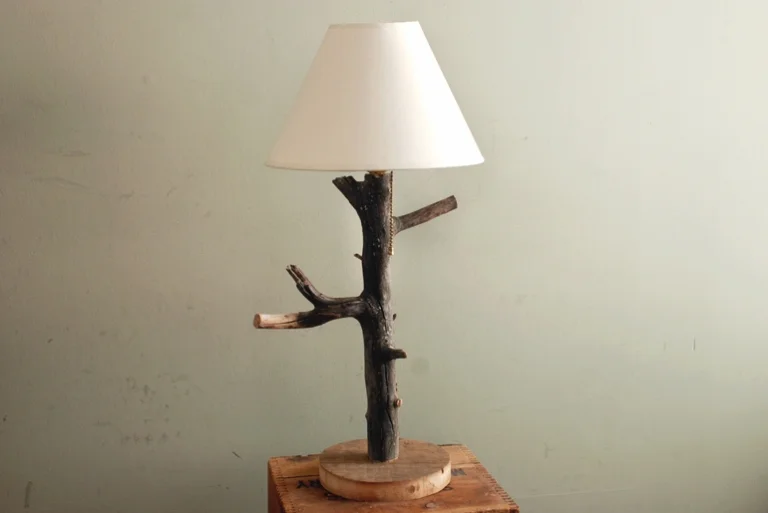 This wood lamp is a conversation starter. You can use any fallen tree branch as the lamp base.
Top it with an aesthetic-looking shade that matches your room's style. Be sure to hide the wirings to give it a completely clean look.
8. Intertwined Fallen Branches or Driftwood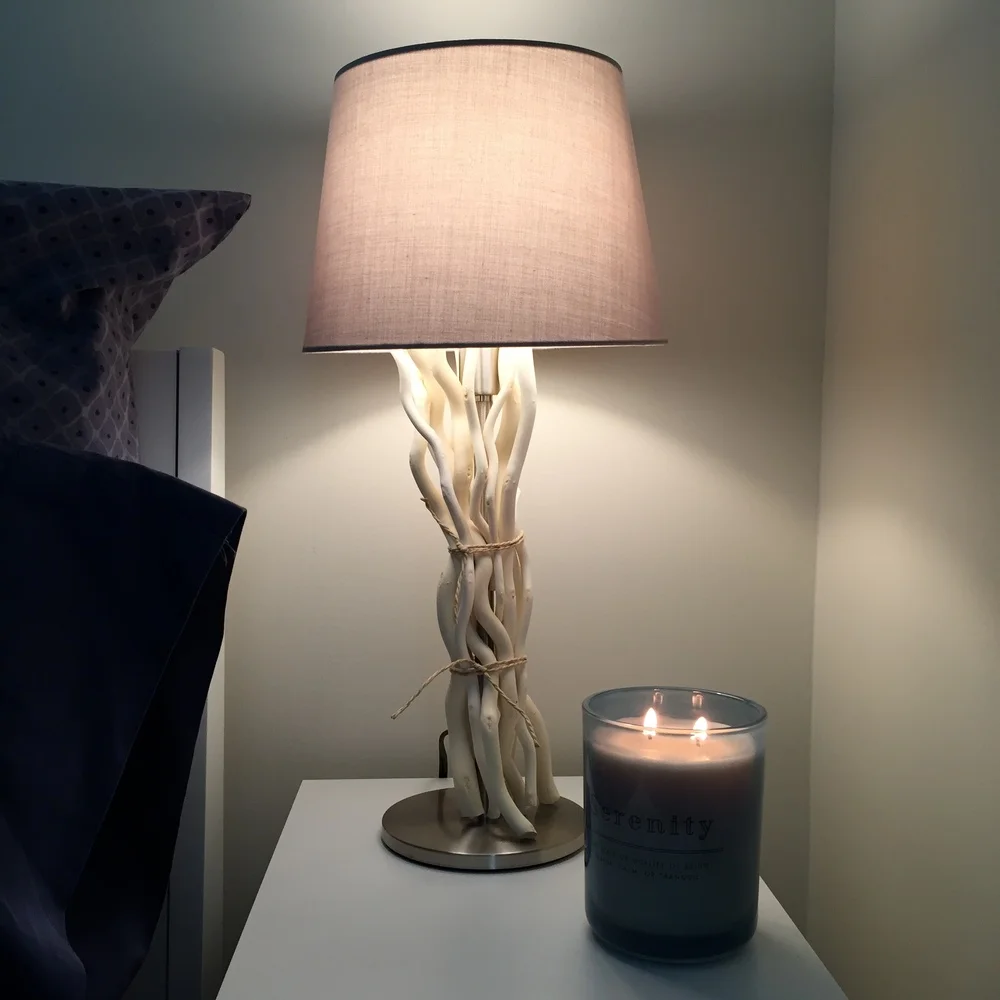 Another awesome wood lamp idea is this intertwined fallen tree branch. Grab a few tree branches in your garden, and tie them together until you form a smooth, solid base.
Smoothen the surface until you're sure there are no more splinters. Make sure to watch a tutorial to help you with sanding your wood properly.
9. Geometric Table Lamp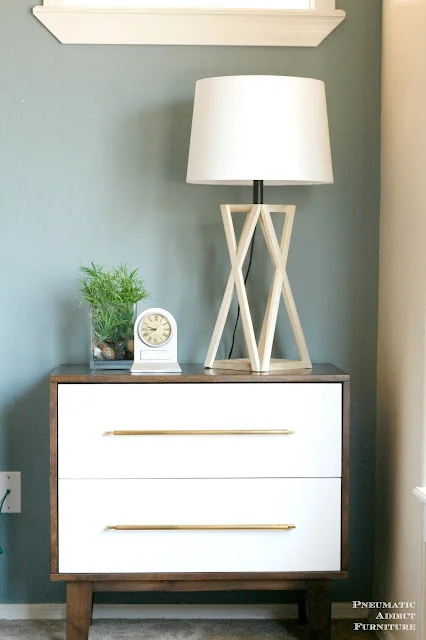 via Pneumatic Addict
This minimalist wood lamp fits perfectly anywhere. It's also very easy to do, and you can DIY immediately this DIY wood lamp kit without a tutorial.
The supplies are highly accessible in your local hardware store, and completing this modern wooden lampshade doesn't take time.
10. Modern Shelf and Lamp Kit in One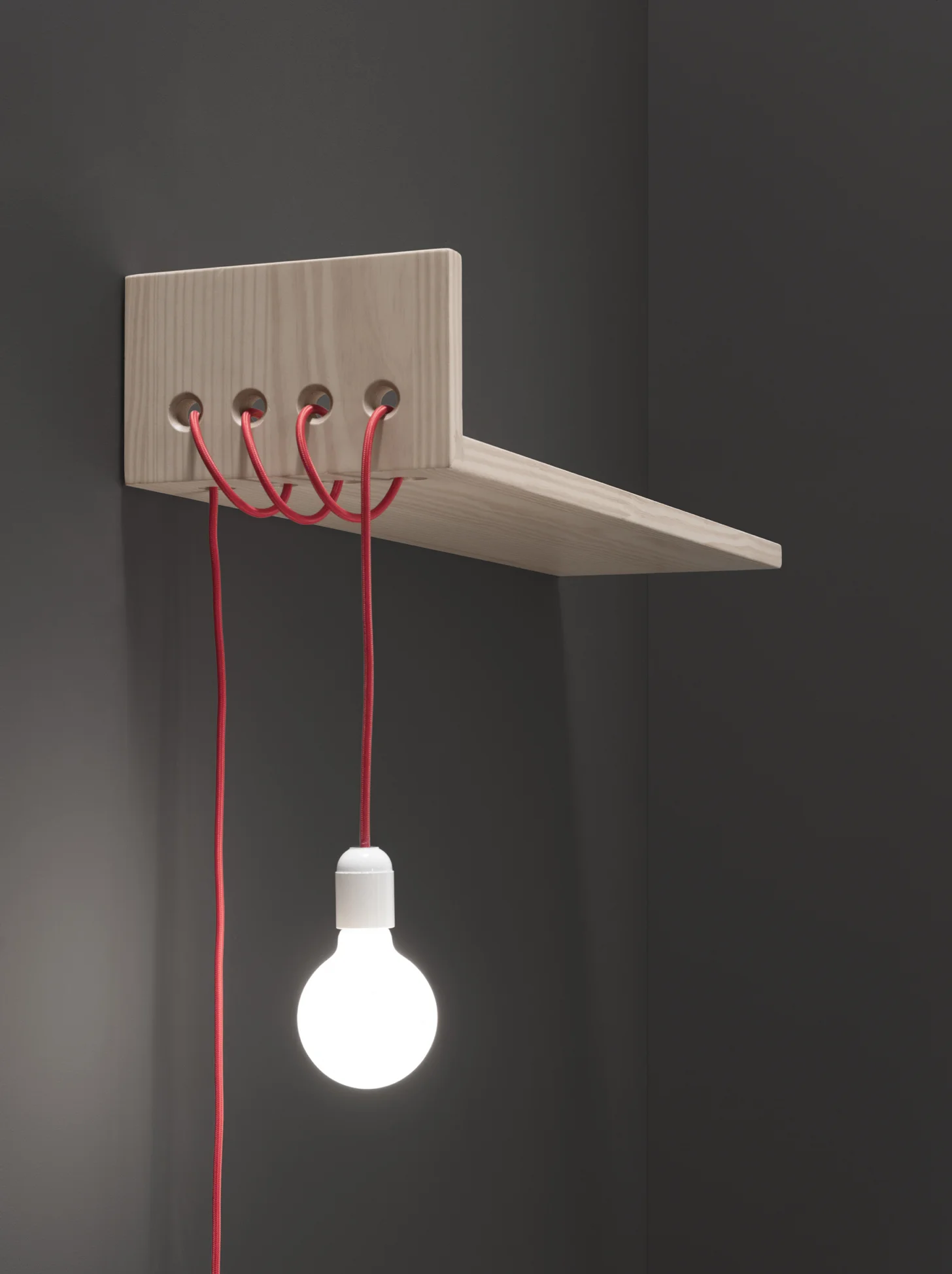 via Bruno Faucz
Adding frames or shelves is a good idea to liven up your home. You can be as creative as you want with your ideas.
A good idea is to start creating a modern multipurpose shelf and wall lamp in one DIY project. All you need are shelves and your favorite lighting to get started.
11. UpCycle Sunshade Slats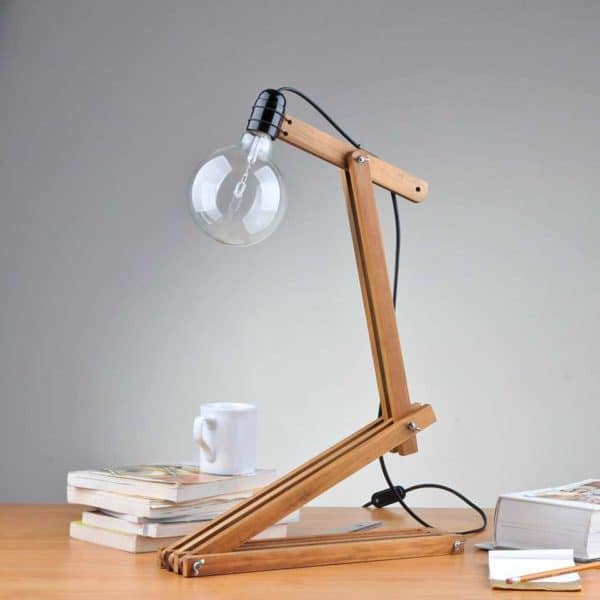 via Recyclart
Don't throw out your used sunshade slats and upcycle them to be wooden table lamps.
The beauty of using slats is that you can place holes and screws, creating an adjustable lamp. You can use a tutorial to help you position your screws.
12. Simple Solid Wood Lamp Base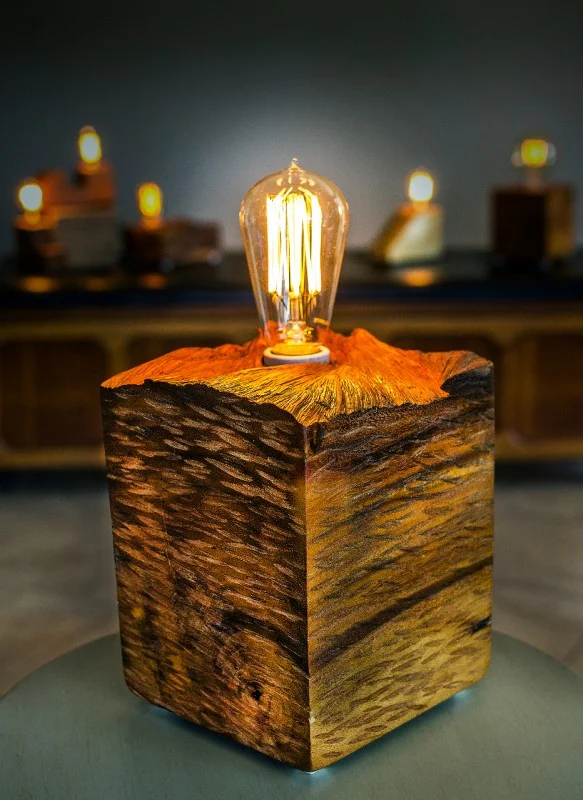 via iDLights
Craft a small lamp that can give your room an intimate feeling. You can use a small chunk of natural wood and lighting of your choice. 
The challenge with this lighting is hiding the cord to give it a clean finish. 
Some would even be nifty enough to use a big wine cork for the project! Check out the different DIY wine cork projects you can do! 
13. Animal Shaped DIY Wooden Lamps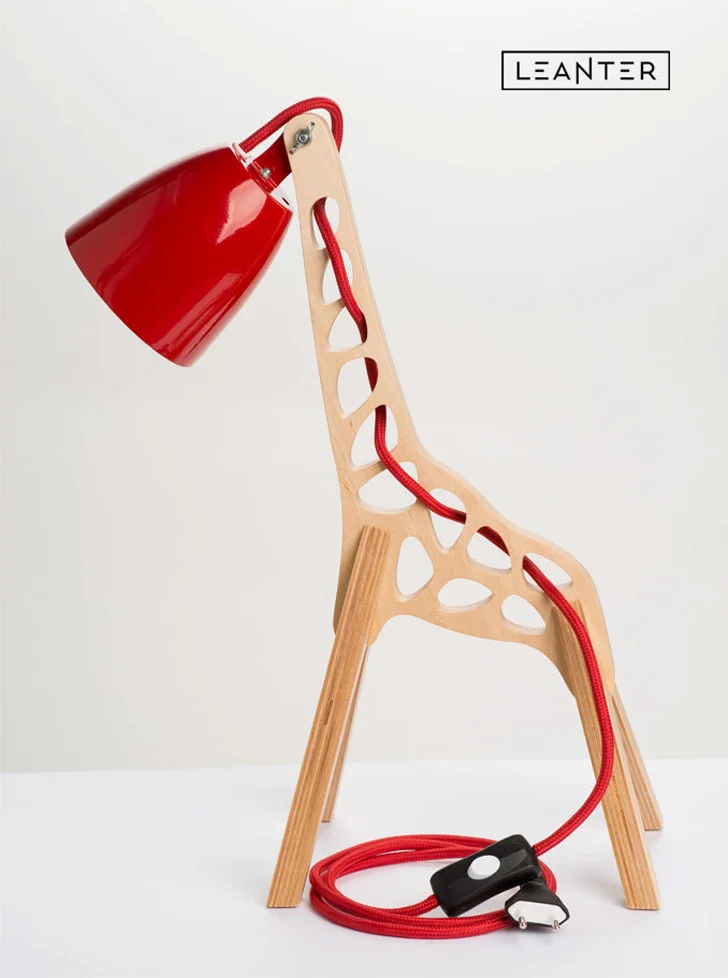 via Leanter
This DIY wood lighting is a perfect project you can do with your child. You can carve out your child's favorite animal for this project.
Alternatively, you can use simple shapes for this wood lamp project. Have a tutorial ready for your child to follow along.
14. Triangle Table Lamp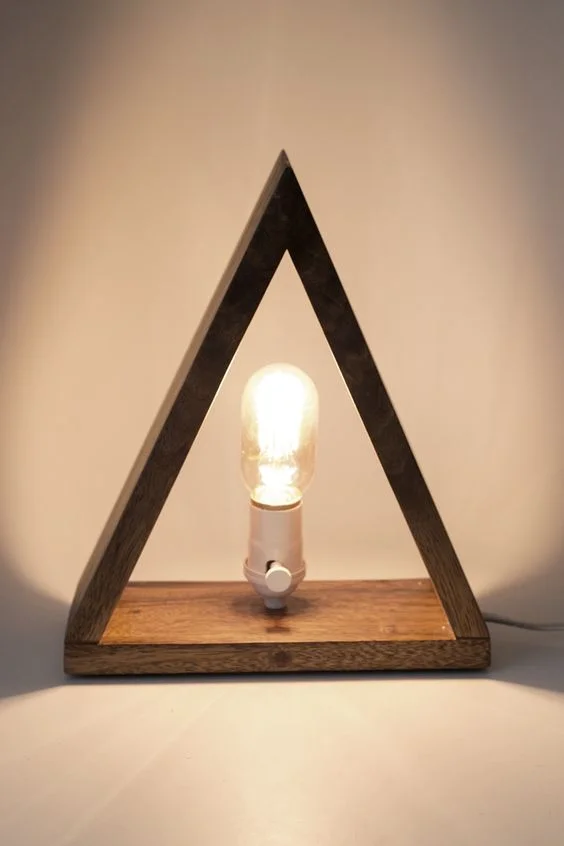 via Moorea Seal
This DIY wood project is as simple as it looks. You hardly need complicated instructions for it, and you only need a few tools and materials.
Use a wooden triangular piece and put a simple light bulb in the middle. Hide the wirings under the table to craft a cool and seamless décor.
15: Rustic Wood Chunk Lamp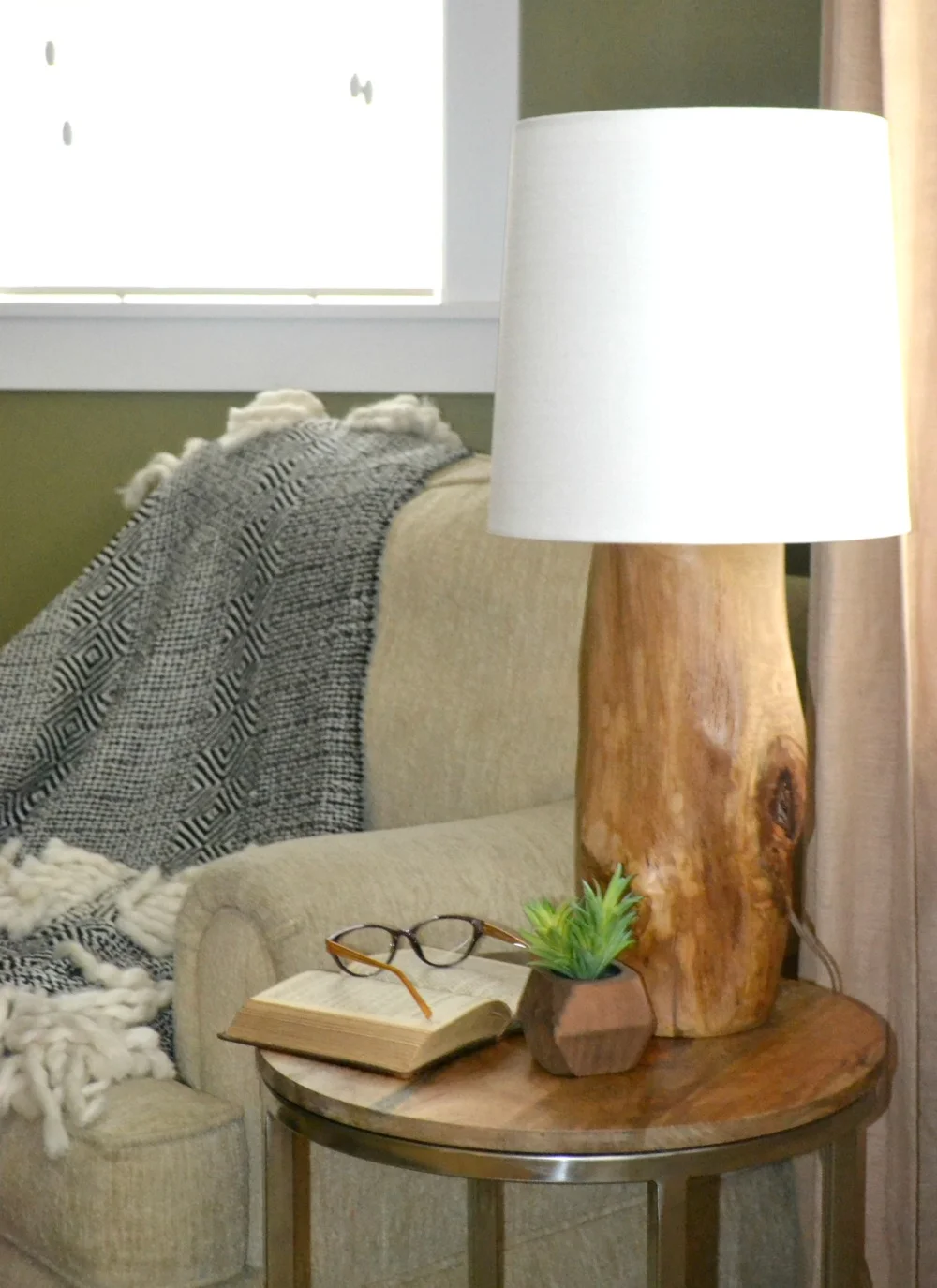 via Rachel Teodoro
This wooden lampshade is perfect for adding warmth and elegance to your room. At a glance, this lamp looks expensive, but it's a project you can DIY immediately.
You only need a wood trunk for the base and attach a lighting system on top. We recommend watching a tutorial on how to attach the cord properly.
16. Sawhorse Pipe Lamp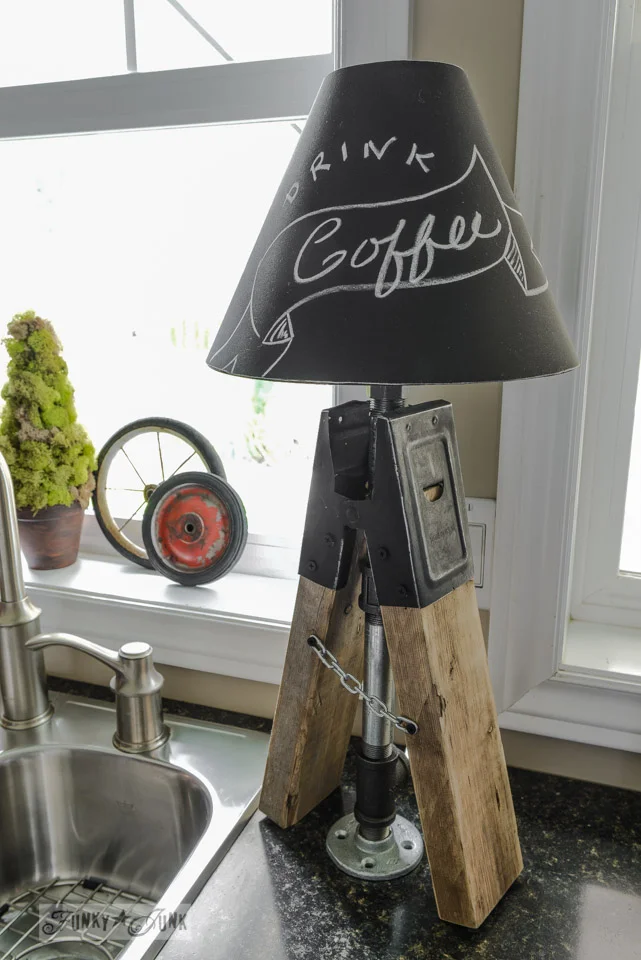 If you've got sawhorse clamps lying around, consider playing with them and transforming them into lamps!
You can place a hole in both the base and middle of the clamp, creating a sturdy base for your lighting system.
17: Swimming Cord Lamp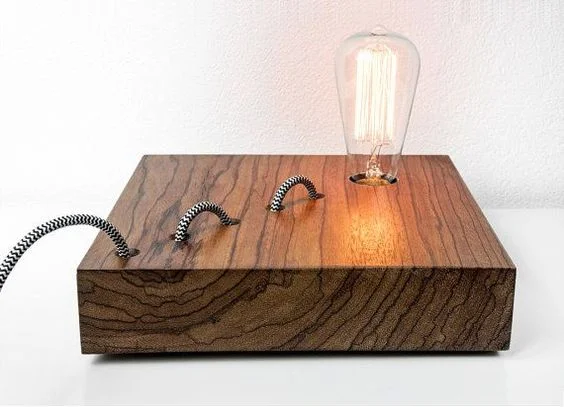 via Telltale Design
This simple lamp looks like an eel swimming. The bulb is the head, and its peaking cord is the body. Crafting this lamp is so easy to do. You don't need a tutorial for it.
However, be careful with how you put the wires together.
18. Reverse Stool Wooden Lamp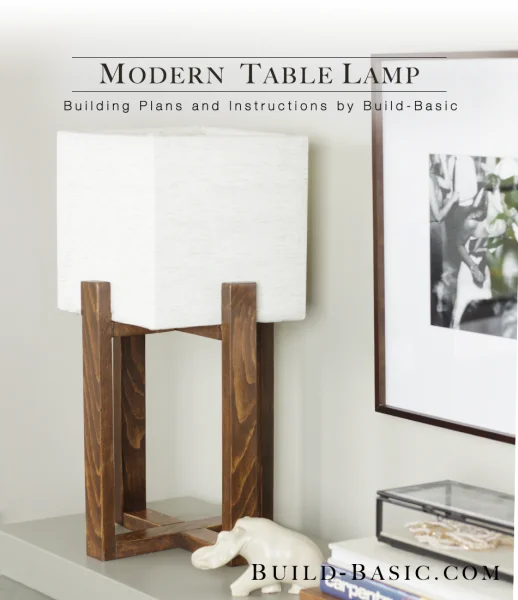 via Build Basic
Grab a stool and set it upside down! You can use the seat part as a sturdy base for your lamp and the fabric on the bottom for your shade.
You can use an old stool you've wanted to throw out.
19. Simple Tree Branch Lamp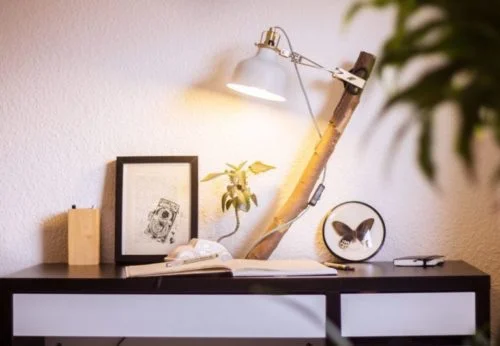 Is your home needing an extra light? Look out your window, and you might find a material you can use - aka a tree branch.
A simple tree branch can be used as the base of your lamp. However, you might have a challenge balancing the branch to stand.
20. Hexagon Edison Lamp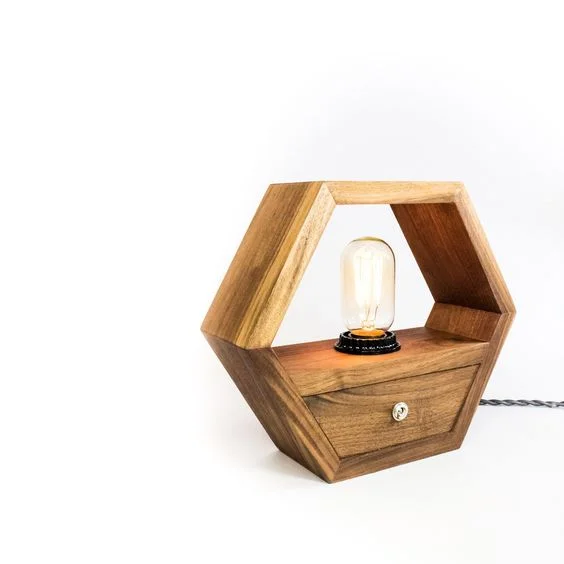 This hexagon-shaped lamp is the perfect addition to your office, and you can make it as small or big as you want. Not to mention, it's also a perfect gift idea for your friends!
We highly recommend using black walnut wood for that sleek and clean finish. Finish it off with some varnish, and you're done.
21: Vintage Pulley Light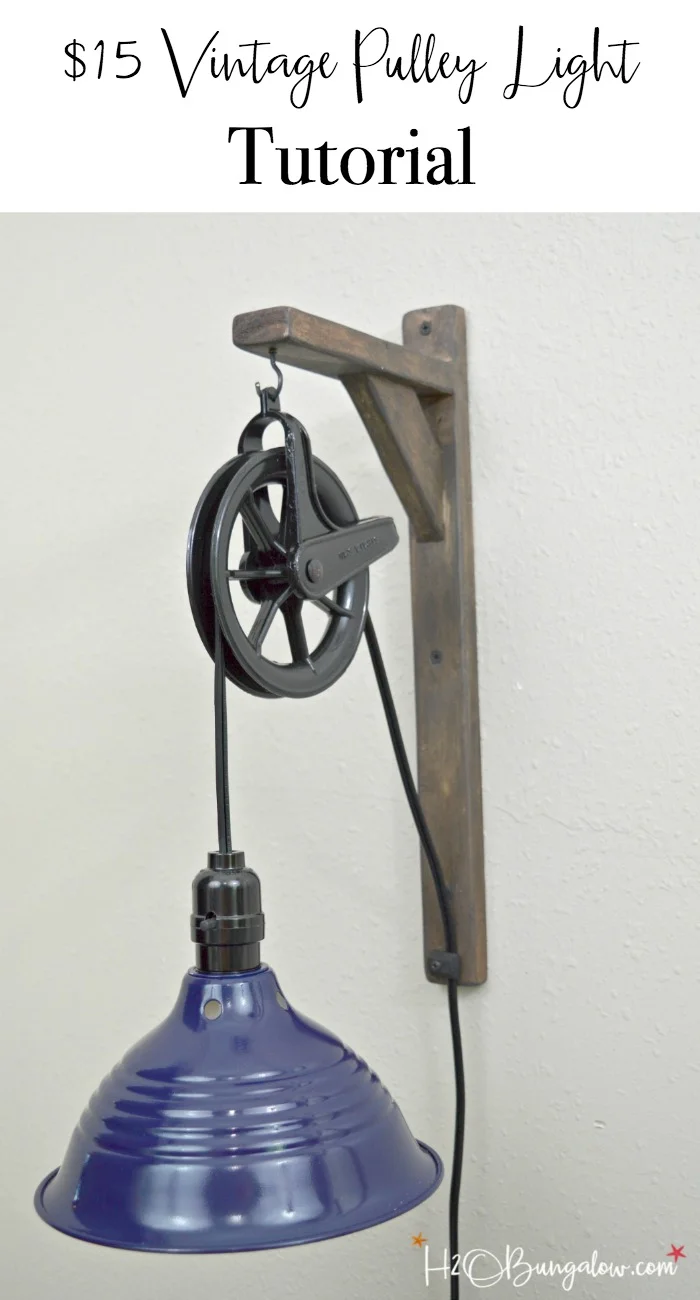 via H2O Bungalow
If your home has a pulley system, consider transforming it into a lamp. It's a good way to repurpose them without removing them from your home!
Make sure to assemble the wires properly and watch a tutorial on how to fix the pulley system.
22. Quirky Wood Lamp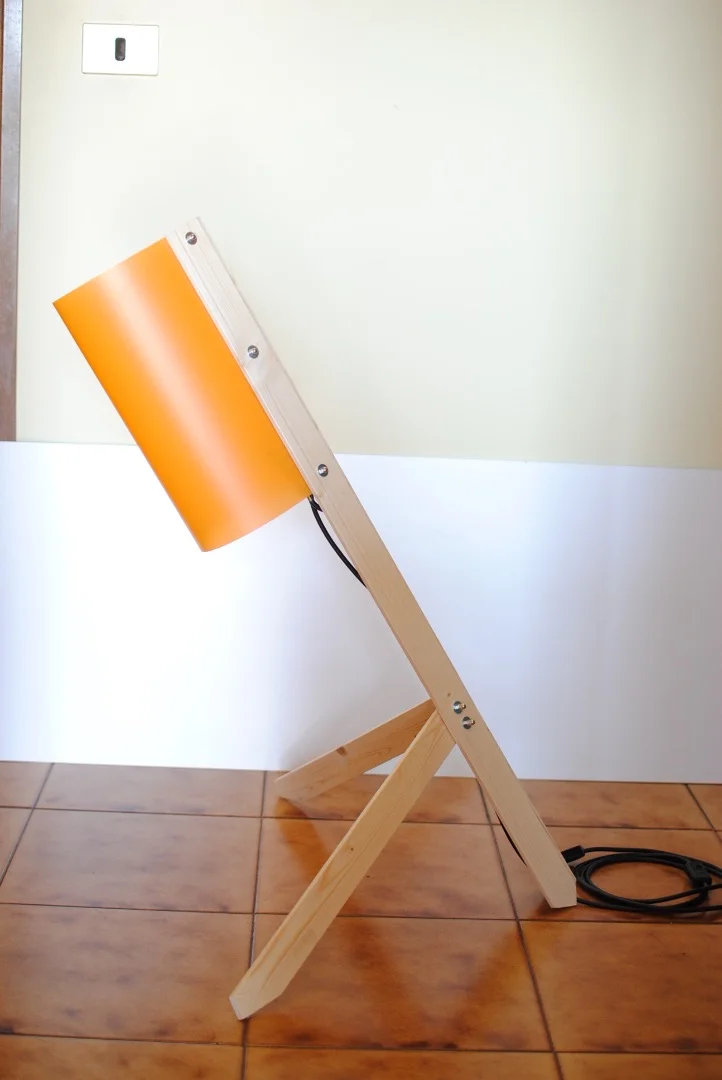 via masteruan
At a glance, this quirky wood lamp looks easy to do. But once you've started this project, you might find that there are little bits and pieces you need to worry about.
Finishing this project requires a tutorial to help you out. But rest assured; you'll finish this lamp successfully.
23. Multi-Purpose Lamp and Shelves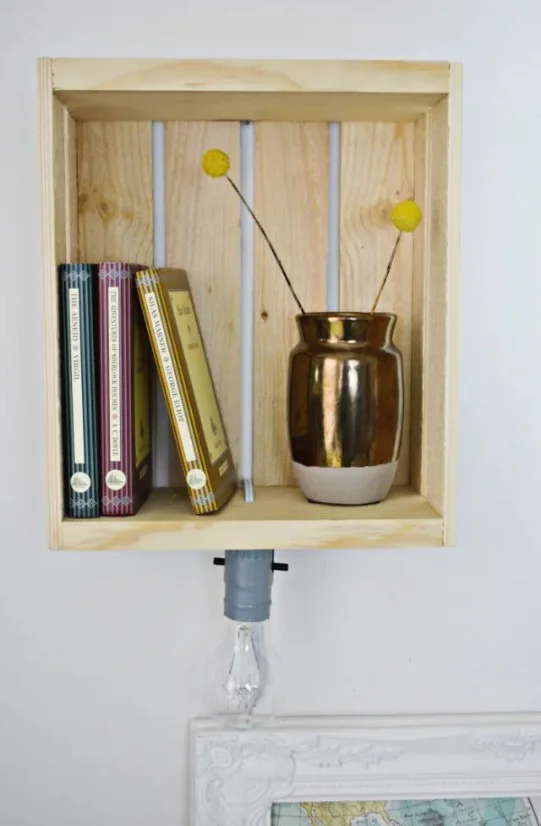 via A Joyful Riot
This lamp and shelving unit is perfect for people looking for a space-saving project. Stick these lamps on a shelf on your wall and a lighting system underneath!
Install the shelf properly, so it doesn't fall from your wall.
24. DIY Chicken Wire Wood Lamp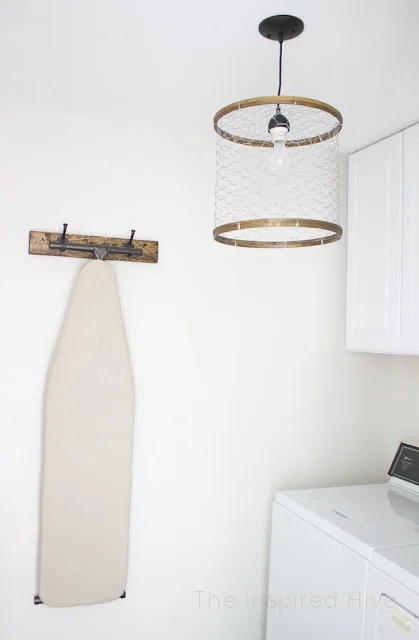 Chicken wires aren't just for keeping your chickens in. You can repurpose it and use it as the base of your shade!
You need wooden and wire end rings to attach the wires. Be sure to also have glue so that you're ready. Handle the wires carefully cause they tend to be sharp.
25. Aesthetic Cube Lamp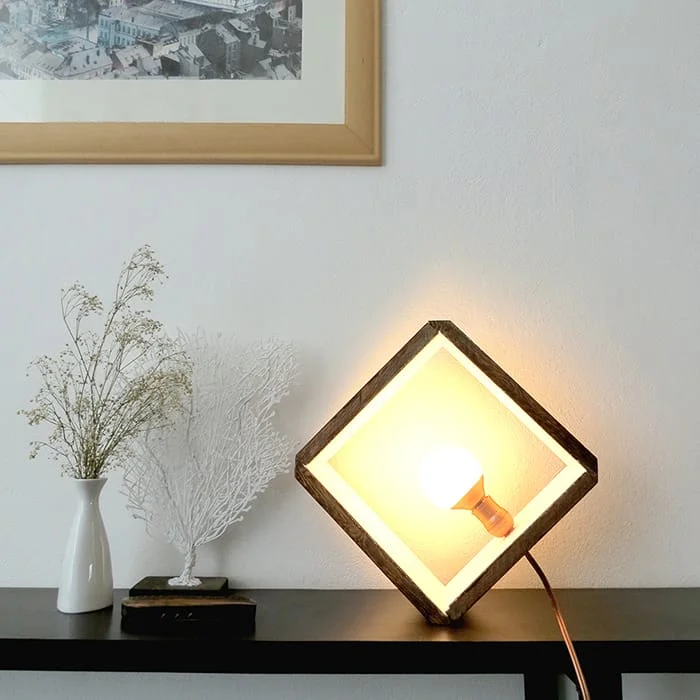 via Ohoh Deco
Lamps such as this one are definite show-stoppers. They're unlike other lamps because of their fun and quirky shape.
Crafting this lamp is also fun, especially when it's time to set the light in the middle and figure out a way to balance it on its side.
26. DIY Pallet Wood Lamp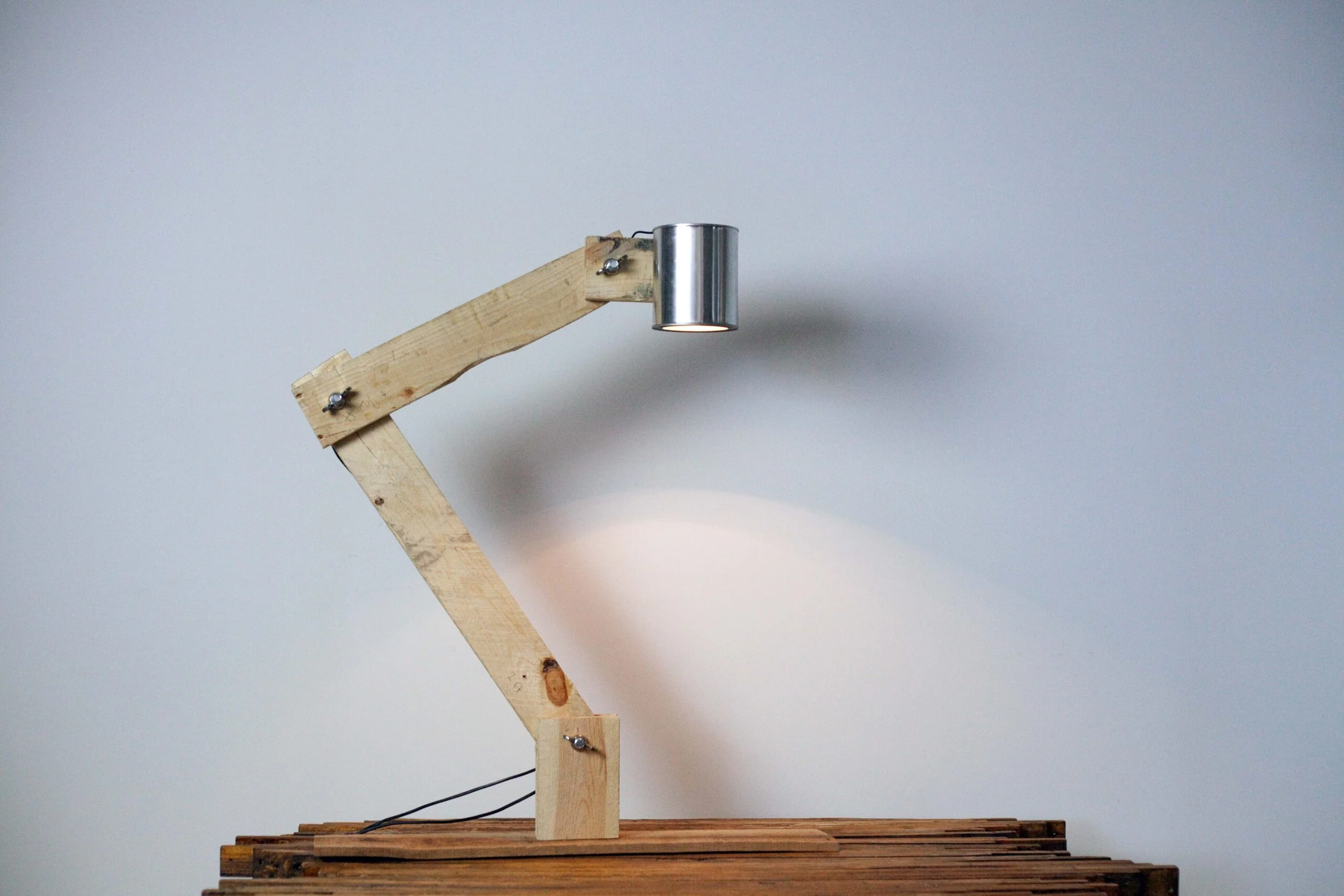 via alexovic
This DIY wood lamp looks so minimal and hardly looks like a lamp at first glance. All you need are a few wooden pallets and a pin light.
Adding knobs and screws to the corner makes this lamp highly adjustable.
27. Modern Wood Lamp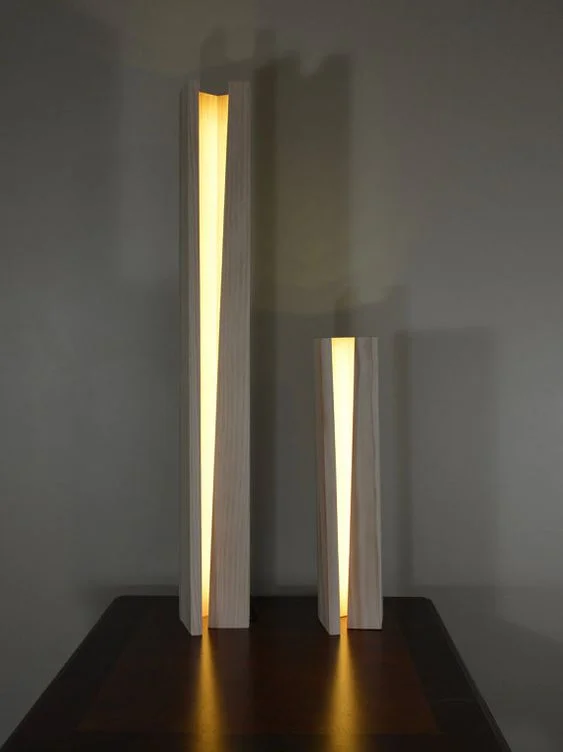 via NomadEnterprises
IKEA better make a run for their money once you've figured out how to make this modern wood lamp. It looks unique, yet only requires a few pieces: favorite wood and LED strips.
Watching a tutorial on assembling LED strips will help you a lot.
28. Up-Cycled Geometric Candle Holder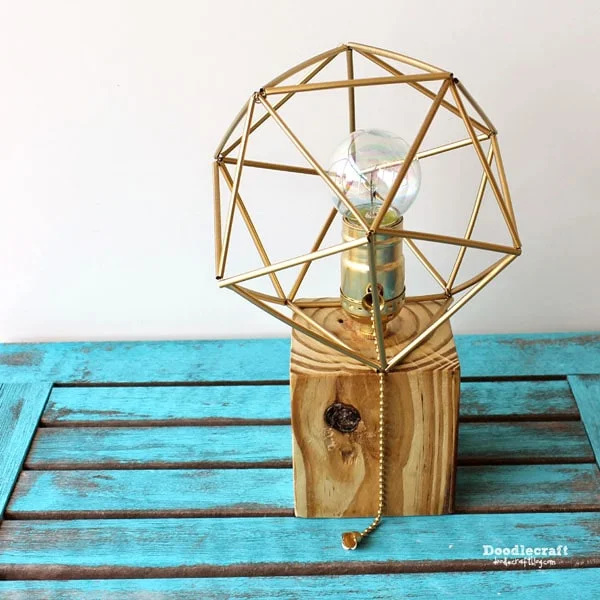 Transform your geometric candle holder as the cover for your DIY wooden project. This project looks unique and intricate but only requires two components.
Grab a solid wood to use as a base, and ensure it is sturdy enough to support your geometric cover.
29. Small Edison Lamp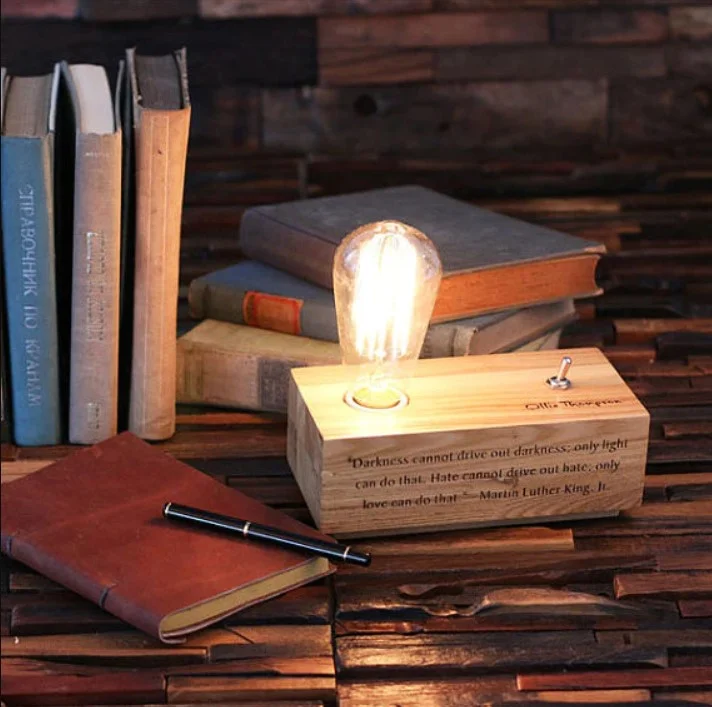 via TealsPrairie
This small Edison lamp is something you can DIY immediately. It's also an excellent gift suggestion for your crafty friends.
Assembling the wiring for this project might seem complicated, but it's nothing a wiring tutorial can't help you with.
30. Rustic Basket Light Lamp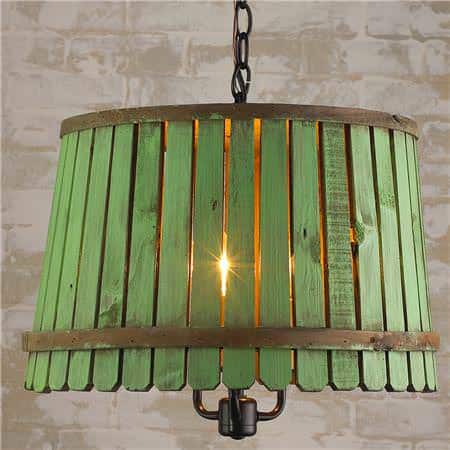 via Recyclart
Do you have extra wooden baskets you're not using? Transform it into a rustic-inspired lamp and make it the focal point of your home.
Your friends will be completely blown away by the creativity you've done.
31. Simple Wood Pendant Light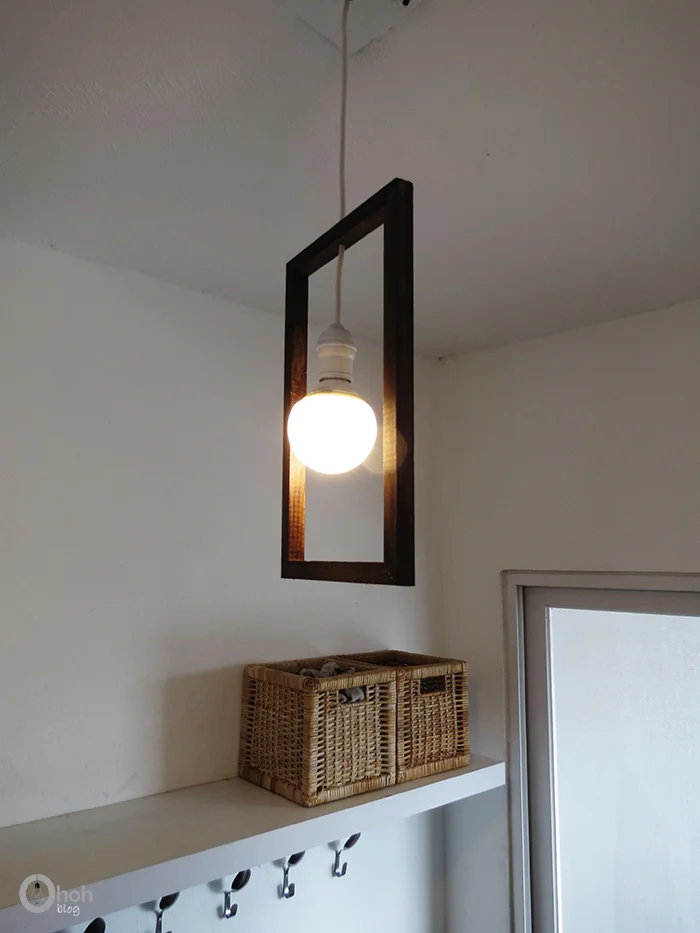 via Ohoh Deco
This pendant light is a project you can DIY immediately. It looks so good because of how minimal it is.
You can use a simple wooden frame to couple with your bulb for this project. Just drill slots where you plan to insert the cord.
32. Dramatic Driftwood Lamp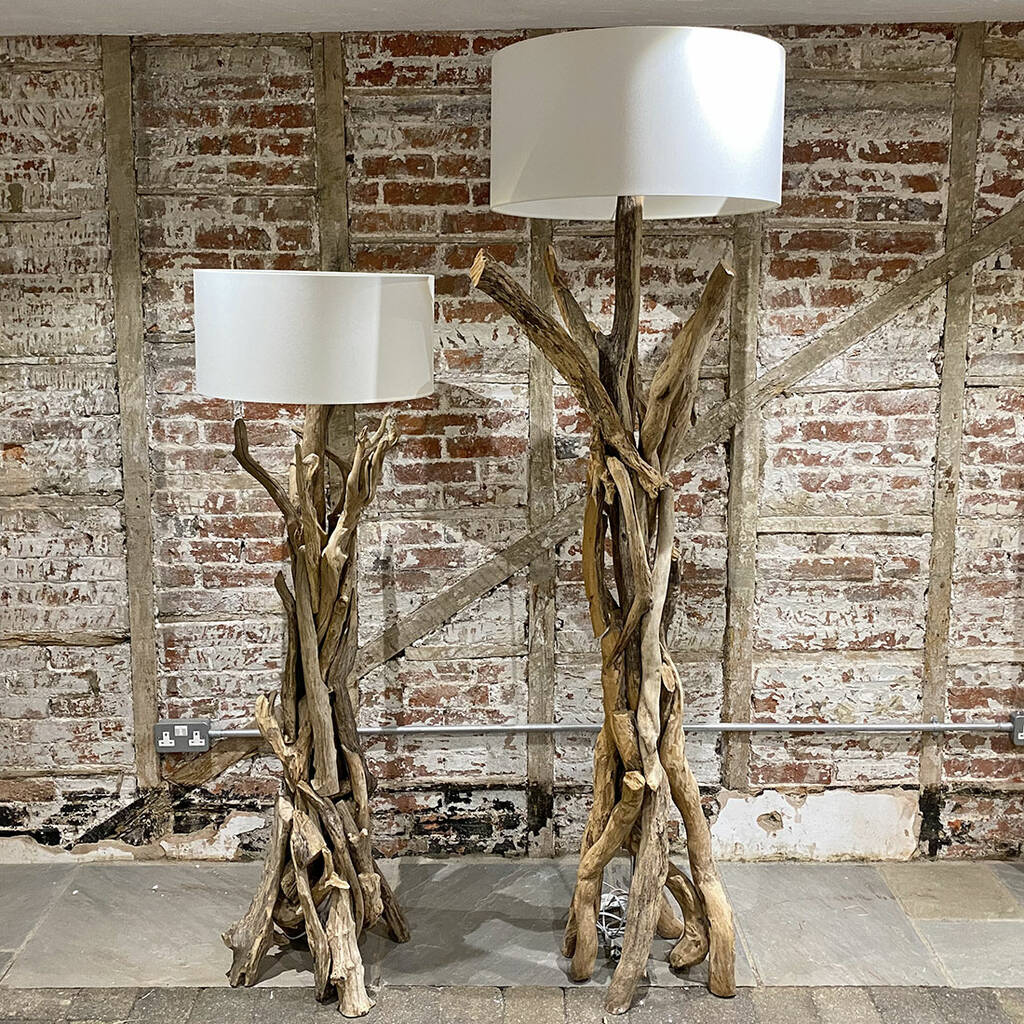 via Doris Brixham
One of the most stunning wooden lamps we've seen is made of driftwood, and it's probably the last thing you'd expect.
You can tie a couple of driftwood together and assemble them to be the base of your lamps! Add a neutral tone as the shade, and you will have a dramatic-looking décor.
33. Easy Stir Stick Wood Lamp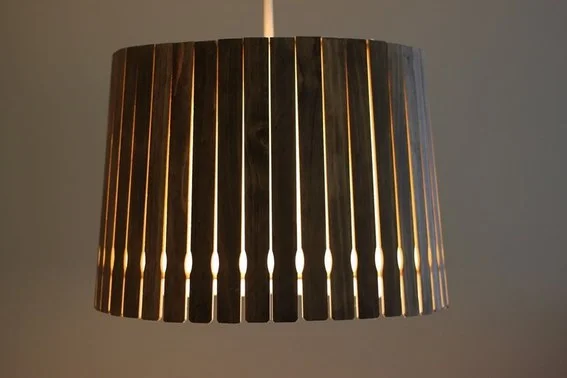 via Curbly
Stir sticks are often overlooked. You'd hardly think you could use it for lamps! But now that you're here, you know this is a project you can do next. 
It doesn't cost a lot, and you only need a couple of stir sticks that can be used to form a shade. Once you're done, you've got an IKEA-looking project!
You might also want to check out a tutorial for plastic spoon crafts for your next project. 
34. Easy Lamp Stool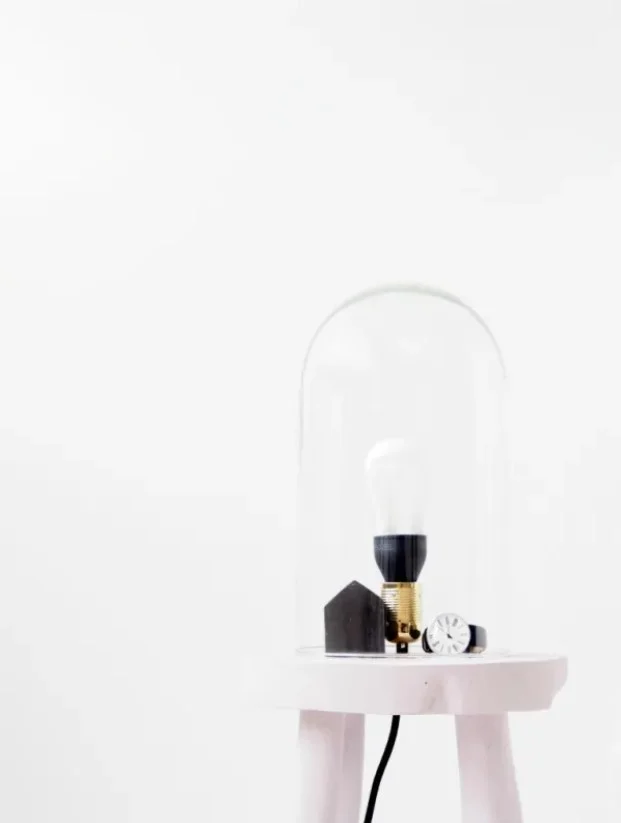 via Monster Circus
If you've got an extra stool lying around you've decided to dispose of, don't! You can use it as the base for your floor lamp.
All you need left is your bulb and a clear glass dome as a cover. Drill the middle of one side of the stool to connect the wiring from the bulb to the socket.
35. Ceiling Wood Lighting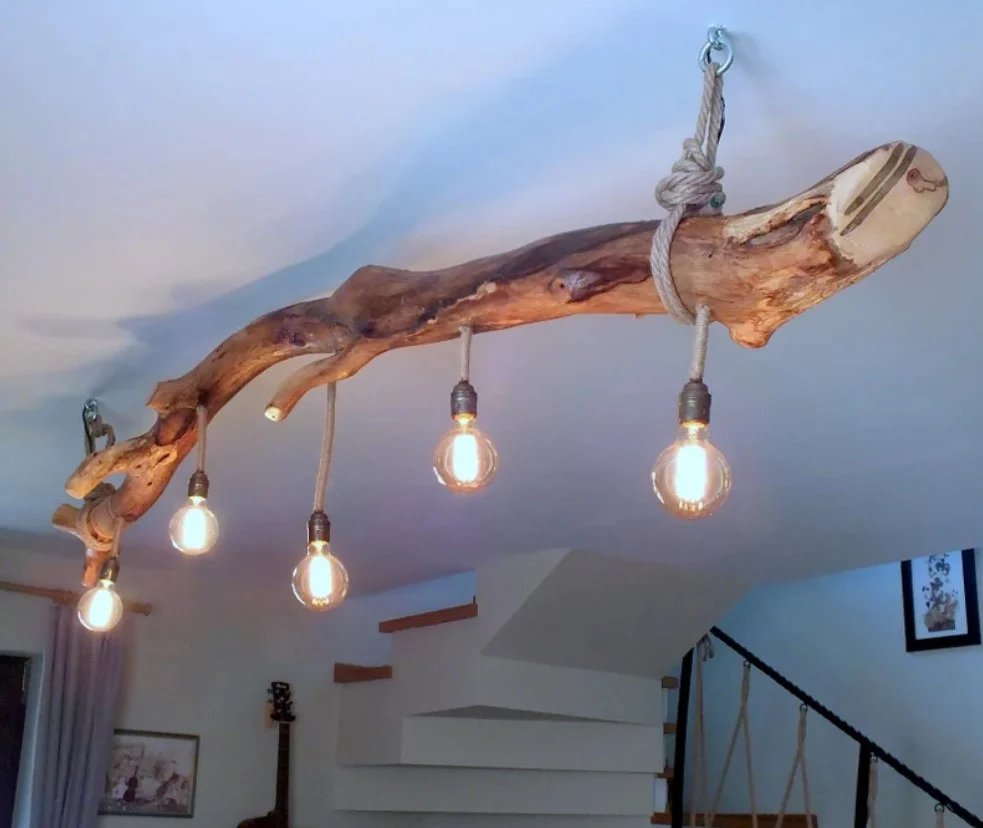 via MariusRus
Say goodbye to your usual kitchen lights and trade them for a unique natural wood front lighting system. This project is easy to DIY immediately, and instructions are hardly necessary.
You can use a thick driftwood or a fallen thick tree branch. Hang the lights, and you're ready to install!
36. DIY Natural Wood Tripod Floor Lamp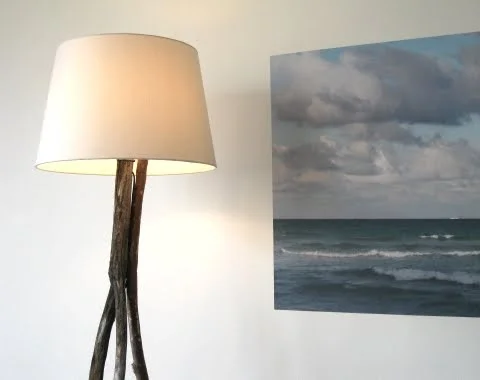 Who would have thought you could tie several tree branches together to turn them into a wooden lamp tripod?
It's a perfect project to craft if you want to put some clashes in your modern décor. The cost of this project hardly costs a fortune!
37. Rectangular Table Lamp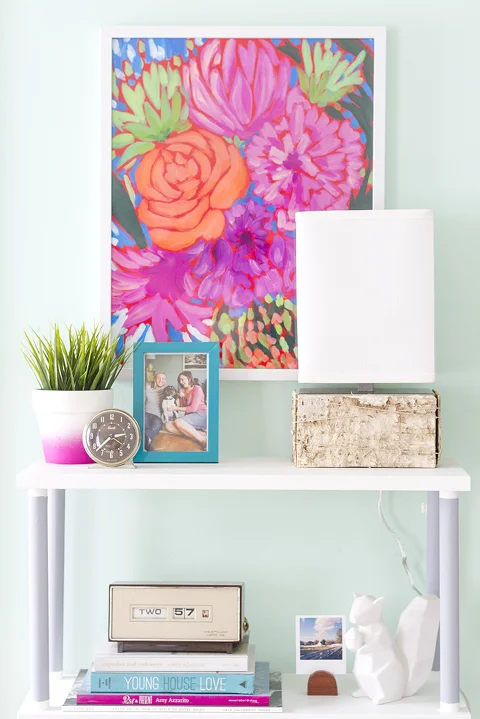 via Dream Green DIY
This is one of the simplest wooden lamps you can DIY immediately. All you must worry about is cutting your wood to a perfect rectangular shape.
Both the lamp base and shade can sport the same rectangular shape to give it a modern minimalist vibe. Choose a cool-toned material as shade, and you're all set.
38. Illuminating Stacked Nightstand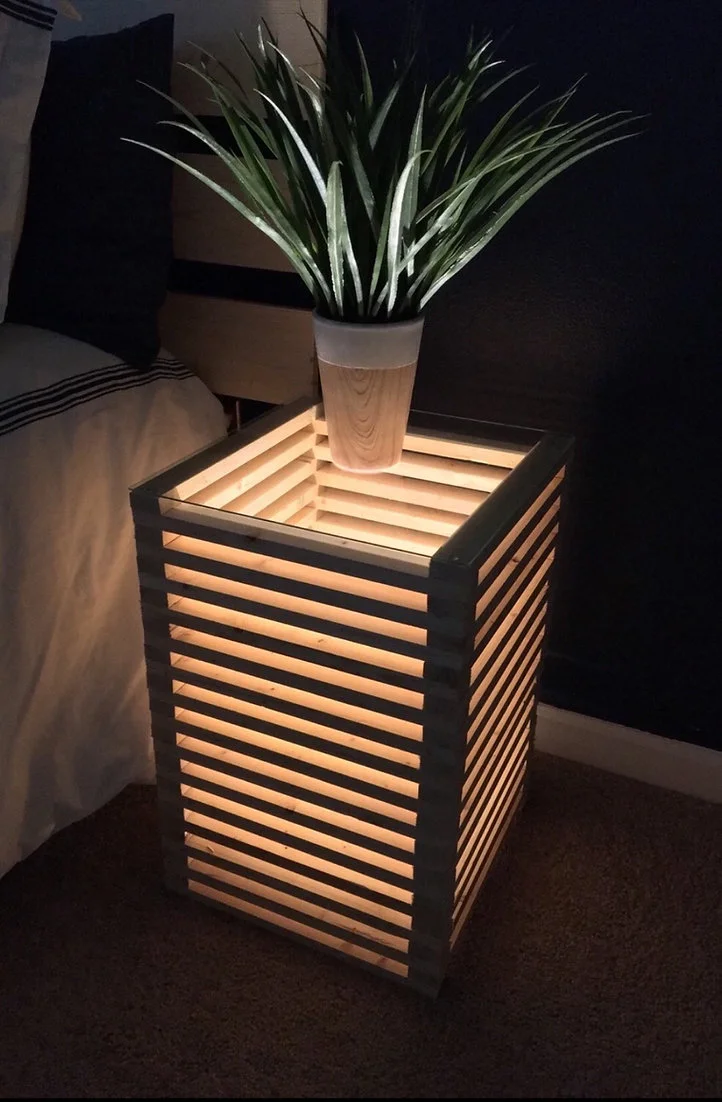 via Christiani Modern Wood Designs
We immediately fell in love with how cool this lamp looked. It can illuminate any dark area instantly and even lift your spirits!
Doing this project won't cost too much. However, you might need a tutorial to help assemble the slats.
39. Minimal Wood Lamp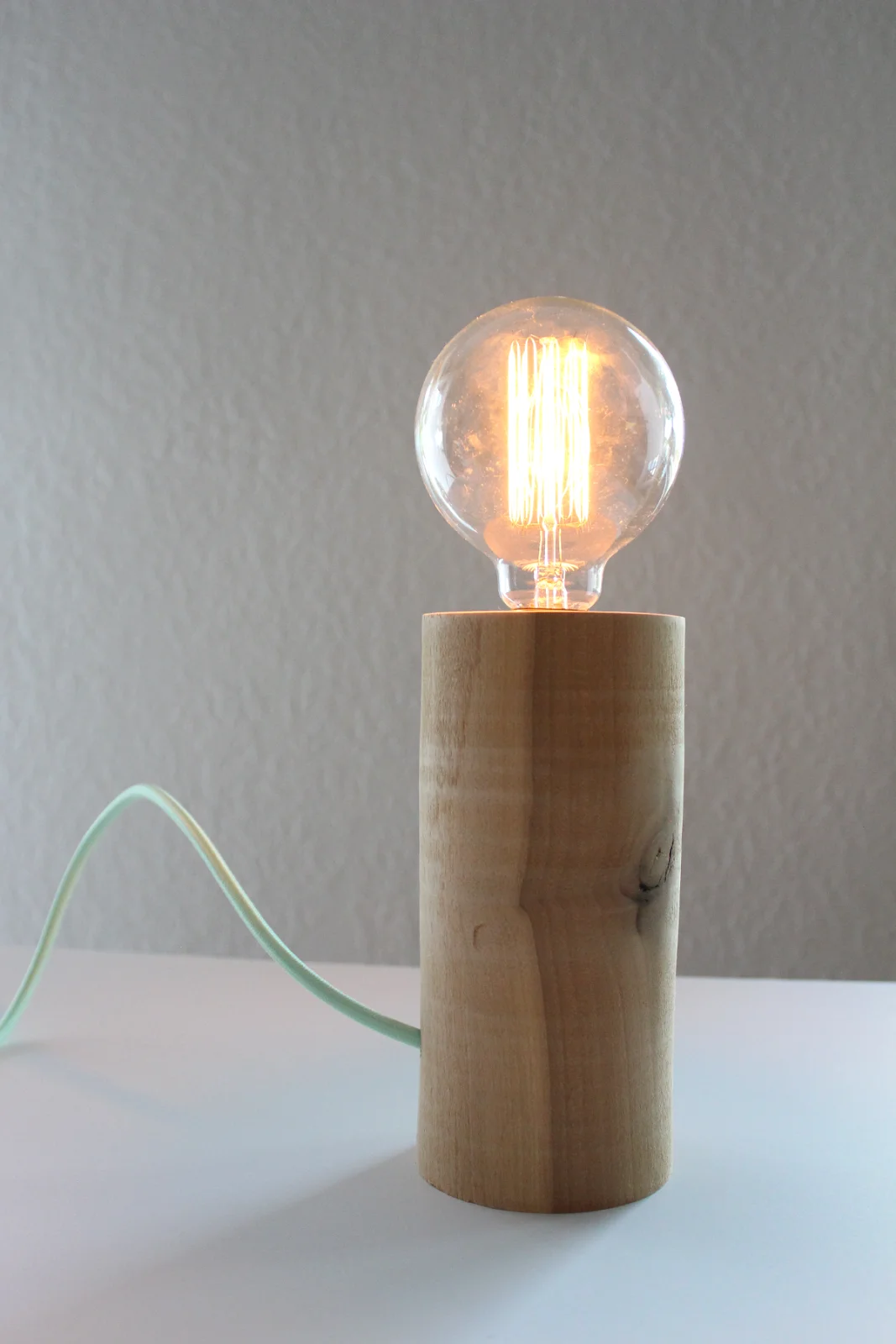 via Turning it Home
Another project you can DIY immediately is this minimal wood lamp. We love this project's simplicity; you'll hardly need a tutorial for it.
Although it's relatively small compared to other lamps, it's still highly functional.
40. 3D Cube Desk Lamp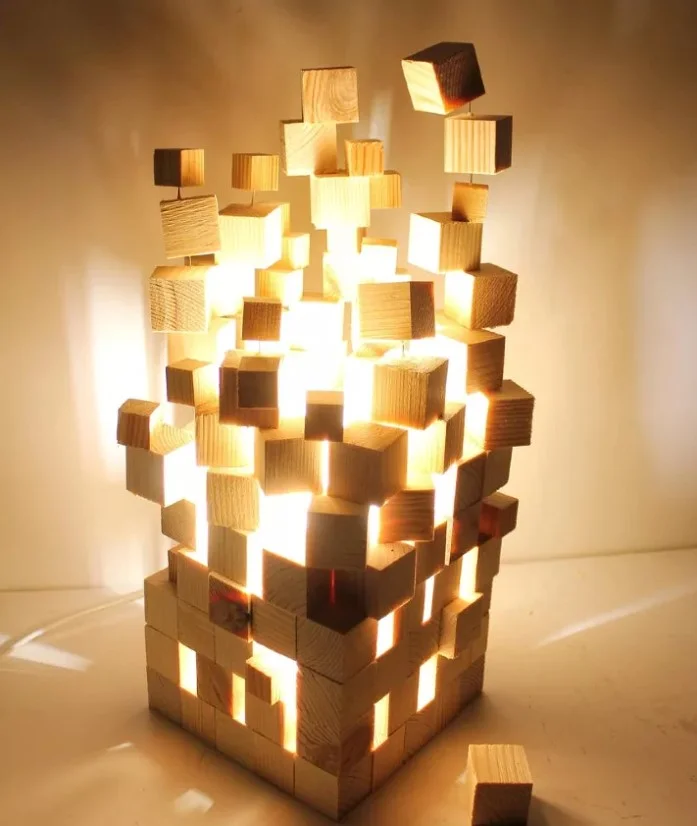 via Polkilo
One look at this desk lamp, and you already know you've got a challenge ahead of you. It sports a unique style that's hard to put together.
Nonetheless, we're sure it's a challenge you'll be willing to take on. After all, it's a cool project you can feature at home.
41. Industrial Natural Wood Table Lamp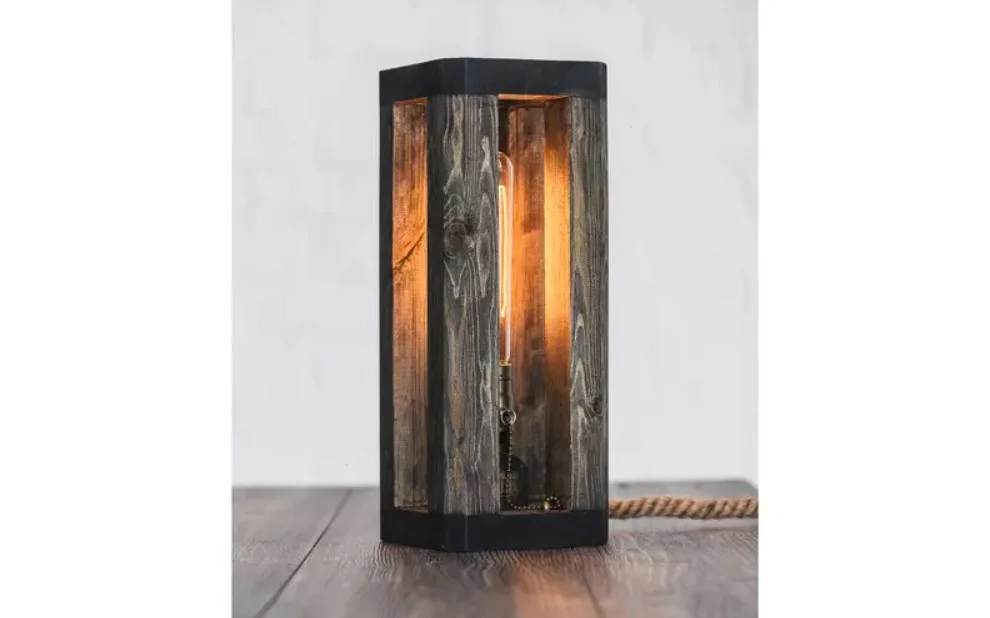 via etsy.com
We love how stunning this lamp looks. It looks like it costs a lot to assemble, but it does not.
All you need are even wood slats drilled on a wooden base. Turn on the bulb and watch it illuminate your office.
42. Edison Light Bulb Project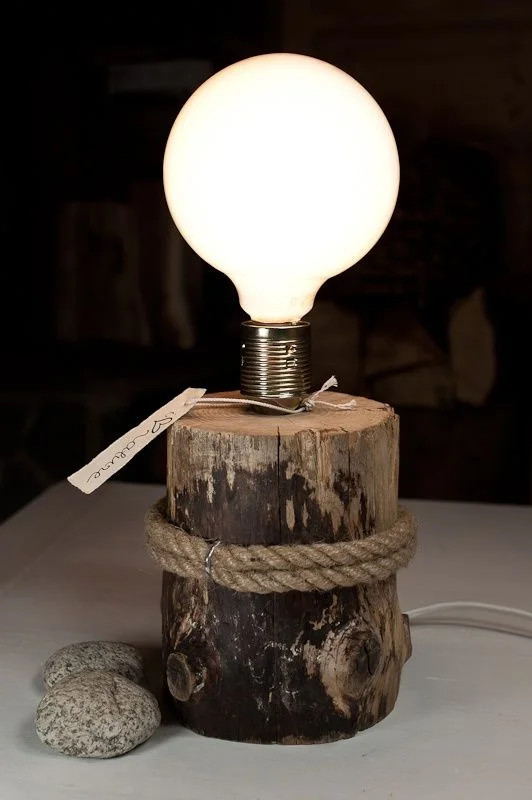 via Homesthetics
Pay homage to the father of light bulbs by making this simple DIY project. Just attach your favorite bulb to the middle of your favorite wood.
You can use this as the highlight of your modern room.
43. Customized Heartwood Ceiling Lamp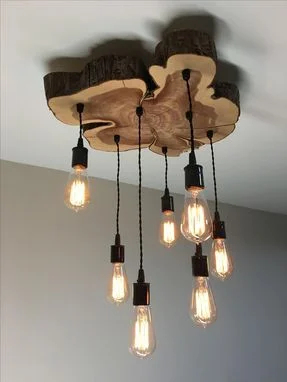 via pinterest.ph
The inside of a tree trunk looks stunning, especially the closer it gets to the center. A slab of the trunk can get expensive, depending on the wood you use.
Customize your own tree trunk ceiling light. Trade in your usual chandelier for this awesome DIY project.
44. Cracked Table Lamp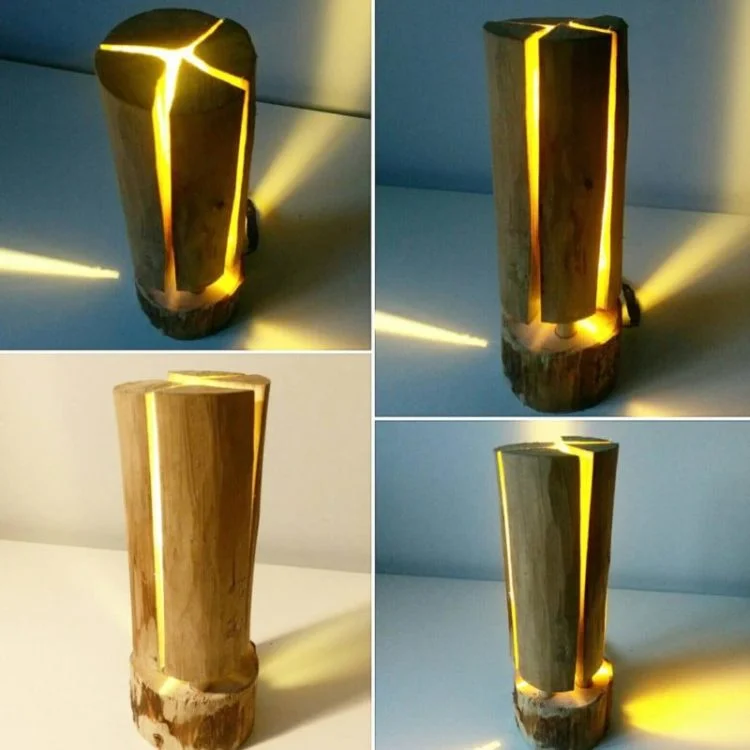 via iDLights
Building this DIY table lamp is a lot of fun, but it is certainly tricky. You want to create a cracked illusion in both the base and middle, where the light will be illuminated.
Once you finish this project, you'll overwhelm many friends with this cool DIY lamp.
45. Wooden Coaster Lamp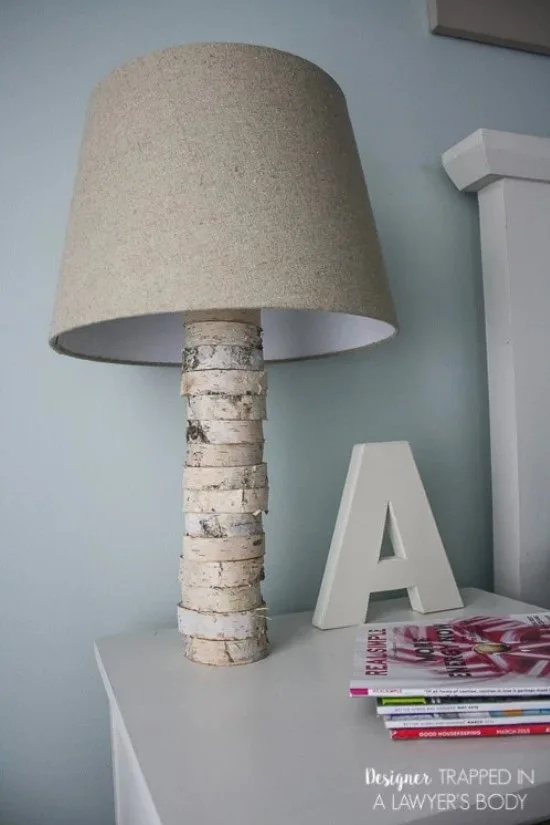 via Designer Trapped
Repurpose your old, wooden lamps and coasters and use them as a base for your DIY lamp. It's a lovely project you can DIY immediately.
Pile the coasters on top of each other and secure them properly with an effective adhesive.
46. Studded LED Diode Lamp
via Siegried Enge
If you want a challenging DIY project, this LED studded lamp is for you. You can put this lamp on your desk and make a good conversation starter.
Fair warning, putting the LEDs on one side of this branch will be tricky.
47. Easy DIY Tripod Floor Lamp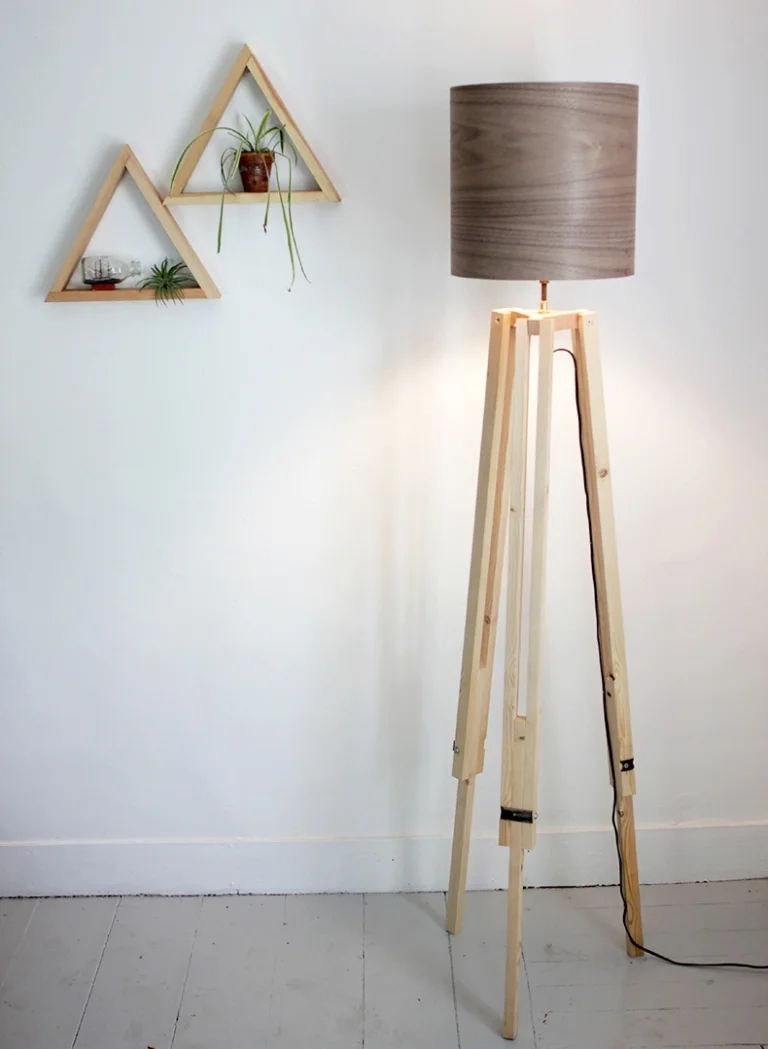 Create a tripod floor lamp with the help of a few wooden pieces. Make sure to cut each leg evenly to stand properly on the floor.
You can save a lot by building this floor lamp because the materials are hardly expensive.
48. Geometric Angle Lamps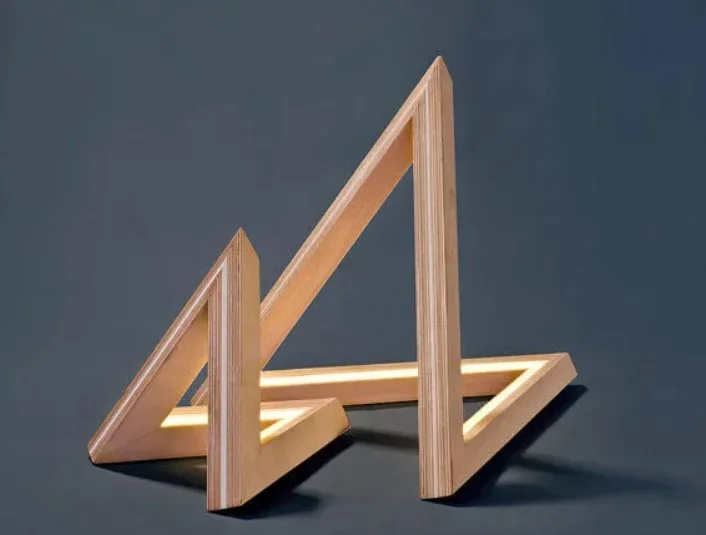 via UshkiStudio
We love this geometric lamp because of its unique look. You probably think it costs a lot of money, but it does not.
The challenge with creating this wooden lamp is cutting the wood to an angle. But after that, you're all set to add your lighting system.
49. Small Office Table Rustic Lamp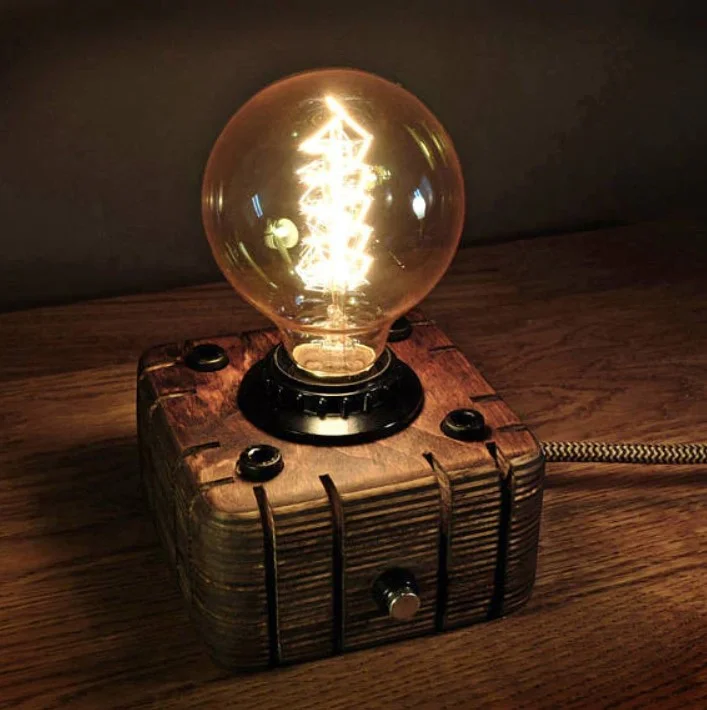 via MasterWoodUA
This small office lamp is so easy to make. All you need is a small piece of wood as a base and a light bulb!
You can design the wood according to your style to suit your room's aesthetic.
50. Hanging Wood Branch Pin Lights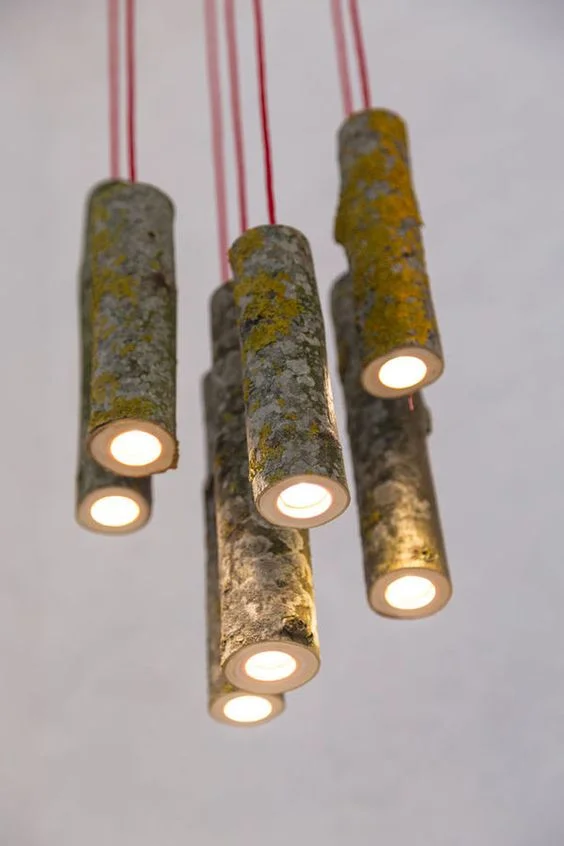 via TrendHunter
Who would've thought you could use branches as pin lights? Consider picking them up and bringing them home if you chance upon thick branches.
Create holes with a hollow center to insert the pin lights into the hole.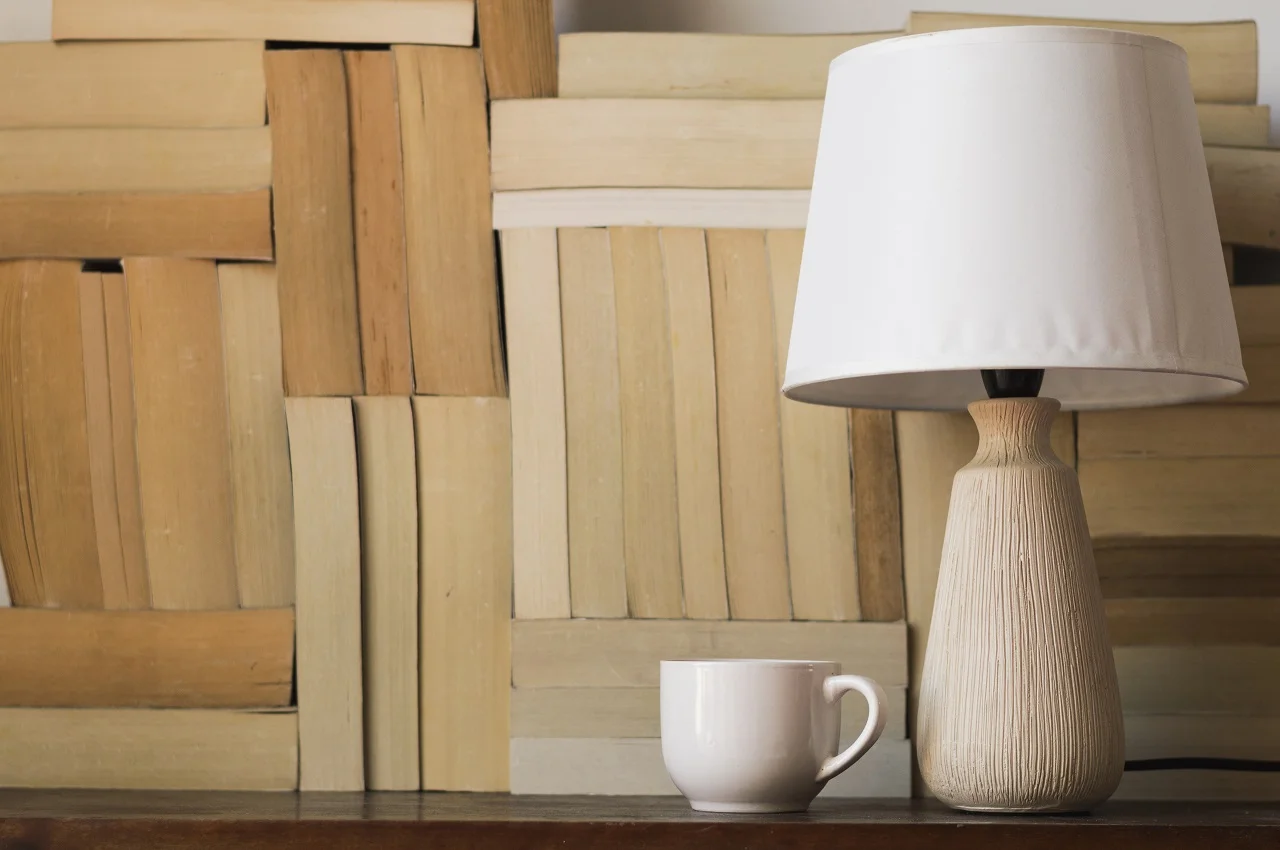 Wooden Lamp Projects Conclusion
Creating your wood lamp is simple, easy, and will hardly cost you a fortune! You can have your IKEA-looking lamp at home. 
Be sure to follow along with your favorite tutorial to help you finish your wood project successfully! 
We hope you enjoyed this article. Let us know in the comments which DIY project you decided to create. We'd love to hear about it. 
You might also want to check out DIY pvc pipe projects that can get your hands busy.