Wine has been a staple in many celebrations and festivities. It's one of our favorite companions when throwing a dinner party with friends and families.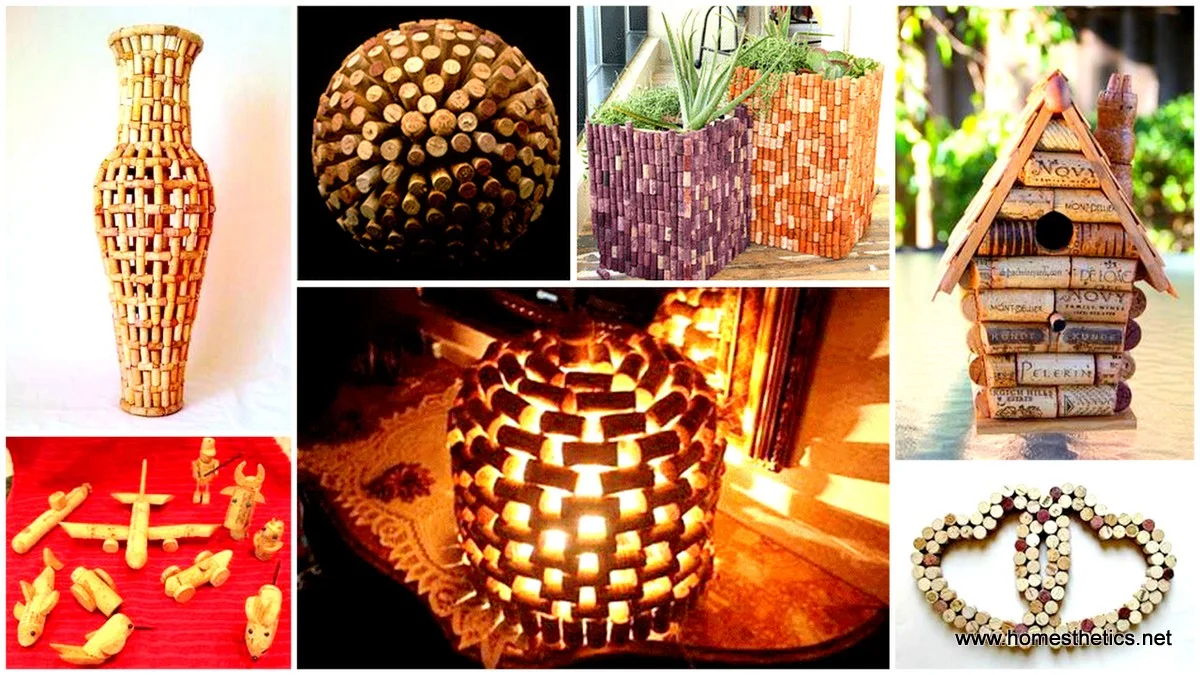 When the night ends, and you've chugged down all the wine, all you're left with are empty bottles and wine corks. You could even have a whole stash of wine corks lying around.
This begs the question: What do you do with all the wine corks sitting on your dinner table?
In our case, we like collecting leftover wine corks to make creative wine cork crafts! You can make many DIY projects with all the old wine corks you can save.
Are you interested in making amazing wine cork crafts? We'll give you a list of DIY wine cork ideas before you do so!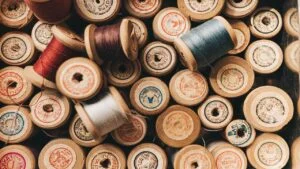 DIY crafts are great ways to upcycle reusable materials to create decorations and knick-knacks while sparking your creativity and imagination.
With these, you can make unique ornaments that you can give as gifts and party favors or use them to decorate your home. The limits are your imagination and creativity.
1. Wine Cork Coasters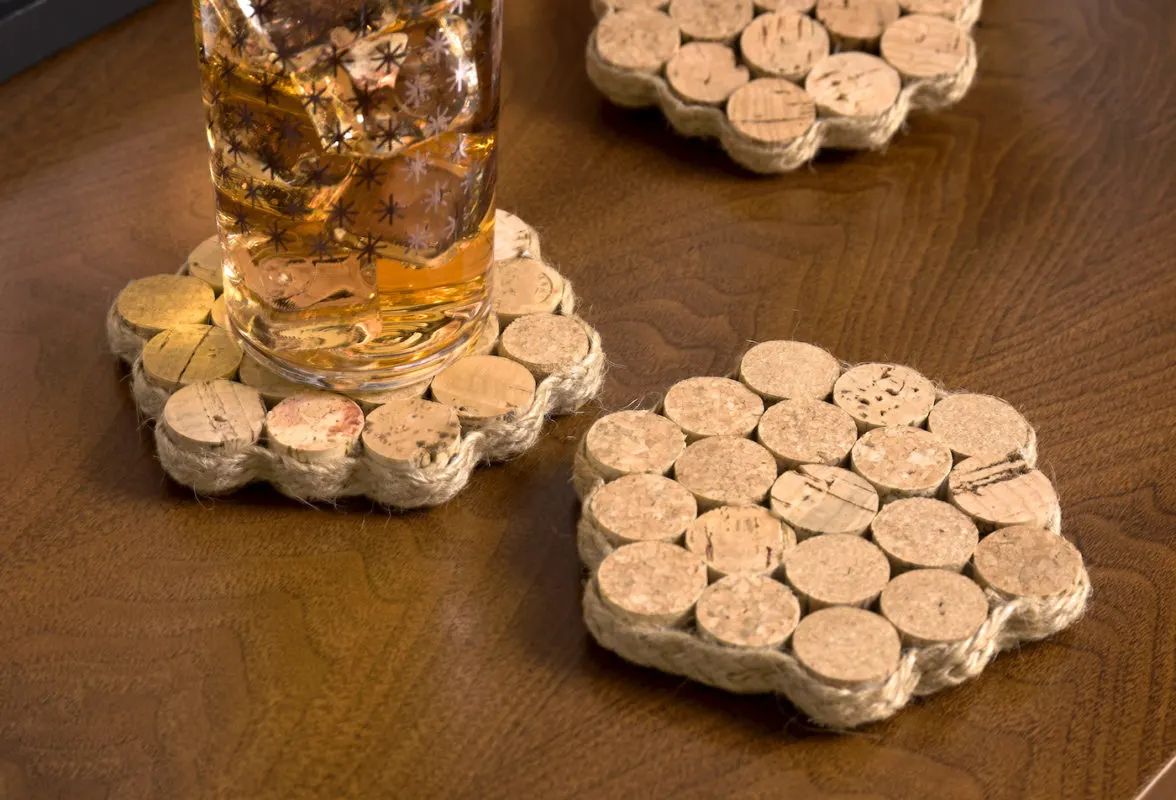 via diycandy.com
If you plan to drink more wine, you'll need coasters to protect your table from getting damaged by cool wine glasses. One of the best ways to reuse corks is to turn them into coasters.
You can easily cut them up and glue them together. Whether you need a place to set your glasses or wine bottles, this is the best way to protect your tables.
2. Wine Cork Garden Markers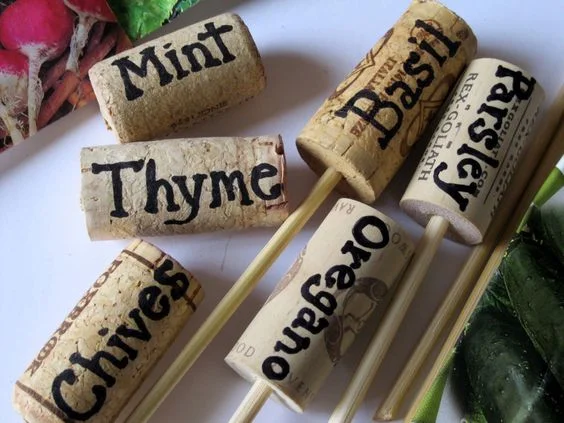 via Donna
Need an easy way to identify the herbs and plants in your garden? Try these DIY wine cork garden markers. They're eco-friendly and easy to make.
They're incredibly intuitive, only needing your old wine corks, dowels, and markers to construct. Label the wine corks according to the plant you want to match them with.
3. Wine Cork Bird Houses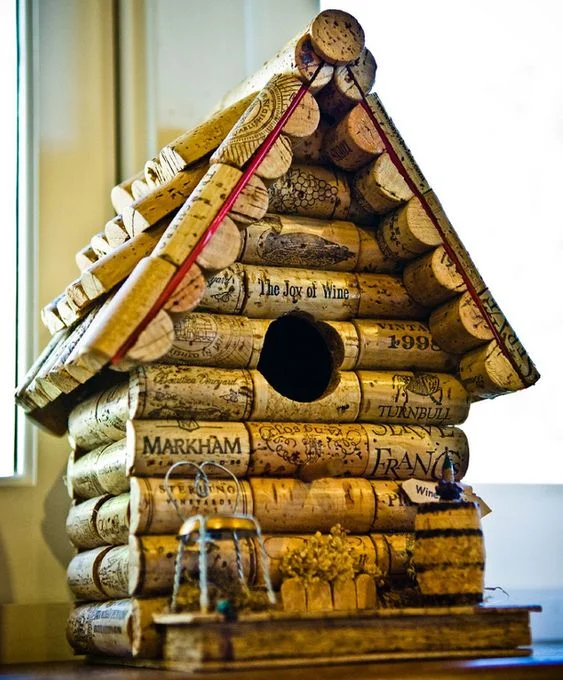 via douglasfoster4
Making a whole birdhouse could seem like one of the more complicated wine cork projects. However, many templates online can guide you through this project.
Use a hot glue gun to ensure your birdhouse will be safe for the birds living there.
4. Wine Cork Jewelry Organizer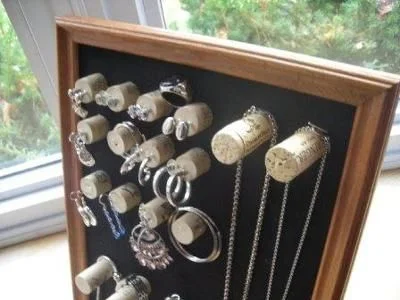 You won't have to look for your accessories when you have them all organized. Sorting them out just got easier with a wine cork jewelry organizer.
You can use the corks as the pegs or hooks of your jewelry organizer to hang your accessories in place and make them easier to look for.
5. Wine Cork Bulletin Board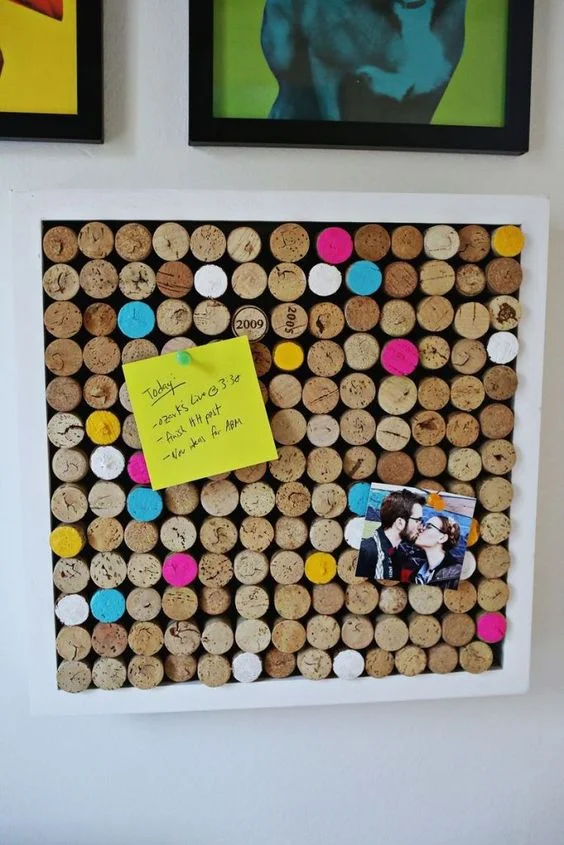 via Emma Chapman
Why buy boards when you have wine corks left from your last dinner party? When you collect enough material, you can create your own wine cork bulletin board.
Cork boards are made with the same materials as this DIY wine cork project. Making it on your own makes it more fun to create.
This DIY wine cork craft idea is excellent, especially if you need a place to put up essential notes and memories.
6. Cork Planters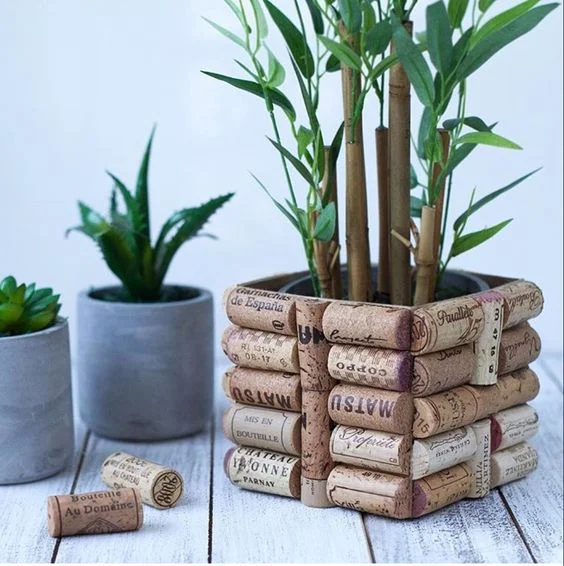 via Unknown Artist
This fun project is one way to give your plants a new home. It provides a more rustic vibe to the plants you have indoors.
Whether you have succulents or taller plants, this would be a great way to show them off.
7. DIY Wine Cork Keychains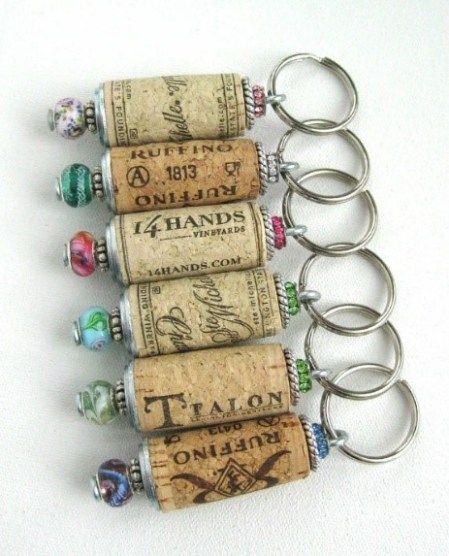 via lizkingdesigns
This easy craft has become how people add their personal touch to small everyday items, like wine cork keychains. You can give it as a gift or keep it for personal use.
You can screw in or stick beads onto wine corks to make them more unique. Not only are these wine cork keychains super cute, but they're also a great way to keep your keys in check.
8. DIY Wine Cork Tray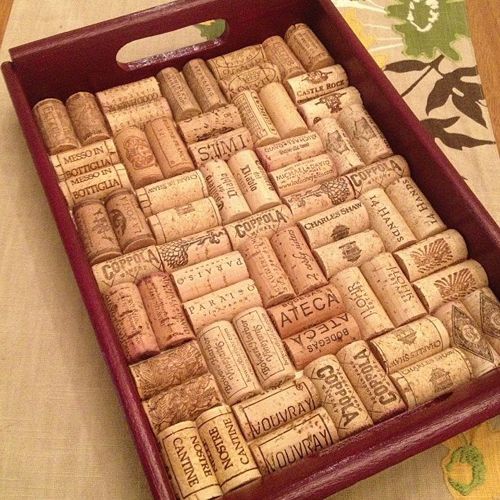 You'll need a way to carry things around for your next dinner party. You can use your wine corks to make a DIY wine cork tray.
The wine corks would greatly support whatever you need to carry and do it aesthetically, elevating the event's entire look.
9. Wine Cork Bath Mat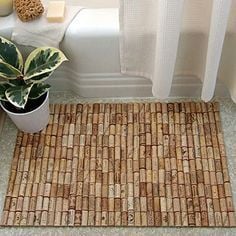 via Crafty Nest
Keep your bathroom floors dry by creating a wine cork bath mat. They're reasonably easy to make and allow you to use your leftover wine corks.
We recommend having wine corks of the same size to make it easier to assemble and to lessen the gaps between the corks. Use a hot glue gun to attach them to a shelf liner to make them more sturdy.
10. Wine Cork Place Card Holders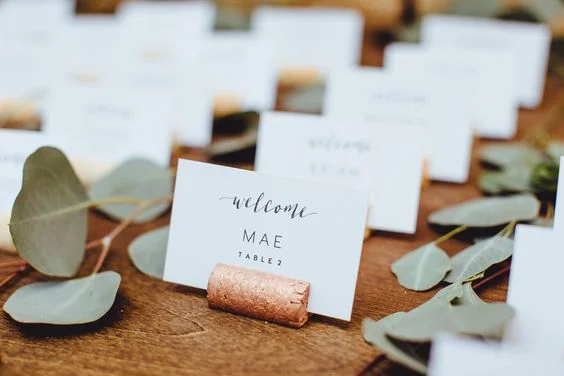 via Jochem and Jamie Veldhuijzen
If your next dinner party is big, you can easily tell people where to sit by making wine cork place card holders. It's an easy craft project that anyone can do.
You'll only have to cut part of the cork to slip a piece of paper with your guest's name.
11. Wine Cork Trivet for Pots and Pans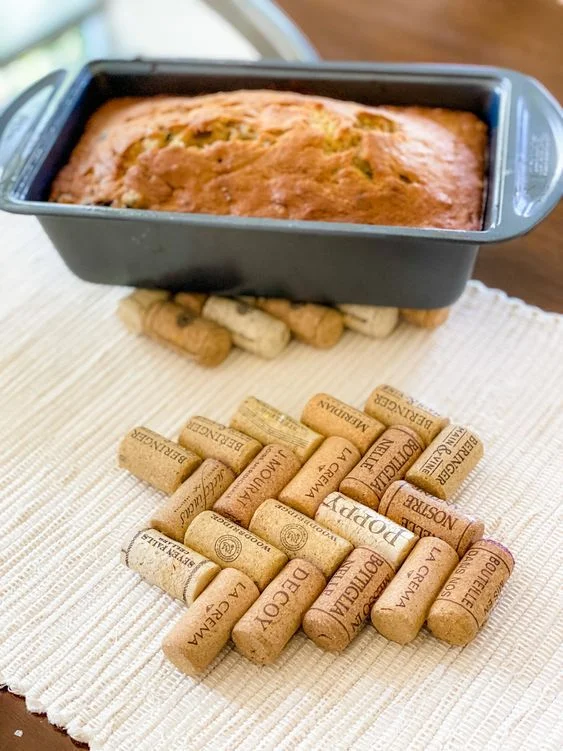 Another way to protect your tables from hot pots and pans is to have a wine cork trivet. This simple craft is sturdy enough to support your kitchenware, no matter how hot they get.
You can also arrange the wine corks differently to make them more fun.
12. Vase Filler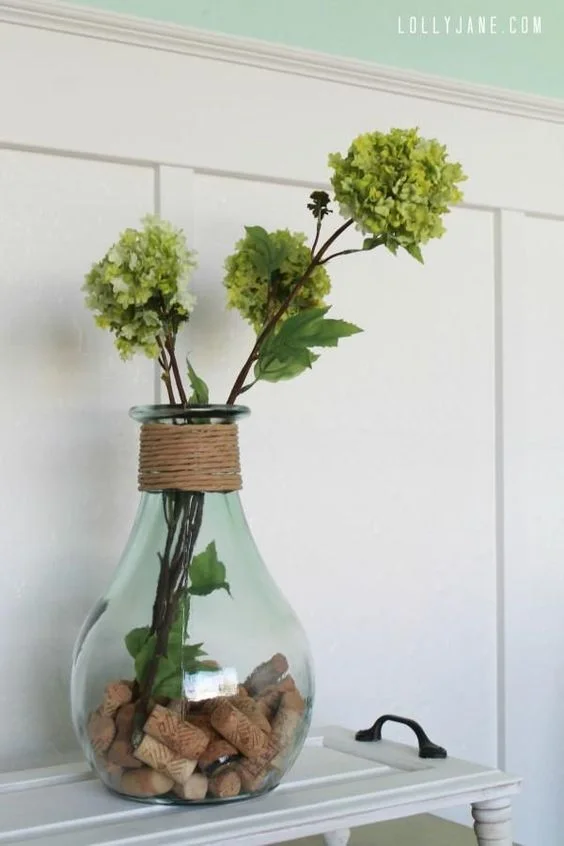 via pinterest
Using your wine cork as a filler for glass vases is a great way to keep your flowers upright, especially if you use a bigger vase.
It adds to the aesthetic of your place and is earth-friendly enough to keep these corks out of landfills.
13. Coat Hooks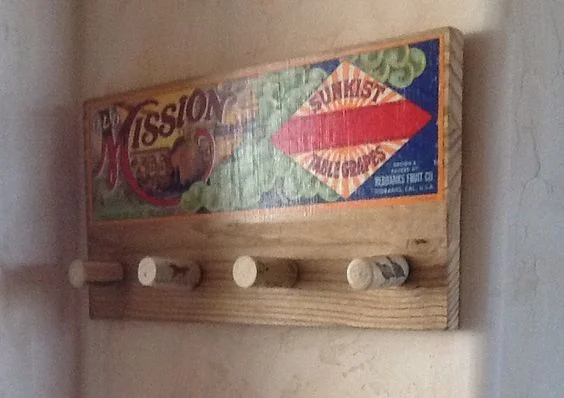 via pinterest
Besides jewelry, larger wine corks would also be great for hanging up coats. You'll only have to hot glue them onto a board or attach them directly to your wall.
This DIY craft is another great way to decorate your home and add a more vintage touch.
14. Bottle Stopper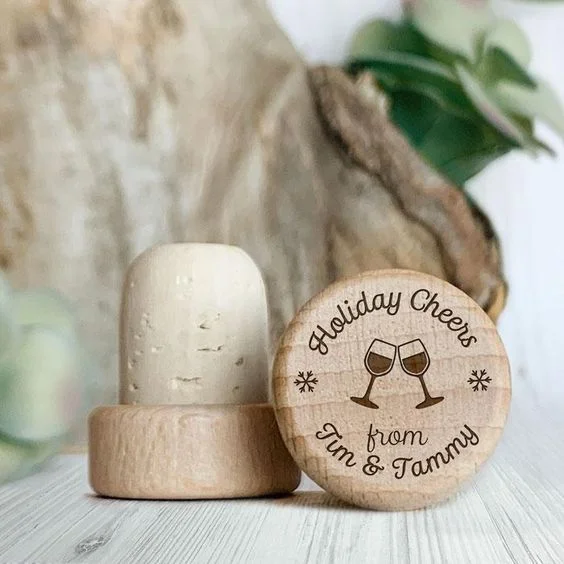 via Lemons Are Blue
Wine bottle stoppers can be great party favors, especially when personalizing them. Corks are easy to carve and cut according to the design you want.
You'll be able to reuse wine corks for their intended use and add a personal touch to your bottles.
15. DIY Wine Cork Tic Tac Toe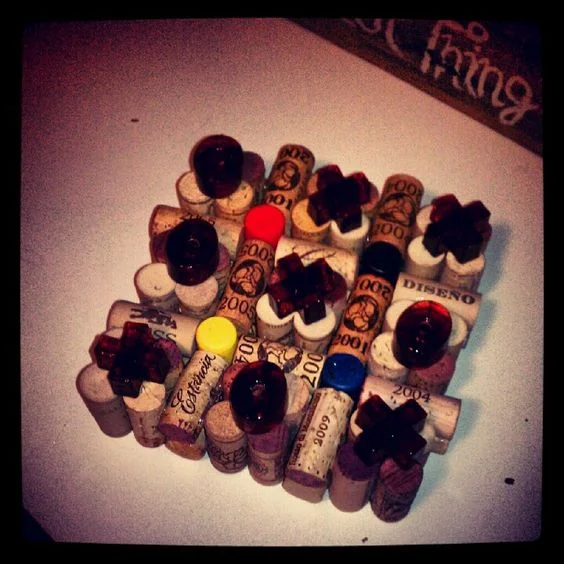 via pinterest
Turn your old wine corks into a little game with this DIY project. Use them as dividers and the base for a tic-tac-toe game. This project will be great, especially for kids.
You can also use the corks to make the Xs and Os you'll need for the game. Add your own designs to make them completely unique from others.
16. Wine Cork Photo Clip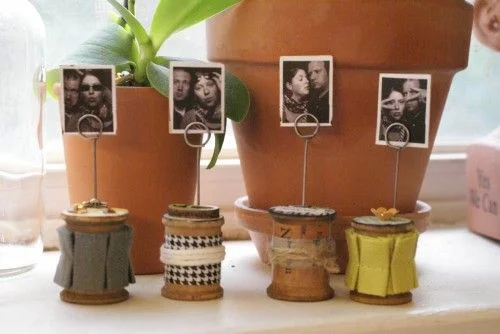 via Studio Calico
Try this creative wine cork photo clip if you want a cute gift idea. It's a great way to display pictures of important memories.
Personalize your photo clip based on your design and add a little something to make your photo clip more special.
17. DIY Wine Cork Wall Art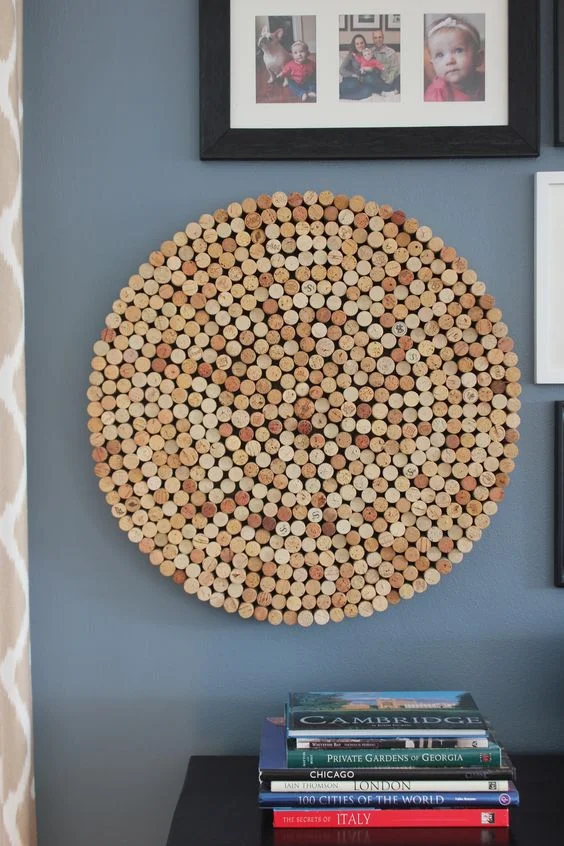 via Morgan Hanson
There are many ways to add art to your walls. Maybe you can consider using wine corks as your décor. You can create any design you want and assemble it.
This wine cork wall art can go well with a pallet wall or match other DIY bamboo projects, thanks to their rustic vibes. They're also a cool gift idea.
You can also combine this with wine bottles to make the design more unique.
18. Wine Cork Stamps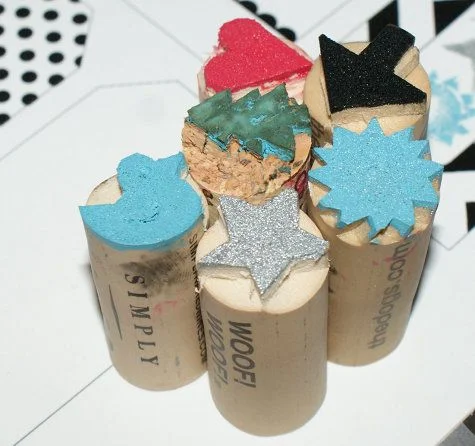 Stamps can be your best friend if you're into scrapbooking or journaling. You can make wine cork stamps to personalize your other crafts.
Carve out the white space of your design so it can be raised to transfer it onto paper.
19. Wine Cork Pendant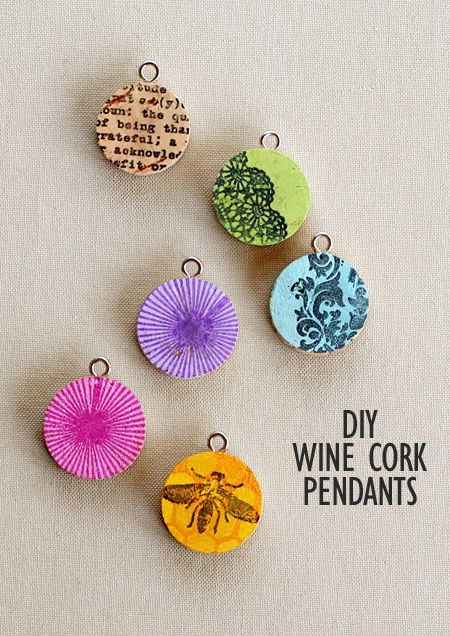 via Lisa Storms
If you're looking for a new way to accessorize, letting a personalized cork pendant hang on your neck may be the answer.
You can paint different designs and colors on the surface to personalize them. You can also carve your designs to add texture to your pendant.
20. Wine Cork Christmas Tree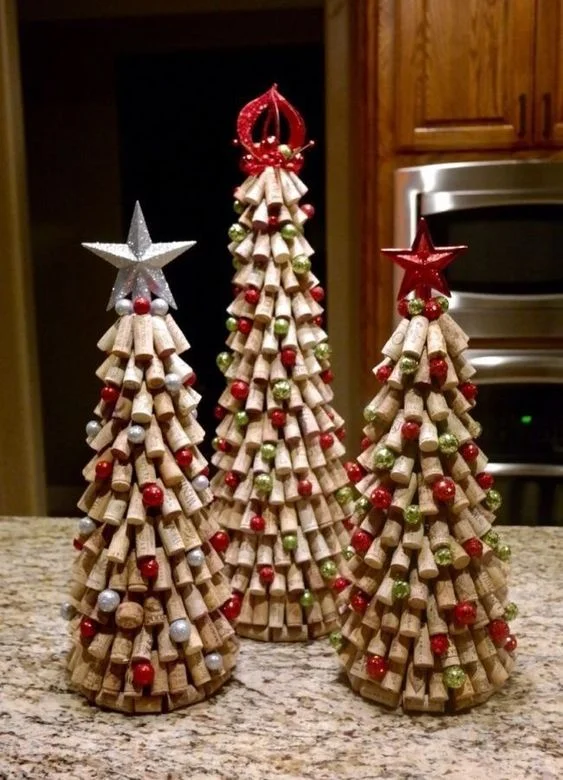 via pinterest
If you're looking for a unique way to decorate your house during the holidays, making a Christmas tree can be one of the wine cork craft ideas you can try out.
Use the wine corks as your tree's leaves and decorate them with small ornaments to spread Christmas cheer.
If you're out of wine corks, use plastic spoons to craft your Christmas tree.
21. Wine Cork Vase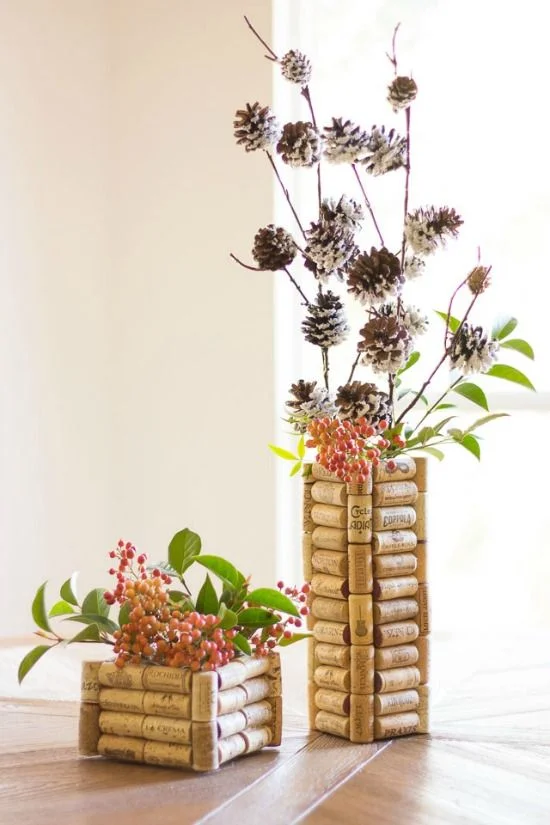 Another way to show your flowers off at home is by having a wine cork vase. They're another rustic way to turn your plants into an exciting centerpiece.
You can also use a wine bottle as the base of your vase. Use a hot glue gun to secure the wine corks around it to make your vase.
22. Wine Cork Candle Holder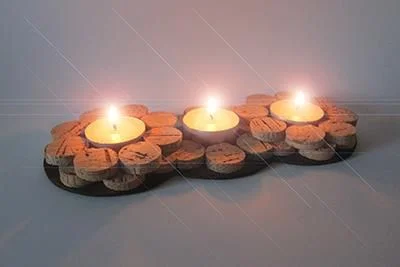 via pinterest
If you're into the fancy dinner vibe, you can try adding a candle holder to your wine cork projects. You can easily assemble the cut-up parts to form the protective barrier for your little candles.
Fun Fact
If you dip a cork into acetone alcohol, you can use it as a candle. Just be careful when working with alcohol and fire since they can be dangerous.
23. Chandelier Made of Wine Corks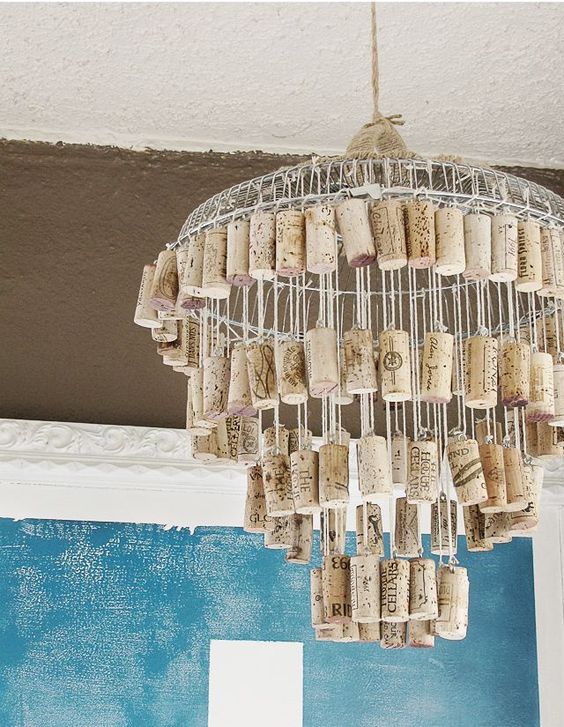 via Max & Fodder
Creating a chandelier out of wine corks is a great way to decorate your house. Tie them onto a frame and let them hang to form the chandelier.
It's a cool way of using a lot of wine corks and creating something for your home. They can also match other things in your house, like cabinets and privacy screens.
24. Wine Cork Wreath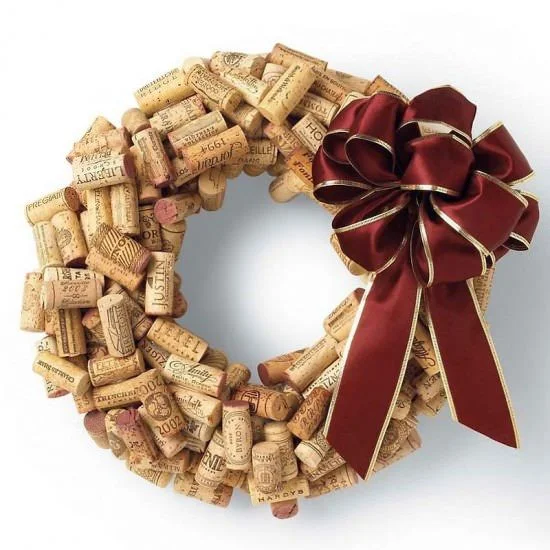 If you don't want to worry about leaves (real or not), creating a wine cork wreath might be the best solution. They're not as messy, and the wreath is an easy design to make.
This DIY wine cork craft is a great way to reuse your corks while decorating for the holidays.
25. Wine Cork Utility Knife Handles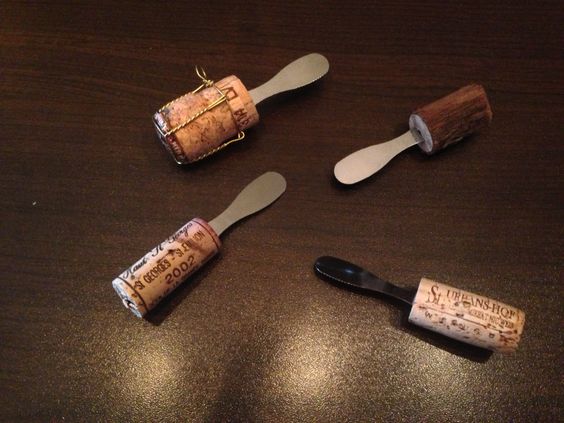 via pinterest
If you have old canape knives, you can easily attach them to old wine corks to make a small utility knife. They can be a great gift or something to use around the house.
Be sure to use sturdy corks when making one of these cork crafts since blades and knives are dangerous.
26. Wine Cork Monogram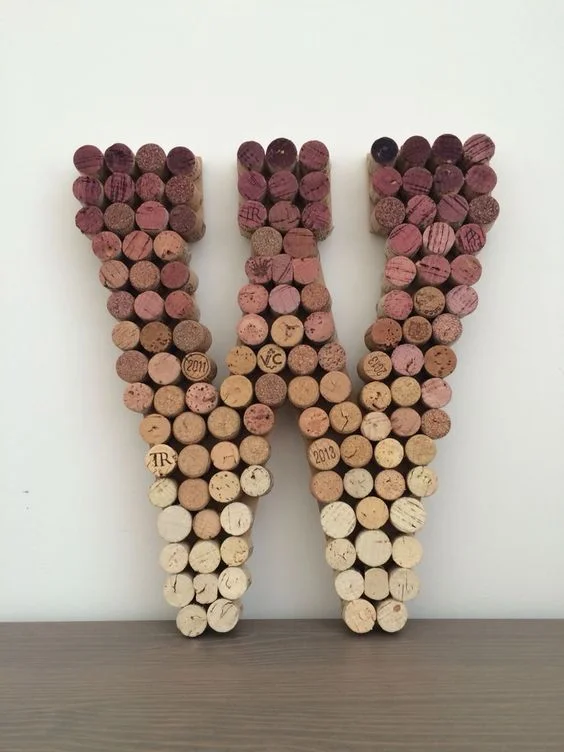 via  pinterest
Whether you're looking for party décor or something to add to your house, use your corks to create a monogram. It can be the first letter of your name or someone important to you.
These cork crafts tend to go well with paintings on canvases and similar crafts.
27. Wine Cork Candle Votives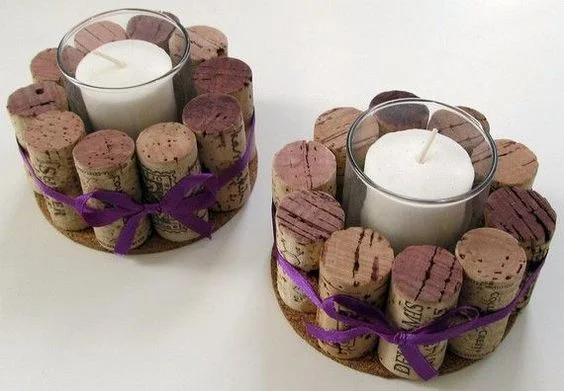 via Smdecoración
Corks can easily absorb heat, making protecting you from hot objects like flames easier.
You can tie a bunch of wine corks around your candle holder or glass to make them easier to pick up without sacrificing aesthetics.
28. Wine Cork Backsplash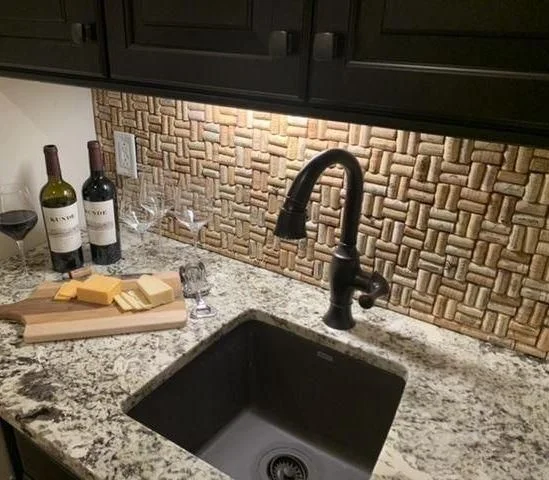 via Ibrand1
One of the best things about wine corks is how they don't absorb water, making them great against splashes. Set them up against the sink to prevent any backsplash.
This is one of the many cork crafts that can help enhance your house's decor while protecting the structure, making it highly functional.
29. Wine Cork Bungee Ties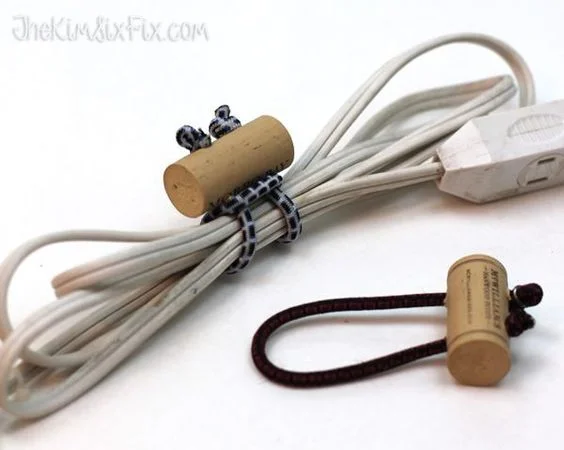 via The Kim Six Fix
Keep the wires in your home organized by reusing your corks as bungee ties. Create holes on a cork and slip in an elastic to hold your wires in place.
These are some of the more functional wine cork crafts on the list rather than decorative ones.
30. Wine Cork Spools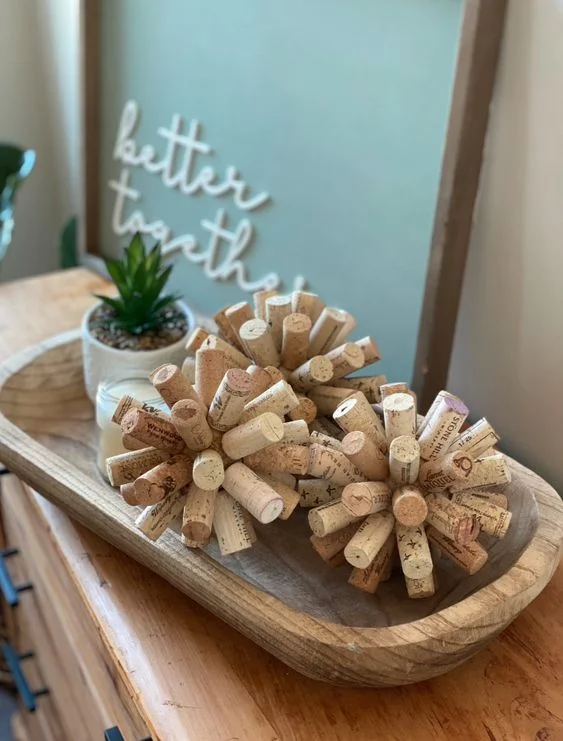 via pinterest
These wine cork spools can be a quirky gift to display on a table. They're easy to make and can look great with any decor.
They can be a great way to decorate your house or add your personal touch to your cubicle at work.
31. Wine Corks Drawer Knobs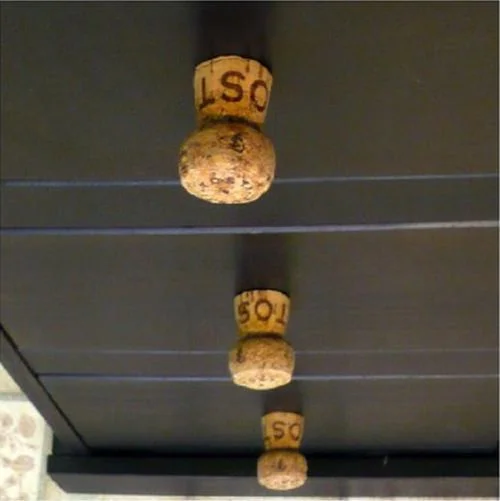 via Rhonda Greene
You can personalize your furniture with these kinds of wine cork crafts. It's easy to make door knobs out of old corks.
You may need some experience with power tools to work on this craft.
32. Wine Cork Ornaments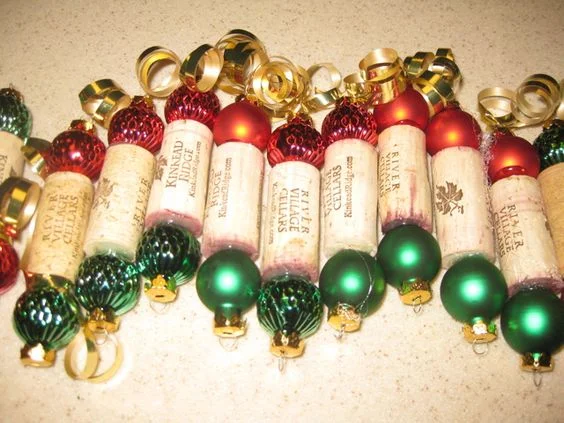 via pinterest
Turning your corks into Christmas ornaments is another excellent way to reuse them.
Add small embellishments to your cork, or paint them green and red. Painting can be challenging, given its size, but it can be worth it.
33. Wine Cork Utensil Holder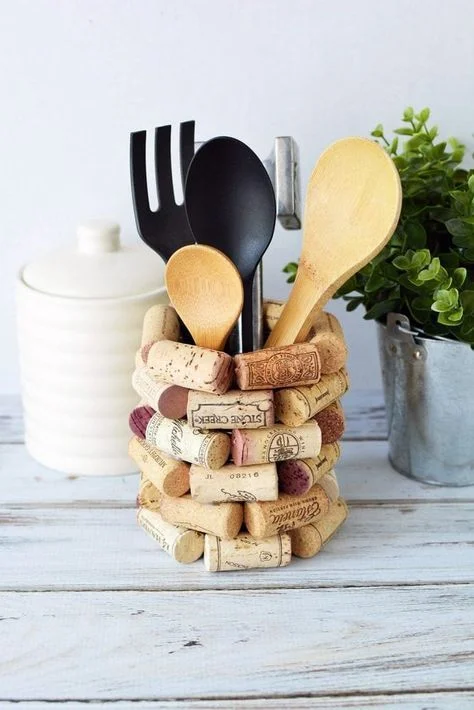 via amagicalmess.com
Personalize your utensil holder by adding corks onto them. You can glue them onto a holder or craft one out of cork.
Setting it near the sink protects your utensils from the backsplash since the corks will repel water.
34. Wine Cork Kitten
via pinterest
Here's an adorable craft for the kids to make wine corks friendlier to them. You can use different materials to make the features of your kitten.
Be careful when cutting any elements for these kinds of wine cork crafts, especially if you're doing it with a child.
35. DIY Wine Cork Centerpieces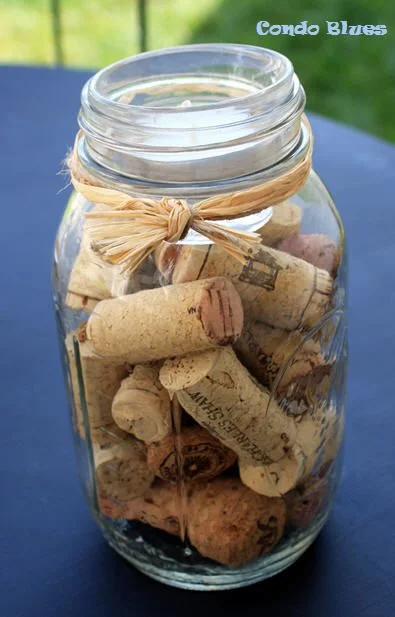 It's easy to make centerpieces using corks and a mason jar. Fill the jar up with corks and add a string for the ribbon.
You can also use them to hold a candle in the middle.
36. Wine Cork Pumpkin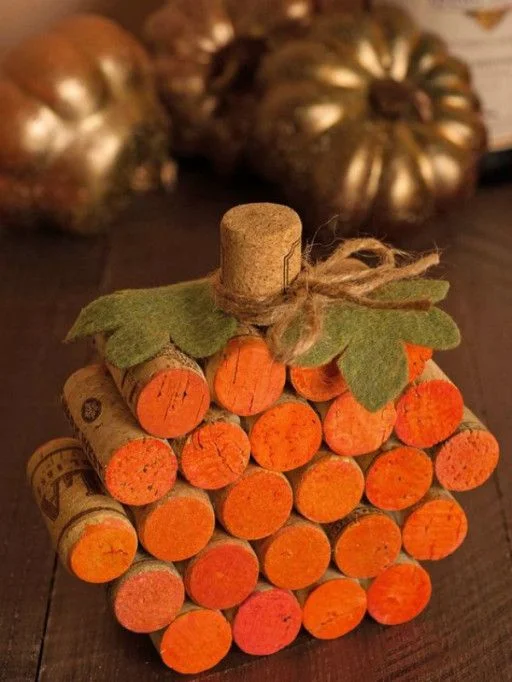 Instead of making a jack-o-lantern, you can easily craft a pumpkin to be the centerpiece of your Thanksgiving dinner.
Painting one side orange should help make it look like a pumpkin. For other occasions, you can use different colors for other fruits.
37. Wine Cork Craft Toppers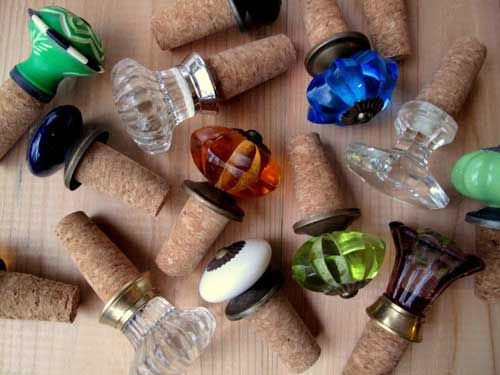 via At Home Arkansas
Corks are designed to protect all kinds of liquids in bottles, not just wine.
Use your wine corks for their original purpose but add a twist. Make it your own by adding beads or knobs for a more creative or ergonomic look.
38. DIY Wine Cork Wall Hooks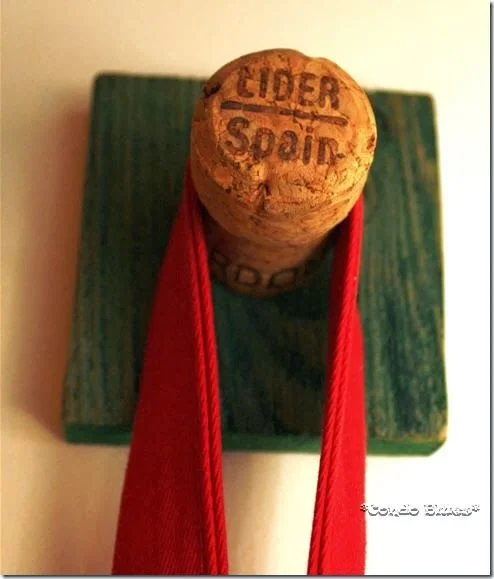 You can screw a cork into the wall to make them hooks. You can add a board in between for variation.
You can use this for your keys, IDs, and other things to hang near your front door.
39. Wine Corks Pine Trees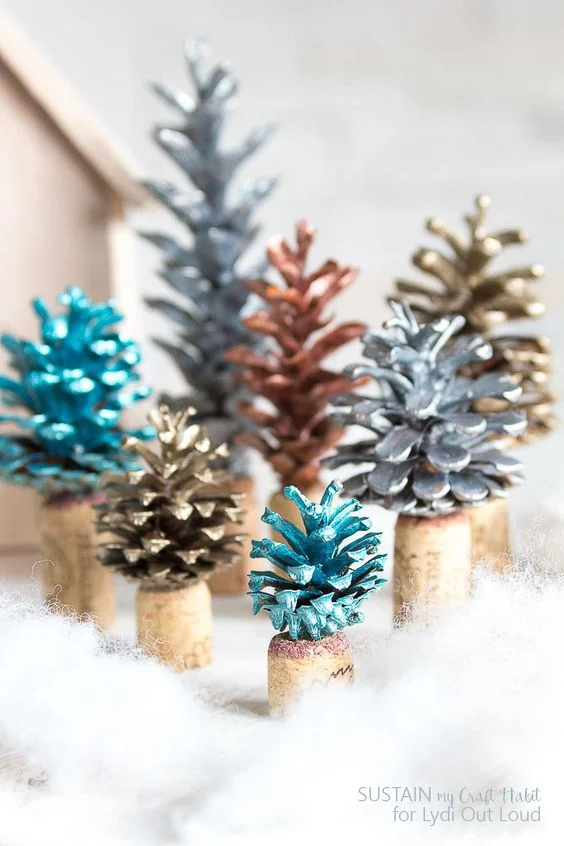 via Jane and Sonja from Sustain My Craft Habit
Add a twist to your cork Christmas tree with a pinecone.
The cork will be your trunk, while the pinecone will become the tree's leaves. You can paint them any color you want.
40. Monogram Wine Cork Earrings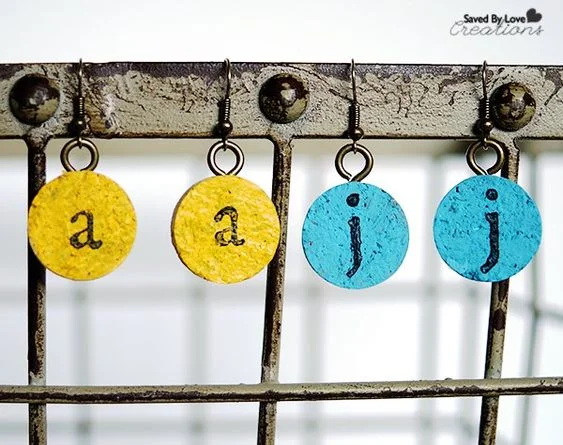 Craft something to match your cork pendant. These monogram wine cork earrings are a great way to upcycle while you accessorize.
It can be tricky for some people to paint the letter on. You can try using a stencil or a marker to help you.
41. DIY Wine Cork Heart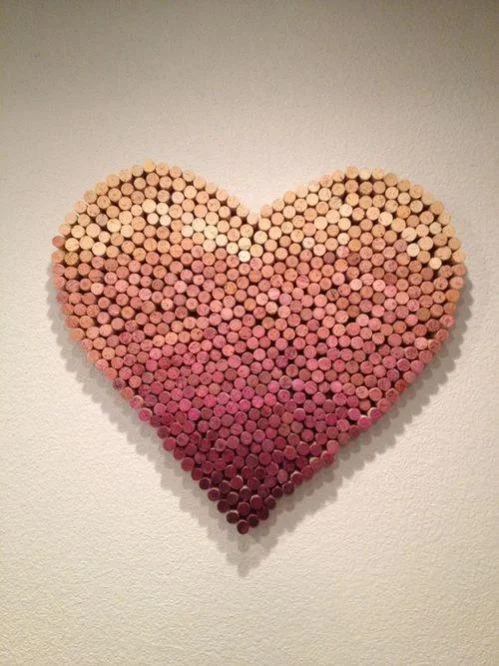 via Hello Society
This heart made of corks can be a great addition to your living room. You can dip some of the cork in your wine to make the natural colors seep in.
You can paint on the wine corks and add this to your fairy tale bedroom décor.
42. Ball Centerpiece Made of Wine Corks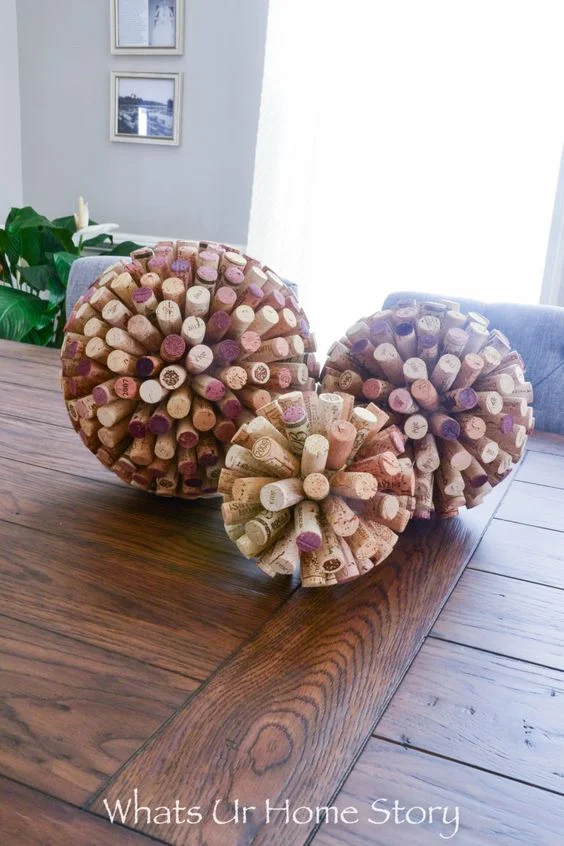 via Vidya
You can make larger centerpieces out of your corks, depending on their size.
Feel free to paint and make variations of this simple ball design.
43. DIY Wine Cork Crafts Wall Decoration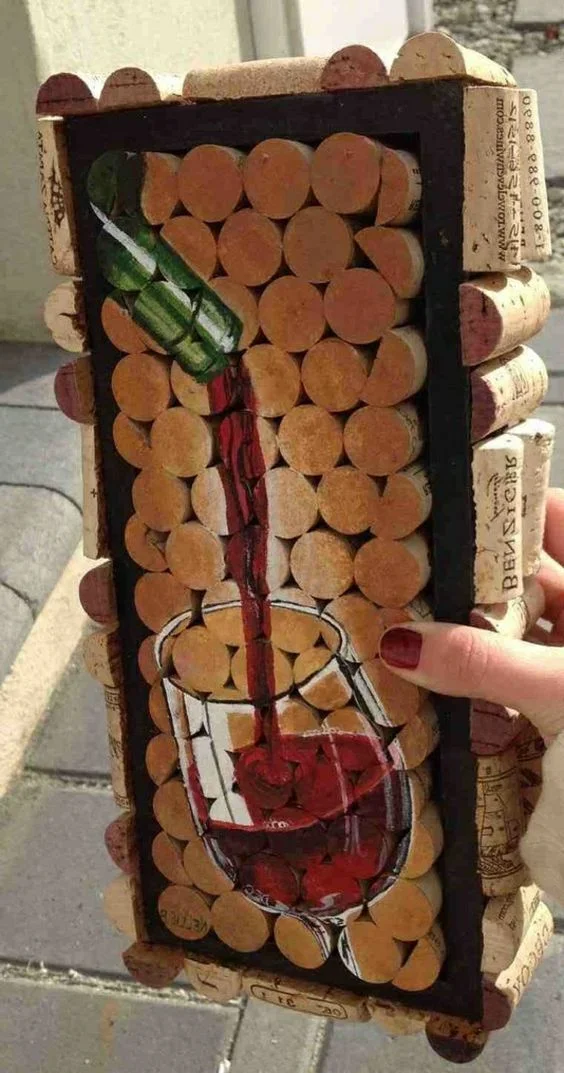 via pinterest
You can also make different wall decorations, like paintings and statement pieces.
You can paint it something wine-related to make it more appropriate for the theme!
44. Glass Lamp Filled with Wine Corks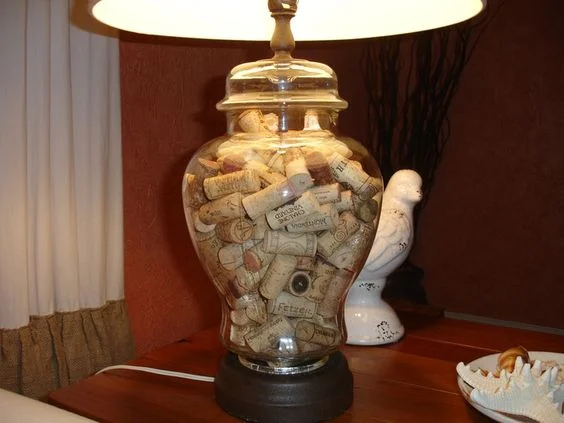 via pinterest
If you have a glass lamp, you can fill it up with wine corks to add a twist. You can also try adding flowers and leaves for a more rustic vibe.
If you're not into glass lamps, you can make a wooden lamp to fit your décor.
45. Tile Piece Made of Wine Corks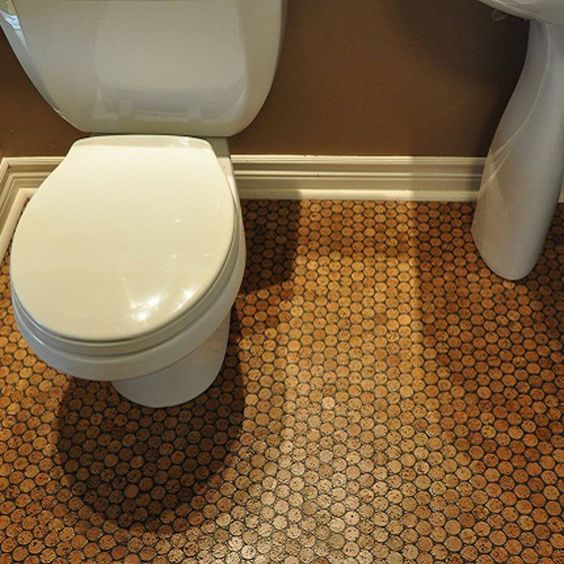 Corks are currently being reused to make tiles for the house. They're cut and arranged to fit the flooring you want to cover.
These can give a unique pattern to your rooms.
46. Wine Cork Angel Ornament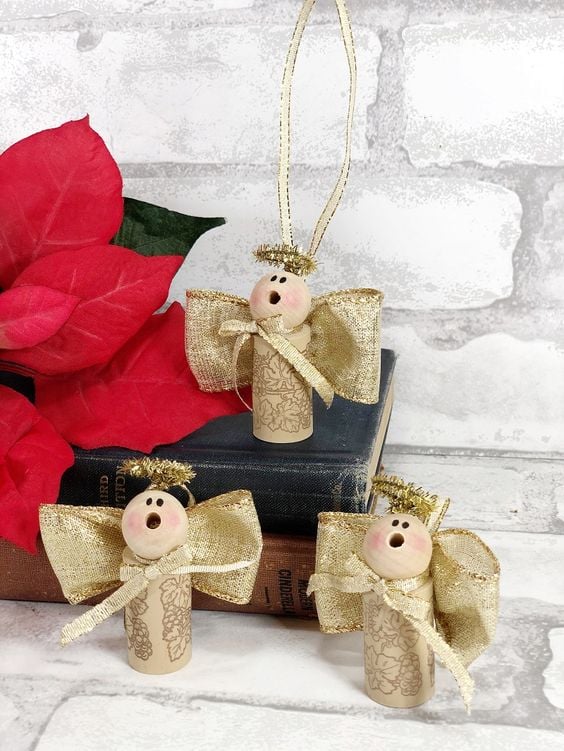 via CreativelyBeth
Here's another unique ornament you can make for the Christmas season.
You can use different ribbons and wires to get the details of your angel right.
47. Halloween Decors Made of Wine Corks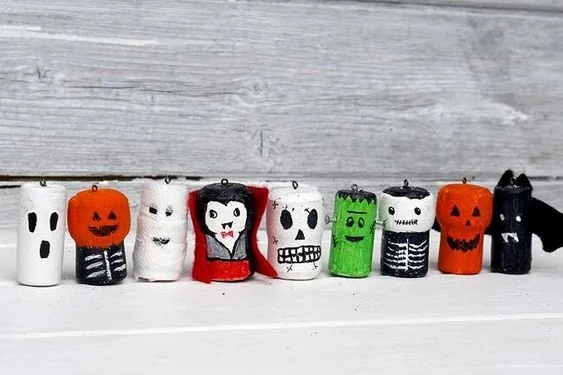 You can also turn them into Halloween décor, making skeletons and mummies to scare anyone off.
If you want to work with more extensive Halloween décor, use PVC pipes or tires for your crafts and set them outdoors.
48. Wine Cork Magnets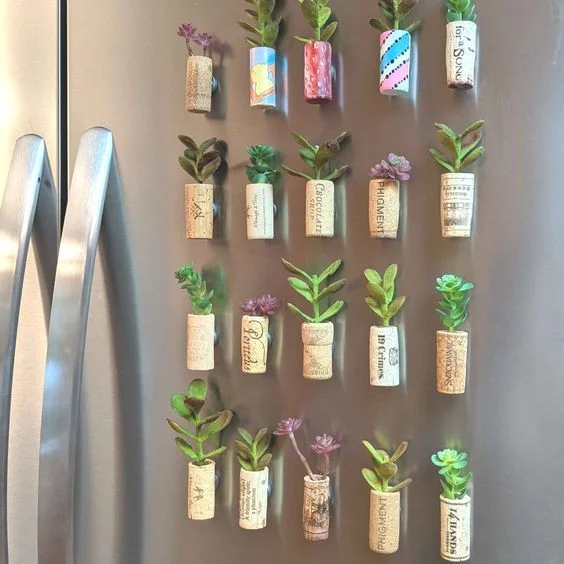 via Framed Chic
Furnish your fridge by adding magnets to your corks. You can paint them with different designs.
Add fake plants to give it an even greener touch.
49. Wine Cork Pencil Holders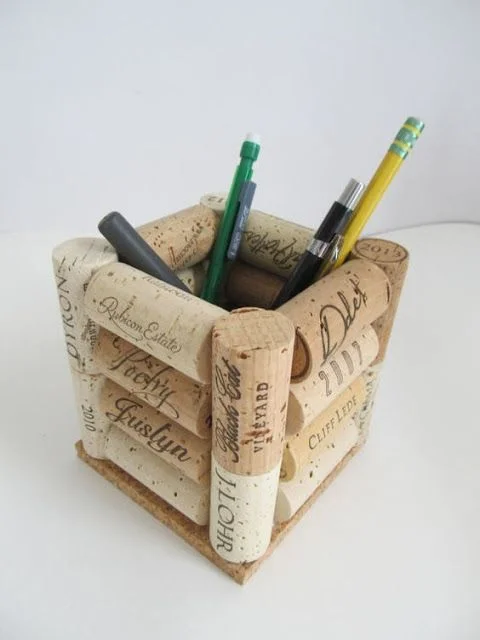 You can form a little box to place your pencils using your old corks. You wouldn't have to stick to those boring plastic holders anymore.
Be sure you use hot glue to keep the different corks in place.
50. DIY Wine Cork Mirror Frame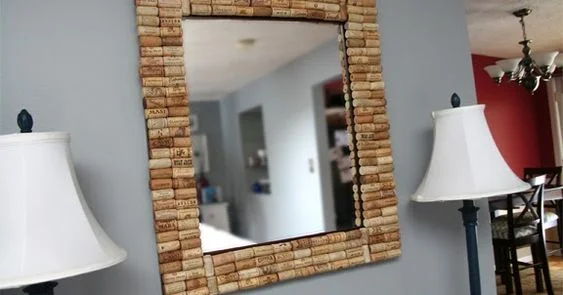 via Sarah
Design your mirror frame by adding your old corks onto it.
It adds texture to your simple frame, making it more unique and personalized to your taste.
DIY Wine Cork Projects FAQs
You may have a few questions on wine cork crafts and how to make your DIY ideas come to life.

We've gathered the most common questions to help you on your next DIY project.

Can You Use Regular Glue for Wine Cork Crafts?

Most wine cork crafts can work with regular or school glue, especially if you're doing the craft with a child.

However, we recommend using a hot glue gun since it's sturdier and won't be easily absorbed by porous materials, like wine corks.

If you plan to use your final work for everyday use, using hot glue that lasts much longer is best.

Can Corks Spoil After Being Used in Crafts?

Yes, corks can spoil IF they're not stored properly. Since they're biodegradable, they can break down over time, especially when exposed to harsh elements.

Corks can also grow mold when exposed to humid environments unless treated beforehand.

However, corks can last 3 to 10 years if you can store them correctly.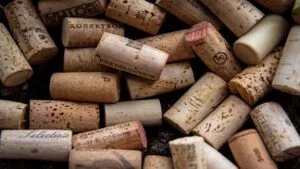 While there are more DIY ideas, going for cork crafts is a great way to reuse your leftover corks instead of throwing them out.
Start saving a lot of wine corks, and take a trip to your nearest craft store for supplies so you can try out these craft ideas!