For most adults, staying at least eight hours a day (or more) in an office cubicle is a fact of life, which is why we end up calling the office their second home.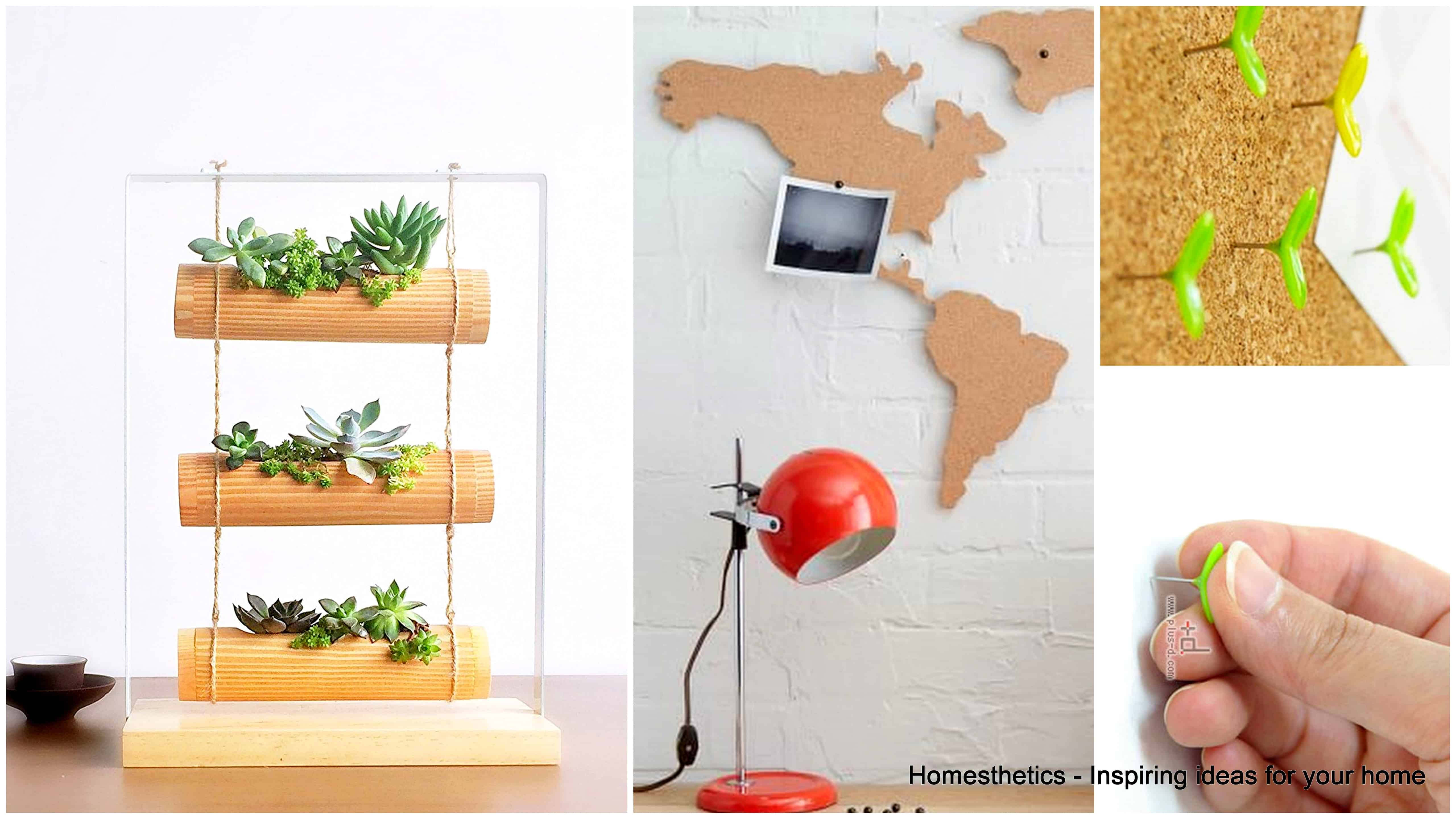 Considering how much time we spend glued to our desks, you should feel comfortable and safe within your office cubicle, as this helps increase creativity, productivity, and a sense of home away from home. But how?
Here is where we come in, as we introduce 68 cubicle decor ideas to liven up your office space in this article.
68 Easy Cubicle Decor Ideas For Personalizing Your Work Area
One of the keys to productivity is having a personalized and livable workspace. To help you achieve this, we have compiled 68 ideas to make your space shine.
1.  Add Workspace Lamps for Extra Lighting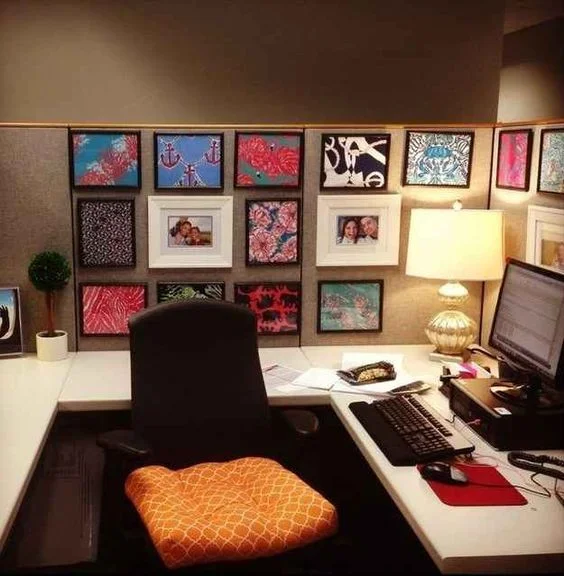 A workspace lamp adds warmth and lighting to the confines of cubicle walls. You can put a work-space lamp in the corner, near the station where you frequently write, or even close to your keyboard. 
In a research on the importance of lighting in offices, experts found that a well-lit workspace increases productivity and elevates the well-being of employees. This is why your light fixture must be well-planned. 
2. Add a Shelf on Your Cubicle Walls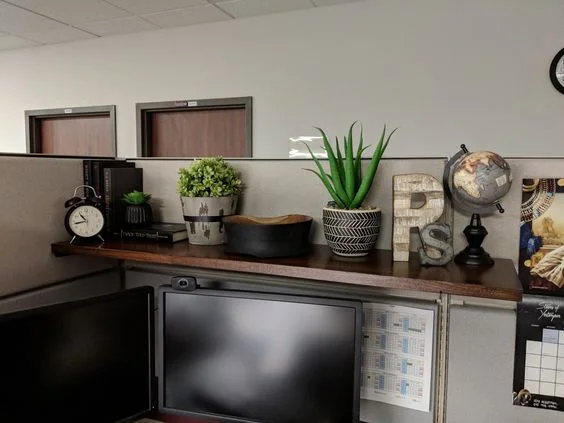 Some of you are given limited cubicle spaces. With this, you need to be creative when increasing the functionality of your areas, along with elevating your office cubicle décor. For this problem, the solution is adding a shelf.
A shelf is a piece of furniture made of plain rectangular wood (or steel) connected to your cubicle's walls. There are also stand-alone ones with rollers that you can hide under your desk.
A shelf will give you a place to put on your office essentials, plants, and others.
3. Include Colorful Accessories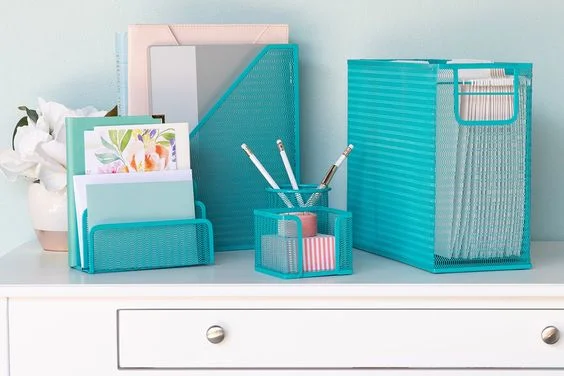 To ignite your productivity and tickle your imagination, you need to see colors that contrast what you see on your computer screens every once in a while. Here is where the multicolored accessories come in.
The multi-hued accessories can be your personal and office essentials, such as organizers and supplies. The key here is to incorporate colors that you like. It could be brown, blue, violet, or even a complete rainbow representation.
4. Seasonal Bouquet of Flowers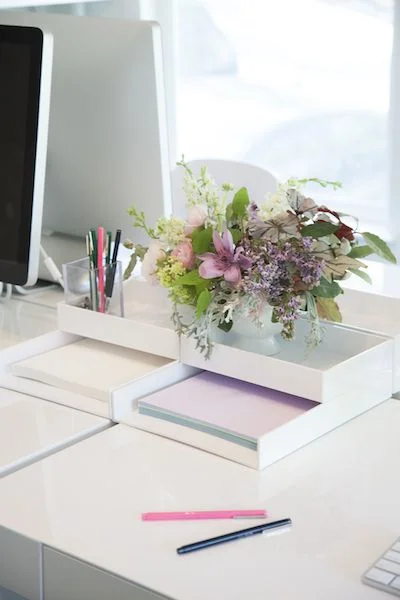 Flowers give off a calming scent, aside from being visually appealing. So, if you are not allergic to flowers, put on a seasonal bouquet over your desk.
When choosing the flowers, ensure they align with your office cubicle's color scheme. If you do not mind the colors, you can choose whichever you feel happy with!
Moreover, you can put a flower in ceramic containers of your choice. These ceramic containers will surely make your desk chic and ultra-modern.
5. Wall Decor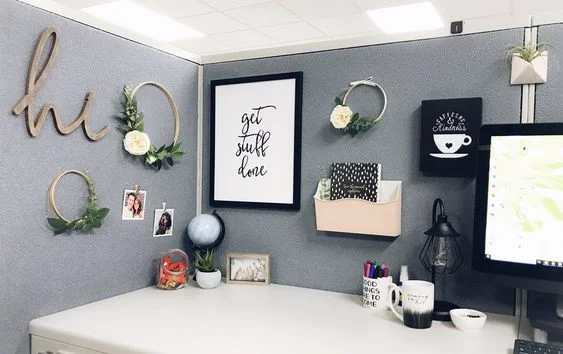 Wall decors accentuate your cubicle, adding color and variety to a neutral office color scheme.
More importantly, wall decors can add personality to your area, especially when you decorate it with personal photos, mood boards, and other things that spark a little joy.
To learn how you can elevate your walls and bulletin boards, you can get ideas from the DIY bulletin board ideas to revamp your home office!
6. Add a DIY Desk Calendar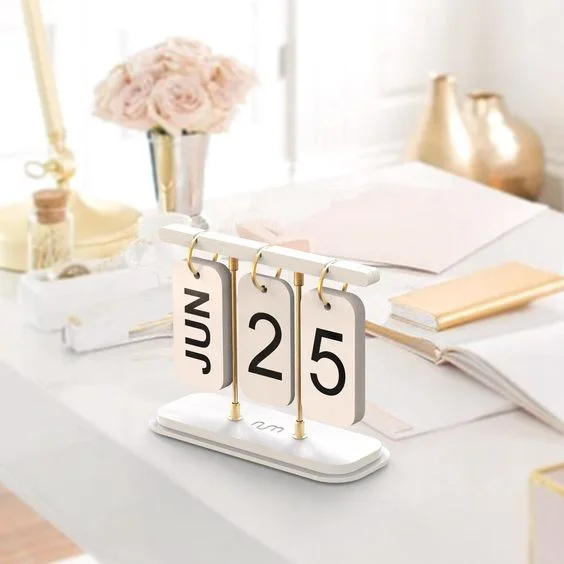 Although gadgets and online applications already exist to remind us of the current date, nothing beats the style and usefulness of a desk calendar, especially when it is DIY.
When creating a DIY desk calendar, you get to enjoy the process of making one, and you also reap the efforts of your hard work as you can now quickly identify the month and day, every day.
7. Get Everything in the Same Color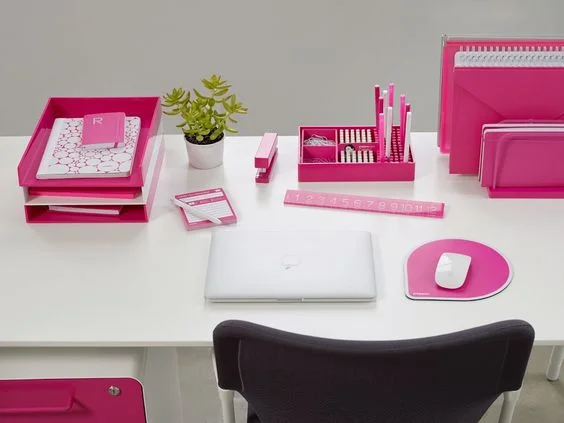 Sometimes, that one happy color excites us, which can extend to how enthusiastic we can be going into the office as we get bombarded with tasks.
The statement above is why you need to get your office supplies and office cubicle decoration ideas in the same color, or at least in complementaries.
You do not have to brush your walls with pink or blue; you just have to get at least the majority to complement each other. Aside from giving you a sense of motivation, others will see your cubicle as an inspiration for style and creativity.
8. Poster Whiteboard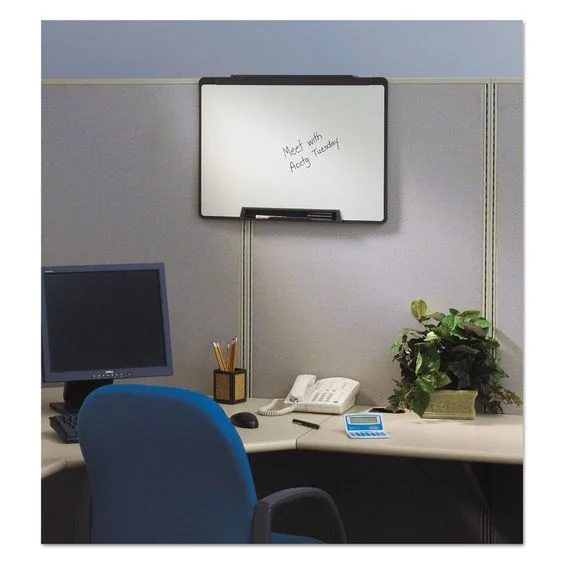 A poster whiteboard is a simple cubicle décor that holds much more importance than just mere visuals in your workspace, as it helps you be reminded of everyday tasks and a to-do list for the month.
You can even use it to write a phone number through an impromptu call and other valuable functions.
To make it right with a poster whiteboard, hang it on a corner within the level of your eyesight when standing or sitting down and within your hand's reach for jotting important notes.
9. Wooden Organizer
Organizing your essentials is one way of keeping indoor environments livable and work-friendly. To get organized one thing that you can use is a wooden organizer.
A wooden organizer has several slots and drawers that fit your push pins, paper clips, documents, and other supplies.
Nevertheless, always remember to keep the wooden organizer within your reach to make it accessible when you need the things stored.
10. Paint Random Objects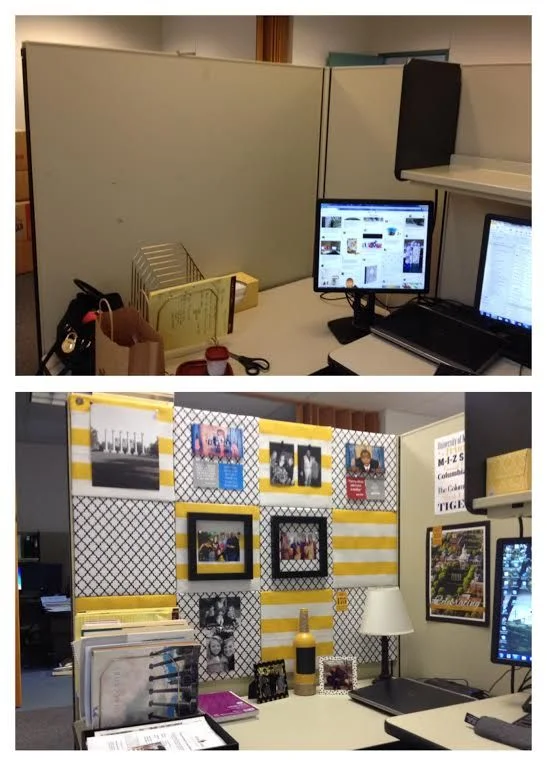 Most cubicles, those standard given by offices, are made of plain walls and desks. But you can always have the opportunity to give life to your booth. After all, it is you who will stay there for hours.
To do that, you can use your painting prowess (and spray paint!) by creating random objects, like rectangles, a leaf, and other patterns. Make sure to vary their colors, too!
Painting your walls will surely add style to your cubicle and give you a more comfortable stay while working as you look at your hand-painted eye candies.
11. Throw in a Throw Pillow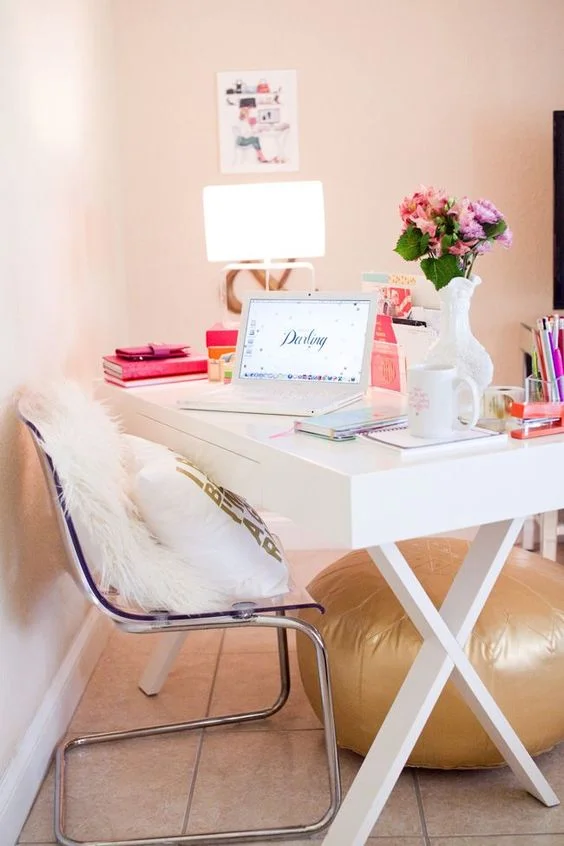 You will be surprised at how a simple addition of a throw pillow can give a pleasant glow to your little cubicle, and it can even provide comfort to your back throughout the long hours of working.
In choosing a throw pillow, consider three things: comfort, style, and size. You must get a pillow that will give you comfort, is stylish, and is small or big enough to fit into your office chairs.
12. Add a Peg Board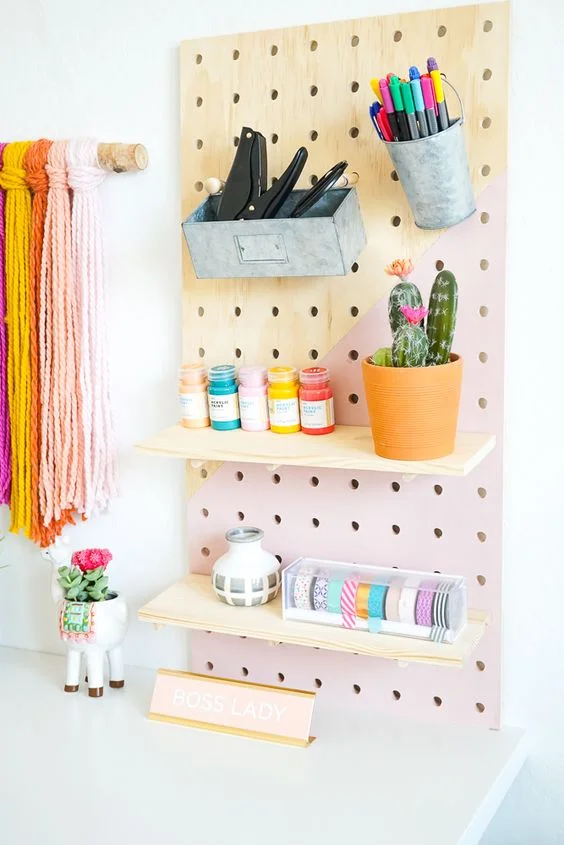 If you think only kids use peg boards, then you're wrong. You can also use them to stimulate creativity and develop visual perception skills.
Sometimes you get drowned in work, and it can get quite monotonous. But, with a simple glance at a peg board, you can be reminded of why you are working, who you are working for, your passion, and other things.
13. Use Everyday Items as Decorative Features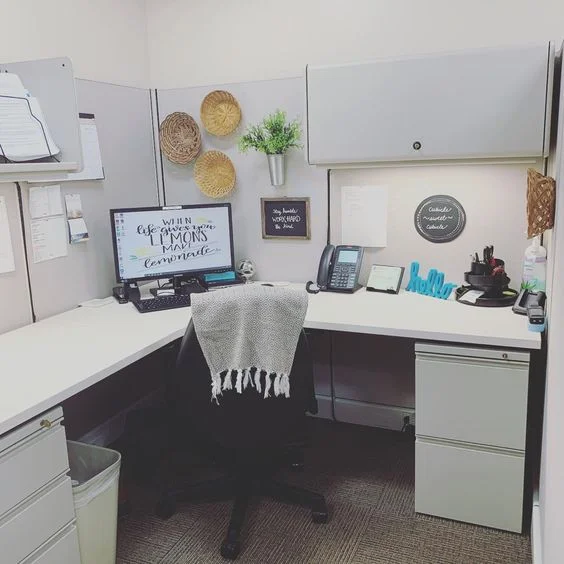 Your office cubicle décor options are not limited to expensive items or buying new things to add personality to your space. It also includes transforming everyday objects into modish yet helpful decoration ideas.
By this, we mean that you can put a comfortable scarf (or another textile) on the backrest of your chair, and it can already add style to the entire space.
You can even use knitted fruit trays to pin on your area walls. While you're at it, you can put fresh flowers or display photos over the trays for an instant wall design.
14. Find a Stylish Tray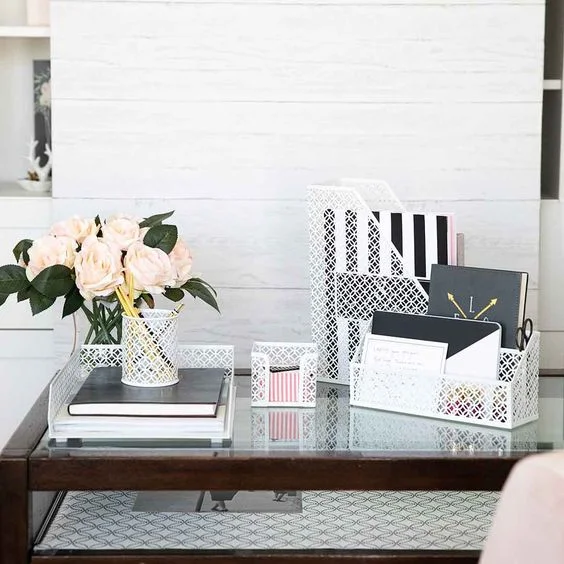 A stylish tray can be a defining factor in making your work environment a balance of style and business.
Much more than the appeal it can give, trays as decorative elements are also functional by nature as you can file your documents neatly and appropriately.
15. Photo Wall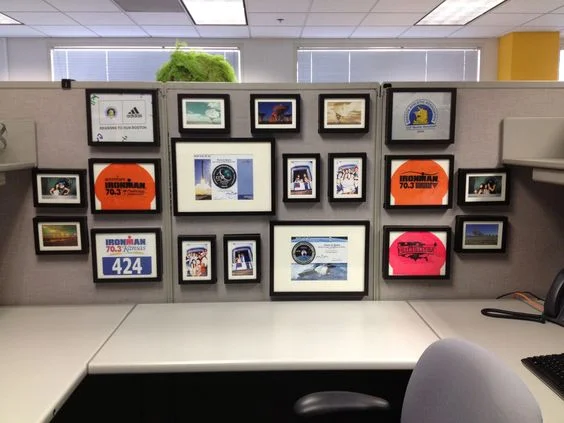 If you want inspiration, motivation, or a cubicle decor that screams who you are without presenting yourself, a photo wall would be right for you.
Even within the margins of your cubicle, you can put it on a small photo wall. Just make sure you vary the sizes and orientation of the frames to make them fit like puzzle pieces.
16. Invest in Succulents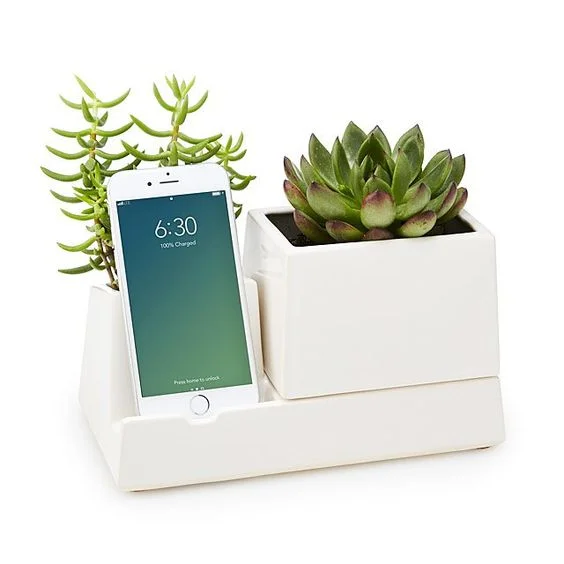 Getting stuck indoors for hours will surely have you inhaling lower-quality air. But a succulent plant can help filter the air for you.
Investing in succulents is also ideal for office workers because it is low-maintenance and only needs to be watered once a week. So, you do not have to worry about dried flowers the next day if you skip watering them for a day.
17. Tiny Geo Planters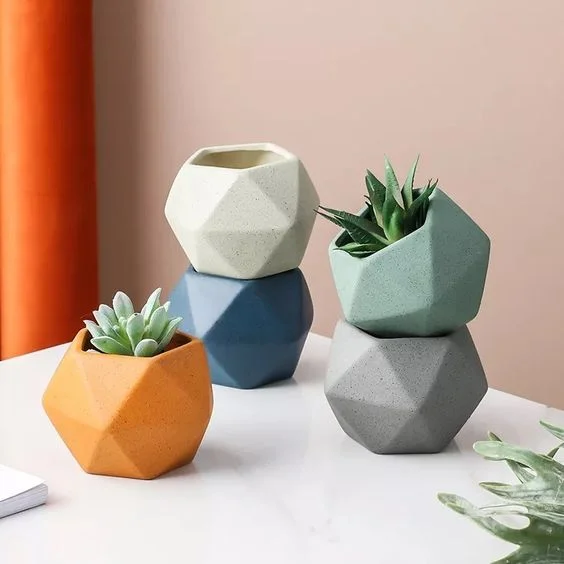 Now that you know how vital succulents are as office cubicle decor, then up your game and put plants inside tiny geo planters.
These tiny planters have geometric shapes that signify creativity, balance, and even masculinity or femininity, depending on what you want to exude through the color scheme.
18. Storage for Office Supplies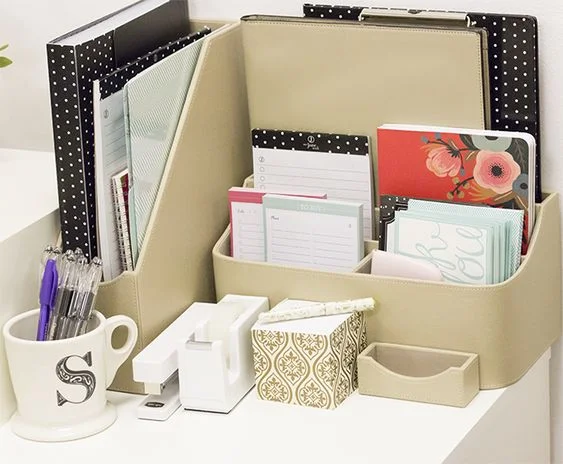 In a list of office cubicle décor, it is a no-brainer that you must include storage for your office supplies.
A horizontal, vertical, or circular storage area can make your space look organized. In turn, it can make you look and feel systematic, too.
Just remember that when choosing the best storage containers, think of the size of your desk and the colors of the products.
19. Get a Comfy Office Chair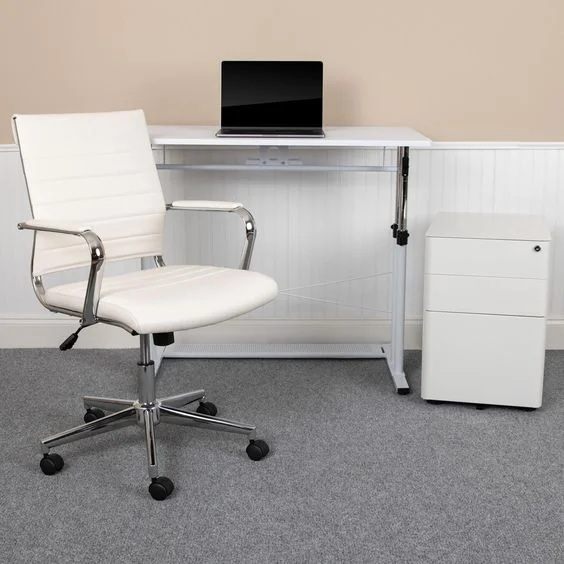 A work environment can only feel comfy and warm when you have an ergonomic office cubicle chair that also looks good in your eyes and feels good on your back.
In choosing the office chair, you can opt for those aligned with your preferences and harmonized with the overall theme of your office cubicle decor.
20. Try an Asymmetrical Layout on Your Work Desk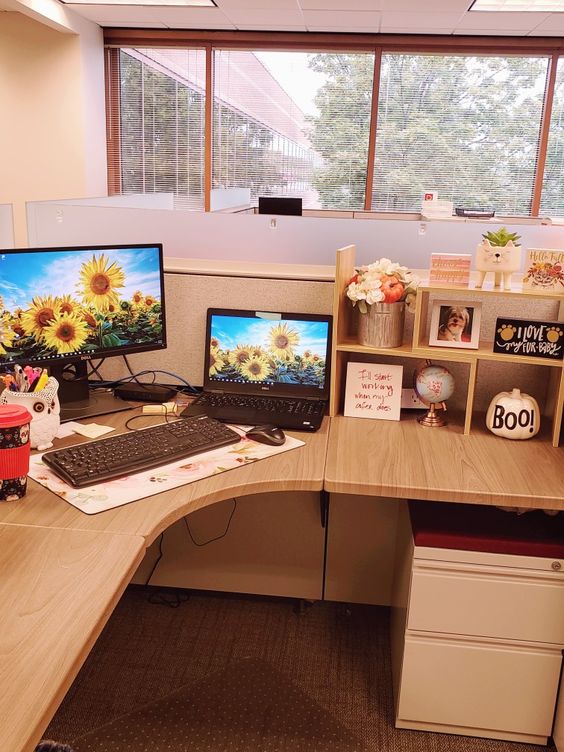 When in a rush to finish office work, the last thing you want is to bump into one of the edges of your desk. We suggest that you invest in an asymmetrical layout for the desks.
If you have an L-shaped desk with curved angles, your workflow can be much easier as you can glide from one side to another without worrying about painful edge bumps.
21. Framed Family Photos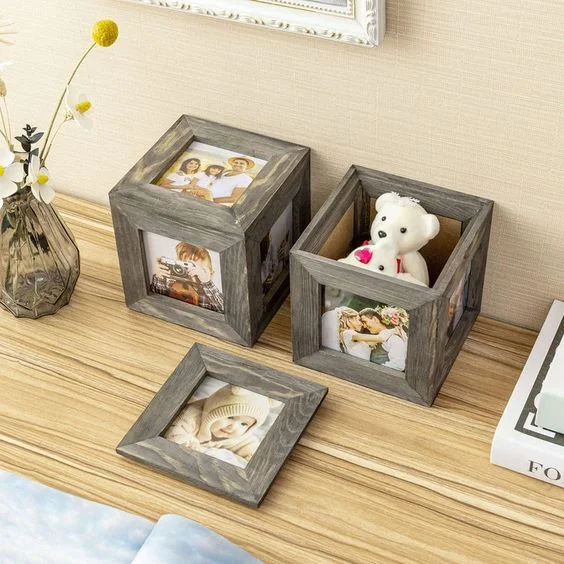 Family is everything. They inspire you to work efficiently and motivate you to finish your tasks on time. Even far away, you can always have your family with you through framed photos on your desks or walls.
You can try the image above, which shows a box with photo-framed walls. This can also be your storage for keys and other small items.
22. Wall Units for Christmas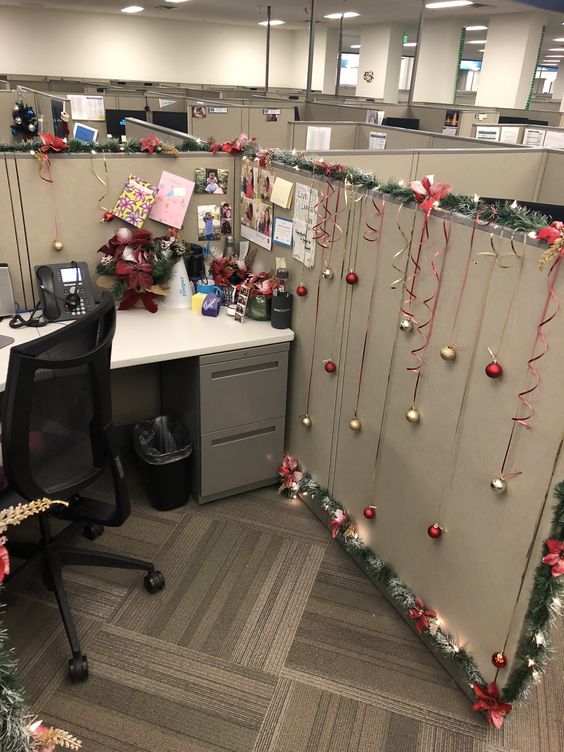 During Christmas time, you surely want to keep your office cubicle decor as festive and joyful as the environment outside of work. To do that, you can decorate your wall units.
There are several ways of decorating, but the easiest way to go is to hand some Christmas balls in a lantern-like manner.
You can also add ornaments in different Christmas colors that will act as borders for your office cubicle wall, like in the image above.
23. Washi Tape Your Desk Space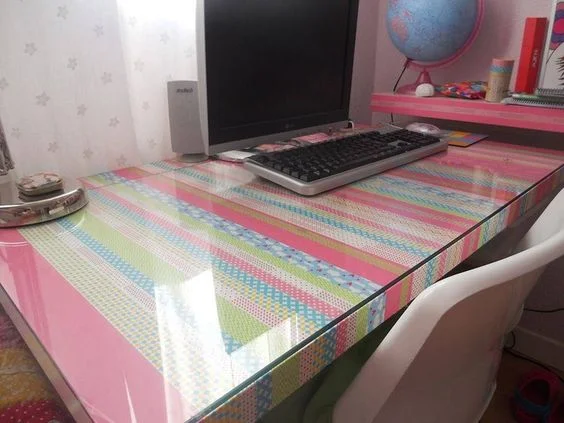 To liven up your desk, you do not have to go far. You can do it through washi tape, especially when your office desk is made of wood with a glass cover.
Working on this decor idea is easy; you only need to get your washi tape in different patterns and line them alternatingly. Then, you get to have a colorful and stylish desk.
24. Scented Candles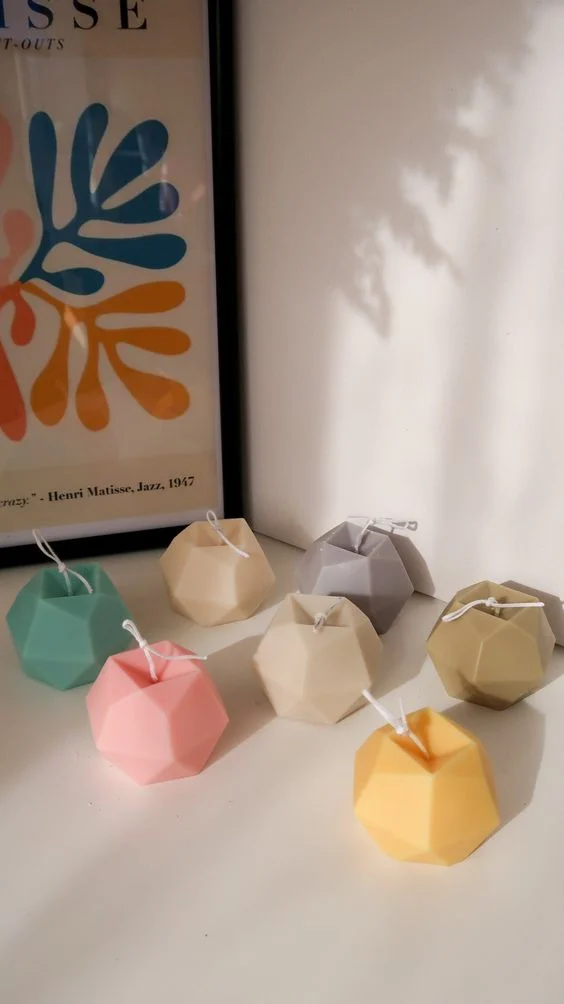 If you want to create a certain ambiance within your office cubicle, you can pair fresh flowers as decor ideas with scented candles on the side.
You can choose the scent you like, whether it's the aroma of coffee, the freshness of rose, the citrus scent of lemon, or even vanilla.
Aside from creating a personalized vibe within your workspace, a scented candle can also help you boost your mood, productivity, and energy.
25. Add String Lights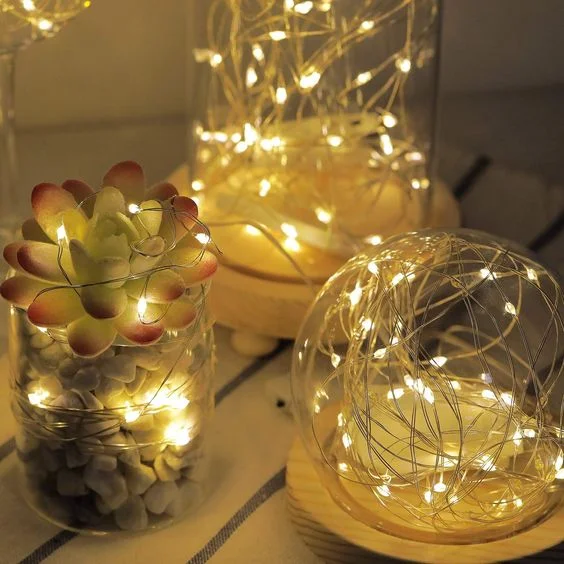 When your planters are made of glass, you can increase their visual appeal by adding string lights.
You can also put the string lights across your shelves to add better lighting and warmth to your office cubicle.
There are different lighting options to choose from: white light, warm light, dim light, and even three-toned lights for festive seasons.
26. Wooden Pencil Holder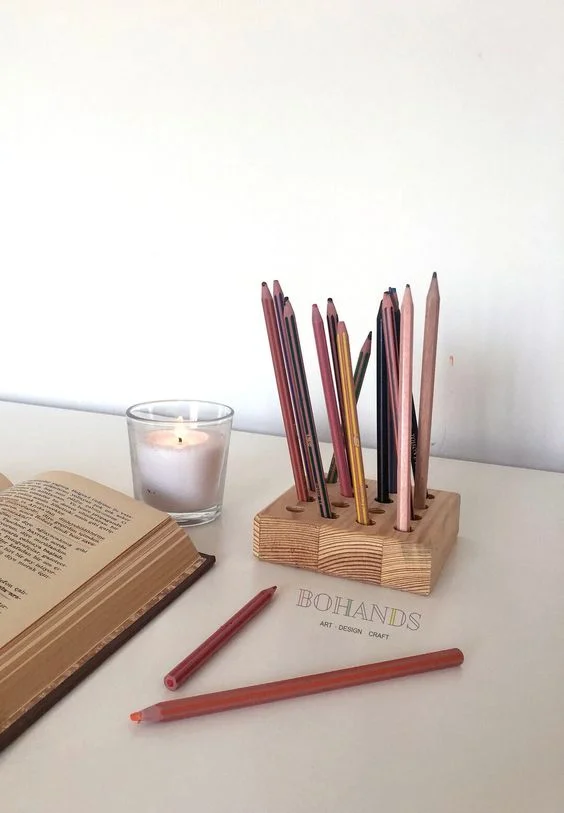 Wood elements such as cubicle décor can help you stay grounded and feel the outdoors even when confined in your small cubicle.
With that, put a wooden pencil holder over your cubicle desk and get the perks of having the earthy element while ensuring your pens are secured.
If you opt for the pencil holder as shown above, you can quickly identify and get the pen you need without getting them piece by piece compared to a cylindrical holder.
27. Use a New Desk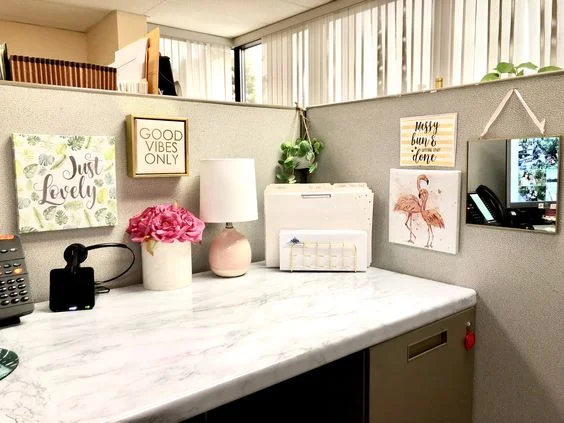 A new desk can bring the best out of you even in the darkest days because who wouldn't want a fresh start with a new desk, right?
Whether you are just starting your job or take up a new position and office, we suggest you get a new desk. It can be made of marble, steel, wood, or anything you prefer for as long as it's shiny, shimmering, and brand new.
28. Action Figures or Statues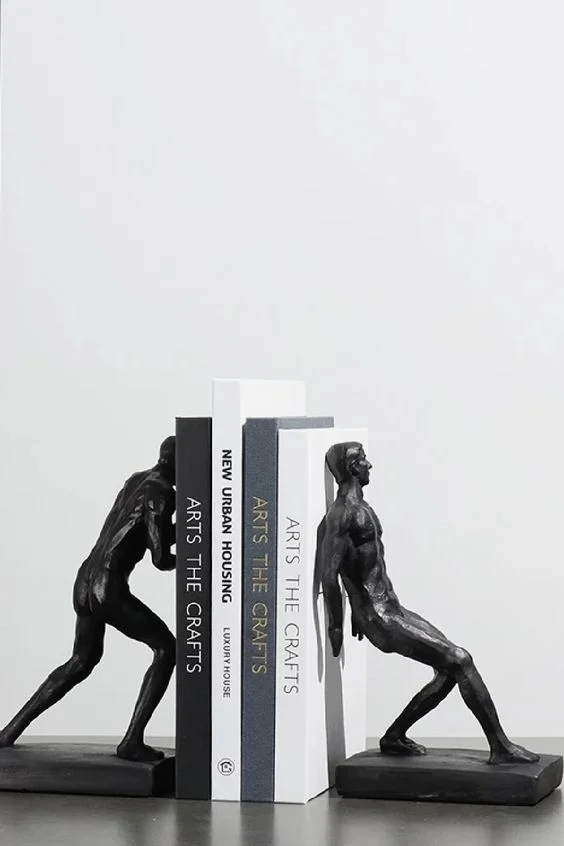 Another way to make your vertical space enjoyable is by adding action figures or statues.
It can be your favorite superheroes or anything under the sun that reminds you of something valuable.
Aside from mere desk cubicle designs, you can use action figures or statues as functional book ends.
29. DIY Book Ends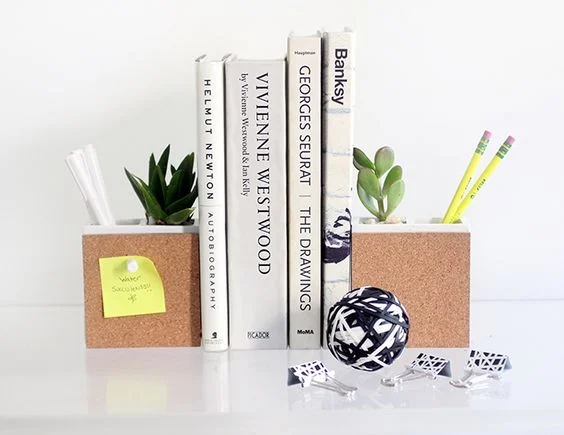 Speaking of book ends, you can do it yourself by using your current table organizers and putting them on both ends.
You can even use your geo planters, pencil holders, and other things you have in pairs to keep your books standing tall and mighty while looking clean and modish.
Tip
When you're budgeting money but still want to decorate your cubicle, whether at home or in an actual office, check out our home office ideas on a budget article!
30. Hang Framed Art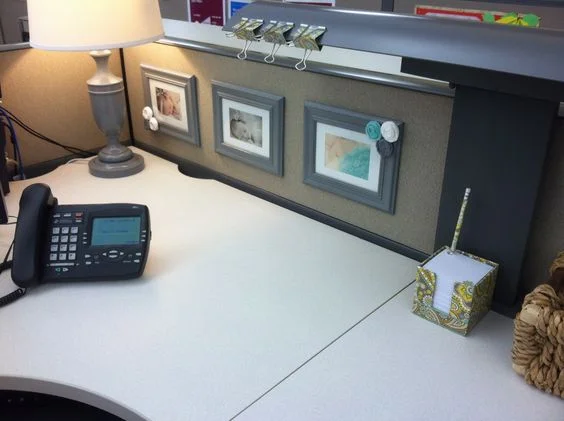 Aside from family photos, you can hang framed art on your cubicle wall. It can be your first painting, a friend's, a family member's, or something you bought that captured your attention.
But, you need to be wary of proper placements and sizing as a group of framed art can take a significant area out of your cubicle wall.
31. Hang a Print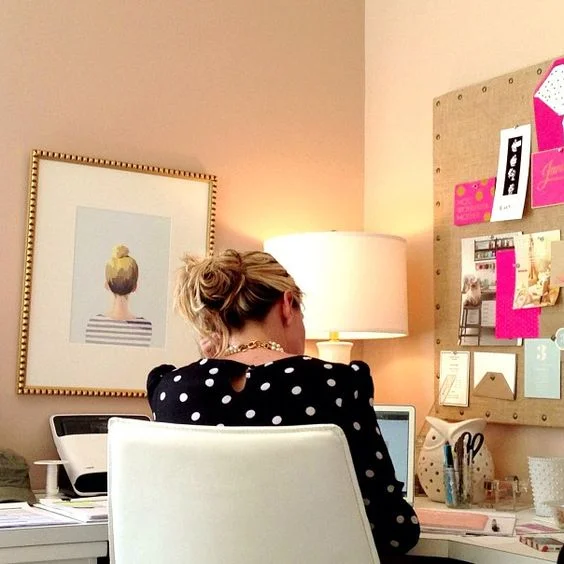 One thing that makes people feel good while they're wrapped up in work is looking at printed materials hanging by their cubicle walls.
Well, you can feel the same when you hang one over your cubicle right at your sitting eye level.
With this, you get to see the print once you glance after you search online, write a note on your desk, or do any other office-related work.
32. Functional Cubicle Decor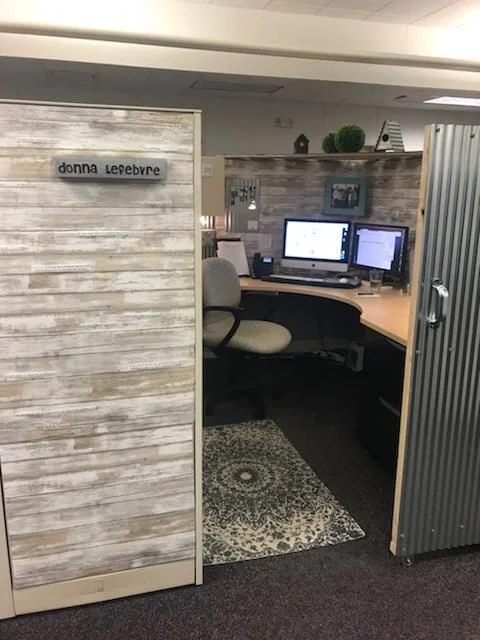 In this article, we look at how much aesthetic the cubicle décor ideas can give and how much functionality they can provide.
So, a better way to deal with functionality and style is by starting at your cubicle wall-slash door. You can transform the usual open space with a sliding door if you want privacy.
Of course, while attaching the door, make sure its design and color complement and balances the entirety of your space and office.
33. Zen Decoration Ideas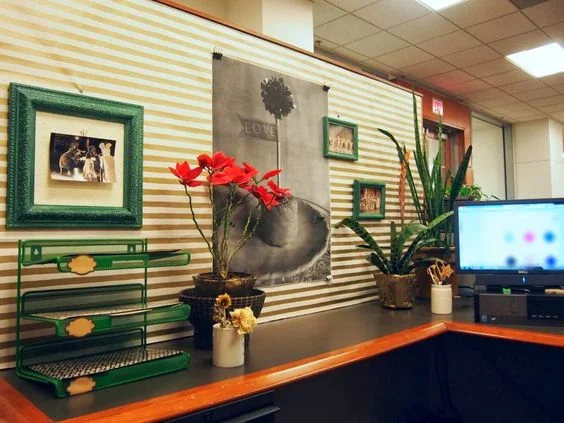 When you want to be in a peaceful state of mind, you should incorporate zen cubicle décor into your office cubicle.
To do that, you need to include earth tones and plants. You must also apply this to your desktop background to provide a sense of continuity and harmony.
34. Magazine Rack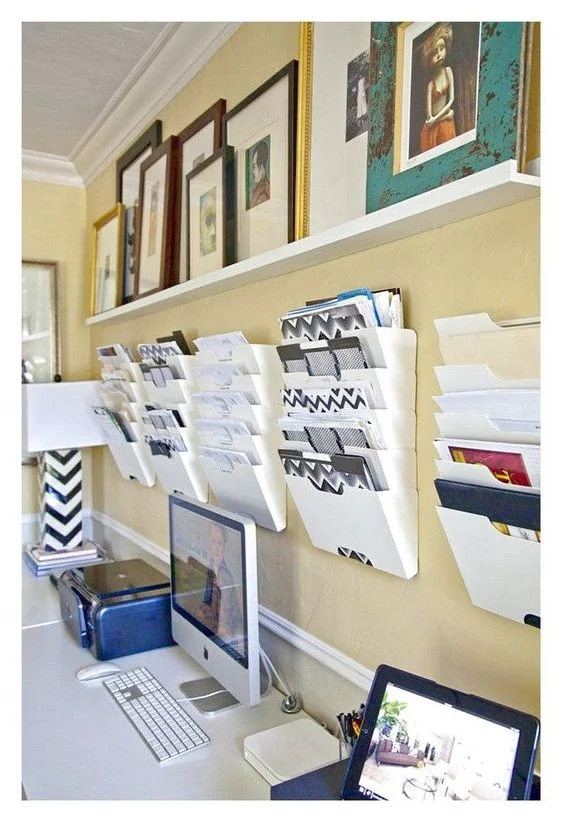 Being an employee of a production company or a journalist, you would need a magazine rack to stack all your copies for easy filing.
Often magazine racks take the most out of your not-enough space. You can always work around that by pinning them into your cubicle walls, similar to the image above.
It is not just functional, but it also acts as a removable wallpaper of some sort to fill your dull walls.
35. Invest in Desk Organizers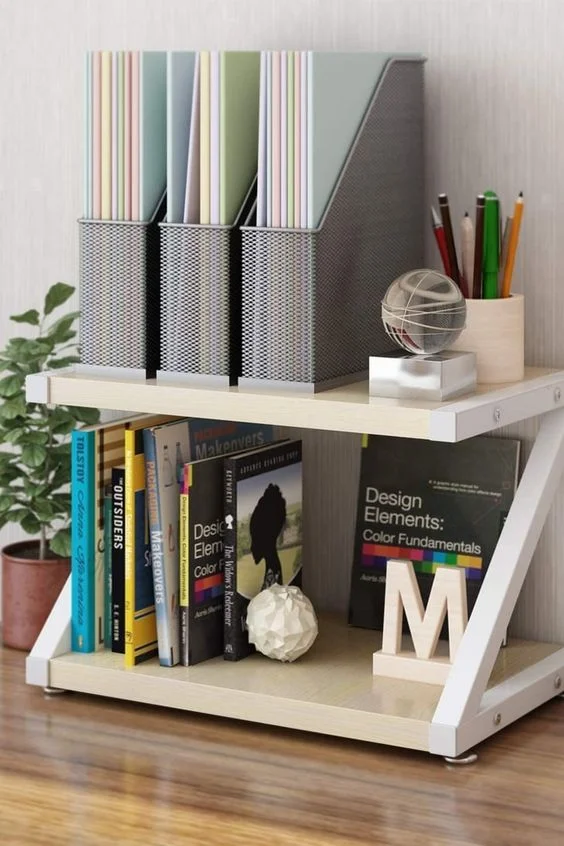 Investing in office decor means buying helpful desk organizers, too. They do not need to be fancy, but they need to blend in with the elements of your already existing cubicle décor.
To give you an idea, the best desk organizers come in two or three tiers because of their space-saving characteristics.
36. Bring in a Few Books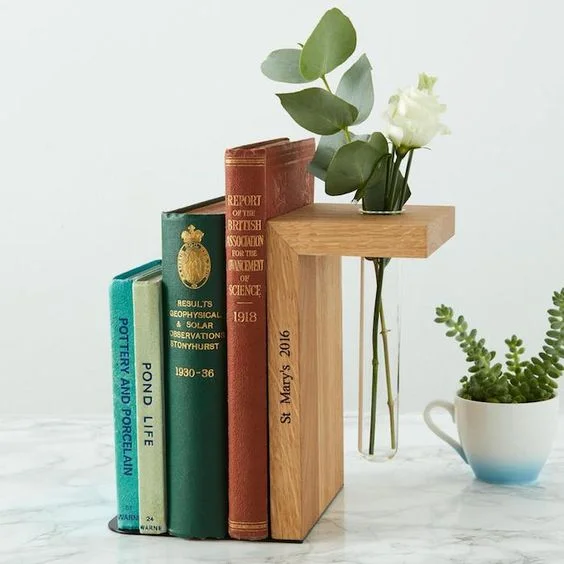 We discussed how book ends could elevate your cubicle's style and utility. What good are book ends without a few books?
You can put at least three books of your preference for your desk cubicle. You can read them on your breaks or just put them there for a bookworm vibe.
37. Keyboard Stickers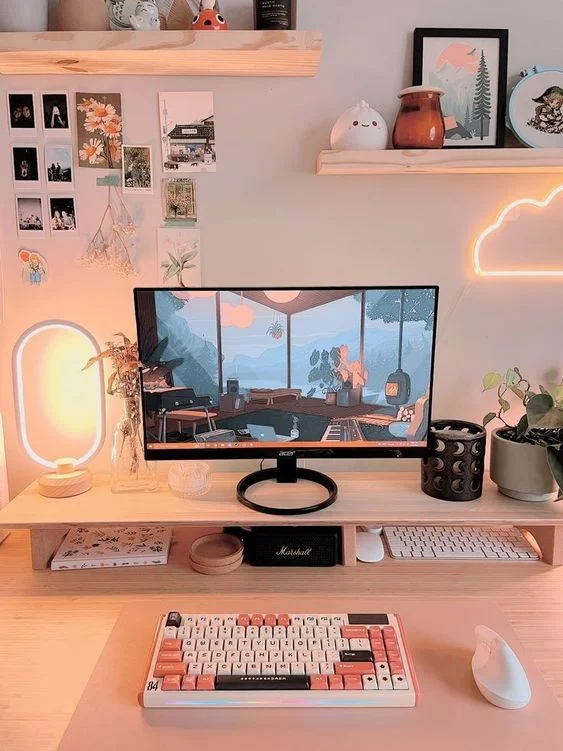 Do you know what else can make your cubicle desk a standout? Keyboard stickers!
We usually think that changing keyboards is the key to increased productivity and aesthetics within the room. Still, we must remember that even simple stickers can light up the day.
There are full keyboard stickers that cover up your entire keyboard, but there are also individual keycap stickers. It's up to you what to choose; just ensure it matches your cubicle décor.
38. Raise your Computer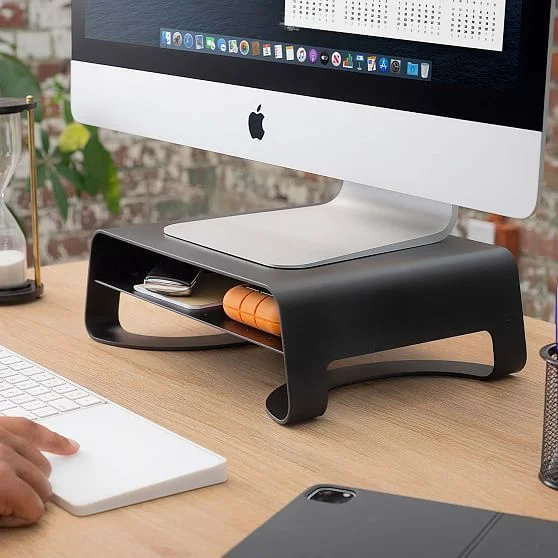 When you are left with a small cubicle desk area, and you need to keep a lot of things on top of your table, then raising your computer can help a lot.
In raising your computer, make sure you find a practical stand. By this, we mean those with a built-in desk tray.
39. Try to Add Handmade Items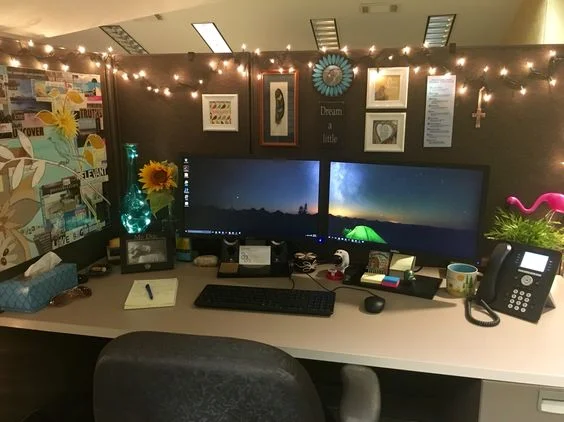 Anything handmade can draw you closer to your office cubicle because it is more personalized.
Some handmade things essential to incorporate into your office cubicle are paper flowers, art made of paper clips, and collages in a frame.
40. Work with a New Color Scheme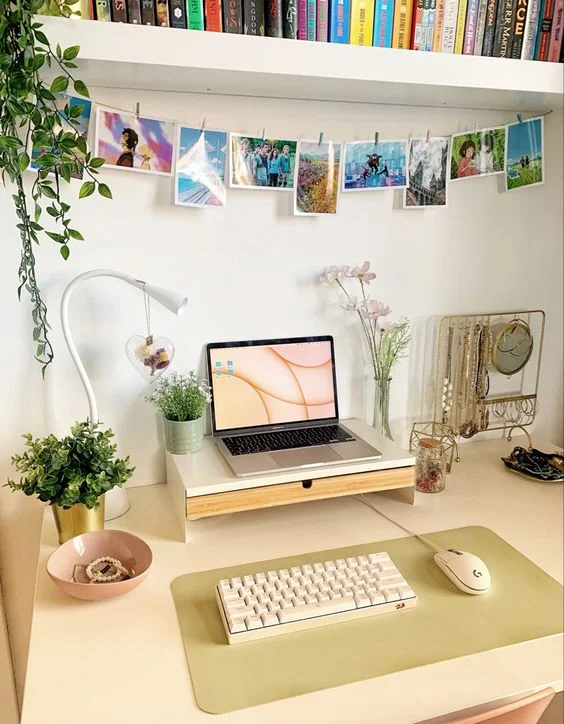 Having the same environment over and over will make your life dull and monotonous. Yet, you can always change how you see your office, even without looking for another job, by changing the colors in your environment.
From hot pink and bright blue, you can change the scheme to olive green or any other colors. Just make sure it's different from the first hue of your cubicle.
41. Invest in Technology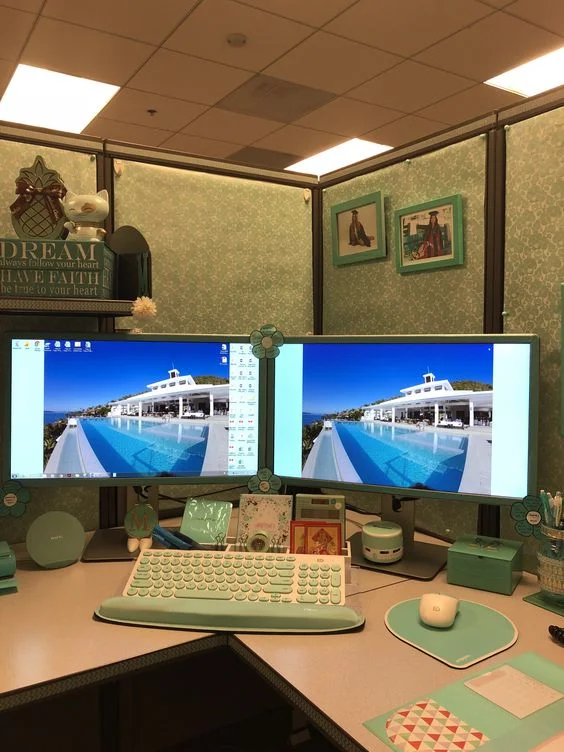 Technology can make a third-class office cubicle superior, especially when you know what equipment to invest in.
The technology as decor that you use can include a double monitor, a new Alexa-connected device, a modern desk lamp that also acts as a clock, a digital desk calendar, and more.
42. Add Magnets
When tracking your daily tasks or monthly progress, magnets can help you do your job efficiently and keep track of what you need to do, just like in the image above.
Aside from being your little trackers, these can also elevate the overall appeal of your cubicle desk (of course, if you integrate the magnets with neutral colors).
43. Work with a Specific Decor Theme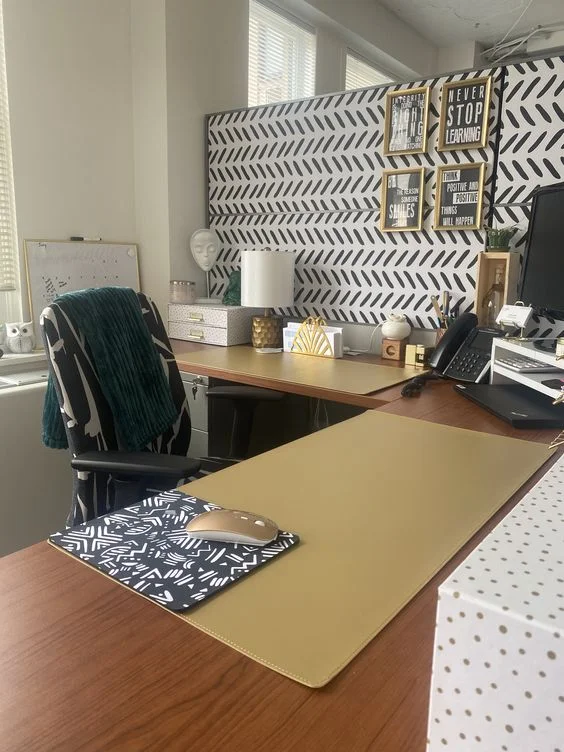 The number one rule when doing cubicle decor is to think of what you like, stick to it, and use it as your cubicle decor theme.
You can mix and match two themes, but you can never prosper when you put everything you can think of in one space.
When going with patterns as your main cubicle decor ideas for cubicle wallpaper, pair them with plain desk accessories. This allows the designs to harmonize and not go against each other.
44. Fancy Wallpaper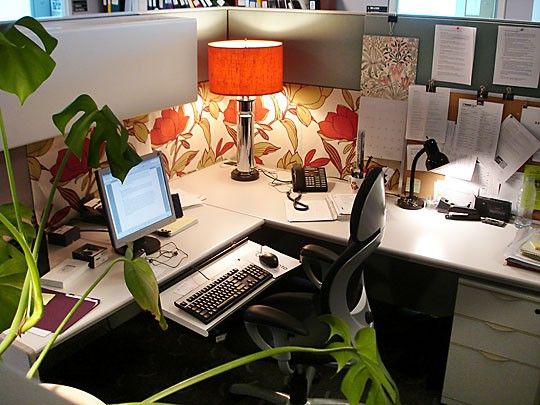 If you want to get fancy, you can always hang some wallpapers on your cubicle's wall. It can be flowers, minimalist patterns, or just plain but bright-colored wallpapers.
The trick in getting a suitable wallpaper is to choose removable ones so that you can change it once your likes and preferences change.
45. Personalize Your Display Board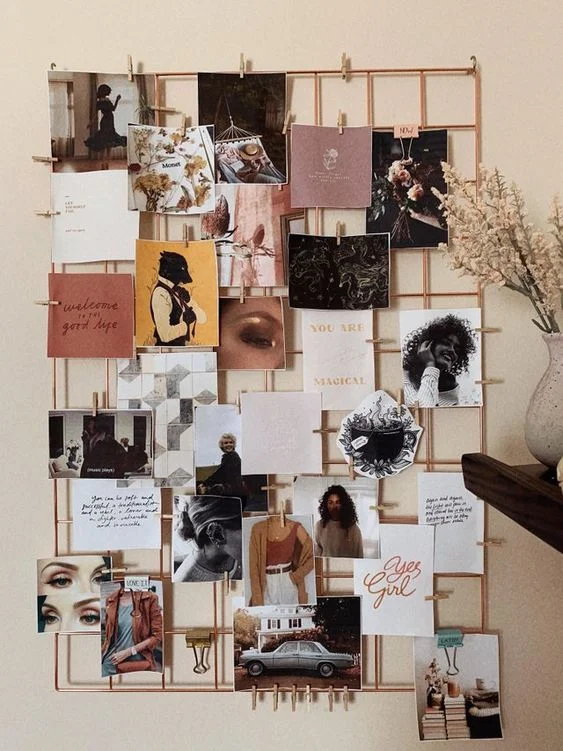 A display board up on your walls can easily get you inspired and motivated to finish things. It is a definite eye candy, too.
To personalize your display board, you can add photos of your hobbies, significant life events, and famous personality that inspires you.
46. Add a Pen Holder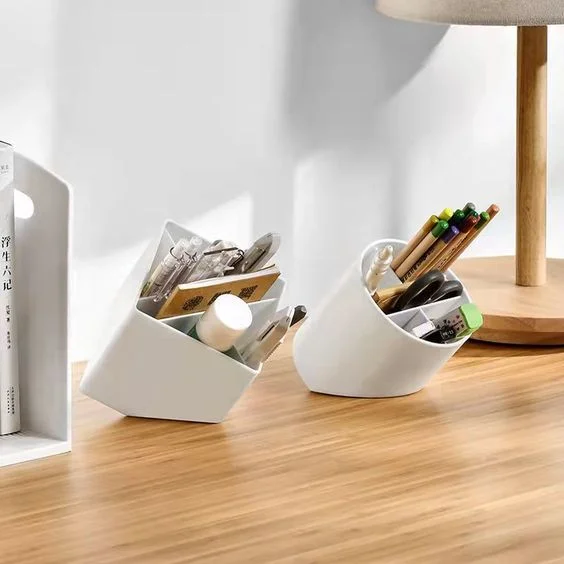 As we have mentioned in the earlier sections, pen holders are a must to keep your pens in place all the time.
With this, we present to you this geometric pen holder in a slanting orientation. It will not just hold your pens but also your contact paper, calling cards, and other essential things.
47. Small Rug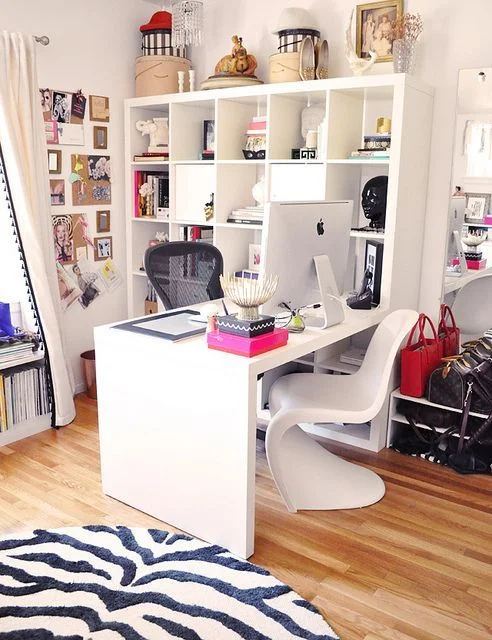 If you think aesthetics are the only reason small rugs on the floor must be on your list of cubicle decor ideas, then you are missing the point.
A touch of a small rug into your overall cubicle design can reflect your personality and can even provide comfort to you and those who visit your office cubicle space.
48. Pin Up a Few Posters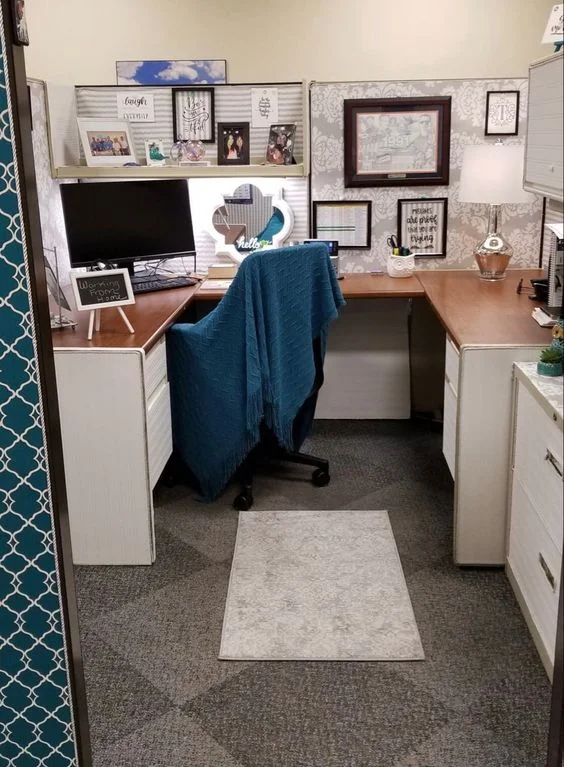 Like the effects of the statues and personalized display boards, pinning up a few posters can also give you a sense of ownership of your cubicle and inspiration from those you decide to put.
You can add a poster of your favorite band or a poster that states the most inspirational quote that got you through the most challenging times of your life.
Whatever it may be, don't hesitate to pin it up!
49. Floating Shelves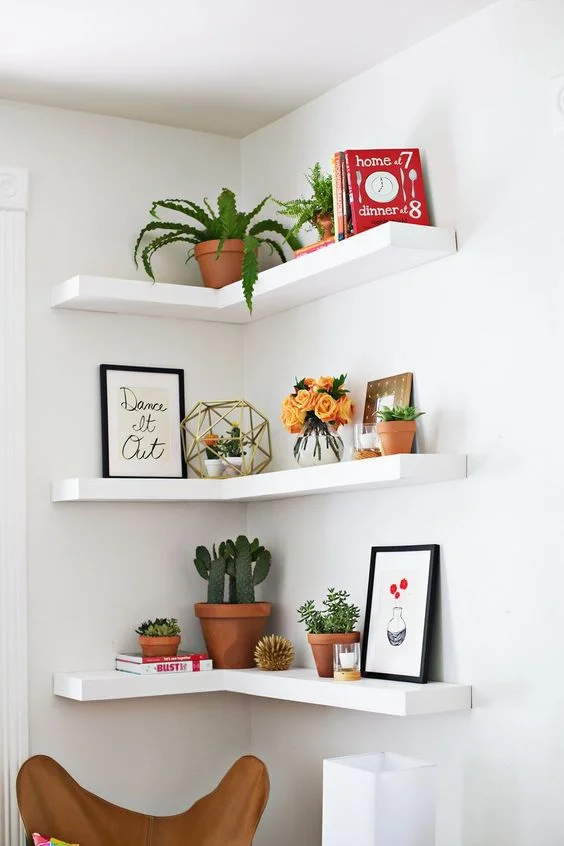 When discussing organization, another cubicle décor idea that comes to mind is floating shelves.
These shelves are different from the traditional ones because you cannot see the bridge that connects them with the wall. With that, it gives an illusion that it floats. Hence its name.
Additionally, shelves like this will give your cubicle the impression of more space, which is beneficial for your productivity.
50. Extra Organizer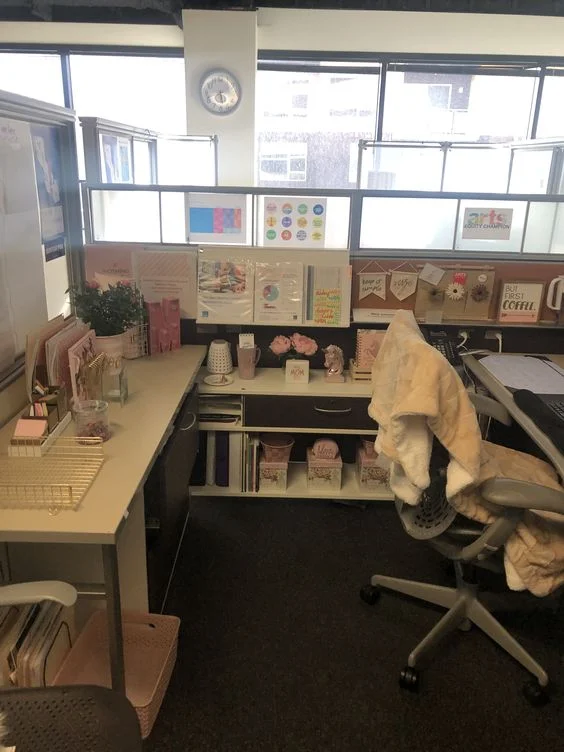 Do not be scared to include extra organizers in your cubicle decor because it will increase the usability and convenience of your space.
You can add extra organizers below and above your desks and pin them on your wooden or glass walls.
51. Empty Jar Decor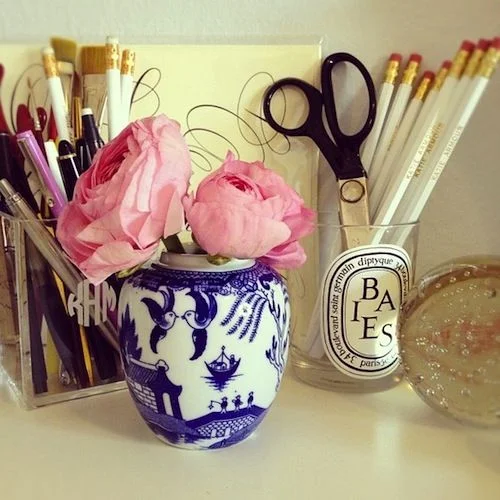 An empty mason jar or any other jar can be an excellent addition to your cubicle decor. They can be purely for the visuals or bear some functions, too.
You can use empty jar decor as holders for fresh flowers or another organizer for pins and pens.
Moreover, you can envelop the empty jar with wrapping paper before making it useful with the abovementioned things. However, if you want to retain its glass glory, you can add fairy lights inside for extra lighting.
52. Small Storage Boxes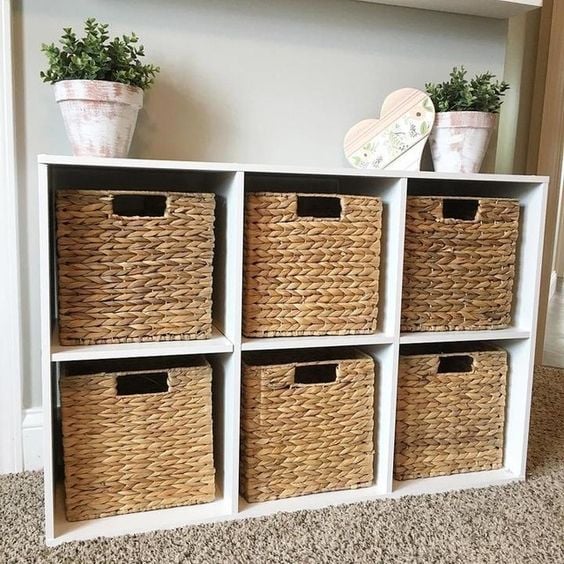 One of the rules of organizing is that you can never go wrong with small storage boxes under or beside your cubicle desk.
These small storage boxes can be a home for your magazines, books, monthly documents, and more. You can even use them as a filing system to separate incoming and outgoing papers.
53. Spooky Design for Halloween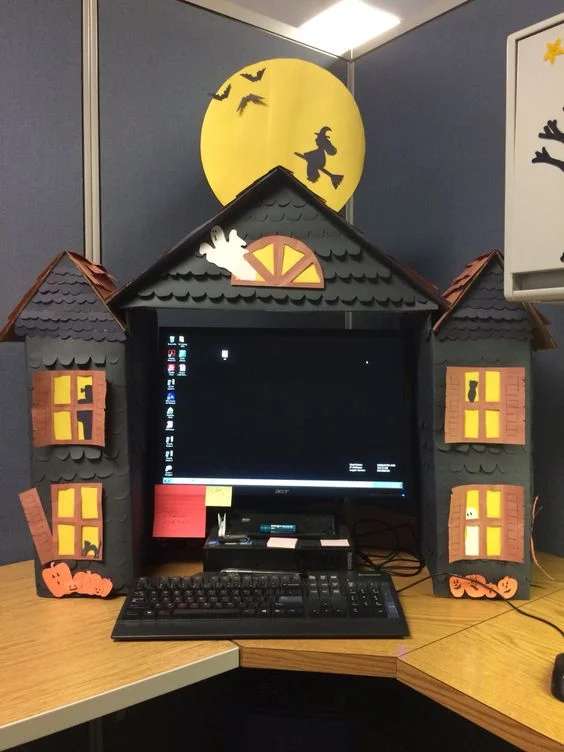 During Halloween, you surely want to be in season, and one way to do that is to add a spooky design to your cubicle decor ideas.
To ace this design, you can make a spooky house for your laptop or attach a big-moon-with-a-bird handmade art to your divider walls.
54. Add Wall Cushions
When you want to increase the soundproofing of your cubicle and feel more comfortable taking on some confidential calls, wall cushions are the way to go.
You can put it on your walls and even your DIY doors. Just make sure that your walls are sturdy enough to handle the weight of the cushions.
55. Awards and Medals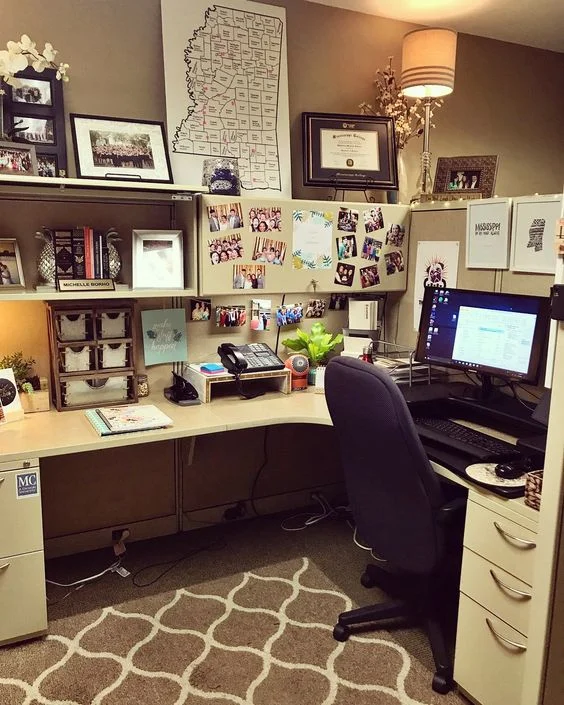 Being sentimental, it is always an exciting feeling when you can see your awards, medals, and certificates at your office desk.
Aside from giving you the nostalgia of your younger days, it can also provide encouragement, especially during rough days at the office.
This decor idea can also elevate the vibe in your cubicle, making it more homey and comfy.
56. Bag Hanger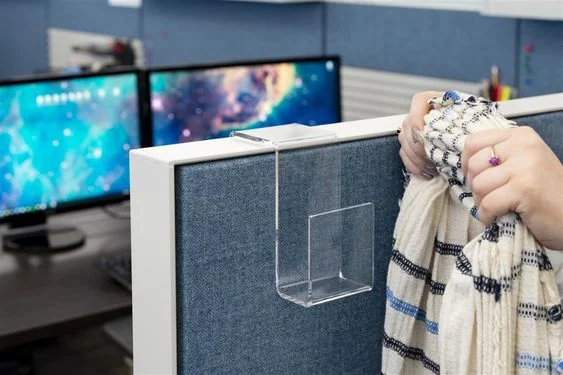 With the bit of office space given to you, you just have to make the most out of it for style and organization. For this, a bag hanger can be your buddy.
You can add a bag hanger at the end of your desks or the entrance of your cubicle, wherever you find it safe to hang your bags and other things.
57. Custom Mouse Pad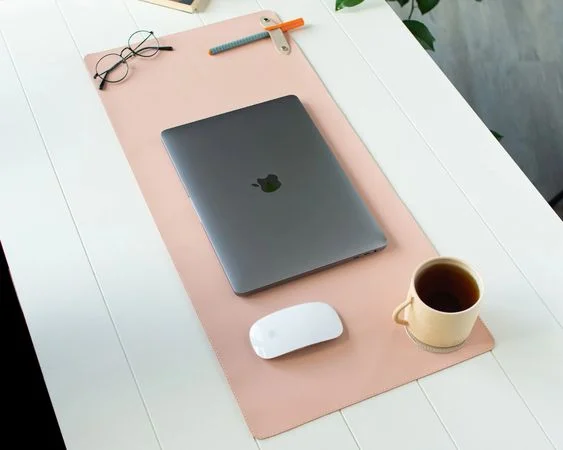 Since you have already been designing your keyboards with stickers and your computer monitors with a seasonal theme, why not let the mousepad join the party, too?
A computer mouse pad is essential in keeping your workflow smooth, particularly when you rely on computers and typing all the time.
Aside from that, a custom mouse pad can increase the visual appeal of your cubicle décor because it will complement your pre-existing decorations.
58. Geometric Filing Cabinet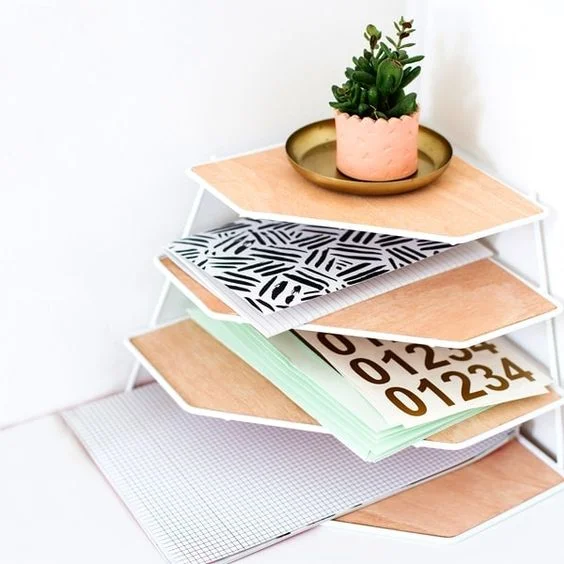 The organizing does not stop in this list as we include this desk filing cabinet with a unique geometric shape.
Obviously, this cabinet will help you arrange your documents instantly. But it can also be a place where you can put your geo planters and make the overall design of your cubicle a must-have for your workmates.
59. Plushies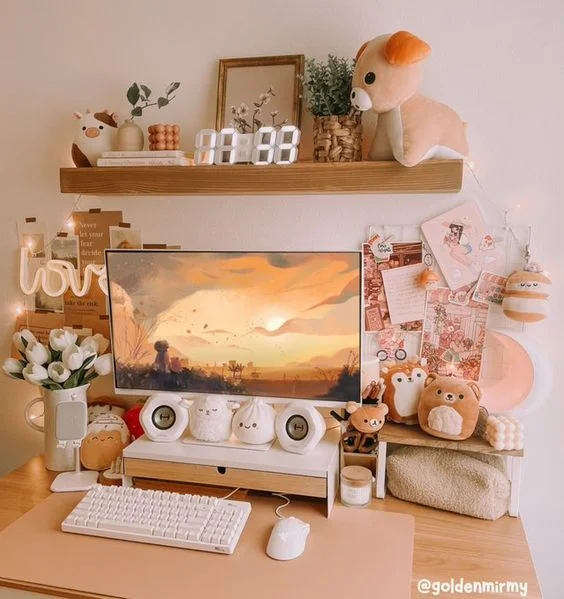 Remembering the good old days can help you carry on with your work life. So, why not bring your plushies to work and make them a part of your cubicle decor?
To be honest, plushies can help stimulate your creativity, get you out of a stressful situation, and even bring your office cubicle to a higher level of coziness.
60. Metallic File Holders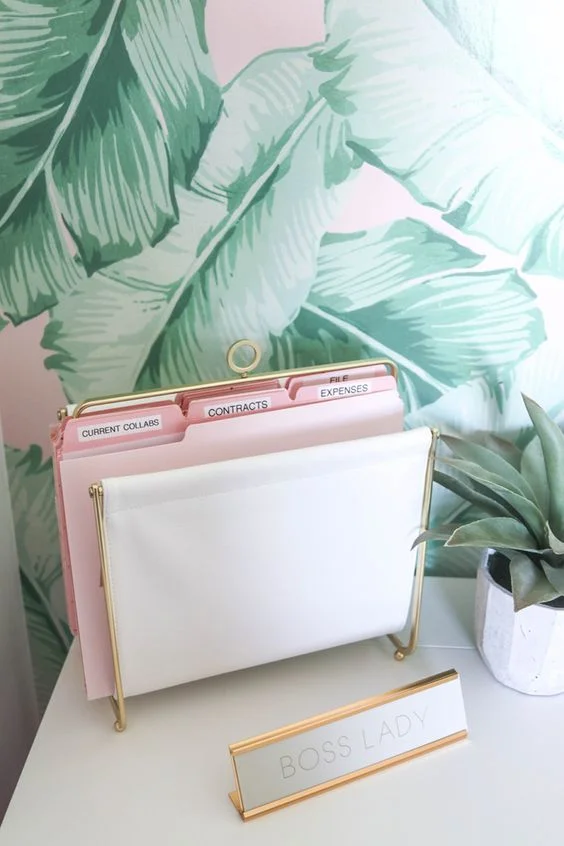 You can find a companion in metallic file holders when sporting a tropical or minimalist theme.
Besides giving your files a stylish place to organize, you can also have a chic addition to your cubicle decor that uplifts the vibe within your cubicle area.
61. Add on Some Mirrors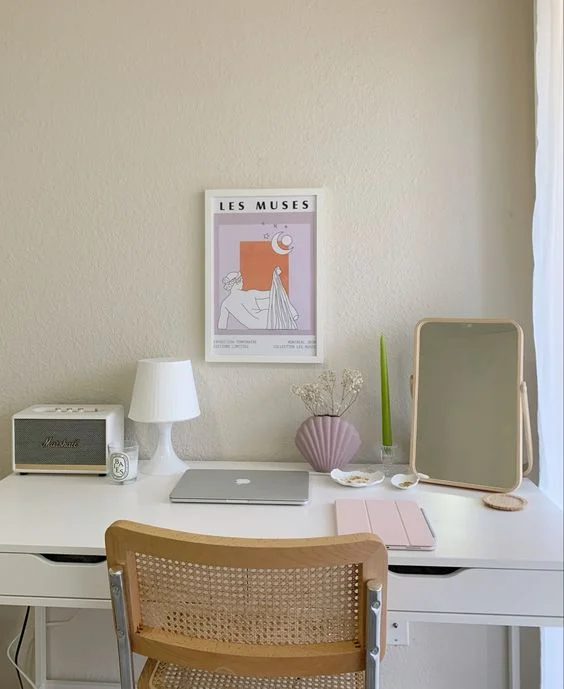 If you need to work in a limited cubicle area, add a rectangular mirror on top of your cubicle desk or walls, as it creates the illusion of extra space.
Your cubicle decor can be a single mirror, or if you really want to enlarge your area, you can put two mirrors facing each other.
62. Colored Butterflies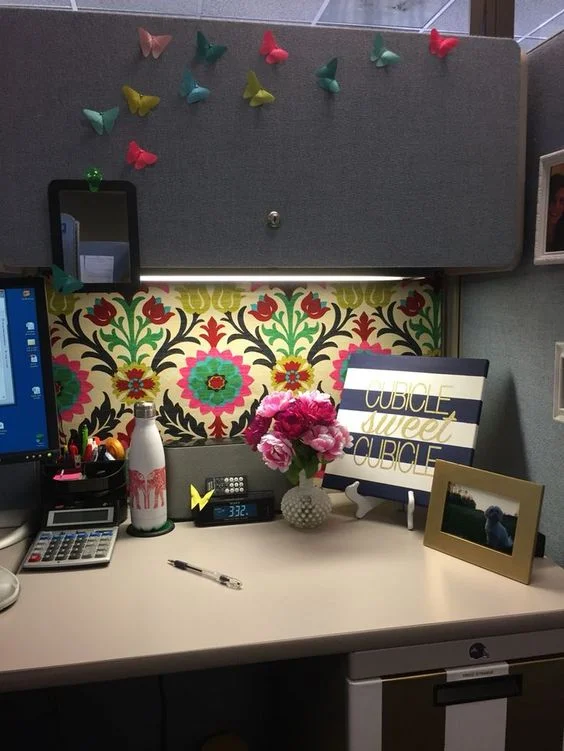 You can add origami or folded paper art pieces among the handmade objects that you can include as your cubicle decor.
They can be paper planes, animals, and insects like butterflies. To make them look appealing, you can even fold them in different colors.
Additionally, you can place the origami birds or butterflies in a manner where they will create a flying formation.
63. Wire Organizers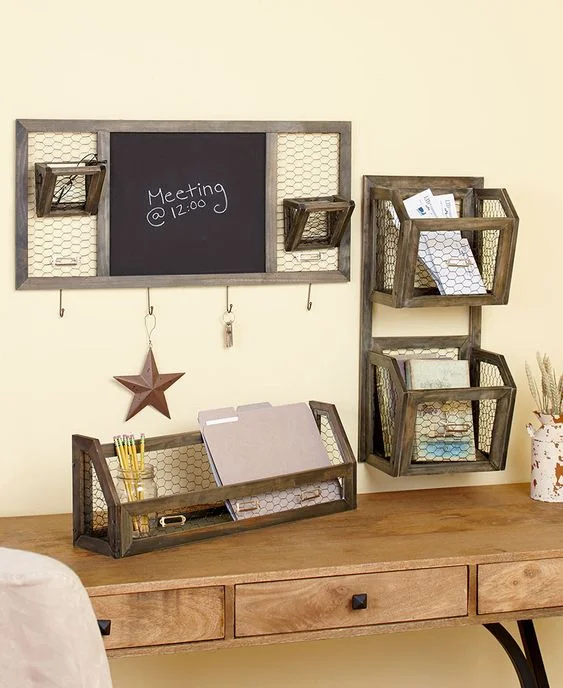 To further brighten up your office cubicle, what you need are wire organizers that can be mounted on your walls or at your desk.
With wire organizers, you can have both functionality and style. On the one hand, wire organizers can hold your items while allowing you to easily see the things you need through the holders.
On the other hand, wire organizers give off a monochrome vibe compatible with those who like contemporary or industrial designs.
64. Letter Board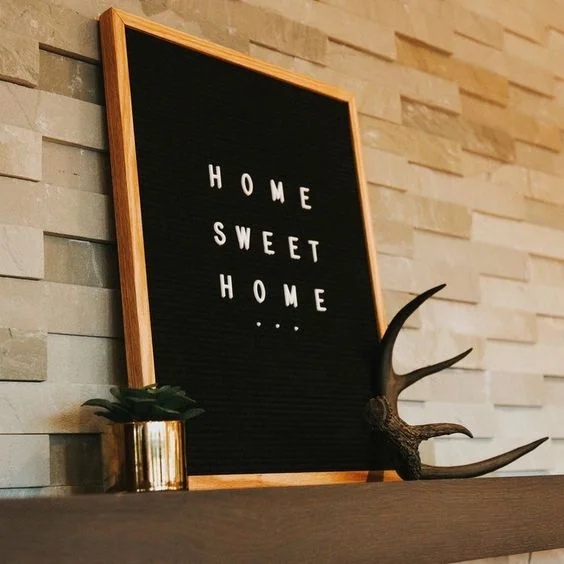 If you want your desk to stand out, pair your wire organizers with a letterboard with a black background. You can use this letter board as a reminder, daily list, or important contact details board.
Moreover, to make it blend well with the rest of your office cubicle decor, put it on top of your shelves or right at the side of your computer monitor.
65. Glass Vase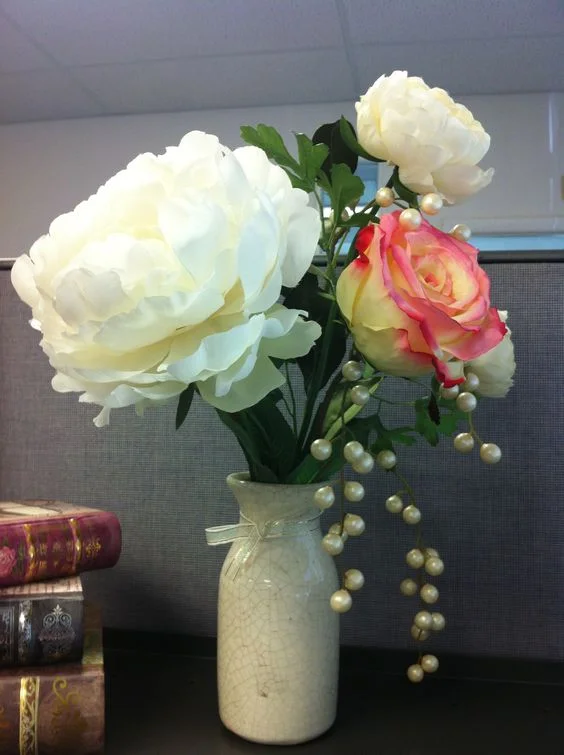 Earlier, we talked about how fresh flowers can elevate the look of your cubicle. But, it is equally important to note that a glass vase where you will place your flowers holds equal importance in increasing your cubicle's sophisticated look.
Aside from glass vases, there are also wooden and metallic ones that you can use depending on what you prefer.
You can also use ceramic containers to spice things up around your desks!
66. Rainbow Cubicle Décor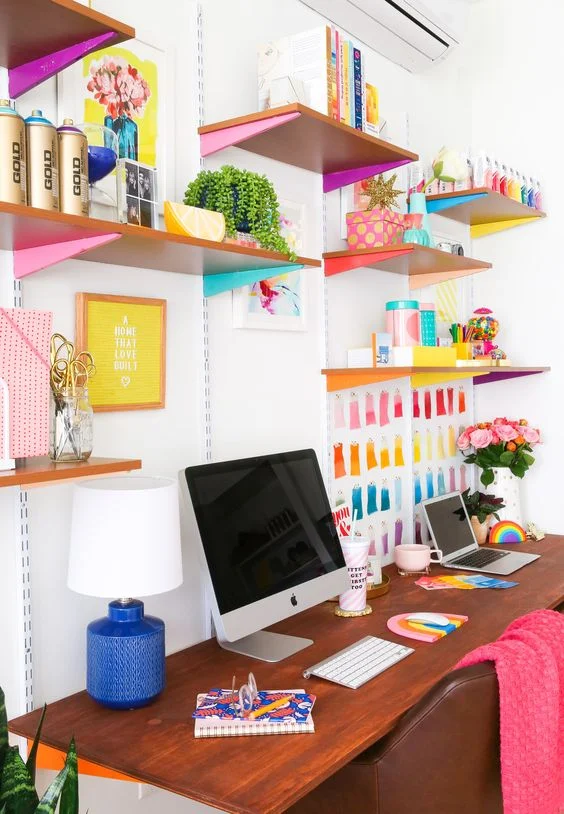 Rainbows bring hope, and rainbow designs on your cubicle offer more than that; they also provide freshness and joy to your work atmosphere.
You can incorporate the rainbow colors through your organizers, paper, mood boards, vases, calendars, and letter boards (basically everything!).
67. Cable Organizers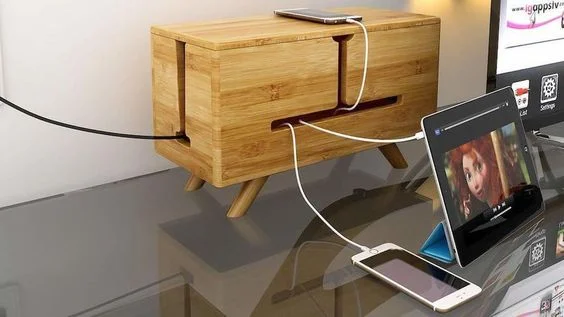 You cannot have a valuable and convenient cubicle to work in if your cables are literally everywhere.
To keep them in place, you can incorporate a cable organizer into your workflow. With a cable organizer, all your wires pass through it to lessen their visibility and clutter.
Reminder
To efficiently use cable organizers, you MUST keep them near the electric outlets/where the wires bundle up.
68. Cross-stitch Wall Decor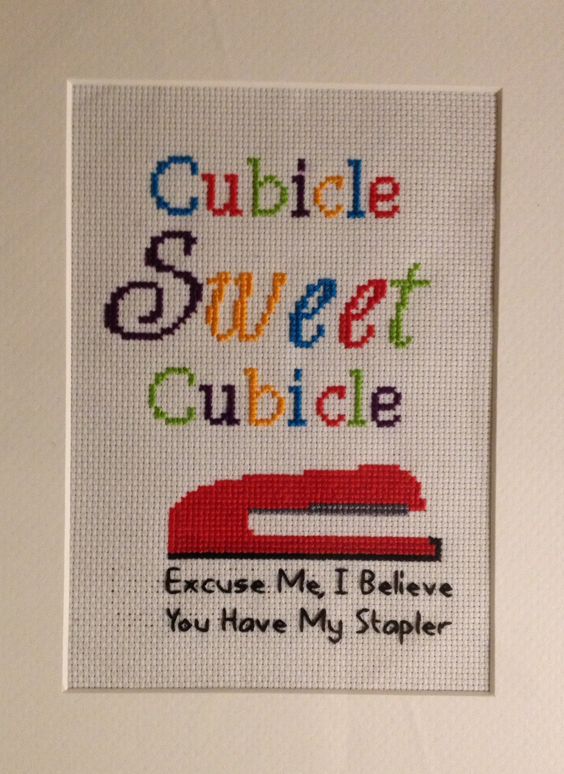 The last decor option, but not the least, from this list is this cross-stitch wall decor. It is a handmade art piece created using the techniques of embroidery.
To put it up on your walls safely and securely, do not forget to use wooden or full-glass frames.
Advantages of Employees Decorating Cubicles
As employees, decorating your cubicles can give much more than visual appeal. It also means that you can gain the following perks:
Create a healthy working environment

Give comfort and a welcoming atmosphere

Provide a boost in motivation

Elevate creativity

Increase productivity

Build rapport with coworkers
Cubicle Decor Ideas FAQs
After all the cubicle decor ideas we provided, we are sure you have some things in mind you want to address.

With that concern, we have this section to address some of your FAQs. Read on!

How do you hang things on a cubicle wall?

You can use wall hangers, push pins, mounting squares, and cubicle hooks to hang things on a cubicle wall.

How do I personalize my office cubicle?

You can personalize your office cubicle using one or more things we have provided above. But, to summarize, here are some of the essential decor ideas you can use to personalize your cubicles:
Add a hanging photo wire of your family and friends
Include your achievements (e.g., medals and certificates)
Incorporate your passion and likes (e.g., yarn, colors, pens, toys, etc.)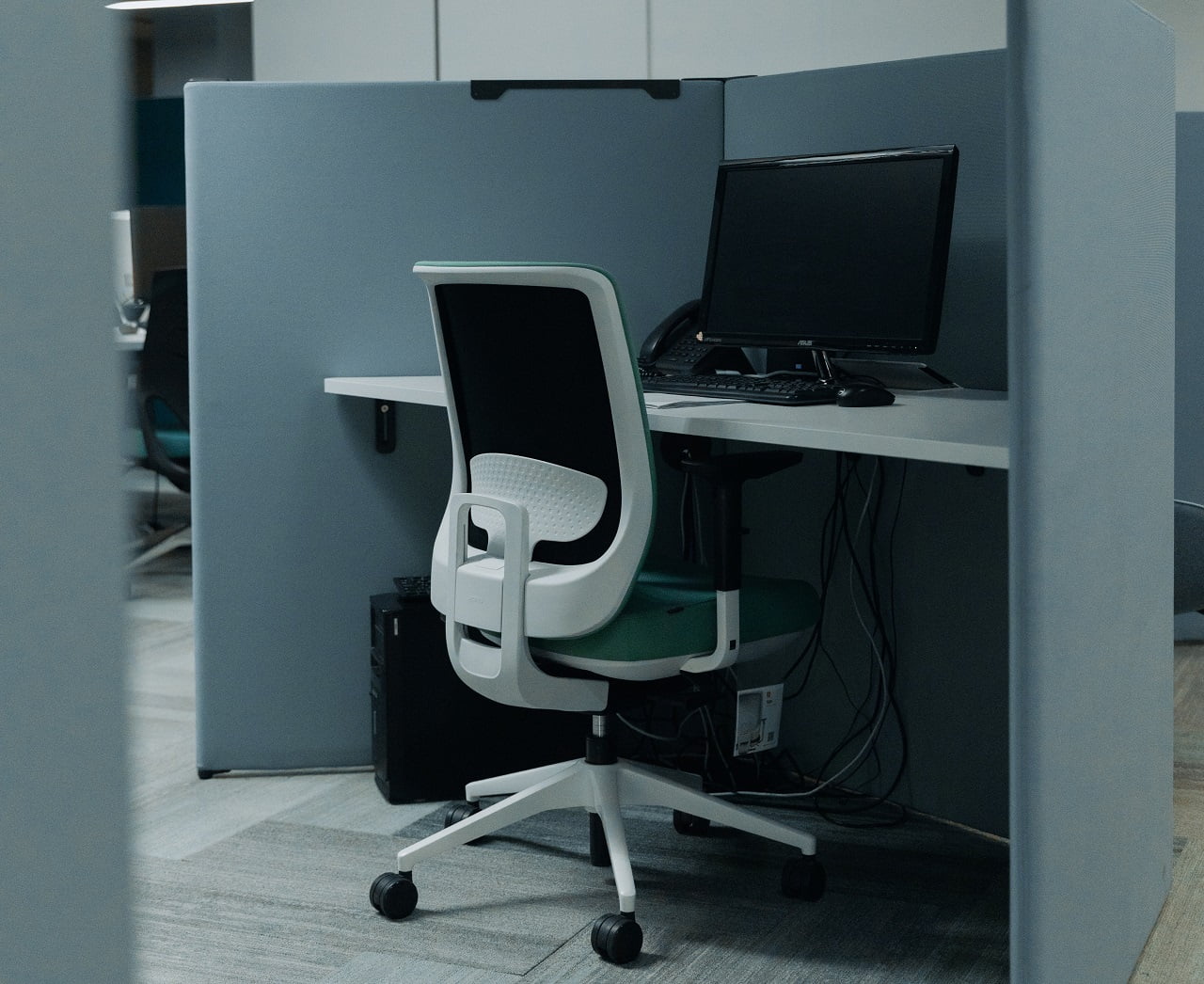 Verdict On Cubicle Décor Ideas
With everything included in this article, from the 68 ideas to the advantages and even your FAQs, you now have the decor ideas you will need to do to liven up your office space.
Just remember the three important interior design elements every time you decorate: color, creativity, and comfort. 
Now that you are ready, you can put these office cubicle decor ideas into reality!