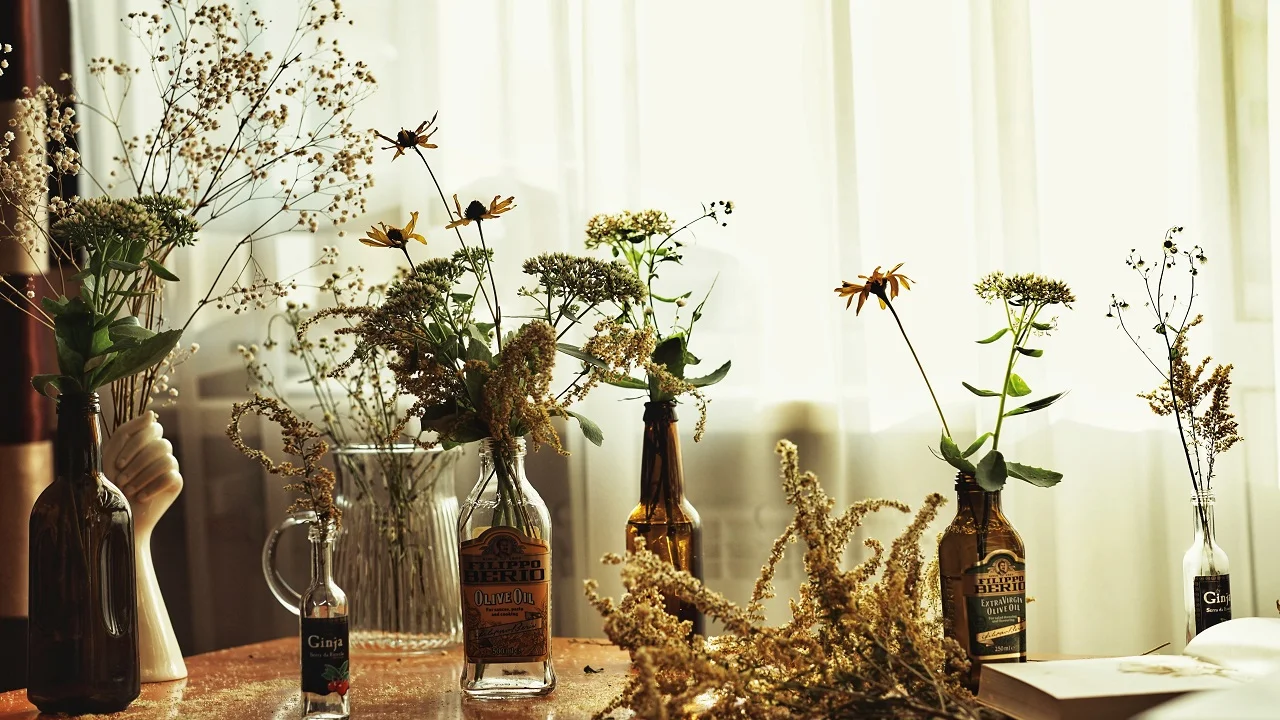 Have some old wine bottles at your disposal? Please don't throw them away! Why not make some creative and colorful DIY ideas with them?
Besides, DIY wine bottle crafts have been one of the most cost-effective and eco-friendly ways to do art without contributing to our already-polluted environment!
You can do many things with wine bottles, spray paint them, and convert them to serving platters, home decorations, and more!
We have plenty of ideas for you to see, and they are also super easy projects you can do during your free time!
55 DIY Wine Bottle Crafts You Can Do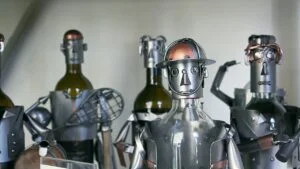 After the holiday season, we often find ourselves having plenty of leftover empty wine bottles laying around.
Now, with some of these beautiful ideas, we can safely turn them into colorful home decorations without spending too much money.
If you plan on taking them to the next level, Check out these wonderful and DIY recycled wine bottle ideas!
1. Clear Wine Bottles Turned to Sea Glass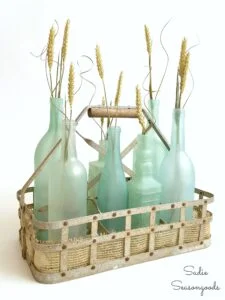 Source: Sadie Seasongoods
Most of the time, crafts and ideas regarding wine bottles don't have to be challenging. Any type of wine bottle and a little spray paint can do the magic for you.
Spray paint what you envision in these spray bottles and let your imagination control. Be sure to collect plenty of glass bottles of different shapes and sizes.
2. Transform Your Wine Bottle to Wine Bottle Lamps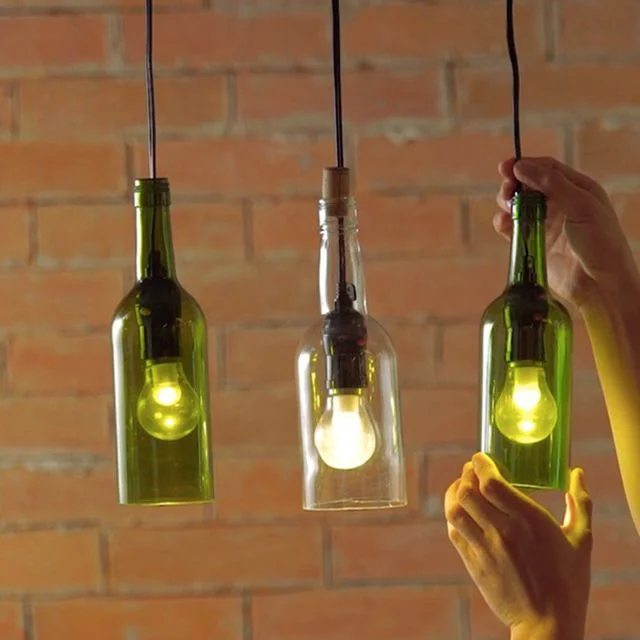 Source: DIY Projects
One of the best ways to recycle wine bottles is by transforming them into something we're not accustomed to. For example, they are great tools for making good dining lights.
Since wine bottles are made of glass, they can be cut through with a cutter and insert those loose light bulbs that can serve as your light fixtures.
3. Ombre-Colored Old Bottles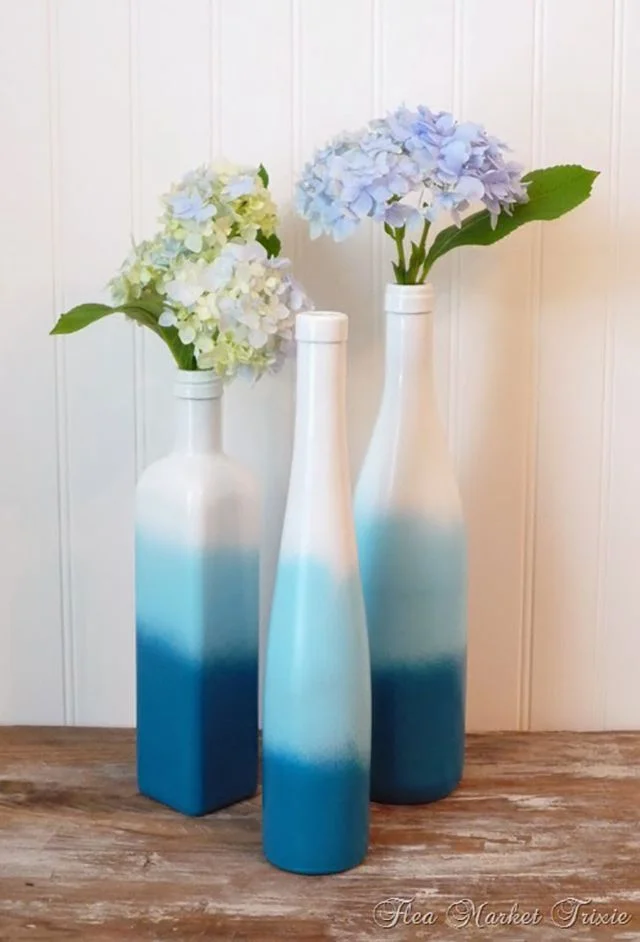 Source: Flea Market Trixie
It's always a fun idea to decorate bottles with paint. One of the better ways to decorate wine bottles for home décor is to paint them with the Ombre effect.
These ideas can be great when you plan to place them in your flower garden or the backyard. It complements any surroundings as long as you pick the right color.
4. Flatten Wine Bottle for a Wine Platter
Source: Hunker
Slumping is a form of flattening glass bottles. There are plenty of ways to flatten a bottle, but using a kiln is the most effective.
Turning your empty glass bottle into a serving platter is a budget-friendly option. Before flatting the glass bottle, ensure the empty bottle is completely dry, and the labels are removed.
5. Colored Marbles Inside a Wine Bottle Outdoor Torch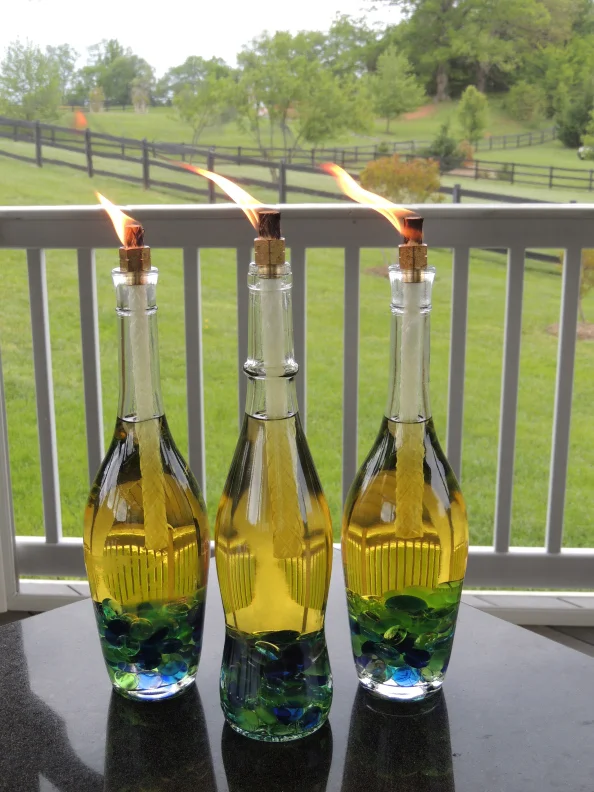 Source: The Armchair Sommelier
This wine bottle wine craft will inspire you when staying along your patio and backyard. You can create these through simple materials as well.
Just be sure that when you fill the marbles inside, it is completely clean. Tiki torches are a fun way to decorate any area in your home that needs lighting late at night.
6. A Trio of Wine Bottle Vases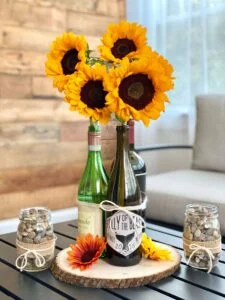 Source: craftandsparkle.com
This wine bottle craft can enlighten the atmosphere in your area. It can be placed on your office desk, dining table, or foyer. It all takes a few wine bottles for this craft to come to life.
7. Repurposed Wine Bottles as Tiki Torches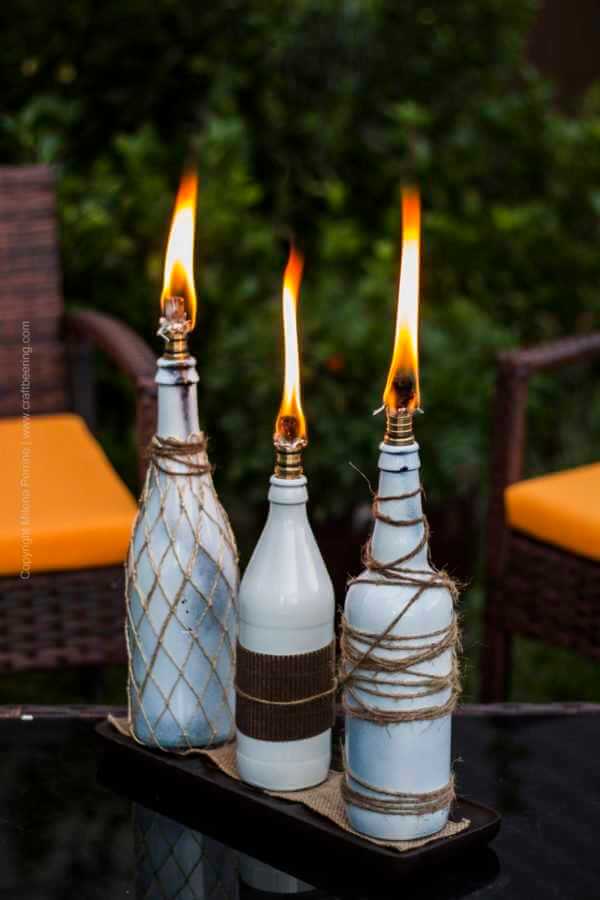 Source: craftbeering.com
Enlighten the entire backyard or patio with these repurposed upcycled wine bottles turned Tiki torches. You can add a few plastic flowers or bird feeders to make it more appealing during the day.
During the day, they can serve as feeders for our feathered friends; when it's nighttime, they can ignite the entire area with a cozy ambiance.
8. Repurposed Painted Wine Bottle DIY Lamp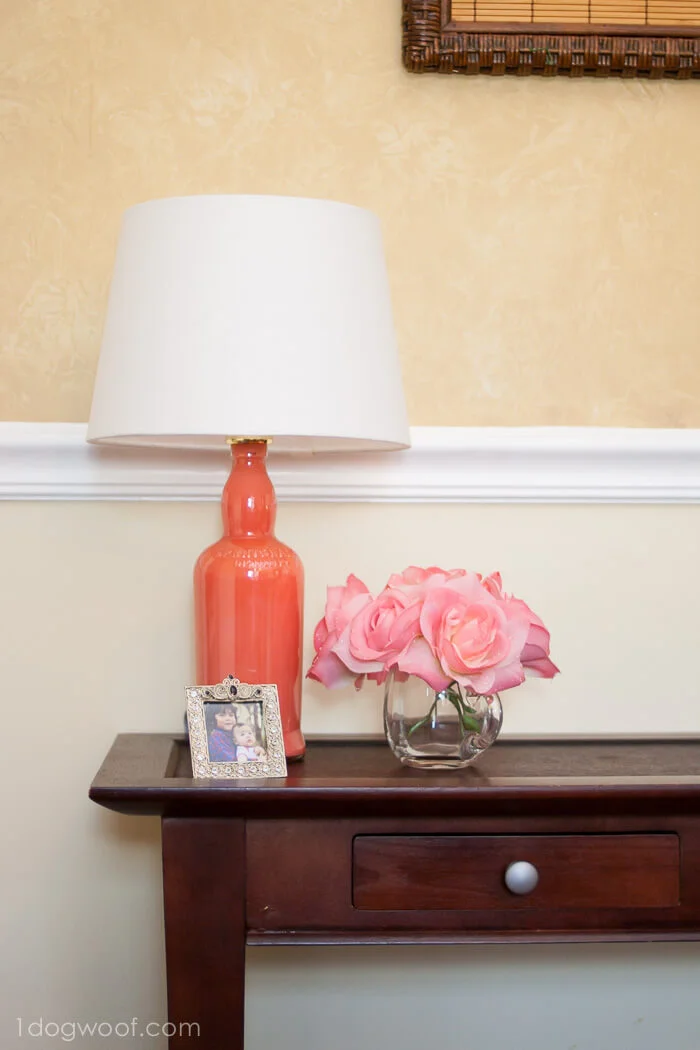 Source: 1dogwoof.com
If you want to create an inviting atmosphere at home, this repurposed painted wine bottle DIY lamp can serve you in the best way possible.
Cover the entire bottle with your chosen paint; a few key materials for your lampshade can give it a new life.
9. Bird Feeder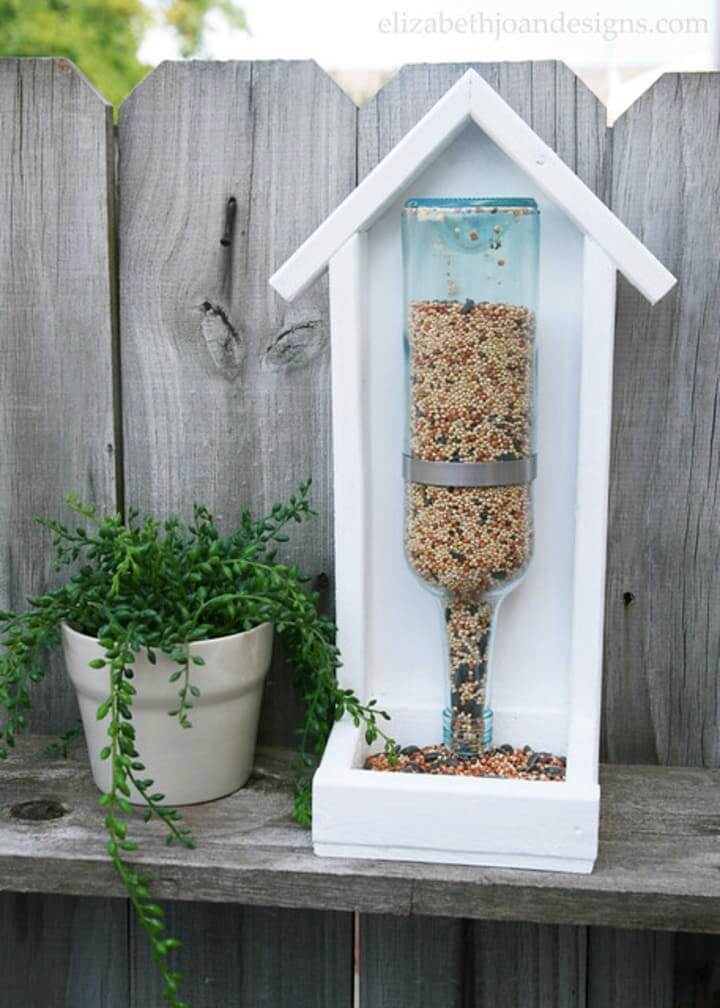 Source: elizabethjoandesigns.com
A bird feeder can be done with just a few materials, like a wine bottle and spare wood. You can decorate these bottle crafts using a hot glue gun to make them more appealing to our feathered friends.
Glue in colorful flowers, shapes, and other naturistic designs to help make it more inviting to our birdies. Place it in your garden or hang it on your roof.
10. Homemade Vinegar Using Repurposed Wine Bottles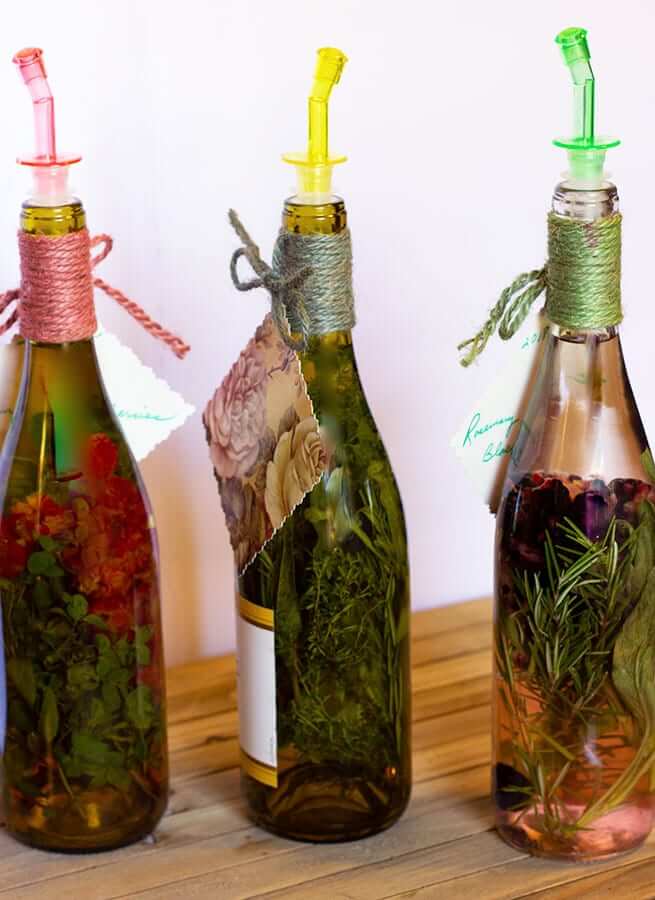 Source: inspireacreation.com
Sometimes, discarding your favorite wine bottle is hard, so repurposing them into vinegar bottles is the best way to use them.
This DIY wine bottle repurposing idea is amazing if you know what herbs to put. Pour some olive oil, favorite herbs, and spices for your mealtime enjoyment.
11. Wine Bottle Glass Pendant Lights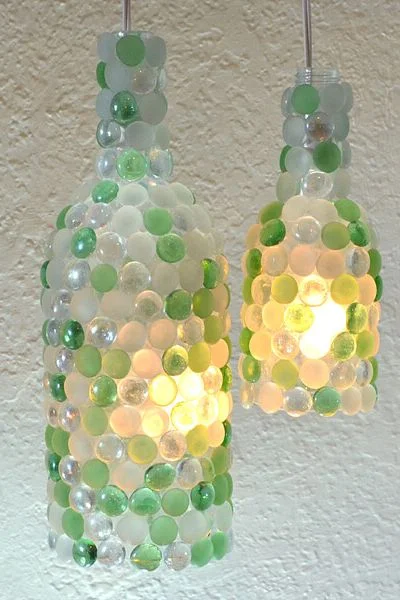 Source: Dream a Little Bigger
Empty wine bottles make for amazing fixtures and pendant lights. This craft can be done by cutting the bottom part of the glass bottle and turning it upside down.
Insert the bulb through the hole and look for a great place to put it. It can simply make the atmosphere of your home even more relaxing.
You can put these bottles as a design for your car. About cars, if you want to design your tires in your own way, check out the best DIY tire projects here!
12. Lace Trim Wine Bottle Vases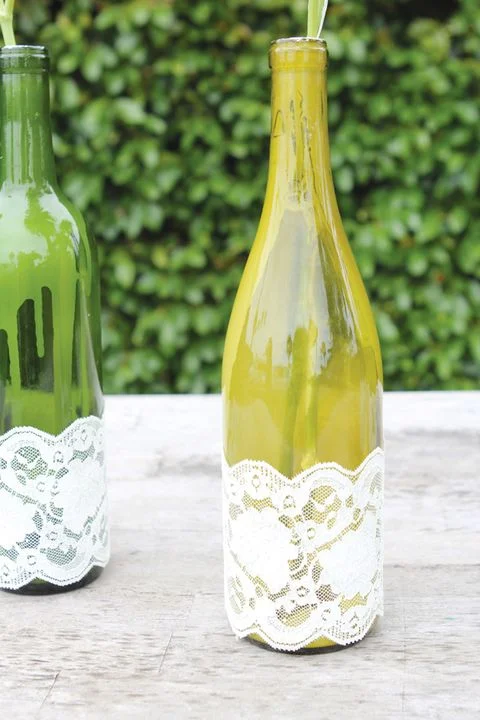 Source: Hostess With the Mostess
Most wine bottle crafts revolve around converting them to vases. These unique and aesthetically pleasing can serve as a vase or a centerpiece in your dining area.
13. Message in a Wine Bottle Craft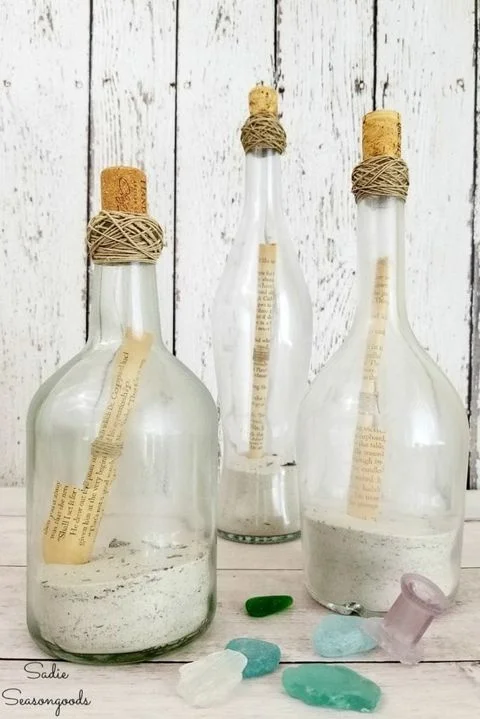 Source: Sadie Seasongoods
While sending messages through an empty wine bottle is a thing of the past, we can still use them in a way we want to convey a message. This wine bottle message craft will look adorable and be displayed in your home.
14. Wine Bottle Full of Glitter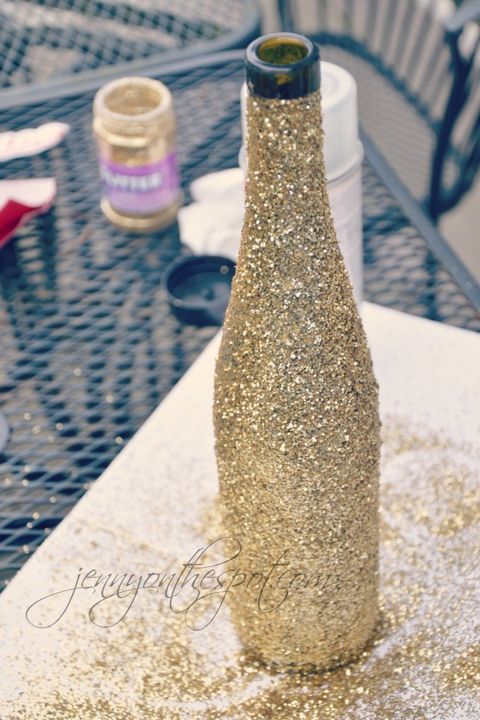 Source: Jenny on the Spot
Families with kids know glitters make their lives colorful. Cover an entire wine bottle with glitters and paint some polka dots to make it more creative-looking.
15. DIY Bird Feeder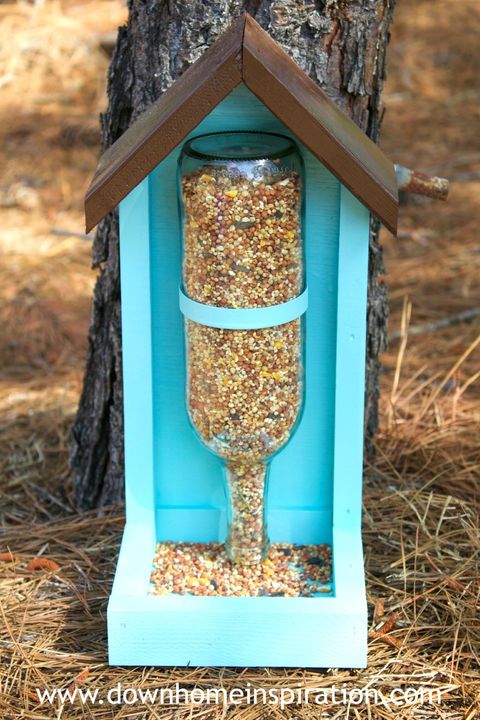 Source: Down Home Inspiration
A bird feeder is the first choice when repurposing old wine bottles. White paint and green and brown colors will truly attract any birds.
16. Clay Vase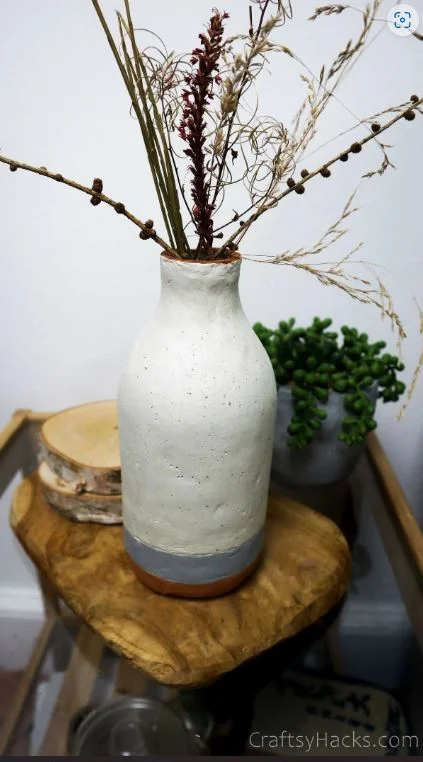 Source: youtube.com
For DIY wine bottle crafts, wrapping an empty wine bottle with clay puts a Mediterranean vibe to it, right?
Painting the glass bottle with muted colors complements any other part of your home.
17. Wine Bottle Luminaries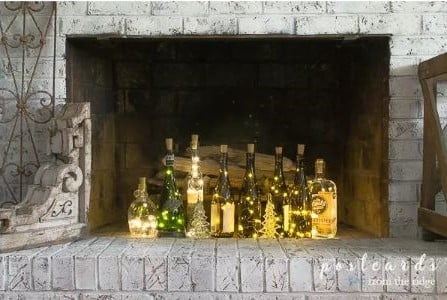 Source: postcardsfromtheridge.com
Wine bottle crafts like these can add new life to any part of your home.
Especially when the holiday is coming, this craft can do wonders for you without spending hundreds of dollars. For this idea, you'll need plenty of wine bottles and light bulbs
18. DIY Sparkling Bottles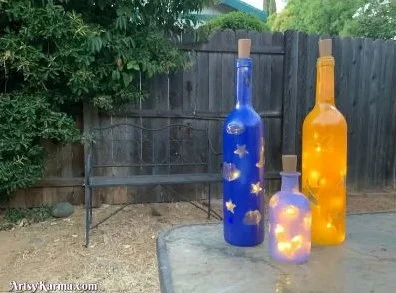 Source: artsykarma.com
Lights, paint, and empty wine bottles always go hand in hand, especially with these DIY Wine bottle crafts. What makes them great is they look wonderful regardless of where you want to put them.
Just imagine how beautiful the sun, moon, and stars will be if the light is turned on in your garden.
However, using recycled wine bottles for this craft will require precise cuts and wine corks. They can also serve as your Christmas lights when the holiday season is approaching.
19. Wine Bottle Makeover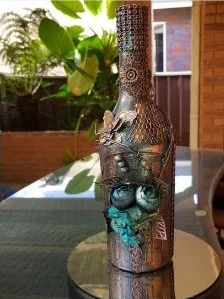 Source: uniquecreationsbyanita.com
Sometimes, wine bottle crafts don't need to be challenging. Most of the time, they only need a simple makeover using materials hanging around the corner.
For this wine bottle DIY project, you'll need plenty of paint to fill the entire glass bottle and incorporate decorative pieces using a glue gun.
20. Wall Vases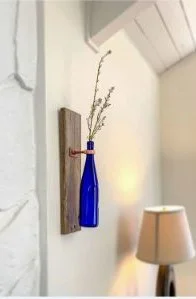 Source: artsyprettyplants.com
Vases on the table are common, right? What about hanging them onto your walls to make your walls breathe new life?
This simple wine bottle DIY idea is a super easy project to do. Feel free to use any beautiful bottles with a few spray paint bottles. You can also use scrap wood for backplate purposing when installing it onto the wall.
21. Mod Podge Wine Bottle Crafts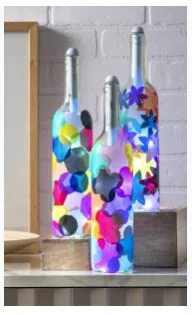 Source: Amy
Recycled wine bottles are great for home décor, right? Turn the junk lying in the kitchen sink and turn it into this colorful masterpiece.
You can design the bottle with unique shapes and colors or create flowers and grass to make it nature-friendly. This mod podge craft is fun for kids!
22. Wine Bottle Chandelier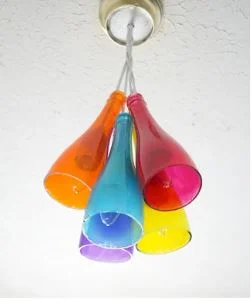 Source: modpodgerocksblog.com
A chandelier is a popular home décor. Why not use your old drinking glasses and turn them into a piece of the chandelier? That sounds like a cool idea, right?
Cut the wine bottle in half and fill the entire bottle with colors using chalkboard paint. It's fun to bond with the kids while decorating your home.
23. DIY Wine Bottle Planters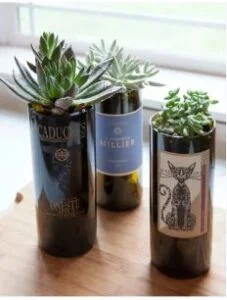 Source: kreatinghomes.com
Repurpose your old wine bottle and turn them into wine bottle planters! Plant enthusiasts should love the idea of turning their old glass bottles into a haven for their Philodendrons!
You can place them on your bookshelves, dining table, or garden. Old wine bottles also make good wine bottle crafts.
24. Wine Bottle Gnome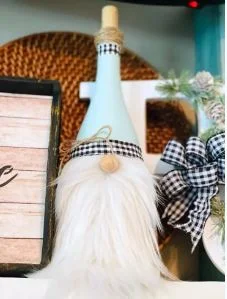 Source: myeclectictreasures.com
It feels like putting a nose and a beard on an empty wine bottle can make for a gnome! Gnomes are pleasant to look at and can make for great home décor.
Before decorating the wine bottle, use dish soap to clean the entire bottle to ensure everything sticks!
25. Wine Bottle Centerpiece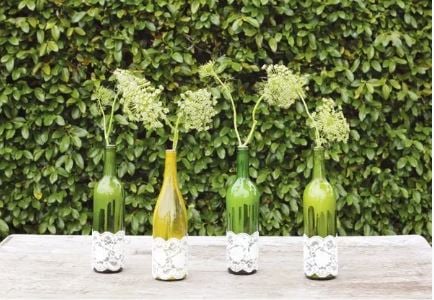 Source: hwtm.com
One of the most common wine bottle crafts is used as centerpieces. You can use them as-is or paint wine bottles that complement an area where you will put them.
Greens and yellows make for great centerpieces, especially when summer is fast-approaching.
26. Wine Bottle Edging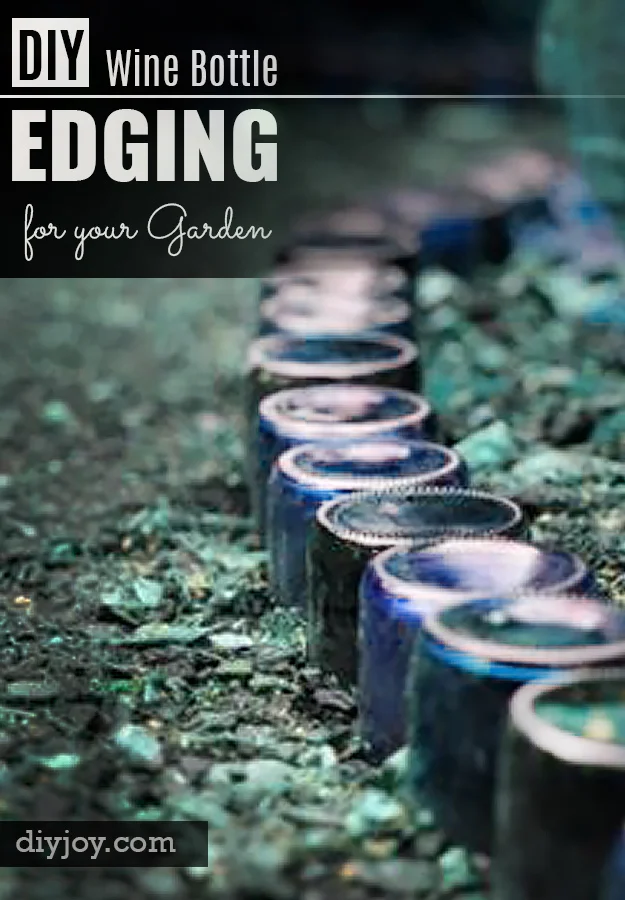 Source: diyjoy
Wine bottle edging is a good way to create boundaries. Most of the time, glass wine bottles are left outside to either rot or be broken; why not use them for edging?
27. Wine Bottle Tree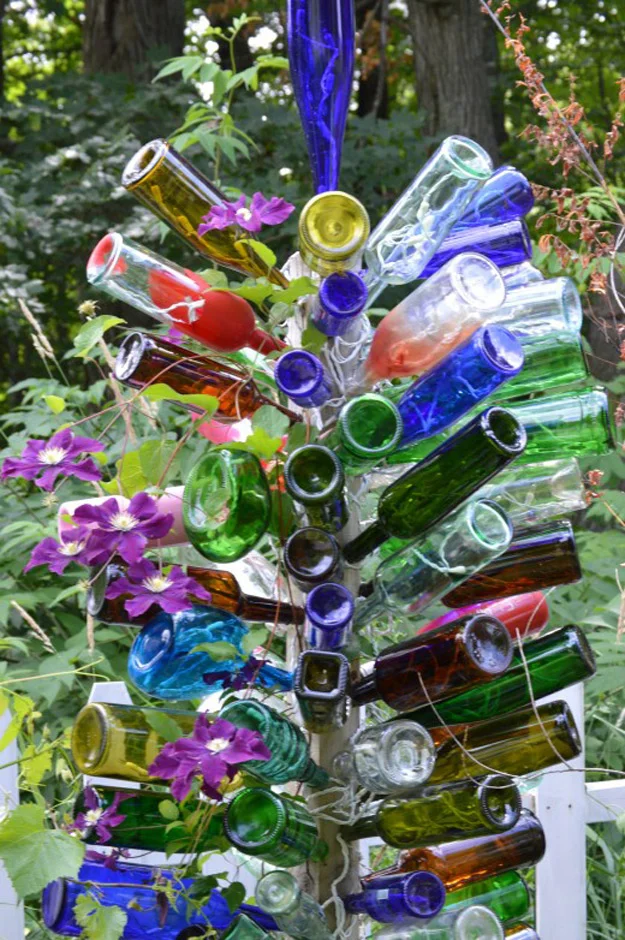 Source: hubpages
This bottle tree works best with plenty of multicolored bottles. It can serve as a Christmas bottle tree when the holiday is near.
A bottle tree would also be a great addition to your home, and have the kids make it with you.
28. Decoupaged Wine Bottle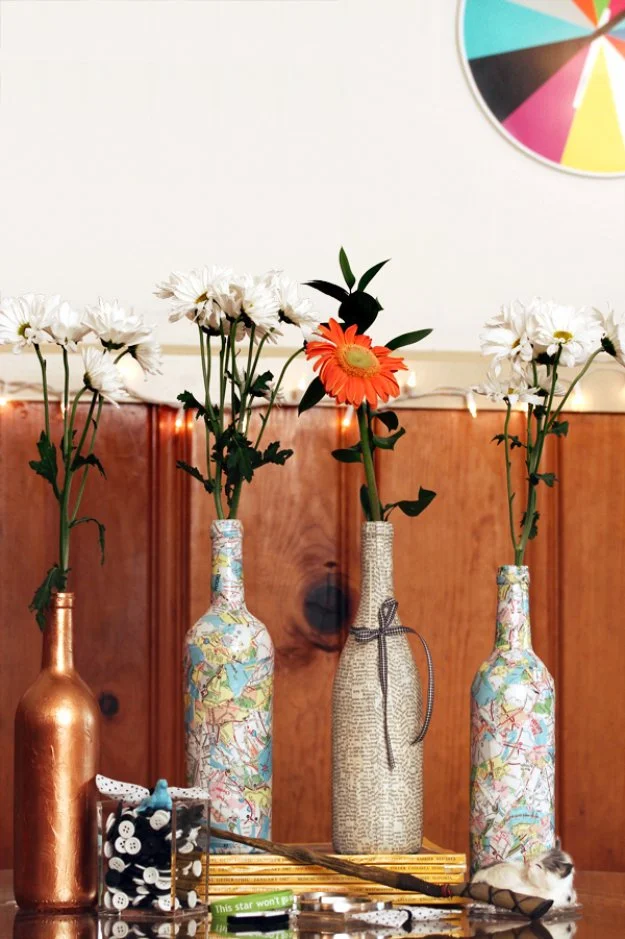 Source: karenkavett.com
A wine bottle can serve as a base. You can turn wine bottles into colorful vases with a few cans of spray paint and flowers.
Let your imagination take over, and do what you feel appeals to your eyes. This way, seeing them in any area of your home creates positivity about how you feel when making them.
29. Wine Bottle Bird Feeder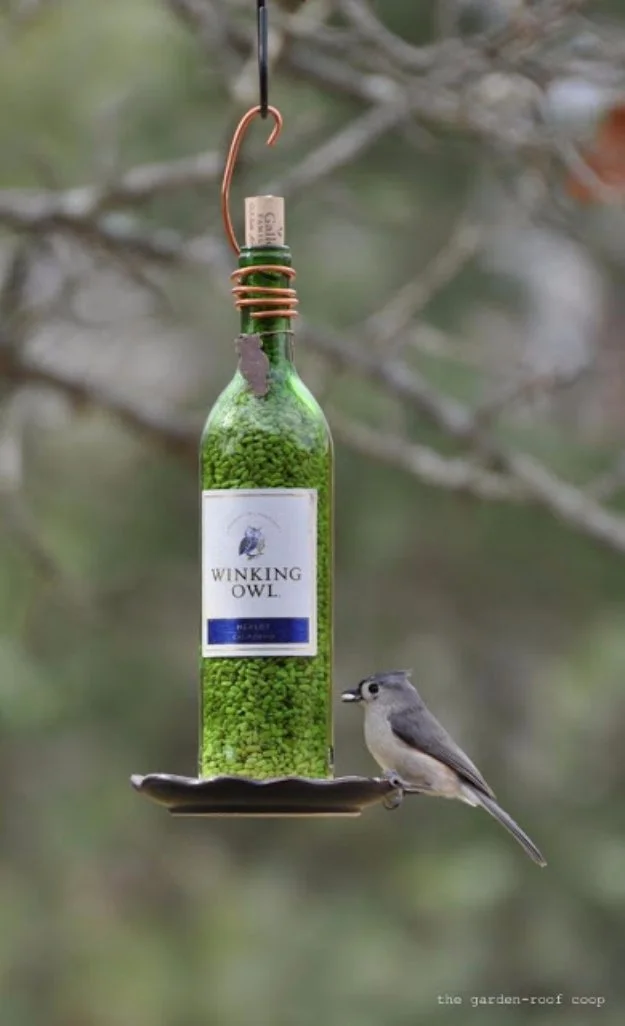 Source: thegardenroofcoop.com
Some of the most popular wine bottle crafts have got to be bird feeders. Seeing them eat inside your project feels very fulfilling and satisfying.
What makes them even more appealing is you can do many things with just a few empty wine bottles and objects lying around the corner.
30. DIY Modern Herb Garden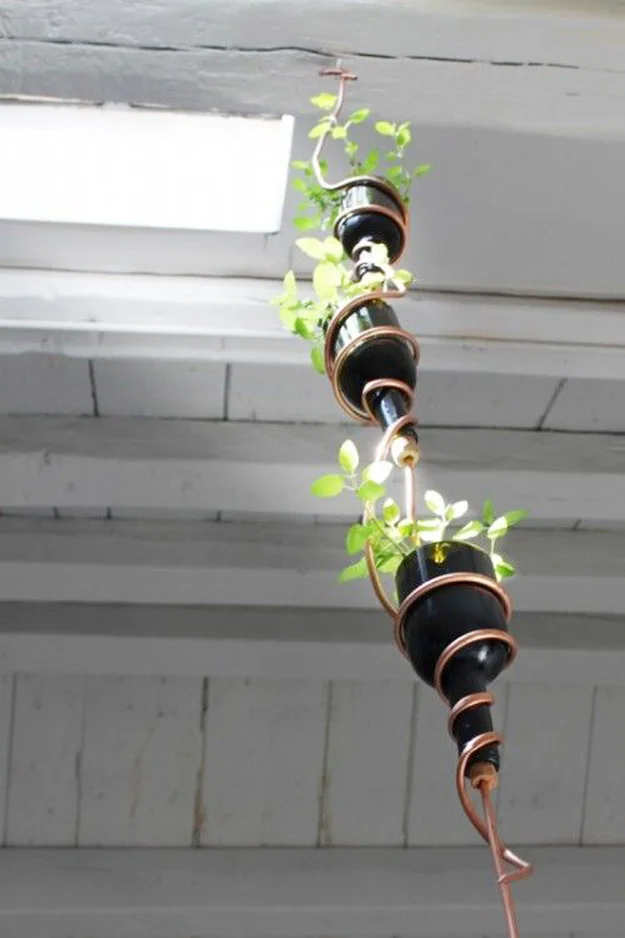 Source: Instructables
Making a hanging herb garden can spice up the atmosphere if you want to breathe new life into your garden.
You'll only need a few bottles, soil, and plants that love the sun's rays to ensure they can live long enough to brighten any area of your home.
Cut them in half, discard the rest, and use corks to seal the top portion and turn them upside down. Fill the bottle with soil and place your plants. Use hanging ropes and carefully attach them
31. DIY Wine Bottle Citronella Candles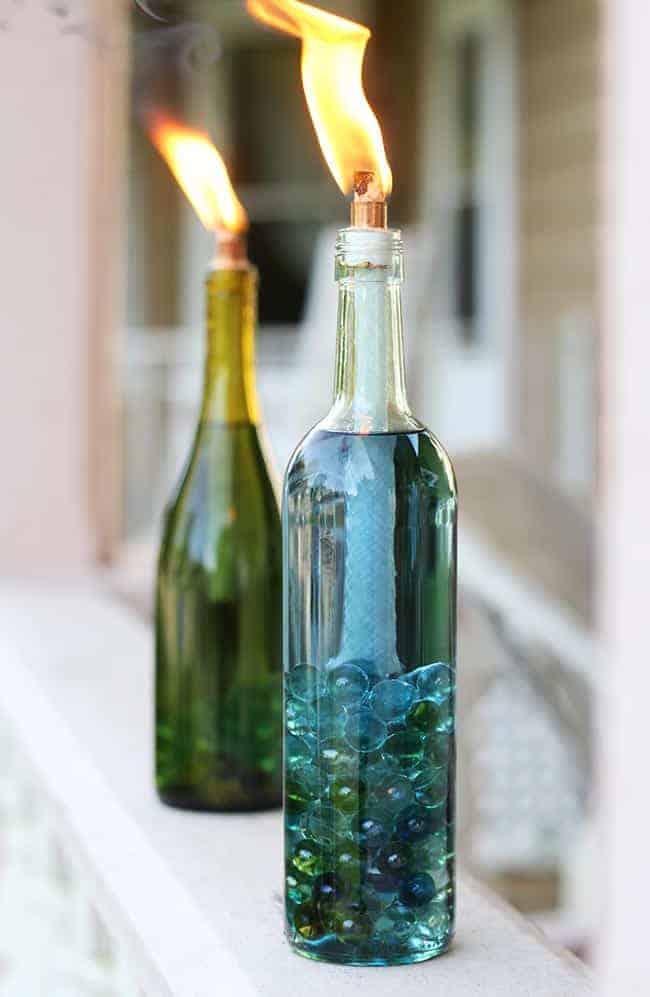 Source: helloglow.co
Summer and cold nights should be free from creepy crawlies and pesky mosquitoes. These wine bottle crafts that use a tiki wick can solve that problem.
Instead of throwing your empty wine bottle in the recycling bin, why not use them to clear the area where you will be camping? Citronella is a great mosquito-repellant, and its smell is very relaxing too!
32. Wine Bottle Boho Centerpiece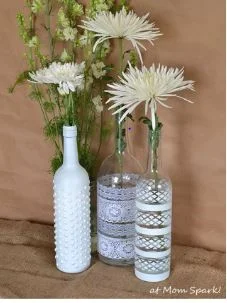 Source: Mom Spark
If you love to drink wine and have a couple of wine bottles lying around the corner, it might be the best time to turn them into a Boho Centerpiece.
Get creative with this craft! If you're not artistic, paste some stickers, stencils, or 3D-printed stickers to make it more appealing at home.
33. Wine Bottle Dish Soap Dispenser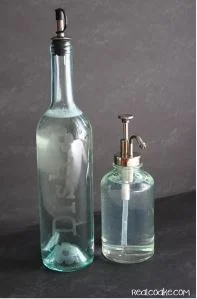 Source: Living Well Spending Less
Tall and thin white bottles make for a great soap dispenser. You can find any stopper at your local grocery store, which would do the trick.
This idea would creatively make your kitchen look more appealing than most looks dispensers
34. Message on a Wine Bottle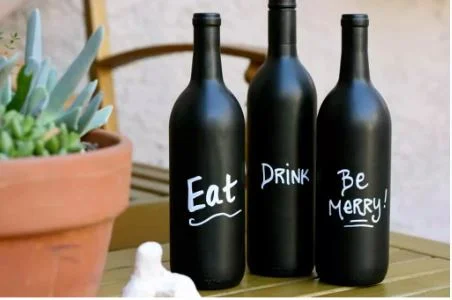 Source: Cohas
Painting wine bottles with chalkboard paint is a great wedding gift you can give. Most people paint the entire bottle with a single color and use white paint to put their messages on it.
This idea is amazing if you put in the fact that they don't cost you much, and the message will always do wonders for the couple!
35. Decoupaged Wine Bottle Crafts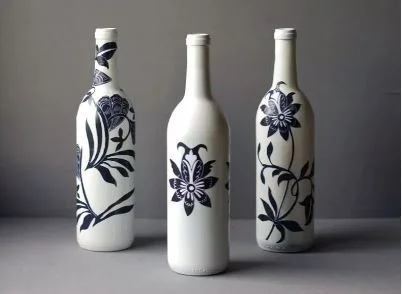 Source: Rita Shehan
Decoupaged wine bottles are creative ways to make your old bottles look unique and appealing. You can pick up designs like mod podge, abstract, and unique shapes.
You can also tear book pages and paste them onto the wine bottles for a more vintage look. Glass bottles look grander if covered with amazing color combinations.
36. Floating Candles Inside a Wine Bottle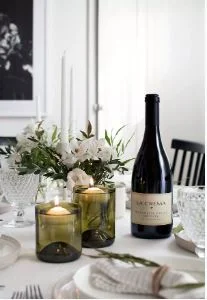 Source: Homey Oh My
A typical dinner night with hubby can make it more romantic with floating candles inside a wine bottle. It can also serve as a gift for couples if you have one.
These candle wine bottles are best when using darker bottles paired with lighter candles. They will simply light up the atmosphere making the ambiance lovelier!
37. Marble Filled Beautiful Glass Bottle Torch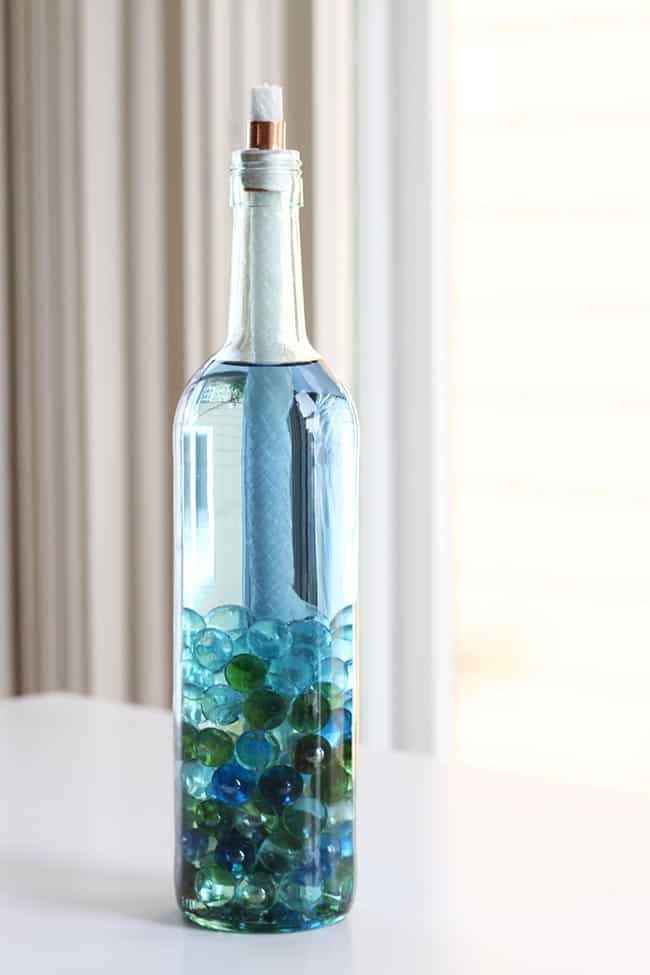 Source: helloglow.co
Marbles are easy to find; they take on another life once you put them in these bottles. All the shades of blue and green swirl together and marvel around once the light is torched.
It's one of the better touches you can add beside your pool or along the attic to make the scene more serene and mellow. Tiki torches make the area glow most nicely!
38. Etched Wine Glass Bottle
Source: realcreativerealorganized.com
Grab the kids and make your way into making these colorful decorations at home with just a few materials. This project is one of the brilliant ways to make old wine bottles breathe new life.
In addition, why not host a girls' night party at home and serenade them with this home décor that can liven up the atmosphere? Sounds pretty amazing, right?
39. Repurposed Steampunk Wine Bottle Lamp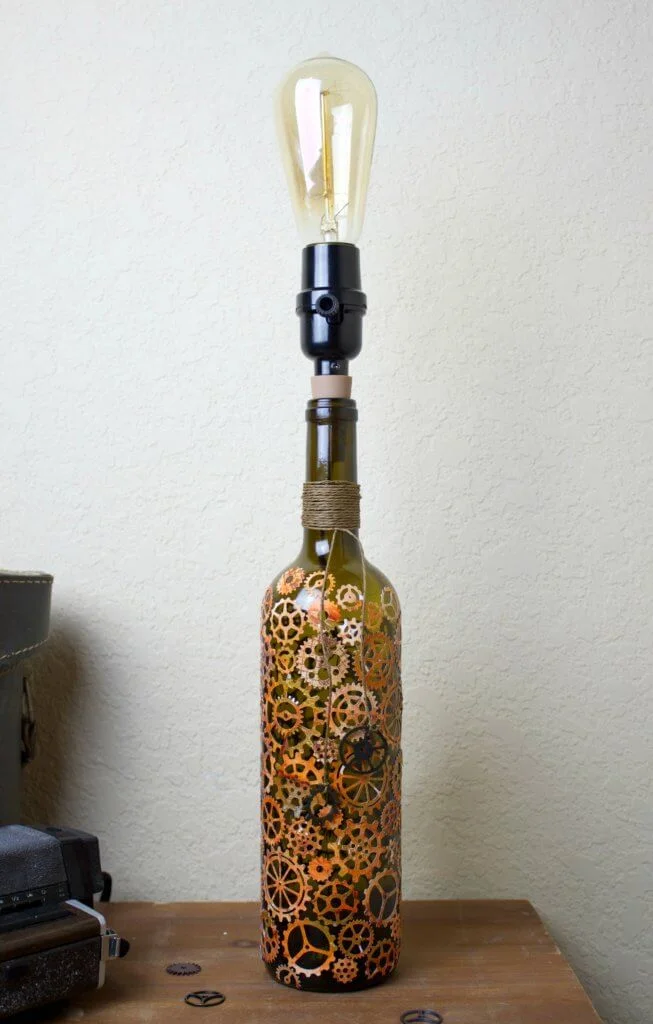 Source: morenascorner.com
You will see many gears when repurposing these wine bottles and turning them into steampunk versions.
These will look cool when displayed in your bedroom or dining areas. What makes it even better is you can incorporate various designs to your liking!
40. Hanging Wine Bottle Planter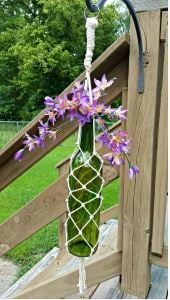 Source: singlegirlsdiy.com
With this simple trick, why not add an empty, repurposed wine bottle for your outdoor plants? Whether you want to hang it in your garden or along the hallway, this will make for great décor.
This design might be an old favorite, but it never goes out of style. You can also add self-watering features to ensure the plant grows optimally!
Bamboo goes well with this idea! If you want to know more projects involving bamboo, check out the best DIY bamboo projects here!
41. Hand-Painted Wine Bottle Vase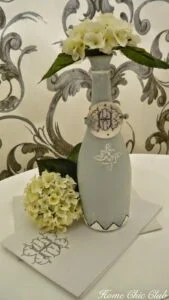 Source: vesna-kreativnostidrugesitnice.blogspot.com
Hand-painting a wine bottle will almost do the trick most of the time. This elegant wine bottle is carefully repurposed and painted to make it look elegant and dazzling.
42. Modern Repurposed Wine Bottle Outdoor Sidewalk Lights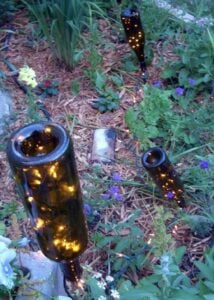 Source: more-organics.com
Outdoor and fairy lights in your garage make the entire area look brighter and more lively. It can also help illuminate the entire walkway to help watch your steps!
43. DIY Wrapped Wine Bottle Table Decorations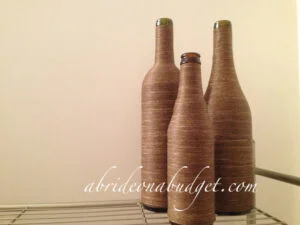 Source: abrideonabudget.com
Sometimes, you must wrap the bottle, which will take on a new form. This cheap but creative idea can help make your dining table more pleasant.
44. Outdoor Bottle Wine Chandelier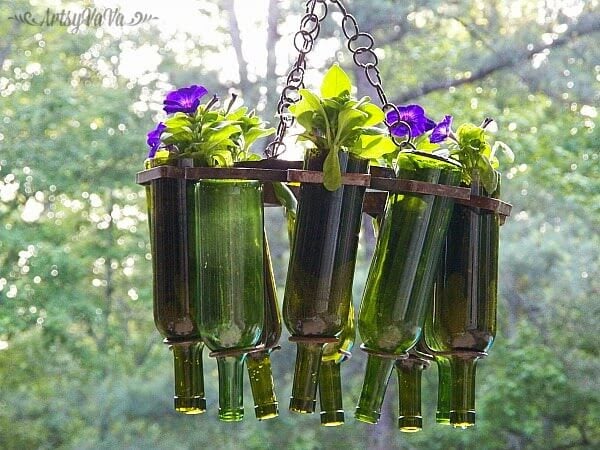 Source: artsyvava.blogspot.com
Hanging wine chandeliers can serve you well when decorating your outdoor space. This outdoor bottle looks good paired with wind chimes.
Ensure the bottle you are using complements well with its surrounding. For a more homey look, opt for a green bottle.
45. Wine Bottle 

Décor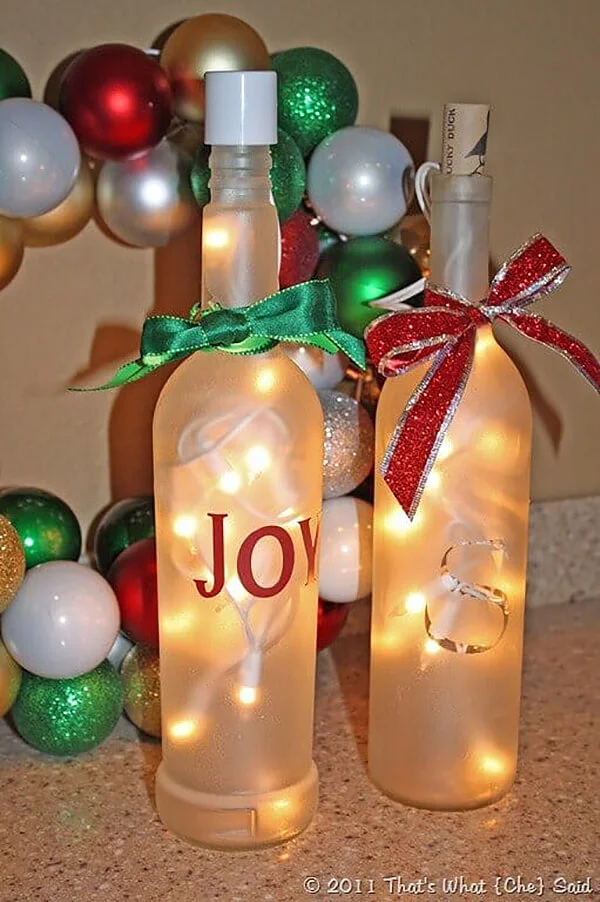 Source: thatswhatchesaid.net
Upcycling an old bottle looks good, especially when the holiday season knocks at your doorstep. This idea can give a repurposed glass bottle new life paired with green and red colors.
Insert in the lights, making your Christmas merrier as you save a few bucks instead of buying new ones.
For similar ideas, check out the best DIY wooden lamp ideas here!
46. Herb Garden Bottle Crafts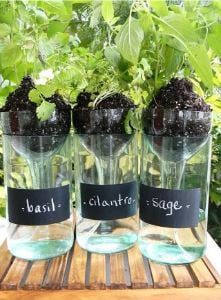 Source: DIY Projects
Herb gardens are becoming more popular in wine bottle crafts in recent years. Look at this idea; you only cut the bottle into two and turn it upside down.
To make it more appealing, sticking a chalkboard label in front of it will almost certainly do the trick!
47. Wrapped Twine Bottle Crafts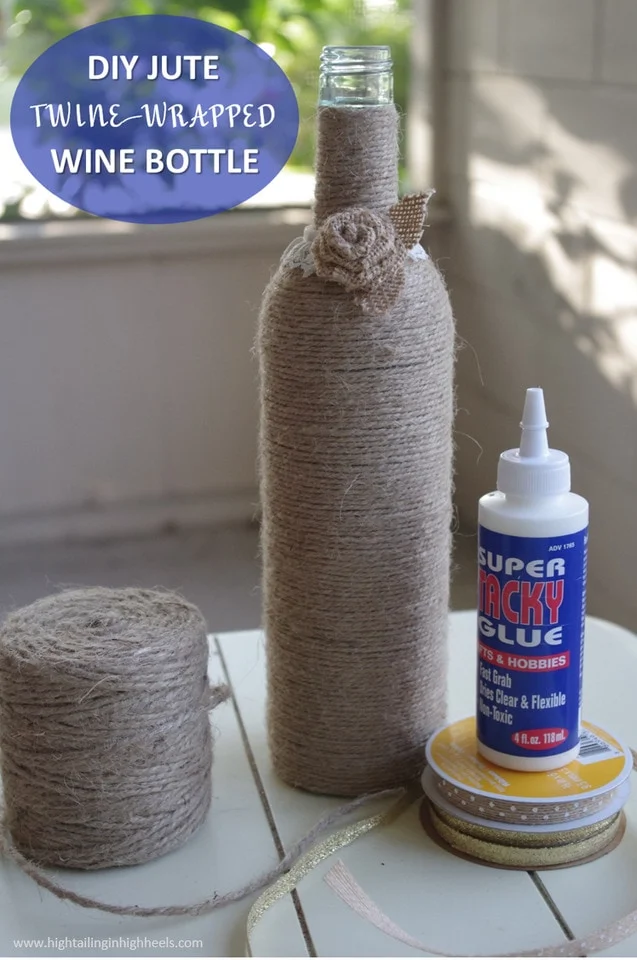 Source: A Blissful Nest
Wrapping the entire bottle with twine works best if the insides are clean. You can pour in any liquid material inside that serves as your dispenser.
Add some design to balance out the pale colors usually associated with twine.
48. Cut Wine Bottles in Half for Easy Bottled Planters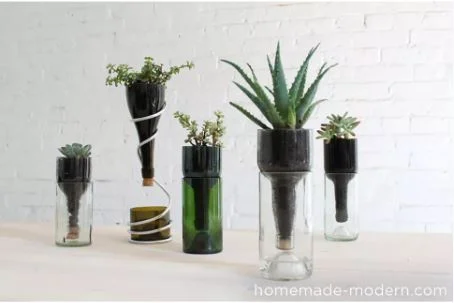 Source: Homemade Modern
Another bottle planter idea, this creative design allows you to display your indoor plants inside your room while still making an impact.
Ensure you keep the corks to lock the bottom when you turn it upside down. The glass bottle planter should also be placed in areas with less shade for plants to grow.
49. Doodle to Your Heart's Liking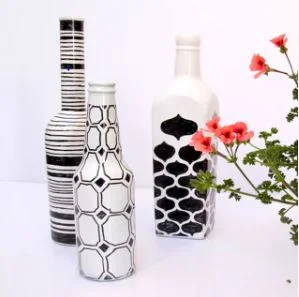 Source: Creative Jewish Mom
Doodling an empty glass bottle is another fun and creative way to decorate it. The idea is to make it look more hand-drawn rather than perfect.
50. Attaching Tiki Torches to Outdoor Fence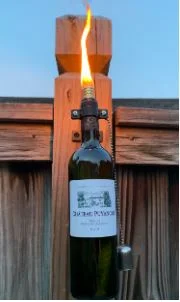 Source: knowwines
Torches are becoming our favorite because they brighten any area but don't require heavy machinery.
You can put this on your outdoor fence or a nearby kitchen garden. For good measure, fill the torch with citronella oil to keep those pesky mosquitoes away!
51. Frosted Centerpiece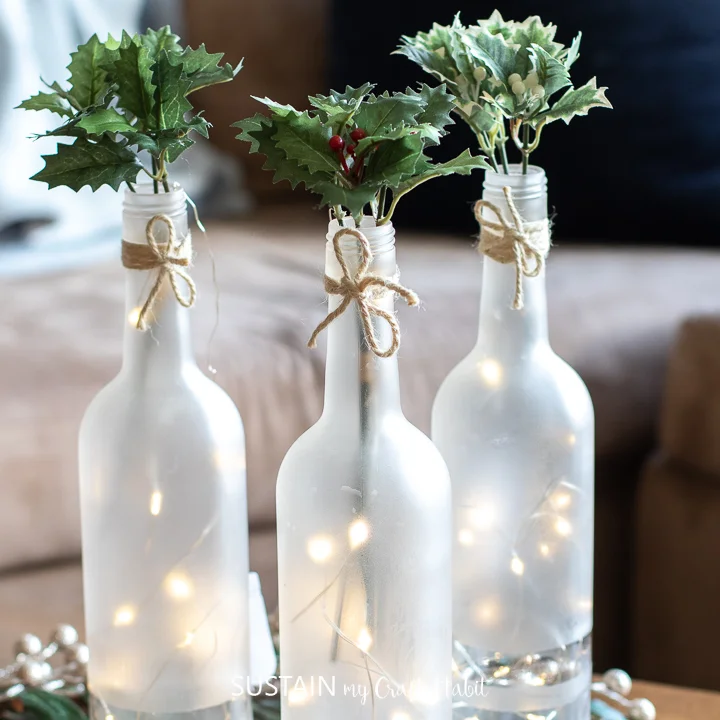 Source: sustainmycrafthabit.com
A frosted-looking wine bottle looks luxurious and elegant, right? What if you can do it without spending hundreds of dollars?
The next time you plan on painting your old wine bottle, make sure you do it like this! They should not be too opaque; a little hazy would do the trick!
52. Do-it-Yourself Gift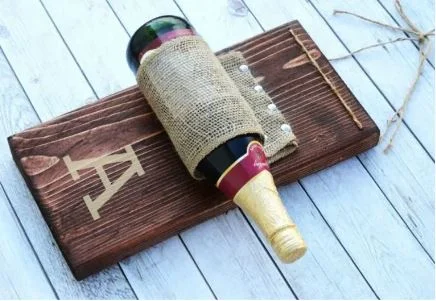 Source: scrappygeek.com
An old empty bottle on your kitchen cabinets can serve a couple well if you plan on repurposing them for gift-giving purposes.
Look at this project; you don't need to be an artisan to make this one. A block of scrap wood, an empty bottle, and a wrap will almost certainly do the trick for you!
53. Upcycled Cacti Glass Planter Bottle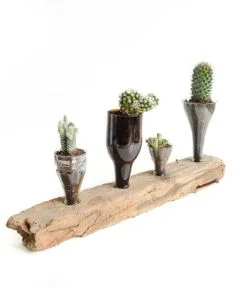 Source: vickymyerscreations.co.uk
Some of us love a cactus plant. They are hardy, adaptable, and stand the test of time as a bottle can do. This idea might need a few tools to make it work.
You'd want a drill and a garden tool for this project. You don't want to crack the glass as it can break entirely.
54. Polka Dot Glass Vase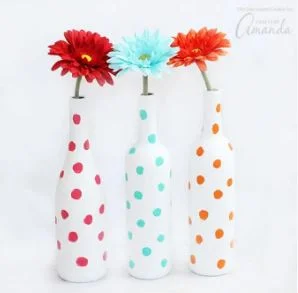 Source: craftsbyamanda.com
Polka dot designs are among the most common designs you can paint on your empty glass bottle. You can also gift them to your kids as home decor to make their room brighter and more colorful.
Spray painting the whole bottle with white and incorporate bold colors when making polka dots to make it bolder.
55. Decorative Farmhouse Bottle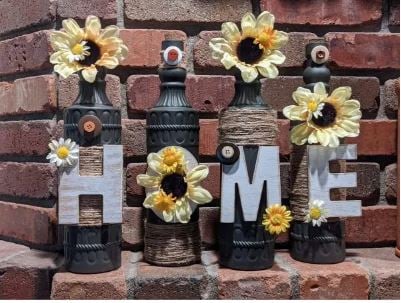 Source: craftbits.com
A farmhouse bottle with colorful flowers can brighten up anyone's mood. Look at this. Isn't it lively?
You can also mash it up and turn it into a candy corn bottle! It can affect your mood positively! Sunflowers are the best!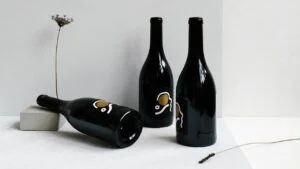 Wine Bottle Crafts Conclusion
Adding these creative ideas to your home décor can make the whole place appealing and induce a positive ambiance that uplifts mood and anxiety.
Experimenting with these ideas, like adding a self-watering feature, is what makes these ideas fun to do!
You can do these ideas in the comfort of your home without needing any artisan skills and heavy machinery.