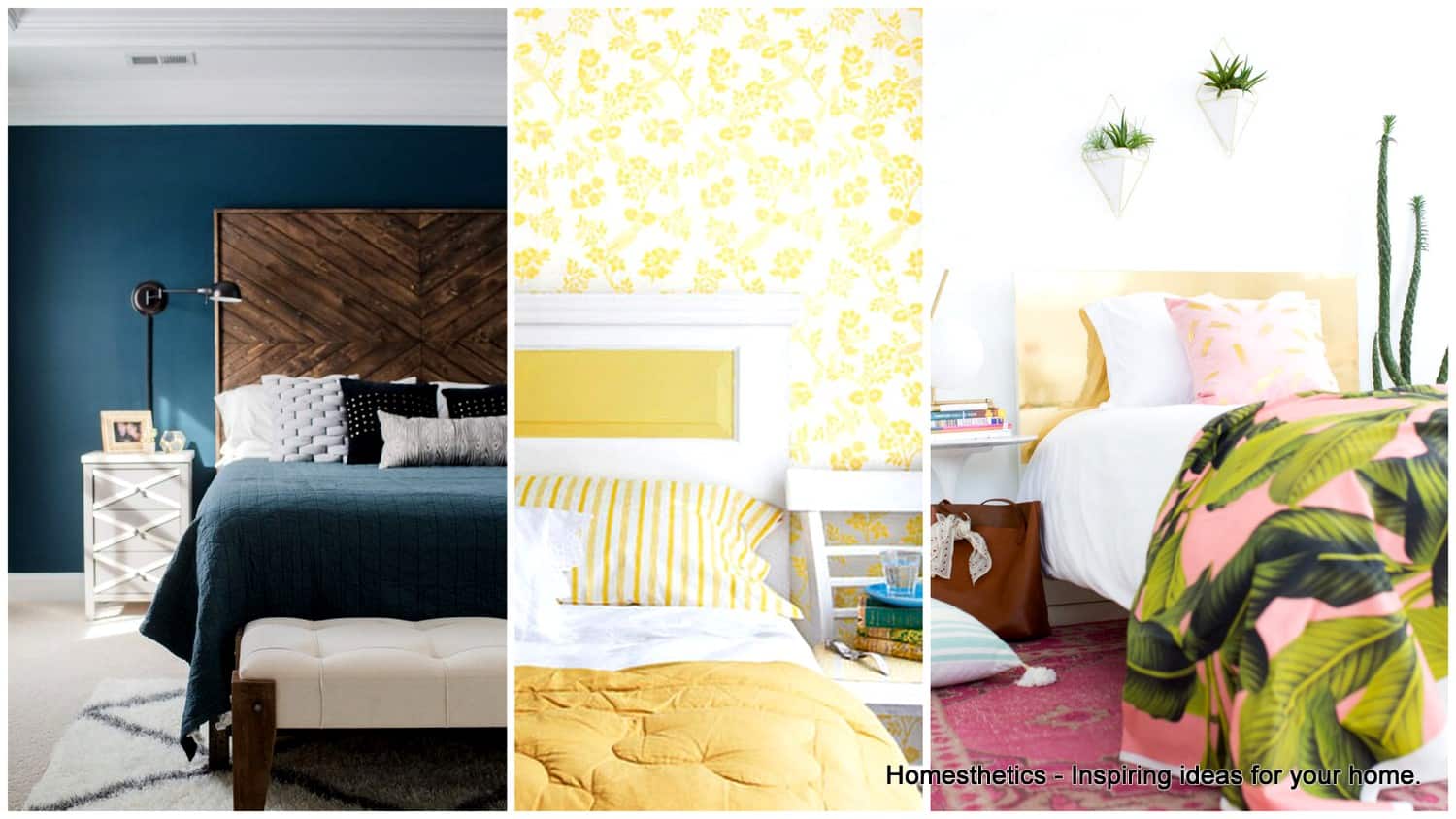 Beds take the front wheel when it comes to giving your bedroom a great look. But what actually makes the necessary impact is the headboard that comes along with the bed or the Homemade DIY headboard that you can build!
That's quite true! A bed without a headboard often gives a bland feel to the bedroom, as if something is missing. But the whole interiors get uplifted when a headboard is installed, however simple it may be.
Now, there are a lot of headboard designs in the market you could opt for. And then, there are many interior designers that could help you choose one that best works for the bedroom.
But nothing gives you the satisfaction of making your own headboard that not only transforms your bedroom but also gives it a personalized touch.
So, if you have some time on hand, and are willing to design the best headboard by yourself, then we're here to give you a kick start with some amazing ideas.
Now, these designs are not only easy to make but are also easy on your pocket.
Wanna have a look? Well then, jump right in!
Smart Cheap Homemade DIY Headboard Ideas
1. Pillow Headboard
The first on the list doesn't require a lot of effort from your side, as it's made of one of the things that are readily available right at your home, or at any bed and bath store – pillows.
All you have to do is get some pillows and mount them on your wall. To give it a look that complements your bed, you can get some covers that go well with the sheets and blankets that you have used.
Better yet, just take all the little pillows from the bed and place them on the wall, and you're done!
However, there's one issue with this type of setting, as the pillows tend to catch up dirt soon, and you might have to use them often. So, if you do decide on going with this design, then make sure you mount them in such a way that they're easily detachable.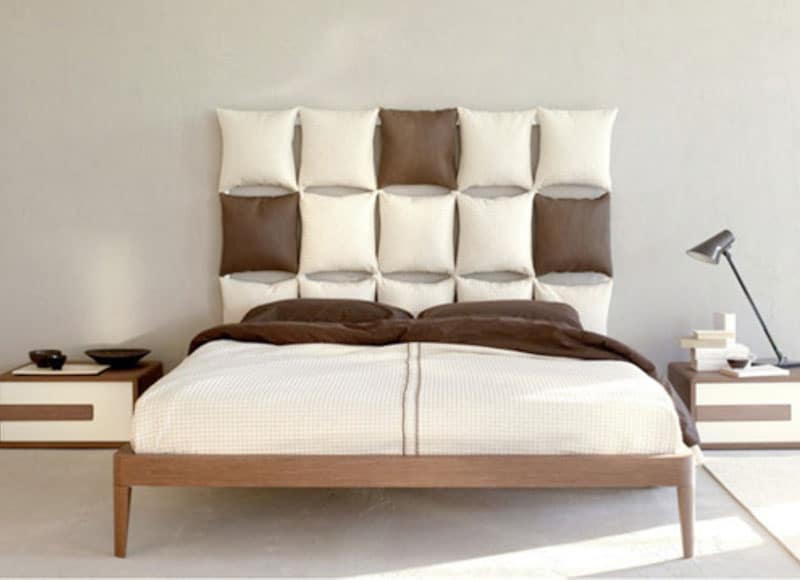 via freshome.com
2. DIY Faux Brass Headboard
If you happen to have a plain IKEA headboard at home that's old and needs an uplift, then you might want to try this one out.
It's quite simple to make, and you would need some gold adhesive foil (vinyl one would be preferable), and a pair of scissors.
Measure out the foil as per the dimensions of the headboard, cut them out, peel off the metallic vinyl and stick the sheet carefully along the headboard, and you're done.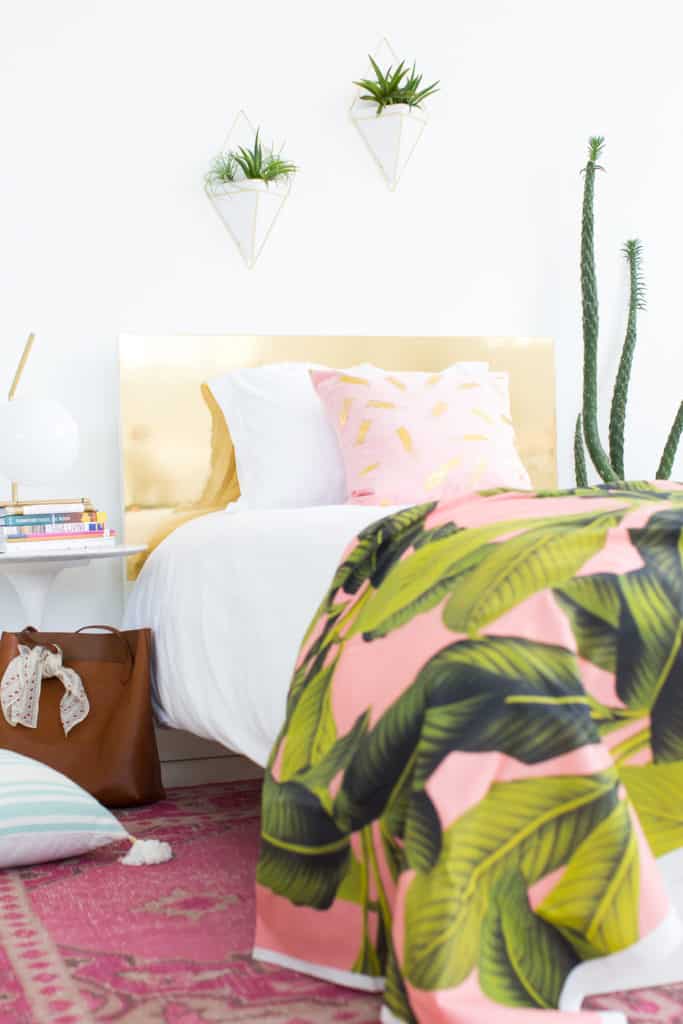 3. Sweet Dreams 

Headboard
Do you have some old picture frames lying around your home? Then you could probably use them to make a pretty little headboard. If not, you could pick up a few cheap ones at the dollar store and get on with this project.
Print out the letters 'SWEET DREAMS', frame them up, and mount them on the wall. You can even personalize the letters into the names of the people using the bedroom, or just some other wordings.
This idea will work great for children's bedroom, especially that of little girls!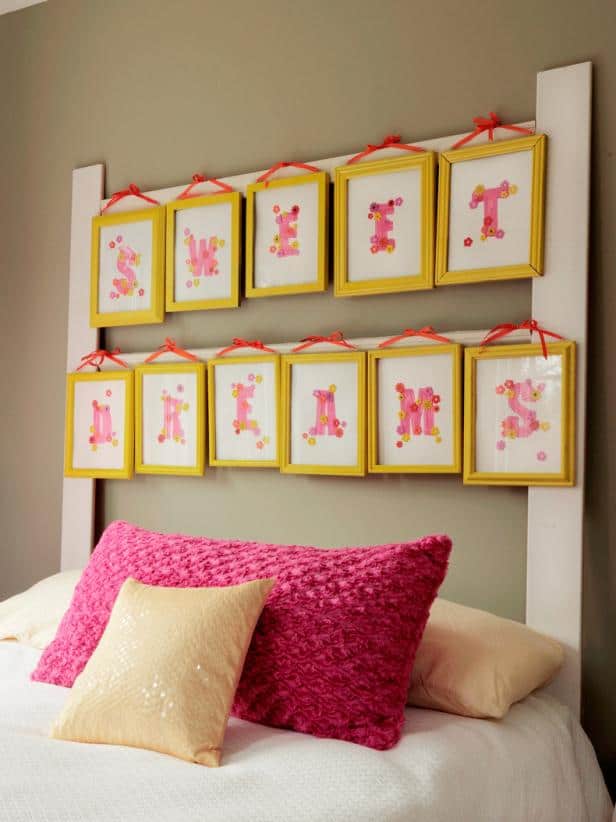 via www.architectureartdesigns.com
4. An Artsy Collage Headboard
Pick up a few canvases in different sizes from an art store to create an artistic headboard for your master bedroom.
Paint these boards in high or semi-gloss paints in bold colors and mount them on the wall as shown in the picture. Also, outline these pre-stitched canvases with a contrasting color to give it a finishing touch. This gives your room a chic and contemporary look that's to die for.
And in case you find these canvases too expensive, you can even replace them with cardboard boxes and repeat the technique.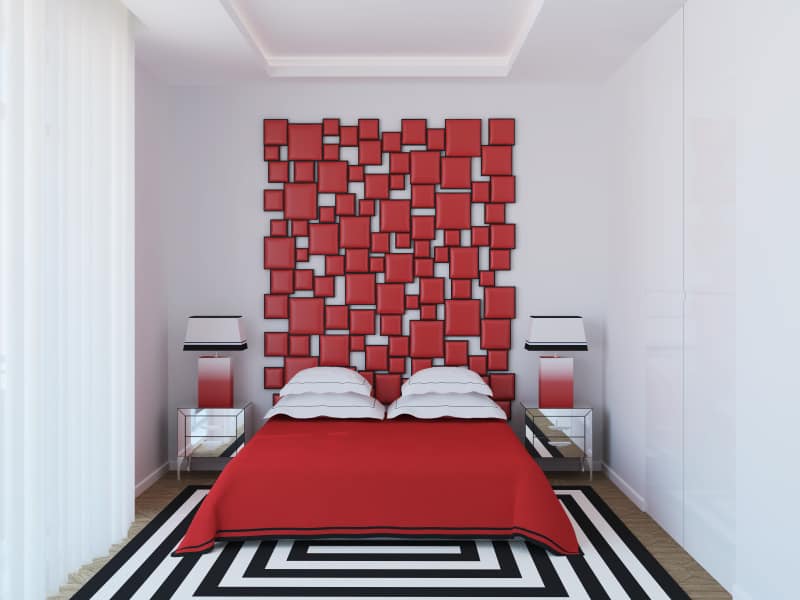 via freshome.com
5. Geometric Wood Headboard
If you happen to have a miter saw at home, this amazing project will be all the easier to achieve. After all, who wouldn't be enchanted by the gorgeous geometric patterns that can complement your bed in style?
To make this headboard, you need to get some plywood and measure them as per your requirements. Cut them down and hammer or glue them to the frame and you're good to go.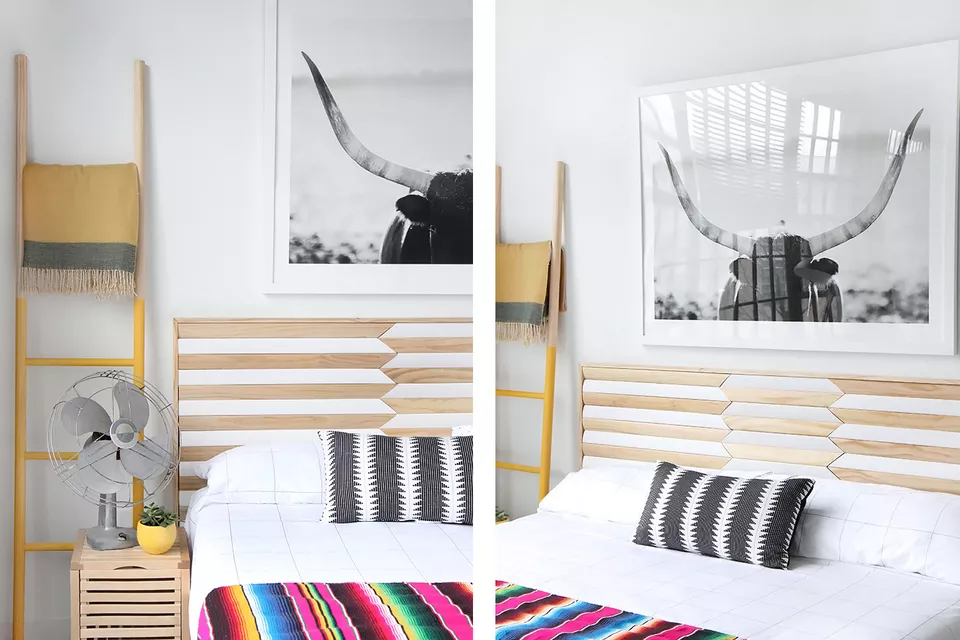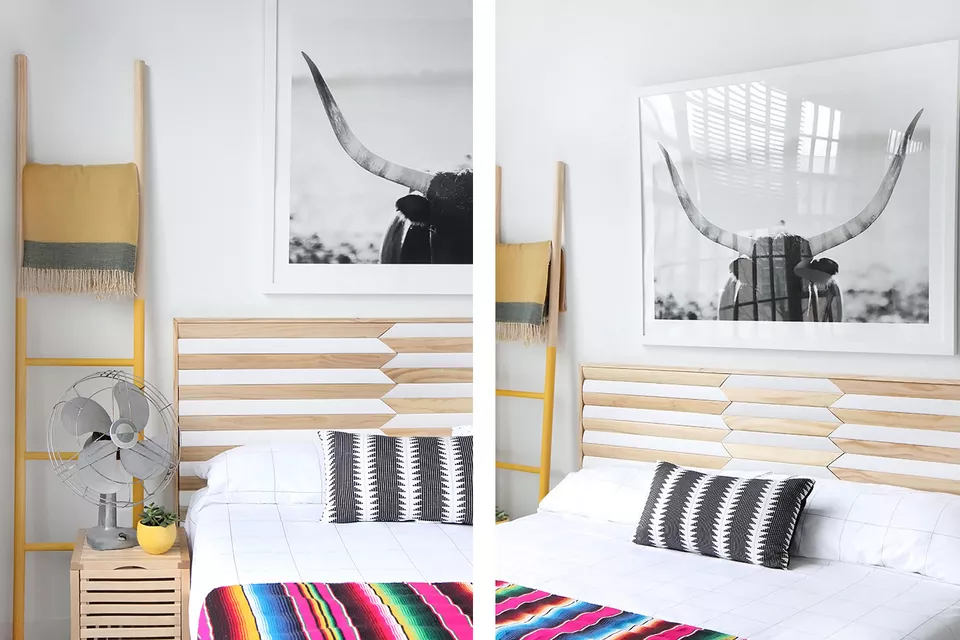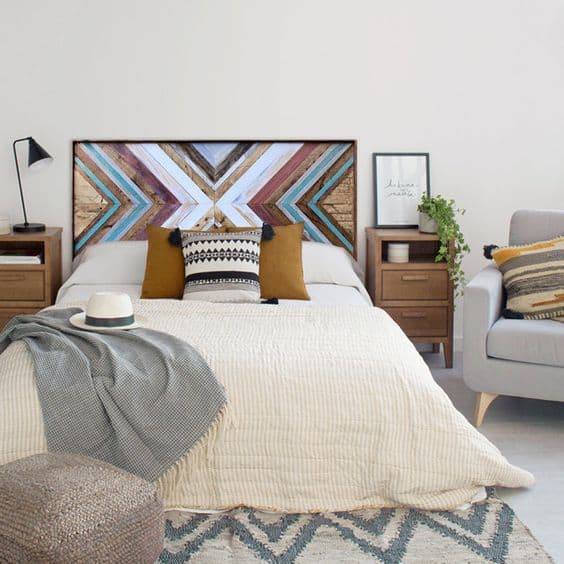 via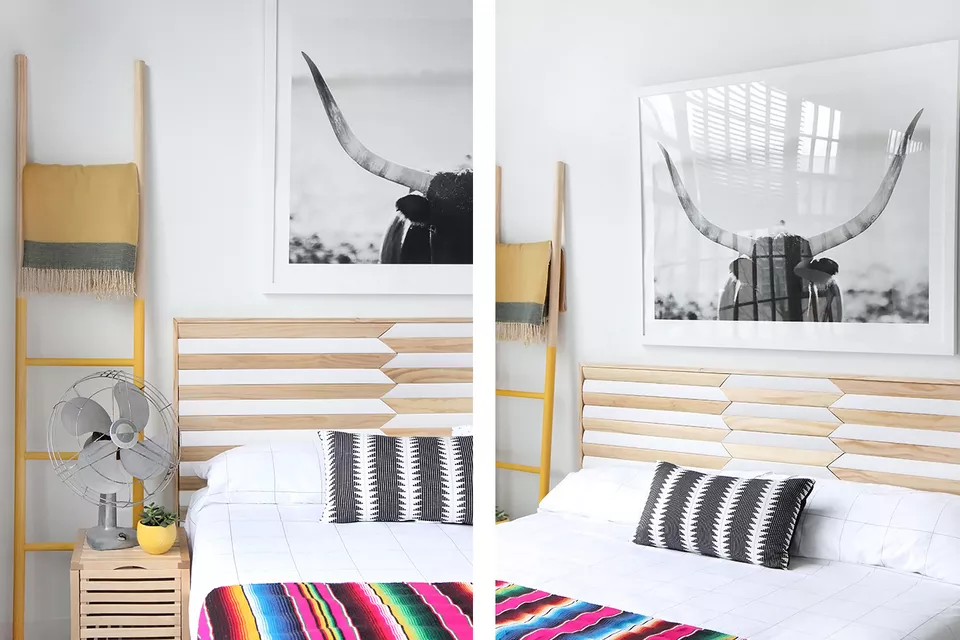 6. Fireplace Mantel Headboard
Did you move into an apartment from a house, and have an old fireplace mantel that you don't know what to do with?
Well, this one's a great idea for you to work on. And oh, it's extremely easy too.
Just set up this spare mantel behind your bed, and decorate it with a tufted upholstery (preferably in vintage design), and voila, you have a medieval-look inspired headboard that immediately uplifts your bedroom.
Simple, isn't it?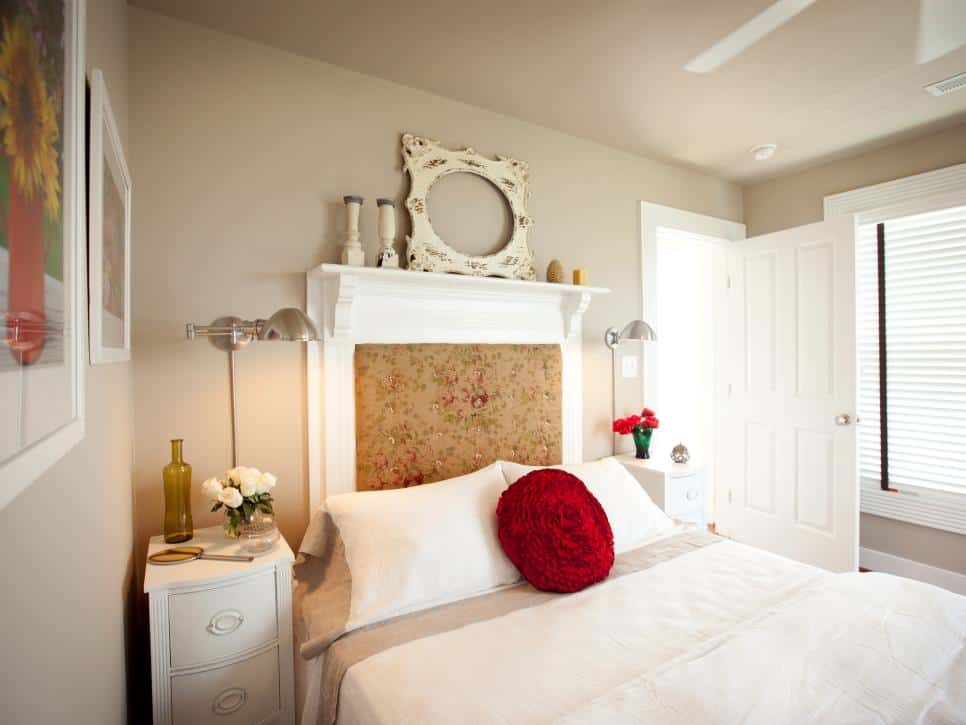 7. Work of Art as a Headboard
Now, we all love to place works of art around the house to give it a more finished and beautiful look. But using it as a headboard would be something that wouldn't cross your mind quite easily.
But why not give it a shot?
Try using a huge mural, or landscape painting as a headboard. But make sure it is really big and will cover the broader area of the wall, unlike the standard headboards.
And if you prefer a padded, and softer effect, try printing out the artwork of your choice on canvas, frame it up, and use some upholstery for padding.
There you go! A customized and personalized headboard that transforms your entire bedroom!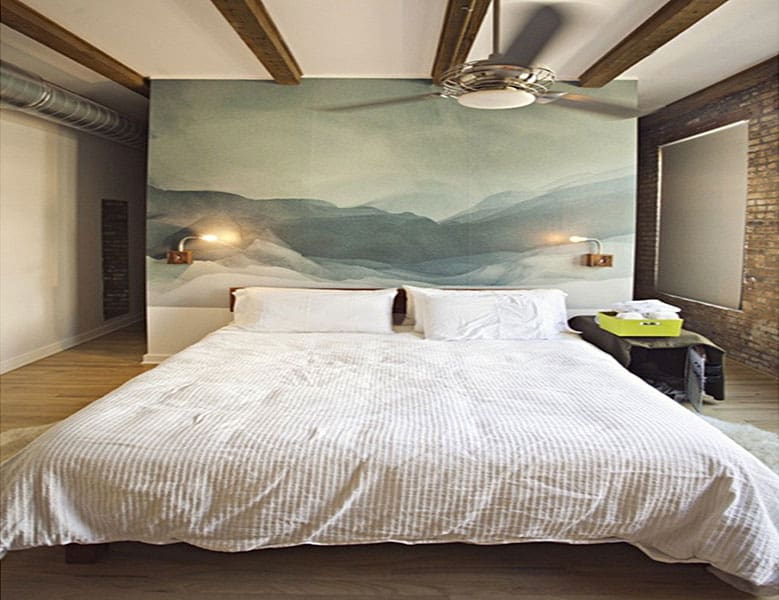 via freshome.com
8. DIY Jute Headboard
For those who are thinking of going for a boho look in their bedrooms, this jute headboard could be the go-to design.
To make this, you can get some jute placemats from the store and put them together in a design before mounting them onto the wall. Yes, it's that easy.
But if you don't want to spend too much on ready-made jute mats, you can as well make your own ones by knitting them. This way, you'll also have the satisfaction of doing everything right from scratch. And of course, there's complete personalization of design.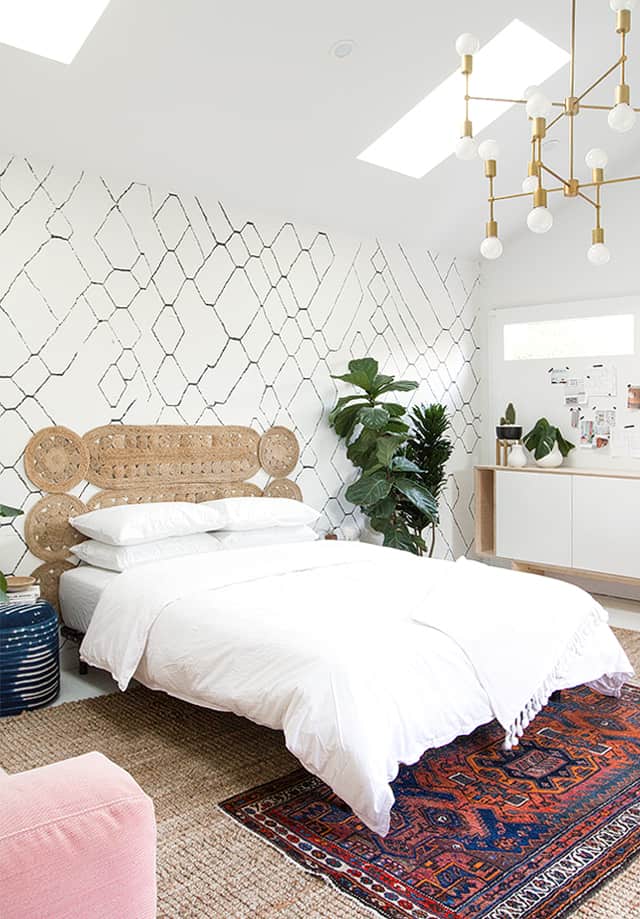 9. Picket Fence
I love using picket fences for my DIY projects. I mean, they're really cheap, easily available, and can be used for a variety of projects. And of course, picket fence headboard isn't an exception to it.
Get hold of some picket fence boards, and cut them up into small pieces. Now, clean them and give each of them a different stain finishing before fitting them up into a frame.
As a final step, mount this frame onto the wall behind the bed to have your very own vintage-looking picket fence headboard.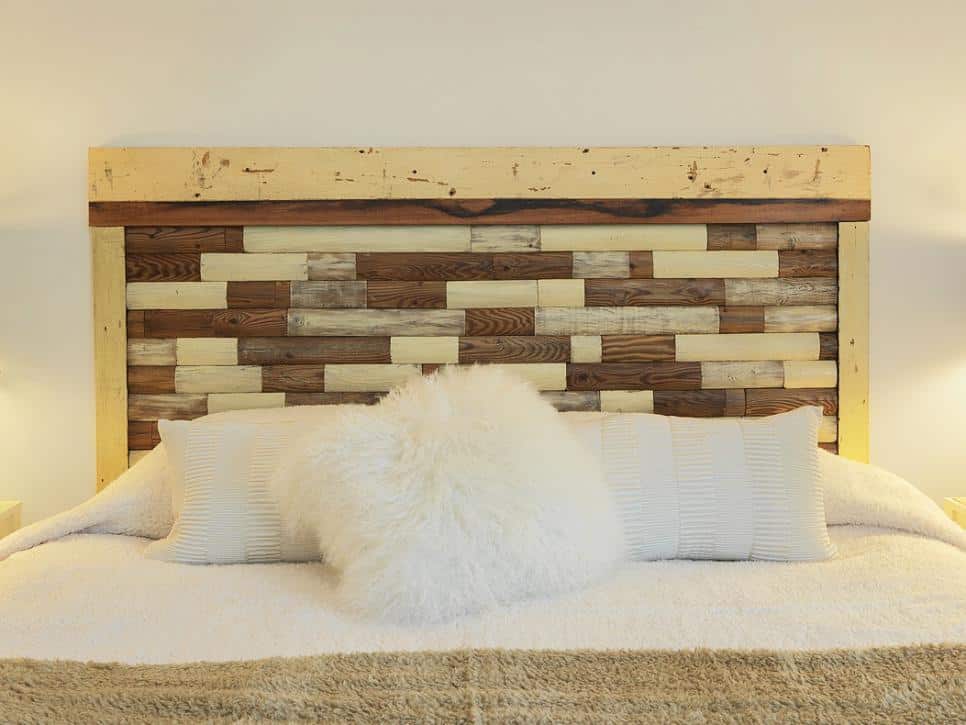 10. Corner Fabric Headboard
If your bed is at one of the corners of the room, as opposed to being in the center, then this idea might just be great for you.
All you need to do is put up two low profile headboards against the two walls where the bed is located, thus creating a simple corner headboard.
To give it an elegant finish, you can cover it up in a nice fabric. You can even add a tailor-bed skirt to complement the look further.
This works great for smaller bedrooms with a single or twin bed, unlike the master bedrooms.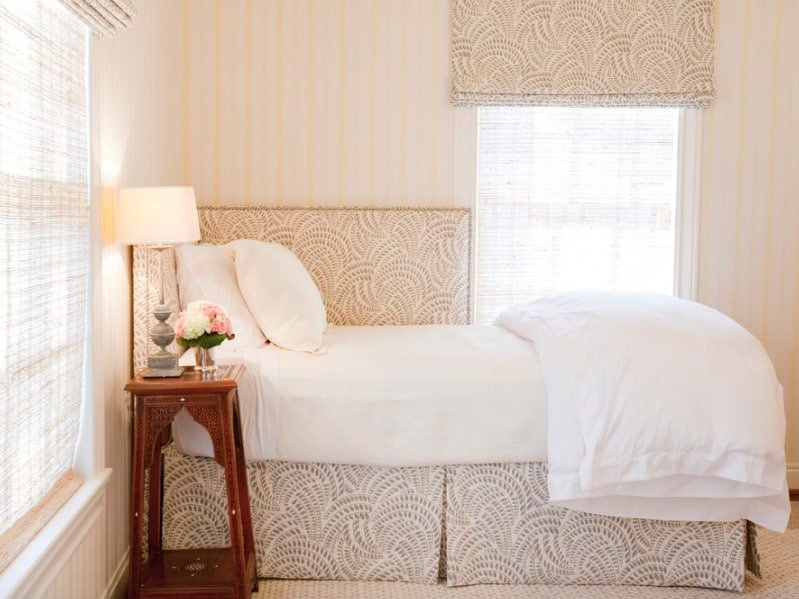 via freshome.com
11. Channel Tufted Headboard
If you aren't one for the traditional headboards, then you might definitely want to give this design by Emily Henderson a try.
It's super easy, stylish, and can be accomplished over a weekend. Combine it with a matchbox style side table to give alleviate the whole look.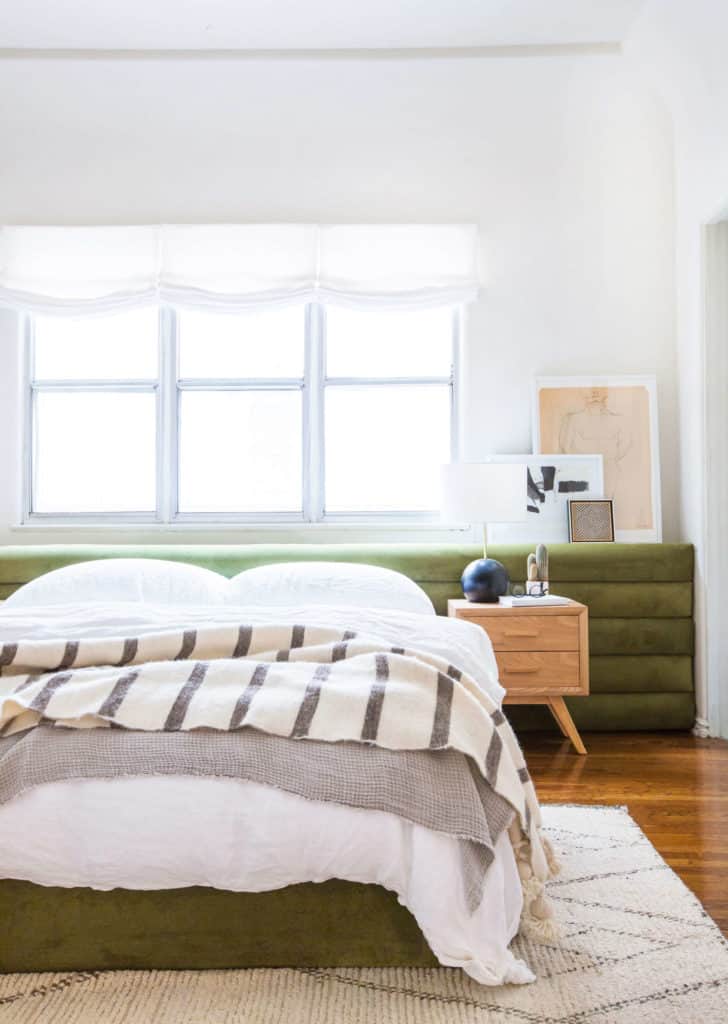 12. 'It's Not Metal!' Headboard
Don't want to put too much effort into your headboard but want to have something that looks great? Then have a look at this one!
It is made with PVC pipes, which are coated in silver paint and had clothespins attached to twines that were strung between these pipes. A few postcards are pinned to the headboard to give it a finishing touch
This industrial-looking headboard works great for guys and those who love traveling around and putting up their pictures and postcards in their rooms.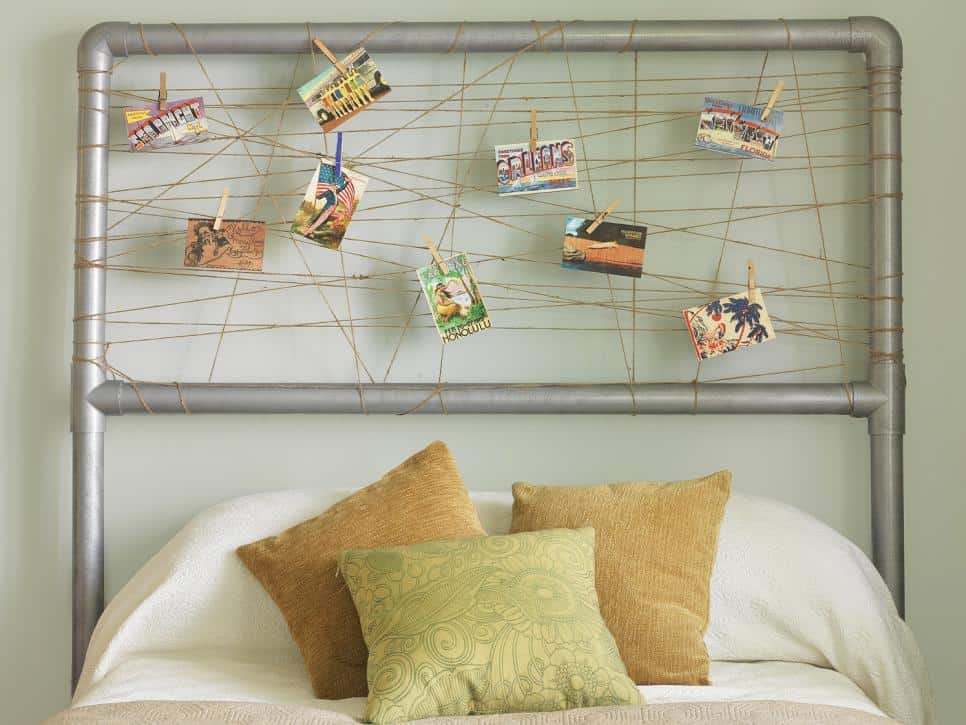 via wismahome.com
13. Three Dimensional Fabric Headboard
When I first looked at this headboard, I thought that it was quite difficult to make. But boy, I was surprised when I found out how easy it was.
For this elegant three-dimensional headboard, collect cardboards of different sizes and wrap them up in the fabric of your choice. Then use command hanging strips to create an amazing headboard wall in three dimensions.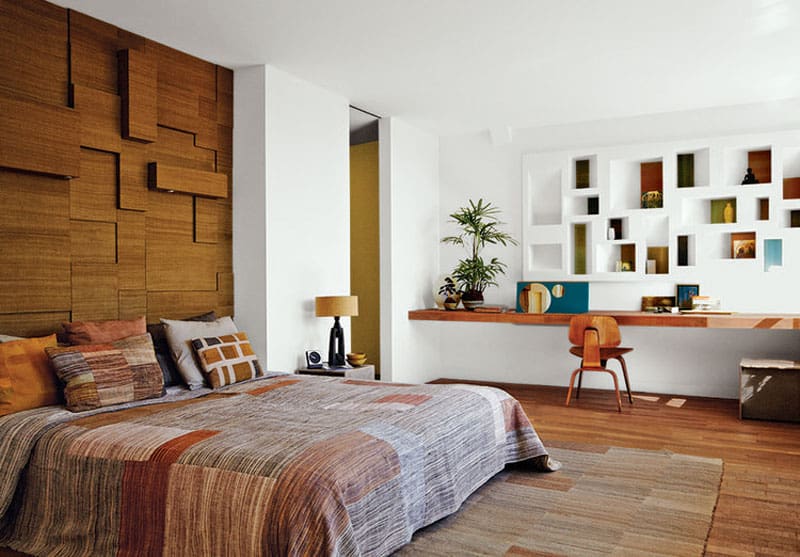 Source Unknown
14. Cedar Shingle 

Headboard
New to DIY projects? Don't worry!
Got $10 to spare? Perfect! Because that's all it takes to make this gorgeous headboard.
All you need is some wood, hammer, nails and a couple of hours on your hand, and you're good to go!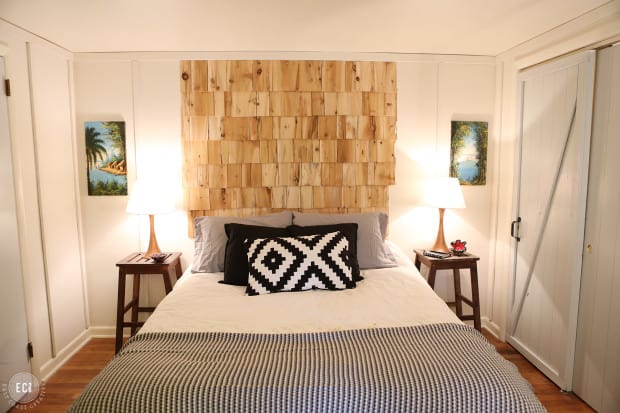 15. 'Sail off to Sleep' Headboard
This is another PVC pipe inspired that's quite easy to make.
Just paint the pipes in silver to give the frame a metal look. And to give it a finished look, take a small piece of boat sail and fasten it to the frame with the help of some rope and grommets.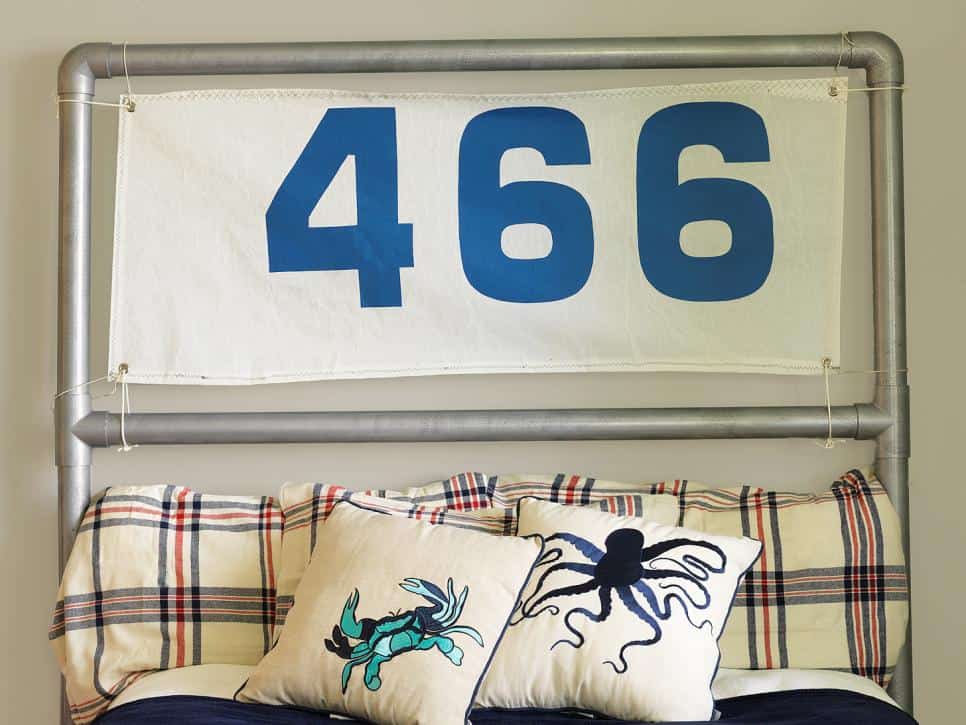 via www.denhartbakingcompany.com
16. Fabric Mosaic 

Headboard
Now, if you want a headboard that gives your bedroom an elegant look, then you could probably go with this beautiful fabric mosaic for the headboard.
Get some foam that's about 2 to 5 inches in thickness and get it cut into the desired size by the shopkeeper – be it rectangles of squares.
Wrap these pieces of foam in the fabric of your choice and suspend it on the wall with the help of command hanging strips.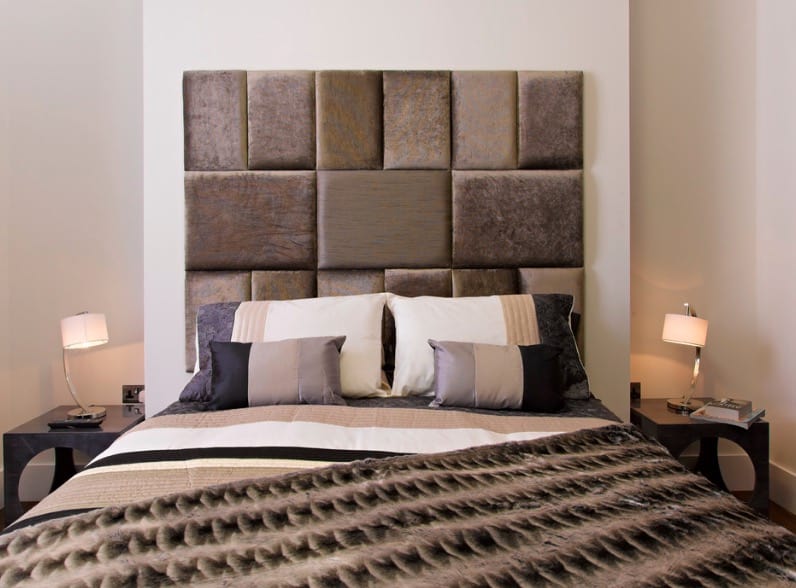 Source Unknown
17. Plywood Headboard
For those who love minimalism, this headboard is no less than a perfect choice.
All it needs is a piece of plywood to be mounted on the wall, and a hammer and some nails to fix some shelves on to it.
You don't even need carpentry skills to make this, as you can get pre-cut pieces of plywood from the shop directly.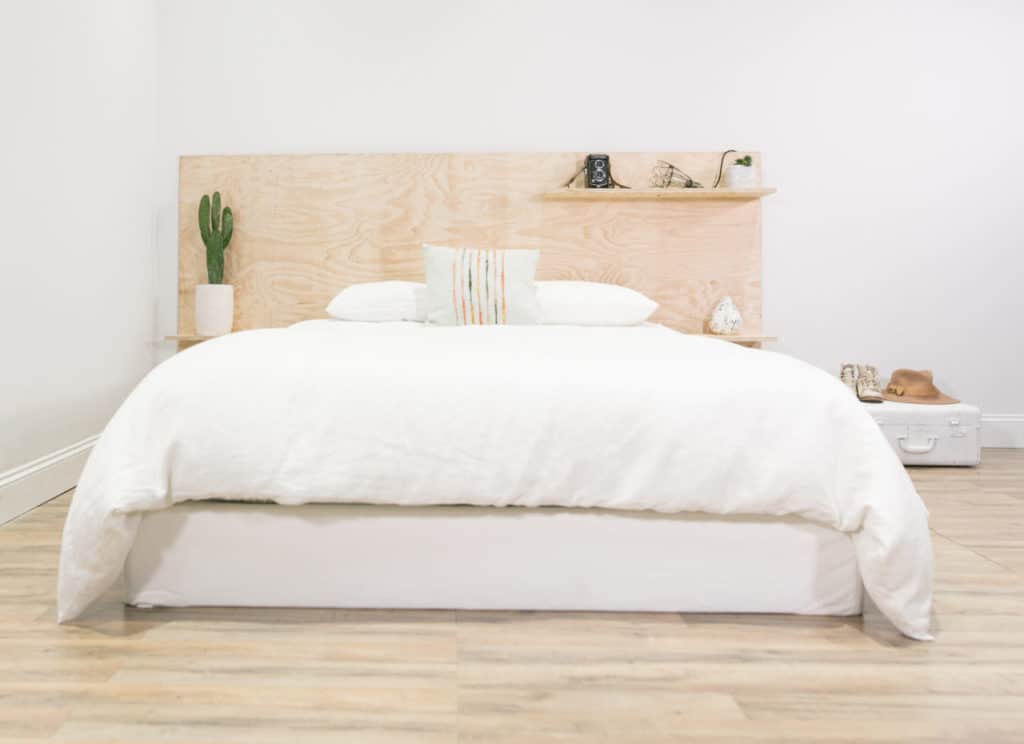 via mrkate.com
18. Slated Lean-able Headboard
What's great about this headboard? It's sleek, slatted and can be leaned back whenever needed so that you could sit back and relax by reading a book or watching a TV show.
This is great for those who wouldn't love spending time and do things from the comfort of their bed, like me.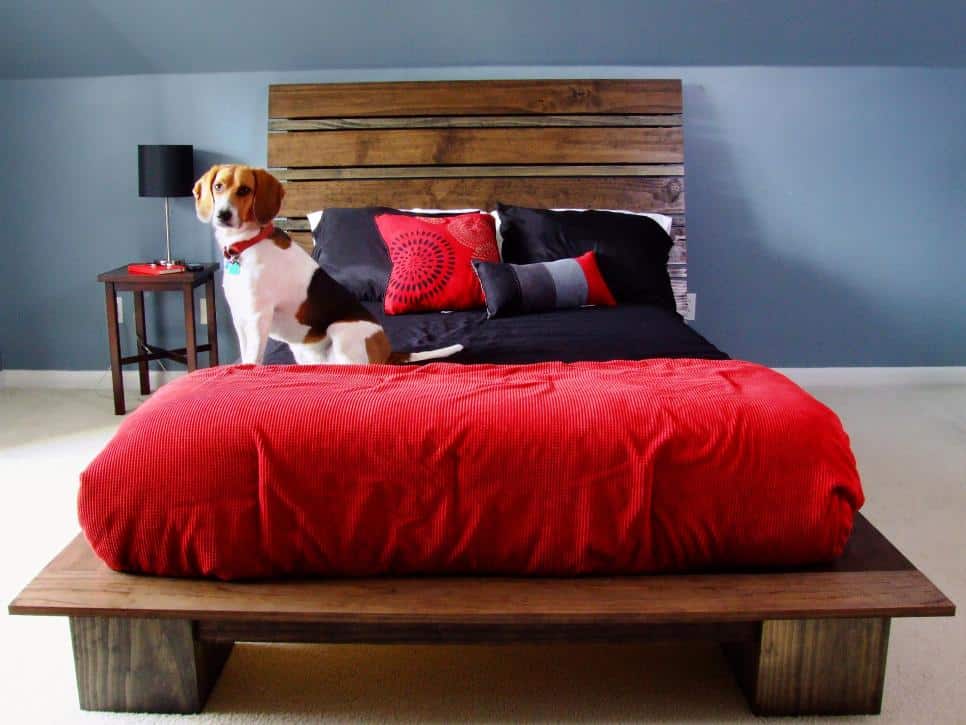 via homesthetics.net
19. Narrow Vertical Panel Fabric Headboard
I often like to experiment things the unconventional way. So, when I came across this project, I was quite fascinated, as it uses the panels vertically.
What's more! You can even change the striped runners whenever you put on some fresh bedding so that the entire bed looks coordinated.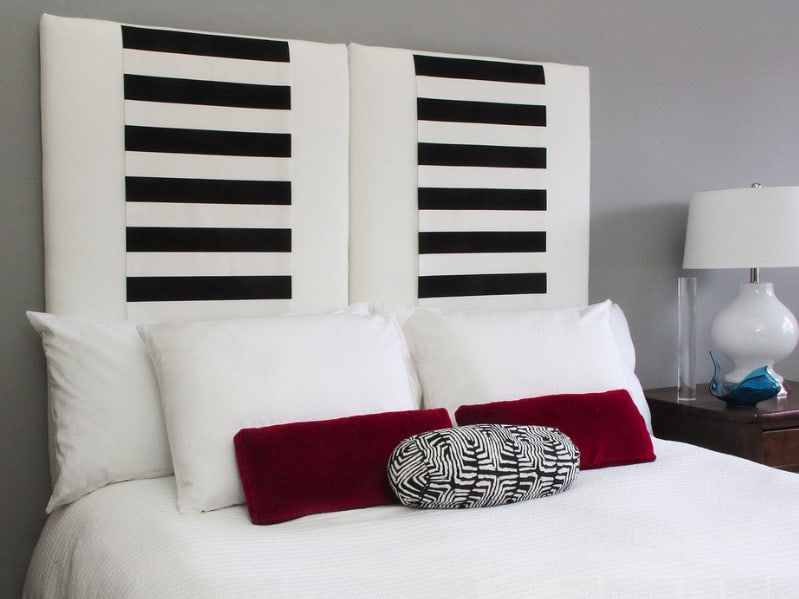 Source Unknown
20. Faux Headboard
Don't want to have an actual headboard but want to create something that gives the same look instead? Then you might want to give this one a try!
Just create a rectangle frame with the help of a painter's tape and paint it all over with a brush. Believe me when I tell you that it wouldn't even take more than an hour.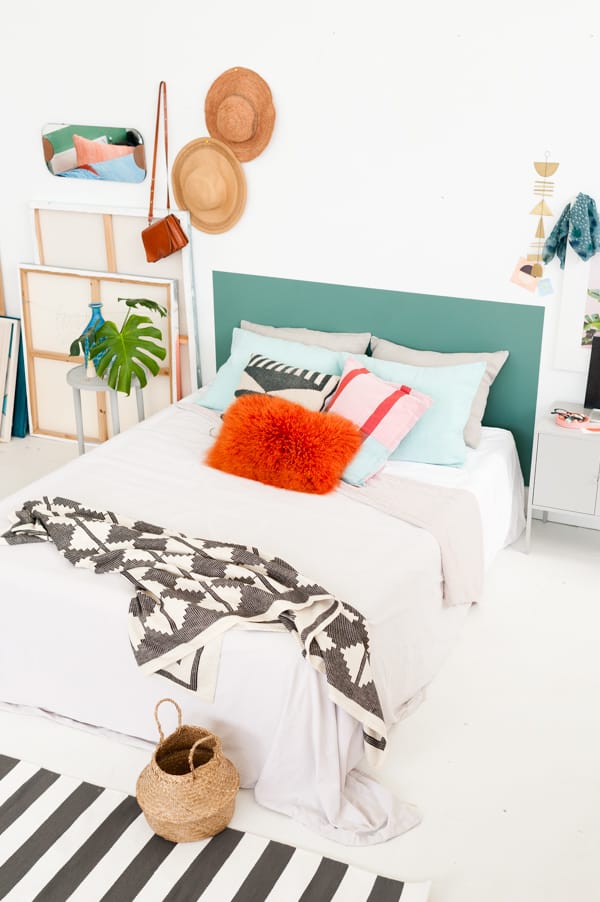 21. Cottage Style Headboard
This is another easy DIY project that gives you a feel of magazine and catalog style headboards.
To achieve this look, you can pick up a standard lumbar piece and fix it to the frame. You can paint the whole board white to give it an elegant look.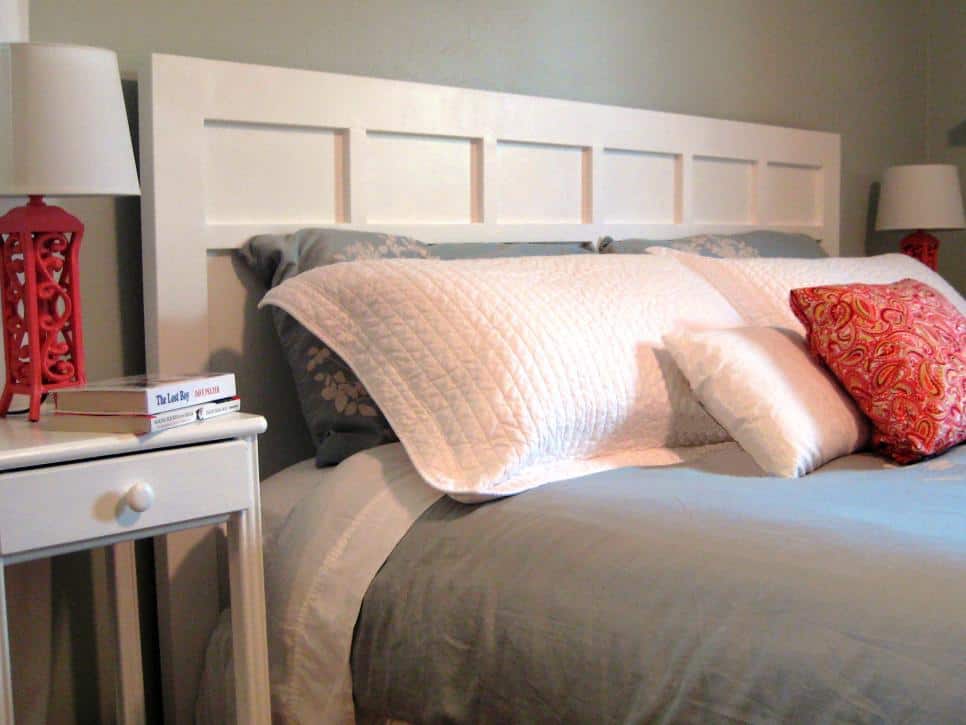 via www.hgtv.com
22. Fabric Panel Headboard
For those who want a headboard that's not just easy to make, but also gives your bedroom a cozy look, this fabric panel project is worth giving a try.
All you have to do is cut a piece of thin wood as per the required measurements and wrap it in the fabric. You can use some hot glue to fix the material to the board or staple it at the back of the headboard.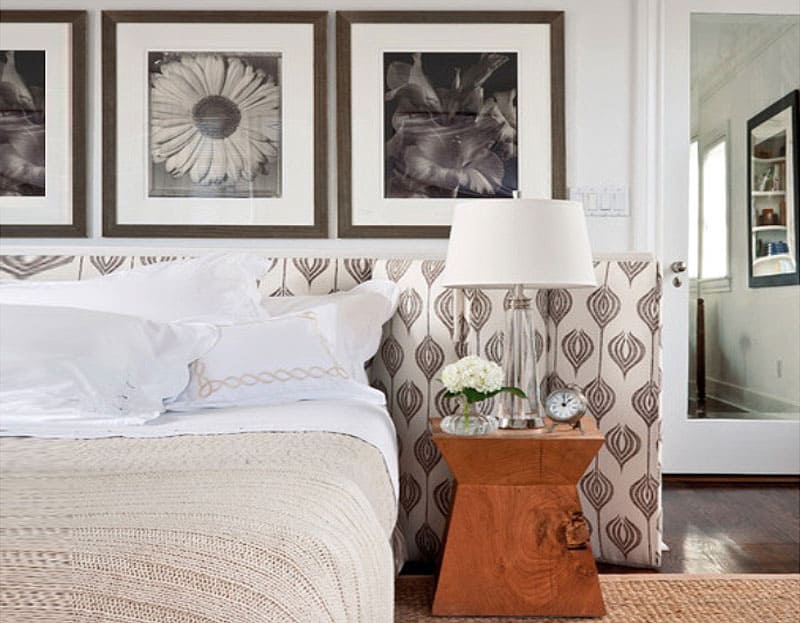 Source Unknown
23. Winged Headboard
Most of the upholstery based projects need sewing, which is why a lot of people don't usually go for them.
But this winged headboards don't need even a single stitch and can be done with just a piece of plywood, some foam, four yards of fabric, 28 buttons and a lot of nails.
Wondering how much everything would cost? Well, only around $140.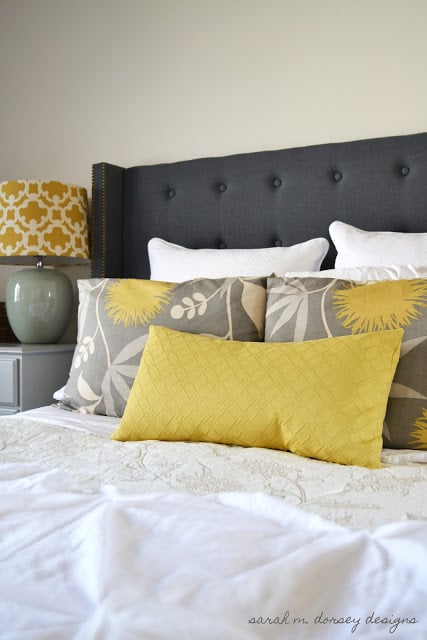 24. Statuesque and Dramatic Headboard
If you're looking to create a dramatic focal point all the way up to the ceiling, then you can give this DIY project a try.
All it needs is some fabric, plywood, optional foam, and things to fasten and suspend the headboard, like a hammer, nails, glue gun, etc.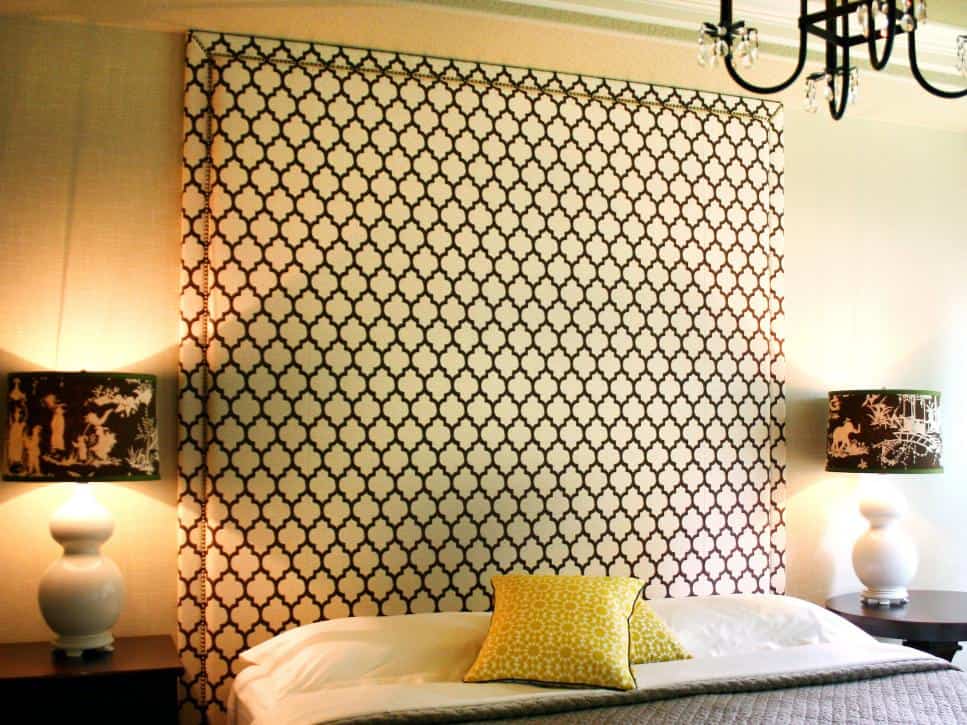 25. Room Divider as Headboard
Want to try a unique and easy way to transform your whole bedroom? Try using this convertible room divider as a headboard instead of the conventional ones.
You can use an old divider or get a cheap one from the store. There will be many to choose from. Now just fix this room divider behind the bed.
You can even paint the divider or the frame to complement the decor in your room.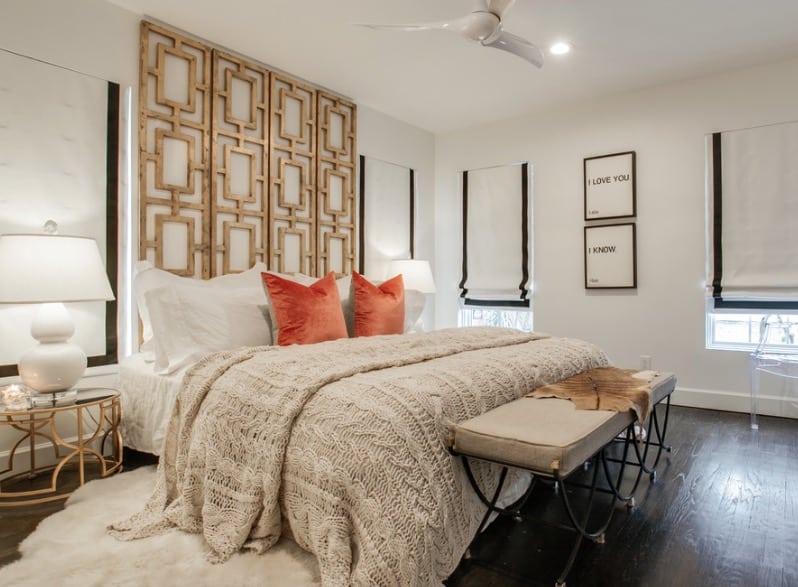 Source Unknown
26. Macramé Headboard
Love dream weavers, yarns, and textiles? Why not use them as a headboard?
Get a beautiful macramé like this from an upholstery store and weave one all by yourself, and suspend it like a curtain by using a tree branch as a frame for an elegant and personalized look.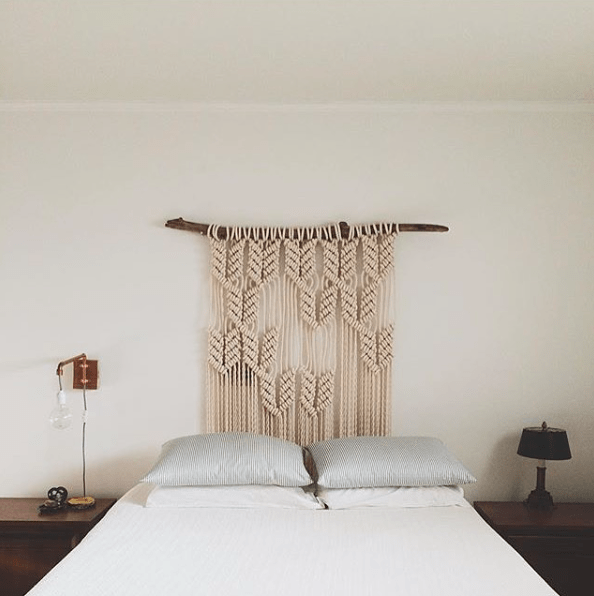 via www.housesparrownesting.com
27. Photo Frame Headboard
Now, this is another headboard you can make by using a photo frame.
Unlike the one I've mentioned earlier in the article, this one has only one large frame with planks lined up on four sides to the desired size.
And what goes inside the frame you may wonder? A family photo that invokes beautiful memories.
via wismahome.com
28. Area Rug as a Headboard
Have an old or spare rug at your home?
Just hang it on the wall behind the bed with the help of a curtain rod to create a unique headboard that's simple and adds a touch of softness.
You can go for a standard 5×8 rug for a queen-sized bed. And go with a design that's thin and light-weighted, like an Indian dhurrie-style rug.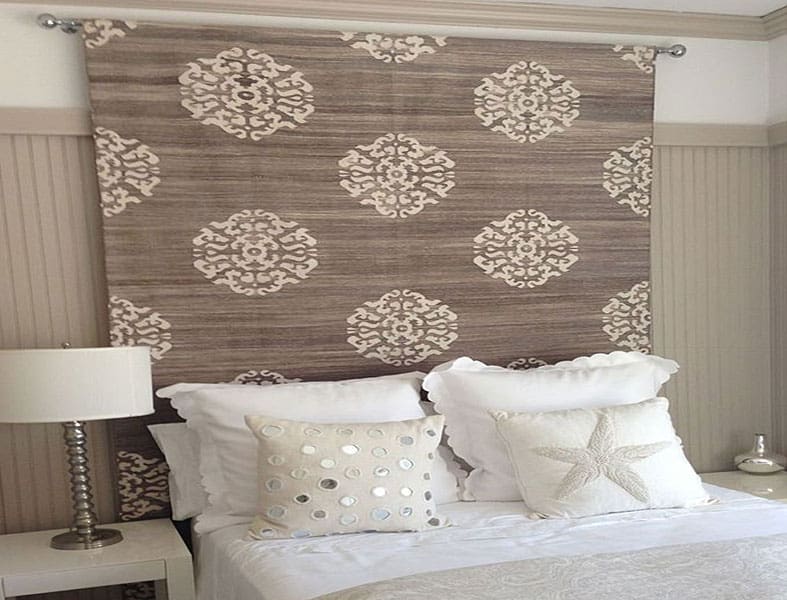 Source Unknown
29. Live Edge Headboard
Beginner at wood-cutting? Worry not! Because this might probably be the easiest wood-based project on the whole list. And it only takes about two hours to complete.
Just saw out the desired design on the plywood and fix it behind your bed. Voila, you're good to go!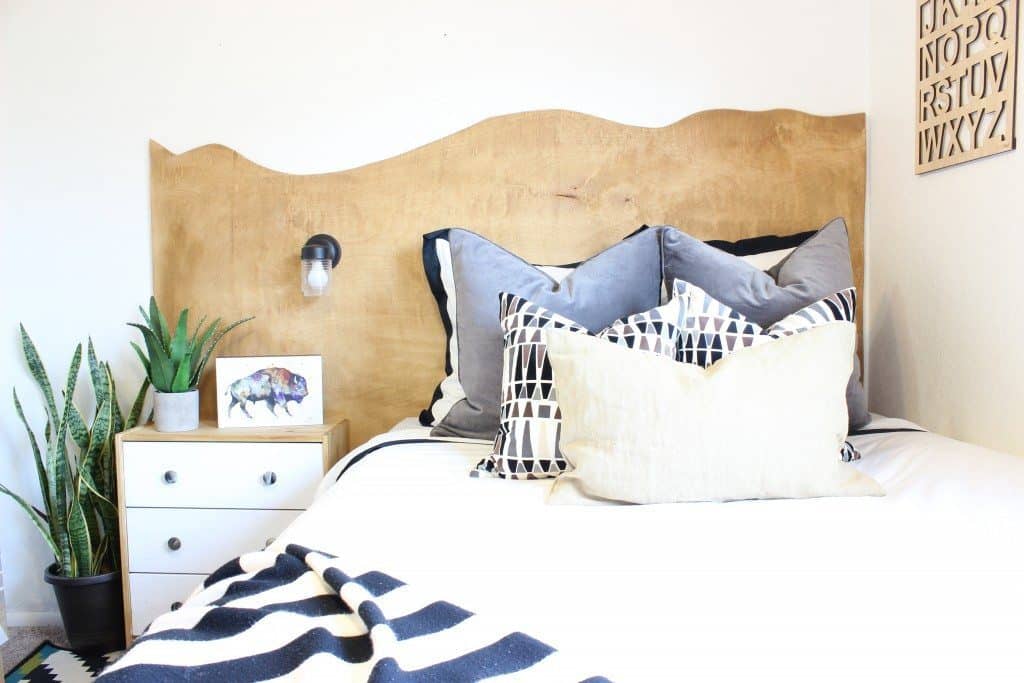 30. Rustic Style Headboard
A simple tongue and groove style headboard, all you need to make this one is some wood, hammer, and nails.
After you frame the board together, distress it and give it a barn-wood or stained finish to complete the look.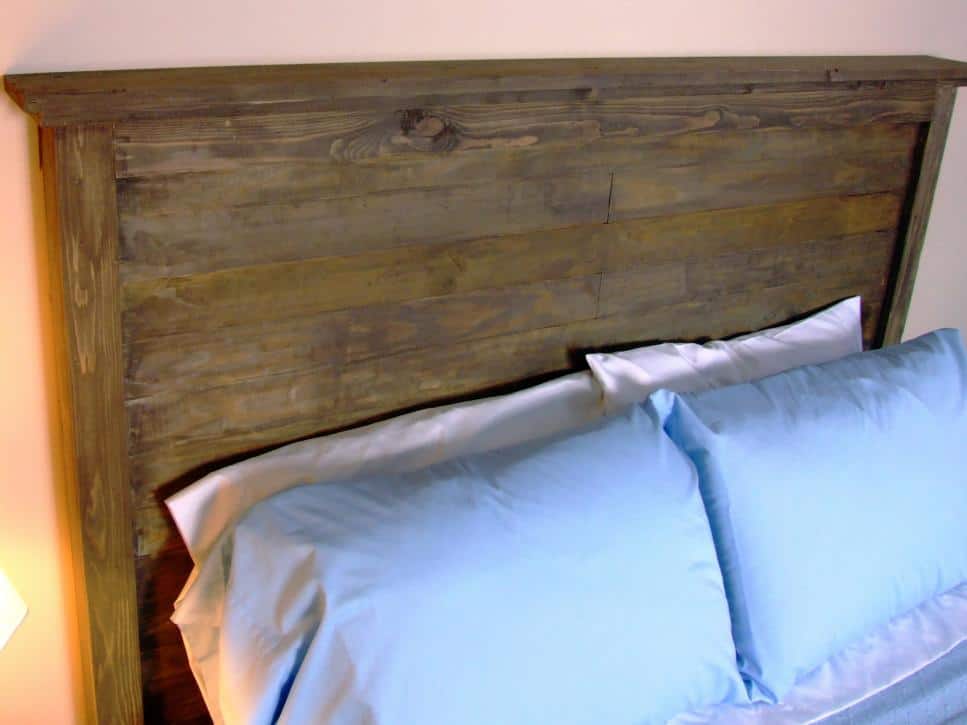 31. Floating Furniture as Headboard
If you happen to have a sprawling bedroom with the bed placed in the center. Then you can go with this eccentric idea for the headboard, to give the whole area a much better look.
Just place in a dresser or a cabinet with closed drawers behind the bed and place some lamps on the top, to give out some light while you're reading in the bed.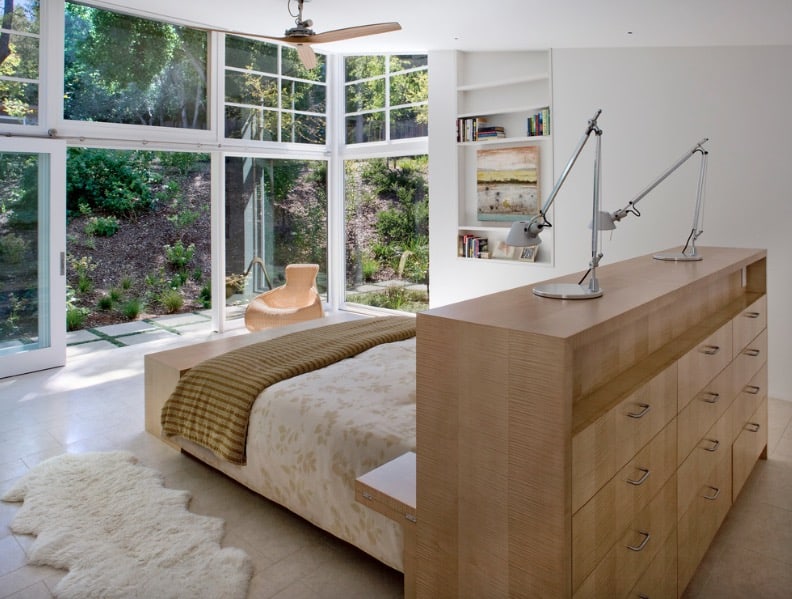 Source Unknown
32. Pegboard Headboard
Like bold colors? Then, spruce up your bedroom with this peppy headboard.
Get a few pegboards and screw them onto the walls using some anchors. Cover it up in a bold vinyl graphic sticker, or outline the boards using a painter's tape and paint it in desired colors.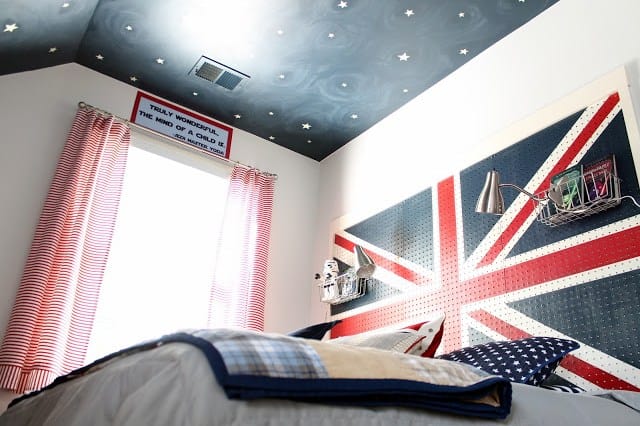 33. Forest-Style Headboard
I made something like this for my sister's bedroom, and boy, it looks incredible. Also, the project was quite simple and didn't take up a lot of time.
For this, I've got an old headboard at a thrift store and painted it in white. To top it off, I've taken some tree branches, repainted them in white, and embellished them in glitter, bird toys and ribbons.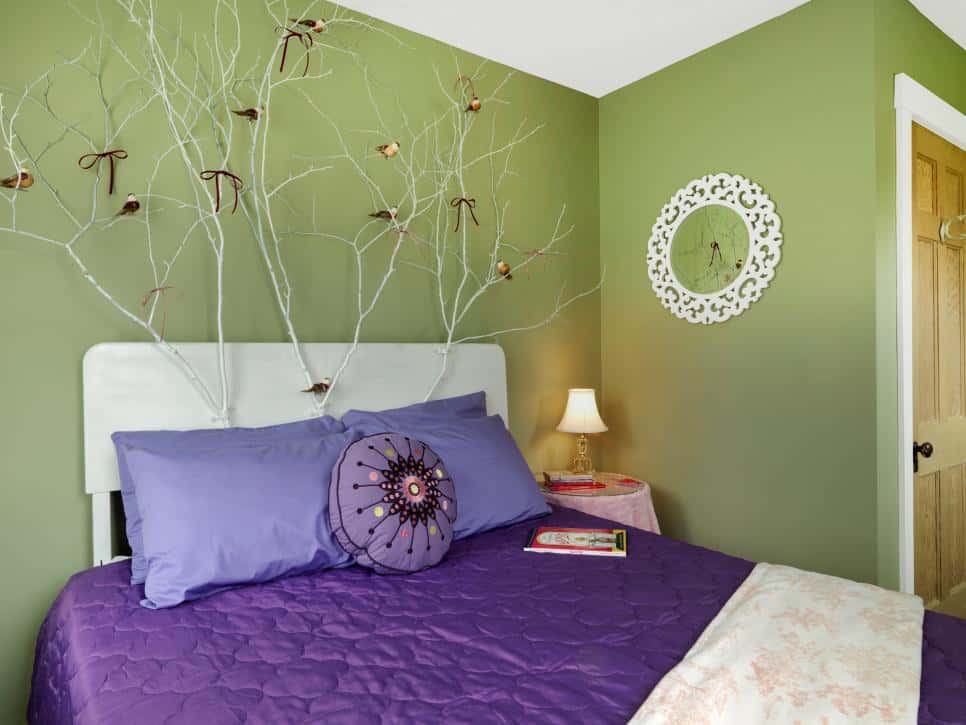 via boatylicious.org
34. Recycled Book Headboard
For those who are on a budget, this recycled headboard is a perfect idea to spruce up the whole bedroom as it only uses leftovers for the entire project.
You can create a plain headboard by fixing some spare pieces of wooden flooring together and frame it up with bamboo poles. Then take some old books and pin them up onto the headboard to give an overall rustic look.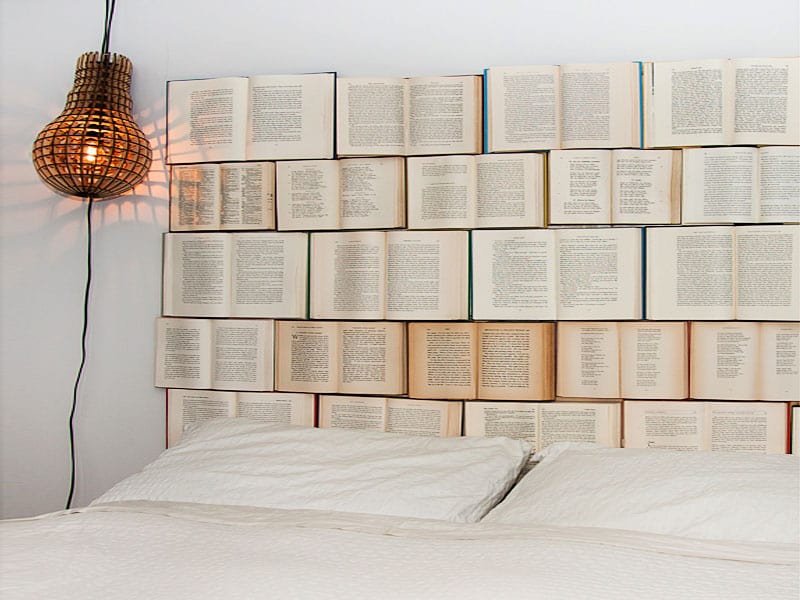 Source Unknown
35. No-sew Headboard
This is another upholstery-based headboard that required no sewing whatsoever!
To achieve the look, you can take an old headboard and pin some upholstery to it using a staple gun. To give it a fluffy feel, you can attach some foam to the board and wrap it in velvet.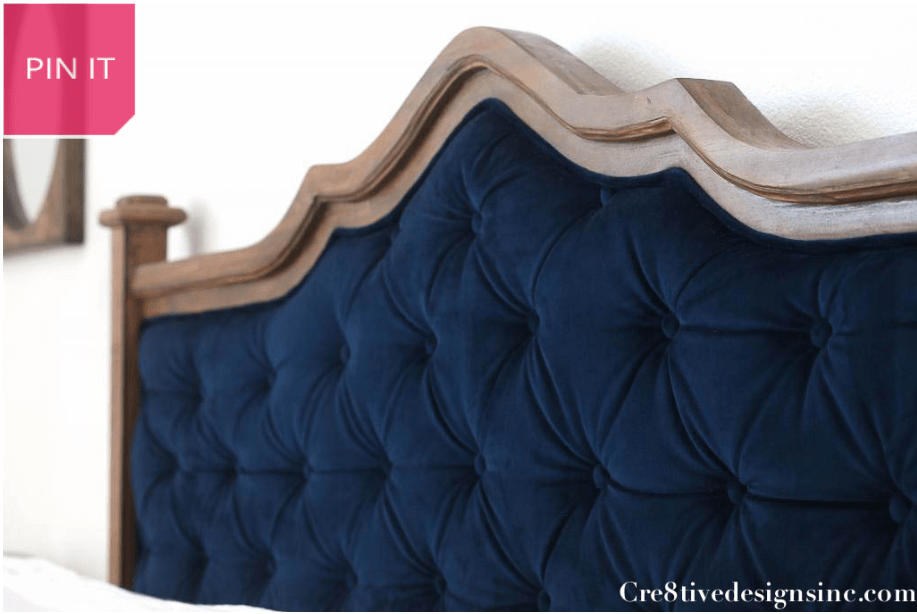 via www.cre8tivedesignsinc.com
36. Twinkle Twinkle – On the Wall
Have a baby boy at home? Then this DIY project is just perfect to make his room all the more beautiful.
Place a basic headboard in dark blue shade to give the look of a night sky and adorn it with the help of fairy lights and glow-in-the-dark stars to give it an extra sparkle.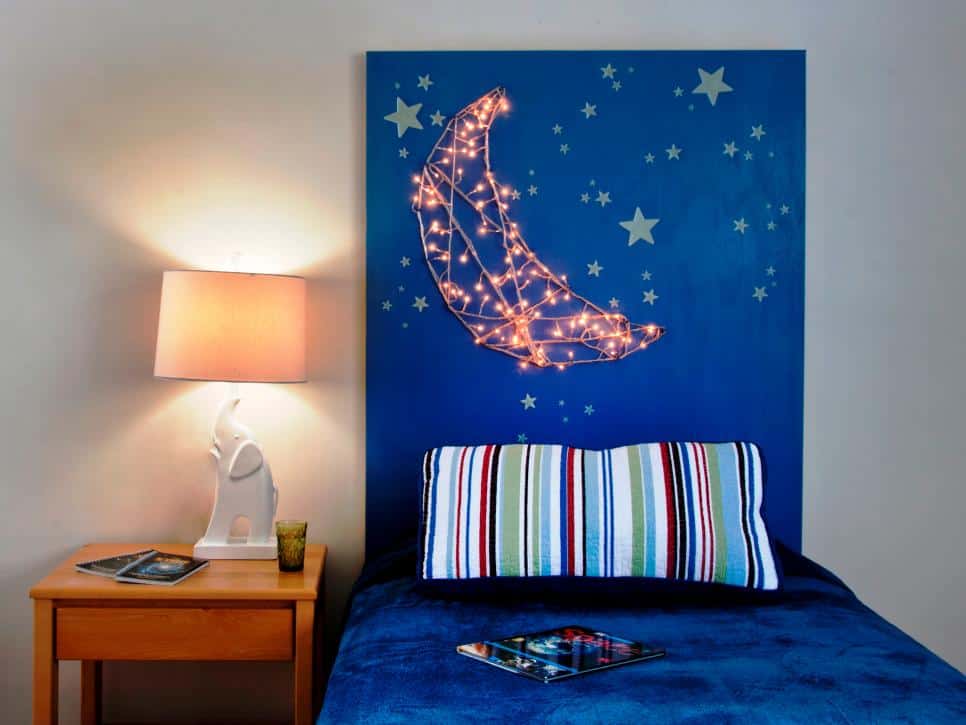 via insightfully.co
37. Picket Fence Headboard
Like I said, there's no scarcity of ideas when it comes to using Picket Fences for DIY projects. Here's another headboard idea that you can do by using picket fences, and give your bedroom a rustic feel.
For this one, you'd need dog ear fences which are fixed together and placed behind the bed. To finish the look, you can add a couple of clamp lights on either side. This will not cost you more than $10.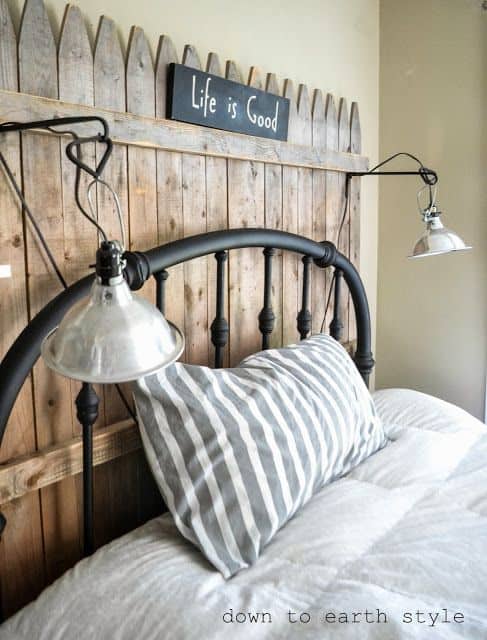 via downtoearthstyle.blogspot.com
38. T-Shirt Headboard
Now, you must have heard of using t-shirt quilts, but have you ever heard of using t-shirts as headboards?
Well, take out all those old jerseys and sew them up into a collage and fix it up behind your bed. To make it squishy, you can even staple it to a plywood, with some foam inside.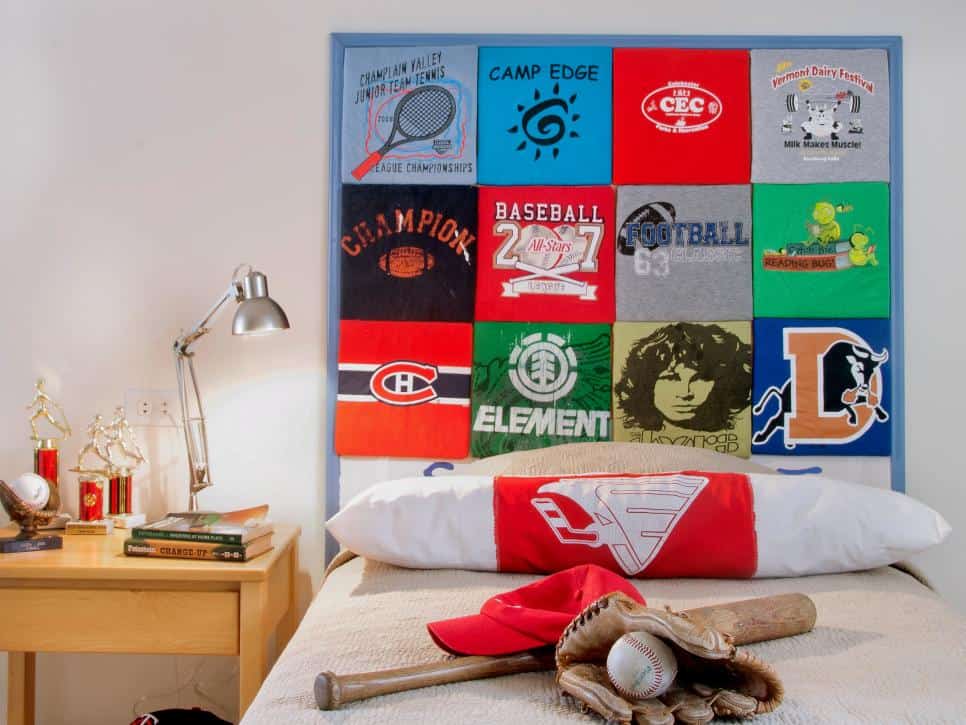 via diyjoy.com
39. Wall Panels
If you're into LEGO or in our case, more specifically, Architecture LEGO, then you can make a headboard inspired by it using 3D wall panels.
Just get some wall panels from the store, color it in the shade of your choice and frame it up against the wall behind the bed.
This is a great project for kids' rooms. You can even use a multitude of colors for the finish, instead of just a single shade.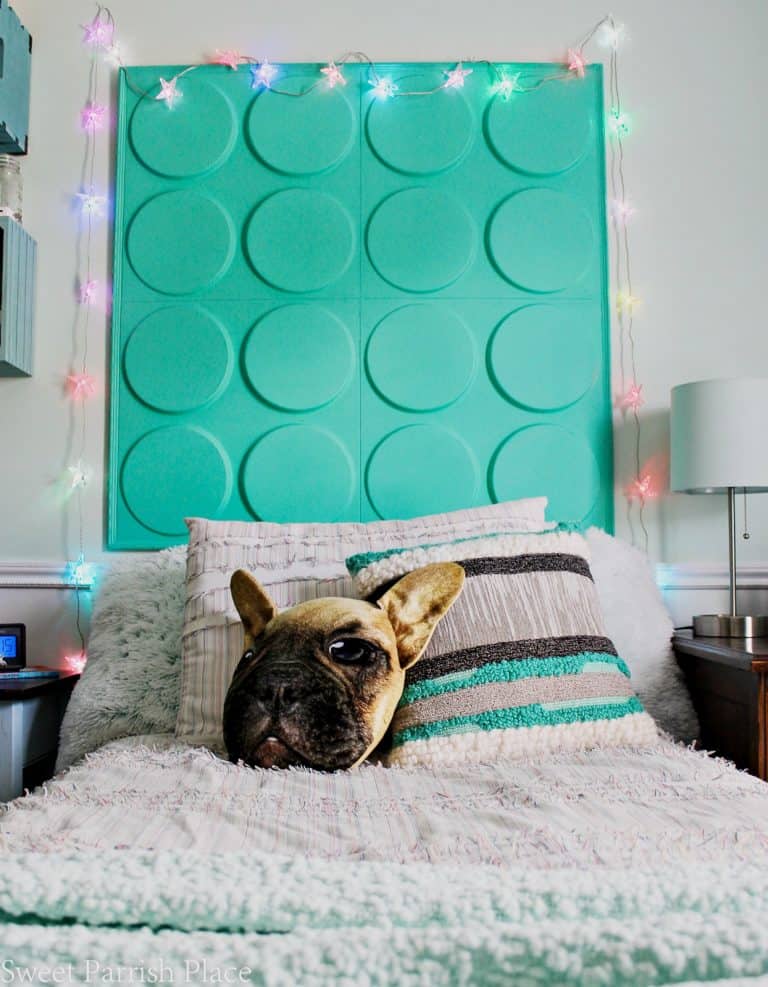 40. Homemade Slipcover Headboard
For someone who likes changing the design of the headboards as per the bedding and decor of the room, this slipcover could be a perfect choice.
Just take a canvas slipcover or drop cloth of your choice and attach it to a plain headboard with the help of ribbons.
You can keep changing the cloth as and when needed.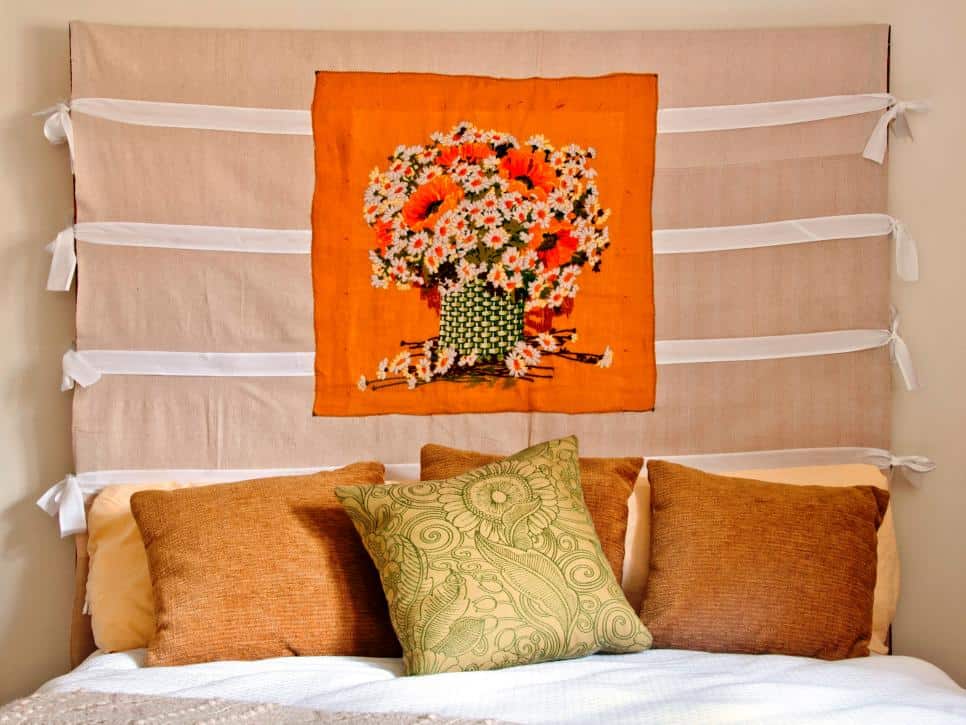 via wismahome.com
41. Bohemian Headboard
Another boho-inspired headboard, this project needs a few leftover bathroom tiles and some plywood.
Place the wood behind the bed and decorate the sides with the tiles. A walnut finish to the plywood will give it a more attractive look.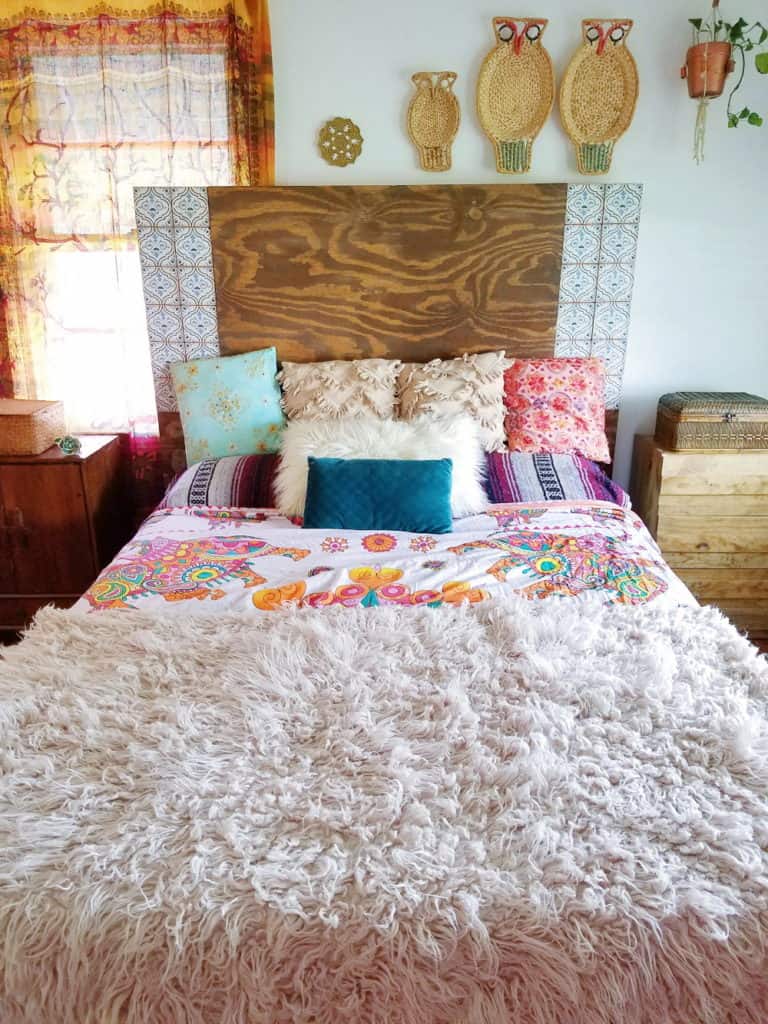 42. Duct Tape Headboard
Love duct tape projects? Then you might want to give this one a try.
Now, it's hard to believe that you can make a headboard with duct tape, but it makes for an amazing look, especially when it comes to kids' bedrooms.
Get duct tapes in vibrant colors and stick them onto a piece of plywood as per the desired shape.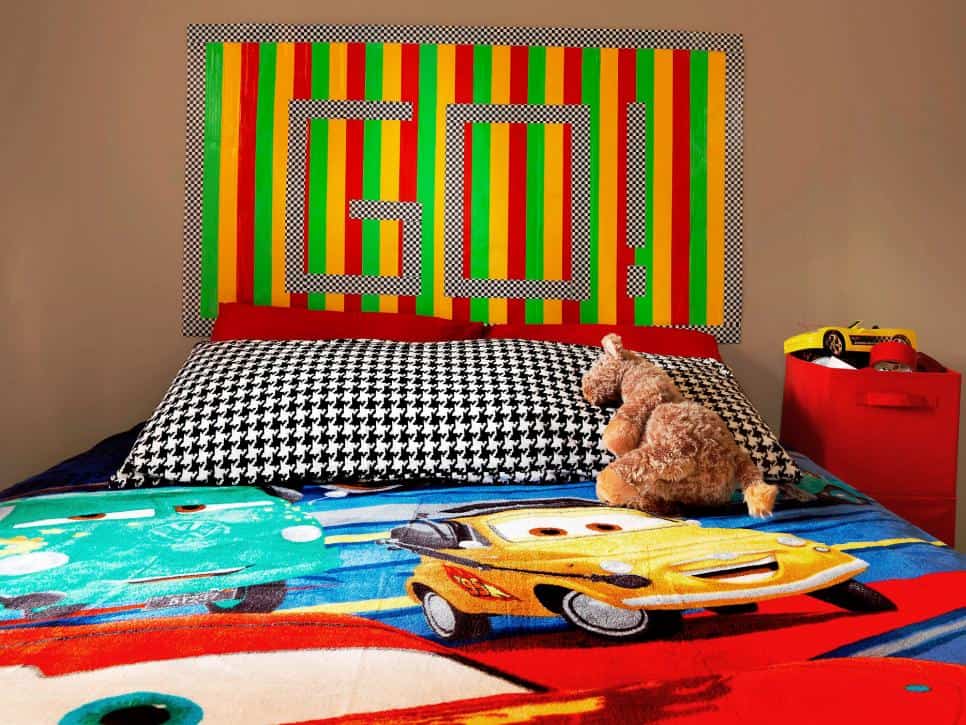 via homesthetics.net
43. Woven Wooden Headboard
If you're looking for easy DIY headboard projects that are made out of wood, then this one could be worth trying.
Get some pieces of lumber cut at the shop in the desired size, paint them in the color of your choice and weave the pieces together using some wood glue. And there, you're good to go!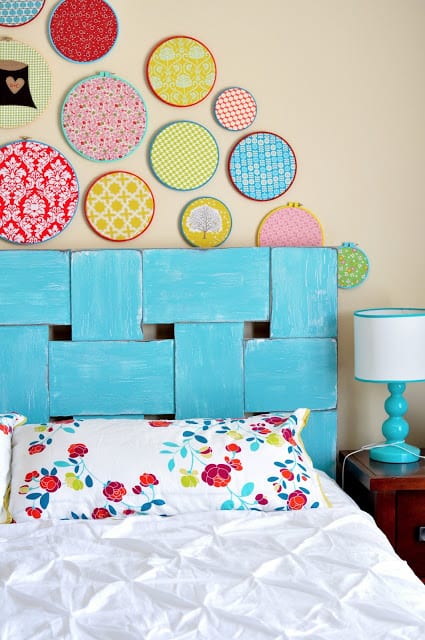 44. DIY Pillow Headboard
Another pillow-based headboard project, this one is minimal and quite easy to make.
Take a couple of pillows and suspend it with a copper wire or shower rod to give it a sleek look. What's more, you can even use these pillows to rest back while reading a book, having a snack and watching television.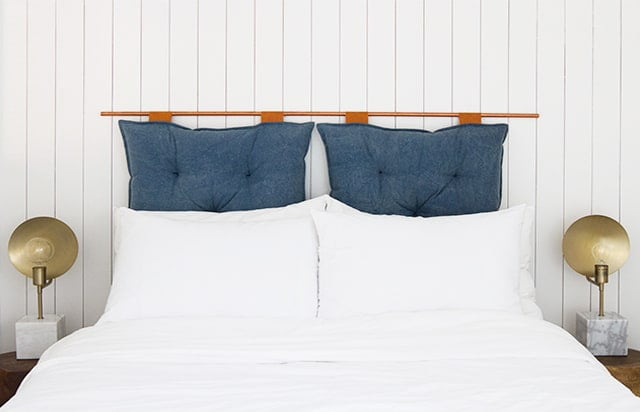 45. Rustic Headboard
If you're a big fan of farmhouse styles, then give this DIY project a shot.
With a miter saw, a drill and some planks of wood, this headboard could be easily made in a few hours, even for a novice. However, you might want to get some help with cutting the wood and fixing the planks together.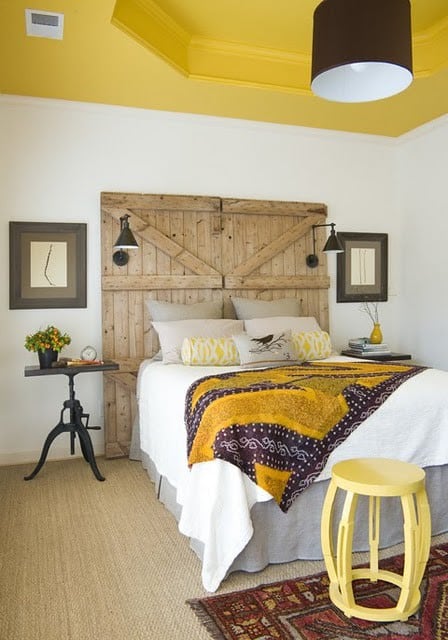 via lilluna.com
46. Woven Headboard
Got some vertical blinds at home? Don't discard them. Instead, you can weave them and attach them to a wooden frame to make a headboard.
You can find similar headboards at retail stores, but they cost you around $700.
Why spend so much when you can make a better, bigger one for only $70? And oh, you can add some clamped lamps on either side, for just another $10.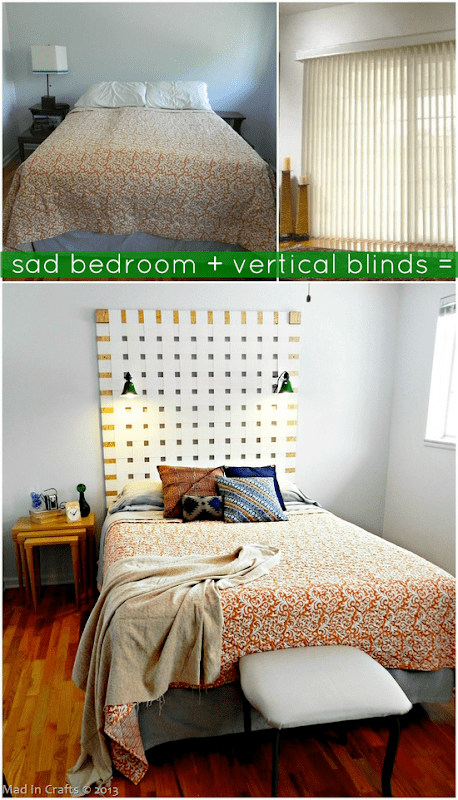 via madincrafts.com
47. Farmhouse Headboard
Another headboard inspired by the farmhouse style, this DIY project will cost you less than $50.
Fix some wooden planks together and give it a varnish of your choice. You can even decorate the board with a toy-deer head and a string of pom poms. A series of LED lights can also alleviate the overall look.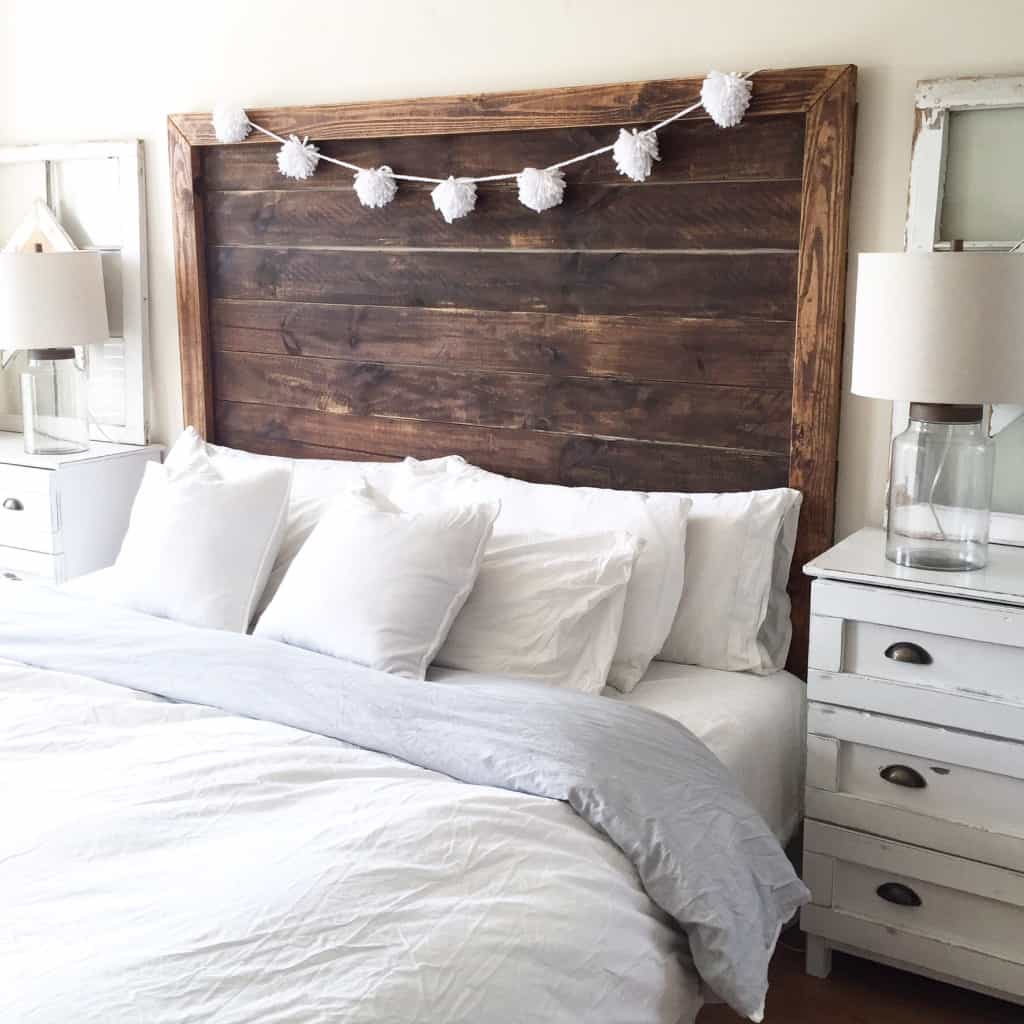 via deeplydistressed.com
48. Diamond Tufted Headboard
Want to have a headboard that looks luxurious, yet takes only a little amount for the whole project? Then you must have a look at this one for sure!
With some foam, pegboard, fabric, upholstery threads, needles and buttons, this headboard could be made in just a few hours.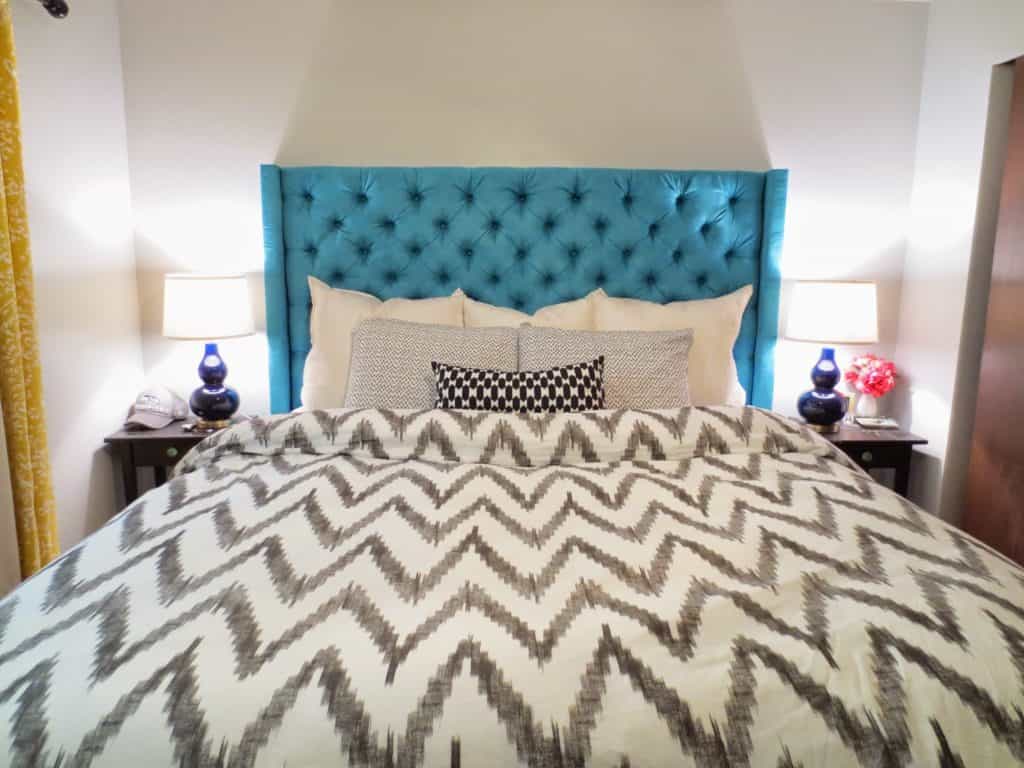 via makebakeandlove.blogspot.com
49. Chevron Headboard
There's something about chevron that gives out a look that's not only elegant but also stylish at the same time.
If you've got some basic carpentry and woodcutting skills, then you can make this chevron headboard within just $100.
The same kind, when bought in a store, could cost you anywhere around $1600 or more.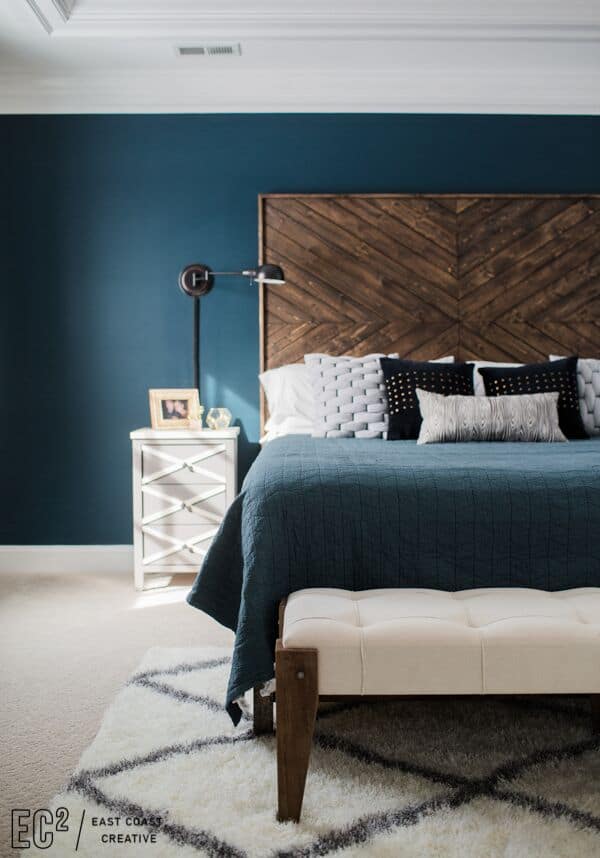 50. Curtain Headboard
What's wrong with experimenting with headboard ideas? If you're not into wooden or foam based headboards, then try suspending a large curtain from the wall, and you're good to go.
Curtain headboards work well when your bed is placed by the window, as you can keep moving it as per the requirement of light needed in your rooms.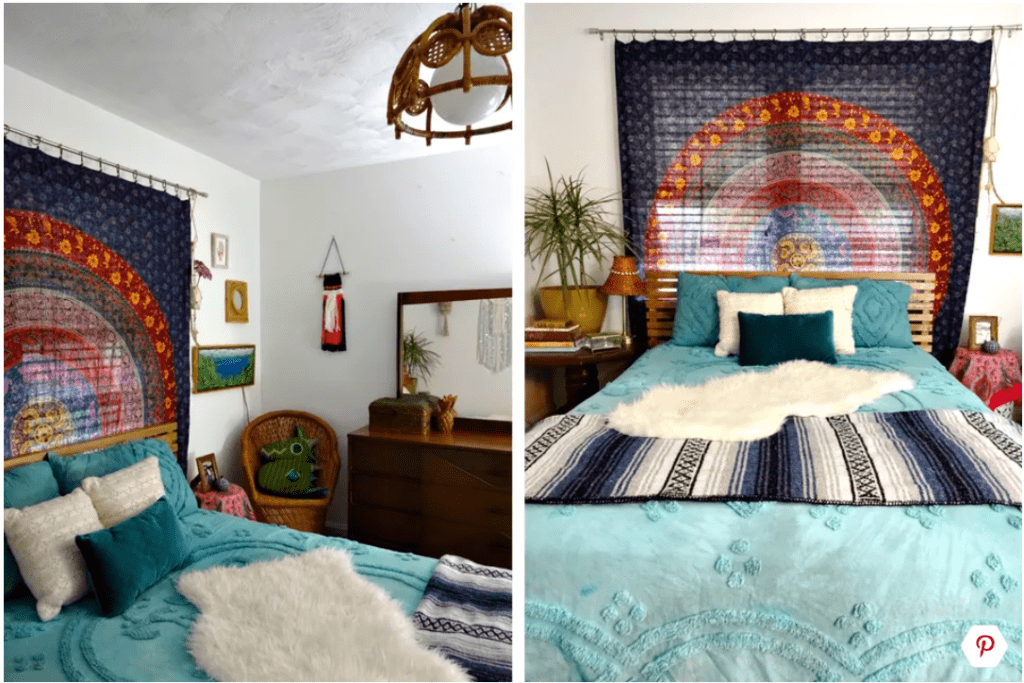 51. Cardboard and Fabric Headboard
One look at the image, I didn't believe that this one was a DIY headboard. But yes, it is!
What's more surprising is that it's just a piece of fabric wrapped around cardboard. And it's easier to make than you would imagine it to be.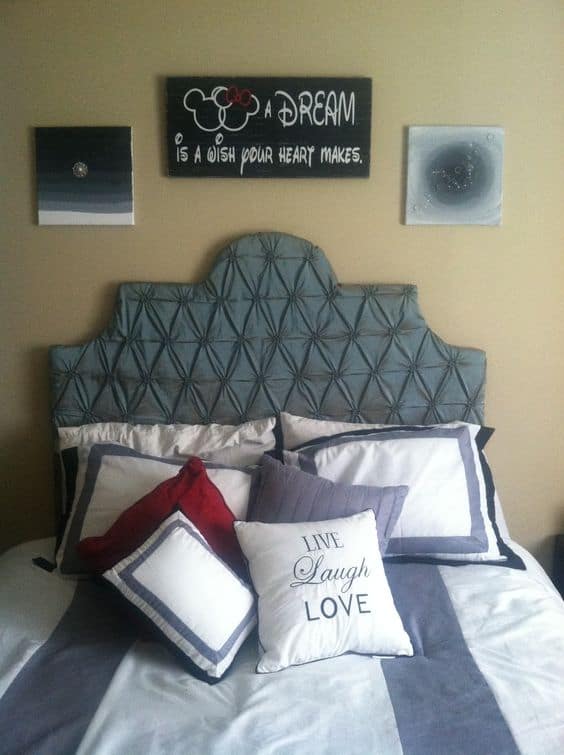 via pinterest
52. Hang a Textile
Now, this one's just like the curtain and rug headboards we've mentioned before. But here, you can use a thick textile that's woven and nail it directly onto the wall.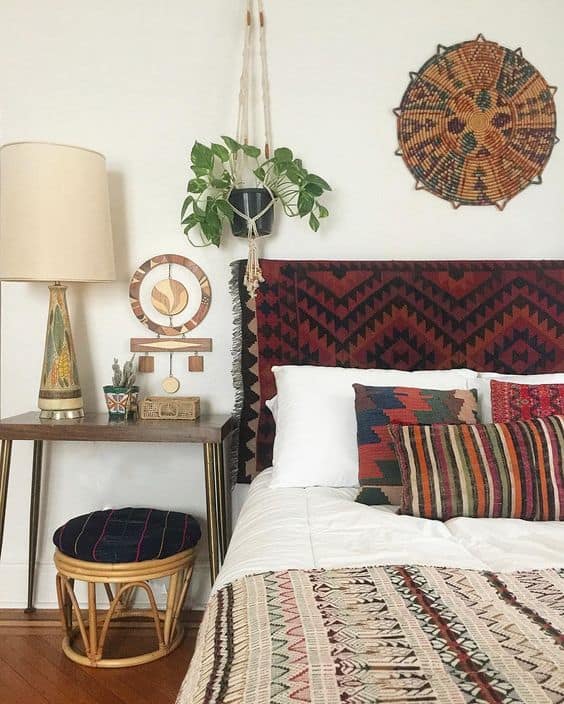 via pinterest.com
53. Embroidered Headboard
Beautiful embroidery on a headboard can immediately uplift the look of your bedroom – be it a simple one or an intricately-made one.
This one with sharp lines embroidered over a navy blue is perfect for modern bedrooms. Just take the embroidered fabric and pin it to a plywood board before fixing it onto the wall.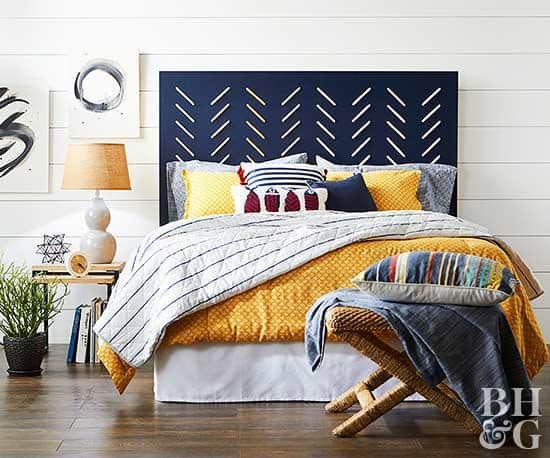 via www.bhg.com
54. Door Turned Headboard
If you're renovating your house, then you will probably have a lot of things lying around that you might want to throw in the trash. And if an old door happens to be one among them, just don't get rid of it.
Instead, paint it out in the colors that complement your bedroom and use it as a headboard. It's cheap, yet beautiful enough to transform the whole place.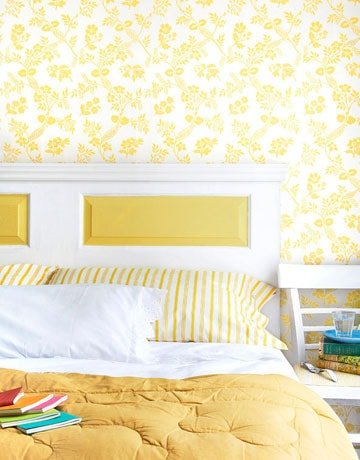 55. Antique Window Headboard
Not just the door, don't even throw those windows away, especially if they're of vintage style. Try making headboards out of those too, by placing them above the bed in the shape of a rectangle or square, whatever you desire.
This way, you can give your home a Victorian style look, without having to spend too much on the project.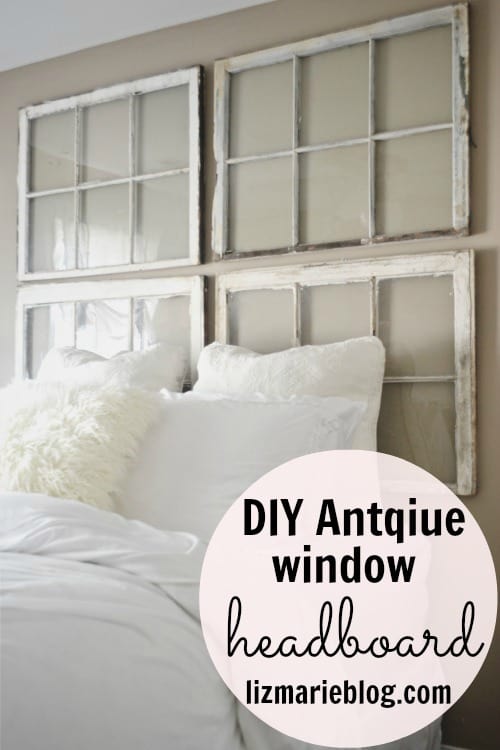 56. Door Headboard
Another door headboard on the list, this one can be made simply by taking an old door and spraying it with white color. Unlike the one painted in different shades, this one is simple and works well with most of the color palettes that adorn the bedrooms.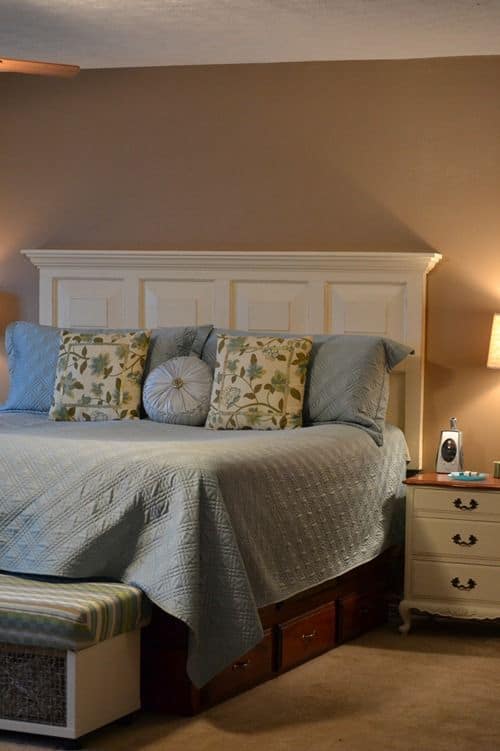 via www.infarrantlycreative.net
57. DIY Light-up Headboard
Plain wooden headboards can also be spruced up to give it a new look altogether.
Take this project for instance, where you can make a stencil of a word or a small quote, paint it in black and light it all up with the help of a few LED bulbs. And voila, you're good to go!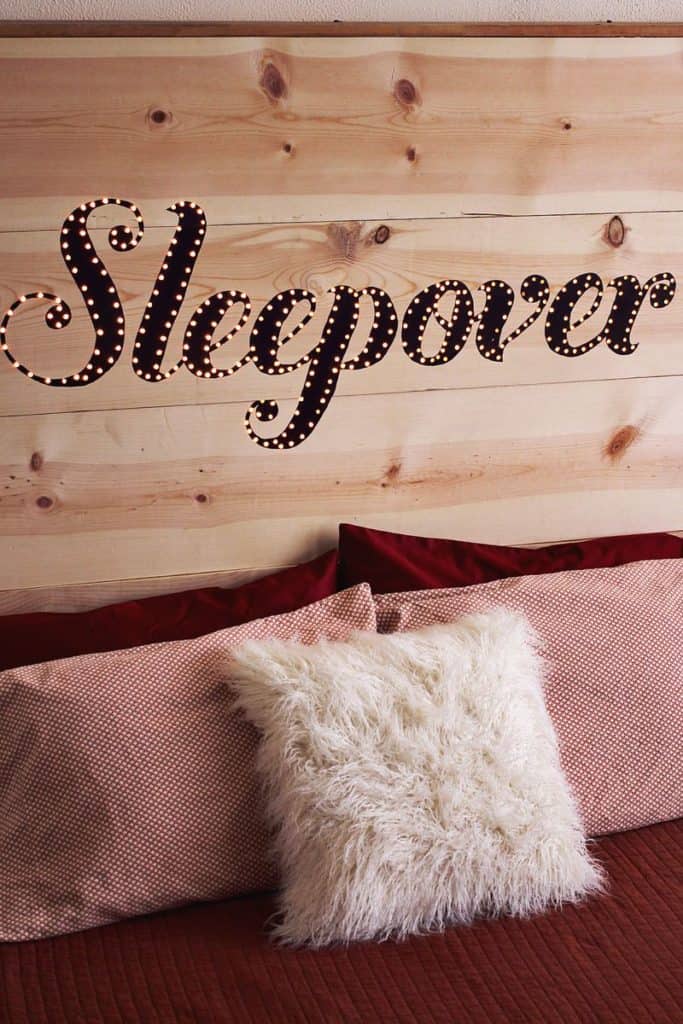 58. DIY Floral Headboard
This project is excellent for all the girls out there who'd want to give their bedroom an all floral look, that too within a budget.
Take a plain headboard, preferably in an intricate pattern. Now, decorate it with as many paper flowers as you want, and in any color you like. All you have to do is secure them with the help of a tape.
And as for the leaves and branches, the task could be easily achieved with wires and washi tape.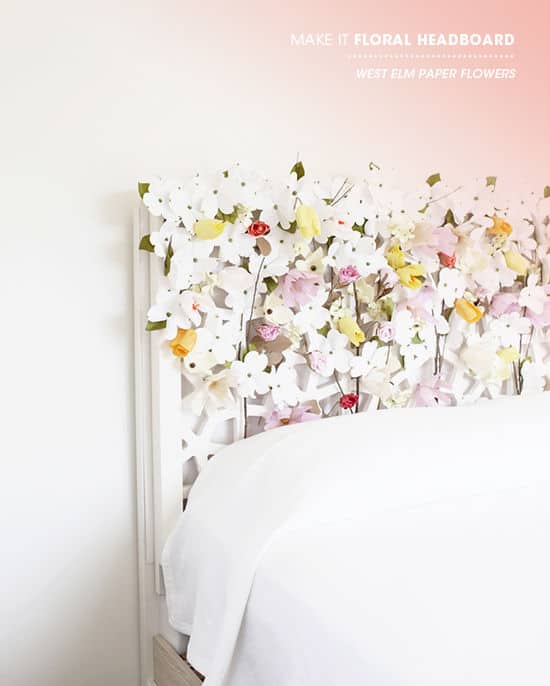 59. DIY Rustic Headboard
If you happen to have some tongue-and-groove barn wood at home, then this project is as easy as a breeze.
Cut out the wood in random sizes and fix it up behind the bed. You can paint it in the desired color or leave them be to give a rustic look.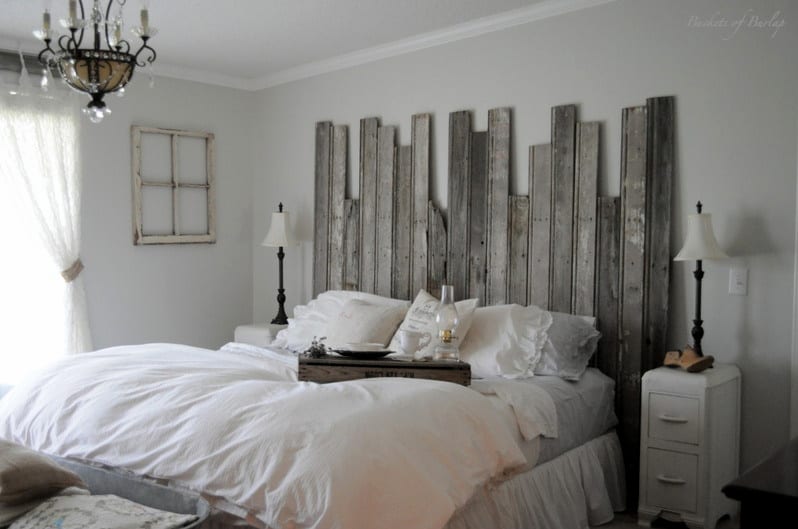 60. Floating Headboard with LED Lighting
You must have noticed those beautiful LED headboards in the home and luxury magazines. But do you know, they're not really challenging to make at all?
To make a floating LED headboard, you can pick any wood of your choice. Mount a string of LED lights onto the wall and place the headboard between the bed and the lights as a final step. And you're done!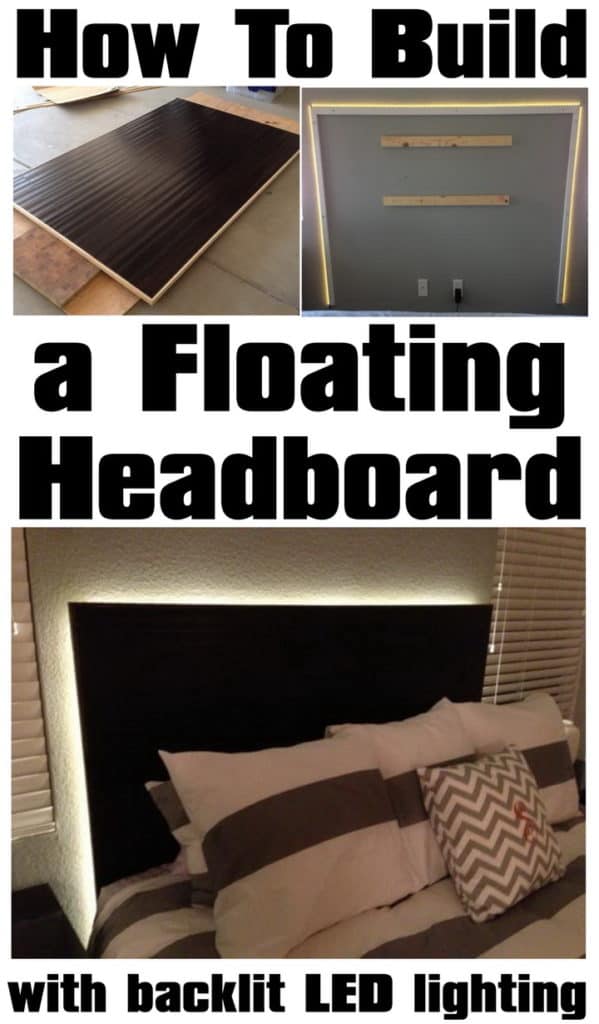 61. Faux Tiled Headboard
The best thing about faux tiles? They're easy to clean and wouldn't burn a hole in your pocket when you plan a DIY using them.
To make a headboard as shown in the picture, you can get some faux foam tiles and mount them onto the wall with the help of some mounting scotch tape.
What's more? The whole project doesn't cost you more than $12.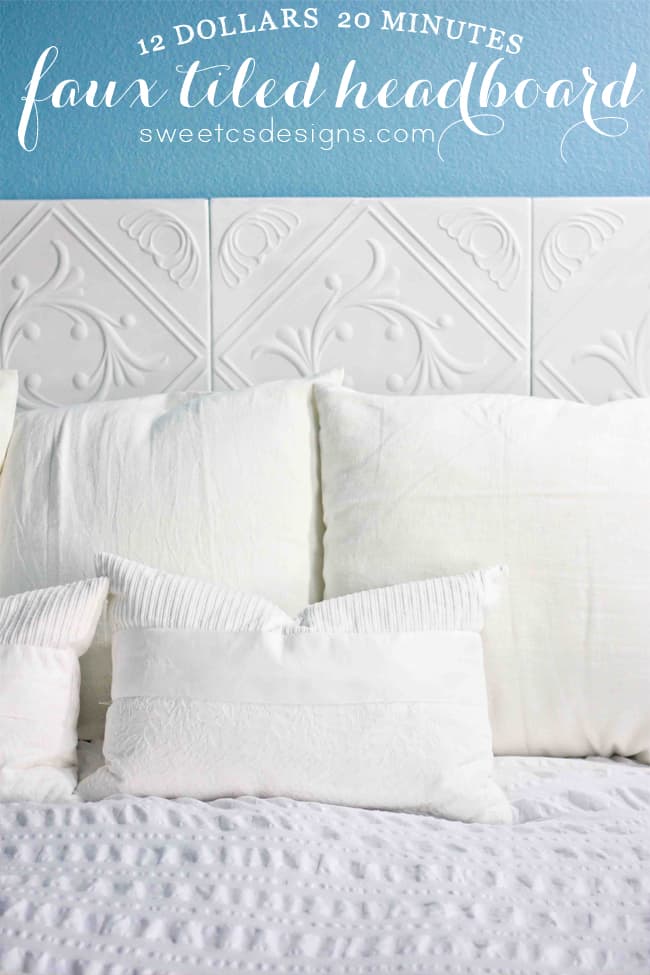 62.

Up-cycled

 Headboard
If you aren't keen on making a headboard from scratch, then you can just upcycle and transform the one that's already available at home.
For this, you can just nail some thin wooden planks to the existing board in the desired design. Or you can polish them with a varnish of your choice.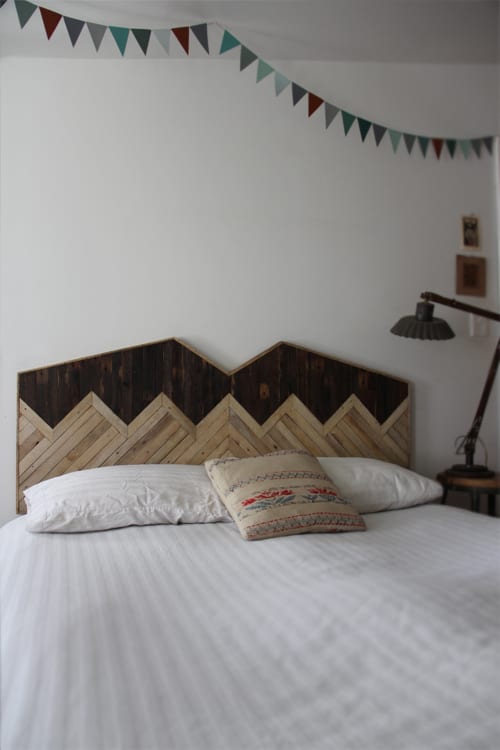 via brooklyntowest.blogspot.com
63. DIY Vintage Sheet Headboard
Vintage themed houses have a charm of their own. But you must make sure that every piece of decor in the home complements the theme.
If you're looking to make a headboard which works with the overall look of the house, then you should probably go with this DIY project.
Get some vintage sheets and fix them on a headboard wrapped in fabric. You can leave them as they are, paint it in pristine white or any color you desire.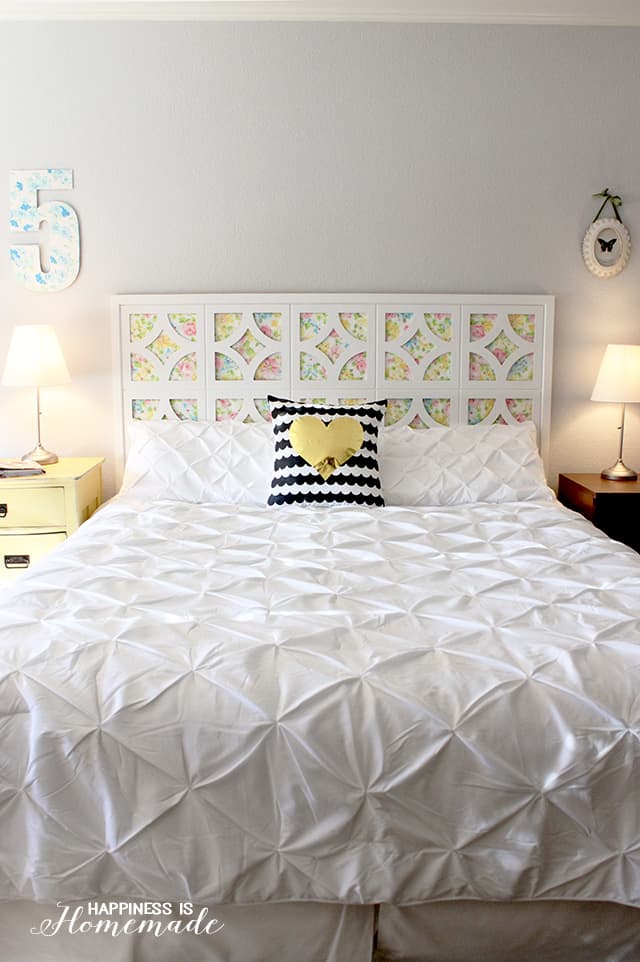 via www.happinessishomemade.net
64. Headboard with a Curve
If you want to add a lively touch to your plain old wooden headboard, then you can saw up a little curve onto it, like this picture.
For this, you should have a little experience with wood-cutting, as you're required to stencil the design and saw it out.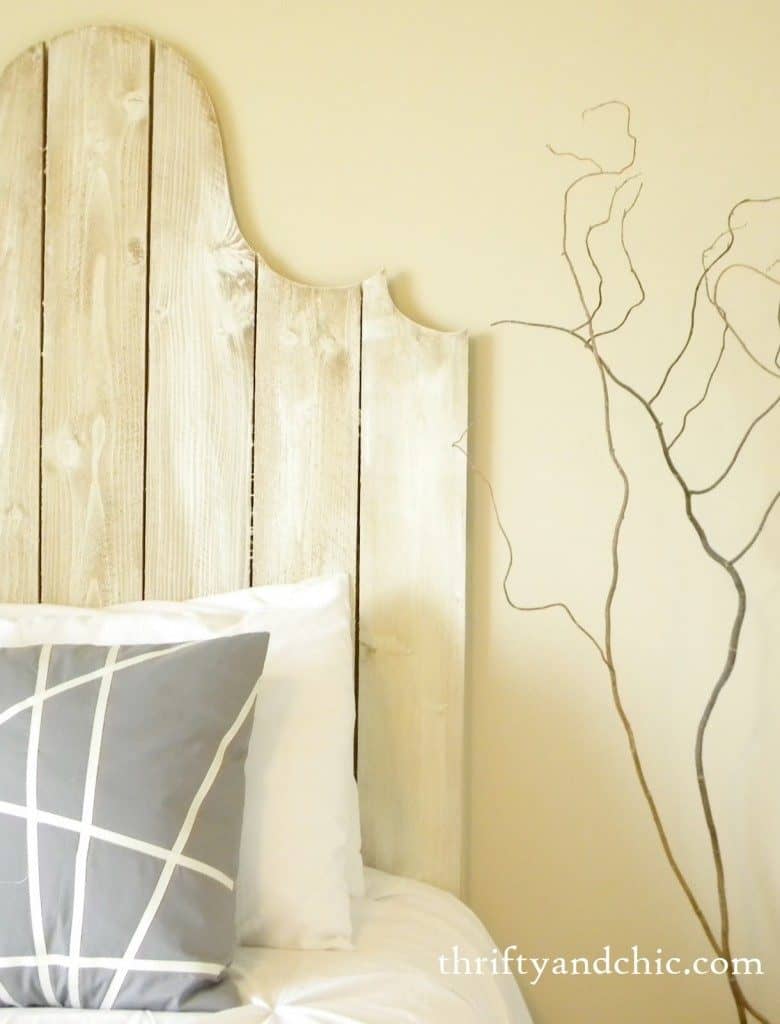 65. Mantle to Headboard
For those who liked the fireplace headboard idea mentioned earlier in the article, here's another DIY idea that uses an old fireplace mantle.
Just like the other project, this one too uses a mantle for a headboard. But unlike upholstery, this one uses a plain plywood board with minimalist designs painted over it.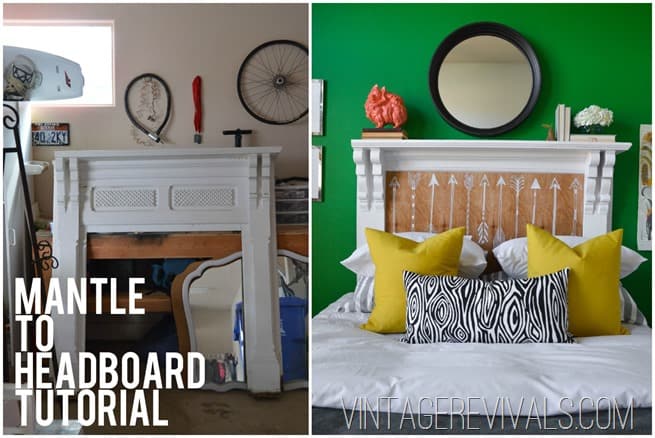 66. Headboard Shutter
New to DIYing? Then this might be the headboard project that will give you a headstart.
You can use old window shutters for creating a simple headboard. Just paint them in the color of your choice and mount them on the wall behind the bed to create a rustic or an upbeat look 0 whatever you desire!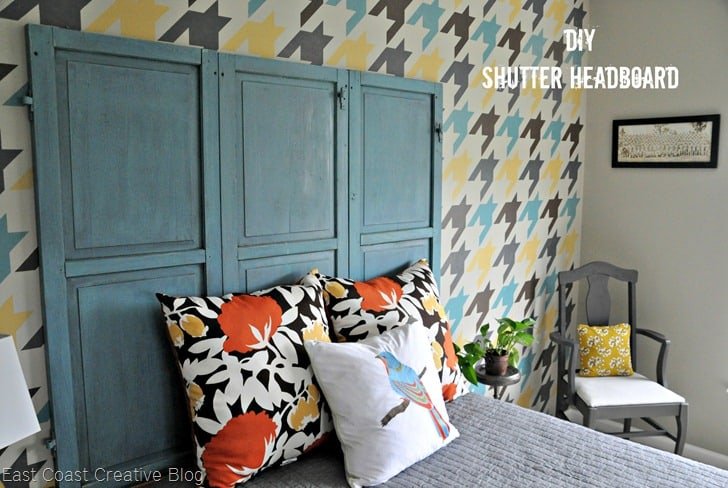 67. Ladder Turned Headboard
Here's another simple DIY project that results in a wonderful headboard in just a little amount of time.
Take an old ladder that's chipped and mount it on the wall above your bed. What's more, you can even use it as a small shelf to place books, photo frames, and other things.
Now, that's some way to give an original look to your bedroom, as well as create something that's functional at the same time.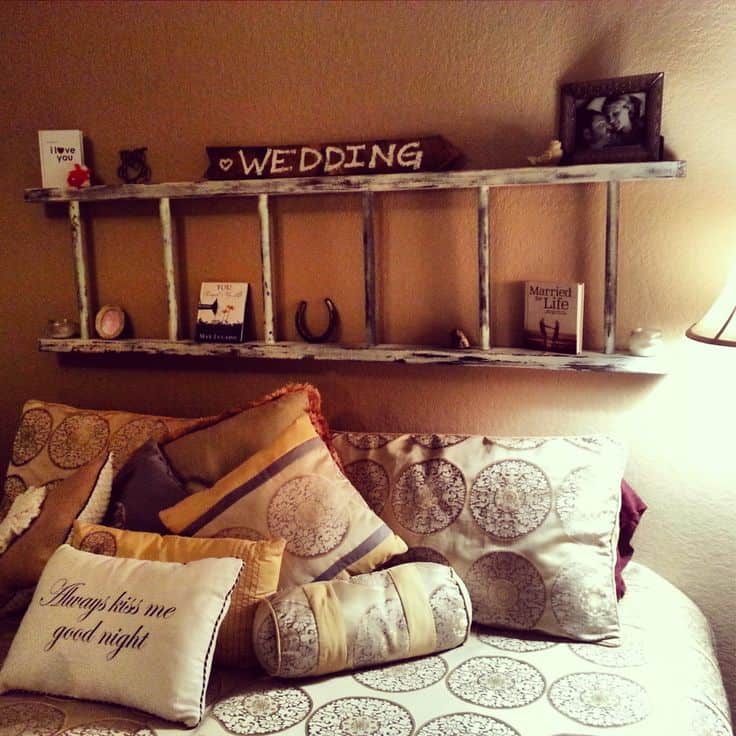 68. Chalkboard Wall Headboard
Since we're speaking about functionality and bedrooms, why can't we just use make use of a small part of the chalkboard wall as a headboard?
You can frame a small part complementing the dimensions of the bed to give the feel of a headboard, and even draw out some designs of your choice.
Further, you can even suspend a lamp through clamps so you can sit back and read a book in a relaxed manner.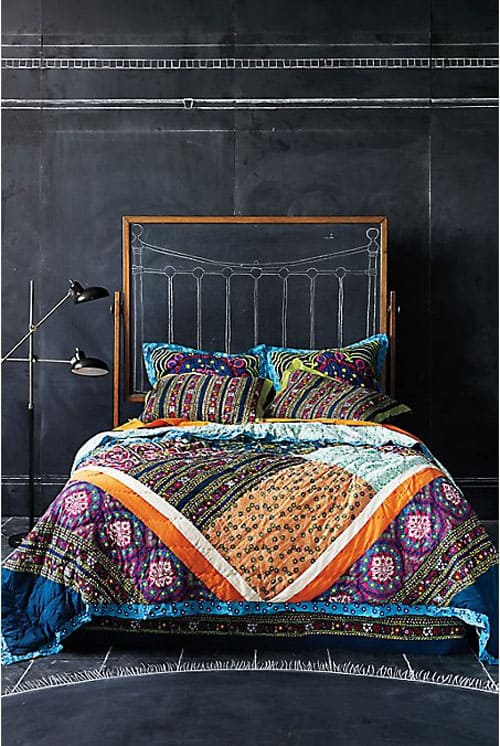 69. Pallet Love Headboard
Here's another pallet-inspired headboard that's quite easy to make.
Just fix some pallet pieces together and place it behind the bed. You can even stencil design of your choice (like the birds in the image below) and paint them in black color.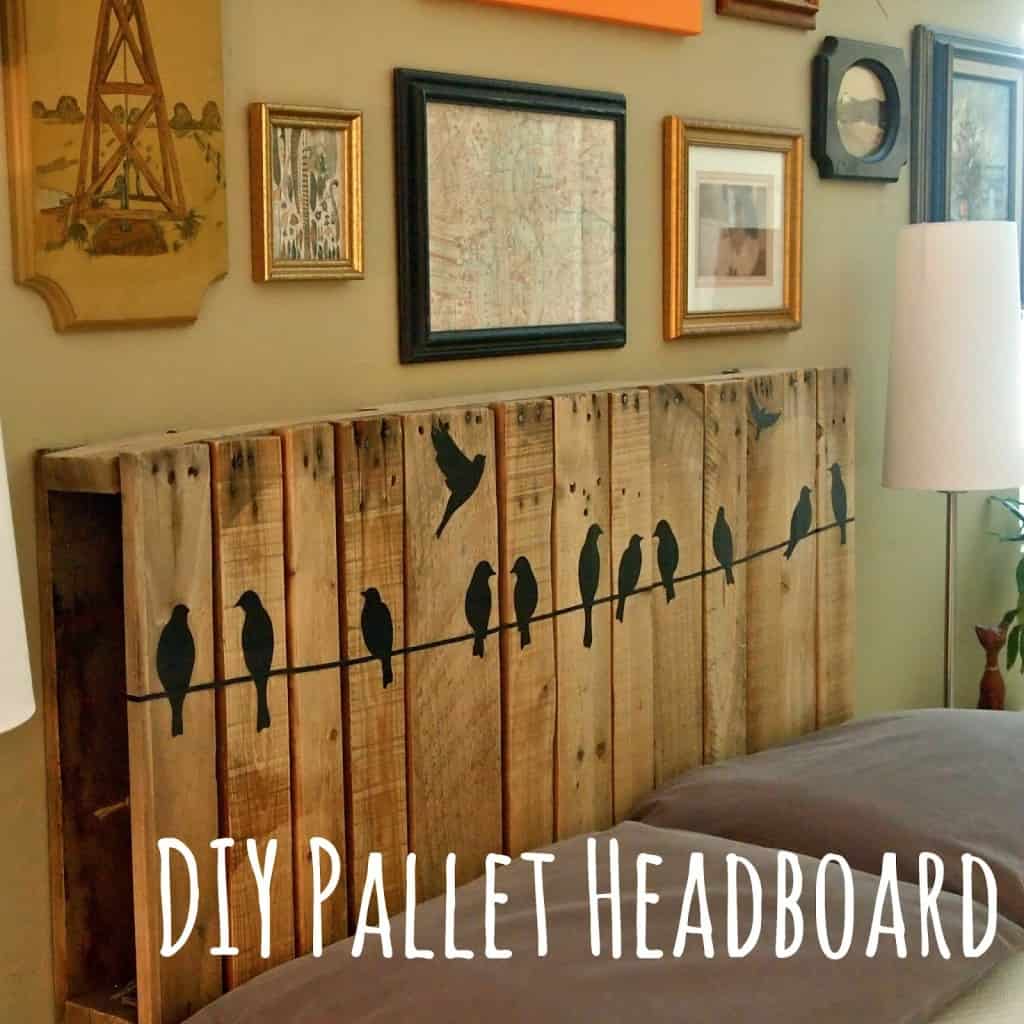 70. Coastal Cottage Shutter Headboard
For those who love coastal cottage inspired designs, this headboard idea is worth giving a try.
You can just get some unfinished, louvered shuttered stores from any improvement market, paint them and hinge them together with the help of mending braces.
Now, all you gotta do is mount it on the wall, behind your bed.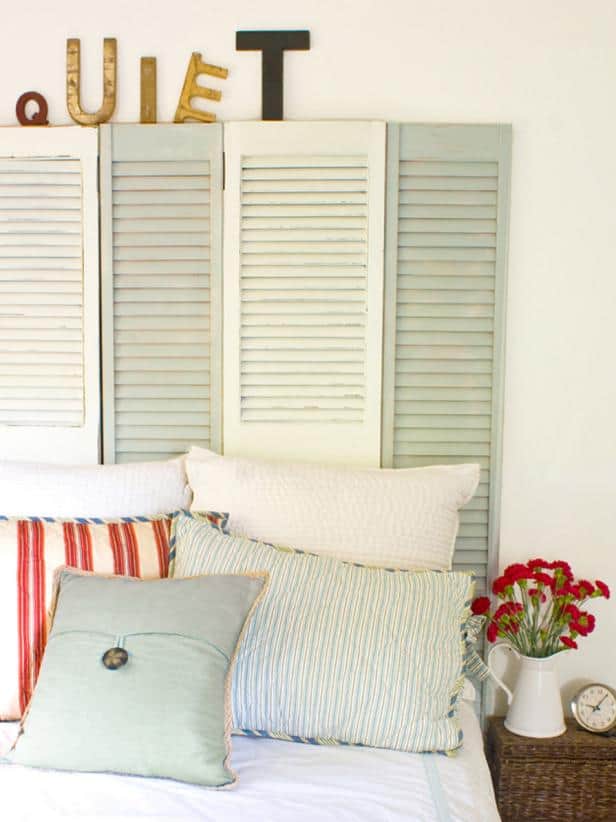 via www.hgtv.co
71. Unique Chalkboard Headboard Idea
If you're looking for budget-friendly DIY options for your headboard, you might want to have a look at this one.
For this project, you need some wood, chalkboard paint, primer, and dustless chalk. Just get the woodcut in the desired shape and paint it with primer followed by chalkboard paint. Now draw any design you like on the board with the dustless chalk, and you're good to go!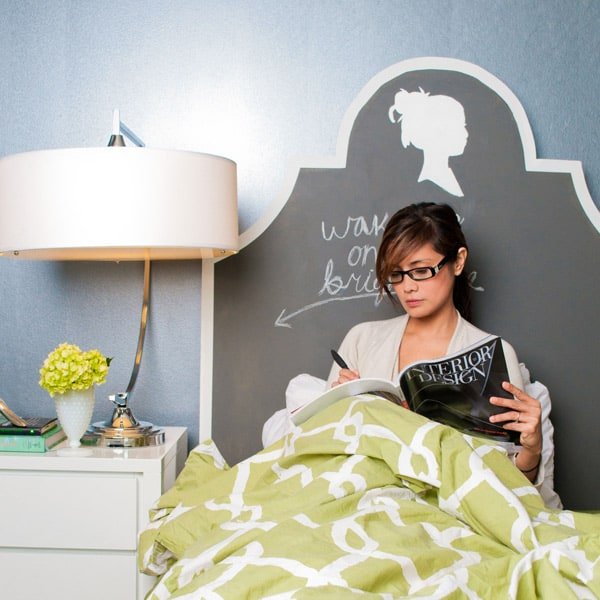 72. Old Chalkboard Turned Into Headboard
If you happen to have a spare or old chalkboard at home, turn it into a headboard by mounting it on the wall above your bed.
This works great for those who have tight schedules, need to scribble notes constantly, or if you're forgetful about things and need to have reminders about the same.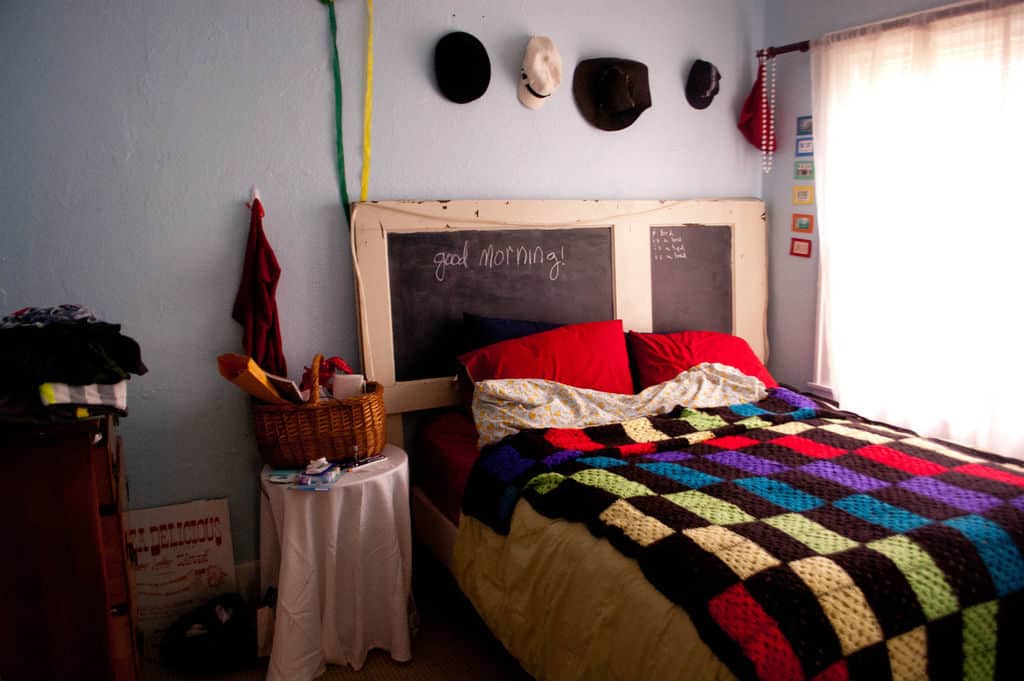 73. Holes in the Headboard
I don't need to emphasize how amazing geometric patterns look, especially as a part of your home decor.
This one, for example, has a simple piece of plywood with pilot holes drilled into them in various sizes. Now, the wood can be painted in any desired color that brings out the beauty of the bedroom as a whole.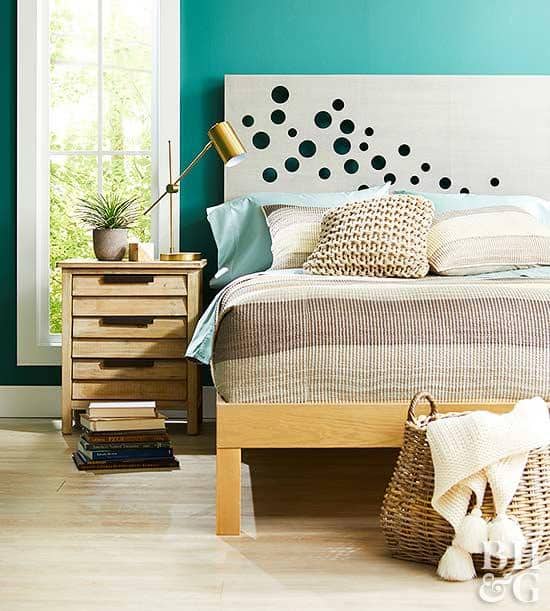 via sanaltur.us
74. DIY Canopy Headboard
You might have come across headboards, and then you might have seen canopies. But have you ever thought of creating something that's a blend of both?
Yes, it's entirely possible and makes for a quite stunning backdrop to your bed too. All you would be needing are some curtains, adjustable rods, anchors, screws and curtain brackets to be mounted on the wall and ceiling, and you're good to go!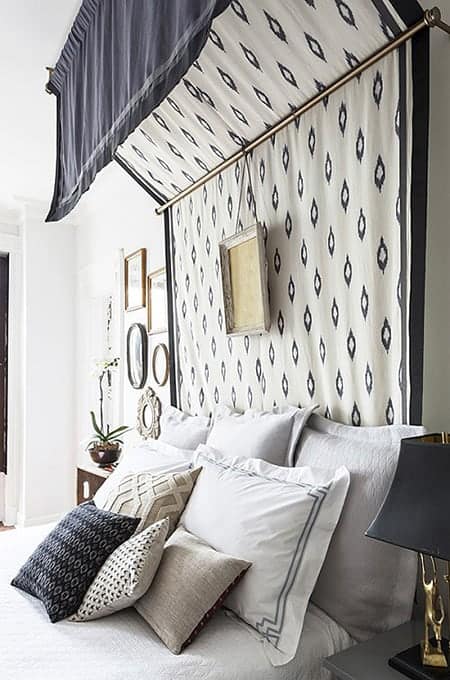 via diycozyhome.com
75. DIY Leather Headboard
If you are willing to spend a little more on your DIY project, then you can try getting rich cowhide tiles to give your bedroom a luxurious look and feel.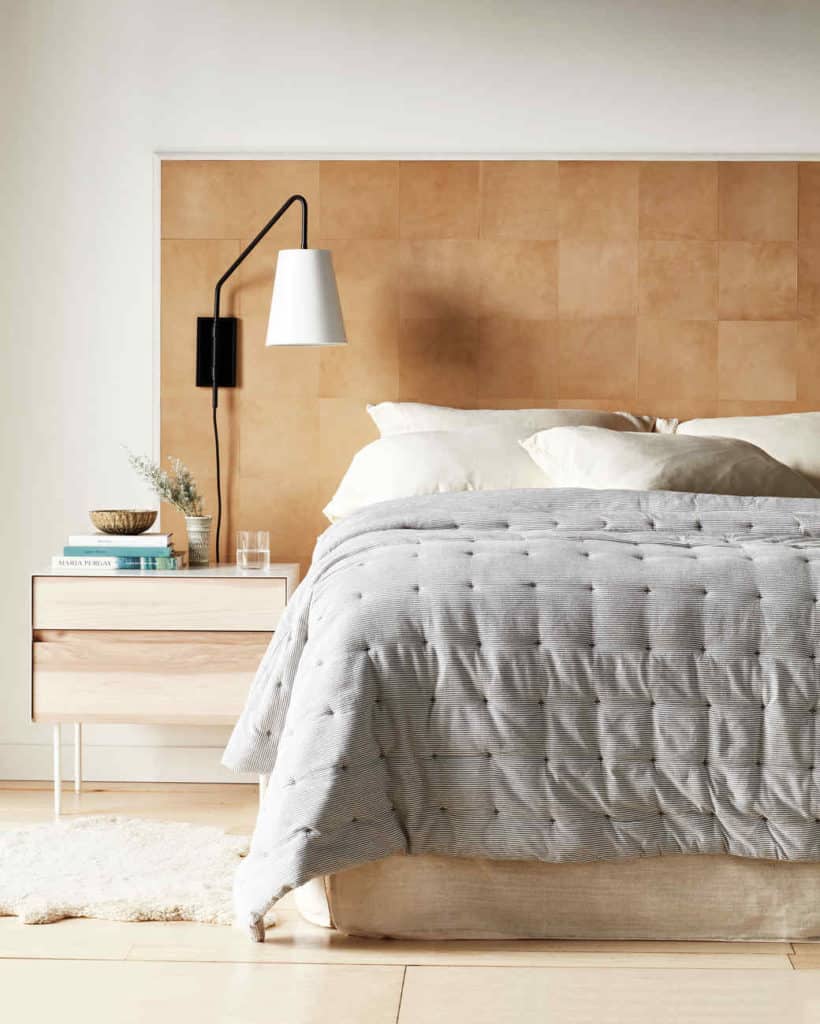 76. Simple Salvaged Headboard
In case you have some leftover barn wood, then you can create a headboard like the one in this one quite easily.
You can even pick other pieces of wood if you don't have access to barn wood, and simply varnish them with wooden paint to give a finishing look.
To embellish it further, you can scribble few words in glitter paint, and hang a rope with pictures above the board.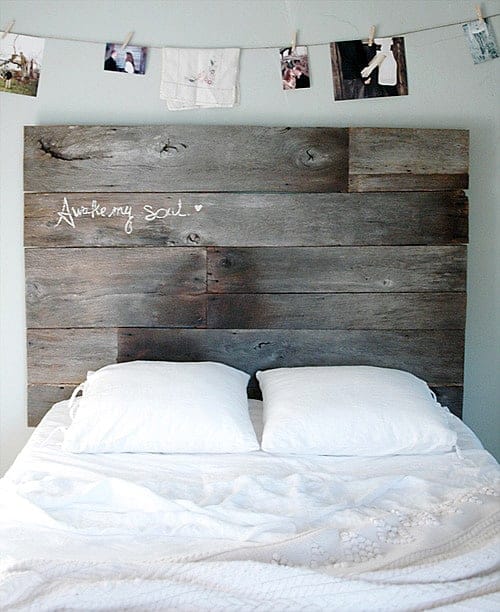 via architectureartdesigns.com 
77. 

Simple Wooden Headboard
Have $25 to spare? Because that's all, it needs to make this amazing wooden headboard with a dark finish.
Put together a few pieces of wood, stain it in dark brown walnut varnish and mount it on the wall. There you go, an elegant touch that gives your whole bedroom a luxurious feel!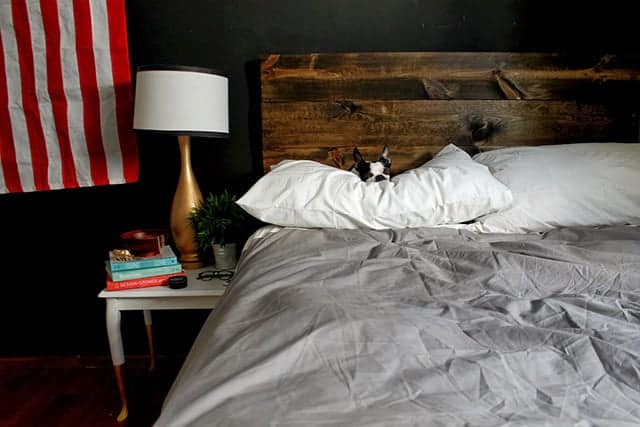 78. Tapestry Headboard
You can find a variety of tapestry in the market, in all shapes and sizes. Now, do you know that they can also be used as a wonderful headboard too?
What's more, you can get them at as low as $10, and just hang them on the wall behind your bed to give the whole place a colorful look and feel.
79. Wallpaper Headboard
Have you ever thought of turning one of those snazzy wallpapers you find at stores into a perky headboard? My guess would be no!
But I bet you'd be in awe of the outcome when you frame a piece of your favorite wallpaper design and mount it on the wall behind the bed. To make it all the more interesting, try using wallpapers that complement, or are in contrast with the color of your wall.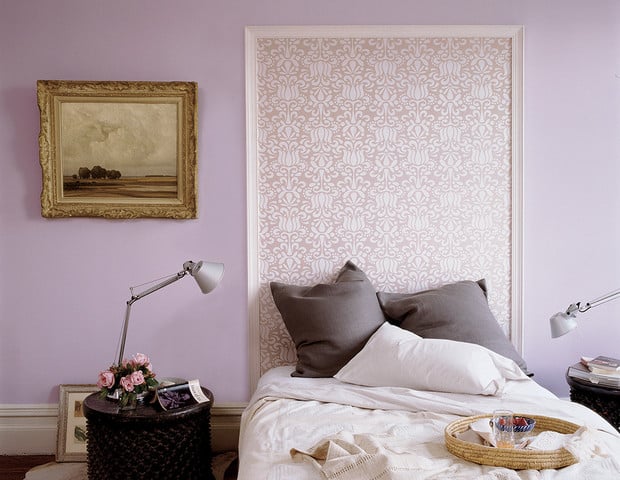 via domino.com
Final Thoughts
With this, we've reached the end of the article. We hope you've found the perfect one among these 79 DIY headboard ideas.
If not, you might have had enough inspiration to work out on your own one.
So, what are you waiting for? Take out those DIY tools, shop for the required materials and get on with your headboard project this coming weekend.
Good luck, and until next time!