Do you get winged visitors in your backyard? I do, on my balcony. Pretty birds with feathers of brilliant colors are always a sight to behold. You can make friends with these unrestrained children of nature. And the best way to extend a hand of friendship, is by food.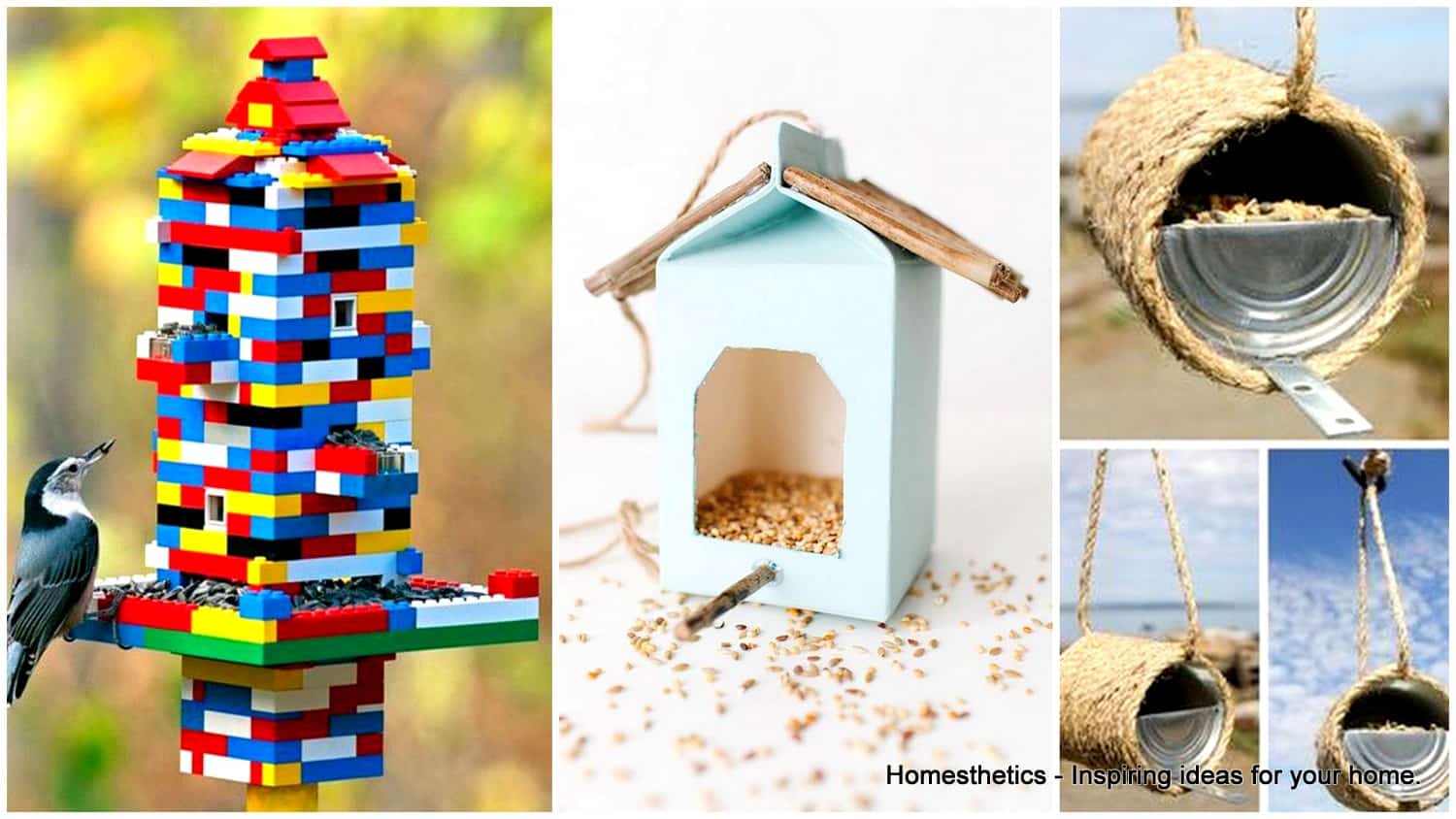 Birds love food grains and bird seed. You can scatter them across the ground or on the balcony ledge, but that just makes a huge mess for you to clean up later. So, what you can do instead, is craft a small bird feeder and hang it around in your backyard trees or your windows.
Birds are quite appreciative of such small gestures. So even if you use recyclables or repurposed old material, you'll definitely get a lot of winged visitors in your garden. Check out some of these brilliant DIY Homemade Bird Feeders for an easy DIY bird feeder for your backyard or windows.
If you`ve found th DIY Homemade Bird Feeders  below interesting we invite you to check various other free woodworking plans, we have curated lists that will show you how to build a cheap fence ideas, guinea pig cage, router tables, duck house, deer stand, bat house, tiny house, rocket stove, diy tree house, cat tower, garage, fire pit, porch swing, greenhouse, small cabin, farmhouse table, pole barn, rabbit hutch, diy dog bed, a playhouse, a pallet fence, a chicken coop, a coffee table or a gazebo.
Homemade Bird Feeders
Tin Can Feeder
We all have used food tin cans just sitting there in the recyclables bin. So, instead of throwing them away or selling it off to a scrap dealer, you can reuse them as bird feeders.
All you need to do is, smoothen out the sharp edges of the can, paint the can with bright colors, and hang it from a hook or a branch with fancy ribbons. You can also glue a short stick on the outside for the birds to sit on. Seems easy to do, doesn't it?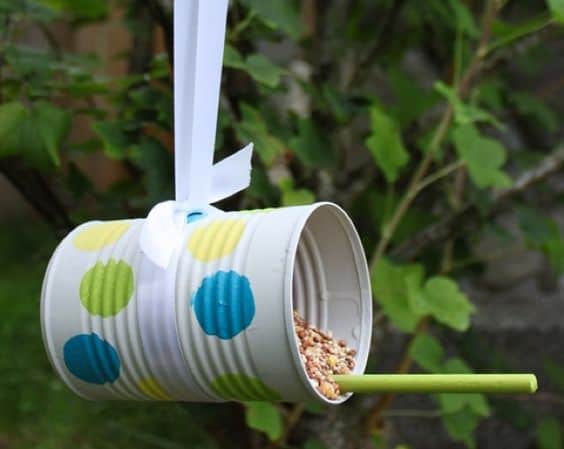 More details at momendeavors.com 
Tin Can Flower Feeder
We saw various upcycled tin can products, but this feeder undoubtedly takes the prize. It's a very clever idea, using old tin cans to make flowers for your backyard or garden. Birds easily get attracted to brightly colored flowers, so using that principle to make a bird feeder, gives you an absolutely gorgeous product.
These tin cans are cut halfway and flattened into the shape of a flower. The bird seed is filled in the central portion. You can paint the cans in different colors, and hoist them on a sticks, high from the ground. It will also look amazing in your garden on a beautiful summer day.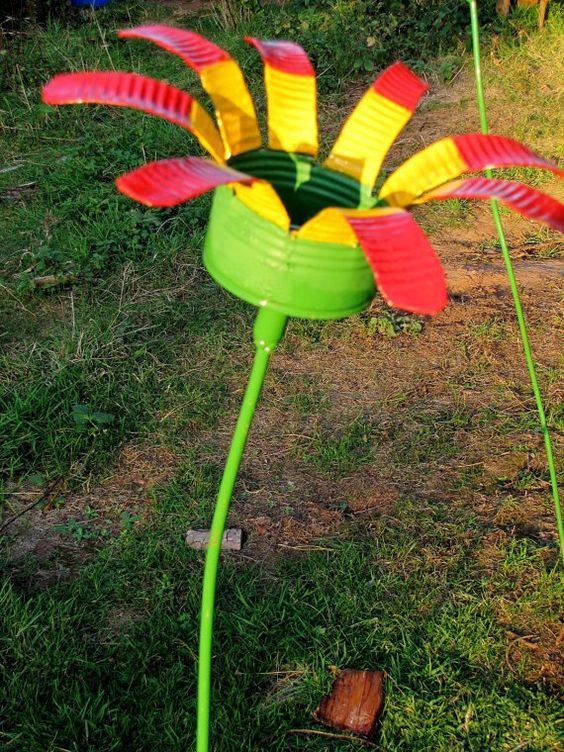 More details at wemadethat.blogspot.ca 
Jute Rope Feeder
This DIY Homemade Bird Feeder adds an organic and natural look to your bird feeder, quite literally. It uses an old tin can, like the ones we saw above. Make sure to blunt the edges of the metal and fold the lid so the birds won't be hurt.
Tying a jute rope around the can will insulate the feeder for both summers and winters so that the birds can take shelter in harsh weather. It will be easier to hang the can too. You can get the jute or sisal rope in any utility shop, and for dirt low prices, so it won't be an expensive project for your garden.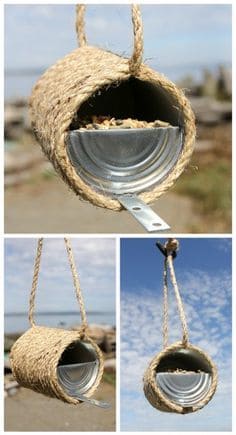 More details at dabblesandbabbles.com 
Plastic Bottle Feeder
We all wonder what to do with empty plastic soda bottles. We just reuse them and throw them away. Now we can control the number of plastic bottles we throw out, by using them to create a haven for little birds.
These one-liter plastic bottles can be hung around your backyard or windows as bird feeders. It uses wooden spoons to stop the bird seed from spilling out, and the handles of the spoon to allow birds to stand.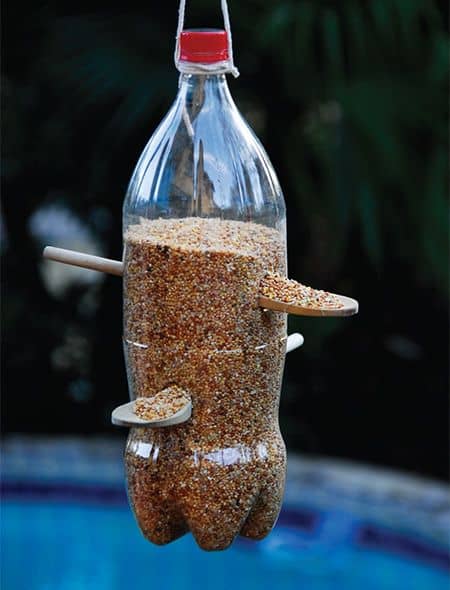 More details at herecomesthesunblog.net 
Plastic Bottle Cottage
There are so many ways you can use a plastic bottle to make a bird feeder apart from the ones suggested above. Like this bird feeder, which uses the same kind of bottles and adds a different twist to it. They made it look like a small cottage!
The bottle is painted with earthy colors. And it has a roof thatched with leaves too. If I were a bird, I'd certainly like to visit this bird feeder doubling as a birdhouse.
More details at favecrafts.com
Plastic Jug Feeder
We used an upcycled milk carton for a feeder before; now this one uses a milk jug. The jug has large squares cut on its sides. They've taken extra care to tape it with colored sticky tapes so the birds won't get injured.
You can add sticks to the bird feeder, which is not really necessary, but can help birds stand and eat more easily. This upcycled bird feeder seems really neat.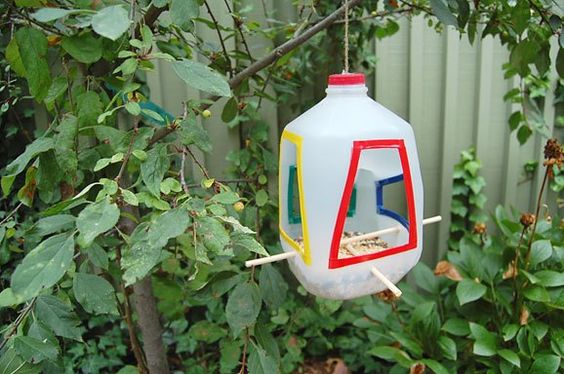 Hanging Bowl Feeder
This design uses upcycled take-away plastic bowls to make bird feeders. I like the 3-in-1 purpose this bird feeder uses. You can use plastic bowls of different colors, attach them with straws, and hang them in the garden.
There's a bowl each for bird seed and water. So in harsh summers, birds can hydrate themselves easily. The third bowl works as a shelter for these birds. Seems pretty efficient, doesn't it?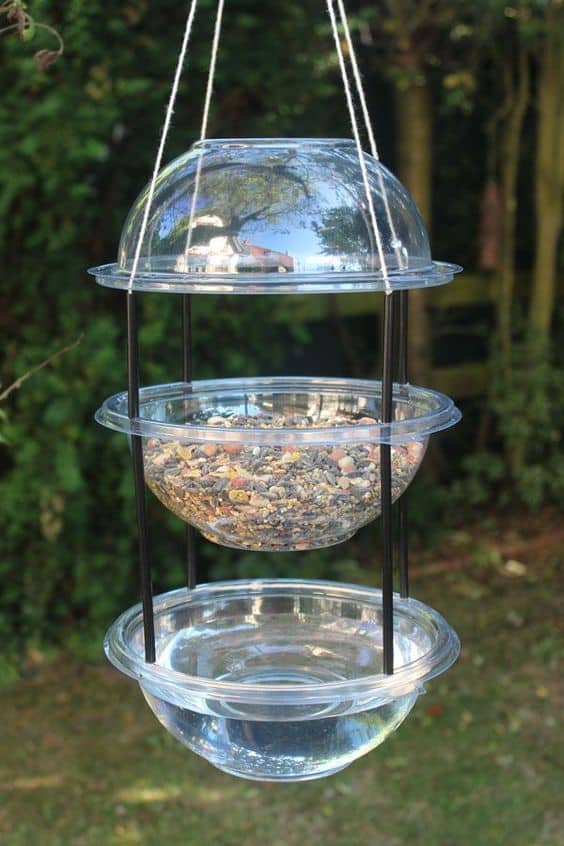 More details at wildlifegadgetman.com
Orb Feeder
How about building a bird feeder that reminds you of a spaceship? Or a UFO? It's an easy craft idea that can add a theme to your bird feeder and make your garden or balcony look futuristic.
You can basically use old lampshades for this feeder. Stick them together and suspend it from trees. You can even use plastic fishbowls for this. The large hole will allow a lot of winged friends to party in this orb feeder. Birds will surely love it.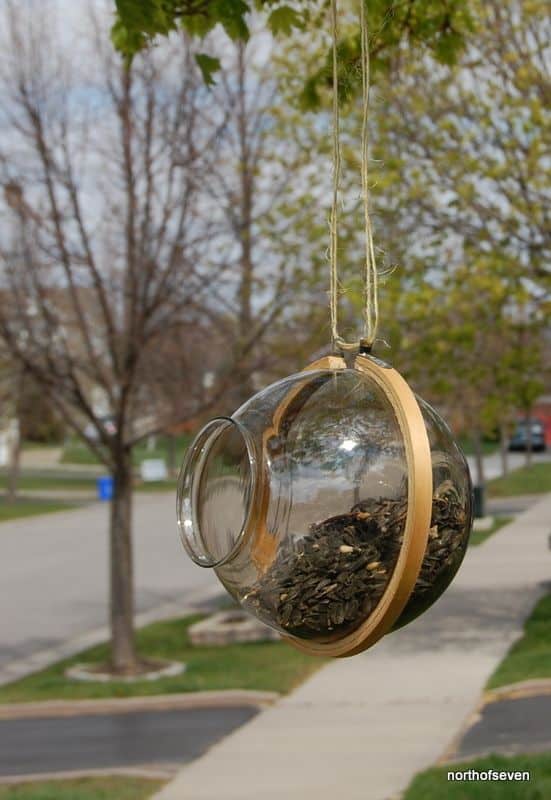 More details at NorthofSeven
Wine Bottle Bird Feeder
A treat for you, a treat for the birds, and a treat for the eyes of people visiting your backyard. This fancy bird feeder looks so aesthetically European, something that you can find hanging around in street cafés.
Keeping them around the bird baths in your backyard or under the cool shade of plants, can attract more birds. You can even attach small LEDs inside the wine bottles to make them look pretty in the evenings. Even if you don't drink wine, you can use any colored glass bottles, or simply buy them from a thrift shop.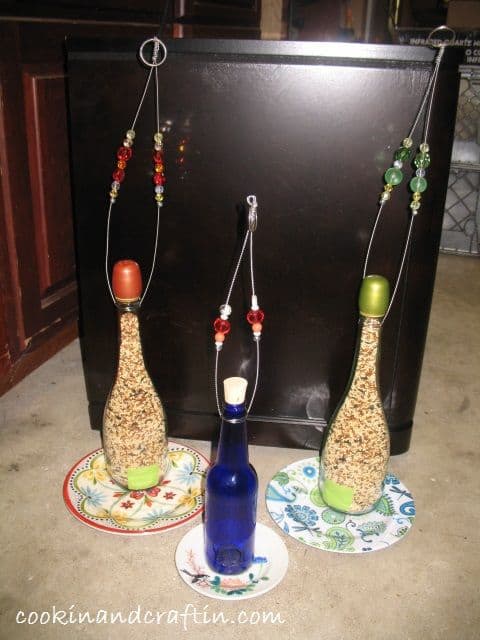 More details thegardenroofcoop.com
The Pouring Wine Feeder
There are so many wine bottle tutorials showing us the variety of bird feeders we can make. Who knew wine bottles could be so useful, well, other than storing wine. This wine bottle is suspended upside down from a frame, and it looks like the bird seed is pouring out of the bottle.
You'll need to build a simple wooden frame to hold the bottle in place. Then filling up the bottle with the grains and turning it upside down, will do the job for you. It's quite simple to recreate, isn't it?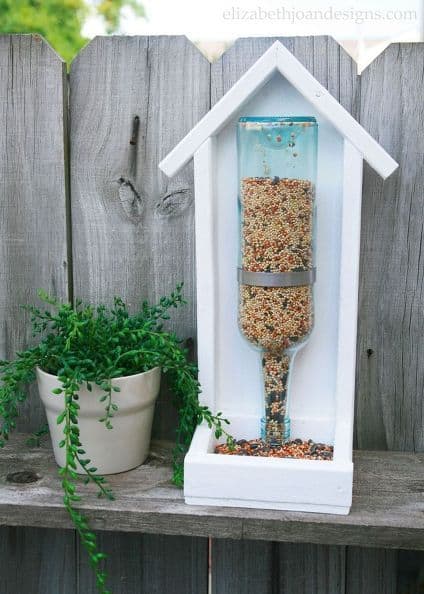 More details at thecurtiscasa.com
Soda Bottle Feeder
We saw some designs for plastic and wine bottles upcycled as bird feeders. You can also use a similar technique to use old soda bottles made of glass. It's an inexpensive and simple idea, but it works wonders for a DIY bird feeder. If you can't find a soda bottle, you can use ketchup bottles instead.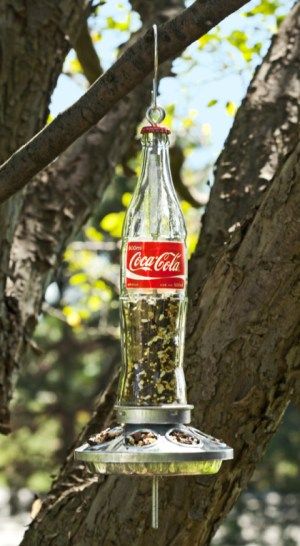 More details at birdsandblooms.com
Bird Feeders from Recycled Products
The best thing about making a bird feeder yourself, is the fact that you can use recyclable products from your household to make it. It's a good way to make sure you're not wasting resources or money. And the vintage look that it gives is just brilliant.
Like this bird feeder which uses an old license plate, some spoon holders and sardine tins. You can use old metal plates, wooden spoons, cans, and bottles. It's really economic, and you get to try different ideas this way.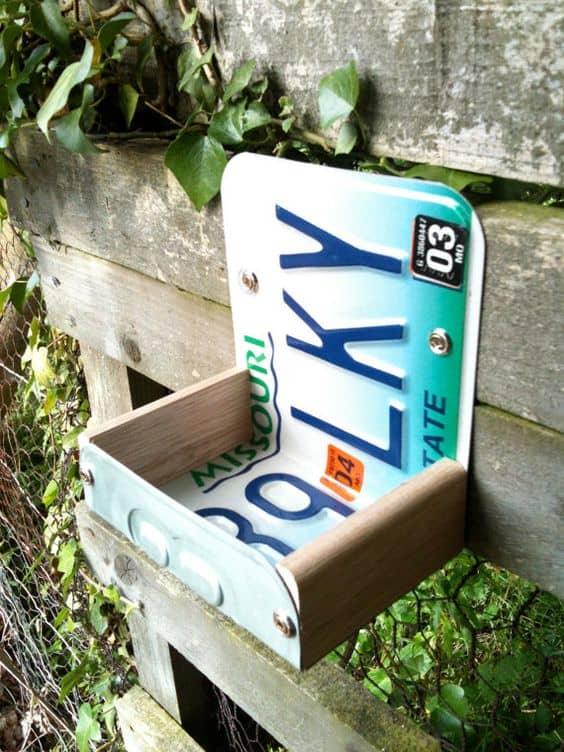 Mason Jar Feeder
Mason jars have proven quite useful outside kitchens, and in backyard decorations. You can use one such mason jar as your DIY bird feeder. The best thing about mason jars is the fact that they can be crafted and modified into any unique design.
You can hang it horizontally or vertically, straight or upended, decorated or just plain normal; it is guaranteed to look good with birds flying around. Let your imagination run wild!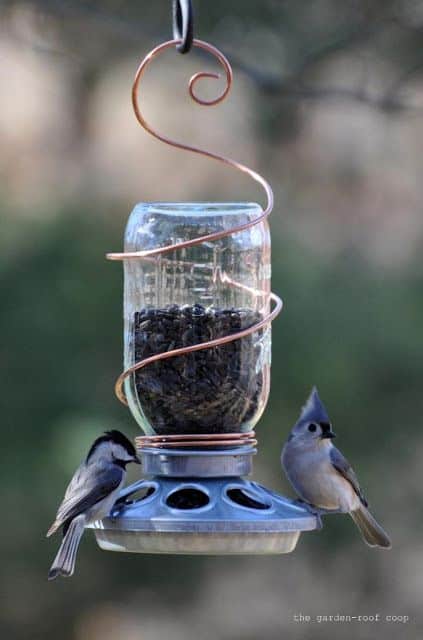 More details at thegardenroofcoop.com
Repurposed Jar Feeder
If you have glass jars which have been out of use, or jars which have lost their lids, you can repurpose them into a pretty bird feeder. It will look nice in your garden or your balcony and will attract a lot of birds.
The most efficient trait of glass jars, is that they are thick and won't break on impact with supporting walls. They'll also withhold the weight of many birds, especially if they're suspended by a woolen yarn. So try this simple idea today.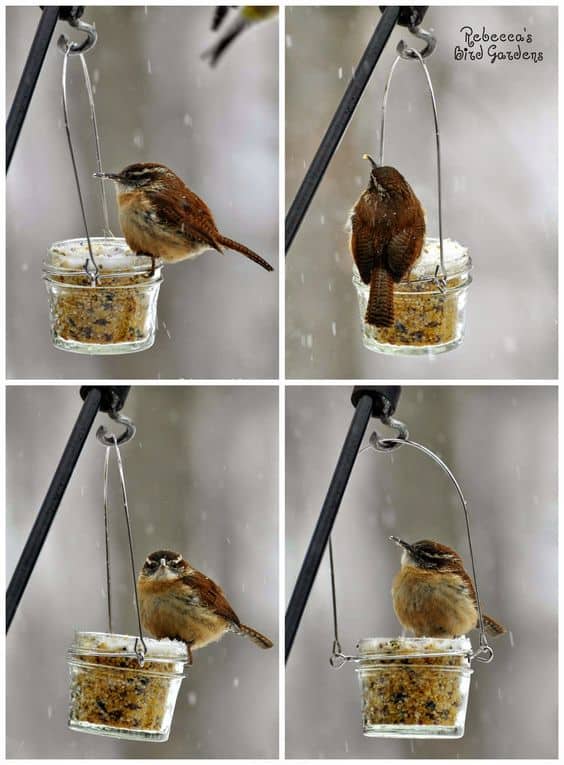 More details at melissacamarawilkins.com 
Carton Box Feeder
Tetra pack cartons are known to be sturdy and durable enough to preserve the milk and juices they preserve. If you have any spare ones in your kitchen, you can use it to make a bird feeder.
Painting the box with bright colors will attract birds as well as your guests' attention. Using small sticks to make a stand for birds, or to make a roof for the carton, will add charm to the feeder. You can take inspiration from various designs put up on social media.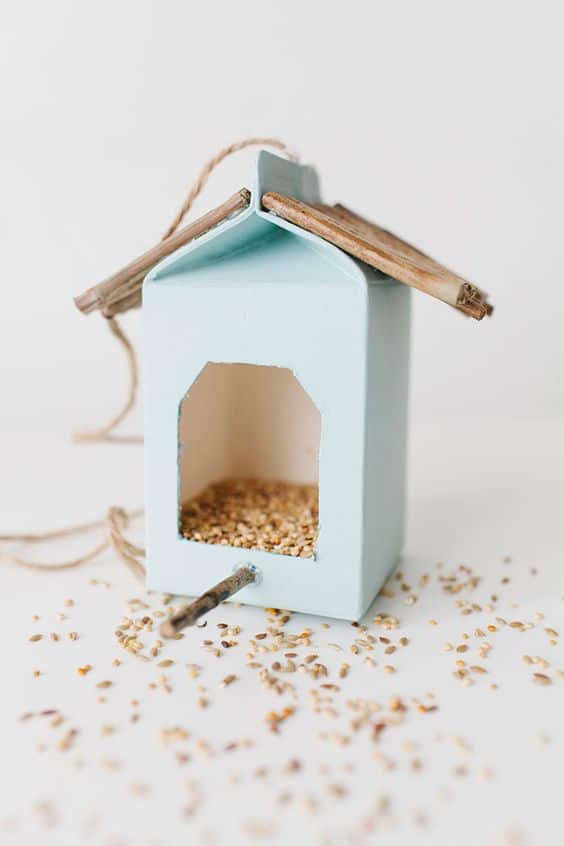 More details at craftsy.com 
Egg Carton Bird Feeder
Paper made egg cartons can prove really convenient for purposes other than holding eggs. Like this nice little bird feeder. It's so easy to make and hang around in the gardens and balconies.
The best thing about this feeder, is that it can be done within a minute or two. Punch some holes in the corners of the carton and pull some ribbons through it. You may even paint it if you wish to. An amazing idea, isn't it?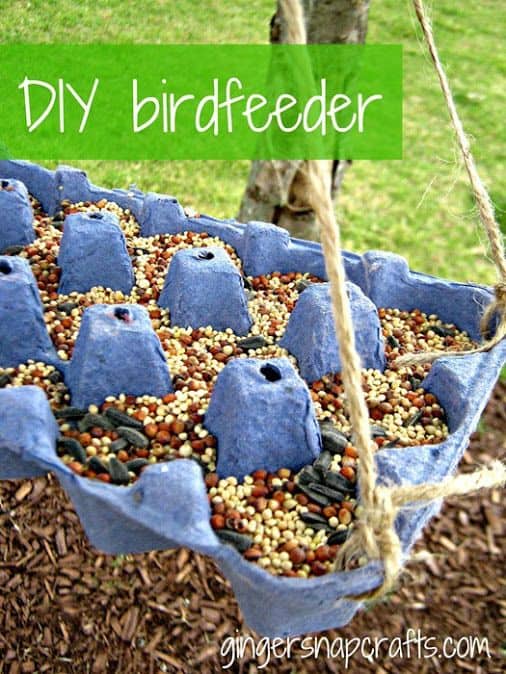 More details at thecreativecubby.blogspot.ca
Toilet Roll Tube Feeder
Toilet rolls are essentially needed in every household, but we end up throwing the cardboard tube away. This tube has many uses in recyclable DIY products, like this nifty bird feeder. It's not even difficult to make! All you need to do is coat the toilet paper roll tube with peanut butter and thoroughly stick a thick coat of bird seed on it. You don't even have to decorate the bird feeders, and they're easy to replace too.
 More details at playfromscratch.tumblr.com
Porch Swing Feeder
Now, this bird feeder looks really adorable. It's a tiny porch swing, filled up with bird seed. You can either buy it from a gift or a craft shop, or make it yourself.
You can use it from most showcase items that have these kinds of swing sets, or you can get one from a doll house. If you plan on making it yourself, you can use small twigs or small wooden plywood sticks. All in all, this idea seems like it would look really neat on your porch, next to your own swing, or in a garden.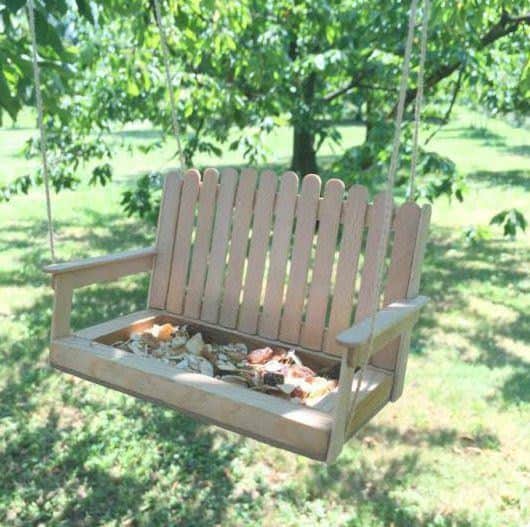 More details at birdsandblooms.com
Popsicle Stick Feeder
This DIY project is bringing back our favorite craft material: popsicle sticks! They're readily available in the nearest art store. These are mini, easy to use wooden sticks which you can use to make different designs for your bird feeders.
Like the one in this picture. Looks like a miniature treehouse right? It is easy to assemble, stick and paint however you desire. Don't hold yourself back from going a bit crafty on your new popsicle stick feeder. Let your imagination run wild!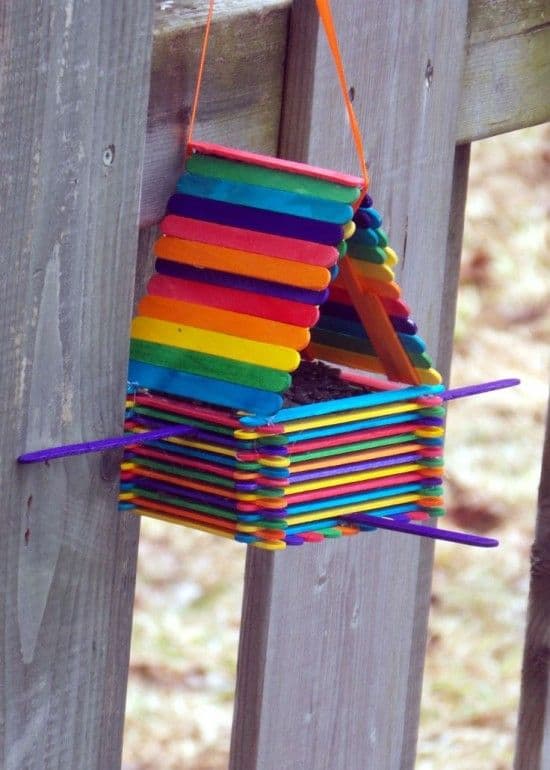 Popsicle Swing Deck
Here we have another DIY idea that uses popsicle sticks. The one we saw above was more extensive, but this one is petite and cute nonetheless. Although it's simple, birds are sure to love swinging on this small swing made out of popsicle sticks.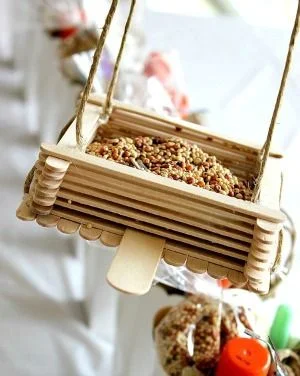 More details at 101gardening
PVC Pipe Bird Feeder
If you have some leftover PVC pipe pieces from an old construction or a garage project, you can upcycle it as a crafty bird feeder. It holds plenty of birdseed, and you can control how much seed is released, by cutting a hole for enough spillage.
You can fix the pipe to some old plates and make a stand and a roof for the birds. PVC pipes can be easily painted with acrylic and oil paints, so you can let your kids help in on the project.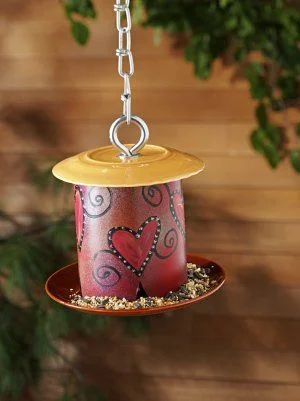 More details at birdsandblooms.com
Burlap Thistle Sock
This is another organic idea that you can replicate. Making a small gunny sack, or in this case, a sock, as a bird feeder. You can get burlap fabrics in any store, or you can repurpose an old grocery bag for it.
You'll need to give it a few stitches, turn it inside out, and fill it up with the bird seed. The small holes are the burlap will give easy access to the birds to peck out seeds with their beak, and at the same time, keep the grains from spilling out.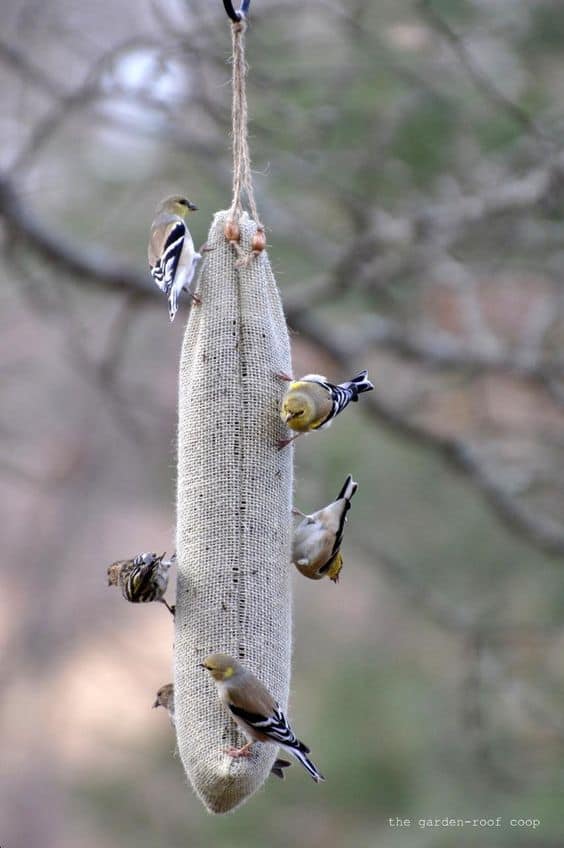 More details at thegardenroofcoop.com
Tire Swing Feeder
Oh, this brings back a lot of childhood memories! This tire swing is actually used as a bird feeder. You can get a similar tire from toy stores quite easily, and hang them with a jute rope. The birds will appreciate the swing, and the feast that comes with it.
Although, it's also available for purchase, you can craft it from toys, clay, and other rubber articles.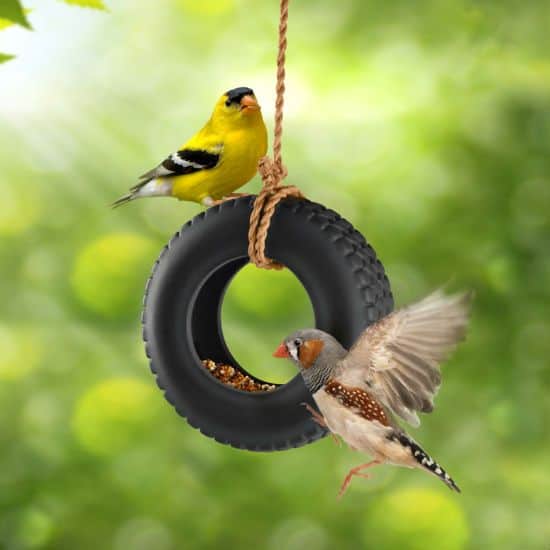 More details at coolstuffdude.com
Paper Plate Feeder
This simple little crafty idea is really good as a bird feeder. Since the surface of the dish is big enough, a lot of birds can feast from it. Using a disposable paper dish can make your DIY project easy.
It doesn't need any tools or fixing, so kids can make this easy bird feeder too. Using wired cheerio as a hanging thread is a really clever trick. It definitely adds some variety to the birds' nibble.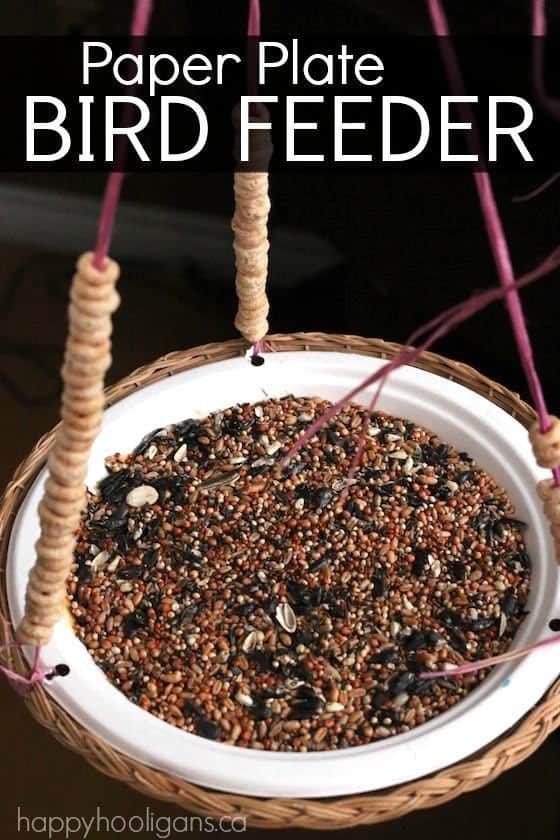 More details at happyhooligans.ca
Window Bird Feeder
This bird feeder is so minimalist and adorable. It's made out of simply cut plywood, and has a deck to it. It has a small roof to it, and it's suspended to the glass window with rubber suction cups.
It looks just like a birdhouse. You can build this frame yourself using wooden pieces. Or if you have an old birdhouse that has become obsolete, you can cut the entrance part of it, paint it and reuse it. The arch will give an unobstructed view of birds from the other side of the window.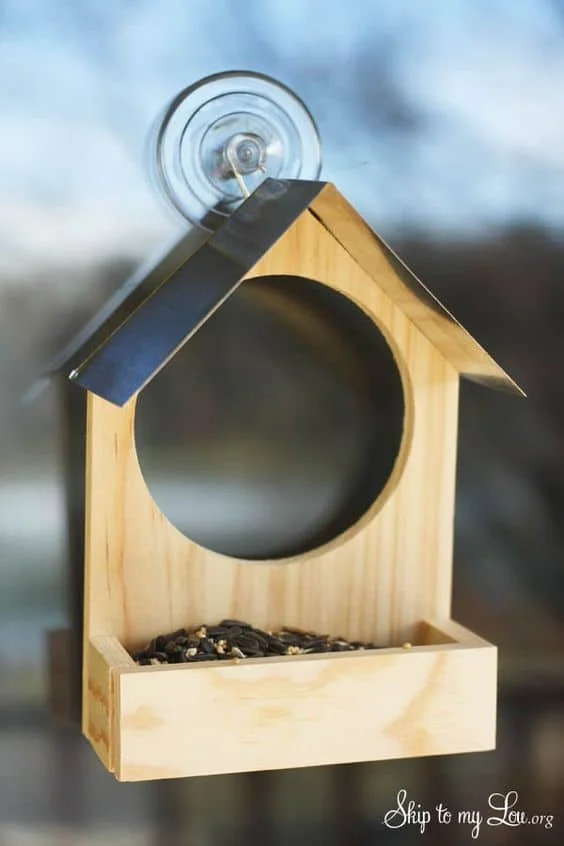 More details at ana-white.com
Log Bird Feeder
What best way to attract birds than to use trees or wooden logs for a feeder? Well, it makes sense if you use a log from your firewood or construction projects instead.
All you need to do is carve out a very small piece of log, enough to accommodate some birds. Hollowing it out from inside will allow you space to fill up the bird seed in. The birds can sit on the edge of the log and enjoy their hearty meal, feeling right at home with this Log Feeder.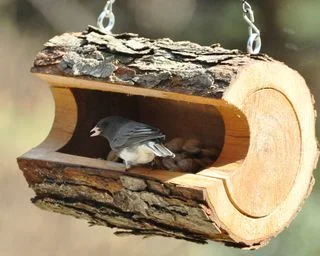 More details at pinterest.com
Standard Tower Feeder
If you plan on having a more traditional bird feeder in your garden, this Tower Feeder can be your best choice. It's mostly available in shops, but you can also make it yourself if you wish to cut on your costs.
This DIY tutorial gives a step-by-step of how to build your standard bird feeder tower with stuff you can upcycle. You can decorate the feeder in different colors too. Check it out in the link given below.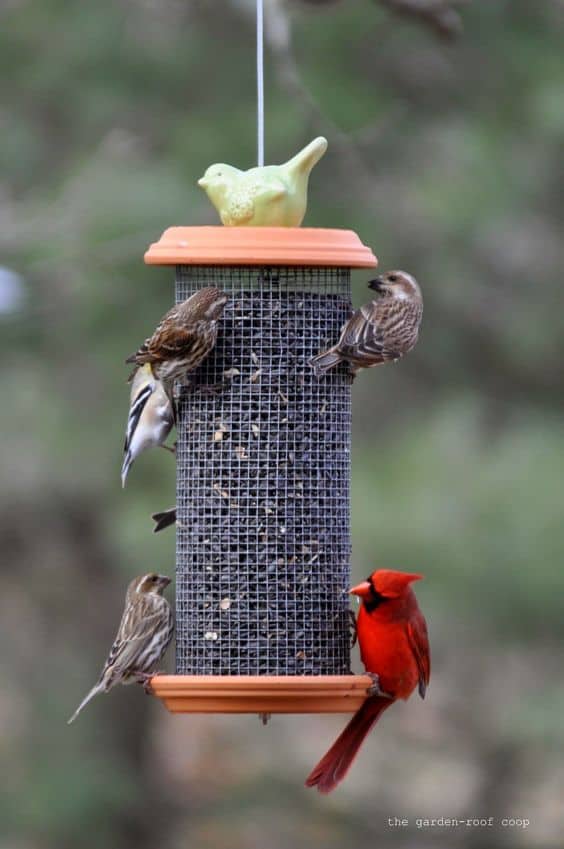 More details at thegardenroofcoop.com
Umbrella Tower Feeder
Now, this bird feeder is a top class idea for hummingbirds. It stores nectar in a glass tube, which has a small pretty umbrella for a roof. It seems like a place a bird would want to go on a vacation to.
This product is available for purchase, but you can also try your hand at DIY with some glass tubes and a toy umbrella. Check it out here: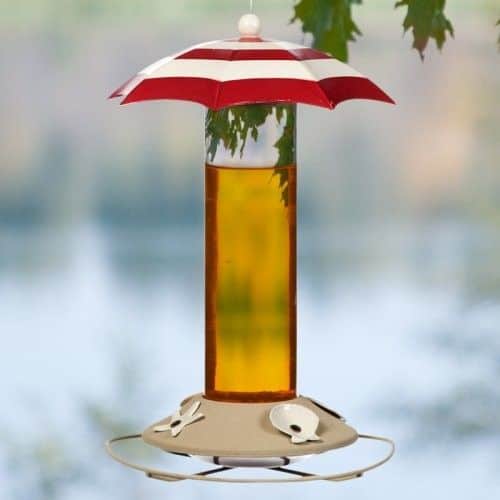 Clay Feeder
If you have a pottery kit in your homes, or simple playdough, you can try this simple idea for a clay bowl feeder. It's so easy to make; you can even let your kids try their hand at simple clay art. Make holes in it to tie up some yard for hanging purposes.
Sculpting clay is quite easy to mold and paint, so you can mix up colors and try different pottery designs for your feeder too. Kids will have a ball working with clay, and will keep themselves busy with pottery inspired bird feeders.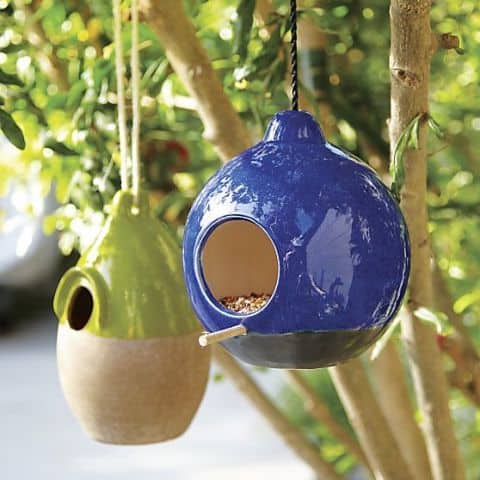 Flower Pot Feeder
If you don't have any way to make your own clay feeder, but the idea of using clay pots appeals to you, don't hold back. You can repurpose old flower pots or earthen clay lamps to spread a feast for the birds.
You can use a drill to make holes in the pot for the seeds to fall out. You can even make a different pattern with the holes, like the one shown in the picture. Extra tip: Use a plastic bottle cap to reduce the impact of drill on the clay and keep it from cracking.

More details at allthingsheartandhome.com
Terra Cotta Saucers
When most of your old cups have broken off, and their saucers are left obsolete and useless in your kitchen cabinet, don't throw them out. You can instead use them as simple bird feeders. Using straw or metal hanging baskets to hold the saucer in place with glue, will be a good idea, since you wouldn't want the saucer to tilt and spill the bird seed.
More details at gardengatenotes.com
Gumball Machine Feeder
You hardly get old gumballs in toy stores now. So most of them have been sold off to thrift stores or recyclables. You can buy one of those to make a cute little bird feeder for your garden.
The good thing about these machines, is their capacity to hold a lot of bird seed. You wouldn't have to worry about refilling it time and again. Who would've thought using a gumball machine would be so convenient?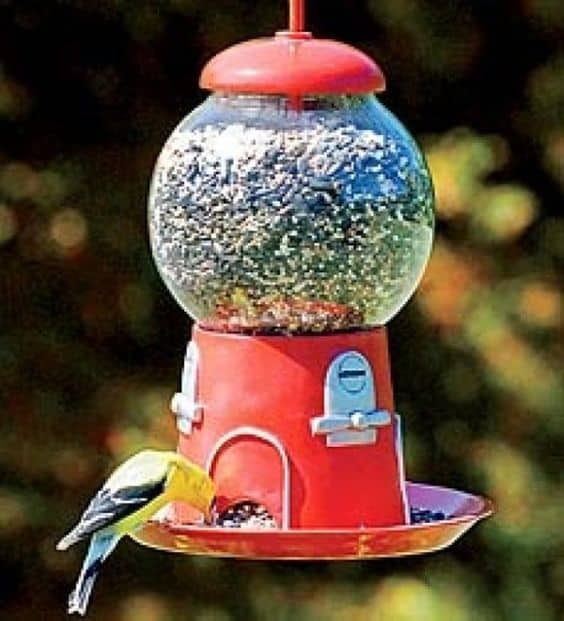 Shovel Head Feeder
If you have a lot of gardening tools in your shed which hasn't been used in a long time, you can repurpose them as bird feeders. You'll need to separate the shovel heads from their wooden handles. If there's rust on them, you can remove it easily with some tips and tricks available online.
Make sure you blunt the edges of the metal so the birds won't get injured. Fix them on a tree trunk, and you'll have a brilliant repurposed bird feeders for your backyard.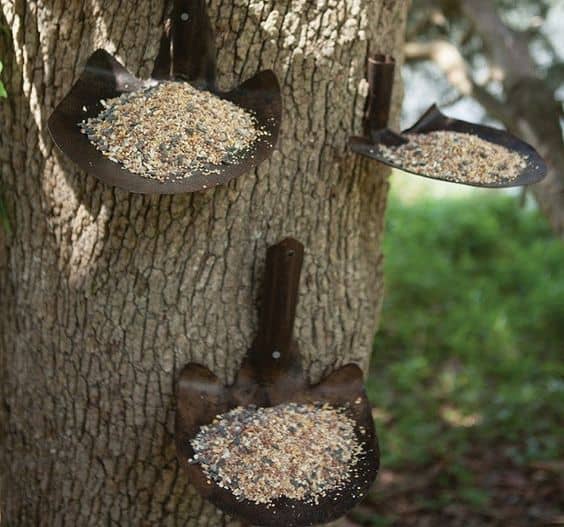 Old Ladle Feeder
We've been seeing a trend of using old utensils for the purpose of feeding birds. This one is similar to the wooden spoon idea, but it's actually an old soup ladle fixed to the wall. You can put a base to the ladle for the birds to stand on. The shiny metal will certainly attract birds to your yard or balconies.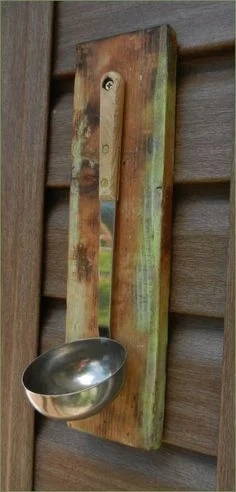 More details at pluska.sk
Tea Cup Feeder
This bird feeder is quite adorable. Using a ceramic or a melamine cup and saucer arrangement as a bird feeder can look really pretty with little birds sitting on it.
You can use glue to stick the cup and saucer together. If you've got a certain theme going on in your garden or backyard, you can use different designs for cups; Victorian, polka dotted, abstract, brightly colored, and so many more. Make sure to hang the tea cups to a strong suspender and not long ribbons, so that it won't swing around and break.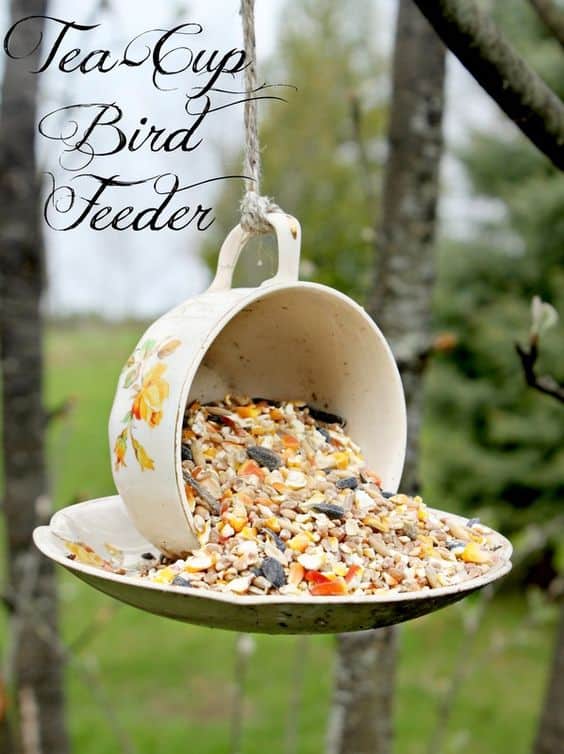 More details at mommymoment.ca
Cup and Saucer DIY Bird Feeder
We saw a cup feeder which looked like it spilled the beans. This one needs a little more craft skills as drilling through a ceramic cup and saucer is a work of patience. But the drilling is all you need to do.
The cup acts a food holder for the birds, and the saucer acts as a shelter. You can use peppy colors for the feeder by choosing different designs on your ceramic. You can also go one step further and add a cup for water.

More details at erinscreative.blogspot.ca
Teapot Feeder
Like a cup and saucer, you can also use an old teapot for your winged friends. It can also double as a birdhouse during harsh weathers. Sealing the spout can prevent the bird seed from falling out.
Teapots can be painted in very pretty colors, be it pastel, polka dots, or earthy colors. You can hang them around trees by their handles. It will surely add a new charm to the garden.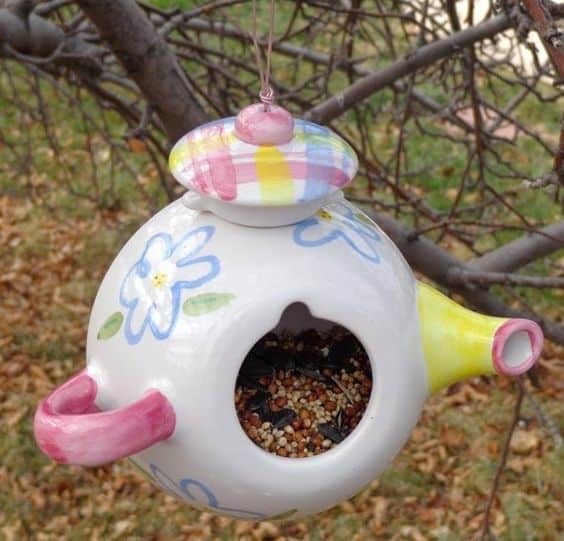 More details at edenproject.com
Tea Cup Towers
If you live in a windy area, and are scared to suspend your china from a tree, you can use this alternative idea instead. The crockery won't swing around and crash against any surface, so it's a very safe option for both the birds and yourself.
These tea cups are placed in a saucer normally, and glued neatly. The tea cup will hold the bird seed, and the saucer will act a stand for the birds. The cups are then glued to a rod, buried in the ground. So your cups won't break if you arrange them this way, and they'll surely attract a lot of hungry birds too.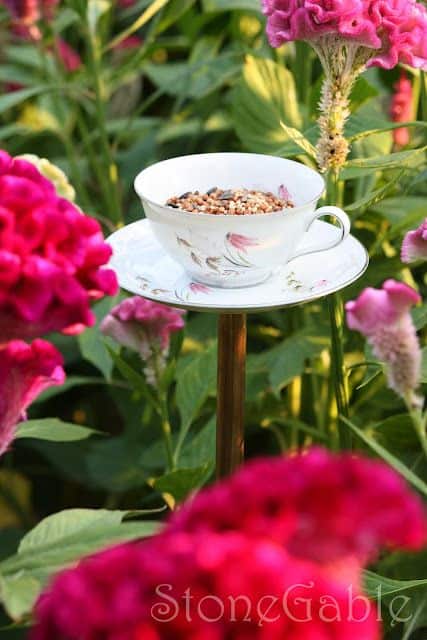 More details at rockiescrafts.blogspot.com
Lego Bird Feeder
Everyone loves Lego blocks! I do too, especially the best architecture kits envisioned by LEGO yet beyond kits with a specific end design, free-styling with LEGOs is the thing that started everything.There are so many things you can create with these colored blocks. For instance, take this Lego feeder. Seems brilliant, doesn't it?
If you have old Lego blocks from children's toy kits that you can spare, or if you don't mind purchasing a basic Lego kit, you can make your very own Lego Bird Feeder. You can even build it according to your favorite or available Lego themes.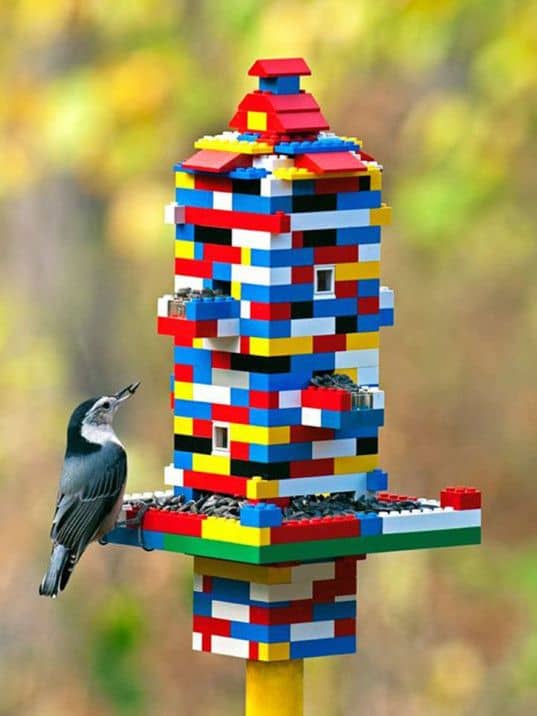 More details at feederwatch.org
Rainbow Ice Bird Feeders
This is one of my most favorite ideas from the lot. The creator of this idea stumbled across this idea by happenstance. If you live in regions with heavy snow and frost conditions, you could surely try this idea to feed your feathery friends, and add color to your snow-clad white backyard.
This is a really economic idea, and you don't even have to create as many bird feeders. You just have to use some balloons, water, and some bright food colors. This will look quite brilliant on the snow canvas in your garden. And don't worry, the ice doesn't hurt the birds' feet, so it's a safe option.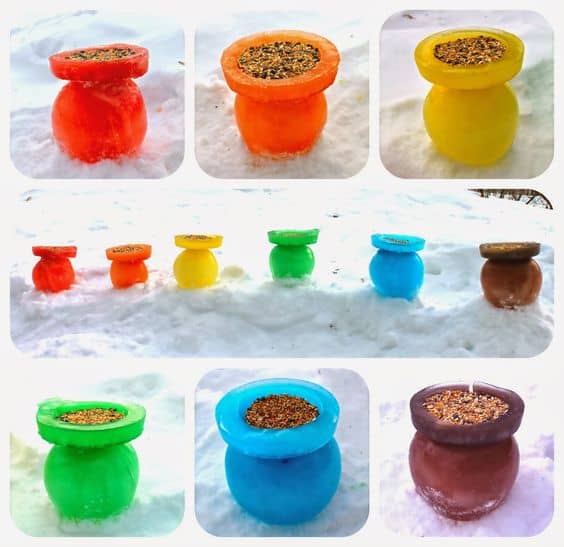 More details at twigandtoadstool.blogspot.ca
If you're not interested in using metal, glass or tin cans for your bird feeders, you need not worry. It's easy to make or bake bird feeder using suet and bird seed. There are quite a lot of ideas around which use baked bird seeds, making it easier to hang them around the garden. They don't even leave anything behind, so that's a plus. Try some of these caked bird seed ideas -
Suet Log Feeder
This one is quite simple for beginners. It's a dry wooden log drilled and made hollow in random places. These holes are stuffed with the suet mix, and the whole feeder is hanged in the garden.
Now since this feeder looks like a natural log, a lot of birds take up to it immediately, especially woodpeckers. When the feed gets over, you can refill it with another batch of suet and hang it back. The birds will surely take a liking to it.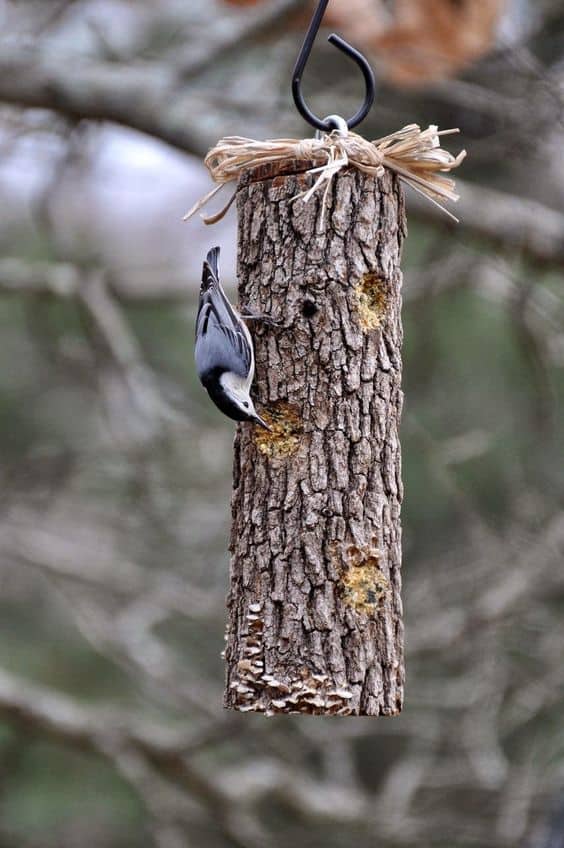 More details at thegardenroofcoop.com
Grapevine Suet Ball Feeder
You can easily buy a grapevine ball from a shop, and it's not even expensive. You'll have to pull some twigs apart to fill it with the suet, and leave it to refrigerate. You can hang it around the garden or balcony with jute or a sisal rope, and it will look completely natural.
The tutorial gives some extra tips to hold the ball in shape as the twigs are thin and don't hold the heavy suet weight. You can even stuff the grapevine balls with cheerios if you're not interested in using suet for the mixture.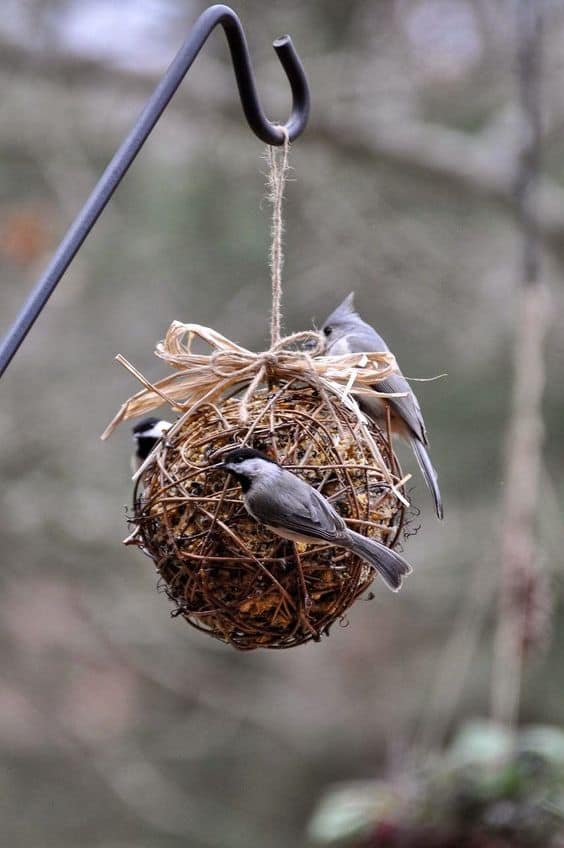 More details at thegardenroofcoop.com
Cookie Shape Feeders
Hanging out different shapes of hardened suet will add extra beauty to your garden. You can use your cookie cutters to cut fun shapes into the suet layer. You can use a festive theme for the shapes, and it will look really pretty.
For instance, you can cut star or gingerbread shapes and hang them for a candy cane for Christmas, hearts hanged by a pretty red ribbon for Valentine's, or butterfly shapes for Spring and Easter. It is sure to attract the attention of the birds as well your guests during a garden party.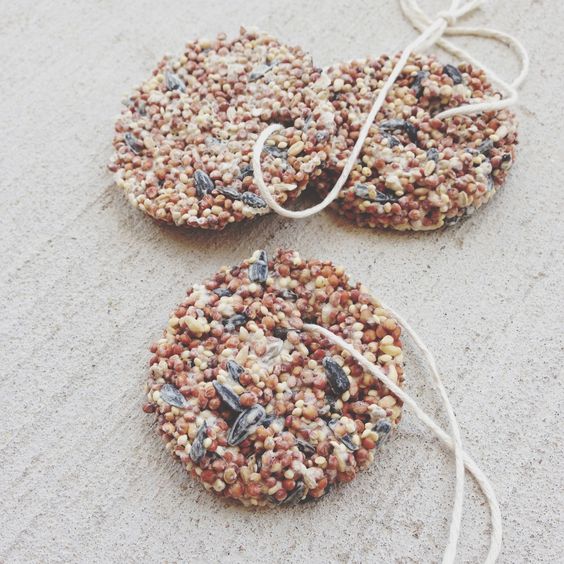 More details at jugglingwithkids.com
Bundt Pan Wreath Feeder
Speaking of thematic and festive designs for suet bird feeders, you should definitely try this bird seed wreath for your door. It can replace your regular blingy green wreath and toy birds with something that's homemade and organic. And you'll even get real birds flying around your front door.
You can find suet or gelatin recipes for a bird feed online, all you need is a bundt cake pan, and behold! Your very own bird seed wreath is ready to be hanged. Make sure to use fancy laces and ribbons for some extra color.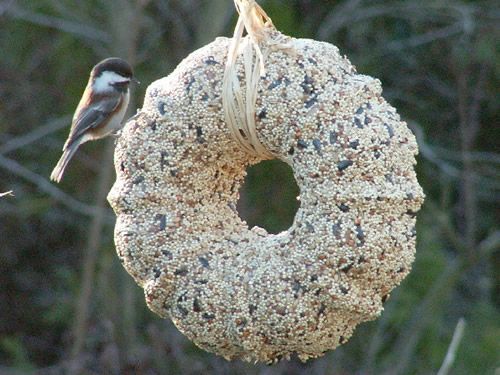 More details at infarrantlycreative.net
Acorn DIY Bird Feeder
This idea is quite clever. It's shaped like an acorn using suet bird seed mold, wooden bowl, and a jute rope. The bowl acts as the top of the acorn, and the mold id fit into the bowl. You can put the jute rope through both the bowl and the mold, and then turn it upside down. Make sure you don't attract the squirrels with this design though.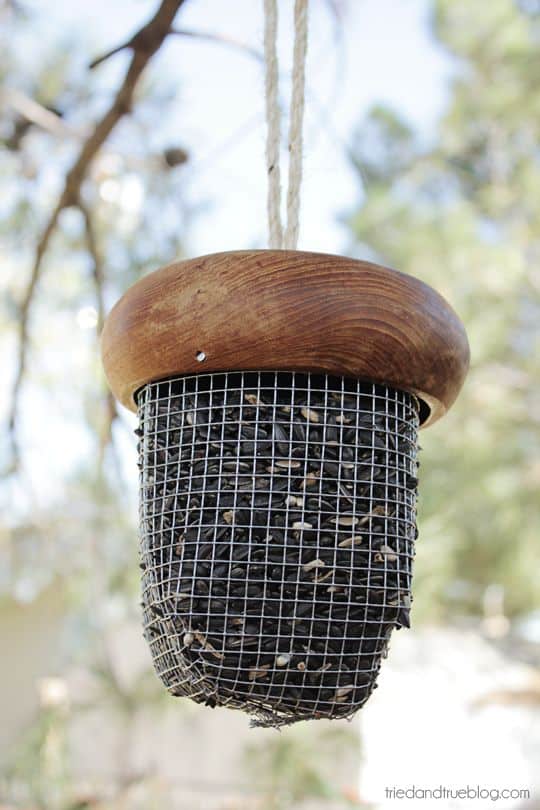 \More details at craftfoxes.com
Simple Suet Feeders
You can use mesh bags to hold refrigerated suet balls for the birds. You can readily get mesh bags from a grocery store. You can mold the bird seed suet mixture in spherical balls and put them in the mesh bags.
You can add color to this simple craft by using different colored mesh bags. Using fancy ribbons and laces to hang them can take the boring simplicity away. Watch the birds have fun flying around this simple mesh bag suet feeder.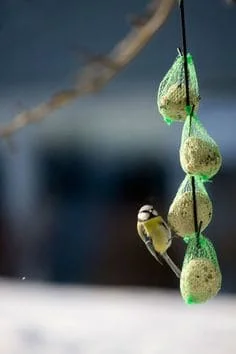 More details at goodhousekeeping.com
Hanging Cheerio Feeder
This idea is quite brilliant, and unbelievably cheap. If you don't have bird seeds available in your area, you can use a few of your Cheerios or cereal loops.
It can hang around your windows and backyard in the summers, without any worries of breakage. You can experiment with different shapes, sizes, and colors, adding to the extra charm of a cheerio garland.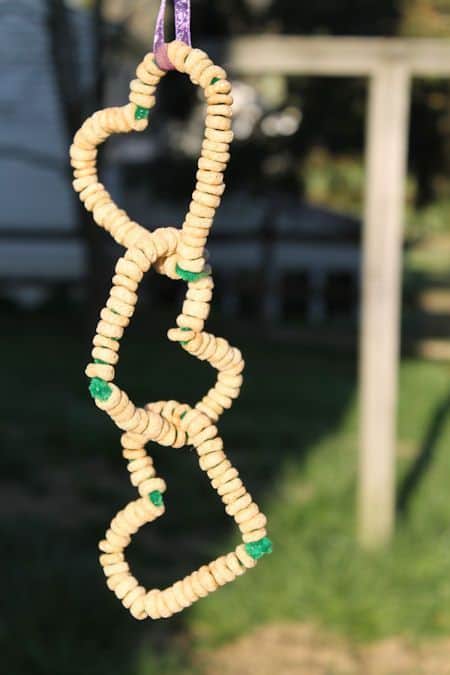 More details at 366daysofpinterest.com
Feeder Garlands
An all-inclusive food buffet for your feathered friends! Fruits, nuts, grains and all! You can use threads to hand fruit slices - birds prefer apples and oranges - to attract birds. You can also include bird seed coated pine cones and nut threads in the garland. As much as it seems convenient as a bird feed, it also proves to be a very decorative piece for your garden. You might as well end up attracting some squirrels too.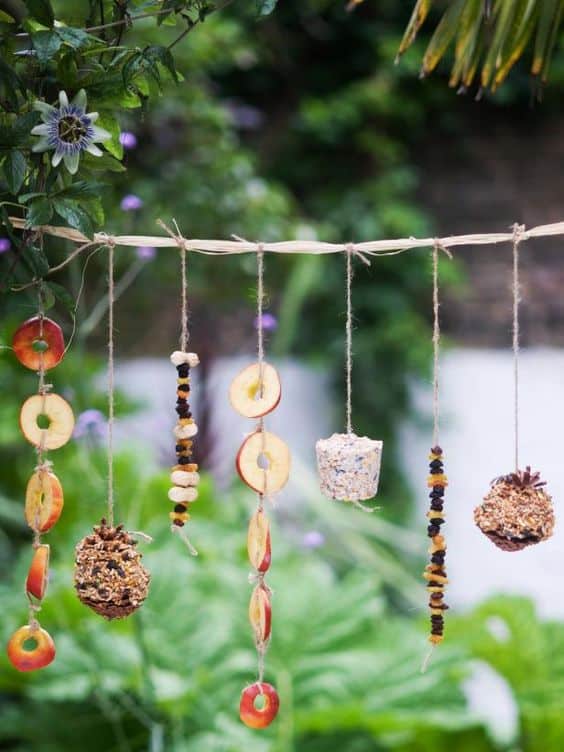 More details at diynetwork.com
Citrus Peel Feeder
Leftover citrus fruit peels can be now used as a bird feeder. When you're done carving the fruit out for juice, you can use these halved peels to store bird feed. Using woolen yarns to make holders for the bowl will withstand the weight of birds and the feeder itself. You can hang them around your garden or balcony, and it will still look pretty and beautiful.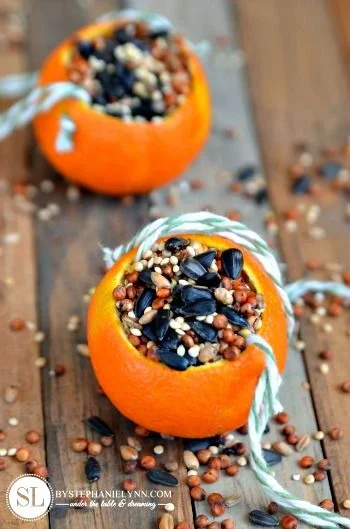 More details at mnn.com
Pine Cone Feeder
Pine cones naturally attract birds due to their strong and fresh scent. You can use them to attract hungry birds to your garden. You can pick the pine cones fallen around the trees or pluck some off the tree yourself.
Coat them up with peanut butter and stick the bird seed on it, et voila, it's ready to be hanged in your windows or garden. So, if you're looking for a natural bird feeder, you can definitely try this idea.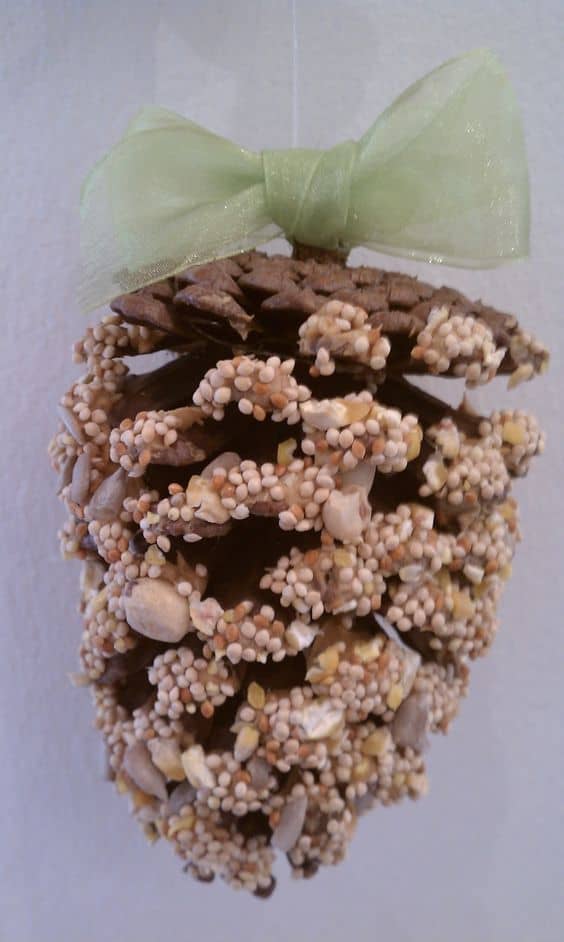 More details at freebiefindingmom.com
Dried Apple Feeders
As mentioned above, apples are quite popular among birds. You can add fruit to their menu by including these sun-dried apples in their feeder. Apples are sticky too so that you can coat them with a thin layer of bird seed. Hang them up in your garden or balcony, and you'll have constant visitors to your popular apple-and-grain buffet.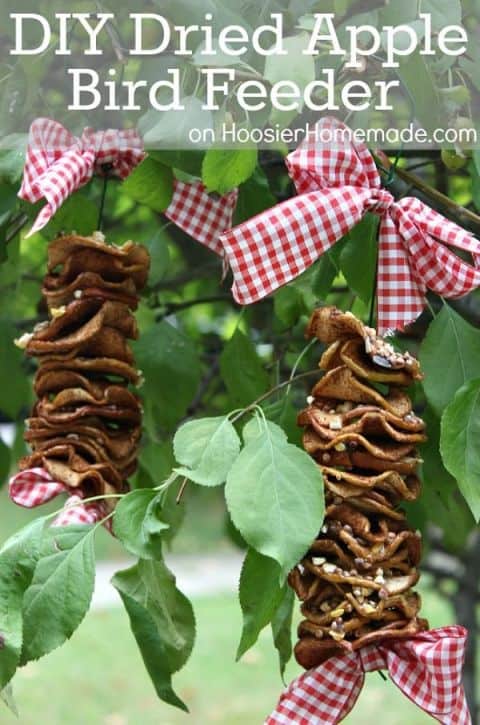 More details at hoosierhomemade.com
Bread Bird Feeder
The bread goes dry and stale quickly, especially in winters. But birds still love to peck on random bread crumbs. So instead of throwing away a good loaf of bread, you can prepare a winter treat for your feathery friends.
Lather some bread with peanut butter on both sides and coat it with a neat layer of birdseed. Pull a thick wire or thread through the bread to hang it in your window or balcony. A no-waste product like this is sure to be a success.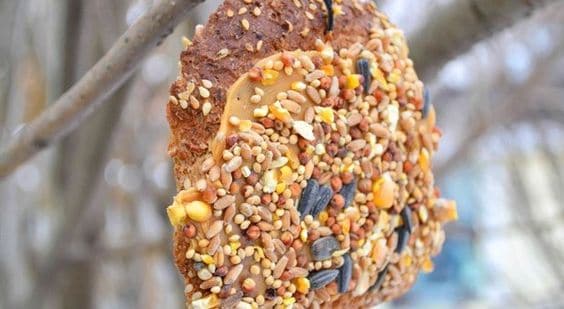 More details at cbc.ca
Gourd or Coconut Shell Feeder
You can use a dried gourd or an empty coconut shell to make this hanging bird feeder. This is another best out of a waste product which isn't expensive and reduces your garbage. Drilling holes in the shell will allow you to thread a wire through it and make it easier for hanging. You won't even have to throw the gourd seeds away as the birds will eat them up.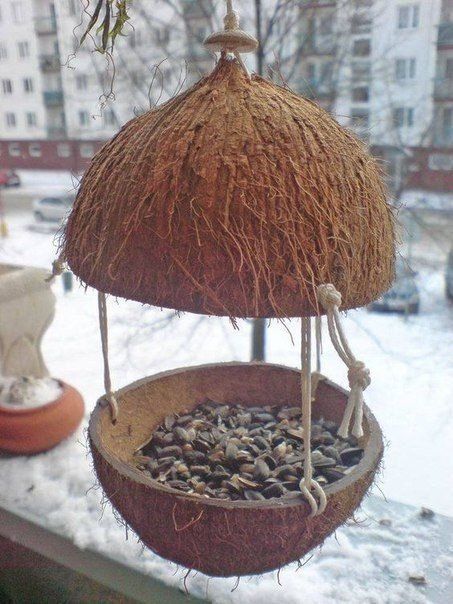 More details at kitchencounterchronicle.com
Carved Apple Feeder
Now that we know what fruits the birds love, we can use them as a bird seed holder. Like this fancy apple holder. You can carve different shapes with some cookie cutters. You can even use pears for this feeder. Filling up the carved space with bird seeds will certainly attract more birds, and they'll be surprised to find a juicy fruity treat with it too!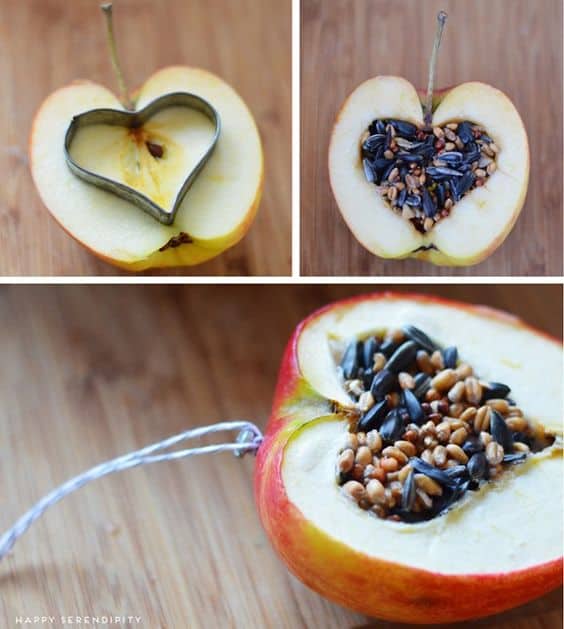 The Orange Feeder
We tried a lot of bird feeders with apples; now there's this nifty idea of keeping oranges for your winged friends. All it uses is an insulated craft wire or a spring, twisted and turned to hold the oranges.
Although it says orange feeder, you can put other fruits in this feeder too. You can cover it up with a piece of fabric to keep the squirrels away, and add some more colors to it. It's quit an easy and charming bird feeder.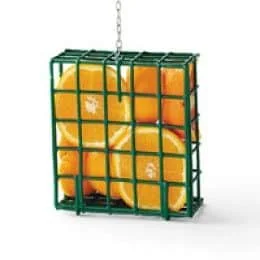 More details at acowboyswife.com
Fruit and Grain Hoops
These bird feeders look like pretty charm bracelets. Sew some grapes, nuts, and grains into a thread and hang it around your garden. You can even add cheerios in them.
I like the no waste approach to this idea - using up old fruit, or nuts with worms - it just reduces the garbage by a lot. You can make multiple charm feeders and hang them around in the garden or your windows and see birds finish it up quickly. They'll surely love the thought.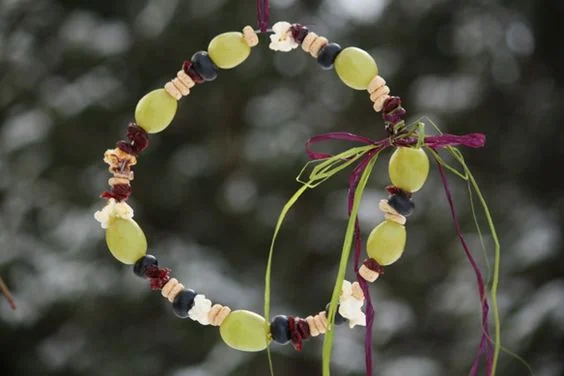 More details at cbc.ca
Carved Pumpkin Feeder
Make your garden look special and festive in autumns with this cute pumpkin feeder. It will look especially festive with Halloween knocking on your door. So while you're carving your jack-o-lanterns, use another pumpkin to offer festive treats to your winged visitors.
Carve the central portion of a dried or a fresh pumpkin and fill it with bird seeds. The birds will love that extra juicy taste coming from the pumpkin, and the idea will be a super duper hit among your guests too.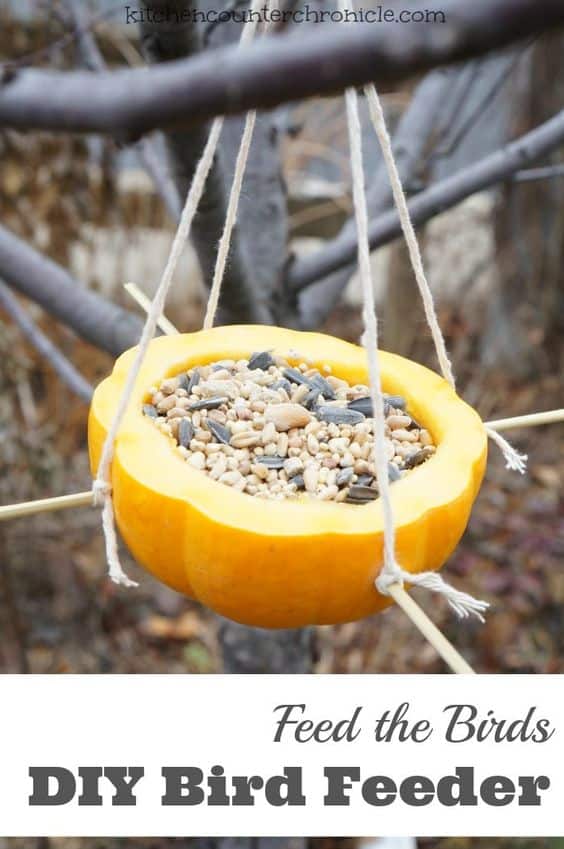 More details at dreamywhites.blogspot.com
Mug Bird Feeder
This bird feeder is pretty simple to make. All you really need is a mug that you aren't using anymore or one you think is disposable enough to be repurposed as a bird feeder. Fill it up with bird feed and milk and ready it to be hoisted by a wall or a door with a twig for the birds to perch on while feeding.
More details at frugalfamily.co.uk
Little Victorian Birdhouse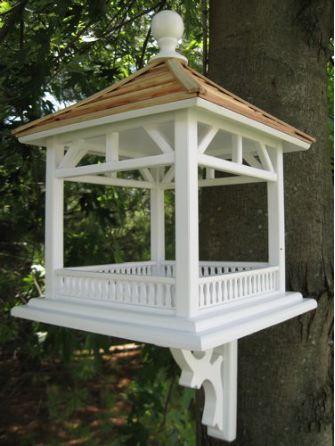 This birdhouse and bird feeder is a little special in the way it looks. It is quite Victorian in its design. It not only gives the birds enough space to rest and to feed, but it also acts like a lovely little decorative piece in your backyard to have.
More details at thebirdhousechick.com
Birdhouse Paradise
This how-to is more than about just one birdhouse for one bird feeder. This is a small township on the wall designed solely for your winged friends to rest in and to feed. There are different types of feeders and houses in this birdhouse paradise.
More details at homesteading-com.cdn.ampproject.org
Bird Wheelhouses
These wheelhouses made out of iron mesh are great for birds to both live and feed in. You can have either one or more of these wheelhouses for your tweety friends, and I'm sure they'll appreciate the gesture!
More details at hometalk.com
Upcycled Bird Feeder
Upcycling is always fun. It does your job and saves on money and time. You are essentially recycling while giving upgrading the object's purpose. And this bird feeder does the job gorgeously. It looks neat and will be a welcome addition to your outdoors.
More details a cutesycrafts.com
Lamp Bird House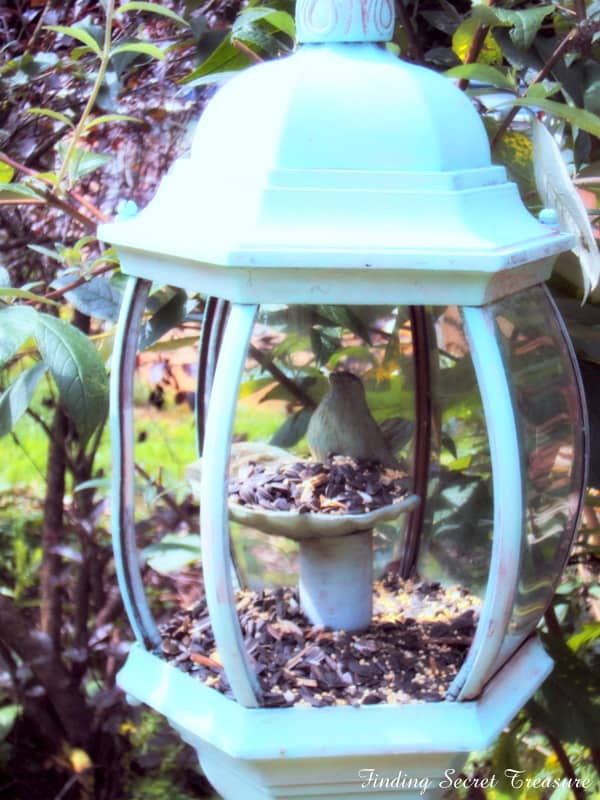 This little bird house is warm, cozy and pretty secure. It is spacious enough for your bird friends to fly comfortably inside, and the glass on most sides keeps the temperature adequately warm for them to feel at home.
More details at  hometalk.com
Chandelier Bird Feeder
Have an old chandelier you have no use for anymore? Don't know what to do with it other than selling it off at the junkyard? Here's how you can help a lot of birds feed by repurposing it into a bird feeder. Sweet and simple and an odd yet creative decorative piece in your backyard to have.
More details at peachydoddlesandpolkadots.blogspot.in
Suet Baskets Bird Feeders
These suet baskets look adorable, and so do the little birds who feed on them. These are pretty easy to make and are very crafty to look at. Apart from being convenient feeders for neighborhood birds, these suet baskets also are quite ornamental.
More details at duncraft.com
Repurposed Bird Feeder
This is a repurposed piece of interior décor which looks more at home being a bird feeder. It has enough space for a lot of bird seed to be added and more on top for water. I'm sure the adorable little-winged creatures will like this arrangement very much!
More details at pinterest.com
Spiral Bird Feeder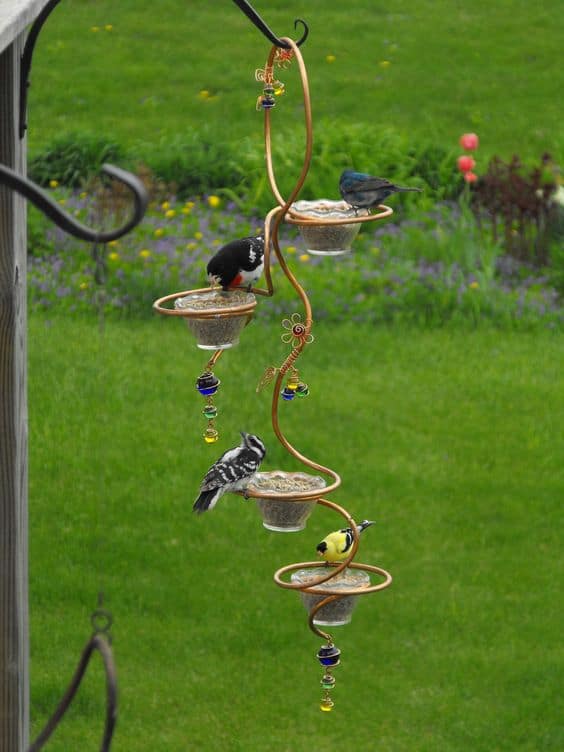 This is such a beautiful bird feeder! It looks like something straight out of Alice in Wonderland. Using spiraling coil and some glass bowls, and a few ornamental jingles, this lovely bird feeder is extremely attractive, both to birds and to humans.
More details at pinterest.com
Recycled Can And Plate Feeder
This bird feeder uses a recycled trash can lid and an old partitioned plate. The partitions help you segregate different types of edibles for the birds to feed on, and not only bird seed. Plus, you can use one of the sections for water instead of food. Pretty convenient and space saving.
More details at pinterest.com
Multiple Bird Feeder Ideas
Here's an assortment of bird feeder ideas for your perusal. Some are very simple, others a little more advanced, but all are satisfactory for your bird friends and lovely additions to your garden!
More details at craftionary.net
So did you find any DIY Homemade Bird Feeders ideas that were helpful? Did some ideas inspire you to try your own designs? Let us know your ideas too! Good luck with your crafty bird feeders.
Related Articles
13 Best Hummingbird Feeders Right Now
23 Epic Homemade DIY Guinea Pig Cage Designs to Build
13 Epic Free Rabbit Hutch Plans You Can Download & Build Today