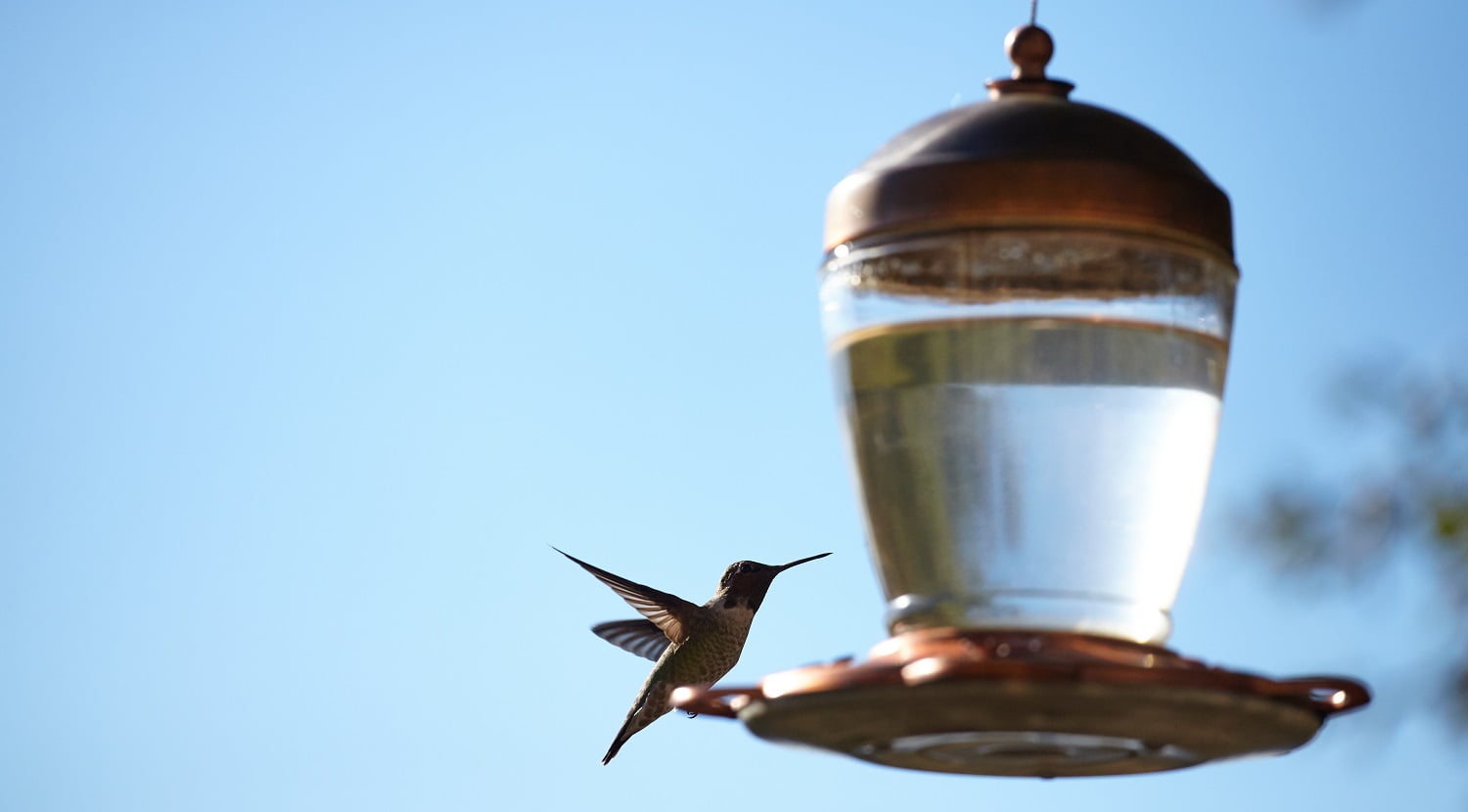 Do you want to wake up to birds chirping outside your window? If you are enthusiastic about nature, it's time to take that extra step. 
Bring home a beautiful feeder that will not only keep hummingbirds fed and happy, but it will also make them want to hang out in your garden. If you are a gardening enthusiast, you must already have a beautiful garden. Place a few feeders around it, and you can hear birds chirping all day long. 
Now the problem is that there are multiple choices in the market, and selecting 1 becomes challenging. To make it easier for you, we have curated a detailed and comprehensive guide about the 13 best hummingbird feeders right now. The pros and cons have been mentioned too and will help you understand the product better. 
So, without further ado, let's move on. 
Best Hummingbird Feeders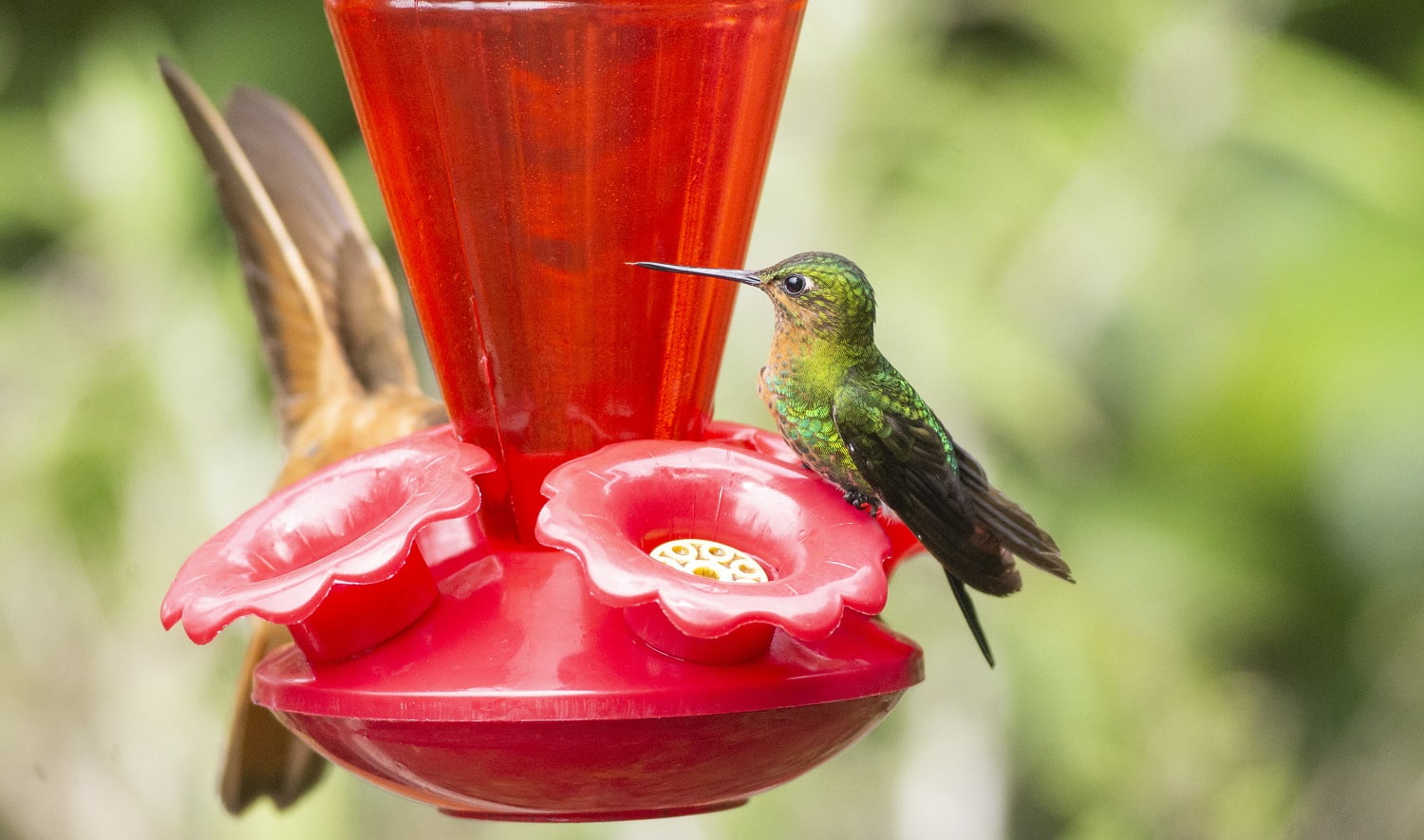 If you are looking for a feeder with 8 feeding ports, the Juegoal 12 oz Hanging Feeder will be an excellent choice. It can be hung anywhere around the house or the terrace where birds come mostly. We were impressed by the simple design along with its brilliant efficiency.
Why Did We Like It?
First of all, we will mention the anti-polluting moat. This prevents insects and other pollen from falling or crawling into the nectar. The moat also keeps ants away. 
This is accompanied by a Maggift cover, which is made of plastic and is easily removable. The cover has 8 openings on the sides for the birds to feed from. It can be taken out and cleaned while you can fill the feeder easily. 
Further, the plastic body is lightweight and can be easily hung anywhere. A metal hook is also provided, which can be used to hang the feeder. Try to keep it away from beehives or trees as that attracts many insects. Although they cannot reach the feed, you do not want insects buzzing around. 
Overall we found this to be very beneficial for us, and the bright orange shade looks good wherever you decide to place it.
What Could've Been Better?
Now we want to recommend that you clean the feeder regularly. This is because you will be putting sugar water or nectar in it, which could lead to molds. If you leave it for a week without cleaning, molds appear on the side, which would be very difficult to clean. 
Cover is detachable

Can be cleaned easily

Comes with a built-in ant moat

Lightweight body

Mold problems can appear
Up next is a beautiful product known for its exquisite design and colors. The ShinyArt ML18011 is a sturdy and reliable option that will please the birds and anybody who sees it. We found it to be like a piece of art that can be hung right outside our house on the porch.
Why Did We Like It?
The glass used to make the item is very sturdy and will not get damaged. The colors do not fade, and a food-grade silicone sealing ring is attached below it. This prevents contamination while holding the glass structure in place. At the same time, these materials are non-toxic and environmentally friendly. 
Adding on, there are 4 red flower feeding ports, which will allow 4 birds to be drinking at one time. There is also enough space for them to stand comfortably while at it. 
Now, these feeders need to be cleaned regularly since you are dealing with sugar water. It is fairly easy to disassemble and clean. The mouth is wide, and you get a brush and cleaning rug to wash and wipe it. 
To keep it clean and prevent ants from filling the feeder up, an ant moat is also provided. This will prevent the ants from reaching the nectar and preserve it for birds only.
What Could've Been Better?
We found that although it does not leak a lot, there is sugared water layering on the outside of the feeder. This will not be a problem if your area does not have too many bees. If it does, this is going to attract them, and you might have a lot of bees swarming around. We would suggest cleaning the outside regularly. 
Leak-proof gasket

4 flower feeding ports

Gradient colors making it attractive

Brush and cleaning rag provided

1 S-hook and hemp rope

Attracts bees too

cons
One of our top recommendations is the Best Home Products Autumn Impressions, which is a beautiful orange-yellow glass feeder. We loved the beautiful colors, and the light reflects from it, making it a decor element too. Hummingbirds are attracted to the yellow and red shades and will not miss this one!
Why Did We Like It?
To begin with, we found it to be big enough to hold a lot of nectar at one time. With dimensions of 10.47 x 6.77 x 6.61 inches, this product can feed a number of birds. There is enough space for the birds to hang out after having had their fill. We found that many of the birds stayed longer than usual on it. 
Secondly, the holes are small and will prevent any big bird from feeding out of it. Also, smaller insects or animals without beaks will not be able to reach the liquid at all. This makes it perfect for hummingbirds. Bees cannot reach the nectar as they do not have beaks, and that saves you the trouble of warding them away. 
Plus, we have to mention the shape of the feeder, which does not provide space for big birds to sit on it. Hence, they cannot take over the feeder, and hummingbirds will have access at all times.
What Could've Been Better?
We found that the bottom tray does not remain in place, and to deal with it, you can use a rubber band. The rubber band will hold it tight, and its seal will prevent any of the sugared water from leaking out. 
Beautiful orange-yellow shades

Rubber seal prevents leakage

Nectar can be easily reached

The bottom part is slightly loose
If you want a handmade product that is unique and is bound to stand out, the Grateful Gnome HB511 is going to be a great choice. It has double layers of glass to prevent any damage and is known to be very easy to assemble and clean. Read on to know about its other features.
Why Did We Like It?
The body is made of premium quality thick glass, which has been hand-blown individually. The glass is strong and does not fade with time. Also, we loved how it was packed. There was padding on both sides to prevent the glass from facing any damage during transport. 
Moving on to the capacity, it can hold 26 ounces of liquid at one time. This could last for a few days depending on the number of birds that feed from it. 4 flowering feed ports on the different sides ensure that 4 birds can feed together. 
Lastly, we have to mention the customer service, which is very good. We were able to reach them every time we had a query, and they were very friendly and always ready to help.
What Could've Been Better?
We found that the cover needs regular cleaning. If you let the water stay for long, it will start rusting immediately. This could spoil the entire product, and hence you should take good care. In case it does rust, talk to the customer care, and they might send you a replacement. 
Premium quality thick glass is used

Easy to assemble

Every product is handmade

Purple speckled mushroom color

Cover can get rusted if not cleaned regularly
Do you want a well-protected piece that will keep ants away while feeding the hummingbirds at the same time? The LUJII Hummingbird Feeder is a great option to choose. It looks beautiful when placed in the sun and works perfectly too. 
Why Did We Like It?
First of all, we noticed that the bright shades are attracting a lot of hummingbirds to it. Try to keep it an open area where the light reflects off the body. There are 5 feeding stations, and 5 birds could be drinking at the same time. There is also space for them to rest comfortably while drinking. 
The body of the product is made of 2 layers of glass to protect it from fading or damage. Each is individually made and hence, will not match each other. 
It is also very easy to fill, as there is a wide mouth. You can fill quickly, and the 2-part base will help you see when it needs refilling. We did not constantly have to open and check for the level of remaining liquid thanks to this. 
Another great fact about this feeder is that you can use it as a candle holder or a vase when it's not the season for hummingbirds to come.
What Could've Been Better?
Make sure that you provide this item with enough support when you are filling it up completely. That is because it can become very heavy when the entire 40 ounces of liquid is filled. The S hook needs to be strong enough to be able to hold it, or you have to reduce the amount of liquid. 
Easy to clean

Wide-mouthed reservoir for quick filling

2 layers of glass for extra protection

Hand-blown stained glass

Can be very heavy when full
The WOSIBO Feeder for Outdoors Patio has a great blend of colors that make it look like a real flower. This attracts the hummingbirds immediately, and you can finally have a beautiful backyard filled with birds. We were very happy with the functionality as well as the attractiveness of this product.
Why Did We Like It?
The best part about this feeder is that it is made from clear glass. This makes the nectar level visible to everybody, and you can refill it whenever it goes down. It saved us from having to open the feeder every time we needed to check.
Also, it is very easy to clean. There is a big-mouthed reservoir which can be filled with nectar. We faced no problems while having to refill or clean. It can be opened up with no additional effort while cleaning. A small brush is provided that will help you out with it. 
Further, to keep it protected from ants, there is an ant moat provided. Fill it up with a little oil, and you will have no ants inside the feeder.
What Could've Been Better?
We found that hummingbirds generally came after dusk. This is because bees are attracted to it in the morning, and there is no bee guard to save the nectar. Hence, it is best if you keep it in an area that has no beehives nearby. 
A metal hook, lanyard, and a brush is included in the package

Wide-mouthed reservoir for easy refilling

Easy to clean

Lightweight and weighs 2.1 pounds

Attracts a lot of bees
Up next is a big product with a capacity of 38 ounces. The REZIPO Feeder With Perch is a great option and has the capacity to lift the entire ambiance of your porch. We loved the beautiful colors on its body.
Why Did We Like It?
This is a beautiful and heavy glass feeder. One good part about the glass being heavy is that it will not move in the wind. The swinging is stopped making sure it does not bang against anything, and this allows the birds to eat in peace. 
There are attached perches that allow the birds to stand. We found that they spent more time resting on the feeder than actually eating. Keep the feeder under a shade, and the birds will love to hang out longer. 
Next, it is pretty easy to clean, and you will be able to assemble and disassemble in no time at all. Our kids could also do it with no issues. You will not have to worry about cleaning away ants because of the ant moat provided. Fix it in place and fill it up with oil.
What Could've Been Better?
The only issue with this product is that the rope that they provided was not helpful. We purchased a separate chain that could hold the weight of the glass body, and now it hangs outside our house perfectly well. We would recommend this to keep the feeder safe. 
Sealing ring prevents leak prevention

Brushed copper glass

Ant moat is provided

The rope is not helpful
We are nearing the middle of this list, and it is time to introduce the Martha Stewart MTS-CBF1 Real Copper feeder. It is beautifully designed and looks like a wind chime. You are going to love the sleek surfaces and the efficiency that this provides. 
Why Did We Like It?
This is a unique product made with real copper. There are 4 feeding ports on all sides and a large perching place. This is pretty wide, and the birds can sit on it easily after feeding. The sleek top is shaped like a hut roof and will protect the birds from rain and direct sunlight. Around 5-6 birds can stay here under protection. 
Plus, the feeding tray is lipped. This prevents wastage and ensures every bit of the nectar is available to be eaten. 
To top it all, there are drain holes around that keep the bird feeder dry. These will drain off any excess water or sugar liquid. It also prevents water spots and helps it remain clean for longer. 
Also, since it is made of copper, the material prevents the sugared water from freezing inside in case of cold temperatures. While glass can crack in such temperature, this one is not prone to cracking at all.
What Could've Been Better?
We found that hummingbirds had a difficult time figuring out the feeder in the beginning since it does not look like a flower. So, we placed some ornaments nearby, and then the birds started coming. If you have a similar problem, this is something you can try out too. 
Prevents water from freezing

Protective roof for shade from sun and rain

Lipped feeding tray

Not noticeable for the birds initially
This is one of the most beautiful feeders that we have seen till now. The ShinyArt ML18006 has birds and flowers printed on it and makes for a great garden decor too. It has unique floral relief patterns along with 3D flower feeding ports. These add to the beauty and efficiency of it. 
Why Did We Like It?
We loved the fact that environmentally friendly materials have been used to create this feeder. The ring that prevents leakage is made of food-grade silicone, while the top is made of clear glass. The nectar will stay safe, and you can leave it for a week without the liquid being affected. 
Adding on, this feeder has a simple structure with a large mouth. The mouth helps in refilling liquid when the level of nectar goes down. Since the body is made of clear glass, you can see the level at any point in time without having to open it. 
Coming to the cleaning process, sugar liquid has a tendency to stick to the walls. So a brush is provided along with the pack, which can be used to clean the surface. A cleaning rag is added, which will help you make the surface dry after having washed it.
What Could've Been Better?
We faced some problems with the alignment of the entire unit. There are 2 glass pieces and a base that you need to screw the glass on. Now since the glass would not align, we took some time to do it while preventing leakage. If you cannot seem to fix it, call up customer care who will help you out. 
Food grade silicone sealing ring

Large mouth for easy refilling

Round perch for birds to relax

Ant moat and S hook provided

Alignment issue while assembling
Known to be a perfect combination of modern craft and traditional art, this LEADNOVO Feeder is an amazing option to pick. It has a beautiful color, and the shades compliment the red flowering ports below. This seems more like an exquisite collectible, and we love to hang it even when hummingbirds are not around. 
Why Did We Like It?
First of all, we have to mention that this is a piece of exquisite art which is very efficient in what it does. The colors are not only attractive for human eyes, but hummingbirds seem to find it easily too. Unlike some of the other feeders, which took the hummingbirds some time to find, this caught their attention easily. 
A sturdy metal base is attached to the beautiful glass top. This supports the flowering ports through which the birds feed. The metal is made using an electroplating process and hence does not catch rust easily. 
Also, it has a large capacity of 38 ounces and can hold that amount of nectar easily. You can fill it and let it be for a week before you clean it up. The amount should suffice, considering these are small birds. Larger birds and ants cannot reach the liquid thanks to the small feeding holes and an ant guard.
What Could've Been Better?
The only issue here was that the level of nectar could not be seen. The body is made of porcelain and is not transparent. So, you will have to open it every time and peek in to see how much of it is left and whether you need to refill. This could be slightly more time consuming than its transparent peers. 
Material is thick and durable

Color does not fade

The metal base is not prone to rust

Contains an ant guard and a metal hook with rope

The level of nectar cannot be seen
If you were looking for a vibrant and beautiful option, the Grateful Gnome Antique Moroccan Lantern HB520 is an excellent one. It has a capacity of 28 fluid ounces, which should be sufficient to last a few days. Read on to know its other excellent bells and whistles. 
Why Did We Like It?
This has a truly praiseworthy design that it flaunts. The red shade is vibrant and attractive when placed in the backyard or front porch. Also, the Moroccan lantern design stands out and makes for a great piece of decor. In the seasons when hummingbirds do not come, you can actually use this as a showpiece. 
To create this exquisite product, a double-layered hand-blown glass is used. These 2 layers make it more sturdy and provide a thick surface that ensures that the nectar stays protected from heat and cold. Also, it is resistant to fading, and the color stays bright even after years of use. 
Coming to the cleaning process, this comes with a rough cloth, and that can be used to clean. It is not a difficult process, but you need to do it once in 5 days.
What Could've Been Better?
One issue that we found with this feeder is that it attracts a lot of bees. We are not sure about the specific reason, but we find bees swarming around every day. But yes, the holes are very small, and bees cannot get inside to steal the liquid. Try to keep it in an area where there are not many bees or buy a bee guard. 
Antique Morrocan lantern design

Rubber seal ring to prevent leakage

Made of hand-blown glass

4 flower feeding ports

Attracts a lot of bees
Now that we are nearing the end of this list, let us introduce the Rayhome Hummingbird Feeder, which is known for its brilliant design and makes for a perfect gift option. This has 4 feeding ports along with 4 perches that enables the birds to hang out in your garden easily. 
Why Did We Like It?
We found this to be a great alternative to a cheaper plastic feeder because of its efficiency and design. The glass is thick and durable, and because it is heavy, you will not find the feeder swaying in the wind. Also, it protects the nectar from outside weather conditions, and we found it fit for all kinds of weather. 
Secondly, the manufacturers have paid a lot of attention to make sure that the design attracts hummingbirds. Not only is it attractive for the human eye, but hummingbirds seem to find it easily.
Coming to the process of setting up, it is easy to assemble and disassemble. There is a seal provided that helps tighten the base and prevents leakage of any kind. The glass is also transparent, and it enables you to see the level of nectar and then refill it if needed.
What Could've Been Better?
Although we have no complaints about its body, we found that the base is made out of plastic. It is slightly worrisome as we are not sure if the base will last for long. We would have preferred if the company used a metal base, which would have been a more sturdy option. 
4 perches made for the birds to rest

Sturdy and durable glass

Transparent glass makes the nectar level visible

Great gifting option

The base is made out of plastic
If you were looking for an inexpensive product that will do the work while not burning a hole in your pockets, this is a great option. The product is made entirely of plastic and has 4 feeding ports on its sides. It has a bright red feeding base with yellow flowers, which act as the feeding ports. 
Why Did We Like It?
This is one of the lightest products on this list, and that is because it is made of plastic. With a capacity of holding 16 oz of nectar, it works well and can be refilled once a week. The product comes with a hook that will help you attach it to a branch or a chain easily.
Adding on, since the body is absolutely transparent, we could see the level of liquid even from a distance. This made it easier for us to keep a tab on the level without having to open it up or go closer to it. 
Plus, it is small in size and measures 6.5 x 6.1 x 1.5 inches. This makes it almost unnoticeable to humans, while the red color attracts birds. Overall, we found that it does a decent job of providing birds with the food they need.
What Could've Been Better?
Unlike glass or copper, this plastic feeder is flimsy and is difficult to clean. The sugared liquid sticks to the sides, and there is only a small opening that will allow you to clean. Also, we found that the liquid heats up when kept in the sun. The plastic is thin and does not protect the liquid from heat rays. 
Can hold 16 oz of hummingbird nectar

Transparent plastic reservoir

Not expensive

Bright red attracts hummingbirds

Difficult to clean

Plastic is thin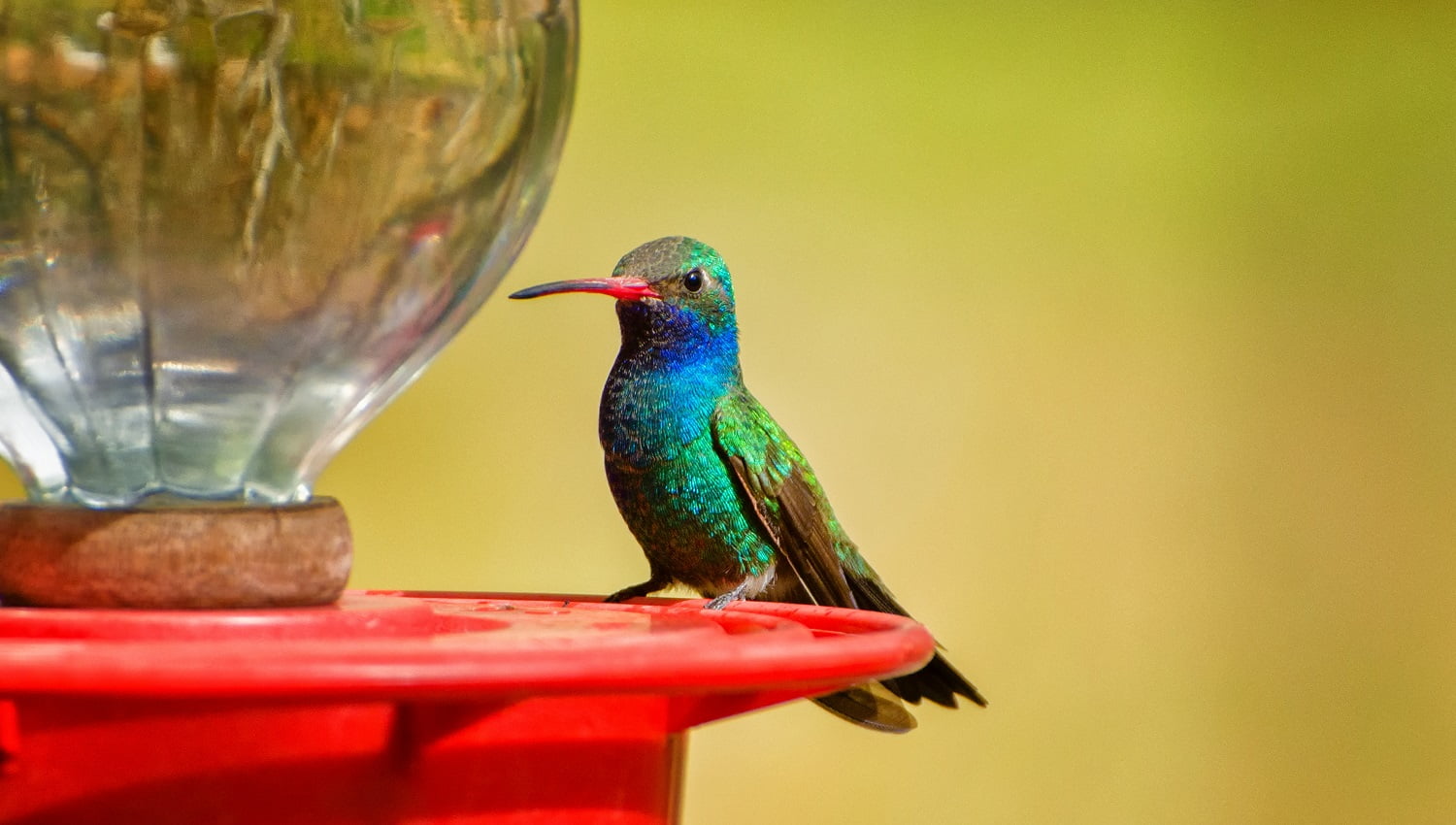 Hummingbird Feeder Buyers' Guide
Now that you have a clear idea about the different types of feeders, we will move on to discussing certain points that will help you decide. You must have seen that there are many similarities among the types, but then each product is different. Make sure that you note down the following points and make an informed decision on the basis of it. 
Leakage
It is essential that you prevent leakage at all costs. This not only saves a lot of nectar but also allows the birds to drink freely. Check if the ring on the bottom is tight or not. If it is slightly loose, use a rubber band to fix it. Make the feeder sway a little and see if it leaks. If it does, it is best to get it replaced. If not, then you have a great feeder for yourself. 
Ant Moat
There is an ant moat that comes with most feeders. These prevent ants from reaching the nectar and are very important, especially if your area has a lot of them. 
Also, make sure that the holes of the feeder are small, and larger birds cannot feed from it. If they do, then the feeder will be taken over, and the hummingbirds will not get a chance. 
Capacity
Every feeder has varying capacities, and you need to select one which works for you. If you have lesser hummingbirds in your area, then a small one should suffice. On the other hand, if your area sees a lot of these birds, go for a bigger feeder. This will keep the birds happy, and you will not have to replace the syrup very often. 
Number Of Feeding Ports
This is an important consideration when it comes to selecting feeders. You will have to decide on the number of feeding ports that the feeder should have before purchasing. Now, initially, you might think, the more the number, the better it is since it will be able to feed a larger number of birds at one time. 
But remember that the birds may not want to share the food, and it might end up that only 1 bird feeds at a time. This would mean that it is better to buy feeders with fewer ports. We would suggest settling for a general number of 4-5 ports and see how it works. 
Material Used
There are 3 common materials to make bird feeders, glass, plastic, and copper. Plastic options can be lightweight but are not very durable, and the sugar buildup can be very difficult to remove. But it is the cheapest option, and you can purchase it if you do not plan to use a feeder for long. 
Coming to glass, it is thicker and sturdier than plastic, and most glass models look very attractive. These do not sway in the wind and stay in place, making it easier for the birds to feed. 
Copper models are also similar but slightly less heavy. They work well, but sometimes birds might find it difficult to spot these. If you face something similar, add some artificial flower decorations around to lure the birds. 
Visibility
Some feeders have a transparent body, and that makes it easier to see the level of liquid left inside the feeder. These are more efficient as you will not have to open the entire unit to check. 
Semi-transparent ones need you to go near the feeder in order to check it, while the transparent ones can be viewed from a distance. Completely opaque bodies are difficult to handle and make the process of checking time-consuming. You will have to open the top to peek in and check the level of fluid inside.
Plastic v/s Metal Base
The 2 popular kinds of bases are plastic and metal ones. Plastic ones are lighter and not prone to rusting. But they are not sturdy and may not last for a long time. Also, you might see that they lose shape due to bigger birds trying to sit on them. 
Metal ones are sturdy and will not lose shape with time. But these are prone to rust. It is best to wipe them with a cloth every day to prevent liquid from accumulating on it.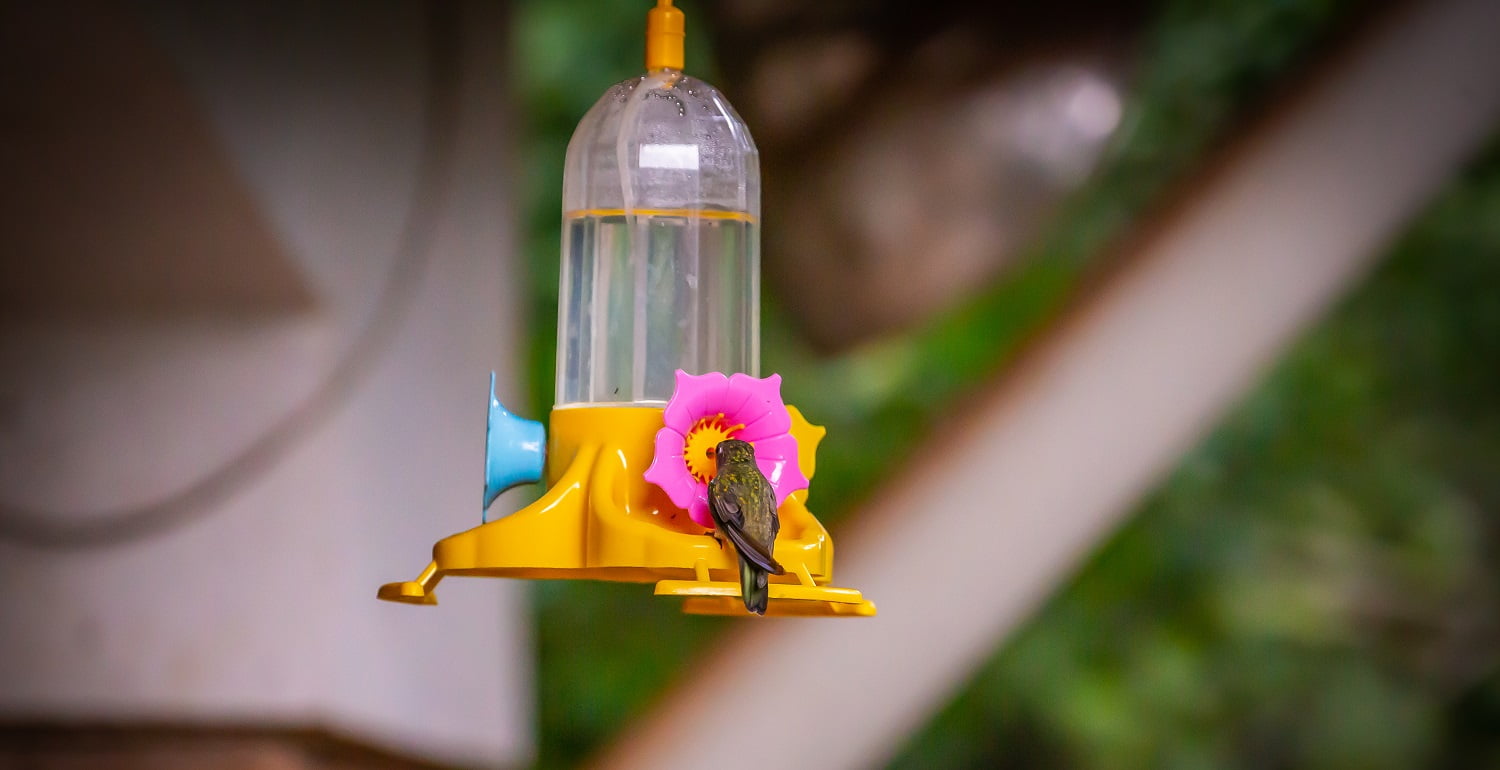 Verdict
Hummingbirds can be pretty dominant and may not be up for sharing the nectar. So, we would recommend having more than one feeder at different locations around the house. That would make sure that all the birds looking to feed get their fill. 
With this, we come to the end of this comprehensive guide, and it is time to do a quick recap of our favorites. The Juegoal 12 oz Hanging Feeder is our favorite overall because of its lightweight design and efficiency. 
If you are looking for a piece of art known for its exquisite design, the ShinyArt ML18011 will be a great option. On the other hand, if you want a very sturdy product, the Grateful Gnome HB511 will fit you well. 
Let us know your favorite in the comment section below. Happy shopping! 
Related Articles
Learn How to Make 69 DIY Homemade Bird Feeders Today