With work-from-home turning into a semi-permanent solution that's here to stay, the search for a private workspace continues to soar high.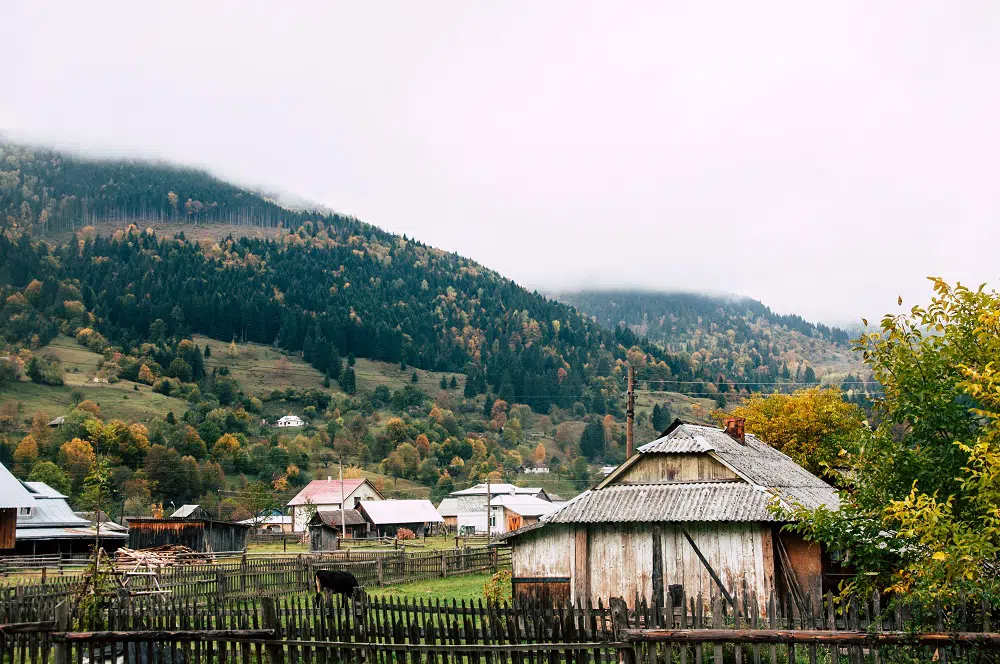 Employees of different companies are taking over bedrooms and basements to set up their home offices. But that's not a feasible solution as the rest of your family members also need their personal space.
That's why people are turning to their backyard sheds to work remotely while being free from the confinements of their bedrooms. These structures serve as the perfect dedicated workspaces once they're equipped with the right furnishing and office essentials.
On that note, are you planning to use your garden shed as your home office? Well, we're here to help you out. Through this guide, we've explained the steps involved in converting your cabin log or wooden shed into a perfect office.
So, without further ado, let's begin!
Steps To Convert Your Shed Into A Perfect Office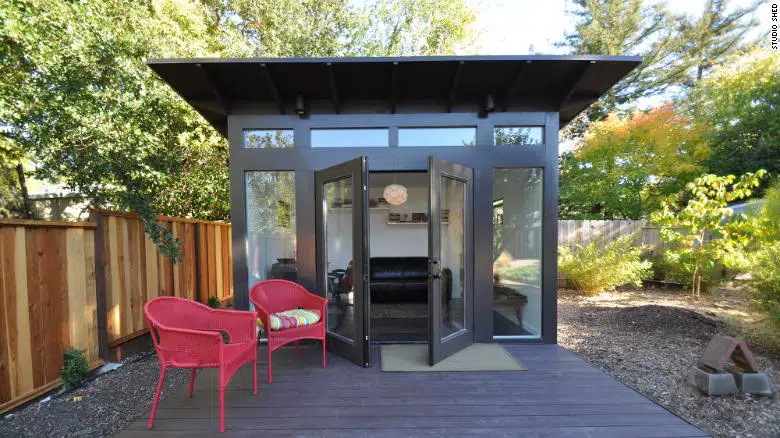 The ongoing pandemic has allowed people all over the world to see the concept of working from home in a different light. Employees are expected to work remotely through the end of the year and into the beginning of next year, if not longer. That's why a dedicated workspace within the boundaries of your house is the need of the hour.
But that doesn't mean confining yourself to your room. Whether you're a freelancer, full-time worker, or running a business, you can prevent distractions while working by transforming the garden shed into your dream office.
That being said, we'll now be taking you through a step-by-step guide on how to convert a shed into a perfect home office. So, let's get right to it.
Step 1| Planning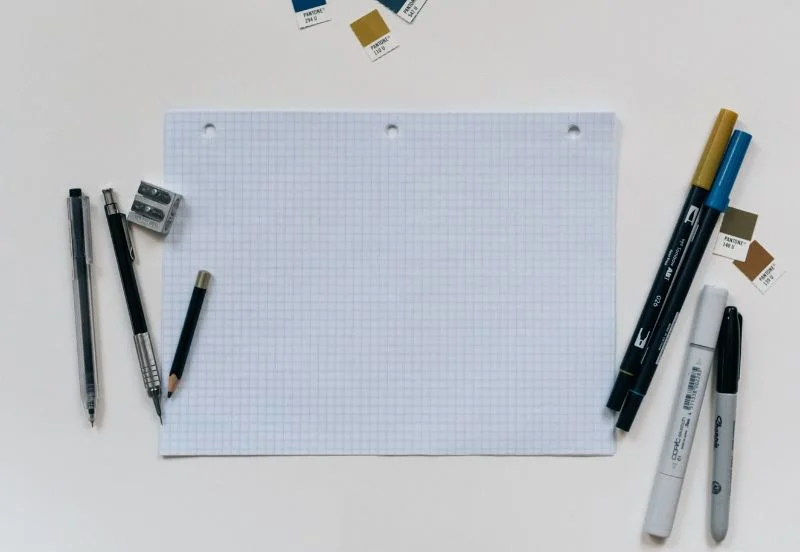 Before you begin the conversion, it's important to plan the kind of home office you want, based on the type of work you do. Think about how you'll use this space and list out the items required for the purpose.
Suppose you need to constantly use a laptop or a computer for work. In that case, your shed will need a secure and constant supply of power. Similarly, take account of what needs to be done prior to using the shed as a dedicated home workspace.
Step 2| Getting The Required Equipment & Office Essentials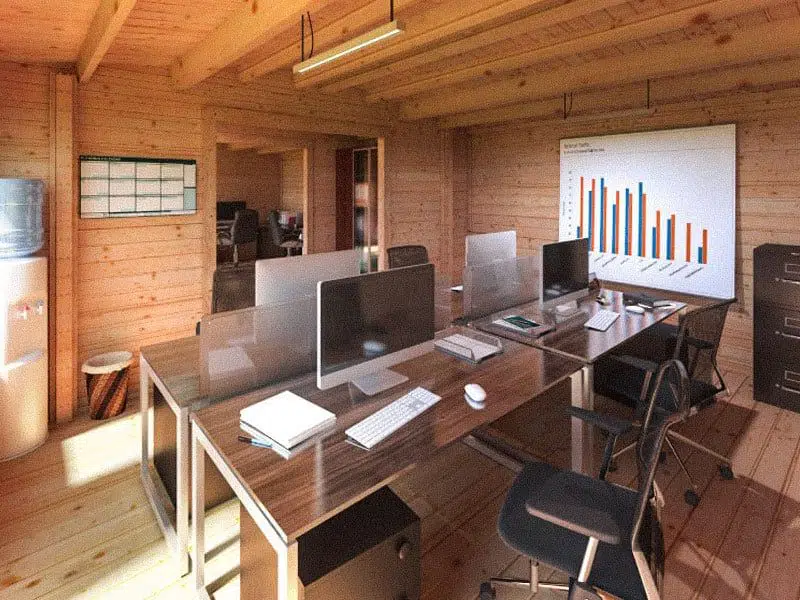 Now that you've decided on how you'll be utilizing your shed, it's time you thought about acquiring the necessary essentials. Consider crucial factors like the furniture, accessories, and storage you'll need, depending on your job profile and work requirements.
For instance, if you're a designer or artist, you'll need a desk or table to draw, sketch, or sculpt. Along with this, you'll require plenty of natural light and a comfortable chair to get you through the day.
What if you're a writer? In that case, you may not require a large desk space; instead, you'll need more wall space to install bookcases or whiteboards. You may also consider getting your garden office space equipped with a fridge and kettle for quick access to much-needed refreshments.
The possibilities are endless; just make sure you utilize the entire space while keeping your work requirements in mind. What's more, ensure that the shed has access to water and a stable internet connection. It should feature the right type of light fixture, including spotlights, strip lighting, and lamps.
And don't forget to ask yourself, "Will I need an open-plan design or a multi-room office?"
Step 3| The Design Selection
Do you plan on using your shed for work regularly throughout the year? In such cases, your priority should be to insulate the building and make sure it's fully weather-proof.
Your shed can be at risk, especially if you'll be storing electronics inside it during the cold winter months. That's why it's crucial to ensure that it's structurally sound and fully weather-proof.
Having said that, let's now take a look at the two most popular garden office shed designs for you to consider.
Log Cabin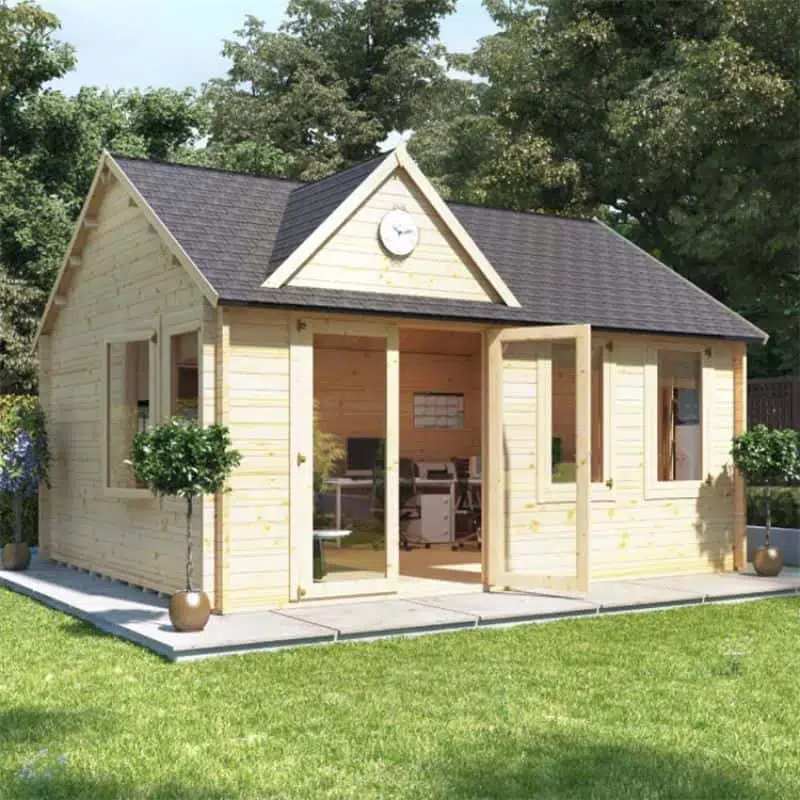 A log cabin is the perfect example of a luxury shed office, offering a high-quality space for you to work from all year round. There is a wide range of design and style options to choose from based on your style preference and work requirements. You may consider opting for a log cabin with multi-room or open-plan designs.
Wooden Sheds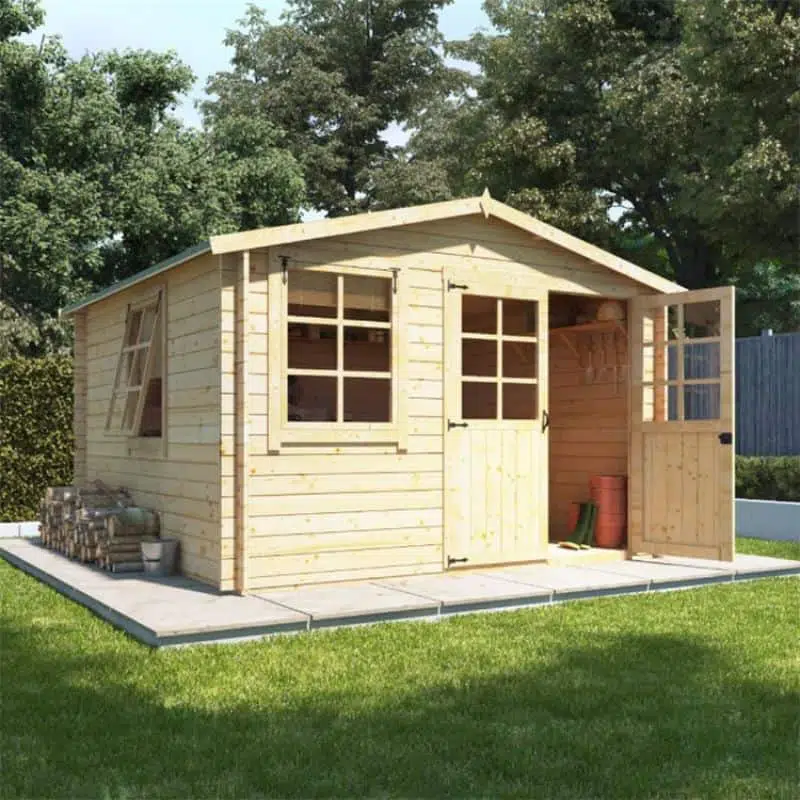 If you're in search of a reliable home office, a wooden shed is probably your best bet. It comes in a wide range of designs to suit individual style preferences with ample space for alterations.
There's no need to worry about factors like durability as windowed wooden sheds built using groove cladding and overlap are stronger and more weather-resistant than the others.
Step 4| Size & Layout Of The Shed
You've already listed out the furniture and office essentials you wish to have inside your garden shed. But how can you be sure that all these items will fit without looking too clumsy? This is why planning the layout and size of your new home office space is a must.
First things first, when purchasing or building a shed, consider the size of your garden to estimate the space it will take up. And if you already own one, ensure that you invest in the furnishing of the right size so that each item fits well.
Sheds are available in a variety of sizes so you can easily find a suitable garden office, depending on how big your garden is. That said, let's take a look at the three primary shed sizes for you to consider.
Small Office Shed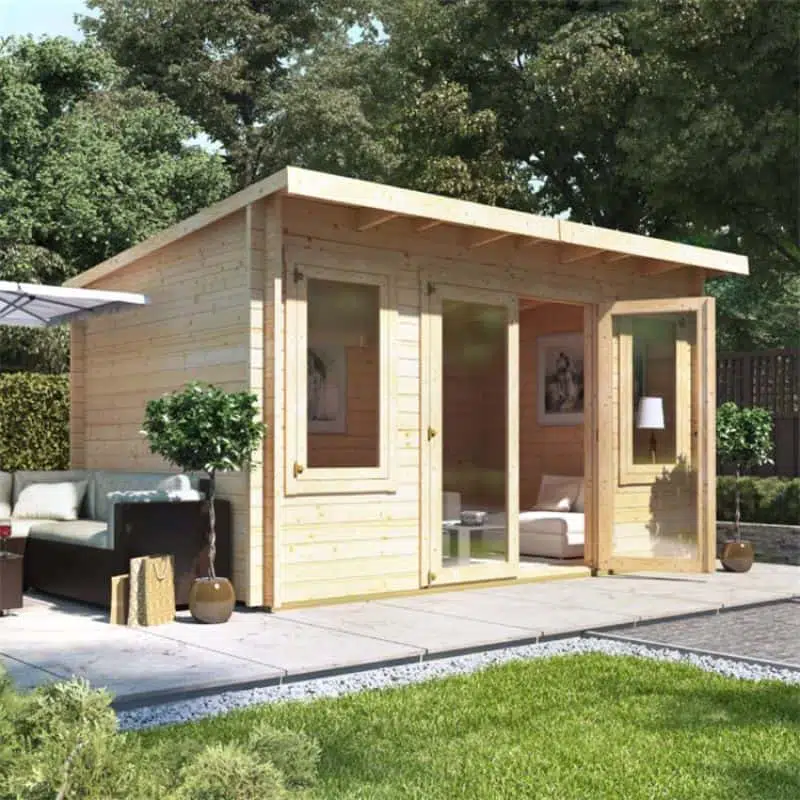 You don't really need a large shed to convert into a workspace. A small office shed is ideal for storing a desk and your office essentials, especially if you don't really need a space to work remotely every day or have a small garden.
Wooden sheds ranging upwards in size from 4 x 6 square feet are primarily used as garden offices. You may also consider maximizing the space in your garden by installing a shed in the corner of your garden.
There's no need to worry about the longevity of your office space. You can easily purchase a small log cabin featuring a more durable and better-quality construction.
Medium Office Shed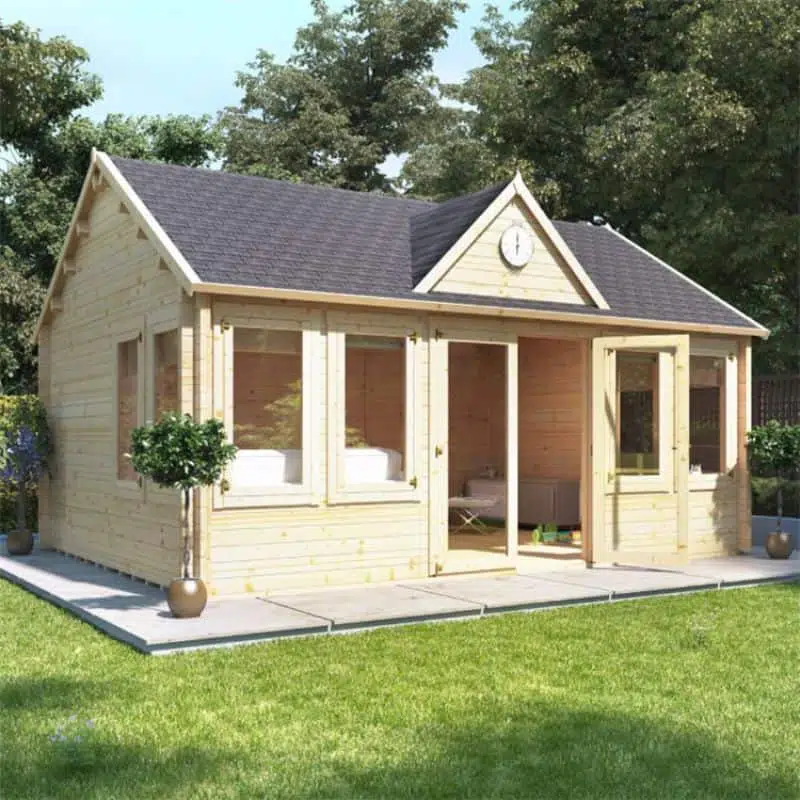 Suppose you need to keep a hefty amount of office essentials and equipment, including multiple bookcases and desks. In that case, a medium-sized garden office shed is ideal. It will provide ample space for you to work in peace, along with room to store items like printers and files.
A 10 x 8 square feet windowed wooden shed will provide sufficient space for placing a desk and storing office equipment. The windows will allow plenty of natural sunlight to enter the premises, creating a comfortable environment for you to work in. You may also consider opening the windows to ensure proper ventilation throughout the garden shed.
Large Office Shed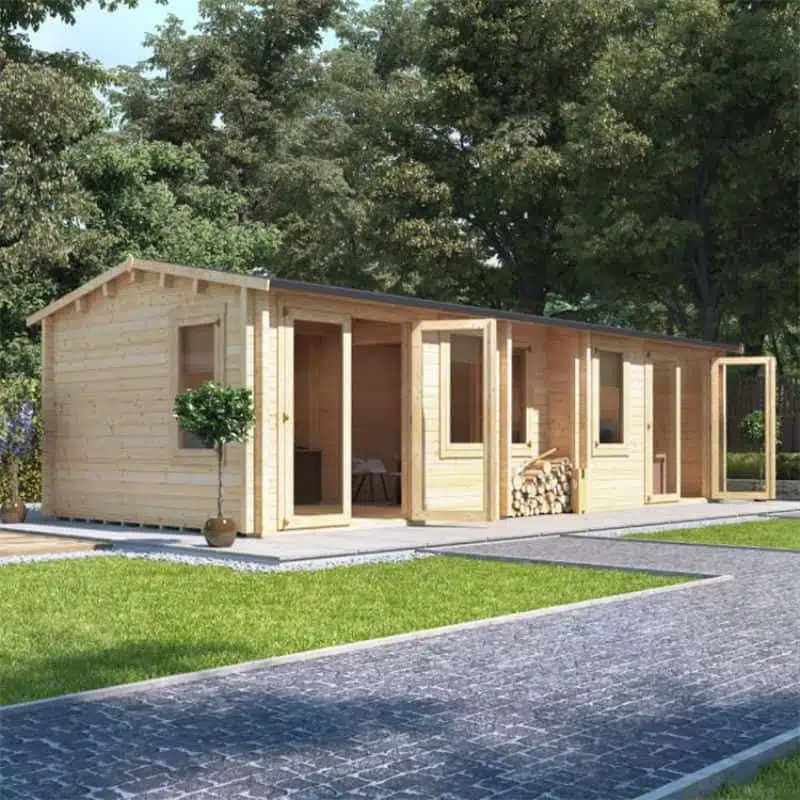 In case you need a large office space for starting your own business, you can save costs by investing in a log cabin. It serves as the perfect solution, providing you with a spacious area to work remotely at a fraction of the cost.
That said, you can choose a cabin from a wide range of designs and styles to suit your garden and individual preferences. The contemporary pent-style shed is ideal for modern gardens, while traditional and reverse apex designs perfectly complement traditional gardens.
You'll find log cabins offering an open-plan multi-room design that's perfect for separate offices and storing equipment and office essentials in different areas. These workspaces also provide you with the choice of multi-purpose bedding.
Now, suppose you desire a combined office space for work, relaxation, and entertainment. In such instances, the need for a shed with three separate pods should be highlighted.
All you have to do is ensure that these cabins come with dividing walls and two sets of double doors. The inclusion of these features will allow you to access separate areas for different purposes without being disturbed.
Step 5| Assessing Your Garden Shed's Condition
This is another crucial step as it involves assessing the condition of your garden shed to check whether it's fully watertight or if it requires any kind of alteration. Analyze the roof felt and look out for tears while ensuring that it's securely attached.
You'll also need to test the doors and windows of the space to make sure they're in the right shape. That's not all; we'd advise you to empty out the shed completely to look for signs of mold, leaks, wood rot, or dampness. And the assessment should be done before you begin converting the particular space into a home office.
In case you're not sure about the stability of the shed, seek assistance from a professional builder. You may even consider purchasing or building a brand-new shed or cabin log for the purpose.
Step 6| All Set - Begin The Conversion
Once you've made all selections and assessments, you're set to convert your garden shed into your dream workspace. Start by treating the exterior of the cabin to make it waterproof. This will safeguard it from the risk of dampness and damage, which, in turn, extends the overall lifespan of the shed.
Next up, the only thing left to do is transform it into a real office for you to work from remotely during the ongoing pandemic and even after that if needed. For this, you'll need to think about the following factors and features.
Heating
Working remotely from your garden shed during the cold winters or any time of the year for that matter can be uncomfortable. To make it a pleasant experience, you'll need an electric heater, which is portable and can be easily mounted on the wall.
You may even consider using tube heaters as they take up very little space and are cost-effective and safe ways to keep your shed warm. Heating your garden workspace will also prevent damps and keep your electronics and important documents from getting damaged.
Lighting
You'll obviously require adequate lighting to work in, irrespective of the presence of sunlight. The various types of lighting will complement your office needs differently. For instance, halogen lights help in providing overhead lighting, but they can also be used for track lighting and as adjustable spotlights.
On the contrary, desk and floor lamps serve as cheap and portable lighting options for decorating your new garden shed workspace. At the same time, the versatile LED lights can be used as spotlights to make specific areas of your home office brighter.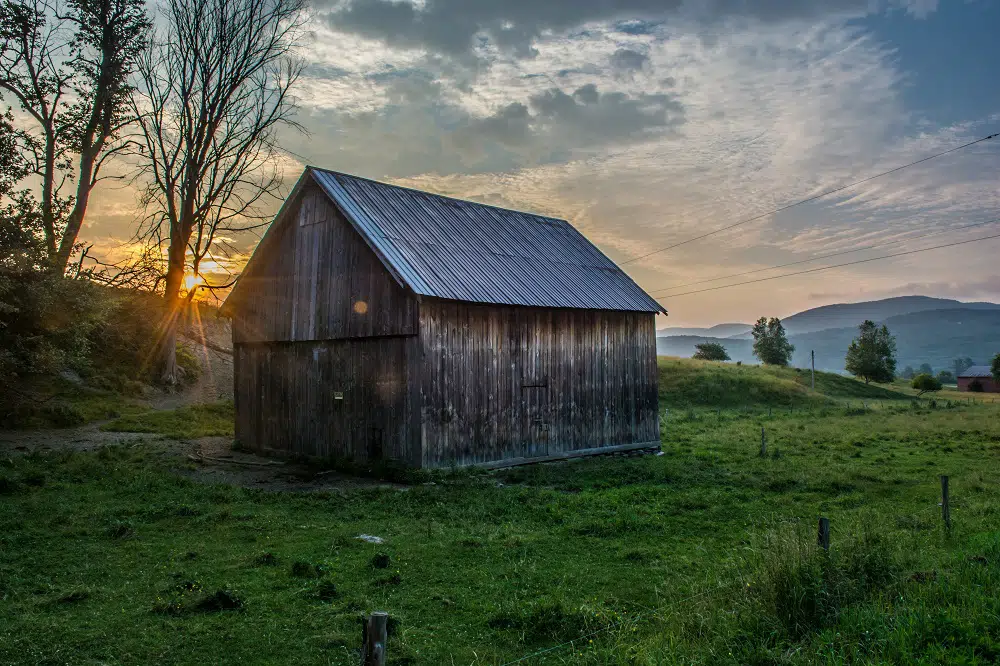 Electricity
Like any real office, your dedicated home workspace will need electricity to run your laptop, charge phones, and power lighting. It's better to contact a professional electrician to carry out all the electrical work of your shed; instead of trying to do them yourself.
Prior to them making the electrical connections, provide relevant information on how many sockets and light switches you need. Also, let the electrician know about all the equipment you plan on working off the electric mains.
However, if you don't really use electronic gadgets and appliances, this step can be skipped.
Insulation
In order to protect your shed from dampness and other damage and keep them warm, have its ceiling, floor, and walls insulated. You should also soundproof the building, especially if you work in the music industry or enjoy working with loud music.
Step 7| Set Up A Well-
Organized

Storage Area

Image9

You'll require a well-organized space to minimize clutter and maximize your overall work productivity. That's why it's important to assess how big your shed is and how much storage space is needed for the purpose.

The installation of open shelving units will help in the utilization of space in tall sheds, providing more room for you to walk and work. You can also use wall-mounted pegboards to optimize the wall storage of your shed, while clear storage containers stacked together are perfect cheap storage alternatives.

They are perfect for storing chargers, paperwork, ink cartridges, and other office essentials, keeping them close at hand. We also encourage the use of metal strips for holding metal objects such as scissors if you plan on utilizing your garden office as a practical space.

And those who have small sheds can use the space for storing items by repurposing old items. For instance, attach a spice or wine rack to the wall for organizing pens, paperclips, and document tubes. On the other hand, hanging a shoe rack behind the door can help keep small items in one place so that you do need not to worry about misplacing them.
Step 8| Decorate Your Garden Office Shed
Once you convert your shed into a workspace, it's quite obvious that you'll be spending the majority of your time working in it. That's why it's important to enhance the feeling and aesthetic appeal of the space by decorating every nook and corner according to your style preferences.
We've provided a few tips to help you out, so take a look.
Add A Pop Of Color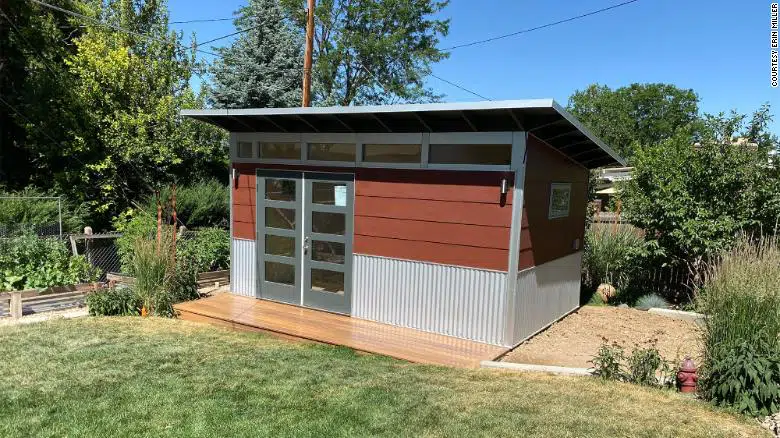 Now, whitewashed walls are indeed a popular trend when it comes to modern office sheds, but you may also stick to light and vibrant colors. You don't have to bother much about the exterior; it can be painted in any of your favorite colors. Just ensure it complements the garden and the surrounding area.
The Personal Finishing Touches
You can create a homely feel to your garden office shed by adding photo frames or other personal items to its walls and your desk. In fact, framed posters are great inclusions to enhance the vibrancy of the space. They also help in covering up old cupboard doors.
Adding A Bit Of Greenery To The Place
Sheds can be brought to life by adding a touch of greenery. Plants not only make your workspace look good, but they also help detoxify the air, creating a better environment for you to work in.
However, if you are not someone who can take proper care of plants, we'd recommend getting artificial plants. You won't have to work hard to keep them alive!
Make It Comfortable
Converting a garden shed into a proper office space will enable you to work in peace without any distractions. So, you'd definitely want it to be comfortable at all times.
Adding a rug and suitable furnishing with cushions can help in ensuring optimal comfort while you spend time in your home office.
Final Words
It's a known fact that the year 2022 has drastically changed the way we live. With everyone working and learning from home, there's been a shortage of personal space for the rest of the family members.
This has led to the popularity of garden shed offices, which have proven their worth as comfortable, dedicated workspaces for one or more members of a family. And seeing the current scenario, we're sure that sheds will continue trending even in the coming years.
On that note, we have reached the end of our step-by-step guide to converting your shed into a perfect office. Here's hoping we were able to provide all the required information to help you.
With this, we'll take your leave. Till next time, stay safe!
Related Articles
10 Best Solar-Powered Shed Lights 
8 Best Outdoor Bicycle Storage Sheds Right Now
9 Best Shed Alarm Systems for Enhanced Security
The Best Shed Felt to Use Right Now
What is a Shed | Sheds Defined, Structure Types, Advantages, and Disadvantages