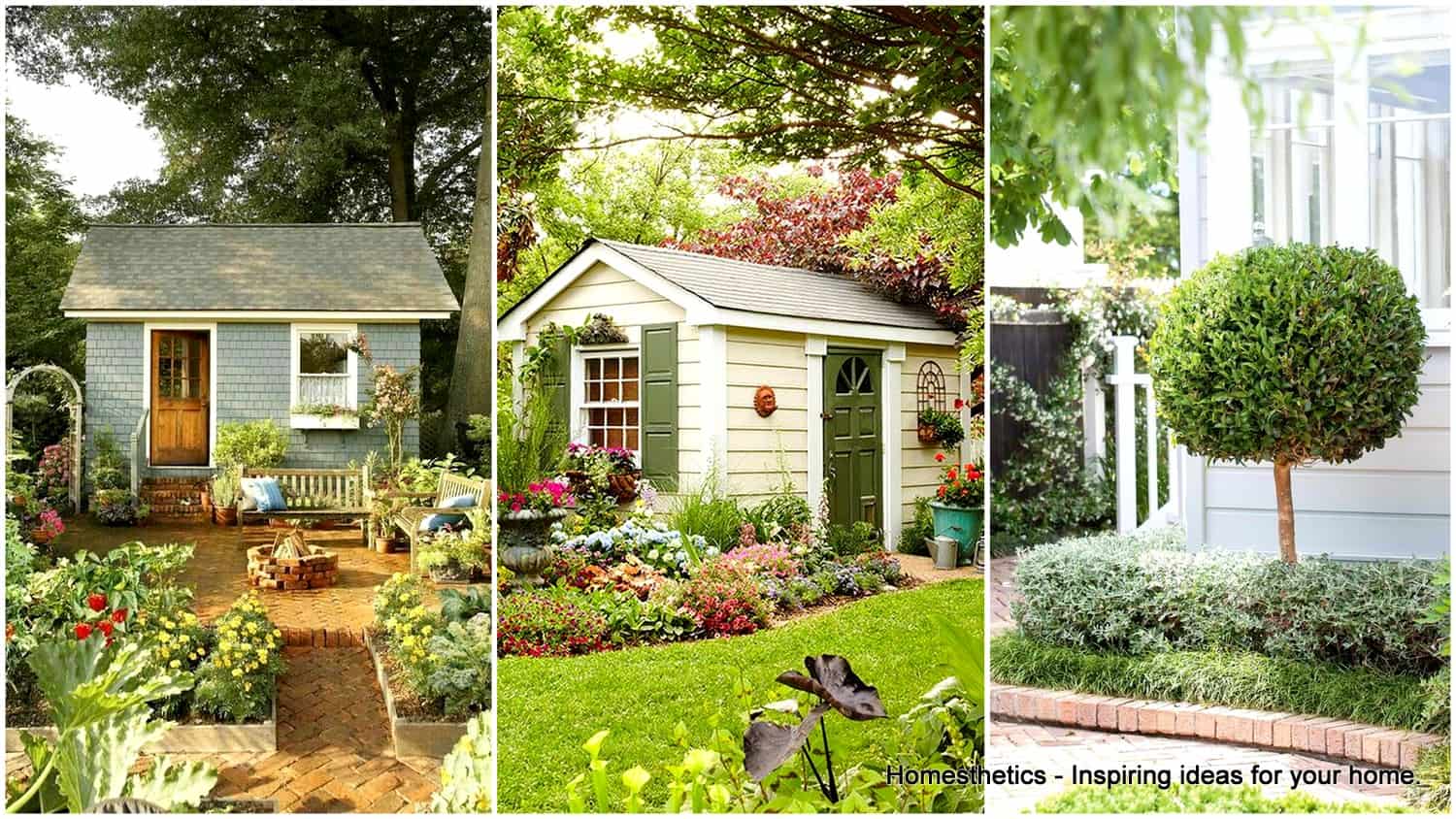 If you need to know more about sheds or you are simply wondering what is a shed, you`ve come to the right place ! Sheds have been used for a very long time globally and having multiple uses; it is a very convenient utility option for people who own gardens, backyard, or even limited spacing. Typically single story, these structures are versatile and easily modified to fit the needs of the individual, they're commonly structures which have a roof and four walls, situated outside the house. A shed could vary from a couple of square meters in size to a dozen depending on how they are utilized, whether it is for gardening purposes or industrial usage, sheds play a major role in storage.
Sheds Defined, Structure Types, Advantages and Disadvantages
What are the different types of sheds?
Sheds, as mentioned above, come in all shapes of sizes as well as dozens of materials. The most common presence in the domestic setup is built in wood yet nowadays vinyl and plastic variants start to gain ground as they are less expensive and a tad easier on maintenance compared to their wooden competitors.
As sheds grow in sizes complex wooden structures and professional carpenters come into the picture when it comes to wood, alternatively iron and a professional welder could achieve brilliant results too when it comes to medium and large sheds.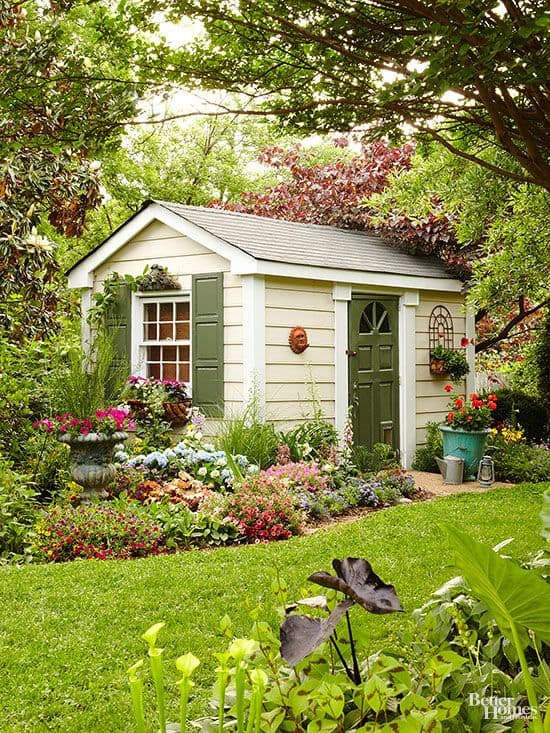 via bhg
Yes, you could even DIY a shed! Did you know that?
A very interesting choice indeed, sheds could be available in the DIY form, and by using simple methods, they could be constructed according to our needs. A simple tool like a screwdriver can help you in assembling a shed, whether it is plastic, wood or metal. These sheds are versatile and their uses range from gardening storage to chemicals and equipment storage or home workshops, people often store in them items which otherwise could not be stored inside the house.
Shed kits could be the horizontal, vertical or corner type with modifications inside the shed to meet your needs! They could be apex, pent or reverse apex roofed. Pent shaped roofs are for places which have heavy downpours or even snow, it is sloping downwards and helps in water run-off. An apex type roof is basically like an inverted V, often common to houses too. The reverse apex roof, on the other hand, has a side door, not a front. This facilitates the door to open in the largest and widest section of the shed rather than the narrowest, aiding in better visibility and room.
There are salt-box style roofs or gambrel type roofs too, which have lofts attached to it. The prices of these sheds naturally vary, and so do their functions.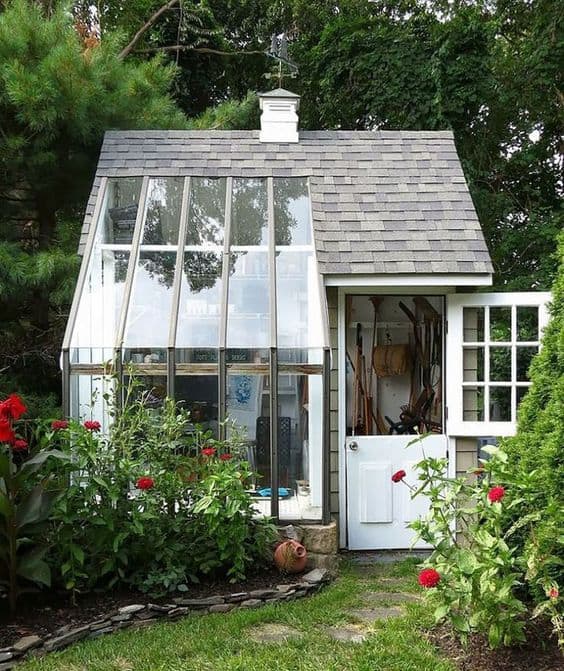 Source Unknown
Larger sized sheds
A little heavier on the pocket, larger sheds are used for domestic purpose too and while their footprint is larger, they have better ventilation and can also be used for purposes other than gardening or typical tool work. Often such sheds can also be transformed into a cozy outdoor office, a photo studio or library, they are often hobby related and they enjoy a better build quality overall.
People often see these as small retreats, comfort dwellings withing reach.
Sheds which have more specific usage
From being used in the mall for parking to university, restaurants and other commercial spaces, sheds are a major contribution towards protecting vehicles both two-wheeled and four-wheeled vehicles. We encounter bike sheds and carports everywhere, both type of sheds that protect and safeguard our belongings with a basic design.
An ever more particular usage would be boat sheds or, structures envisioned for rowing and drying materials.
Agricultural sheds
Farmers use a lot of agricultural sheds, again for storage and protection of farm equipment and produce. Depending on the production, these could be from small to large and are largely modifiable according to requirements. This also includes shearing sheds in which cattle are kept.
Raw Materials
The most common type of materials which are used to build the framework of a shed depends again on its usage, but most often it is PVC, metal or wood. They could also be vinyl-sided sheds, everything depends on the owner and their requirements.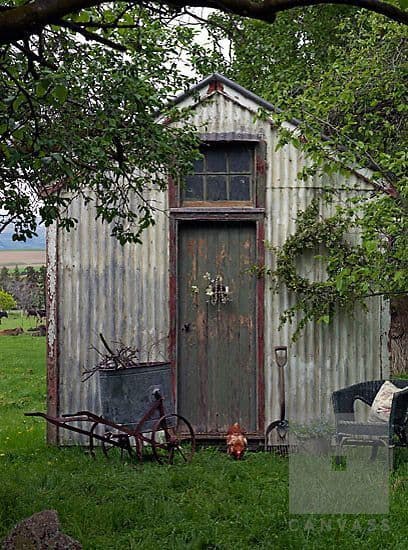 via pinterest
Metal rooftop, framework, and galvanized aluminum sheets are used to build sheds. They tend to rust with time, and its durability is weaker than wooden sheds when maintenance is overlooked, they also tend to dent faster. Metal sheds have the advantage of being strong and termite resistant. For this reason, corrugated metal sheds are preferred as they are stronger than its counterparts. Financing into an anchoring kit for metal shed makes sense as they could be susceptible to weather-related damages.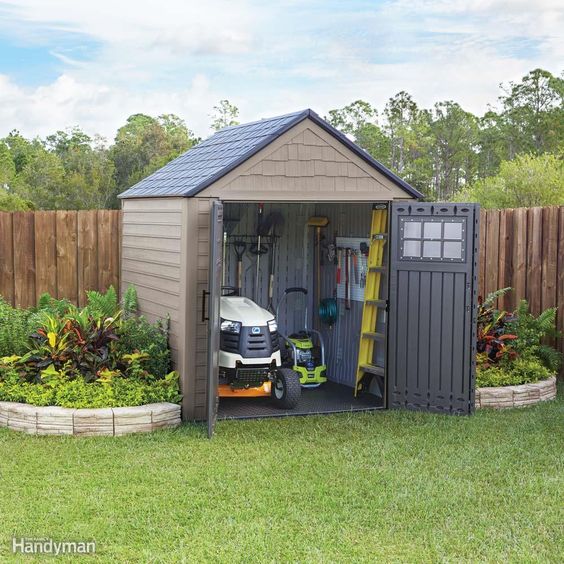 Plastic and PVC sheds are also quite popular and are the least expensive type. Also, they are easier to maintain than the metal ones. Plastic sheds are very light weight in comparison to metal or wood and are also UV protective, rot proof, termite free. They could be modified with extensions like plugs, boards, shelves, skylight, etc.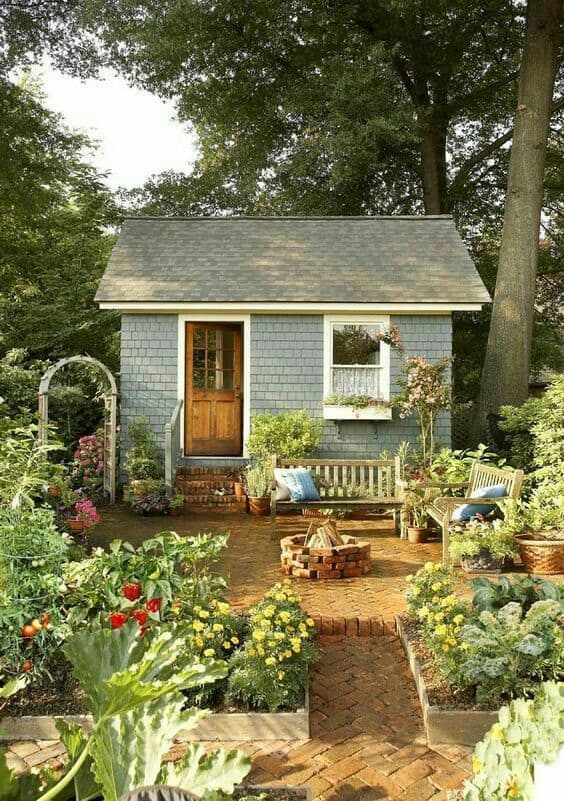 via Pinterest
The classiest of them all, wooden sheds are classics and therefore, more expensive. The maintenance of wooden sheds is higher than vinyl or plastic, but they are excellent when it comes to durability. It would be recommendable to research well before investing into wooden sheds as proper varnish and good quality wood lasts for a very long time. Cedar wood is pretty much water resistant. There are typically two ways by which wood could be treated, dip or pressure treatment. Pressure treated sheds last longer and don't need additional preservatives, whereas dip treats ones will again throw you into maintenance game every few years.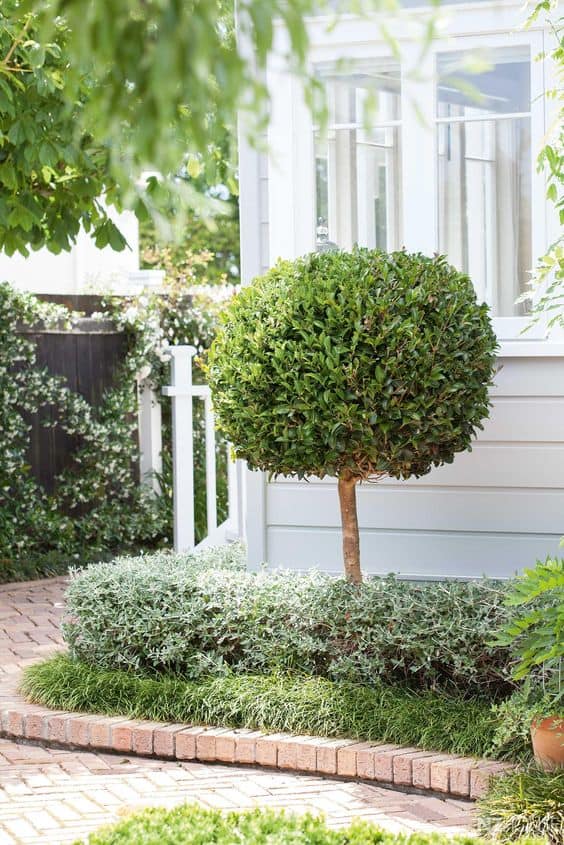 Vinyl, as well as asbestos sheds, are also popular and good alternatives to plastic or wood, even though the major framework would probably still be wooden or metal.. They are stronger than metal or plastic sheds are also easy on the pocket.  There are many color options which could suit your aesthetic appeal.
All these types of sheds are available in kit form and could be DIY too.
Organizing your shed
One should do all in his power to organize a shed clutter free in the attempt to maximize its storage. A simple trick would be to utilize the vertical wall space to build new shelves and cabinets, one could also use rods to suspend organizers and possibly mount oddly shaped items that he does not use often under the pitched roof. It is highly recommended to reuse and recycle, anything can be of use in your shed, plastic bottles split in half can rapidly become nail organizers for example, creativity is key !
At all times, keep in mind that a clutter free shed is a happy shed, seek solutions that help you keep the space clean in the long run and everything will be far easier, maintenance included.
The advantages and disadvantages of sheds
Whether someone owns a big area in their garden or backyard, or whether it is tiny and cluttered- a shed could solve a lot of your organizational problems. They sure are affordable and come in a varied range of prices for everyone out there. Sheds could also be innovated into dainty personal spaces which could be used in various ways apart from storage.
Sticking to the basic idea of having a shed, as a storage unit, there are certain pros and cons to them, and it would be advisable to discuss a few.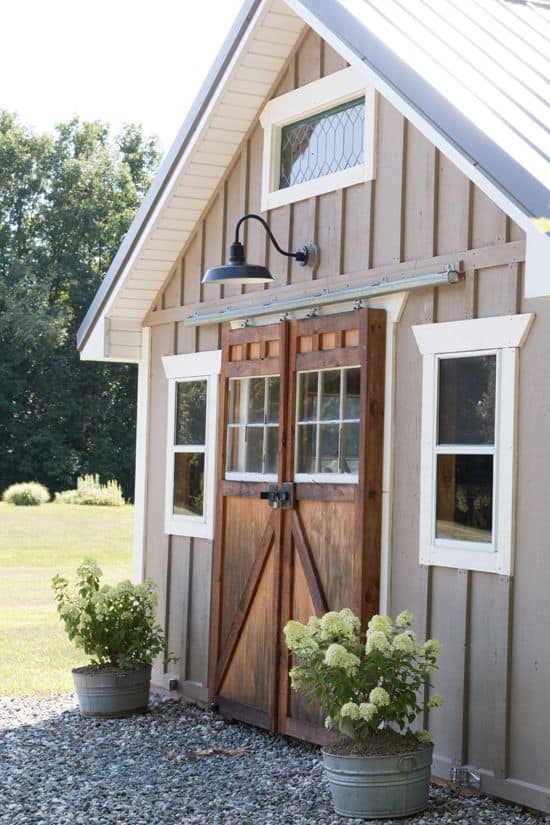 Advantages 
Storage
The most important advantage and usage of a shed is obviously storage. They act as huge storage spaces and occupy very little space overall. Whether it is for domestic purpose, or for commercial needs, sheds are extremely important storage units. This makes your backyard clutter free, giving you more space inside and outside the house.
Organization
Sheds account for very good organization spaces, and since it can store a lot of objects and materials under one roof, it is easy to organize them according to our needs. This makes work much easier and of course faster.
Budget-friendly
Since sheds come in various sizes as well as quality and type, they are quietly affordable. Sometimes investing in huge scale storage could be difficult for some people, under such circumstances, making the perfect use of limited space, sheds make a great choice. For commercial purpose, like train goods, or parking, sheds help in keeping things organized in one area under a friendly.
Protection and safety
Sheds actually could be installed with very good protective measures. This ensures that the good/vehicles/valuables are kept safe and away from burglars. Vehicle sheds require more attention, and so do private homes. Sheds could be installed and modified with specialized locking devices which make sure that there is no unnecessary theft.
Easy Peasy
One could express his creative side by redesigning its shed through paint, coloring it towards happiness. Shed kits are usually DIY, and this means that anyone could follow a set of simple instructions and assemble their shed with very basic tools present in the house.
Anything You Want
Depending on the need and location of the shed, any raw material, starting from wood to metal and vinyl to asbestos can be used, one can choose from many options in the market. They could make their shed colorful and at the same time productive.
Maintenance
A very important factor to consider when buying shed is what type of material is used. Certain materials like PVC, plastic and certain metals are very easy to maintain and thus save a lot of hassle as well as maintenance costs. Find out what suits your requirements the best and invest in the most suitable shed for yourself.
Durable
One of the important factors to consider is longevity and durability of the product we invest in. Depending on the material, sheds come with manufacturing warrant. Plastic sheds are durable and so is steel. The classics, wooden sheds are a tad more expensive and a little bit high maintenance yet their expression sends an entirely different message.
Temperature control
Plastic sheds and wooden sheds are usually quiet temperatures friendly. Even in extreme climate, there is a moderate temperature which could be maintained inside these sheds, and this makes them more user-friendly. Also, one should consider hazard protocols. Wooden sheds have more susceptibility to catching fire than metal, and thus it should be kept in mind. Everything depends on the owner, the location and the type of storage they want to make.
via poppytalk.com
Disadvantage of sheds 
Hectic Maintenance
Some of the problems which are faced when having any shed are maintenance related, especially if the quality is sub-par. Wood is usually prone to catch fungus, termites, foul smell as well as various pests. Unless it is a superior manufactured shed which a have all precautionary measurement like varnish paint, wooden sheds could be hard to maintain. Metal sheds are prone to get dented, even though they don't get damaged otherwise. Paint too tends to chip off and peel easily and thus requires additional investment.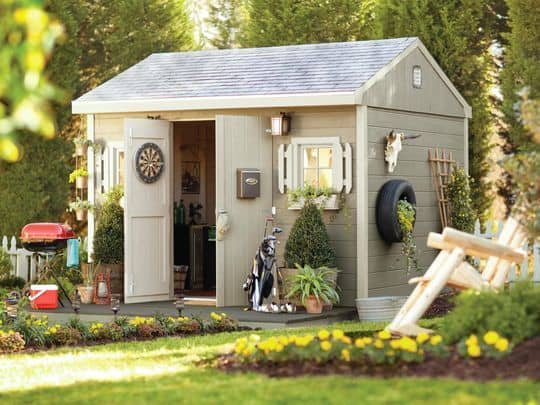 via statesmanjournal.com
Expensive
Even though, otherwise budget-friendly, wooden sheds could be quiet expensive. They tend to be the most durable too, but it depends from person to person what quality of wood they would invest into. It is always advisable to spend a few bucks extra to get the best deal quality wise.
Immobile
Except for certain kinds of sheds, most of them are immobile and cannot be moved easily. These sheds thus have to be lodged in one area permanently.  This is the most applicable for wooden sheds as they are heavy and bulky and almost impossible to move.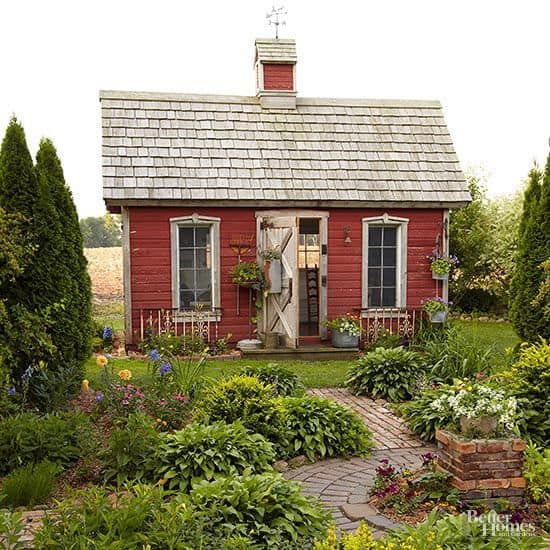 via bhg.com
Too many pests 
Again, if not maintained well, sheds could be a hub of unwanted pests, bugs and eventually diseases. This is especially if they are unused for a very long period. So ensure that when there is a routine cleaning of your home, the shed to is a part of it.
Conclusion
Sheds are a smart choice and their popularity is a testament for their greatness, simply ensure that you pick something that fits your needs and requirements and prepare yourself for an awesome experience with your next structure !
Related Articles
Backyard Landscaping Design Ideas-Charming Cottages and Sheds
The Best Shed Felt to Use Right Now
10 Best Shed Locks Right Now Reviewed
9 Best Shed Alarm Systems for Enhanced Security
10 Best Motorcycle Storage Sheds of 2022 Reviewed
8 Best Carport Kits of 2022 Reviewed