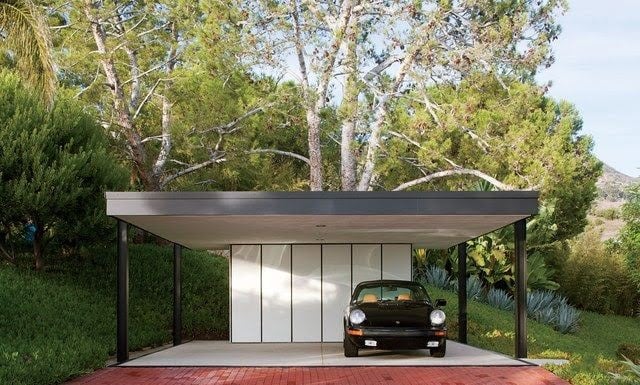 If you own a car but don't have a garage to put it in, we know you want more. Not only will you be leaving your car out in the rain, but standing in the sun for a prolonged period of time can also lead to the fading and discoloration of the paint. Besides that, having your car sitting under the sun for a long periods of time can also result in the premature wear and tear of your vehicle. But, there's an easy way out of this problem, and it's called a carport.
Best Carport Kits 
There are two main features of a carport: the frame which supports it and the canopy which will protect your car. Here, we have listed some of the top performing carport kits so you can get one that offers the protection your car needs.
The Abba Patio carport is considered to be one of the finest products in the niche. This is an extremely versatile carport which not only features a modern design, but also includes a heavy-duty frame and fabric canopy that can withstand the elements and keep your car safe. The polyethylene cover with 8 stabilizers makes this carport unique and versatile. 
Sturdy and Versatile
The Abba Patio 10 x 20 ft. Heavy-Duty Carport with Sidewalls boasts of a sturdy build with reinforced edges. The large carport can also double as a horse shade along with many other uses. Abba is a well-known brand when it comes to designing garden accessories and brings the same level of high quality and affordability to the carport niche.
The large size of this carport means that it can easily fit larger vehicles with ease. Other features include two front-zipped flaps and powder-coated steel frames that are rust and corrosion resistant.
Pros
Sturdy and versatile design

Easy to set-up and disassemble

Features sidewalls for added protection

Steel frames are rust and corrosion-resistant 
Cons
Not ideal for use in areas of strong winds

Large size takes more time to set up 
The Palram – Canopia Arcadia 6400 is a sleek and stylish carport that's been designed keeping the user in mind. This carport is incredibly easy to install since it comes with pre-cut and pre-drilled parts. All you have to do is follow the user manual and you can set up this carport in no time.
One of the main selling points for the Palram Canopia Arcadia 6400 is that the roof panels are unbreakable and offer UV protection for the car. The high quality that the Arcadia 5000 boasts of should come as no surprise since Palram is a well-known company that has been manufacturing building materials and other specialty products for many years. All of the products in Palram's lineup have been designed with the latest technologies and follow high quality standards, and the Palram Arcadia 6400 is no exception.
Galvanized Steel Frame Can Withstand Strong Winds
To make sure that this product lasts a long time Palram has used powder coated aluminum and galvanized steel for its frame to guarantee sturdiness and the ability to withstand strong winds. Apart from that, the frame is also rust and corrosion proof, so you can rest assured that this carport is going to last you for a long time.
Pros
UV resistant cover

Rust and corrosion resistant frames

Easy assembly

Extended warranty

Maintenance-free
Cons
No sidewalls

Small size

Expensive
The King Canopy carport is one of the best-selling carports available in the market today. Some of the stand out features of this product is its durable design that coupled with 8 legs for more stability. This means that the carport is able to withstand strong winds and extreme temperature with ease. The material that has been used for the canopy is also high-grade which ensure that it is able to offer better protection from rain or hail storms.
Easy Assembly and Durable Build
King Canopy is a company that is synonymous for delivering superior quality products and exceptional design quality, and the Hercules HC1020PC is no exception. The easy assembly of this carport takes the guessing out of putting the canopy together, and also makes it easier to set up or take down when not in use.
This makes the King Canopy Hercules HC1020PC canopy one of the most versatile designs in the market. Its versatility means that the carport can also be used as an event booth, animal shed or to provide shade when celebrating an event.
Pros
Features a patented cover design

Easy installation

Multi-purpose design

Multi-purpose design 
Cons
Does not include sidewalls

No long-term warranty 
If you are looking for a durable and easy-to-install carport for your car then the ShelterLogic AutoShelter 62680 – 10 x 20 ft. Instant Garage® is going to be your best bet. This is one of the high-quality carports that are available in the market today. One of the complaints with this carport is its steep price tag, but the high-grade materials and fabric quality that this carport offers makes it worth the investment.
Maximum Car Protection
The ShelterLogic AutoShelter 62680 has been crafted using high-quality durable materials ensuring maximum car protection. Its large size makes it easy to house many large vehicles including SUVs. Since ShelterLogic is a household name when it comes to manufacturing shelters, shades and other high-quality storage products, the AutoShelter 62680 follows the same high-quality standards that has made ShelterLogic one of the highest rated shades and shelters manufacturing brands for over 50 years.
This carport is the first to introduce many features which makes it a premium quality product. From the Ratchet Tite cover tensioning system to the Easy Slide Cross Rail system, and Patented ShelterLock stabilizers, the ShelterLogic AutoShelter 62680 – 10 x 20 ft. Instant Garage® offers the ultimate in carport design and quality.
Pros
Anti-fade, anti-aging, and waterproof cover

High-quality steel frames

Patented ShelterLock® stabilizers

Includes sidewalls for added protection

Easy installation
Cons
Some people might find it expensive 
Sale
The Palram Vitoria carport features a stylish and modern design that also happens to be virtually indestructible. This high-end carport offers an all-around versatile and sturdy structure which can keep your car safe from just about any kind of weather. The bronze tinted 6 mm twin-wall polycarbonate roof panels are solid and have been designed to take high impacts. The roof also provides much needed UV protection to ensure the vehicle's pain does not discolor or fracture over time.
Solid Construction for Better Protection
While the Palram Vitoria carport has a lot going for it in terms of design and build quality, one of the main selling points for the company is the solid frame and panels that are shatter resistant and rust resistant. The powder-coated frame made up of heavy-duty aluminum and galvanized steel offers the ultimate in protection against the elements, making sure that your vehicle stays safe at all times.
Pros
Sleek and modern design

Durable construction

Built in gutters

Comes with a 10-year warranty 
Cons
Some folks might find it a bit pricey

Heavy materials make it difficult to assemble 
The Ikuby Lockable carport is as compact and versatile as they come. This carport features a super sturdy build and weighs up to just 170 lbs., which also makes it the lightest carport available. The Ikuby Lockable carport boasts of premium 600 D Oxford fabric along with PU coating and is also waterproof.
Unique Design
But, the main selling point for the Ikuby Lockable carport has got to be its unique and extremely portable design. This makes it easy for the carport to be setup in the most tightest of spaces, while ensuring that your car remains safe from the elements. Another selling point for the Ikuby Lockable carport is the folding steel framework and high-grade materials that have been used in its design to protect your valued car from sunlight or hail damage.
Pros
Modern design

Solid build quality

Solid build quality

High wind / load rating 
Best Carport Kits
What Is a Carport?
A carport or a portable garage is a great alternative to a garage for your car. It helps keep your vehicle safe from the damage that can be caused when a vehicle is exposed to the elements for a prolonged period of time. The structure of a carport is made up of a metal frame which helps hold together the vinyl roof and sides. The best part about carports is that they are available in multiple sizes, which makes it easy for you to find one that's the perfect size for your vehicle.
Another major benefit of investing in a carport kit is that they are extremely easy to put up. Since there's no drilling or digging involved you can set up your carport within a matter of minutes without any hassle. Carports are a smart alternative for those people who do not own a garage for their car. But, that's not all your carport can be used for. Because of its versatile design, the carport can also double as a shed if you are hosting an outdoor activity for friends or family.
Features of a Carport
Like most other things you will buy, the features of a carport is going to vary depending on the manufacturer. From the colors and design to the installation process and durability of the materials used in its design, there are various factors that need to be taken into consideration before you purchase a carport for your vehicle. The following is some information on carports that you can use the next time you are in the market for a carport.
Design
Carports are temporary structures that are very similar to tents. This means that there are several options available when it comes to the color, size and design of carports that are available in the market. From the classic canopy and fabric carports to the modern carports sporting aluminum and metal frames, there are many options to choose from for the modern carport purchaser.
When it comes to the design you are going to find quite a few options from which to choose from for the carport. But, before choosing a design, it's important to first figure out what you want the carport for and the type of vehicle that's going to be parked in it. This will get you a better idea of which design to choose for your carport.
For instance, those who are looking for a temporary fix or plan on moving tend to go with the classic vinyl and fabric carport that's easy to set up and take down when needed. On the other hand, those who are looking for a more permanent solution for their parking woes tend to opt for the aluminum carports which are sturdier and are more resilient when exposed to the elements.
Furthermore, carports that feature a strong roof made of aluminum or some other material has a better chance of protecting your car from extreme weather, rain and hail storms. You can also choose to get the enclosed weatherproof carports that provide even further protection during the winter months.
Because of the carport's design, it can also be used to keep your lawn maintenance equipment and garden furniture safe when not in use. Before you get yourself a carport, it is important to first be certain of the main purpose of the carport.
Assembling the Carport
Since for most people, carports are seen as a temporary or mid-term solution to their parking problems, it is important to make sure you get one that isn't too complicated to set up or difficult to take down. One of the factors to consider when purchasing a carport is the amount of time it takes to assemble and get the tent up. For instance, you might want to use the carport for the weekend you spend at the lake, or for setting it up in the backyard or some other location to party with friends.
This means, the carport you choose needs to be simple and easy to set up within a short period of time without the need of any expensive tools or hardware. To make sure your not inconvenienced by a carport that's too complicated its best to choose one that's easy to set up, take down, store or relocated. This is where lightweight, yet durable material and a straightforward frame will be your best bet.
Durability of Materials
Another extremely important factor to consider when purchasing a carport is the weather and geographical location where you are living. This is very important since the whole idea of investing in a carport is to make sure your car is kept safe from the elements. This is not going to be possible if you do not take into consideration the climate of the area where you live in and what type of material should the canopy be made of to ensure that your car remains protected even during extreme temperatures.
For instance, those who live in warm climates such as Texas normally get carports that consist of a steel frame that holds up a vinyl or nylon fabric canopyto protect their car against the rays of the sun. On the other hand, those who live in North Dakota or some other state where there's plenty of snowfall usually tend to focus more on the snow load rating of the canopy.
Those who are looking forward to using the carport for the occasional party or to be used once or twice a year tend to go with carports with fabric canopies, while those who are going to be using it on a more permanent basis will go for carports that have harder canopies that offer more durability.
Conclusion
At the end of the day, how is one able to ensure that the carport they are going to get will live up to the marketing of its manufacturers and will offer the protection your vehicle needs? The only way to truly be sure of the quality of a carport, is to visit the websites of many brands before going with a particular product. You should also read online reviews and learn more about the quality control procedures that are carried out by the company. If all that seems like too much work, you can always go the easy route by choosing one of the top-quality carports that we have listed here.

Related Articles