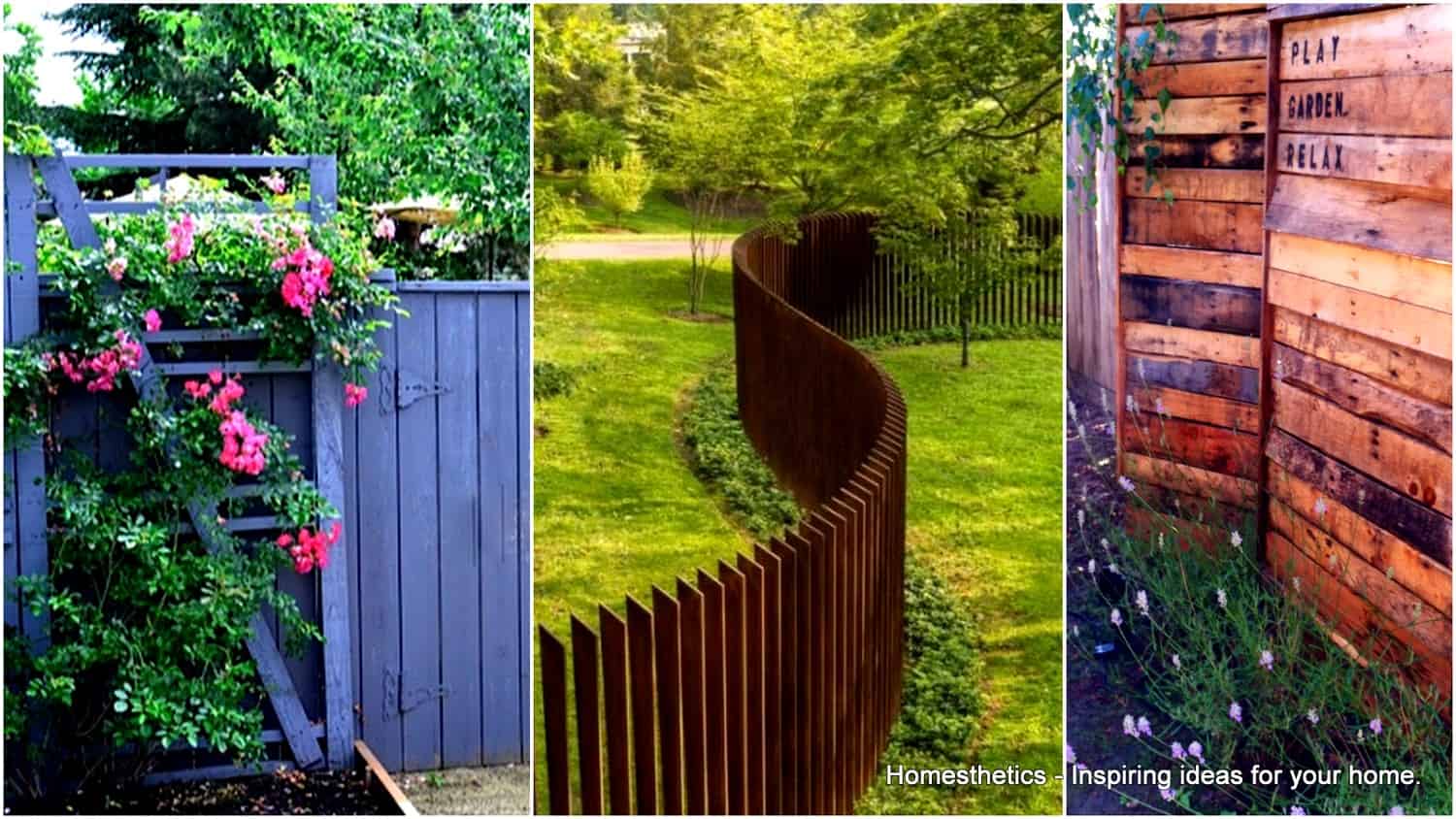 A garden or yard of the house is always incomplete without a fence; anyone would agree with that fact. But building a commercial fence is extremely expensive and could probably affect your budget, especially if you are looking to build it in a particular way, theme or even as a complement to the design of the house.
If you have been wanting to build a fence, yet cut down on the costs, there is a cheaper alternative – to build it yourself using pallets. Pallets are an amazing alternative to commercial fencing as they are durable and cheap, even free at times.
Moreover, since you'll be the one doing the job, you can procure the right kind of pallets, add some style of your own and make it aesthetically pleasing, according to your own taste, that too, without burning a hole in your pocket. All you need are wooden pallets and some imagination and you're good to go.
But if you need some help with the ideas, we are here with 35 ingenious ways you could build a pallet fence in your backyard, while saving some big bucks on fence panels thanks to the inexpensive nature of pallet wood. If you worry about the aesthetics you will notice rapidly that more pallet fence ideas in this list look posh and, with sufficient patience, your DIY fence will look far better than anything you could purchase honestly.
If you`ve found the cheap fence ideas below interesting we invite you to check various other free woodworking plans, we have curated lists that will show you how to build a guinea pig cage, router tables, duck house, deer stand, bat house, tiny house, rocket stove, diy tree house, cat tower, garage, fire pit, porch swing, greenhouse, small cabin, farmhouse table, pole barn, rabbit hutch, diy dog bed, a playhouse, a chicken coop, or a a coffee table.
Cheap DIY Pallet Fence Ideas
Simple Wooden Pallet Fence
If you're just looking for a simple DIY fence to the yard that's just typical, then this plain wooden picket fence with a small gate could be the one for you. All you have to do is to decide where you need the fence, acquire some wooden pallets, nail them up around the yard, and give it a simple whitewash.
To make it look more pleasing, you could decorate the space around with some plants, and maybe even a small table with a couple of chairs to spend some time in the evenings.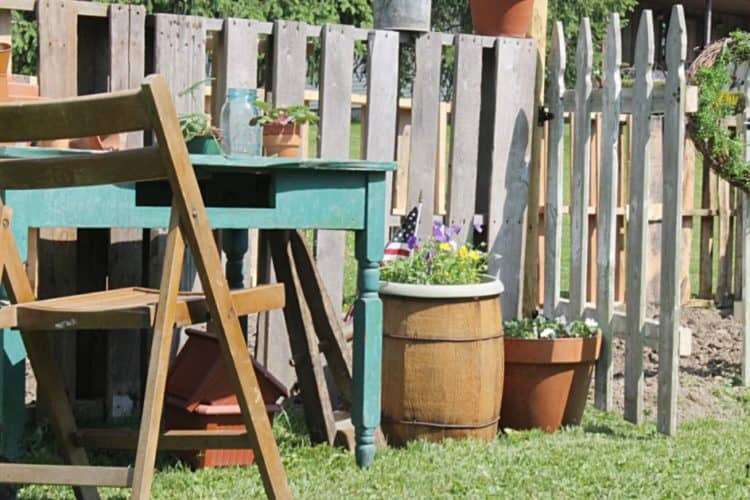 More details at thewillowfarmhouse.com
Wooden Fence for Outdoor Dining Area
This one is ideal for people who do not want to just secure their yard area, but also have a dining set up for a relaxed lunch on a lazy afternoon, or a small barbeque party in the garden or the yard of your house.
Build a tall wooden fence with the pallets and varnish it with wooden-colored paint. For the dining area, you could consider various ideas for making the space cozy, probably go for a simple table with chairs and cushions. A few potted plants here and there would make it just perfect, and would also raise the eyebrows of the people who happen to have a look at it. Isn't it interesting?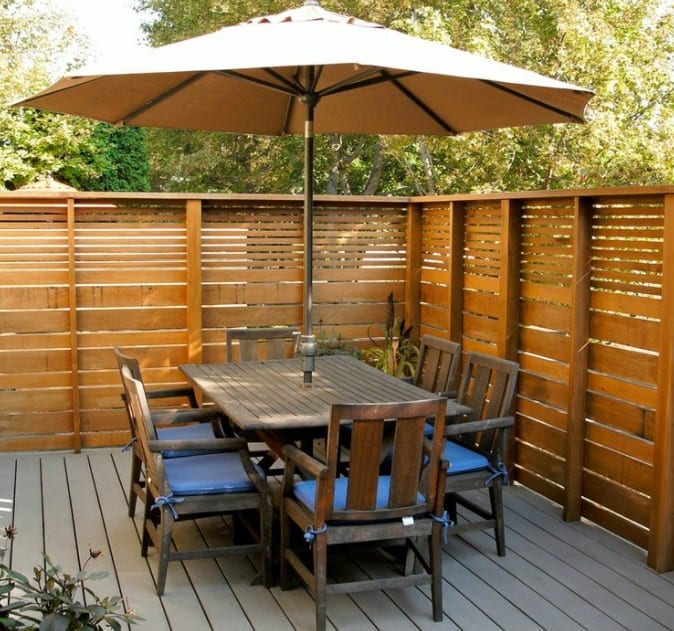 More details at palletwoodprojects.com
Gated Garden Fence with Trellises
For those who are in love with plants and gardening, this simple garden fence with trellises is definitely a great idea for the house. You can start off by building a simple fence and attach a few trellises to it where you can plant creepers or other small plants.
This way, you don't just get to flaunt your creativity and frugality, but also show your love for plants whilst building something that gives your house more secure.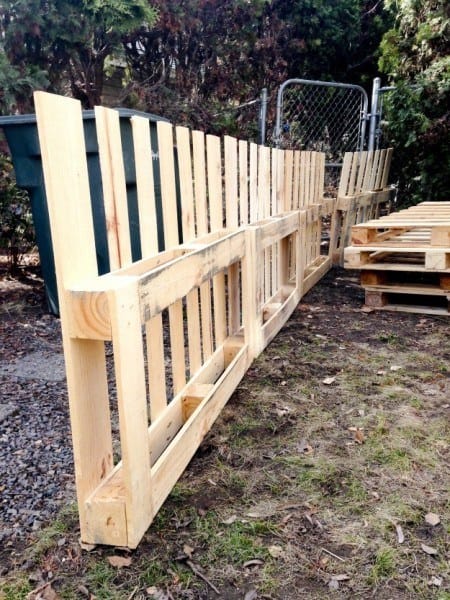 More details at fairywingsanddinosaurs.com
Pallet Fence for the Garden
It is always better to do a lot of research before fixating on the design for your pallet fence. Finding the pallets might be easy, but molding them as per your liking can be a little difficult job.
Some of you would be fine with a simple short fence of around 3-4 feet to keep the animals away, while some of you might actually crave fencing that gives you enough privacy as well as add beauty to your garden. If that's the case, you could try something like this where the pallets are nailed close to one another, around the garden, at a greater height, somewhere around 5-6 feet, and add plants around on either side of the fencing.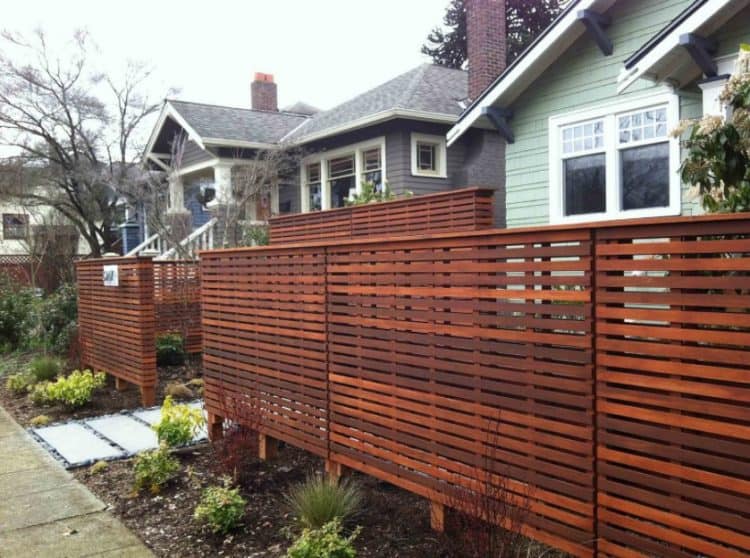 More details at ccacademy.net
DIY Pallet Fence for your Poultry
If you're living in the countryside or have a lot of chickens that need to be kept outside where they can move freely, but within a confined space, then you can opt for this simple pallet fence which is perfect for your poultry.
This DIY fence could be built in a small space around the hen-house, so that your chickens are not just confined to the house, but can get some air. You could fill in the place with soil or a bed of grass, and even keep a small bird feeder at one corner.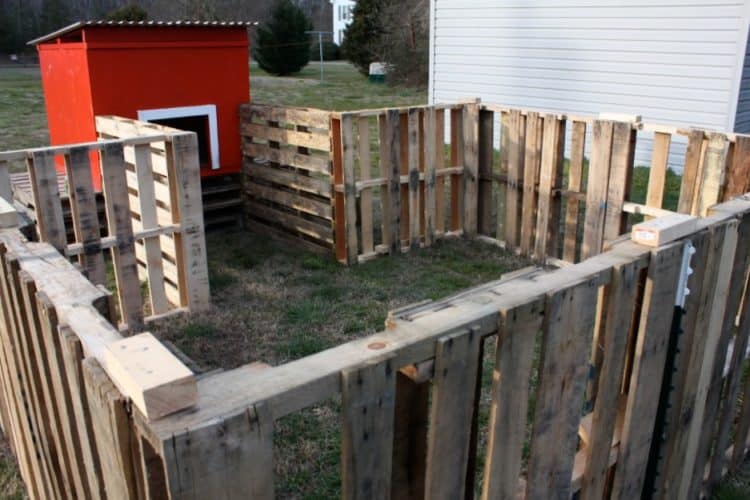 Source Unknown
Pallet Fence for a small Indoor Farm
For a family that's all about sustainable living and organic farming, this could be the perfect fence for your small at-home farm. If you have a habit of growing your own fruits and vegetables at home and are worried about rabbits or other small animals entering in and nibbling away at your plants, you could build this simple square fence around your veggies.
It can be small, maybe around 3ft or a little more, along with a gate so you could access it easily. And since it's just for a farm, you need not actually paint or decorate the pallets and leave them as they are.
On the contrary, this kind of pallet fence is also great for keeping your chickens in, of course, not with the plants in.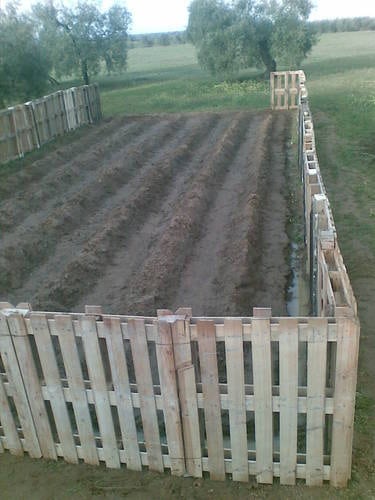 More details at felixmaocho.wordpress.com
Planter topped Fence
We often don't realize that we spend a lot of money on herbs and other small vegetables. What if you could cut some budget by growing them on your own, along with the comfort of building a secure fence around the house?
This planter-topped fence is a perfect idea for those who want to do so. Unlike the one with the trellises mentioned above, this one has a simple fencing frame with pallet box planters on top. You could fill these planters with soil and some herb seeds which could give you a nice little harvest that helps you in the seasoning of the meals. Two birds at one shot, right?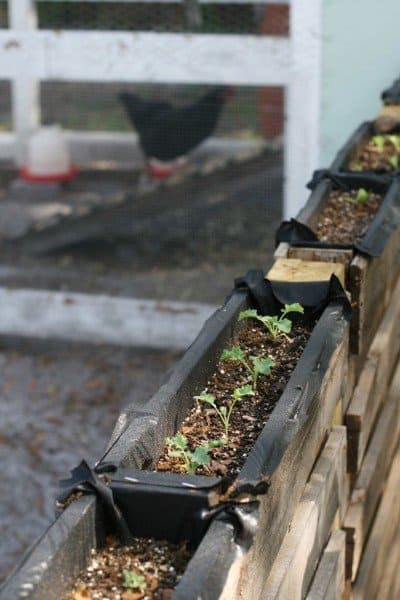 More details at naturallyloriel.com
Pallet Picket Fence
This is one of the simple fencing ideas out there for those with huge backyard spaces in their homes, probably if you're living in the countryside. Also, it could be done in a matter of a few hours.
Collect as many pallets as you can, and just fix them to the ground. You don't even need to attach these pallets by nailing them together. Instead, just keep them close, at a diagonal angle. You could paint it in rosewood color to give it a classic look or use any other color as per your liking.
This is a perfect fence that keeps pets and other animals away from entering your yard.
More details at founterior.com
Designer Pallet Fence for Small Homes
If your house is small and needs fencing only for the front yard, then you could use this modern design with the look of dark timber wood. Precut the pallets into two different sizes, probably a thinner and a thicker size, and make two huge fencing frames with the latter for either side of the gate.
For the gate, you can use the thinner pallets and make a smaller frame, that can fit right between the fencing you've attached. And like any other simple house fencing, you could have some soil on the outer side of the fencing, outlined with stones, where you could plant some small shrubs or flowering plants.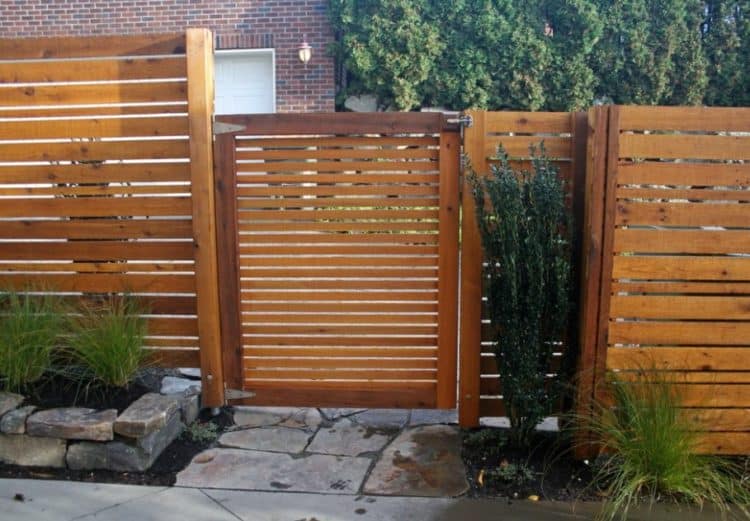 More details at syonpress.com
Dress up your existing Chain Link Fence
This kind of fence is for those who have a chain link fence but crave a little more privacy. It could also work if you want a whole new fence, but can invest a little bit more than pallets, and like to mix things up a little – a wooden panel with chain links around.
Choose the part of the chain link fence, where you think adding a panel would give more privacy to your home, and nail the wooden pallets to the vertical frames. Make sure it is the size of the chain link fence to give it aesthetic value.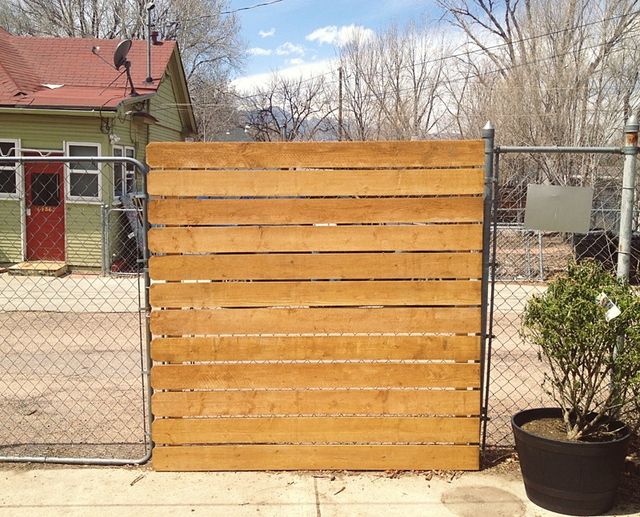 More details at smileandwave.typepad.com 
Wooden Pallet Fence with Planting Space
This is a completely unique and creative pallet fence idea, which not only makes your house secure but also gives it a peculiar garden-type look.
Instead of making pallet frames and linking them together, you can make boxes of planters and stack them one after the other, until the required height of the fence is achieved. You can put some soil in these planters and grow herbs, or veggies that don't need much space to cultivate.
Another great thing about this fence is that you can unstack them whenever you want and change the design according to your tastes.
More details at indrahughes.com
Gated Pallet Fence
This pallet fence will almost cost you nothing and can be finished within 4 hours. All you have to do is drill a few pallet boards onto the walls for support and nail the other planks onto these support boards by stacking them one after the other horizontally. You can also make a gate to the fence the very same way, and attach it with a hinge.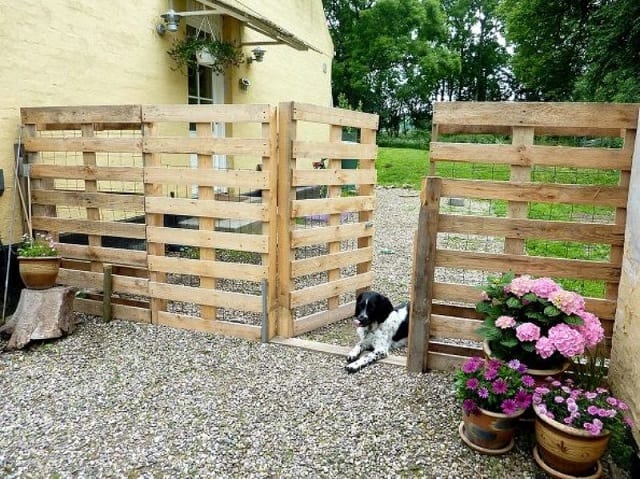 More details at hometalk.com
A Sober Pallet Design for the Front Yard
When the sole reason you're opting for the fencing of your backyard is only to keep small animals away, then you could go for this very simple and tiny fencing system for your front yard.
It has pallets nailed together into frames of different heights, which are lined alternatively. This easily serves the purpose and can help you keep a track of onlookers and passers-by.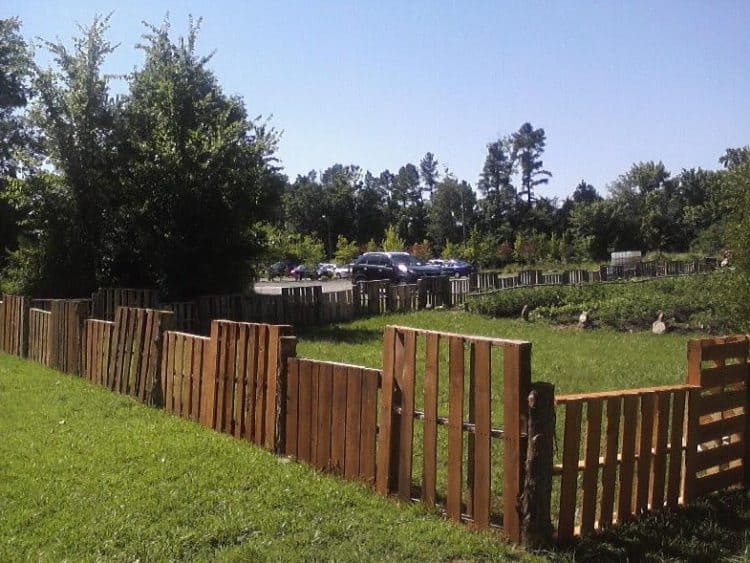 More details at crowfootcattle.com
Pallet Design for the Gates
You can spice up your fence design and double it up as a yard device, in addition to using it for privacy or security.
This kind of fencing needs prior research about the design, as there has been a lot of emphasis on the design and the details. You might have to fix the pallets together without any space, with small pallets as designer frames and gates. It will probably take a lot of your time, but it's definitely worth it.
More details at ccacademy.net
DIY Patio Pallet Fence
Another great way of decorating your fence is by creating a simple fence with wood from old pallets, and painting flowers, or any other art of your choice on it. This gives the fence a personalized look and feels that you can easily fall in love with.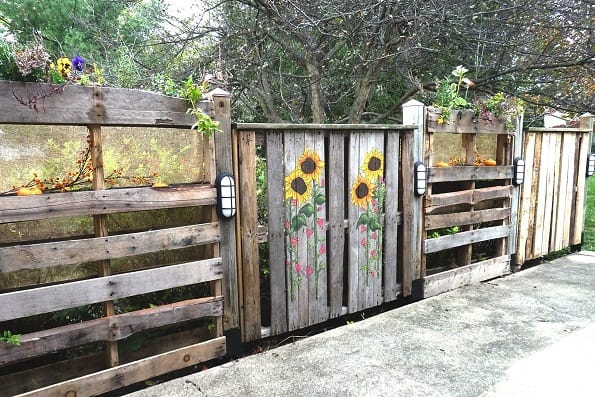 More details at diytotry.com 
Simple Pallet Fence Design with Colors
Feeling colorful? Have extended space at the back of your yard with a small pond, or huge trees that you want to separate from a small garden? Then you could make this simple fence by dismantling the pallet wood into planks, fixing them up into the ground, and painting them in different colors. This definitely gives the fencing a vibrant and gorgeous.
More details at rprtphoto.com 
Square Pallet Fence Idea
Not all fences are square in shape. But it is a great idea, especially if you are trying to put in your cattle, or grow some veggies or have a garden. It's easy to make and doesn't take you a lot of time to build. If you need, you can line the outer part of the fence by placing potted plants to give it a much nicer look.
More details at simplyjanelledesigns.com
Rustic Pallet Fence
If you're into rustic things and want the same around for your fencing, then you could simply stack the dismantled wooden pellets, preferably old ones, one after the other, and fix them in the ground. Also, you could add wood from old doors or wooden furniture to give it varied textures.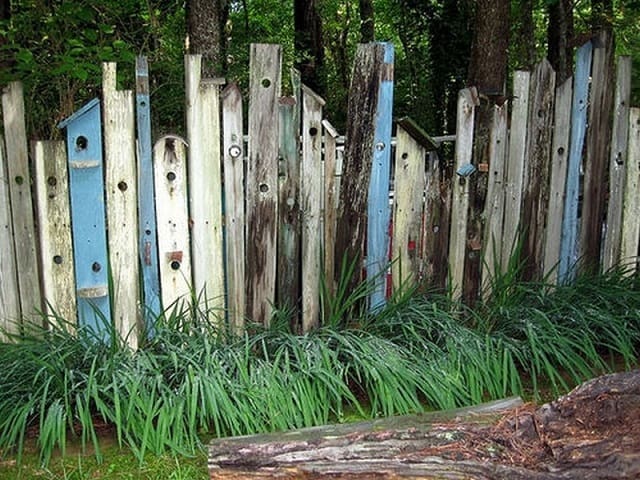 More details at goodshomedesign.com
Pallet Fence on Wheels
Another way of creating a movable fence or gate is to make a simple fencing frame with wooden pallets, and attach them with hinges. As the final touch, attach some heavy-duty wheels and casters to the bottom of the fence, so that they could easily be moved around. Now you can place your fences wherever you want.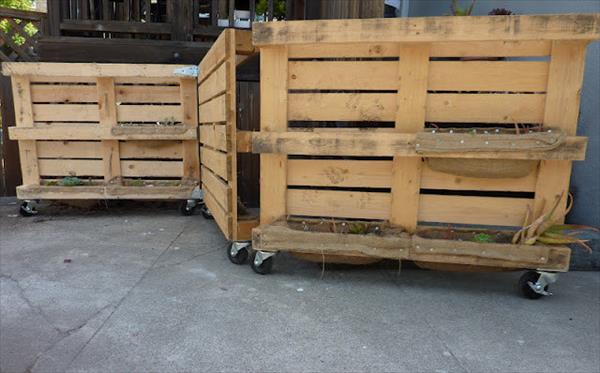 More details at 99pallets.com 
Another Picket Fence with pallets
In case your kids keep stomping the yard, creating trails all along, then make this simple fencing by dismantling the pellets, squaring off one end, and fixing them up in the ground by digging holes. You can also add a few plants in the soil at the bottom to give it a nice end look.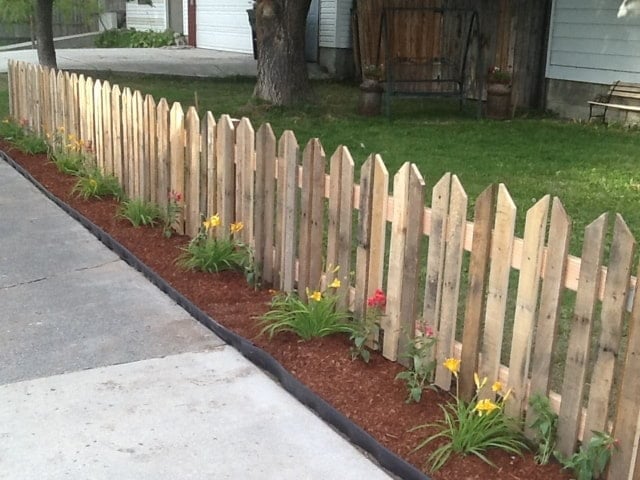 More details at adventurous-andersons.blogspot.in 
A Pallet Fence that gives Privacy
If the front or backyard of your home is already covered with a wall, perhaps of a smaller height, and you need something out in the open that gives you privacy while you're chilling out in the sun, this kind of pallet fence would be the right choice for you.
It's built with lots of wooden pallets and looks like something along the lines of a gazebo. You could fix the fence on three sides, leaving the last side open, and put in some benches made of pallets. Also, to jazz it up a little bit, you can place some potter plants around. It would definitely be a great place to sit and read a book or have a coffee.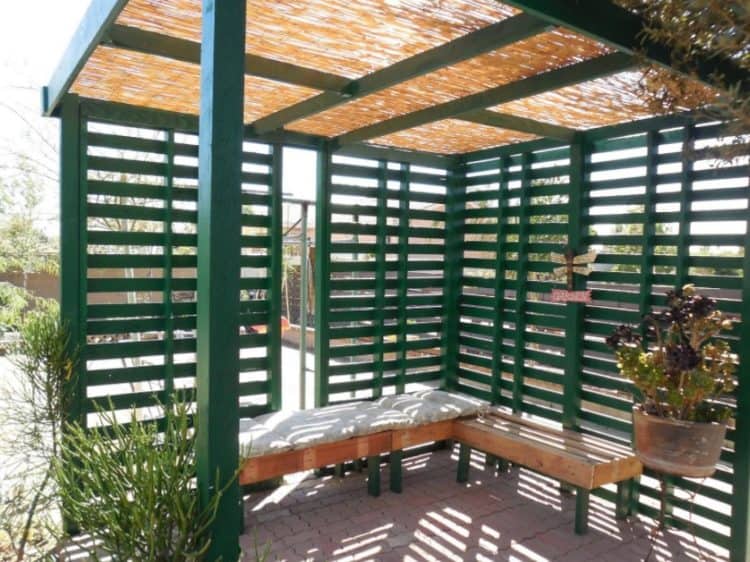 More details at iconhomedesign.com
Pallet Fence Idea for a Small Garden
If you only have a small area in the yard of your house where you want to grow some shrubs or flowering plants, then you can try building a small garden fence with wooden pallets around this little space. In addition to the bushes inside, you can allow creepers to grow on the fence itself, or attach some trellises to the fence.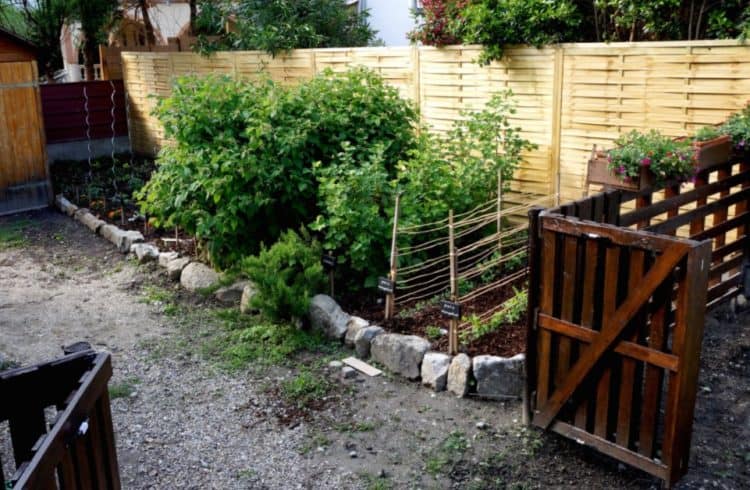 More details at wolffsapplehouse.com
Fencing for Balcony Garden
Sometimes, it's better to think out of the box and go for an idea that's completely different from the rest. Usually, balcony gardens don't need fencing, as they have their very own railing and space to keep the pots.
But, if you are blessed with a huge balcony, why not try and build a fencing gate to it? This way, you can separate your balcony into the seating area and the garden area and have a mini-farm type of setting. How interesting could that be?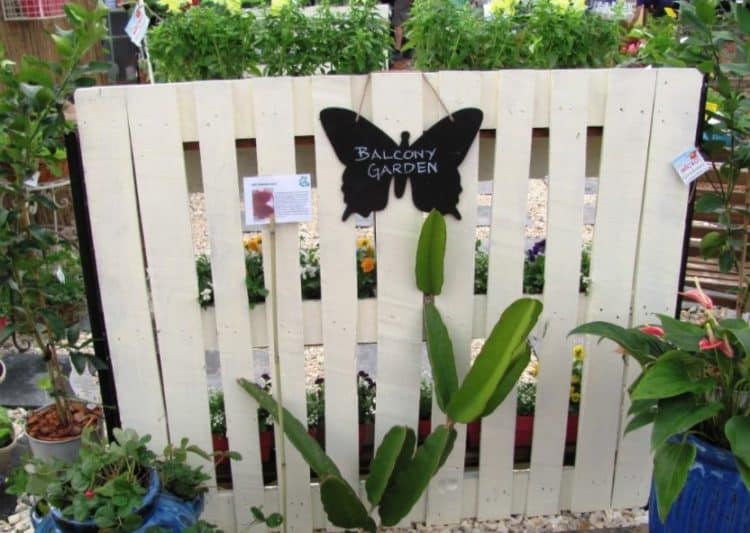 More details at themicrogardener.com
A pallet Fence Decked up in Herbs and Flowers
Now, you can not only create a rustic look to a simple pallet fence painted in dark-wooden color, but also deck them up in different herbs and flowers by fixing in boxes for small pots, or by directly nailing planters to the fence.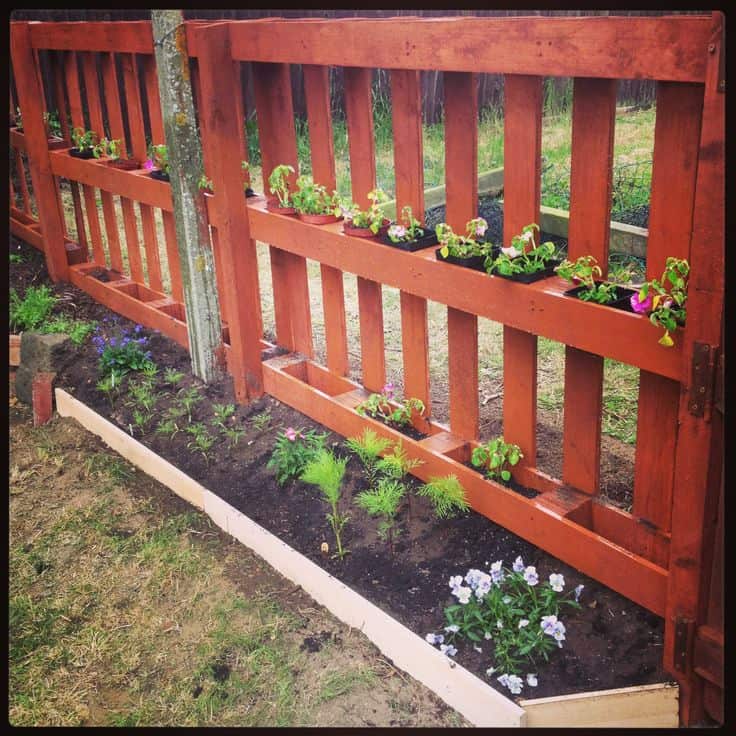 More details at gardenedit.com 
A Funky Pallet Fence Idea
This is another style where you get to have complete freedom of customizing and decorating the fence the way you want.
For this, you need to just build a simple fence, like the one mentioned in the beginning, or fencing of any style. Then the actual fun begins, you can carve shapes out of the leftover wood, and nail it to the fence, or draw some art, or even graffiti onto it, in order to suit your style.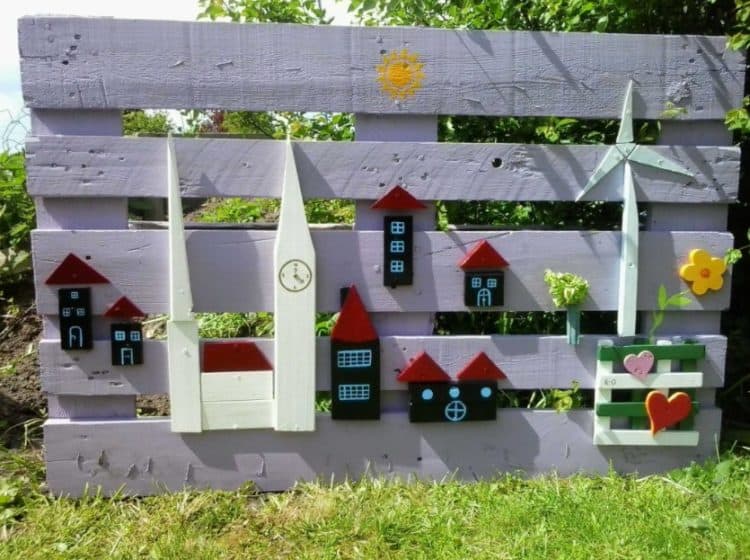 More details at 1001pallets.com
Tiny Garden Fence
If you have a small garden attached to one of the walls of your house, this might definitely be a cool way of making a DIY fence around the garden, at absolutely no expense. All you have to do is nail wooden planks to the support boards and fix them into the ground by digging up holes. You can then embellish the fence by painting it in your desired color, adding a planter box for creepers, and maybe even adding a couple of lamps.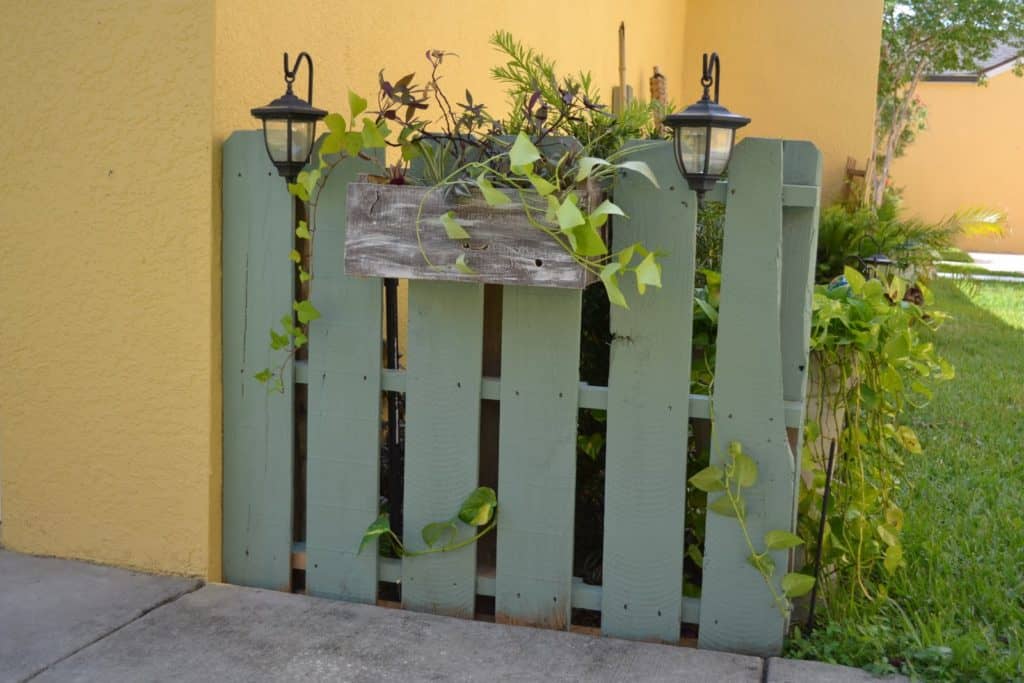 More details at camelotartcreations.blogspot.in 
DIY Wooden Pallet Fence
A good and simple fence can really turn your eyes around. This is one simple fence idea if you don't have much time in your hands. Just nail large pieces of horizontal pallets onto the vertical planks, and attach them to one another.
To give it a nicer look, you can paint it in dark maroon, brown, purple, or any other color that complements the paint of your house, and grow flowering plants and creepers on the inner side of the fence.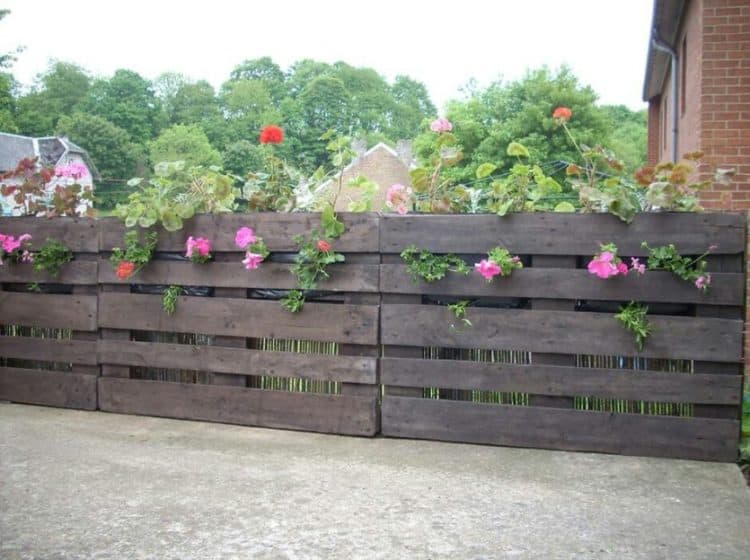 More details at ccadacemy.net
Wooden Fence with a Small Planting Area
Another wonderful way to ensure privacy through your fencing work while adding a little bit of gardening to it is shown in this design.
Here, you have to stack all the pallet planks together tightly without any space and fix it to the ground. You can always choose the desired height for the fence. Now, for the planters, you can attach small wooden boxes towards the inner side of the fence, where you can grow herbs. Also, you can throw in some soil by the bottom of the fence, outline it with stones and use it as a mini garden.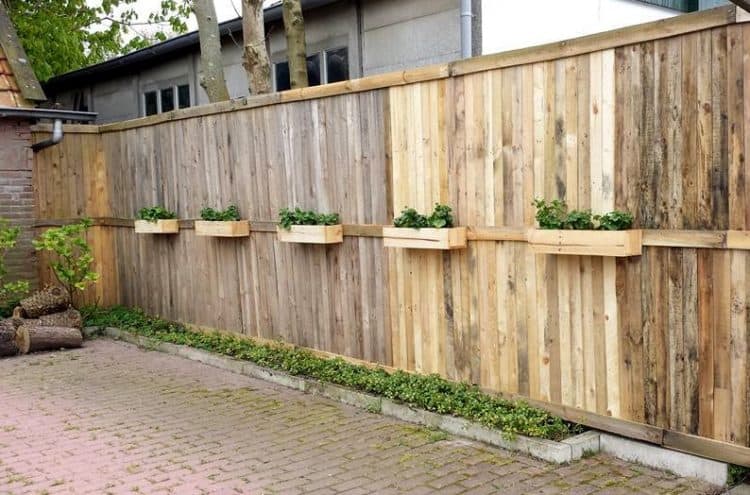 More details at 101palletideas.com
Pallet Fence with a Bench
In addition to creating a usual fence with pallets decked up one after the other to create privacy, you could attach a few dismantled planks together to the fence in order to create benches to sit on. This not only gives you privacy, but also a place to sit and relax.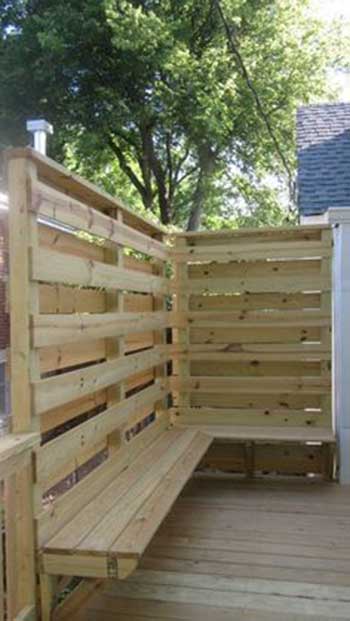 More details at mentalscoop.com
Modern Wooden Pallet Fence Idea
This is a stylish and modern way to decorate the outdoors of your home. It's perfect for the courtyard, or to separate a wall from the rest of the yard. Get the planks from the pellet and stack it to the desired height and nail them to the vertical frames. You could spray paint it in wooden brown, and use long flat planks as shelves where you can actually place potted plants. Further, you could plant bamboo, crawling roses or other trees of medium height, which could give the fence a trendy look.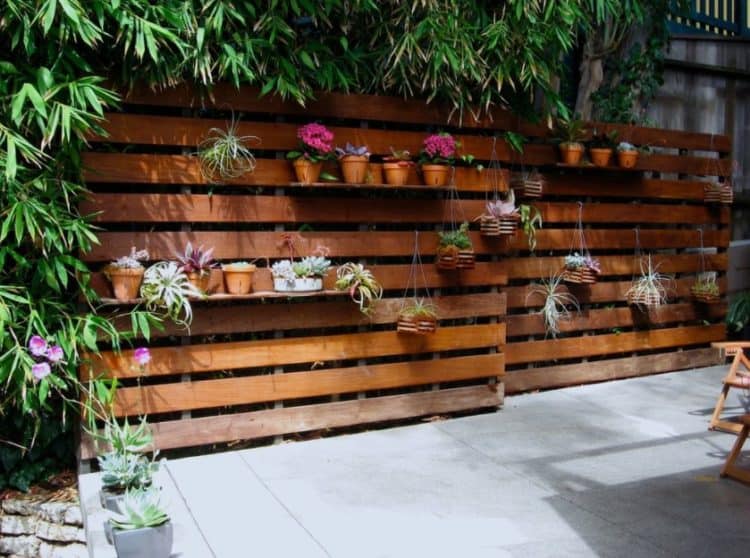 More details at  ccacademy.net
Movable Pallet Fence for Swine and Goats
Who said pallet fencing could only be for gardens or yards? It could also be used to protect your pigs or goats from the animals outside, and wooden pallets are the best materials to build one, as commercial fencing would be too much to just keep your swine or cattle in check.
You can just build the framing by nailing the pallets together and fixing them up, along with a small gate. What would be even more interesting is that, you could make it movable and reusable, by just making them into frames that can be easily removed, if necessary.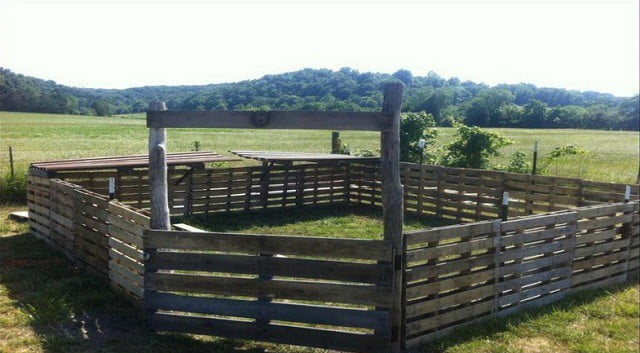 More details at self-relianthomesteading.blogspot.in 
Small Square Pallet Fence
If you've dug up anything at your home recently, or if you've planted a favorite tree that you need to keep people out of reach, or if there's any electric device or anything hazardous that needs to be secured, then this small square pallet fencing is the perfect idea.
It is short, sober, and fits right around the object you need to keep others away from.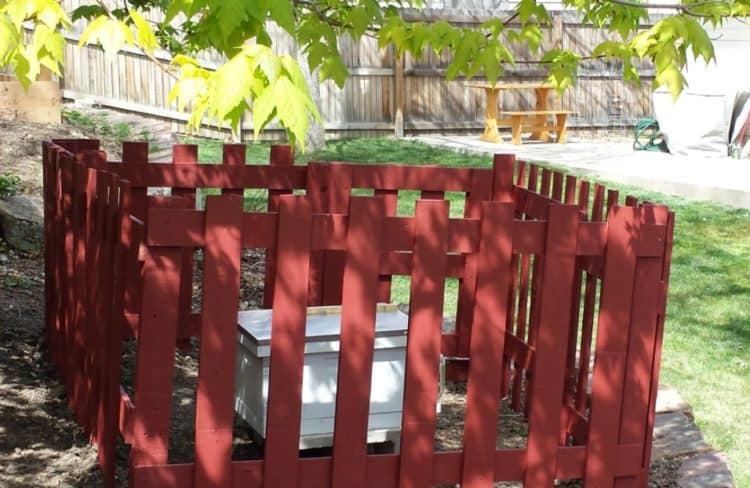 More details at representingdads.com
Pallet Fence Design
If there are a lot of houses in the neighborhood and your garden is attached to that of your neighbor's, you can simply try this pallet fence design to separate the gardens. Just make the fencing frames from the pallets and fix them through from the wall of your house all the way to the sidewalk.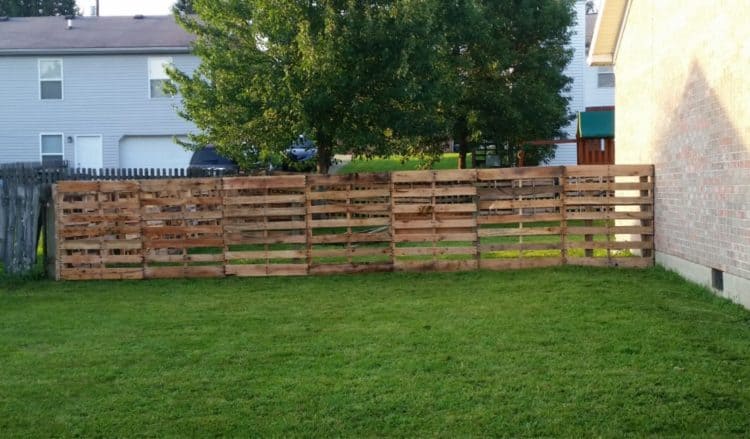 More details at 1001pallets.com
Another Private Pallet Fence
It is uncomfortable when you can look right through to your neighbor's house from your living room window, or the kitchen sink. That's when you have this immense urge of privacy.
Here's another incredible idea to build a complete private fence with pallets. Make frames with long planks and fix the wood dismantled from the pellets horizontally, without any space. You can then place them one after the other through the length of front yard. You can also grow a few decorative plants around to give it a great finishing look.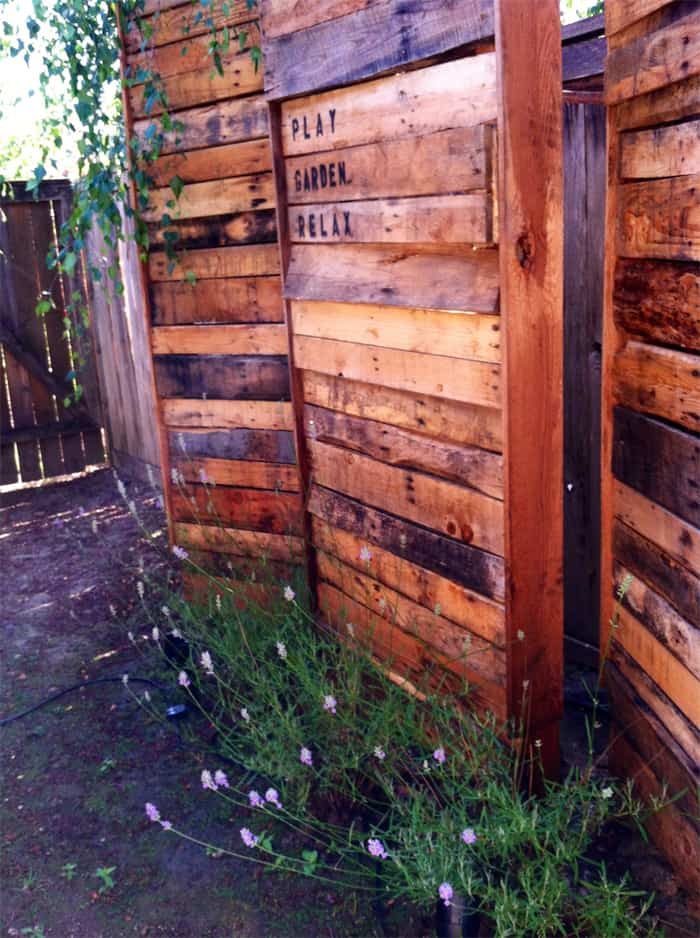 More details at pinterest.com 
Blue Pallet Fence
A garden full of climbing rose bushes or other flowering plants is definitely bewitching. Something as lovely as that needs a fence which is only adds to its beauty.
So why don't you try opting for a simple wooden pallet fence and gate, paint it in blue or maybe even mauve, and let the roses crawl all over the fence? It could surely make the whole garden view much more gorgeous.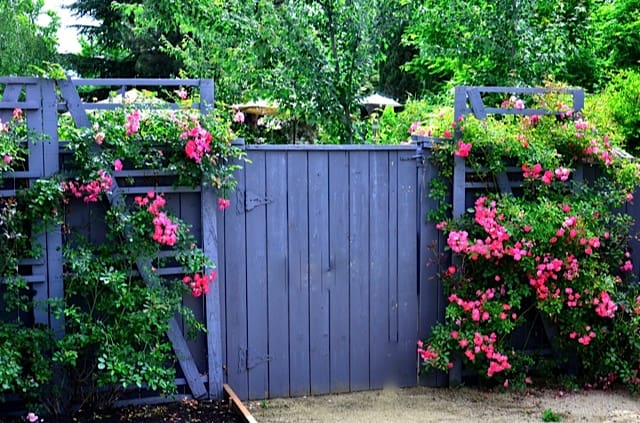 More details at diytotry.com
Pallet Fencing Near the Swimming Pool
If you have a swimming pool and want to relax by the water in private, try building a small open fence around it. This is a rather novel idea, but something definitely worth working on.
Collect as many pallets as you can, separate them into wooden planks, and build a usual three-side fence. If you have more time on your hands, do use the planks as the floor by spreading them. Paint the whole thing white to give it a complementary look, and add some benches or a couple of wooden chairs to relax, and you're done.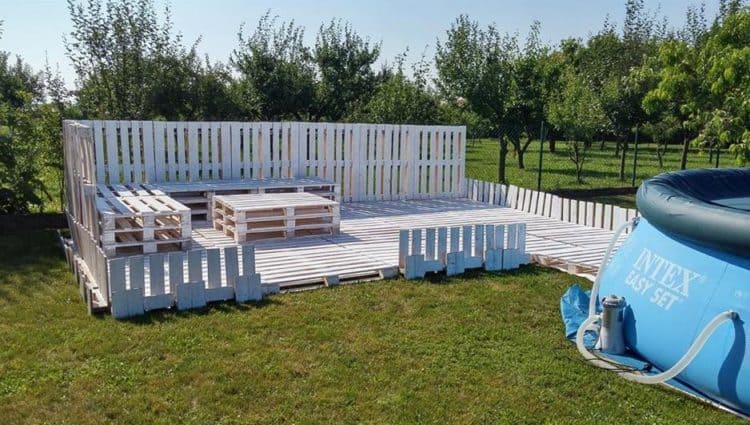 More details at 101palletideas.com
Herb Garden Fence
This design can be used both as a free-standing garden to plant herbs, as well as a fully functional fence. All you have to do is convert wooden pallets into planting boxes and attach them to supporting wooden frames (planks) using nails. These planters can be used to grow herbs, and you can either use just one or make multiple pallet herb gardens and stack them one after the other to make it a fence.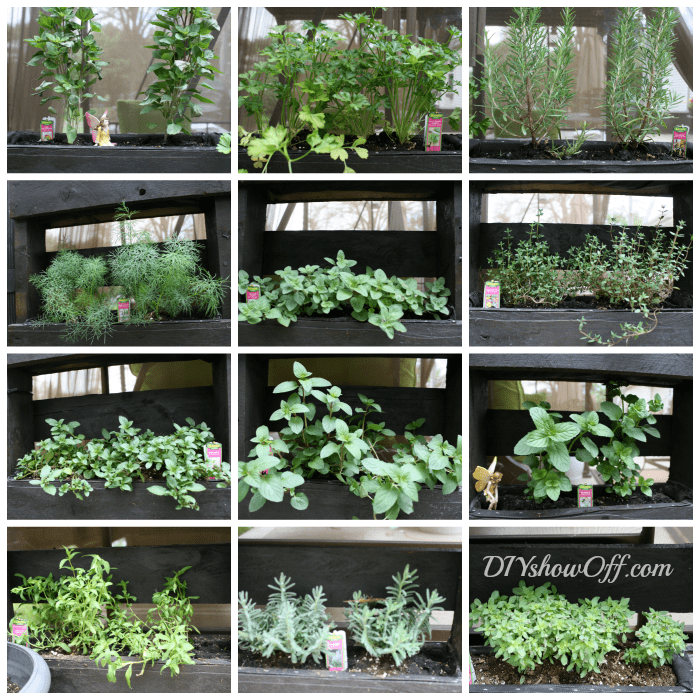 More details at diyshowoff.com 
These are just a few DIY Pallet Fence ideas on how to make your own fences with wooden pallets, at a minimal cost. You too can create a beautiful one for your home, just add a little bit of creativity and imagination to the existing ideas, and customize them at your will.
What do you think about these pallet fences, what do you think about pallet projects in general? We would love to hear from you in the comment section below!
Related Articles 
Best Fence For Noise Reduction
8 Best Fence For Dogs to Consider
13 Best Gas Powered Post Drivers
7 Best Electric Fence Chargers