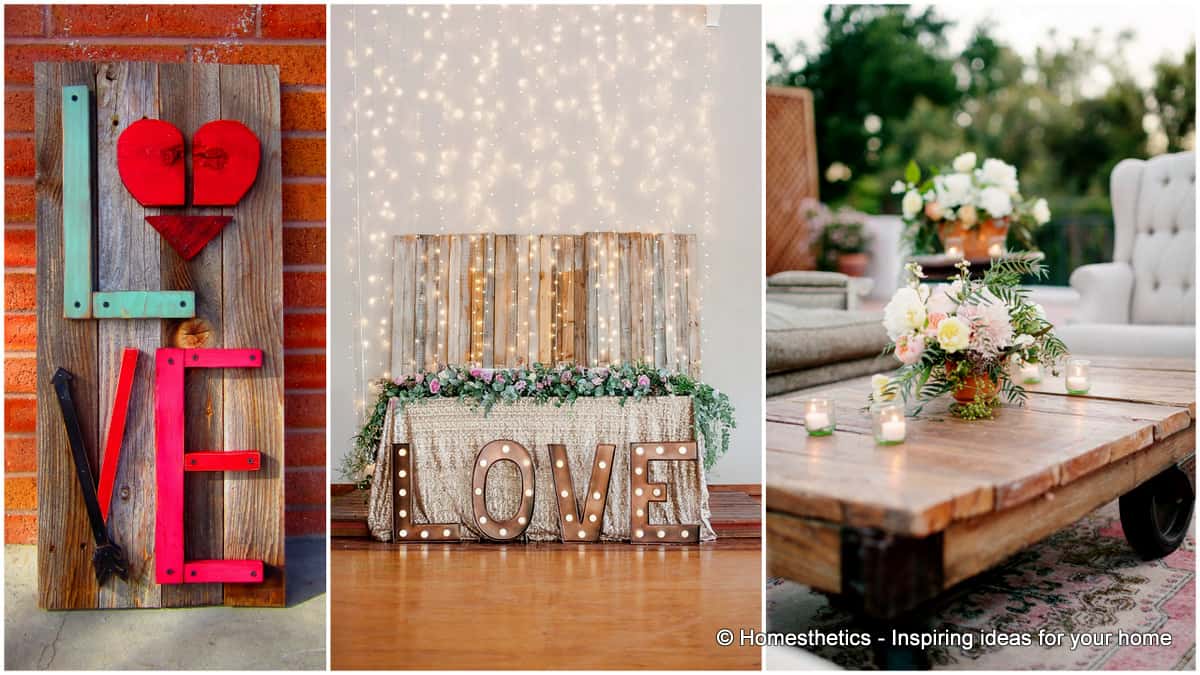 Wooden pallets are the topic of today's chosen article, here  to make a stand for their raw beauty and incredible versatility around the household. Their usefulness cannot be contested and their raw texture and shape serves as the perfect base for a multitude of delicate, bold and powerful projects alike. Coffee tables, kitchen revamps or simple and fun wall art projects, all can be achieved and empowered by the humble wooden pallet. We invite you to emerge yourself in this creative universe and choose your favorite craft from the 101 DIY pallet projects presented below.
Pallets – the one wonder of furnishing that still remains underutilized. But I'm not surprised; do a quick Google search and it's likely that you'll come across very few websites that actually go into the depths to explain their use. Sure, you can re-purpose pallets to practically build anything you want, but wouldn't you need a guide for that?
Of course you would! That's why I'm going to attempt to give you a series of DIY pallet project ideas to execute right now. It's time you put all the hesitations behind and geared up to make some epic pallet furniture.
But before we begin 
There are two things I'd like to tell you. First – where you might get pallets without spending a dime; second – the kind of pallets that are safe for use.
Free pallets. Since pallets are primarily treated as disposable extras, you can get your hands on them without spending any money. Just get in touch with small businesses that are looking to dispose of these items and offer to help. They would gladly give you what you need. Some other places you can look for free pallets are:
Construction sites
Small businesses such as furniture stores, pet stores, and hardware stores
A place where a new company is about to open
Craigslist
Other online marketplaces
How to find out if your pallets are safe for use? There is no point in gathering free pallets if they aren't safe for DIY use in the first place. You don't want the DIY pallets to be made of wood that has been treated with harmful chemicals. You can figure this part out quite safely by looking at the following aspects.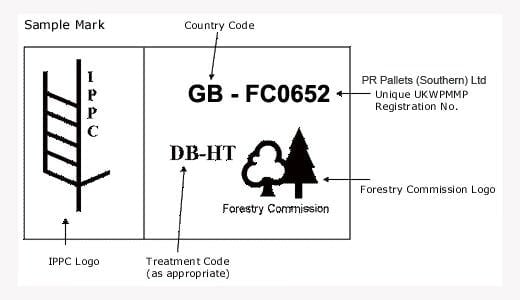 [HT] =Heat Treatment – Means safe to use
[DB] =Debarked – Safe to use
[MB] =Methyl Bromide – Not safe to use
[KD] =Kiln Dried – Safe to use
The codes are pretty self-explanatory, aren't they? But what do you do if your pallets do not have these markings [IPPC markings]? Well, this is a bit of a tough one.
Some say pallets that do not contain IPPC markings are intended to be used for domestic purposes only, and domestic pallets are not treated with harmful chemicals. But there's no way to be 100% certain they are safe to use or not.
Also, avoid using pallets that look damaged or rotten, it makes little sense, you need healthy wood!
DIY Pallet Projects
#1. Wonderful Garden Tunnel Suitable For Vines and Games Alike
We will start our most beautiful 101 DIY Pallet Projects with one idea implemented in the garden, perfectly applicable this spring season.Four wooden pallets have been cut to size and adjusted to create a wonderful tunnel in your garden which can later on be populated with flowery climbing vines and used as a hiding spot for your little one's games. Remember to treat the wood properly for your creation to last longer.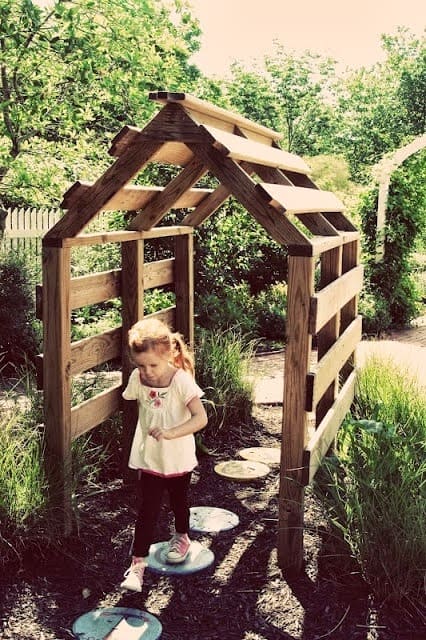 #2. Old Wooden Pallet Boards Assembled as Dinning Room Table Box Centerpiece
A dinning room table box centerpiece is a very versatile piece of decoration. It can be transformed with each passing season, reflecting the home's atmosphere and embellishing the actual dinner table in an unique manner. Fill it with fruit, fresh flowers, pumpkins and spice for the autumn season or pine-cones and cinnamon for the frosty one.Place it in the center of the table and not overcrowd it with additional decorations. The actual wood of the box will speak of beauty and naturalness itself.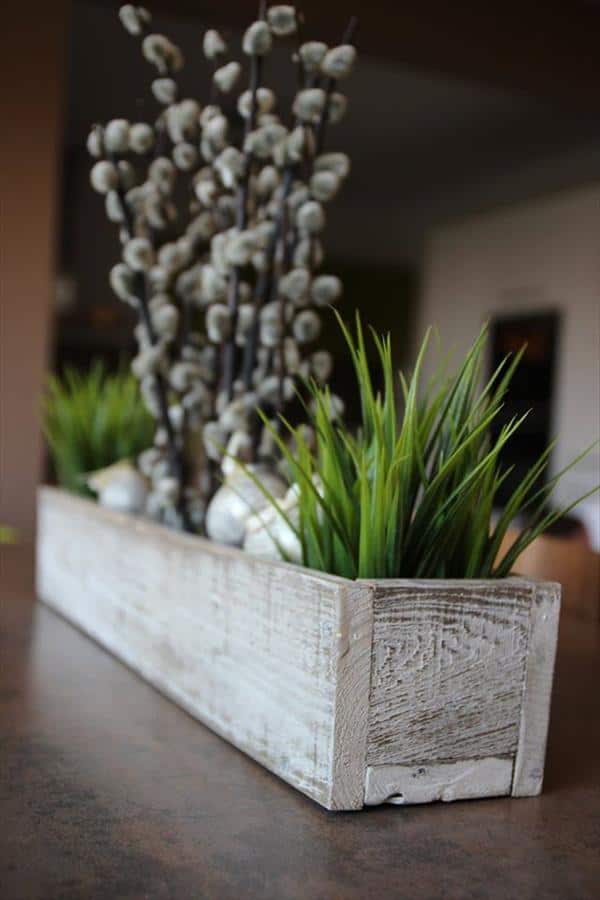 #3. Drawer and Shelves Pallet Furniture Piece With an Industrial Appeal
A modern apartment nowadays tends to focus on mixing and matching different furniture pieces in order to obtain the perfect ambiance. A raw wooden piece made out of recycled wooden pallets can constitute such an example, speaking of its shade, texture and exuding a raw beauty, an industrial vibe very popular and sought by many. Place it in an all white Scandinavian decor and observe how it can, at the same time, blend in and stand out from the crowd.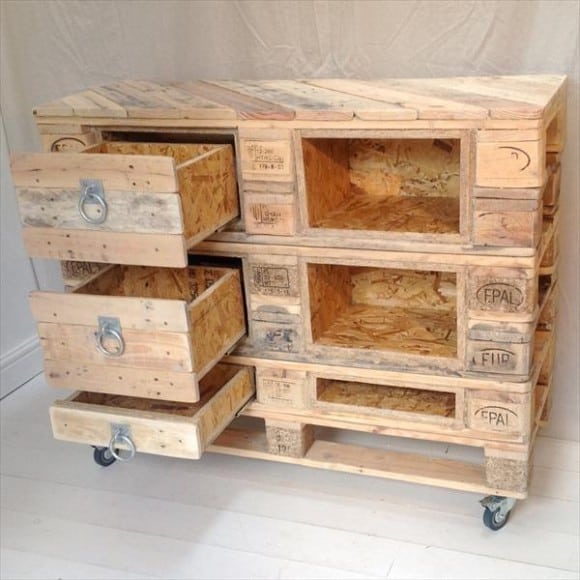 #4. Useful Bike Rack Made Out of Wooden Pallets
The issue of storing a bike has been solved a long time ago with so many systems and gadgets being invented to support and host our metal companions. But in our opinion the classical wooden pallet bike rack can not be overthrown by nay metallic creation, its beauty laying in the actual simplicity of this project.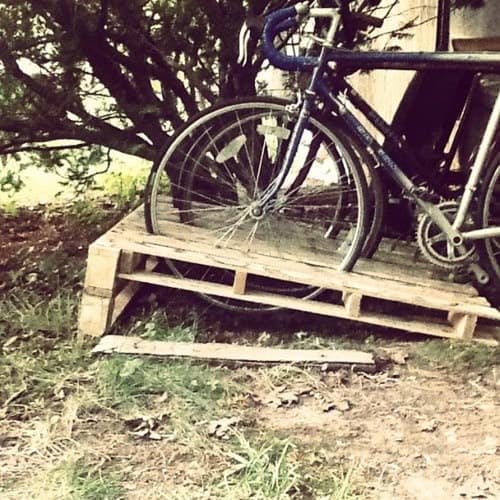 #5. Pallet Scraps Merged Into a Raw Yet Beautiful Wall Art Piece
What we have learned over the year from creating various DIY projects is that any piece of material be it wood or metal can be re-purposed and transformed into a work of art.The following piece can be included in this topic where different bits and pieces of old wooden pallets have been cut and assembled into a heart shaped wall art with a delicate hidden message.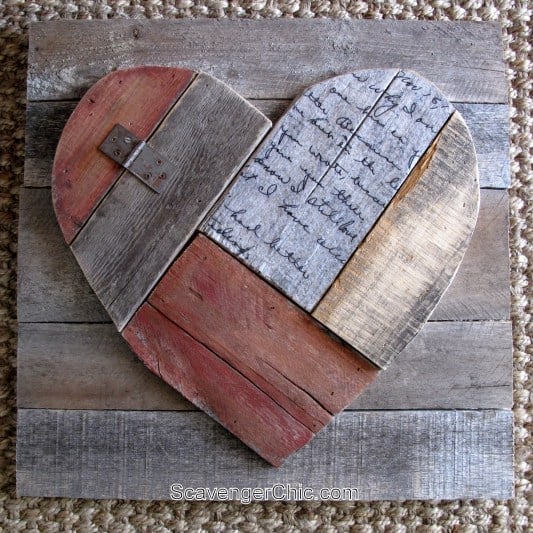 #6. Wooden Pallet Boards and Paper Decoupage
Wood and paper decoupage go hand in hand into creating incredible vintage pieces usable in custom flooring or wall decoration. The tricky part of this projects lies in the choosing of the right decorative paper and the realization of the process itself, mastering the exact amount of left paper and exposed wood to obtain the perfect worn out effect.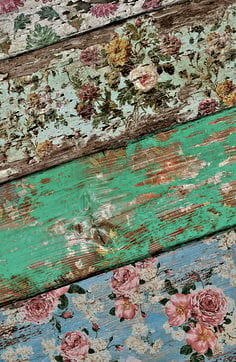 #7. Pallet and Rope Breakfast Bed Tray
Rope and wood go a long way in DIY projects and almost each combination of the two natural materials results in wonderful creations. Here the simplicity of this wooden tray is overpowered by the beauty of the materials used and their raw texture. make sure you secure the rope handles properly to avoid unwanted accidents.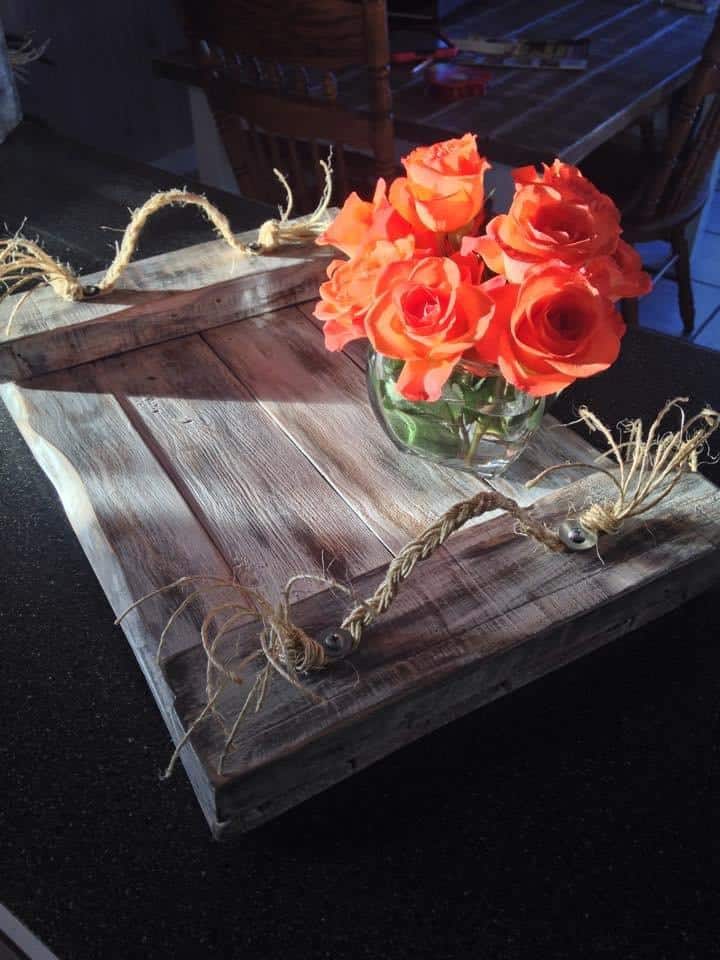 #8. Wooden Headboard With a Specially Designed Rope Message
The classical headboard should and can be replaced by a specially designed hand made diy wooden pallet headboard. Add in this picture some glue and rope and we can guarantee a winner.Here the worn out wooden pieces assembled together and being delicately contrasted by the warmth of the raw rope assembled to form a loving message.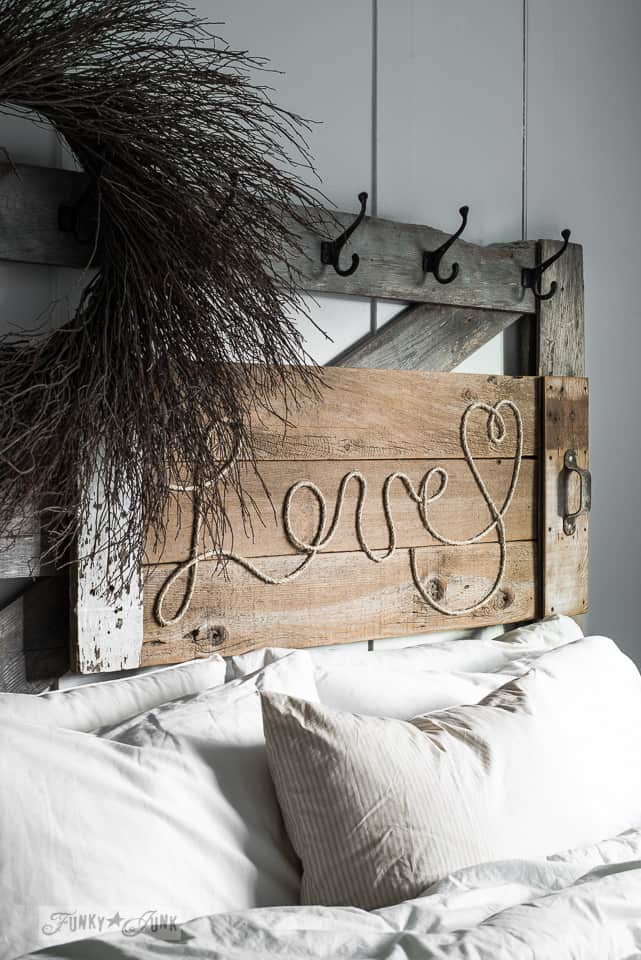 #9. DIY Pallet Planter
Spring is taking over our gardens and there is no better time than the present to start preparing your garden for this blooming fresh season. Use old wooden pallets to create a risen planter with drilled holes in its sides. Fill the created box with soil and fill the holes with flowers that will in time grow and cover the entire planter in a canopy of beauty and colors.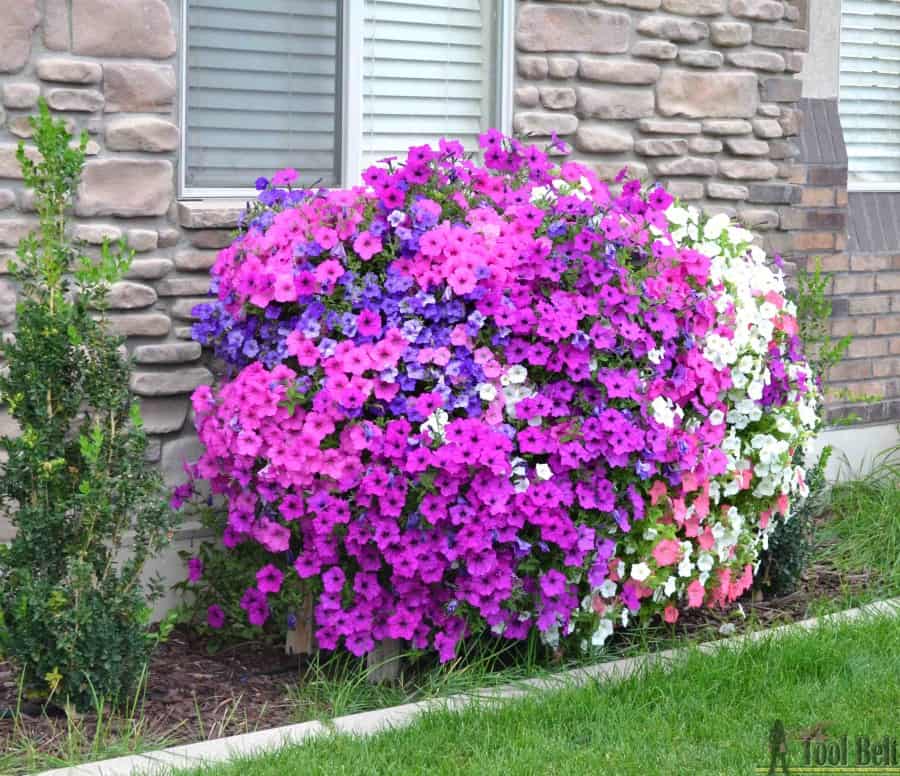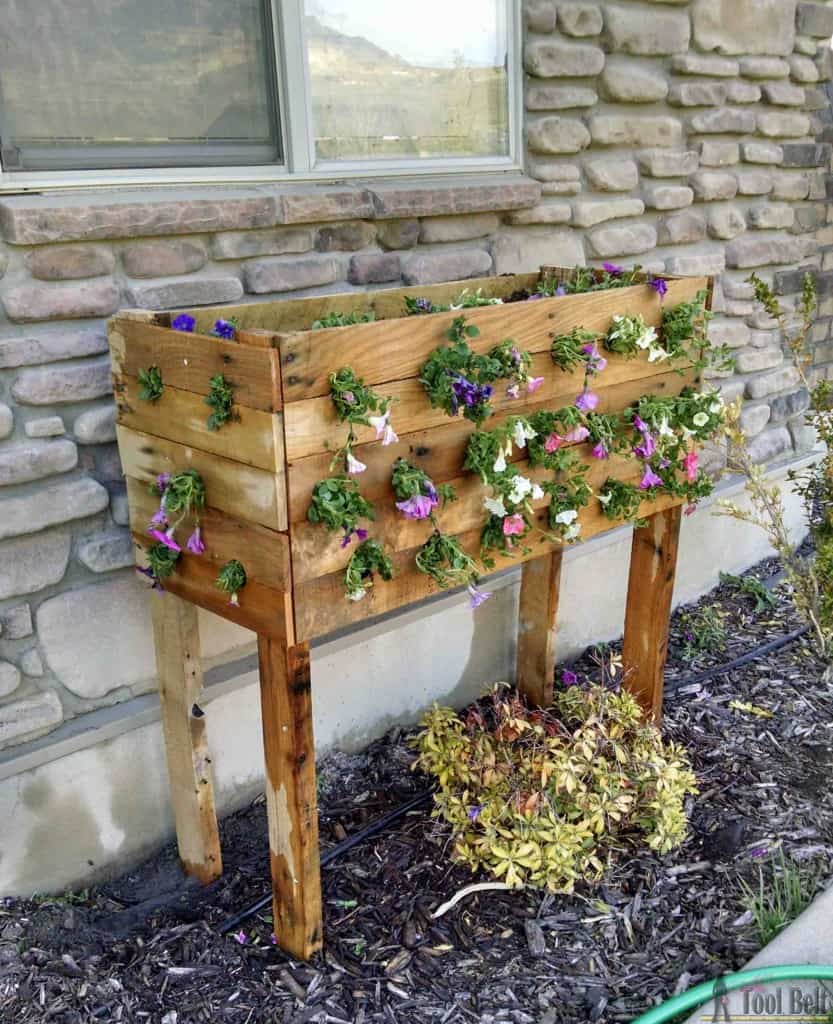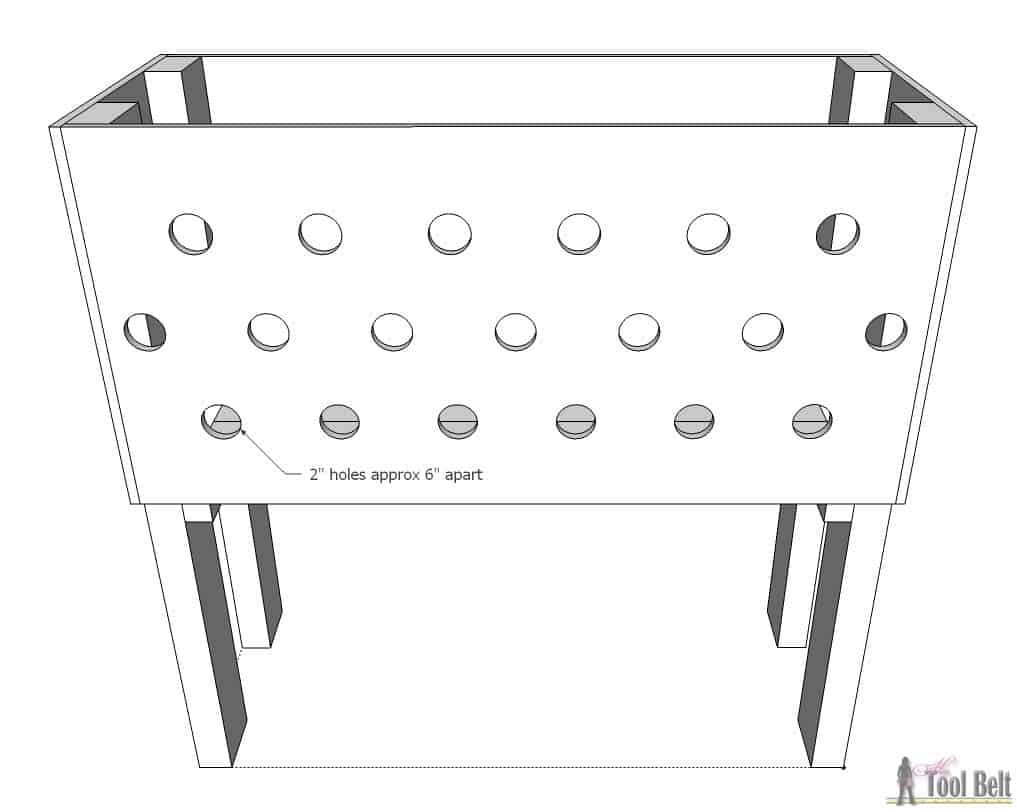 #10. Wooden pallets Assembled Into a MUlti-functional Tool Organizer
Organization and planning represents the key to success in most cases.Keeping an organized garage can turn out to be a challenge but by creating a tool wall out of a few wooden pallets you will save a lot of time in searching for lost tolls in the future undertaken projects. Simply attach the pallets to an empty wall and create all sort of supports rising from it from which you can hang your tools and materials.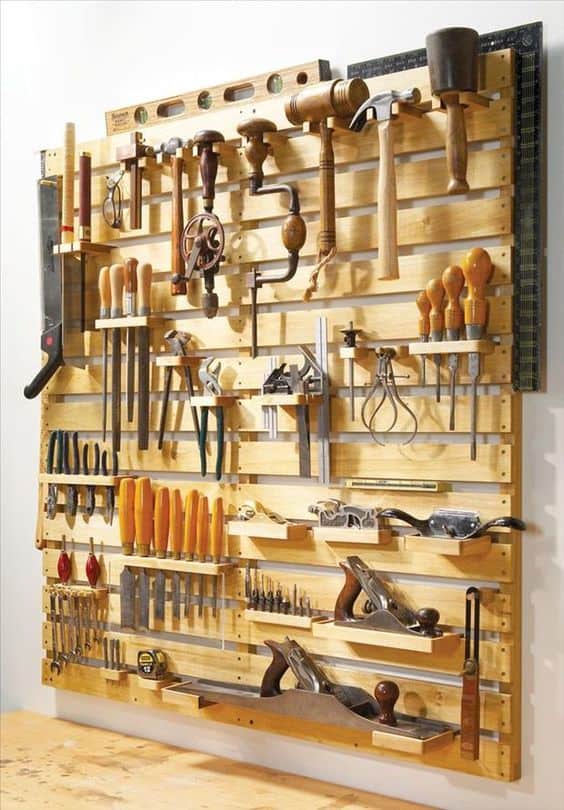 #11. Vintage Vibes in a Simple Bathroom Cart
Vintage wood, candle light, fresh soap, wicker and lavender all come together and merge into creating a truly relaxation bathroom cart with a French vibe, suitable for any interior decor.Surge inspiration from the decoration of it and let it take you to that relaxing moment we all search at the end of the day from a hot scented bath.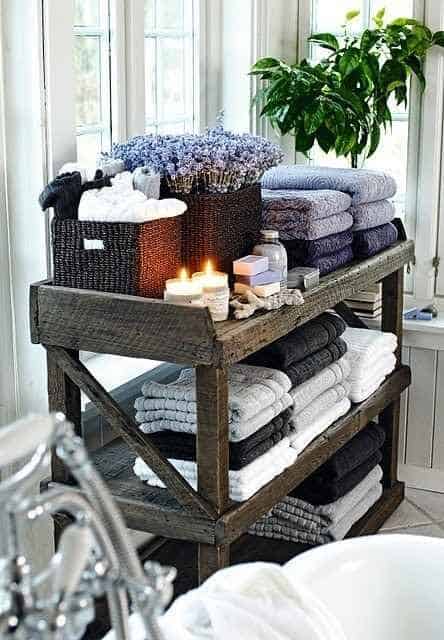 #12. DIY Woodland Sign Perfect for the Holiday Season
Decorating your home and adorning your walls has become a tradition in the wintry season. This year we are proposing you a different set of decorations made out of simple pallet wood and basic rope. Send a cheerful message throughout the home and express your joy and excitement in an elegant manner.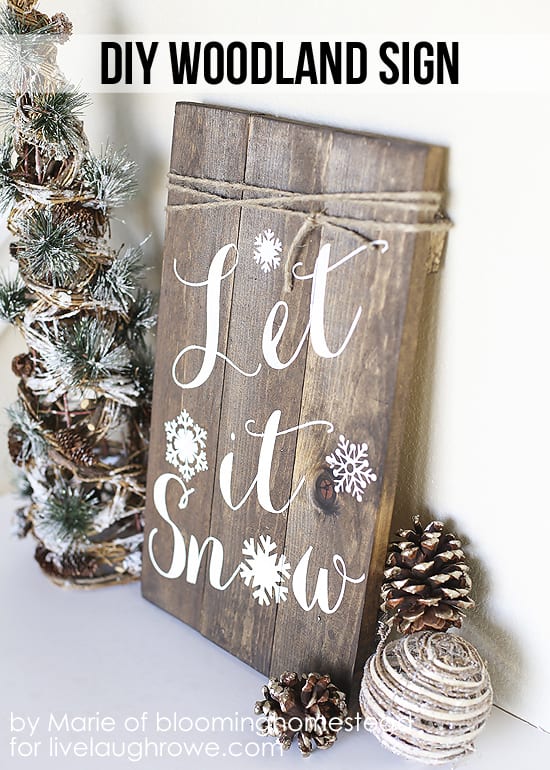 The Scandinavian style is probably the most adored out there for its coziness warmth and simple beauty exuded by each and everyone of the elements composing its atmosphere.White dominates the color scheme and wooden elements come to complete the desired image in a subtle manner. Today is a pallet coffee table adorned with wheels for increased maneuvering and a fresh coat of white paint to increase the chances of blending this furniture piece in.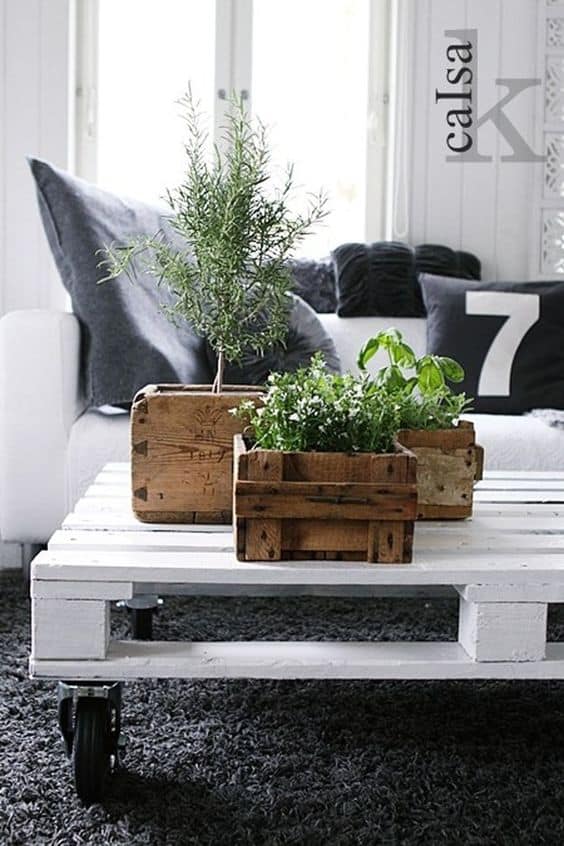 #14. Ombre Yarn Heart Wall Art Pallet
Wall art offers a versatile wide pallet of options for the adorning of blank walls. Wooden pallets come to fill such an empty spot in contrast with colorful yarn shaped in a creative manner.Choose a simple yet beuatiful piece of wood for this project as it serves as the background for it, contrasting and yarn itself and giving it power and boldness in making a statement.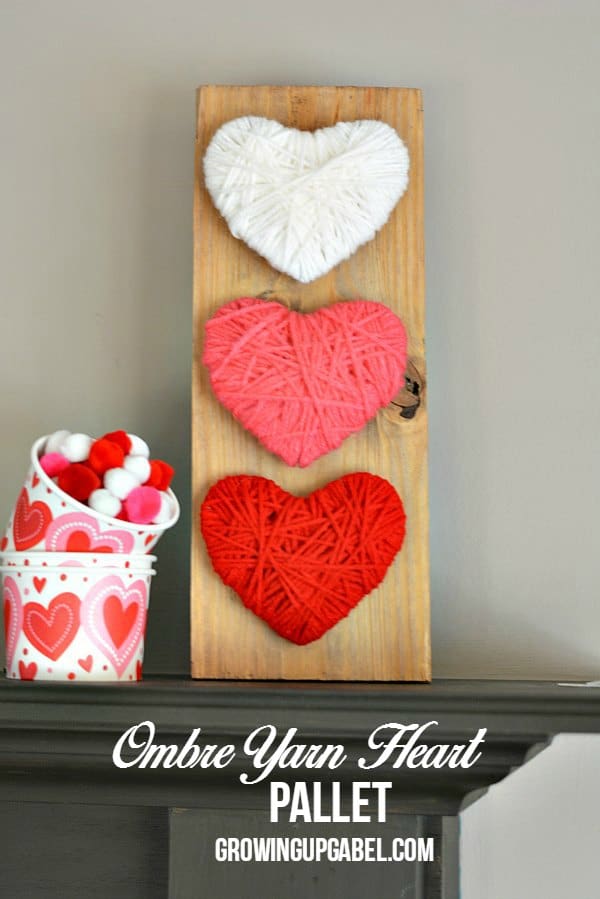 #15. Outdoor pallet Furniture Set For The Hole Family
Warm nights are to come and spending more and more times outdoors is highly recommended for our mental and physical health as well. Thus we encourage you to invest your time and effort into creating a wonderful versatile pallet furniture set for the outdoors with the exact purpose of encouraging you and your loves ones to spend quality time together in the freshness of your garden.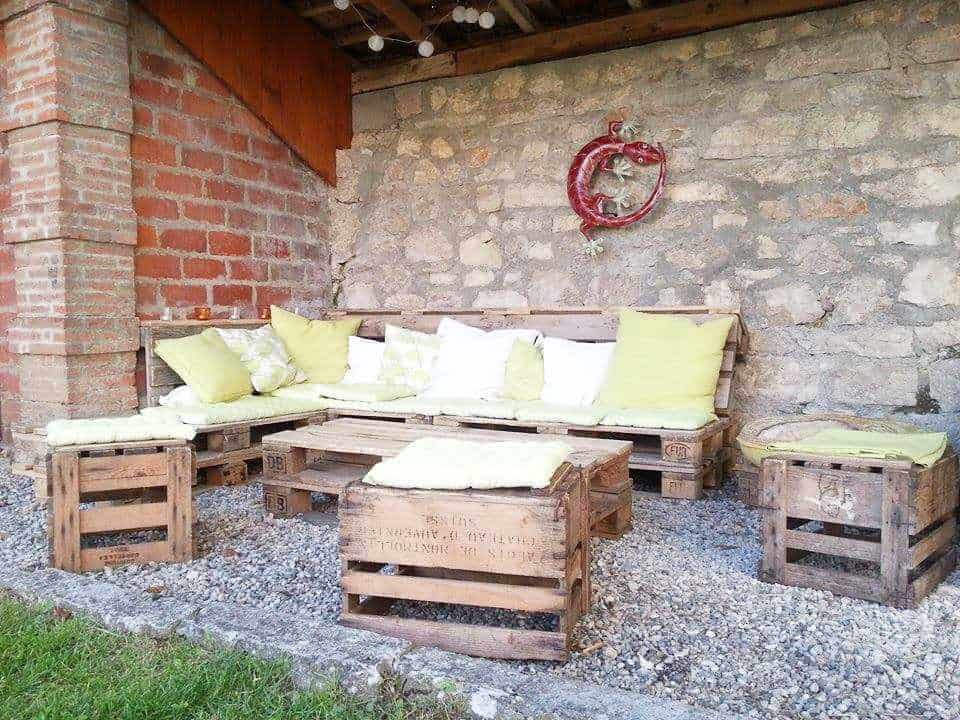 #16. Wooden pallet Turned Into a Gorgeous Chandelier
The texture and naturalness of a piece of wood can be but to value and exploited even further by the addition of warm light sources meant to diffuse their cozy shimmer and empower the actual wood piece even further. Here a selection of wooden pallet boards have been assembled to serve as a base for a set of hanging light bulbs. The effect is wonderful and exudes such a cozy warm vibe.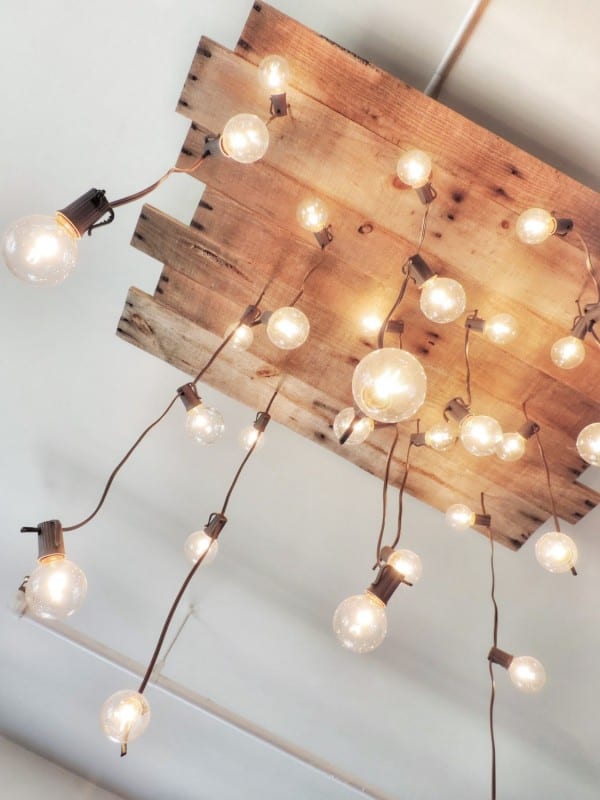 #17. Wooden Pallet Turned Into a Vertical Garden
Invite the natural element in by creating a basic simple vertical garden from a simple yet gorgeous wooden pallet and a set of mason jars filled with plants and herbs. Add a few extra mason jars to serve as candle holders and infuse a warm light that pushes this project to the statement of wall art.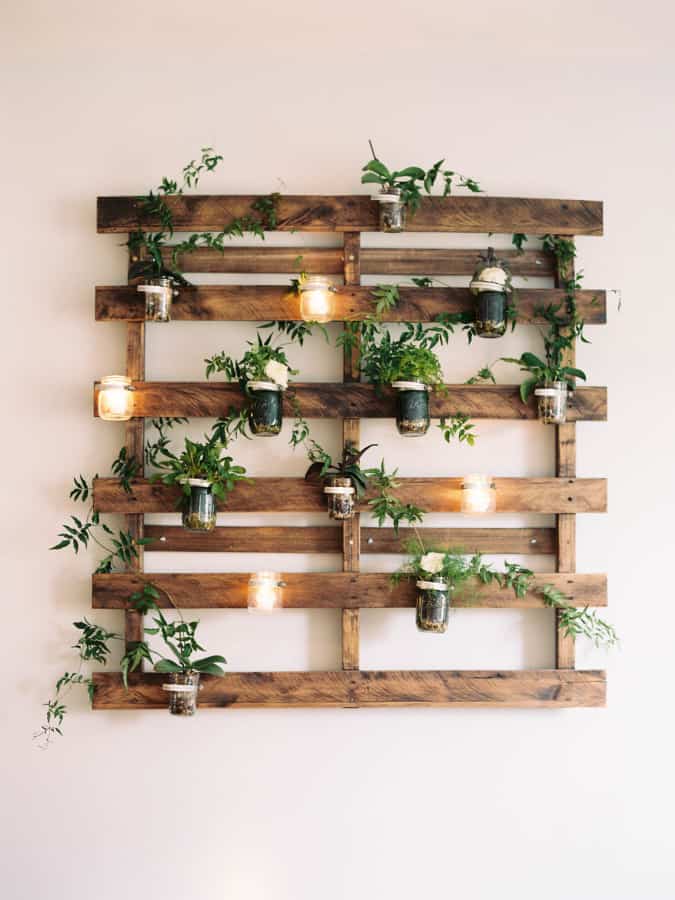 #18. Creating a Shelving Unit Out of a Wooden Ladder and Pallet Wood
The entire success of an idea behind a DIY project lies in the creative re-purposing of mundane materials an objects and their actual merge. Here a wooden ladder has bee used as the body for a pallet furniture shelf piece. Adorned properly this versatile creation can become a focal point in your living room. Add a string of Christmas lights to the frame of the ladder for special occasions.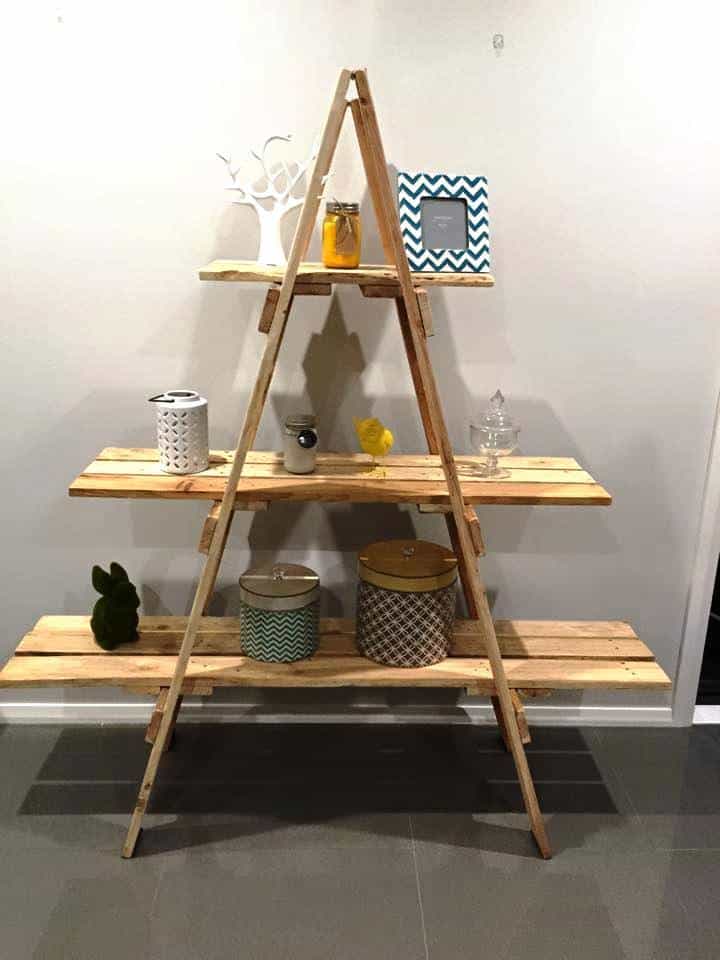 Finding the right couch that fills your living area properly and merges perfectly with your desired decor and ambiance is a very difficult task many fail to accomplish. The solution to this problem lies once again in the humble wooden pallet that saves the day once more with its versatility. Paint a set of wooden pallets in a white or black hue and add comfortable cozy pillows and fluffy blankets for the perfect Scandinavian inspired couch.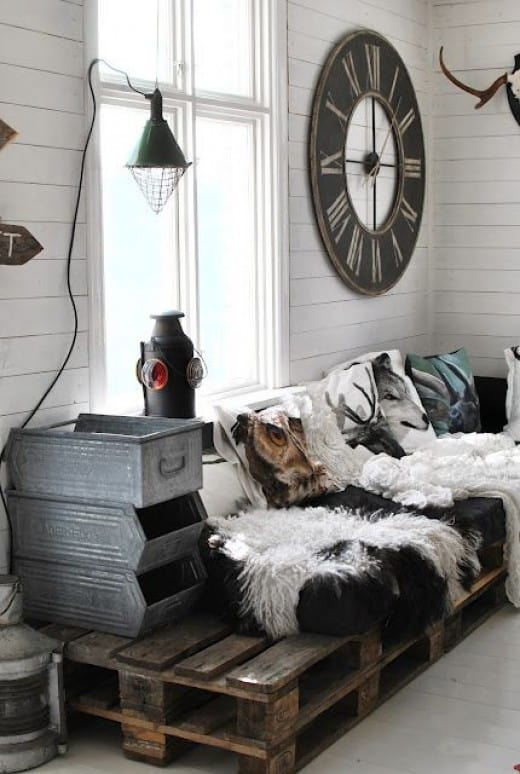 #20. Succulent Filled Coffee Table
Succulents must be the most adorable cute beautiful little plants out there.Their simplicity and vibrant green tones come in perfect completion of the natural raw texture of pallet wood which can be assembled into creating a wonderful coffee table that serves as a succulent planter at the same time.Remember to treat the wood once a year to prevent additional damage from the water added to your tiny plants.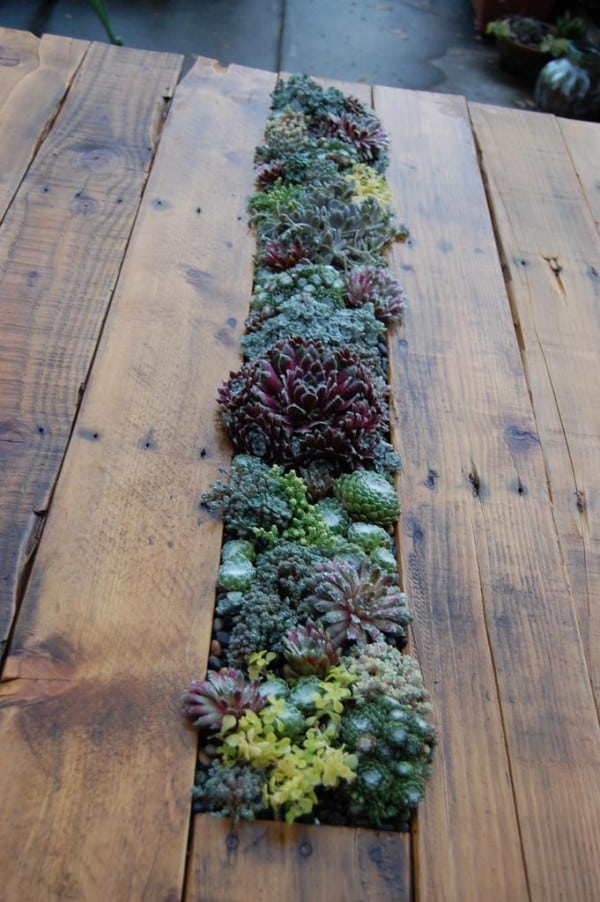 #21. Mint Wooden Pallet Planting Center
If you are an intense gardener who takes his job very seriously than you will definitely need to create a potting and planting command center where you can organize and store all your gardening tools and seeds.And because we are talking about the garden, wooden pallets constitute the perfect raw material for such a creative projects. Choose a fresh tone such as the mint green below for an extra touch.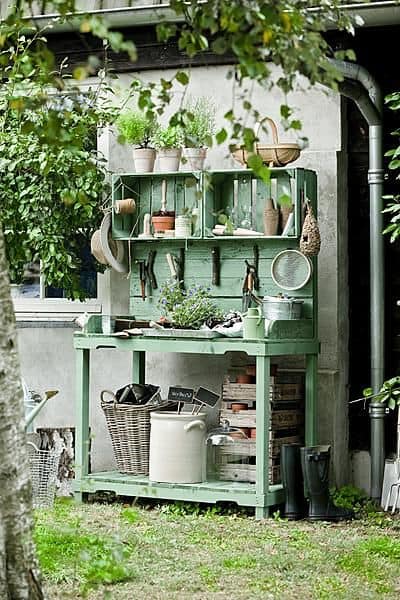 #22. Vertical Pallet Herb Garden
You can take a simple wooden pallet and transform it into a useful beuatiful vertical herb garden in a blink of an eye. Simply add bottoms to your actual planting area and a set of legs for the planter to be free-standing. Place it near your kitchen window for easy access or use it to divide different ares on your wooden porch.Remember to treat the wood and protect it from water and insects.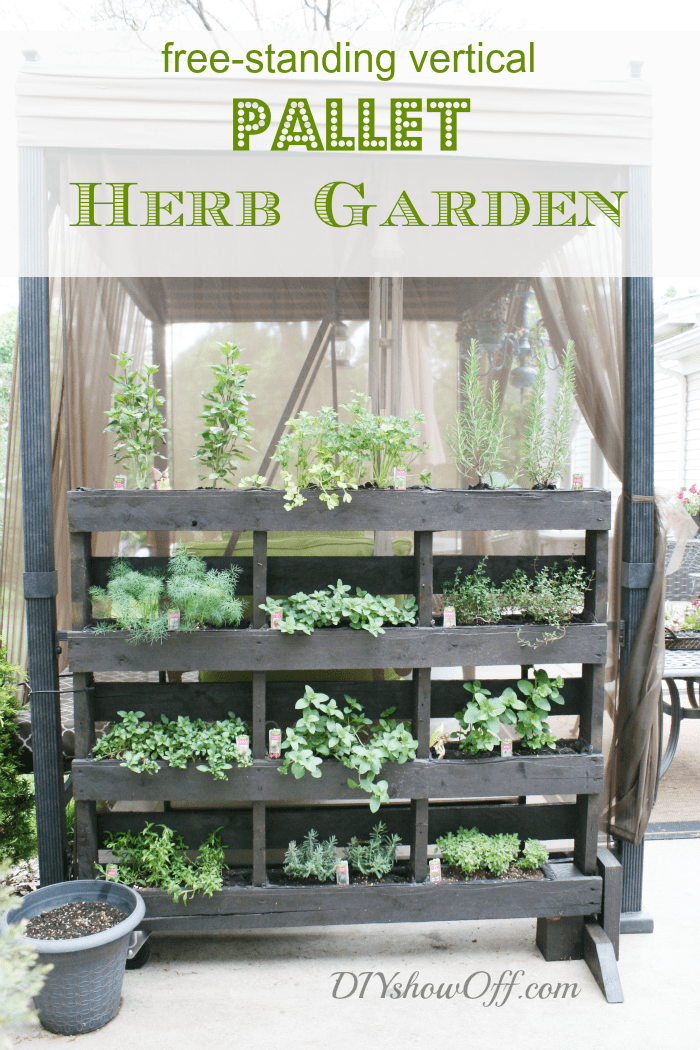 #23. The Succulent Vertical Garden
The resilience of these wonderful plants is what recommends them as the perfect candidates for a pallet vertical garden. Simply fill an entire pallet with different variations of the succulent plant and create a delicate composition that will slowly and surely take over the pallet wood, claiming it their own.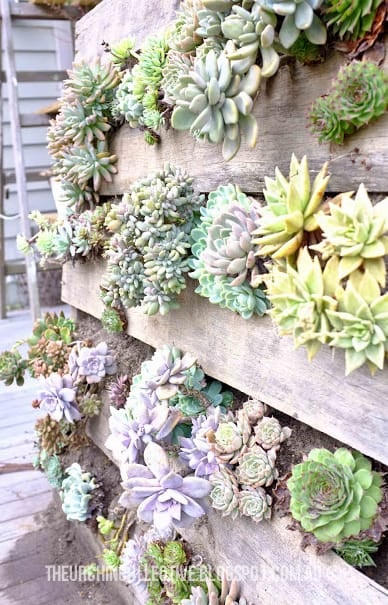 #24. Succulent Garden Serving as Wall Art
When placed indoors, such a wooden pallet succulent garden can become the focus point of an entire wall. Let the beauty of the creation speak for itself and observe the growth of the beautiful plants that transform this wall art each year. Place the pallet in a spot with enough natural light and spray on water occasionally.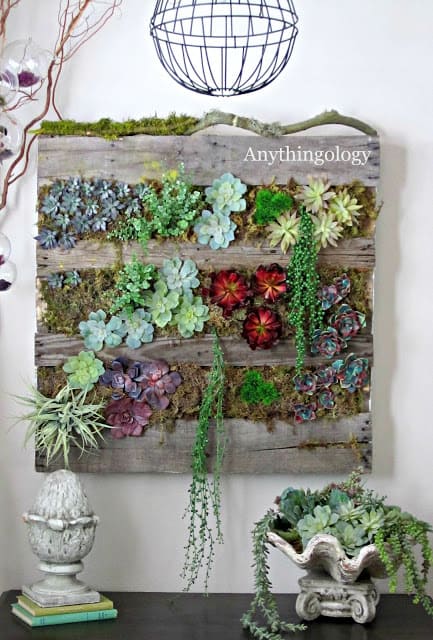 #25. Woode pallet Insect Hotel
As much as some of us might despise insects, their vital role in our garden can not be contested. If being in control of this aspect is something you are searching for, creating an insect hotel seems like a fun interesting project that should take up a place in your garden. Invite butterflies bees and other such creatures into your green heaven and encourage the natural order of things.

#26. Wooden pallet Garden Shed
Transform a corner of your garden into an useful garden shed for tools and storage by using a series of wooden pallets assembled together. Encourage plants and vines to take it over and observe as it becomes more and more part of the actual garden with each passing year.
#27. Raised Garden Beds from Wooden Pallets
A spring herb garden can be created by using wooden pallets as raised garden beds, protecting yourself from occasional animal attacks on your greenery. Another incredible benefit of using raised beds is comfort. You can thus avoid all those long hours spent bent over your plant beds ending up with excruciating back problems.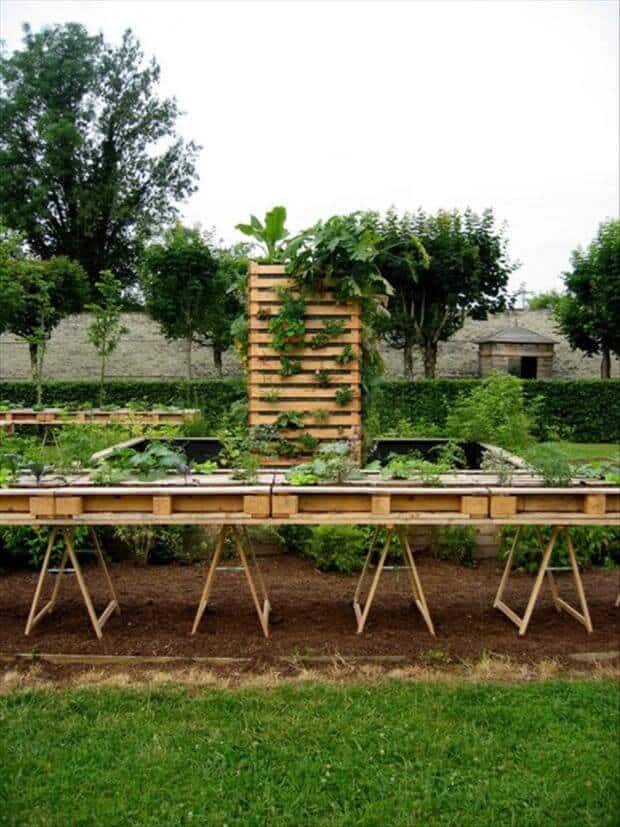 #28. Classic Wooden Planter from pallets
I think you can agree with us that the merge of wood and greenery is beuatiful beyond compare.There is a subtle delicate elegance in this association that has deep roots into our subconscious. So it is only natural that pallet wood be used in the creation of planters for both indoor and outdoor purpose.Due to its delicacy the planters below have not been used in the true purpose of a flower pot but serve as a support for other ceramic planters that hold the herbs and plants, but with proper care and treatment you can use a wooden planter in the same manner as a ceramic one.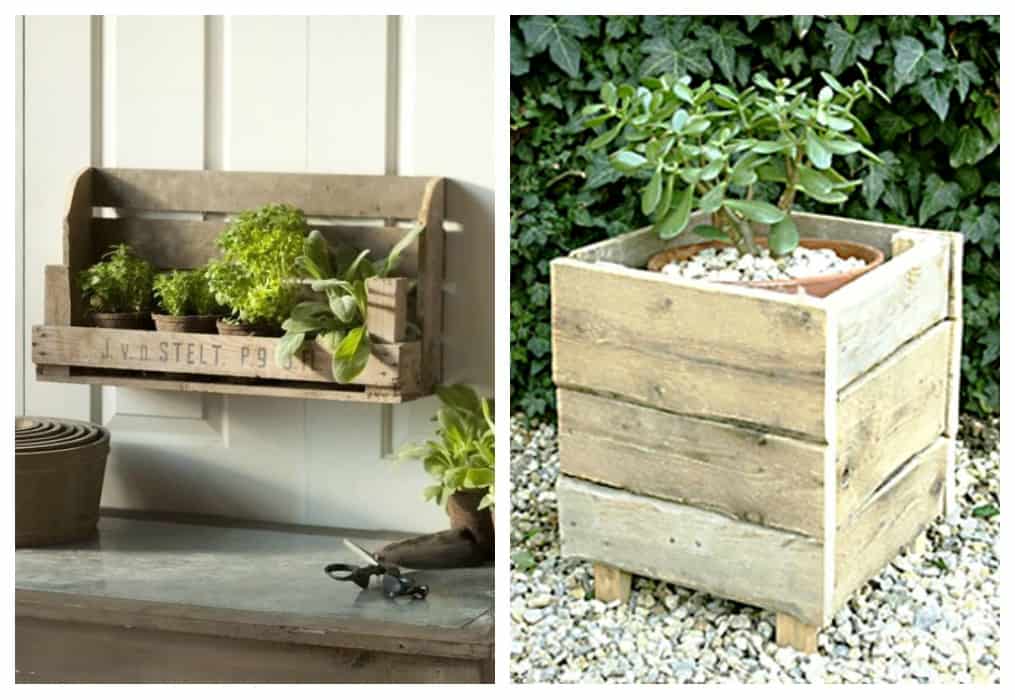 #29. Wooden Pallet Swing Set
Childhood memories are often filled with the image of a wooden swing placed in the garden or backyard hung from a big old tree. Here a simple wooden pallet has been dressed in white coat and transformed into a beuatiful swing hung in the front porch. Adorn it with vines and flowers for special occasions and a romantic setting.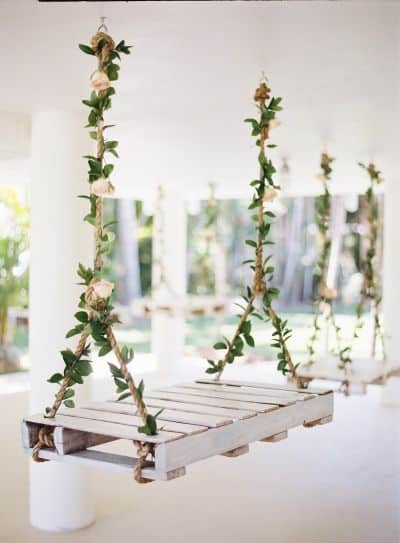 #30. Garden Picnic Pallet Table
There is nothing more enjoyable than serving and delighting yourself in a delicious meal outdoors in the fresh comfort of your garden. Upgrade the classical picnic with a blanket and a wicker basket and stack a set of wooden pallets to achieve a perfect informal dinning table outdoors.Use fluffy pillows for sitting and adorn the entire picture with fresh cut flowers for a wonderful scented experience.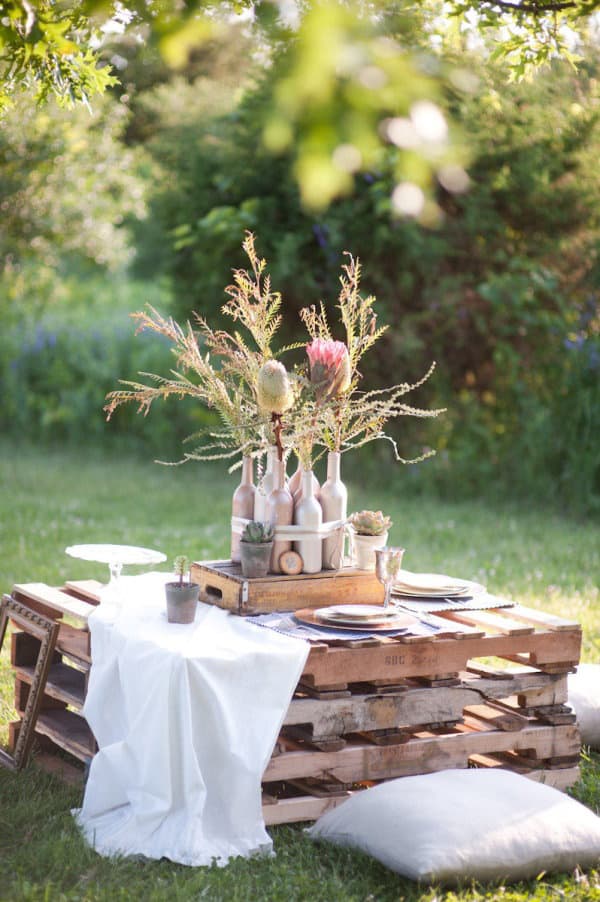 #31. The Perfect Wooden pallet Swing
The memories revolving around that wooden swing hung in the backyard from the biggest thickest tree in view will stay with you forever. Invest time in recreating those wonderful moments by using a rather long wooden pallet and some thick rope to add a new swing to your patio. Make it a little more comfortable by adding on a few throw pillows in different tones that will spice things up.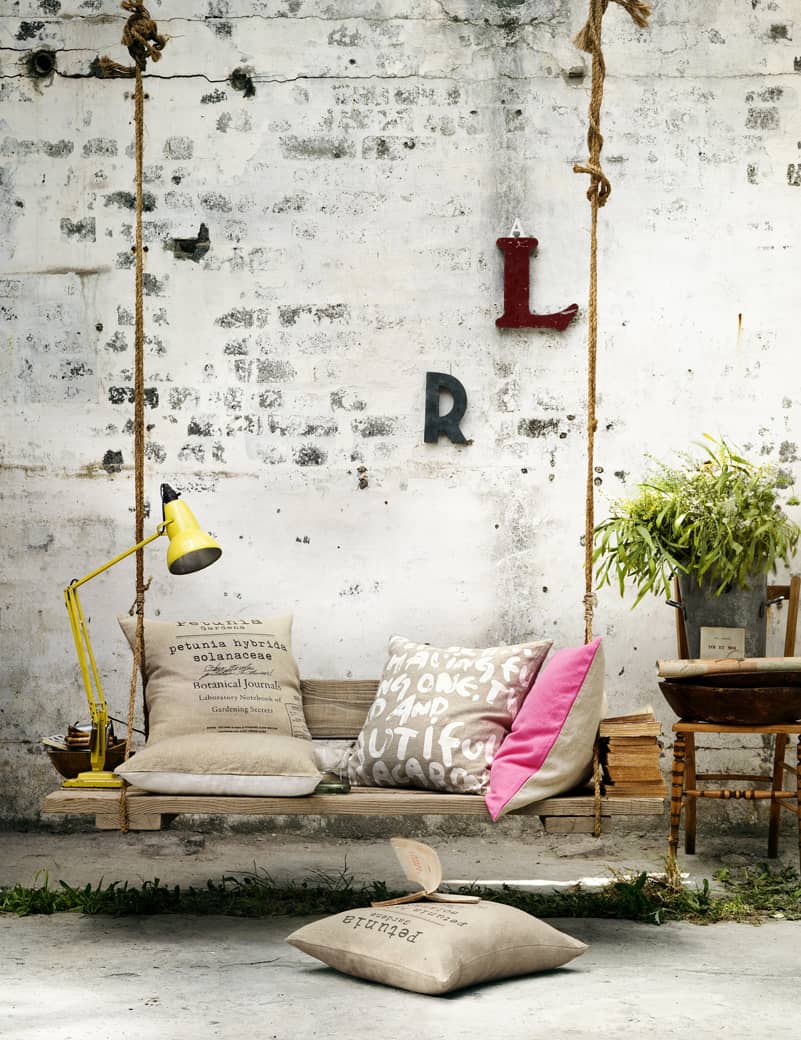 #32. Mason Jars and Wooden pallet Wood Lighting Fixture
The wooden pallet has a new addition, as versatile as it is: the mason jar. Fill them up with elegant white candles and adorn your living room ceiling with this perfect vintage creation.Hung it down with a set of ropes to finish and complete the rustic picture.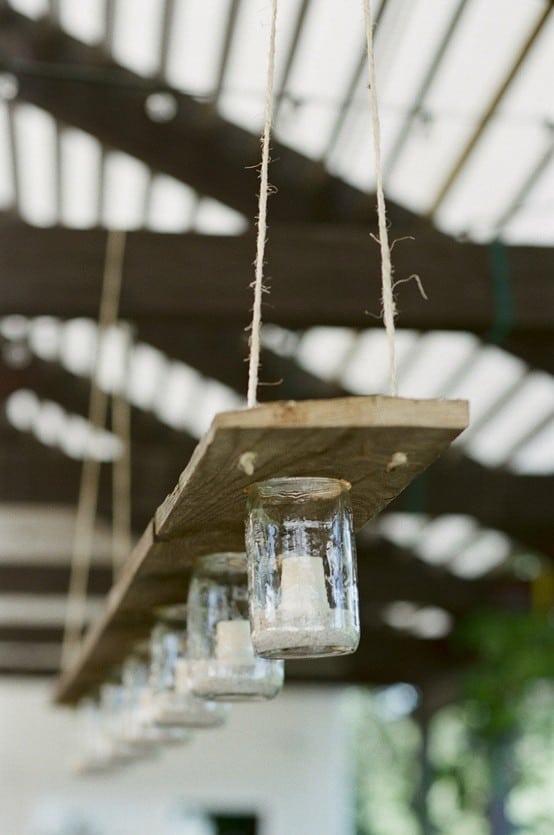 #33. The Small useful Pallet Couch
Merge two wooden pallets and use an old wooden door a a headboard for the perfect little couch. Add a set of cozy fluffy pillows on top and play with textures and colors for a vibrant dynamic of the room.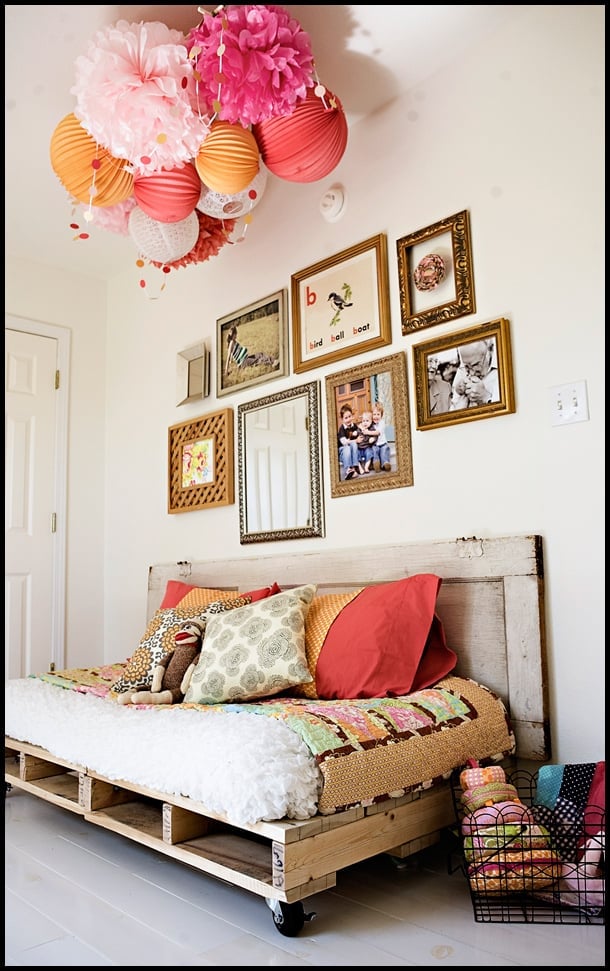 #34. The Industrial Coffee Table
The industrial style has been very in for a long time now and it is amazing how simple it is to achieve. Take an old pallet, add a set of large wheels and you are done.Place it in a modern contemporary interior design and notice how beautifully the entire scene comes together.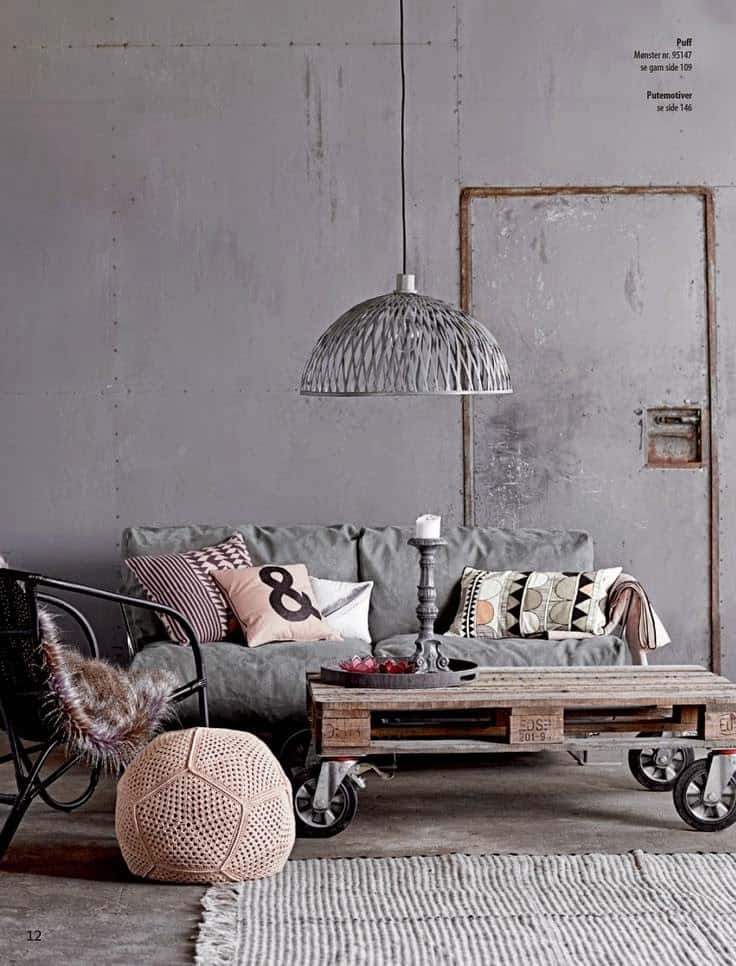 #35. Pallet Love Shelving
Create an adorning love shelving unit for your walls with a few simple cuts from a new wooden pallet. Use the letter O to center an important meaningful family photo.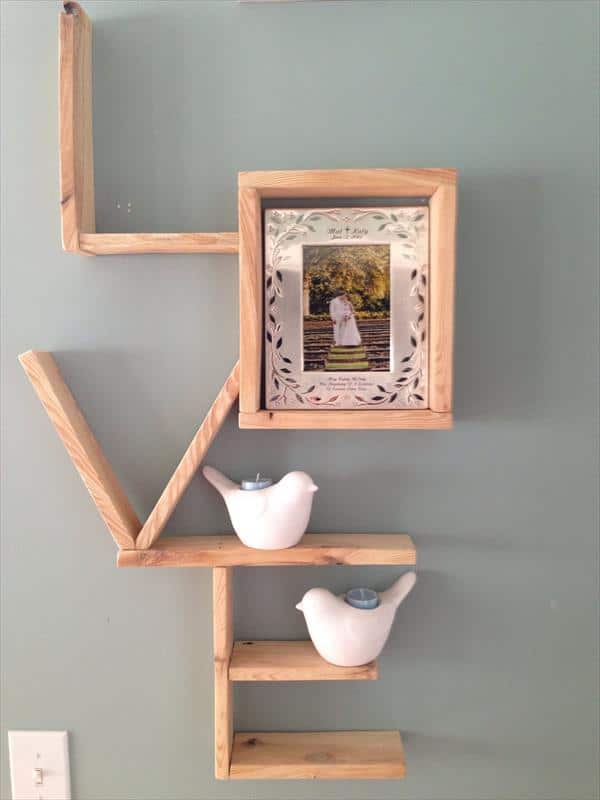 #36. DIY Metal Pipe Laptop Table
Spending hours and hours in front of the computer at your desk will most definitely result in back and neck pains.Thus taking a break from time to time and changing your sitting area is highly recommended.If you are fond of using your comfortable couch as your working station, create this small functional laptop table out of pallet wood and metal pipes.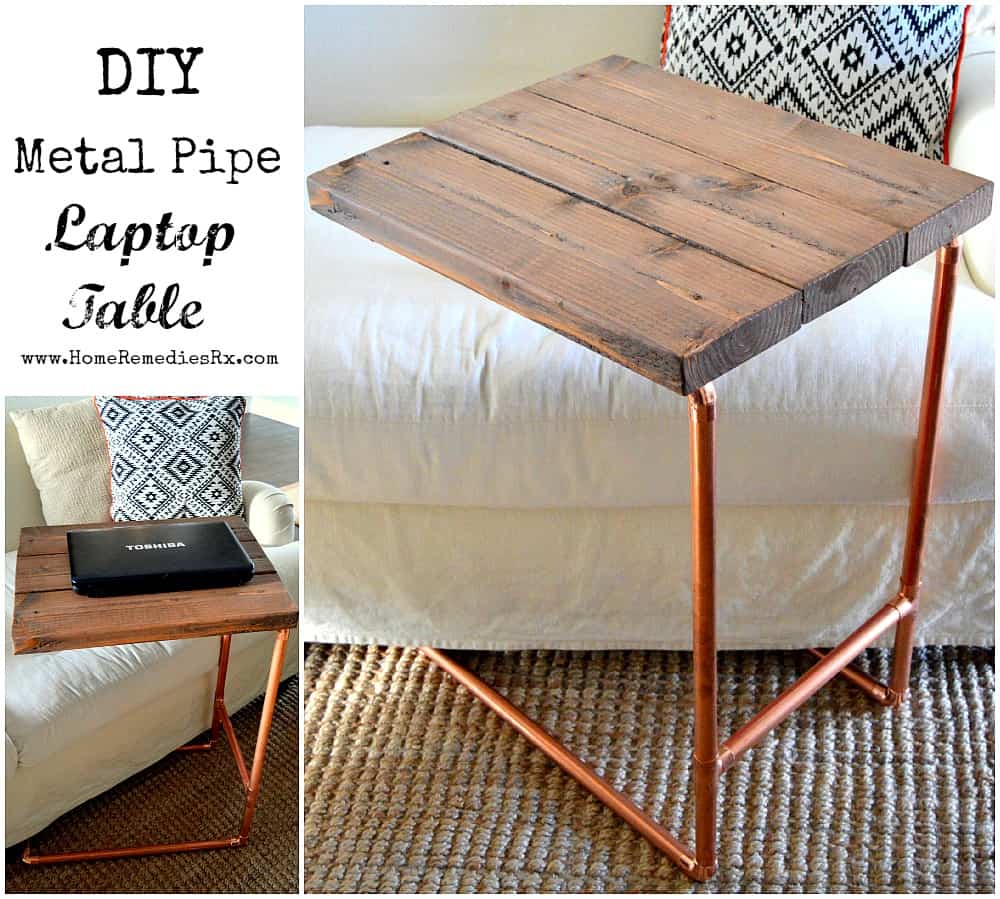 #37. Wooden pallet Display Units
If you are the owner of a little boutique, why invest tons of money in expensive furniture when you can create your own with your personal touches. Stack up a set of new wooden pallets and adorn them with underneath lighting fixtures for a special effect. Keep things modern and hip and your clients will adore the atmosphere exuded.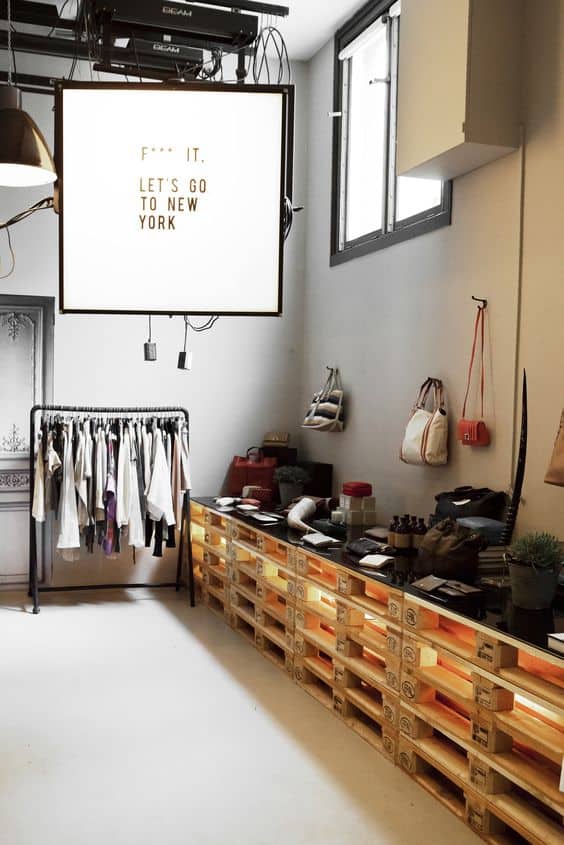 #38. Delicate Pallet Mirror Frame
Use the wonderful wood of o wooden pallet to create a delicate mirror frame. Leave the wood unfinished and let the cracks and texture speak for itself and its life.Add it to a small space like a hallway to maximize the idea of space or place it facing a large window to reflect the outdoors in.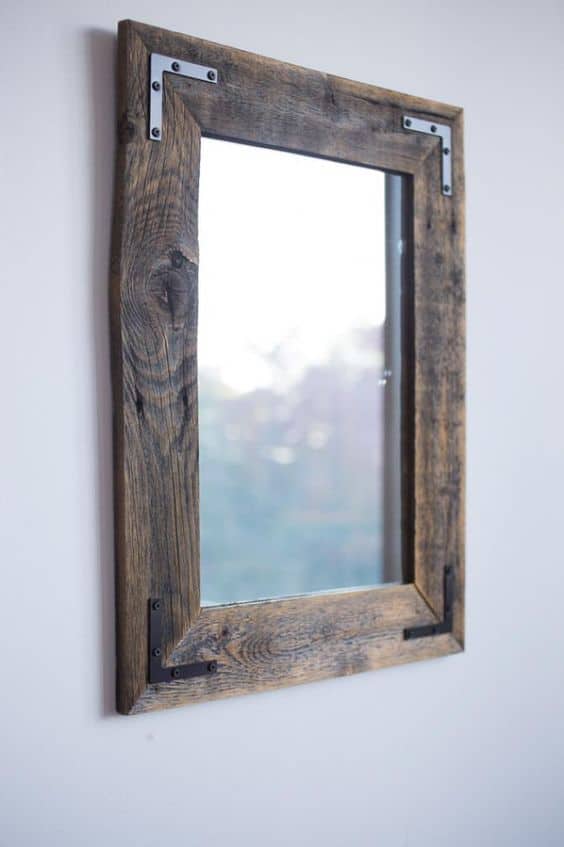 #39. Mirror Frame and Shelving as One
Create this useful set without spending a dime and infuse a dose of rustic ambiance into your bathroom.Treat the wood with oil to bring out its wonderful texture.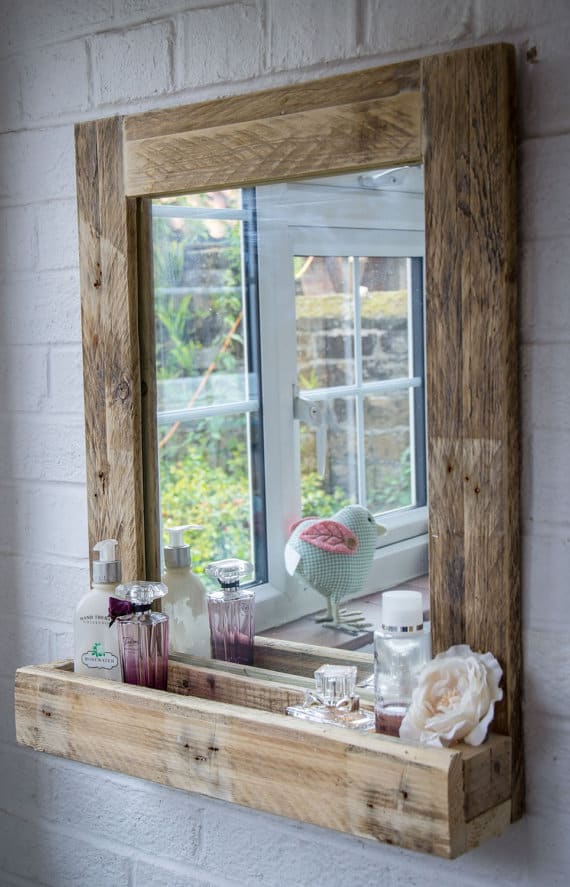 #40. Colorful Modern Coffee Tables
Merge a set of wooden pallets, add wheels and a bright pop tone, finishing it all up with glass/mirror surfaces and complete your living room with a fun vibrant coffee table.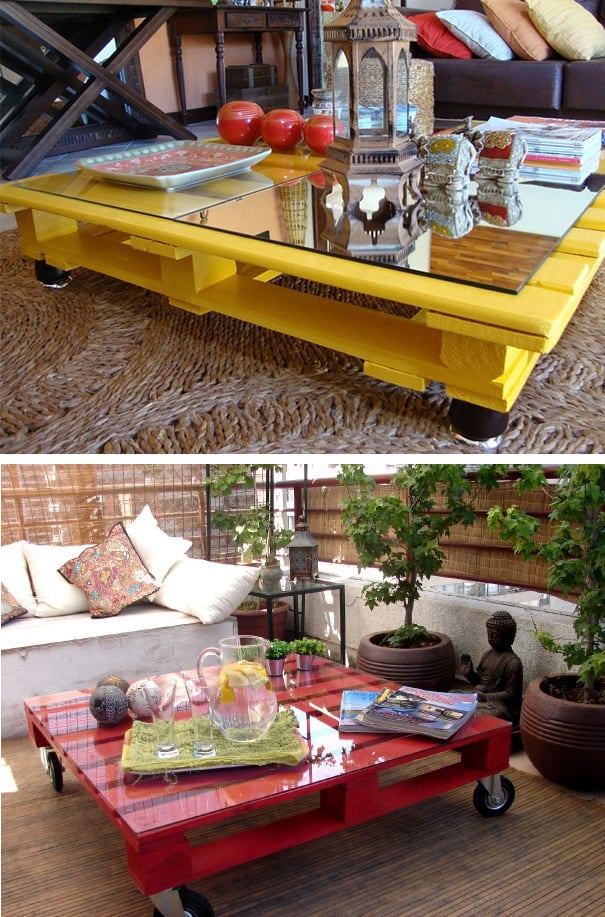 #41. Re-purposed Pallet Wood
Take bits and pieces of old pallets and arrange them in a wonderful composition to form the frame of a mirror.The entire appeal exudes a shabby chic style we find adorable.Do not try to remove the layers of paint as it is a touch that adds glamour to the piece.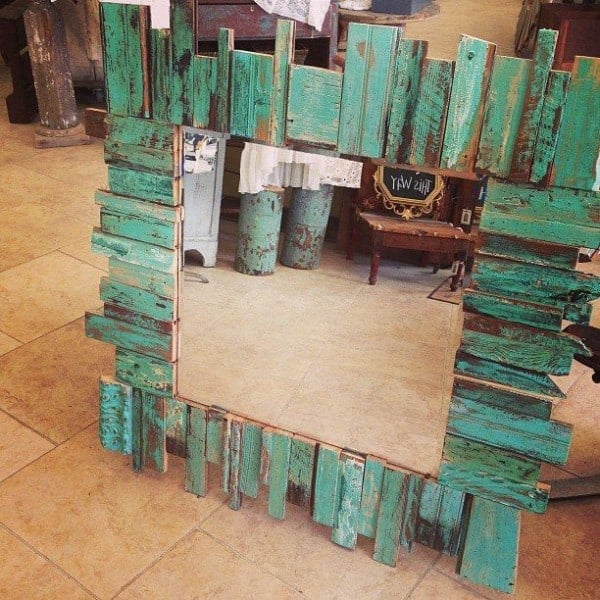 #42. Pallet Wood Kitchen BACKSLASH
Using wood as a backsplash in the kitchen might seem a little bit odd, considering steam and humidity but a washed out wood stenciled with a fun message will add a classic French vibe to your working area. Remember to treat the wood regularly to prevent deterioration.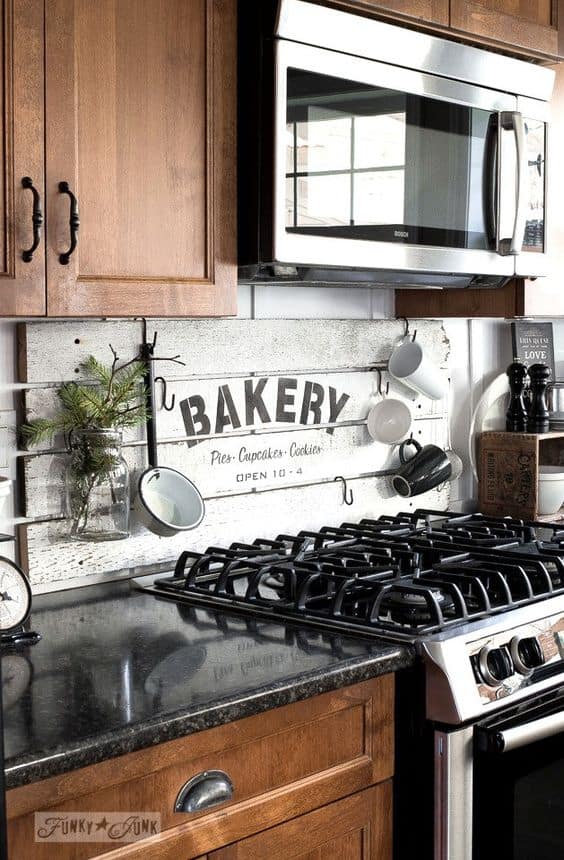 #43. The MENU Pallet Board
Invite your family to a special dinner everyday by presenting the menu ahead in a vintage fun way. Create a wooden board and use contrasting tons to write the days of the week and chalk to change the daily dishes.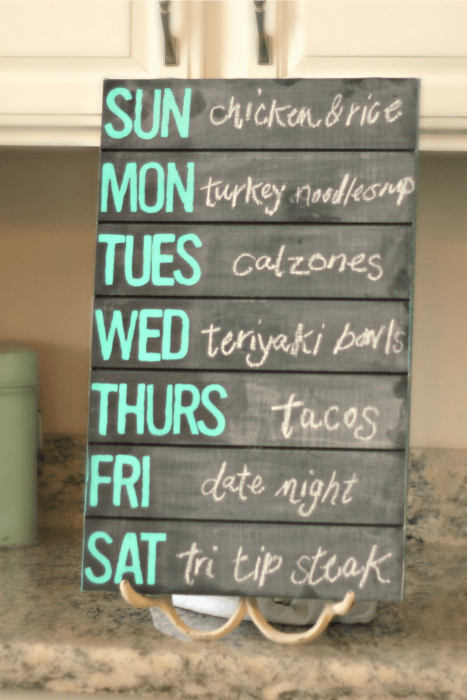 #44. An Array of Wooden Pieces
Use bits and pieces of different wooden pallets and assemble them together to form a wonderful coffee table. Mix and match the different tones and textures for an incredible effect and merge the raw texture with a set of hairpin legs.
#45. White Sun Bed
Enjoy the wonderful spring heather outside in your backyard in a hand made pallet sun bed. Use a white paint finish for a Scandinavian fresh vibe that will contrast beautifully with the rich vibrant greenery surrounding you.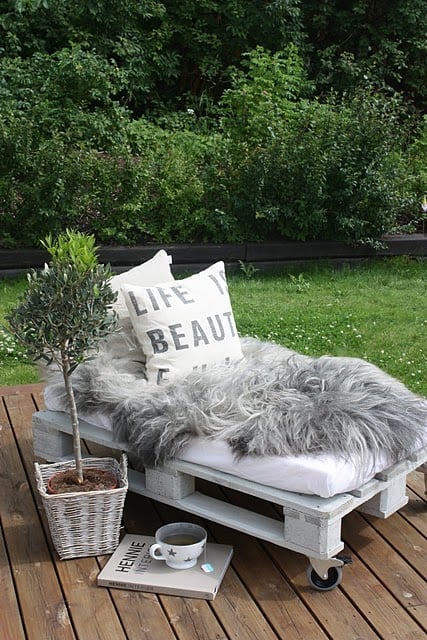 #46. Vintage Vent Hood
If you are looking for the vintage rustic style for your abode, a wooden designed kitchen will definitely fit right in. Use withered wood from an old pallet for a French vibe and let it stand out from the rest of your white painted cabinets.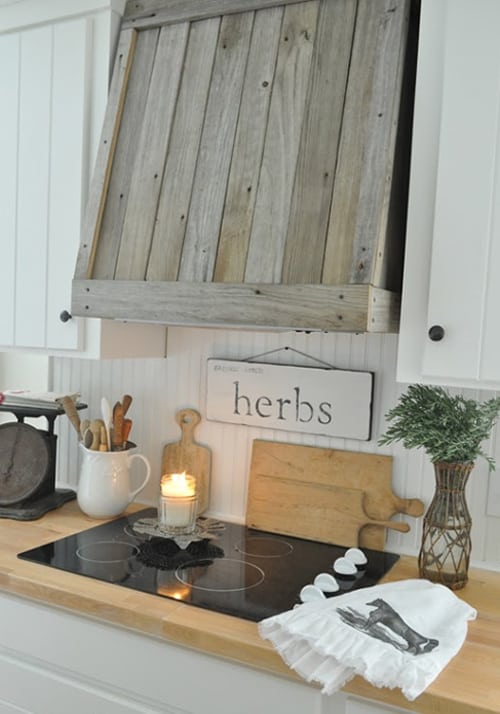 #47. A Special Kind of Christmas
Take the side of ecologists this year and opt for a wooden pallet light Christmas tree that will spare a new fresh tree from being cut. Use a single type of lights, preferably white for a delicate atmosphere.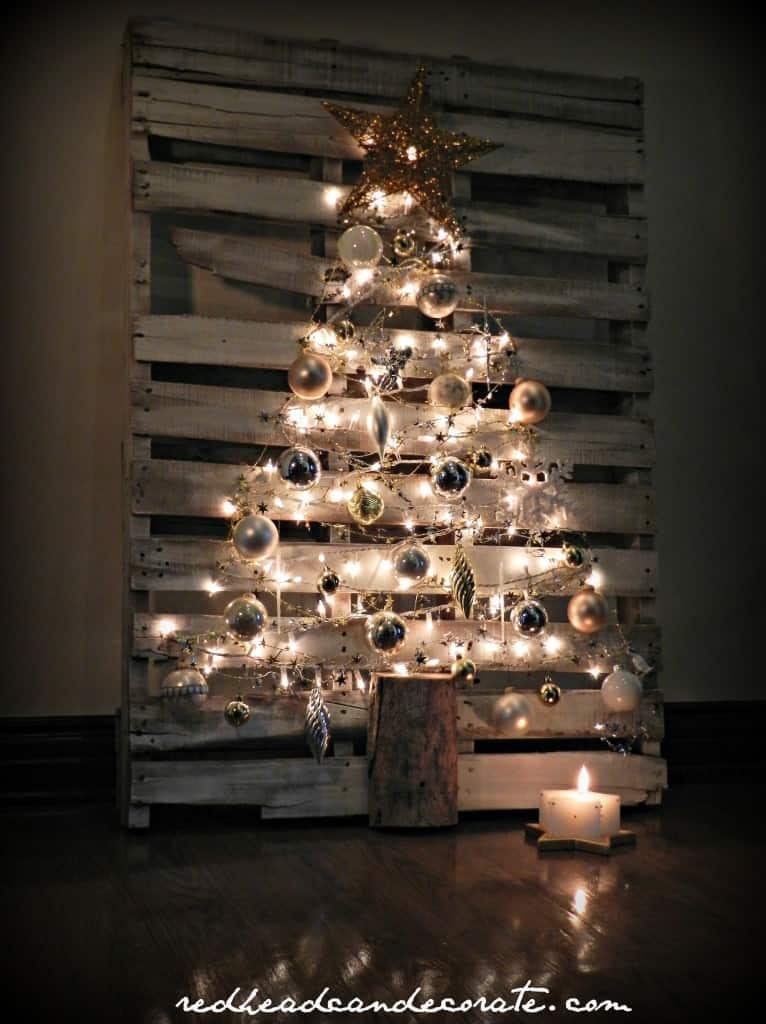 #48. Pallet Wood Star Decor
Select a few pieces of rustic old wood and create a wonderful star decoration you can place in your Christmas tree or adorn your mantel with. Leave the wood unfinished and use different parts of the pallet with different textures and tones for a varied effect.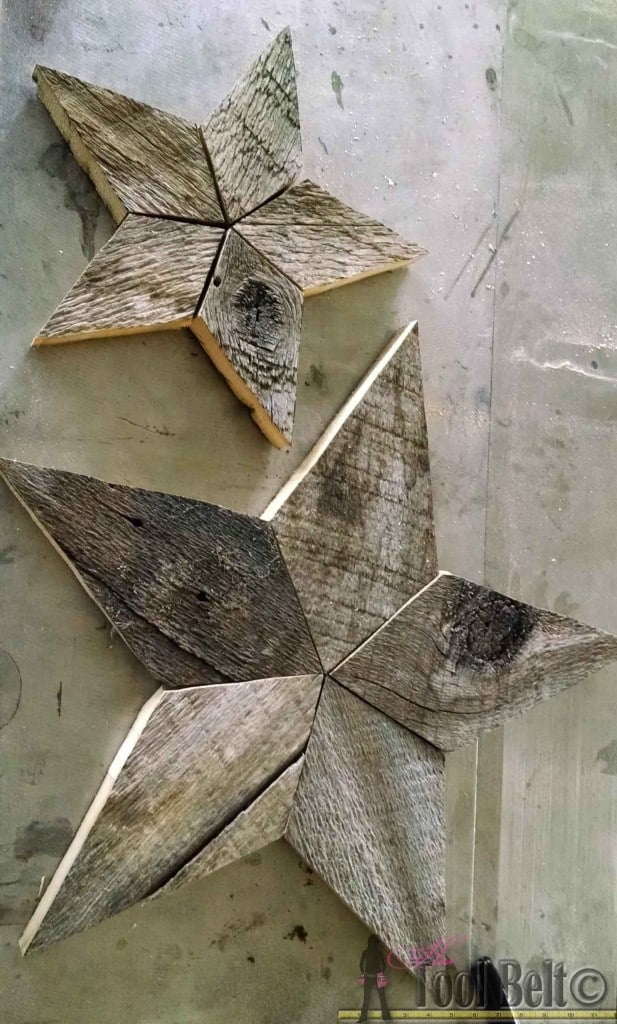 #49. A Simple Rustic Christmas Tree
Keep things simple this year and opt for a Scandinavian pallet wood tree that can be left untouched for a rough effect or glamoured up with a set of Christmas lights and some basic rope ornaments you could create yourself. Another beautiful option would be to paint the wood and express your creativity for this wonderful DIY project.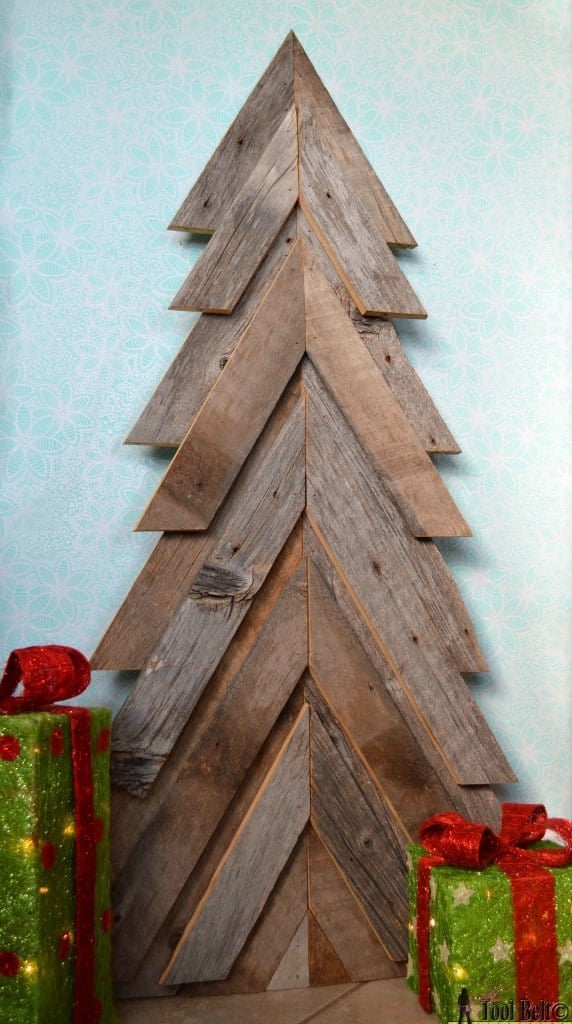 #50. Pallet Photo Display
Cut a pallet in long pieces, merge the pieces together and paint it white. You can now use this board as a photo display by attaching a few twigs to it and connecting your photos and the twigs with some basic rope. Drill a few holes in the pallet and place a lighting source beneath for a starry effect.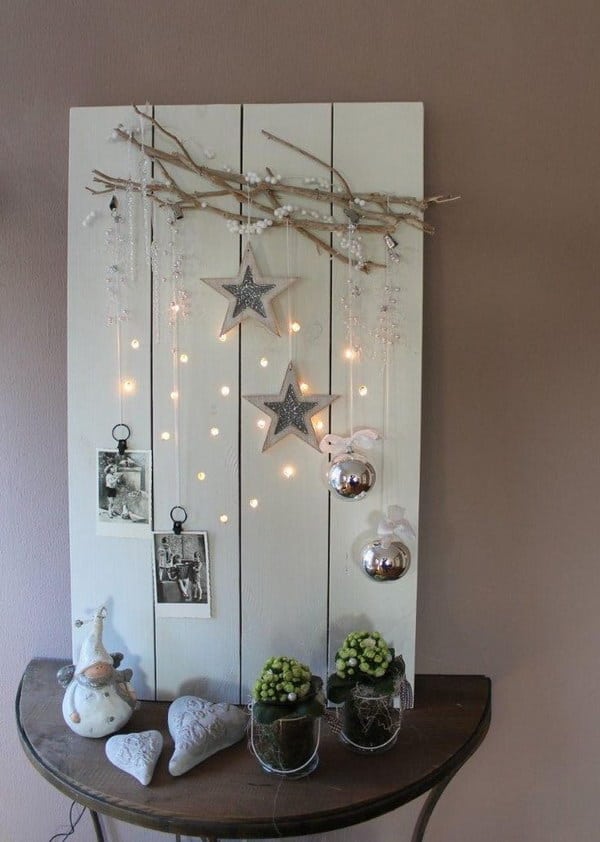 #51. A TV Background
Old pallet wood transformed by the passage of time and the influence of the elements merged into a creative TV background.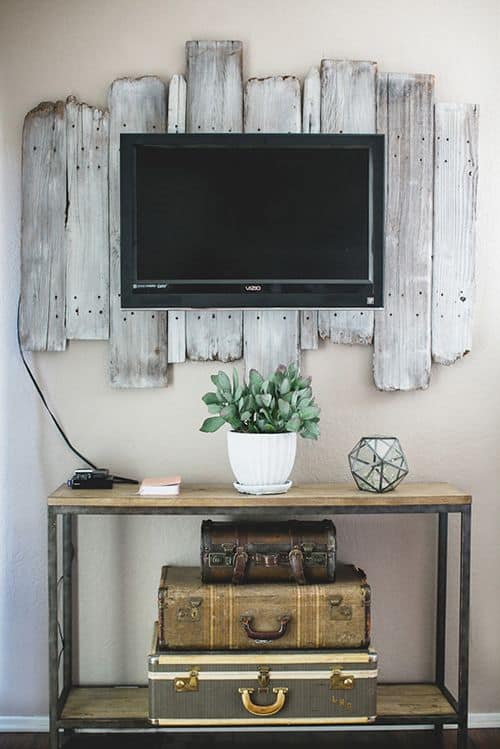 #52. A Book/ Magazines Wooden Box
Storing all the different items we tend to gather up around the home can turn out to be a very difficult task we all dread to solve. Use the leftover pallets you have lying around the garden and transform them into a creative wonderful wooden box for placing books, magazines or throw pillows and place it next to your couch in the living room. Add a set of rope handles for effective maneuvering.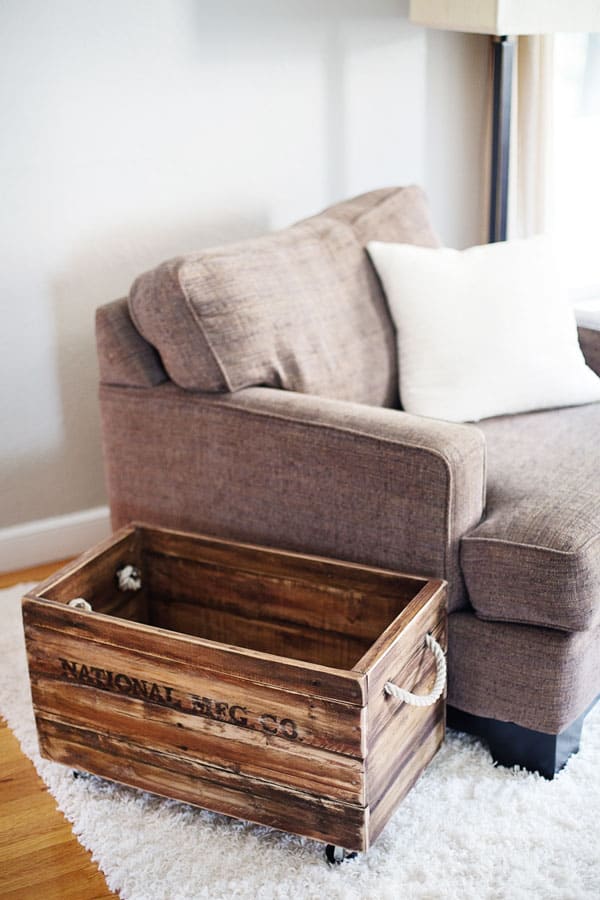 #53. A Pallet Working Station
Every child needs a working station where he can learn, draw or read. It is an essential structural element in one's life and you can create such one from a set of wooden pallets. Treat the wood, finish it with a glossy white paint and cut out bits and parts to create certain storage spaces.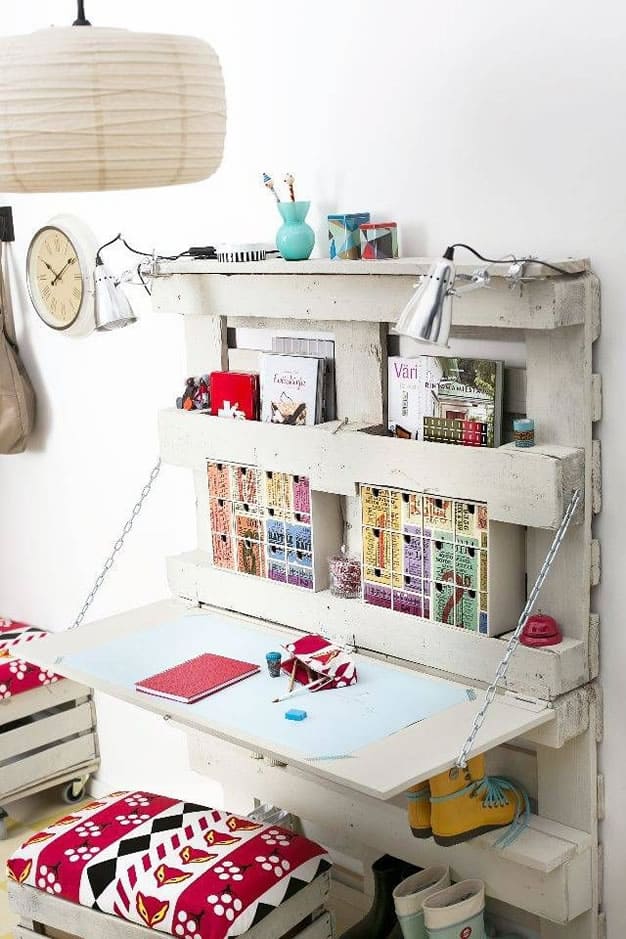 #54. Wooden Pallet Shelving
Pallets and supports can merge into wonderful shelving ideas for your home.Leave the wood unfinished for a vibrant effect.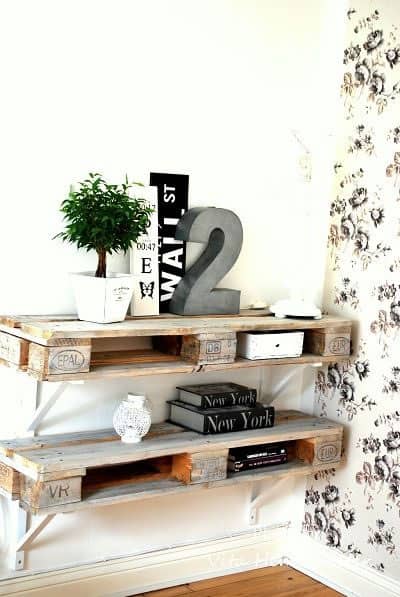 #55. A Cute Wood Swing
Decorate your child's bedroom with a custom made white pallet wood swing decorated with artificial flowers and transform his universe. You can create a larger version for your porch and spend cozy summer nights outdoors.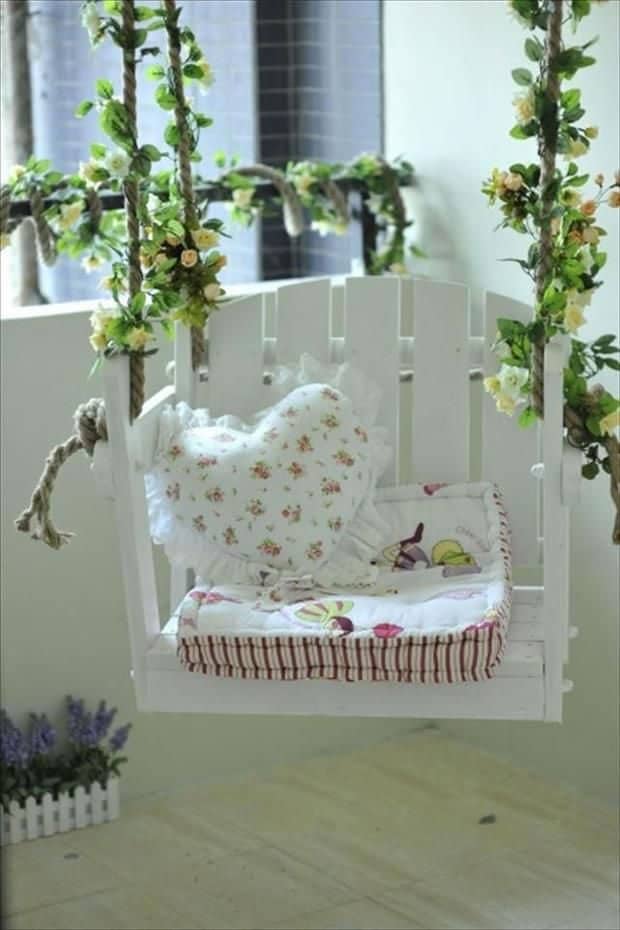 #56. DIY Card and Photo Holder
Diversify your crafting portfolio with a Christmas tree/ card& photo holder project as a perfect addition to your blank walls.Decorate it with pine branches to add that cozy holiday scent to your home.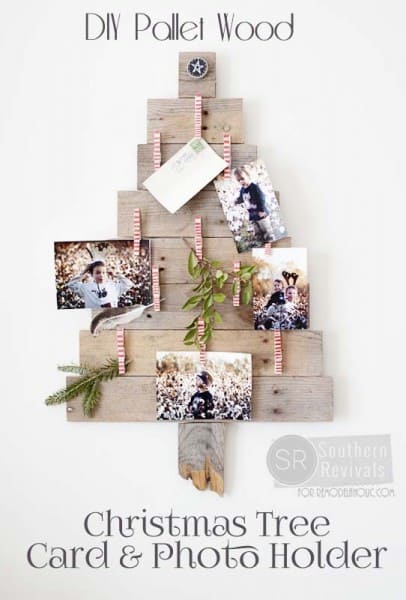 #57. Elegant Wood Luminaries
Candle light transform any room and atmosphere. Add vintage wood to the equation and you've got yourself a definite winner. Choose to cut the sides with a specific motif that will exude light in a delicate manner. Attach a piece of thick rope as a handle and place your hand made luminaries somewhere you can admire and will use everyday.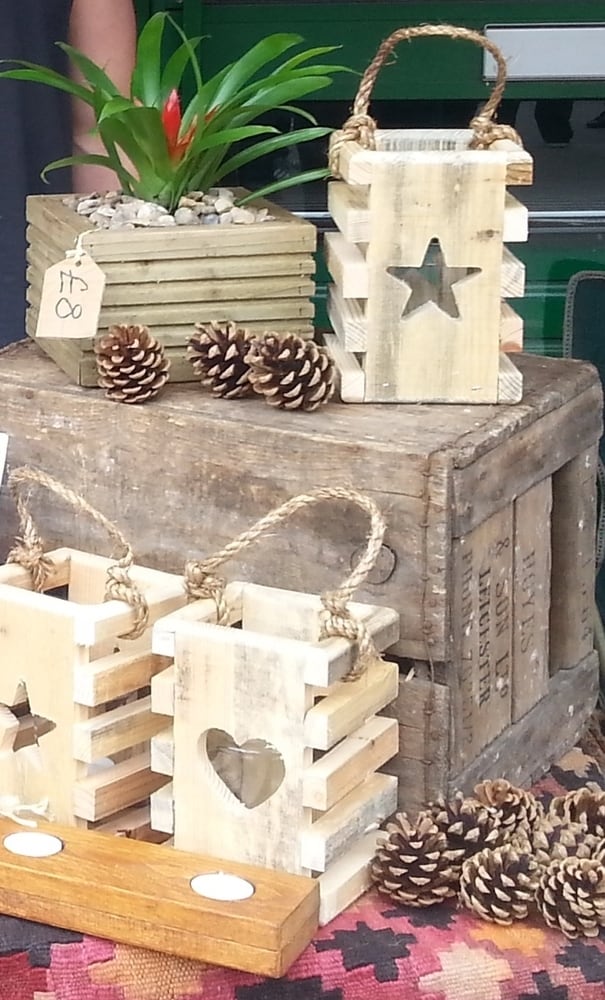 #58. Pallet Wood Bookends
Bookends are those simple volumetric letters everybody uses to hold their literature in place on the shelves but which do not necessarily beautify the place. To this problem we present you today a craft that through simple texture adds delicacy and beauty to any corner you intend it to be placed.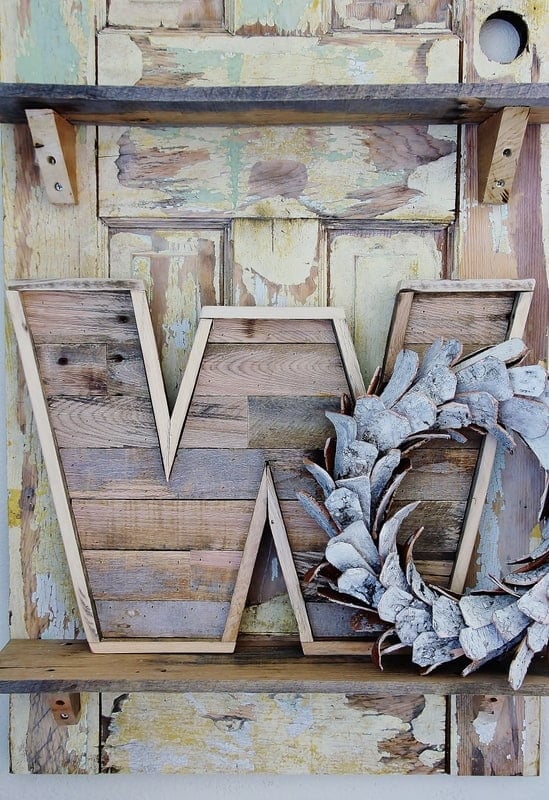 #59. Rustic Vent Hood
Improve the rustic vintage image of your kitchen with a pallet wood vent hood that will draw attention in an instant and empower the entire design. A darker wood tone will contrast beautifully with a pure white kitchen furniture.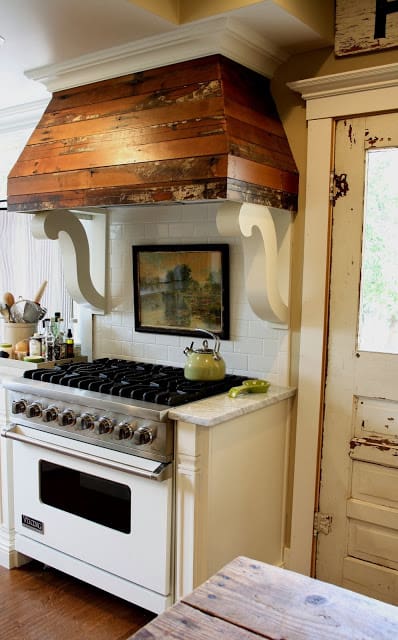 #60. Pallet Wood Planter Box
Spring is the most wonderful season so let its primary elements which are the flowers bloom and grow in a wonderful controlled environment. Create a pallet wood planter box and place it outdoors on your patio in full spring sun.Add a layer of white paint and let it dry for a little before taking an old rag and removing the paint. The end effect will reflect a French vintage vibe we adore.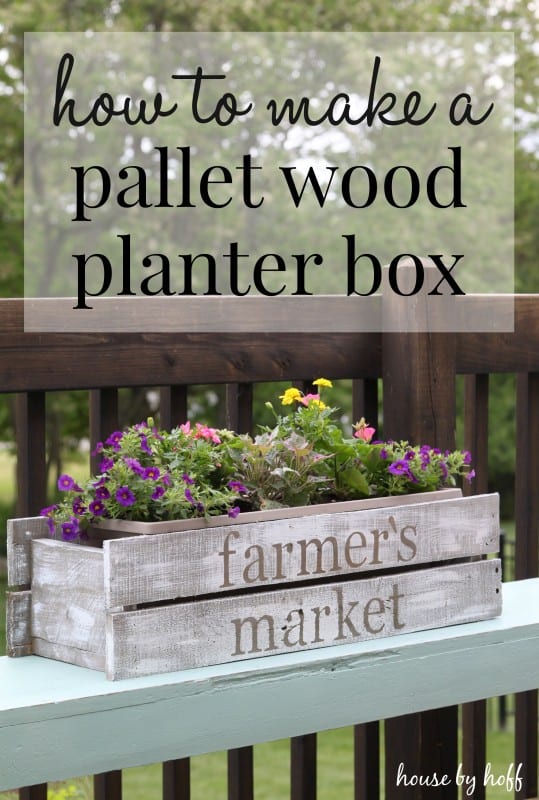 #61. Vertical Shelving
Shelving is one of the most easy and common pallet crafts you will find out there.It can add beauty, functionality and style to any blank wall in an instant. Embellish it will fresh cut flowers and family memories and photos to claim the craft your own.
#62. Pallet Wood Sliding Door
Wooden doors come in all shapes and sizes but the actual beauty lies in the age of the wood, its intricate texture and natural tone.Here a few pallets have been transformed into an incredible sliding door that can be easily placed in a modern contemporary design.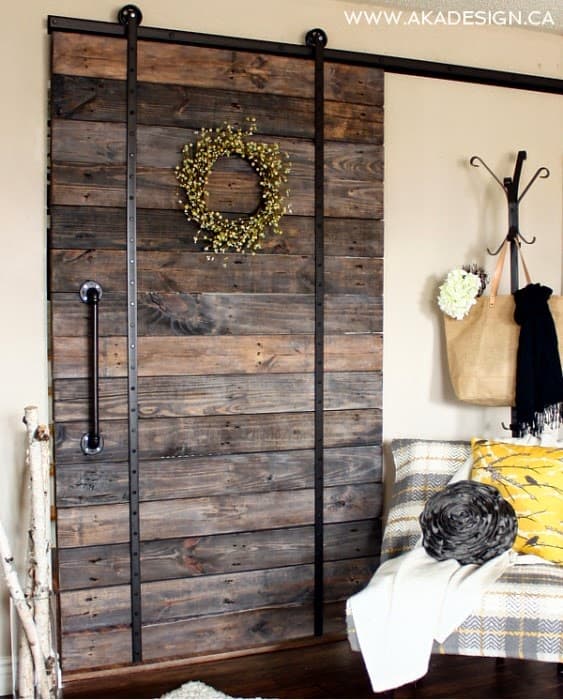 #63. DIY Pallet Clock
The passage of time mark everyone and everything and wood is no exception. Wood aging is something being pursuit and searched thus it is only logical to use old pallet wood in the creation of a basic wooden clock.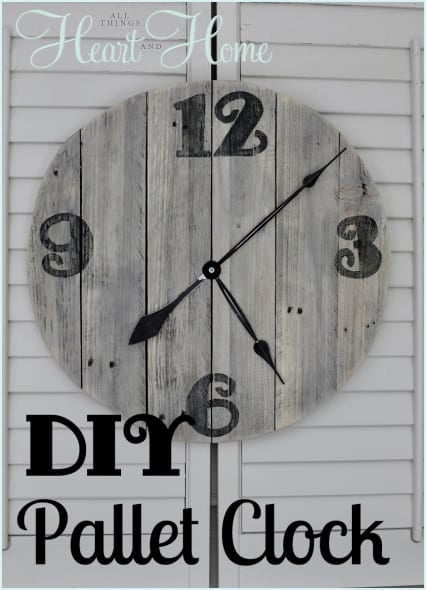 Source
#64. Colorful Wood Box
Increase your storage space with a colorful addition. Create a wonderful wooden box with a touch of color and rope hinges.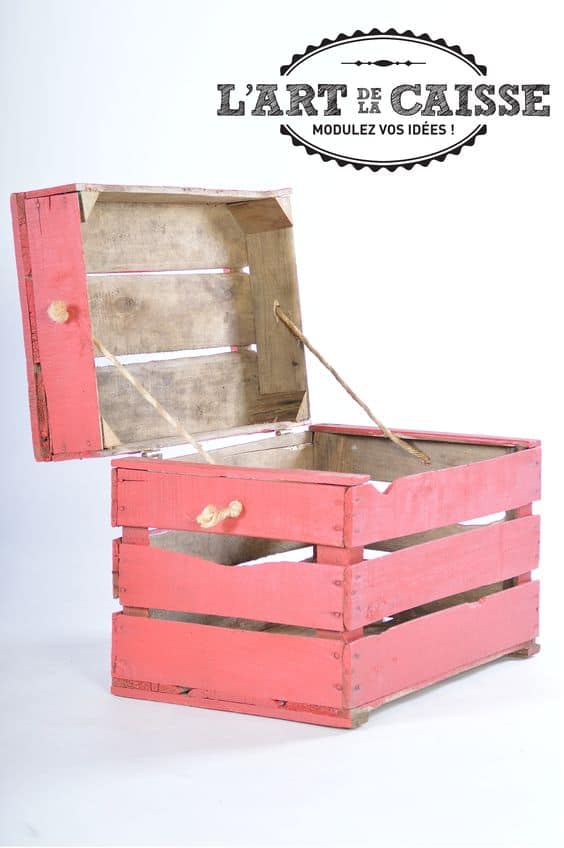 #65. Industrial Looking Bird Feeders
As spring emerges from the dark corners it had been hiding, nature revives and birds, bugs and all sorts of creatures come to life and animate our garden. Take a step in this direction and invite the thrills of birds in your backyard with this fun bird feeders craft.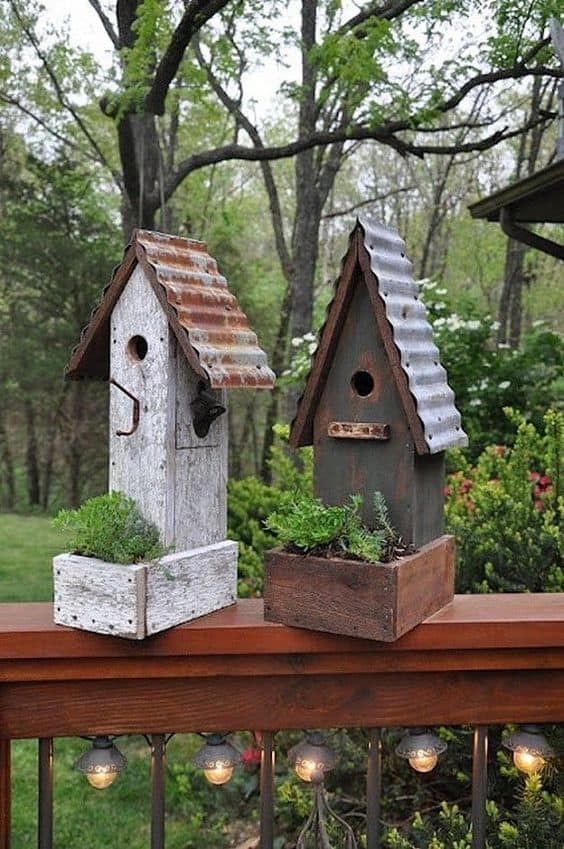 #66. Pallet Wall Art
Blank walls should be decorated with your personal creations so feel free to express your imagination on a canvas created out of pallet wood. Use bleach to paint your dreams white.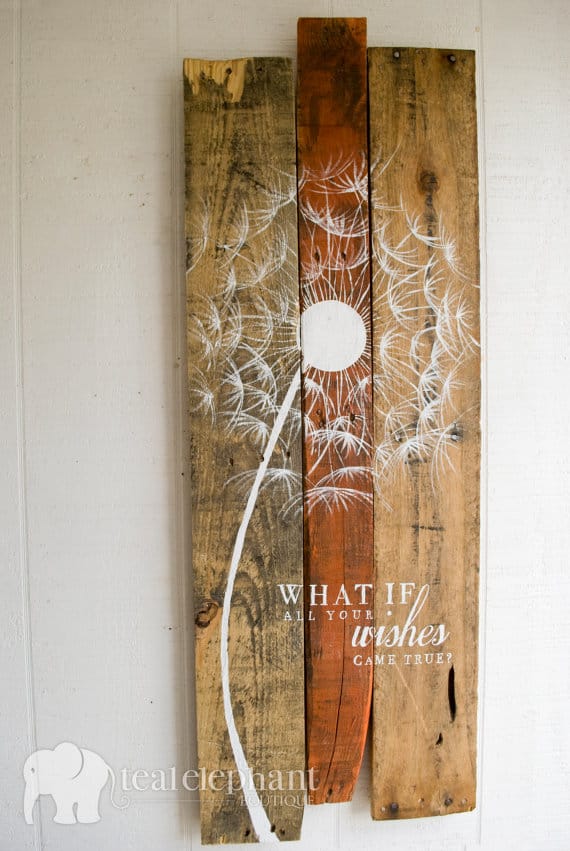 #67. Pop Wall Art
A fresh fun twist on wall art should be added to a rather conventional area like the kitchen or dinning zone. Use pallet wood to create such a shape and add a coat of a bright hue to the end product to make it stand out and contrast the blank wall.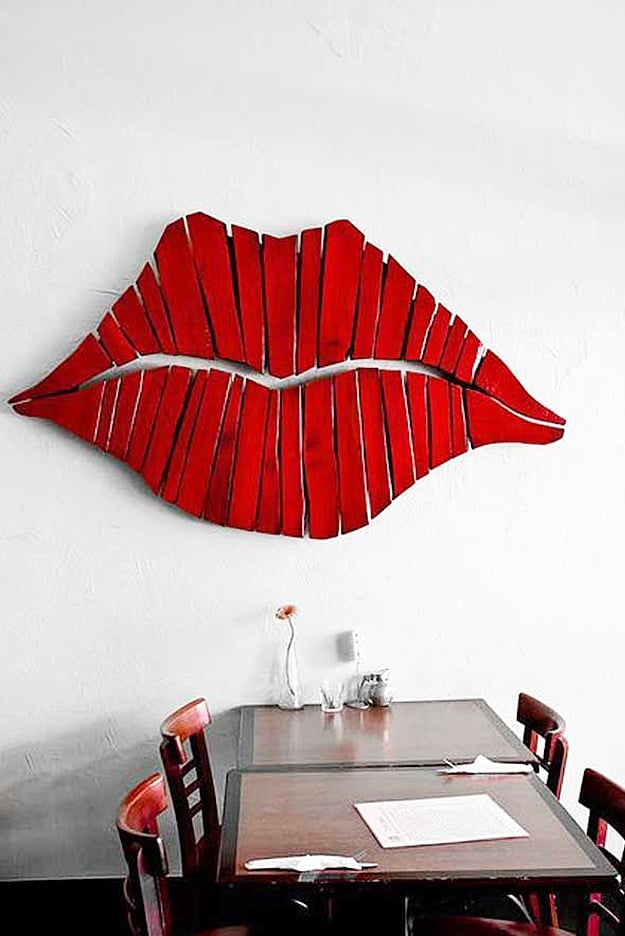 Use old pallets to create a sturdy structure for your bed. Customize it by adding a comfortable mattress and colorful pillows for the personal touch and taste.

#69. Pallet Wood Cityscape Wall Art
Exploit the love you carry for a certain city and reflect in in your own wall art creation. Capture the city' skyline in an unique project you will simply adore in the end. Find different details you might have missed at the beginning and get attached even more to the image created itself.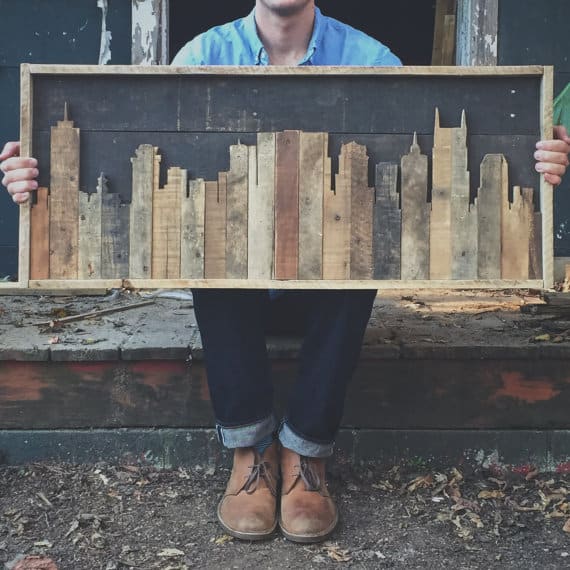 #70. Special Wedding Decor
It is up to you in the end to create a special atmosphere on your special day. And why not create your own wedding decor for a vintage/retro theme?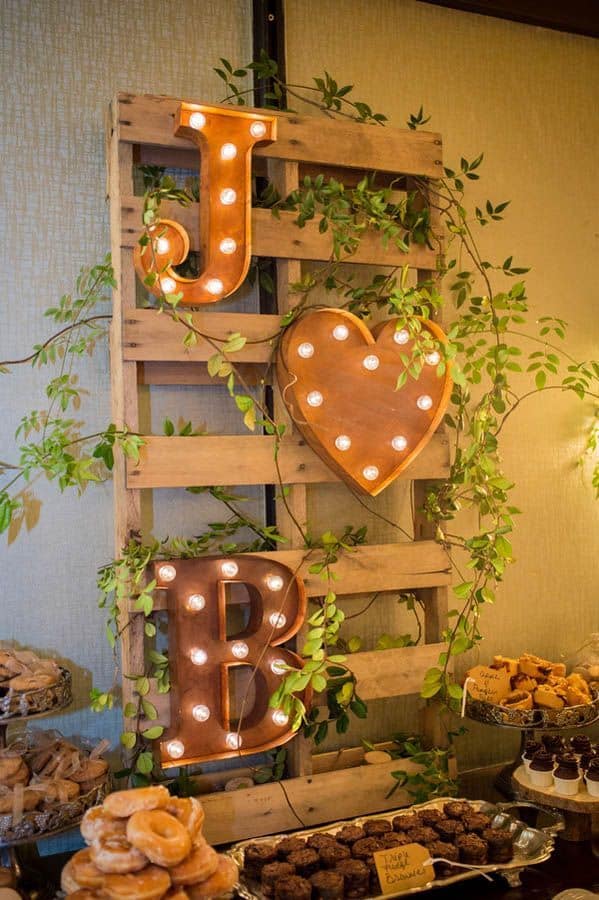 #71. DIY Pallet Wood Chair
Invest time in creating a comfortable patio chair or couch without spending lots of money or investing a lot of time and effort. Keep things simple and study and customize it with colorful pillows and cozy blankets that will come in handy on chilly nights spent outside.
#72. A Special Type of Hammock
Relax in a hand-made wooden hammock placed strategically under a tall tree in your backyard.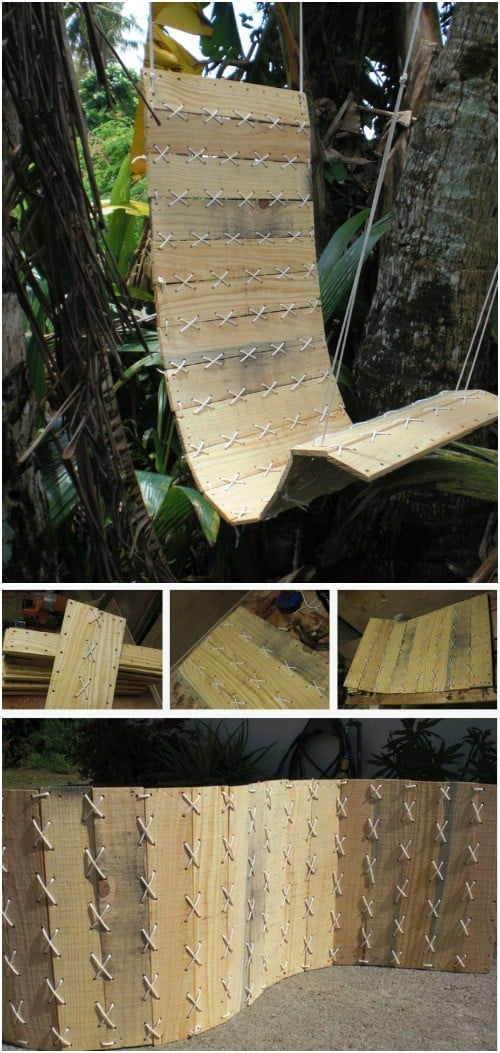 Bring the navy theme in with a rather large pallet wood clock painted in beige and adorned with roman numbers indicated the hours passing by.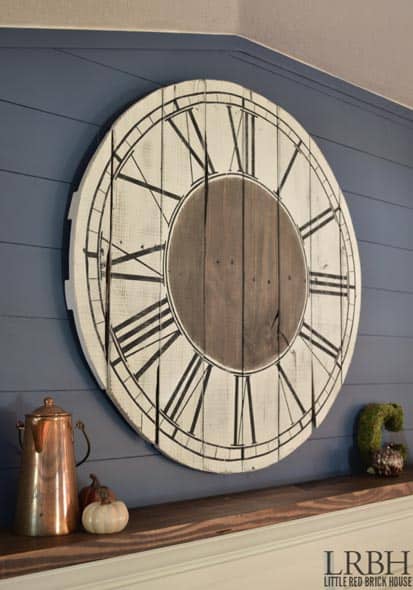 #74. Vintage Pallet Shelving
Another colorful example of pallet shelving which preserves old paint layers and merges them beautifully in an artsy combination.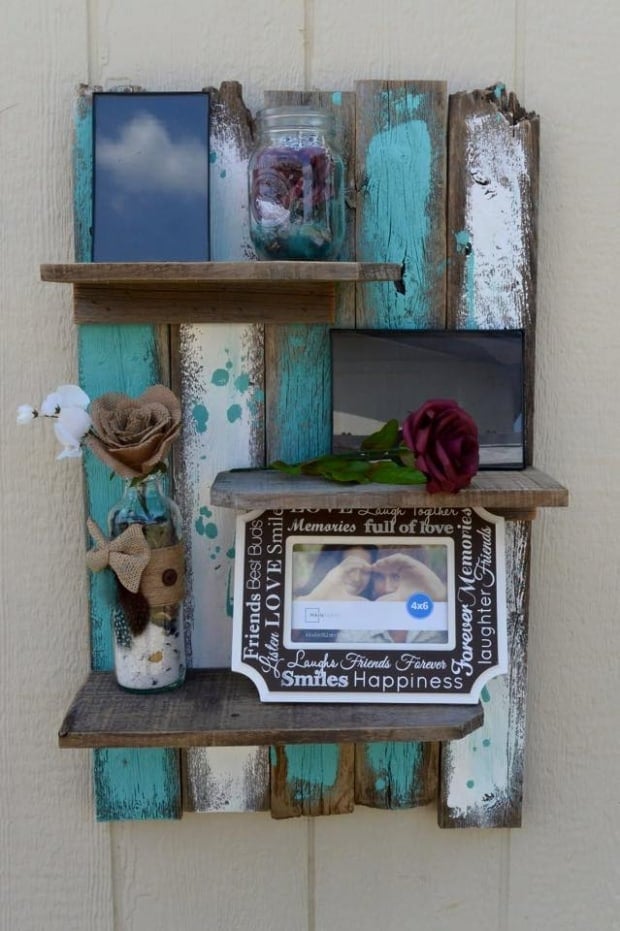 #75. Adjustable Sun Pallet Bed
Enjoy hot summer days relaxing in the sun in your garden on a hand made pallet adjustable sun bed.

#76. Kitchen Fruit Basket
Add a colorful touch to your white cabinet classically designed kitchen with this vibrant fresh pallet wood fruit basket. You can create similar ones for storing jars or spices and even for holding on to herb pots that will freshen up the kitchen and become useful at the same time.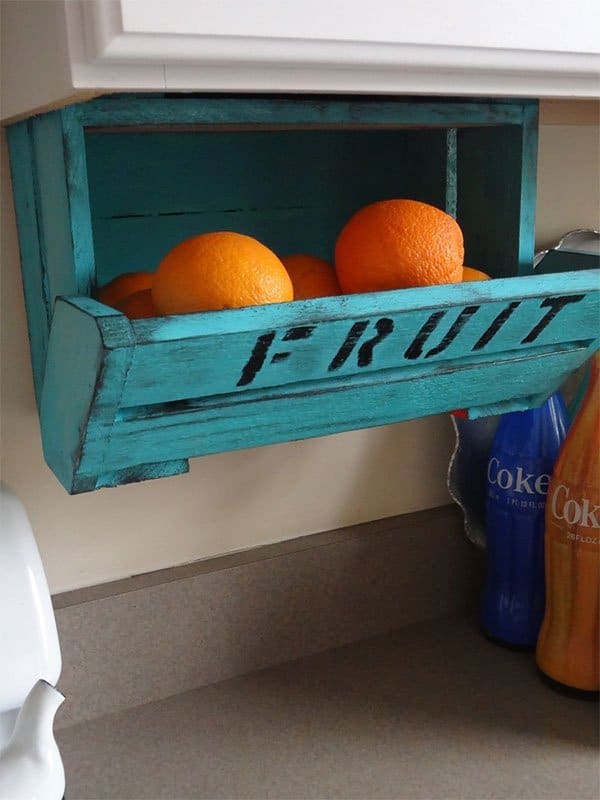 #77. Simple Candle Holders
En-light your nights with these simple yet elegant vertical candle holders.Be careful by the combination of wood and fire and protect the actual candle with glass.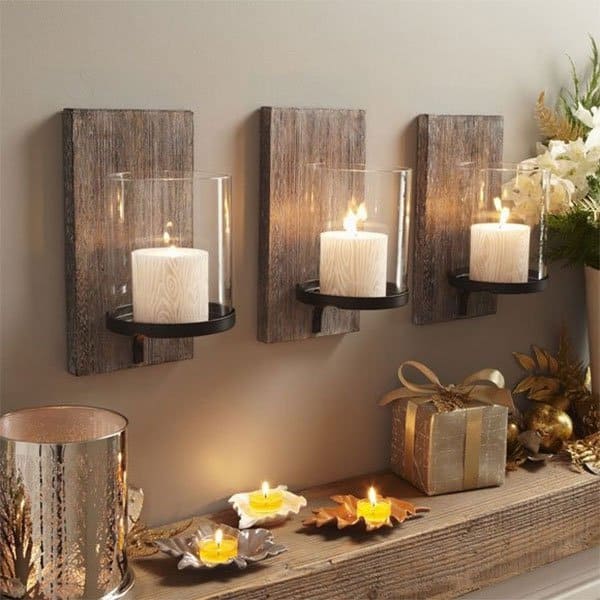 #78. A Special Family Message Display
Display you love and affection in plain sight and leave your mark on wood for the future to come.

#79. Christmas Wall Art Piece
Wish a merry and bright Christmas this year with a fun wall art creation on pallet wood.Use white and red paint to truly embody the Christmas spirit and attach a pine branch to complete the scene.

#80. Valentine's Day Gift
Although Valentine's day has become mainly a consumerist affair, try to attack the issue in a different manner by creating your gift instead of purchasing it. This wall art piece expresses affection in a very colorful and beautiful manner, maintaining that degree of uniqueness we all search in items today.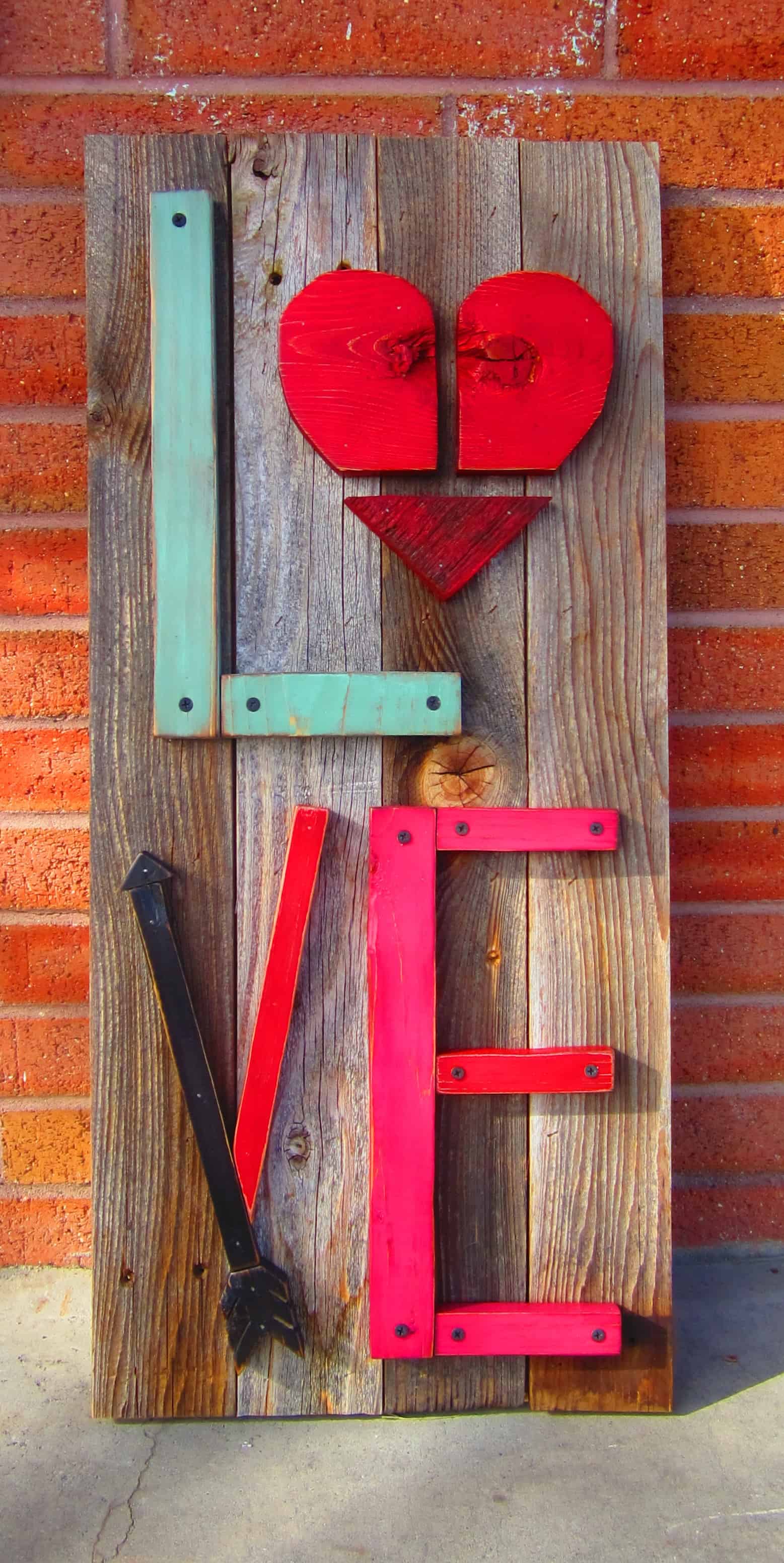 #81. Stenciled Wood Wall Art
There is nothing more enjoyable than the smell of burning wood. Try the process on a wood board by controlling the exact design with a stencil.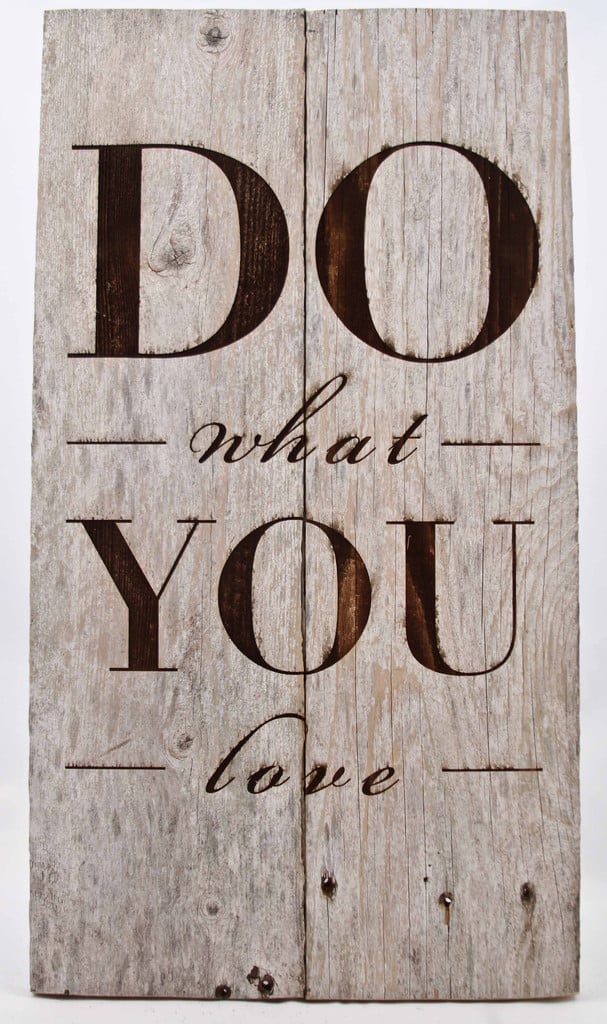 #82. A Loving Attention Pallet
Exercise your drawing and painting skills on pallet wood whilst sending an affectionate message.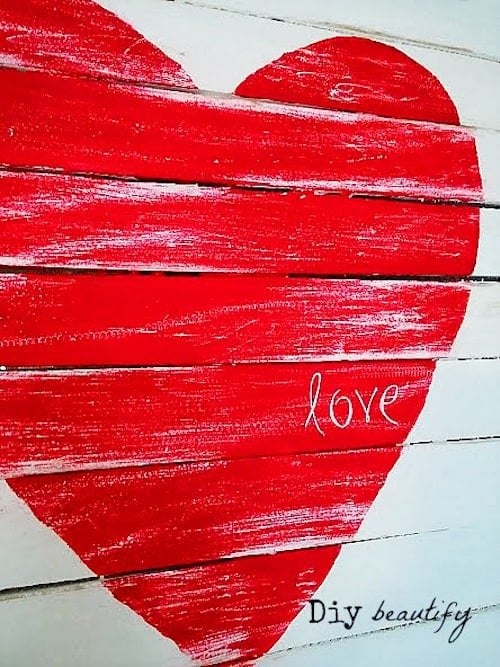 #83. Heart Silhouette Wood Art
You you fill like committing and investing more time into a Valentine's project, create a stencil, dram your shape on a pallet wood board and cut it accordingly to the design. Apply a fresh coat of pastel paint and adorn with flowers or photographs.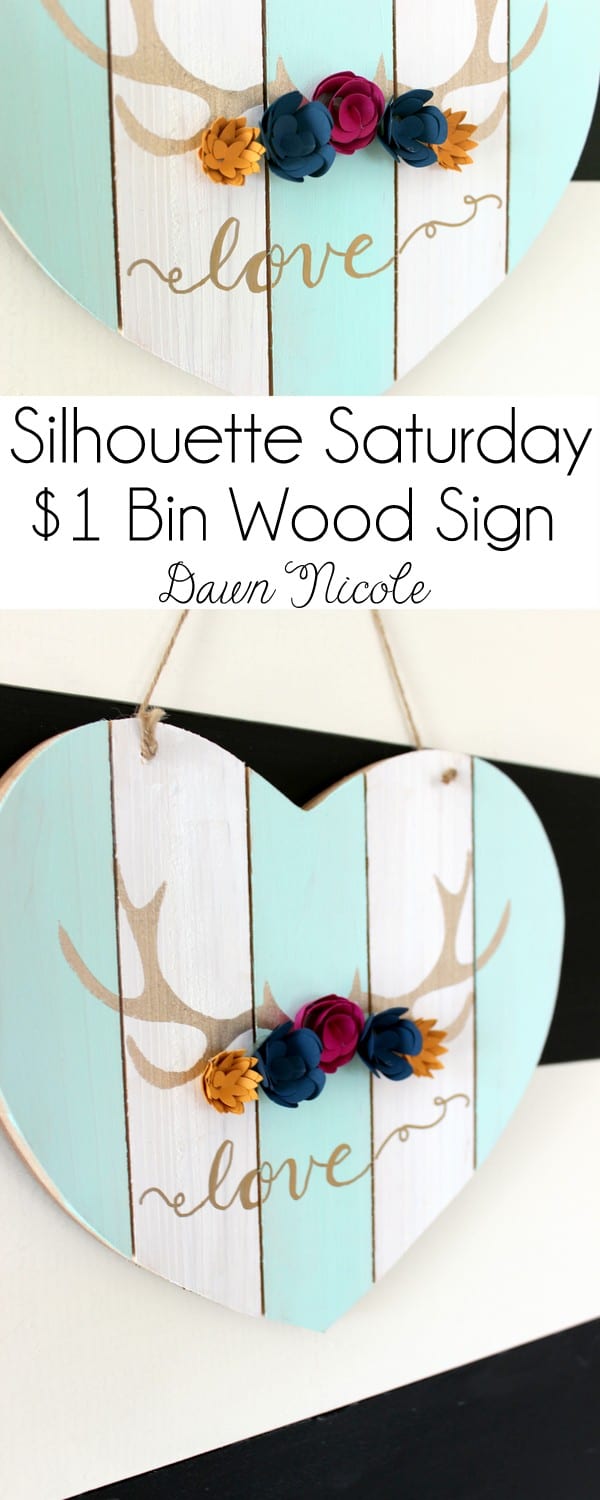 #84. Rustic Pallet Wood Doors
If you have in the near future plan an idea of changing your kitchen cabinets, why not orient yourself towards wooden pallets? Choose old pieces of wood with character and combine them with a white kitchen main body.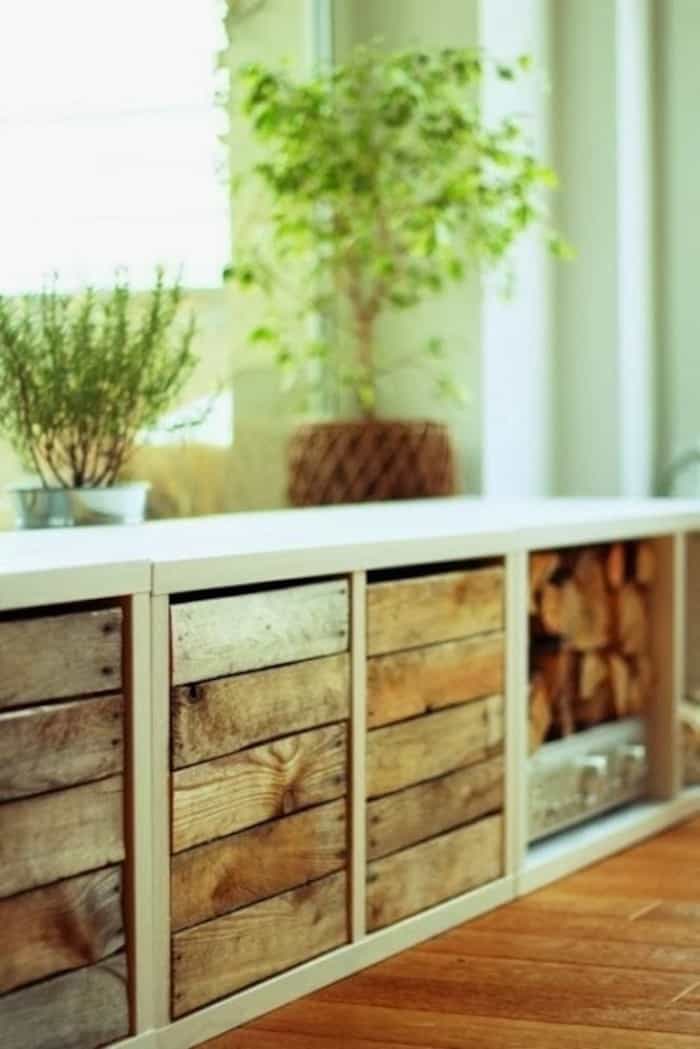 #85. Outdoor's Coffee Table With Built in Fire-pit
Summer is approaching fast and with it, wonderful nights spent outside in the garden with friends and family. Create a functional pallet coffee table and insert a central fire pit areas for those cozy summer nights.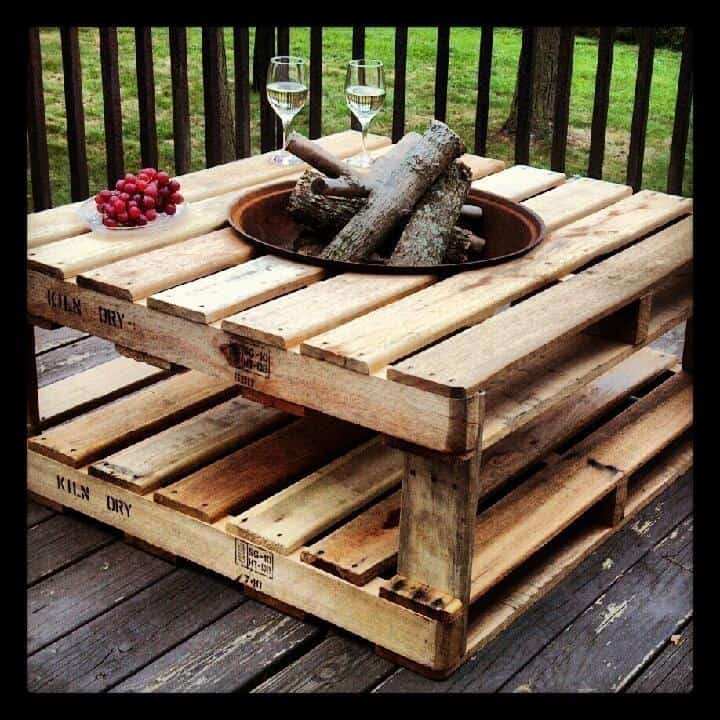 #86. Garden Pallet Playhouse
Spending tons of money on store bought toys does not sound like a good investment.So orient yourself towards creating a garden playground for your little ones from pallet wood. Invest time in the project and try and implicate them in the process for a memory they will cherish forever.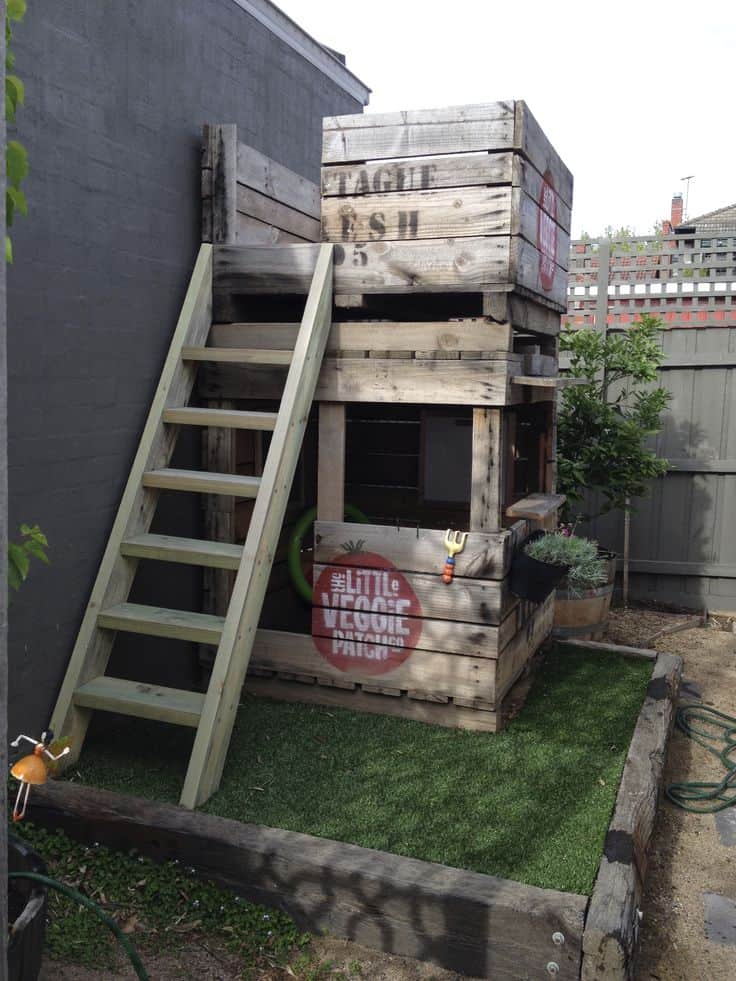 #87. Elegant Sturdy Wooden Floors
If you are a fan of wooden floors and let's be honest, who isn't, pallet wood is a wonderful creative method that will save you a lot of money but will cost in the time department.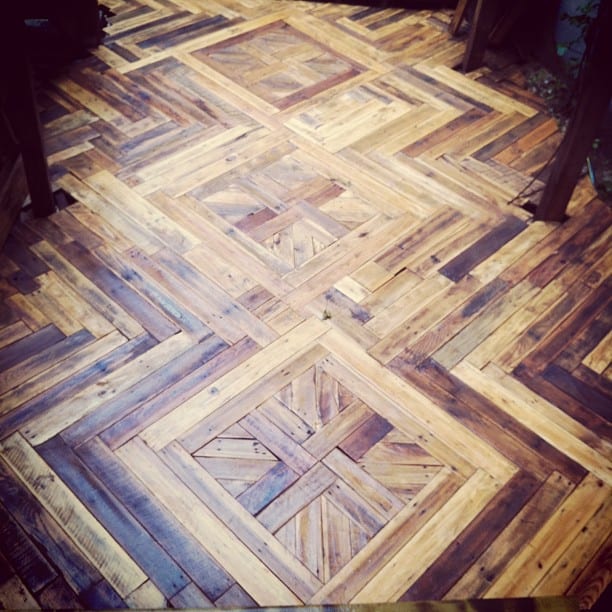 #88. The Perfect Tree House
Create a tree house for adults by merging wooden pallets into a platform where you can add a few furniture pieces and enjoy nature from within.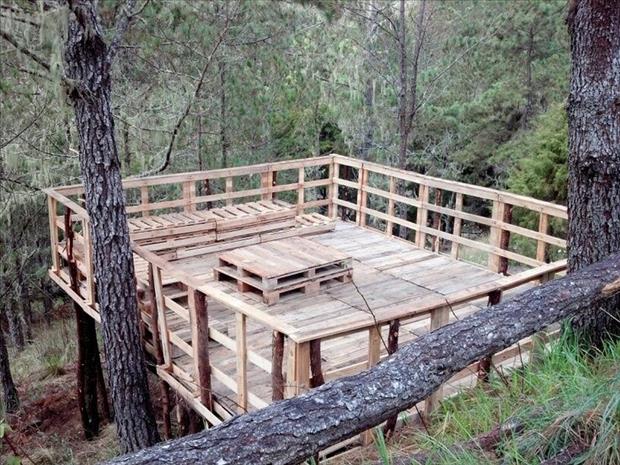 #89. Pallet Planters
Start a spring herb garden by filling up a wooden pallet with soil and compost and planting your seedings. Make tags for your herbs to remember exactly what you have planted.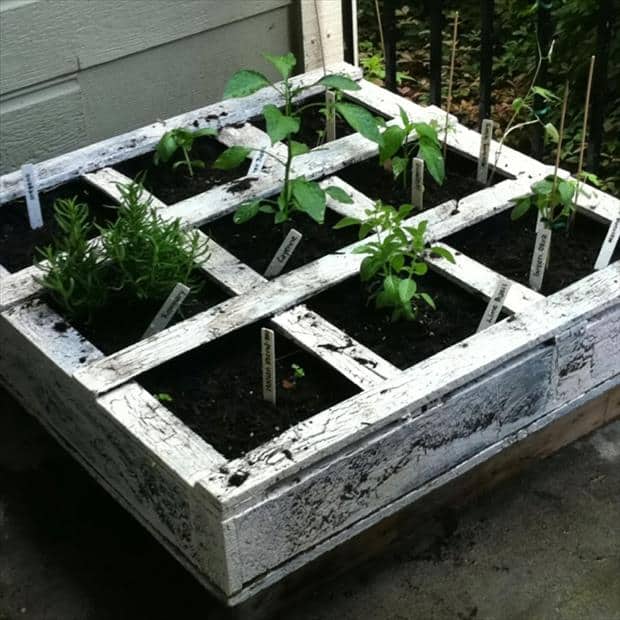 #90. Rustic Flower Pots
Lemon trees and olive trees exude that Mediterranean vibe we adore so much thus it seems only logical to try and complement the olive green with some gorgeous wooden pallet planters.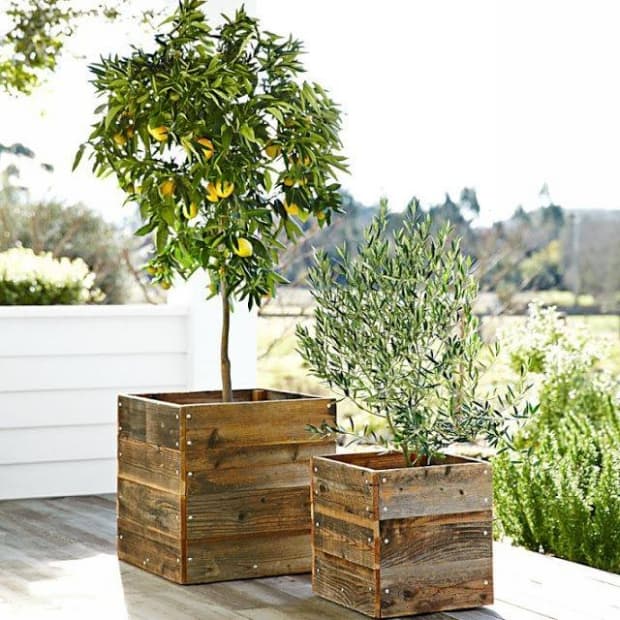 #91. An Entire Backyard Furniture Set
If you are lucky enough to live in the seaside or to have such a vacation home, create outdoor furniture for entertaining from wooden pallets. Keep them basic and simple and add a set of comfortable cushions to the ensemble.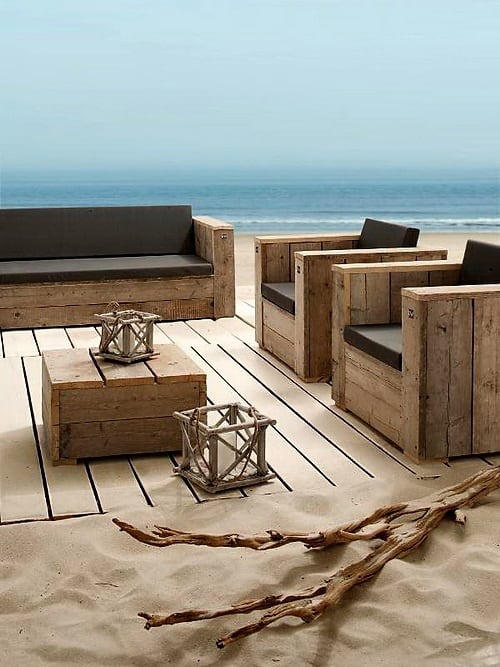 #92. An Adorable Coffee Table for Your Patio
Every relaxation point from your home needs a coffee table and an industrial vintage looking one can add glamour and charm to any location.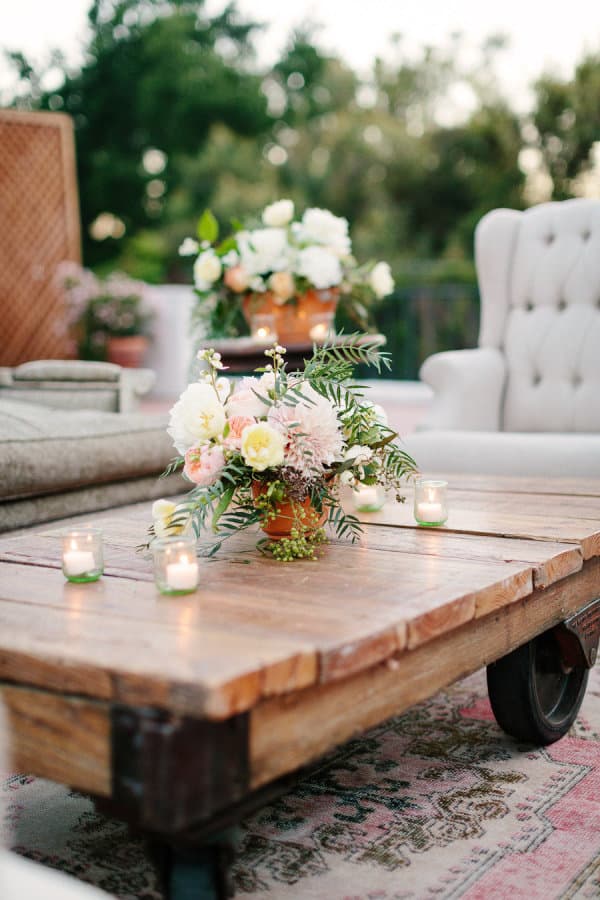 #93. Perfectly Inserted Wooden Deck and Furniture
Lush vegetation and wood work perfectly hand in hand, the first taking gradually over the second one and embellishing it in the process.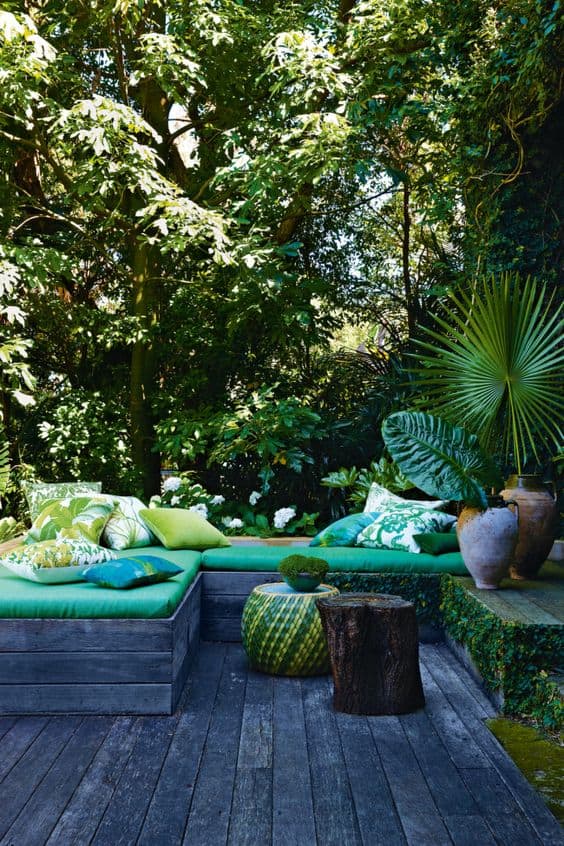 #94. A Large Elegant White Swing Set
A wonderful patio or deck deserves a large swing for the entire family, especially if the view is worth it. Add string lights to the ensemble for magical nights.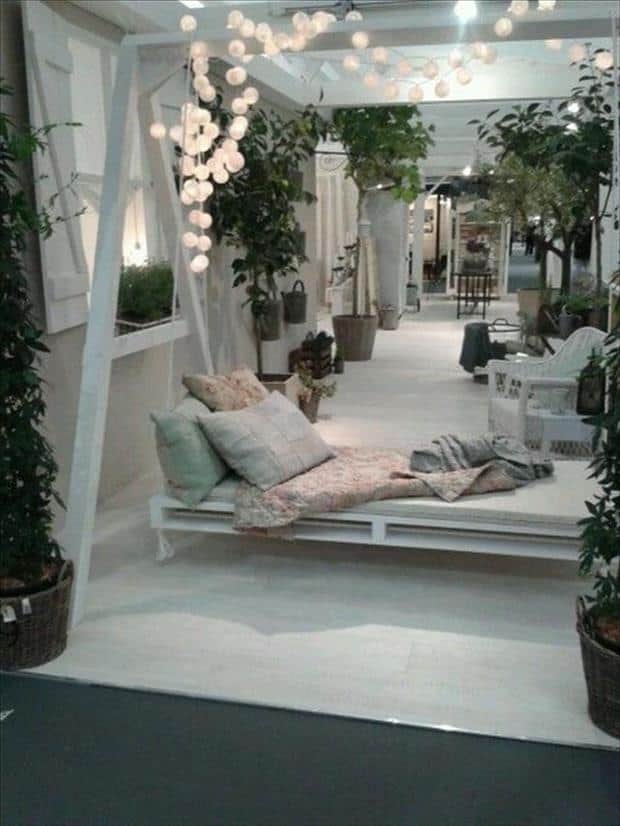 #95. Vertical Indoor Garden
Use a wooden pallet to create a vertical herb garden. Apply a layer of chalkboard paint and use chalk to write the exact herbs and spices you have planted.

#96. Sublime Delicate WEDDING Decor
A wooden pallet background seen through a canopy of string lights is the perfect vision for a wedding decor. Add flowers to the mixture and the image is complete.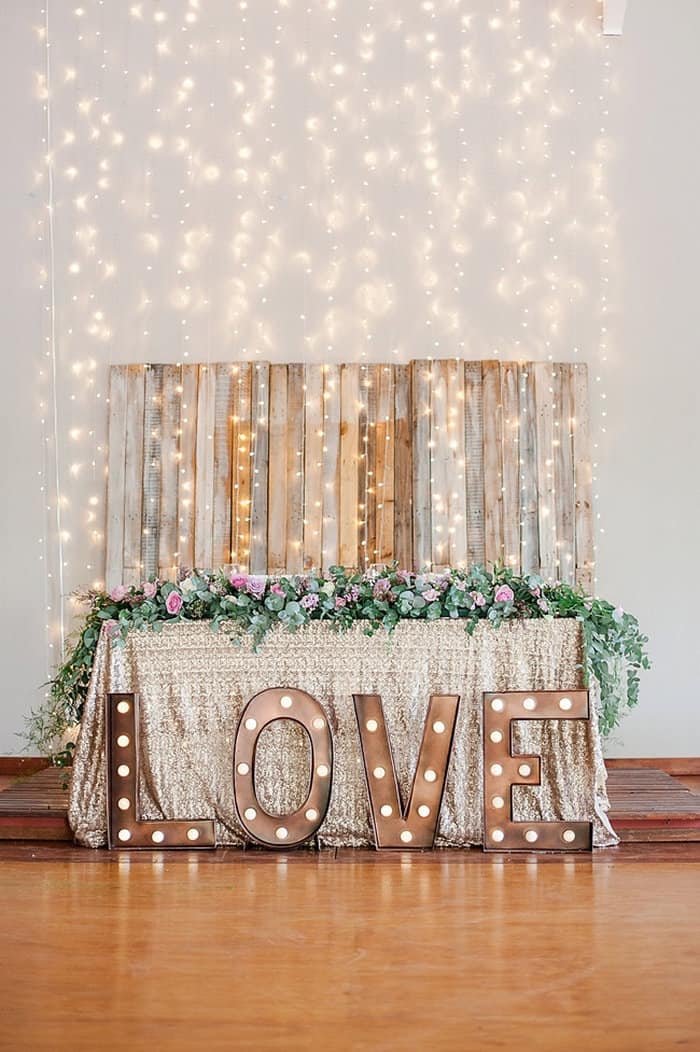 #97. The Perfect Way of Presenting the Day's Special
Transform the daily menu into something fun and to be expected.Use chalk to change up the dishes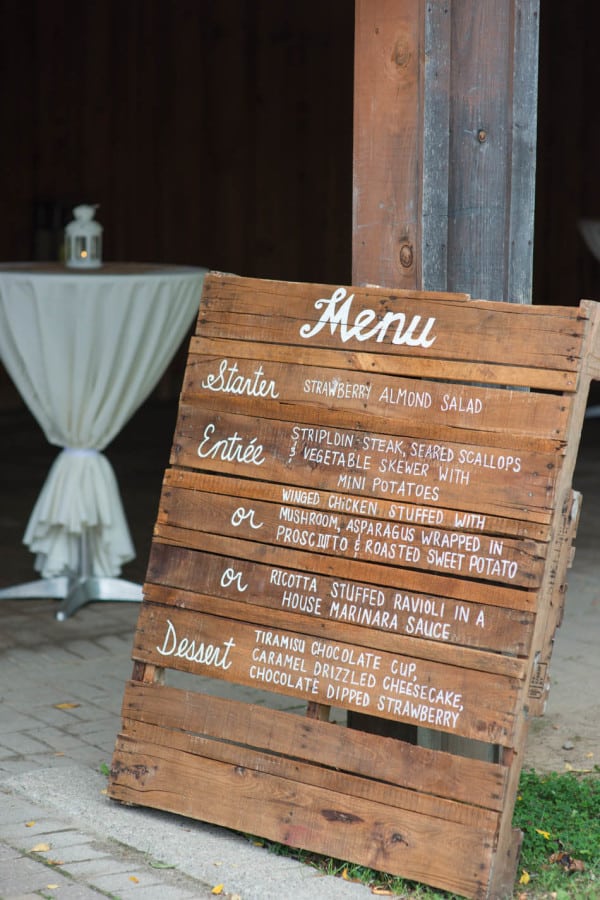 #98. Beautiful Narrow Work Desk
Recycle the bottom part of an old table and spice it up with a wooden pallet top.
#99. Pallet Wood Turned Into a Sliding Door
Create a door frame from pallet wood and make a sliding door.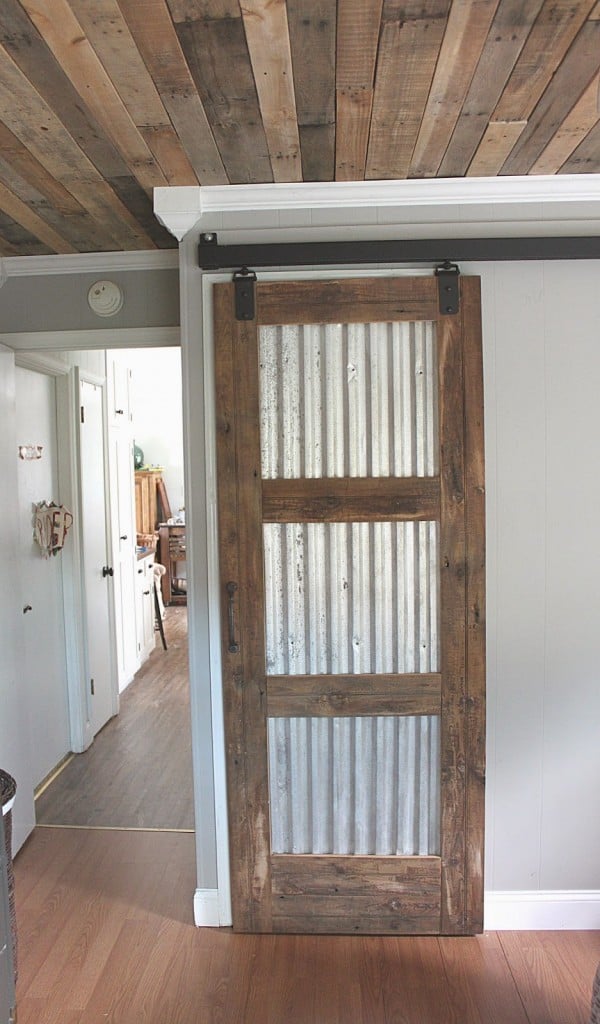 #100. DIY Magic Storage Sofa
Merge functionality with style in this creative narrow pallet sofa perfect for the coffee area.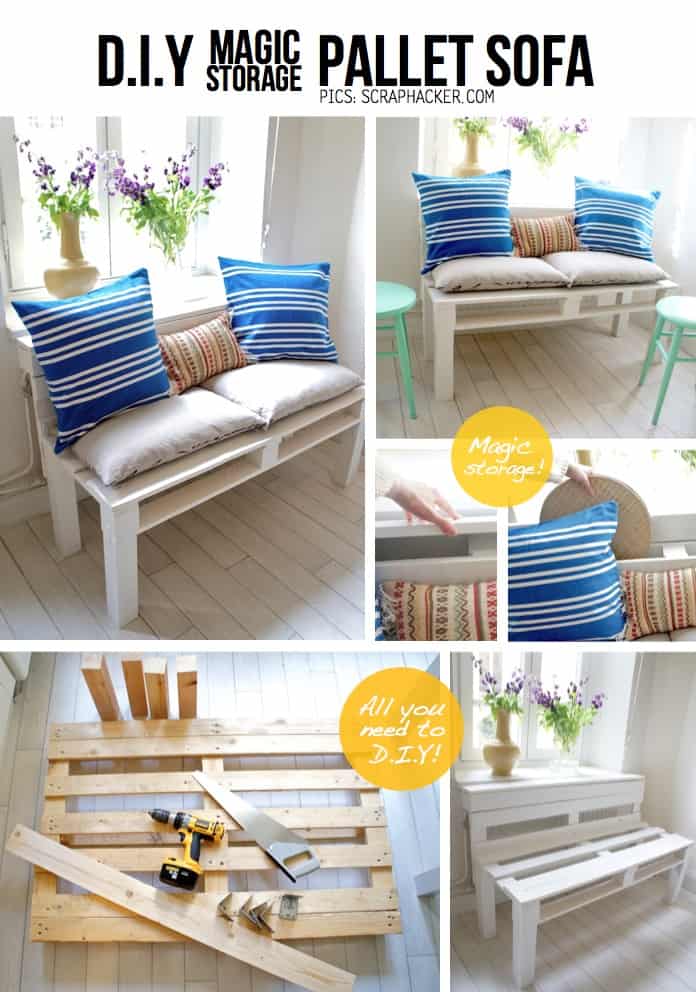 #101. Perfect Pallet Walkway
Create a heavenly pathway through lush vegetation in your garden using pallet wood.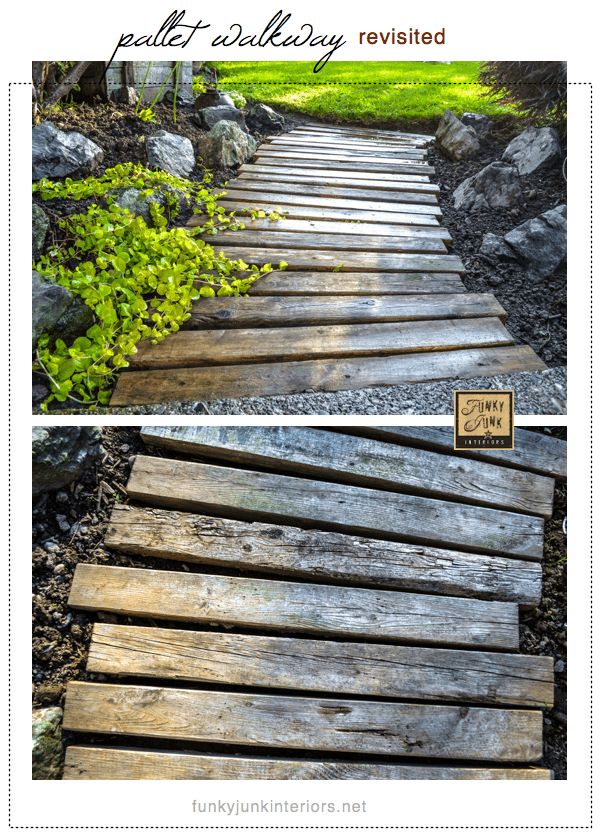 What is your take on the versatility and utility of wooden pallets? Choose your favorite from the 101 pallet projects presented above and share your ideas with us in the comment section below.