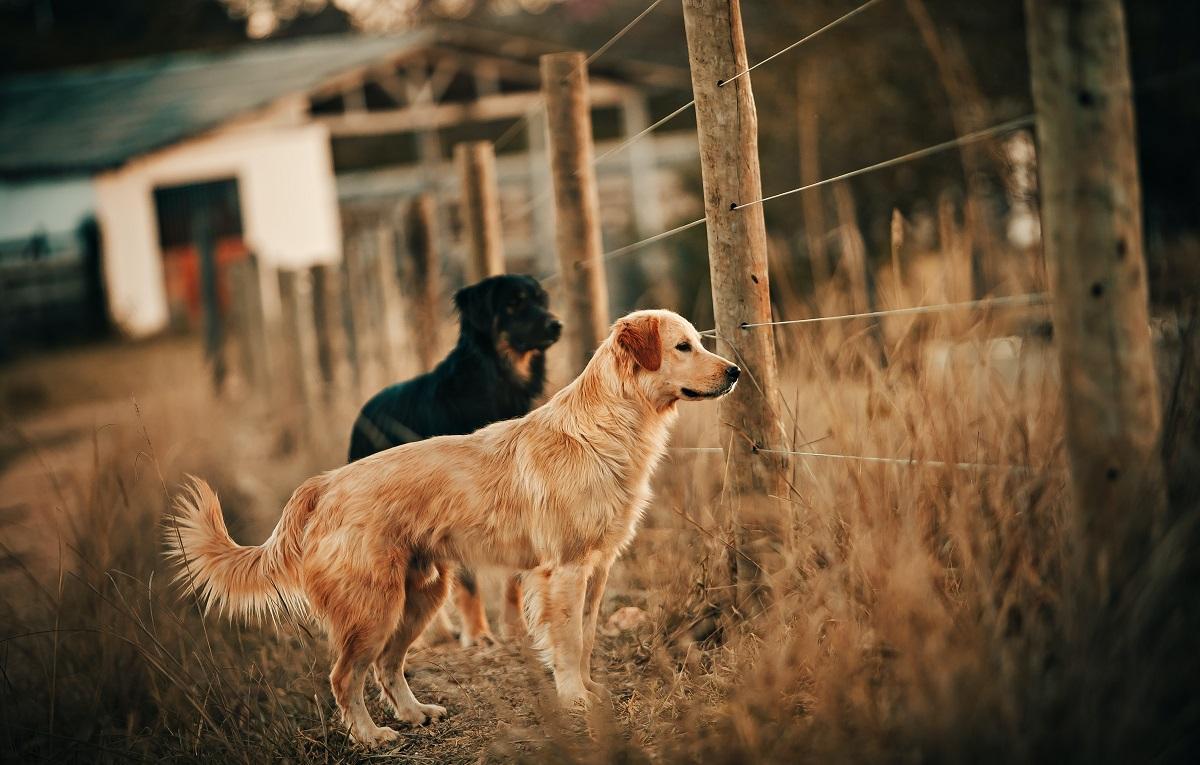 Dog owners are always looking out for ways to keep their pets safe. And a good fence can help out in such cases. 
There are numerous fencing options available today, and some are portable too. These can keep an active dog away from entering busy streets. A dog can be a great escape artist, and that's why you will need to consider tall fences which they cannot jump over. 
Also, there needs to be ample space in the fenced-in area so that they can easily run and play around. However, if you are looking for fences inside the house, you would want an adjustable option. There are options that will allow you to adjust the shape and size of the pen as and when needed. 
In this guide, we will tell you about the best fence for dogs and the factors that you need to consider before installing them. We have also written about the pros and cons for your benefit. 
So, let's dive in! 
Best Dog Fences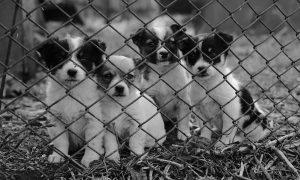 While we are considering dog fences, you can also check out the different kinds of house fences that would protect the house as well as your pet. 
Kinds Of Dog Fences 
Large and small dogs will have different needs, and that should be kept in mind before you purchase a fence. 
Now you can choose among a wood fence, vinyl fence, metal, or a plastic one for that matter. While this is a personal decision to make, ensure that the dog is safely contained and happy. You would not want your pet friend to sulk in a corner, and no pens should make them feel that way. 
Read on to know about the different options available. We have also added in a few examples here and there to help you out.  
 Individuals who prefer to maintain a good looking lawn do not want a fenced-in yard at all times. Portable dog fences will ensure that you can provide them with a similar environment no matter where you go.
You can replace your old existing fence with this as this is an easier option to take around and maintain. It will always keep other animals away, preventing them from reaching your pet. 
Let us take the Amazon Basics Foldable Metal Dog and Pet Exercise Playpen as an example. This type of fence is suitable for dogs up to 20 inches tall. They are made of rust-proof and coated metal, and you can set it up in seconds. Also, it can be shaped in multiple ways depending on your needs. 
Also, check out the New World Pet Metal Pen, which is very similar to the previous model that we discussed. You will not need tools to put the pen together, and you will simply have to unfold and start using it. 
This will work out very well for your puppies and will ensure that they stay in a protected environment at all times. Plus, the coating is prevented from getting rusted, and you can rest assured that it will not harm your pet. 
Now, if you are looking for an option that connects directly with a crate, then the MidWest 552-30DR Metal Pen is a great choice. It keeps intruders out and will provide your pets with enough area to move around and rest. You can place the bed in the crate, and they can have their mini sleeping area. 
Things To Consider 
One of the first things to consider is the space that big dogs will need. These dogs need a larger area to run and play around, and the BestPet Dog Fence will provide them with it. It contains 16 panels that can be connected together in multiple ways, and you can enclose a large area at one time. 
It is made of heavy-duty and thick material that is known for its durability and efficiency. Rest assured that your pet will stay safe inside it. 
Another example of a 16-panel pen is the Nova Microdermabrasion Dog Pen. This is also versatile and can be set up in many different shapes depending on the place. You can use it for your small dogs and cats, and they will always get their own space without disruption. 
Moving on, some might not want metal pens, and for them, there are transparent plastic playpens too. The Tespo Pet Playpen is a great example, and it is pretty sturdy. You can keep your dogs, pet rabbits, guinea pigs, and hamsters here, and they will stay safe. Plus, you can assemble it yourself without taking any additional help. 
Pros
Compact and can be stored easily

No training is needed

Inexpensive option

Works with most terrains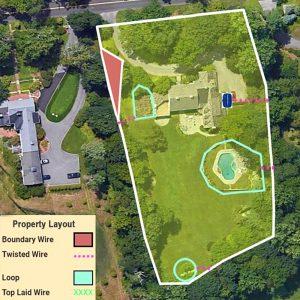 A physical fence may not always be an option to keep your dog safe, and hence virtual dog fences are often used by many dog owners. These do not have any physical privacy fences, but you will be downloading an app and connecting it to the collar. 
Most virtual dog fence apps can memorize up to 10 different areas, and your pet will be warned when they go close to the boundaries. 
Moving on, if you have a large yard, then using a GPS fence will always save you from having to spend loads of money on purchasing physical fences. However, if you have a small yard, then you will probably not need a GPS fence. Please check the homeowners association rules of your area before making a purchase, as many societies might not allow this. 
We believe that physical fences are better on humane grounds as the dog will receive a warning from virtual fences every time they try to leave the area. That can have detrimental effects on their behavior pattern, and they may become afraid to get out of the marked area. 
Things To Consider 
The virtual dog fence will not prevent other animals from irritating or bullying your dog, and hence you need to be very careful. Do not expect the safety of a fenced yard, as anybody can come in to feed your dog, and children can come as near as they want. 
Also, some pet owners may not be okay with using virtual fences in the case of large families living together. Someone might want to take the dog out for a run without realizing that they are in a virtual pen, and that could be harmful to the dog. 
Pros
Works for all terrains

Perfect for large yards

Dogs cannot dig up

Does not need any maintenance
Cons
May results in behavioral changes
Some people do not like adding a barbed-wire fence or a solid one to guard their gardens. However, they look for ways to prevent their dogs from leaving the property, and they use electric fences to do that. 
While an electric fence will not give you the feeling of a fenced-in yard, it will prevent dogs from leaving. Pets, in this case, will have a device in their collar that will be connected to the invisible fence. 
There is also a variant of this that involves in-ground wiring. A trencher is used to put the wire in place, and the dog needs to be trained in this case. 
Things to Consider 
This is a convenient method, according to a lot of people, but we believe that it may not be a humane choice. Also, dogs may develop behavioral issues over time as they may be afraid of the area outside the fence. 
Be it small or big dogs, it can affect them both equally, and they can become moody or annoyed at strangers when you are taking them for walks or going to a local dog park. 
Moreover, an invisible fence does not prevent other dogs from entering the garden, and it can always cause disruption in the yard. Other dogs and humans can disturb your pet, which is again not wanted. 
Pros
Invisible fence

Works for large yards

Does not require any maintenance

For well-manicured gardens
Cons
Inhumane for dogs

Expensive project
If you are looking for an affordable solution to keep your dog protected from the outside world, chain link fences will serve well. They are one of the cheapest ways of creating a fence and will ensure that nobody from outside can come in. 
Plus, chain link fencing will allow your dog to view everything outside easily. There will be no visual barriers, and they can enjoy the outdoor sights the entire day. 
Moving on, a chain link fence is very easy to install, and you can call a professional to do so. The person will be able to install it within a few hours, and you can enjoy the benefits from the same day itself. 
Things To Consider
Chain link fences are not completely safe, and large dogs can jump over them. Hence, make sure that you build them higher. If you are purchasing fences, first take the measurement and then purchase accordingly. 
Additionally, these fences work the best in places with friendly neighbors and small towns. Remember that people will be able to feed your dog from outside, and kids will be able to put their hands in. You should know the neighborhood and its people well before getting a chain link fence made. 
Pros
Keeps the entire garden visible

No training is needed

People cannot get past the barrier

Very little maintenance needed
 Certain dog breeds love to stay indoors, and this is especially true for puppies who are a few months old. On the other hand, some dogs prefer going out for long walks and staying inside the house at other times.
Dog owners, in this case, can get indoor dog fences that will provide them with their own area to run about. Now, you would not want to keep them in the pen all day, but it might be needed to restrict their movement when guests arrive. Also, it can teach them to spend some time by themselves each day. 
For example, if you check out the Yaheetech Play Pen, you will see how it can be used inside the house. There are panels that need to be connected together, and you can always create different shapes like rectangles, octagons, and small squares. You can also use a divider fence to separate 2 pets. 
And if you have a small house, then the MYPET North States Petyard Passage may be exactly what you want. There is a small door on one side through which your pet can come in and out at any time. This will allow them to go in whenever they want, and you will not be restricting their movement. 
Things To Consider 
One of the major things to consider in this case is the empty space that is available inside your house. An indoor fence will require a certain amount of space, and it is important that you measure the area beforehand. Then you can tally it with the fence and go on to purchase it. 
This is a type of fence that can be moved into different areas when needed. You can take it to different rooms, and you can store it too. We will recommend not using this at all times and letting your pets wander. 
Pros
Easy to set up

No training is needed

Perfect for small areas

Cost-effective option
If your dog gets easily distracted by the things that it sees around, then this solid fence would suit your purpose a lot. It can be made of vinyl, metal, wood, and other kinds of solid materials, and the entire area will have to be covered. 
These fences are made of solid surfaces with no gaps or holes in between. It will provide the animal with complete privacy and protection. This option will also keep your dog away from distractions and from being irritated by kids playing around. 
But remember that solid wood fences or vinyl fences are the most expensive option on the market, and you will have to spend a lot if you go for professional installation. In case you are good at building stuff or engaging in DIY projects, then this will turn out to be a fun project to take on. 
Also, if you have a big dog who tends to dig through or jump over fences, then you can apply repellant sprays around the edges. These are usually made of very safe materials like vinegar and pepper, which will keep the dogs from digging or coming too near the fence. 
To prevent them from jumping over the fence, build a tall fence that is high enough so that they are unable to jump. An average height of 4 to 6 feet will be great, and the top could be made at a 45-degree angle. 
Things To Consider
If you are building a tall solid fence with wood, PVC, or vinyl, then it will not be possible for the dog to see anything beyond it. This might be frustrating, and you would not want your dog to feel lonely. To prevent this from happening, you can install a viewing window made of plexiglass right on the fence through which the dog can view the outside world. 
In addition, you can build an elevated platform near the center of the area, which will allow the dog to look at the world outside the fences. However, they will not be able to jump out from there as the wall will be farther away. 
Another reason why building solid fences may be necessary is if the house is present on a busy street or near a highway. These pose a great risk for dogs as accidents are very common on such streets.
Pros
Better security

Perfect for houses on busy streets

For dogs who are not trained

Allows for private space

Kids cannot get past
Cons
Expensive affair

Not portable
Picket fences are a perfect addition to beautiful gardens, and these also prevent dogs from jumping outside. They can be made of wood or metal and then painted over for an added effect. These fences work well with cottage-style houses with a pet inside. 
You can also adjust the height of the fences for dogs of different sizes. Estimate the maximum size that your dog can grow up to, and then make the fence accordingly. Some people use lattice to build attractive fences around the yard, and you check it out too. 
Moreover, a picket fence is a good idea for quaint streets or streets which are off the main road. That is because people can interact with your dog easily, and the neighborhood needs to be safe. 
Things To Consider 
This is a traditional fence design that has been around for ages. It will not need too much maintenance, but people may be able to cross it and enter the space. 
Also, it might not prevent your dog from digging a hole and escaping through it. Keep your dog on a leash for some time if there are kids around who are afraid of the dog. This is applicable for ferocious dogs who have not been trained yet. They can jump over picket fences or use the horizontal bars to elevate themselves and then jump. 
Pros
Very attractive

Will allow your pets to view

Protects dogs and gardens

Can be of various sizes
If you do not want to restrict pets inside a pen, but you want to prevent them from falling off the stairs, then accordion fences are going to be perfect. These form a boundary wall between 2 areas and can be used for doorways and stairs. 
It can be used for room doors to prevent your pet from leaving a certain space. However, since it is not in the form of a pen, the dog will have a larger area to move around.
The PETMAKER Pet Gate is a great example of an accordion fence, and you can use it for doorways and staircases. It contains 4 panels and can easily separate broad stairways too. Plus, unlike traditional fences, it is freestanding and will not need any additional support. 
Things To Remember
Accordion fences can be moved by large dogs who can push them away. Since they are generally freestanding, they will fall over if a lot of pressure is applied to them. 
If you have a German shepherd or other big dogs who are good escape artists, then you can provide for additional protection. Bind the accordion gates on 2 sides with a rope, and that will prevent the gate from moving out of place. 
Pros
Protects dogs from stairs

Allows for a lot of free space

Compact and easy to store
Tips To Remember While Purchasing 
Remember that there are other styles of fences too for the house, and it is on you to make the right choice. Read on to know some of the factors that you can keep in mind while purchasing. 
Spaces Between Rails 
Please check the spaces between the rails well before purchasing metal or picket fences. If you have a small dog and the gaps are large, then the dog may escape through the wires. This can especially happen if they go to chase squirrels that they have located outside the fenced area. 
If you are unsure about the gap, then call up customer care for information regarding this. 
Size 
When installing a backyard fence, you will need to take into consideration the height of your pet. Larger pets can jump over if the fence is not high enough. Also, if they find horizontal bars to support their weight, then they could use that to go up higher and then jump. 
We will recommend keeping a watch for some time after installing the dog fence too. That way, you will be able to understand your dog's actions and take precautions. Spend some time in the yard with your dog and get them used to the closed area. 
In the case of small dogs, you will have to ensure that there is no space left below the fence. This would give them ample area to escape, and you would not want that. 
You can also use a dog repeller near the boundaries to help them practice not going near the edge of the fence.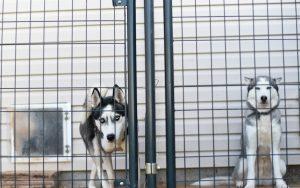 Final Words 
Both smaller dogs and larger dogs need some form of training if you are going to use low ones or electric and invisible fences. When it comes to the electric and GPS-operated ones, the dogs receive a warning through loud sounds or a static vibration. 
They can act as negative stimuli if your pet is not trained well. But then you do not have to purchase fence materials, and it will be about half the cost when compared to solid fences. 
However, if you have a small yard, getting a portable or a metal fence is going to be your best bet. You can also indulge in craft projects and build them a nice house. 
Dogs do not need training for this, and you will be able to use it safely. Let us know about any further queries that you may have in the comment section below. 
Until next time! 
Related Articles 
Best Fence For Noise Reduction
13 Best Solar Electric Fence Chargers
10 Best Electric Fence for Chickens
7 Best Electric Fence Chargers
12 Best Ultrasonic Dog Repeller
37 Awesome and Cheap DIY Pallet Fence Ideas to Realize Swiftly
How To Build A Horizontal Wood Fence
Get Creative With These 23 Fence Decorating Ideas and Transform Your Backyard
6 Best Miele Vacuums For Cat, Dog, And Pet Hair