Do you love enjoying some "me-time" with your family in the backyard? Well, it's time you install a fence in your backyard.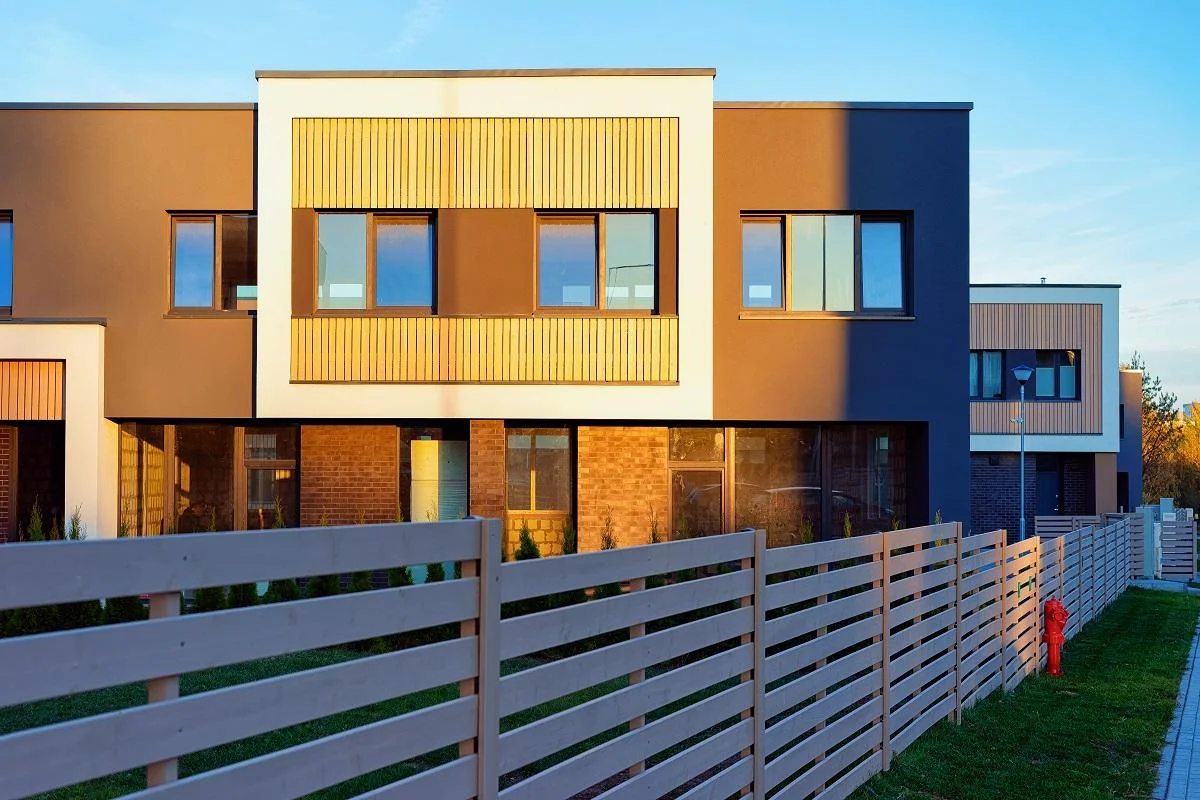 Having a fence installed on your property can enhance its aesthetics and protect it at the same time. It prevents the neighbors from peeking into your property and also keeps your yard safe from brutal weather. Also, it keeps pets safe from accidents. 
While installing a fence on level ground is an easy task, it is quite complicated when it comes to sloped yards. And that's why most homeowners avoid installing a fence in their backyards. 
But, luckily, there are some great fences designed exclusively for homes having a sloped yard. On top of it, you can get fences installed in the yards without costing a fortune. 
With that being said, we are letting out some of the great fencing ideas for sloped yards that homeowners can consider and build the yards of their dreams. 
So, let's get started! 
Best Fence For Sloped Yard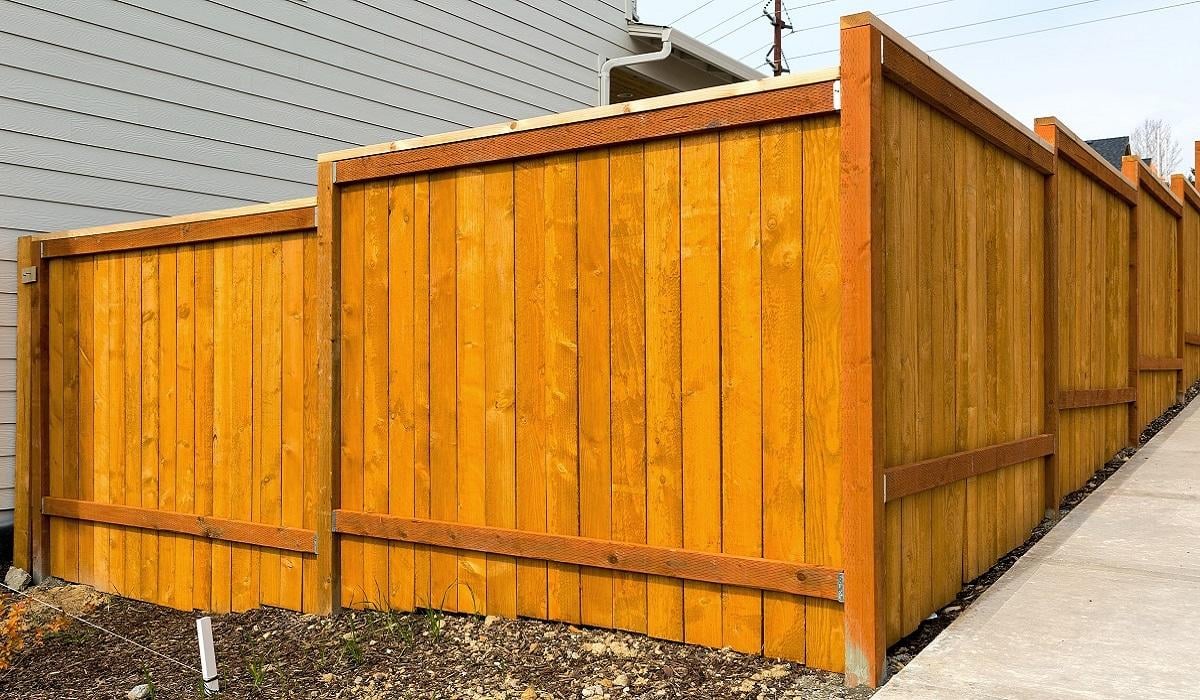 1. Racked Fence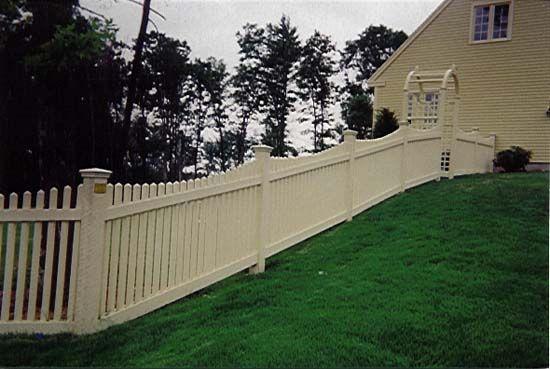 Looking for fences that are easy to install on sloped yards? Well, racked fences might be the one for your yard. With rails matching the slope of the ground, this fence doesn't leave any gaps at the bottom surface. 
What's great is that these fences consist of posts that are identical in height which makes them easy to install on sloped yards. 
On top of it, it comes in premade panels which makes this an excellent option for homeowners willing to install fences all by themselves. Mostly, it is prefabricated in polyvinyl chloride (PVC) or aluminum. However, the rackable panels can be custom-built in any material you want. Thus, you get the freedom to use racked fences as you wish. 
That said, racked fencing is one of the most popular options among homeowners who own a house on the hills. 
2. Stepped Fence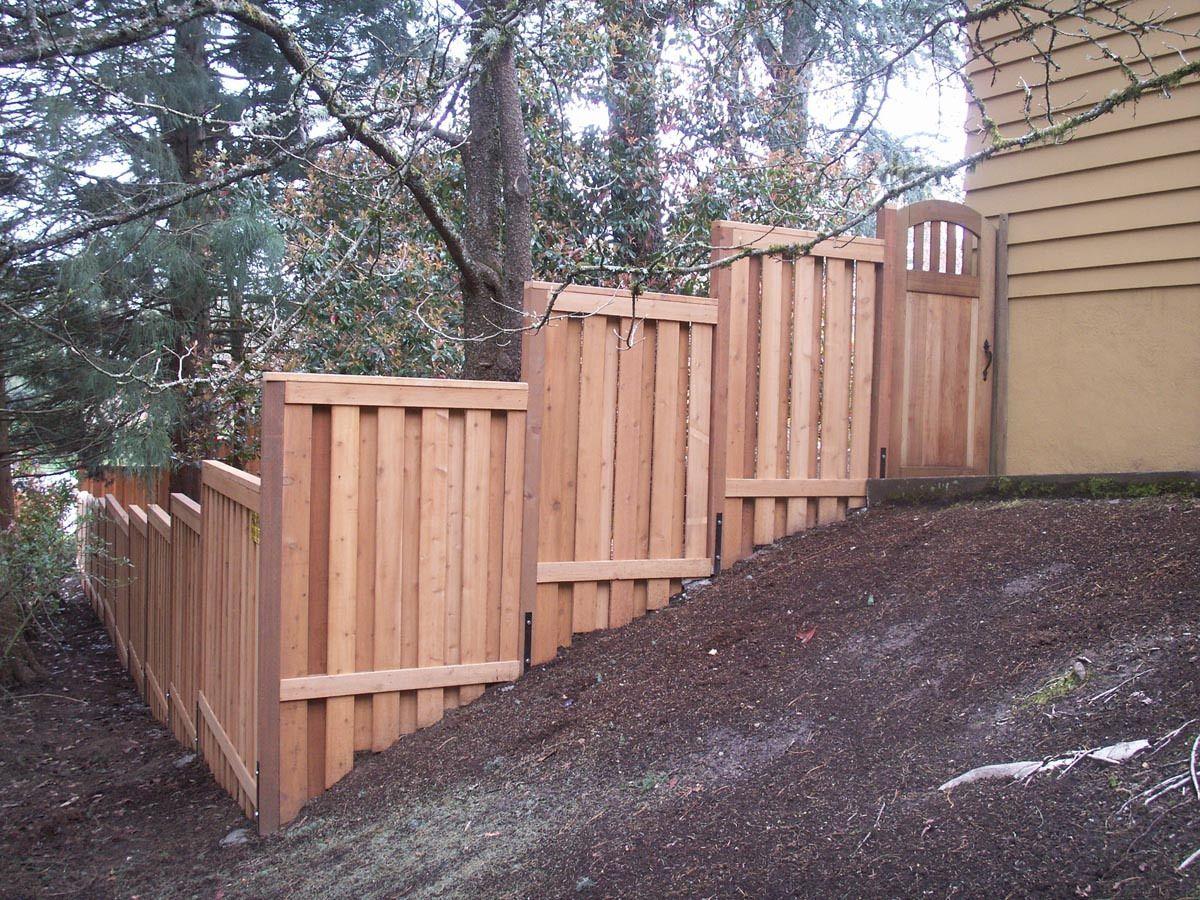 If you're looking for fences that you can position alongside raised planters, stepped fences are the best bet. Since it goes down the slope in a sequence of steps, it accommodates every section of the slope. 
The pickets used in stepped fencing are either taller or shorter than those next to it. Thus, this arrangement makes it look like the steps of the staircase. 
Most people have observed that stepped fences have gaps underneath them which means small animals can creep into the yard. On top of it, your beloved pets can also sneak out from the gaps. 
Luckily, you can fix this by positioning raised planters next to the fences. Apart from filling the gaps, the planted flowers and shrubs will make your yard aesthetically pleasing. 
Or, you can trim the foot of each fence to match the ground as precisely as possible. However, if this seems much of a task, you can use chicken wire and cover it using a row of bushes. 
3. Straight Fence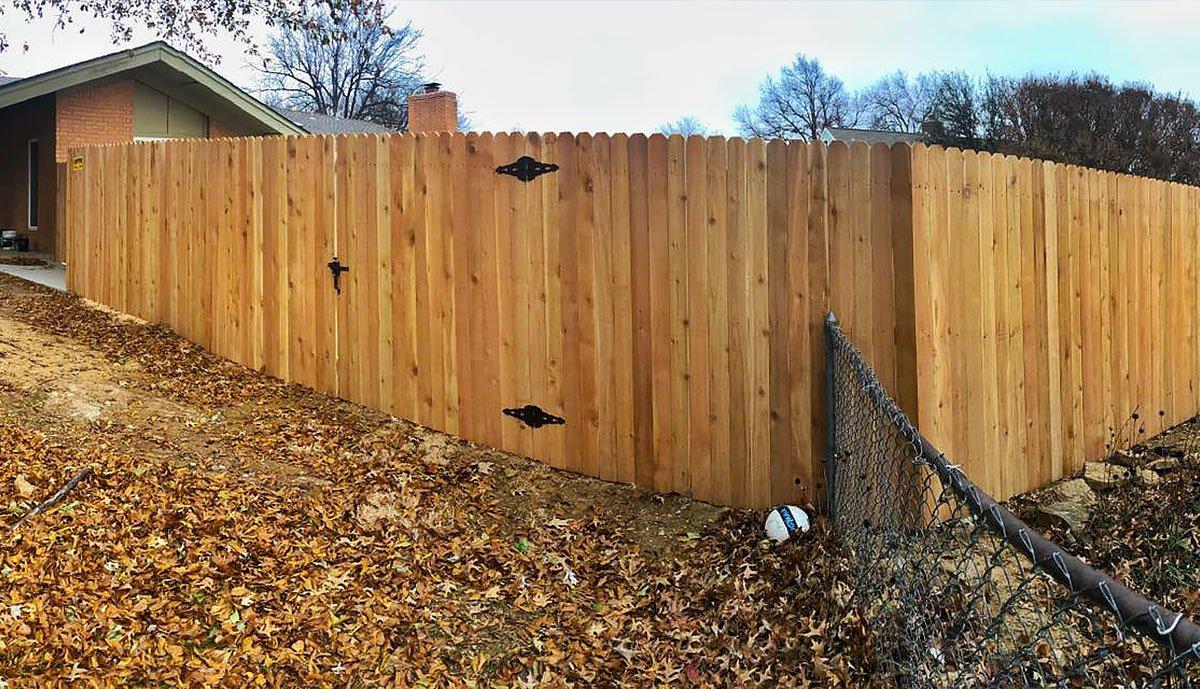 If you're looking for DIY fencing options, you can never go wrong with straight fences. So, whether you have a flat yard or a sloped one, this is your go-to pick for fencing yards. 
However, if you're planning to install this fence in the sloped yards, keep in mind that it leaves large gaps on significant slopes. So, those having kids and pets must make sure to plant raised beds of shrubs or flowers next to the fences. This will make sure your kids and pets are safe in the yards. Though an excellent option for sloped yards, it might not be ideal for yards with a higher gradient. 
4. Wood Privacy Fence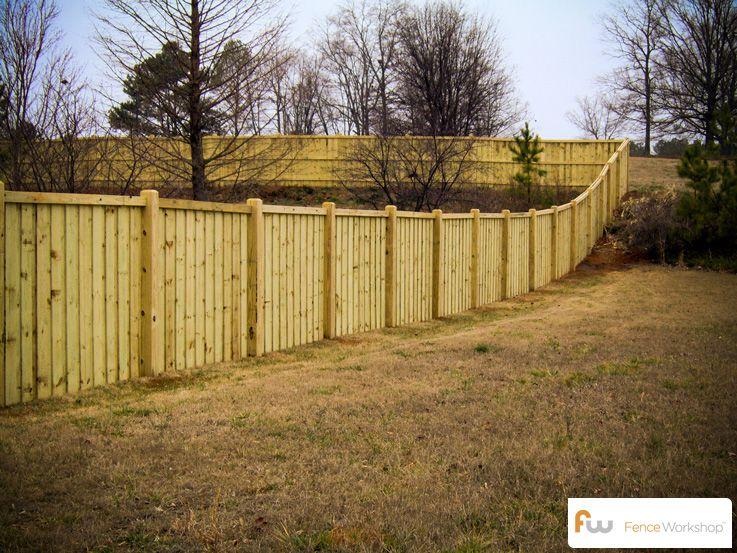 If you're looking to add style, class, and elegance to the yards of your home, wood fences are the best bet. 
Besides adding elegance to your property, they cover the space well, adding to the privacy. Thus, you can enjoy barbeque dinners and Sunday brunches without worrying about anyone trespassing or invading your privacy. 
However, you must keep in mind that wooden fences require maintenance to keep them in perfect condition. That's because the elements may damage the wood or change its appearance. 
That said, we suggest painting or staining the fences as it would prevent the wood from getting damaged. Also, make sure you invest in high-quality wood as it will last for the coming years. 
5. Wrought Iron Fence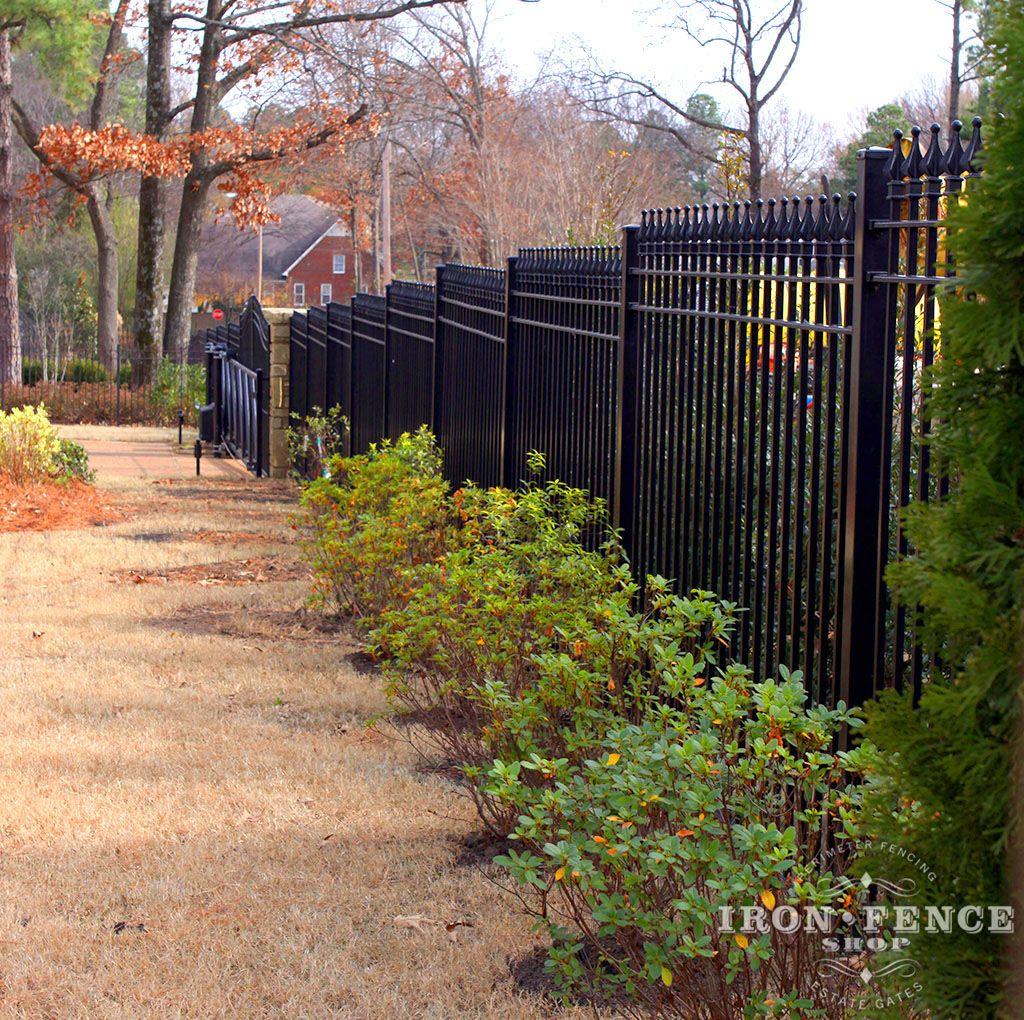 Wrought iron fences are great for fencing both commercial and residential properties. That's because they add elegance and sophistication to the yards. 
Though they are usually available in black, you can get them customized in black or white color as per your liking. Thanks to the traditional-looking design of this fence, they mark boundaries perfectly well. 
Thin and tall, they have intricate details and medium gaps that make them perfect for all kinds of properties. Though they are an excellent option for security, it doesn't provide as much privacy as wood fences. 
6. Vinyl Fences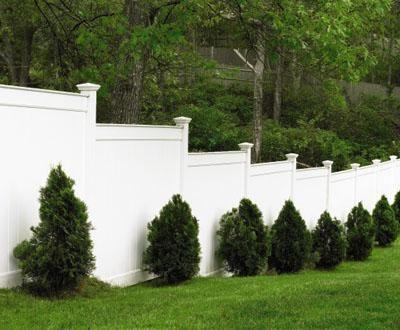 Looking for fencing options for your sloping yard without burning a hole in your pocket? Well, vinyl fences might be the one for you. Because it is available in a wide variety of designs and styles, rest assured you'll get one that will fit the style of your backyard. 
Vinyl fences have become popular because they require minimal maintenance. Thus, this makes it a perfect alternative for wood fencing. Also, if you are a pro at DIYs, you can install it without any help from professionals. 
However, before you order vinyl fences, keep in mind that they mustn't be installed during winters as they become fragile during cold weather. Also, they cannot withstand any heavy impact, so they will get damaged easily. 
7. Metal Fence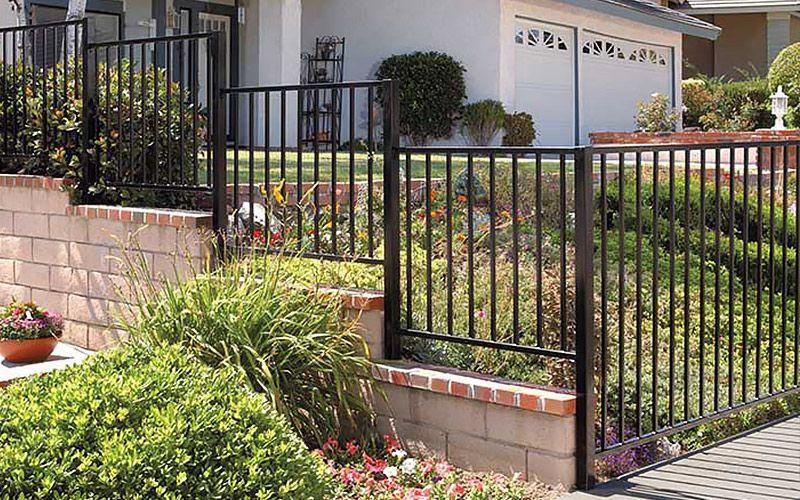 Trendy and unique, metal fences don't require much maintenance, and that is why it is one of the most popular options among property owners who want to install fences on their sloped yard. 
Also, they are tough and long-lasting, which means that they will be able to withstand the ravages of nature.
And if you think corrugated metal roofing is the only option for metal fencing, think again. That's because you can also get metal posts and panels exclusively designed for fencing sloping yards. 
Thanks to the variety of styling options, you can get your hands on one that will add to the elegance and privacy of the yard. 
8. Bamboo Fence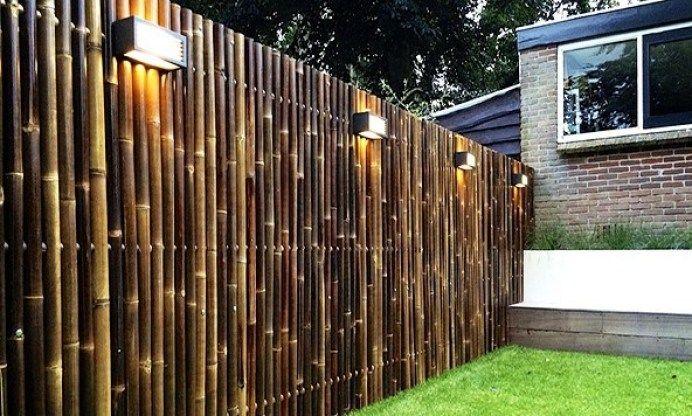 Lightweight and sustainable, bamboo fences are available in a variety of styles and textures. Mostly, they are used to make barriers in yards and fields. 
Regardless of whether you're looking for sheet rolls or prefabricated panels, bamboo fences have them all. So, rest assured, you wouldn't have any issues while finding one for your yards. Those looking for easy to install bamboo fences must go for prefabricated panels of bamboo fences. 
Like other fencing options, bamboo fences also require slight care and maintenance. That said, if you install bamboo fences, make sure they don't get drenched with water, or they will rot. However, you can increase its longevity by painting it with transparent or black tar. 
Thus, if you want to add a rustic tinge to the yards, then bamboo fences are the right ones for you. 
9. Chain Link Fence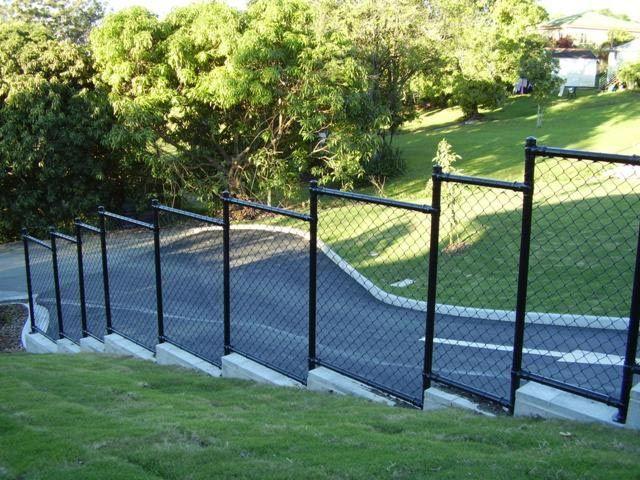 If you are scouring for fencing options that work well on uneven ground, a chain link fence might be an excellent option that you can consider. Not only is it attractive, but it is highly functional. 
Installing a chain link fence yourself isn't an easy task, so we suggest you hire a professional to get the job done accurately. Thanks to its durability and strength, it is perfect for homes that have pets and children who play in the yard. 
Though made out of metal, it is powder-coated, so you need not worry much about its maintenance. Also, it will last for the coming years as it is resistant to the elements. This makes it an affordable option for all the property owners out there. 
10. Traditional Privacy Fence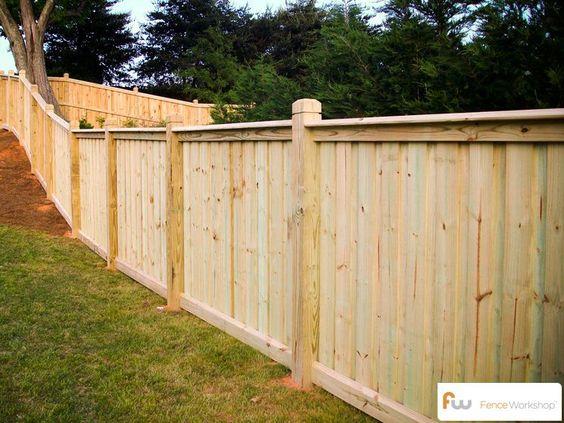 Have a traditional-style home? Then a traditional privacy fence will seamlessly blend with the design of your space. With dozens of timeless styles and designs, the traditional privacy fence is available in a wide variety, so property owners can choose the one they want. 
So, if you're choosing fences for your sloped yards, going for fences that have round curves will be the best bet. Also, you can go for scalloped or arched fence designs because they have smooth curves. 
Though you can DIY this fencing option, we suggest going for prefabricated panels. This will not only save time but will also be easy to install. 
11. Stone Or Brick Fence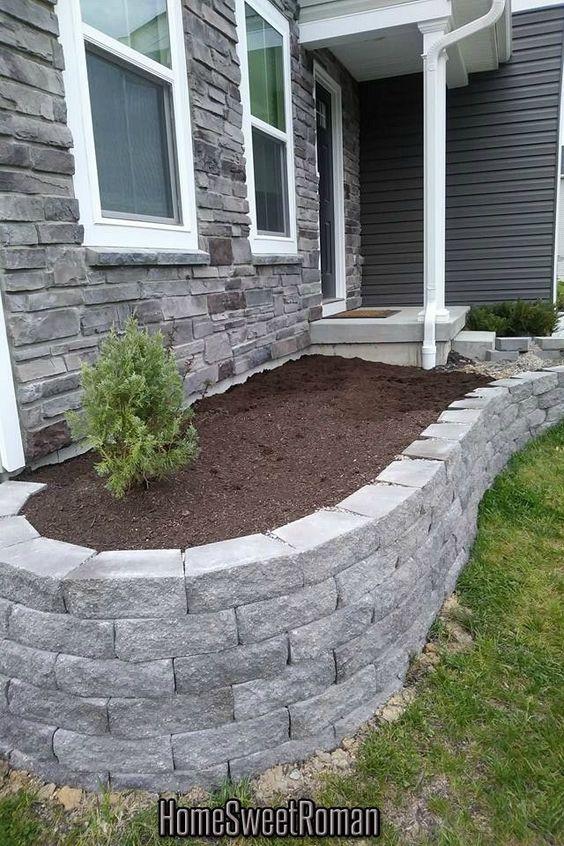 If you're a property owner looking for a highly durable fencing option for sloping yards, the stone or brick fence will be an excellent option that you can consider. 
Thanks to the zillion colors, designs, and styles available, you can easily get one customized to suit your needs. Apart from durability, it adds to the beauty of your yard, and that is why it isn't budget-friendly. 
Thus, it isn't an ideal pick for those on a budget. However, if you can spend a tad more, this might be one of the best fencing options for your safe haven. 
12. Trees And Shrubs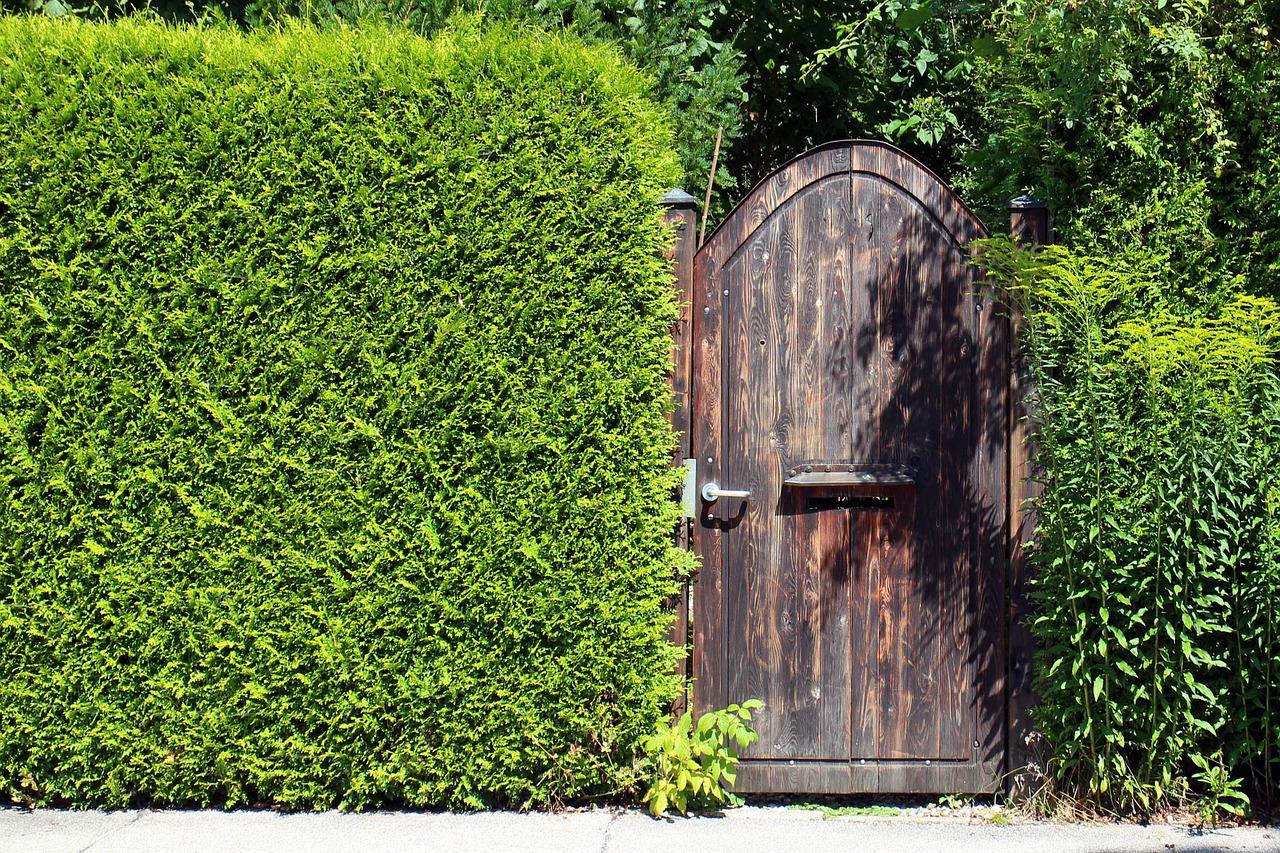 Are you bored of traditional fencing ideas and looking for something unique for your yards? Then we suggest using trees and shrubs for fencing sloped yards. 
Unlike other fencing options, trees and shrubs are easy to use. All you need to do is use some shrubs in clumps, and you'll be done. Thus, we suggest using cypress, juniper, boxwood shrub, to name a few. 
Moreover, this type of fencing is virtually free from maintenance. Apart from regular pruning and taking care of plants, you need not do anything. 
13. Horizontal Plank Fence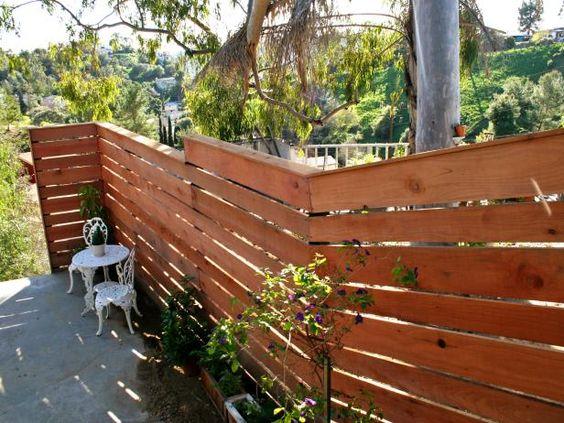 In search of fences that will let you enjoy "me-time" in the backyard without any interruption from strangers? Then you must consider installing a horizontal plank fence in the yards. 
Since it is available in a wide variety of styles, you can easily choose the one that allures you the most. On top of it, you can even get the fence panels customized to your liking. 
What's great is that installation isn't a challenging task. As such, you can have it installed quickly without any hassle. Also, those owning large areas are in for a treat as it is one of the most affordable options available on the market. 
But that's not all; it is relatively easy to maintain and can last for about 10 to 50 years. You can also stain it to blend it with other furniture of your yard. All in all, this is one of the most cost-effective options that you can use for the sloping yard of your property.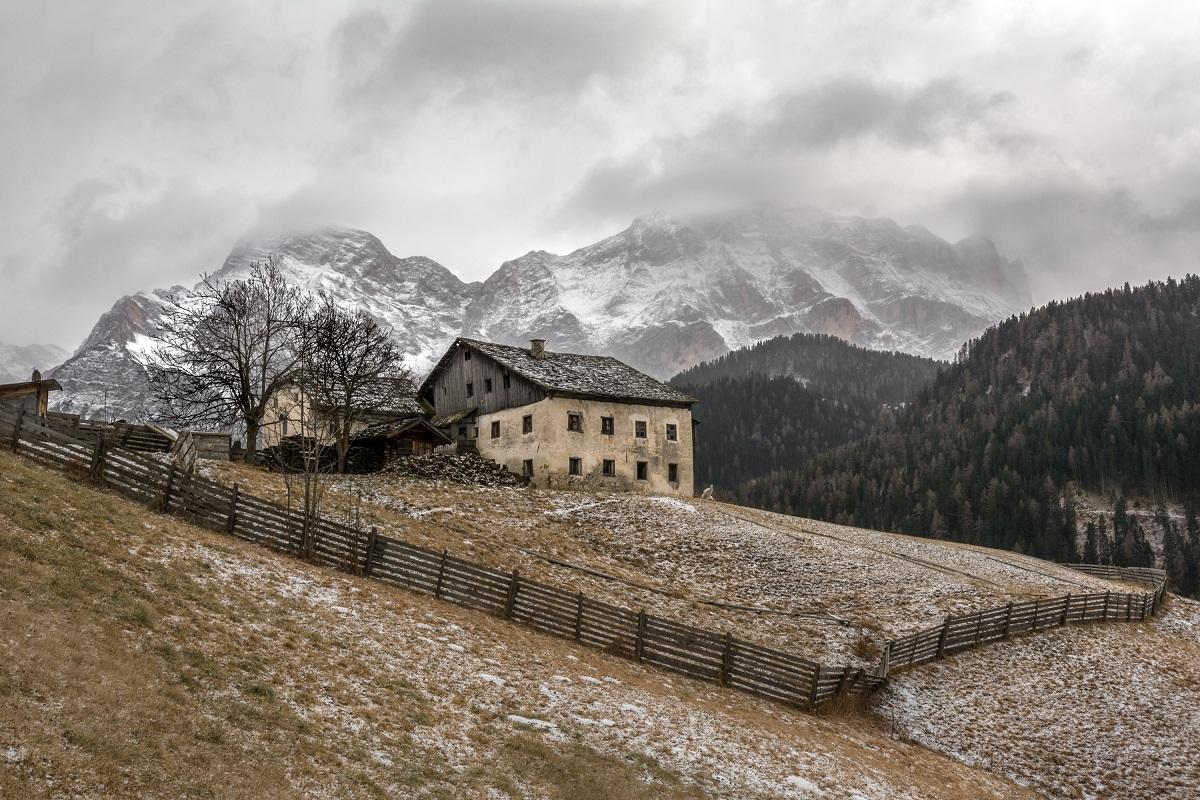 Final Words
Phew! That was a lengthy guide on fences that you can install on slopes. 
To be precise, the basic purpose of installing a fence is privacy. However, fences also come in handy for keeping your pets and kids safe from accidents. 
With that, we come to the end of our informative guide. We hope you enjoyed reading this guide as much as we enjoyed writing it for you. However, when you're selecting a fence, make sure you go for durable material so that it will last for the coming years. 
Be sure to let us know which fencing option you went ahead with. Till then, stay safe and take care! 
Related Articles 
Best Fence For Noise Reduction
13 Best Solar Electric Fence Chargers
10 Best Electric Fence for Chickens
7 Best Electric Fence Chargers
How To Build A Horizontal Wood Fence
Get Creative With These 23 Fence Decorating Ideas and Transform Your Backyard
26 Insanely Cool Garden Fences Ideas to Materialize This Summer