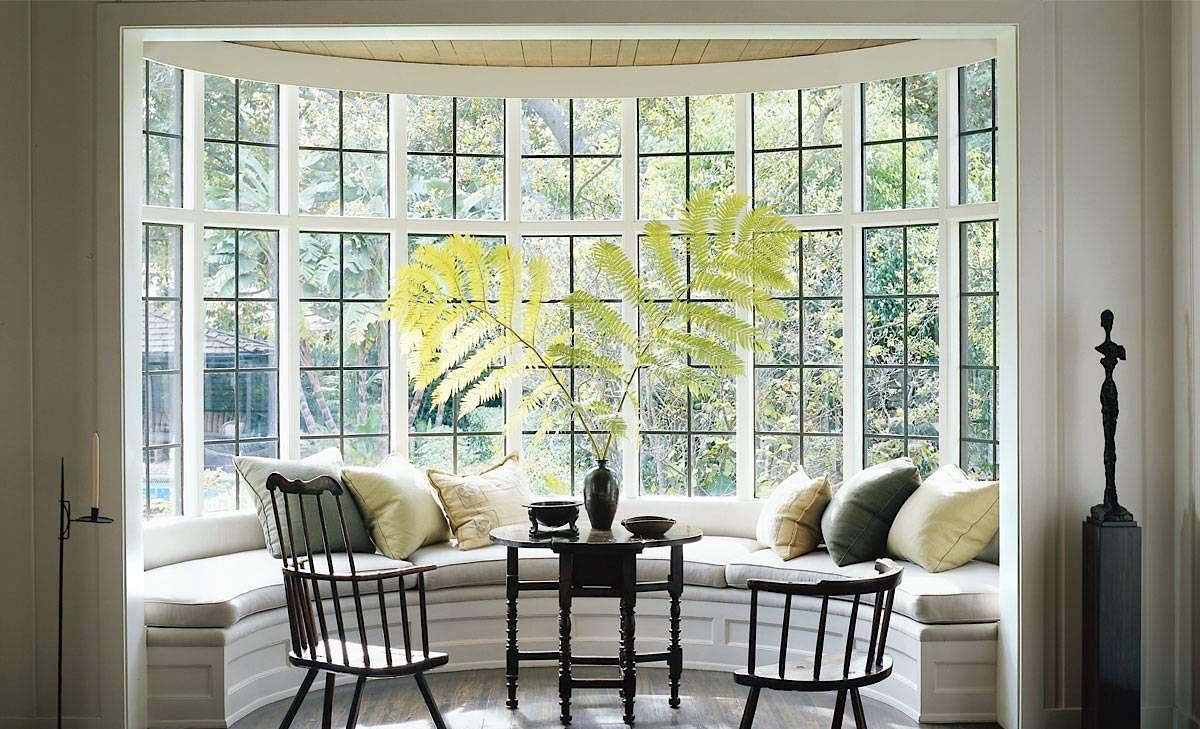 There's no denying that bay windows are architectural marvels. But because of their odd shape, they present problems when it comes to putting on drapes. 
It is mainly because of their shape protruding out of the walls that finding the right curtain can become such a task. That said, when there's a will, there's a way! Many to be honest. 
In this guide, we present the best methods and designs that you can implement to make the bay windows in your house stand out. They are applicable to new bay windows and also if you are decorating existing ones. 
How To Identify A Bay Window? 
Before we can look into how to solve bay window curtain problems, it is important to understand what constitutes bay windows.
An easy way to identify a bay window is by checking whether the window panel is sticking or protruding from the wall. The main reason why these windows are built this way is to make way for natural light to flood your bedroom or dining space during the day. They are more like an extended balcony but are not actually separate from the room that they are in. 
Some people simply use it for decorative purposes and for the way a bay window adds a Gothic feel to the room. If you look back, you will see that people installed bay windows years ago, mostly during the Renaissance period. Today, the designs are slightly modified, and the right window curtains can turn your bay window space into a beautiful corner. 
You are most likely to have a bay window in the bedroom as that allows you to create a cozy space. But again, for this, you need to implement the best curtain ideas. 
How To Solve Bay Window Curtains Problem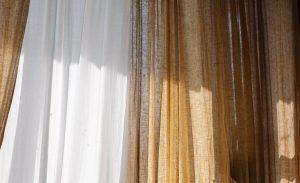 Best Bay Window Curtain Ideas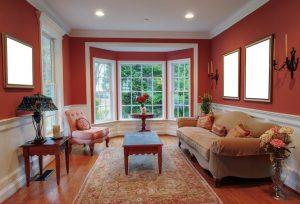 Unless you have had bay windows in the house before, it is understandable if you are struggling with decorating it. When you read the guide, you will have a fair idea about how to use a bay window curtain and understand how to deal with other difficult window setups. 
To dress a bay window, there are three primary ways that you can go about it. Let's look at what they are.
1. Using Custom Shades For Each Section 
If you decide to go with this kind of arrangement, it is best that you look for roman shades for every specific window part. This way, you hang curtains separately and can operate them with much ease. 
The rods won't be overburdened with the weight of the curtains, and you can better adjust the amount of light that enters your room. In this setup, all the windows will have separate curtains, and you can use individual windows as and when needed. 
2. Installing Curtain Rod 
Unlike the previous setup, in this one, you treat the bay window as an entire unit and install a single curtain rod. Then, you have to hang drapes of your choice and install the entire unit in the cased opening of the bay window. 
3. Use It Like Standard Windows 
If you are too tired and do not want complicated solutions, you can install a regular curtain rod outside the window frame. All you have to do here is ignore the window bump and treat it like standard flat windows. 
However, an interior designer would suggest against it as it would completely eliminate the looks of the three windows when the curtains are pulled. Differentiating it from any other windows would become difficult in a situation like this. 
Best Way To Style Bay Windows 
1. Living Space Bay Windows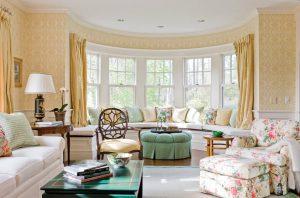 When decorating the bay window in your living room, it is essential to keep a few factors in mind. In most of the houses that come with bay windows in the living room, we have noticed that the room is done in a traditional style. 
If it's the same with you, ensure that the curtain ideas that you have in mind go with the rest of the décor. The drapes should not be sticking out like a sore thumb, so long flowy curtains that are trimmed near the ceiling would actually look pretty great. 
Moreover, it is always a good idea to match the curtain colors with that of the wall. You don't have to match it exactly, but you need to ensure that they look good against the wall.
2. Bay Windows In The Bedroom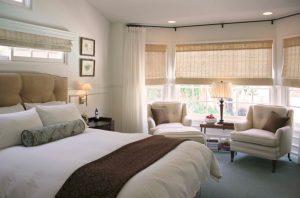 Bay windows in the master bedroom are one of the most beautiful things to have as it allows natural light to enter unhindered into your room in the morning. To make the most of it, some people even install floating shelves where one can put their plants or sit in the morning. 
This creates an inner frame, and you can simply use this space as a table or desk. However, for this setup, the curtain panels need to be like standard windows. There is no need to follow the window frames, and it is best to keep the curtains flush against the wall. 
Remember that this can be your cozy corner to have a summery feel all year round if the sunlight is right. We would suggest that you hang curtains that are light in color and weave so that there is a breezy feel to them. 
When installed in the bedroom, bay windows can sometimes help in expanding the floor area too. Plus, you get some space to put in additional seating arrangements. 
In this case, the curtain rods go across; you can even hide the bay windows from direct view when you want to. There are many people who prefer this kind of conspicuous décor that enables them to create a private space in their master bedroom. 
3. Bay Windows In The Dining Room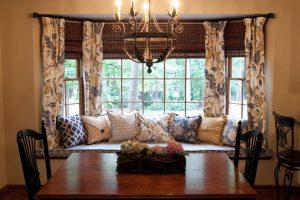 There's no doubt that a bay window in a dining room adds a beautiful rustic look to the décor. But in order to make the most of it, it is essential that you install the right bay window curtain rods. 
From our experience, we can tell you that making the curtain panels follow the shape of the window is a pretty challenging task. However, if you are interested in getting the right look, it is best to install rods for three or four curtains depending on the shape of your bay window. 
4. In Small Living Rooms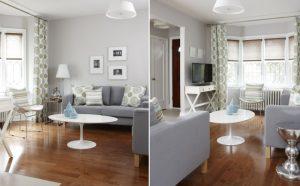 A bay window in a small living room is a blessing as it gives an illusion of a larger space. Putting the radiator just below the window can ruin the décor a little, but that won't happen when you use the curtains in the right way. 
Hang curtains of the right shade and print, and you will see that this part of the room will soon become the most liked area. However, when installing the curtain, you have to take note of a few things. 
Place the curtains higher so that they do not touch the floor or occupy any floor space. Also, we would suggest that you do not use dark curtains as that might make the space look even smaller. 
5. Bay Windows As Reading Corners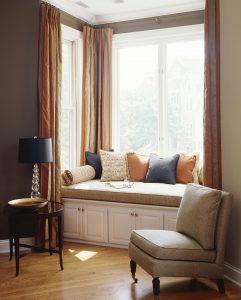 Book lovers usually look for a quiet corner to read anywhere in the house. Sometimes you will find them by the arched windows, and at other times they will be nestled on the couch. 
But if you have a bay window, you can make the most of it for this purpose because in case you have two windows, that will make for the perfect corner. So, install the curtain rods accordingly and pick the drapes of your choice. What's more, some cushions and throws would only enhance the look and make you feel more comfortable as you finish reading the latest thriller. 
6. Decorative Large Bay Windows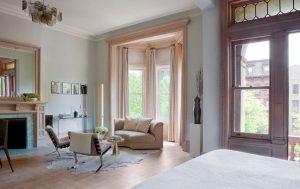 Large bay windows can significantly amp up the décor in your room as they let ample natural light filter through. 
However, you need to keep in mind that the fabric that you use for the curtains is not too thick to let the light in. But it might be the case that you don't want excessive light throughout the day. 
In that case, it is best to put two drapes. Hanging more than one curtain always adds to the beauty of your room because it introduces extra texture and depth. 
It is best to have at least one sheer fabric for the drapes to make a space feel airy. Plus, when you are hanging curtains for large bay windows, it is essential to keep in mind that the curtains are likely to be long. Meaning, you need to install the curtain rods keeping this factor in mind. 
Because of the length, the drapes are likely to be heavy, and you need to install curtain panels that can handle their weight without breaking. 
7. Dining Area With High Ceiling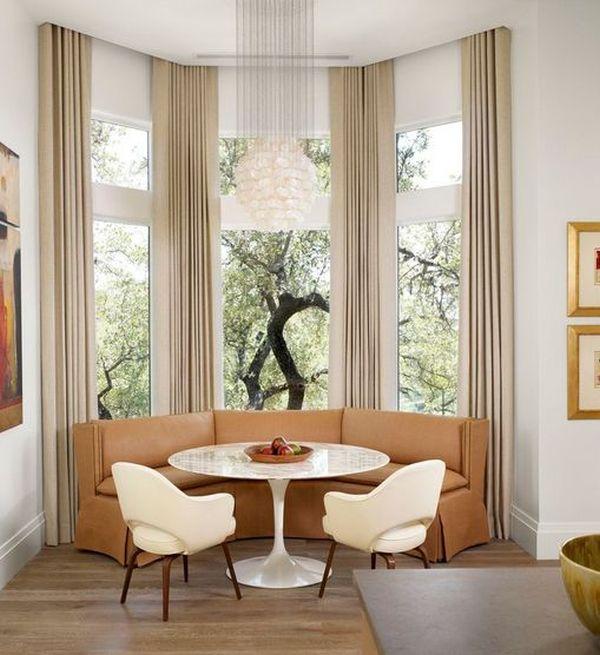 Having a bay window that reaches the ceiling in your dining space can significantly add to the décor in your house. The extra space you have because of the bay windows can be used to have breakfast with your family. Not to mention, if the windows overlook the lawns, your morning will just get better. 
The problem, however, arises when you have to install the curtain rods. If they are visible very close to the ceiling, they might look a little out of place and ruin the décor. 
To tackle the situation, it is best that you hide the panels behind a false ceiling to make the units look more stylish. 
8. Introducing Wooden Shutters To The Bay Windows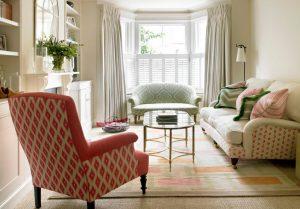 In case you are planning to put wooden shutters to the bay windows in place of curtains, there are a few minor changes that you would have to keep in mind. The best thing to do is divide the panels and divide it into two parts and place the wooden panels accordingly. You can use wooden blinds too, which would let more light in. 
When putting wooden shutters, the point to keep in mind is to ensure that there is symmetry and that the shutters don't look forcibly placed. They must look natural and blend in with your existing décor. 
As an interior designer would tell you, wooden shutters for bay windows are great from both modern and traditional forms of home décor. So, there's no way you would go wrong with it. 
9. Turning Bay Windows Spot Into A Bar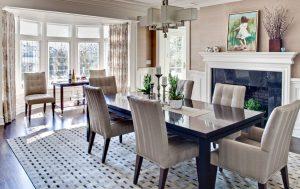 The extra protruding space that you find in your family room because of the bay window can be used to put a small coffee table or be turned into a small bar. 
When it comes to installing curtains to these types of bay windows, it is essential to look at what kind of bay window you have. There are mainly two types of bay windows, one that comes with angular windows and the other that has smooth and delicate curves. 
In case you have a smooth bay window curve, you simply need to install a flexible curtain rod. This is a great idea to make your room look bigger. 
10. Valance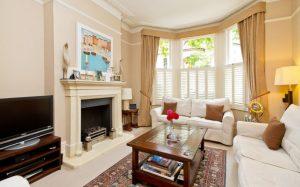 There's no denying that if you plan on installing a valence to your window frame, operating the curtains would become a lot more simple and smooth. However, you need to keep in mind that it does not go well with all kinds of home décor. 
It is best that you think about going for it only if the rest of the décor in your house is done in a traditional manner. Moreover, it is important to note that it would make your window frame look a bit bulkier. It might even give an impression of narrow windows to your visitors. 
Best Bay Window Treatments 
When you think about the best bay window treatment ideas, you need to consider two things: light management and privacy. The kind of window treatment you opt for would be determined primarily by these two factors. 
In this section, we will look at some of the best window treatment ideas that you can implement to make the most of your bay window. 
1. Practical Ideas For Window Treatment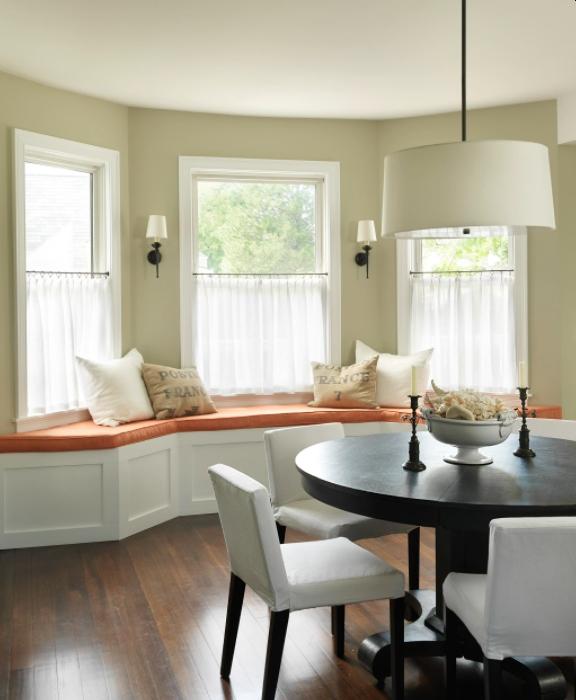 If you want to make the most of the bay windows, you can even consider putting half curtains on them. It's true that it won't enable you to manage sunlight much, but rest assured that your privacy will be preserved. 
In this setup, the upper portion of the bay window will be empty. And in the lower half, you can put bright curtains that would protect your privacy, all the while allowing enough sunlight to filter through during the day. 
2. Double Bay Window Treatments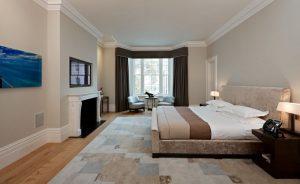 Why stick to a single bay window treatment when you can introduce more than one element? If you are feeling confused about what we are talking about, let us break it down for you. 
You can combine different types of window treatments by adding layers and depth to your décor. For example, you can install two curtain panels. You can put on roman shades in one. And in the other, you can hang curtains of your choice. 
When you opt for this kind of setup, we suggest that you hang the curtains from high up in the ceiling to make the windows look larger. Remember that you have to install the curtains and roman shades very carefully to make sure that your space does not look congested. 
3. Bold Designs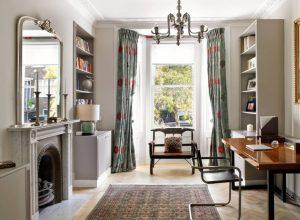 When there is a bay window in a room, there's no doubt that it is one of the most attractive features. If the rest of the room is done in dull tones, you can always add freshness to the room by introducing bold curtains to your bay window. 
We would suggest that you go with floor-length curtains with flashy and bold patterns on them. This would surely turn this space into a focal point in this room, and you will always find your guests flocking to this part of the house. 
4. Window Treatment For Kids Rooms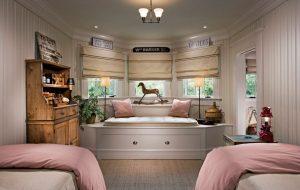 The way to beautify the bay window in your kid's rooms will be significantly different from how you do it in the kitchen area. 
For your kid's room, we would recommend that you keep the designs simple and fun. Majestic curtains are not very suitable for children's rooms as they would take the 'fun' element out of the window. But make sure that the drapes are not too thin and do not let too much light in when they are pulled. 
Heavy curtains are essential to let your kids enjoy their nap time without being disturbed by light. Thick curtains completely eliminate the need for installing additional shades. When you install shades, your kids might be hurt because of their cords. 
In case you have installed window seats, ensure that the curtains end right before them. This way, your kids will be able to sit on them and play. They can also display their favorite stuffed toys on these seats. 
5. Strength In Unity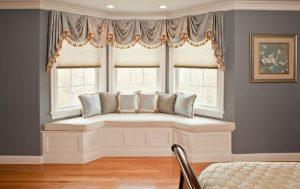 There's no doubt that bay window curtains mostly look the best when they appear as a single unit. However, installing a single curtain panel is not always possible as some bay windows are quite angular in shape. 
If you are in a similar situation, you can install the curtain rods in a fashion that they look as if they are a single unit. The same is true if you are planning to put on roman shades or woven rattan. You need to ensure that they are installed outside the molding, and all the single units meet at the edges. 
In order to make things look more smooth, you can even consider putting a valance to give a holistic touch to your bay window unit. This would also make operating the curtains or the roman shades a lot simpler. 
6. To Add Subtlety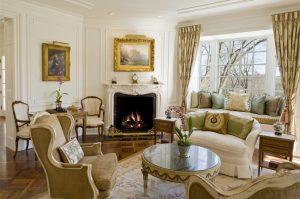 It is not always essential that you make the bay window space the highlight of the room by adding bold curtains to it. If your room is already filled with many artifacts and other standout elements, you can use the curtains to complement the existing décor. 
An interior designer would recommend that you use curtains in pastel shades and light textures. Try not to use colors that are in contrast to the walls. Your major aim should be to allow the curtains to easily blend with the décor and not stand out. 
To help it complement your room better, install curtain panels and rods a little high above the window. This would highlight the room's height and curves better. 
7. Individual Bay Window Treatment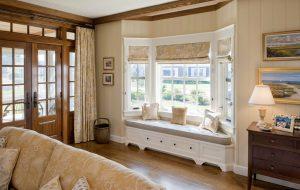 In case you want to highlight the architecture in the room, it is likely that you would decorate the bay windows as single units. For that, you need to put the curtains or the roman shades inside the moldings so that they do not touch at the edge. 
This kind of design will also make sense if there is a wall that separates the windows. In that case, you would have to treat the windows accordingly. We would suggest that you keep the window treatments the same for all windows so that they display a sense of continuity even if you treat them as separate units. 
8. More Decorative Ideas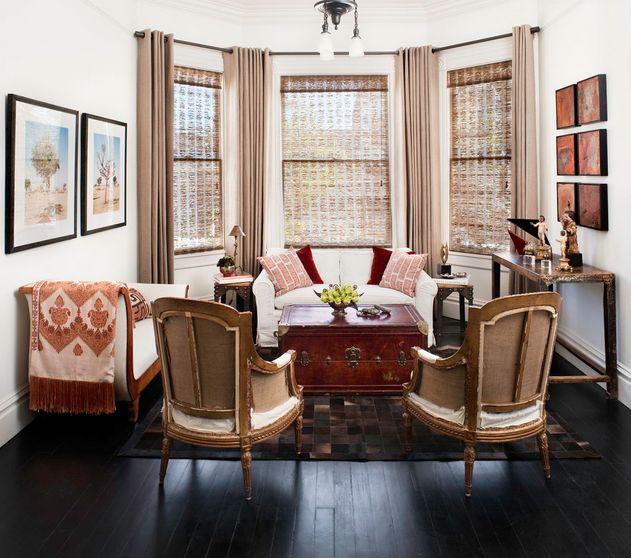 It is not essential that you stick to just the window treatments to make the bay windows stand out. There's no doubt that the bay windows are pretty majestic, and to complement them, you can make use of the rest of the décor in your room. 
Put special focus on the trim work and see if you can use the right color on the walls to further beautify your bay window. If you plan to go for majestic trim work, it is best that you keep the curtains simple. This way, they won't subdue the rest of the décor in your home or the bay window. 
9. Minimalist Décor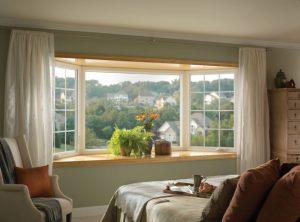 When you have massive bay windows installed, you won't be required to put much effort in window treatments. The windows are majestic in themselves, and it is best that you don't put other objects that might steal their thunder. 
If there are tall and narrow windows, you can spend some thought on how to amp up the window trimmings. And in that case, we would recommend that you do not put curtains that might hide the windows. It is best to put roman shades or blinds that would prevent the light from coming in without hiding the windows. 
Your aim should be to ensure that the look of the bay window is not compromised and is only highlighted. In case you have difficulty understanding how to do that, consider taking help from an interior designer.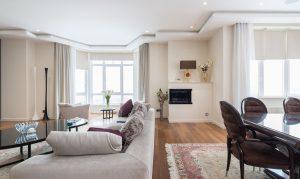 Final Words 
There you have it! This brings us to the end of this comprehensive guide. 
We hope that after reading this, you now have a better understanding of how to put curtains on your bay windows to enhance their beauty. Bay windows are pretty similar to arched windows, and you can use the same ideas for both. You do not need to spend hefty amounts customizing décor for your bay windows. 
That said, your home should always reflect your aesthetics, which is also true of the curtains. After going through the recommended methods, you would be able to make the most of bay windows with the things that are already present. 
If you have any thoughts that you would like to share with us, feel free to reach out to us in the comments section below. For more exciting reads on unique home décor ideas, do not forget to keep a watch on this space. 
Until next time, adios! 
Related Links 
12 Best Window Fans on the Market Today
16 Types of Windows Shades for Your Future Home
Guide to the Perfect Windows and Doors for Home
Guide on How to Create a Colorful Rainbow DIY Crane Curtain
Blinds Or Curtains For Your Bathroom?
13 Best Energy Efficient Curtains & Blinds
13 Best Blackout Curtains Right Now
How to Freshen Up Your Home Interior for Spring with Curtains