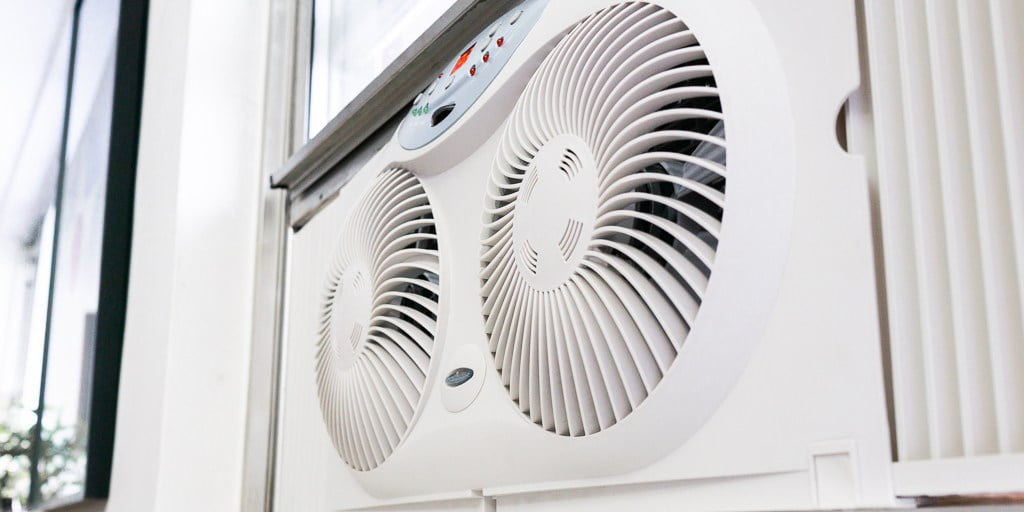 Ahh…window fans! A quintessential part of every house that helps circulate air and keep you breathing fresh all day long. 
It helps eliminate hot air and unpleasant odors from a room, increasing the air quality and possibly even helping you stay healthy in the long run. 
Window fans are almost in every home whether we notice them or not and last for years on end, depending on how frequently you use them and to what extent.
Now, for those of you who are looking to buy a window fan for the first time or get their existing one replaced, we've got just the right recommendations! In this guide, we're going to review some of the best window fans out there and to top it off, we'll give you a buyer's guide to know how to choose the best.
So, here we begin!
Best Window Fans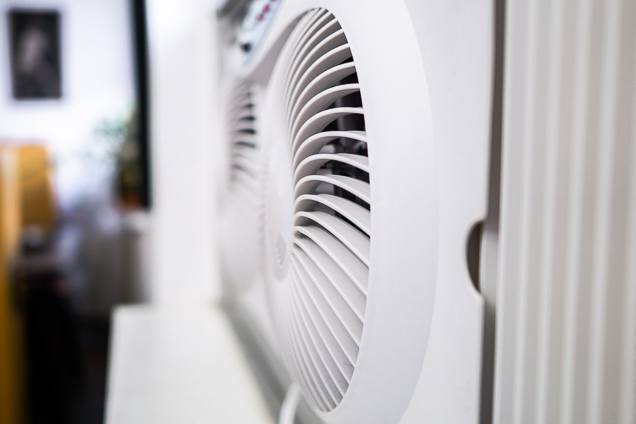 When most people think of window fans, they don't bother to understand the nitty-gritty of these wonderful, compact machines. And why would they? It's only a fan, afterall. WRONG! The Holmes Dual Blade Twin Fan is more than just a window fan, and we found that out only after we started using it in our kitchen space.
Sale
Experience
Coming from the house of Holmes, this product is a cut above the ordinary, both in terms of function and design. Look wise, this fan is aesthetic, with its sleek body, water-resistant motors, and dual fans. It is made to fit most slider and double hung windows and can intake and exhaust air at the same time to keep your room cool and dry.
This might sound exaggerated, but the level of control this fan gives you over its controls is unparalleled. The USP of this product is no doubt the independent reversible motors with two speed settings. Using that you can control air intake and exhaust anyway you like. We especially liked how this fan also let us automate the thermostat functions to keep the room at a certain temperature.
The benefits of using this product are far too many to mention, but one aspect that definitely deserves a shoutout is the 3-year manufacturer's warranty you get. That itself proves how much the company has faith in its product.
What could've been better?
Even though we didn't face any problem personally, a couple of users online have said that this fan can prove to be a nightmare to install (contrary to what the manufacturer advertises). We suggest that you exercise caution while installing and take the help of a professional, if necessary. 
Pros
Excellent build quality

Dual fans for simultaneous intake and exhaust

Controls to change air flow direction, speed, and temperature

3-year manufacturer's warranty
Cons
Some users have said that installation can be a pain
As a long time user of Air King exhausts, we can say with 100% certainty that their products embody durability and efficiency. And this model is no different thanks to its features working harmoniously in conjunction with one another. But would this model be right for your needs? Well, you need to read more about our experience to find out.
Experience
Big or small, this fan is ideal for all types of rooms, and we can testify that claim to be true to a large extent. We first had this baby fitted in the kitchen as the window openings were of the dimensions ideal for this fan. And it fired up and started clearing the room in no time! Within a few minutes the room got cooler and smells of chicken roasting in open flame went away.
The product is able to deliver high-performance thanks for its quality fan with 3 speed settings and is run by a motor rated 120-volts. The fan is meticulously designed using impact resistant plastic housing and has a powder coated grill and blade. It's also worth mentioning that the fan is OSHA and ETL complaint, in case you're worried about the safety and durability.
We continued using this fan for over 2 months and didn't notice any anomalies that might be too hard to ignore. Once in a while though, the noise coming off this fan got a little louder than usual and we still have no idea why.
What could've been better?
Some buyers have reported that this fan gets noisier with time and at one point, becomes completely unusable. However, such reports are very few and far between. Even though we did experience the symptom of noisiness, we don't think there's much chance of it progressively getting worse.
Pros
Powerful fan capable of displacing a lot of air

Easy to install and operate

Made using durable quality materials
Much like the first product we reviewed in our guide, this one also comes with dual blades to suck cool air in and exhaust hot, stale air out. This 8.5 inch window fan by Bionaire doesn't claim to do anything too special, and perhaps that's why we like it so much. From the design to its operations, this product embodies simplicity in multiple ways.
Sale
Experience
While fitting this window fan, we couldn't help but notice the extender that came with the package. It supposedly allows custom fitting up to 13 inches (from 24 to 37) in height overall, and that is a feature many people can utilize if their wall space is bigger than manufacturer recommended dimensions. 
As far as the control is concerned, we found everything to be working as expected. You can program each of the two fans to draw in or exhaust out. There's also an option to operate the thermostat manually or put it on auto mode to maintain a selected temperature range. And as a bonus, there's even an LCD showing the thermostat temperature and room temperature.
Convenience is truly the USP of this product and we're pretty sure you'll enjoy the result it provides, regardless of the room you place the fan in. Oh! Did we forget to mention the 5-year manufacturing warranty? There's that too.
What could've been better?
Again, not our personal experience, but many people out there are saying that Bionaire's customer support is highly incompetent. From stories of receiving unwanted replacements to refusing to accept returns, the reports are many. 
Pros
Easy to install and operate

Functions efficiently in keeping a room fresh

Extender to allow better adaptability
Cons
Customer support could be better (probably)
Fourth on our list comes the coveted Twin Window Fan by Genesis, which is an ETL Certified product promising to make your room cooler. Like most other models in our review, this one also offers reverse air flow technology, LED indicator lights, Thermostat, and the whole shebang. Keep on reading to know more about what we think.
Sale
Experience
After installation, the first thing we tried was to check the fan's exhaust and we're glad to report that it's A-okay! The room we used it in not only felt cooler by about 5-7 degrees but also smelled better. This serves as good proof that this product is good at cooling and eliminating stale air from inside a room, making you feel like you're taking a breath of fresh air.
If we were to talk about build quality, we'd say that it's impressive as well. It has been made to fit any window size and can expand an additional 6.5 inches on the sides, if necessary. We truly enjoyed utilizing the thermostat that keeps room temperature between 60-80 degrees and the LED that lets you keep track of it. 
Or you could choose among the 3 speed settings– low, medium, and high, based on preference. Also, since this fan is made using copper motors, you don't have to worry about environmental wear and tear. So, you can rest easy even if this fan is exposed to the weather elements.
What could've been better?
Everything about this product is close to being perfect, but we only wish that it were a little quieter. It's not a big deal though since you get used to the sound.
Pros
9 inch blade with power copper motors

Automatic and manual settings for controlling temperature

Compact in size and easy to install

The sides can be expanded to fit windows

Good customer support
Cons
Can be a bit noisy for some

Some users have reported the temperature control to malfunction
After a certain point of time, it gets harder and harder to find out what sets one window fan apart from another. But that's to be expected because all of these we're reviewing here are great products in their own way and offer a similar line of features. The Homebasix Window fan is a product worthy of purchase for the reasons mentioned below.
Experience
The manufacturer mentions that this fan is meant to fit in all types of spaces, which we thankfully found out to be true as we installed it in one of our offices. It was sort of a last minute decision, if you have to ask. You can easily move this from one place to another, thanks to its weight (weighing only 3.97 lbs), removable legs, and carrying handle.
When it comes to speed control, you get the usual 3 settings to choose from. And if we're talking about fan functions, you also get three– exhaust, cool, circulate. Because of the digital thermostat you can control the temperature best suited to your preferences and other settings as well.
A great feature that's worth talking about is the product's ability to convert intake to exhaust automatically. Also, the remote control is a nice touch that greatly impacts the way we operate these fans.
What could've been better?
There isn't much to complain about this model from our side, however, some people have mentioned their negative experience with HomeBasix's customer support, which was unresponsive. We hope you don't encounter the same problem.
Pros
Lots of versatility in speed and temperature settings

Easy to carry and install

Durable build quality
Cons
After sales support could improve
It's time to bring in the big guns! And by that, we mean the big fan by Lasko, which comes with a 16 inch blade with 3 intake and 3 exhaust speeds. This is by far the most expensive product on our list and can be used at home or in commercial spaces with ease. If you've got the budget, then this big boy should be up for serious consideration.
Experience
First things first, just because this fan is big doesn't mean it's also clunky and tough to install on regular windows. And if by chance your window is bigger, there's always a choice to use the expandable side panels to fit any window that is 26.5 inch to 34.5 inch in width and 22 inch or above in height. And the best part is that it comes pre assembled out of the box!
As far as power is concerned, this is definitely the most capable so far. We used this fan to cool a room and it ended up cooling almost our entire house; no kidding! You can install it in the kitchen, bedroom, living room, etc. to enjoy the breeze as good as natural. There's no need to worry about rust either because the fan is made using rust-resistant grills.
Laski is an all American company that has truly made us proud once more. If money was of no consideration, then we would've recommended this product to everyone. You should give it a try too!
What could've been better?
Since most models we reviewed before all come with LEDs to indicate temperature and speed settings, having the same feature here would have been good too. Some people have also complained about the noise, but we thought it was okay for a fan as big as this.
Pros
16 inch blade with powerful motor

Can cool an entire floor

Good portability and ease of use
When we talk about window fans, we usually imagine a device with a…well, a fan attached. But this product is something that completely changes the definition of what a window fan should be like, with its Air-conditioner like body. Although not as popular as the products we mentioned before, this unit takes the idea of home cooling to a new level.
Experience
This product looks almost identical to an Air-conditioner as the outer body comes in a similar shape, with LED and everything. The best feature of this "fan" is Eco Breeze which turns any window into a smart window, automatically bringing cool air inside. This is made possible by the built-in temperature and humidity sensors that continually senses environmental conditions.
All you have to do is turn on the cooler when you think it might be cold outside to bring the air in, and shut off when the room has achieved your desired temperature. The Louvers function automatically and prevents air from leaking, thus effectively keeping hot and cool air from mixing. And all of this is made easy thanks to the thermostat that automates the process.
Similar to all the window fans mentioned in this guide, this one also provides three speed settings to choose from. No longer will you have to switch from one setting to another because the thermostat takes care of this as well.
What could've been better?
We didn't find any fault in this product, but some users have criticized the manufacturer for not being responsive enough to fix their problems. Whether it is with a faulty unit, a malfunctioning part, or general queries, the company either seemed to be extremely late with their responses or completely unresponsive.
Pros
A powerful and efficient product

Provides automated cooling based on preferences
Cons
Customer support can perhaps to better overall
This is perhaps the cheapest product in our guide and is highly popular among those looking for a quick fix. There's nothing much to discuss about the features and there aren't many special ones, but for the sake of this review, we'll be going through some of them. Since the USP of this window fan is its low price, it would be wrong to expect top-notch performance.
Sale
Experience
This window fan is still worth purchasing, which is pretty apparent from the high number of customer ratings and reviews. The first element we liked about the Comfort Zone window fan is its versatile build, which is prepped to be highly portable. It comes with 2 feet for use as a tabletop and there's also a carrying handle if you want to carry the fan around.
Portability is one aspect we think is missing from these lineup of products, in general, but this one is a pretty good touch. Next, the Auto-locking accordion expanders allow this fan to be installed on almost any window with a snug fit. Like other fans on our list, you also get the benefit of drawing cool air in and pushing hot, stale air out.
Other notable features include 2-speed dial control, which gives you the option to choose between low and high air output. Oh, this item also comes with a removable cover that keeps out bugs, debris, and even hot and humid air.
What could've been better?
As you might have noticed already, this fan offers only 2 options for air flow, unlike most other products that offer 3. This is not that big of a deal but may bother some people if they go looking for "medium." Also, we think the fan power fluctuates a bit from time to time.
Pros
Highly portable and can be fitted almost anywhere

Comes to expanders

Removable cover prevents bugs, debris, etc. from entering
Cons
Only 2-speed settings for air flow
BOVADO USA is not a very familiar name, at least not in the twin fans segment, so when we ordered this, we were a bit skeptical. Unlike products from Bionaire or Holmes, this company still has quite a long way to go before they become a household name. However, this unit turned out to be a lot better than we expected.
No products found.
Experience
To begin, we'd like to state that the manufacturer has designed this model to be suitable for both slider and double hung windows. Even with the 9 inch blades, this fan could be fitted in most spaces to keep a room cool. Installation doesn't involve many complications; we were able to do it after reading the manuals. 
This fan also offers 3 crucial functions for air control and speed. The INTAKE mode will bring fresh cool air into a room while the EXHAUST mode will do the opposite. The third (and most interesting) mode is CIRCULATE, which makes one fan suck cold air in while throwing humid air out. You can toggle all three of these settings in low, medium, and high speeds.
This model also comes with a remote control to control all the fancy settings from the comfort of your sofa or bed. And last but not least, we think the bug net and cover in this model is a thoughtful touch to keep pesky insects away.
What could've been better?
As long as you don't receive a defective piece, this reversible twin fan should work just fine for you. However, the noise generated by the fan's motor might be overbearing for many, especially if they're using it in the living room.
Pros
Decent build quality and easy to install

Offer 3 settings for airflow control and fan speed
JPower Twin 9-Inch Reversible Airflow Window Fan
The tenth spot on our list goes to this excellent model by JPower. With twin blades and reversible airflow technology, this product promises to give you cool, fresh air at all times. Let's check out what's so special about it.
Experience
The best feature of this twin fan is no doubt the built-in thermostat that keeps the temperature range from 60-90 degrees. We were also impressed by the LED lights that let us keep a watch on the settings. Just like other models, this fan is also capable of pulling in cold air and throwing out hot air simultaneously.
If you asked us to find something special in this model, it would be a tough job because this product is good in every way and nothing quite really sticks out as extraordinary. We didn't have much problem getting familiar with the settings and neither will you. Give it a try!
What could've been better?
To be honest, this fan does what it's supposed to and there isn't any that we thought could be improved. But that's not to say the fan has no follies; if you receive a defective unit, get in touch with the company ASAP.
Pros
Powerful fan speed and functioning thermostat

LED indicator

Can fit into any window thanks to the extenders
Now that we're getting close to the end of our guide, reviewing more products is getting a little bit tedious. But since we promised to bring you the best, we won't stop until we present you all of them. Now comes the SAILFLO Exhaust fan, a relatively underselling product with some decent features up its sleeve.
Sale
Experience
Despite being an average window fan, priced modestly, this unit has managed to bring something new to the plate. That would be the Overheat Protection which keeps the product from excessive heating by balancing the ventilation fan flow pattern. While we aren't sure how efficient this system is, we can vouch that it works when needed.
This model is not only easy to install, but comes with a durable and quiet motor that promises to run over 9000 hours. The motor is wear-resistant and should be fine if the fan is placed outwards for long periods of time. The overall design is sleek too and can blend with other elements of your room.
What could've been better?
The plastic body of this fan doesn't feel all that reliable, so we urge you to take precautions while installing. The motor, however, has a metal coating, so we have no complaints about that.
Pros
Easy to install and operate

Can move air efficiently without creating too much noise
And finally, we have the 12 inch shutter exhaust fan by a company named iPower. Even though we hadn't heard of the name before, the amount of people writing reviews on this product left us intrigued. Keep on reading to know about our experience.
Experience
This, by all means and purposes, is an exhaust fan equipped with automatic shutters. The product promises to replace your AC unit and be a perfect fit on a broad range of areas such as the attic, garage, rooms, or even the chicken coop. We found the claims to be quite impressive and decided to test it out on our garage.
The good news is that the product did its job. And that's thanks to its powerful motor that makes the blade spin at 1550RPM. You get 3 speed settings, which is a bonus and the fan speed controller accurately adjusts the speed of the shutter fan. Installation is easy as ever with the power cord kit and there's no need for additional wires.
What could've been better?
Some users have reported the fan to be a bit too noisy for their linking. Apart from that, there's nothing in general to criticize.
Pros
Easy to install

Exhausts well in many parts of the house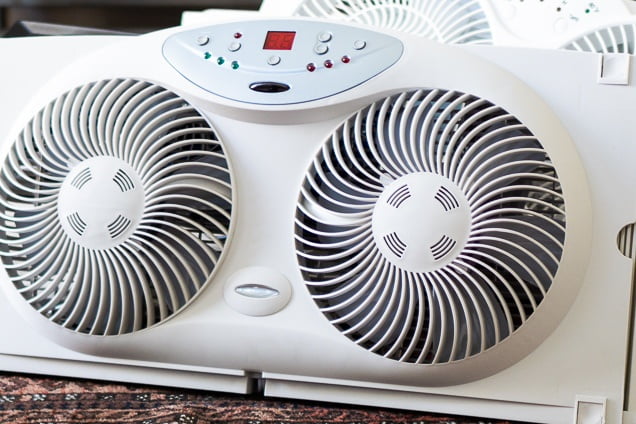 Window Fans Buyer's Guide 
Sure, you can go ahead and buy one of the window fans we've reviewed here, but it would be a lot better if you understood the process that goes behind choosing one. You see, there's no window fan that's suitable for everyone and what someone finds to be great, might turn out to be a dud for you. So, read through the guidelines to know how to pick the perfect window fan.
Window fit
The first element that you'll need to bear in mind before picking a window fan has nothing to do with the product itself. Yes, that's right, we're concerned about the actual size of the window in which you want to install the fan. If the window is too big then your fan will run the risk of falling off and breaking whereas a window too small will cause malfunctions with your fan.
The best thing you can do before ordering is measure the window(s) and pick a product accordingly. As you have read already, most of the products on our list come with extenders, so making minor adjustments for fitting won't be much of a problem. There are also some window fans that come with detachable legs, which makes them standalone fans.
Reverse air flow functionality
Most products on our list also come with auto reversibility function, which enables them to circulate air and cool the room at the same time. Without this function, the fan will either be able to intake or exhaust air from the room; a pretty old school concept if you ask us. And if you ever wanted to make the fan do the opposite, you'd have to manually (physically) reverse the product.
A product with good reversibility function can effectively cool a room by removing stale air and bringing in cool air from outside. It will also eliminate unwanted smells such as pet odors, smoke from cigarettes, food odors, etc. So, as you can understand, the convenience of having a fan with automatic reversibility are many!
Window fan type
Everyone thinks they know the type of window fan they need until they end up buying the wrong one. As simple as the concept of exhaust and intake sounds, choosing a fan based on these principles is more than what it seems. The concept is simple, intake window fans pull cold air from outside to cool a room while an exhaust fan eliminates stale air to have the same effect. 
The type of fan you choose should be based on the intended location for placement of the product. If you're planning to install a fan in a part of your home that gets a lot of sun, it would be wise to place an exhaust type to push stale air out. And for that part of the house where it's almost always shady, an intake fan will be able to pull cold air in.
Features of the product
Now, this depends all on your budget. It goes without saying that a cheap window fan will have far less in terms of features than a unit that's expensive. So, the product that should be ideal should come down to the features you wish to have and the money you're willing to spend to get them. But if you ask us, there are some features every window fan must have:
Remote controlled operation:

it's 2022, and on this day, who wants a fan that they'll need to walk over to if they wanted their room to be hotter or cooler? Not us that's for sure! So, be sure the product you buy is at least good enough to have a remote control function to fiddle with the speed and airflow direction settings.

Speed choices:

you need a window fan with choices in speed because there will inevitably come a time when you'd want to control how fast and how much the fan cools the room. In those times, it helps to be able to toggle between Low, Medium, and High settings.

Low noise:

this one doesn't need much of an explanation. Everyone would prefer to have a window fan that doesn't make much noise. But more often than not, it's a compromise between power and noise created as more powerful models tend to be louder. It's important to know what you want and try and find a balance between those two.
Durability and safety factor
Safety and durability are two factors you should always take into consideration regardless of the electronic appliance you're buying. This is especially true in the case of window fans as they're available in a broad range of pricing and quality options. Ideally, the product should have concealed blades and should be strong enough to last you 3-5 years.
Final words
Well, there you have it, our pick of the best window fans you can buy right now. Let us know if any of these pick your fancy; we'll also be glad to answer more questions you have on this topic.
So long for now!
Related Articles
6 Best Wood Stove Fans | Buyer's Guide
11 Best Rocket Stoves for Camping and Survival Enthusiasts
12 Best Gas Fireplace Inserts Buyer's Guide
19 Types of Fireplaces for Your Home
13 Best Ceiling Fans Today | Buyer's Guide and Reviews
10 Best Heat Powered Wood Stove Fans 
7 Best Blower Fans to Consider
10 Best Bathroom Exhaust Fans Right Now