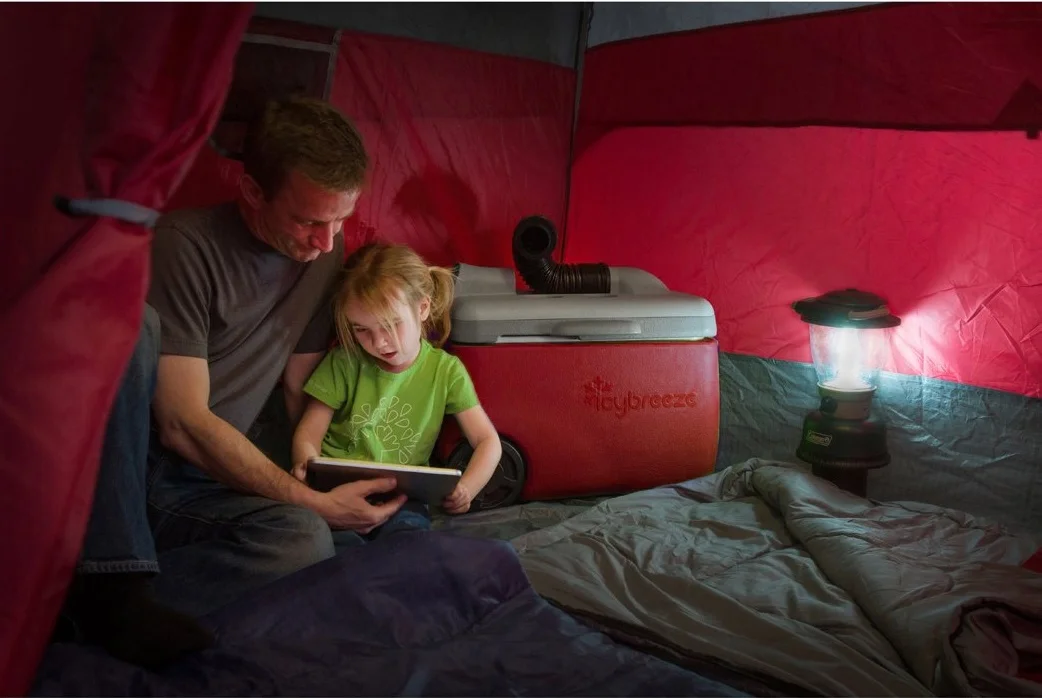 The ACDC Battery-Powered Air Conditioner has a multi-speed system that provides instant cooling compared to a traditional air conditioner. Moreover, the Fancole Mini Portable Air Conditioner has tiltable air outlets and a sleek design to cool most homes.
Summers can be pretty harsh for a lot of people, and stepping out of the house seems like a cumbersome task. Imagine you get to bring your air conditioning unit with you wherever you go. While that's not possible you can use a battery-powered air conditioner because these units are lightweight and portable.
I've compiled a list of the top five battery-powered AC units that can keep you cool.
Best Battery Powered AC Units
Here is the list of the 5 best battery-powered AC units that you can use to keep your home cool and comfortable throughout the summer.
What I like
Wireless remote control

Multi-speed system 

Modern design 

8-hour battery

Low noise operation
The ACDC battery-powered air conditioner is one of the best AC on the market. With 6,000 BTU of cooling power and a reverse-cycle heat pump, this device can keep you cool even on the hottest summer days. The air conditioner also features a 7,200 BTU heating power to dissipate warm air in a small space during winter. 
Though a powerful device, the ACDC air conditioning is an energy-efficient system with a SEER rating of 20. With a variable power consumption of 300 – 796 Watts and a rated current of 25A – 66A, this portable air conditioning unit eliminates the possibility of high power bills. 
Coming to the batteries, this air conditioner features LiFePO4 200Ah batteries that can last up to 8 hours. This also makes boondocking possible, while also proving relatively quiet, with a noise level of 33dB, allowing it to be used for several hours. 
The design is quite modern and sleek, with a flat front panel, LED display, and automatic swing air blades. Additionally, the device features a dehumidifier that can quickly dehumidify your living space. 
Though it does not offer much in terms of customization, you can still choose from its multi-speed system. The fan speed settings, as well as cooling modes, can be accessed through the wireless remote control that is provided with the air conditioner. 
Furthermore, the installation process is fairly simple, and the device comes with an easy-install kit with all the accessories. These portable air conditioners use an R-134A refrigerant that usually comes pre-filled with the portable AC units. Cleaning it is also made easier with the washable air filters that can be detached from the battery-powered AC unit. 
Control Type: Remote control | Form Factor: Mini-split | Wattage: 685 watts | Special Features: LED display, wireless remote control
What I like
Rechargeable battery 

Portable AC units

Tiltable air outlets 

Sleek design 

Energy-efficient
The Fancole Mini Air Conditioning unit is a portable, evaporative, battery-powered air conditioner designed to last a long time. Powered by rechargeable 2,000mAh batteries it provides an ultra-cooling experience in a small space after each charge. 
For better convenience, a 6.5-foot USB power cable is included which makes the device power bank, car charger, electrical outlet or AC adapter compatible. However, what makes it a popular choice is its portability. All you have to do is pop it in your bag and carry it with you to the park, picnic, etc. 
As for customization, the air conditioning unit offers 3 different speed settings (low, medium, and high), which can be adjusted according to your needs. Furthermore, it can be tilted up and down by 16 degrees to enhance the cooling capabilities in various directions.
Since this portable air conditioner is relatively compact, it can be easily stored away after use. This makes it an ideal product for people who have space limitations. Its compact nature also allows you to save on power bills since it doesn't take much energy to produce cool air. Using only 10 watts, the Fancole battery AC unit can cool small spaces quickly. 
In terms of design, the air conditioners look and feel quite premium with their cuboid body shape. If you're keen on the aesthetics of your appliances and need a minimalist design, this air conditioner will best suit your home. 
Control Type: Button | Form Factor: Personal | Wattage: 10 watts | Special Features: Adjustable fan speeds
Sale
What I like
Rechargeable batteries 

Portable AC Unit

USB battery charger 

7 LED light options 

100-degree oscillation
What I don't like
Does not come with a remote control
If you want to stay cool in summer but don't want to deal with the responsibility and hassle of an air conditioner, this personal battery-powered air conditioner is for you. Apart from being an evaporative air cooling unit, the device also acts as a fan, misting fan, night light, etc. 
It comes with 7 different soft LED lights that can be changed automatically or manually. This way, you get to stay cool throughout the night as well as get a functioning night light, all in one device. 
The Balko Portable air conditioner features a 100-degree oscillation, allowing the cool air to spread evenly across the room. Additionally, the loose leaf shutters can be adjusted manually up to 25 degrees up and down. This further improves the airflow and the overall cooling capacity of the air conditioner and does a great job cooling the room much quicker. 
Powered with 4,000mAh rechargeable Lithium-ion batteries, the AC unit runs for 4 hours when fully charged. Since it is a USB charger, you can simply plug it into an adapter, power bank, mobile power supply, computer, or car charger to power it up. Therefore, you get to cool off irrespective of where you are, be it on the beach, park, car ride, etc. 
The portable AC units also act as a dehumidifier and eliminate dryness from the room. Simply pop in some ice cubes or some ice cold water to the 7.78 oz water tank to prevent the cold air from making the air dry. Once you fill the water tank, the air coolers can provide you with hours of uninterrupted cooling and dehumidification. Additionally, the tank can be accessed easily, so cleaning it is an easy task. 
Control Type: Button | Form Factor: Stand-up | Wattage: 7.5 watts | Special Features: Fast cooling, 7 LED lights
What I like
Portable and compact 

Easy maintenance 

Simple installation 

Rechargeable battery 

Easy controls 
What I don't like
The product is quite expensive
The Douglas D20 battery-powered air conditioners are specifically designed for rooftops of vehicles such as cars, trucks, vans, etc. These unique stand-alone air conditioners can be plugged in while driving and can keep you cool on the road. However, it is not necessary to always keep it plugged in as it features a smart auxiliary battery bank. This way, you can stay cool while camping or make a quick stop even when the engine is off. 
Since the battery-powered device is meant to be mounted on the roof of vehicles, it is relatively lightweight and portable. Summer days can be harsh, especially while on the road. Having a mini portable air conditioner that can keep you cool is a must. 
The Douglas D20 battery-powered air conditioner also comes with an installation kit as well as mounting tools. Though it may seem complicated, it's a pretty simple process. You can successfully install the air conditioner on the vehicle's rooftop in about five steps. Once you've installed the AC, be sure to wait at least four hours before turning it on. 
Usually, a battery-powered AC unit can become inverted during the transporting process. Giving the air conditioner time to settle results in the compressor oil flowing back into the compressor rather than in the other direction. 
Maintenance and cleaning of this battery-powered air conditioner are extremely easy. Since the device is pretty compact, it doesn't need intense cleaning regularly. However, ensure that you use the AC unit a minimum of twice a month, even during winter, to ensure optimal functioning.
Control Type: Button | Form Factor: Stand-alone | Wattage: 48 watts | Special Features: Rechargeable auxiliary batteries
What I like
Rechargeable battery

Multifunctional

Large water tank capacity 

Energy-efficient 

Eco-friendly 
The ENKLEN battery-powered air conditioner is a 3-in-1 unit that comprises a cooler, humidifier and fan mode. It features in-built 4000mAh rechargeable batteries, which allows it to work up to five hours without needing a power supply. The charging cable is a USB cable and can be plugged into most devices with a USB-c port. 
As for customizability, the portable air conditioner entails a 90-degree left-to-right oscillation that allows you to adjust the airflow based on your needs. The air coolers feature an upgraded 350ml water tank that elongates their humidification time by up to three/to four hours. Furthermore, most spray technology keeps spritzing water into the cool air, keeping it humid. 
The misting can also improve your skin health, increase moisture levels as well as prevent dryness. When the water tank becomes empty, the misting functions stop automatically. 
The battery-powered cooler comprises three different cool breeze speed settings (low, medium, and high). Along with the oscillation function, the speed settings can be customized to provide your personalized comfort. Additionally, this portable AC unit acts as a night lamp and comes with seven different color options as well as a color-cycle option. You can choose the colors manually or automatically and relax. 
Since these battery-powered air conditioners do not use any harmful refrigerants, they are not only energy-efficient but also environmentally friendly. The low power consumption also saves you from pricey power bills and allows you to live more sustainably. 
Control Type: Touch | Form Factor: Personal | Wattage: 1- 9 watts | Special Features: Rechargeable batteries, oscillation
Quick Comparisons Of Top Battery-Powered ACs
Buying Guide For The Best Battery-Powered AC
1. Size
A major misconception about battery-powered air conditioners is their size. Many people mistake them for being as big as a standard window air conditioning unit, but it's quite the opposite. They are much smaller and more portable than traditional air conditioners, so cooling larger areas is more difficult for these devices. Before getting a battery-powered air conditioner, you need to consider the size of the room in which you plan to cool down. 
If you want to efficiently cool down a larger area, like a living room, getting battery-powered ones would be pointless. For instance, a tent can be cooled down with much less power than it would take to cool down an RV. 
So, ensure that your needs align with the features of the battery-powered AC unit before you use it. 
2. Power Source
There are various types of air conditioners on the market, and it can be confusing to find the right one among many options. However, taking the unit's power source into consideration is a foolproof way to narrow down your options. To find the right air conditioner for you, consider where you would use the device. 
For instance, if you plan on going on a camping trip in a remote area, a rechargeable battery-powered air conditioner would be a better choice. This way, you won't have to depend on a power cable, USB port, car charger, etc. for cool air. 
Similarly, if you plan on using the device on your desk or a small bedroom, a USB battery-powered air conditioner will be ideal as it can run continuously. 
3. Noise
If you plan on using the battery-powered air conditioner at night, you would need one that has low noise levels. Fortunately, most battery-powered air conditioners come with low noise levels, most under 60 dB contrary to a traditional AC. However, it is always better to ensure that you end up with a product that suits you best. 
4. Maintenance
Similar to conventional air conditioners, battery-powered air conditioners, too, require some amount of maintenance to function optimally. In fact, they may need more frequent maintenance since they are comparatively smaller. 
When using new battery-powered ACs, consider how easy or difficult its maintenance would be. Check for things like easy access to the water tank, replaceable air filters, large tank capacity, etc., before you decide on a battery-operated AC unit.
Battery-Powered AC Units FAQs
How long does a battery-powered AC unit typically last on a full charge?

The runtime of a battery-powered AC unit depends on factors such as the battery capacity, power consumption of the unit, and the mode of operation. On average, they can last between 4-8 hours on a full charge. However, high-end models with larger batteries might provide even longer runtimes.

Are they energy-efficient?

Battery-powered AC units can be energy-efficient for short periods or limited-scale cooling. They use less energy than traditional AC units owing to their smaller cooling capacity and design features like low power fan settings and eco modes, leading to reduced energy consumption.

Is the cooling capacity of a battery-powered AC unit comparable to traditional AC units?

Battery-powered AC units are generally not as powerful as traditional AC units. They are more suitable for personal use or for cooling small spaces. Their cooling capacity usually ranges between 1,000 to 10,000 BTUs, while traditional AC units have a wider range from 5,000 to 60,000 BTUs.

How do I determine the appropriate size of a battery-powered AC unit?

To choose the right-sized battery-powered AC unit, consider the size of the space you want to be cooled and the amount of cooling required. These units are rated in BTUs (British Thermal Units), which indicates their cooling capacity. For small spaces or personal use, units rated at 1,000-4,000 BTUs should be sufficient.

Are battery-powered AC units noisy during operation?

The noise level of a battery-powered AC unit depends on the make and model. Some units are designed to operate quietly, while others may produce some noise. Always check the manufacturer's specifications for the noise level in decibels (dB) before making a purchase.

How do I recharge a battery-powered AC unit?

You can recharge most battery-powered AC units using a standard electrical outlet. High-end units may come with solar charging capabilities, allowing for recharging in off-grid situations. Always check the manufacturer's guidelines for the appropriate charging method.

Do battery-powered AC units require regular maintenance?

Can I use a battery-powered AC unit outdoor?

Yes, battery-powered AC units are designed for both indoor and outdoor use. Their portable nature and absence of an electrical cord make them ideal for cooling spaces like tents, RVs, patios, and other outdoor locations.
Conclusion
If you're looking for an energy-efficient way to cool your home, ACDC Battery-Powered Air Conditioners are an ideal solution. They have a cooling power of 6,000 British Thermal Units and a reverse-cycle heat pump. Furthermore, their 200Ah batteries can last you up to eight hours, while being one of the quietest devices on the market.
However, the Balko Portable Air Conditioner will suit you better if you need a more portable alternative. These multifunctional systems act as night lamps, evaporative coolers, and fans, all in one device. It also features a 100-degree oscillation which cools the entire room down rapidly. 
To choose any other unit, read the buyer's guide to make the right decision!
Related Articles
13 Best Battery Chargers for Cars
11 Best Battery-Powered Lawn Mowers
9 Best Ventless Portable Air Conditioners
Zero Breeze Mark II Portable Air Conditioner