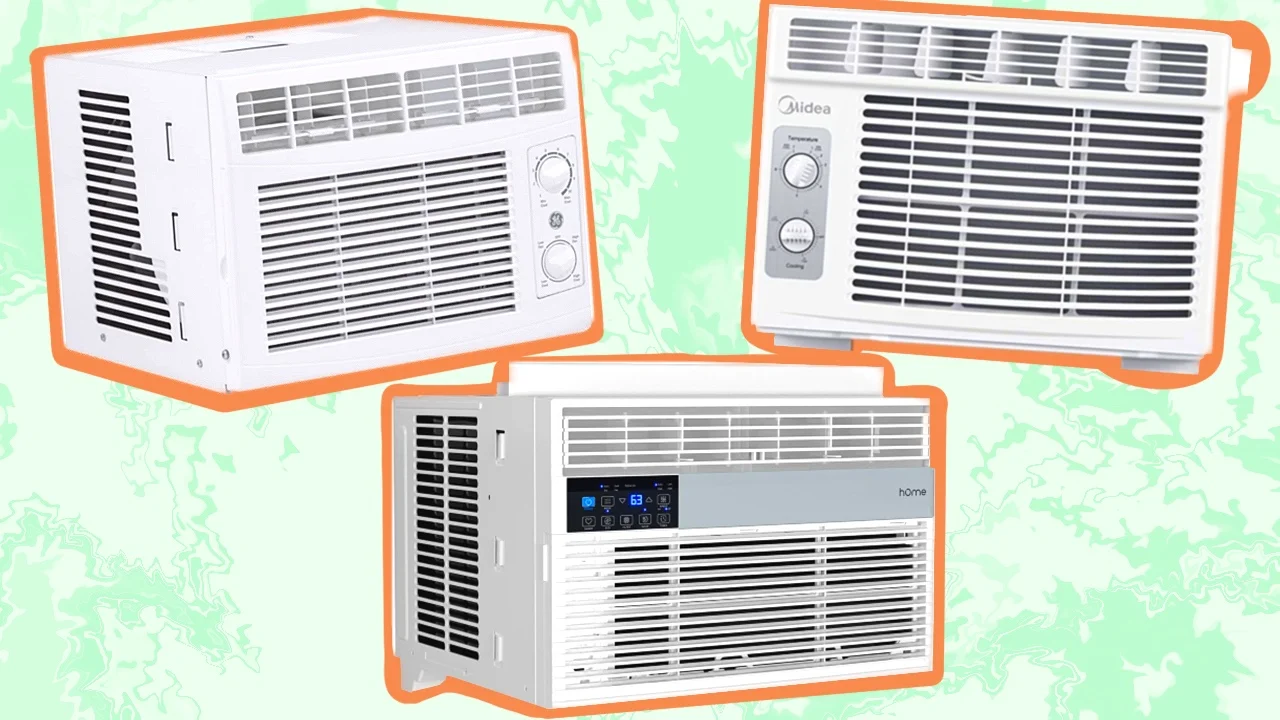 You should consider the quietness, features, and durability when choosing an air conditioner. The hOmeLabs 6000 BTU provides several modern features while saving your electricity with its SLEEP and ECO modes. On the other hand, the Midea  MAW05M1BWT preserves the compactness and ease of a basic air conditioner.
When choosing a suitable air conditioner for your office or home, you'll have several options. Modern air conditioners provide you with a plethora of features like voice control, timer, heating modes, and more. Thus, you might need help filtering through these options and finding the best room air conditioner for you.
To aid you in this decision, I've curated a list of the best 13 air conditioners I found on the market. I've picked the best options in each category you may prioritize, and I hope that this information will help you arrive at a suitable decision. 
So, let's get into it. 
13 Best Air Conditioners
1. Midea – Best Small And Powerful Air Conditioner
Sale
What I like
Quieter than a refrigerator

Energy efficiency

Easy to clean

Quick, user-friendly installation
What I don't like
Not suitable for large rooms
The MAW05M1BWT from the Midea group is a compact, affordable window air conditioner for those who want powerful cooling for a small room. Its energy conservation will save money, and you can reduce your carbon footprint at the same time. Also, it can cool the rooms that your central air conditioner doesn't reach.
Adding to the efficiency, it's also easy to clean. The filters are clearly visible, and you can always keep an eye on the dirt. What's more, you can remove the filter, clean it, and then put it back on your own without any third-party servicing. Just remember to switch it off and unplug it before you start cleaning.
It's also ideal for you if you're usually bothered by background noise, like droning refrigerator sounds. This window air conditioner is peaceful and cools your room silently and swiftly. Thus, you can enjoy peaceful silence during your work or bedtime.
Also, it's durable and trustworthy, as proven by the 1-year-warranty provided by the company and manufacturing experts. After the quick and easy installation, all you have to do is clean it periodically, and it will stay functional and efficient for a long time. And if there is an issue, the brand's customer service will guide you.
Finally, its manual switches will suit you if you prefer traditional air conditioner controls. You can avoid the hassles of toggles and complicated dials and just choose your temperature settings with ease.
Cooling Power: 5000 BTU | Sound Level: 57 dB | Energy Star Certified: No | Operation: Manual
2. hOmeLabs – Best Portable AC With Wi-Fi and Smart Features
Sale
What I like
5 modes

Smart features

Quiet operation

Energy-saving
What I don't like
The technology may be difficult to operate
The hOmeLabs HME030524N has a range of features, from temperature control to multiple operation modes and remote control. The COOL mode is obvious and helps you relax on a summer afternoon. On the other hand, the FAN and DRY modes help you freshen your room or remove all humidity from the air.
Furthermore, it's a suitable option if you want to cool multiple areas according to your needs. Suppose you need to cool your office in the afternoon but also need a comfortable bedroom at night. To help you out, the AC unit comes with a window kit that helps you carry it around and install it in different places. Thus, you get the best of both worlds.
It also has a quiet operation and cools your room in the background without disturbing you. To add to the comfort, you can connect it to your Alexa or Google Assistant and operate it from anywhere in your home, anytime.
You will stay environment-conscious and save money with this AC. You can switch to the ECO mode to consume less power and save your electricity bill. Additionally, it has a 24-hour timer and a SLEEP mode to help you use it only when you need it.
Cooling Power: 6000 BTU | Sound Level: 52 to 56 dB | Energy Star Certified: Yes | Operation: Manual, Remote, Amazon Alexa, Google Assistant
3. GE – Best Durable Window Air Conditioner
What I like
Low noise production

Mechanical thermostat

Dual cooling and fan speed

Adjustable airflow
What I don't like
Installation can be tough for some users
The AHEC05AC from GE fits perfectly in a double-hung window and cools a small room within moments. It allows for an advanced degree of customization, ranging from the 10 temperatures to the dual air conditioning modes and fan speeds. Thus, you can replace your evaporative cooler with this AC. 
What's more, you can adjust the direction of the prongs. So, if you're working at your desk in the afternoon, you can direct the air conditioning towards you and work with a relaxed mind and body. Then, you can direct it towards your bed and sleep soundly and comfortably at night.
Adding to the comfort during work and sleep, it doesn't make too much noise. Its mere 56 dB of noise will be a gentle hum that fades into the background of your room. So, if you install it properly and clean it once a month, you'll never run into any noise issues.
Additionally, users have found that it sustains minimal damage from physical impact or continuous usage. Thus, you can choose it if you want a sturdy and portable air conditioner that stays functional for years.
Finally, it has a mechanical thermostat. This will help you fine-tune the temperature settings to fit your needs accurately. Thus, you can use it in various weather and humidity levels and also the time of day.
Cooling Power: 5000 BTU | Sound Level: 56 dB | Energy Star Certified: No | Operation: Manual
4. Senville – Best Power-Saving Mini Split Air Conditioner
What I like
Powerful air conditioning

Home automation with Alexa

Smart energy-saving modes

Quiet operation
What I don't like
Professional installation required
The Senville SENL-09CD-16 is a powerful, standard air conditioner for your office, home, or retail store. It has an indoor AC unit that blends into your room and works quietly and discreetly. As this happens, its outdoor condenser supplies a constant stream of cool air.
However, cooling isn't the only thing this mini-split can do! It also has warm, dry, and fan modes, along with a turbo setting. Thus, you can keep your room comfortable in winter, remove the excess moisture from the air in summer, and improve your room's circulation with the fan.
When it comes to using different modes all year round, the central aspect discouraging people is the resulting electricity bill. But this window air conditioner takes care of your concerns! Using it, you'll reduce your monthly electricity spending by as much as 40%. What's more, it has a smart eye mode that detects motion and switches off when no one's in the room. Additionally, it finds the most energy-saving temperature according to your needs.
Adding to this, it has a remote control and is also compatible with Alexa. So, you can connect it to your mobile Alexa app and control it from anywhere. This allows you to switch it on and let it cool the home before you enter so that you can relax immediately.
Cooling Power: 9000 BTU | Sound Level: Approx. 50 to 55 dB | Energy Star Certified: No | Operation: Manual, Remote, Alexa
5. LG – Best Low Maintenance Air Conditioner
Sale
What I like
Filter cleaning indicator

Quiet operation

Energy efficiency

Fast cooling
What I don't like
Some users reported faulty indicator lights
If you want a powerful window air conditioner for a medium room size that adheres to your budget, you can look into LW8017ERSM-P by the LG corporation. Users have witnessed its high Combined Energy Efficiency Ratio, which reduced their electricity bills. It also requires minimum care and maintenance to last a long time.
To aid in maintenance, it has an indicator light linked to the standard washable filter. The light turns red when the filter is clogged and needs cleaning. So, you don't need to calculate the cleaning schedule and can just rely on the light to tell you when to do it. 
Additionally, installing a supporting structure outside your window makes this portable air conditioner more stable and durable in all weather. Also, when bad weather results in a power cut, you won't have to get up and turn it on again when the electricity comes back. It also has an Auto Restart feature that makes it start functioning smoothly after a cutoff triggers your power inverter.
What's more, it's one of the quietest appliances in this range. At 54 decibels, the noise is a low, soothing hum that doesn't interfere with your headspace. The sounds are even lesser in low fan mode. So you can sleep soundly and without any disturbance.
Cooling Power: 8000 BTU | Sound Level: 54 dB | Energy Star Certified: Yes | Operation: Manual, Remote
6. Koldfront – Best Dual Use Air Conditioner
What I like
High Seasonal Energy Efficiency Ratio

Powerful cooling and heating

Wide coverage

Easy installation
The Koldfront WTC8001W will keep you snug in any weather, from chilly winter mornings to hot climates. Its 10,000 BTU cooling and 10,600 BTU heating are ideal for inland areas that don't have a stable climate. Thus, you can rely on it for heating, ventilation, and air conditioning.
What's more, it is designed to optimize ease of use. The remote control is simple, and you can readily identify the purpose of each switch. What's more, the display on the window unit conveys the current settings and temperature without confusing information. Thus, you can handle the cooling and heating on your own even if you're not experienced with these specifications.
Along with this, it's also economical. You can switch on the energy saver mode and relax while it lowers the fan and performs your chosen functions while saving on your electricity bill. But that's not all. It even has a timer feature and a sleep mode to make the most of your home's energy while staying budget-conscious.
It also cools a significant area, which can be up to 450 square feet. Thus, you can install it in a large bedroom, living room, or small apartment, and it will change the temperature speedily.
Cooling Power: 10000 BTU | Sound Level: Approx. 57 dB | Energy Star Certified: Yes | Operation: Manual, Remote
7. Keystone – Best Easy-To-Use Air Conditioner
What I like
Energy-saving options

Dehumidifier setting

Remote controlled operation

Easy installation
What I don't like
Slow remote control responses
The Keystone KSTAW05BE is an efficient, compact air conditioner that fits most windows. It also comes with a proper installation kit so that you can easily install it into your room's window and enjoy the cool air.
It also has an LED screen with a clear, easy-to-read display so you can use the controls effectively. Adding to this, it has a remote control and an inbuilt thermostat to help you optimize your room temperature. Also, you can use the dehumidifier setting to remove the moisture from your room and make it more comfortable.
Furthermore, you can perform maintenance on the filter on your own. After a few weeks of use, check the filter light if you find the air conditioning slower than usual. If the filter is dirty, you can take it out and rinse it under medium-strong water flow from a tap or pump. Since the filter is made of nylon, it'll dry quickly and thoroughly to prevent hazards when you put it back.
What's more, it's quiet while it functions. You'll hear a soft sound like gentle rain if your room is quiet. At all other times, you won't even register its presence while it cools you. You can sleep comfortably with minimum noise, knowing that the energy-efficient options are saving your electric bills.
Cooling Power: 5000 BTU | Sound Level: 55 dB | Energy Star Certified: No | Operation: Manual, Remote
8. Frigidaire – Best Flexible Features In A Portable Air Conditioner 
What I like
Easy to clean

24-hour timer

ECO mode

3-speed fan
What I don't like
Heavy and clunky during installation
Several users rely on the Frigidaire brand and consider its window air conditioners durable and low maintenance. Thus, I've included the FFRA062WAE on my list for your consideration.
Its primary convenience is the timer feature, which helps you schedule on/off timings. For example, you can set it to turn on and start cooling your room at 5 pm so that you'll be greeted by comfort when you return from work at 5:30 pm. 
On the other hand, suppose you still need an air conditioner on autumn nights, but temperatures drop at dawn, and you wake up with shivers. In this case, timing it to turn off at 4 am every day will let you sleep safe and sound.
Furthermore, it allows you a high degree of control over the cooling. It will maintain your chosen temperature in the room by measuring the ambient cooling once in a while, so you can reduce unnecessary energy consumption while staying in your comfort zone. Besides this, it also has 3 fan speeds that help you customize the circulation and noise level in your room.
When it comes to noise, it's just a bit louder than a library and maintains itself at an even level. So, you won't hear any clattering or other disturbing sounds, and you'll stop registering its presence after a while.
Cooling Power: 6000 BTU | Sound Level: 52 dB | Energy Star Certified: Yes | Operation: Manual, Remote
9. BLACK+DECKER – Best Eco-Friendly Air Conditioner 
Sale
What I like
Energy-saving

Sustainable refrigerant

3 cooling modes

Easy usage
What I don't like
Inconvenient remote control
The BLACK+DECKER BD08WT6 is a straightforward air conditioner that is simple to install and provides energy efficiency. You can fix it firmly to your room's double window with basic household tools, and the instruction manual makes it even easier.
Additionally, it is environmentally friendly. Remember the ozone hole crisis? That hole is now shrinking faster than ever, and this is all because of the switch to non-polluting refrigerants in the AC compressor. 
This air conditioner contributes to that by using R32 coolant, which safeguards the ozone layer and helps you save money on your monthly bill. Also, the R32 coolant powers more for the same volume than its alternatives and keeps the window air conditioners working longer.
What's more, it has 4 different cooling settings to help you control your room's temperature. Firstly, the HIGH mode cools you on those scorching afternoons when you feel like you're fighting the sun. The MEDIUM setting keeps you comfortable in the evening without freezing you.
Going further, the LOW mode supplies just the right amount of cooling for the inconsistent fall weather, and the AUTO setting manages your room intelligently. It measures the temperature and cools the surroundings accordingly, keeping you relaxed while it cuts off excess power consumption.
Finally, it also has dehumidifying and fan-only functions. So, you can get rid of the moisture in your room on a rainy day. Also, you can just get some circulation in the room without cooling.
Cooling Power: 8000 BTU | Sound Level: 59 dB | Energy Star Certified: Yes | Operation: Manual, Remote
10. Windmill – Best Air Conditioner With A Modern Design
Sale
What I like
Pre-assembled unit

Modern design

Quiet operation

Smart features
If you're looking for a sleek, modern air conditioner to cool your room without disturbing its aesthetics, this Windmill air conditioner might be what you want. Its LED display automatically dims when you're not changing the temperature. This, along with the smooth design and clean edges, makes it blend into your room.
Also, did you know that the angle of cooling affects its speed? This is because cold air is heavier than hot air, and the coldness sinks to your floor. So, if the cool air flows downward, the lower portion of your room cools faster while most of your body stays uncomfortable and warm.
However, your Windmill air conditioner blows air at an upward angle. So, when the cool air sinks, it lowers the temperature of the entire room as it goes. Thus, it not only cools you faster but also conserves energy.
Moving on, its installation will be effortless for you. There are no preparations to make before you start because it comes ready to fit into your window. So, you just need to lift it, place it on your window sill, and fit the side flaps onto the frame edges. Every tool, including the scissors you'll need during the installation, is provided in the box.
Last but not the least, you have multiple methods of controlling it. Like most window air conditioners, it has buttons that help you control the temperature directly. Additionally, it has a remote control with a suitable range.
Other than these, it also has two options for smart features. You can download Windmill's smartphone app to control it anywhere and anytime. Or, if you want to use apps you already have, you can connect them to your Google Assistant for Amazon Alexa.
Cooling Power: 8300 BTU | Sound Level: 50 dB | Energy Star Certified: Yes | Operation: Manual, Remote, Amazon Alexa, Google Assistant, Windmill Mobile App
11. Whirlpool – Best All-Weather Air Conditioner
What I like
Sleep and Eco modes

Easy to clean

Multiple cooling and heating speeds

Auto restart
Are you annoyed by the hassle of removing a large air conditioner from your room in winter and installing it again in summer? If so, the Whirlpool WHAT121-HAW might make things easier for you. With 12,000 BTU of cooling and 10,600 BTU of heating power, it keeps you snug in winter and rejuvenated in the summer. Thus, it can function as a replacement for your central heating system or heat pump.
Additionally, it's built to be properly installed into most wall sleeves. It's 14.5 inches high, 24.2 inches wide, and 20.3 inches deep, a standard size that fits into sleeves ranging from 24.5 to 27 inches wide. So, you don't need to do a bunch of measurements and calculations before you install it. 
Also, if it still doesn't fit as snugly as you want, the box includes a rear grille and a trim fit so that you can tweak a few inches and make it fit perfectly. 
Moving on, it also allows you to control your room's ambiance to a great extent. Its 8-directional louvers help direct the airflow toward multiple corners of the room at once, which means that your desk and workspace will be as comfortable as your bed.
What's more, it has 3 heating speeds and 3 speeds for the cooling fan. Thus, you can customize your comfort all year round. For example, suppose you need heavy heating during the winter dawn hours because of the condensation and cold winds outside. However, you can't sleep at night if your room is too hot and stuffy. In this case, simply switching the heating speed will work wonders.
Cooling Power: 12000 BTU | Sound Level: Approx. 56 to 58 dB | Energy Star Certified: Yes | Operation: Manual, Remote
12. FREO – Best AC For Uniform Cooling
What I like
Modern design

Easy installation

Follow-me remote

Energy efficiency
What I don't like
Noise issues can occur at times
The FREO FHCW061ABE is one of the few window air conditioners on my list that step away from the traditional, clunky design and try to engineer the inconvenient shape to be as sleek as possible. With a smooth exterior, modern LED display, and a bottom cooling panel, it looks quite different from typical window air conditioners and functions just as effectively, if not more.
When it comes to functionality, this air conditioner is powerful enough to cool any area up to 250 square feet. Its 6,000 BTU of cooling capacity makes it work quickly and efficiently to cool your space with minimum inputs from you.
Additionally, it offers better temperature sensing because of the thermostat position. Realistically, if you just turned on your window AC or the weather outside is really hot, the area near your air conditioner will be slightly cooler than where you're sitting. Thus, a thermostat on the window units isn't the best way to measure your comfort.
FREO overcomes this by placing the thermostat in something you always keep near you – the remote. Thus, it will measure the temperature around your desk or bed and customize the cooling accordingly. 
Finally, it has many small but thoughtful touches that help you in more ways than you'd consider at the time of buying. For example, its control panel is hidden but easily reachable when you need it. Thus, the buttons and controls help you manipulate the settings directly but keep the smooth design intact. 
Furthermore, its sleek LEDs turn off when you don't make any changes for 10 seconds. This not only makes it less noticeable in your room but also conserves small amounts of energy that add up to be a significant reduction from your monthly bill.
Cooling Power: 6000 BTU | Sound Level: Approx. 56 dB | Energy Star Certified: Yes | Operation: Manual, Remote
13. Amazon Basics – Best Air Conditioner Features At An Affordable Price
What I like
Energy Efficiency

Easy installation

Customizable cooling range

Low maintenance needs
What I don't like
Noise levels can get high
If you're looking for affordable and energy-efficient portable air conditioners, consider the Amazon Basics MWHUK-05CMN8-BCK0. 
It is a good companion if you need something to cool your trailer or dormitory within a few minutes while being light in weight and unassuming. You can easily set it up in your window, and it comes with a mounting bracket and adjustable panels to fit perfectly. What's more, the detailed guide will help you install and maintain it without a hitch.
It also has features that exceed your expectations for portable air conditioners in this range. You'll have a wide range of cooling options, two fan settings, and adjustable flap directions. Thus, you can use it to stay comfortable in warm weather and tailor the temperature to your liking.
Here's an example to help you picture its uses. Suppose you have a workshop where you make art. To keep you relaxed during the process, you'll need steady cooling. However, your drying paintings need to be warmer. In this case, you can stand far from the drying zone, adjust the flaps in your direction, and lower the cooling. Thus, you receive cooling while your paintings dry without a hitch.
Additionally, you can remove the filter and clean it with ease. Typically, it needs cleaning once a month. So, when you notice changes in the AC's efficient energy use, just remove the filter and brush it or hold it under running water. After it's clean and dry, fit it back and refer to the manual if you have doubts. And that's it! Your air conditioner is ready to keep you comfortable again.
Cooling Power: 5000 BTU | Sound Level: 53 to 58 dB | Energy Star Certified: No | Operation: Manual
Compare The Best Air Conditioners
| Name of the Air Conditioners | Cooling Power | Sound Level | Energy Star Certified | Operation |
| --- | --- | --- | --- | --- |
| Midea | 5000 BTU | 57 dB | No | Manual |
| hOmeLabs | 6000 BTU | 52 to 56 dB | Yes | Manual, Remote, Amazon Alexa, Google Assistant |
| GE | 5000 BTU | 56 dB | No | Manual |
| Senville | 9000 BTU | Approx. 50 to 55 dB | No | Manual, Remote, Alexa |
| LG | 8000 BTU | 54 dB | Yes | Manual, Remote |
| Koldfront | 10000 BTU | Approx. 57 dB | Yes | Manual, Remote |
| Keystone | 5000 BTU | 55 dB | No | Manual, Remote |
| Frigidaire | 6000 BTU | 52 dB | Yes | Manual, Remote |
| BLACK+DECKER | 8000 BTU | 59 dB | Yes | Manual, Remote |
| Windmill | 8300 BTU | 50 dB | Yes | Manual, Remote, Amazon Alexa, Google Assistant, Windmill Mobile App |
| Whirlpool | 12000 BTU | Approx. 56 to 58 dB | Yes | Manual, Remote |
| FREO | 6000 BTU | Approx. 56 dB | Yes | Manual, Remote |
| Amazon Basics | 5000 BTU | 53 to 58 dB | No | Manual |
Air Conditioners Buying Guide
Selecting window ACs or ventless portable air conditioners for your bedroom, RV, or office is a crucial decision you should spend time on. This will ensure that the home appliance you buy meets your needs and keeps you comfortable for years to come. Thus, I've compiled a list of the crucial factors to note when choosing an AC.
1. Cooling Capacity
Cooling capacity is measured in British Thermal Units (BTUs), and it's the first feature you should look at when you want a new AC. This affects two things: the area it can cool and the speed with which it does so.
For example, suppose you have a room of 150 square footage with sufficient building insulation. For this, a 5000 BTU air conditioner will generate enough cooling. However, since this is the lowest possible power for your room, it might be slow to cool you on warmer afternoons. Thus, you can opt for 6000 or 8000 BTU for faster air conditioning.
Additionally, you should not go lower than your room's requirements. If you install a 4000 BTU air conditioner in your 450 square feet room, you'll risk the air conditioner over-exerting itself. This can result in a shorter lifespan, frequent repairs, and, in the worst-case scenario, an electric blowout or fire.
Thus, measure the dimensions of your room and decide accordingly. If your floor is too cluttered with fixed furniture and you're worried about measurement errors, you can always take a sturdy ladder and measure your ceiling. Now, compare this area to existing BTU levels and know what you need.
2. Additional Uses
If you're looking for a wall or window air conditioner, your primary concern is probably the cooling. However, there are other things you need to consider. 
For example, a cooling-only window air conditioner will need to be removed in the winter so that you can insulate your window better. Additionally, you might need it to remove the uncomfortable humidity from your room without cooling it too much.
Whether you live in the United States, the United Kingdom, or any other region, your climate determines your window AC requirements.
You can settle for cooling air conditioners if your area has hot summers and milder winters. On the other hand, a window air conditioner with both cooling and heating functions is great for those living inland in extreme weather. Thus, you need to think about your needs throughout the year.
3. Energy Efficiency
Your electric bills might be a worry in your mind when installing a new air conditioner. Additionally, you must think about the planet and keep it habitable for future generations.
Thus, you should choose portable air conditioners that use only as much energy as it absolutely needs and doesn't waste coolant liquid and power. Additionally, choosing an AC with an inverter compressor will significantly decrease your carbon footprint while reducing your electricity bill.
Furthermore, choosing a battery-powered AC might help you conserve more energy.
4. Noise Levels
Noise is another important factor people look for when choosing air conditioners. This is because it doesn't matter if you have perfect air conditioning with smart features and easy use – if it makes a droning noise that keeps you up at night, you'll start hating it.
Thus, noise affects your long-term experience with the AC. When it's quiet and soothing, you'll have a pleasant experience keeping it on while you work, relax, or sleep. 
Realistically, the cold wind will make some noise as it flows into your room. But the importance lies in choosing the noise you can ignore most easily.
Most users prefer air conditioners that make a low, even hum in the background that isn't loud enough to be noticed and fades into the background of your daily life. This noise level is less than 60 dB and stays smooth without clattering sounds. 
5. Affordability
Of course, the cost of the air conditioner matters. Generally, they cost less than installing a central AC unit would.
However, cost should not be the be-all and end-all of your decision. For the best choice, you should look for the best features within your budget and increase the estimate only if essential.
For example, suppose there are 2 air conditioners you're considering. One of them is expensive, but it has a heating mode, smart features, and a timer. The other is cheap but has only a heating function with manual control. Now, you need to consider your requirements and see what you'll be happy with.
If you live somewhere warm and buying a heater will be a waste, you can ignore that option. However, you should consider remote control if you have joint pain or urgent work that makes it difficult to get up and change the air conditioner settings every time. This way, you can reach a healthy compromise between your budget and requirements without downsizing or spending too much on things you don't need.
Air Conditioners FAQs
Which are the best air conditioner brands? 
Over the years, customers have decided on the best AC brands based on the customer service, overall product quality, etc. Thus, the most popular and trusted air conditioner brands are Midea, Samsung, Frigidaire, and LG.
What is the cheapest air conditioner?
If you're more concerned about the price, you can go for a low-budget air conditioner with your desired features. Overall, the cheapest air conditioners can be found in the Voltas, Blue Star and Amazon Basics product lines. So, you can choose something from there.
How do I maintain my air conditioner?
If you purchase an easy-to-clean AC, you can perform regular maintenance by cleaning the filters and brushing the surroundings and interiors. You'll find the optimum cleaning frequency in the user manual. Also, purchasing a voltage stabilizer will lengthen the lifespan of your unit.
Which is the most low-maintenance air conditioner?
Unlike split models, window air conditioners just have one unit doing all the work. So, they're easier to clean. This is more beneficial if you live on the ground floor.
How do I find the best air conditioner BTU rating for my room size?
You can measure the length, breadth and height of your room to know its volume in square feet. Now, multiply this number by 20, and it'll give you the desired BTU rating of your AC. This calculation is possible because around 20 BTU is needed to cool one square foot of space.
Verdict
Now, we've reached the end of my detailed guide to air conditioners. I hope that you now have all the information needed to make your decision.
However, before concluding this, I want to mention some of my personal favorites. Out of the modern air conditioners, I loved the range of features in the hOmeLabs. Its multiple cooling modes and energy efficiency are technologically advanced.
Also, I have to point out the no-fuss functionality of the Midea air conditioner. It's great for those who want a small window AC to cool their new room while being sturdy and long-lasting. Thus, it's a suitable investment that will save you money in the long run.