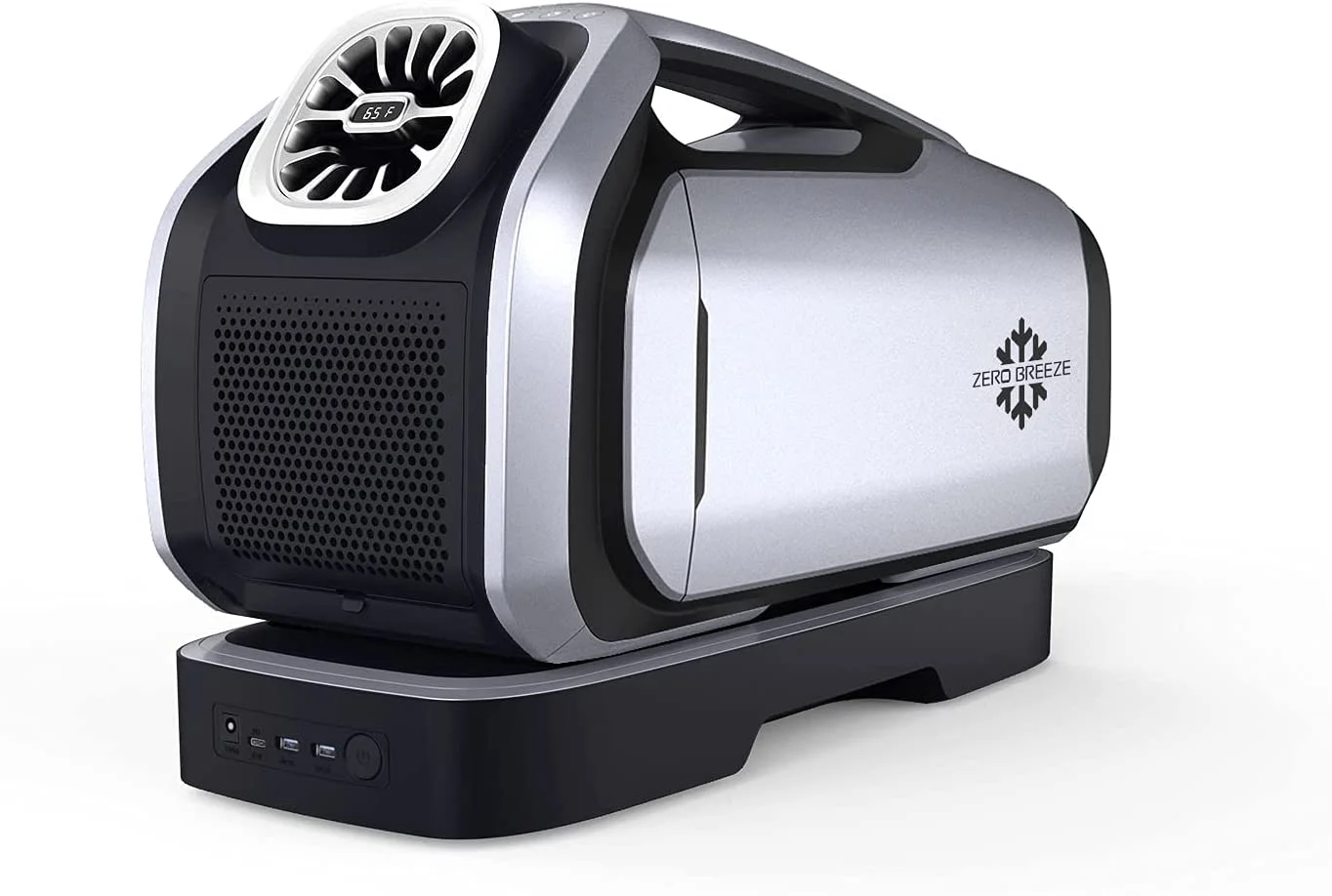 Zero Breeze Mark 2 is a portable AC unit made with innovative technology that doesn't require AC power plugs and sockets for charging. Besides its ergonomic design and built-in compressor, this portable air conditioner stands out for its ability to harness solar power.
This battery-powered air conditioner from Zero Breeze has taken the air conditioning market by storm with its built-in mini compressor that removes the hassle of adding water or ice. Marketed by IndieGoGo, Zero Breeze Mark 2 became incredibly popular due to its energy efficiency claims, as it consumes very little power to produce cold air.
However, since this off-the-grid air conditioning unit isn't available in usual outlets, many people are on the hunt for a detailed review of the product to make an informed decision. And here I'm with it!
Zero Breeze Mark 2 Review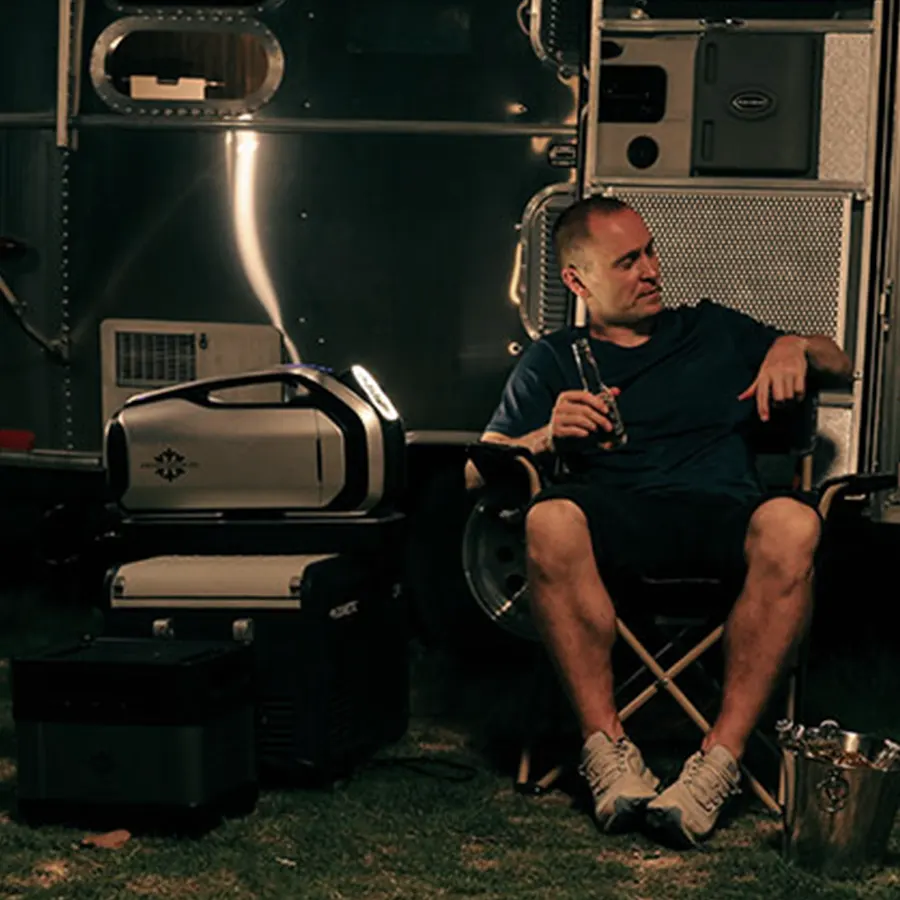 What I like
Ergonomic, clean design
Requires no power outlets
Removable 24-volt lithium-ion battery
9.6 EER rating
Low noise level
Dump protection
Dual-house dissipation pipe
What I Don't Like
Expensive
Low cooling capacity
1. Design
Many air conditioning brands have attempted to design an ergonomic AC unit with a portable battery that eliminates the need for an electric wall outlet. These portable AC units include BougeRV, amongst others, which are ideal for RVs and campers. However, these aren't as efficient and energy-saving for long-term use in high temperatures.
After looking for an ergonomic AC unit for my motorhome for a long time, I finally discovered Zero Breeze, who has come up with a functional design and powerful battery that is minimalist and lightweight. 
Their latest model, Mark II, has a handle with a comfortable grip and easily accessible controls, including modes, speeds, and power on/off; however, the major theme of this design is its 'one-button access'. This means that you can turn on the device, lock the battery attached, and install and dissemble the drain hose, all with a single button.
Moreover, unlike traditional portable ACs, the Zero Breeze Mark 2 is a lightweight unit measuring only 11 inches long and 10 inches wide, so it's easy to carry and pack – perfect for camping and tents. Adding on to that, it is splash-resistant because of its built-in IPX4 protection.
2. Battery Life
Considering the battery life of a portable air conditioner as expensive as Mark II is very important. According to Zero Breeze, the average battery life of the portable AC unit at the highest setting is five hours. Although some reviews mention that it actually lasts for 3 hours, the lower settings can actually extend the battery life to five hours, if you don't run the portable AC continuously but with intervals.
Powered by a removable 24-volt lithium-ion battery, this Zero Breeze AC has a battery twice the size of its previous model. It easily connects to the portable AC, but you need to tether it to a USB adapter. 
Warning
I recommend against keeping it running for a long time, as it can lead to overheating and damage. Plus, buying a replacement lithium polymer battery will cost you a fortune!
3. Charging Time
One of the major selling points of Zero Breeze Mark II is its 3 to 5 hours of charging time, which is quite nominal when it comes to battery-operated devices. Of course, since it has a chargeable battery, you'd need to charge it eventually whenever the battery is low. 
If you prefer uninterrupted cooling, this portable air conditioner also allows you to operate it while attached to a wall outlet. This is especially beneficial during the summers when there is excess hot air build-up in your living space.
There's also the option of car charging, but from my personal experience, the whole process takes a lot longer than using an AC adapter.
4. Performance
Unlike other portable air conditioners, the Zero Breeze Mark 2 has a built-in micro compressor that can efficiently regulate temperature and distribute cold air up to 40 ft. This portable AC has enough cooling capacity to reduce ambient temperature by 30 degrees to combat heat. Moreover, you can easily carry it to different rooms and corners while attached to the electrical outlet as it weighs less than 20 pounds. 
However, the Zero Breeze Mark 2 is not a smart air conditioner that connects to Google Assistant or Amazon Alexa for remote control. But, despite not having smart controls, the AC produces very low noise due to its speed condenser.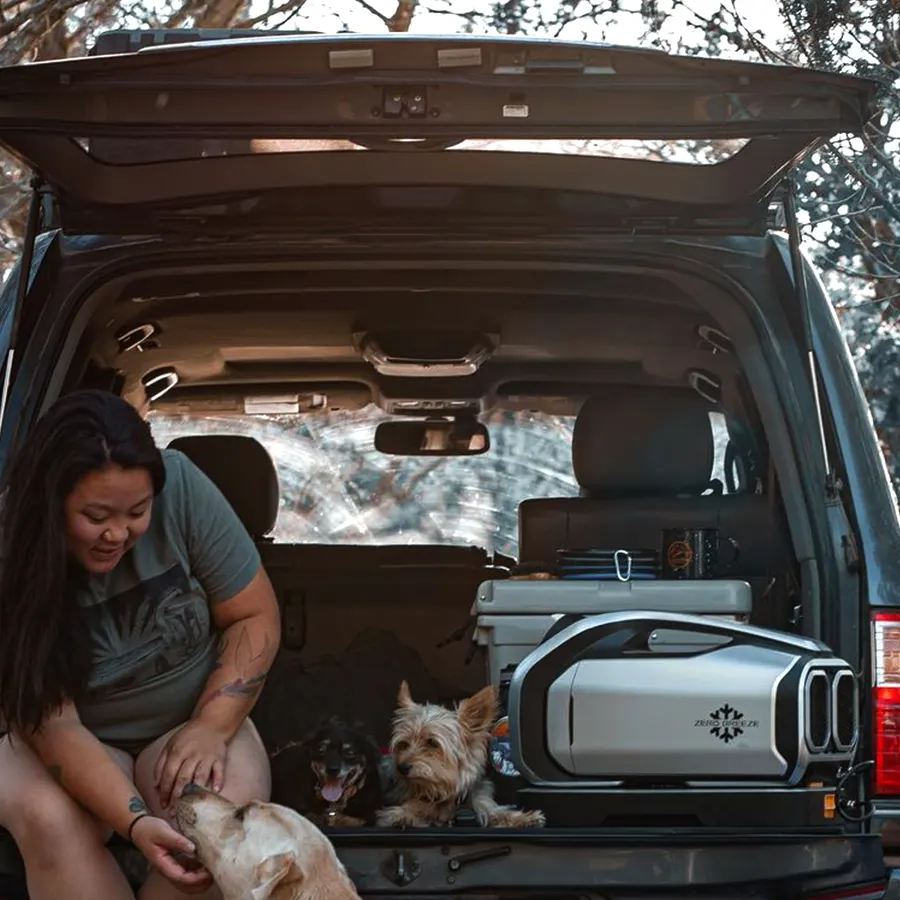 5. Filtration
Like every other air conditioner, the Zero Breeze Mark 2 has a venting hose that helps drain water and refrigerant without making a mess. These portable air conditioners also produce hot air through their heat exhaust system during cooling, so it's best to keep the hose where it can safely exhaust the heat. 
But sometimes, the vents might be blocked with dirt or grease, so keep an eye out and use a cleaning brush to remove the build-up. Overall, the Zero Breeze Mark 2 has a good filtration system to maintain a cooler environment.
6. Energy Efficiency
As I already stated before, these battery-powered devices can run for 3 to 5 hours, depending on usage, and require 5 to 6 hours to charge fully. What's more, this AC unit is one of the very few products I've come across that can harness power from solar panels – no wonder it's popular among campers!
With this innovative solar power feature, this portable AC takes efficient energy use to the next level. You can buy a connected wire to support the panels and harness battery power even when there's no electricity. Plus, it features a sleep mode for saving energy when it has reached the ideal temperature.
7. Cooling Power
Even though it's portable and doesn't require a power source, the Zero Breeze Mark II isn't designed to cool the entire house. But, Mark II's 2,300 BTU cooling power can produce enough cool air for small spaces like vehicles (RVs and motorhomes), boats, a small tent, or a compact room.
Its cooling effect may seem insignificant compared to 8,000 or 12,000 BTU units, but this unit can be very effective for spaces measuring up to 120 square feet. So, despite being able to perform better in small spaces, the Mark II unit can lower the temperature of a space by 30 degrees in ten minutes! 
This is a good upgrade from the Mark I model which has a capacity of 1,000 BTU-not enough to cool even small rooms. 
8. EER Rating And Voltage
You might be worried about the electricity consumption of a battery-operated AC unit like this, but it only uses 240 Watts of power. To operate the Zero Breeze Mark II, you'll need a 24V AC or DC jack output to power the 10-amps unit.
Furthermore, Mark II has an impressive EER rating of 9.6, which is higher than most portable air conditioners in the market. On top of that, battery-operated devices are usually more energy efficient, and this coupled with the EER rating will help you save money long-term.
9. Noise Levels And Weight
You wouldn't want portable units that make a significant amount of noise and disrupt the natural tranquility of your surroundings – be it camping in the woods or relaxing at home. Zero Breeze kept this requirement in mind while designing their Mark II, as it has a sound output of only  52 dB. This noise level is similar to that of a standard refrigerator, so you're sure to get both peace and cooling. 
However, even such low noise may seem unbearable if you're huddling in a small tent in the woods. Thankfully, Mark II has a sleep mode that is super quiet and perfect for sleeping and nighttime.
As already mentioned, the Zero Breeze Mark II is a lightweight unit despite having a hefty battery with high energy. The brand has tackled the weight issue by using lithium-ion batteries, which support most of its body weight.
10. Resilience 
The exterior of this AC unit is durable enough to come in handy in camping adventures, and its solar panel features allow you to use it without electricity. It's also quite lightweight and doesn't take up too much space, so you can easily carry it around in your car or RV.
Moreover, it doesn't require frequent upkeep like adding water or changing filters, which is something you must do for all portable ACs. However, you must ensure you have a working power adapter and that the exhaust and drain hoses are installed properly.
11. Dump Protection
In cases where the outdoor environment isn't conducive to dumping the air conditioning waste, the unit will turn itself off to prevent any damage to the internal components. If this happens, you would need to drain the pipe and place the hose in an area where it can dump the waste. However, if there's no obstruction for drainage, Mark II will work just fine.
12. Dual-Hose Dissipation Pipe
Zero Breeze's Mark II has a unique feature for transferring heat from an interior, enclosed space to the outdoors. It is essentially a dual-house dissipation pipe that works like a mini air exchanger and helps the portable AC cool a space more efficiently. This is one of the reasons why Mark II stands out for its quality and innovation. 
13. Price And Availability
Of course, with such advanced features and convenient controls, it's no surprise that Zero Breeze Mark II is expensive. However, the pricing of this product is a bit complicated, so you'd need thorough research to help you come to a decision. I'll walk you through the different prices to eliminate the ordeal of looking up the product.
Zero Breeze Mark II is available in four configurations, with the starting price being around a thousand dollars – however, this package excludes everything but the battery. The complete Mark II kit, including the DC charger, has a higher price tag; however, paying a little extra will get you a complete kit with two batteries. With two lithium-ion polymer batteries, you'll get up to 6 to 10 hours of run time, even when set at the highest speed.
Further, if you want a separate battery in case of any damage or just want to be on the safe side, it'll cost a few hundred dollars. I'd recommend not buying a battery separately, as it costs almost half the price of the system itself. The brand also has other high-end items that are compatible with Mark II, such as an AC/DC adapter and a 12V to 24V inverter.
Currently, the Zero Breeze Mark II is only sold on its official website and Tredless, so you won't find it on popular shopping sites like Amazon or in local stores.
Available Modes: Cool, Super Cold, Fan (four levels), Sleep | Wind Speed: 4 kmh | Noise Level: 52 dB | Cooling Capacity: 2300 BTU | Weight: 16.5 lb. (including package) | Dimensions: 20″L x 10″W x 11″H
Verdict
Sure enough, all portable air conditioners with built-in compressors cost a fortune compared to traditional units. A thousand dollars is a heavy investment, given all the additional accessories you'll need to buy to get the best out of Mark II. However, it is the only available battery-operated system that can cool a 100 square feet area by 30 degrees in a few minutes.
If you need an air conditioning unit for small spaces like boats, RVs, and motorhomes operating in humid, warm locations, you should consider the Zero Breeze Mark II. Its lightweight, portable, and easy-to-use system and one-year warranty compensate for its price and make it a better option than other comparable alternatives.
That's all on the latest Zero Breeze Mark II. If you like this informational article, I suggest reading my article on efficiency tips for air conditioners.
Until next time, goodbye!
Related Articles
10 Best Dual-Hose Portable Air Conditioners
13 Best Portable Air Conditioner and Heater Combos
9 Best Battery-Powered AC Units
How To Hide Your [AC] Air Conditioner Unit?
13 Quietest Portable Air Conditioners
9 Best Ventless Portable Air Conditioners
Zero Breeze Mark II Portable Air Conditioner
How To Clean Air Conditioner Coils Properly
Coway AP-1512HH Mighty Air Purifier
Can You Recharge A Window Air Conditioner?