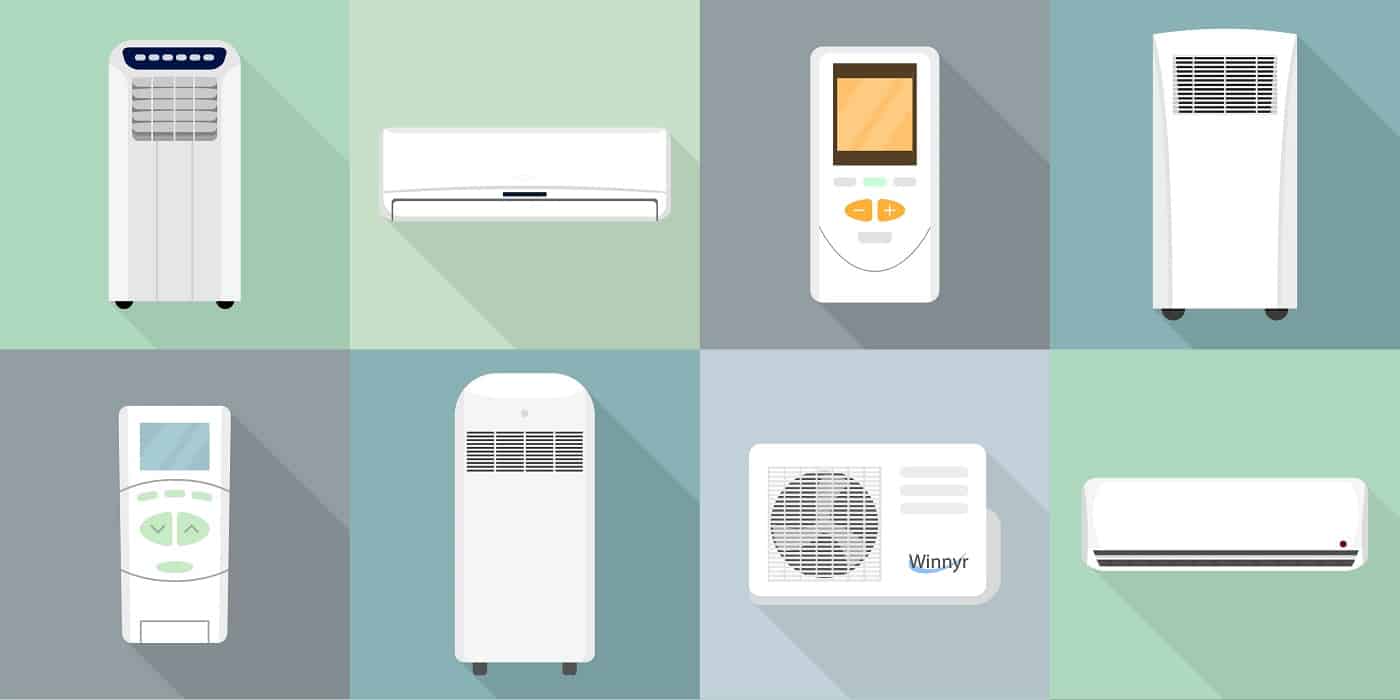 We love to get out into the Great Outdoors, as long as we don't have to compromise on any of our comforts!
But let's face it: it's not always possible to get all the modern amenities that society has to offer when on the road or camping trips. For those who just can't live without air conditioning, this is especially true.
Thankfully, Zero Breeze has brought forth a solution to this problem in the form of its Mark II line of portable air conditioners. A significant step up from its predecessor, the Mark II offers quality cooling on-the-go.
However, it's not a model that comes cheap, so it's best to know all about it before reaching for the purse. That's why today, we're going to give you the complete lowdown on the Zero Breeze Mark II portable air conditioner.
Let's get the show on the road.
Why Buy This Product?
Straight off the bat, we love the sleek and ultra-futuristic design of the model. Its black and silverish color combination oozes style. But after taking a close look under the hood, we just can't stop raving about all the substance it has to offer. Here's a close look at the many advantages of it.
Lightweight And Compact Build
The very first thing that we like is the compact build quality of the unit. It measures approximately 20 x 13 x 8 inches and looks and feels like a small airplane engine. However, at just 16.5 pounds, this is one of the most portable air conditioners you can get.
The ergonomic design ensures you can carry it anywhere you need to, and it doesn't take up too much space. So, whether you need to stow it away in the car trunk or tuck it in the corner of a tent, you can do both with ease.
Powerful Cooling Capacity
In any air conditioner, the primary quality factor is always the cooling capacity. Now, regular portable AC units that are bulkier often pack cooling capacities up to 5,000 BTUs. Due to its highly portable design, the Mark II makes a tradeoff with just 2,300 BTUs.
However, if you'll only be using the unit while traveling or camping, this cooling capacity is more than sufficient. In fact, with an area coverage of 25-40 feet, it provides just the right amount of cooling that you need for a comfortable experience.
Adaptable Power Source
As with any portable AC unit, this one runs on battery power. However, you can also plug it into a power source and use it without the battery. And we love the fact that it can use solar power for charging.
The battery itself is rather powerful and can give you a runtime of about 3.5 hours on a full charge. And we're talking about the highest settings here; if you use the sleep mode, which operates on lower power, you'll surely get more runtime out of it. The manufacturers claim about 5 hours of operation on a full charge.
Low EER Levels
When you're buying something as expensive as a portable AC, energy efficiency should be one of the significant aspects to consider. Thankfully, the Mark II comes with an EER level 4 rating, which is undoubtedly commendable considering all the benefits it offers.
Easy To Clean Model
The next aspect that we must mention about this model is its extremely low maintenance. Due to its ergonomic design, it's a breeze to clean. So, you don't have to worry about daily dusting: just a simple weekly cleanup will keep it in proper working condition.
Simple To Set Up And Use
When researching this product, we came across many customers complimenting it due to its ease of use. And on using it, we're only too happy to join their ranks. The device is ready to use almost straight out of the box, and you need only a bit of work to set up the vent pipe. This is necessary to prevent unwanted condensation puddles.
Before you start the unit for the first time, Zero Breeze suggests allowing it to stay upright for an hour or two. This ensures that the refrigerant settles back into the right place in case it was shipped sideways.
Usable Anywhere
Summer is one of the most enjoyable times of the year, provided you can take the heat out of the equation. And the Mark II lets you do precisely that; it can operate in any outdoor condition and effectively cools the air of any location. You can use it on camping trips, while in a cabin without air conditioning, or even while staying in an RV.
In case you're playing golf or tennis, it can help bring a sense of soothing coolness. And if you're shying away from a day at the beach on account of the sweltering sun, then this unit can be your ideal antidote to the heat.
Additional Features
Apart from the above utilities, the Mark II comes with a host of nifty additional perks. You get an LED light, and an infrared-based remote control that allows you to change settings without getting up. However, we do miss the USB ports and Bluetooth speaker that the Mark I shipped with.
Year-Long Warranty
Finally, we must mention that every Mark II comes with a one-year warranty covering any defects in the ordinary course of use. What's more, the company even provides a 30-day money-back guarantee if you're not satisfied with the product.
With so many benefits, the Zero Breeze Mark II certainly comes out as one of the best portable air conditioners on the market.
What Could've Been Better?
Despite the above benefits, we must admit that there are a few flaws that we noticed. For one, this unit's noise levels can get rather disturbing, especially if you're using it in cramped environments such as a camp tent.
The ideal noise level for any portable air conditioner should be in the range of 50 to 60 dB. While this model has an average decibel rating of around 60 to 65 dB, the noise might just be too loud for your liking. But we guess that's a tradeoff you'll have to live with when getting so much power in such a compact device.
The next aspect that we'd like to gripe about is the price, which is relatively high in our opinion. What's more, the unit doesn't ship with a battery and power adaptor, so you'll have to spend extra on getting these. This means you'll need to shell out a sizable sum of money to get it fully functional.
Pros
Lightweight and portable model

Offers cooling as well as dehumidifying function

Easy to set up and use

Works with a battery or on direct power

Low-maintenance unit
Cons
Can be rather noisy in enclosed locations

The battery and adapter need to be bought separately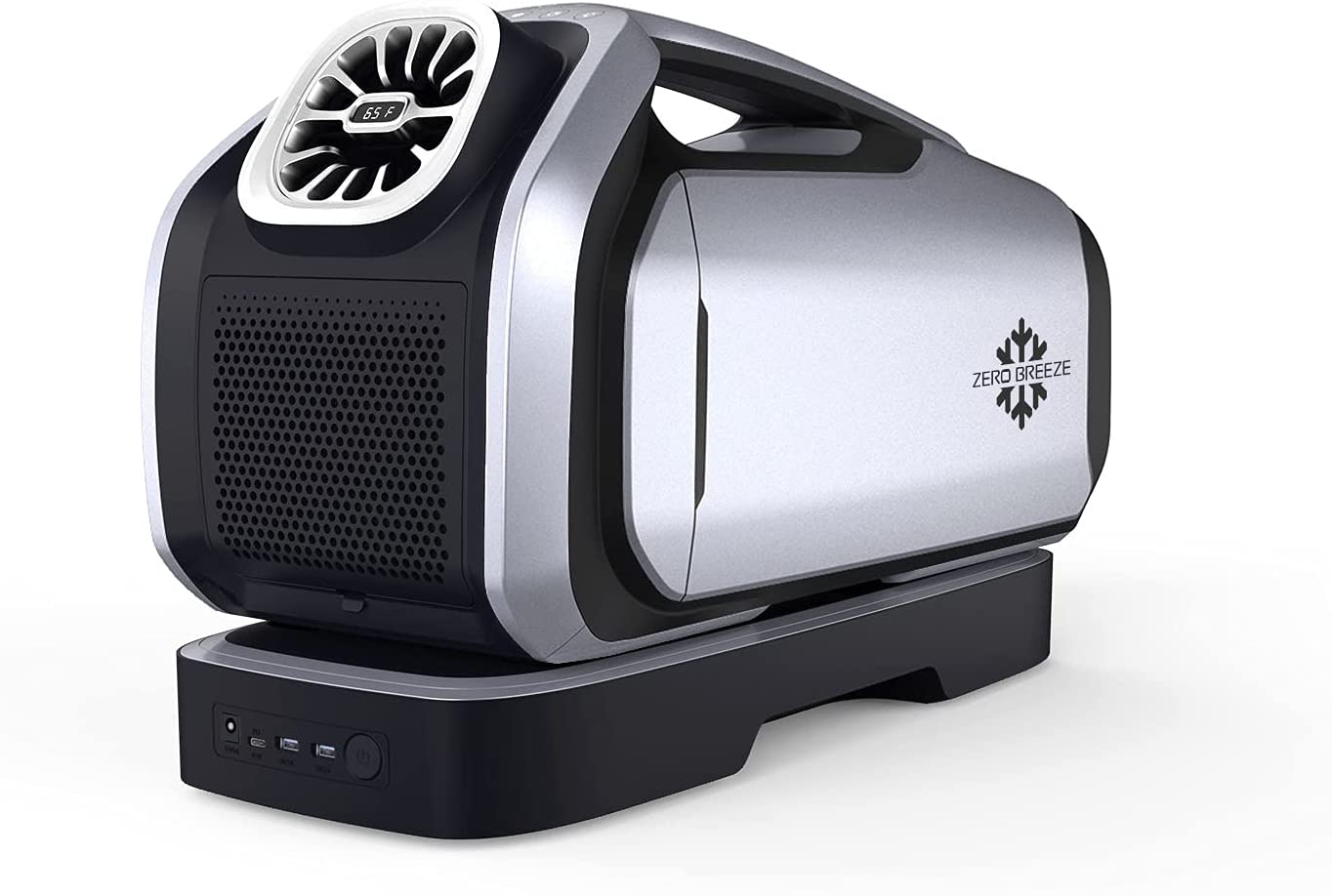 Zero Breeze Mark II Portable AC Buyer's Guide
Wait! Don't think you're ready to buy the best portable air conditioner yet, for there's a lot more to consider apart from knowing about the best models. Portable air conditioners differ by many factors such as cooling capacity, noise levels, and price, to name a few.
You'll also have to consider the use to which you're going to put the unit and the location where you're using it. Here's a quick buyer's guide that can help the choice be more straightforward for you.
Size And Location Of Use
The first aspect that you need to look into is the size and location of the space where you're going to use the portable AC. If you're using it in a closed space, such as a camping tent, then you can make do with a low-BTU unit.
However, in case the location where you're going to use it is rather roomy and has many windows and doors, then a more powerful unit is in order. As a rule of thumb, portable air conditioners can quickly cool rooms within the range of 350 to 600 square feet.
Energy Rating
The next thing that needs careful consideration is the energy rating. A portable AC with a poor energy rating will be less efficient in cooling and rake up the electricity bills. So, make sure you check out the energy rating of the model you've chosen before buying.
Exhaust And Ventilation
To cool your room, portable ACs need a method to vent the hot air. This is usually done through an exhaust hose that goes out through a window, wall outlet, or drop ceiling. So, in case you're going to set the AC away from a window or suitable outlet, make sure the exhaust hose can extend to the nearby opening.
Single Hose Vs Double Hose
If you want a deeper look at the ventilation process before you buy, then check whether the unit comes with a single or double hose ventilation. Single hose units use the same hose for taking in as well as venting out the air. These are usually less energy efficient.
Double hose units, as the name itself suggests, have separate hoses for air intake and exhaust. As a result, these types of portable ACs are not only more energy efficient but also work to cool your space faster.
Noise Levels
There's no point in sugar-coating this: portable ACs make noise. This is due to the compressor, which has to run continuously to circulate the air. In most cases, the noise level of portable units falls in the range of 50 to 60 dB. Still, in a closed environment, even this level of noise can become irritating. So, make sure you test out the noise before buying.
Price
The final aspect that you need to look into is the price. Portable ACs for home use are usually more affordable than commercial units. You'll also need to factor in the energy cost needed to run the unit daily. Only buy a model that fits within your budget.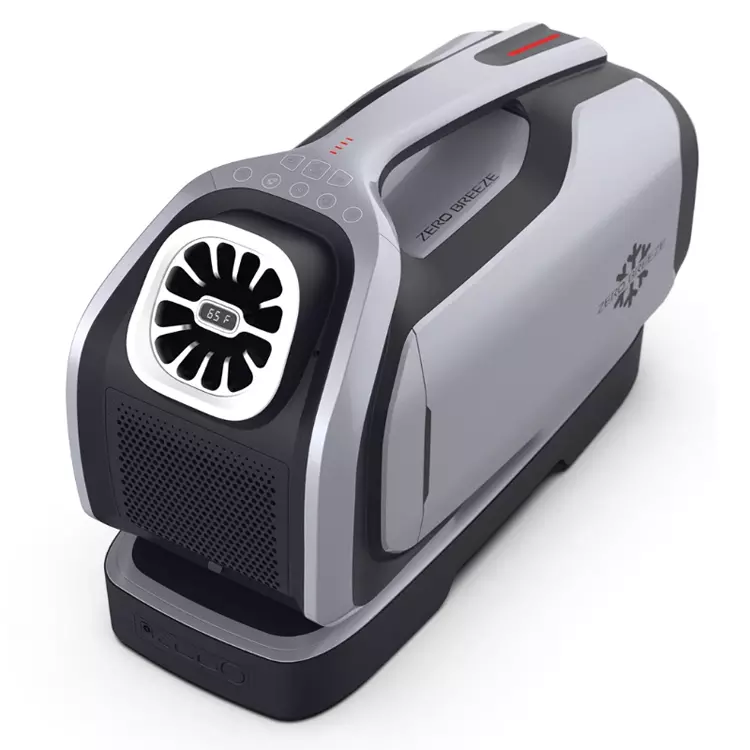 Verdict On Zero Breeze Mark II Portable Air Conditioner

Buying a portable air conditioner is not a walk in the park, but if you go by our experience, then the Zero Breeze Mark II is certainly a good choice. Granted, it's a bit expensive and can get noisy at times, but that's no reason to pass up on the benefits that you'll be getting.
Everyone likes a bit of comfort even when they're hitting the trail, and the Mark II can be your perfect companion on any journey. And the sleek design of the unit can undoubtedly take your style quotient up several notches. Add to that the cooling capacity and ease of use, and you've got a portable AC that certainly lives up to the hype.
That's all from us for today. Till next time!
Related Articles
10 Best Dual Hose Portable Air Conditioners
13 Best Portable Air Conditioner and Heater Combos
9 Best Battery Powered AC Units
How To Hide Your [AC] Air Conditioner Unit?
13 Quietest Portable Air Conditioners
9 Best Ventless Portable Air Conditioner
Zero Breeze Mark II Portable Air Conditioner
7 Best Through-the-Wall Air Conditioner
How To Clean Air Conditioner Coils Properly
Replacing or Repairing Your Air Conditioner Unit 101
Coway AP-1512HH Mighty Air Purifier
Can You Recharge A Window Air Conditioner?
11 Best Evaporative Swamp Coolers