The best way to strike a balance between outdoor home décor and comfort is to conceal the AC unit in a creative way. Common methods to achieve functional beauty without blocking airflow, include building wooden AC covers, gardens, tool sheds, door screens, or planting tall shrubs.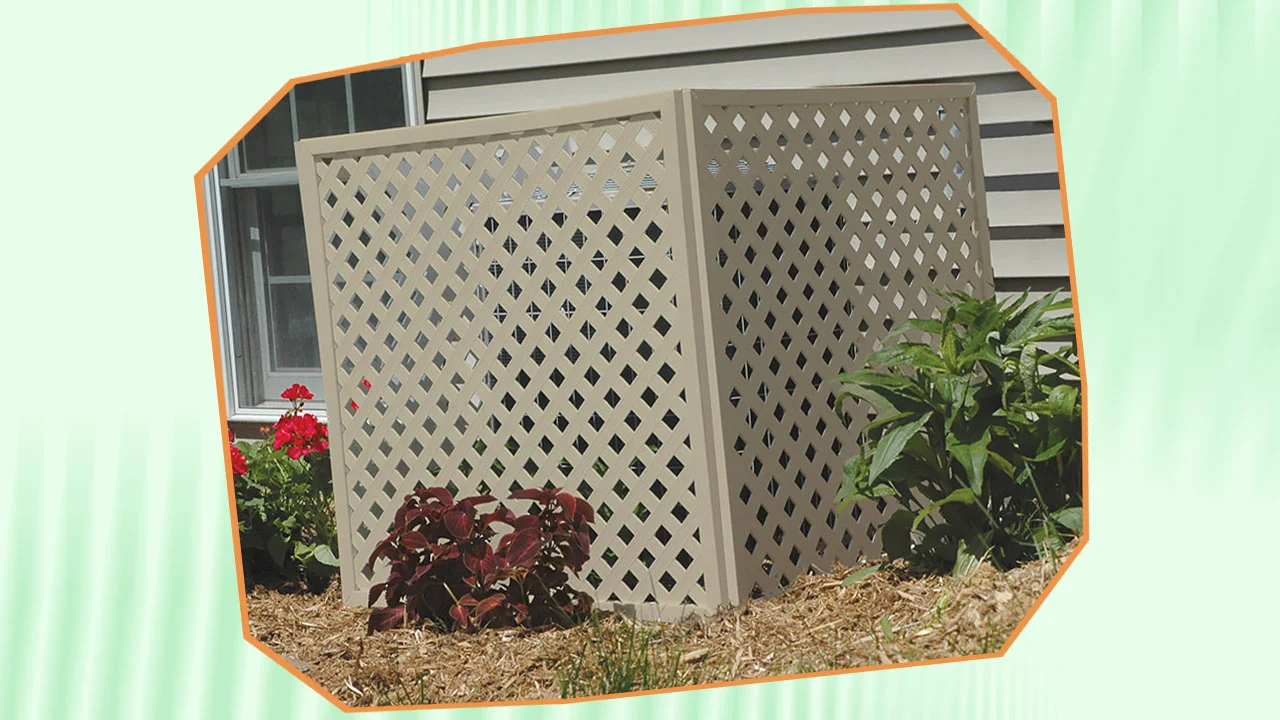 The outdoor unit of your air conditioner can be a real eyesore in your garden, patio, and outdoor space. It would not be very appealing if you were to throw a barbeque or outdoor party with a chunky outdoor AC unit hanging around smack in the middle of your landscaping. But you can't do away with it either since the outdoor air conditioning unit facilitates heating, ventilation and air conditioning to maintain indoor temperatures. 
Here are some ready-made and do-it-yourself options to help you choose a method that best suits your home aesthetics. 
14 Ways To Hide Your AC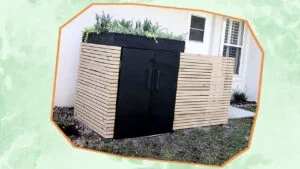 1. Use A Wooden AC Cover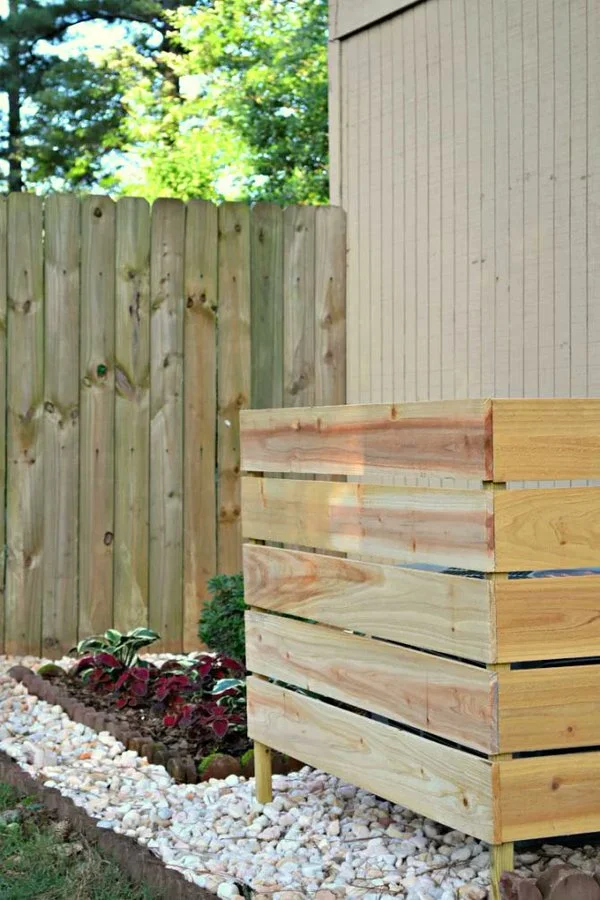 Source: Twitter
Perhaps the easiest way to hide your air conditioner unit is to build a wooden box around it with simple wood planks. These can easily be made as a DIY project since it just requires nailing the planks in place. However, you must ensure that the wooden box is larger than the AC unit for instances when you might need to add Freon and for proper air circulation.
If you're unsure how to make one, you can hire a professional and convey the preferred design, and material. To spruce up the simple wood box, you can add a paint coat and some plants and elevate your décor.
2. Add A Living Garden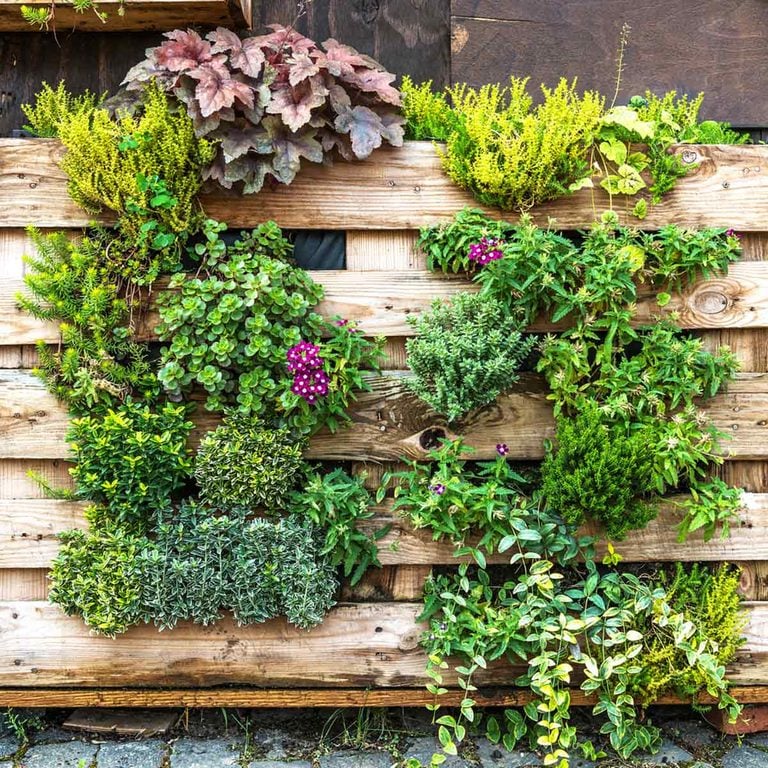 Source: Shutterstock
What better way to hide your AC unit than using some additional plants in your garden intuitively? Simply make a wooden box like the one mentioned above, but this time with some leading-edge slat. Within these slats, you can plant vines or flower stems. If you find planting your garden within the slats difficult, consider hanging tall planter boxes using the wooden slats as leverage. You can also build a picket fence and plant climbing plants around it.
3. Make An AC House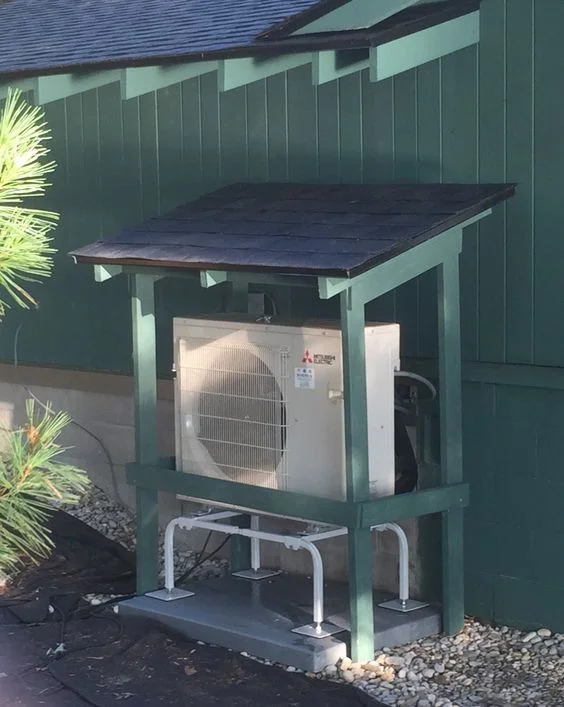 Source: Pinterest
This is quite a unique and modern way of partially hiding your air conditioning units. Building a miniature house as an air conditioner cover is also a great way of improving your garden or landscaping. You can use the traditional slanting roof style to help slide off the snow and act as a sun shield as well. What's more, you can paint it any color and even add decorative items to the surface!
Before installing a house-like structure, ensure that the lid is removable or at least can be partially lifted to provide access to the air conditioner's outside unit. This method is ideal for hiding window conditioning systems that often come with a big, ugly AC unit for air circulation.
4. Disguise Air Conditioner Cover As Tool Shed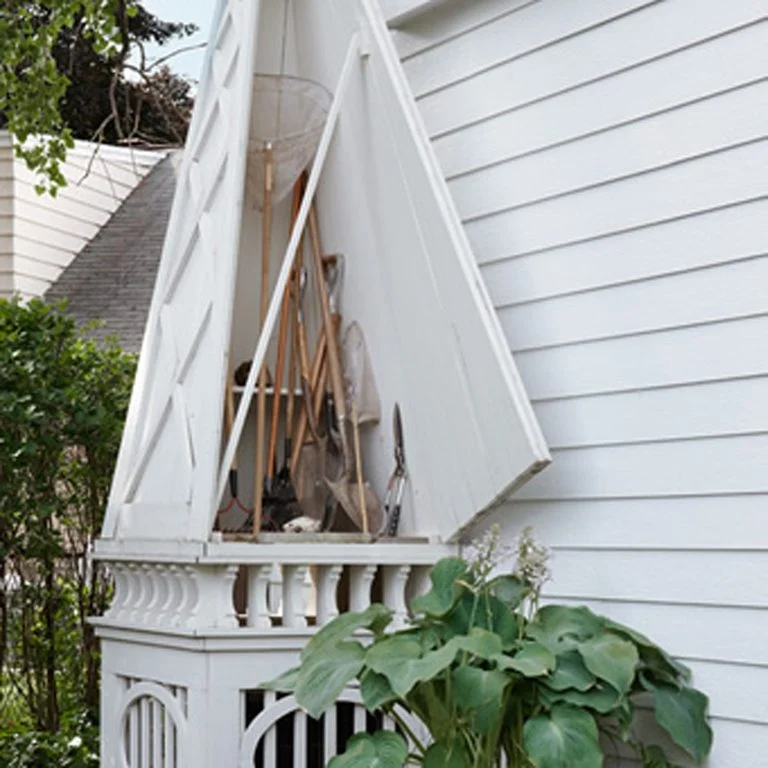 Source: Artharrison
You can make your AC unit cover double up as storage space for your garden tools. You can do this by constructing a mini shed around your outdoor HVAC unit and adding a small tool shed on top. This way, you will have enough space to store tools on top, while you can also store miscellaneous items along with the outdoor air conditioning unit.
Moreover, you can make the tool shed using simple wood planks, but if you want something more durable, opt for an iron trellis. Just ensure that the items or garden tools don't get in the way of proper airflow.
5. Hide It Behind Tall Shrubs Or Bushes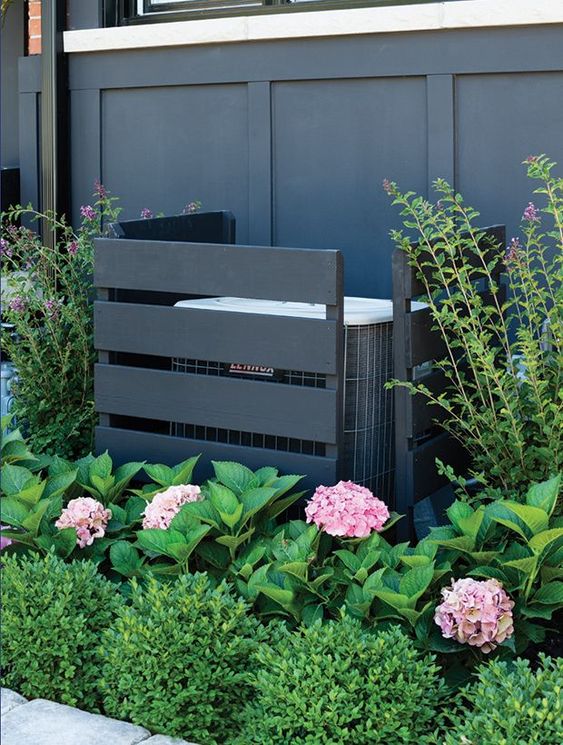 Source: Pinterest
An organic way of hiding air conditioning units is growing a tall shrub or bush on each side until it is fully covered. For an intense camouflage, plant various shrubs, including vines, ornamental trees, and flowers like hydrangea, rose, clematis, English ivy, etc. However, you must leave a little space between each shrub for air flow and easy access to the air conditioner unit. Also, remember to prune your shrubs regularly so their growth doesn't get out of hand and there's enough space for the outdoor AC unit to work properly.
6. Hide AC Unit With Picket Fence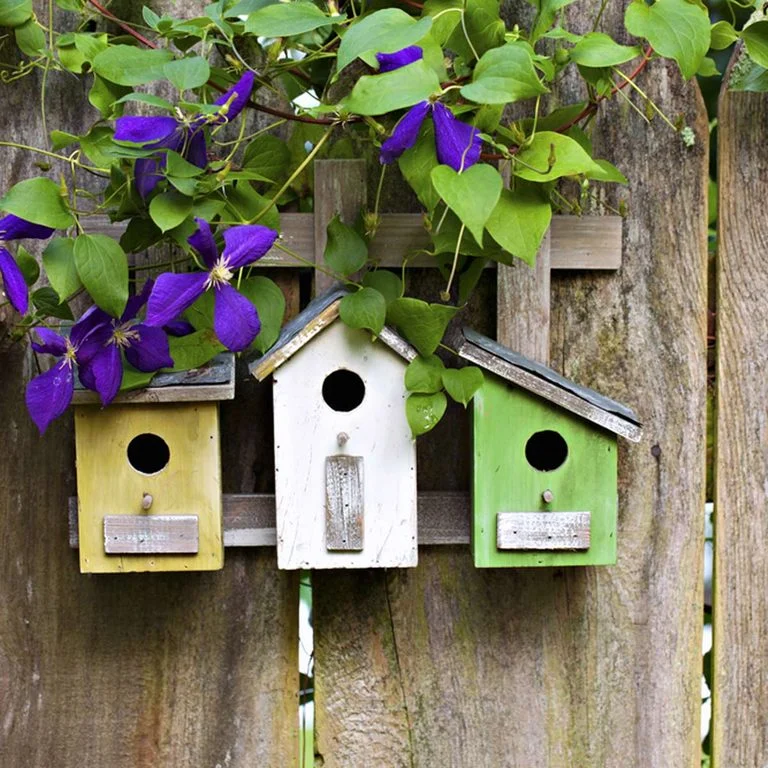 Source: Shutterstock
A great idea that can protect your outdoor AC unit and conceal it from guests is by building a picket fence. Making or installing a picket fence is relatively easy and doesn't require professional help because all you need to do is string together multiple wood planks. You can also level up your fence game by attaching bird houses along the picket fence to provide a safe space for birds to perch and eat.
7. Box With A Door Screen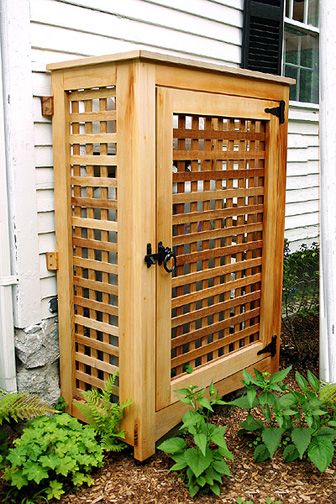 Source: Trellisstructures
This is a more efficient take on the wooden box method of hiding the AC unit in the outdoor space. Here, instead of removing the entire box for monthly or yearly maintenance, you can simply open the door with a latch. The building process is the same as the wooden box, the only difference being attaching a separate door with a few hinges and a latch, which you can find in any hardware store.
If you want it to serve a decorative purpose, you can add lattice work designs or wood carvings to enhance the overall aesthetic of the AC cover and the outdoor space.
8. Install An Iron Trellis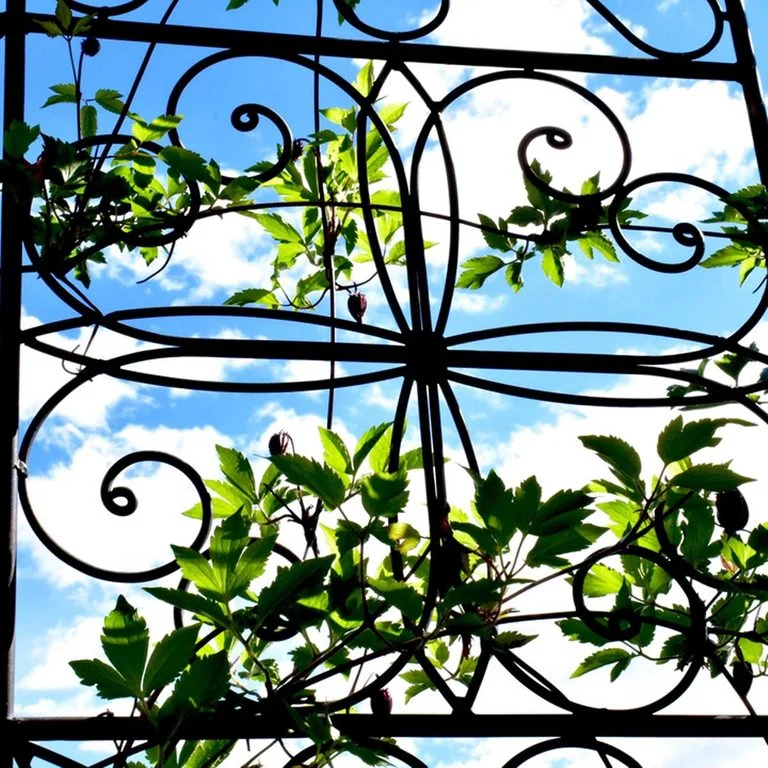 Source: Shutterstock
Beautifully designed iron trellis has always been a great décor option for the backyard or patio due to its weather-proof and aesthetic features. An iron trellis can prevent large animals and garbage from entering and damaging your outdoor AC unit, so it also helps with maintenance. Let some vines or English ivy grow along the trellis to create natural and organic backyard landscaping. Also, you can use an iron trellis as an AC cover and a privacy screen!
9. Hide Outdoor Unit With Large Planters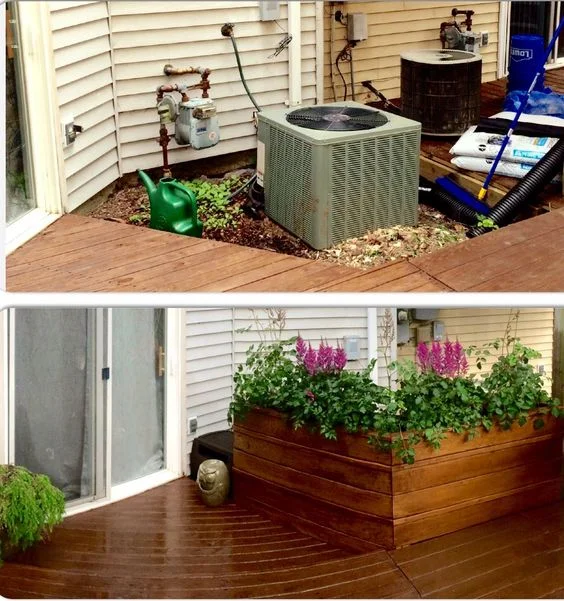 Source: Pinterest
If the weather conditions allow flower plants to grow all year, you can install large planters to camouflage the AC units. Make sure to use large planters big enough to cover the entirety of the outdoor AC unit. An important thing to remember is to use plants that can withstand the heat emitted from the AC unit. You can also add colorful pots that complement your garden or landscaping!
10. Place The AC Unit Inside Aluminum Slats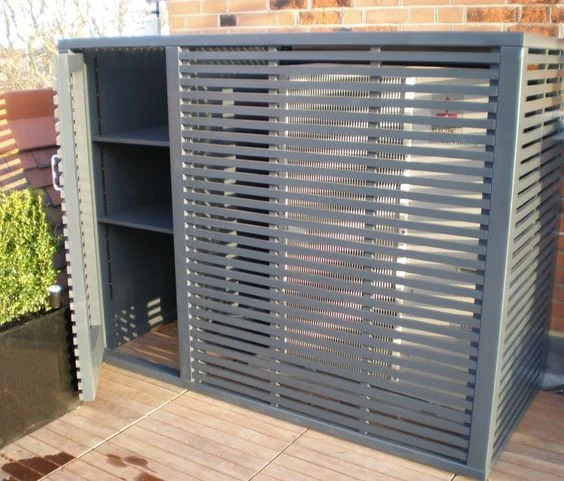 Source: Gardentrellis
If you have regular backyard parties and family gatherings, you may need more storage space for umbrellas, folding tables, barbeque units, etc. Installing a large aluminum structure with well-ventilated slates can hold all of these, plus your outdoor AC unit. 
Aluminum is a preferable material in this instance since it is heat-resistant and extremely durable. That means it can withstand the hot air coming from the condenser and also hot weather conditions without being damaged. Add a couple of removable shelves into the AC cover for other storage solutions and store all your backyard essentials, including garden tools! 
11. Install A Lattice Screen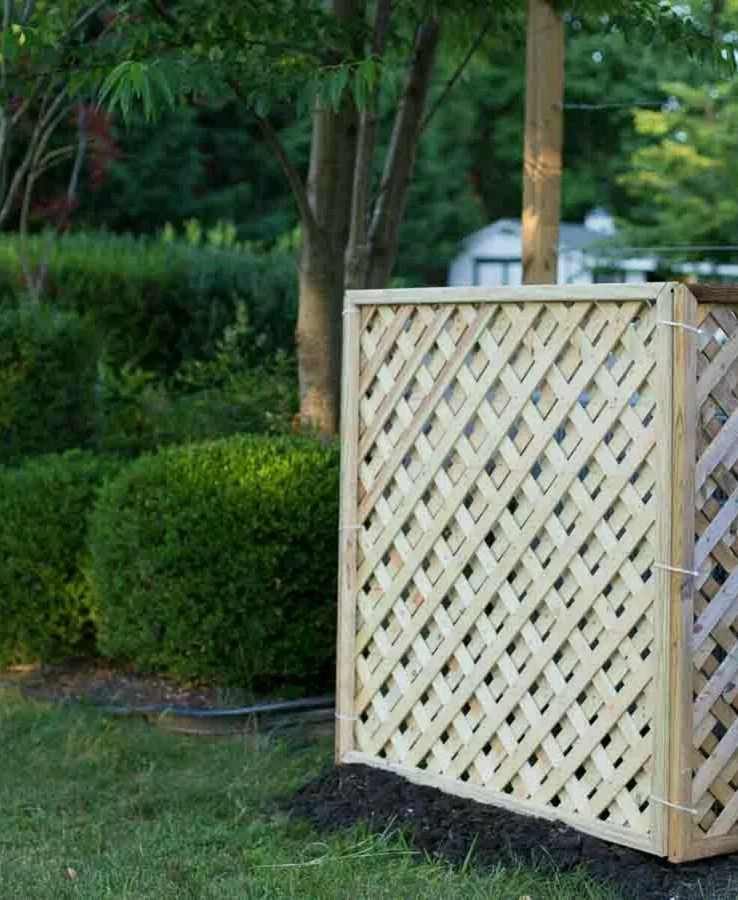 Source: Twitter
Placing a lattice screen in front of the air conditioner unit is the easiest way to conceal it without putting in much effort. Simply fix the screen on the ground, or use multiple screens to create an enclosed box. Avoid plain wooden ones since they aren't visually appealing, and plant-based screens are too difficult to maintain. Instead, opt for a decorative or designer lattice screen made from durable materials and designated slats for adding vines or large planters.
12. Create A Whole Shed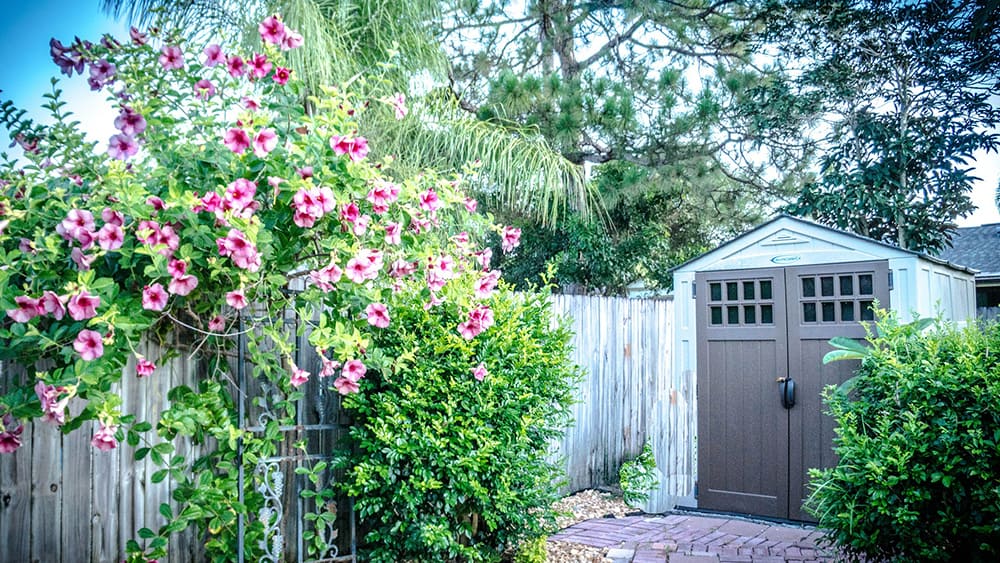 Source Unknown
Building an entire shed to hide your AC unit can be quite intimidating, but hold up! If you have an existing tool shed or backyard room, you can repurpose it as an AC cover. However, if you don't have one, you can simply have it professionally made from scratch in a few days. A shed can also double up as a storage unit where you can store hardware equipment, garden tools, and even farm produce!
13. Build A Cement Or Stone Wall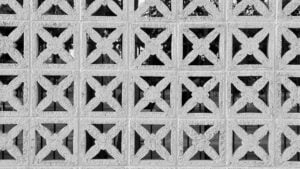 Source Unknown
Want an AC cover that will last for a long time? Consider getting a stone or cement wall to cover your condenser and add a luxurious look to your landscaping. Usually, cement walls for this purpose have small breeze blocks that provide proper ventilation to vent the heat from the unit. You can also utilize these breeze blocks by attaching planters or other decorative pieces within the gaps to enhance the aesthetic. 
Another great idea to jazz up your outdoor space is painting each individual block with different vibrant colors to add a pop to your otherwise dull yard.
14. Add A Bamboo Fence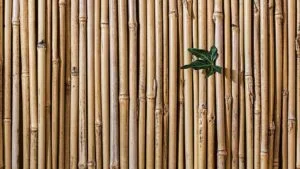 Source Unknown
A climate-conscious way of adding a more oriental look to your garden or backyard is installing a high-quality bamboo fence. It is a popular option for people who want a natural way of hiding the AC unit. However, you will not be able to DIY it since bamboo can be really heavy, so hire a professional to find the right bamboo color for your space. 
Moreover, you can also add a wood stain on top if you have a wooden house or other outdoor furnishings that may clash with the natural bamboo finish.
Hiding AC FAQ
What Are The Benefits Of Hiding Your Outdoor AC Unit?

Hiding or covering your outdoor AC units is highly beneficial, especially during fall or winter season. Here are the benefits:

Hiding and covering the outdoor unit helps keep the evaporator coils clean and efficient since lower amounts of dust, debris, leaves, sticks, etc. can now settle on them.

Hiding the unit with foliage or solid wooden boxes can reduce the amount of water that settles on the coils to form ice particles. This helps maintain an optimal temperature for the unit during winter, preventing pesky AC freezes.

One of the main reasons why people decide to cover their outdoor units to alleviate the overall visual aesthetic of their patio or backyard. 

Can Hiding Your AC Unit With Wooden Boxes Or Sheds Detrimental?

Full-length covers, such as wooden covers or sheds can harm your AC unit, especially if you live in warm and humid climates. Such hiding methods can lead to molds, mildew, rust, and lack of proper airflow. However, using methods with better airflow and more surface area can prevent this.

Does Hiding And Covering Your Outdoor AC Unit Save Money?

No, it doesn't save money or energy – rather, it helps with landscaping and improving the aesthetics of your outdoor area. Many people also resort to covering their units to keep the internal coils clean and prevent freezing.

Can You Do Landscaping Projects Around The Outdoor Unit?

It is possible to do some landscaping around your outdoor unit, given the unit is properly enclosed. Ensure there's at least two to three feet of space between the enclosed unit and the boundary of your landscaping project. If you don't keep enough space between the unit and the plants for your landscaping, it can obstruct airflow and cause severe cases of energy inefficiency.

How To Hide Your Ac Unit Without Lowering Energy Efficiency?

Undoubtedly, hiding the outdoor unit by enclosing it or putting foliage and rails around it improves the appearance of your patio or backyard. It's quite an easy project to execute, but you need to keep some considerations in mind while hiding the unit. For example, keeping enough space around and above the unit for proper air circulation can prevent lowering the energy efficiency of your AC. This way, you can improve the outdoor aesthetic of your home while keeping the utility bills under budget.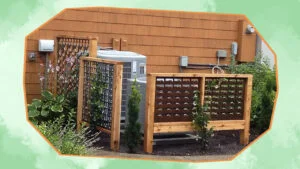 Final Thoughts
An air conditioner unit ruining your outdoor landscape is a common problem for many homeowners. However, nowadays, there are many options you can opt for to conceal the outdoor AC unit while simultaneously enhancing the beauty of your yard or garden. But if you're big on landscaping and don't want to obstruct the natural look of your garden, consider purchasing ducted air conditioning instead of a regular window or split ACs.
You can also hire reliable landscaping professionals or designers to help you find a suitable method if you're still confused.
That said, I'll be signing off for now. Stick around if you want to read similar guides and informational pieces to help you improve your home and lifestyle.
Goodbye!
Related Articles
10 Best Dual-Hose Portable Air Conditioners
13 Best Portable Air Conditioner and Heater Combos
13 Quietest Portable Air Conditioners
9 Best Ventless Portable Air Conditioners
Zero Breeze Mark II Portable Air Conditioner