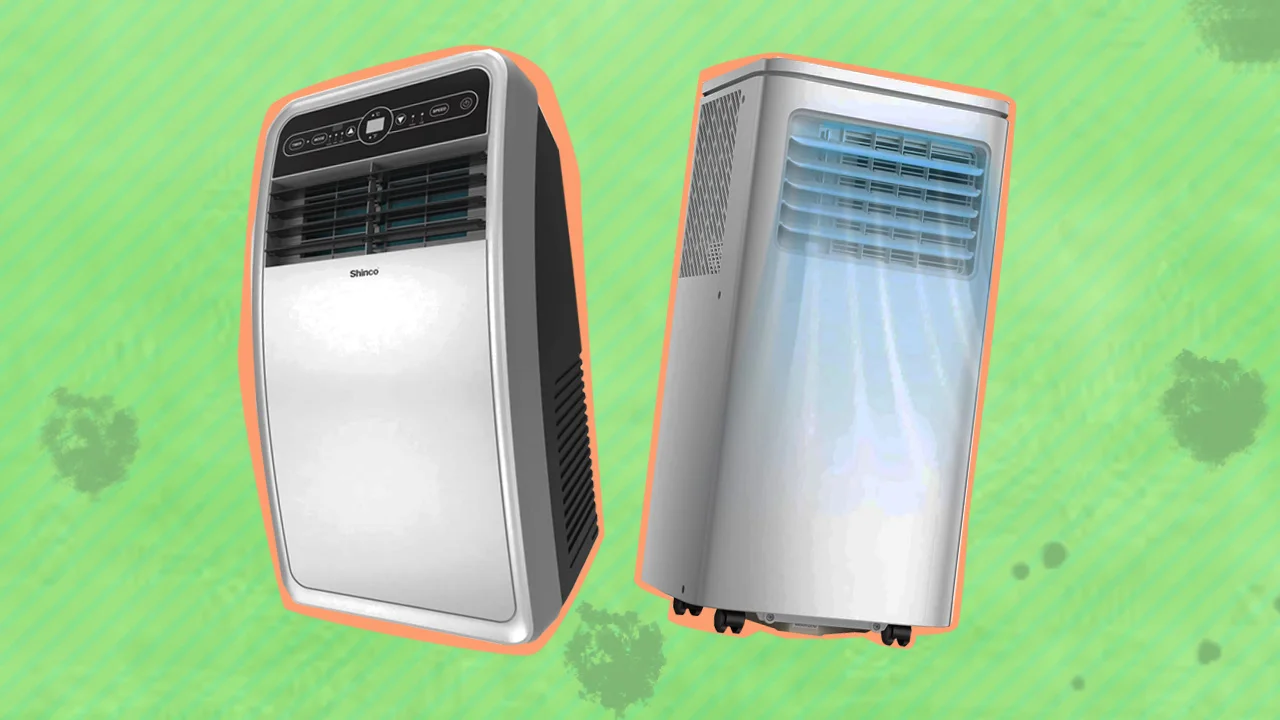 After comparing the products, the Midea Duo smart HE air conditioner stays at the top with its variable-speed inverter technology. A close second is the Tosot quiet portable air conditioner featuring a new X fan technology for efficient cooling.
As important as air conditioners are, they can end up costing a significant amount to function. An easy way to reduce power consumption and stay cool simultaneously is to cool down a single room instead of the entire house. And portable air conditioners are ideal for this, so we've compiled a list of the 9 most popular and quiet portable air conditioners.
9 Best Quietest Portable Air Conditioners
Sale
What I Like
Low noise output
Inbuilt dehumidifier
Portability
Digital remote control
Allergen prevention
What I Don't Like
The installation process is complicated
The SereneLife Quiet portable air conditioner is a lightweight and handy device that can be used to cool your living room, garage, office space, etc. To improve portability, the air conditioner has four wheels on each side of the portable AC that allows easy movement. 
It features three different operating modes – cooling, dehumidifier, and a fan. So, for those extra hot days, you can enjoy the cooling effect of the portable AC in the most efficient manner.
The air conditioner also comprises an automatic swing mode along with a moving wind vent that enables maximum air circulation. Additionally, the swinging motion dissipates air in all directions, so you get a better cooling experience. 
As for the controls, it has a digital remote with a touch button control panel to access the fan speed settings, power, sleep mode, timer, and temperature controls easily. Furthermore, the remote enables you to change the temperature unit from Celsius to Fahrenheit, based on your preference. 
However, what makes this portable AC popular is that it's a quiet portable air conditioner with noise levels less than 55-57 dB. This ensures it's ideal for use in confined spaces, such as bedrooms or dorm rooms where sound can travel quite quickly. This is despite the air conditioner having a cooling capacity of 8,000 BTU (British Thermal Units), as it doesn't have loud compressors and guarantees undisturbed sleep. 
It also acts as a purifier and keeps your home relatively safe from allergens such as dust mites, mold, and mildew. This is because allergens like mold thrive on moisture, and the inbuilt dehumidifier of the portable AC removes all excess moisture from the room. 
Capacity: 1,800 cubic feet | Noise Levels: 55 dB | Cooling Power: 8000 BTU | Number Of Speeds: 3
What I Like
Easy installation
Quiet portable air conditioners
LED display with easy controls
Remote control
Programmable timer
What I Don't Like
The portable AC needs to be placed near a window to function
The Shinco small Portable air conditioner is an 8,000 BTU device that is designed to cool smaller spaces with minimal noise. Ideally, this air conditioner can cool a 200 square feet room quickly. Initially, set the portable AC in cooling mode, and once it's cold enough, switch it to fan mode. This will keep the temperature regulated throughout so you can sleep comfortably. 
It is also multifunctional, with three modes to choose from – cooler, fan, and dehumidifier. For further customization, the device has two-speed settings that can be set according to your preferences. Additionally, it comes with a 19.2 liters dehumidifying capacity as well as a bucketless, self-evaporating operation, allowing you to enjoy a clean, cool, and dry living space. 
The controls of the Shinco Quiet portable air conditioners are pretty straightforward. They feature an LED display with easy-to-use icons that allows you to alter the cooling effect and fan speed. You even get a full-featured remote along with the portable AC for easy operation, and if you plan on using it during the night, you can set the timer to 24 hours. 
With a noise level of 55 dB, this quiet portable air conditioner allows you to stay cool and wake up well-rested. Plus, installation is fairly simple, and you receive a window AC mount kit along with the product. Just place the air conditioner in your desired area and attach the 59-inch hose as well as the adjustable window air conditioner brackets. Once plugged in, turn the portable AC on to enjoy instant cooling! 
Capacity: 200 square feet | Noise Levels: 55 dB | Cooling Power: 8000 BTU | Number Of Speeds: 2
Sale
What I Like
Functional Design
Remote control
Wi-Fi enabled
Quietest Portable air conditioners
Rapid cooling
The Midea Duo Smart HE portable air conditioner is the company's first hose-in-hose design allowing the unit to intake and expel the outdoor air. This functional unit can deliver balanced air circulation inside the house to prevent cold air from escaping through gaps near the windows and doors. 
Additionally, the Midea air conditioner is equipped with variable-speed inverter technology, which can cool your room with more energy efficiency than standard portable air conditioners. This allows for 40% less energy consumption as compared to other air conditioning systems. 
Engineered with a Duo hose design and optimized air duct system, the Midea air conditioning unit can instantly cool down the room. Its modern technology guarantees a cooling rate that is twice as fast as traditional or window air conditioners on the market. 
I feel it is by far the quietest portable air conditioner among the ones on the list with a noise level of 42dB. This library-like silence allows you to sleep comfortably without being disturbed by loud compressor noises. 
The controls are pretty simple and extremely convenient. You receive a remote control along with the product that enables you to adjust temperature settings and cooling modes from any corner of the room. 
Further enhancing convenience is the voice control system of the air conditioner. Since the portable AC unit is Wi-Fi enabled, you can connect it to any home assistant, such as Google Home or Alexa. Once connected, simply use your smartphone to access the device and adjust the controls even when you're not home. 
Capacity: 6 cubic feet | Noise Levels: 42 dB | Cooling Power: 14000 BTU | Number Of Speeds: 2
What I Like
Powerful cooling
Quiet operation
Energy-efficient
Motorized louvers
Washable dust filter
The De'Longhi quiet portable air conditioners can efficiently and evenly cool down most large rooms up to 700 square feet. These portable air conditioners are built to last and offer maximum comfort at minimum energy consumption. They also feature a 4-in-one setup with a portable air conditioner, heater, dehumidifier, and fan. 
This heater is quite powerful and can be used during the colder months to keep the room warm. So, you get to use the quiet portable AC unit all year round through various seasons, making it a worthy investment. 
Additionally, this portable air conditioner has an auto-adjust feature that keeps the room temperature comfortable based on the humidity levels. It enables the unit to save up to 30% more energy, which makes it an efficient product. 
The DeLonghi quiet portable air conditioner functions with minimal noise at sound levels of 53dB, allowing you to sleep comfortably without disruptions. Its ArticWhisperExtreme uses the latest technology to minimize portable AC sounds by up to 50%, even at maximum fan speeds. 
Furthermore, the quiet portable AC unit comprises a washable dust filter screen that can be detached from the portable AC unit and cleaned. Simply keep it under a running faucet or use a handheld vacuum to clean it. But be sure to dry the filter completely before using it as moisture can lead to mold and mildew growth. 
And for even airflow, these quiet portable air conditioners feature motorized louvers that swing depending on the cooling mode. This dissipates hot or cool air to each corner of the room and keeps the temperature even throughout. 
Capacity: 700 square feet | Noise Levels: 53 dB | Cooling Power: 14000 BTU | Number Of Speeds: 1
Sale
What I Like
Easy installation
X-Fan technology
Quiet operation
Multifunctional
Extendable exhaust hose
What I Don't Like
The portable AC can be slightly heavy to move around
The Tosot portable air conditioner is a powerful device that can cool an area of up to 300 square feet, making it ideal for bedrooms, office spaces, living rooms, etc. This 8000 BTU device is a 3-in-1 unit that comprises an air conditioner, fan, and dehumidifier. The dehumidifier has a capacity of 2.3 pints of water per hour, thus keeping your home much cooler. 
This device is designed to function with minimal sounds with noise levels as low as 49 dB, making these portable models the second quietest portable air conditioners on the list. Additionally, the portable AC unit entails a sleep function that can optimize the room temperature during the night so you don't wake up feeling uncomfortable. And if lights are a distraction for you, you can turn on the sleep mode which will automatically turn off all the lights on the device. 
As for installation, the process is fairly simple. You can use both horizontal or vertical windows to install the portable air conditioner and refer to the installation manual in case of doubts. Typically, the installation process of this unit takes less than 15 minutes and does not require mounting hardware or tools. Furthermore, the exhaust hose length can be extended from 11.8 inches to a maximum of 58.8 inches. 
The portable air conditioner also features a new X-Fan technology. When activated, the X-Fab will reduce the spinning rate of the fan while keeping it spinning consistently. This process dries up the residual water in the air conditioning unit and air exhaust hose to keep the system functioning optimally. The X-Fan is also designed to be silent, so you don't get disturbed by the noise, even if the fan is cleaning itself up. 
Capacity: 300 square feet | Noise Levels: 49 dB | Cooling Power: 14000 BTU | Number Of Speeds: 1
Sale
What I Like
Cools larger rooms
Multifunctional
Low noise operation
Personalized comfort
Inbuilt dehumidifier
What I Don't Like
It is meant for sliding windows
The SereneLife portable air conditioner has a sleek, modern, and compact design that can be moved around easily. It comes with a set of wheels on each end of the device, making the portability aspect much smoother. This powerful device can be used for cooling rooms that are larger like living rooms, garages, or office spaces. 
Apart from the cooling effect, the device also offers dehumidification properties that efficiently maintain the humidity levels in your room. The lower the humidity levels, the higher the cooling capacity. 
Furthermore, the SereneLife portable air conditioner comes with four operating modes; cooling, heating, dehumidifier, and fan. You can set the cooling effect based on your preference to enjoy personalized comfort. Along with the cooling modes, the portable AC unit comprises an automatic swing mode with a moving wind vent. This enhances the airflow quality and dissipates air in all directions. The even distribution of cold wind results in your overall room temperature being regulated and comfortable.
The controls are designed to be convenient and the portable air conditioners come with a remote. Featuring a touch control panel that includes power, mode, timer, temperature, and fan settings, the device is made more accessible. It also features a unit selector that you can use to change to Celsius or Fahrenheit based on your preference. 
Since this portable air conditioner comes with an inbuilt heater, it can be used all year round with a heating capacity of 9000 BTU. The dehumidifier has a capacity of 15 liters per hour and keeps the room free of excess moisture. Furthermore, the operating noise of this unit is only 52-56dB, making it an ideal product to cool areas like bedrooms and dorm rooms. 
Capacity: 2800 cubic feet | Noise Levels: 52 – 56 dB | Cooling Power: 12000 BTU | Number Of Speeds: 3
Sale
What I Like
Portability
Low noise operating
Multifunctional
Oscillating vents
LED display
What I Don't Like
Needs to be placed near a window
The Airo comfort is a powerful yet functional portable air conditioner that can keep your living room, bedroom, apartment, or office cool throughout the summer. This 8000 BTU quiet portable AC is a compact yet robust system that is ideal for cooling in smaller rooms up to 200 square feet. Additionally, its intuitive functions are easy-to-use and offer a user-friendly interface. 
The LED display is quite clear and can be turned on or off depending on the time it's being used. A Digital Touch button accompanies the LED display and can easily adjust the mode, timer, speed, and power functions. 
Equipped with Airos comfort technology, this quiet portable AC keeps constantly moving to cool your home and regulate the room's temperature. It features oscillating vents that direct the airflow in different directions based on how you set it. This allows better airflow quality and even distribution of cool air throughout the room. It also comprises a powerful internal system that acts as a purifier and purifies the air that passes through it. 
This multifunctional system is a 3-in-1 unit and comprises a dehumidifier, fan, and cooling device. This ensures that the air in the room is humidity-free and set at a comfortable temperature. 
The installation process is also relatively simple, and all needed accessories are included in the packaging. You also get clear instructions with drawings on what you need to do and how to do it. Additionally, the device is also portable and has wheels on all four ends for better movement. This allows you to slide the device to another space effortlessly once you're done using it. 
Capacity: 200 square feet | Noise Levels: 52 dB | Cooling Power: 8000 BTU | Number Of Speeds: 3
What I Like
Hassle-free installation
Quiet operation
Energy Efficiency
Personalized comfort
Dual-hose technology
The Dreo portable air conditioner features a dual hose (hose-in-hose) innovation that promotes better air circulation. It does this by locking the cold wind in and pushing the hot air out. The device has a high cooling capacity of 12000 BTU and blows cold air at massive distances that can reach as far as 28 feet. This makes it ideal for cooling large spaces up to 450 square feet like garages, living rooms, office spaces, etc. 
These dual-hose air conditioners have five impressive, powerful cooling modes (cool, fan, auto, humidify, and sleep) that can be used based on your needs. It also features a 60 – 86 degrees Fahrenheit temperature range that allows for more customization and personalized comfort. The touch of a button can access all these features on the portable unit or the remote that comes with it. 
Dreo believes in feeling more and hearing less, which is why this air conditioner is one of the quietest portable air conditioners. With noise output levels as low as 42dB, you can enjoy your peace of mind day and night. This feature also makes this portable air conditioning unit ideal for nighttime usage, as it won't cause any disruption to your sleep. 
Unlike central air conditioning, the Dreo quiet portable AC unit functions at variable speeds along with the dual hose unit design to save up to 40% on energy bills and consumption. This energy-efficient system is also easy to install on any type of window, whether slide or double-hung. 
Capacity: 6.14 cubic centimeters | Noise Levels: 43 dB | Cooling Power: 12000 BTU | Number Of Speeds: 1
What I Like
Washable filters
Quiet operation
Energy-efficient
Remote control
Three functionality settings
The ZAFRO portable air conditioner is a relatively portable device that has a cooling capacity of 8000 BTU. Ideally, this device is meant to cool smaller floor spaces up to 250 square feet, such as bedrooms, dorm rooms, RVs, etc. 
The air conditioner entails three functionality settings that can be used based on your preferences. These settings are designed to meet the cooling and ventilation needs without consuming excessive amounts of energy. To further heighten comfort, the air conditioner comes with a remote that can adjust the modes, power functions, temperature, speed settings, etc. This allows you to conveniently adjust your device's settings without having to get up from your comfort zone. 
Furthermore, the portable air conditioner is engineered to function with little to no noise output, and its noise levels can go as low as 54 dB. This makes it ideal for bedrooms as it won't disrupt sleep due to loud compressor noises or other portable AC sounds. 
Additionally, the air filters of this air conditioner can be removed and washed. So, you can get several cycles of use before you will have to replace the filter. Make sure that you clean the filter every once in a while. 
Simply place the filter beneath a running faucet or use a handheld vacuum to remove the dirt. Before you put the filter back into the portable air conditioner, ensure it is fully dry. If there is moisture on the filter, it can promote the growth and buildup of mold and mildew.
Capacity: 250 square feet | Noise Levels: 54 dB | Cooling Power: 8000 BTU | Number Of Speeds: 3
Quick Comparisons Of Quiet Portable ACs
Quietest Portable Air Conditioner Buying Guide
The amount of noise output an air conditioner has is just one part of an entire list of factors that make the device worth using. There are other factors that need to be taken into account when choosing portable air conditioners. These factors include: 
1. Noise levels
Typically, portable air conditioners make higher noise output than the market decibel rates when running on medium or high mode. If you need a quiet portable air conditioner that has a consistent noise level, opting for a unit with a noise level of 60 dB or less will help. 
60dB is generally as loud as a normal conversation between two people. For better comparison, 50dB is about as loud as rainfall outside the window, and 40 dB is similar to whispering or the output of an average refrigerator heat pump. 
2. Low Airflow
Apart from compressor sounds, an air conditioner makes a swirling sound when the air passes through the device. This is why higher speed settings increase the noise levels of the air conditioner. The higher the airflow, the more prominent the sounds are.
Additionally, bigger AC units such as 14000 BTU portable units are much louder in comparison to smaller units such as the 8000 BTU portable air conditioners. The reason is that a bigger unit, such as the 14000 BTU one, will have to generate a higher airflow rate. Keeping other factors aside, reducing the speed or level of airflow can most certainly help quiet down any HVAC device or portable air conditioning unit.
Based on airflow, portable air conditioners can be categorized into two types:
High airflow, moderately cold

Low airflow, cool air
The high airflow, moderately cold portable air conditioners cool the room by providing larger quantities of moderately cool air. These portable air conditioners can usually be quite loud (60dB or higher).
The low airflow, cool air portable air conditioners push out colder air in lesser quantities. Since the airflow is minimal, the noise generated from the device is lower.
3. Type Of Compressor
For most portable air conditioners, there are two kinds of compressors; A Rotary compressor and an Inverter compressor. 
A rotary compressor can be commonly found in refrigerators and is a turn-on-off compressor. This essentially means that the compressor will have a set temperature that it is required to maintain. When the room temperature exceeds the set number, the portable units automatically turn on, bring the temperature down, and turn off. 
When these rotary compressors kick in, they make a loud sound that can be startling if not used to. These high-pitched sounds are enough to wake someone up from sleep. 
On the other hand, an inverter compressor has a variable-frequency drive (varying input voltage and frequency) that controls the inverter compressor's speed. This then modulates the cooling capacity much more efficiently. 
For instance, if there is a set room temperature the AC units have to follow, they will keep delivering cooling power that maintains the temperature. They may swing back and forth slightly but do so very silently. Since these compressors are always functioning, no sudden, loud sound is caused. 
4. Check the Specification Sheet
All portable units come with a specification sheet, but most times, it does not mention the unit's noise levels. 
However, finding the noise level of an air conditioning unit is not a complicated task. Once you get the decibel rating, check what category it falls under. Generally, these are the categories mentioned in the specification sheets. 
| Noise Level | Category |
| --- | --- |
| 51 dB | Low |
| 59 dB | Mid |
| 60 dB + | High |
Try to opt for a device that has a decibel rating under 55 dB for the best performance. 
5. BTU, Size, EER Rating
Apart from being silent, the portable air conditioner should also be functional in all aspects. This is where the rest of the cooling metrics for the AC units come in. 
The first and foremost is the cooling capacity meter, the British Thermal Unit (BTU). Opting for a bigger unit, even though you don't need it, can result in more noise generated from the device. This is because bigger units have higher airflow, and when paired with a smaller space, the noise becomes all the more apparent. 
Ideally, a 10,000 BTU unit is sufficient to cool down 500 square feet of living space. 
The second most important metric to consider is the EER or Energy Efficiency Ratio. If the rating is above 8.5, the device is energy-efficient and will enable you to save up on energy consumption. 
An example of an air conditioner with a higher EER rating is the Honeywell air conditioner with a rating of 11.67. 
Lastly, the size of the portable AC units also matters. Getting heavy AC units would be impractical if you plan on moving or storing your air conditioner away after use. Similarly, the weight will not be a major concern if you need a portable unit that provides sufficient cooling and doesn't need to be moved around as much. 
Verdict
After extensive research, I can confidently say that the Midea Duo Smart HE is an ideal choice for efficient cooling. The device features variable-speed inverter technology, which can improve its energy efficiency more than standard air conditioners on the market.
A close alternative to the Midea Duo air conditioner is the Tosot air conditioner. This multifunctional unit is designed to function with minimal sounds less than 49dB and the device comes with impressive smart features that enhance user comfort and satisfaction.
I hope this article helped you pick an efficient and quietest portable air conditioner. Until next time!
Related Articles
10 Best Dual-Hose Portable Air Conditioners
13 Best Portable Air Conditioner and Heater Combos
How To Hide Your [AC] Air Conditioner Unit?