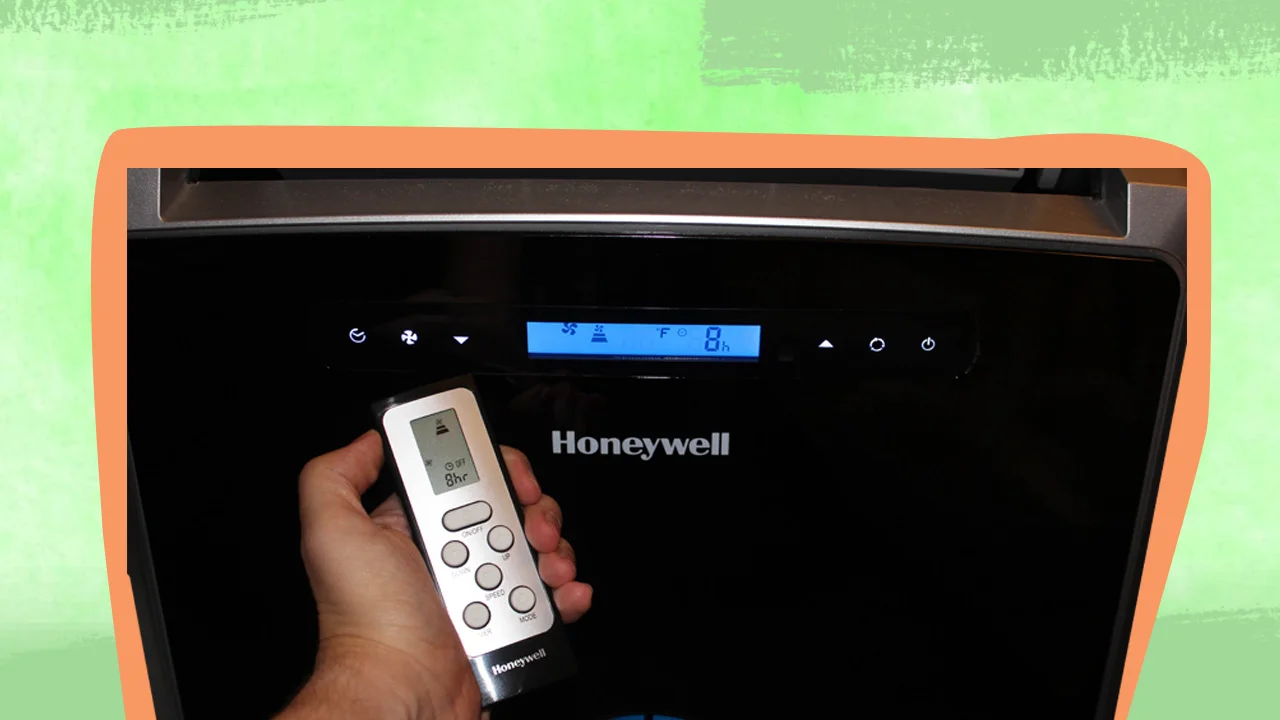 With 3 fan speeds, a programmable 24-hour timer, and a 10-hour sleep mode, the Honeywell Portable Air Conditioner is an excellent option, you get an in-built fan and dehumidifier with this unit without spending a lot of money. 
Considering the hot summer temperatures in the USA, owning an air conditioning unit has become a necessity. 
And since a central air conditioning system is quite costly, it is beyond the means of those living on a steady income, with even a window unit proving expensive. Hence, I find portable air conditioners a more suitable option, and the Honeywell air conditioner has certainly helped me survive the scorching summer heat! 
Honeywell Portable Air Conditioner Review
A. Accessories And Parts: Comes With Everything Needed For Installation
Unlike most heating, ventilating and air conditioning systems, the Honeywell Portable Air Conditioner is supplied with each and every accessory that will be needed for setting it up. So that when the unit arrives, the only thing you will have to do is choose the right window for installing it. 
Here's what the Honeywell Portable AC is supplied with:
Honeywell MO Series unit

Window kit

Exhaust hose

User manual 

Remote control 
B. Setup Process: Not Much Of A Hassle
What makes it the best portable air conditioner, in my opinion, is the setup process. 
Despite being a portable unit with in-window installation and an exhaust hose, the Honeywell Portable air conditioner required very little setup. Weighing about 13.5″ D x 14.6″ W x 27.7″ H, this portable unit is more lightweight than other portable air conditioners I've tested. 
I took out the unit from the packaging and placed it in my office space, where I decided to run it. Once the unit was positioned properly, I connected the exhaust hose to the rear and routed it via the window. Then, I quickly skimmed through the instructions and sealed the window kit to the casement. 
As soon as the window kit was installed, I double-checked the hose and the kit. When everything seemed fine, I plugged the unit into an electrical outlet and turned it on. 
C. So, Is The Honeywell Portable AC Easy To Install?
For DIY enthusiasts like me, installation won't take much time, and the unit is ready for use in less than 15 minutes. 
Although it's a fairly easy process, people with little to 0 DIY knowledge may face issues. In that case, going through video tutorials online may help. Or, if possible, ask for a helping hand to make sure you install the window kit correctly from the get-go. 
One of the significant downsides of this great unit is that the package lacks sealing foam tape. And that's what separates it from other units, like a central air conditioner or a split system. Since I already owned sealing foam tape, I didn't have to wait to set up this unit. 
So, if you don't own one, getting one will save you the trouble of running to the store during the installation process. But a positive aspect of this portable air conditioner is that the window kit relies on wing bolts rather than screws. That made installing the window kit easy, as I just had to slide the edges into place and tighten the bolts. 
D. Design: Simple, Sleek, And Space-Saving With A Modern Touch
Sitting on 4 caster wheels, the Honeywell Portable Air Conditioner boasts a slim and compact profile. Towards the top is a digital control panel equipped with an LED that adds to the user-friendliness of the unit. 
On the front is an air vent to distribute cool air throughout the space while filtering dust, pet danders, and other particles. Because this Honeywell portable air conditioner includes an exhaust hose, it needs to be placed near a window like most portable AC units. 
Towards the rear coil to absorb warm air or heat from indoors and expel it outdoors. And since it has a wheeled base, this portable unit is easy to move. Further portability is enhanced with its lightweight design, which allows people to transport the unit from one corner of the house to another.
E. Performance: Powerful Unit That Doubles As A Dehumidifier  
Despite being small and compact, the Honeywell Portable Air Conditioner packs quite a punch. 
I say so because it's a 3-in-1 unit, meaning you get a fan, air conditioner, and a dehumidifier in one device. Operating within the temperature range of 61°F to 89°F, this portable air conditioner cools my office space of about 250 square feet in 30 minutes. 
However, since its cooling power is 8,000 British Thermal Units, it can be used to cool spaces up to 350 square feet. Speaking from experience, I placed it in my dining room of about 400 square feet, and it did a reasonable job, thanks to the 3 fan speeds. 
And on those evenings when I prefer relaxing in my basement, I wheel the unit to the space and switch to dehumidifier mode. Its built-in dehumidifier eliminates up to 44 pints of moisture per day. 
For longer unattended dehumidification, this unit comes with a continuous drain option, which is rarely found in portable units. When used as a dehumidifier, you can set it up within minutes and go about your day without worries. 
F. Noise Level: Quiet Operation 
Despite being such a powerful unit, this portable air conditioner is surprisingly quiet. This portable air conditioner relies on dual motor technology to supply cold air to a space. 
When compared to Delonghi Pinguino Portable AC, I discovered that the unit generates about 50 to 53 dB (decibel) of sound at the highest setting. Although it isn't as quiet as a whisper, it is similar to the sound produced by an electric fan. So, you can sleep, work on your laptop, and even read a book without any disturbance, even when it is in cooling mode. 
G. Maintenance: Relatively A Low-Maintenance Unit
One of the reasons I opted for the Honeywell Portable AC for my office space is the fact that it's a low-maintenance unit. Unlike other air conditioning systems, you need not call professionals to clean the filters or for any sort of maintenance-related chore. 
The exhaust hose, the vent, and the air filter are the three main areas to keep an eye on. I'll give a clear picture of each of these components. 
1. Exhaust Hose
The exhaust hose of this Honeywell Air Conditioner doesn't feature a grill cover or a plate. That means dirt, debris, foreign particles, and even small animals can settle in them. You need to be careful more so, if you place the unit near an exterior window. 
To make sure animals don't make a home inside the hose and affect the efficiency of the unit, you will have to keep checking the exhaust hose regularly. 
2. Vent 
With regular usage, debris, and dirt could settle in the vent of the Honeywell Air Conditioner, so it's equally important to check it regularly. Checking them isn't the only task– you will have to clean the vent along with the coils to prevent dust and debris from accumulating. In case you don't clean them often, remember the buildup will affect the performance of the AC unit. 
3. Air Filter
Besides circulating cooled air in your space, the air conditioning unit keeps the indoor air clean by trapping foreign particles. And the air filter is in charge of purifying the indoor air by trapping dirt, pet danders, and other impurities. 
Nevertheless, I found that cleaning the air filter is very easy, as it's washable. And every homeowner can do it themselves without calling for professionals every few months. 
H. Extra Features: Energy-Saving Timer And Sleep Mode 
With this portable air conditioner, you get additional features that separate it from the competition. 
Among them, what deserves mention is its energy-saving feature. Unlike a central air conditioning unit, the Honeywell Portable Air Conditioner consumes less energy. 
At first, I didn't believe its claims of saving energy, but contrary to my expectations, there wasn't much increase in my utility or electricity bills. So, if you're hunting for an AC unit that will help you survive the heat without mounting electricity bills, the Honeywell Portable Air Conditioner is a great machine. 
Further, the efficient energy use of this AC unit is enhanced by the "sleep" mode. When I run the AC for more than 3 hours, I switch to the "sleep" mode, which reduces energy consumption to a great extent. 
In "sleep" mode, the AC unit adjusts the humidity and room temperature automatically, making the space cozy and comfortable by distributing cold air across the space. One word of warning: the temperature decreases by 0.5 to 1 degree each hour for up to 2 to 3 hours. 
Another noteworthy feature is the 24-hour timer that allows users to set the number of hours they want to run the AC unit for. To test the timer function, I tweaked the setting to turn the unit off at 5 PM in the evening, and the air conditioner responded accurately.
I. Safety: Shuts Off To Prevent Accidents
Safety is yet another feature I was looking for when searching for the best portable air conditioners, and guess what? The Honeywell Portable Air Conditioner promises extra safety by offering thermal overload protection on the compressor motor. 
Not many know why such a mechanism is installed on the motor– basically, it's a protection device that turns off the motor in case it overheats. Technically, it is installed to keep the motor safe from burning to prevent accidents. 
That means even if you run the unit continuously for long hours, you can rest assured there is no way the motor will burn or get damaged. 
J. Controls: Intuitive And Responsive
Tweaking the settings was also convenient on this unit, thanks to the remote control and the LED soft-touch control panel. 
What I liked about the digital panel is that it's located at the top, not on the front or either side. And this ingenious placement makes it easy for me to adjust the settings without having to move from my office desk or bed. 
The digital control panel of this portable air conditioner has buttons for: 
Power on/off

Setting timer (up to 24 hours)

Switching fan speeds (3 modes)

Adjusting temperature from 60°F to 90°F

Switching modes– fan, air conditioner, and dehumidifier
You can change the settings as often as you want without any hassle, especially since the touch controls are intuitive. Like, when I had to adjust the fan speed, I simply used the "fan" button and adjusted it to the "III." Then, I adjusted the temperature using the up and down buttons. 
On this air conditioning unit, the temperature is displayed in both Fahrenheit and Celsius, adding to its user-friendliness. Except for "sleep" mode, the digital control panel features all the settings, unlike other air conditioners. So, you will have to use the remote control to activate the "sleep" mode. 
Like the digital control panel, the remote control is easy to use, meaning you won't have to go through the hassles of setting it up or pairing the unit via Wi-Fi. 
Honeywell Portable AC Things to Consider
Pros
Here's why the Honeywell Portable Air Conditioner would be an ideal pick for your space:
1. Compact
Until now, I have never come across a portable air conditioner as compact as this AC unit from Honeywell. It boasts a sleek and slim design, which doesn't occupy much floor space and is ideal for small spaces. 
2. Multifunctional
Rarely are portable air conditioners multifunctional, but this unit from Honeywell is a 3-in-1 device. Besides using it to pump hot air from the room, you can use it as a dehumidifier and reduce humidity. 
3. Easy To Set Up
As the unit comes pre-assembled, you need not break a sweat to install this unit, unlike other AC units. After unpacking, all you need to do is position it near a window, install the window kit, and that's it! 
Cons
Here's why you shouldn't opt for the Honeywell Portable Air Conditioner:
1. Not Ideal For Large Spaces
For spaces larger than 400 square feet, the Honeywell Portable Air Conditioner wouldn't be the right choice. That's because it has a cooling power of 8,000 BTU, which will prove useful in cooling a small to medium-sized room. 
2. Isn't Energy Star-Rated
Even though the unit is integrated with energy saver timer and sleep mode features, it isn't Energy Star-rated. So, if you're looking for AC units that are Energy Star-certified, there are better choices than this one. 
Manufacturer: Honeywell | Model Number: MO08CESWK | Item Weight: 54 lb. (mass) | Product Dimensions: 13.5″ D x 14.6″ W x 27.7″ H | Maximum Air Flow: Not Listed | Room Coverage: 250 to 350 sq. ft. | Warranty: 1 Year Limited Warranty | Capacity: 44 pint | Exhaust Hose Length: 12" to 47" | Voltage: 115 Volts | Noise Level: 54 dB | Color: White/Black
Wrapping It Up
Coming with a wheeled base, the Honeywell Portable Air Conditioner is one of the lightest yet most versatile units available on the market today. Although its 8,000 BTU cooling power makes it an excellent choice for small spaces, it doesn't do such a good job of cooling large spaces.
Nevertheless, this portable AC unit scores high on versatility as it can be used as a fan, dehumidifier, and air conditioner– now that's a new one!
Hopefully, my detailed review has helped you figure out if the unit is the right pick for you. Just keep in mind that finding an AC unit that serves as a dehumidifier and fan, too, at this price point is challenging.
So, if you're looking for a product that would beat the heat and suck in the humid air, this unit will fit the bill!