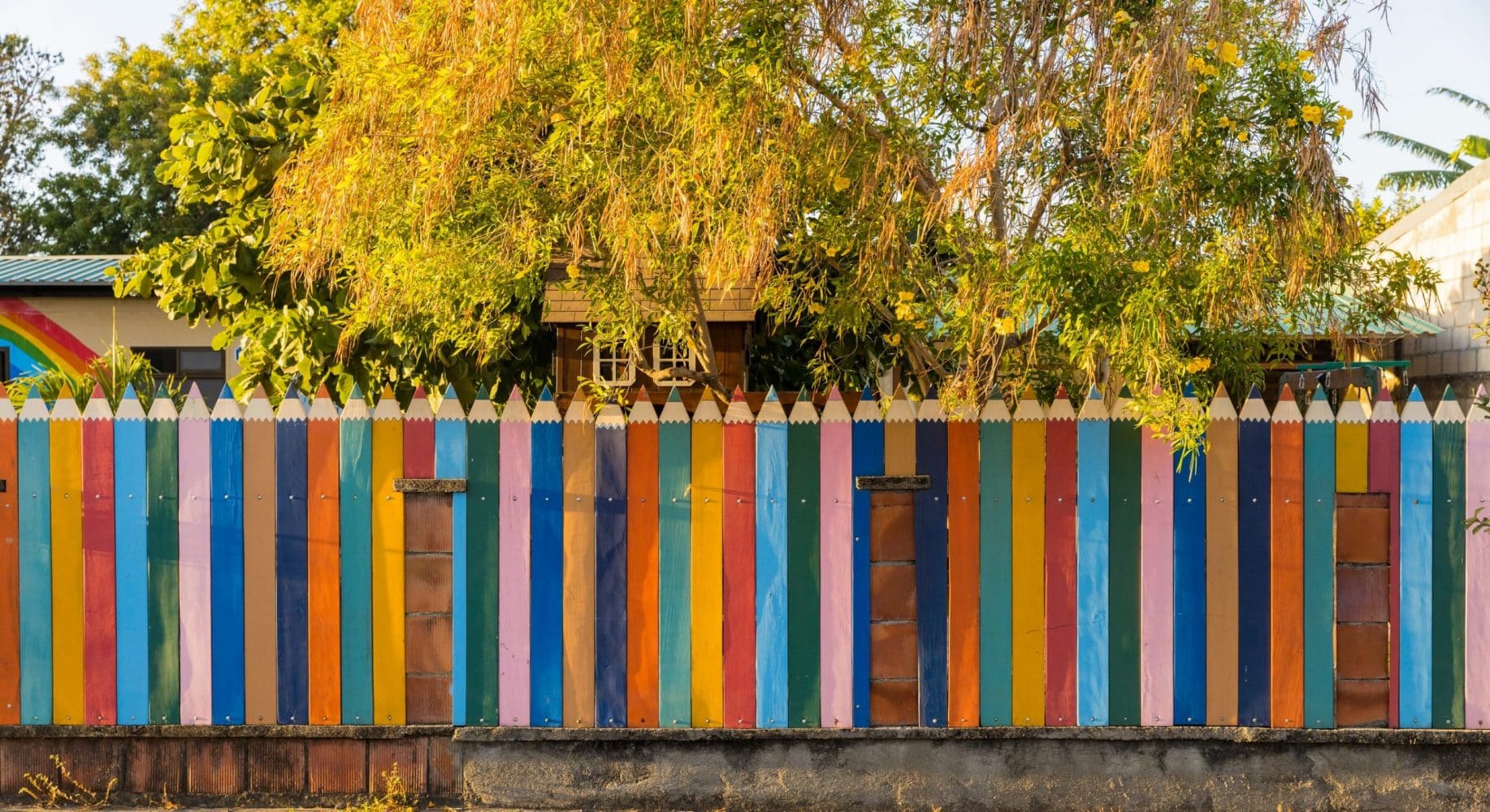 People build fences for several reasons: safety, marking property boundaries, play areas for pets, and curb appeal.
Those who live near forests or wilderness often use fences to prevent stray animals from entering their space. The opposite is true for farm animals. If you have animals like chickens, sheep, or horses, you can draw up a fence to prevent them from wandering about and getting lost.
Another reason for installing a fence is privacy. When gardening, working, or swimming in the pool, you don't want the neighbors or passersby to intrude on your privacy. If you are curious about the types of fences, let's look at a few in detail.
Types Of Fences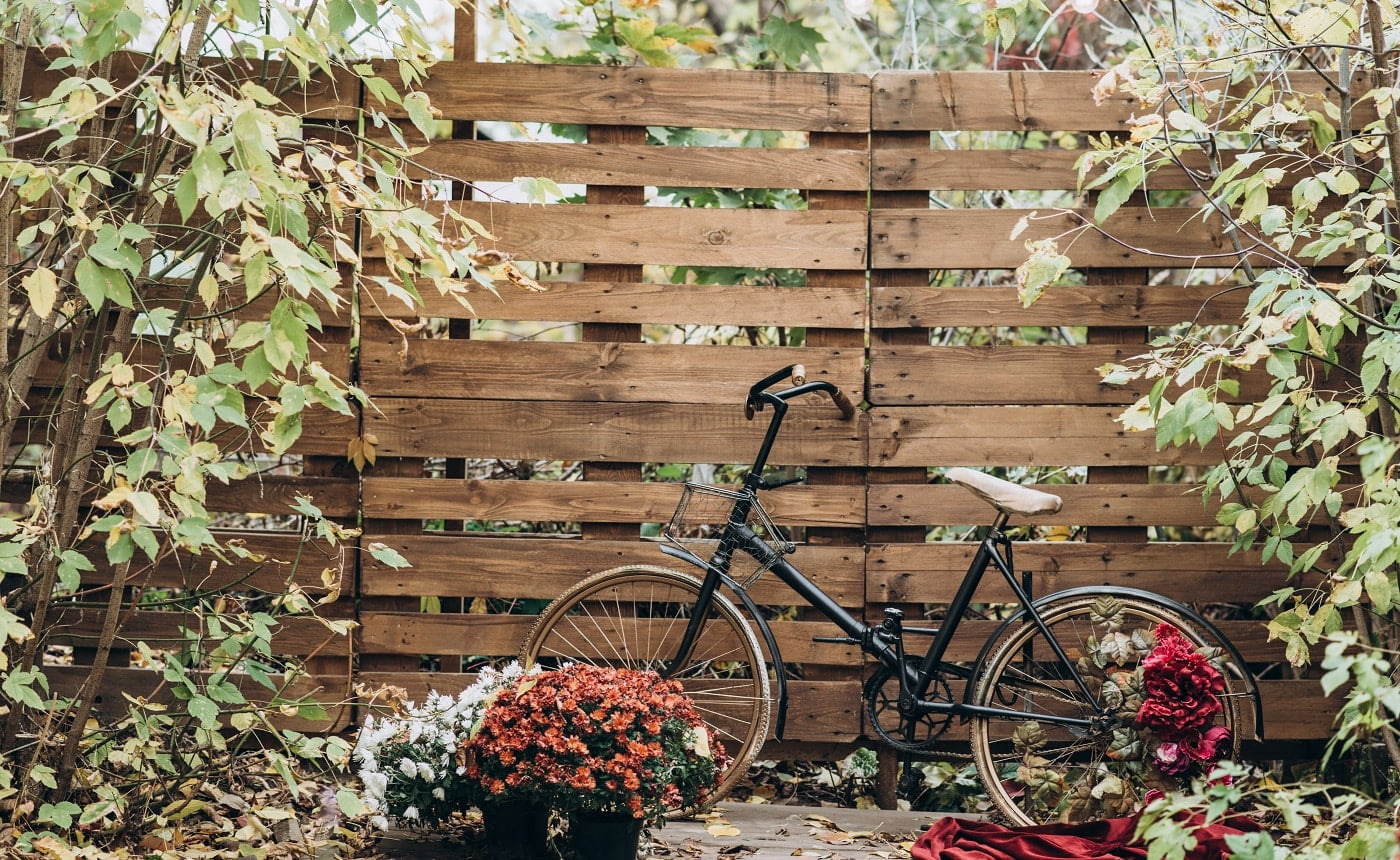 Wood fencing is one of the most common types of fencing in the United States and many parts of the world. The reason why wood is such a popular option is because they provide elegance, style, and unmatched quality.
Tall wooden fences are easy for homeowners to install. Besides, they give a good sense of privacy, and are an attractive option that gives value for money. There are numerous types of wood used to make fences like the Spruce tree, Cedar, Pine, or Eastern Red. 
However, you also need to spend a bit on the upkeep and maintenance of wooden fences. Over time, elements of weather and temperature may change the appearance of the wood, or it may rot from water damage. Thus, it needs to be painted, sealed, or stained. How long the fence will last depends on the quality of the wood. 
Aluminum fences are often used in gardens and residential homes across the country. They are low-maintenance, neat-looking fences, which come in various designs. When it comes to durability, these fences stay the same for long enough if they are not tampered with. 
However, they do require a coat of paint before installation to prevent rust formation. Some people like to powder coat their aluminum fences to prevent damage by weather changes. Apart from this, people use the fence as a base to grow climbers. When these plants grow thick and develop flowers, it only adds to the beauty of the backyard.
This option for fencing is an eco-friendly one since it does not require much upkeep. It is also easy enough to install on your own. That being said, if you are looking for a sturdy option that keeps annoying trespassers out, then other options are much stronger than aluminum.
This is one of the cheapest options available on the market. This option mimics the white-picket look of a wooden fence, and by appearances, it manages to pass off as one. However, the difference is that it isn't made of wood but PVC, a type of light plastic. 
So with this option, you get a white-picket-fence without the high cost. However, these fences are not made of 100% PVC. Often, they have some amount of natural wood on the inside to provide added sturdiness. Despite this, it isn't as tough as a fence made of natural wood. 
Apart from the cost difference, this fence is also resistant to water damage, harsh temperatures and even survives waterlogging. This is entirely due to its outer PVC layer which does not allow moisture to penetrate through. 
However, since this fence is a bit flimsy, it might not be a great pick if you want a security fence or wish to maintain privacy in the yard.
You must have come across a fancy and elegant-looking fence or gate, usually black in color but sometimes painted white or silver. They are easily identified as the ones that look like thin arrows pointing towards the sky. These fences are traditional-looking and are used on various residential and official properties. 
They are often tall and slender with medium gaps and intricate details on the top. Although they make excellent fences, they are see-through. So, they are good enough for security, but not for privacy. Along with elegance, they are great for marking the boundaries of the house. 
This option is on the pricey side because iron doesn't come cheap. The upkeep cost isn't as affordable either. Since iron is prone to rust, it will need fresh paint and anti-rust maintenance coats. Some homeowners use sandpaper to remove the rust, which is a wise move before applying a fresh coat of paint. 
Vinyl is similar to PVC, and the fences look almost identical. But this material is sturdier than PVC and comparatively easier to install. It's not possible to install this on your own, so it is best to hire professional help. 
If we talk about the benefits, many of them will overlap those of PVC. It is easy to clean and paint. Once painted, it doesn't chip off as wood does over time, thus giving the fence a longer lifespan. Although it may be pricey to install, it will turn out to be a good investment in the long run because it doesn't require much upkeep or maintenance. 
All you need to do is wash it with water and soap if it's very dusty. Just hose it down with water, and it's as good as new. What's more, it doesn't rot and get water-damaged like wood. 
These fences usually have two components that make up the entire fence. The first is the upright pole made of either concrete, iron, or steel, and the second is the steel chain fence that is attached to these vertical poles.
The great thing about this type of fence is that it needs no maintenance and is incredibly simple to install. You can do it yourself – no need to hire professionals to install it. It comes in ready-to-assemble pieces and is almost effortless to install. Moreover, it can help you save a lot of money. In other words, you can call it a quick-fix fence. 
Even though they are tall, they are transparent and don't do much for keeping the privacy of the yard. Also, this kind of fence is not helpful for security concerns for your property. Still, it's good for keeping stray animals out of the yard for marking your home or field boundary.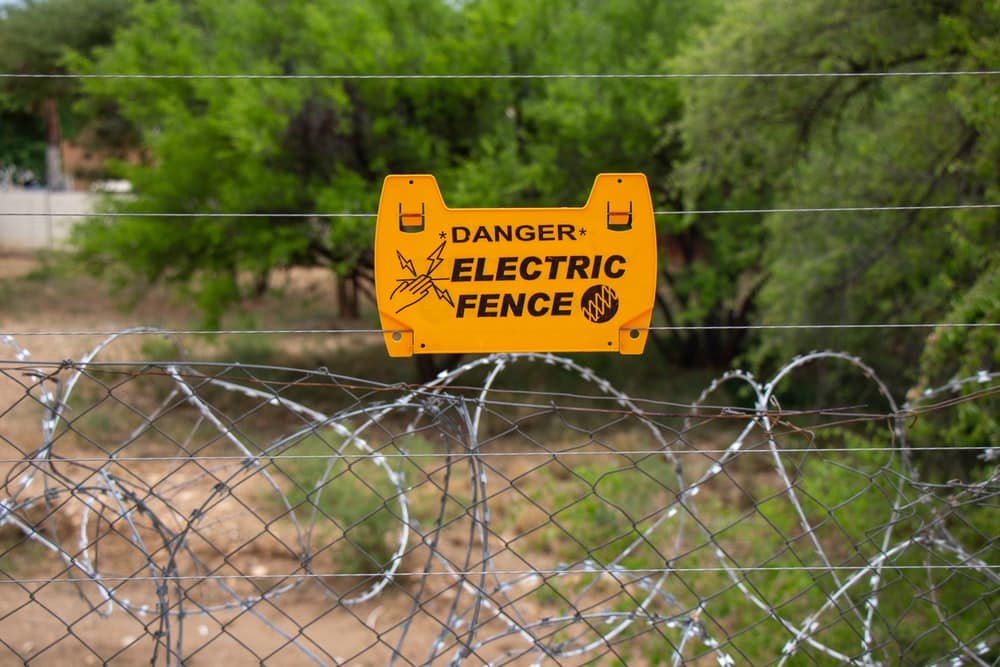 Also known as sensor-based fences, these fences are powered by electricity. It constitutes a mesh of wires and poles at intervals to give the thin mesh some support and structure. Touching the fence in any way provides the person with a strong electric shock.
If you are wondering why someone would go to such extreme measures to maintain their boundaries, here are some of the reasons. 
People living in a crime-prone area might feel the need to take such preventive measures to keep thieves and mischievous persons at bay. Sometimes, electric fences are used to keep stray and wild animals out of the yard too.
Once a person/animal comes in contact with the electric fence, an alarm is raised inside the house. There are highly sophisticated systems these days that can detect an intrusion in real-time. Also, it can show the exact location of the intrusion on a map.
If you want to take the eco-friendly approach, bamboo fences are the right choice for you. Fences made from bamboo plants are often used to create partitions in fields and yards. If you choose to order these to make fences, they will come in panels or sheet rolls. You can place them one after the other to make a fence of the desired length.
Pre-adjusted bamboo panels are also available – which are easier to install. Apart from that, if you are looking to add a natural look to the fence, bamboo is perfect, as the panels naturally vary in color, giving it a rustic look. 
However, care needs to be taken not to drench it in too much water because it tends to rot. To counter this, many people paint the panels with black or transparent tar, which increases the lifespan of the bamboo sticks.
Hewn Log And Branch Fence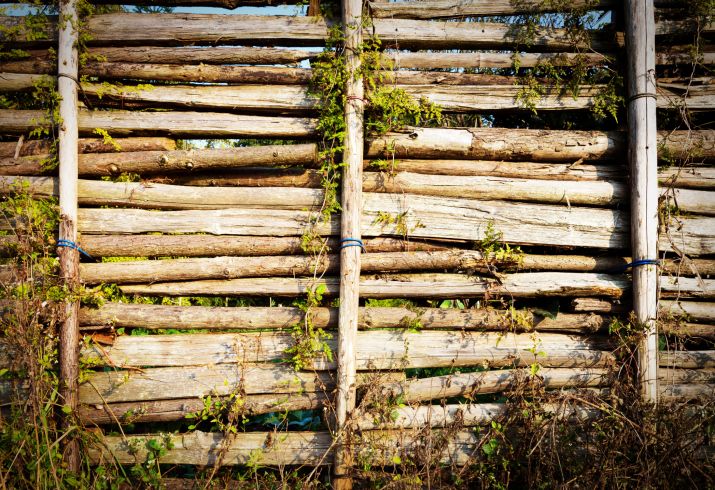 Here is a fence option for those of you who love a rustic and natural wooden look. As the name suggests, this type of fence is made out of wood and thick branches in intricate patterns. The wood is left uncut, which is why slender trunks and bigger branches are used to make this fence.
Log and branch fences look best in farms, barns, and fields. You can see them in various designs ranging from warped cross-posts to layering untreated wood and branches on top of each other to create a thick fence with small gaps. One of the most common designs are horizontal beams attached to wide cylindrical posts.
Depending on the thickness of the fence, it will provide adequate privacy and security from stray animals and intruders. 
On the downside, this fence is made entirely out of wood. And, as we mentioned earlier, wood is prone to damage as the weather changes; thus, it may need frequent maintenance.
Split Rail Fence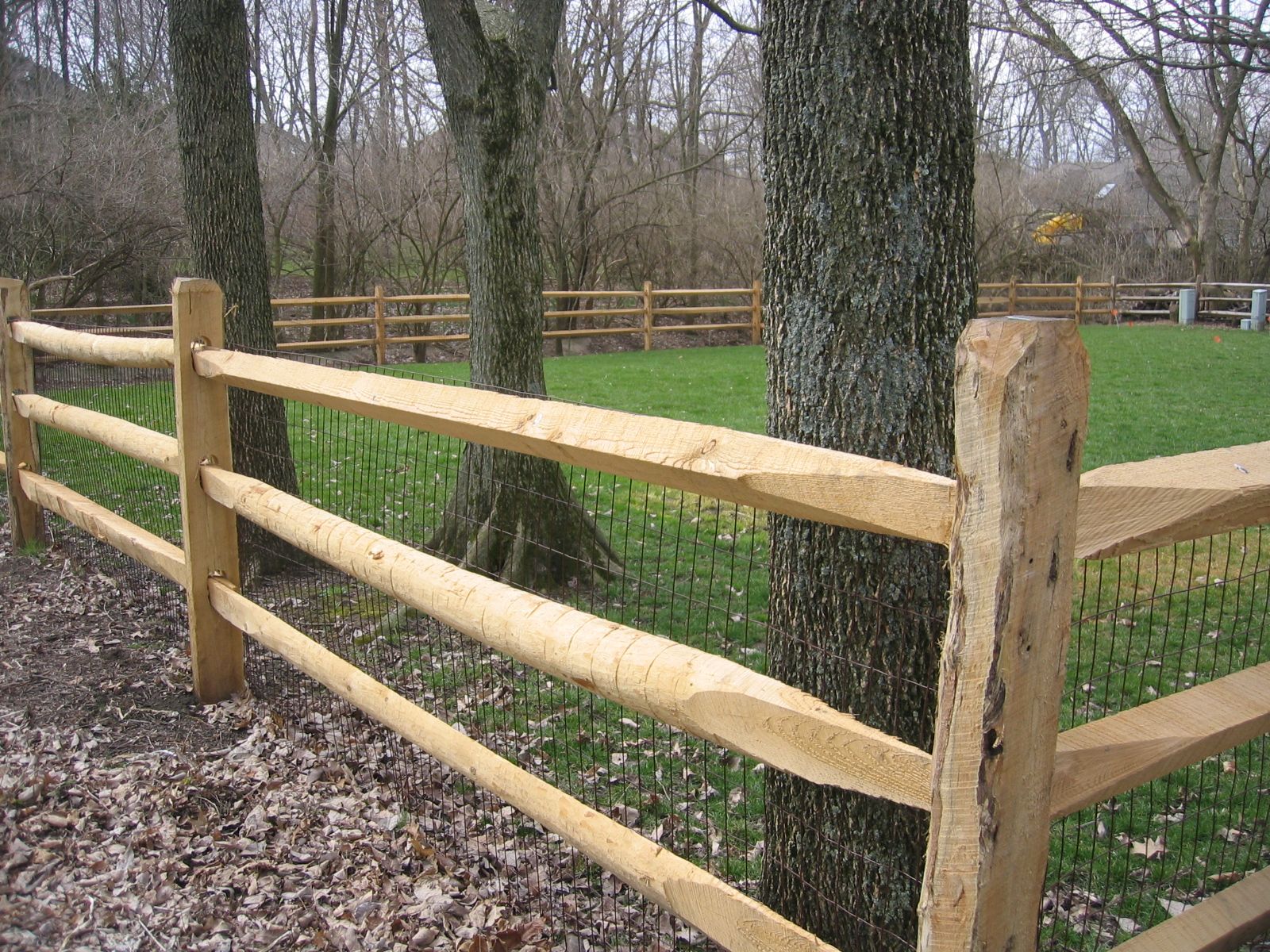 Split Rail fence gets its name from older days when timber was split into many parts to create a fence. Wooden logs would be cut into small and slender sizes and then fit together to form long rails. Usually, this pattern is found in areas where there is plenty of timber wood available.
To add to that, these types of fences are widely used today and can be installed without the use of any tools or nails. You can find them along old bars, which help protect the boundaries of livestock and prevent them from running astray. They are also seen on historically older properties in farms and greenlands. 
When it comes to appeal and beauty, Split Rails give the area and property a rustic feel and will complement a wooden house well. But, they might not be ideal if you are looking for something elegant.
Brick Wall Fence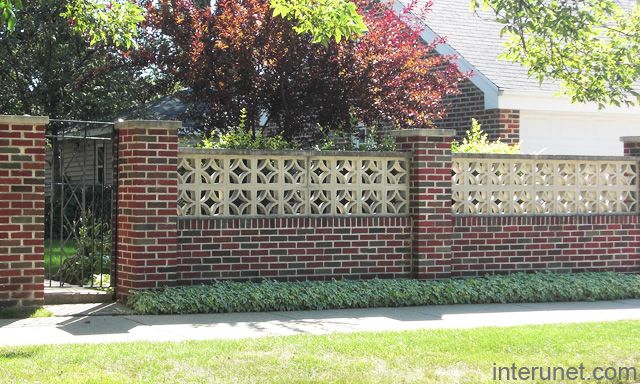 Another standard option for creating fences is using bricks. Often, these types of fences are seen in South Asian and African countries, and some parts of Europe. It is equally common for private homes and also used as a yard fence for residential colonies.
Even with brick and mortar, it is possible to build a fence of about any size as you please. While some choose to keep the brick fence plain, others paint it using various colors and install creepers to add greenery to their yards. This looks exceptionally aesthetic when vividly-colored flowers of all colors grow on these creepers, adding to the beauty of the fence.
Furthermore, brick fences can also be used in combination with barbed wire and iron fencing. On the plus side, these fences are water-resistant and survive all weather easily. However, it's difficult to relocate, and shifting costs a significant sum of money.
Barbed wire fences might not be the most attractive-looking option for a fence, but it definitely is the cheapest. A pointy wire is held from one end to the other with wooden posts at regular intervals. This kind of fence is transparent like chain linked fences, but at least the chains prevented animals from entering the boundary.
Whereas this fence does not prevent human or animal trespassing. Small-sized animals like cats or dogs can easily pass through it. However, there is a chance of injury due to the pointy parts of the wires. 
These wire fences cannot be increased in height, and they usually do not exceed 4 feet. However, there is a way to make the most of this situation. The wires can be used atop another stone or brick fence to increase the height of the fence.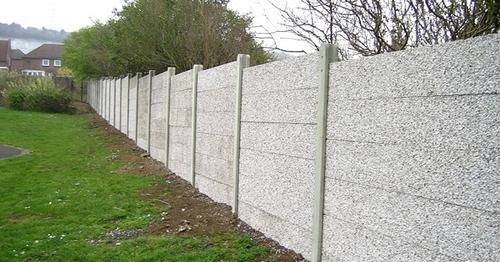 This might be the most durable material for building a fence. This fence is sure to last you as long as your house even. Along with that, it is also one of the most cost-effective fences because it requires little to no maintenance.
If you are looking for maximum security from a long-lasting fence, then a concrete fence might be the right choice. When it comes to wood, wire, and iron, these materials are prone to weather damage. 
This is an excellent choice if you are not planning on changing your fencing for a long time. Concrete fencing is gaining popularity because it is easy to install. They are shaped in a mold in factories and brought to your yard for installation. However, if you like the nostalgic and classy wooden look for fences, then this option is not for you.
Stone Wall With Iron Fence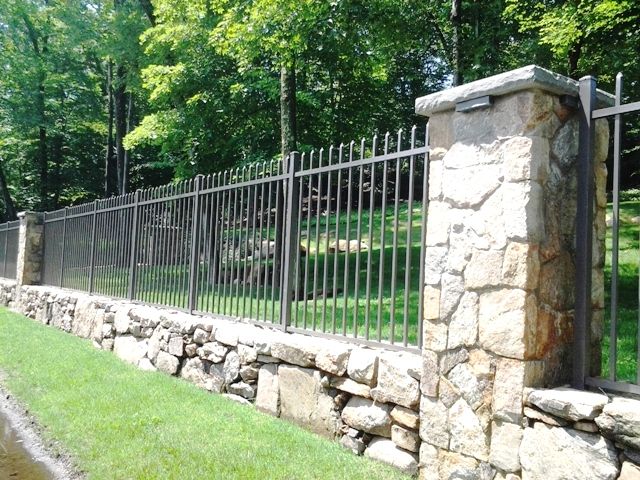 Using stone to build fences is an age-old tradition, especially in Europe and some other parts of the world. Construction of a stone fence is a lengthy affair and can even be expensive depending on the type of stone used. 
Stonewalls give the look and feel of a fort from ancient times. This is not necessarily bad, and many people prefer this look over its wooden or brick counterparts. The benefit of stonewalls is that they are incredibly sturdy and age well. This option is low maintenance and exceptionally durable, and able to withstand harsh temperatures and violent windstorms.
It is possible to keep the stone construction to knee length to get the effect of half stonewall and half iron fence. And the upper half can consist of iron grills of your preferred design. The stone part of the fence won't wither over the years, but to protect the iron grill, you might need paint to protect it.
Uncut Boulder Fence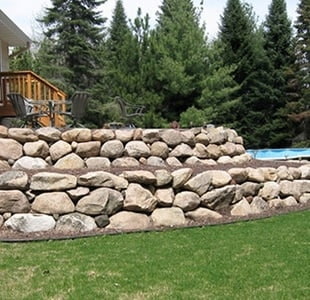 Using rock and stone for creating boundaries must be one of the oldest ideas for fencing. People in ancient times used naturally occurring rocks and boulders to protect their homes and tribe from wild animals. They were also used as dams to trap water from nearby sources, but boulders can even make the most sturdy fences even nowadays.
While in the olden days' people used to pile stones one on top of the other in a shapely fashion, stone fences have undergone many developments in recent years. Wire mesh frames and mortar are used to give the fence a finished look.
Plants and flower shrubs can be placed around it to add to the beauty of this natural fence and give it a touch of greenery. These fences will look best in wide-open spaces or extensive gardens. However, they can be pretty huge and will look out of place in small backyards. If you are going for a stone or boulder fence, know that it is difficult to maneuver and move it around after installing.
Living Fence Or Shrub Fence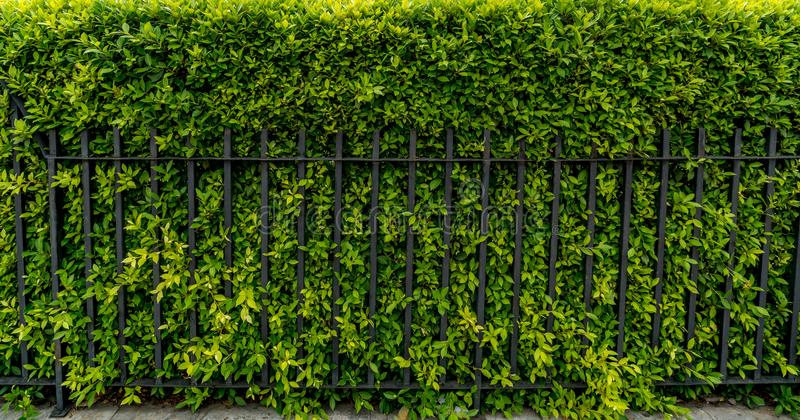 Now that you have seen fences made from wood, iron, vinyl, concrete, and many other substances, how about a wall full of life? If you are a plant lover and want to surround your backyard with greenery, you may want to consider this option. 
This kind of "Living Fence" is made entirely of trees, which are usually tall and narrow. A row of trees lining your yard would look majestic. Trees of around 8 feet should be just fine. Along with getting plenty of oxygen supply, it will also create a lush-looking barrier for maintaining the privacy of the yard. 
Moreover, a living fence might have a list of benefits, but they are challenging to maintain. We would recommend this only if you have extra time on your hands to upkeep the trimming and maintenance (or if you are planning to hire professional help).
Fence Styles By Purpose
Are you planning to build a fence to cover the patio for a cozy corner, or do your rose bushes need a decorative structure for support? 
Where and why you need to place a fence will most often dictate the kind of fence you should install. Let us look at the type of fences appropriate for specific purposes.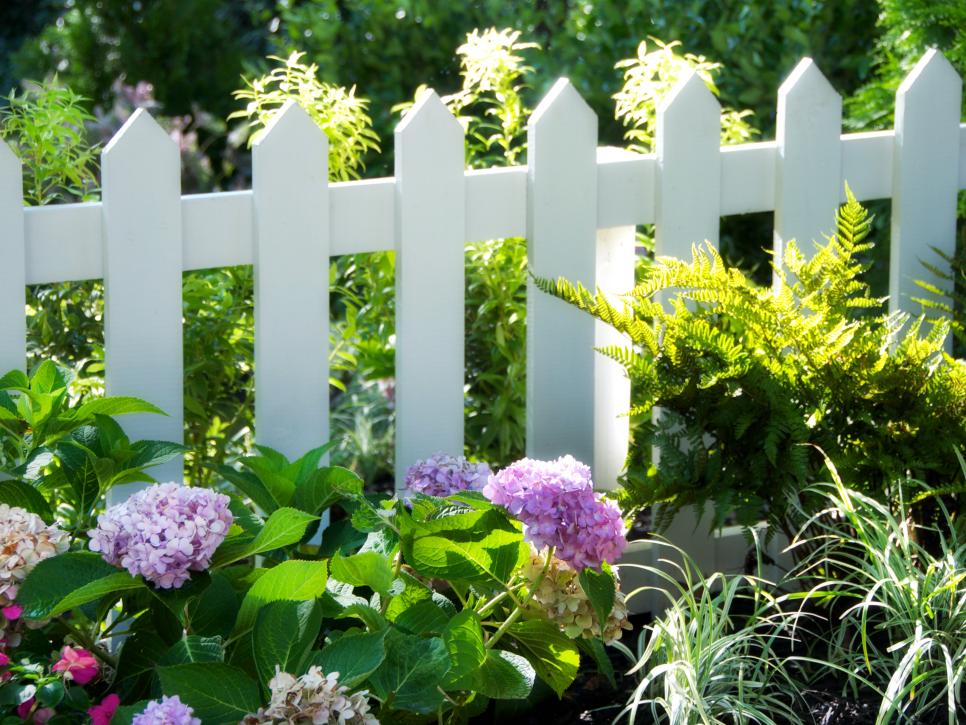 Small gardens with flower bushes will need low and decorative fences to add to their beauty. And when it comes to more extensive gardens, you could opt for a medium-sized wooden fence. Natural wood like cedar spruce or mahogany will be great options for garden fences. 
There is one thing to consider for a garden fence- flower bushes and shrubs need to be watered every day, so the fence should be able to withstand that. If you are worried about the wooden fence getting spoiled by water, you can opt for PVC or Vinyl fence options. These are cheaper and look just like wood.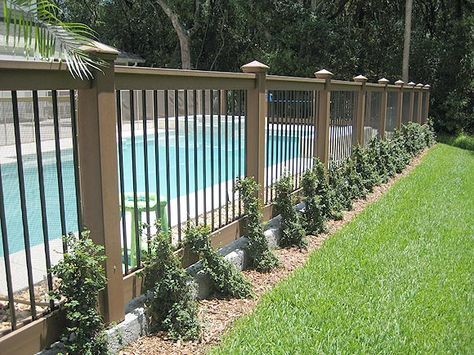 If you have a backyard pool, a decent fence for privacy is a must-have. The fence must be somewhat resistant to water in case of splashes from the swimming pool.
Aluminum or Vinyl fences can provide a classy look for the pool and are light on the pocket. There are several designs to choose from, and they do not spoil quickly. To cover the gaps of the aluminum fences, you can add a few climbers at the top.
If budget is not an issue and you want to add fancy aesthetics, a boulder or rock fence would go spectacularly with a fresh and blue pool.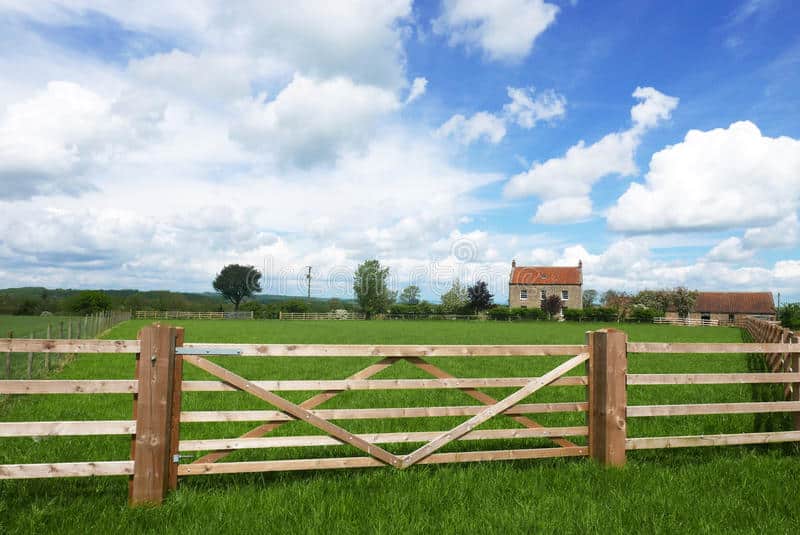 There is no shortage of options for farm fences out there. Farm owners often choose the classic wooden fence to adorn the boundaries of their land. For wide-open spaces like fields and farms, electric fences may come in handy. They keep predatory animals like raccoons, foxes, or coyotes away from your farm animals. 
Wire, chain link, and mesh fences with tiny gaps are perfect for chicken coops and keeping other small animals like rabbits safe. Barns for horses, cows, and pigs can have a hewn log and branch fence. Moreover, you can make these fences yourself if sturdy branches are available in the area. 
Snow Fence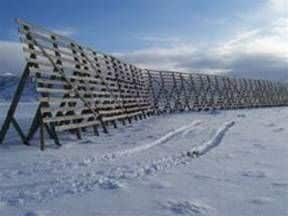 For regions that experience heavy snowfall, dence and sturdy fences are required. If your backyard gets a good deal of snow collected every winter, you can use plastic materials for building fences. While some people prefer to use wooden fences in these frigid regions, others go with PVC or vinyl.
The benefit of plastic or PVC fences is that they are lighter in weight and can be moved around easily. They are often used at the side of the road to prevent snowdrift caused by strong winds. Such fences keep the streets safe for driving. Finally, wooden fences are good too, but they are much heavier and cannot be installed and removed easily. 
Fence For Privacy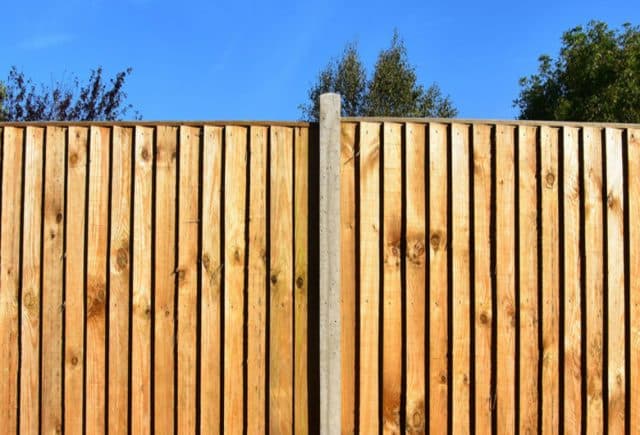 If you are often outdoors either gardening or swimming in the pool, or simply lounging, you might consider investing in a good fence for privacy. Cedar, pressure-treated wood, and vinyl are good choices for fences without any gap. 
Fence panels are also available on the market, which you simply need to buy and install. The height of these fences can reach 8- 9 feet. However, if you want to mix it up and stay away from traditional paneling, then you can add designs to the top of the fence as a decorative feature.
That being said, every homeowner will have a different preference for the type of fence they choose to install.
Decorative And Functional Fence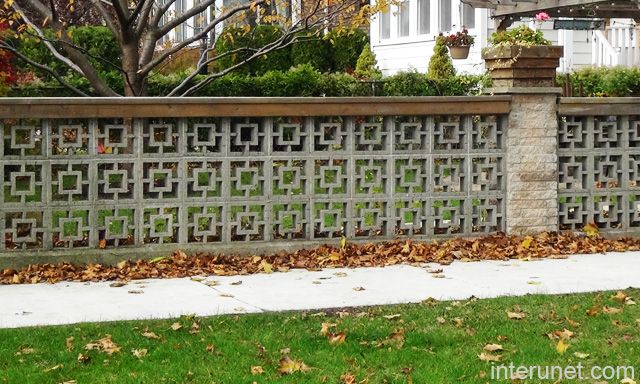 White-picket fences are a great example of a function with beauty. They are classic and clean to look at and can be made out of a variety of materials. This is merely one example of the possible designs which would fit well in your backyard.
A more modern fence could have horizontal paneling, vertical poles, and panels, lattice design, checkerboard, criss-cross, with spaces or without. A combination of two materials, such as wood with vinyl or PVC with wires, can be used to make endless creative designs.
Existing plain fences can be made decorative and interesting by adding a design topper to freshen up the look. 
Fence Styles By Aesthetics
Speaking of decoration and aesthetics, not all homeowners want a plain-looking fence that simply does the job. Some look for particular styles and aesthetics for their fences to match the theme of the house and garden. And the best part is, there are hundreds of design options available. In this section, let's look at the fence styles by aesthetic.
Hideaway Or Private Garden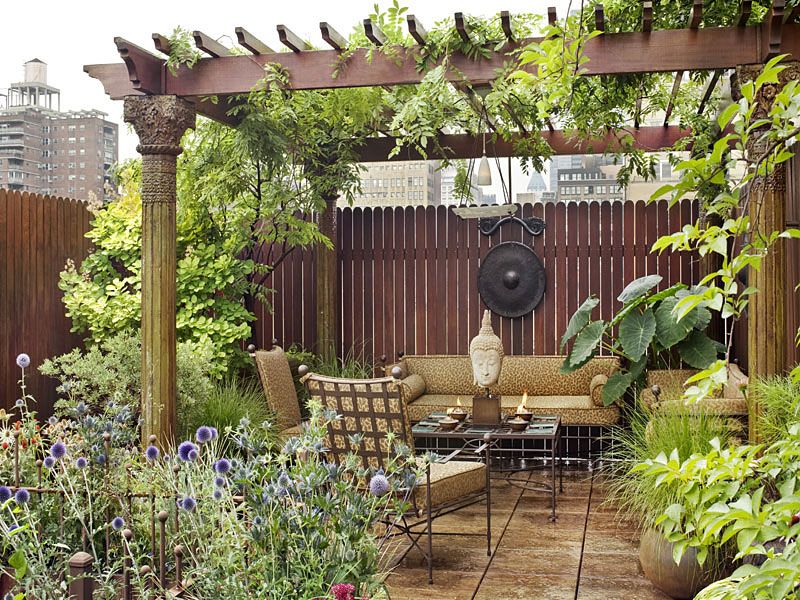 A private corner for reading books or a lounging space to nap in the shade calls for a cozy and warm-looking fence. To achieve this aesthetic, you can use tall wood panels for vinyl fences in natural color or a shade that matches the patio furniture. You could also add decorative top panels and coordinating gates. 
Picket Or Traditional Fence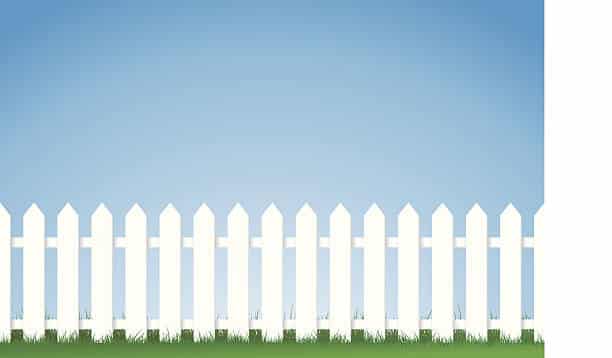 A classic feature in an American front yard, this iconic style is much loved in the country and is considered almost the default look for fences. The good thing about this style is that it can be made of different materials but still gives the same classy look to the area.
Lattice Design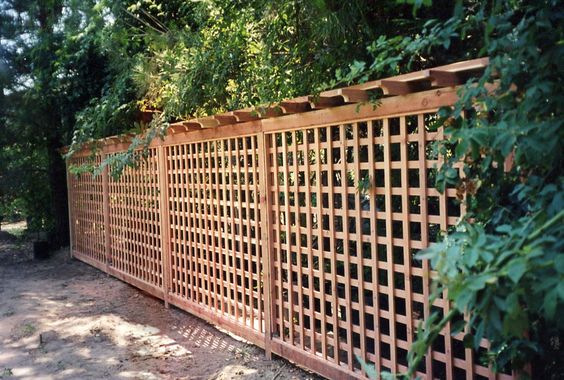 These fences look great in almost any setting. They are a versatile design that can be used as panels for the complete fence or add areas of interest to a plain fence. Lattice fences are often made of Cedarwood, Spruce, pressure-treated pine, and sometimes whitewood. Since the lattice design is thin and frail, the top and bottommost rails are wider for support.
Contemporary Style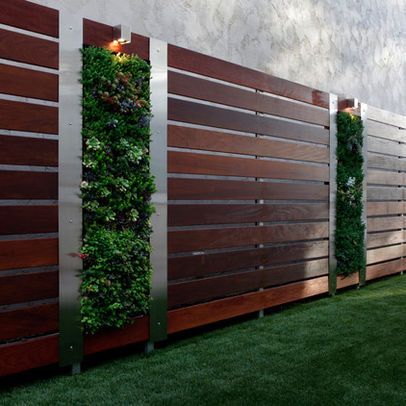 In the era of personalization, it is no surprise that people wish to beautify their fences too. Many modern fence creations are customized as per the homeowner's preference using new and unique ideas to style the garden or yard. Intricate wooden carvings and unconventional colors and shapes are used to add a personal touch.
English Garden Style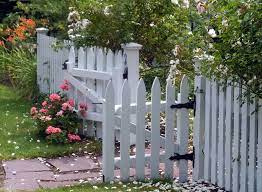 The English Garden fence style might be right up your alley if you adore classic and sophisticated décor. Traditionally, these garden fences are shorter than knee-length. They are purely installed for decorative purposes because they are too small to prevent any human or animal from crossing over them. Essentially, it is a beautiful way to keep the nursery in order.
Post Modern Fence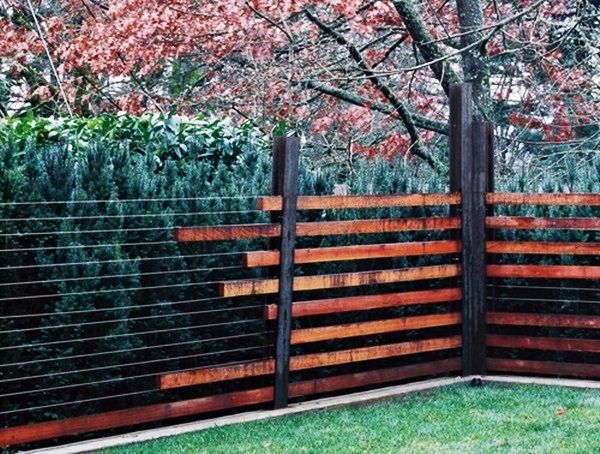 The most common pattern seen in this style is a series of posts with horizontal railing. Although this pattern can be translated to various other styles, it remains the most basic fence look. You can consider it as an up-to-date version of split rail fencing. It is often seen as having three wide and horizontal panels. 
Gothic Style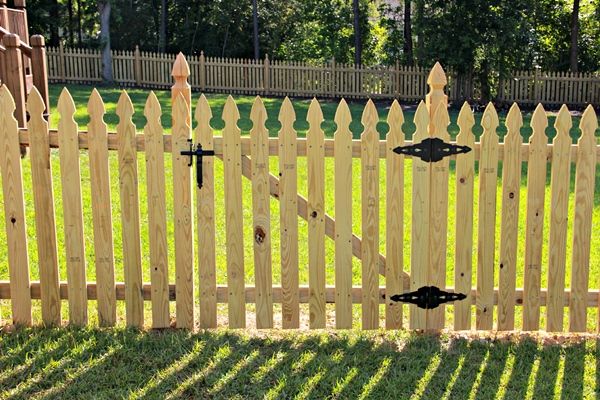 This traditional style has been used for centuries to draw boundaries around the property. It is characterized by its evenly spaced vertical panels and pointy tops. The vertical panels are thin and long, while the pointed tops are sometimes sharp to prevent intrusion in the property premise.
Shadow Box Fence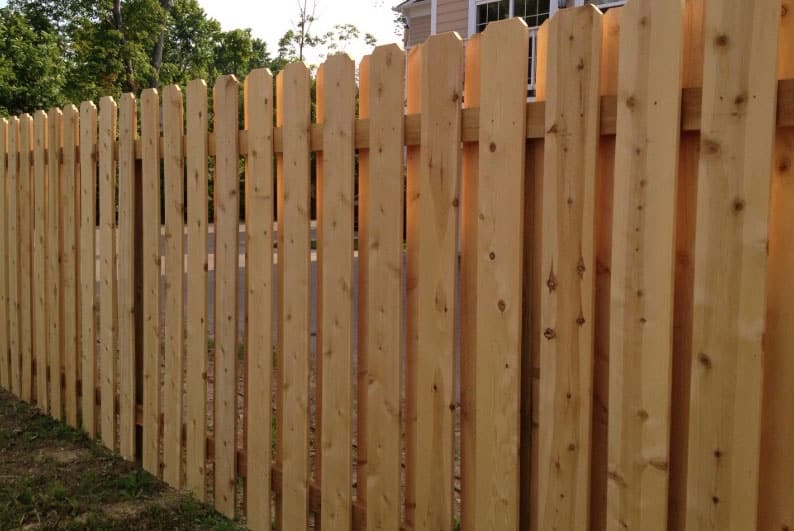 As the name suggests, this style creates shadows that give the fence depth when viewing. Usually, it looks like a traditional vertical paneling with posts at regular intervals, but the gaps in the fence are filled by adding another layer of panels. 
The second panel does not have any openings, so the light falls only on one side, giving it a shadowed appearance.
Dog Ear Fence
Another conventional fence design is the "Dog Ear" style. They are so named because the top part of the fence is cut in a curved style throughout the fence line. Apart from this detail of post tops which look like dog or cat ears, they look similar to a tall wooden fence. The tip of the individual panel can be curved or cut at a slight angle.
Flat Top Fence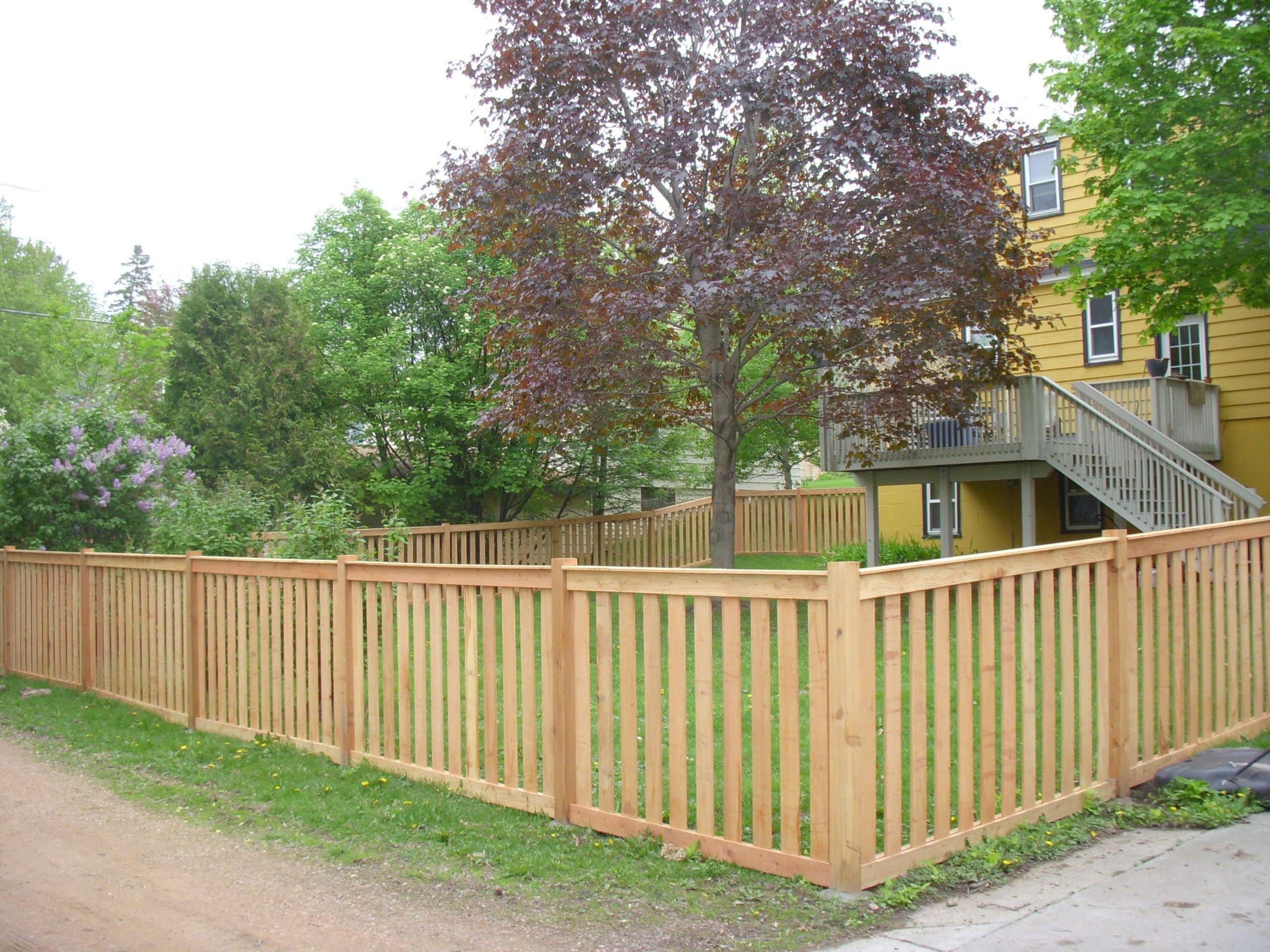 This is the ultimate no-nonsense fence style. If you are a fan of simplicity and minimalism, you will appreciate the no-frills design of the "Flat Top" fence. As you can imagine, this fence has a plain border of even length on the top. The panel could be vertical or horizontal.
Stockade Fence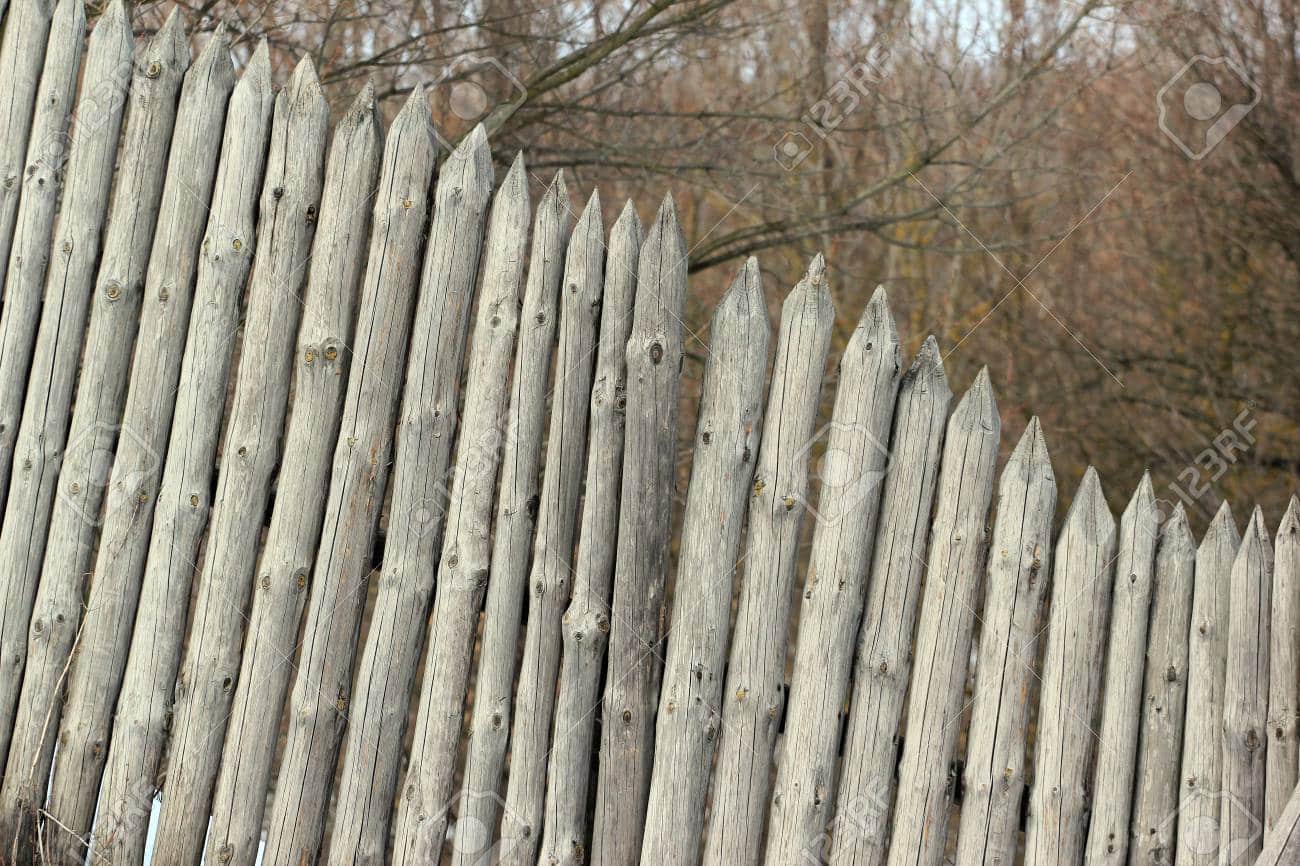 Farmers initially used this type of fence to contain and protect their cattle and livestock. In the olden days, it was also seen in military compounds. Its defining feature was the pointed tip at the top of the tall fence, which people added to prevent trespassers from climbing over. These panels with pointy tops are found in markets in two shapes- flat and cylindrical.
What Kind Of Fence Is Good For You?
While you may have loved all the fences, we listed above, not all of them might be for you. In this section, we will help you narrow down the options to find your ideal fence.
Purpose
It goes without saying that the kind of fence you should get depends significantly on where you plan to install the fence and why. Consider if you are looking for security, privacy, drawing land boundaries, keeping pets or farm animals safe, or a decorative piece. The answer to this will heavily influence your final fencing purchase.
Aesthetics
You and your family's personality is reflected not only in the house, but also in the fencing. Do a bit of research about the local materials and vendors and find the style for your fencing. If you like a simple fence, you are going to gravitate towards flat tops. Articles like these will help you understand and match your taste with locally available products. 
Maintenance
How much or little you plan to look after the fence is an individual preference and depends on your lifestyle. If you know that you will be too busy to upkeep wood and iron fences, it would be wiser to opt for a low-maintenance option like PVC. However, if you are invested in maintaining your garden and fencing, opt for delicate fencing options like Spruce wood fences, living (plant) fences, bamboo, and iron fences.
Durability
While considering your options, the durability factor cannot be ignored. If you are willing to compromise on the durability, the fence better come at a bargain price! This will work in your favor if you like to change up the home décor every few years. 
Local Availability
Let's say you selected a particular wooden fence from the internet, but that timber doesn't grow in your area. In that case, you will need to get the product from afar at a higher price. So, it's wiser to go for a locally available fence product.
Budget
Considering the budget goes hand in hand with value for money. If a fence is bound to last a long time, then spending a bit more can prove to be more economical in the long run. Wire, aluminum, chain, mesh, and PVC are the relatively lower costing materials. If budget is not an issue, you can go for the pricier options of wood and iron for fencing.
Frequently Asked Questions
How Long Does Wood Fencing Last?
The life of the wood depends on the kind of wood used in the fence and whether it has been treated or not. The most common trees used are Pine, Cedar, and Spruce. Pinewood lasts for 10 years if used in natural form and, if treated, lasts for about 20 years. Cedar lasts for around 20 years untreated, and with treatment, it lasts 30 years. Spruce stays for 5 short years but, with maintenance, can reach 15 years.
How Is PVC/Vinyl Made And How Long Will It Last?
PVC or Poly Vinyl Chloride is a synthetic material that is produced using crude oil, natural gas, and salt. These ingredients are used in bulk, and the raw material undergoes some chemical treatments to form a white powder called PVC resin. 
This resin is shaped using molds, and panels for fences are made. PVC and Vinyl products will easily last 20 to 30 years with little maintenance.
Do I Need To Use Concrete For The Fence Post?
Yes, concrete can be (and often is) used for making sturdy fence posts. If you don't want to use concrete, it can be replaced with other materials like solid gravel, densely packed soil, or clay. But concrete remains a standard and reliable option to get long-lasting fence posts.
Can Used Fencing Be Sold?
Yes! With the age of the internet, you can sell just about anything. And there are people who would appreciate a decent second-hand fence at a bargain price. If you want to replace your fencing after a few years, consider selling it on used items websites or on social media.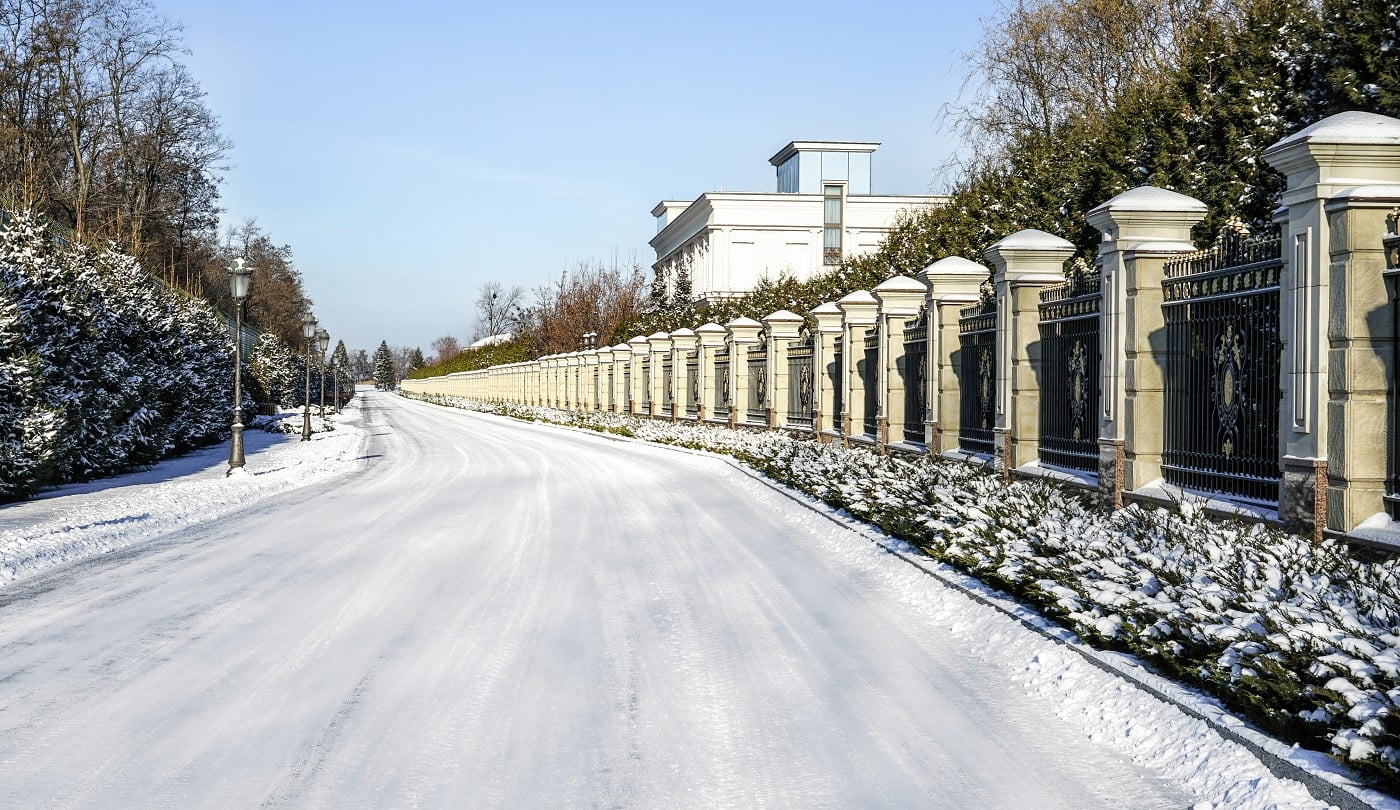 Conclusion
Phew! That was a long guide about fences. After this thorough discussion of various fences by type, purpose, aesthetics, and personal preference, we come to the end of this article.
We can more or less agree that the most basic purpose of a fence is to provide security and privacy. That being said, there's always room to include personal customizations on a fence you would want to live with for years to come.
But, tell us more about your thoughts. Which of these fencing options caught your eye? Did you find a fence that matched your purpose?
Please let us know in the comments below. Until next time! 
Related Articles 
Best Fence For Noise Reduction
8 Best Fence For Dogs to Consider
7 Best Sprayers For Staining A Fence
17 Best Fence Design Software Options Today
9 Best Pump Sprayers For Staining Fence
13 Best Gas Powered Post Drivers  
13 Best Solar Electric Fence Chargers
10 Best Electric Fence for Chickens
7 Best Electric Fence Chargers
37 Awesome and Cheap DIY Pallet Fence Ideas to Realize Swiftly