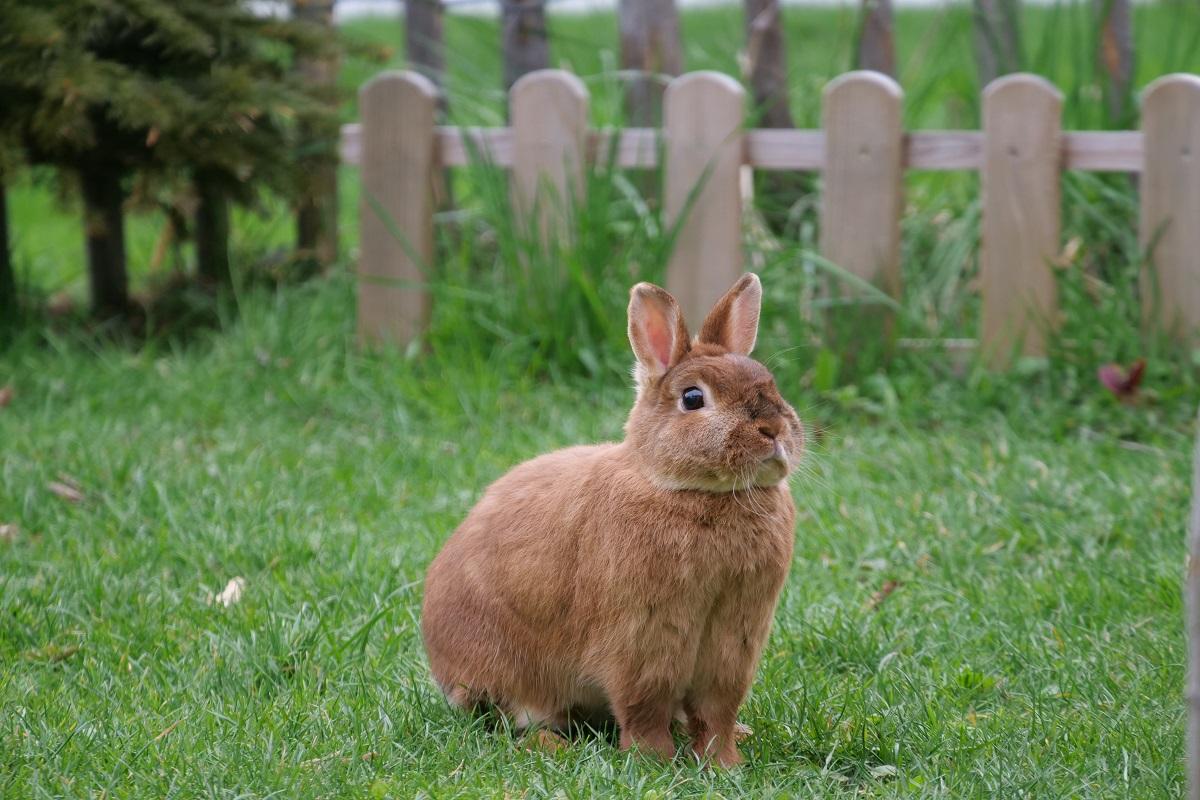 Are your pet rabbits wreaking havoc on your vegetable garden? Well, it's a common problem for all those who own these furry pets.
Rabbits are voracious eaters and will eat any and every plant within their sight. So, if you are hell-bent on owning a garden rabbit, installing a suitable fence for rabbits may help keep them under control. 
However, rabbits can be tough to contain as they are avid jumpers and can easily dig their way out of almost everything. 
Fortunately, some garden fences can work effectively to keep your rabbits out of your garden. Before choosing the right rabbit fence for containing your pet rabbits within a safe area, you must do some research. 
And that's where we come in. We have compiled a list of the best fences that prevent rabbits from escaping. So, without further ado, let's get started! 
Purpose Of Fencing For Rabbits
As we mentioned earlier, rabbits are excellent jumpers by nature. So, they can jump over any ordinary garden fence with a short height. Once they are out of their confined area, garden rabbits can ruin your vegetable patches and all the flower and garden beds.
Indeed, rabbits can devour almost anything and everything. Furthermore, rabbits love digging holes in the ground to bury food. Thus, they can easily dig under an ordinary wooden garden fence. And if they escape from their confined pen, they can dig away the soil in your entire garden. 
In short, if you let the pet rabbits wander off in the garden, they'll make a complete mess of your entire backyard. So, the primary purpose of proper rabbit fencing is to keep the rabbits out of your garden. 
Moreover, installing a rabbit fence is effective in keeping the rabbits safe from being attacked by other pets, such as dogs or cats. After all, rabbits are peaceful, herbivorous animals and can become easy prey for dogs and cats. 
List Of Best Rabbit Fences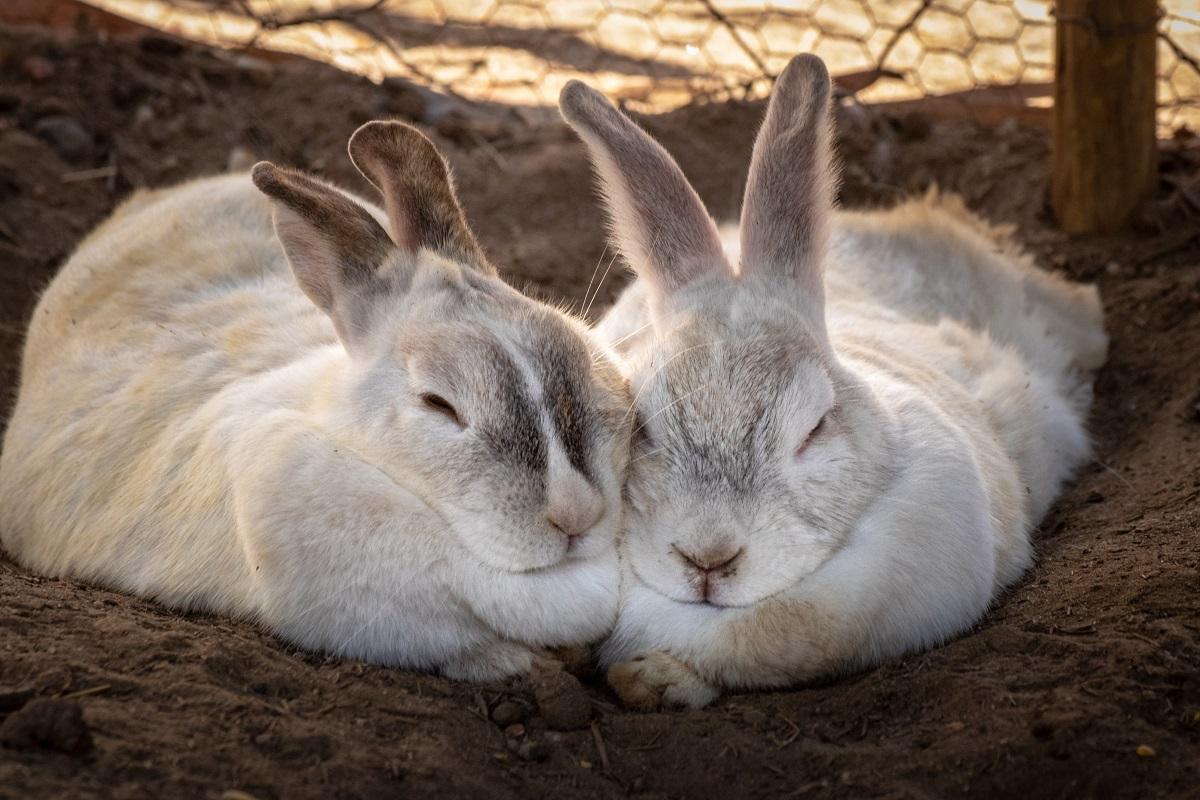 While choosing the best rabbit fences, you need to consider several factors, like the species of the rabbits and their number. And since rabbits multiply easily, making this decision can be a pretty daunting task. 
But, we're here to help you with all of it. We've prepared a list of the best garden fences to contain rabbits within a safely confined area. Let's take a look.
Wire mesh garden nets have often proved to be effective in containing rabbits and keeping them away from plants and flowers. They are easy to install, and the wire nets help prevent rabbits from entering the vegetable gardens. 
That said, garden rabbits cannot slip in through the fine mesh wire. Also, this fence type is over four feet tall. So, even though rabbits are avid jumpers, they can't jump over this four-foot-tall fencing. 
Furthermore, the plastic nets are multipurpose and can be used as poultry netting. If you're planning to install wire net fencing, you can use the E&K Outdoor Fence Screen mesh net fence barrier.
Plastic fencing rolls are becoming widely popular among rabbit owners in recent times. These fencing rolls are available in a wide variety, including different lengths and sizes. Their length can range between 25 and 50 feet. So, you can use them to cover vast areas. 
Furthermore, as they are available in different sizes, you can use them to contain rabbit species that are avid jumpers. Additionally, these plastic fence rolls come with small openings to allow ventilation. The small spaces also allow you to access the animals, which can be of great help while feeding them. 
However, the openings are small enough that your garden rabbit can't squeeze through the fencing and escape outside. Also, these plastic fencing rolls are effortless to install and highly affordable. 
The only downside to this fence is that it is pretty lightweight, and heavy-chewers can easily cut through the plastic wire mesh. 
Metal fencing rolls, such as the chain-linked fence, can be the most reliable and durable fencing type if you want to keep rabbits out of your gardens. These mesh wires are heavier than the wire plastic rabbit fences. Even the largest rabbit cannot chew off the wires. 
The metal fencing rolls also form small holes that allow easy ventilation and air circulation, but they do not let the small animals slip through the fence. These fences are the best option for keeping your pets confined and protecting the plants in your vegetable and flower gardens, thus solving your rabbit problem. 
However, these metal fences are pretty heavy and relatively difficult to use, unlike the lightweight plastic fencing rolls. But, if you do decide to install these metal fences, you can go for the Origin Point 22450 Green Garden Fence that comes with galvanized 16-gauge metal wires. The fence comes with three two-inch openings so that you can easily access the animals to feed them. 
You can also choose the YARDGARD 308371B Garden Rabbit Fence that is 50 feet long and an ideal fence to protect your gardens from small farm animals. What's more, the YARDGARD garden rabbit fence is among the best-quality galvanized rabbit fences and can work well in any garden landscape. 
4. Roofless Cages And Playpens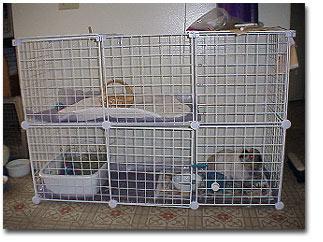 When it comes to rabbit fencing, roofless cages and metal playpens can help keep the rabbit in a safely confined area both outdoors and indoors. Any guinea pig cage design can also work beautifully for your pet rabbit. So, you easily purchase these playpens and roofless cages in any pet shop or even online. 
For instance, you can choose the Yaheetech Heavy-Duty Pet Playpen that can be used to keep both your dogs, rabbits and other small animals. It is also well over 2 feet, so you can safely contain the rabbit within the confined space. 
You can also go for the BestPet 24 Tall Foldable Pet Playpen, easily portable. Thus, this type of rabbit fencing is ideal for watching over your pet rabbit indoors and outdoors. 
Similarly, the Zeny Pet Playpen can also be ideal for a rabbit fence to keep the animals safe. It has a sturdy design with a height of around 3 feet that can prevent your pet rabbit from jumping outside. 
5. Pallet Rabbit Fence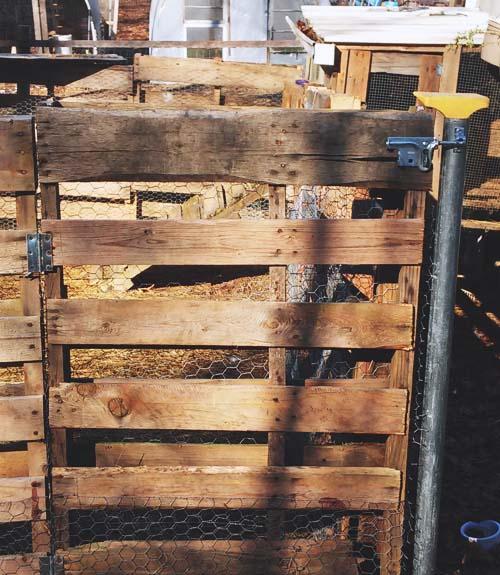 A pallet fence can be a good rabbit fence as it is very sturdy, and your pet rabbit can't chew off the wooden slats used to prepare the pallet fence. Compared to other rabbit fences, it is much more well-grounded and forms permanent confinement for your rabbit. 
Additionally, as the wooden slats have a sturdy bottom, the animals can't dig the ground and slip under the fence. However, setting up a pallet fence can be more troublesome than all other rabbit fences. 
6. Hexagonal Rabbit Fence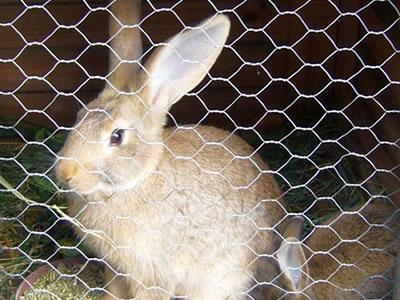 Hexagonal rabbit fences are best to keep your bunnies confined in a safe place. The fence has a small mesh dimension so that the bunnies can't slip through the holes. 
Moreover, the hexagonal shape also offers sturdiness to the rabbit fence so that it can resist the constant chewing and gnawing of your pet bunnies. These fences are also available with a PVC coating, which adds to their durability. 
Choosing The Right Rabbit Fence
When choosing suitable rabbit fences, it is best to consider the rabbit species. Most pet bunnies wouldn't usually jump more than four feet unless other animals chase them. 
Furthermore, smaller rabbit varieties do not jump more than two to three feet. So, we'll suggest you install fences that are around three to four feet tall. It should be enough to contain your pet rabbit safely. 
Final Words
Installing the right rabbit fence can help you keep both your gardens and pet rabbit safe. And after going through our list, we hope you have a better idea of the best rabbit fences.
Anyhow, we suggest you consider the rabbit varieties and their characters before choosing any fence type. Accordingly, you can go for sturdy and galvanized metal fence tools or playpens if they are avid jumpers or heavy chewers.
However, if you own smaller rabbit varieties, you can choose the plastic fencing rolls that are more affordable and easier to install. 
And on that note, we'll be signing off. Until next time! 
Related Articles 
Best Fence For Noise Reduction
13 Best Solar Electric Fence Chargers
10 Best Electric Fence for Chickens
7 Best Electric Fence Chargers
How To Build A Horizontal Wood Fence
Get Creative With These 23 Fence Decorating Ideas and Transform Your Backyard
26 Insanely Cool Garden Fences Ideas to Materialize This Summer