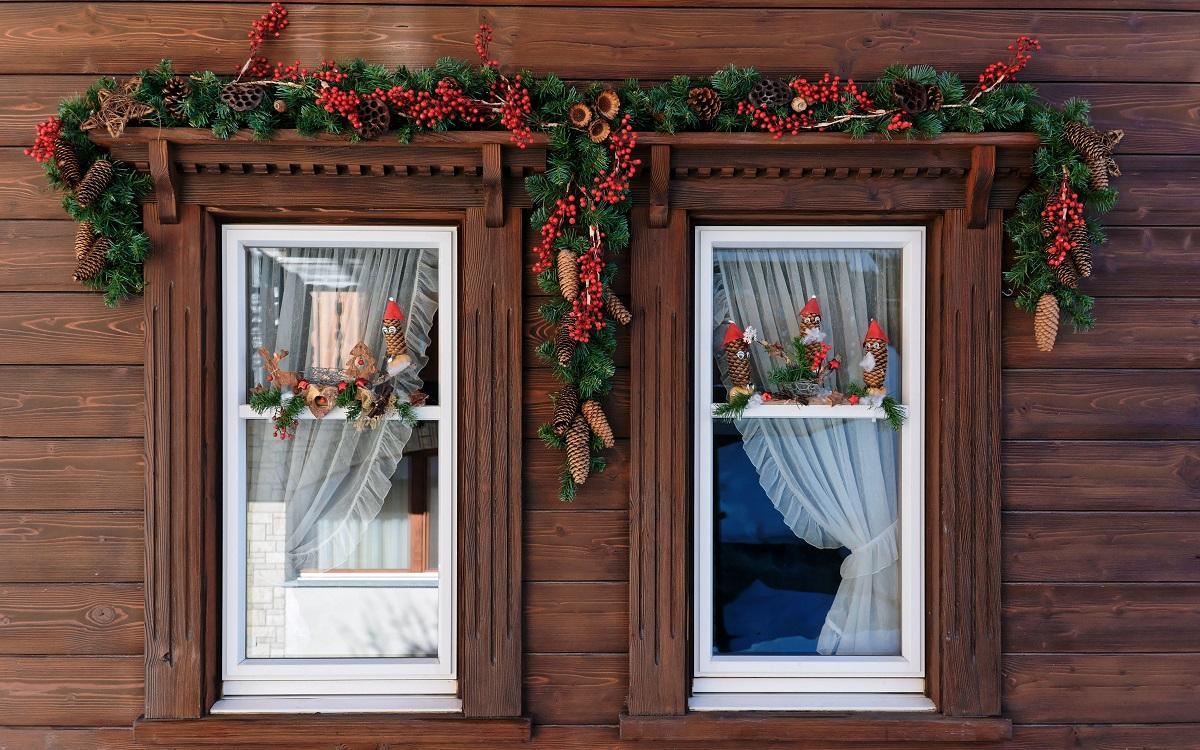 The holiday season is finally here, and you must be planning the Christmas decorations already. But are you unable to decide on what to hang on windows? 
This is a dilemma that people face every year, and nobody wants to keep repeating décor ideas. While the Christmas tree and golden stars look very cheerful, you can also use a number of other Christmas window decorations. There are wreaths of various types, LED-operated candles, and then DIY projects to choose from. 
Now different homes have different kinds of windows, and they will have varied requirements. 
In this guide, we have tried to keep everybody's needs in mind and then curated a list of the top types of window ornaments that would look gorgeous. Also, we have kept in mind the different budgets that people may have, and there are options for everybody. 
So, grab your favorite cup of coffee and start reading. 
Best Christmas Window Decorations 
To keep up with the holiday spirit, we have listed down the different types of Christmas window decorations here. 
Red Ribbon Wreath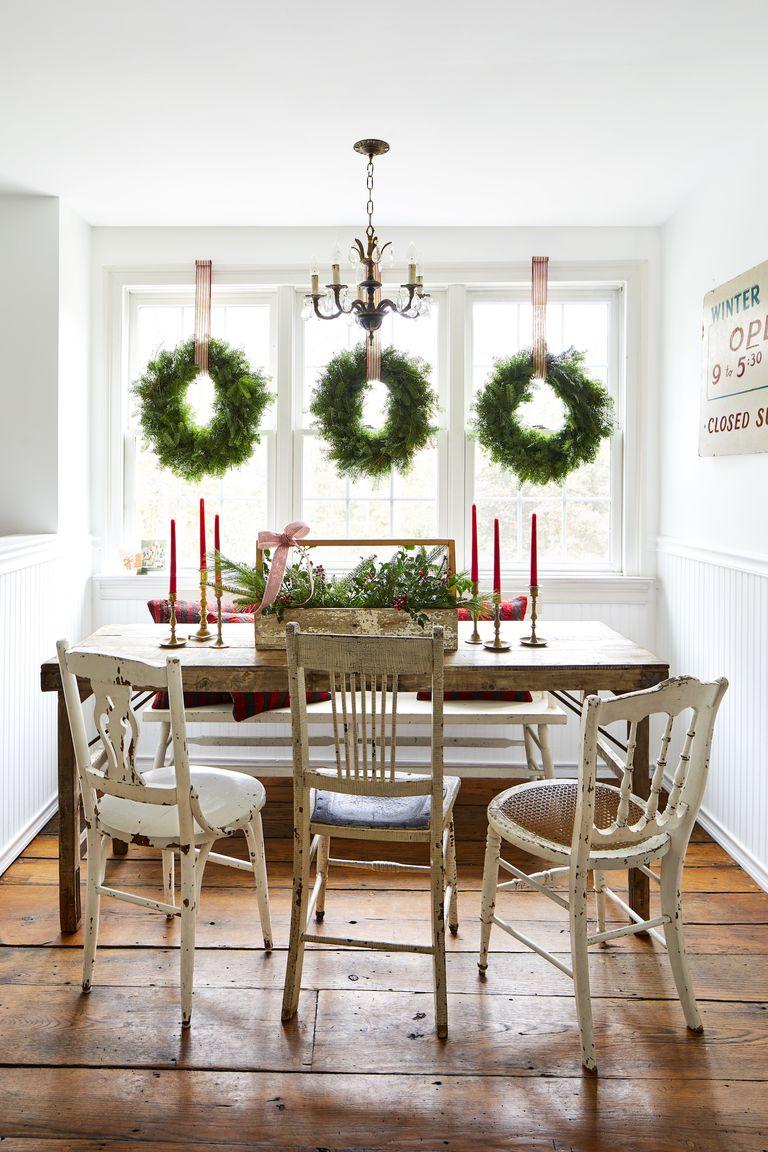 One of the classic Christmas window decorations is the red ribbon wreath, and this is the simplest item to put up. Wreaths can be used in various forms, and we have discussed several of them in this guide. In this case, you can use red and white ribbons to hang big wreaths on individual windows. This is a minimalist decoration idea, but it will surely look beautiful. 
Bow On Scones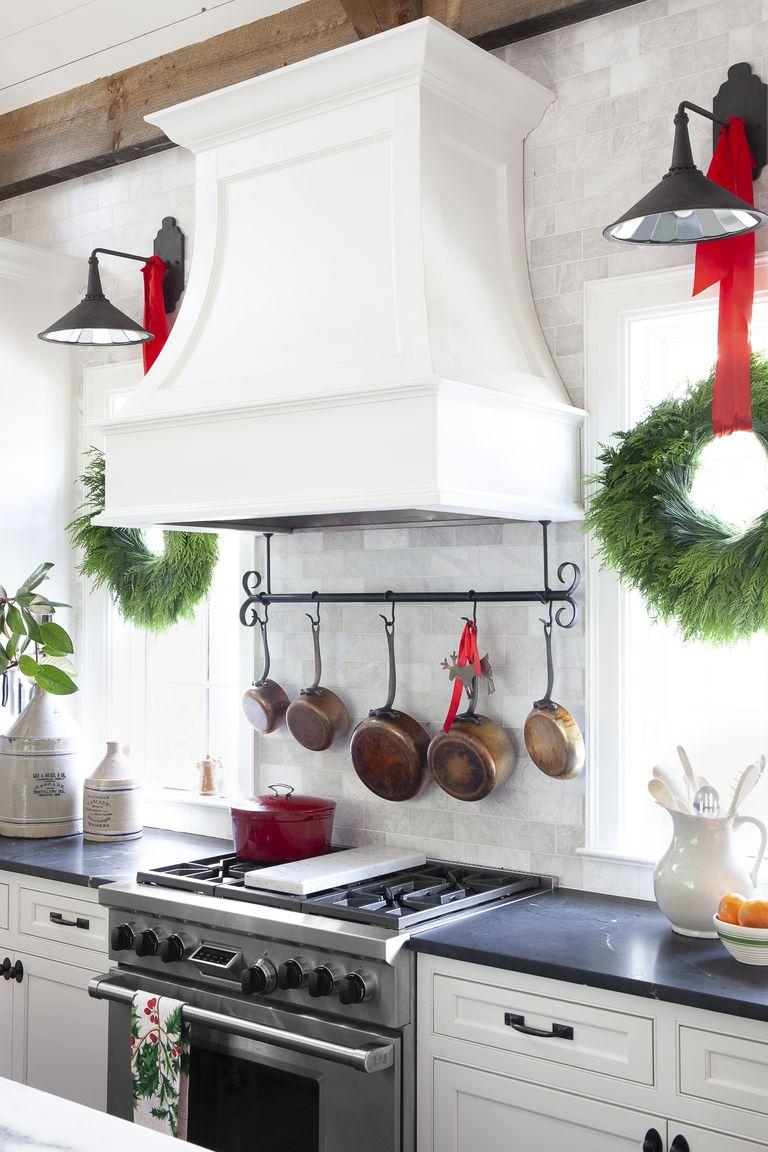 Next, we have a beautiful Christmas window decoration that can be used for black scones placed inside or outside the house. Simply tie bows with red ribbons wherever you see black scones. This can be used in the kitchen, too, to bring in the holiday spirit. 
Embellished Red Ribbon Garland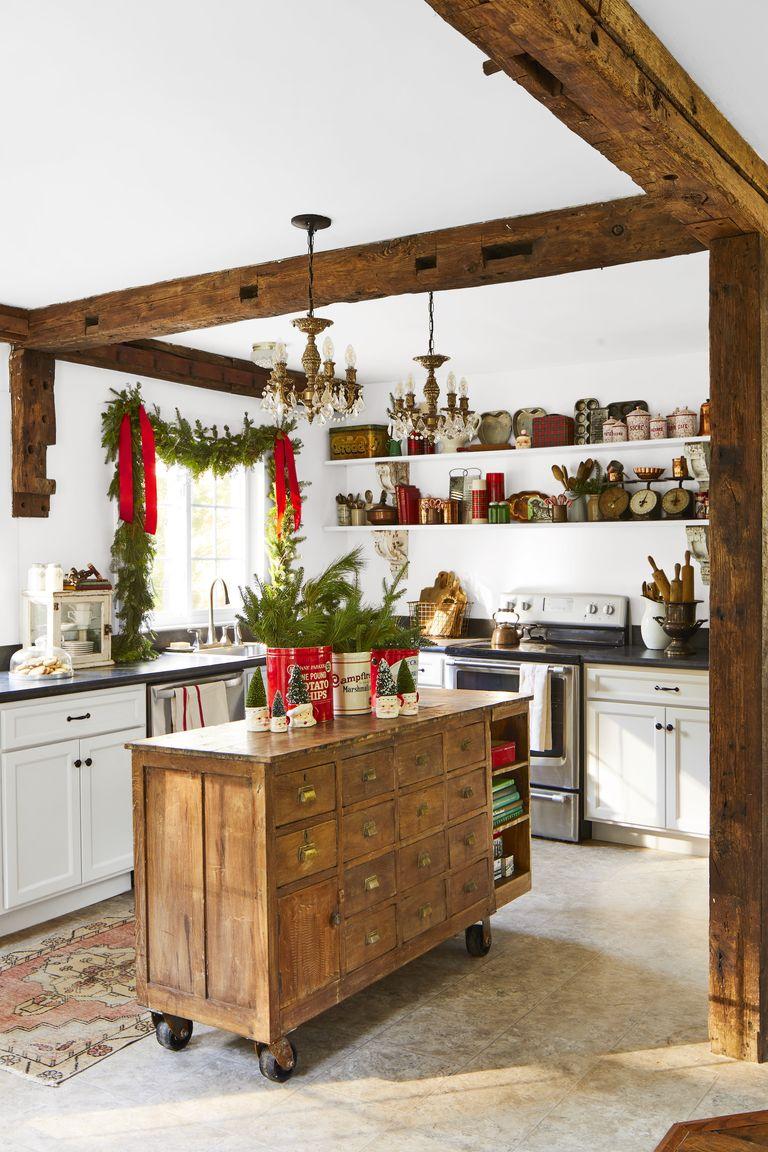 If you were looking to host a Christmas party in the house, then the embellished red ribbon garland will set the mood for sure. Place a Christmas tree by the window along with the garlands to make your house look perfect. 
For the window, use green garlands around the window pane and then just attach red ribbon bows on the sides. Add some red ornaments here and there within the greenery, and you are all set. 
White Winter Landscape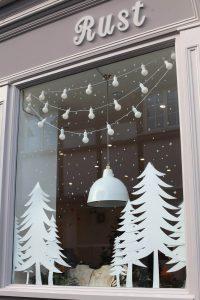 Another Christmas window decoration that we absolutely loved was the white winter landscape. Here, you can create a beautiful scene with a few cutouts of white paper and strings of lights on top. Cut out some Christmas trees from thick white paper and pair them up with light strings. Add some white dots or snowflake-shaped cutouts here and there to show snowfall, and you are ready to bring in the holiday spirit. 
White And Crystal Holiday 

Décor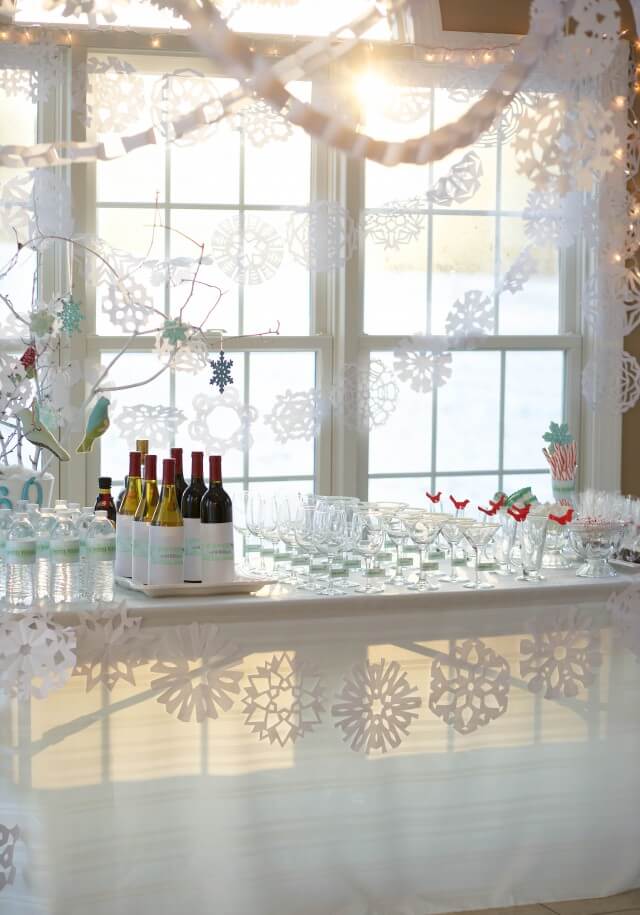 The white and crystal holiday décor is easy and will work for kitchen windows. Use reflecting surfaces beneath to enhance the effect, or you can cover table tops with pretty white table cloths. Then add paper snowflakes and a set of crystal glasses as part of the Christmas decorations. This will work well if you are throwing a Christmas party this year. 
Paper Snowflakes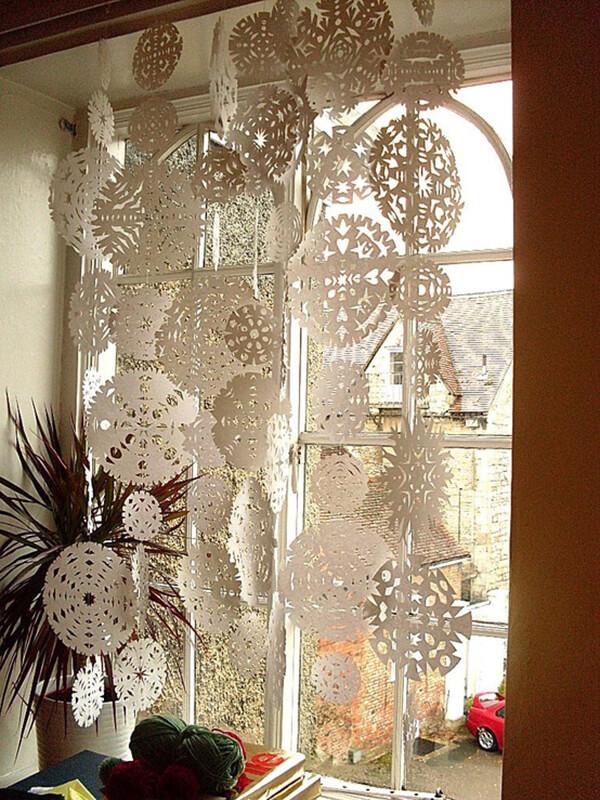 If you want the display window to look festive, then add some snowflakes to it. Take the help of a friend to create hanging snowflakes, which are cut out of white paper. Then attach them one after the other all across the window from the inside. Pair it up with some pinecones and a candle, and you will have completed the look. 
The Glowing Star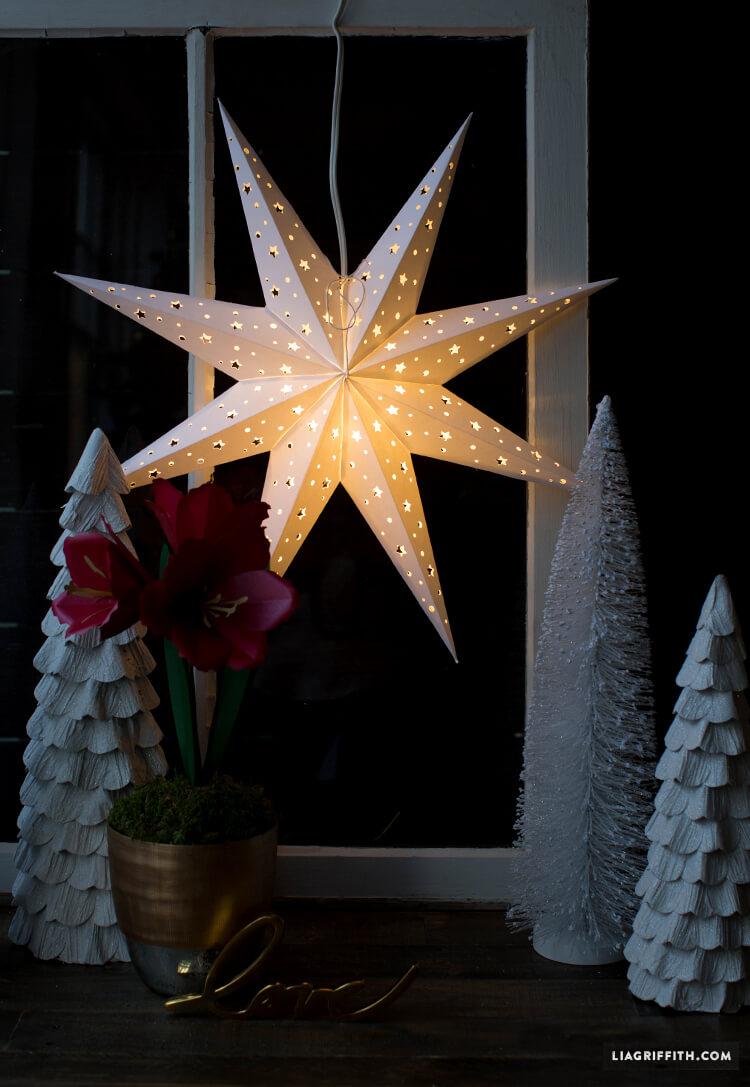 The focal point of Christmas window decorations is the glowing star, and it can bring in the Christmas feel along. The star has a light inside, and you can place it right outside your window frame. Pair it up with some gold ornaments, and you are ready with your Christmas window decorations. 
Snow White Window Decoration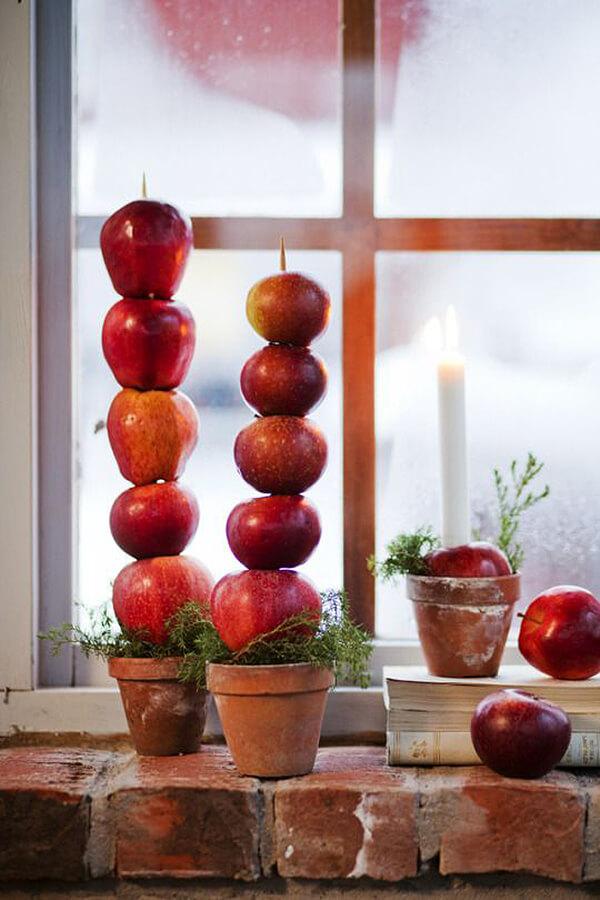 It is time to bring in fairytales as part of your Christmas window decorations. If you have been a fan of Snow White and the seven dwarfs, then you will love the easy Snow White window decoration that we have right here. It involves a set of shiny red apples piled up on top of each other in small pots. 
Decorate the area with vintage white books with golden borders on the sides to enhance the effect. You can also have transparent white curtains with golden loops and some cherries hanging from them. 
Holiday Cheer Candles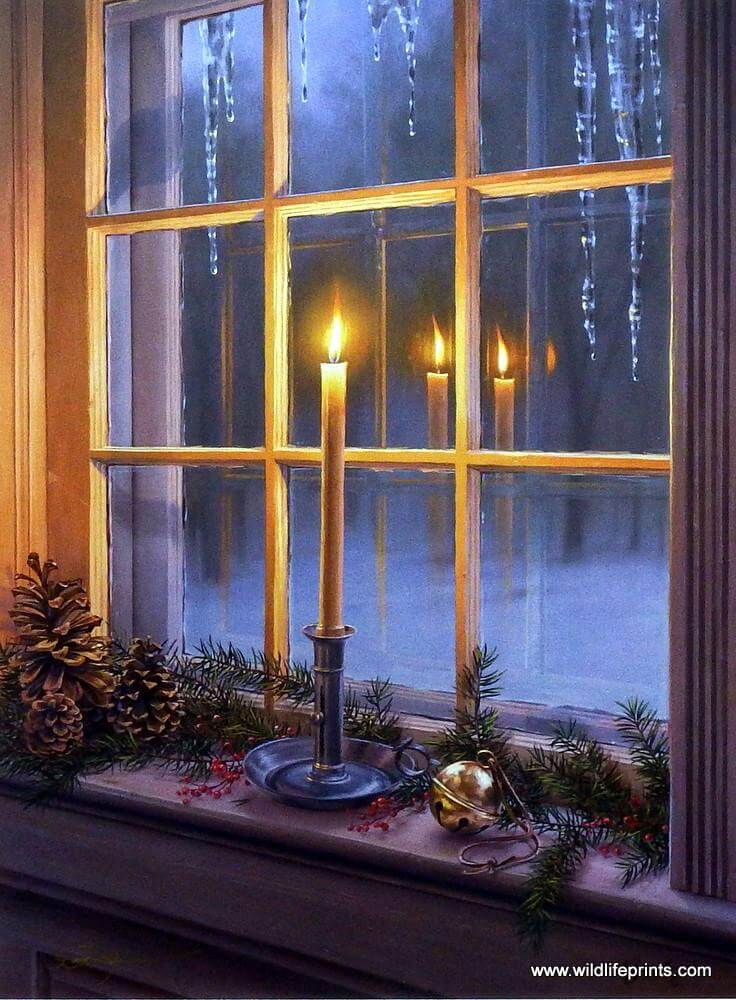 With the right Christmas window decorations, you can bring home the rustic feel. Use tall candles and bring in the holiday cheer to your home. It will not only brighten up your window but will act as an inspiration for others to put up candles too. 
Plaid And Poinsettias Ribbon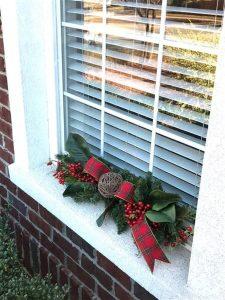 Add some greenery to your window with the plaid and poinsettia ribbon. This will work with white windows the best, and you can keep it in place for the entire holiday season. It is easy to put up, allowing you to use artificial greenery along with some checkered red ribbons to complete the effect. 
Star LED Lights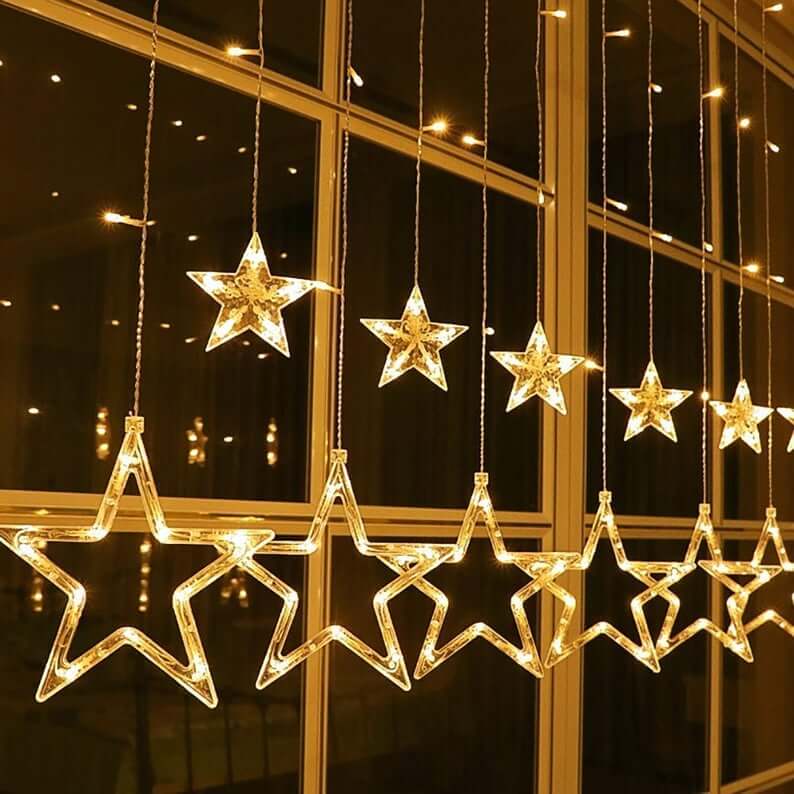 One of the most popular Christmas ornaments is the star LED light. You can use a bunch of these stars by hanging them inside window panes. They can be used every year if you store them properly. Furthermore, the LED lights are generally battery-operated, so you should take out the batteries before storing them. 
Christmas Tree Lights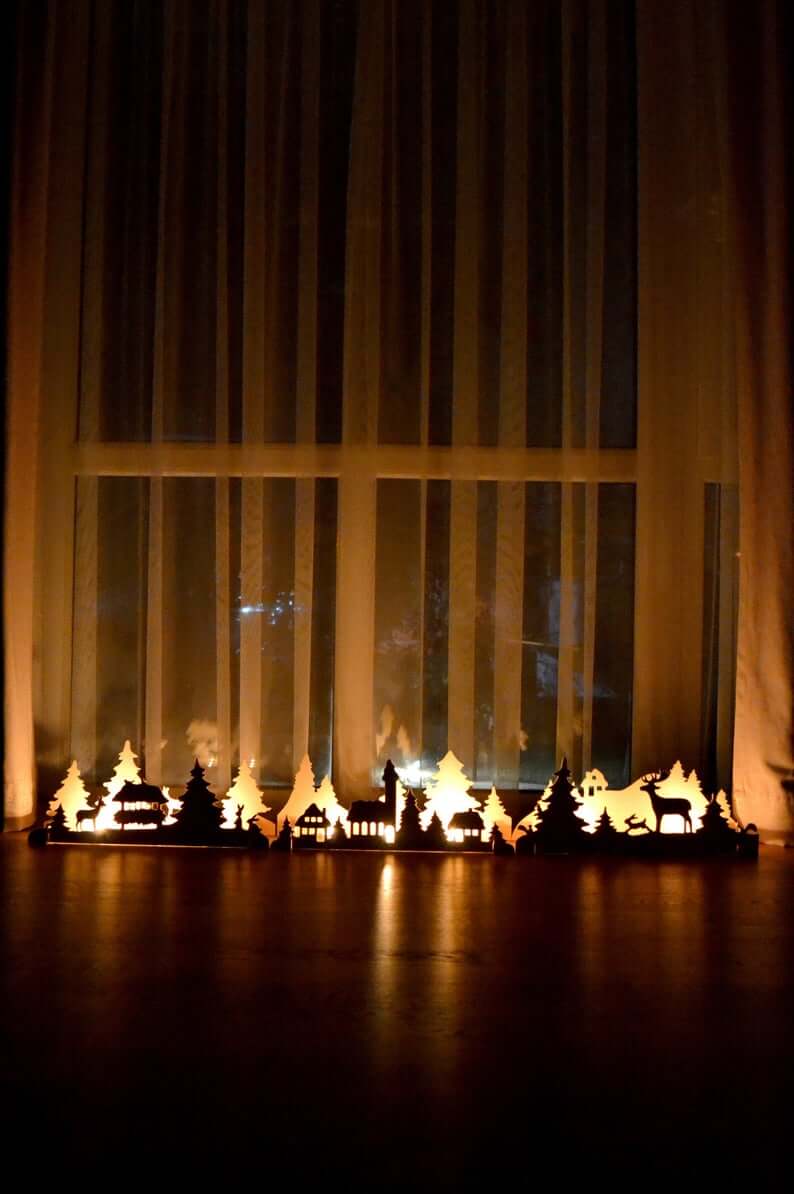 If you do not have too much time to purchase new Christmas window decorations, then you can just create this one at home. Use cutouts of a Christmas landscape with houses, trees and then place candles or yellow lights behind them. 
The shadow of the Christmas trees will fall on the window, and people will be able to see the white décor as well as the silhouette. This is a very attractive window decoration and will work with large glass windows. 
Holiday Season Vixen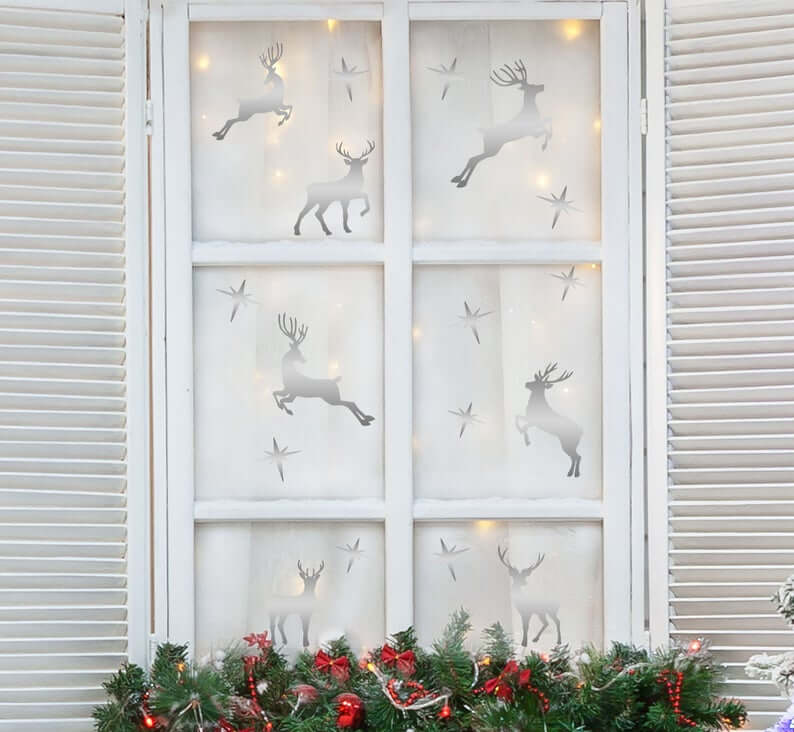 You can mix and match the holiday window decorations with the holiday season vixen right inside your window. Add some gold ornaments, a few flying reindeer, and some sprigs of greenery. Then place soft dim yellow lights in the background a little far away from the window. You can use this for transparent as well as translucent glass, and it is bound to stand out. 
String Of Stars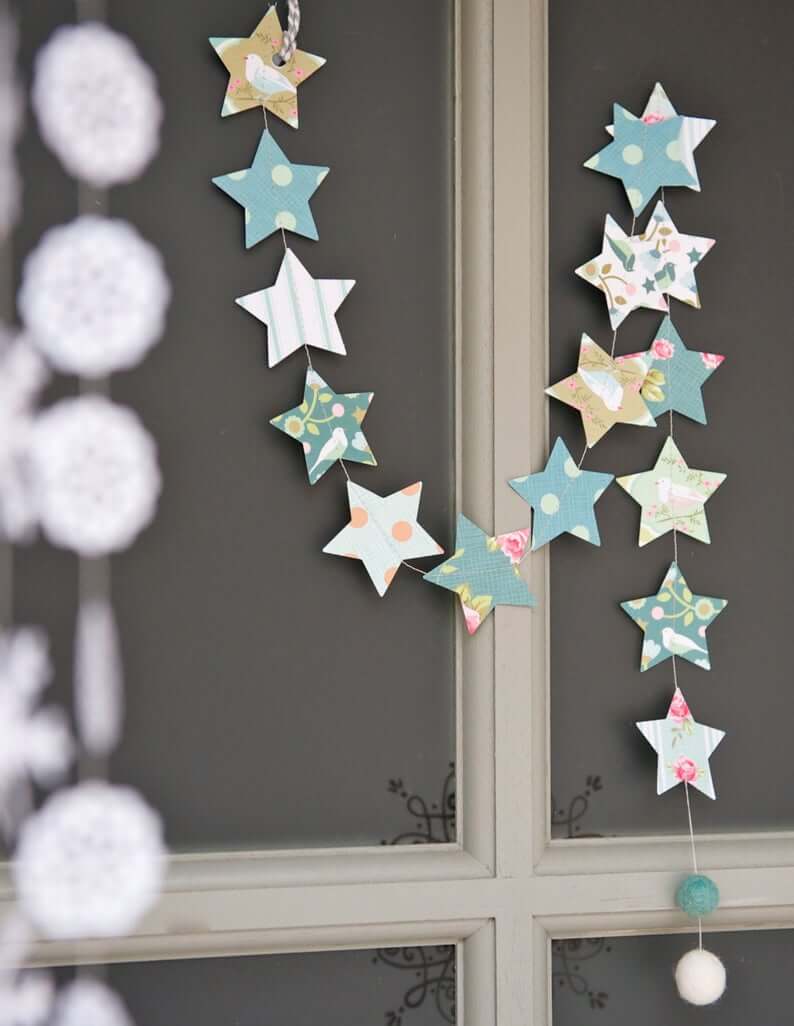 Christmas window decorations are incomplete, without a string of stars to set the mood. Buy some Christmas stars from any store or make them yourselves with paper cuttings. Then add a string and connect them all together. Depending on your personal preference, you can opt for either white stars, red and white color combinations, or a set of multi-colored ones. 
DIY Budget Snowflake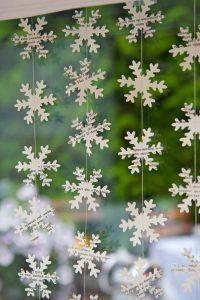 Christmas decorations do not always mean spending a lot of money. You can do it without spending anything at all with the DIY budget snowflake. Take out your old newspapers and books and cut out snowflakes from them. 
Then attach them to a string and hang them outside your window. In case you have some golden ornaments in store from last year's Christmas, you can use them to add more glamor to the space. 
Gold Window Wreath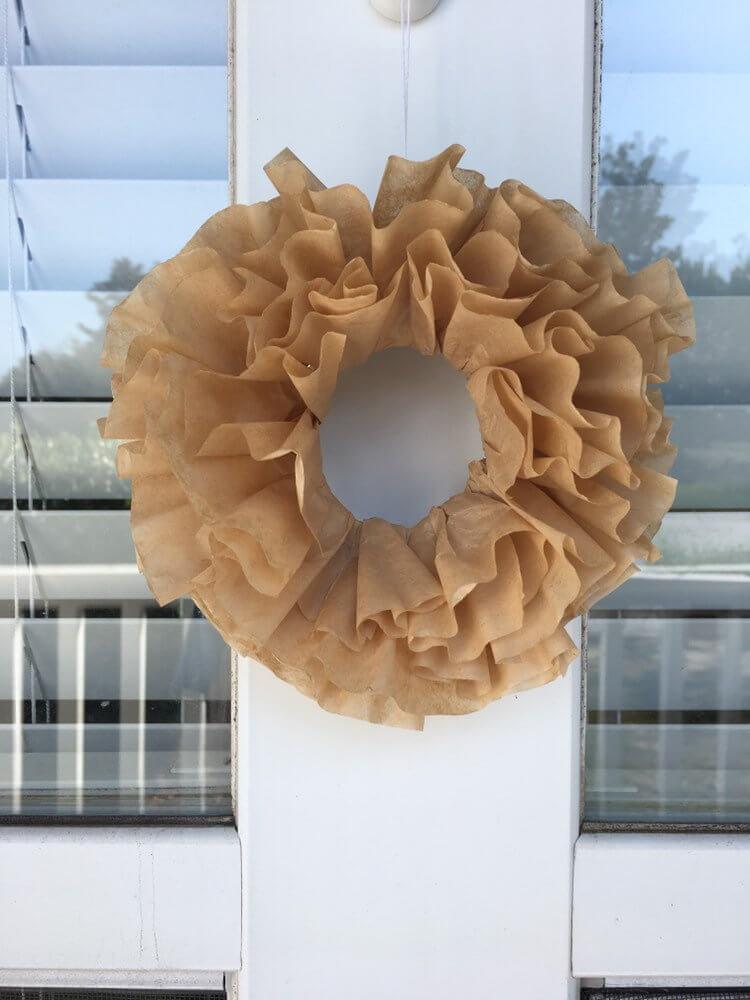 If you are looking for royal Christmas window decorations, then the gold window wreath is going to be a great choice. Pair it up with some green twigs and a red ribbon, and you should be ready for the Christmas season. You can use these wreaths for windows as well as doors. 
Bethlehem On A Window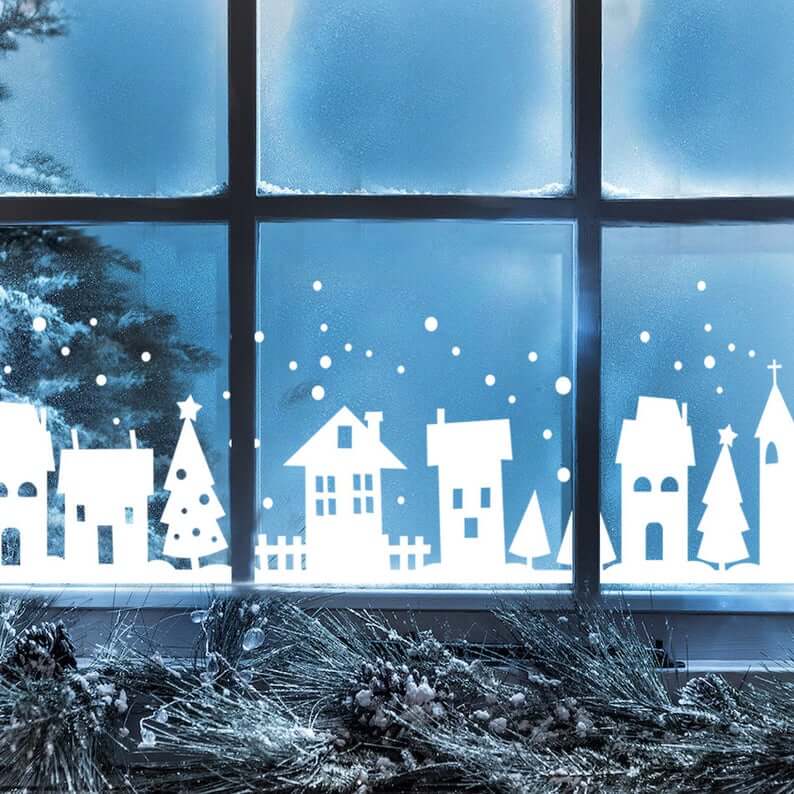 Imagine being able to create Bethlehem on a window right at home! You can use these ideas for the porch, or you can simply display the arrangement on the window. 
All you will need is a cutout of small buildings, Christmas trees, and snowflakes, and you can stick it to the window pane. Ensure that the entire thing is in white and add tiny white dots all around the pane for a pronounced effect. 
Wreaths On Strings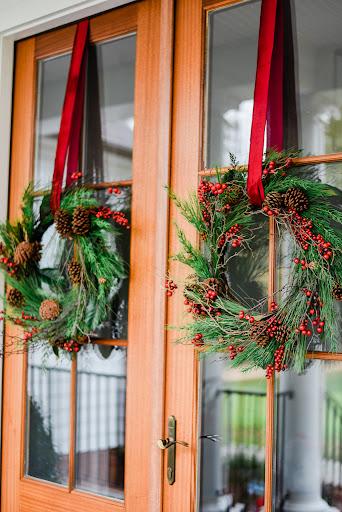 Do you want to play around with green wreaths to enhance the effect? This is a great way to use old Christmas window decorations in a new way. Hang your old green wreaths on strings or red ribbons and line them up against the windowpane. You can use yellow lighting to help catch the attention of people passing by. 
Holy Night Home Décor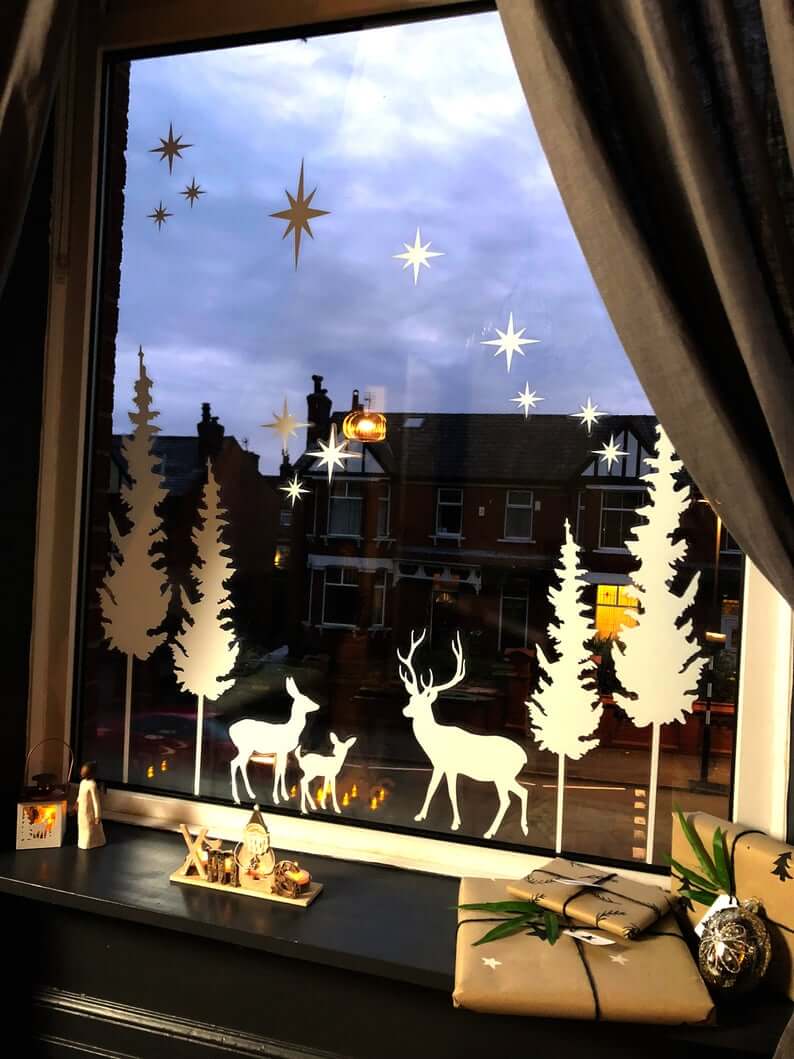 What are your thoughts on decorating your window panes keeping Christmas carols in mind? With the Holy night home decor, you can achieve just that. Use paper cuttings of reindeers, Christmas trees, and stars to create scenery on the window itself. This works well for storefronts where you can use backlighting at night. 
Christmas Tree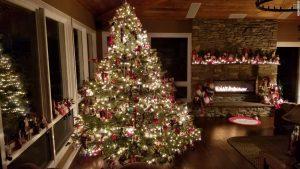 Holiday decorations are incomplete without a Christmas tree, and you can always have a mini one for your window. Use some yellow lighted stars in the background to bring the Christmas season home in style. You can take out any ornaments that you have already packed away and use them to prep up the tree. Hang a star on top to complete the look. 
Farm Window Fir Décor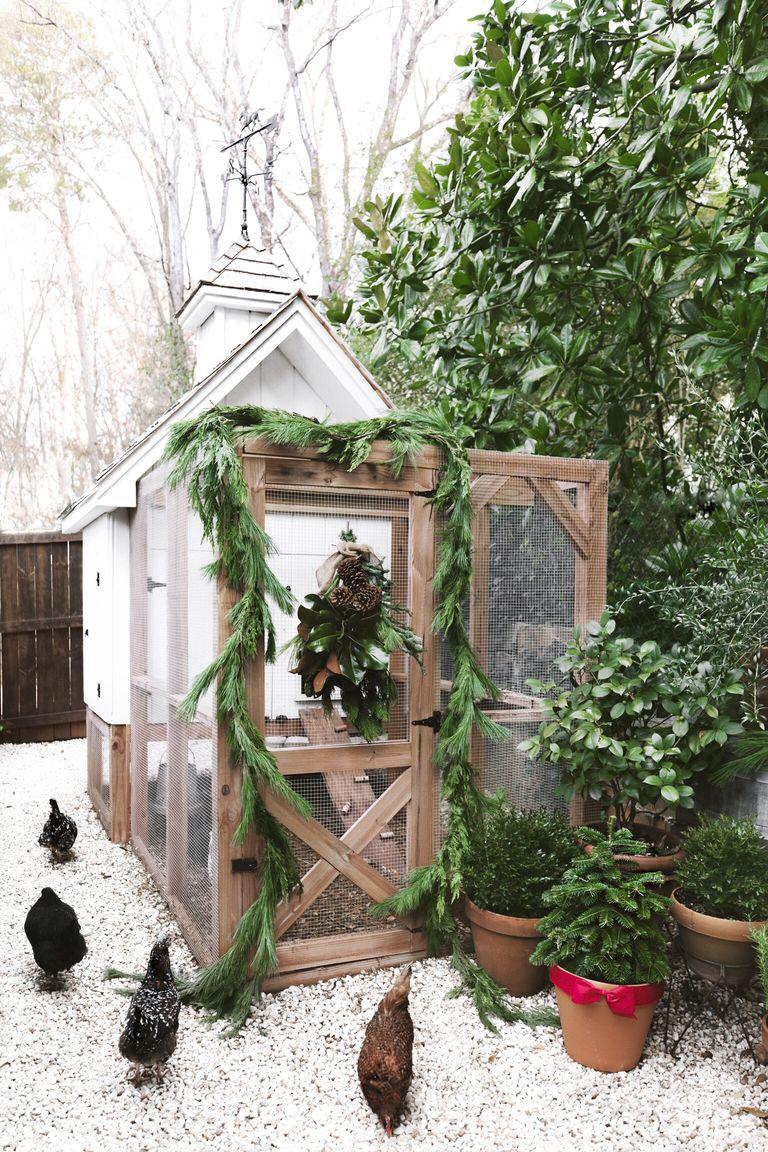 Your chicken and other farm friends would also want to feel the holiday cheer. A unique choice of Christmas window decorations is the pairing of a fir garland along with a magnolia leaf wreath. Use fir garlands as window decorations, and you can also put them around doors. Then hang a magnolia leaf wreath on the door right in the center.  
Citrus Wreath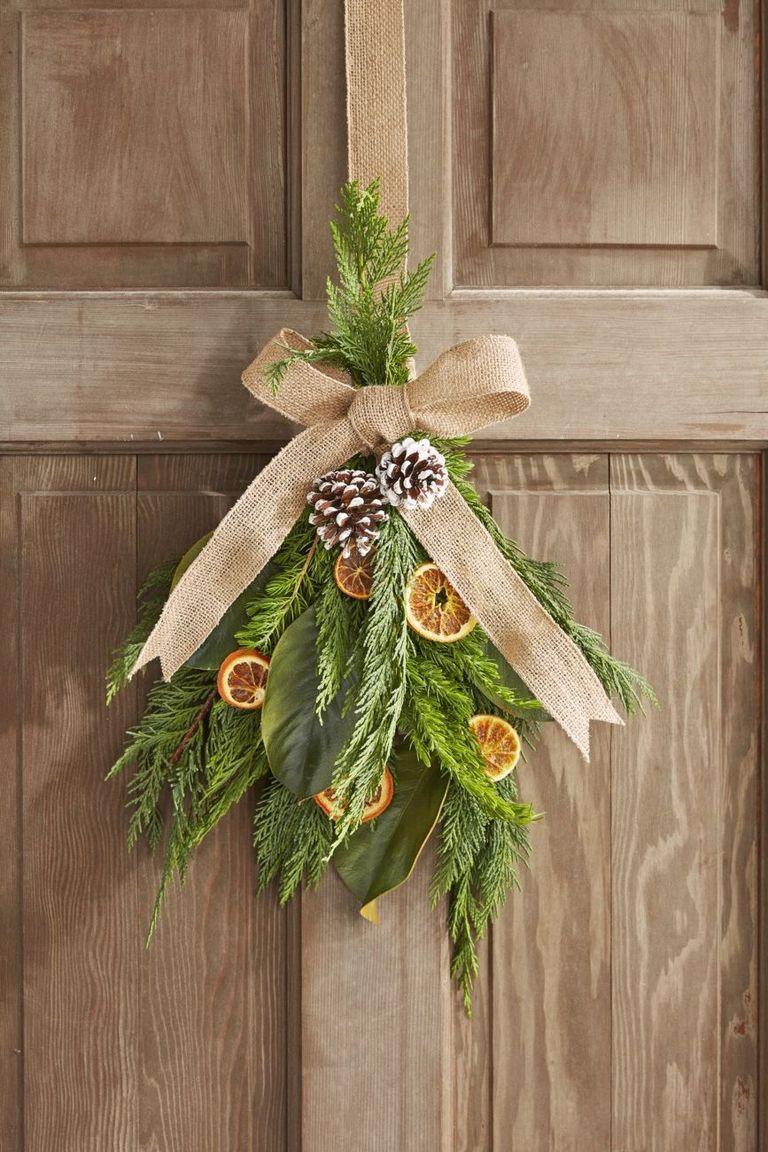 If you are looking for unique Christmas decorations, then the citrus wreath will give you inspiration. This is very welcoming, and you can hang it on both doors and windows. People use dried oranges, along with burlap ribbons and greenery, to create these masterpieces. 
It is a DIY project that will bring joy to the entire family as they sit together to create party decorations. Plus, it has a very country vibe, and you can pair it up with pinecones and bright lights. 
Garland With Citrus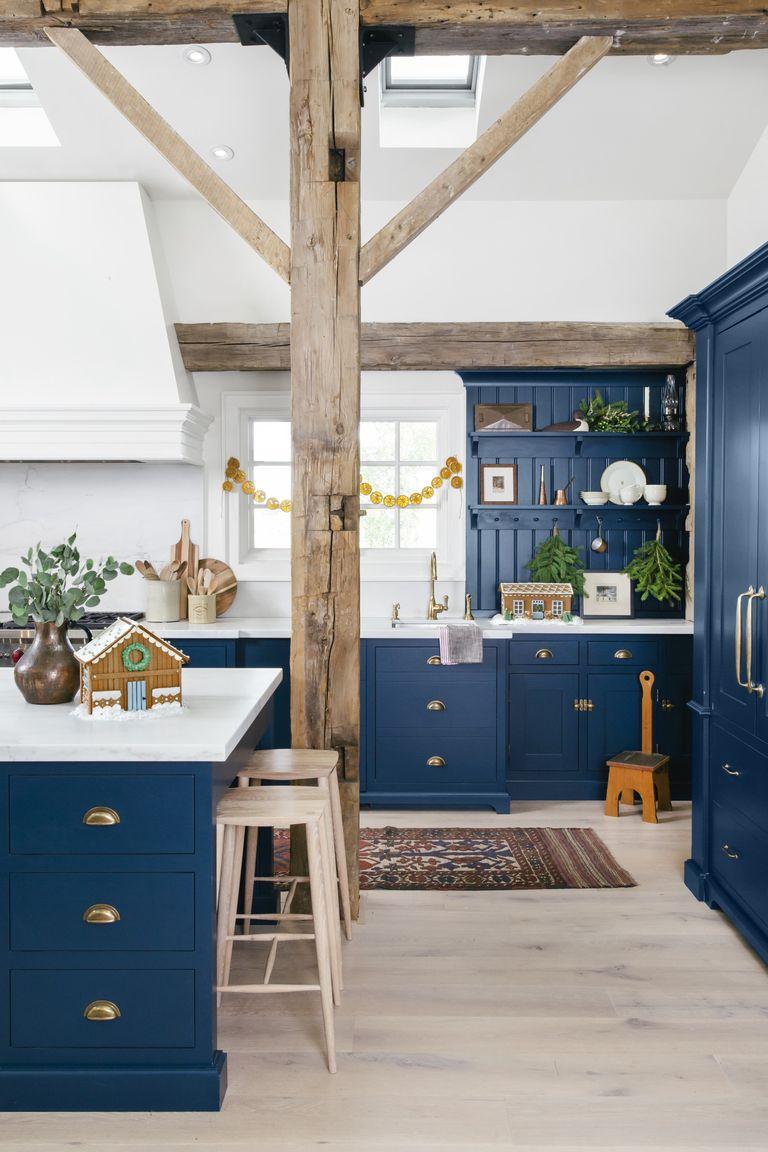 An exotic idea that you can experiment with is the garland with dried fruit pieces. This is one of the most quirky Christmas window decorations, and you can make this without using the typical white and red colors. Take some dried slices of orange and then string them together. This will look beautiful at night if you add warm-hued lights. 
Green Garland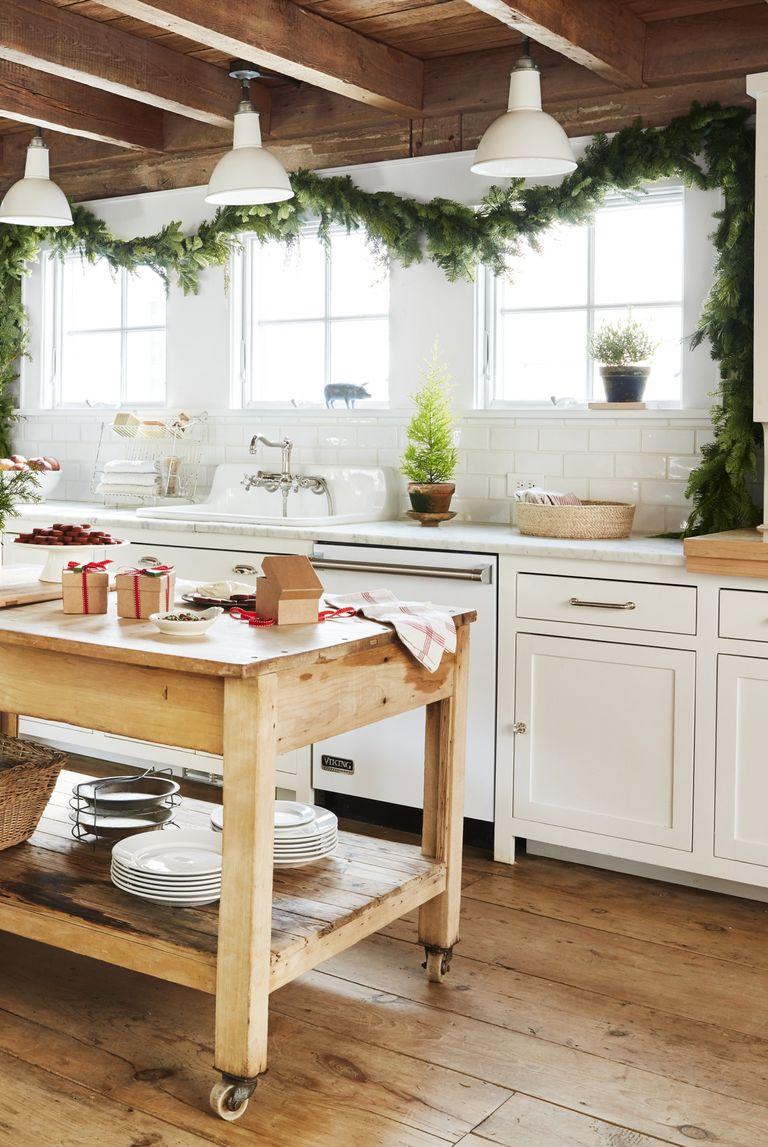 While you may think we are talking about the same style as the embellished red ribbon garland, let us tell you that this one is different. It works for large houses where there are a number of windows, and it may not be possible to decorate them all intricately. 
Hence, you can use these green garlands as part of your home décor and brighten up the entire space. These can be put up as window decorations as well as around the house and the gates. Just hang long thick green garlands and wrap them around pillars in the front porch of the house. 
Candle Wreath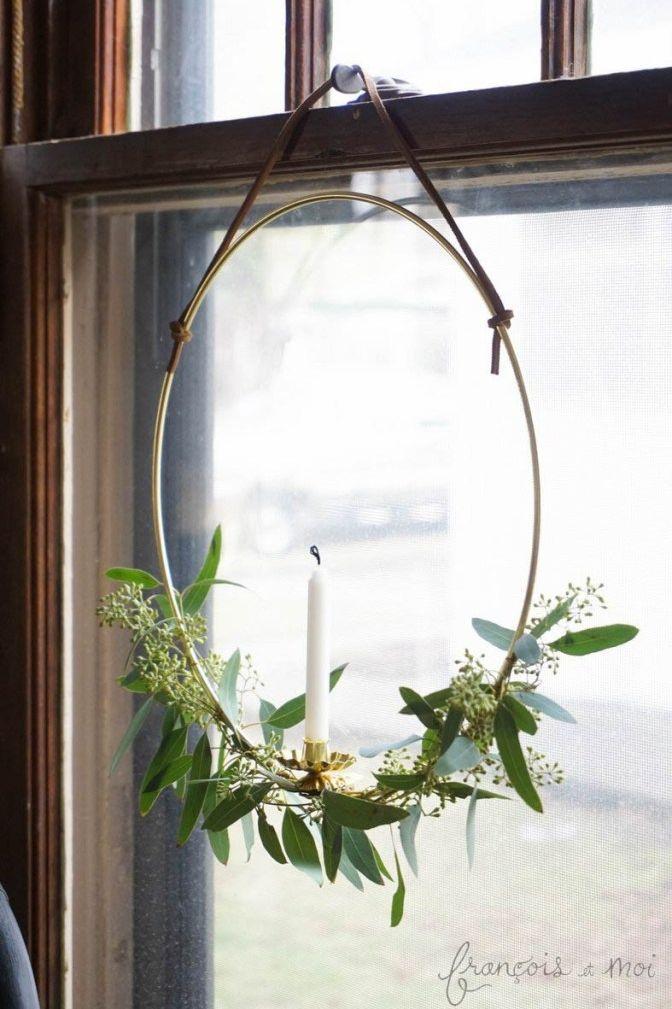 Here is a classic way of doing your Christmas window panes. Instead of using artificial lights, use a wreath with a candle stand in the middle. You can place the candle right within the circle, and it is going to stand out for sure. 
The glow from the candle will also reflect on the window panes and will enhance the effect. Also, it will make your home look warm and inviting as it snows outside. Feel free to use many of these for the windows in the front of your house. 
Bathroom Wreath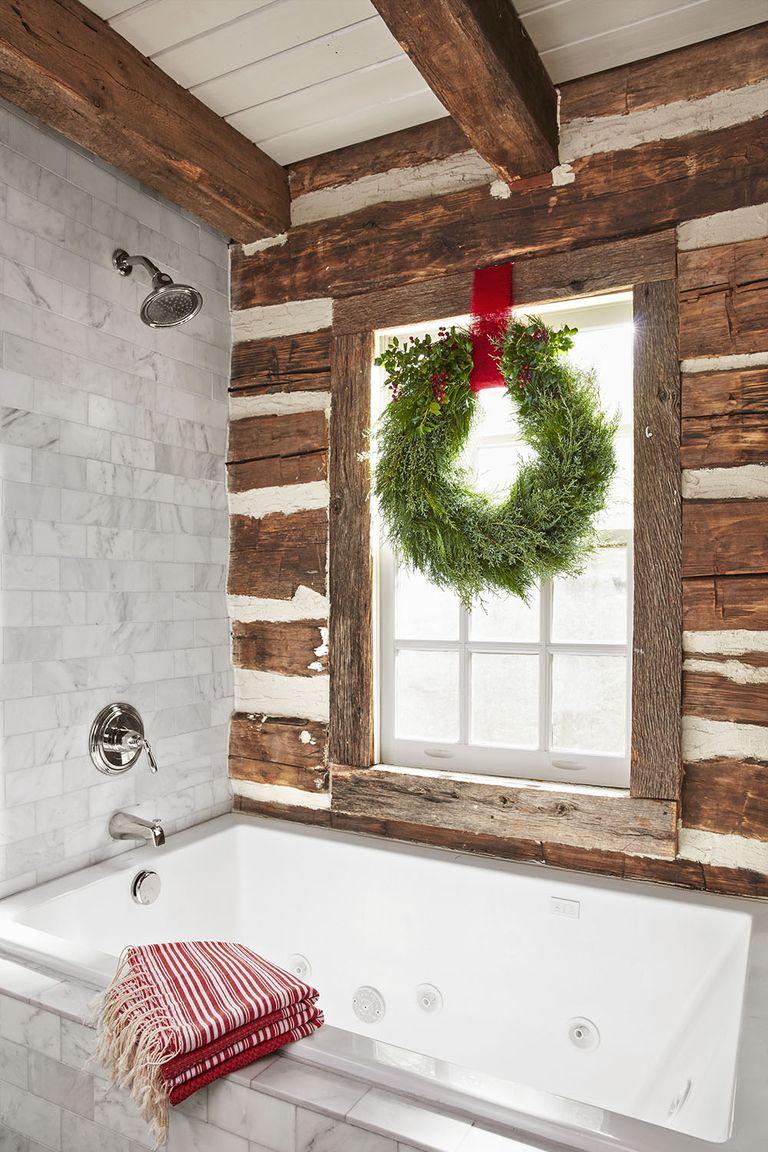 Your search for Christmas window decorations for your bathroom ends right here with these beautiful green wreaths. Hang an oversized green wreath on the window and then pair it up with some flowers made out of tissues. If you are going to use red ribbons to hang the wreaths, you can also line up the ribbons with white tissue flowers for additional effect. 
Lighted Candy Cane
The holiday season is incomplete without some sweets and candies. Take it as a sign to add some to your Christmas window decoration. These lights are easily available on Amazon, or you could buy something similar from a local store. They can be used as part of indoor and outdoor decorations. 
Plus, you will get these in many sizes. The lights can be controlled, and you can switch them off when not needed. There are different modes that can be managed using a remote control.  
In case you do not want to buy them, then they could be made at home too. Use cardboard cuttings of a candy cane and some string lights to wrap the cutout. 
You can paint the cane in any color you wish and then hang them on the window. Hang these canes at different heights to create a pattern. 
Outdoor Wreath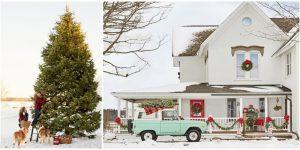 Christmas window decorations do not necessarily need to be present inside the home. You can use garlands, wreaths, and pinecones of different sizes all around the outside of the house. This will work the best if you have white walls and window frames. Place some silver bells at intervals, and you can set up a large Christmas tree right outside. 
LED Candles 
While we have already spoken about wax candles, you can opt for LED ones as part of your Christmas window decoration. These will look brilliant on windows, and they won't melt with time. Moreover, you do not have to worry about the flame, and curtains can easily be hung beside it. 
Moreover, you will get LED candles in many shades, and they are generally battery-operated devices. We will recommend using white and red candles as that feels a lot like Christmas. 
Glass Angel 
One of our final Christmas window decoration choices is the glass angel, and it will impress you with the lights within. It is a perfect addition to window frames with a wreath and some golden ornaments on the side. 
You can also use this glass angel as an ornament to decorate your Christmas tree. Some people believe in having the Christmas angel on top of the tree for an added effect. You can do that too and then place the Christmas tree by the window.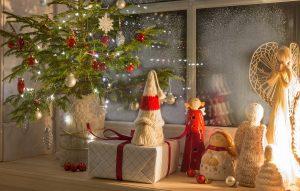 Final Words  
We know that the list was pretty long, and we will give you a minute to take it all in. Remember that this list is not exhaustive, and you can mix and match many of the décor elements and find new ideas for your windows. You will also find budget Christmas décor ideas that will also work as fun DIY projects. 
Also, if you are known for good housekeeping, you can incorporate some of the candle and light ideas for other festivals of the year. Every décor element can be recycled and reused if you have a knack for creativity. 
With this, we will be wrapping up, and you can let us know about your favorites in the comment section below. We will soon be back with another informative guide. 
Happy holidays! 
Related Links
14 Best Star Christmas Decorations for a Shiny Christmas
14 Awe-Inspiring Ceramic Christmas Decorations
19 Christmas Tree Paper Decorations for Delicate Look
21 Awesomely Unexpected Christmas Bathroom Decorations To Realize
43 Super Smart and Inexpensive Affordable DIY Christmas Decorations
DIY Orange & Cinnamon Sticks Christmas Decorations for a Jolly Home