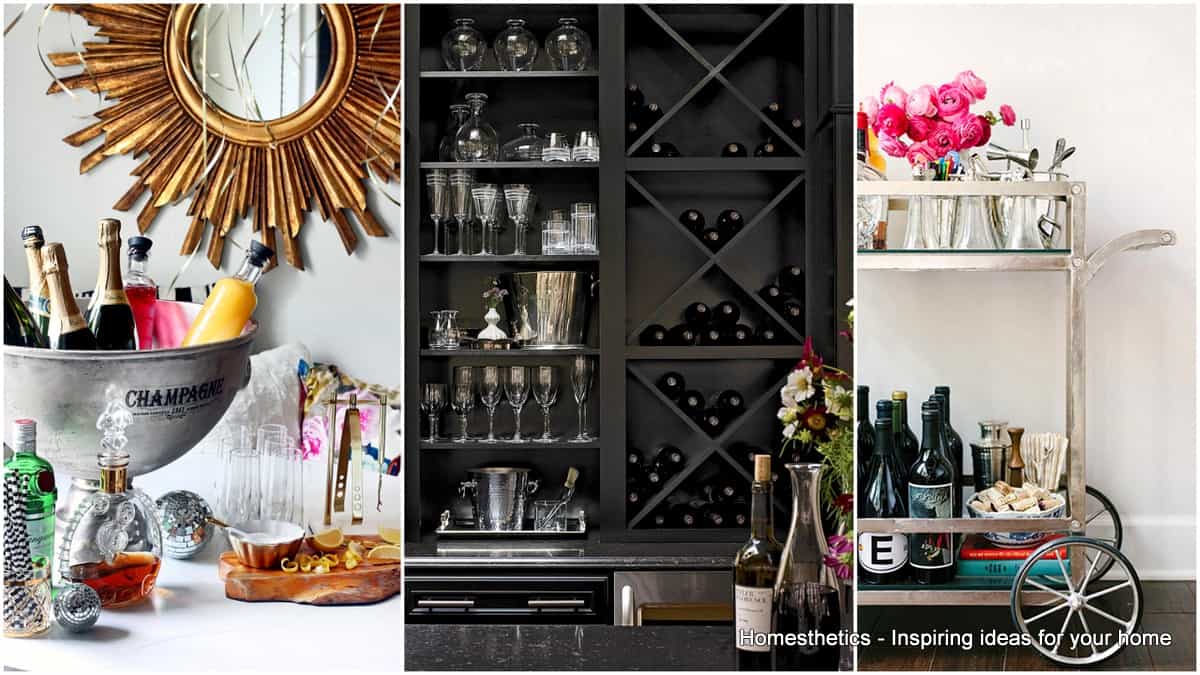 Have you ever wanted to have a place in your home that you'd feel passionate about, a place with which you would identify yourself ? I bet the answer is yes. Most of us want something that can make us feel comfortable and welcome and you don't get that from decorating it the way everybody else does. It must have something that represents you and makes you feel pleased with it, it can be a hobby like gardening or woodworking, something that you've designed and maybe even built yourself. A DIY project. There are many ideas to choose from and through each and everyone you will make your house, home. Start by discovering what makes you tick, what gives you joy.
One very important and practical aspect is the space available, sadly, one cannot arrange a cinema in a 10 by 10 feet room yet any spare room would come in handy when you envision your man-cave and the bar associated with it. If your property is a bit crowded, you might want to look for alternative solutions. One way to do it is to extend your house by building a porch or an extra room in the backyard. You could also explore the potential of the unused attic. Don't settle for a no. I know someone who lives in a apartment on the ground floor and has added a basement space, a balcony and a storage room to his place.
Bestseller No. 1
Today we are going to take a closer look at an ingenious way of taking advantage of an often neglected space in our home: the basement. There are many things one can do below the ground level besides storage and technical spaces. It's perhaps one the most soundproof spaces in the house and it therefore ensures a comfortable retreat, a neat space to built a cool basement bar. DIY Projects are simply epic and most ideas below are based on simple principles, surge inspiration from the cool basement bar ideas below and feed your imagination. Combine it with a game room and you've got yourself a great bachelor pad.
Cool Basement Bar Ideas for Your Home
1. simple and cozy basement bar idea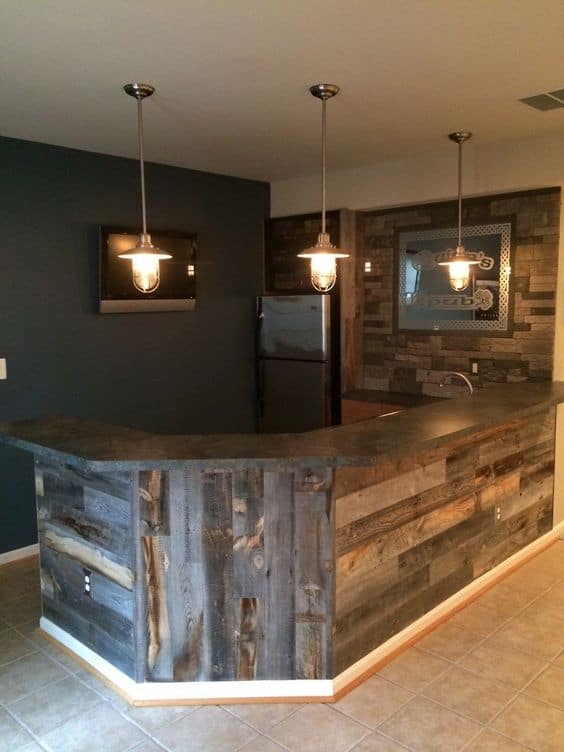 via stikwood.com
2. Using light to make the bar more inviting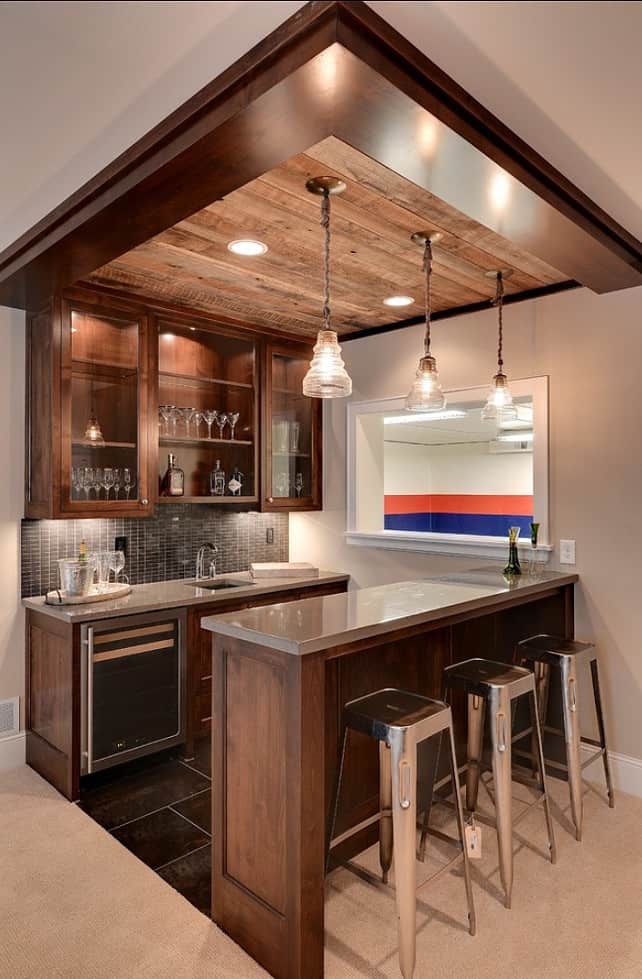 Source Unknown
3. combining materials adds flavor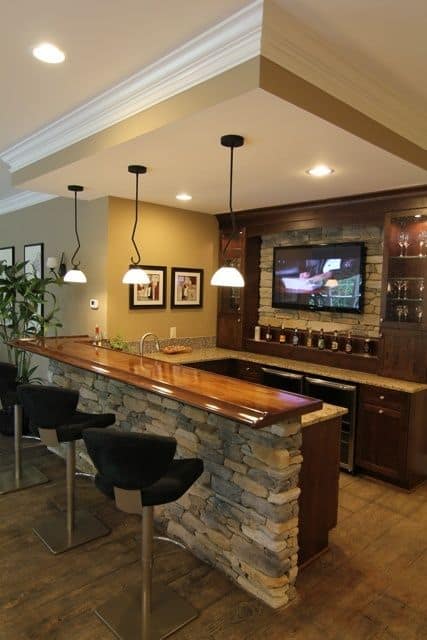 Source Unknown
4. A black bar is always striking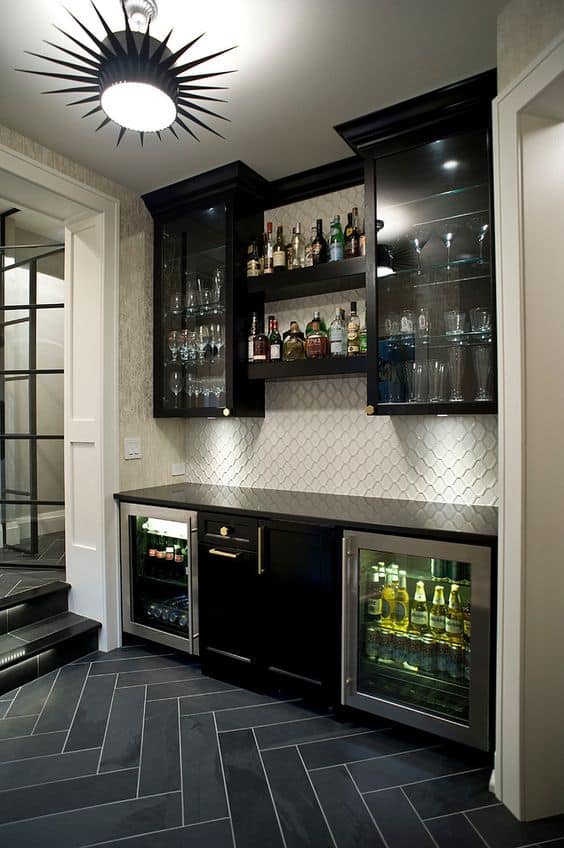 The coolest basement bar ideas don't need to be big, but they all need to make justice to the space they occupy, they simply need to be capable to properly entertain.
via jarrodsmartconstruction.com
5. Space efficient basement bar design
I love this idea because it makes use of a residual basement space that would otherwise be used for as a simple storage space if not for nothing at all. A small bar opened in your basement will present new options, it will lead to great opportunities when it comes to entertaining your friends and family.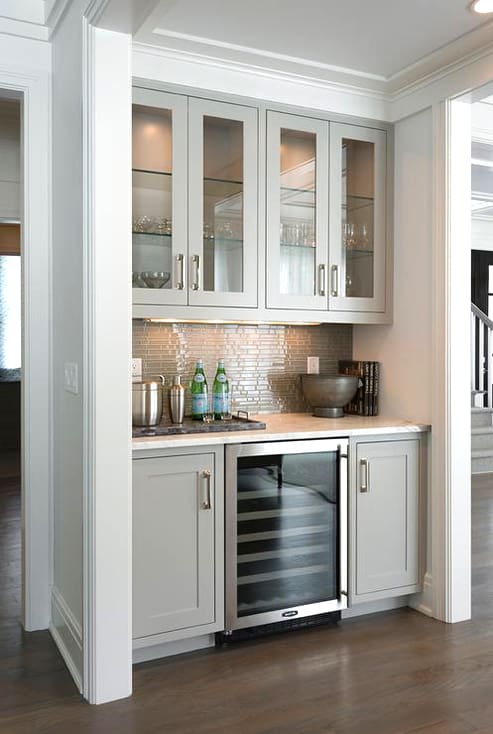 via DecorPad
6. stunning rustic basement bar
Old buildings were made primarily of bricks. If that's the case for your basement, simply paint it or leave it natural and complement the whole with a wooden bar, the brick and wood combination will make the place charming.
Basement bars are cool by default but with exposed brick, rustic wooden accents and industrial stools, your basement will go to a whole other level.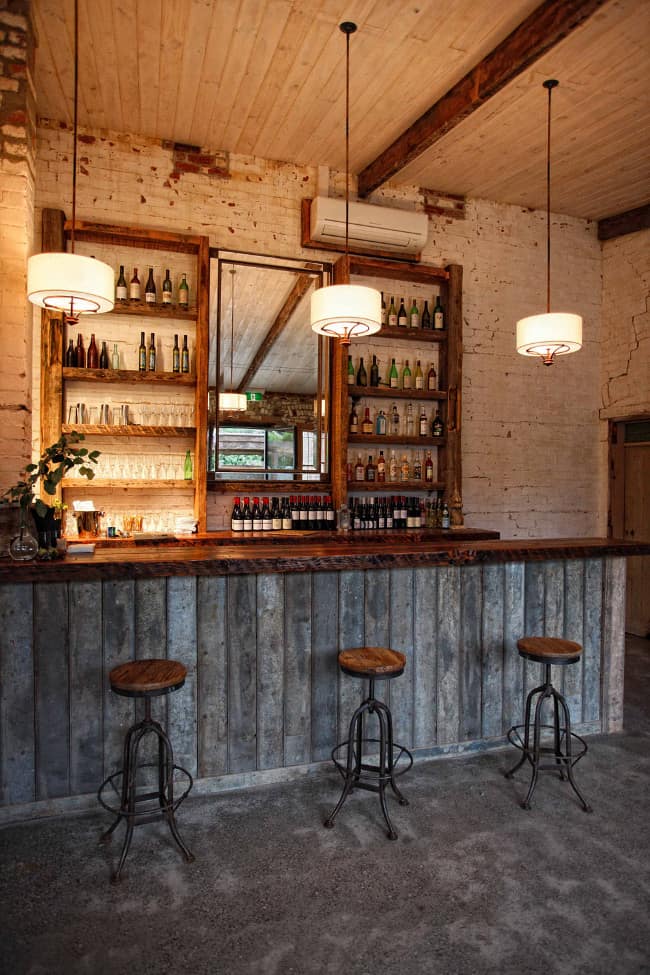 via dustjacket
7. make the bar more visible by using warm light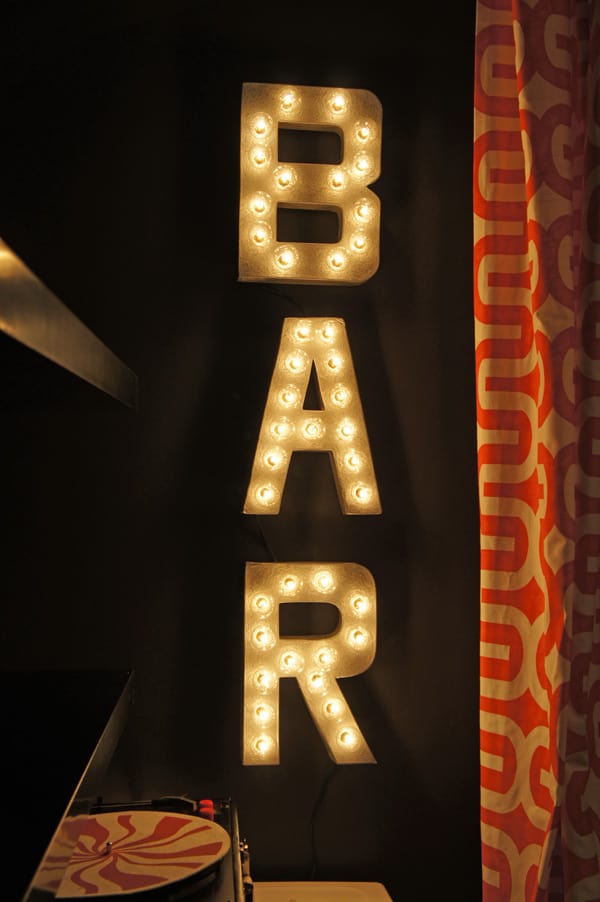 via tealandlime
8. lovely wine storage wood structure
If your wine collection is something that you cherish in then the storage solution deserves special attention. Common rectangular storage units will always do the job but to make the place special you need something that catches the eye and removes the ordinary attribute.
Here the bar shelf displays the liquor while splendid geometric shelfs differentiate wine types in a pattern that can even be called wine art by enthusiasts.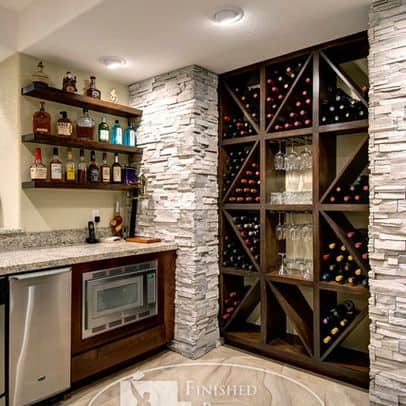 via houzz
9. white always suggest elegance
It's not just the color though. The proportions, the wooden frames and small details, here, the shape of the handles, contribute to turning this into a very stylish basement bar idea. Also, imagine how surprised your guests will be when you open the doors to what looks like a normal cabinet to reveal an extraordinary basement bar.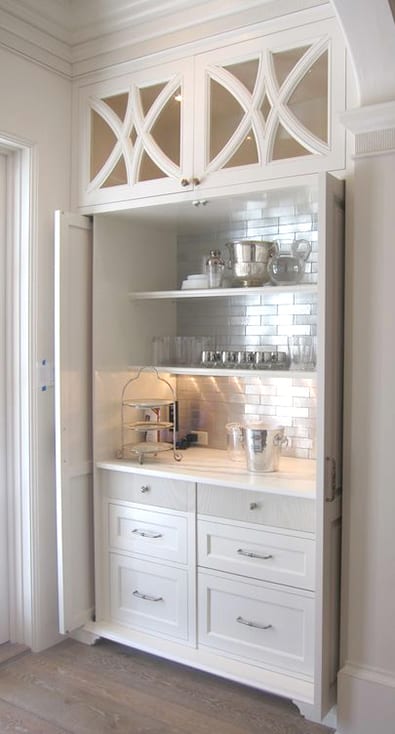 Your entire bar and the bar shelves can be hidden in a cabinet to declutter your ambiance.
via via Custom Cabinets Houston
10. choosing contrasting colors makes the bar stand out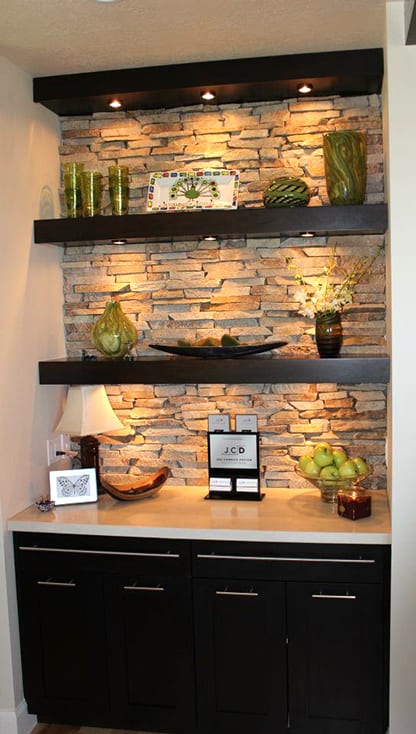 While this home basement bar looks simple and neat do note that your bar shelf can have lights incorporated within. That not only enhances visibility but also puts great emphasis on the best bottles in your collection that might reside on these shelves.
via RenoGuide
11. a retro design is not something you see everyday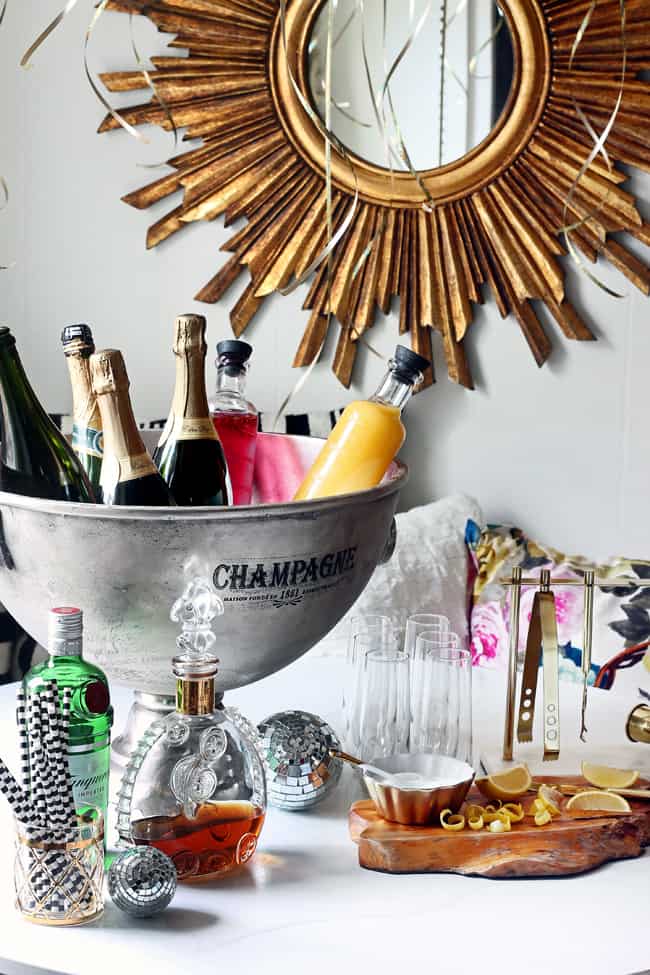 via Hunted Interior
12. space conscious bar design idea
You don't need an entire room to fit the home bar that you've always dreamed of having. Even a small wall will do. It's the design that counts more and the way it connects to the rest of the room. By fitting it with a mirror, you'll make the space feel bigger and the bar more interesting.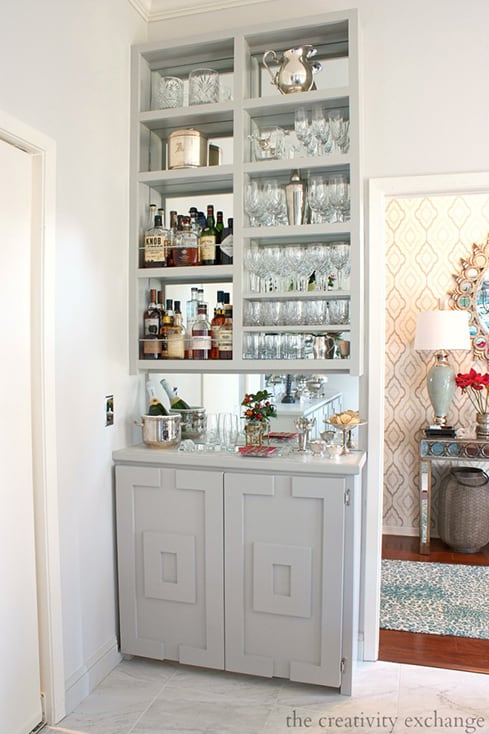 13. an ILLUMINATED COUNTER TOP  is a must 
The upper cabinet was fitted with small lights that illuminate the counter top, it is where the the magic happens and the bar comes to life. It doesn't only look good but it's also very practical, helping you prepare any drink you want.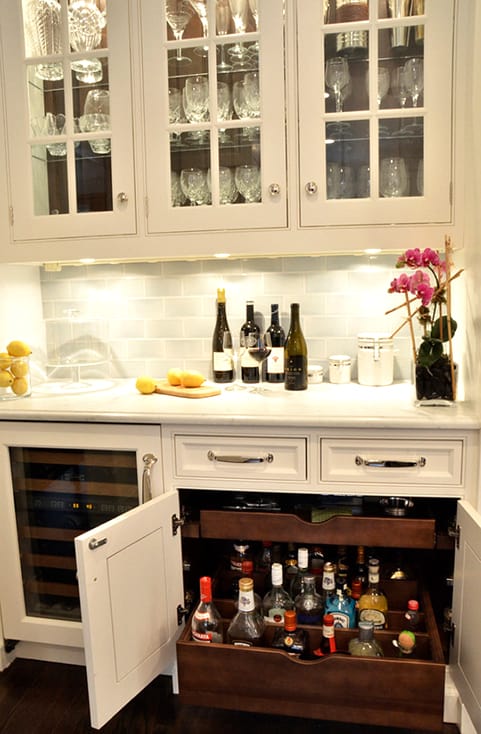 Storing different beverages efficiently might seem a difficult task in small spaces but with the right drawer, this changes rapidly, you`ll have all the drinks in sight, easily-accessible, the entire home bar in one place.
Source Unknown
14. Small bar cart Ikea Hack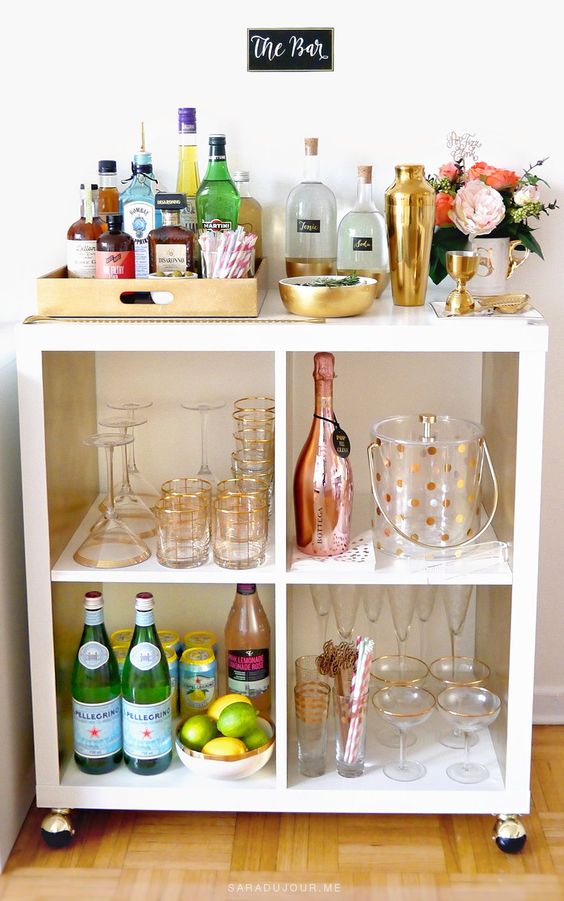 via saradujour.me
Sale
Bestseller No. 1
15. The black bar – a courageous and remarkable setup
If the home bar itself isn't special enough, then you can make it even more alluring by going for an all black design. It's still pretty uncommon and people generally don't opt for it because it's a slightly unusual thing to have. It's very subjective though, for example, Holland nestles many black designs that look great. If you're gonna do it, do it properly, choose something unique.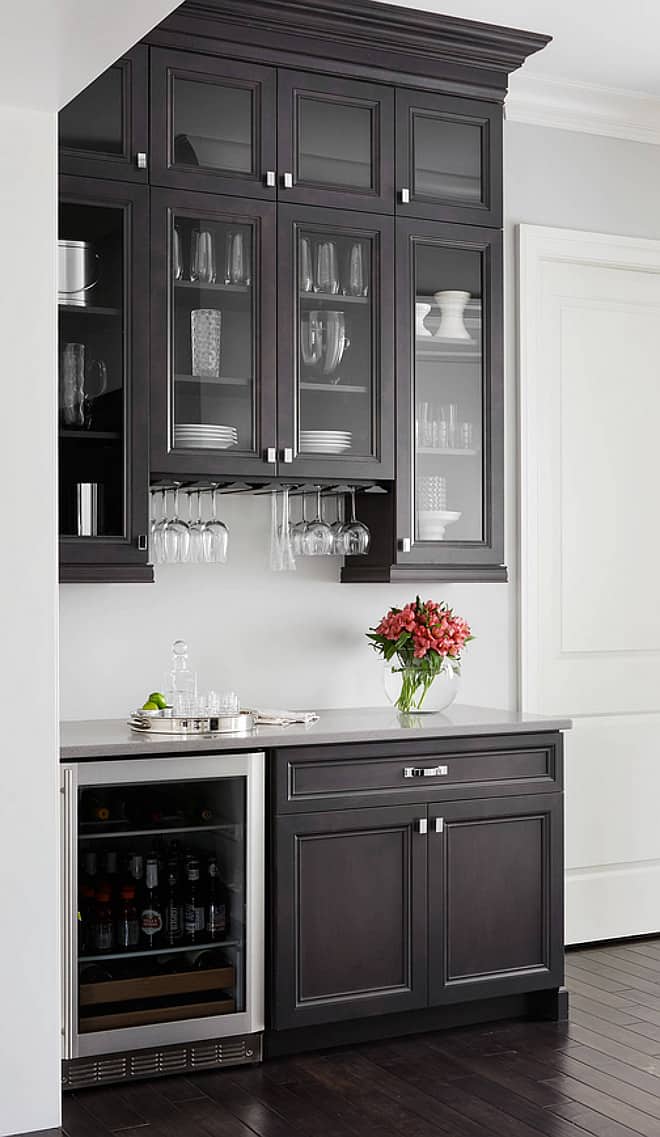 via Summit Signature Homes, Inc. and Denise Hauser Design Co.
16. Epic bar built in Victorian styled cabinet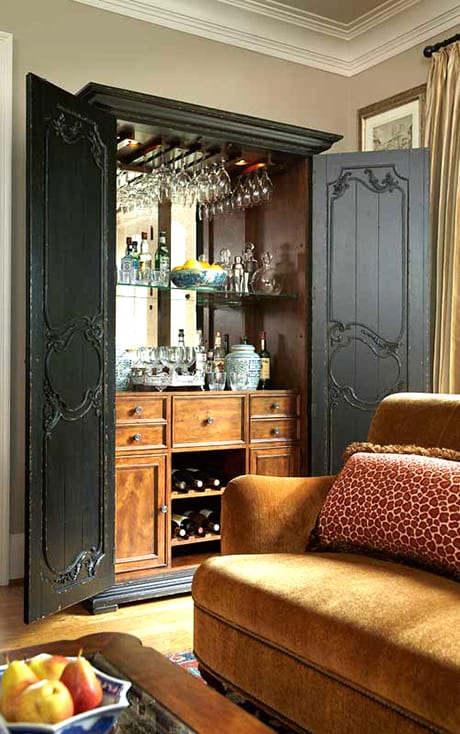 via Biltmore
17. Trendy drink serving table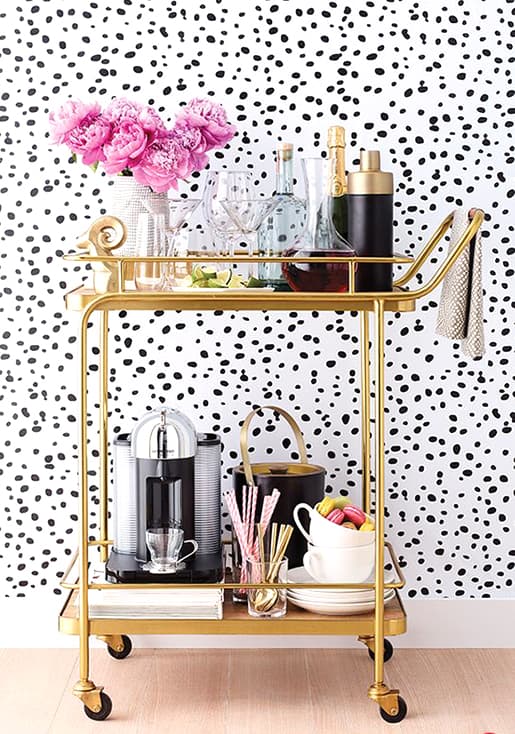 via Target
18. Gorgeous mini bar cabinet for small spaces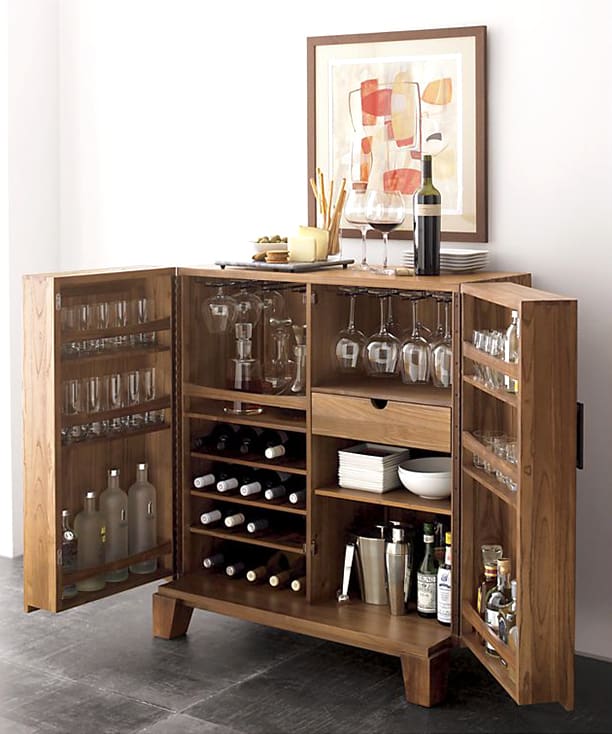 via Crate & Barrel
19. Appealing built in wall white bar
This great basement bar idea is perfect for adding a touch of style to your home. The confined space could have been a drawback but instead, it has led to a very clean and clear solution. The fact that the setup is contained just like a frame would constrain a picture makes the home bar look very intimate and inviting. It's the perfect example for supporting the idea that bigger isn't always better.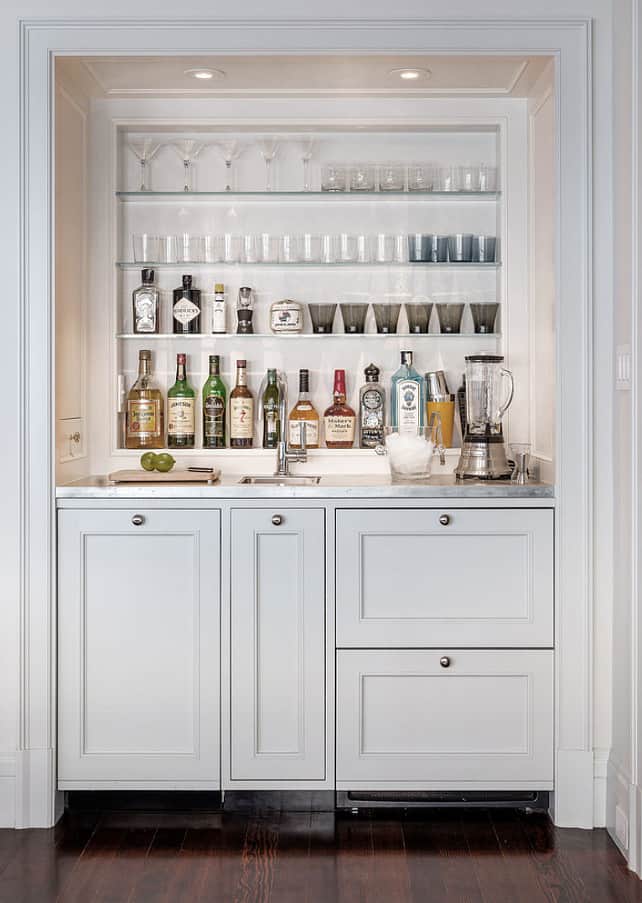 via Benjamin Moore Smoke Embers. & John K. Anderson Design
20. It's the surprise that counts – great space saving idea
And, on top of that, just look at it! It's so simple and yet fits so well in the room, making it so much more interesting. Every guest will be curious and intrigued by it. What makes this object look this good is the way the wood textures blend together, keeping the design look unitary. The colors are different but don't vary much in tone and saturation. Too much contrast and you will loose the elegant, discreet effect.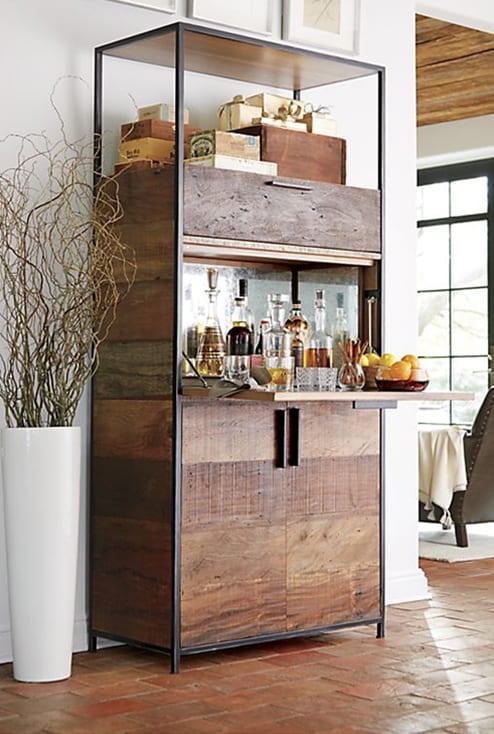 via Crate & Barrel
21. enhance the setup by  adding a contrasting background
What if the wall was white? Would the home bar look the same? Definitely not. The chalkboard wall now highlights a powerful contrast and by adding a respectable amount of light into the scene the designer created a very appealing basement bar.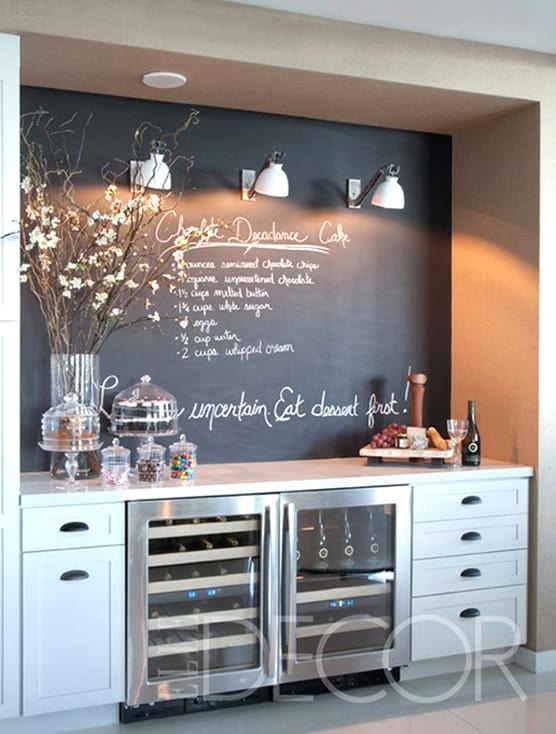 via Elle Decor
22. get a smooth white cabinet for a discreet bar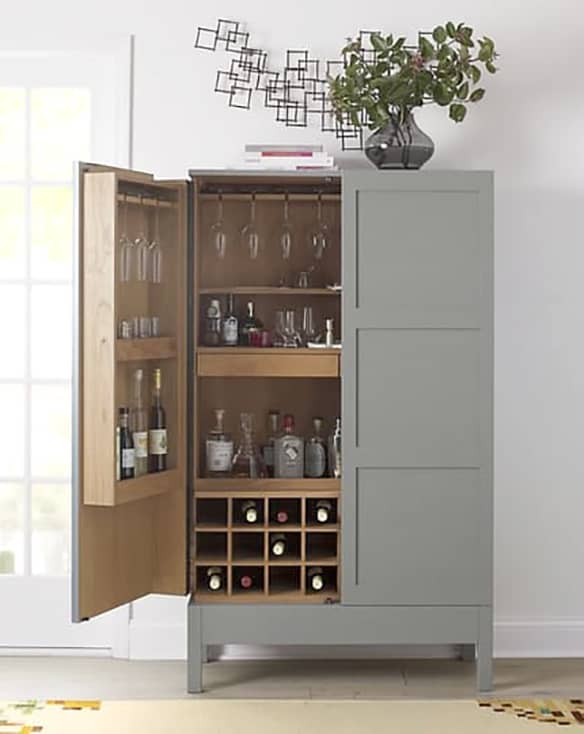 via via The Kitchn
23. adding a stone pattern was never easier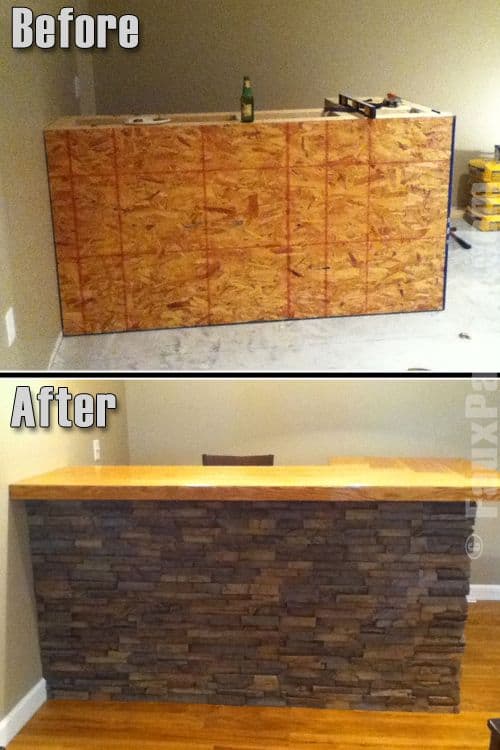 via fauxpanels.com
24. polished drink trolley for great flexibility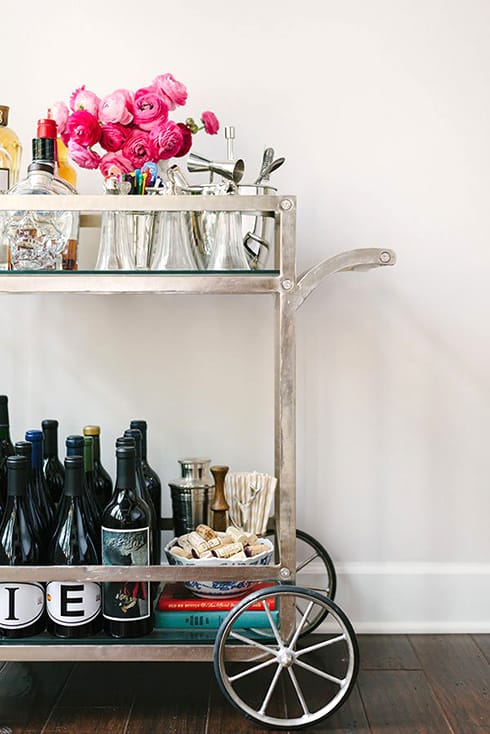 25. a bar – pool table combination is a definite thrill
This one speaks for itself. All we can do is admire and dream of having a basement like this for ourselves. I know where I'd spent most of my time. Notice the difference in color and materials between the bar, the pool table and the rest of the room and the way the bar is built into the wall, making it a special place in comparison to the rest of the room.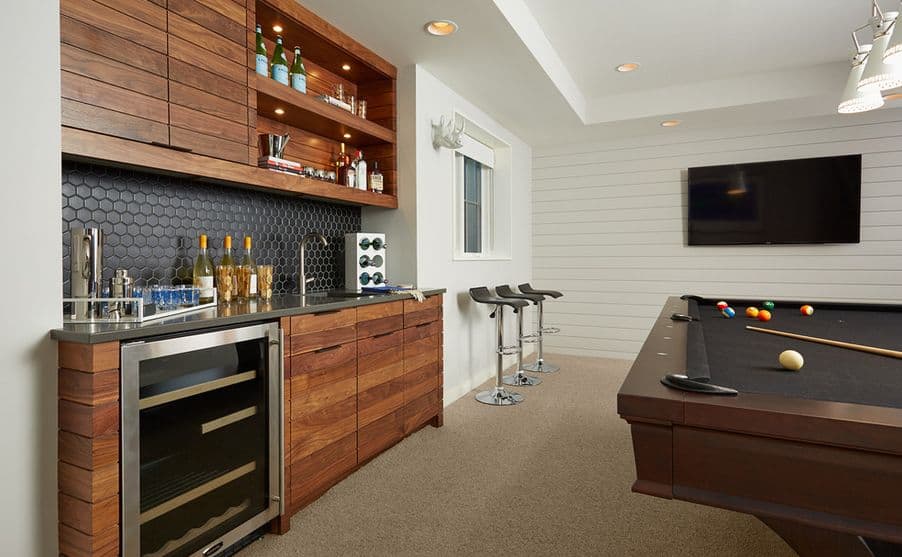 26. wonderful all black modern bar design
via  KraftMaid
27. applying a different texture makes the bar stand out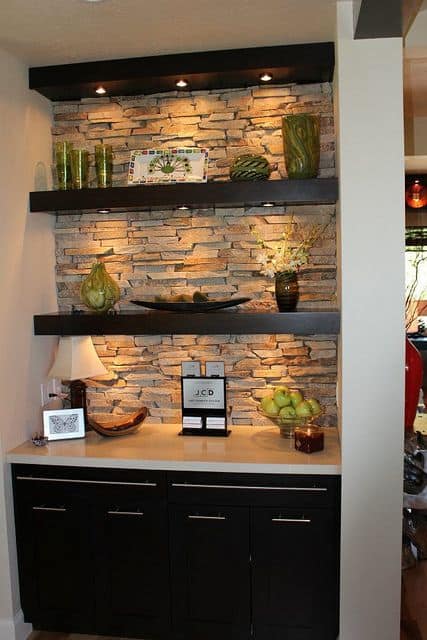 via flickr
28. combine Wood and marble for EXQUISITE results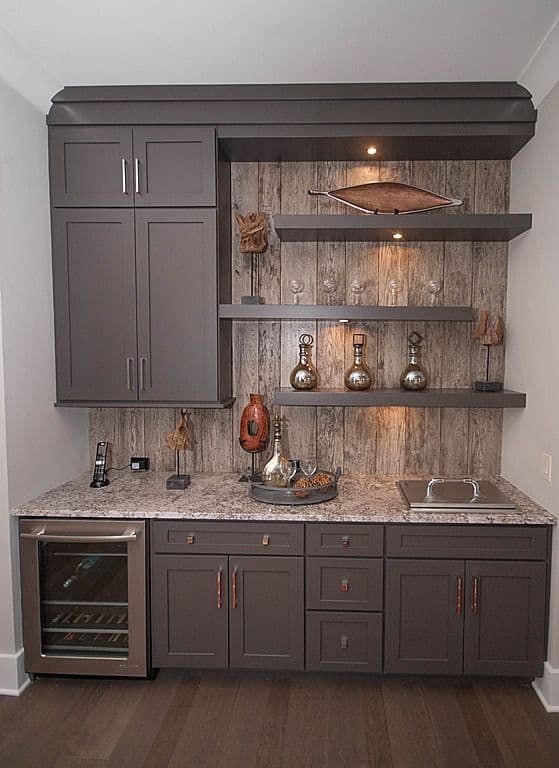 via zillow
29. Add unique details for exceptional and personal designs
If you think about it, most people have access to the same materials and ideas as you. The designs can be very different of course but if you really want to personalize your bar you'll have to infuse your own personality. Something that was invented and, even better, created by you.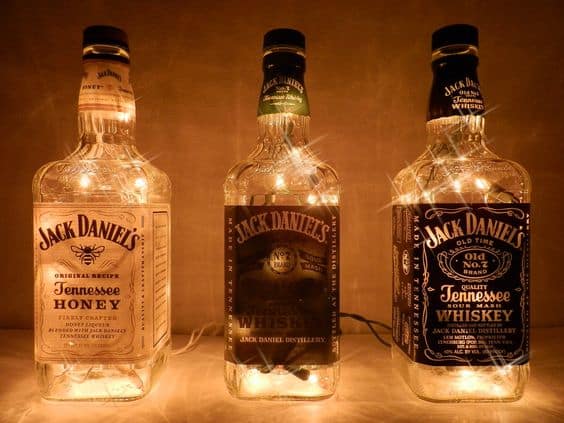 via etsy.com
30. Amazing combination of wood, marble, metal and light
This design is in a league of it's own. Can it get better than this? Maybe yours will. The designer has definitely put a lot of thought into it by choosing the right materials and proportions for each element. Analyze it and be inspired.
via Superior Woodcraft
31. crafty wooden bar embedded in the kitchen cabinet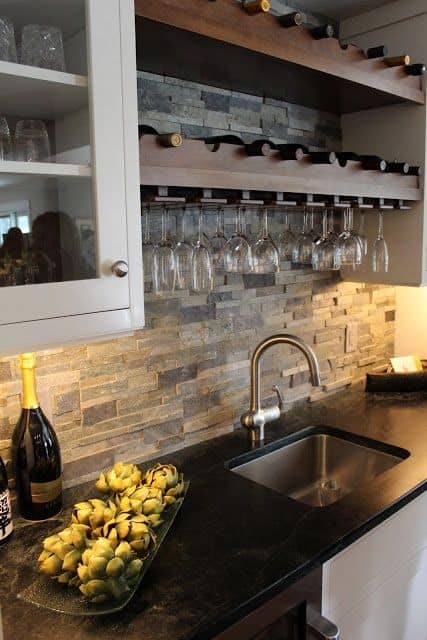 via winkchic.info
32. fill that unused corner with a cozy bar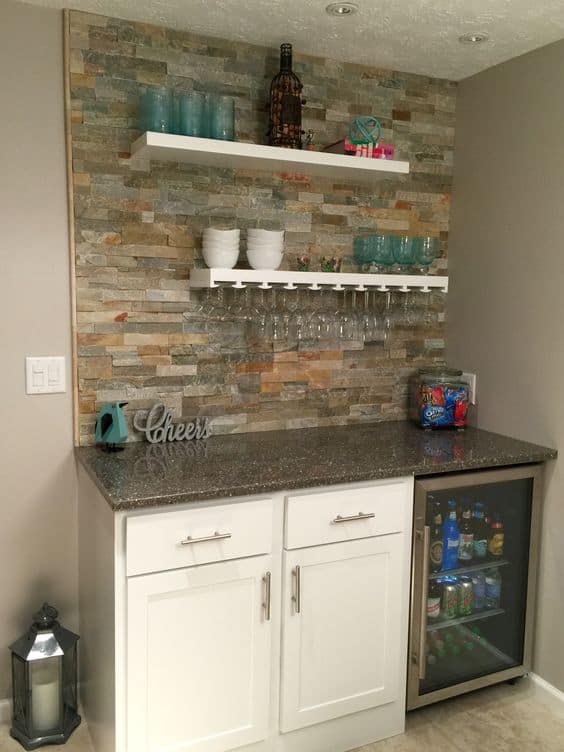 Source Unknown
33. no better way of storing the fancy wine collection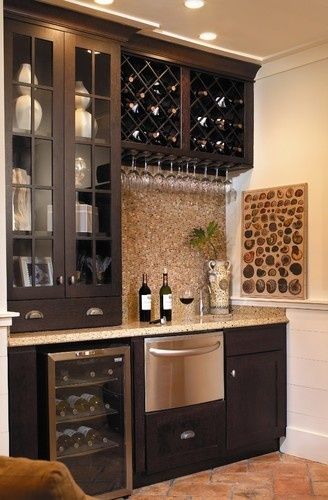 Source Unknown
34. ingenious drink storage solution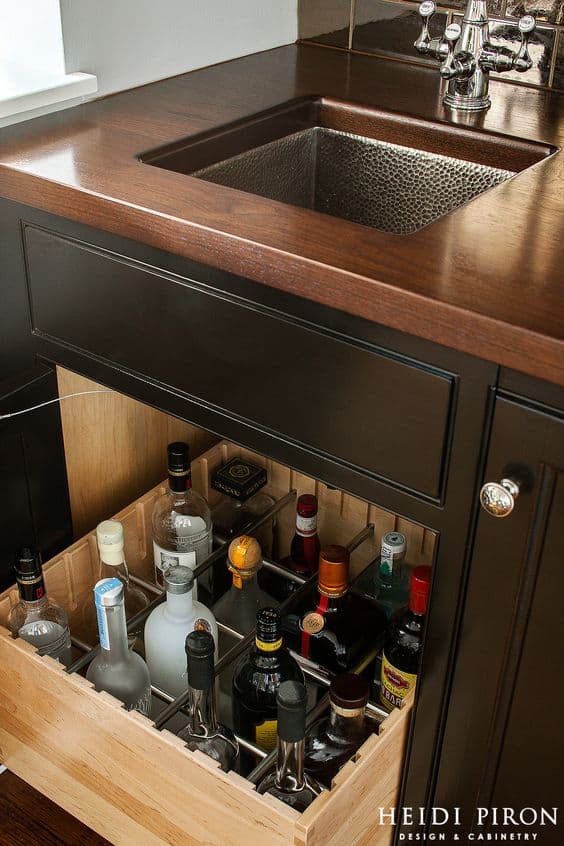 via heidipiron.com
35. An all white classy design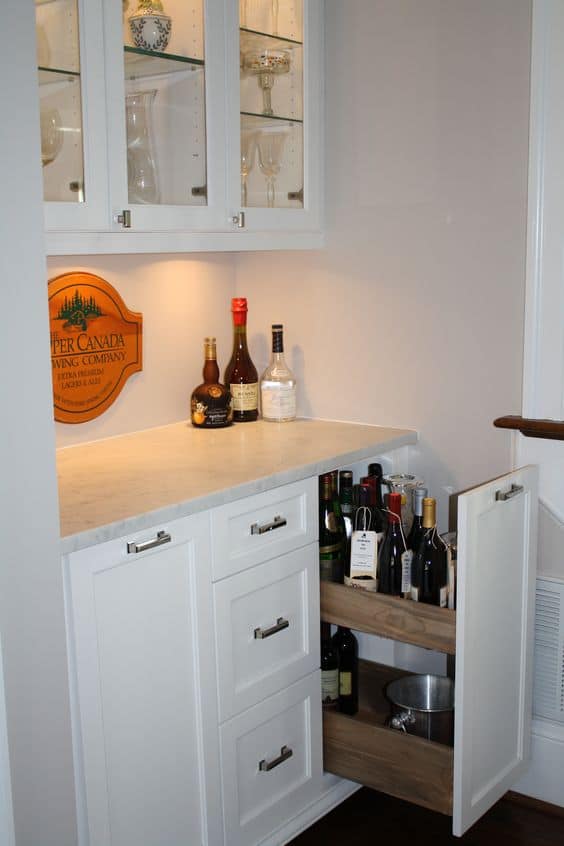 via houzz
36. awesome pipe design for storing wine bottles
This is what we mean by one of a kind ideas that can personalize your home bar and make it special. You might have to put a lot of thought into finding the right idea but your bar will be the only one fitted with it.

Source Unknown
37. fresh bar design idea for a great relaxed atmoshphere
It's all about the atmosphere that you wish to create. After all, that's the part that the visitors feel, experience the most. Not everybody will notice the details or the color matching match but everybody will remember the way it made them felt.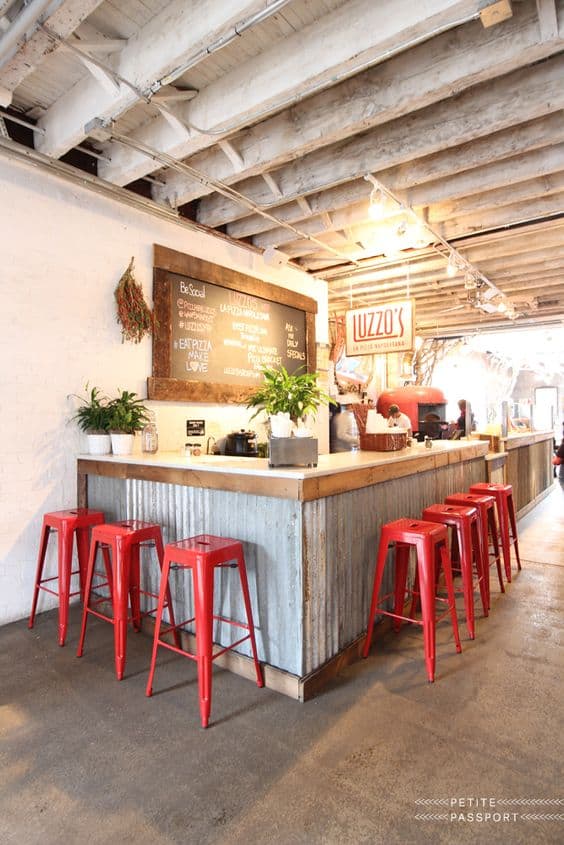 38. a secret bar for the spy in you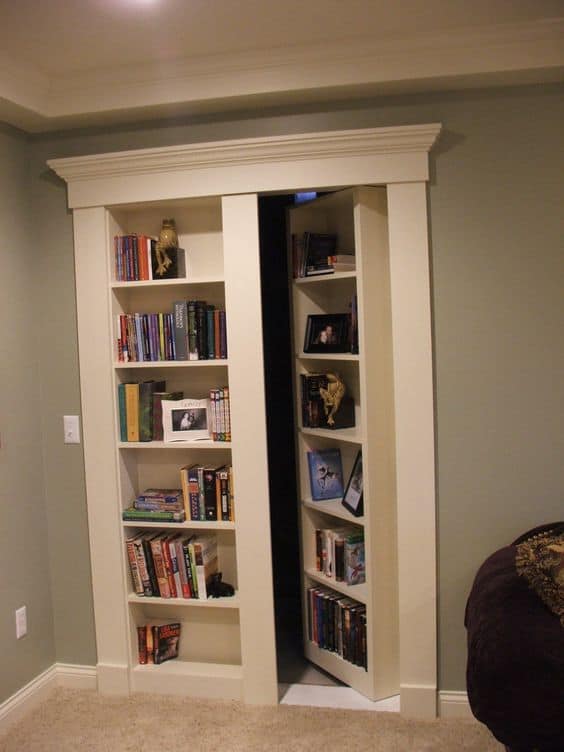 Source Unknown
39. add epic juicy-unique details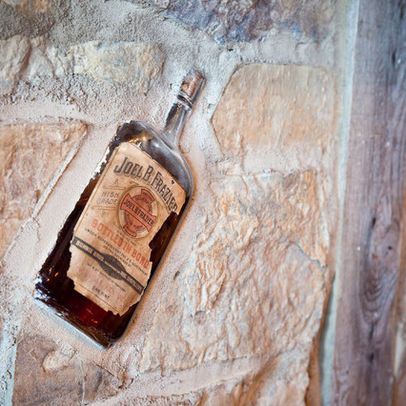 Your basement bar can have small epic details incorporated, unique details that will grant it authenticity and memory.
40. build a frame for increased notability 
There are several aspects that make this example brilliant. First of all, there's the combination of materials. Not just the right types but the right kind. Perhaps using the same dark wood for the horizontal glass supports would have looked good as well but by adding a third texture, material it becomes so much more luminous and charming. Secondly, there's the way the bar was built, not in the middle of the wall but in a special area that marks it's position and makes it more noticeable, important, special. Thirdly, there's the lighting that makes the whole feel welcoming and inviting.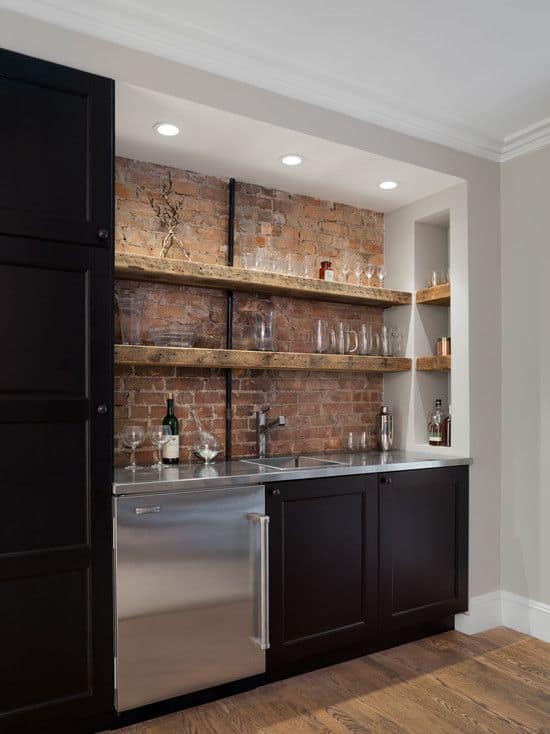 Source Unknown
41. Add colored lights for great special effects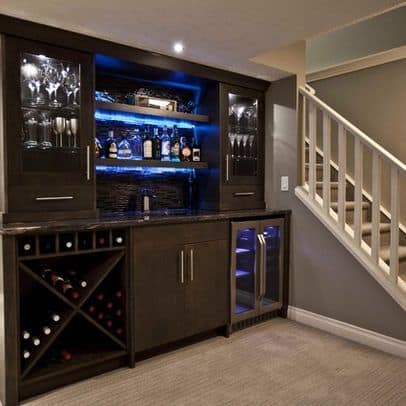 via houzz
42. Little details, big design
via ShunWilliamsPhotography.com
43. add a darts board to your bar 
Sometimes a drink isn't enough and you ought to combine it with another activity like watching a football game or playing something. Add a little flavor to your room with a dedicated dartboard area for a better atmosphere.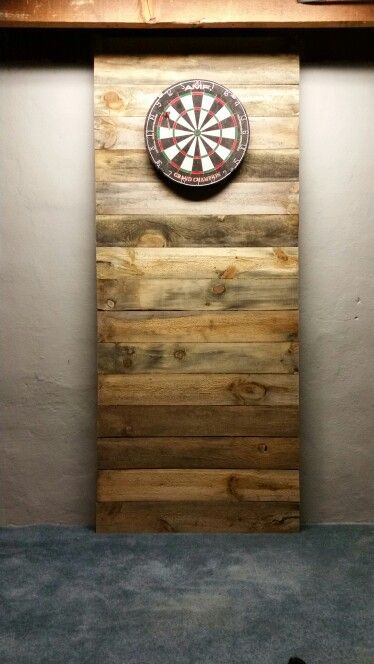 Source Unknown
The designs above are covering an extraordinary range of designs, from small tricks to immense bars, they ought to inspire the individual to pursue the things that they love, things that they really like, from a good beer and a darts game up to a sophisticated cocktails, art venues and classical music.
How are you using your space ? We would love to hear from you !
Related Articles
8 Best Basement Cement Floor Paints
11 Best Paint For Concrete Walls In Basement 
11 Ideas for Basement Kitchens and Kitchenettes
43 Super Cool Bar Top Ideas to Realize