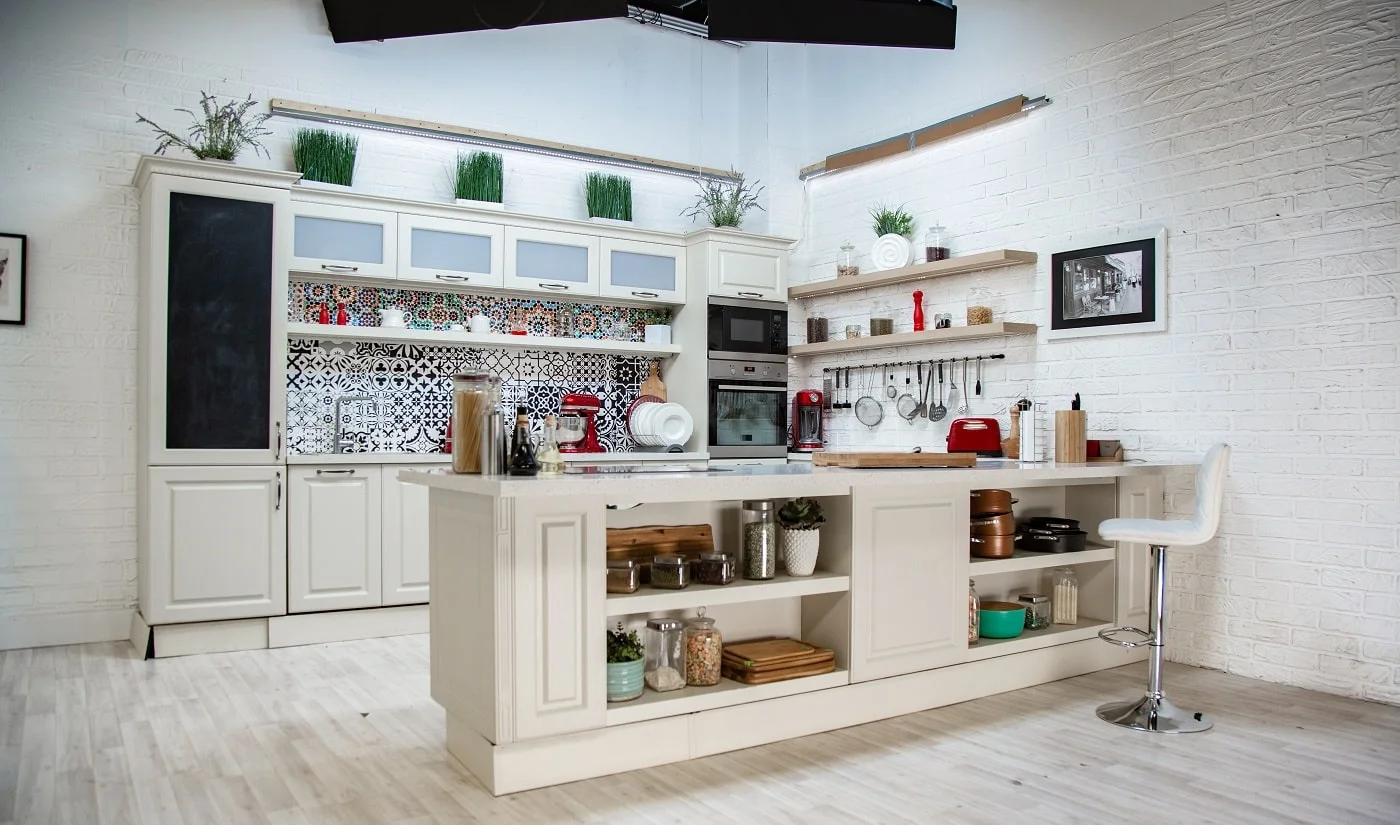 Back in the day, people would use basements and attics mainly for storing things, but those days are long gone.
In recent times, since the concept of utilizing every bit of space in the house has picked up, people are using every room for something. From attic bedrooms to garage offices, there is no limit to the ideas people come up with. Additionally, turning the basement into living space has also become quite popular. 
In fact, many people are turning the basement into full-fledged apartments for guests or renting out. Whether you want to turn the basement into an extra kitchen or set it up as a studio with a kitchen, we've got your back. We have carefully curated a list of ideas for basement kitchens and kitchenettes that we hope will be helpful to you. 
So, without further ado, let's get to it.
Basement Kitchens and Kitchenettes Ideas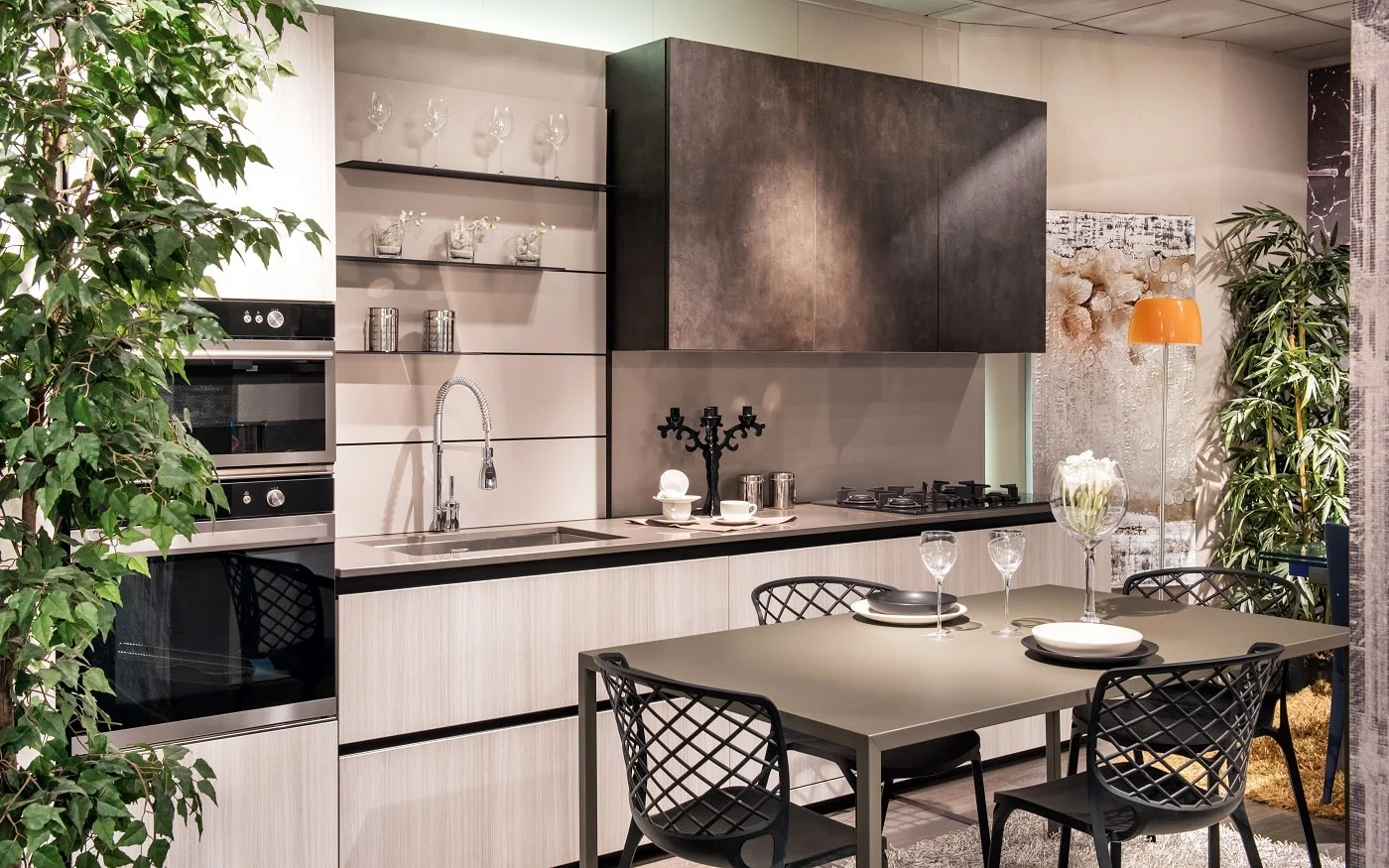 Get A Theme Going
One of the best things you can do for the basement kitchen is getting a theme going. Assuming there is a primary kitchen in the house for the everyday stuff, this one can become a little escape. Besides, who wouldn't want a space that helps them leave the mundane behind and enter a whole new world?
This can essentially be anything, be it sports or movie night or even something magical. The idea is to have a uniform decor in the basement, with the focal point being the kitchen. Let's explore a few popular basement kitchenette themes.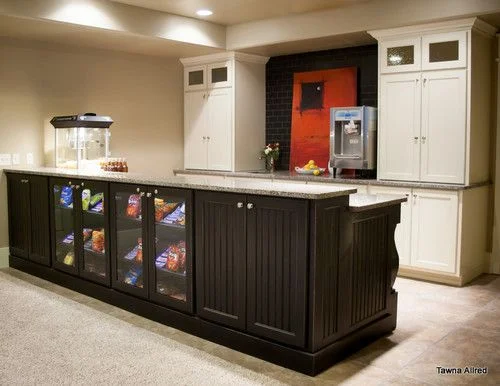 This is quite a popular theme for all the movie buffs out there. If you are the kind of person who likes to watch movies (and even TV shows) daily, why not have a dedicated space for it. It can prove to be a great alternative to sitting on the bed or the living room surfing through Netflix specials. 
One of the things that can be done is to transform the island counter into a concession stand. It does not have to be a concession stand with a glass display, although that does seem to add to the charm. Alternatively, you can stock up the counter with sweet and savory snacks and a mini popcorn machine. 
You can either go for nude shades, so the snacks can pop out, or give the kitchenette a quirky makeover. For this, bright tiles and appropriate lighting always do the trick.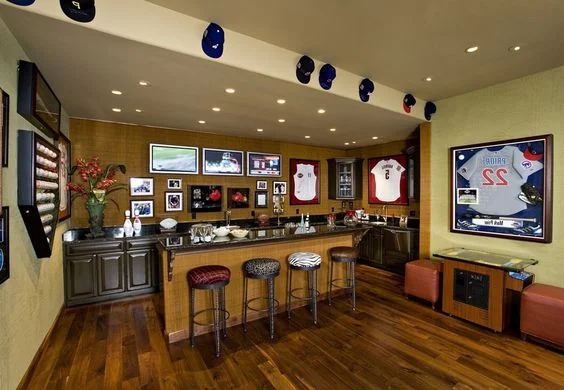 Another popular theme is a sports bar or game night. Ideal for sports enthusiasts, a themed basement kitchenette like this will allow you and your friends to enjoy it fully. Moreover, this allows everyone to immerse themselves in the world of sports without leaving the house. 
Ideally, the kitchen counters and cabinets can be darker than the rest of the room to give a more pub-like effect. Along with that, some high chairs and liquid-resistant mats on the counter can also be an excellent addition. Alternatively, you can decorate the whole area based on the colors of your favorite team or sport, like in the picture above.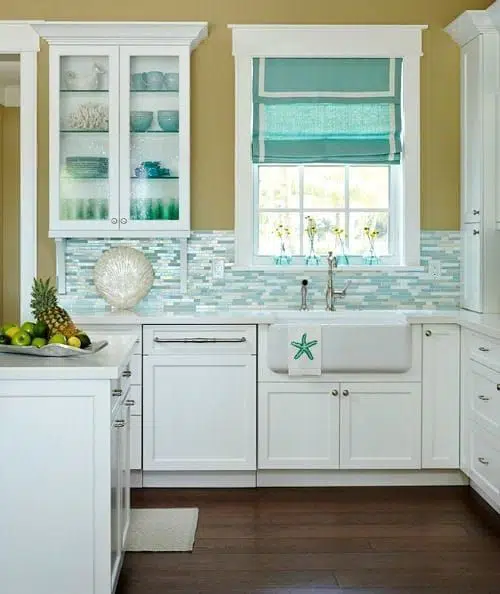 Do you like to hear the sound of the waves, feel the warm wind on your hair, and sand in your toes? Then you probably are in love with the beach. The thing is, it's not always possible to head to the beach, but that doesn't mean it can't come to you. 
For a beach-themed basement, coastal colors are the best. Since this includes many blues, greens, and whites, it is easier to find standard colors. When used in combination, it can create a beautiful, "light on the eyes" kind of space that brings calmness and peace, just like the water.
We suggest taking inspiration from the picture above if you are looking to have a beach-themed basement kitchenette. Having kitchenware to match the blue and white tiles and additional décor items like seashells will solidify the theme.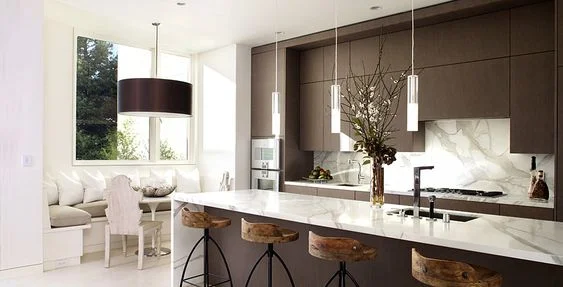 Now, just because we said "theme" does not mean the basement kitchenette has to look like Disneyland. If you are looking for something less niche or are renting out the space to someone else and need sober decor, check out contemporary chic styles. 
This kind of style is ideal if you're using the basement as a space for guests or just need a uniform modern decor throughout the house. Contemporary chic incorporates many light and dark elements to give a stylish yet airy look to the room.
As a setup, you can look into having a mix of marble and dark wood on the counters and cabinets. Any seating would have to follow suit, so modern furniture and light-colored accent seating would be the ideal fit. Lastly, add minimal lamps and adequate lights to complete the look.
Let There Be Light
The thing about basement kitchens/kitchenettes is that they tend to become the focal point in the room. Since the basement itself is just one large space, a cluster of appliances on one side does tend to catch people's eye. This is why this is the ideal time to focus on some light fixtures.
Adding any type of light fixtures to the kitchen area will highlight it even more. Even with lights, you can easily follow a theme or just go the traditional route. Either way, it will enhance the look of the area and provide adequate lighting for practical purposes. 
Let's explore a few popular themes and ideas.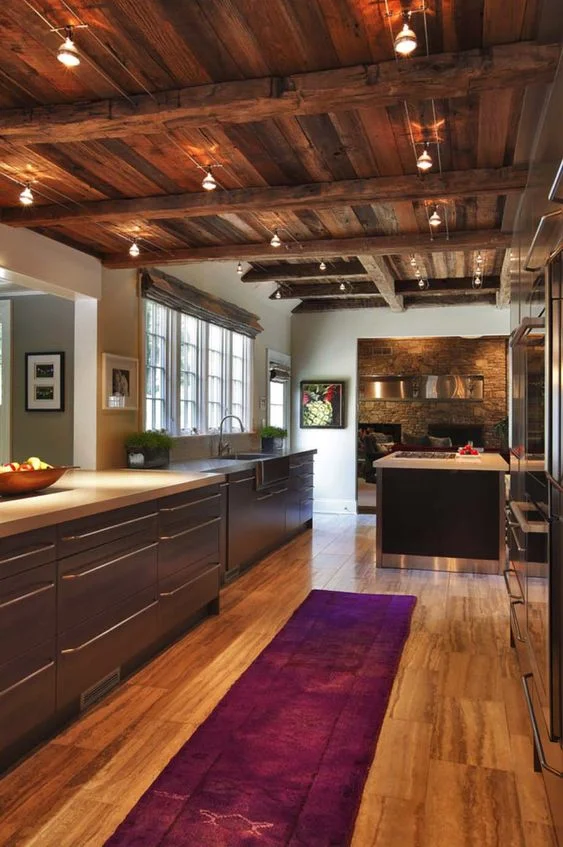 One popular idea among people that have low ceilings is small light fixtures. Usually, they can be small hanging ones or even ones that are installed in the walls. Furthermore, a lot of people opt for installing lights in cabinets as well. 
These small fixtures can make a tremendous difference if you have an otherwise dark-themed kitchen. The lights will provide more than adequate lighting against the darker shades and enhance the look of the kitchen even more. Plus, when there is lighting in the cabinets, it makes it much easier to look inside.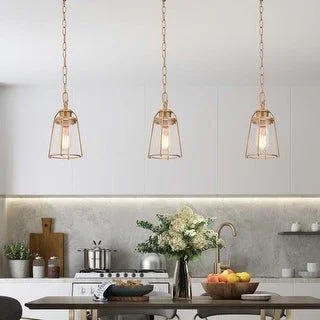 These lights are usually installed in sync with the smaller fixtures as it creates a bit of uniformity and more well-rounded light coverage. Hanging lights look best over island counters but can also be installed right in the middle of the kitchen. This is to create a focal point within the kitchen itself. 
If you have a theme going like sports or movie night, it will look better if the hanging lights are more appropriate to the setting. In most cases, contemporary or vintage styles do not go with a lot of themes. Hence, it will be beneficial to look for something simple and minimalistic so that it blends in well. 
There is a certain charm attached to lighting in old-school factories and industrial spaces. That is probably why industrial-styled lights have gained so much traction in the last few years. It does not matter whether the basement kitchen has a dark rustic look or a light modern one; industrial-style lights look amazing in every interior.
The best way to get a good feel of the industrial-style lights is to team it up with old-school Edison bulbs. These bulbs bring out the wrought iron body of the lights effortlessly, making them perfect for wrought iron pipe chandeliers or hanging lamps.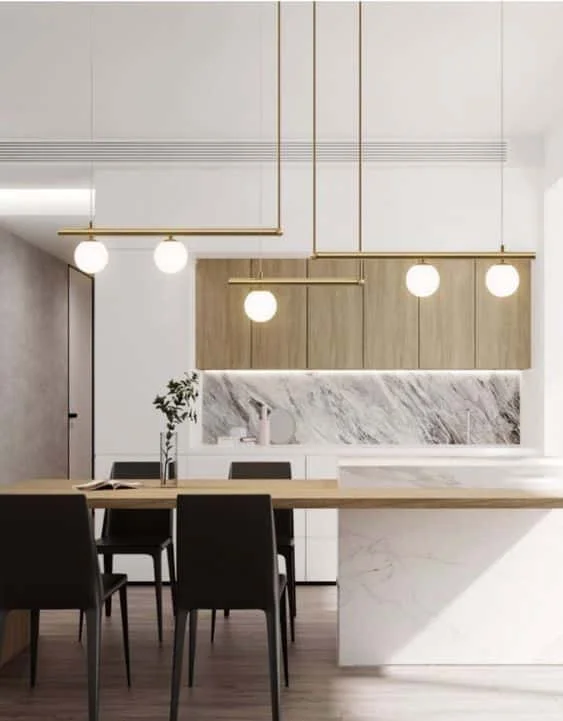 Lighting in the kitchen does not have to be over the top; there are plenty of more minimal and elegant designs that stand out. Lights over the island counter in any kitchen are a common theme, so why not do the same thing with a bit of twist? This is where modern light fixtures come in. 
Less conventional lighting in the kitchen, especially over the kitchen counter, helps direct the focus to the counters. Plus, it works as a "statement" piece decor if the rest of the kitchen is simple and minimalistic. 
Glass Elements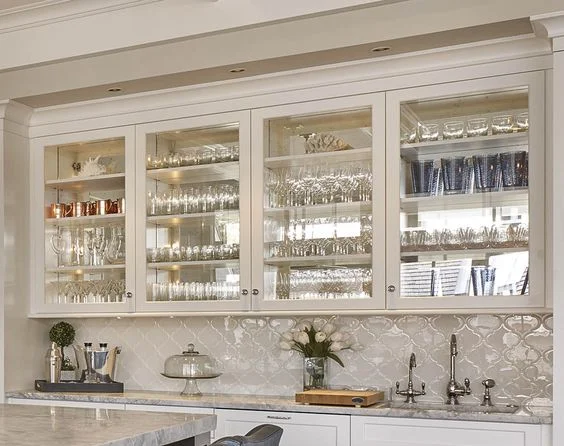 One of the best things you can do for light and dark-themed kitchens/kitchenettes is to incorporate glass elements. This will allow the light to fall beautifully on the glass and brighten up the space, which is a good change from a dingy basement. 
Glass elements can be incorporated in multiple ways; Take the image above, for example. You can install glass cabinets and even glass decor on the counter. Additionally, clear light fixtures like a mini chandelier or built-in white lights can help bring the beauty out of the glass elements.
Another thing that can be done is to have a glass storage hutch if you do not wish to change cabinet doors. 
Essentials Only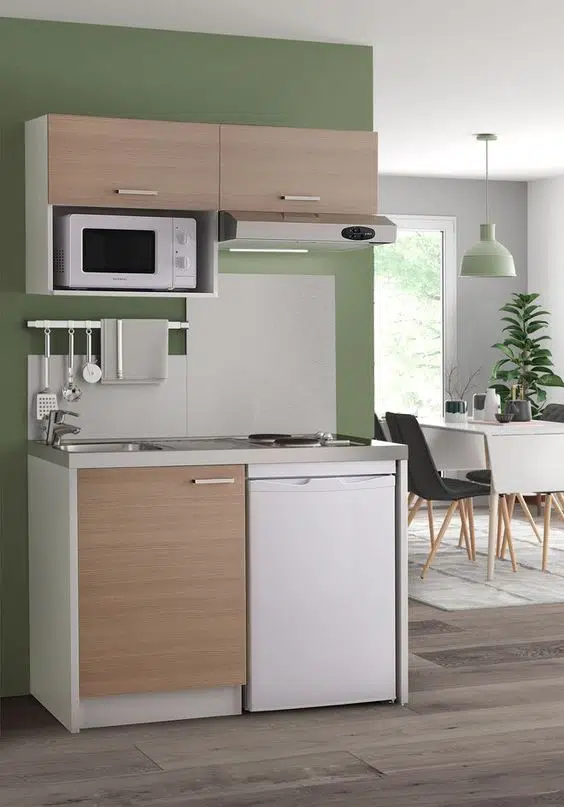 It is possible that a basement might not have enough space to set up an elaborate kitchen, and that's okay! There are plenty of things you can do with smaller spaces as well. One of the popular ideas is to just stock the basement kitchen with essentials.
This could be beneficial in multiple cases, like if the basement was being rented out or kept as a spare. The idea is to stock it up with only essentials like a microwave, mini-fridge, and an induction cooktop. Additionally, storage space in these types of kitchenettes is crucial but difficult to manage since the area is already small.
The best way to go about it will be only to have essential plates and other cutlery. This kind of setup is ideal for one to two people since not much equipment is needed to have a full-functioning kitchen. 
A Splash Of Color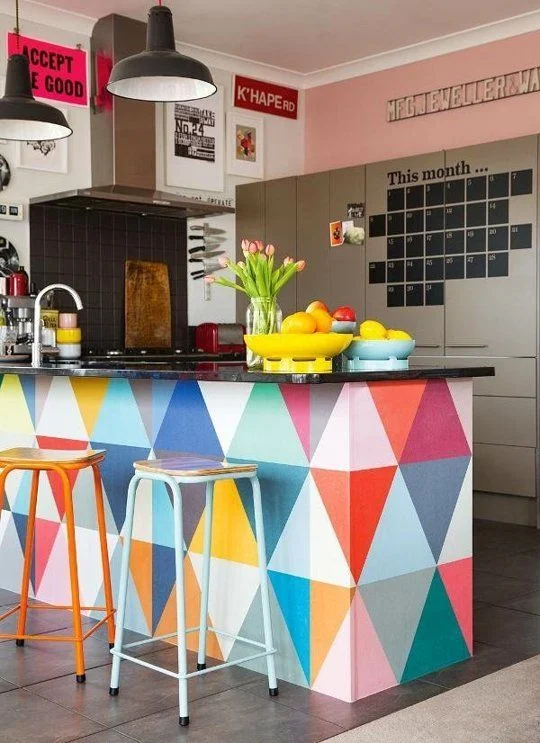 If the basement is minimal and light, we suggest adding a pop of color to the kitchen area using vibrant tiles or wallpaper. Additionally, if the wallpaper or tiles are already set up, you can also change the cabinet colors or add bright-colored decor. 
The color contrast is more noticeable and appreciated when it is done in a light-colored kitchen instead of dark. However, if you are looking to create a contrast with a dark kitchen, we suggest adding glass, white, or light blue elements on the counter. 
Bring The Party Home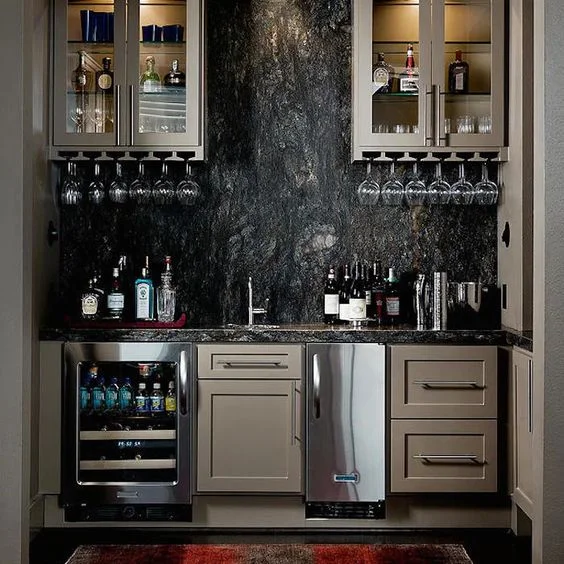 As the days keep going by and schedules become busier, it can be challenging to find time to relax. Life can get in the way of essential outings like a girl's night out or a game night with the boys. So, why not bring all of that fun to your basement?
If you already have a primary kitchen and have a spare one in the basement, take advantage of it by converting it into a bar. The cabinets in the kitchen can be used to hold all the glasses and bar essentials. Furthermore, if you need it, a lower cabinet can be made into a wine rack. 
When trying to create a bar-like setting, one crucial add-on to the kitchenette is glass holders under the cabinets. That additional rack gives you more storage space and aesthetically looks better when trying to recreate a bar. 
If you have an island counter in the kitchen, that can be used as a serving/drink space. Couple that with a few high chairs and coasters on the table, and you're good to know; Oh, and don't forget the snack bowls!
Traditional Kitchen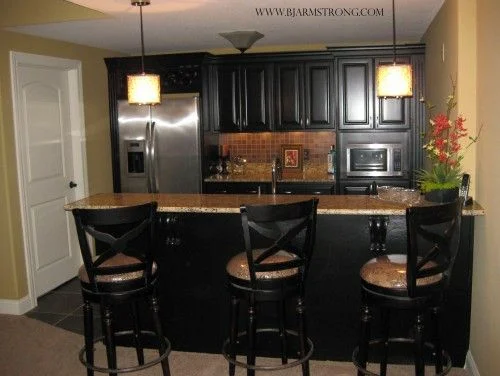 With the basement being an additional space in the house, most ideas to decorate them are modern or quirky. However, if you are setting up a basement kitchen as your primary one and need it to be sober, there are plenty of traditional layouts that can be achieved. 
To begin with, the kitchen has to have a neutral and simple color. You can opt for something in a light color palette or even light shades of brown. Most traditionally styled kitchens have a ton of wooden elements in brown, white or black, which is something to consider. 
The next most important thing is the lighting – it has to be simple and has to blend in well. They can be fixed into the walls, or you can even opt for simple hanging bulbs over the counter. And, if there is an island counter, a few high chairs or stools can be incorporated into the setup. 
A traditional and minimal kitchen like this is easy to manage and makes styling the living area effortless. Make sure this kitchen has essentials like a microwave, a fridge, and a cooktop. 
Maximizing

Storage 
One of the things you can do to make the most of any space is to add more storage space to it. This is especially ideal when the storage space is less, and there is a need to make every nook and cranny useful. 
Cabinets and drawers will always be there in the kitchen, so why not opt for more storage by adding extra cabinets, racks, or a hutch? Adding more elements that can hold all the essentials needed in the kitchen makes it more user-friendly and enjoyable to use.
If you have enough space between cabinets in the kitchenette, a few shelves can be added to turn it into a hutch. Having a buffet-style kitchen counter optimizes storage and keeps things in arms reach, which can be super beneficial. 
Dine-In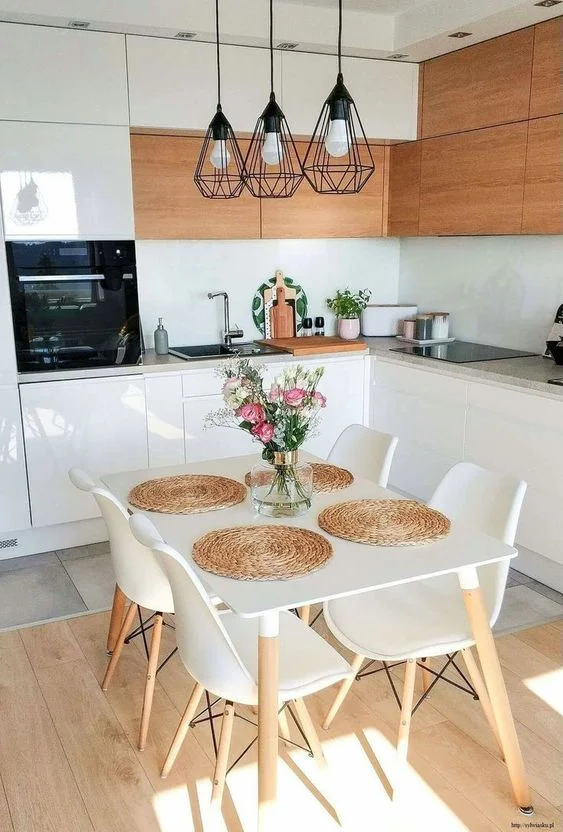 Not all basements are made the same. While some might allow you the luxury to set up elaborate kitchens and dining areas, most don't. This is where the mixing of two spaces comes into the picture. 
If the basement kitchenette is small, but there is enough space to keep a small table, make it into a dine-in kitchen. This can be done in two ways – either have a chair and table set up or install a slide-out table from under the counter. 
Either way, the main idea is to save some space for other furniture and create a dining space near the kitchen. 
Open Shelves for Easy Access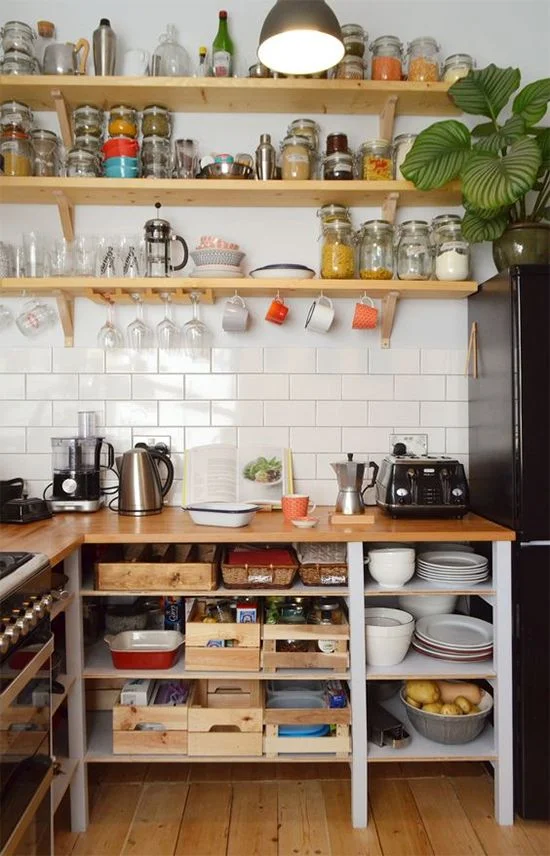 Not all kitchens have cabinets on the wall, especially in the basement. Certain spaces are built smaller with the intention that only one or two people will use them. However, if you plan to rent out the basement or use it frequently, we suggest adding a few shelves. 
The thing about cabinets is that things can be shifted to the far end, making it difficult for people to get to it. This issue can be eliminated by installing shelves instead of cabinets, so everything is at the forefront. 
Finding everything you need in the kitchen will become much easier if you have everything in one line. Moreover, shelves are a lot easier to clean since they aren't as deep as some cabinets.
Additionally, shelves are a boon for people that have uneven ceilings and walls. Instead of trying to get the cabinets to align with the walls, shelves are a better alternative.
Keep It Rustic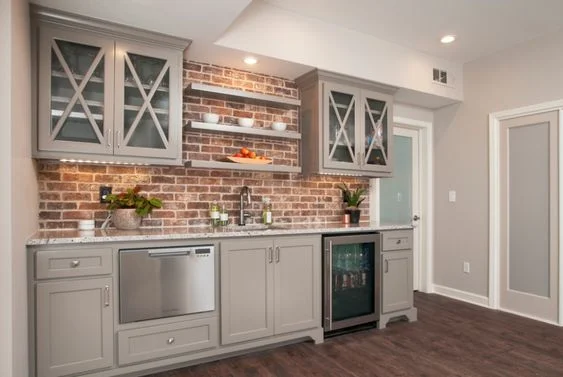 This one is probably the easiest to execute if the structure of the house is exposed in the basement. You can keep it minimal by just having the brick exposed while setting up the rest of the kitchen – be it shelves, cabinets, or anything of the sort. 
The exposed brick will give the basement a bit of a rustic feel which can be made even more appealing by adding industrial-style lights. You can add more lighting to the walls to highlight the color of the brick as well. 
In terms of the general theme in the kitchen, metal and wooden elements will bind the rustic feel together a bit more. As these elements – the brick, wood, and metal decor – are darker and denser, having light-colored cabinets and counters will give the eyes a rest. Additionally, light marble counters look good against brick walls. 
What To Consider
Setting up a basement kitchen is never easy because, let's face it, the basement was not made to be used that way. However, based on the ideas we have given you, it is clear that it is not an impossible task. Here are a few things you must consider when setting up a basement kitchen/kitchenette. 
Air circulation is one of the main things to look into when setting up a basement kitchen. As it will be used for cooking, the air has to circulate correctly, so it does not become a hazard. It is best to contact a professional contractor to get this done. 
Basements aren't the biggest parts of the house most of the time, so the kitchen has to fit appropriately. If there is not a lot of space, set up a small kitchenette with essentials rather than an elaborate full-size kitchen,
This basement space could potentially be someone's home, so it is essential to make sure it is safe. Ensure there are smoke and CO detectors and proper exits in case of emergencies. 
Basement Kitchens and Kitchenettes FAQs
Why Do I Need A Basement Kitchenette?
This can be for multiple reasons. The most common reason most people set it up is to use additional space in the house. You could also set up the kitchenette and make the basement into a studio apartment to rent out.
Is It Easy To Set Up A Kitchen Like This?
It depends on if you are only setting up a basement kitchenette or a full-fledged studio. If it is just the kitchen, the only thing to keep in mind is installing fans, lights, and maybe storage fixtures. Additionally, you will need to install fire safety systems.
However, if you are setting up a small living space, there might be more to it than just this.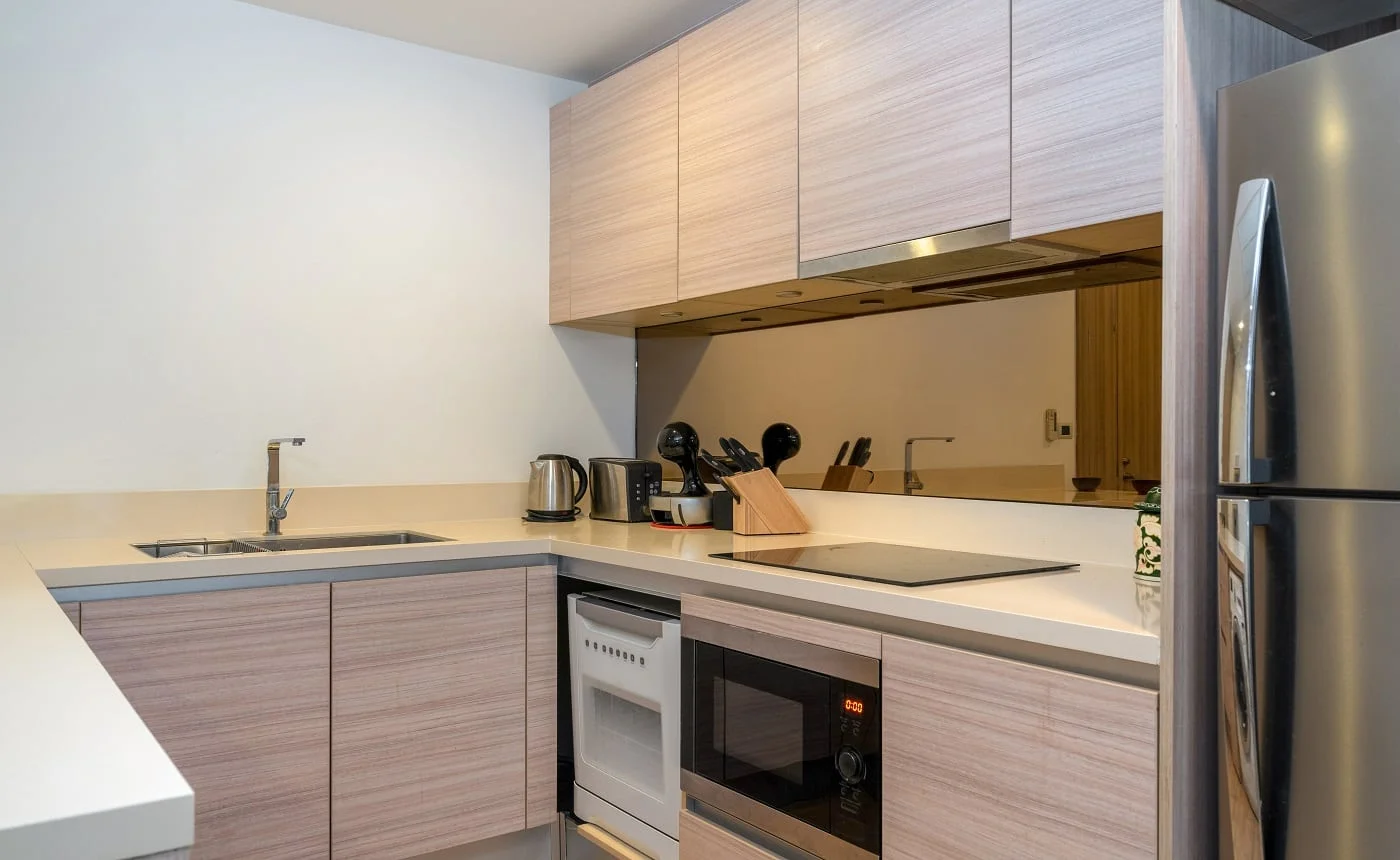 Final Words
And with that, we come to the end of our guide on ideas for basement kitchens and kitchenettes. Did any of these ideas appeal to you? Let us know if we were able to help make your dream kitchenette come true.
Before we leave, we would like to reiterate that setting up a basement kitchen is a great way to utilize additional space in the house. You can use the space as a spare kitchen, for entertainment, or even to rent out – the possibilities are endless. Just make sure to follow all the safety rules, and you should be good to go.
On that note, we shall sign off, but we will be back very soon.
See you next time!
Related Articles
8 Best Basement Cement Floor Paints
11 Best Paint For Concrete Walls In Basement
How Much Does Basement Waterproofing Cost?
15 Mind-Blowing Basement Remodeling Projects to Consider
43 Insanely Cool Basement Bar Ideas for Your Home
Easy Creative Bedroom Basement Ideas – Tips and Tricks
How To Transform an Old Basement Into A Chic And Functional Home Office