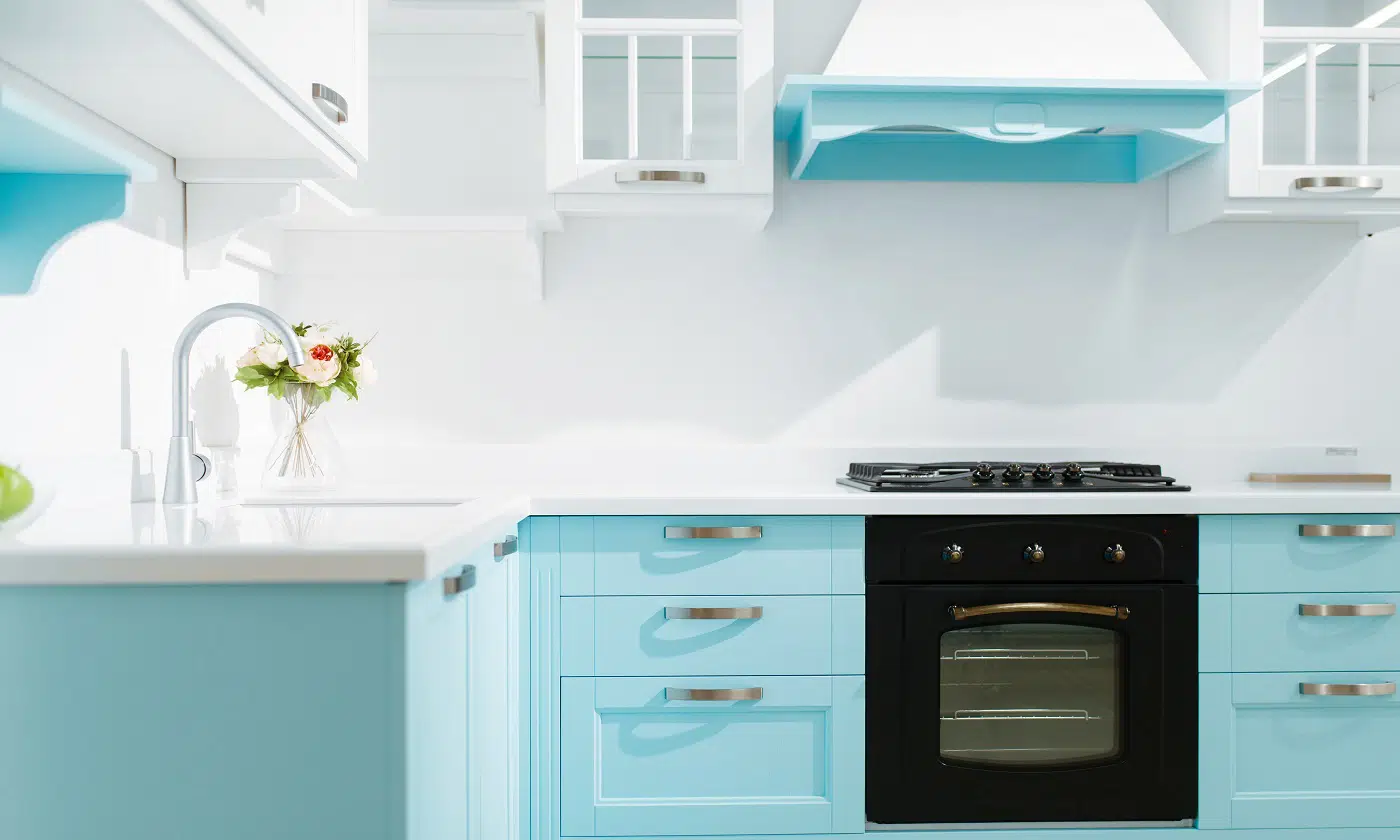 A modern kitchen needs an efficient and functional range hood to keep it clean and well-ventilated. 
That's why installing a range hood is one of the essential requirements for a modern kitchen. And when it comes to range hoods, you can choose between the ductless and ducted varieties. 
Ductless range hoods, also known as recirculating range hoods, work well in keeping your kitchen ventilated. These are also cost-effective kitchen appliances and can offer several years of service. And due to their compact size, it's convenient to install them in small kitchens. 
So, if you are ready to upgrade your kitchen with such an essential appliance, here are some of the best ductless range hoods on the market. 
Top 10 Ductless Range Hood Reviews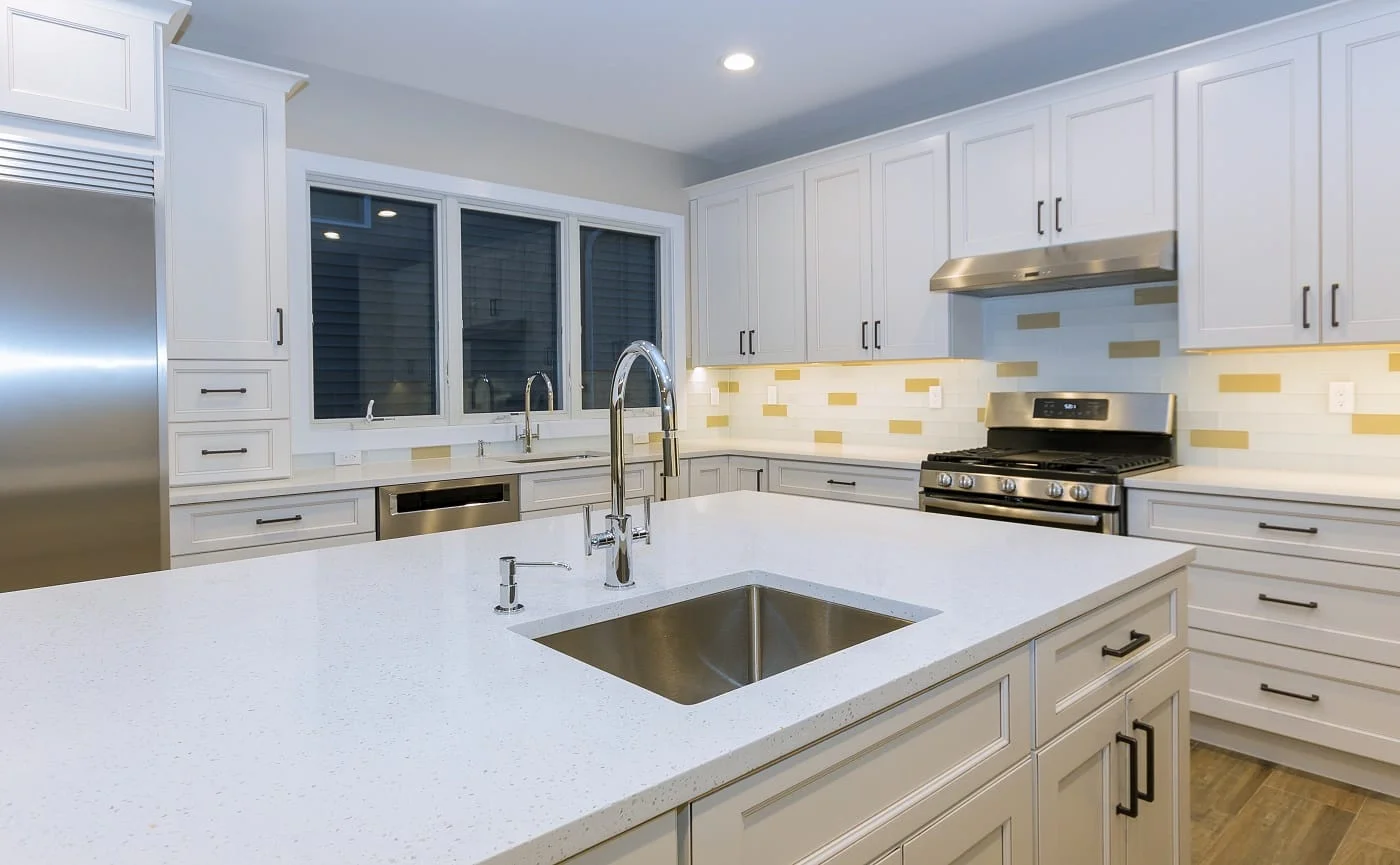 Sale
The Broan-NuTone 413004 non-ducted range hood improves ventilation and lighting atop your stove. With a well-functioning non-ducted filtration system, this kitchen hood effectively pulls out smoke and odor, keeping the kitchen clean and fresh. 
Why Did We Like It?
This Broan-NuTone non-ducted range hood is manufactured from high-quality stainless steel which makes it lightweight and easy to install, and at the same time, it is pleasing to the eyes. 
This product comes with some notable features like a charcoal filter, protective lamp lens, and individual rocker switches. Packed with these amazing features, this product will surely be a stylish upgrade from any old chimney that consumes half the space in your kitchen. 
This under-cabinet range hood is available in a variety of colors that can match the vibe of your kitchen. Furthermore, the dual-speed fan ensures that pollutants are removed from the kitchen faster and more efficiently. 
What Could've Been Better?
This non-ducted range hood doesn't come with a bulb which means you need to buy one, but that doesn't make it a bad product. Also, the installation needs to be done by an experienced person, so you might need to hire professional help. 
Pros
Easy to install

No sharp edges

Optimal grease capture

Individual rocker switches
Sale
The next product on this list is this under-cabinet range hood from COSMO, a brand that's known for quality kitchen appliances. The COSMO 5U30 under-cabinet range hood is the perfect option for small condos and apartments as it comes with a slim body. The 3-speed motor and vent hood of this product is efficient yet quiet and filters out smoke and dust noiselessly. 
Why Did We Like It?
If you are tired of searching for a modern-looking range hood, then the COSMO 5U30 stainless steel under cabinet range hood is for you. This product is styled to fit the modern kitchen décor and provides a sleek and clean look. 
The best part of this product is that even though it is built with cutting-edge technology, it is available at an affordable price range. Plus, it has push buttons that help in controlling the fan speed and the brightness of the LED lights. 
Furthermore, the multi-layer filters present in it capture grease and oil effectively. In addition, the two exhaust ports easily fit in different homes and configurations. 
What Could've Been Better?
Even though the COSMO kitchen hood works excellently, it would have been better if the Carbon Filter Kit (for converting it to ductless) had come with the hood. 
Pros
Affordable price

3-speed motor

Superior filtration

Push-button switches
Cons
Carbon Filter Kit not included
This under-cabinet range hood from Ciarra looks attractive with its sleek design and sandblasted black finish. But this kitchen appliance is not only about looks because it comes with aluminum mesh filters that pull in grease and oil with ease. Thus, this kitchen appliance offers a package of high-performance and elegant designs. 
Why Did We Like It?
First of all, this stove hood is only 3.94 inches in height when compared to other range hoods on the market that have heights of 5 inches or thereabouts. This makes it the best option for small kitchens. Also, this kitchen hood has a slim body, making it an ideal choice for anyone looking for a lightweight chimney.
Speaking about its design, the product has push buttons with which you can easily control the suction power, lights, and fan speed while cooking. Also, due to the matte black finish, this product is scratch-resistant in nature.
Another great feature of this kitchen range hood is the three ventilation holes that are there to vent the smoke out of the kitchen. These venting holes are located at the front, top, and rear of the kitchen range hood. Among the three venting holes, the top one needs an exhaust pipe to work, while to use the rear one, you first need to remove the rectangular cover over it. 
What Could've Been Better?
We feel the only drawback about this product is that the package doesn't come with a carbon filter, which is required to convert the appliance to ductless. The issue can be solved if you buy one from the market, but this increases the overall cost of the item.
Pros
Convertible ventilation mode

Scratch-resistant

Mechanical push-button

Replaceable LED lights
Cons
Doesn't include charcoal filters
Another product from the brand Broan-NuTone, this under-cabinet range hood will fit neatly underneath your kitchen cabinets. This device quickly removes smoke and odor from the kitchen air. Plus, the motor comes permanently lubricated, which means you don't have to pay to get it greased annually. 
Why Did We Like It?
Adequate ventilation is necessary for a healthy environment. And this kitchen hood from Broan-NuTone delivers the best ventilation performance. The 2-speed rocker switch on it allows you to quickly adjust the fan speed and provide the ideal level of ventilation. 
This kitchen hood is manufactured with the best quality stainless steel and features a sleek black look, giving your kitchen a sophisticated ambiance. Not only that, this product comes with mitered sides and a hammed bottom with no sharp edges, which ensures safety while cooking. 
Furthermore, the one-piece aluminum grease filter provides optimum grease and oil capture. What's best about the grease filter is that it's easily washable in a dishwasher, which means you don't have to purchase a new one every time the filter gets mucky. 
What Could've Been Better? 
It was a tough task for us to find a downside related to the product. Nevertheless, we discovered that even though the fan is small, it's rather noisy. This can be an irritant for some customers. 
Pros
Sleek design

Dishwasher-safe aluminum grease filter

Fully lubricated 2795 RPM motor

Easy to install
Sale
COSMO is known for manufacturing quality kitchen appliances at budget prices, and here's another fantastic range hood from the brand that will not disappoint you. This wall-mounted range hood offers impeccable performance thanks to the impressive inbuilt features, which allow seamless operation. 
Why Did We Like It?
When you upgrade your kitchen, the chimney should always complement the décor. And with the contemporary styling of this wall mount hood, it is only fair that you pick this one if you want a modern-looking culinary space. 
The product is manufactured with excellent brushed stainless steel, which can withstand high heat, grease, oil, and steam. So, if you cook food that involves a lot of frying and steaming, this stove hood can help in keeping your kitchen fume-free. 
Apart from that, the 380 CFM airflow of the fan works at a maximum of 65-decibel noise level, which means it's rather quiet when it comes to operation. Plus, this range hood has two energy-efficient and long-lasting LED lights that provide better visibility at night. 
What Could've Been Better?
Despite the efficiency of the product, we noticed just one flaw. The product doesn't come with a Carbon Filter Kit, which is used to convert this kitchen hood to a ductless range hood. The only solution here is to buy the kit from the market. 
Pros
Affordable price (not considering add-ons bought separately)

120V power cord included

Quiet operation

3-years warranty
Cons
Carbon Filter Kit not included
The next item on our list is the IKTCH kitchen vent hood, which brings a whole new experience to kitchen appliances. What sets this product apart from other range hoods on the market is its gesture-sensing technology as well as remote-controlled operation. 
Why Did We Like It?
If you are looking for a powerful exhaust system that sucks out the smoke from the kitchen with ease, we recommend this product. It also has a powerful suction technology with four levels of suction going up to 900 CFM, which ensures it meets the needs of all types of kitchens. 
Despite the powerful suction system of this kitchen hood, the fans operate at a low noise level. At the lowest setting, the noise level stands at 40 decibels, and at the highest setting, the noise level is at 65 decibels. So, you don't have to worry about disturbing sounds even when you opt for the highest setting. 
Other features of this product include two matching dishwasher-safe and easily removable stainless steel filters that capture grease and oil. Also, there are two inbuilt 3W LED lights, and the brightness can be adjusted according to your requirement while cooking. 
What Could've Been Better?
The IKTCH ductless vent hood hardly has any flaws. However, there is one drawback about the product: the gesture control is overly sensitive, which might be a problem sometimes.
Pros
Multiple speed settings for efficient operation

Superior filtration capabilities

Energy-efficient, brightness-adjustable lights

Powerful 900 CFM airflow
Cons
Overly sensitive gesture control
KOBE is a brand well-known across North America for providing the best-quality kitchen ventilation products. And the RAX2130SQB-1 under-cabinet range hood from the brand is no exception. With a slim body, this under-cabinet kitchen hood is perfect for tall kitchen cabinets. 
Why Did We Like It?
This under-cabinet range hood from KOBE comes with baffle filters that effectively capture oil and grease, making them ideal for kitchens that see a lot of cooking. What's more, the filters can be washed in a dishwasher, making them durable for long-time usage. 
Another notable feature of this kitchen appliance is the powerful yet quiet blower. Its maximum operating speed is 750 CFM and works at 1.0 Sone, which makes it ultra-quiet. Besides that, the 3-speed push button makes it easy to adjust the fan settings according to your cooking needs. 
Add to that the stylish yet durable stainless steel construction, energy-saving LED lights and wall-mounting brackets, and you've got a product that's well worth its price. 
What Could Have Been Better?
The only thing against this product is that it is heavy despite its slim body. According to customer reviews, you will need professional help to install it, which might add to the overall cost of the unit.
Pros
Quiet operation

3-speed push-button clickers

Energy-efficient LED lights

Installation screws included
Cons
Installation requires professional help
The eighth product on our list is the FIREGAS wall-mounted range hood. FIREGAS is famous for the quality and efficiency of its products that have high-performance and low-noise motors. And this recirculating kitchen hood from the brand is no different. 
Why Did We Like It?
The FIREGAS wall-mounted range hood with an elegant body made of stainless steel will make a great addition to your kitchen. With a modern canopy-like design, this kitchen hood will enhance the aesthetic appeal of your home. 
This wall-mounted range hood features a sleek touchscreen digital panel at the front with a backlit display. The digital panel allows you to control the fan speed, the LED lights, and the timer with just a few touches. 
The next feature that needs to be mentioned here is the baffle filters inside this range hood. With a deep-groove design, the baffle filters trap grease drip before it makes its way onto your cooking surface or food. Also, the stainless-steel baffle filters are reusable as they can be easily washed in a dishwasher. 
What Could've Been Better?
The one thing that we noticed is that the lights on this wall mount kitchen hood are located at the back of the appliance, which is an inconvenience. We feel the lights should always be located at the front of the hood for better illumination. 
Pros
Multi-speed filtration system

Dishwasher-safe baffle filters

Digital control panel

5-year limited warranty
Cons
Inconvenient position of the lights
Sale
Next up is the MCBON convertible range hood which is manufactured with food-grade, high-quality stainless steel. This means that the product is suitable to come into direct contact with food items. Apart from this, this stove hood quickly removes harmful fumes and pollutants from the air that can cause respiratory diseases. 
Why Did We Like It?
The MCBON convertible range hood will add an artistic touch to your kitchen because it is designed in a classic European style. Packed with some superb features such as dishwasher-safe baffle filters and powerful suction, this is a product worth the investment. 
It helps protect your health by blocking fumes and decreasing the risk of skin damage from it. It needs to be mentioned here that fumes from cooking damage the skin and decrease the activity of epidermal growth factor and vascular endothelial growth factor. In simple terms, this product blocks harmful fumes that might affect skin elasticity and cause wrinkles. 
The next impressive feature of this kitchen hood is that the stainless steel baffle filters can be easily removed, making it convenient to wipe away excess grease and, thus, reduce fire risk. 
What Could've Been Better?
While using this product, we noticed that the fan's noise increases on the highest setting, but that's understandable on account of the high rotational speed. Also, the baffle filters need regular maintenance, which might again be a headache for some.
Pros
Easy to remove baffle filters

Removes harmful pollutants

5-year limited warranty

Bright LED lights
Our list of best ductless range hoods would remain incomplete without this under-cabinet kitchen vent hood from Kitchenexus. Like other appliances from the brand, this product meets the ETL certification standards, which guarantee high safety levels. 
Why Did We Like It?
When it comes to selecting a range hood for the kitchen, all you need is high power suction and low noise. The Kitchenexus under-cabinet vent hood promises just that with its 3-speed exhaust fan and suction of 300 CFM. Also, you can easily alter the speed of the fan according to your need with the touch panel control. 
The high-lumen LED lights ensure that you have a well-illuminated cooking area and save energy. Plus, one cannot ignore the black glass appearance of the vent hood, which makes it look classy and easy to clean. 
Another great feature of this kitchen appliance is that it has two hybrid stainless steel baffle filters that effectively trap the smoke that cooking releases. 
What Could've Been Better?
The only downside about the product is the high fan noise, which will certainly disturb you while cooking. Further, some customers complained of damaged parts due to poor packaging, but that might just be the fault of the delivery partners.
Pros
Hybrid baffle filters

300 CFM powerful motor

3-speed exhaust fan

ETL license
Ductless Range Hood Buying Guide
As you have gone through all the reviews of the top 10 best non-ducted range hoods, you might think you know all that it takes to make a pick. But there are a few more aspects of non-ducted range hoods that you need to know about before buying one. 
That's why we've prepared this buyer's guide that'll help you buy a product to satisfy your needs. Below are some essential factors that need to be considered before making the final decision, along with some answers to commonly asked questions about these products. 
Now, let's take a look at the buyer's guide. 
A. Know What Kind Of Range You Need
Before buying a range hood, you should first understand your kitchen. The type of hood depends on where you install the range. If your range is against a wall, you will need a wall-mounted kitchen hood. Similarly, if it's under cabinets, it will be an under-cabinet stove hood. If it's a customized cabinet or hood over the range, the choice will be a kitchen hood insert. 
B. Installation Time and Cost
The next thing you should consider is the installation time and cost. If you are a DIY person, you can take the help of the installation manual or watch instructional videos to mount the kitchen hood. Or, if you are someone who needs a pair of expert hands, you should talk with a professional and discuss the time and price. 
C. Know Your Grease Filters
As the name suggests, grease filters capture and remove grease and unwanted smoke from the kitchen, keeping the air in your home clean. There are different types of grease filters in different range hoods, and each one is unique. So, naturally, you need to check which grease filter is more efficient and durable before purchasing any kitchen hood. 
We would suggest that you choose the stainless steel baffle filters as they are one of the most efficient filters on the market. These grease filters are manufactured with a unique design to restrict the flow of smoke and capture contaminants from the kitchen air. On top of that, these grease filters are reusable, dishwasher-safe, and highly durable. 
D. Noise Level
Most recirculating range hoods have powerful fans that tend to be noisy when you use them at the highest setting. For instance, if a kitchen hood produces more than 70 decibels (around 19 Sones), you should avoid purchasing it. Instead, go for the one that produces 50 decibels (4-5 Sones) at the maximum speed. This will ensure a quiet cooking experience in the kitchen. 
E. Budget
Budget is one of the most important factors to consider when it comes to buying a quality ductless range hood. You don't want to get a product that's heavy on your pocket and less efficient. 
Best Ductless Range Hood
Are ductless range hoods any good?
Ductless range hoods are a necessity in any home, as they use charcoal filters to clear the kitchen air by filtering out smoke. Even though it's much better to vent out the smoke from the kitchen, having a non-ducted range hood to filter the smoke from the air is the next best solution. 
What are the things to look at before purchasing a non-ducted range hood?
Before buying a non-ducted range hood, you should always consider the following: 
How it appeals to you aesthetically, 

The amount of noise it generates 

The type of filter it uses, and of course 

The amount of air it circulates.
CFM means Cubic Feet per Minute. It's the unit of measure for how much air is exchanged in one minute. This means, that if the CFM is on the higher side, your kitchen hood will be more powerful with better exhaust capabilities. 
What is the difference between a ducted range hood and a ductless range hood?
As the name implies, ducted range hoods are connected to a duct that expels the smoke and air from the cooking area outside. On the other hand, a ductless kitchen hood filters the smoke and other impurities from the air through a filtration system and expels the clean air back into the kitchen. 
Is it possible to clean a ductless range hood at home?
Yes, a non-ducted range hood can be cleaned at home. It's best to go with weekly or monthly cleaning that you can do yourself. Cleaning the range hood often is very important as it ensures that the airflow is not interrupted by the grease, oil, and dirt buildup. 
All you need are the following household ingredients:
Extremely hot water

Baking soda

Dish soap

Non-abrasive scrub brush

Heat proof container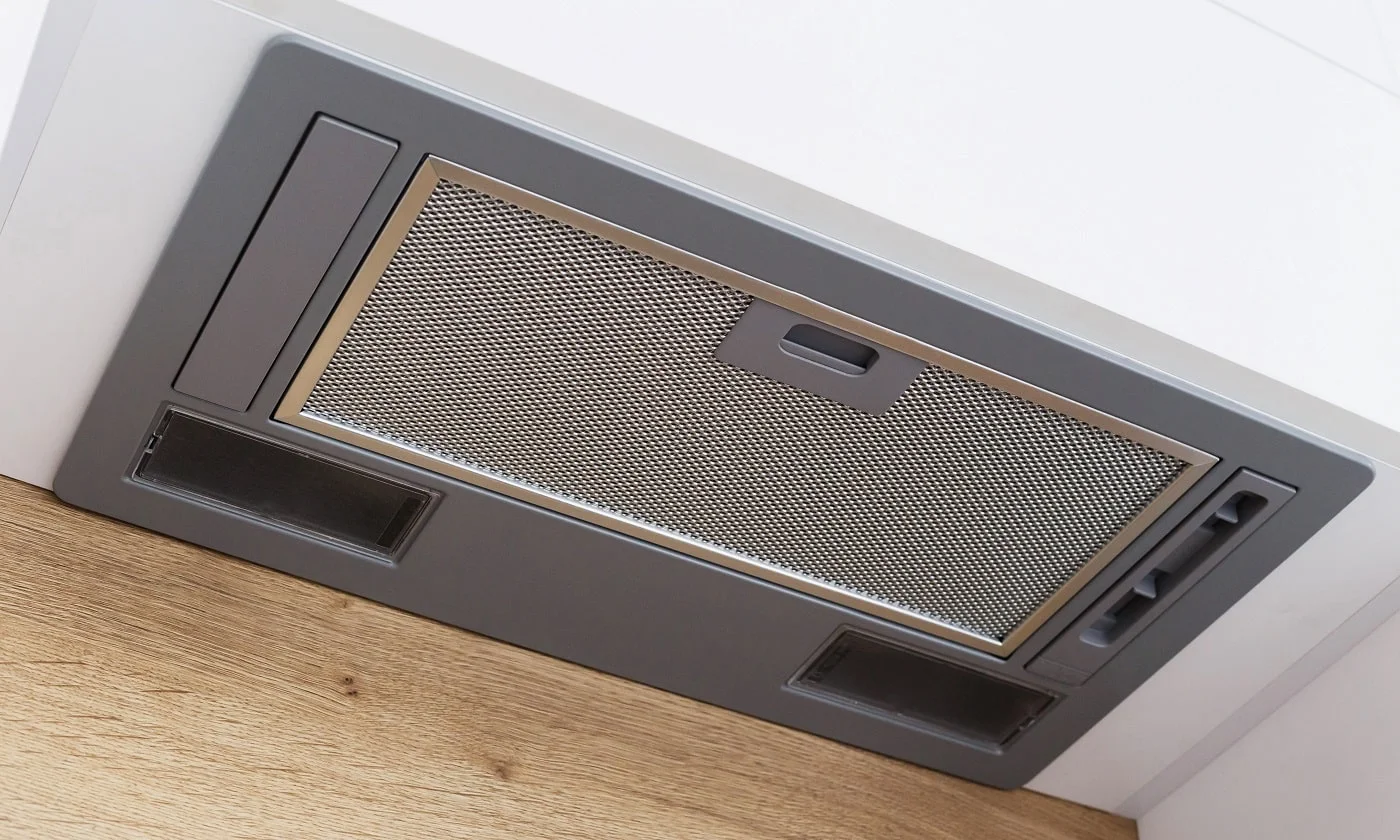 Top Ductless Range Hood Verdict
That's all we had to tell you in this comprehensive guide on the best non-ducted range hoods. We are sure that by referring to this article, you will be able to purchase the right ductless range hood that your kitchen needs. 
Before we sign off, here's a quick look at our top picks. You can buy the Broan-NuTone Ductless Range Hood as it comes in the best budget. On the other hand,  if you are ready to spend a bit extra, the Ciarra Under-Cabinet Range Hood is the ideal one. 
And if the brand is an issue, the KOBE and COSMO range hoods will never disappoint. They vouch for top-quality kitchen appliances. We hope that this verdict helps you pick the best ductless range hood. 
Here's wishing you a happy cooking experience! 
Related Articles
11 Ideas for Basement Kitchens and Kitchenettes
9 Best Finish for Kitchen Table
Top Ways To Jazz Up Your Kitchen With Brass
29 Ways to Materialize an Awe-Inspiring French Country Kitchen
29 Cutting Boards Design For Every Taste And Every Kitchen
19 Beautiful Showcases of U-Shaped Kitchen Designs for Small Homes
18 Neat Ergonomic Kitchen Islands Designs Featuring Open Shelving
10 Best Clear Coat for Kitchen Cabinets
Outstanding Black and Wood Kitchens That Will Add Style To Your Home