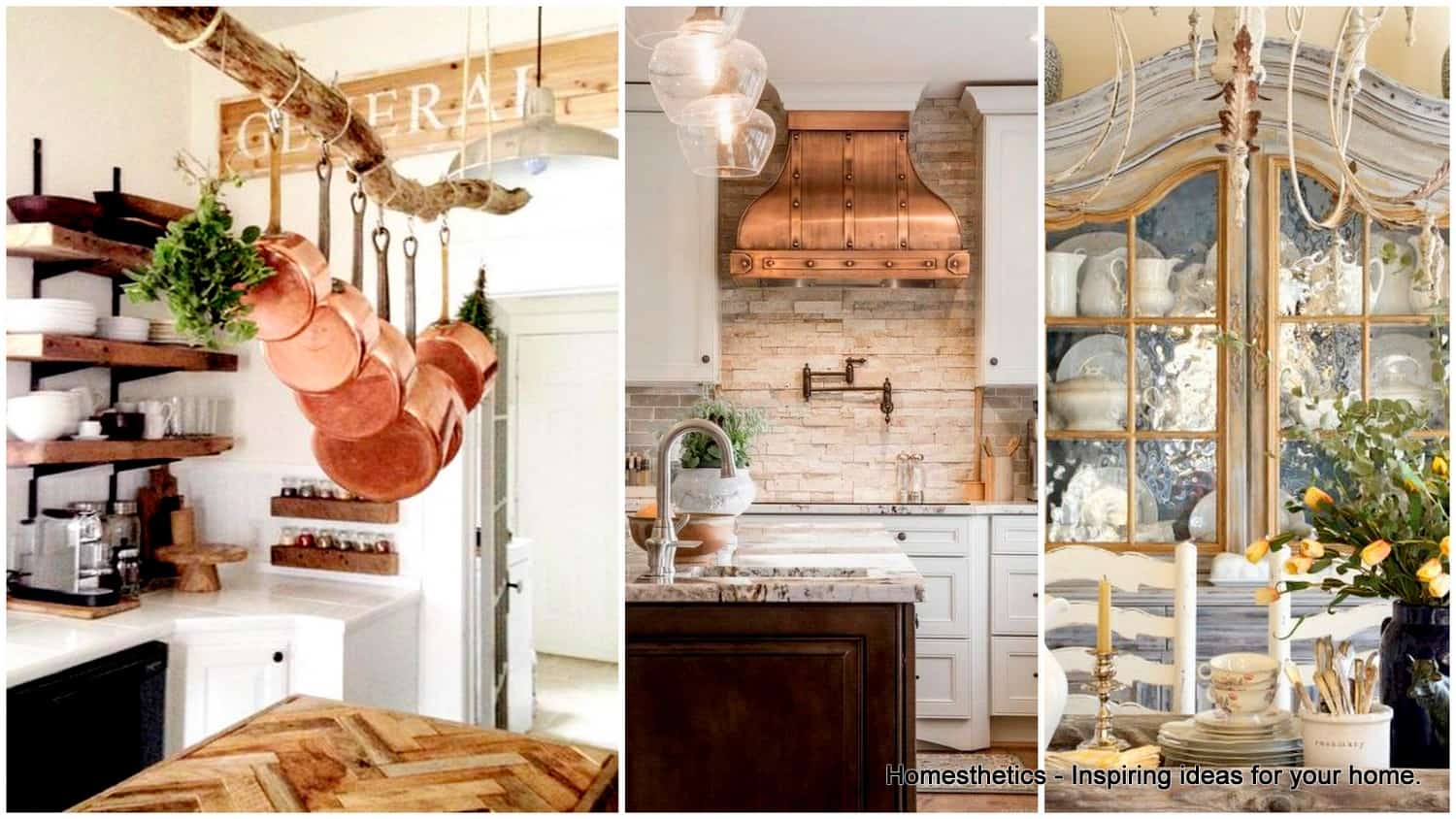 Nothing says home like a comfortable kitchen room. The smell, the familiarity, and the warmth – both physical and metaphorical – makes you feel safe, and right at home. A kitchen deserves a lot more than just a few cabinets, cookware, and amenities. Cooking in a plain kitchen can feel pretty exhausting and boring. But if the kitchen is spacious and easily accessible, cooking can rapidly become fun and quick.
Modular kitchens have been quite a rising trend among city dwellers. The polished metal surfaces, shiny lights and high- tech new appliances, are in much demand. But if the modern look doesn't suit your needs, and if you're looking for something old, homely, and comfortable, French Country Kitchens are just for you!
Let us go through the characteristics of a French Country Kitchen that you need to look out for while you're designing yours !
Related articles 
13 Best Farmhouse Sinks of 2022 Reviewed
Awe-Inspiring French Country Kitchen
Natural Materials
If you observe clearly, every countryside kitchen décor uses the three main materials for the basic cabinet and counter construction, be it French or English. These materials are obviously wood, stone and brick.
The wood is the chief material used for the cabinets and the counter. It can also be used to make false ceiling beams too. Stone and brick are mostly used for walls and chimneys. The counter-tops, the kitchen island and the background tiles will mostly be polished stones, cut to dimensions of your kitchen. These materials will add to the earthy nature of the interior, and insulate the kitchen for extra protection.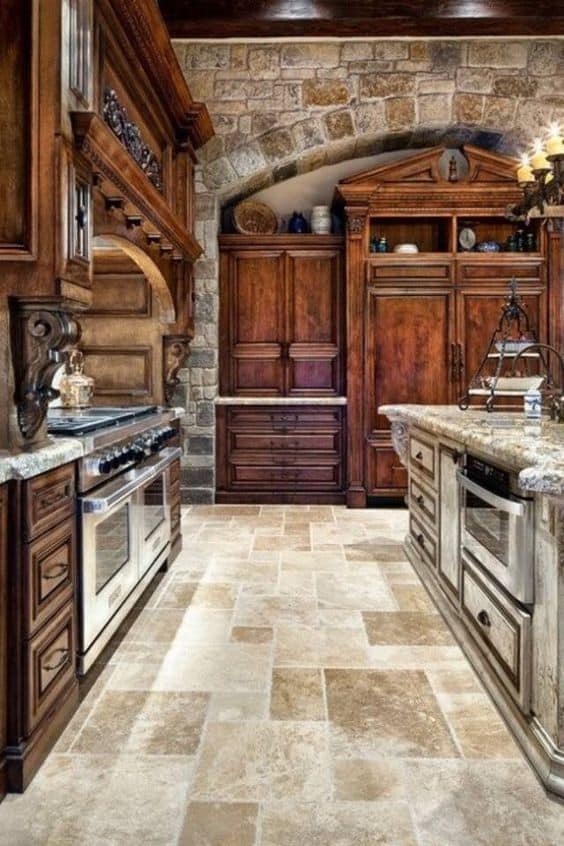 Crown Molding Frames
Crown molded frames have been widely used in European décor since centuries. Ornately carved designs, which look straight but are laterally curved and stylish, look amazing on the borders of walls, floors and furniture alike.
The curves of the crown molding add a three dimensional depth to a monochrome piece of wooden plank. When you're designing a French country kitchen, most cabinets and counters are going to be monochromatic. The crown molding makes sure that the play of light and shadows makes your simple kitchen look rich, giving a subtle flow to the straight cut edges and corners.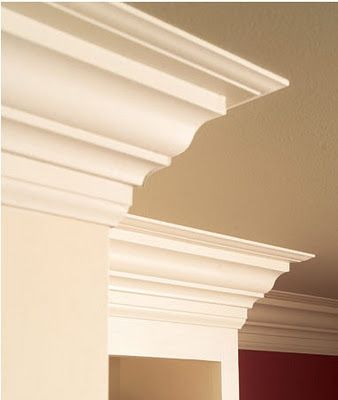 Floorboards
Flooring makes up an immensely important part of any room. It keeps a control on the temperature regulation, insulation from electric wires, and the plumbing of the room. In a kitchen, these things need to be taken into serious consideration. For instance, if you spill a liquid, it should be easy to clean without having the liquid run off in a sloping direction. You obviously cannot use any tiles that will conduct electricity as it can cause harmful shocks and injuries.
Flagstones and Terracotta tiles are commonly used for French kitchen flooring. Checkerboard look for the kitchen is quite trendy and can be incorporated in a kitchen with modern or contrasting themes. You might wonder if wooden floorboards could be used. Well, they can be used for sure, but you'll have to make sure they don't swell up during rains.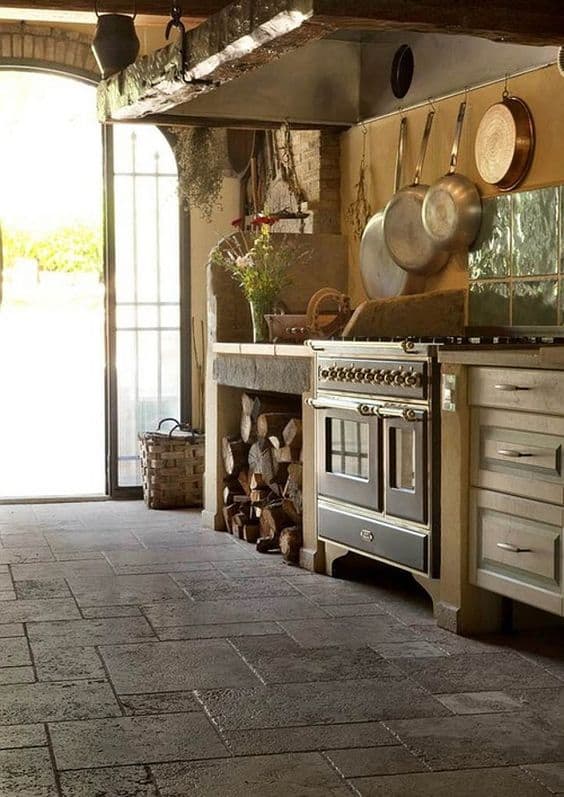 Kitchen Islands
The traditional French etiquette of dining and cooking for multiple members of the family has been kept alive with the introduction of kitchen islands. If the kitchens were big enough, almost every French household would incorporate kitchen islands in their homes.
It's easy for more people to cook with an extra counter available to work. On the other hand, people can huddle around the kitchen during a party or a family gathering. Large kitchen islands can have built in sinks or garbage bins, if there's excess space to spare.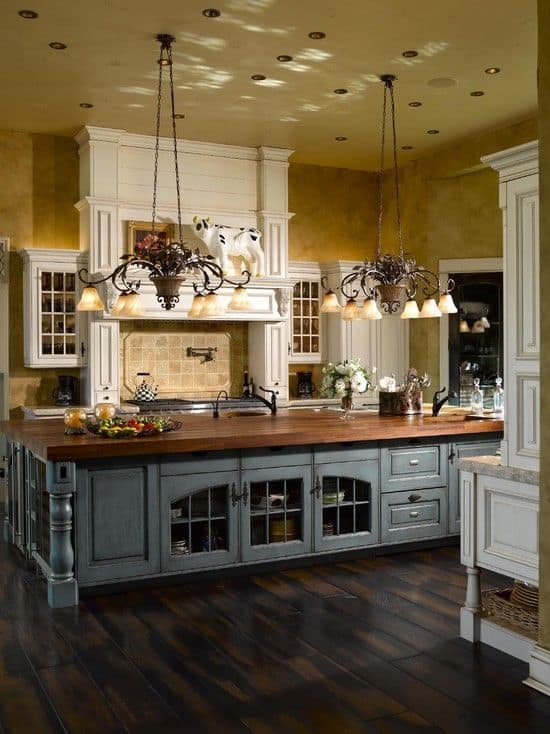 Fireplace Reminiscent Décor
Fireplaces introduce a very domestic and dreamy feel to the room by default. Cooking can feel very boring if you're in the kitchen alone. This feeling can be overcome by decorating your kitchen similar to the design of the fireplace.
Traditional French households consider the history of family gatherings on a cold night around the fireplace. They recreate this kind of feeling with old style stoves, stone and brick walls, archways on the doors, and hoods above the stoves.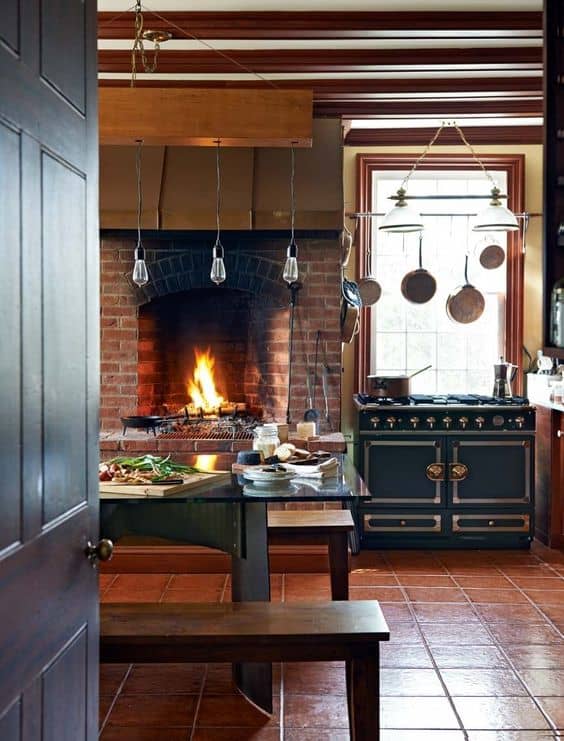 More details at onekindesign.com
French cottages have slanting wooden roofs fixed on strong wooden beams. Most cottages don't bother covering these beams up, giving a very raw yet natural look to the rooms. French kitchens have a similar ceiling with exposed wooden beams.
You could incorporate this pretty characteristic of old French cottages in your kitchen, since it will make the room look aesthetically old and unique. You could even fix small chandeliers or iron lanterns from these beams to make your kitchen look more welcoming to guests.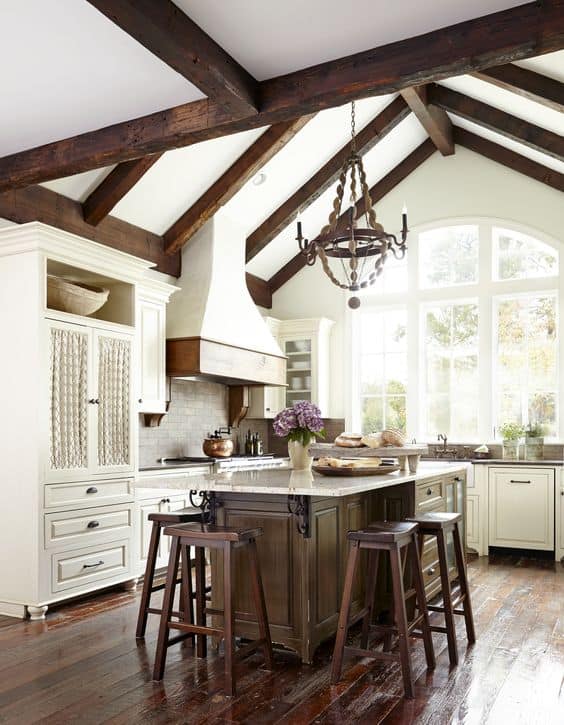 More details at traditionalhome.com
Large Windows
French architecture fancies building large windows to allow maximum natural light to illuminate the rooms. It proves most convenient in kitchens, where a lot of light is needed. Sunlight also adds natural warmth to the room, while sterilizing pathogens.
Building large windows will make sure you can exploit all these advantages. It will also give you an idea to design your kitchen cabinets similar to it. Also check out the fabrics and colors you can use for the curtains to cover these windows.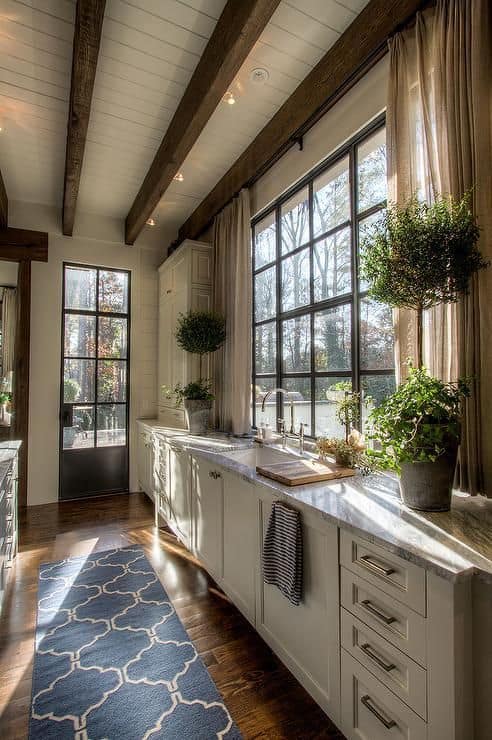 Soft Color Palette
Earthy colors and tones are an important characteristic of an ethnic French country kitchen. They resemble the muted hues of provincial landscape colors. Creamy, soft and pale colors are most preferable in such kitchens. If you don't mind adding colors which differ from shades of white or cream, you could definitely go for diluted shades of pastel colors such as pink, sky blue, lavender, olive, and much more.
These colors can be used in different shades for the walls, ceilings and furniture surfaces. Soft colors are known to induce a sense of natural warmth and comfort to the room, and make the room look spacious.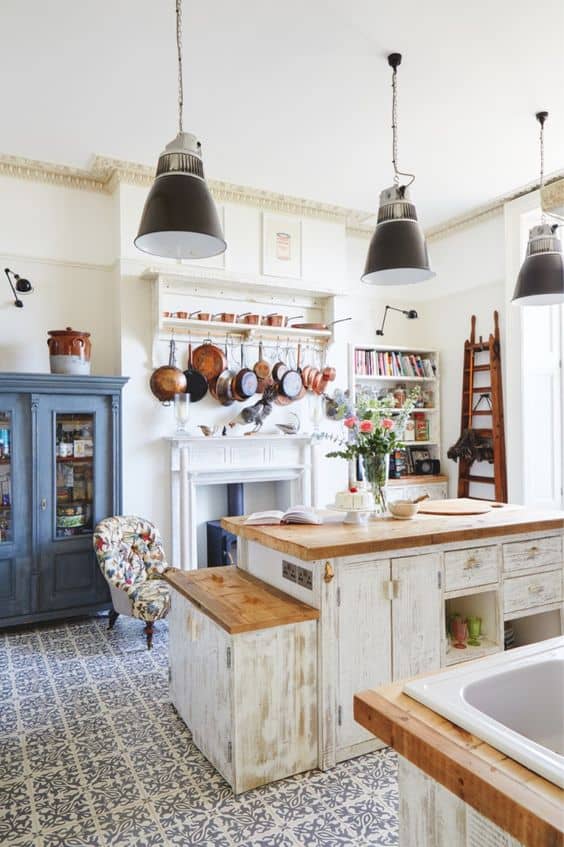 More details at suemurphydesigns.com
Contrasting With Darker Colors
Now if you do plan to get an island constructed in the centre of your kitchen, you can try to highlight it using one easy trick. Using a contrasting color to the rest of the cabinets will make your kitchen island stand out. Make sure that the colors used are similarly earthy and soft, not bright.
You could get a darker hue of a different pastel color painted on your kitchen island. Using similarly darker polished stone on your island counter-top will add more charm to it. If you don't want to change the color palette of your cabinets, you can add contrast to the kitchen by using darker curtains for the windows. There are no boundaries to experimenting with color combinations for your French kitchen.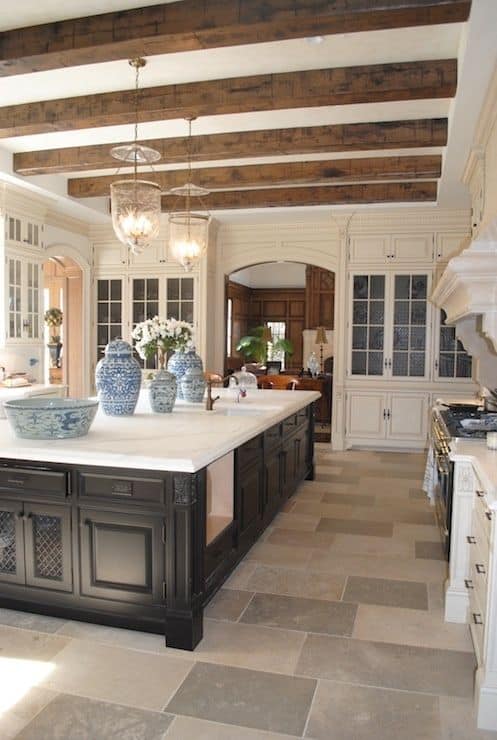 More details at scoutandnimble.com
Natural Designs
The wooden cabinets can be carved with designs inspired by nature. The side edges can be designed ornately with delicate vines and floral carvings. Or you could go for a minimalist approach and get pillars carved out on the edges.
Cabinets can have beautifully carved crowns with similar designs. These curves add to the charm of the kitchen, while making it seem obviously inspired by earthly things. You'll also be able to control the injuries that happen on the impact with sharp edges.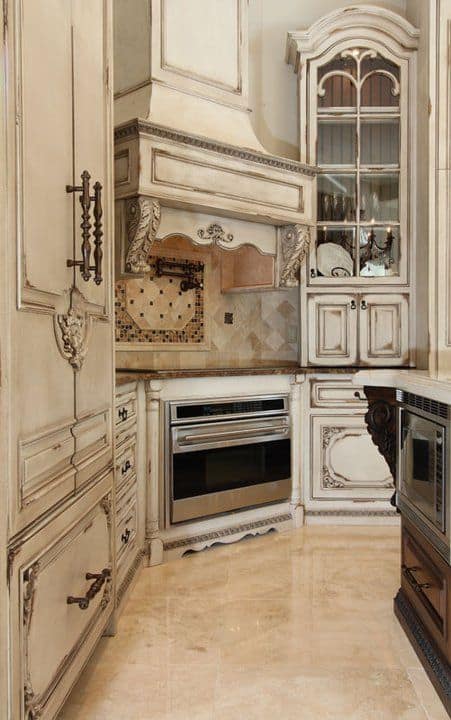 Beadboard Linings
Beadboards, better known as "tongue and groove" panels, can be used easily for decorative and lining purposes. Use them on vertical surfaces or ceilings, they're sure to catch everyone's eye.
Using them as internal lining surfaces for kitchen cabinets, island surfaces, splash-back can give extra depth to the furniture. You can try using contrast colors to add to the look of the kitchen. They are easy to clean too, so you don't have to worry about accumulation of mold.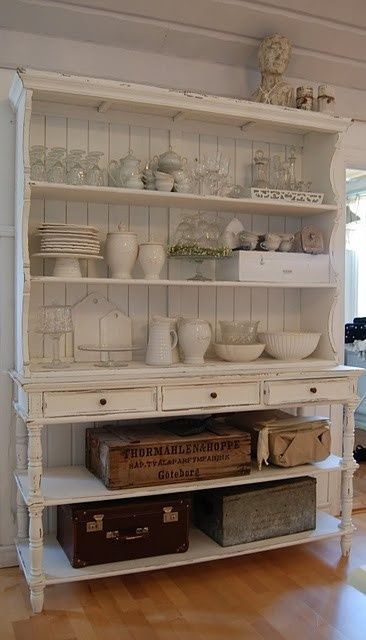 More details at deborahgordondesigns.com
Furniture-like Details
Adding a bit of character to simple wooden cabinets will definitely make your kitchen look more inviting. So instead of keeping your cabinet surfaces simply polished and flat, adding details to them like your normal living room or bedroom furniture, will make your kitchen look beautiful.
Simple detailing like an internal margin on the surface of the trolleys and drawers, or curved door designs will make your simple cabinetry look like a pretty showcase. You can display your best sets of crockery in these cupboards, with glass panes allowing it to be shown off to your guests. Look at small bookcase in the picture. You can certainly keep your collection of recipe books there.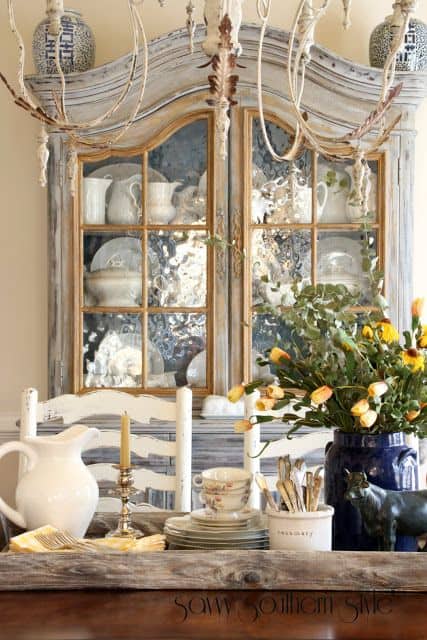 More details at savvysouthernstyle.net
Modern Twist
French country designs are quite flexible when it comes to timely modifications. You can give your antique kitchen a modern twist by using some bold color combinations and designs. Modern kitchen equipment would allow you to blend wood and stone with modern metal.
For instance, suppose you go with grey hues for the cabinets, you could get matte finished steel for your chimney. Or a darker colored polished wood for the central island, like the one shown in this picture. Discuss more possibilities of new styles and colors with your interior decorator to get a brilliant fusion of old and modern look for your kitchen.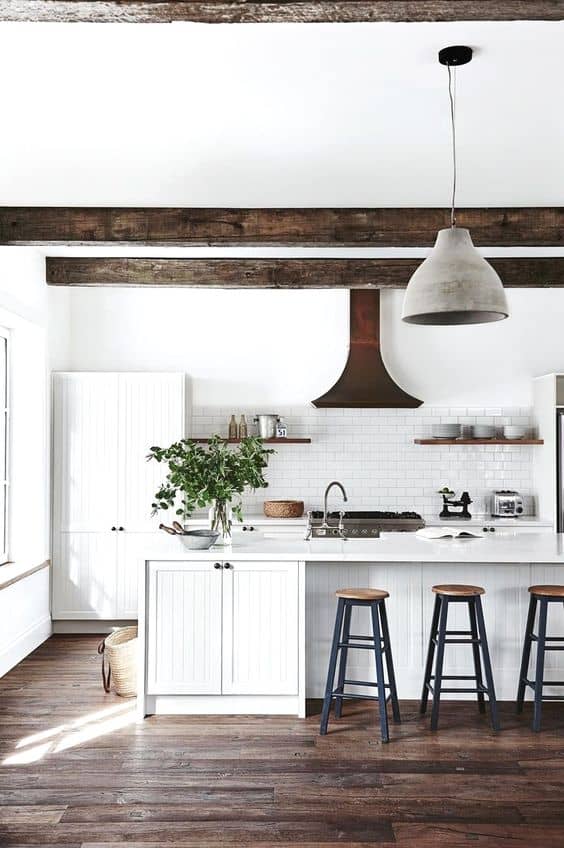 More details at angelfireberman.comom
Farmhouse [Apron] Style Sink
Most French country kitchens will usually have a farmhouse sink, otherwise known as an apron sink. It's quite convenient to use, with no cabinet or counter-top in between. It's also deeper, so the water doesn't splash all over. Using white or cream colored porcelain will suit any light colored theme from the kitchen walls.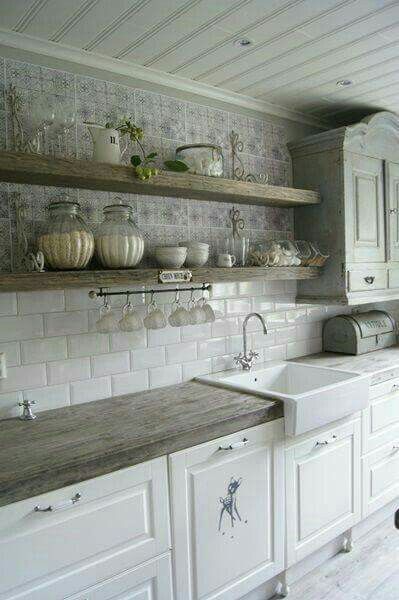 Iron Details
Wrought iron is the most preferable metal used in French country kitchens, for small metal detailing like handlebars, locks, drawer handles, lighting fixtures and faucets. Iron takes a long time to heat up and cool down, so its temperature is usually regulated during extreme climates. It also adds a rustic vintage look to the plain muted colored background.
Accessories in the kitchen are also made with the help of wrought iron. Lanterns and lamps hanging around the room, and cookware hanger racks, look medieval and beautiful. The iron can also be used in modern design of an old country kitchen, but people prefer using other metals as steel and copper for their affordability and durability.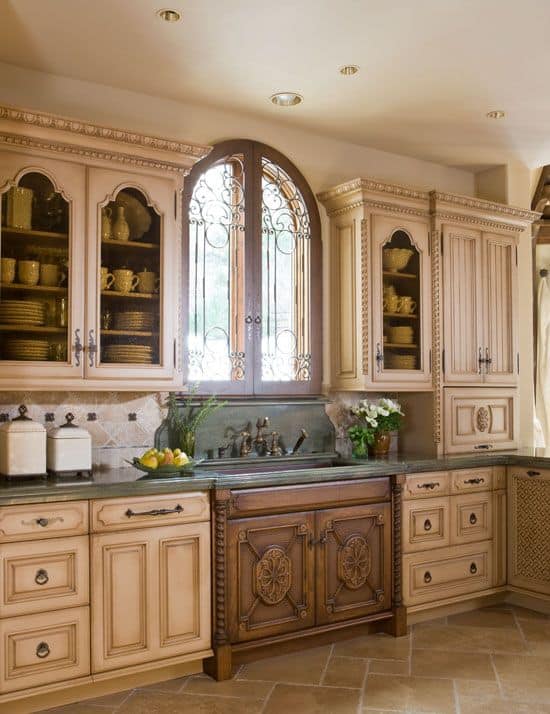 Lantern Style Lighting
An easy way to add to the brilliance of your old kitchen is to allow a play of light and shadows. The lighting effects make up the most of visual beauty of any room. Candle lights or warm yellow lights set up in old lanterns are sure to dazzle and mesmerize anyone who enters your kitchen.
You can set up vintage hanging lanterns on the counters and kitchen island. Due to the rustic look of wrought iron or brass, the décor looks especially aesthetic, giving you an illusion of working around in some palace kitchen. Like the colors make the room look bigger, the light fills up this space with a warm comforting substance.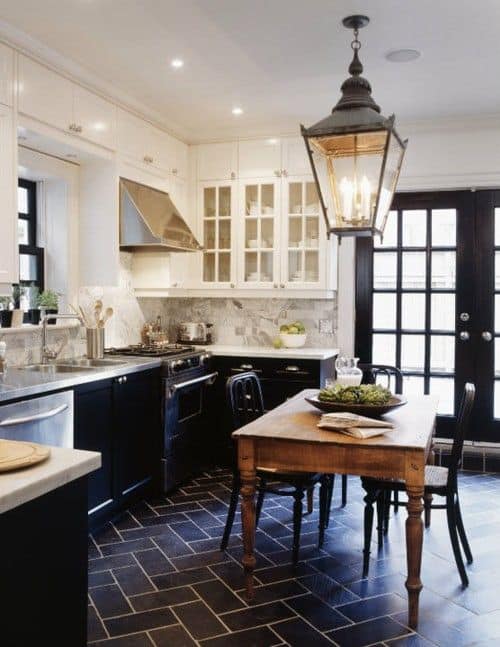 More details at frenchgardenhouse.com
Complementary Stove Hoods
Stove hoods are an important part of any kitchen, especially country kitchens where people tried to keep smoke under control. So it makes most sense to have a hood above the stove that matches your interior design and color schemes.
Hoods can be bought online or built separately. Stone hood leading up to a brick chimney will look aesthetically antique. If you're looking for something easier to uninstall and reinstall for cleaning purposes, you could look for an antique metal hood, made of copper or iron. It will certainly bring a lot of freshness to your vision as well as the air in the room.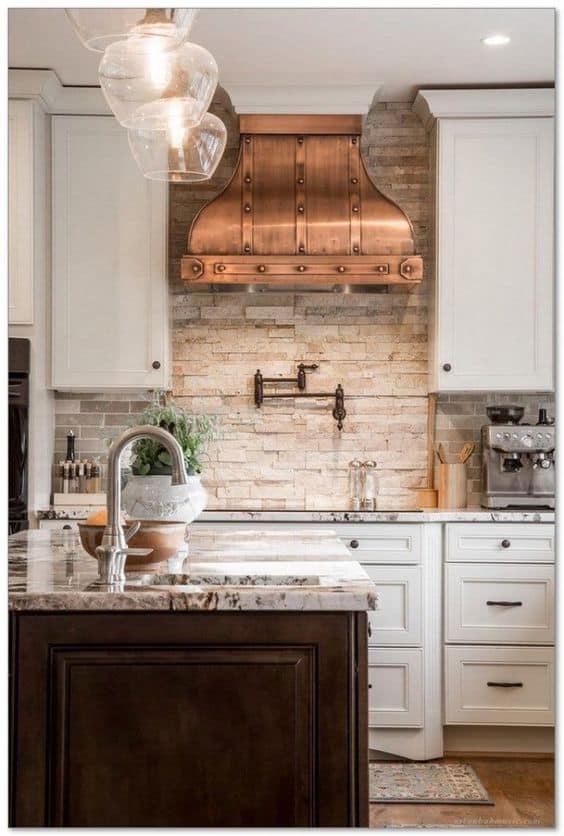 Water Faucet over Stove
Traditional French used to have water taps [faucets] fixed above the stove. Since then, this old style stove has disappeared from modern kitchens. It's quite useful to have a water tap like this one installed above your stove, especially when you're cooking in quite a hurry.
Adding this tiny detail to your traditional country style kitchen will make it look very charming while preserving the authenticity of a French country kitchen. You can even have vintage stoves fixed in your kitchen to add to the look. Discuss this with your interior decorator for sure.
Open Shelves
Country kitchens in France use simple techniques to store their cookware. Although cabinets are quite common, the traditional country kitchen will have a series of narrow and open shelves over the worktop, above the splash-backs.
Therefore, if you don't want cabinets over the counters, you could definitely try this idea. Covering them up with skirts or curtains would keep the cookware out of sight and make the simple shelves look pretty. Keeping them open can give a very rustic look to it.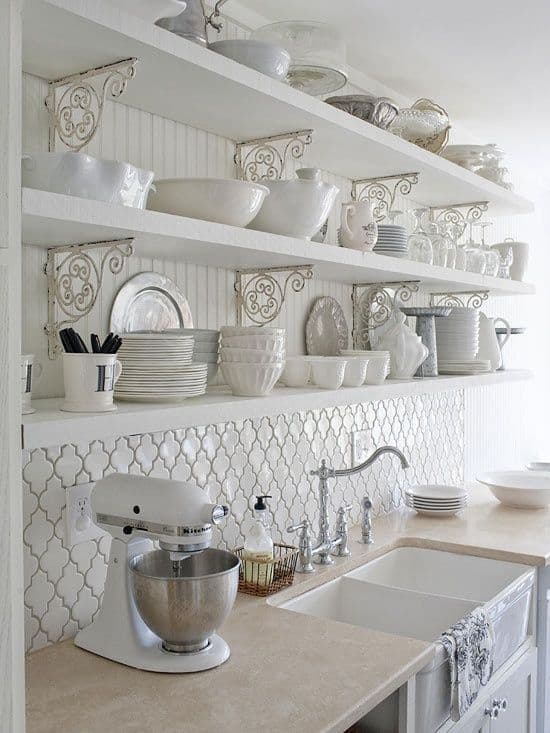 Hanging Cookware
One of the commonest sights you will see in French kitchens, are the pots and pans hanging from a rack. Soup pots and frying pans are often used to cook French cuisine, so this cookware needs to be placed in a very handy place. What best way to keep pots and pans than to hang them by small hooks on the racks?
Wrought iron or metal is frequently used to make these racks, so you could replicate hangers like them in your old themed kitchen. If you are going with a modern look, you could definitely use wooden suspenders or steel ones to match your décor. You could fix the racks on the wall or hang them in the middle of the room, as shown in the picture.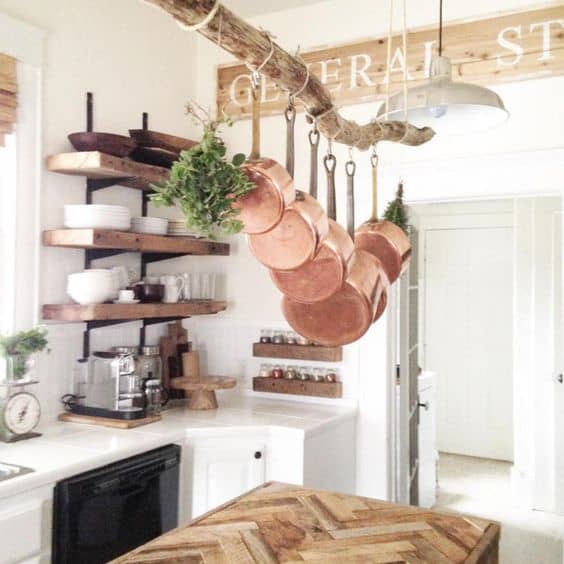 More details at  theletteredcottage.net
Porcelain and Pot Accessories
Pots are a staple of the countryside, wherever you go in the world. They are earthy by default and add to the charm of the country decor, while also authenticating their usage in a way having them in an ultra modern lifestyle wouldn't. Moreover, French pottery is delightfully colorful. From the greens to the yellows, and variants of blue, scarlet and brown, you are never short of the vibrancy they bring to the setting.
As mentioned before, they actually are more than just decorative pieces. Either rustic or porcelain or both types of bowls and plates can be used to have meals from. However, you can use the earthenware for more than just that. You can use them while you cook and to store the very many ingredients in your kitchen that won't be refrigerated.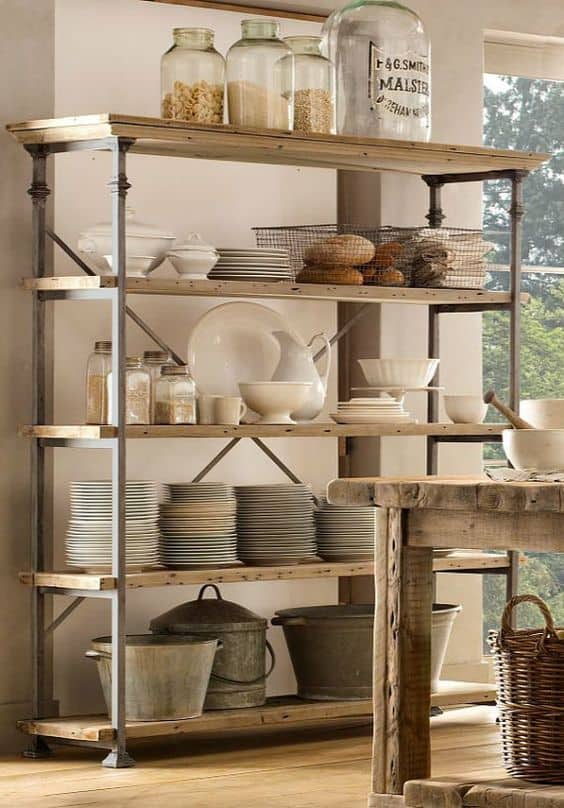 Organic Straw Accessories
The allure of wood is as old as recorded civilization but one that never ceases to amaze the beholder. It not only adds character and wisdom to its surroundings, but also feels homely. Adding stuff made of wicker, wood and straw will increase the appeal of your kitchen. From iconic wicker baskets to wooden bowls and chopping boards, the options are plenty.
A straw bag is a beautiful accessory to carry with you when you go grocery shopping and sits prettily in the kitchen when not used. Plus, wicker and straw decorations, from vases to shelves, add to the charm of your French kitchen. Wicker stools and seats are wonderful additions to consider as well.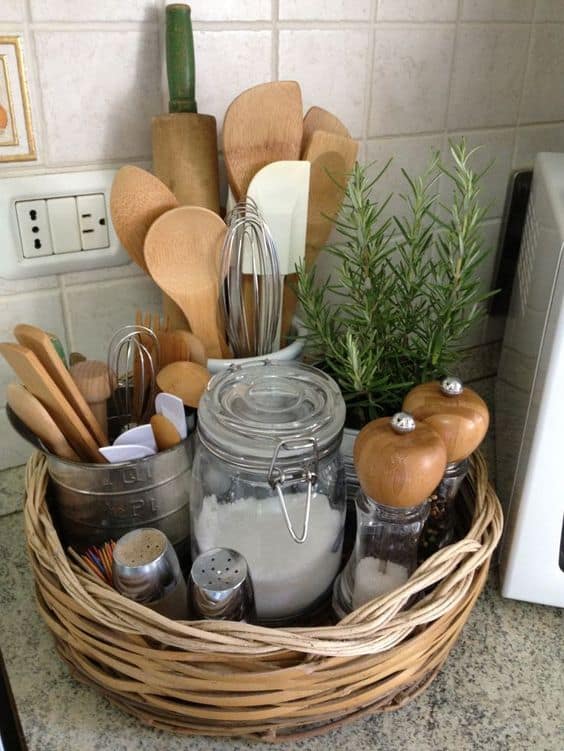 Splashbacks
Splash-backs are patterned tiles fitted on the walls behind the counters. As the name suggests, it saves the actual wall from being spoilt by soups, batters and curries. Stone or Terracotta tiles are preferred to give the splash-backs an earthen and irregular handmade look.
Marble could be used too, if you have a bigger budget. But its maintenance can prove difficult as acids can react with it, leaving behind ugly permanent stains. You can instead use tiles made out of different stones, with patterns and designs on them.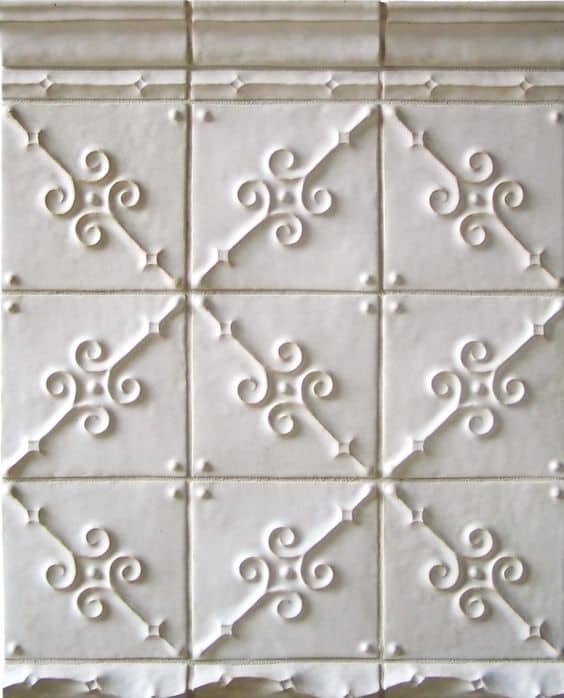 More details at lowitzandcompany.com
Textures
Wooden planks, splash-back tiles, counter-tops and island top come with a lot of natural textures and patterns. Wood used for the exposed ceiling beams can give a natural look with its original wooden textures. If you want to avoid using paints on the exterior of cabinets, you can use faint colored wooden planks with textures.
The tiles made from natural stones come with naturally present patterns. Splash-back tiles can add a contrast to the kitchen counter-tops with incorporation of different colors and patterns. If you have matching colors for counters and island, you can use similar textured and polished stone for the counter-tops. Polished and sealed concrete, with additional color, can complement the splash-back tiles really well.
Fabrics
Fabrics bring definition to a kitchen. Curtains are necessary in a traditional house. Any house feels a lot less occupied and haunts with its starkness if it doesn't have curtains. Plus, fabric curtains bring more calm to your kitchen by absorbing noises and regulating temperatures by keeping them favorable for your kitchen. Their design adds a little more definition to the kitchen with their flowing nature, contrasting the straight cut and flat counter-tops and cabinets.
Tablecloths, small towels, cushions, and other small fabric additions with traditional and exquisite French prints are a necessity. Chartreuse and lavender work best as color variants for the fabric in your kitchen, as they are bold yet soothing to look at and even stand the test of time once they start wearing off.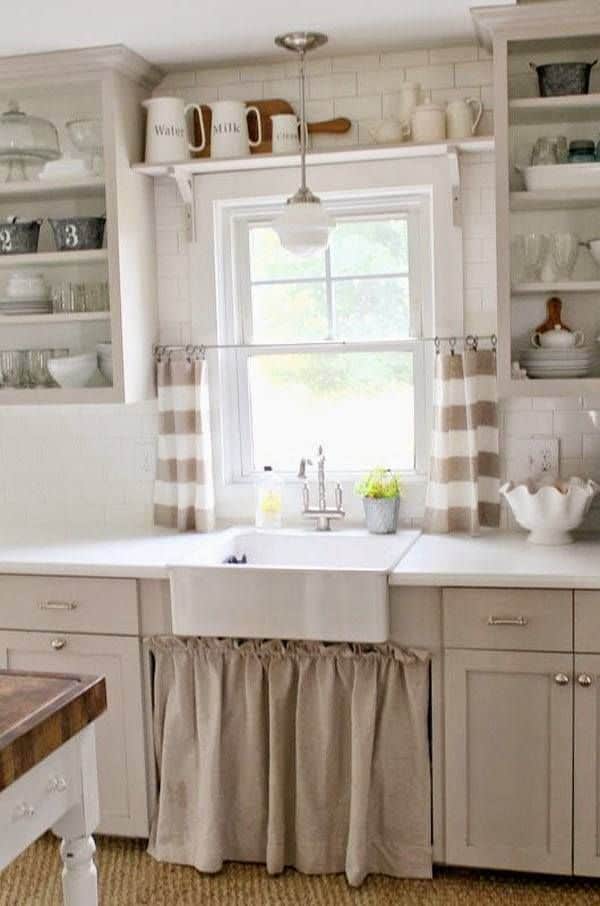 Seating
French country kitchens have high kitchen islands, so most of them use high chairs or bar stools for seating. If you're going for a completely organic look, you could go for fancy wooden chairs with straw seats or similar wooden stools. Arrangement of wrought iron garden chairs around the kitchen tables is a traditional practice among countryside French households. Another economic and common practice is to reuse an old chair by introducing a slip-covering or cushions.
This is another part of the kitchen, where you can experiment with contrasting colors. Painting the straw chairs with muted hues of a primary color, or using fabrics for slipcovers and cushions, will certainly add a bold splash of color and softness to the hard furniture.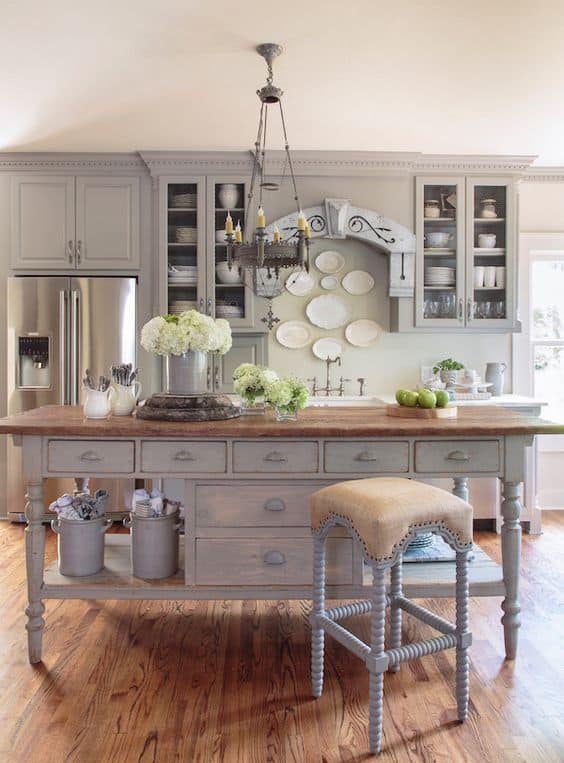 Skirted Cabinetry
In typical French country kitchens, it is more or less traditional to cover cabinets under counter with soft fabric curtains. For example, covering the underside of sink using a fabric is preferred over a wooden door. The skirting is also quite common on kitchen islands. It adds an extra soft texture to the otherwise wooden built of the interiors.
The skirts should follow similar color theme as the walls, they may even the curtains on your windows. They allow the air ventilation to keep the cabinets mold-free. So if you're aiming to design a French kitchen in a cottage, it won't look out of place, and it won't cause plumbing issues either. However, if you plan to replicate it in an urban house, you could attach the skirts over the sink cabinet too.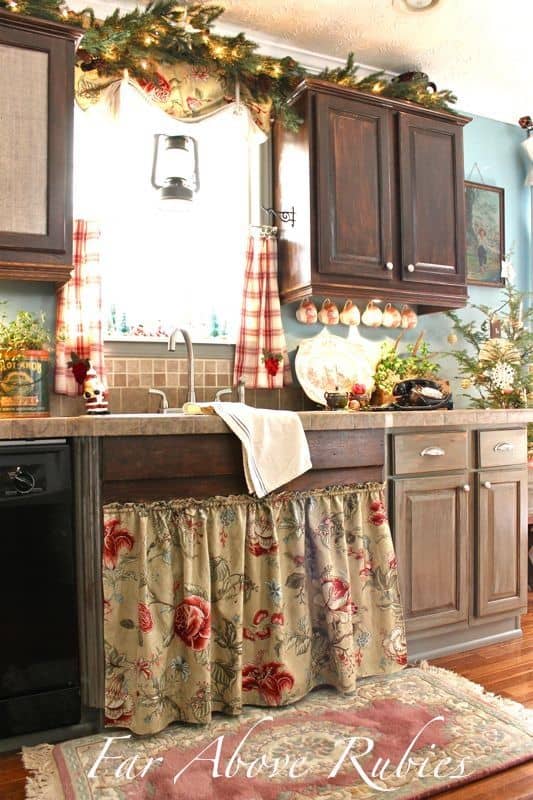 More details at anitafaraboverubies.com
Wall Color Washing
Color washing walls with subtle colors or colors that stand out yet are not too striking is a good replacement for more ancient facade, which won't go well if you have a more modern furniture or finishing. You won't have to leave any wall without cabinets, empty or unpainted.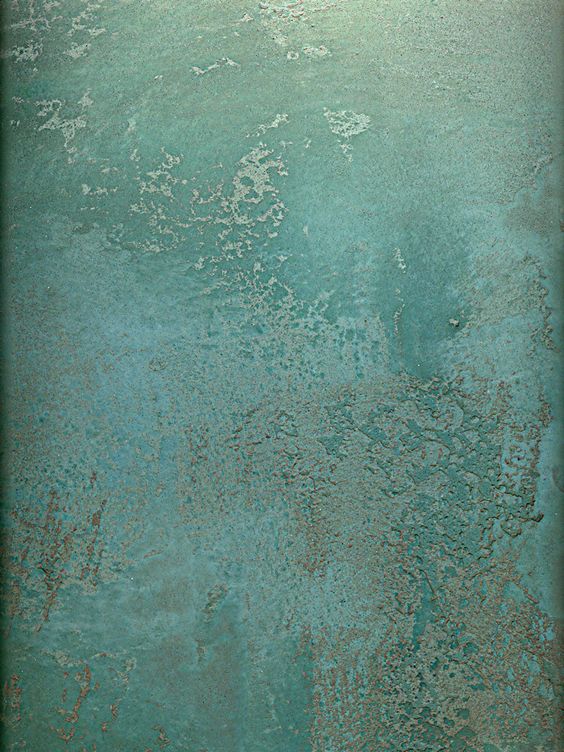 More details at here.
Appliances
Giving your steel appliances a makeover with warm, country colors or appealing designs using removable wallpapers will hide the oddity of the steely look in your otherwise traditional kitchen. It seems like a great place to start blending the antique with the modern.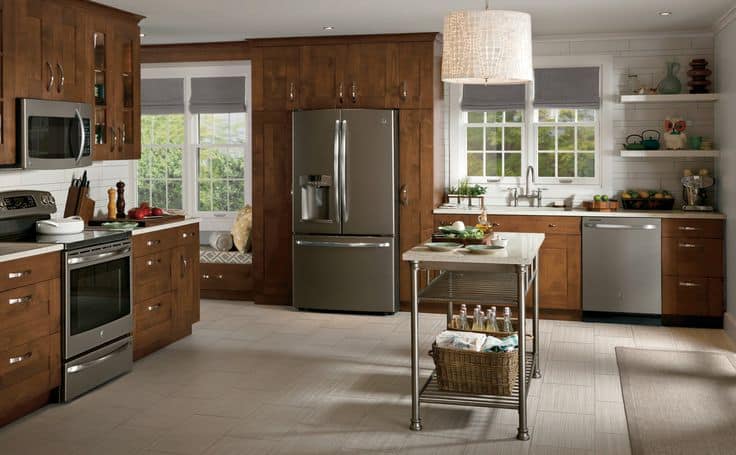 So, did the idea of getting a French country kitchen made, appeal to you? Did you find these points helpful to put your idea into motion? They are sure to make you confident enough to execute a traditional French kitchen in your urban homes. Thus, designing your own kitchen in a French countryside style is not impossible at all.
If you have any new ideas related to traditional kitchen designing, don't forget to share them here. Bon chance!
All images on this website are property of their respective owners.
Images discovered via Pinterest.com