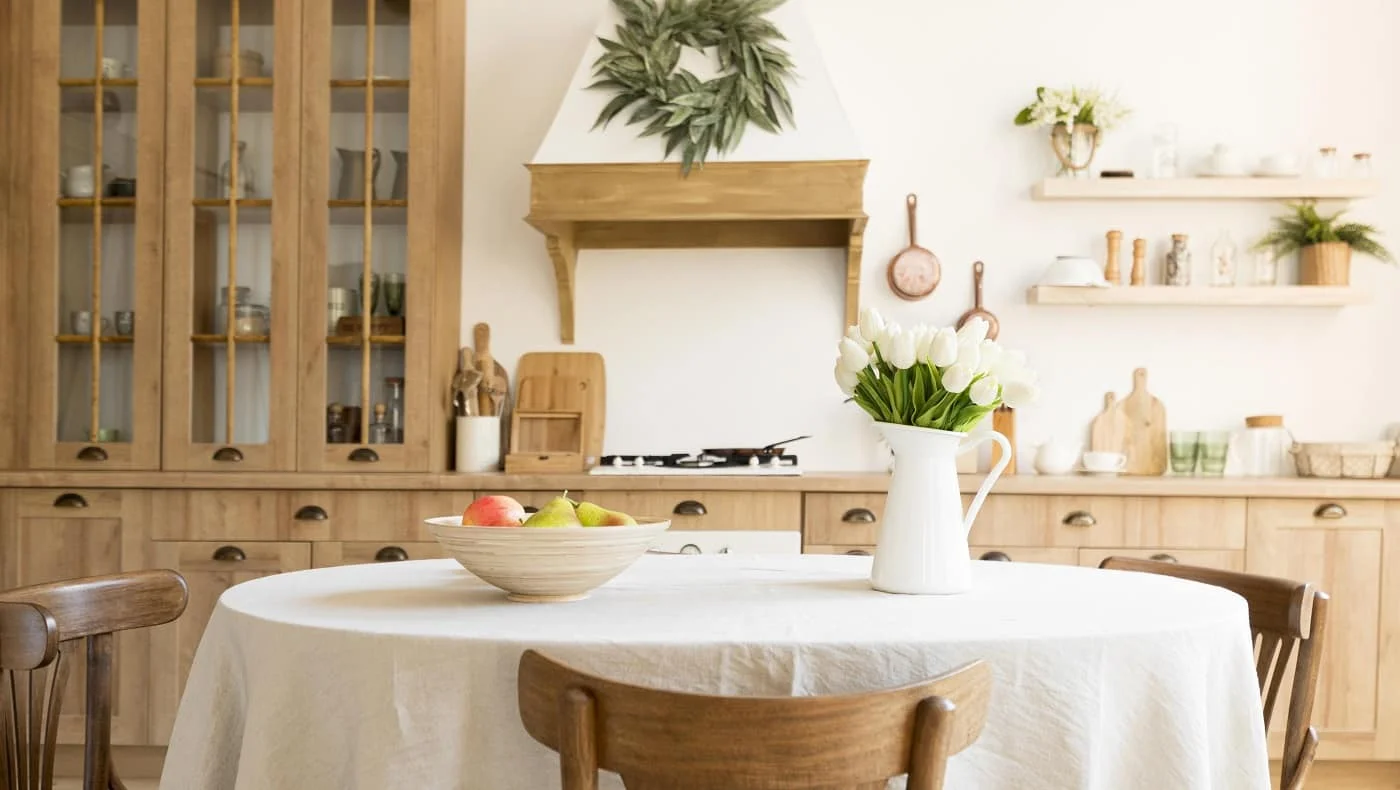 As people look for apartments with bigger homes, they realize how kitchen space has been compromised. 
And, space in a house can be tricky; after all, it all comes down to what you own. These days, most of the homes have massive living rooms, dining rooms, and bedrooms but little kitchen space. Some people make do with smaller kitchens and lesser utensils, but what about people that have a ton of utensils but no place to keep them.
We are here to talk about just that. After extensive research, we have put together some unique and attractive kitchen hutch ideas. If you are struggling to find space in a tiny kitchen or want an elaborate centerpiece in a large kitchen, these ideas are ideal for you.
Now, time is of the essence, so let's get straight to it. 
Kitchen Hutch Ideas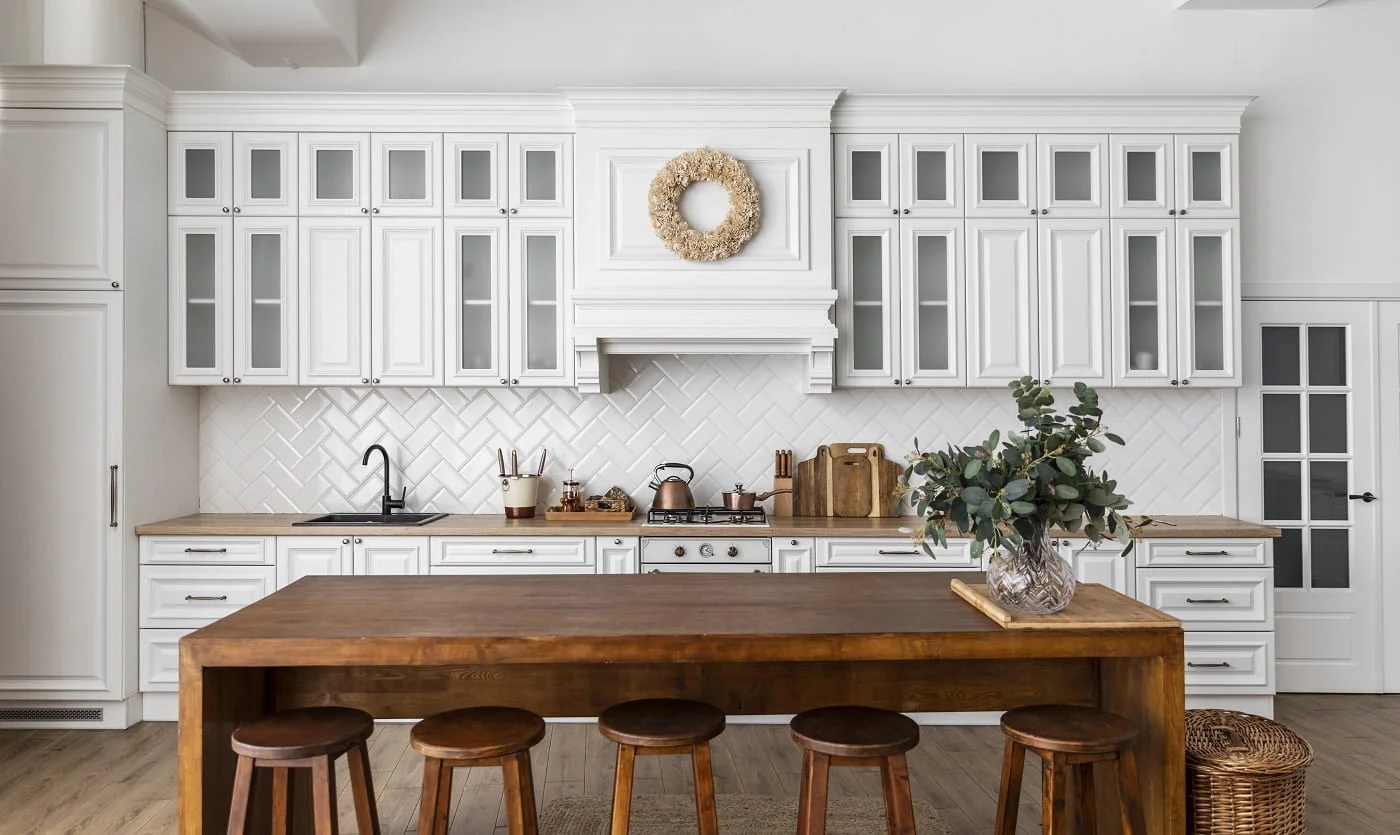 What Is A Kitchen Hutch?
A kitchen hutch, in simpler terms, is essentially a shelf or cupboard for storage. These were quite popular back when there weren't any cabinets or shelves integrated into the kitchen design. Since homes were simple back in the day, the hutches were just as simple. Moreover, they had to be traditional as a lot of people stored heirlooms in them too.
But now, as interiors are becoming more modern, storage spaces are following suit. This means a traditional hutch is not entirely needed as all storage areas are being built in. That being said, kitchen hutch ideas have also evolved to fit any modern interior. You can still have a hutch that can transform the look without taking up too much space.
Freestanding Hutch Ideas
This is ideal for people that have space to add another big piece of furniture. A traditional one, back in the early days, had a few shelves and storage cabinets. Now, even a conventional freestanding hutch comes in various shapes and sizes that people immediately gravitate towards. Here are some of the popular freestanding hutch designs you could use in the kitchen.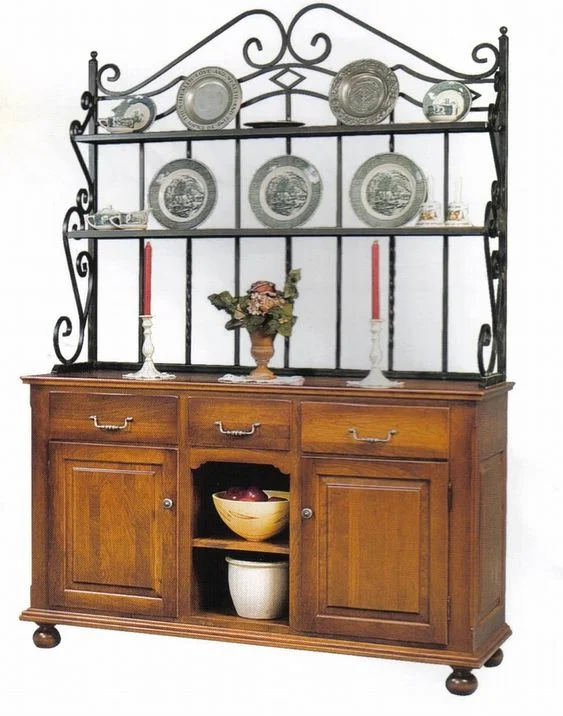 If you are looking for a traditional and vintage look, we recommend getting a baker's rack-style hutch. This type of hutch has a mix of both shelves and cabinets, which are usually made of wood and a wrought iron frame. 
It is called a baker's rack because it was most commonly found in the homes of bakers back in the 17th century. As the frame was made out of iron or steel, it was ideal for storing hot goods like pies and bread as it would cool them down quite fast. 
Additionally, back then, the racks would help showcase all of the baked goods the baker's had to offer. This was when it became quite popular and to this day remains an excellent piece of furniture to show anything off – be it baked goods or house plants. 
In terms of cost, it can be a bit expensive since it does not have much storage space. However, it is pretty appealing to look at and adds a great charm to any room it is kept in.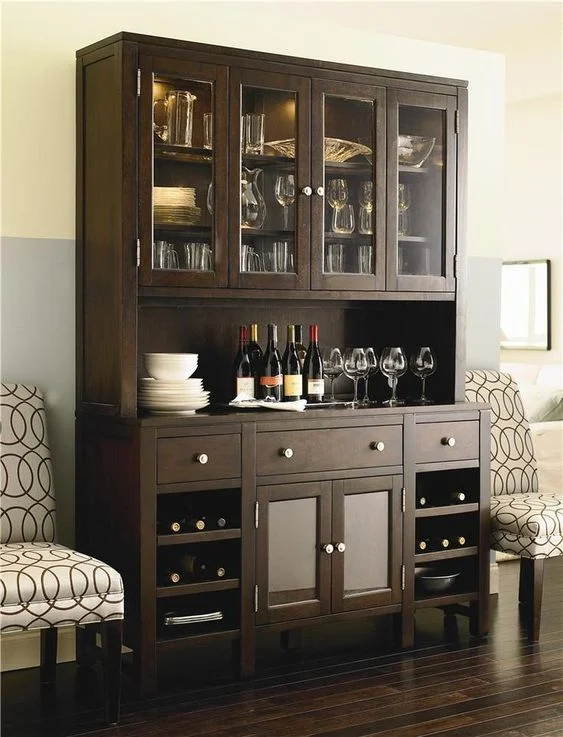 If storage is a big deal for you, you must look at this kind of hutch. The buffet hutch can be kept in the kitchen as well as in the living room. It has an ample amount of space for you to store just about anything. 
A classic buffet hutch usually has a few cabinets on the bottom, a platform in the middle, and another set of cabinets on top. One of the reasons it became quite famous is because people use this kind of hutch to store crockery and silverware in the living room. In most cases, the top cabinet has wooden or glass doors that reveal what's inside.
These first started in Sweden, where the hutch was just a set of wooden cabinets with the top platform being used to serve food and drinks. With time, it became more appropriate to serve buffet-style meals on these platforms. This is why, despite the additional cabinets above the platform, there remains a ton of horizontal space to serve or store things.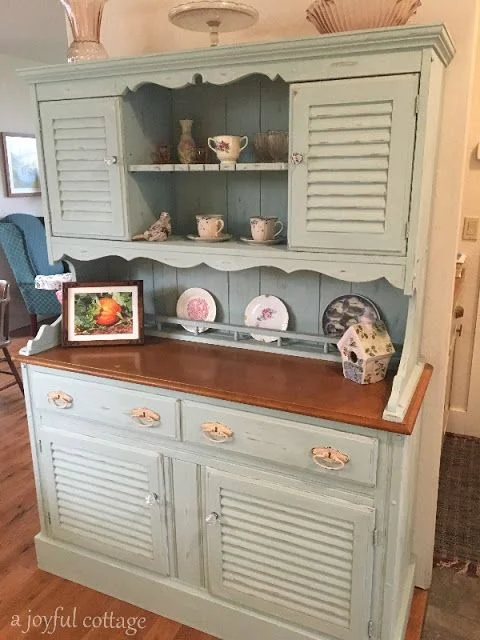 While on the subject of traditional hutches, how can we skip on the vintage ones? Hutches have been a part of people's houses for many years, and in every decade, the design changes. What remains consistent is the simplicity of the design. If you are looking for something authentic to complement your traditional kitchen, we suggest a vintage one.
Vintage hutches can have designs from any era like the '50s, '60s, or '70s that will give the kitchen an edge. Additionally, you can remodel it a little bit and add some modern elements, but the charm lies in the simple designs. Frankly, it is bound to stand out in an otherwise new-age kitchen. 
We recommend getting one of these from a local flea market, as that's when you can genuinely look at the artistic simplicity of the piece. All vintage hutches are handcrafted carefully and have a lot of intricate designs. This is why most of these pieces are unique and one of a kind. 
Seeing it in a market rather than a catalog, you will get a better idea of the storage space as well. However, it is common to see that most vintage cabinets can provide a lot more storage compared to the mass-produced modern ones. 
The only downside to getting antique pieces is that they can be very expensive. Since most of these date back many years, they are as authentic as they can be. The cost of labor and maintenance of such a piece brings the total buying price to a lot. But, it is something worth having if you have the money to spare.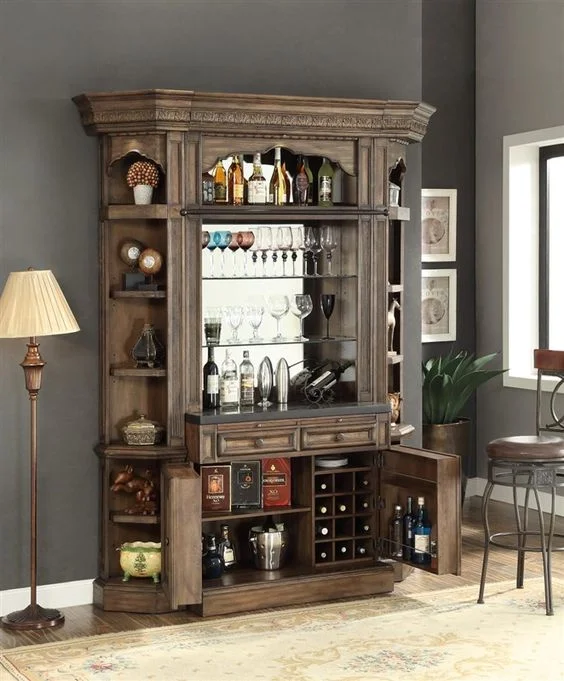 Just because a hutch is an old concept does not mean you have to get one that is traditional and vintage. These days tons of hutches are made for more than just storing fine china and crockery. Some of the modern variants can also store wine bottles, glasses, and microwaves. 
Design-wise, the modern ones can be minimalistic, which allows them to blend effortlessly into any interior. There are also plenty of glass elements like cabinet doors, mirrors, and even shelves incorporated into the design to amp up the look. 
Contemporary hutches can also be buffet-style making it easier to store larger appliances like coffee machines and microwaves. One of the most popular ones that have a modern style is a craftsman-style hutch. These are not handcrafted but are manufactured in a way that gives them a rugged, hand-made look. 
Contemporary hutches are a great addition to homes where people want a modern variation of an otherwise old concept. Since there is not much detailed work like with antique pieces, the price may not be too high either. 
The only downside to most contemporary pieces, especially craftsman-style hutches, is that they are quite large and need a ton of space. Make sure your kitchen can accommodate it without blocking the flow of the room.
Built-In Hutch Ideas
The next type we are going to talk about is the built-in hutches. As apartments become smaller, designers have successfully incorporated elements of a hutch into the kitchen or other parts of the house. This has allowed homeowners to enjoy ample storage space without compromising the overall space in the house. 
The only issue is that if you're building the interior from scratch, creating a built-in hutch can take a lot of time and planning. Plus, you can't move it around once it is done, so it is essential to be sure of the location.  
We've found some interesting built-in hutch ideas for you to look into the next time you remodel the kitchen.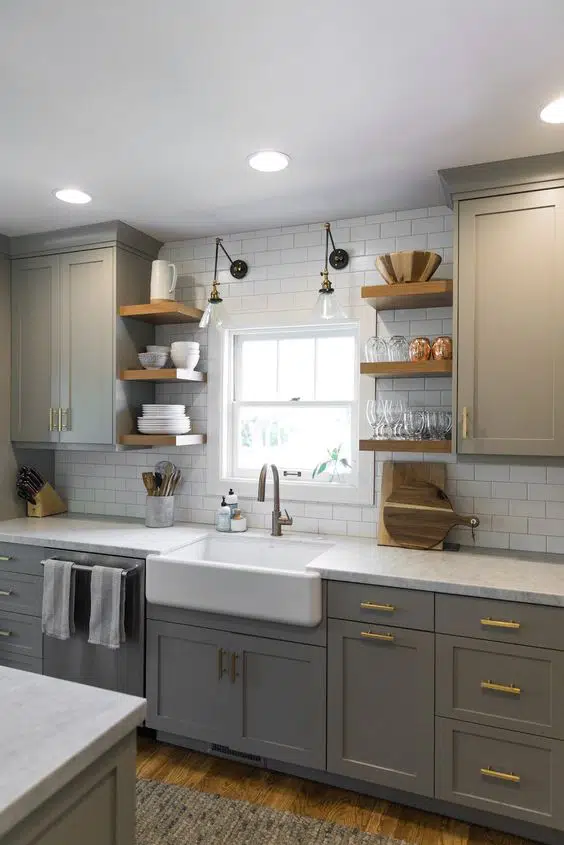 One of the most popular hutch ideas is building hutch shelves around kitchen windows. This is especially common in houses with big kitchen windows where there is a ton of space around them to incorporate shelves or cabinets in. 
Another beneficial factor of having a built-in hutch near the kitchen window is that you can style it according to the kitchen. Whether you are trying to give it a modern look or a traditional one, the whole kitchen can be styled uniformly, which is not the case with a freestanding hutch.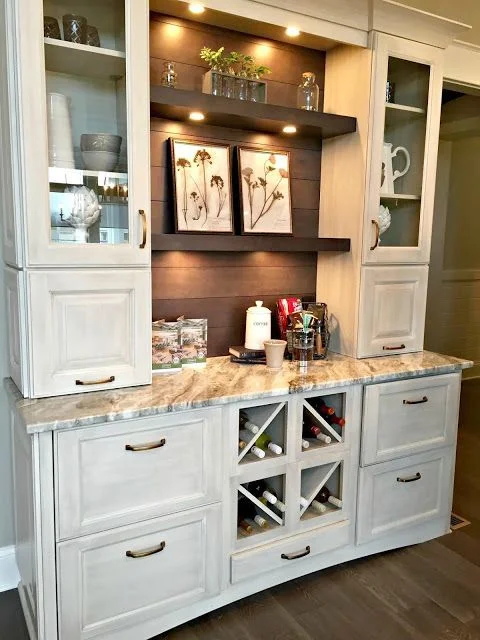 Similar to built-in shelves, homeowners are not opting for built-in cabinets as opposed to cabinet freestanding ones. Designs like these are quite an asset in the kitchen since it allows the homeowners to store everything and keep the kitchen looking clean. 
Moreover, having a freestanding cabinet in the kitchen can spoil the flow of the kitchen, especially if there is no space. Hence, a built-in one can ensure every bit of space is utilized without tampering with the natural flow of the room. 
Shelf-Style Hutch Ideas 
Apart from traditional cabinet hutches, incorporating shelves has become quite popular. Many homeowners are adding shelves to existing hutches or over platforms to create a hutch-like look. The idea is to add more storage space without adding more furniture that can minimize the space.
The only downside to a shelf is that it may not be the safest or most practical option. If you need to store fine china or any type of expensive crockery, we recommend anything with glass cabinets. Shelves are open and do not have any kind of cover, so it is best to keep pots and pans on them for easy access. 
Does this sound like something you would like to incorporate in your kitchen space? Take a look at some of our ideas on shelved hutches.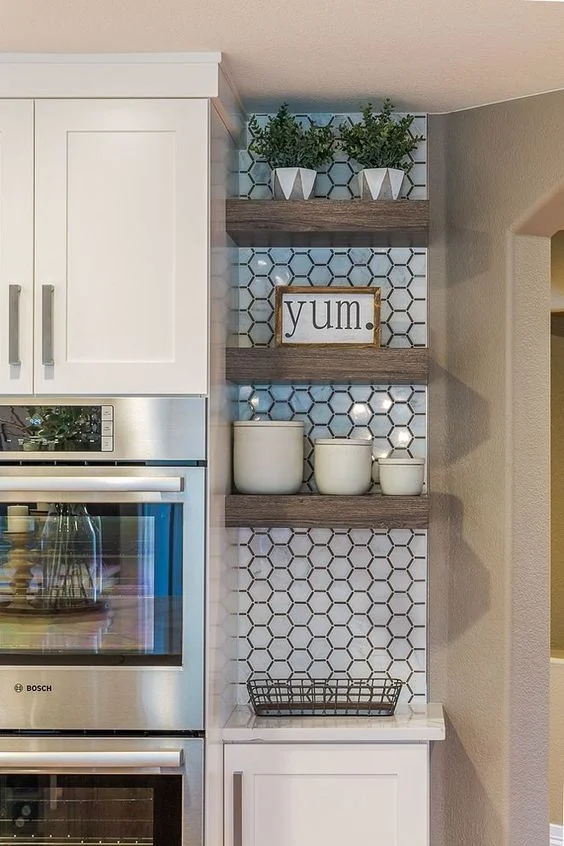 If you already have shelves and are looking for more ways to optimize some leftover space, add some more shelves. This creates a beautiful modern hutch design in the kitchen and is ideal for storing things. Homeowners keep pretty much anything on shelves from bottles, mugs, and even plants to amp up the room.
Side shelves are also ideal in situations where there is space between two cabinets over the platform. This creates a makeshift buffet hutch which is practical and also appealing to look at.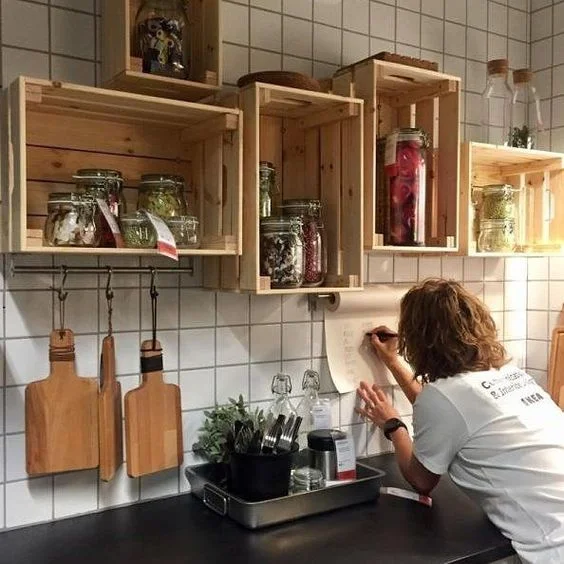 If you are the kind of person who has a ton of crates and has no idea what to do with it, use it to make shelves. These can be attached to kitchen cabinets or installed independently on the kitchen wall. The idea is to take these crates and turn them into a DIY project for the kitchen.
It goes without saying that creating a hutch-like design will have to be over a platform. Additionally, you can make it look even better by staining it with your favorite color. Not only does this look a lot better, but it adds a rustic element to the kitchen.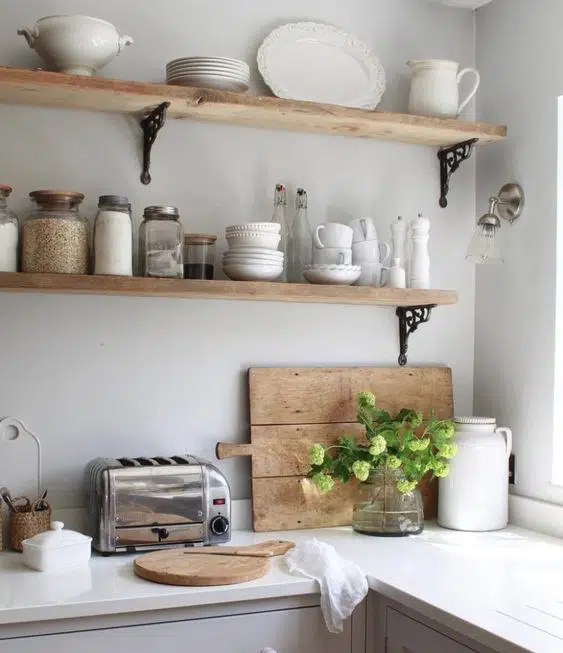 Apart from using crates, you can also use regular wooden planks for a rustic shelf-style hutch. For these, you can either stain old wooden planks or purchase some to give the home a rustic and elegant look. This look is even better when the rest of the kitchen interior is lighter, and there are many other wooden elements.
Another exciting thing about the rustic shelves is that we have seen them as a common design in more modern homes. This goes to show that rustic shelves are not only in old school homes, but new homeowners are also looking into and incorporating them.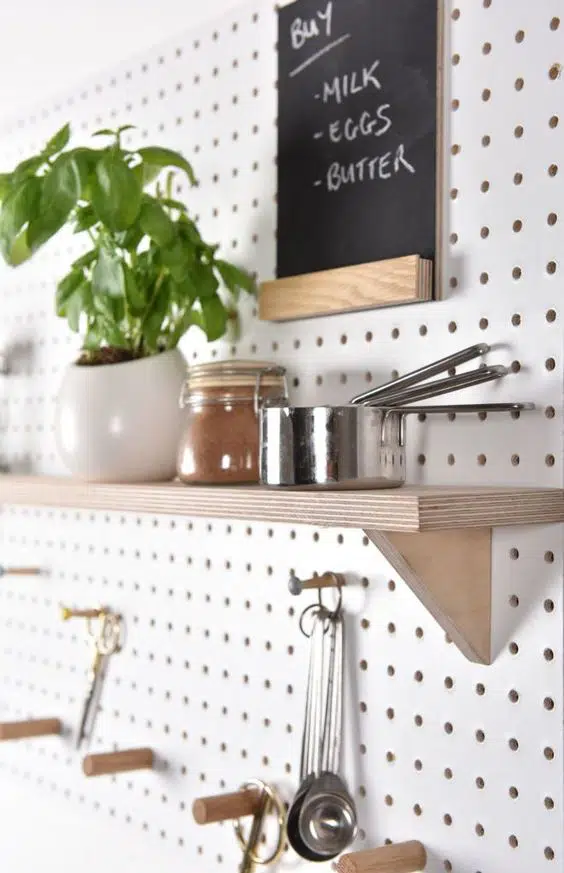 Pegboard shelves are a somewhat new concept, but they are convenient and ideal for people who need more functional aspects in the kitchen. It is not always pleasing to look at, but it is an excellent addition for people who need quick access to cooking utensils. The idea here is to take a pegboard and add shelves or a hutch to it.
These can be of multiple types like metal and even wooden. If you like DIY projects, a wooden pegboard with dowels is beneficial as you can add as many shelves of various sizes. Additionally, we find this type of hutch quite flexible in design. The base of the hutch remains the same while the shelves can be changed, making remodeling the kitchen relatively easy.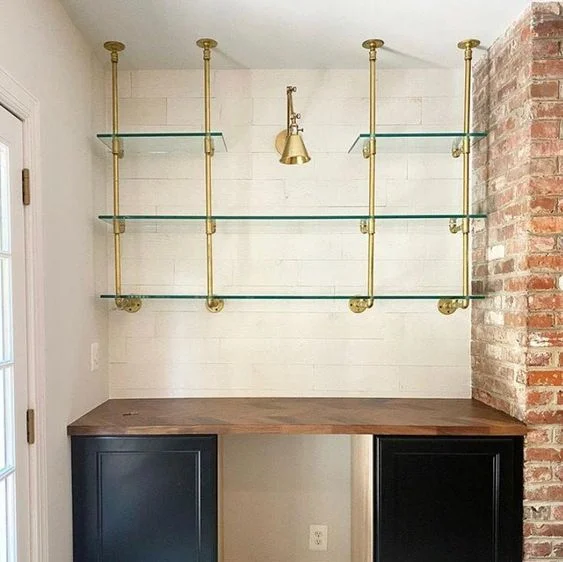 These types are simple yet elegant. Hutches can be challenging to decorate when you have different kinds of pots and pans that might not look good in a cabinet or all-white wooden shelf. This is where brass shelves come into the picture. Since these shelves are so simple in their make, it is easy to blend them into any interior. 
The only thing to be wary about with this kind of hutch is that it can be easy to overcrowd the shelves as they are open with no cabinets. As long as you are mindful of the overcrowding, there is no reason it shouldn't be a part of the kitchen.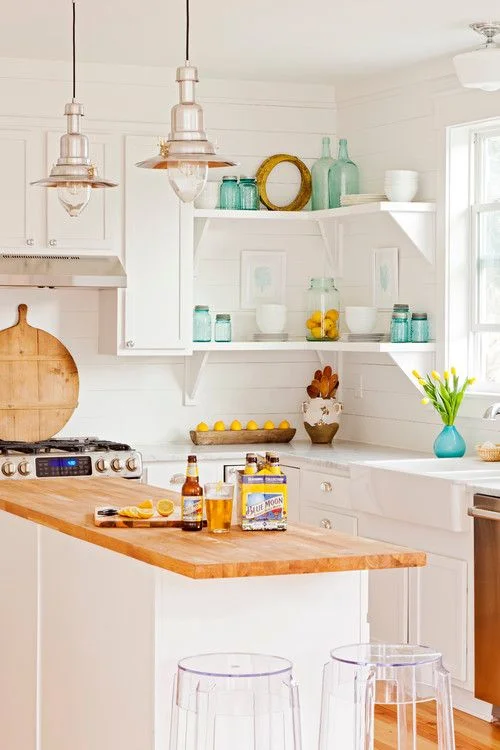 Finally, the best way to maximize space and use every nook and cranny of your kitchen is by adding a shelf in the corners. The space between two cabinets where the walls meet can often be too large and ideal if you need more storage space. Just get a couple of shelves and install them above the kitchen platform to make a makeshift hutch.
Certain homeowners have titled walls that can make the room look sharp, especially the corners. Adding corner shelves to the kitchen can soften the room's look and create a smooth, even look. 
The Need For A Hutch
One of the main reasons people still opt for hutches in the various spaces of the house is to maximize space. There are plenty of enormous hutches, but with the design industry flourishing, there are quite a few hutch designs that are ideal for small spaces. So the first and most important reason to get a hutch is to utilize small spaces.
Secondly, a hutch can be used not just to display the expensive silverware that you get on your wedding day but many more things. This could range from plants to mugs to even old cookbooks. Additionally, a lot of homeowners like utilizing a hutch to display antique ornaments. 
Accentuating Your Hutch 
Back in the day, hutches were used for a particular purpose which is not the case anymore. As we previously mentioned, they can be used to store a lot of other things as well. Even when placed in the kitchen, it does not have to only showcase kitchen utensils and plates. 
When it comes to adding a hutch to the kitchen or any part of the room, it is essential to remember that it becomes the highlight of the room. To modern interiors and bring it out, even more, you can accentuate the way the hutch looks. We have put together some exciting ideas to look into to highlight the hutch in the kitchen.
Creating A Formal Look
If you are planning to go down the formal and traditional route with your hutch, we suggest using it only to store your fine china and expensive cutlery. This can be quite attractive when you have a kitchen with light interiors and a minimal design, as it gives the whole room a delicate look. 
Another way to create a minimal and elegant look to highlight your china would be to use a freestanding cabinet with glass cabinet doors. This type of hutch can efficiently display the china or anything you keep inside. 
Throw It Back – Vintage Style 
Irrespective of whether you have a traditional home or a modern one, adding a blast from the past always brings out the look of the room. Especially when it comes to kitchens, you can easily add a vintage hutch that will accentuate the room, making the hutch a focal point. 
Additionally, it looks even better when you have wooden cabinets. We recommend a freestanding buffet hutch made out of wood to give that old-school look to your kitchen. These hutches are easily found in antique stores or flea markets and can help you recreate a Tudor-style home.
Open Hutches For An Open Look
It is no secret that an open design allows for more light to enter and makes the room look airy and spacious. Open shelves can have a similar effect in the kitchen and also allow easy access to anything stored. If you have an otherwise open kitchen with light-colored interiors, having open shelves can make it look more spacious. 
Another way to utilize open shelves is by having them under the kitchen platform and hidden. This can be done when there is no space on the kitchen walls, but more storage space is needed. Many homeowners like to have some extra hidden storage that ensures the kitchen's look is not affected. 
Putting Mugs On Display 
A lot of people store expensive crockery, pots, and pans in their hutch, but we have another interesting idea. Why not get a hutch that is designed explicitly for mugs? If you have an extensive collection of accent mugs, don't let them sit in some cabinet hidden from the world. Instead, set them up on a hutch as storage and décor.
The good thing about this is that it can be done in any type of hutch – built-in, freestanding, or shelves. You can even go down the rustic path and get a crate-type hutch to store the mugs in. Not only will this give you proper storage, but it gives you even more room since the rack of mugs will have a proper place. 
Plus, as there is a decorative element to this, you have the freedom to get creative with how it looks.
Adding Plants To The Hutch 
Typically, hutches are used to store utility things, but new homeowners are using them for decorative purposes. While the bigger freestanding hutches are still mainly used for plates, glasses, and whatnot, the smaller ones are considered for decorative elements. 
Be it in the kitchen or the living room, if you have a hutch near the window or corner shelves, adding some plants to that hutch adds a pop of color. Here, plants can be added as part of any shelf with other storage items, or you can have a separate frame for plants on the side. 
Lighting Is Key 
One more great way to accentuate the look of the kitchen is by adding proper lighting to the hutch. Since a hutch is usually the kitchen's main attraction, you must add adequate lighting to bring more attention to it. Furthermore, the lights not only make it look good but will allow you to see better as well. 
An interesting thing we have found homeowners do these days is remodeling old cabinets into hutches with proper lighting. Say you have an old cabinet that is not being used, and you do not wish to discard it; it can easily be used to create a modern hutch. All you need to do is use just the shelves in the kitchen or remove the shelves from the cabinet and fit a wine rack in.
Once these elements have been added, install appropriate lighting, and you will have a brand new hutch on your hands. In terms of color options, we have found that light-colored hutches can be well illuminated with warm white lights. On the other hand, darker hutches look better with cool white lights. 
However, this is not set in stone, and it comes down to preference as well. The idea is to make sure you find the perfect balance between décor and lighting. If you have a color preference for the lights, staining the wood to match the lighting is also a viable option. 
Kitchen Hutch Buying Guide
Now that we have covered the different types of hutches and how they can be accentuated, let's move on to buying one. As you probably can tell, there are many different types of hutches, made with other materials and different styles. So, how do you even pick the ideal one? That is precisely what we are here to answer.
Since hutches need to have a balance of functionality and style, it is essential to pick a well-balanced one. Read on below to know some of the important features you must look into when looking for the ideal kitchen hutch.
Size 
This is one of the most important things to look at when buying a hutch. The size of the hutch depends entirely on how much space you have in the kitchen. Since the kitchen is a room where there can be more than one person, there must be a lot of space to walk and move around.
Additionally, every kitchen has a flow. There is a certain order to things when it comes to working in a kitchen. The last thing you need here is to have a massive freestanding hutch getting in the way of things. We recommend measuring out the dimensions of the kitchen before you select a piece.
Furthermore, measure the space you intend to keep the hutch in. The reason you should have both sets of measurements is so that you can discuss what the ideal size should be with professionals. 
Price 
You might have noticed that we have mentioned price time and again in some of our hutch designs. This is because pricing is also a very crucial aspect to take into consideration. At the end of the day, there is no point in buying a hutch that will take away most of your life's savings.
This is why it is crucial to know the different types of hutch designs available as the price differs according to that. As a general rule of thumb, older hutches will automatically cost more because it is more likely to have been handcrafted. That being said, factory-made hutches can also be expensive but never as much as an antique. 
If you want to have an authentic and traditional piece to give a vintage look to the kitchen, then we suggest heading to the flea market. However, a contemporary style hutch will be a much better option if you are working with a smaller budget.
Design 
We may have mentioned this repeatedly, but a hutch tends to become the center of attention in any room. This is why the design of the hutch is so essential. However, the design and style of the hutch must match the interior of the kitchen as well. 
Usually, with a traditional-style kitchen, it can become hard to incorporate modern elements. This is why antique pieces are much better suited in such situations. Similarly, in a contemporary kitchen, an overly old-school hutch can look a bit odd. In such cases, it is much better to have a mission-style or craftsman-style hutch as it has a balance of modern and traditional. 
Let's go into a little more detail about this. 
Built-in vs. Freestanding 
One of the most significant design decisions would be to pick between a built-in hutch and a freestanding hutch. 
When it comes to freestanding hutches, there is a lot of flexibility to move them around and place them. If you are the type to move around a lot, having a freestanding hutch is an excellent investment. It is something that can be taken along while shifting houses or even moved if the house is being renovated. 
Moreover, they are easy to assemble and are usually delivered to the door when buying a new one. But, they can take up a lot of space and can be challenging to carry around without the proper means. And, if you are moving houses, there is no guarantee that it will fit in the new home. 
A built-in hutch design takes a lot of time and planning. Some houses have a set area to create a hutch-like space, but if not, it has to be integrated into the kitchen. We recommend looking into this only if you have a small kitchen with no space for a freestanding model.
It is challenging to get the same kind of flexibility you get with a freestanding model since these designs cannot move around. But, it is ideal to utilize small spaces and create more storage without disrupting the flow of the kitchen.
Shelf Vs. Glass 
This is the next design aspect that you need to look into when buying a hutch. Built-in hut designs are very shelf forwards so that you will notice a ton of shelves – on the side, between cabinets, and sometimes, under the platform. While, on the other hand, glass cabinets are very prominent in freestanding hutch designs. 
Now, the main thing here is to ascertain what the hutch is being used for. We suggest opting for shelves if you need the stored items to be easily accessible. If you want a hutch to store pots, pans, or even decorative items, shelves are a much better option. However, be wary that these items are likely to collect dust, so don't store anything that requires high maintenance.
On the other hand, fine china, antiques, or anything expensive should be stored in glass cabinets. This is because it is much easier to have valuables in glass cabinets in terms of general maintenance. This prevents it from collecting dust and also reduces the chances of breakage. 
Decor vs. Function 
Ultimately, it all comes down to whether you want a practical hutch or one to show off a few collectibles. The type of hutch is mainly dependent on the functionality. That being said, practical hutches can be used for decor, but the more practical they are, the bigger they tend to be.
If you are looking for a hutch to store many items, be it crockery, utensils, or decorative items, opt for one with ample storage options. Ideally, a hutch like that will have a ton of drawers, cabinets, and shelves. The purpose of the hutch will be to keep as many items on it as possible, and the design will ensure it is accessible to all. 
Many homeowners like to store valuables in hutches for their guests to see, and if that idea appeals to you, then the design will be different. Most decor-based hutches are smaller and have glass mirrors, cabinet doors, and lighting to highlight the ornaments. On the other hand, a hutch that is solely for decor purposes will be smaller and more delicate.
Additional Features 
Since hutches are evolving, the design and display options are changing as well. No rule says practical hutches cannot have attractive features. That is why you will notice many hutch designs having similar elements – glass, hanging racks, side shelves for plants, etc. 
We have found that having a mirrored back in a hutch gives the illusion of the hutch being more spacious. In addition, having little lights incorporated into the design also accentuates the look. 
At the end of the day, it all comes down to how you would like to bring attention to the hutch in the kitchen. 
Kitchen Hutch Ideas FAQs
What can be displayed in a kitchen hutch?
Back when hutches were necessary, people used to store pots, pans, and other cooking utensils in them. But now, since things have changed, modern homeowners can store all sorts of items. This is partially depending on where it is placed as well.
If you keep the hutch in the kitchen, it can still be used to display pots and pans, etc. However, when it is in the living room, it can be used to display decorative items, valuable ornaments, and even used to keep plants. Additionally, a lot of people use it to display family photos over various generations.
Should I use a glass cabinet for food storage?
A pantry is not something everyone has in the house, so food storage can easily be done in a hutch. If you have a buffet with a glass cabinet and some shelves, dry food like rice, cereals, and so on can be put on display. A lot of people even use one shelf of a hutch as a spice rack.
The only thing to remember here is that this is only ideal when the hutch has a glass cabinet. Storing these items in an opaque cabinet will only increase your work. This is because you will have to open and shut the cabinet every time to check if an item is there.
That is why it is much easier to use a hutch as food storage when it has a glass cabinet.
Can I store beverages in a hutch?
Modern and antique ones are ideal if you want a new bar, especially when it is a buffet-style hutch. This is because it can not only store beverages but also the glasses needed for the same beverages.
A lot of modern hutch designs have wine racks integrated into them, which makes them much more manageable. However, if you are looking to turn your hutch into a bar, we suggest adding a few extra shelves. This can specifically be done in the corners to extend the hutch if there isn't enough space for bottles.
Ideally, drinks that do not need to be served cold are best kept in the hutch, such as wine and spirits.
What is the ideal place for a hutch?
A hutch, although traditionally used in a kitchen, can now be placed anywhere. The main thing to remember is the purpose of the hutch and what you intend to store in it. Be it a freestanding, built-in, or shelf hutch, all of these can be incorporated in a room with ample space.
If you want the hutch to store kitchen items you need every day, we suggest keeping it in the kitchen. Keeping it outside in the living room can be impractical and will break the flow as you cook. For décor and display-only purposes, the hutches are better off in the living or dining room, where they can be a focal point for the guests to see.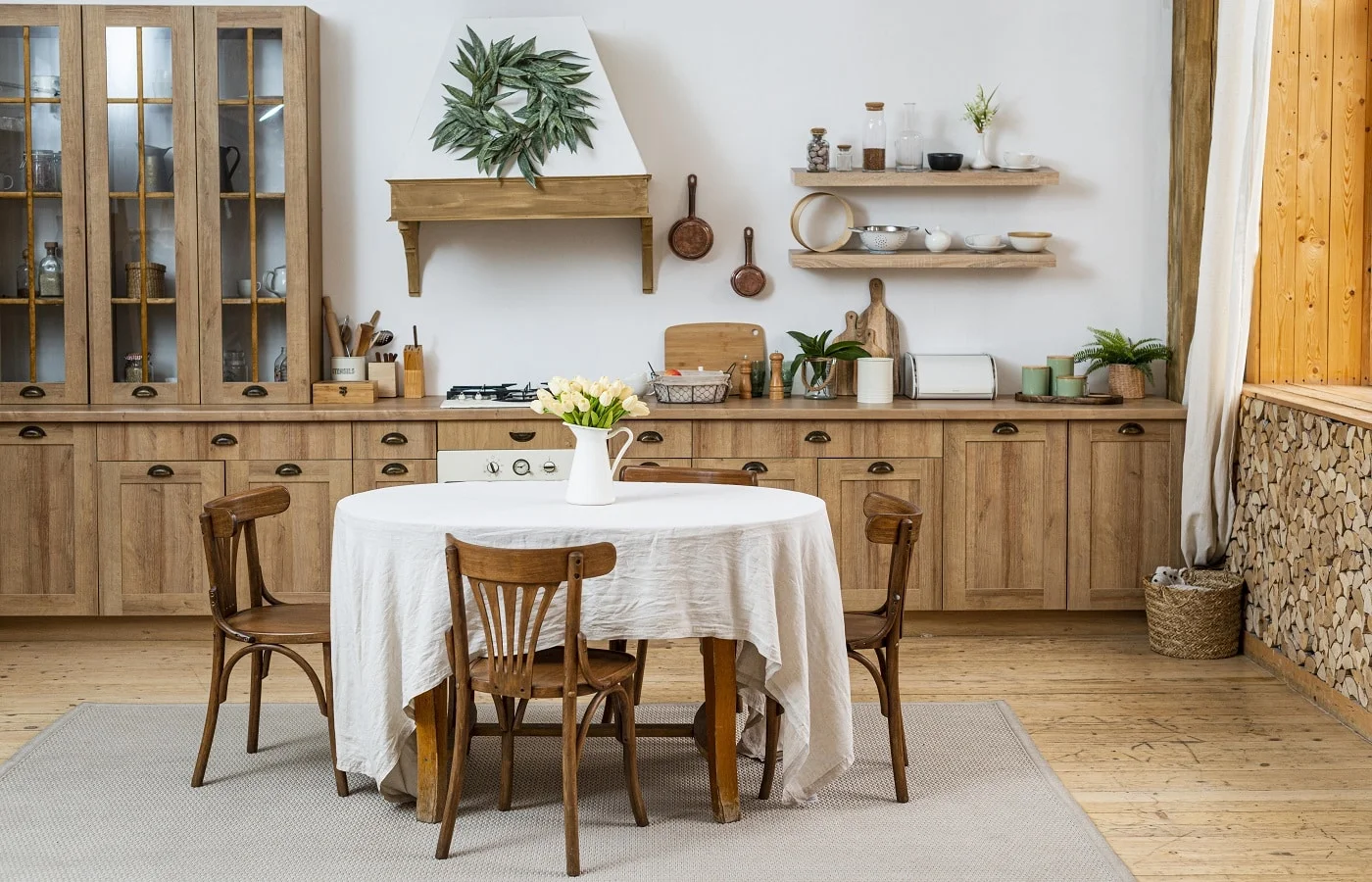 Final Words
And there you have it, a comprehensive guide on 12 kitchen hutch ideas. We hope this has been informative and can help you through the selecting and buying process. 
Before we go, we would like to order one last piece of advice. Buying a new hutch is an easy path, but it can end up costing a lot. We would recommend looking into purchasing a second-hand hutch and renovating it. This is ideal for people working on a budget who want an attractive display and storage cabinet.
On that note, we shall now sign off. But we will be back with many more such guides. In the meanwhile, let us know which of these ideas stood out for you the most.
See you next time!
Related Articles
11 Ideas for Basement Kitchens and Kitchenettes
9 Best Finish for Kitchen Table
Top Ways To Jazz Up Your Kitchen With Brass