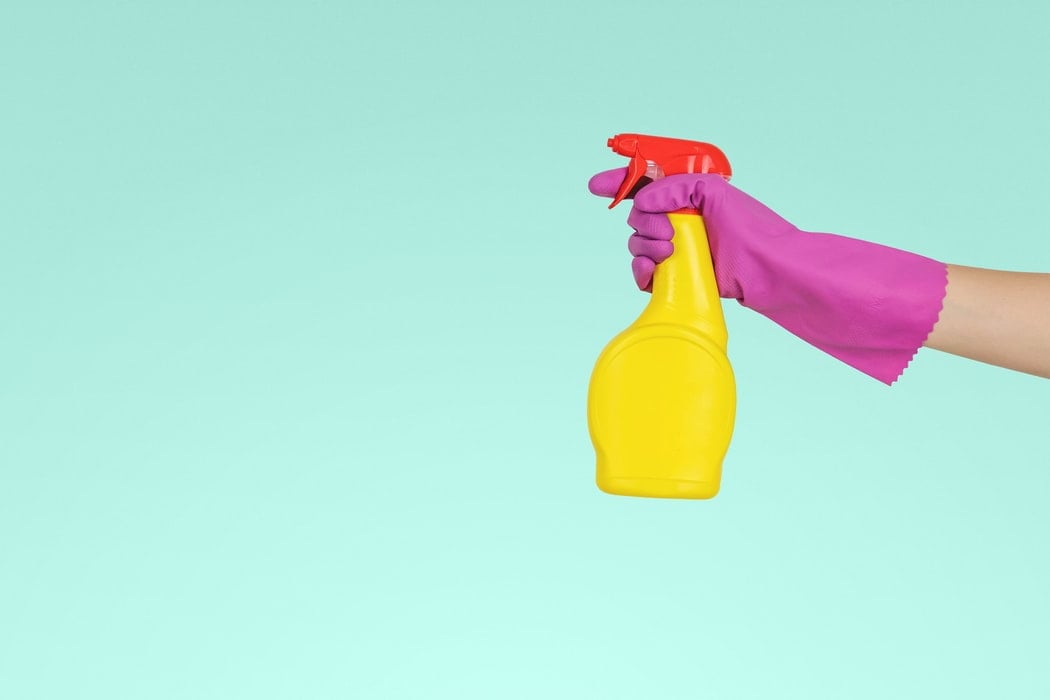 When you are a home cook, your responsibility doesn't end with the preparation of food. Keeping the kitchen neat and clean is also part of this unpaid and permanent job. And if cooking is that fulfilling process where you can display your culinary magic, then kitchen cleaning is an entirely different ballgame—a game the majority of homeowners hates to play.
People are petrified of kitchen cleaning because cooking leaves its stubborn imprints everywhere in the kitchen in the form of food soils, oil, and grease. Whether it's stovetop, range hood, sink, countertops, and utensils, you have to have a deal with those tough and often water-insoluble stains constantly. On top of that, regular cleaners mostly render useless in providing the absolute cleaning you are looking for.
Meanwhile, the use of strong chemicals and bleaches also comes at a tradeoff. They can certainly give you the desired cleaning results but they come at the cost of the faded and worn-out appearance of kitchen structures and appliances.
It seems like there is no win-win situation with kitchen cleaning, right?
But there is one.
Kitchen degreaser is a cleaning formula that can get you out of that tight spot. It lets you get rid of the grease and grime buildup in the kitchen without breaking a sweat. You are not required to rigorously and endlessly rub the countertops and stovetops with scourers while using kitchen degreasers. Its proactive formula does that work for you. Moreover, it doesn't wear down the surfaces it is applied on.
Best Kitchen Degreasers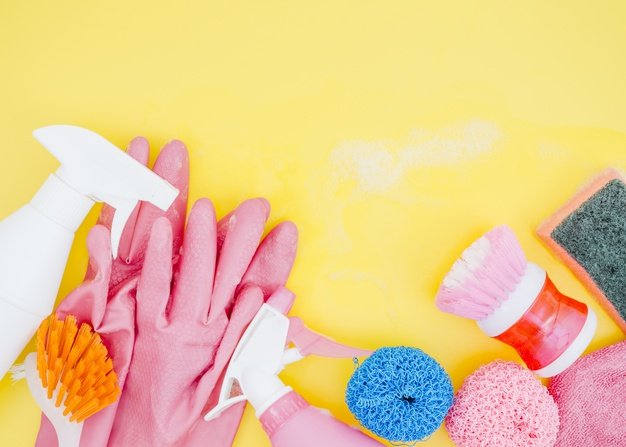 No products found.
Highlights
An eco-friendly water-based and biodegradable formula
Extremely good against tough stains as well
Can work on a variety of material surfaces
A 30-minute cleaning mechanism even on toughest grease and slime buildups
Krud Kutter KK012 has ended up on our list for various reasons. To begin with, it is a non-toxic biodegradable formula that doesn't leave a strange odor and fumes after the cleaning. Then its formula is equally ideal for all sorts of kitchen appliances. Whether it is stone counters or wooden cabinets or your delicate dinnerware, you can use Krud Kutter KK012 to get rid of all types of grease and oil films from different surfaces.
It is equally good on tile floors and both ceramic and metallic sinks. In short, Krud Kutter KK012 is a complete grease-cleaning solution for your entire kitchen. Apart from being an ace degreaser product, it is an equally good cleaner for many other types of stains and spots as well.
For instance, you can also use it against the soap scum that has built up over time in your bathroom. Similarly, many everyday stains such as paint spots on floors and walls, adhesive marks and different pigmented blemishes can also be cleaned away with Krud Kutter KK012.  It is even effective against thick sooth builds up around chimney and other heating vents.
Apart from being an eco-friendly biodegradable formula, it is also compliant with EPA's safe product standards. Krud Kutter is an effective and environment-friendly kitchen cleaning solution. The product was available on Amazon with a customer rating of 4.3 stars.
Krud Kutter KK012 is currently unavailable on Amazon, but you can buy it from Walmart.  
Pros
Packaged in an easy-to-use spray bottle

A degreaser that is also a stain remover

Cleaning application goes beyond the kitchen

Can be used on delicate and expensive kitchen items as well 
Cons
Doesn't offer the same high-quality cleaning results on concrete surfaces 
Highlights
A surfactant-containing biodegradable formula

Cuts through both solid grime on the kitchen surface and old stains on delicate fabric

Amazon's Choice product in the category "grease cleaner kitchen"
Grease Relief All Purpose Degreaser and cleaner is definitely an all-around cleaning solution. If your laundry detergent has finished and you are not in the mood to go to the store just to buy that one product, then use Grease Relief Kitchen degreaser in its place. It will give you the cleaning results that you expect from any fabric cleaning agent.
Our experts have used it to get rid of food and beverage stains from delicate fabric such as chiffon and silk and they have got the required results. The reason why Grease Relief is equally good on fabric is its formula. It contains surfactants that don't rip through stains like phosphate-based bleach cleaners. They react with them to disperse them.
In the kitchen, it is good against all sorts of grease and slime buildups. You can also use it to wash your dinnerware. However, one needs to exercise some caution while using the degreaser for everyday cleaning. If you have to use the degreaser on dinnerware and cutlery or thin oily layers, then put half a cup of the degreaser solution in one gallon of water, shake this solution gently. And use it in a spray bottle for day-to-day cleaning.
There is one area where Grease Relief Kitchen Degreaser might not give you that hassle-free experience i.e. burnt food stains. You have to put some considerable manual labor with a scourer on burnt stains to make the application of the degreaser effective.
Nonetheless, customers love this all-purpose kitchen degreaser and the tag of Amazon's Choice clearly gives it away.
Pros
A skin-friendly formula

Equally good against grease and stains

Can be used as makeshift laundry cleaner

A watered-down mixture can be used for everyday kitchen cleaning 
Cons
Doesn't have the same cleaning action against burnt food stains 
Highlights
A non-toxic formula with industrial-grade cleaning results

Also works for the surface cleaning of mechanical and electrical appliances

Offers better result when used with watered down vinegar
Spray Nine 26832 Heavy Duty Degreaser is not just your regular cleaner. It is also a great sanitizer. With this industrial degreaser, you are not just getting rid of all the grease layers from the stove hood and counters, but you are also disinfecting them. Its formula kills all the harmful bacteria and viruses on the surface in the first 45 seconds of the application. And 15 minutes after the application, you can wipe off all the broken down grease and gunk with a single mopping flick.
Spray Nine Kitchen Degrease is also a formula that you can use in many different household cleaning purposes. Whether it is soap scum and stains in and around the bathtub and bathroom tiles or dry stains on clothes or soot and smoke marks on walls, you can deal with them through Spray Nine Cleaner/Degreaser. While using it against thing grease buildups or delicate items, it's better to water down the formula to rule out any unwanted consequence.
While offering its cleaning action on a range of materials like ceramic, metal, stones, vinyl, plastic, concrete and rubber, this heavy duty degreaser is not made for timber surfaces. So, if you have to deal with grease problem on a wooden kitchen cabinet, use some other degreaser formula. Moreover, its extensive use can also result in producing a strong chemical odor.
Otherwise, Nine Spray Cleaner/Degreaser is a complete cleaning and disinfection formula that doesn't just clean any surface but also deodorize it.  
Pros
Its bacteria-killing formula prevents mold and mildew growth

Instant disinfection and cleaning action

Equally good for laundry and general cleaning

A biodegradable formula 
Cons
Give off strong chemical smell after the application

Doesn't work on wooden surfaces 
Highlights
A biodegradable and phosphate-free cleaning formula

Exhibits cleaning versatility in different concentrations

Equally good against dirt and grime buildups
SuperClean Multi-Surface Cleaner Degreaser is also an industrial-grade, non-toxic cleaning formula that can virtually sort out all your cleaning woes. From the grease buildups under the hood of your car to the oil slime on the BBQ grills and coffee stains on light fabrics, you can count on SuperClean to deal with all these varied stains and buildups.
If you are looking for an all-around cleaning and degreasing agent for home use, then there are not many options better than SuperClean Multi-Surface Cleaner. However, you need to use it in the right ratios to make the most of its all-purpose attributes.
For instance, if you are dealing with the grease removal from the auto parts, drain pipes, garbage disposals, BBQ grills or concrete surfaces, then use SuperClean cleaner undiluted and with its full strength.
For carpet cleaning and general grease buildups in the kitchen on stove hood, exhaust fans, and counters, dilute one part of the cleaner with three parts of water. The same ratio will give good results on fiberglass accessories and plastic furniture.
And if you are looking to use the cleaner in the interior of the car (seats, dashboards, and other upholstery) then dilute the mixture further i.e. use one part of SuperClean Cleaner with eight parts of water. You can also use the same mixture to get rid of thick grease from pots and pans and also the stains in the bathtub.
For laundry, porcelain and woodwork items dilute one part of degreaser formula with 16 parts of water. In short, SuperClean Cleaner can be used for all cleaning purpose in different concentrations. 
Pros
A gentle, non-toxic but strong industry-grade cleaning formula

Good for all surfaces, materials, and appliances

A great option as a car cleaning agent 
Cons
You can't use it in the same concentration for all cleaning purposes

Give underwhelming cleaning results on some metallic surfaces 
Highlights
An odorless, biodegradable formula

Offers bulk cleaning with a watered-down mixture

Amazon's Choice product
Stanley Home Products has been around for nearly 90 years offering quality household products of everyday use. Their degreaser was also probably the first industry-grade cleaning solution for residential users. This is the reason why Stanley has now titled it as an Original Degreaser. This concentrated and high-strength degreaser formula is ideal for all sorts of cleanings and on all sorts of surfaces.
From a stove hood to a golf club, everything is cleanable with Stanley Original Degrease. Its instant-action formula is ideal for all the tough and stubborn dirt and grease buildups and stains. Apply the Stanley Original Degrease and give it 15 minutes and you will find out its preeminence over other cleaners.
No matter how old or badly infested a grease or stain surface is, its surfactant-based formula will get rid of all the unwanted substance in this prescribed timeframe. In some cases, like with an old grease buildup, you might also need to rub the surface a little. But in the end, you will get the all brand-new shining surfaces.
The best thing about Original Degreaser is that its cleaning action is not just confined to hard-surface cleaning. You can also use it for carpet and upholstery cleaning.
Now, come at the USP of this product and we think that's the reason Stanley Original has been continuously outshining its competitors. It's an extremely cost-friendly cleaning solution for your household needs. From a single 32-ounce bottle of Original Degreaser, you can actually make 32 ounces of degreasing solution. Stanley Original Degreaser is hard on stains and grease but easy on the pocket.
Stanley Original Degreaser is an Amazon's Choice product and enjoys the impressive 4.7-stars customer rating!
Pros
Kitchen Degreaser, laundry stain remover, and engine cleaner—all in one

An eco-friendly formula

Most economical degreasing solution in the market 
Cons
Might struggle against thick grease surfaces 
Highlights
Industrial-grade degreasing formula

Can be diluted for bulk use

Works on nearly all hard surfaces
Zep Commercial Cleaner and Degreaser has the effective biodegradable degreasing formula but with the dash of citrus. Not only does this add-on amplify the cleaning prowess of the solution, but it also gives it a fresh and revitalizing smell. Zep Cleaner and Degreaser is one of those cleaning solutions that are ideal for both professional and residential use.
Whether you are dealing with oil and grease buildup on large machinery in a loom or trying to get rid of the slime from your stovetop, Zep Cleaner and Degreaser will give evenly effective results. There are really few cleaning products that are equally in demand in these two different consumer markets.
If we particularly talk about its home use, then we can't think of a cleaning commitment that this degreaser can't fulfill. If you are looking to get rid of latex oil paint stain from your floorboards, use Zep commercial. Or want to service your engine' exterior to clean it from all the dirt and grime, make a mix of the Degreaser with water and use it.
Similarly, you can use it on floors, carpets, BBQ grills and every other home accessory that you need to clean for dirt, dust, and grime.  You can also make gallons of everyday cleaning solution from a single bottle of Zep Commercial Cleaner and Degreaser.
While using it in full strength and concentration, practice some diligence. For example, if you are using it on timber surfaces then don't leave the solution for more than 30 minutes or else you may have to bear with a permanently stained surface. 
Pros
An industrial degreaser with the equally effective application for home use

Works while giving off a fresh citrusy smell

Works on all hard surfaces 
Cons
Not suitable for fabric stain removal

Damage the kitchen finish if left uncleaned for more than 30 minutes 
Highlights
A non-toxic formula

Comes with a child-safety lid

Amazon's Choice product
Many products are able to lure customers by their packaging and this Citra Solv degreaser is one of those products. Earlier, it came in a can, but now it is packaged in a sleek and handy transparent bottle.  The shimmering golden color of the solution emitting out of the bottle makes this new packaging more attractive.
But that's not just it. If Citra Solv has worked to improve the packaging, then it has also ensured that the degreasing formula of its product is as good as any other similar product available in the market.  Citra Solv Degreaser can work against all sorts of grime, grease and dust buildups and on every surface.
From your patio to the furniture and kitchen to car, Citra Solve Natural Degreaser is ideal for all sorts of cleaning jobs. And besides dirt and grease, you can also use it against chewing gum, ink, pet stains and lipstick stains.
Like any other high-quality degreaser, Citra Solv Natural Cleaner & Degreaser can also be watered down for bulk cleaning and delicate fabric stains. You can make four gallons of cleaning solution from a single 32-ounce bottle.
As a kitchen cleaner and degreaser, we think this Citra Solv product also stays ahead due to its pleasant smell. The manufacturer has specially added Valencia Orange essential oil to the solution for that. After removing all the grease from the stove hood and counters, Citra Solve Natural Degreaser leaves your kitchen with a fresh citrus smell.
Due to the latest improvements by the manufacturer, Citra Solv now enjoys the tag of Amazon's Choice. Rating of 4.6 stars also shows its popularity among the consumers. 
Pros
Concentrated formula ensures extended budget-friendly use

Essential oil in the degreaser leaves a pleasant smell after the cleaning

Works on all sorts of materials 
Cons
Not packaged in a spray bottle

Might not give similar results on large and old grease buildups 
Highlights
One-step cleaning solution

Cleaning involves no damp leftovers

Keeps the finish of glass and timber appliances intact
If you are particularly looking for an ultimate cleaning solution for all the grease and baked-on food buildups on your kitchen, then here is the product that you need: Goo Gone Kitchen Degreaser. We know that the name of this degrease product sounds a bit comical. But we are also aware that when it comes to grease removal this product means business in equal measures.
Goo Gone Kitchen Degreaser comes in an ergonomic spray bottle so that you can directly apply it on the stovetop, hood, exhaust fan, and kitchen counters. Here, you are not required to take care or to set the ratio of the concentrated chemical formula with water. The manufacturer has set the formula that has built-in effectiveness against kitchen grimes and baked-on buildups.
The other good thing about Goo Gone Kitchen Degreaser is its use is surprisingly unmessy in comparison to all the other degreasers that we have discussed. The trigger of the bottle sprays the powerful foam that doesn't need any rubbing and scrubbing. Also, you are not required to soak the grease buildups in the solution. A single spurt of the heavy duty degreaser is enough to break down the stubborn grease and grime patches.
In short, you don't need any elbow grease with the use of Goo Gone Kitchen Degreaser.  
Pros
A biodegradable formula makes it safe to use on food-grade material

Comes in a handy spray bottle for instant use

Equally effective on ceramic, wooden, metal and tile finishes 
Cons
Not ideal for heavy grease buildups in drain pipes dishwasher

Doesn't work well for bulk cleaning 
Highlights
Pet-friendly cleaning formula

Comes in a handy spray bottle

Can be used as an all-purpose cleaning agent

Free of harsh chemicals
This kitchen degreaser is quite different from the earlier reviewed product of Krud Kutter. Krud Kutter 305373 is a handy kitchen cleaner and degreaser that come in a spray bottle for instant application. Like the Goo Gone formula, it also comprises of the chemical concentration that gives effective grease removal results with the direct application.
Apart from taking care of all the baked-on and grease buildups on range hoods, countertops, and dinnerware, you can also use it outside of the kitchen. For instance, clean your plastic and wooden furniture with it. You can also try the degreaser on your car accessories and other home items.
We are calling for this non-kitchen use of Krud Kutter 305373 because of its non-toxic formula. There are no ammonia, phosphate, bleach and other harsh chemicals present in this Krud Kutter Degreaser.  So, you don't have to worry about any sort of fading and discoloration with its application on any hard surface. Nonetheless, we won't recommend its use on delicate fabrics.
Krud Kutter is also a good kitchen degreaser because its non-toxic formula is entirely harmless for the cleaning of food preparation surfaces. The compliance with EPA safer products standards also guarantees that you are using an eco-friendly product.
Krud Kutter 305373 is quite popular among homeowners looking for instant grease cleaner!
Pros
Non-toxic formula is harmless for food preparation surfaces

Safe for pets

Offers similar degreasing results on multiple materials

Non-kitchen use is also possible

Ensures odorless cleaning mechanism

The absence of harsh chemicals ensure discoloration prevention 
Cons
Not suitable to be used on varnished tops

Not insulated

Not ideal for hard and extensive degreasing work
Sale
Highlights
More than a kitchen degreaser

Comes in a gallon and a quart packaging

A good solution for floor mopping
This is the second Zep Degreaser that has ended up on our list of the best kitchen greasers. There are many reasons why we are calling it one of the best degreaser available on the market right now. To begin with, it is a formula that is equally good for commercial and residential applications. Zep has also taken care of this versatile use in the packaging of the degreaser.
For homeowners, Zep Fast 505 Cleaner and Degreaser is available in a 1-quart spray bottle. Meanwhile, commercial users can procure it in a 1-gallon package. To be effective in all different settings, Zep Fast 505 Cleaner and Degreaser offers degreasing solution on all sorts of surfaces.
Whether it's the wooden countertop of a kitchen or a heavy metallic workstation of a mill, Zep Fast 505 Cleaner can get rid of all the dirt, grime, and slime with a single application. Apart from getting rid of oil and water-insoluble buildups, you can also use it for general cleaning and mopping. If your kitchen sees a lot of frying all the time, then we would recommend you to use the diluted form of Fast 505 Cleaner to mop the floor to sort out all the out of sight oil splatters.
Some degreasers are not good for using on wooden surfaces (e.g. Krud Kutter). But that's not the case with Zep Fast 505 Cleaner and Degreaser, you can use it to free the wooden and timber finishes from grime without worrying about their discoloration. 
Pros
A simple spray and wipe formula ensures hassle-free cleaning

Can work on multiple surfaces including wood

Also comes in a gallon for professional use 
Cons
Not a skin-friendly formula

Not suitable for fabrics 
Highlights
A patented PoweGreen formula

Contains lemongrass extracts for a better and pleasant cleaning

Instant action takes care of all buildups and stain in less than five minutes
Method is a company that is known for offering organic home products. As expected, its kitchen degreaser is also a naturally derived cleaning solution that contains the nectars of lemongrass and citronella. These natural ingredients don't just make this Method Degreaser non-toxic, but they also help in providing an effective grease cleaning solution that just leaves a pleasant smell behind.
Method Naturally Derived Degreaser also comes in a spray bottle. The idea of this handy packaging is to give you an instant solution against grease buildups and burnt-on and baked-on surfaces. Yes, you can also use Method Kitchen Degreaser against baked-on and burnt-on food stains.
While regular grease splatters can be sorted with simple spray-and-wipe action for burnt-on stubborn stains, you need to change your strategy a little bit. Spray the heavy duty degreaser liquid on the burnt-on surface and let the chemicals of the degreaser do the talking for 3-5 minutes. After that, scrub it with gentle hands to see how those burnt-on spots completely vanish.
From stove gratings to range hoods and countertops, you can use the Method Natural Degreaser on every kitchen appliance and surface. However, refrain from using this degreasing solution if you are dealing with glass, ceramic, aluminum and marble surfaces. 
Pros
A plant-based organic and eco-friendly formula

Safe of cleaning dinnerware and utensils

One-step action against grease splatters 
Cons
Not manufactured to be used on ceramic, glass and aluminum surfaces

Can't be used for general cleaning 
Highlights
A non-inflammable and non-toxic formula

Designed for all sorts of cleaning purposes

Comes in an easy-to-use spray bottle
The vanity-filled name of the manufacturer (LA's Totally Awesome) has no bearing on the degreasing product that it offers.  LA's Totally Awesome All Purpose Concentrated Cleaner is surely an all-around cleaning solution. Its 32-ounce spray bottle contains a magic potion that can get rid of grease and also the tough stains from clothes. Then you can also use it on furniture and in a car interior.
Some kitchen degreasers contain some inflammable elements and therefore they are not prescribed for cleaning stovetops and grates. Such is not the case with LA's Totally Awesome Degreaser. Its non-inflammable formula is also free of ammonia, acids, phosphates, and bleach.
In short, it is one of the safest degrease on the block. You can use it on food-prep surfaces and also in areas where pets are present. And one thing more, if you are trying to remove a pet stain from the carpet, use this pet-friendly cleaner and degreaser.
The absolute absence of toxic and harsh chemicals also makes it an ideal cleaning agent for septic tanks. This all-purpose cleaner is also skin-friendly. Even in its concentrated form, it doesn't cause any reactions and rashes on the skin. So, you can use this solution in the laundry, in the kitchen and in your car or any part of the house without wearing gloves.
You can also dilute it with water to make an effective everyday cleaning agent.  
Pros
Non-inflammable formula ideal for cleaning stove grates

A non-toxic pet-friendly mixture

No harsh chemicals used, skin-friendly

Can be used on all surfaces 
Cons
Can't be used as a bleaching agent in kitchen drain and bathroom
Highlights
A non-corrosive cleaning formula

Equally good for industrial and residential use

Offers cost-effective bulk cleaning

Can be used on all materials and surfaces
Simple Green Pro HD Heavy Duty Cleaner is exactly what is described in its title. It is a simple cleaning and degreasing formula for all heavy-duty cleaning purposes. It comes in a one-gallon bottle that some users might find inconvenient when there are a variety of easy-to-use spray degreasers are available in the market. However, all those users who are looking for cost-effective and bulk cleaning, this bottle size is perfect.
The best thing and the USP of Simple Green Pro HD Heavy Duty Cleaner is its non-corrosive cleaning formula. For that reason, it can also be used for cleaning and degreasing even in the internal parts of the machinery. Its metal-friendly action makes it one of the most sought-after cleaners in industrial settings.
Moreover, it has an instant cleaning mechanism and action against water-insoluble substances, making it an equally good degreaser in residential spaces. Get a gallon of Simple Green Pro Heavy Duty Cleaner, dilute it with water and take care of all the grease splatters and baked-on buildups for months. Its non-corrosive and non-abrasive cleaning action also guarantees effective cleaning and degreasing of many other home appliances. 
Pros
Industrial degreaser cleaner that is equally good for home degreasing

Can be diluted for bulk cleaning

Provides odorless cleaning 
Cons
Only comes in bulk packaging

Not great on fresh oil stains 
Highlights
A threefold-action cleaning formula

Can be diluted for bulk cleaning

Ideal for kitchenware cleaning and degreasing
Weiman is not promoting its degreasing product as an all-purpose and all-rounder. Instead, it firmly claims the niche market of gas range and cooking top cleaner. But the truth of the matter is the use of Weiman Cleaner and Degreaser is not just limited to kitchenware. You can also use it to clean your bathroom or any surface that is made of metal, fiberglass, tiles, and ceramic. Similarly, it is marketed as a degreaser product, but that's not what this Weiman product is all about.
From rust to dirt and water-insoluble residues, you can use it against a range of other unwanted substances. You can also use it on a cloth after diluting it with water. Weiman Gas Range Cleaner and Degreaser Comes in an easy-to-use spray bottle so you can directly apply it on the range hood and stove grates. Being a specialized cleaning solution for range top, it gives astonishing and quick results against burnt marks as well.
The unique thing about Weiman Cleaner and Degreaser is its threefold action. It cleans the surface, gives it sheen and protects it from immediate dirt and dust buildup. The non-abrasive formula of the product also ensures that your kitchen appliances or other expensive finished surfaces don't experience any fading or discoloration. 
Pros
Comes in an easy-to-use spray bottle for direct application

A specialize range top cleaner that is equally good for other cleaning tasks

Carries out cleaning, shining and protection in a single application 
Cons
In some instances, elbow greasing is required to get rid of stains and buildups 
Highlights
An all-natural formula

Comes in an easy-to-use spray bottle

Amazon's Choice product
If you are one of those people who strongly believe in offsetting your impact on the environment and strive for cruelty-free products, then get Grab Green Natural Power Degreaser Cleaner as your kitchen degreaser. The product is sourced from natural compounds and free of industrial preparations. Moreover, the pre-marketing trials of the product don't involve any animal testing. So, it is also a cruelty-free product.
Grab Green Natural Power Degreaser is completely free of all those synthetic elements that don't just take their toll on the environment but can also cause direct harm. The degreasing formula of Grab Green is completely free of phosphates, dyes, solvents, masking agents and parabens. This ensures a harmless and non-toxic cleaning action that also remains pet-friendly.
It is important to mention here that while keeping its product eco-friendly and organic, Grab Green hasn't compromised on the functionality of Natural Power Degreaser Cleaner. It is as good as any other quality degreaser available in the market right now. Its quick cleaning action complemented with an easy-to-use spray bottle makes for hassle-free degreasing.
Just spray the liquid on the surface and wipe it off with a paper towel and there you are with a clean grease-free surface. In some instance, where you are dealing with baked-on greases and brunt spots, you have to keep the solution in place for some time to get better results.
Grab Green Natural Power Degreaser has earned the tag of Amazon's Choice product in the category "non-toxic oven cleaner".  
Pros
Equally good on granite and stone surfaces

Added with essential oils to give off natural scents of thyme and fig leaves

Free of toxic and harsh chemicals 
Cons
Not good for extensive degreasing work, drains, dishwashers, etc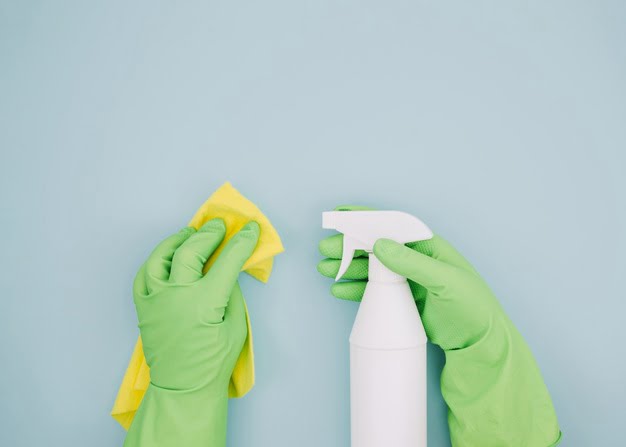 Best Kitchen Degreaser Buying Guide 
A good kitchen degreaser is more than just a cleaning solution. You might have got this from the above reviews that any good quality product doesn't just cut through the grease buildups on kitchen appliances. 
What Is a Kitchen Degreaser?
A kitchen degreaser is an alkaline hydrocarbon solvent (mostly xylene and kerosene) that can dissolve water-insoluble substances such as oil, grease, and grime. The absence of acidity from its formula ensures that your kitchen surfaces don't get fading and discoloration as an unwanted consequence of grease cleaning.
Importance of Kitchen Greasers
Even if you are good with the everyday cleaning of your kitchen, you can't do anything of the oily, greasy layer that gradually builds up over different kitchen surfaces. If your kitchen is a buzzing spot for fried food, then this layer turns up in lesser time.
This oily, slimy feel throughout the kitchen taints the cooking experience. And not just that, this buildup also infests the space with an odd odor that is felt quite strong when you enter the kitchen for the first time in the morning.
A good quality degreaser helps you in making your kitchen a lot better working space. You can't have that grease and grime sorted with your everyday cleaners. In short, with all the frying, baking and stove cooking that is happening in the kitchen, you will need a degreaser to ensure better cleaning regimen.
To make it easy for you to buy the right product, we are going to review 15 of the best kitchen degreasers that are available in the market right now. The numbering here doesn't indicate any ranking or preference. It is just done for better readability.
So, there are some other characteristics as well that you should factor in while buying a kitchen degreaser to get the product best suited for your personalized use. It is needless to say that the cleaning and degreasing prowess of a kitchen degreaser will remain at the forefront and will always override the characteristics that we are going to discuss.
Versatility | A Special or an All-Purpose 
The above review section has made it quite clear how versatile a degreaser product can be. There are many products that you can use against grease, stains, and other dirt buildups and on all type of materials and surfaces. Then, there are some products that don't work on glass and wooden surfaces. Similarly, some products are too harsh for fabric cleaning.
Even though a more versatile degreaser can save you some bucks, but it might turn out to be the manifestation of the adage "jack of all trades, master of none". If you are looking for just a degreaser solution, then buy a product that is exclusively designed for this purpose.
And even if you are going for an all-purpose and versatile degreaser, don't make an impulsive decision just by factoring in the price. Look at the manufacturer and the market reputation of the product instead. You can pick any of the all-purpose products from the above because we have only included the best of the best.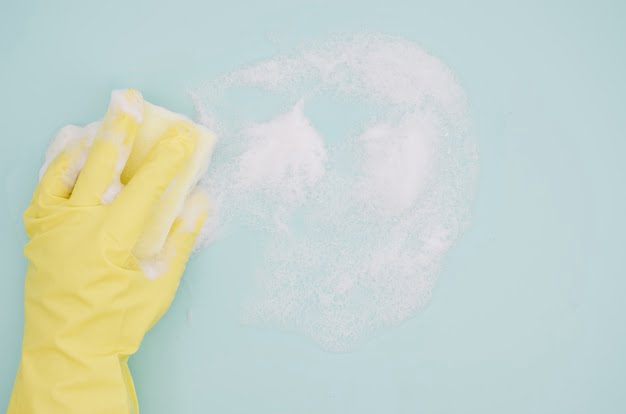 Odorless or Scented Ones
The majority of heavy-duty degreasers made for bulk cleaning usually give off a chemical smell after their use. That's a trade-off you have to make to keep your extensive cleaning low-cost. On the other hand, small handy spray bottles come with added scents and essential oils give a pleasant finishing touch to your degreasing tasks.
We have also discussed some degreasers that come with lemongrass, thyme and citrus scents. If you want to keep your kitchen clean and also emanating with good smells then get those scented degreasers.
The Viscosity and Consistency of a Kitchen Degreaser
Many people don't factor in these characteristics while buying a kitchen degreaser. However, they play an integral role in giving you the desired cleaning results. No matter how instant a degreaser product claims to be, it takes some time for settling in and to break down the stubborn grease patches.
If you are using a low-viscosity degreaser on vertical and inclined surfaces, then it will quickly drip down to the ground without inflicting the required cleaning action. And as a result, you will get unsatisfactory degreasing even if the formula in question is high-quality or industry-grade.
For all such steep and outright vertical surfaces, you should invest in foam degreasers. They come in spray bottles and cling to the surface to effectively break down the grease. We have also discussed some spray kitchen degreasers above.
Safety
With any cleaning product, safety has always been a pressing issue. Kitchen degreasers are no different and their safety index tells us how good they are for home use. If you have noticed, the majority of degreasers in our list are biodegradable, organic, and free of synthetic toxins. All these attributes indicate that a degreaser product is safe to use on food-prep surfaces and in the settings with pets and children.
If you are buying a degreaser strictly for home use, then we would strongly recommend you to factor in those safety features.
How to Use a Kitchen Degreaser Effectively?
Kitchen degreasing seems a pretty straightforward task i.e. apply a degreaser on the surface that needs to be cleaned, wait for some time and wipe the broken down grease off.  However, there are some minute details that you should consider in using a kitchen degreaser to its maximum effect.
Wash the Surface First
Before the application of degreaser, it is better to wash the surface that you want to degrease. For instance, if you are going to degrease the stovetop, then first wash it with water and regular soap or cleaning solution. It will wash off all the large food particles and other water-soluble buildups.
After this wash, you will only leave with that stubborn baked-on grease for which you are using a kitchen degreaser. This pre-degreasing wash will improve the action of the degreaser agent.
Use Warm Water
For better cleaning results and a completely non-sticky feel on the kitchenware and especially utensils, use warm water for pre-degreasing wash and to rinse off the degreased items.  
Dry it, Don't Leave for Air Drying
If you don't want water stains on your expensive wooden finishes, then dry them with a plain cloth or paper towel at the end of any degreasing activity. Leaving them to get gradually dry by air can result in water stains that become pretty hard to remove once the surface is completely dried.
Don't Use Abrasive Degreasers
Unless you are dealing with extensive and long-in-the-making grease buildups, avoid using abrasive degreasers because they contain hazards. Moreover, they can also cause fading and discoloration to the kitchen surface you are degreasing.
A good quality all-purpose degreaser will sort out your tough kitchen cleaning while providing equally good results for many other cleaning jobs in and around the house. We hope that you will find the right degreasing product for your kitchen from the 15 products we have reviewed here.
Related Article
13 Best Drain Cleaners For Clogged Drain Right Now
7 Best Oven Cleaners For Baked-On Grease