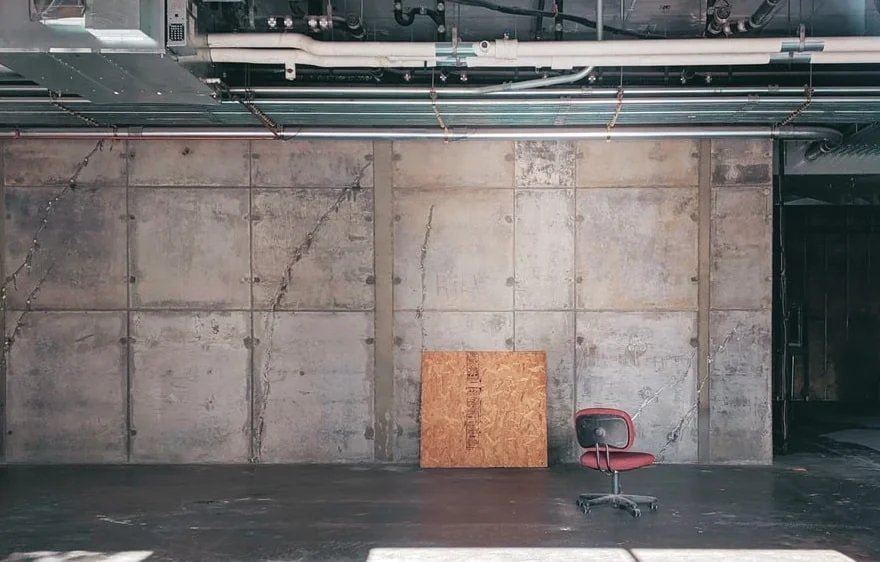 Maintaining and improving your property are the biggest responsibilities of being a homeowner. Various areas of your home have different purposes. Along with this, they have different requirements for maintenance and repair. Therefore, you should look after the maintenance needs of your home to prevent future issues. 
As a homeowner, you may think about upgrading and sprucing up the living room, bedroom, kitchen, and bathroom. These are the places where you spend most of your time at home. However, homeowners don't usually care much about their basements. Here's why basements are important.
Related Articles
43 Insanely Cool Basement Bar Ideas for Your Home
8 Best Basement Cement Floor Paints
11 Best Paint For Concrete Walls In Basement 
11 Ideas for Basement Kitchens and Kitchenettes
13 Best Wireless Water Shut Off Valves
Basement Waterproofing Cost
How Important Is My Basement?
During home planning and construction, opting for a basement is advantageous due to its features and purposes. There are different ways to use your basement and here are some excellent ideas:
Storage room for equipment, rarely used objects, and other miscellaneous items

Additional living room or

bedroom

Recreational space like a home theater, library, bar, children's playroom, gym, and arcade room

Pantry and wine cellar
You can transform your basement into anything with proper planning and execution. Having a basement is beneficial for the household since it's not like any other part of your home. A basement is located below the ground level. Therefore, a basement can serve as private accommodation for your guests or a place where you can be alone. The basement can increase the value of your property since not all homes have a basement. 
However, to protect your home's entire structure, your basement should have a strong foundation. While you're enjoying your basement amenities, you may not notice the structural, cosmetic, and systematic issues building up. 
Your basement is the most vulnerable part of your home when it comes to flooding. When neglected, flooding can lead to worse problems that can cost you a fortune. Rather than spending on these repairs and remodeling, act immediately. Install basement waterproofing with the top-rated professionals in your locality.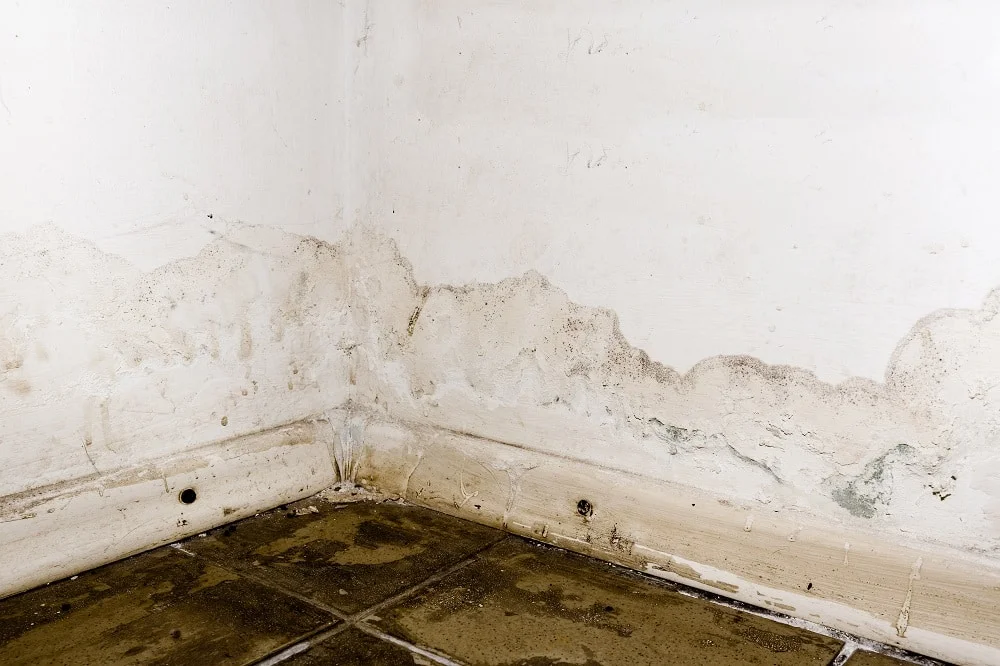 What Is Basement Waterproofing?
Underground spaces naturally have high humidity levels. When groundwater surrounding your basement evaporates, humidity increases and starts crawling into your basement. Moreover, humidity can also be triggered by water seeping into your foundation walls. But most importantly, humidity rises in your basement due to leaks on your basement floors and walls and because of puddles of water. These can happen even when it's not raining. 
The healthy and optimal humidity range that makes you comfortable inside your basement is 40% to 60%. Also, 80% is considered extreme humidity. To control moisture in your basement, you can try using a dehumidifier or installing a ventilation system. However, these are only temporary fixes and can't help during flooding and rainy seasons. This is where basement waterproofing comes into the picture.
Basement waterproofing encompasses a plethora of methods to protect your basement from the penetration of mold, humidity, and floodwater. Since basement waterproofing is a significant alteration in your property's structure, you must plan this carefully. You must prepare a budget for the project. 
Options for Waterproofing Your Basement
Before spending your money on basement waterproofing, you need to understand the available options. Take note that there are various basement waterproofing solutions, so your expenses can vary significantly. 
Choosing the right basement waterproofing solution isn't based on your preference. It primarily depends on the type and severity of damage to the basement's structure. Also, the water source is a huge factor in identifying which approach to utilize. 
Not all basements may require a complete waterproofing solution. This is when you can opt for damp proofing instead. Look at the differences between the two: 
Damp proofing is ideal for homes located in high humidity areas that have less rainfall and pooling of water. This method involves excavating the dirt surrounding the foundation to make way for a damp-proof coating. The cost ranges from USD$3 to USD$6 per square foot. 

If you experience flooding and water pooling frequently, you shouldn't hesitate to have waterproofing in your basement. Compared to damp proofing, waterproofing stops moisture and flood. Also, waterproofing is recommended for areas with a higher water table. Different waterproofing solutions, which will be elaborated later, range from USD$5 to USD$9 for every square foot. 
There are two basic waterproofing methods that professionals install on a property's basement: waterproofing from the outside or inside.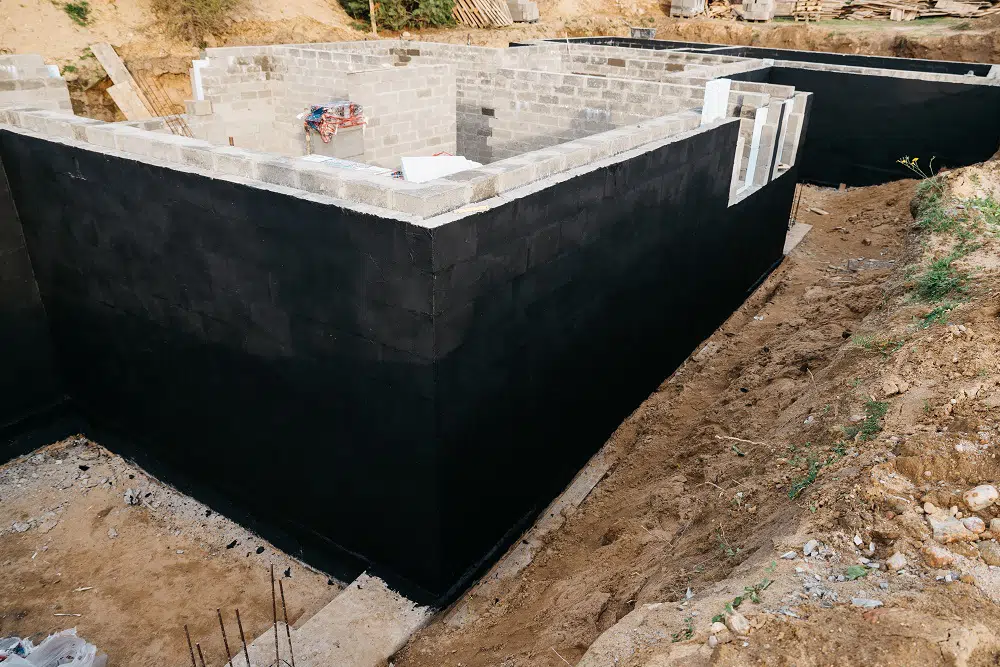 Exterior Basement Waterproofing
As the name implies, exterior basement waterproofing installs waterproofing methods externally. Usually, exterior waterproofing is installed while the basement is under construction. This waterproofing method is extensive and requires more workforce and materials. Therefore, it's costly. 
Waterproofing from the outside utilizes coating materials such as membranes and polymers to cover the basement's exterior walls and joints. In this way, your basement is protected from structural damage that may occur over time. This method can't be used if your basement is already built because the polymer will only disrupt and clog external drains. 
However, you can execute an exterior basement waterproofing even after the basement has been built. There are five lines of defense for this.
An exterior moisture barrier and dimple board are installed on the basement wall for transporting water into the drainage system.

Moisture membrane is installed. It protects the structure from crawling water.

Instead of dirt, gravel is filled within the surrounding area to minimize hydrostatic pressure. This also helps in carrying water into the footer drain.

To safely discharge water away from your basement foundation, the footer drain is established outside your home

A

sump pump installation

may or may not be necessary. 
The costs of exterior basement waterproofing differ extensively due to numerous factors. In the United States, the national average costs for an exterior basement waterproofing project ranges from USD$8,700 to USD$14,500. Depending on your location, accessibility, landscaping, and digging requirements, and many other factors, it can reach up to USD$80,000. 
Exterior Basement Sealing
Additionally, sealing your basement is advantageous for blocking seeping water and supporting your main waterproofing system. Since the basement walls and foundation sides have direct contact with the surrounding soil filled with water, you need to protect them from water and ensure that no structural damage occurs. While water can't seep through concrete, it can absorb moisture leading to a variety of problems like mold growth. 
On average, sealing a basement with different materials (to be discussed further) varies from USD$1,500 to USD$4,250. If excavation is required, the costs can be higher.
Exterior basement sealing covers the following methods and materials. The methods can be used on masonry and concrete walls without any backfill or excavation:
Liquid membrane waterproofing
Think of this membrane as a paint that'll be applied on the basement walls. It can either be an elastomeric or a crystalline membrane. Every coat costs USD$3 to USD$5 per square foot, and the optimal number of coats is two to three coats. You must set aside USD$9 to USD$15 for every square foot.
You can apply the liquid membranes yourself, but you won't be able to apply uniform coats. Hire an application expert to ensure the best results.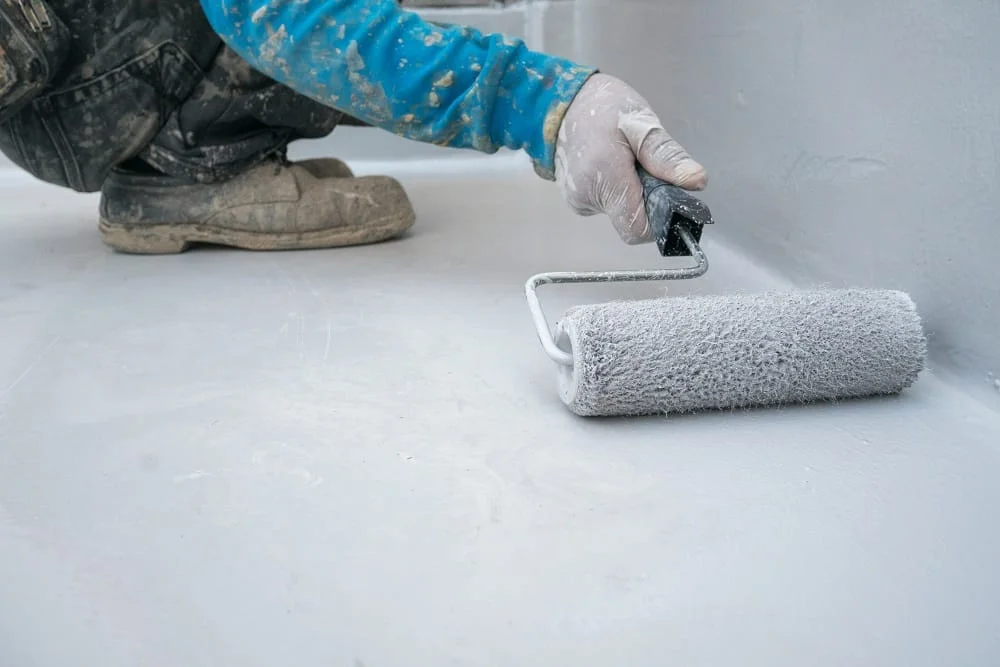 Sheet membrane waterproofing
Another membrane waterproofing method utilizes sheet membranes: tied around the footing, attached into the perimeter drain system, applied to basement walls, or wrapped around the concrete foundation footing. They cost USD$3 to USD$6.5 per square foot. 
Aside from their waterproofing abilities, sheet membranes are reliable due to the following reasons:
Withstands high water pressure, especially during flooding

Deals with unequal static forces 

Endures groundwater with chemicals like chlorides and sulfates

Resists dynamic forces during an earthquake
Cementitious waterproofing
For only USD$5 per square foot, you can have cementitious waterproofing inclusive of the cement material and labor cost. Instead of a membrane, this method uses a cement solution that can be painted on surfaces that require sealing. They're thick and durable, easy to apply, and provide a smooth finish. 
But the cementitious solution isn't flexible enough during extreme force involving joint movements. It can only withstand water exposure. If your area is prone to earthquakes or has frequent underground activity, you shouldn't go for this method. 
On a good note, a gallon of the cement solution only costs around $36. This volume is good for 150 square feet. You can opt for purchasing an acrylic additive for increased durability. 
Bentonite clay waterproofing
Lastly, bentonite clay is also a popular material for waterproofing because it blocks crawling water and absorbs moisture. As it soaks up moisture, it expands and fills cracks and spaces between walls. Material and labor costs total only USD$3.5 for every square foot. 
Nonetheless, bentonite clay isn't ideal as a long-lasting solution because it can clog your outdoor drains, especially when it reaches its maximum expansion. From time to time, you need to check if the seal has formed correctly.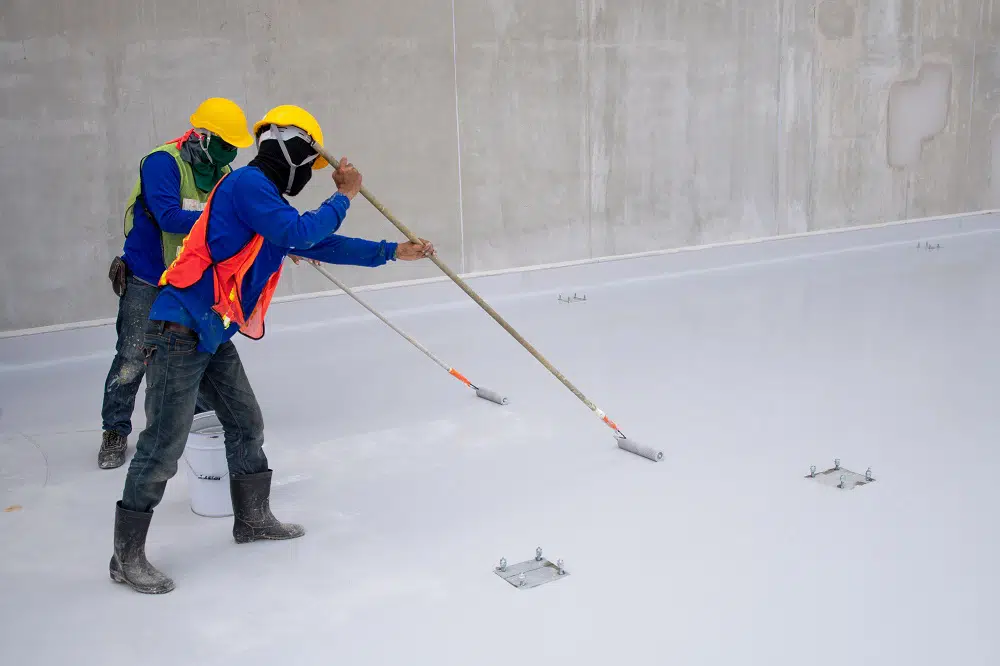 Interior Water Drainage Installation
Being the most effective waterproofing approach, an interior water drainage system deals with hydrostatic pressure building up around the basement walls and floors. This pressure causes groundwater to force its way inside your basement. Installing a drainage system is an excellent idea to trap and dispose of water properly, either internally or externally. However, an exterior drainage system is more inconvenient because the drain lines installed on the outside can accumulate soil, silt, and roots resulting in clogging. 
Thus, interior water drainage is a safer option. By installing the drainage system on the inside, water is trapped on its usual entry point, the joint between the floors and walls. Moreover, waterproofing from the inside is more convenient than that from the outside. 
A complete interior water drainage job in your basement can cost as low as USD$2,000. This is four to seven times cheaper than installing an exterior drainage system starting at USD$8,000. Depending on your basement requirements and the entire property layout, waterproofing may require a combination of interior and exterior methods. 
Here are some other ways of waterproofing your basement from the inside:
Basement Waterproofing Painting
To strengthen your basement waterproofing, you can apply waterproof paint on the inside walls after exterior waterproofing. It's a cheap and effective method but will only work if you have strong protection from the outside. It can be a DIY (do it yourself) project or done by a professional. Surprisingly, it costs only USD$0.6 to USD$0.8 per square foot. The waterproof paint, however, can cost USD$195 for five gallons. The amount of paint you'll need will primarily depend on the surface dimensions and porosity of the walls. 
Epoxy Crack Injection Repair
If you have existing cracks in your basement after exterior waterproofing, you can choose the epoxy crack injection method. Injecting an epoxy material in the wall crevices can restore the concrete's pre-cracking condition without magnifying its strength. For every crack as wide as 3/4 inches, the epoxy injection may cost USD$200 to USD$500.
If your area often experiences freezing and thawing, you'll need additional support by reinforcements on the exterior wall foundation. Epoxy injection is beneficial in drier climates since colder climates produce more cracking on walls leading to more epoxy injection repairs.
Crawl Space Encapsulation
Most homes with basements have a crawl space, the hollow area under the first floor. Air can flow into these narrow spaces. So, you should always keep them dry and clean to avoid the growth of mold and bacteria. Crawl space encapsulation is your best solution to prevent indoor air moisture. This method installs a strong polyethylene vapor barrier to cover the crawl space completely. 
However, encapsulating the crawl space is the most expensive option discussed so far. The cost ranges from USD$3,000 to USD$8,000. The vapor barrier installation has additional costs of USD$0.50 per foot. Despite its expensive costs, the encapsulation can last for 20 years if it's installed professionally.
Key Takeaways
Maintaining a clean and healthy basement isn't easy. The basement is more humid than other parts of your home and the humidity can lead to numerous problems. When poorly maintained, there can be moisture buildup, mold and bacteria growth, water pooling, flooding, and the like. 
Through a combination of the basement waterproofing methods discussed above, you can ensure that your basement remains dry and strong. If you're going to work on your basement, the two most important takeaways to jot down are: set aside a lot of money for material and labor costs and hire the best waterproofing professional. This article will give you a concrete idea of how much to spend on your basement waterproofing.