For those in the crafting arts, be it at the novice or professional level, gluing wood to metal becomes necessary in a project. 
These two materials are so different in density and texture that gluing them to each other can be a daunting task. This is why making sure the glue you use is effective enough to keep the two surfaces permanently attached is crucial. 
With so many options and confusing jargon from various manufacturers, finding the best choice for your project can be a hassle. To help you along, this guide will help you learn what you should look for in glue and provide you with a variety of great options. 
FUN FACT | Did you know that super glue can work on metals? Check out our article to know more on the topic. 
Without further ado, let's begin! 
Best Adhesives And Glues For Metal To Wood
IMAGE
PRODUCT
DETAILS
 

Our Top Pick

Our Top Pick

Loctite Ultra Gel Control Super Glue

Holds adhesion even under extreme conditions
Easy-squeeze design bottle
Rubber toughened compound for flexibility

VIEW LATEST PRICE →

Gorilla Super Glue Gel

Formulated to have higher impact resistance 
Anti-clog cap for repeated use
Gel composition for vertical application

VIEW LATEST PRICE →

J-B Weld Kwikweld Pro-Size (10 oz.)

Steel reinforced with 3127 PSI tensile strength
Waterproof when cured fully
Can withstand 230 degrees Fahrenheit/110 degrees Celsius

VIEW LATEST PRICE →

Original Gorilla Glue 5002801

Expands three times its size to adhere to the material
Water-activated formula
Versatile adhesion to different materials

VIEW LATEST PRICE →

Starbond Medium Premium CA

Attachments for extended reachability and maintenance
Medium viscosity with properties of higher and lower viscosities
 

VIEW LATEST PRICE →

Rhino Glue Gel Heavy Duty

Water-resistant when cured
The clear formula for more accessible application
Bonds in seconds with strong adhesion

VIEW LATEST PRICE →

Gorilla Glue Clear Gel

Incredibly strong adhesion that works on a variety of materials
A crystal clear, non-foaming formula to help in the application
 

VIEW LATEST PRICE →

Mitreapel Super CA Glue

A two-step application process
Extremely fast curing time of five to twelve seconds
No messy results due to the viscosity of the glue

VIEW LATEST PRICE →

Bazic Contact Cement Adhesive Glue

The latex-free adhesive formula
Ideal for tile, rubber, plastic, metal, and wood
Easy and smooth application bottle

VIEW LATEST PRICE →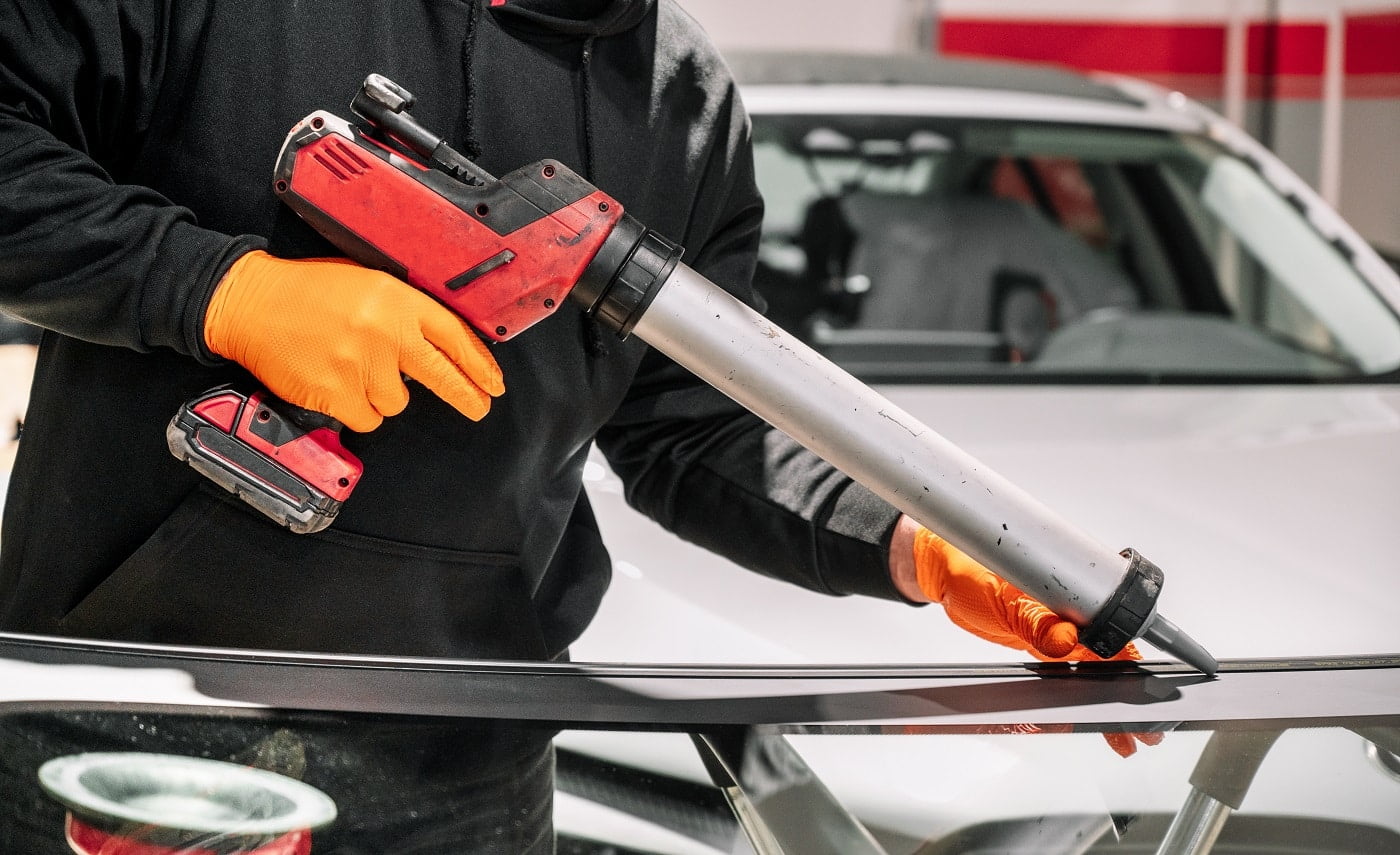 For a heavy-duty performance, the Loctite Ultra Gel Control Super Glue is an excellent option. From a respected brand with 50 years in the game, this rubber-toughened adhesive can withstand many formidable obstacles in an easy-to-use bottle. Not only is this super glue tough and efficient, but it can also work on a variety of materials. 
Why Did We Like It?
When a product can be handled by a professional and a novice with the same ease, it is a testament to a great design. Using the Loctite Super Glue was easy with its easy-squeeze sides. 
Additionally, it can be used repeatedly by sealing it in with the screw-on cap. The super glue is tough and withstands impacts, moisture, and temperature changes. All these strengths are all thanks to the rubber mixed into the glue. 
Once applied onto the surfaces, no clamps were necessary to seal them together. Simply keeping them on top of each other was enough to achieve the desired results. 
The Loctite super glue can be used on not just indoor pieces but on outside projects as well. It can maintain its hold on both wood and metal simultaneously by adjusting its elasticity. Furthermore, being able to use it without worrying about its eventual durability is indeed a good feeling. 
What Could've Been Better?
During initial use, it was clear that the actual volume of the glue left more to be desired. Despite the large body and innovative design, the contents of the bottle did not seem to proportionately match the size of the bottle. 
Pros
Controlled application

Fast and easy drying

Transparent even after drying

Adapts to changes in the environment

Able to dry without pressure or clamps
Cons
A little volume of super glue

Prone to clogged nozzle
A standout company in the world of glue and adhesives, Gorilla Glue's Super Glue Gel is a fast-setting and tough formula. With the unique gel consistency, a whole new level of applications is possible. This gel is truly a "super" glue in a small cartridge. 
Why Did We Like It? 
One of the most remarkable features of the Gorilla Super Glue Gel is the gel consistency that can stick to a vertical surface. These angles can be challenging to get to with gravity pulling the glue out of position and not curing correctly. 
Additionally, the super glue gel dries exceptionally fast. The packaging claimed a drying period of 10-45 seconds, which held up in testing. In fact, the light cartridge makes it even more ideal for carrying around for quick fixes.
And when it comes to the design of the cartridge, it is able to dispense the gel smoothly in a controlled manner. What's more, the cap design makes sure the glue won't be able to clog the nozzle when not in use. Always a welcomed touch for reusability. 
What Could've Been Better?
The Gorilla Super Glue Gel is sold in different sets with either one, two, or ten packs. However, the single pack is not a feasible option to use as the amount of gel in one pack is insufficient for continued use. 
Pros
Fast-drying

Capable of vertical applications

Impact resistance

Easy application
Cons
Multiple pack purchase required for reusability
Sale
If two-part epoxies are the method you choose to take, the offering from J-B Weld, the Kwikweld, is a strong option. The strength and fast-curing period are ideal for use by hobbyists and professionals alike. Additionally, a steel reinforcement in the mixture adds incredible tensile strength to this epoxy blend. 
Why Did We Like It?
With such a bold claim on the packaging of being the "World's Strongest Bond," there is an expectation of how durable the epoxy would be. Thankfully, these expectations were held up well. 
Regardless of what materials the epoxy was rated to be effective on, the results across the board were unanimous. It is able to hold its own when used and mixed correctly. 
A surprise was the fast dry and cured time. Within six minutes, the epoxy dries, and in four to six hours, the entire application has been cured. After being fully cured, the epoxy is supposed to be not only waterproof but chemical, petroleum, and acid-resistant. 
Using a clear solution can be challenging to differentiate between where the adhesive is applied or not. A feature of this epoxy that was useful in this context is the dark grey color it takes on when cured fully to remove any excess glue. 
What Could've Been Better? 
The Kwikweld Pro is a successor to another original formula from J-B Weld. The original does seem to have a longer lifespan despite the extra resistances in the newer Kwikweld Pro once cured. 
Perhaps if some aspects of the original epoxy could have been maintained to preserve the lifespan of the epoxy, it would have performed better. 
Pros
Large ten oz. container

Fast drying and curing time

Dark grey color when cured

Strong tensile strength
Cons
Shorter lifespan compared to older epoxy formula
Another super glue option from Gorilla, the original Gorilla Glue, is widely used for its versatility and strength. It is able to handle indoor and outdoor repairs while maintaining its integrity. With a 100% waterproof claim to fame, there is little that can break down Gorilla Glue. 
Why Did We Like It?
Using the original Gorilla Glue is extremely useful for any minor repairs that may pop up. The versatile adhesion possibilities are almost endless. 
What makes this super glue great is the easy application. Just dampen the surface and secure the two pieces with even pressure. The rest manifests after a couple of hours as a single complete piece. Any excess glue peeping out can be sanded away to make the repair imperceptible. 
While this resin may be activated by water, it becomes fully waterproof once it is fully cured. Having the peace of mind that outdoor repairs will last through anything nature throws at it is a welcome feeling. 
The amount of superglue in a container is a significant step up from other super glue options. A whole eight oz. will keep you going for years, at least. 
What Could've Been Better?
Once the container of Gorilla Glue has been opened and exposed to the air, it begins the slow process of drying out. Atmospheric moisture dries out the glue and will eventually solidify the whole container. Despite using preventive measures, it is inevitable; however, the process is slow and will take years to complete. 
Pros
Extremely strong

Fully waterproof

Simple and easy application

The large volume of superglue in the container
Cons
Eventually dries out after some years
A cyanoacrylate glue, Starbond's Premium CA glue is a valuable adhesive to have around. Due to having attachments to reach tight spaces, this handy setup will be a great tool to have. Besides the useful attachments, the CA glue itself is strong and versatile. 
Why Did We Like It? 
The inclusion of attachments along with the CA glue is a thoughtful touch by Starbond. If not for the unclogging of the nozzle, then the special applicator tips will help precisely apply the glue on small surfaces.
Additionally, the shelf life of the Premium CA glue is exceptional. Starbond CA glues have a shelf life of several years. They are confident in their claims enough to back it up, offering a 30-year warranty on their product.
Due to the viscosity of the Medium Premium CA, it can permeate into thin gaps like a thin viscosity. It can also be coated like a thin viscosity glue, which is useful for using it as a finish. Additionally, the strength of the adhesive is similar to the thick viscosity variant and holds well. 
What Could've Been Better? 
One drawback to using this medium viscosity CA glue is the weak structure it holds. The thin viscosity qualities dominate the overall rigidity of the glue before it sets. As a result, the glue has a tendency to drip from the nozzle and run down the side of the surface on vertical applications. 
Pros
Useful attachments

Long shelf-life

Excellent permeability like a thin viscosity glue

Strong adhesion similar to thick viscosity glue
Cons
Not suitable for vertical uses
Sale
Rhino Glue Gel is a clear commercial grade heavy duty gel that can adhere to many material types. This glue gel is strong and resists shocks and impacts as well as resists water. It is a safe choice for any adhesive task with a fast bonding time and a powerful formula. 
Why Did We Like It? 
Using a medium viscosity gel can be a tricky ordeal; however, the Rhino Glue Gel performed with little to no hiccups. The strength it holds even after using only a thin layer of it is remarkable. 
One of the most convenient features of this gel is the fast dry time. While it bonds in seconds, the overnight curing option will ensure an all-around secure adhesion. This comes in handy for materials that can not be easily clamped together for drying. 
The gel itself is clear in color, so being aware of where it is being applied and how much gel is being used is easier. Due to its viscosity, it is even able to bind porous materials as well with no issues. Once cured, it can withstand a large amount of exposure to impacts and moisture as well as heat. Perfect for even outdoor touch-ups!
What Could've Been Better?
When working with a super glue gel, the glue may seep out onto the surrounding area of the gap to be filled. The excess glue oozing out can become messy with a fast bonding time, potentially damaging the surrounding material. This could have been made easier with an application tool or precise nozzle. 
Pros
Fast drying time

A minimal volume is required for the application

Can withstand natural elements

Clog resistant nozzle design
Cons
Struggles with precise application
Sale
Another offering from the Gorilla brand is a clear glue gel formula. This versatile glue gel is able to grip many different surface types with ease. Using a unique non-foaming formula that is clear gives a clean application after every use. 
Why Did We Like It?
Gorilla is a well-known brand in the adhesive market for a good reason. Their clear glue gel product works like a charm no matter what it is that needs binding. 
Their claims to a non-foaming solution were no joke; the gel remained clear all throughout the application process. This came especially in handy when trying to see where the nozzle is pointing for precise application.
Additionally, the glue can be used for outdoor purposes too. Once the gel has been properly cured, it becomes water-resistant. 
What's more, the gel can work with many materials, not only indoors but outdoors. Be it wood, or stone, metal, or ceramic, even the delicate foam material can be used with the clear gel. 
What Could've Been Better? 
The package has a disclaimer in regards to the storage of the gel that can potentially become a nuisance. In order to maintain the transparent nature of the gel, it must be stored in a location with adequate lighting and heat, or it becomes yellowed. For those who keep tools in the dark drawers or sheds, this can be an inconvenience. 
Pros
Compatible with a variety of surfaces

Easy application due to clear color of gel

Simple to use with no-foaming formula

Water-resistant when cured
Cons
Dries over two hours with 24-hour curing time
Sale
The Super CA Glue from Mitreapel is a powerful adhesive with a two-part application process. Drying and curing time is expedited tremendously, with the activator speeding up the adhesive. With a simple application, a clean adhesion is possible for many different material types. 
Why Did We Like It?
Probably the best feature of the Super CA glue from Mitreapel is the easy application process. Joining narrow and tight surfaces together would be difficult to maneuver with other adhesives. However, the adhesive and activator spray allowed for precise coverage no matter the area to be covered. 
Additionally, the fast drying time is handy for quick fixes. Within a few seconds, the surfaces were joined with adequate strength. Once it has been dried thoroughly, the glue can be worked on with sanding, finishing, and even painting. 
When the glue dries, it remains clear to give a clean, finished look to the repair. Combining this with the other features of the CA glue, it is possible to have a seamless repair with little to no effort involved in the clean-up afterward. 
What Could've Been Better?
The design of the adhesive bottle is cumbersome to use. There are many instances where the glue will struggle to come out and get stuck in the nozzle. Additionally, squeezing the bottle is difficult due to the lack of an ergonomic design. 
Pros
Precise application

Easy to use

Fast drying and curing time

Versatile for use with different materials
Cons
Glue occasionally becomes stuck in the nozzle
A strong adhesive that is latex-free, the Contact Cement Adhesive from Bazic is a handy tool to have around the house. The flexibility to adhere to porous and non-porous surfaces allows for versatility with many material types. Once the separate surfaces make contact, the adhesion remains strong. 
Why Did We Like It?
Contact cement is handy for quick fixes around the house. The flexibility of the glue allows it to work well with different types of materials with no compromise in strength. 
Securing two surfaces together without a clamp allows for the two pieces to remain the way you want them to be positioned. Air drying them is enough to begin curing the glue, and when they are put into contact with each other, it becomes affixed in no time. Only for the heavy-duty materials was it necessary to use a clamp to secure the two pieces together. 
The tube's design helps the glue to come out smoothly and easily. The nozzle keeps the latex-free solution easy to apply. Additionally, it is easy to store away and carry around with the lightweight tube design. 
What Could've Been Better? 
When the contact cement is dried, there is a possibility of some oozing out between the seam. If exposed to air, the glue will become yellowish in color. This can be a nuisance if trying to have a clean and seamless attachment.
Pros
Easy and simple application

Applicable to a number of material types

No clamp is needed for quick fixes

Tubed design
Cons
Yellowish tinge when dried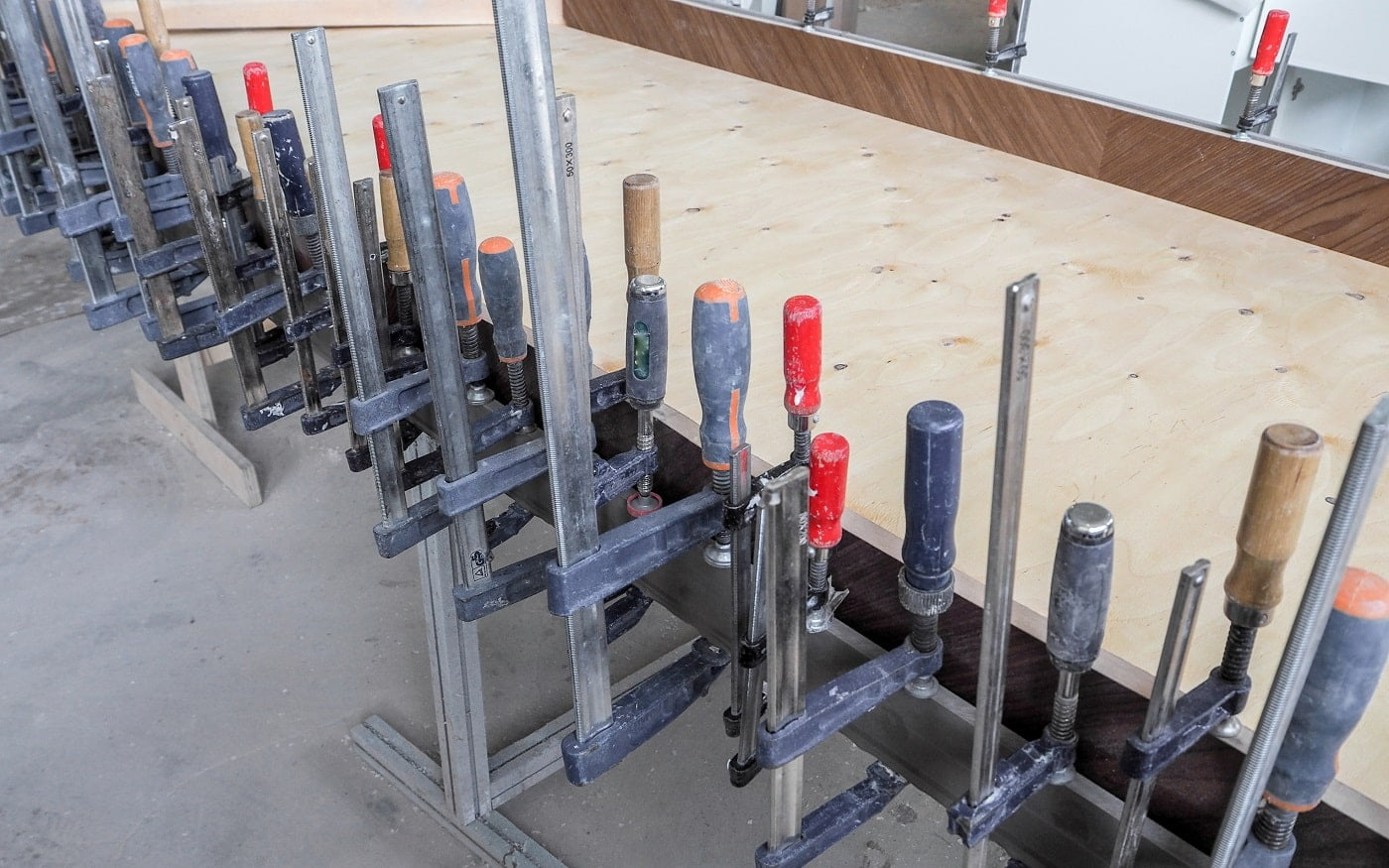 Glue for Metal to Wood Buyers Guide
With all these options, what should you be looking for in an adhesive to keep the metal and wood surfaces together? Metal and wood are very different materials with certain qualities that make any adhesion tricky. 
Wood, for example, is a porous material which means it shifts its size, contracting and expanding, with changes in temperature. On the other hand, metal is a non-porous material. This means it has no air gaps or changes in size. It is a smooth surface which makes it difficult for any glue to grip onto it and adhere. 
Types Of Metal and Wood Adhesive
In order to join wood and metal, two types of glues can be used. These are polyurethane glue and epoxy adhesive. 
A go-to option for joining materials, polyurethane glue is ideal for general projects and many minor repairs that need to be done. It is able to set quickly and maintain a strong bond between different density materials. 
On the other hand, an epoxy adhesive is a two-step process. The first application is the glue to one surface and then a spray-on hardening agent to the other. After joining and curing the two surfaces, the adhesion is complete. 
While an epoxy adhesive is durable against temperature and impacts, polyurethane glue is still preferable for its flexibility in handling different materials. 
Preparation For Adhesion
Before applying any adhesive to the surface of the wood or metal, there are some steps to be taken to make sure the bond is strong. Making sure these precautions are taken is important to keep both sides securely fastened to each other permanently. 
Cleaning and drying the surfaces is a must to make sure the glue can grip the material's surface itself and not any dust or dirt on it. Additionally, the adhesive should be placed on only one surface as too much glue can cause a weaker bond between the two. 
Depending on the type of adhesive being used, the curing and clamping period of the materials together can vary. While some span seconds, others may require an overnight curing period. Always refer to the packaging or product information to ensure enough time is given to set. 
Avoid any sunlight or moisture when working with wood and metal. Being exposed to UV light and dampness can affect the strength of some glues, resulting in a weaker bond. 
Method Of Application
There are a number of application types, from spray-on to two-step epoxy. Considering what area needs to be covered can affect the choice between different application methods. 
A spray-on method may not be suitable for areas that are smaller and require precision. Additionally, the spray-on method may not have as strong of a bond as other methods. 
Alternatively, a two-part epoxy may need to be mixed before application; otherwise, there are variants that are simply one-part epoxies. These one-part epoxies can be applied directly without any mixing. Epoxies tend to have a stronger bond as compared to the spray-on method. 
Best Glue for Metal to Wood
How Do You Glue Metal To Wood?
If you follow all the instructions, gluing metal to wood is relatively simple. First, you will have to clean both surfaces to ensure that there is no dirt on either of them. 
Then, follow the usage instructions on the glue to apply it to the dry surface of both the metal and wood. After that, let it sit for a while, and once settled, the metal will be bonded to the wood. 
Can You Use Regular Glue For Bonding Metal To Wood?
We do not recommend using regular glue for bonding metal to wood. This is because everyday glue is not formulated to bond this purpose. 
Regular glue is typically designed to work for porous surfaces. And while it may work on the wooden surface, it will be relatively ineffective for the metal surface, as it has little to no pores. Thus, the resultant bond will not be strong enough to hold these two surfaces together. 
How Strongly Does Metal Bind To Wood?
The strength of the bond between metal and wood depends on several factors, such as the type of glue and the amount used. So, the more glue you use, the stronger the bond will be. However, be careful not to use excessive glue, as it can lead to wastage. 
Similarly, epoxy glue bonds metal and wood relatively firmly, but it is not very flexible. In contrast, superglue or polyurethane glue ensures more flexibility. 
What To Do If The Glue Does Not Bond?
If the metal surface is not clean or dry enough, it may not bond with the wooden surface. In that case, we suggest using solvents, such as acetone to clean the metal surface properly and then dry it before application. 
Furthermore, wood contains oily substances, such as tannic acid that may hinder curing. So, before applying the glue, you should use an activator to remove such substances from the surface. 
How Do You Remove Excess Glue?
If you have used too much glue, and the excess is oozing out between the metal and wood surfaces, you can remove it with acetone. You can use this method before the glue has been cured, as acetone will effectively dissolve it without affecting the curing process. 
However, once it has hardened, you won't be able to remove it with this method. In such cases, you can physically remove the excess glue by cutting, scraping, or scrubbing it with sandpaper.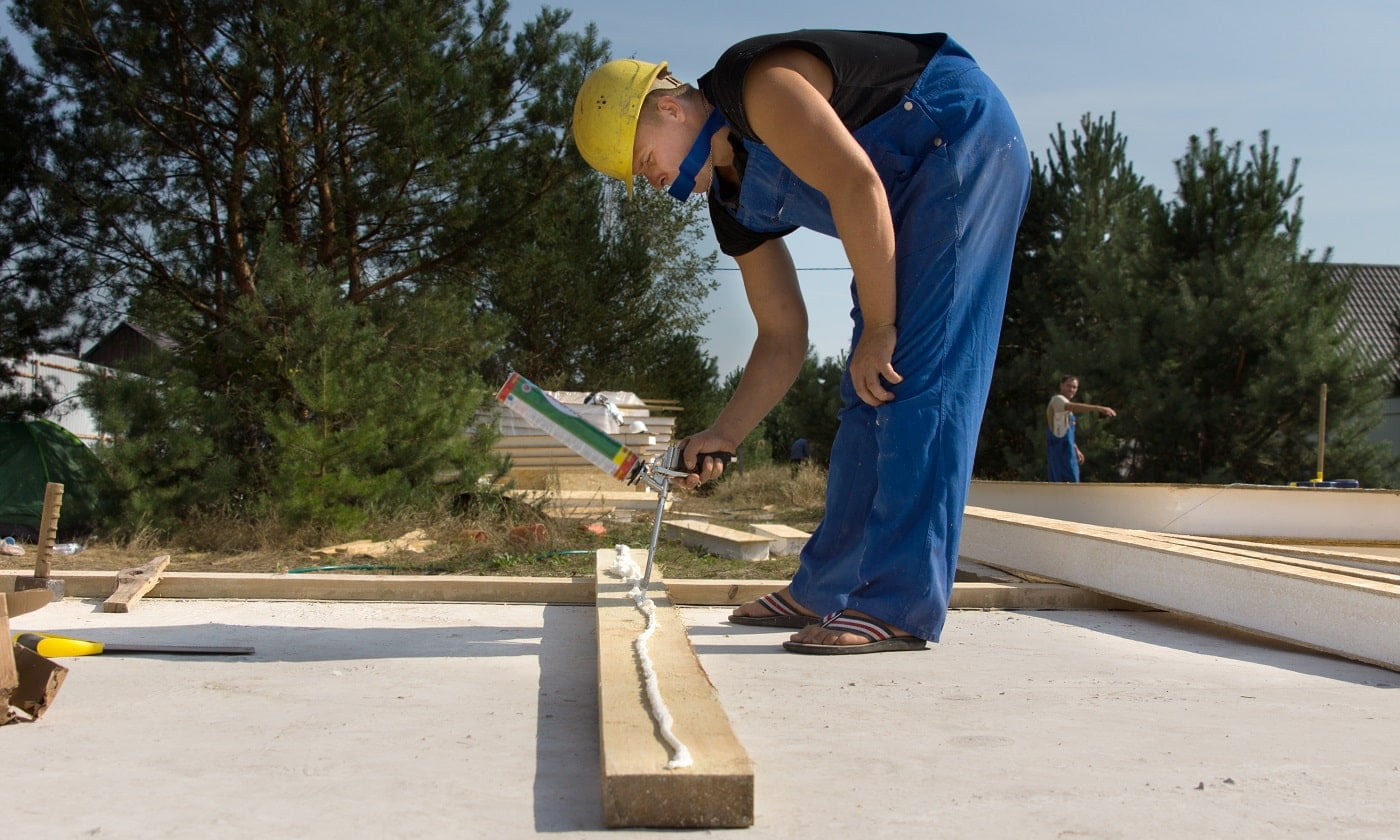 Verdict on Best Adhesive for Metal to Wood
All the adhesives listed above can perform well in creating a strong bond between metal and wood. They have the right qualities for adhesion between a porous material like wood and a non-porous material like metal. 
The Gorilla Glue Super Gel is a great choice to go for if super glue is not cutting it. However, vertical applications are more accessible using standard superglue, such as the Medium Premium CA Glue from Starbond or the original Gorilla Glue. 
If epoxy is what you need for the accurate application of the adhesive, the J-B Weld Kwikweld Pro should have you covered with its steel reinforcement added into the formula. 
Regardless of the choice you make, repairs and projects will be that much easier using quality glue. Not to mention with the safety and assurance of longevity the glue brings, you can rest easy knowing your projects are securely held together.
Related Articles
The Difference Between Epoxy & Super Glue
How to Remove Gorilla Glue From Skin Safely & Easily
14 Different Types of Glue – How They're Used + Tips
Can I repair a broken LEGO brick with glue?
11 Best Permanent Fabric Glues
11 Best Glue For Paper & Paper Mache
10 Best Ceramic and Porcelain Glue
11 Best Glue for Polypropylene
9 Best Glue For Acrylic Plexiglass
9 Best Glue for Plastic Eyeglass Frames
10 Best Glue For Stainless Steel
How To Glue HDPE 101 + Best HDPE Adhesive
9 Best Glue For Hardwood Floors
7 Best Glue For Particle Board
5 Best Glue To Fix Fridge Plastic
7 Best Adhesive For Acoustic Foam
Glue That Works On ABS And PVC