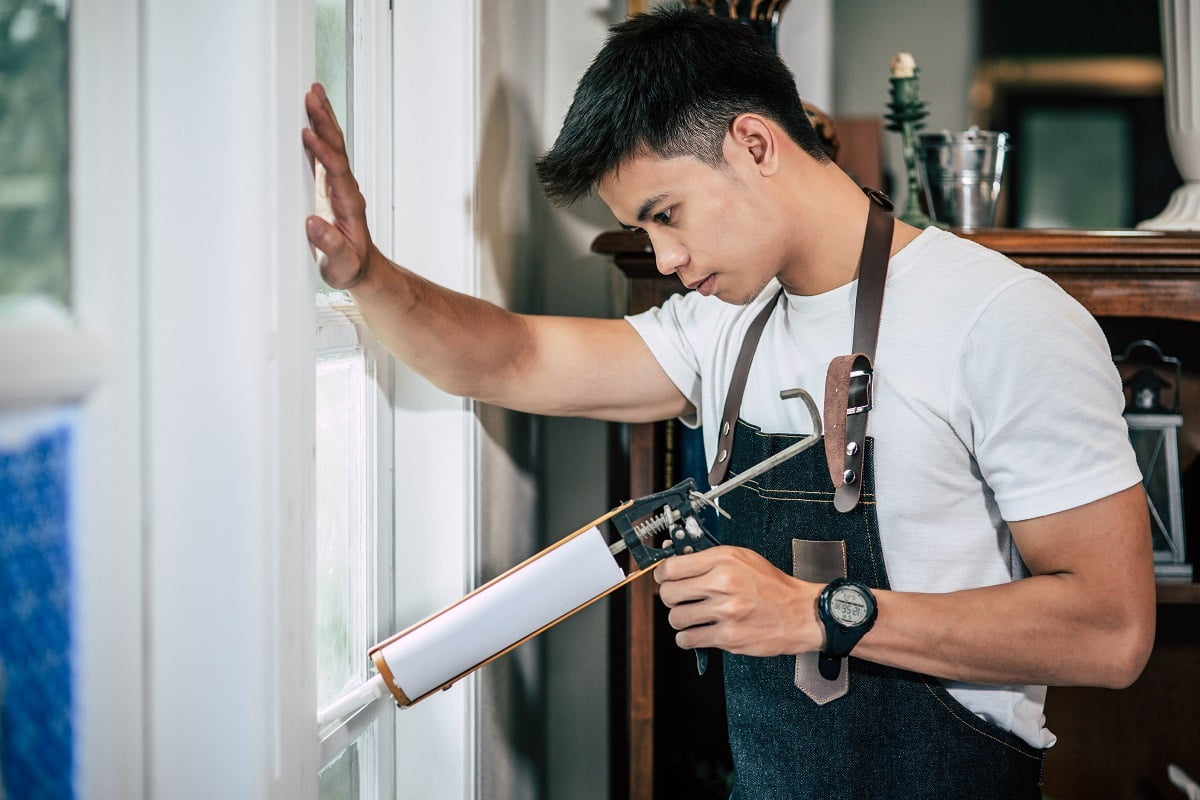 Fixing glass to wood can be a daunting challenge due to their vast differences in texture and inherent makeup. 
However, this does not have to be as difficult as people make it out to be. Using suitable glue can get the job done in no time at all but a standard glue can see the bond becoming weak over time
So, specialized glues meant to handle a variety of materials are the way to go to affix these two different surfaces together. How then is one to select an appropriate glue for their wood and glass adhesion needs?
Worry not! We have compiled the best adhesives that can join glass and wood with a robust and lasting bond. We will review each glue in detail and provide a guide on the different glue types to help you make the most informed decision. 
With that being said, let's get into it!
Best Glue For Glass To Wood
IMAGE
PRODUCT
DETAILS

Our Top Pick

Our Top Pick

Gorilla Glue 4500104

Non-foaming formula
Clear consistency for easy application
Can be sanded or chipped away once dry

VIEW LATEST PRICE →

Devcon DEVS209-1

Sets within five minutes
2500 PSI bonding strength
Chemical-resistant

VIEW LATEST PRICE →

J-B Weld 8276

Sets in six minutes and cures in four-six hours
Steel reinforced formula
Can be filled, sanded, molded, drilled, or tapped once dry

VIEW LATEST PRICE →

PC Products 502

Translucent cure to blend into materials
15-minute work time with cure in three-four hours
Can seal and fill materials

VIEW LATEST PRICE →

Yanyi EK4157

Ten-minute working time with complete cure in 24 hours
Malleable formula for precise and versatile application
Heat, water, and corrosion resistant

VIEW LATEST PRICE →

Loctite 1365868-6

Double-syringe nozzle for mixing
Shrink and moisture resistant
Works as filler and adhesive

VIEW LATEST PRICE →

Krazy Glue KG48348MR

Precision tip for accurate application
Strong, shock, and temperature-resistant bond
No-clog tip design keeps glue flowing 

VIEW LATEST PRICE →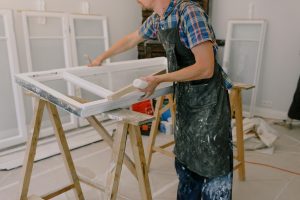 Gorilla Glue is a known and trusted brand in the adhesive market and their trademark clear glue is able to stick a variety of materials with no problem. This glue is straightforward to use, only having three steps in the application process. No matter what you need stuck together, it is sure to get the job done.  
Sale
Why Did We Like It?
Gorilla Glue is able to work with a variety of materials, so not having to worry about its effect on different surfaces was a relief. We could get right into the adhesion process as there is minimal prep work involved, but nothing too complex even for beginners. 
One feature that was especially helpful when working with the Gorilla Glue was the clear consistency of the formula. By being transparent, it was easy to see where the glue was being applied without having any obstructions. This helped us have a cleaner application overall. 
While it offered an efficient and clean application, we did make a few mistakes here and there. All that we had to do to remedy these mistakes was wait for the glue to harden. Once dried, it can be sanded or chipped to clean up the adhesion for a seamless bond. 
What Could've Been Better? 
If there is one downside to the Gorilla Glue, it would have to be the drying time. After the glue is applied to the material, both sides need to be clamped together and left to dry. The drying process can take anywhere from a few hours to a whole day for a complete cure. 
Pros
Easy to use

Strong bond

Versatile and works on many material types

Water-resistant for indoor/outdoor use
This epoxy mix kit from Devcon is sure to be a favorite when looking to secure two materials. It has versatility and an easy mixing procedure so that you can work the resin into the seam easily. What's more, it has an incredibly minimal drying time, delivering noticeable results within minutes.
Why Did We Like It? 
For us, the standout feature in the Devcon epoxy kit is the ultra-fast drying time it has. Working with adhesives that join two different materials usually results in a long wait for the glue to dry. But, thanks to the hardener component of the resin, we were able to have a bond within minutes of applying it. 
Another helpful feature is its waterproof formula. Being resistant to water opens up a whole new realm of possibilities on a project. For instance, it becomes possible to work on outdoor tasks or pieces that are exposed to different climatic conditions. 
Once dried, the epoxy resin has a solid and secure hold between the two materials that are joined. Moreover, the bond remains clear to maintain the illusion of a seamless transition between the surfaces. 
What Could've Been Better? 
Fast-drying times may be an advantage, but they can also work against you. If the area is too large, you may find some parts of the epoxy hardening before the pieces are even brought together. This can make for an uneven application, resulting in a less than adequate bond. 
Pros
Waterproof formula

Fast drying time

Clear finish when dried

All-purpose epoxy kit
Cons
May not be ideal for large areas
J-B Weld's KwikWeld epoxy kit has a unique steel-reinforced formula, making it an extremely durable bonding agent. Additionally, there is a short drying and curing time, so you won't be left waiting for the resin to dry. This resin kit is easy to use even for novices with its one-to-one mix ratio.
Why Did We Like It? 
Of course, this resin kit has many valuable strengths and benefits in creating a bond. One such benefit is the resistance it has against many factors. It can be safe to use it on outdoor surfaces no matter what type of material or exposure it goes through. 
This versatility is a handy feature to have as the strength of the resin is quite heavy-duty. Being able to create a lasting bond regardless of material type is a handy feature to have. Whether it is a restoration project, DIY, or a quick repair job, this resin will be able to secure any surfaces together. 
Furthermore, this resin has an easy mix ratio which is a convenient touch for any resin kit. By eliminating the need to measure out the correct ratio of resin and hardener, the application process is made that much simpler. 
What Could've Been Better?
J-B Weld has chosen to package the resin and hardener in a tube design for their kit. While it is efficient in saving space, the tube can make extracting either formula a challenge. In some cases, we had to cut away at the tube to access the formula itself.
Pros
Easy mix ratio

Resistant to water, petrol, chemicals, and acid

Tensile strength of 3127 PSI

Heat resistant up to 230 degrees Fahrenheit
Cons
Tube design can be difficult to work with
An epoxy adhesive from PC Products, this glue is easy to work with no matter your experience levels. It has a great working and curing time, so you can get the bond precisely the way you want. What's more, it can be manipulated and painted after drying for a clean, professional level adhesion. 
Why Did We Like It? 
As this epoxy is a two-part adhesive, the ratio is a factor to be considered. In the case of PC Products glue, the ratio is already measured out for you with a unique one-tube design. Simply placing the handle into one end of the pipe and pushing will eject the appropriate ratio. 
After applying the epoxy adhesive, we had the option of working on it further with a sander or drill to cut away and smooth out the dried glue. This gave a much better quality bond that was not immediately noticeable. Of course, the translucent finish of the glue helped as well. 
Additionally, the working time of 15 minutes is more than enough to position any delicate pieces together. This is especially handy if working with large areas or components that are heavy and can not be clamped right away. 
What Could've Been Better?
Although this epoxy adhesive glue is able to dry and cure in little time, the full curing period is much longer. Depending on the materials being bonded and other extraneous factors, it can take up to a whole week to cure—a stark comparison to the initial cure time of three-four hours. 
Pros
No drip or sag of glue

2650 PSI bond strength

Multi-purpose: fill, bond, and seal

Easy mix ratio
Cons
Full cure only in three-seven days
Truly a unique type of adhesion, this "glue" from Yanyi is noteworthy for its application method. By rolling the two components of the epoxy together into a malleable consistency, a putty is created to bond the surfaces together. Once dried, the bond is incredibly strong and versatile. 
Why Did We Like It? 
Being able to work with the putty physically helped to have a more precise and clean application overall. Shaping it into and around the areas to be joined would not have been possible with a liquid adhesive. Thus, malleability is a critical feature in using such a putty adhesive.
Furthermore, the resulting bond created is not inferior in any way to traditional adhesive methods. With resistance to a number of contaminants, this putty is sure to last a long time no matter where it is used. 
There are ten minutes of working time given to mix the putty and position it on the surfaces to be joined. This was ample time to get it in place for a complete seal. Once dried, any excess putty was ready to be sanded or drilled away and painted for a cohesive look. 
What Could've Been Better? 
One caveat to using a putty adhesive is the inability to get it down into a thin layer like other liquid methods of adhesion. The putty is thicker than a simple layer of glue once applied, so take this into consideration before using a putty. 
Pros
Easy to use

Multi-functional: seal, repair, and glue

Can be sanded and painted after drying

Plasticity allows for versatile application
Cons
Can be difficult to thin out
Loctite has developed a uniquely designed application method in this two-part resin kit. An included nozzle will mix both parts resin and hardener for you in equal parts and dispense it precisely. It is safe to say this has an easy application process for solid adhesion between uneven surfaces. 
Why Did We Like It? 
Right off the bat, the difference in user experience is evident when applying this resin from Loctite. The syringe design is intuitive and works well in applying the resin accurately, even in tight spots. There were no inconsistencies in the formula with a spiral design inside the nozzle; the resin and hardener were thoroughly mixed.
Additionally, the multi-functionality of the resin formula only increases the efficiency of this adhesive. Not only is it able to bond different material types together, but it can permeate the surfaces to act as a filler. 
Using this Loctite resin syringe for minor repairs is quick and easy. It is set within five minutes, and with minimal prep required, you can get the job done in no time. Simply grab the syringe, push the necessary amount out with the nozzle, and it's good to go. 
What Could've Been Better?
Loctite clearly states this resin as having a translucent yellow color when it is fully cured. This color may make certain applications more obvious. If you are looking for a discreet bonding agent, this resin may not be the option for you. 
Pros
Self-mixing epoxy

Sets within five minutes

High impact resistance

Sand and paint-ready once fully cured
Cons
Cures to a translucent yellow color
Krazy Glue is a household name for quick repairs around the house or just everyday adhesion purposes. Thanks to its versatility, you can simply pick up and use this glue without giving much thought to it. The resulting bond holds strong against water and day-to-day impacts, making it a favorite glue to use. 
Sale
Why Did We Like It?
Where this glue stands out is its uniquely designed bottle, in particular the cap and nozzle. Applying the adhesive is made infinitely easier with the extended nozzle that gets into the tightest of spaces. The nozzle keeps the glue coming out consistently, so having a clean application is a breeze. 
As for the cap of the bottle itself, it is specially designed to have a complete seal to lock off the glue. The cap does not allow any air to pass through and hardens the glue when not in use. It is truly an underrated feature that helps, especially for multiple uses. 
Furthermore, the glue comes out clear and dries clear as well. This clear bond is sure to last and is almost imperceptible. Having a high resistance to temperature, impact, and moisture, it is an invisible bonding agent that protects the seal. 
What Could've Been Better? 
Before the two surfaces are joined together, the glue must sit for a few seconds to harden and reach a thicker viscosity. When applied straight out of the bottle, it has a thin consistency and is runny. This thin viscous glue may not be the best choice for vertical applications. 
Pros
Clear finish when dried

Easy to apply

Waterproof bond when cured

Complete seal cap design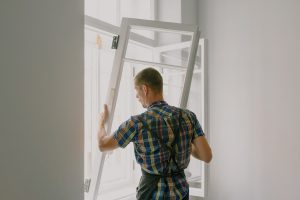 Glue for Glass to Wood Buying Guide 
Before selecting a glue, it is a good idea to be aware of the different options available to find the most suitable option for you. 
There are a number of glue types when it comes to joining glass and wood together. Each type has unique benefits and weaknesses that can make or break its effectiveness. Compare the features of each type of adhesive to find which one you think is best for your project. 
Super Glue
One of the most commonly used types of glue, super glue is known for its versatility in compatible materials. This versatility is what makes it a household product; no matter what the materials to be joined are, it is highly likely that super glue can get the job done. 
Additionally, super glue is able to form a bond within seconds of application. The resulting bond holds strong but is not as complex of an adhesive as other types of glue. In terms of wood and glass, they are both quite heavy, so a large amount of super glue may be required for a solid adhesion. 
Ultimately, this glue is best suited for small repair jobs and not heavy-duty applications. Larger projects call for a larger area to be covered, a luxury that superglue does not have. By the time one area is covered, another area may already be hardening, all before the two surfaces are joined. 
Silicone Glue
As is evident from the name, silicone glue incorporates some amount of silicone into its formula. This added ingredient brings certain benefits in durability to the adhesion formed. Silicone is waterproof and weather-resistant, so it is a popular choice for outdoor or exposed surfaces. 
Furthermore, the silicone is able to form a seal in the treated material. Large-scale or heavy-duty projects usually use silicone glue to create waterproof seals to protect the structural integrity of the material. This feature is handy when working with wood, which is highly susceptible to warping and water damage. 
Silicone glue is available in many different sizes to handle various projects. For example, a caulking gun will help apply it evenly on larger projects compared to a smaller-sized bottle with a narrow tip for precise applications. 
Epoxy Adhesive
Working with epoxy adhesives entails the mixing of two parts-a resin and a hardener component. These parts must be thoroughly mixed to form the glue and begin the setting process. 
Usually, epoxy adhesives take five minutes to set, but to have the full extent of durability, you will have to let it fully cure. This curing process can take up to 24 hours, so there is a fair bit of waiting involved with this adhesive. However, the resulting bond is well worth it; it holds up well regardless of the conditions the piece is exposed to. 
Once the epoxy is allowed to harden and set, the resulting bond is incredibly strong and durable. It is able to join a wide variety of materials thanks to its unique viscosity and application method. 
Polyurethane Glue
A unique adhesive, polyurethane glue shares some similarities with epoxy in terms of durability. What makes this glue stand out is its multi-functionality in acting as a filler as well as adhesive. It permeates cracks and pores and expands to form a complete seal across the material's surface. 
Additionally, polyurethane glue is able to adhere to surfaces with minimal grip or texture. This makes it a perfect fit for working with glass and wood. Wood is already textured, giving the glue something to grip, while the smooth glass is already a compatible surface.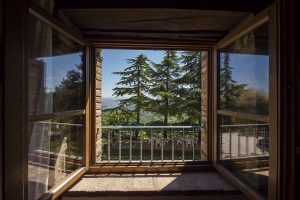 Verdict
Hopefully, now you are more aware of what glue options are available and what to keep an eye out for in selecting a suitable product. 
Our choice for the best overall glue is the Gorilla Glue for its easy application and versatility outdoors as well as inside the house. But if waterproofing is a feature that you specifically need, the Devcon is a waterproof epoxy that holds strong. 
However, in terms of a durable bond, we would go with the J-B Weld as the formula has steel reinforcement. With so many great options to choose from, it is just a matter of picking which features suit you best. 
Don't be afraid to get messy and make mistakes; after all, with such strong glues backing your projects, there is little holding you back. 
Related Links
11 Best Glue for Polypropylene [Reviews & Buyer's Guide]
7 Best Glue for MDF [Reviews & Buyer's Guide]
4 Best Glue for Silicone [Reviews & Buyer's Guide]
11 Best Fabric Glue  [Reviews & Buyer's Guide]
11 Best Glue For Styrofoam [Reviews & Buyer's Guide]
7 Best Glue for Vinyl [Reviews & Buyer's Guide]
11 Best Glue For Paper & Paper Mache [Reviews & Buyer's Guide]
11 Best Glue For Metal [Reviews & Buyer's Guide]
10 Best Glue for Shoes [Reviews & Buyer's Guide]
9 Best UV Light Glue for Amateurs & Professionals
13 Best Wood Glue for Firm and Durable Bonds Today
10 Best Ceramic and Porcelain Glue
11 Best Glue For Glass [Reviews & Buyer's Guide]
11 Best Glue For Rubber  [Reviews & Buyer's Guide]
9 Best Glue for Metal to Wood [Reviews & Buyer's Guide]
11 Best Permanent Fabric Glues [Reviews & Buyer's Guide]
10 Best Leather Glue on the Market
9 Best Glue For Acrylic Plexiglass
9 Best Glue for Plastic Eyeglass Frames
10 Best Glue For Stainless Steel
Gorilla Glue vs. Super Glue | Strengths, Weakness + Winner?
JB Weld VS Gorilla Glue | Comparison & Winner
9 Best Glue For Hardwood Floors
7 Best Glue For Particle Board
5 Best Glue To Fix Fridge Plastic
7 Best Adhesive For Acoustic Foam
Glue That Works On ABS And PVC