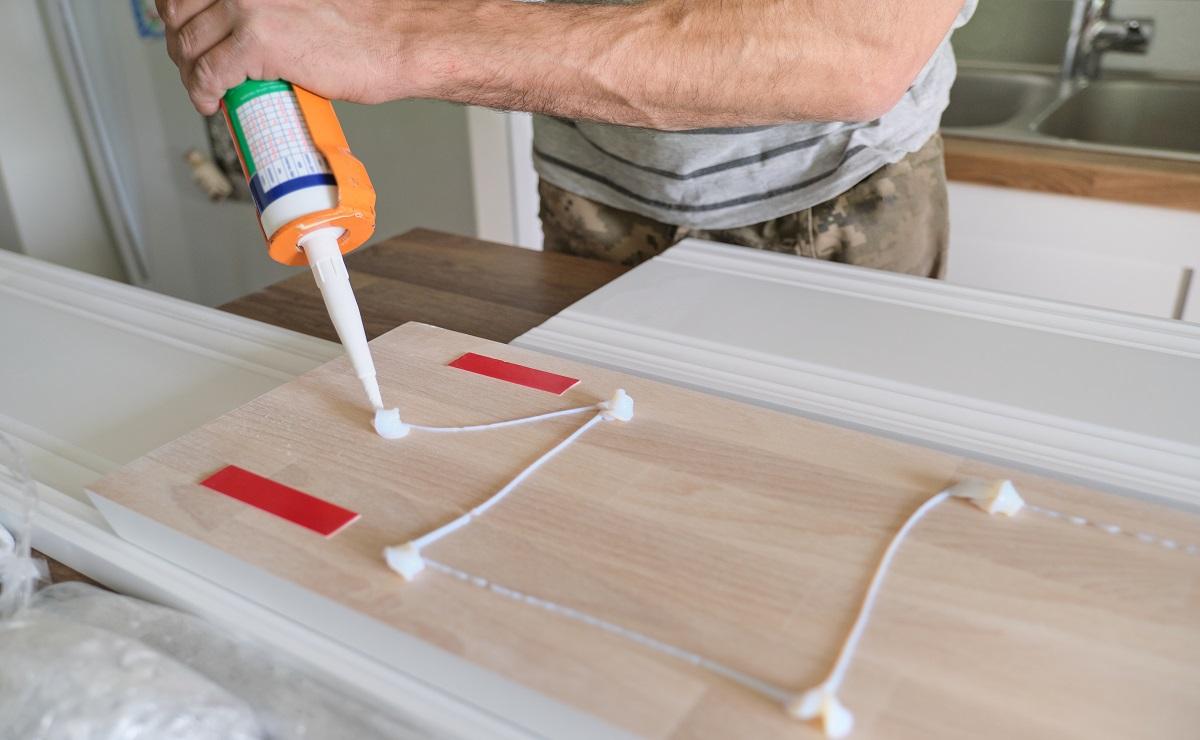 Particle boards are widely used for their affordable and versatile nature in furniture and other household projects.
Whether it is binding two pieces together or fastening things to a particle board, there are many ways this unique wood material can be used. However, to ensure they stay attached, a strong and long-lasting glue should be used.
To ensure your DIY project has the best quality result, we have gathered the best options on the market today. We have also included a guide on how to choose a suitable glue so you can make the most informed decision.
Without further ado, let's get into it!
Best Glues For Particle Boards
IMAGE
PRODUCT
DETAILS

Our Top Pick

Our Top Pick

Gorilla Glue 6202010

Water-based adhesive formula
Hardwood, softwood, and natural wood composite ready
Only needs 20-30 minutes of clamp time

VIEW LATEST PRICE →

Elmer's

Waterproof and stainable finish
Easy water cleanup
Resist heat, mold, and mildew growth

VIEW LATEST PRICE →

J-B Weld

Sets in less than 30 minutes
Light tan cure color
Lap shear strength of 900 PSI

VIEW LATEST PRICE →

Glue Masters Professional Grade Cyanoacrylate Super Glue

Thick viscosity formula
Industrial strength cyanoacrylate resin
Settles in 60 seconds

VIEW LATEST PRICE →

Gorilla Glue 7700104

No-run formula for vertical application
Anti-clog cap built-in
No clamping required

VIEW LATEST PRICE →

Weldbond

Does not swell or produce fumes
Flexible bond seal
Glues, seals, and bonds surfaces

VIEW LATEST PRICE →

Franklin International Titebond III

Waterproof formula
Interior and exterior application
Can be used for indirect food storage

VIEW LATEST PRICE →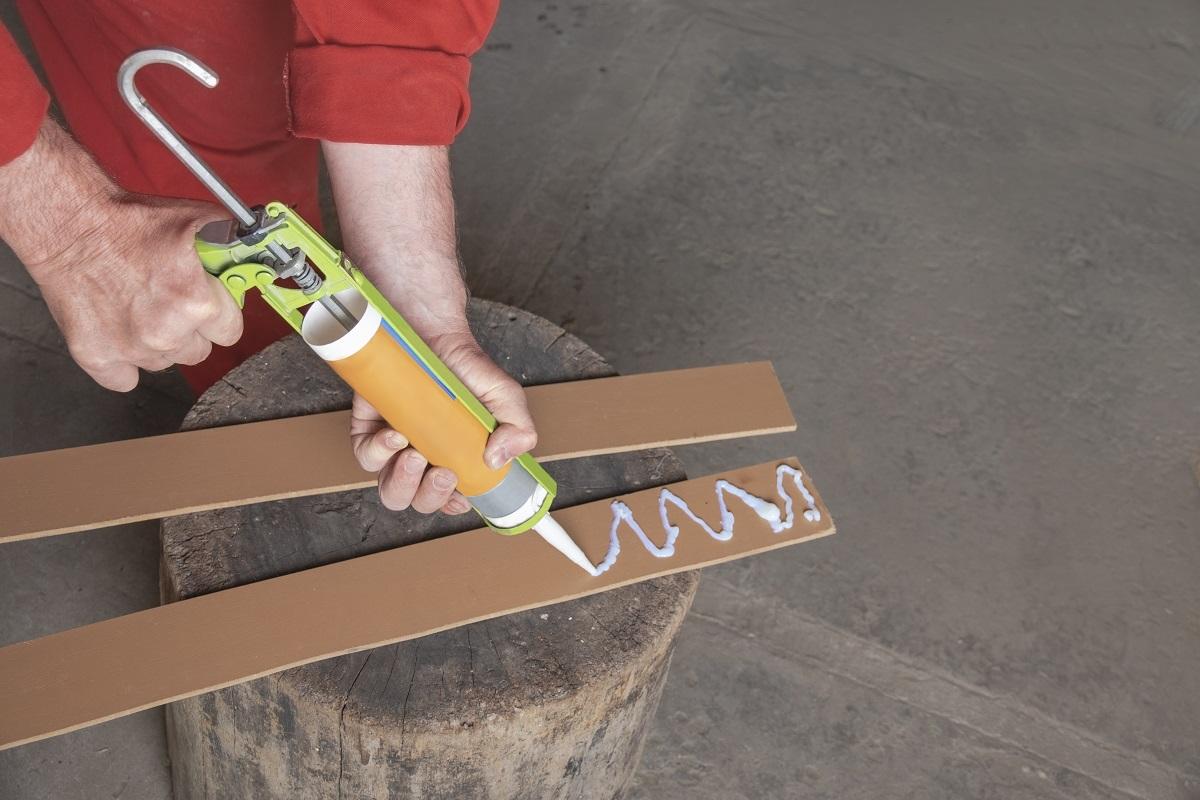 Gorilla Glue is a brand known for some of the best glue options for different surfaces. In particular, this Gorilla wood glue is a handy glue for particle boards as it uses a water-based formula. With a water-resistance and invisible drying color, it is a great option for any woodworking projects you have.
Sale
Why Did We Like It?
One of the highlighted features we appreciated was the rapid speed at which this Gorilla wood glue dries. This glue requires only half an hour to have a secure bond between two materials. While it requires clamping, it is not a long wait just to get them to stick together.
Additionally, once the drying and curing time has been fulfilled, the seal can be worked on to become seamless. Unlike most glues, this Gorilla wood glue has a clear drying color that can also be sanded and painted.
Another feature that comes in handy once the glue has been dried and cured is its water-resistant nature. This feature helps make it an appropriate glue to use for indoor and outdoor purposes. A strong bond can be maintained even if one of the applied surface areas is exposed to moisture.
What Could've Been Better?
While there is no doubt that this Gorilla wood glue is a great glue for particle board use, there is one slight inconvenience. It is a thick viscosity glue, making precise application challenging. As a result, there is a higher chance of clogging in the nozzle as well.
Pros
Water-resistant formula

Indoor and outdoor use

Dries with natural color

One gallon covers 200 sq ft
Elmer's adhesive glue offers a long-lasting bond for DIY projects involving porous wood surfaces. Thanks to a clean, non-toxic formula that is easy to clean up, it is an easy to work with option among different particle board glues. Added protection against mold growth and water resistance makes this a strong contender as the best glue for particle boards.
Why Did We Like It?
Seeing as this Elmer's construction adhesive is a thicker glue variant, it made working with it much easier. The formula was able to penetrate deep into the wood and strong rubber particles to create a tight seal. As a result, it has a fantastic water resistance that is handy for outdoor projects.
Despite having such strong and permeating binding properties, the formula is also non-toxic and does not give off strong odors while applying or curing. Even young children can safely work with the adhesive without worrying about their safety.
Furthermore, it is much easier to clean as compared to most glue for wood. Simple warm water is enough to remove all traces and ensure it doesn't leave marks where it shouldn't. After the wood glue has been dried and cured for 24 hours it can then be sanded, painted, and even stained for an even cleaner application.
What Could've Been Better?
We highly recommend that this wood glue be stored properly to keep the formula from drying out. It comes in a plastic bottle that does not offer much in terms of protection from exposure. As such, there were quite a few users who found the wood glue hardening in the container itself.
Pros
Indoor and outdoor use

Strong bond on porous wood boards

Non-toxic formula

No strong fumes
Cons
Plastic bottle dries out fast
When buying glue, J-B Weld is one of the top brands to consider as the best glue for particle board applications. In particular, this epoxy putty stick has a quickly setting drying and curing time to make it incredibly efficient joining wood and other surfaces.
Why Did We Like It?
What sets the J-B Weld epoxy putty apart from most adhesives is the fast setting and curing time involved. Not only does it set in 15-25 minutes, but the curing period has an astonishing one-hour time frame. Gluing boards and other materials can be done with little to no waiting time involved.
Even though this wood glue is an epoxy variant, it only uses one component to mix and use. This makes it accessible and easy to apply without lots of effort involved. After the application has been dried and cured, it will take on a light tan shade.
Once the epoxy mixture has been mixed and activated, there are a number of possible measures that can be taken to make the seal imperceptible. Drilling, staining, sanding, and shaping are all possible to allow the glue to take on natural color and form that matches that of the other materials.
What Could've Been Better?
While fast-drying wood glue may help create a more efficient workflow; however, it also limits the amount of time that you have to work with it. Considering how the putty needs to be worked with before it can be used, the working time is brought even lower, so large particle boards may be challenging to work on.
Pros
Does not shrink or rot

Cure time of one hour

Can be stained, sanded, drilled, and shaped

Heavy-duty wood epoxy
Glue Masters offers a high-quality, professional-grade super glue that sets and holds fast on a variety of material types including particle boards.  As far as particle board glue goes, it is incredibly versatile and easy to work with, ranking it among the best glues for a DIY project.
Why Did We Like It?
If there is one thing that Glue Masters has successfully pulled off with this super glue, it is the drying period involved. With an incredibly low setting time, it forms a strong bond on other surfaces almost instantly.
Additionally, the super glue has a thick consistency that allows for increased control over the quantity and flow during application. This limits the amount of mess created and cuts down on cleanup time afterward. Only a small amount is needed to create a lasting bond, so there shouldn't be any issues with over-application.
Another feature that we appreciated was the extended shelf life that is possible due to the effective bottle design. A tight cap keeps the formula free from exposure and drying out. Although there is a lack of an anti-clog cap, it does a good job of keeping out foreign elements from the bottle.
What Could've Been Better?
Seeing as this is a professional-grade super glue, it comes as no surprise that removing it is incredibly challenging once dried. If you attempt to do so, you may find that it leaves streaks and residue on the applied surfaces, which may not be the desired result.
Pros
Versatile use on wood and other materials

Even flow and control of formula

Extended shelf life

Rapid curing agent
Another Gorilla wood glue option is this super glue gel variant that offers an improved drying speed compared to other wood glues. If speed is the crucial element to finding the best glue for particle board surfaces then this super glue gel is definitely worth looking into.
Why Did We Like It?
One of the highlighted features that Gorilla Glue emphasized on this adhesive gel variant is the possibility of vertical application. The solution has been formulated to hold its shape, so using it on hanging particle boards and other similar surfaces will not see a runoff formed. Once applied, it will stick and hold without drooping, unlike other, thinner viscous wood glue options.
Furthermore, increasing the accessibility of the superglue gel further, there is no need to clamp the two surfaces while drying. Thanks to a minimal drying time, clamping is unnecessary, making it easy to use in a tight pinch or for fast repairs. After the glue for the particle board has dried, it develops a tough resistance to impacts and outside elements.
Another handy feature is an anti-clog nozzle design that keeps the glue from becoming dried out when not in use. This maintains the quality of the glue for longer over multiple uses.
What Could've Been Better?
Although the anti-clog design is appealing to the eye, it does not help with the dispensing of glue. As it is quite thick, it can be quite difficult to get the glue out in a steady stream. For precise applications or smaller surfaces, you may have difficulty in getting it down cleanly.
Pros
Increased impact resistance

Versatile application possibilities

Dries in 10-45 seconds

Only one drop per sq. inch
This adhesive from Weldbond is a universally working option that can be applied to a variety of surfaces. Not only does it bond surfaces but it can also seal porous materials which makes it one of the best glue for particle board applications.
Why Did We Like It?
When buying glue, a great feature to have is versatility; something that this Weldbond adhesive successfully accomplishes. It can be used on normal surfaces as a bonding agent, but it also works as a glue for particle boards and other porous materials. By sealing and penetrating the surface of the particle board there is a strong bond formed that will be sure to last.
Furthermore, there are more than a few safety features that make it ideal for use on indoor and outdoor projects. It is non-toxic in nature so you don't have to worry about making a mess. What's more, it doesn't give off much fumes or odors, so using it indoors is a viable option if you choose to do so.
After the adhesive has been allowed to set and cure for 24 hours it will become water-resistant. Although it is not completely waterproof, the seal will be able to withstand moisture to a certain extent.
What Could've Been Better?
A slight inconvenience that makes this glue for particle board applications challenging is its thin viscosity. This makes precise applications difficult to accomplish. Although it does have a clear finish so this can be avoided to a certain extent depending on the surface it is being applied on.
Pros
Easy water clean up

Paintable surface

No fumes or odors

Clear finish when dried
The Titebond III from Franklin International is an ideal glue for particle board use whether it is exposed or indoors. Not only is it water-resistant, but it can also be used for indirectly storing food. It has an extended working time so getting a clean application is more accessible.
Why Did We Like It?
What makes this one of the ultimate wood glues to use for a particle board is the fact that it can be used for food storage. Although it is limited to indirect contact, the fact that it is approved is enough to give it an upper hand among the competition.
Additionally, it has waterproofing so it is ready for outdoor applications as well as indoors. Finishes also do not have an effect on the end result; it is not called the ultimate wood glue for nothing!
Another feature that sets this apart as the ultimate wood glue is the easy clean-up. Using just a damp rag, any excess applications can be wiped off within seconds. Attaining the clean result you are after is not possible with the Titebond III.
What Could've Been Better?
One slight flaw in the bottle design that we noticed was the cap had occasionally frozen up due to the dried glue. After every use, there was a bit of extra formula that would leak out and dry up, locking the cap. This made opening up the bottle for the next use particularly difficult.
Pros
Unaffected by finishes

Easy water cleanup

Extended working time

Tan color when cured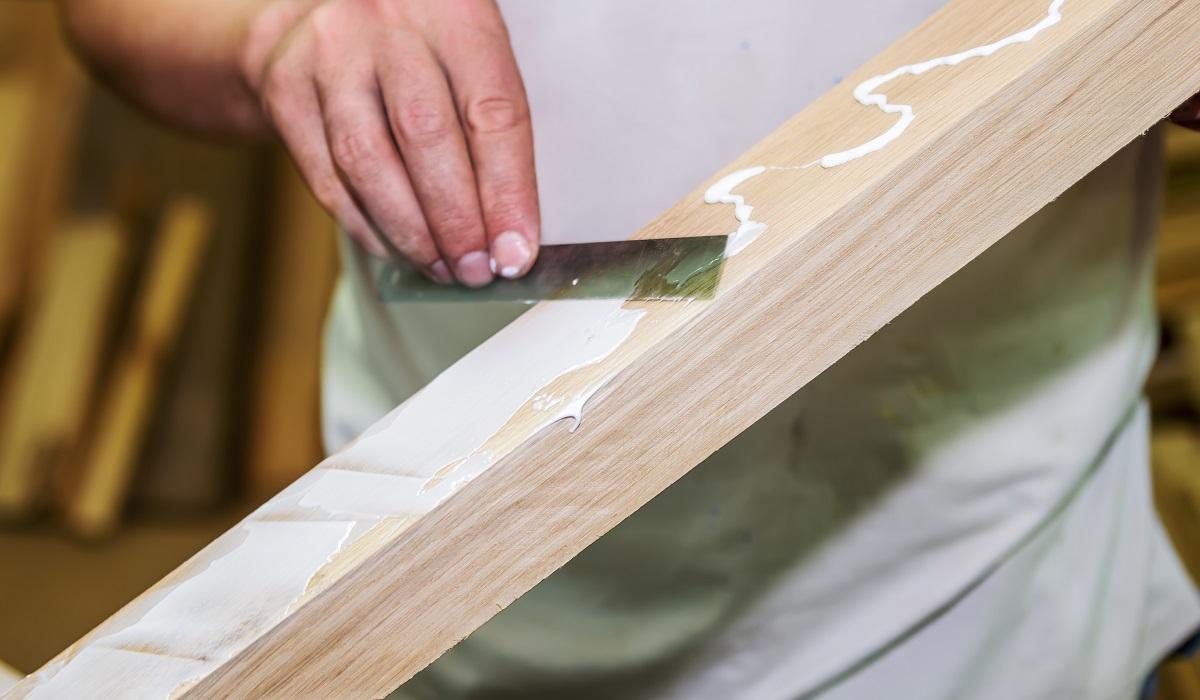 Glue For Particle Board Buying Guide
Finding the right glue can be a challenge if you are not aware of the various features and options available to you. To give you a better idea of what useful features are available, here are the top factors to keep in mind when making your decision.
1. Drying And Working Time
One of the most important considerations when working with glue for particle board surfaces is the amount of time needed to fully dry and cure it. Depending on these conditions, it will determine how much time you have to get it in place before it is fixed.
Setting time refers to how long the glue takes to fasten itself to the particle board. Furthermore, the curing time is the period in which the glue fully hardens and the full protection and durability is achieved.
2. Resistance And Durability
With various glues from different manufacturers available to you, there are also a range of additional protective features that you can choose from. Adapting the bond to accommodate for these external factors will see an improvement in the lifespan of the seal for a higher quality adhesion.
Water-resistant glue is one of the most valuable features to have when working with particle boards as it allows the material to be placed both indoors and outdoors. When working with an outdoor glue, water resistance is a given to protect it from rain and other climate conditions.
Impact resistance can also boost the durability of the glue by creating a stronger bond that holds even when exposed to pressure. For projects that see a high amount of contact and exposure, this feature will come in handy to keep it together without breaking it down prematurely.
3. Safety Features
When working with glues there are quite a few toxic gasses and odors produced in some formulas. Using a non-toxic option can give you a safer experience while applying the adhesive. When working in a confined space, a non-toxic solution will come in handy to make up for the lack of ventilation in the closed space.
Additionally, a glue formula that does not contain harmful substances and is easy to clean up can help you have a seamless experience with the glue. Safety should always be the first priority, so keep an eye out for the toxicity levels and similar health and safety benefits to expand the range of applications possible.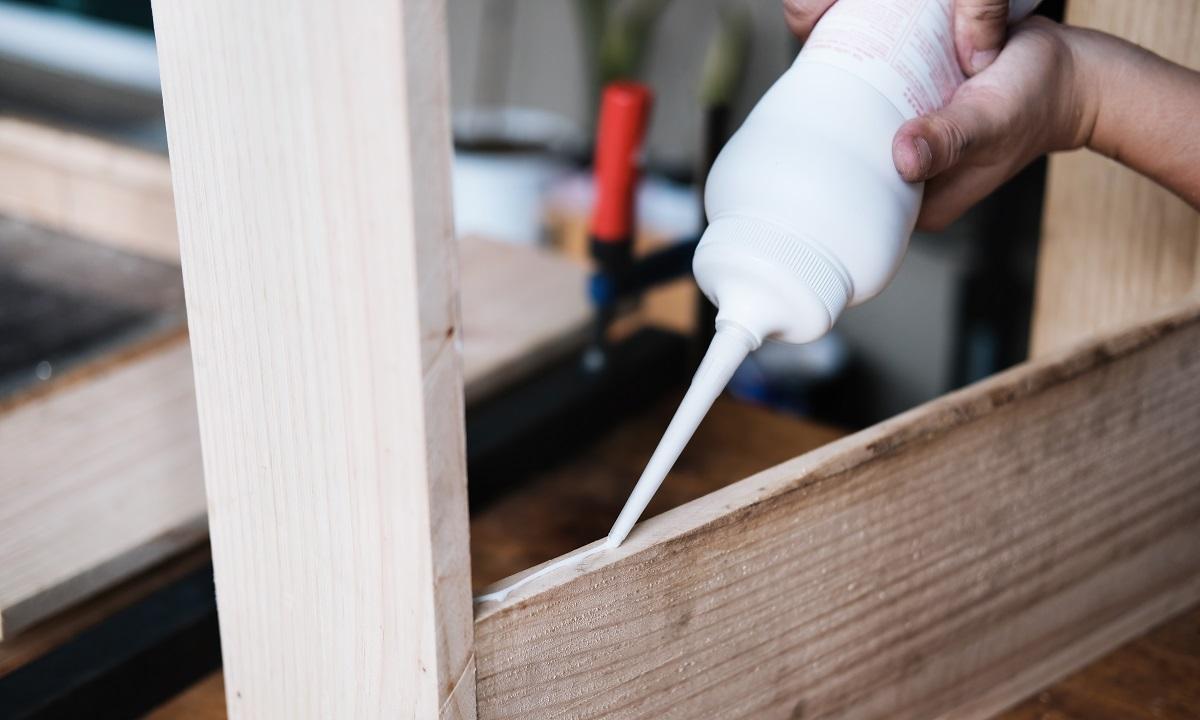 Verdict
With that, we will conclude our review and guide on the best glue for particle board projects. You should now be more
Our top choice goes to the Gorilla Glue 6202010 for its versatile application and minimal clamp time. A close second is the Elmer's that has fantastic durability against moisture and other related elements that can weaken the seal. However, if you prefer to work with epoxy putty, then the J-B Weld is a fantastic heavy-duty option to consider.
Our final words of advice to get the best possible result for your particle board projects would be to pay attention to the extra features included in the different options available to you. After all, the bond formed is only as strong as the work that you put in.
That said, take care and good luck with all your future projects!
Related Links
13 Best Wood Glue for Firm and Durable Bonds
3 Best Adhesive for Carbon Fiber
9 Best Exterior Wood Stains Today
10 Best Leather Glue on the Market
11 Best Glue For Paper & Paper Mache
10 Best Ceramic and Porcelain Glue
11 Best Glue for Polypropylene
9 Best Glue For Acrylic Plexiglass
9 Best Glue for Plastic Eyeglass Frames
10 Best Glue For Stainless Steel
7 Best Glue For Particle Board
5 Best Glue To Fix Fridge Plastic