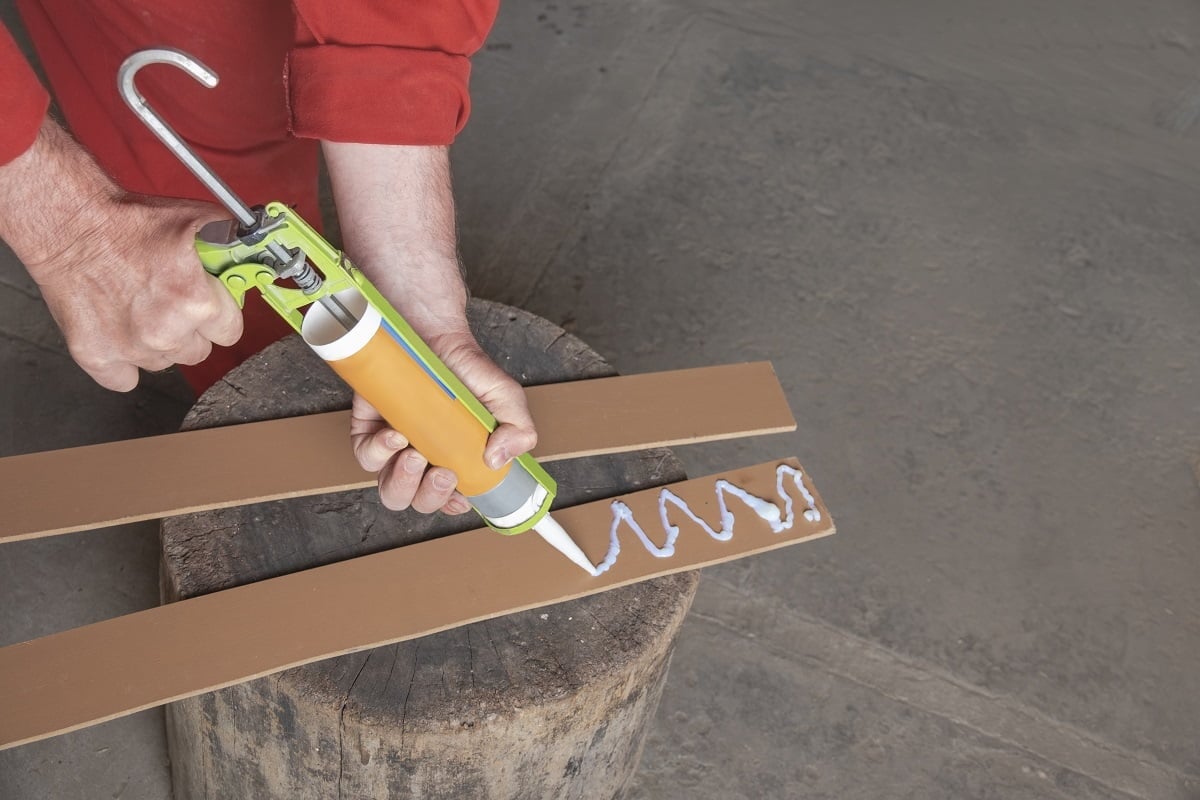 Medium-density fiberboards, or MDFs, are common construction materials used in DIY as they are affordable and easy to work with. 
However, when joining two pieces of this type of wood together, it can be difficult as this wood is more porous than the other of its types. As such, nails and adhesives can damage the wood if used incorrectly. 
If you need pointers of quality wood glues that are suitable for an MDF project, look no further. In this guide, we will give you a few options to choose from and help you understand what features a glue should have to be MDF compatible. 
Without further ado, let us start with the best glue options available today!
Best Glue For MDF
IMAGE
PRODUCT
DETAILS

Our Top Pick

Our Top Pick

Gorilla Wood Glue

Compatible with any type of wood
Preserves natural wood color
Water-based adhesive

VIEW LATEST PRICE →

Elmer's E7310

Can withstand and resist heat, mold, and mildew
Easy clean-up with water
It can be sanded and painted once dry

VIEW LATEST PRICE →

FastCap 2P-10

No clamping is necessary to form a bond
30-second drying time
Incredibly strong cyanoacrylate formula

VIEW LATEST PRICE →

Titebond III Ultimate Wood Glue

Finishes can be applied on top with no effects
Approved for direct food contact
Sandable when dry

VIEW LATEST PRICE →

Gorilla Ultimate Waterproof Wood Glue

Extended working time up to 15 minutes
Passes the ANSI/HPVA Type 1 water resistance
No foaming; maintains natural colors

VIEW LATEST PRICE →

Titebond 5003 II Premium Wood Glue

Strong tack for minimal setting time
Unaffected by finishes and can be sanded
FDA approved safe for indirect food contact

VIEW LATEST PRICE →

FastCap 80070 2P-10

Two-year shelf life
Extended working time for complex projects
Can be used with activator for fast dry-time

VIEW LATEST PRICE →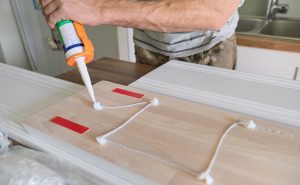 A household name in terms of adhesives, Gorilla's wood glue is a strong adhesive that can help join any two wood surfaces with ease. The simple bottle design makes for a straightforward application of their strong glue formula. Once applied, the drying time is minimal, making it an easy option to work with. 
Sale
Why Did We Like It?
Using a Gorilla Glue adhesive will almost always guarantee that a solid adhesive bond is formed. In terms of their wood glue product, it was able to hold well when used on two wooden surfaces. 
Regardless of the type of wood or how dense it was, the glue adhered to the surfaces and kept them strongly bonded. 
The viscosity was not too thick; spreading and working with the adhesive to have a clean application was easy. Additionally, Gorilla states that this glue is able to dry within 30 minutes with a clamp. 
Where most other products require more time to set and dry, a shorter drying time is welcome. This can let you move on with your work quickly, without having to wait and see if the glue has held or not. 
What Could've Been Better?
While it is not a drawback of the actual glue itself, it should be noted regardless that this particular glue does come in a four-ounce bottle. This amount is more suitable for minor repairs and adhesions. For more extensive or heavy-duty repairs, it is advised to pick up a larger volume to get the job done.
Pros
20-30 minutes clamp time

Versatile with different density woods

Easy to use

It can be used indoors or outdoors
Cons
Volume required may be less for larger projects
An iconic orange cap on this bottle declares it as Elmer's glue. This carpenter wood glue forms an incredibly strong adhesion on wood surfaces, penetrating into them for a secure bond. Widely used for its non-toxic formula with no fumes, it is a comfortable option to work with. 
Why Did We Like It?
For projects which are placed outside or in areas where exposure to moisture is a possibility, the E7310 is a great glue to use. This adhesive is able to hold the bond between surfaces while making sure no moisture passes into the wood. 
By creating a penetrating bond with the surface, it prevents mold and mildew formation; the glue acts as a sealant in a sense. Not having to worry about any possible growth taking place in the bond itself is a great feature to have. 
Additionally, the glue is able to be sanded and painted once it has dried. This makes the repair job even more imperceptible, blending into the material itself. Combining this with the bottle's easy application design and simple clean-up makes this Elmer's glue a breeze to work with.
What Could've Been Better?
It may not always be possible for the surface you are working with to be thoroughly cleaned before applying an adhesive. As such, it should be noted that this particular Elmer's glue requires the surface to be clean for the most durable result possible. 
Pros
Non-toxic

Little to no odor or fumes

Strong bond

Thick consistency for easy application
Cons
The surface must be completely cleaned beforehand
A two-part application process, this cyanoacrylate formula from FastCap is designed for an easy application that is also fast. Within seconds, a bond is formed regardless of what density surfaces you are sticking together. Once dry, the glue is able to withstand up to 4,000 PSI, excellent for filling up those small gaps permanently. 
Why Did We Like It? 
What is probably the standout feature in the 2P-10 adhesive is the incredible set and curing time. After spraying the activator on the glue, the surfaces are bonded within ten seconds and cured in 30. 
There are not many types of glue that can boast of such fast curing times, let alone the time needed for a bond to form. What's more, this adhesive does not require intense pressure on the material while it is curing. Simply pushing the two surfaces together for 30 seconds was sufficient enough. 
Another helpful feature is the design of the activator's cap. One of FastCap's own designs, this nozzle applied the spray evenly and smoothly. There were no inconsistencies or bubbles once the spray was applied to the surface.
Additionally, the no-clog design of the cap came in handy when using the activator multiple times –truly giving you the full value for money experience. 
What Could've Been Better? 
As this adhesive bonds within seconds, the materials should be ready to be positioned before any application. There is not much room for error once the glue has been applied, so getting it right the first time is recommended. You wouldn't want your two surfaces to be placed incorrectly after the glue has already bonded. 
Pros
No-clog cap design

Straightforward application

Strong adhesive bond

Compatible with different density woods
Cons
Little to no working time once applied
This waterproof adhesive formula from Titebond is excellent for those areas which are exposed to water. Not only does this adhesive protect against moisture, but it can be applied on surfaces in contact with food. Overall, this waterproof adhesive is an ideal choice for both indoor and outdoor projects.
Why Did We Like It?
Right off the bat, the most helpful feature of using this adhesive is the waterproof quality that the formula has. Any moisture is repelled and keeps the bond dry and secure. As such, using it on an outdoor project is within the realm of possibilities. 
Unlike other wood glue formulas, Titebond has not prioritized the drying time to be as minimal as possible. While it does dry in less than an hour, they have allowed a window of time to work with the material. This can help you have the best adhesion and get the pieces positioned just right before the bond is set. 
Furthermore, any excess glue that is leftover or seeping from between the seam can be cleaned easily. A damp rag is sufficient to get the glue wiped off quickly. Additionally, the adhesive can be sanded down for a cleaner, seamless look once it is dried. 
What Could've Been Better? 
It should be noted that once this glue has dried, it takes on a dark shade. For those who are working with light-coloured wood, the bond can stand out. This can be worked around by using a stain to blend the repair job but is not always applicable depending on the project. 
Pros
Waterproof formula

Interior/Exterior application

Cleans up easily

Extended "open time" to work with material
Cons
It has a dark shade once dried
Another wood glue from the Gorilla brand, this variant has some waterproof features that increase its versatility. This glue maintains the strong bond formed between wood while making sure the permeating seal holds up against any moisture. This glue has an even application with a thick consistency no matter the density of wood being bonded. 
Why Did We Like It?
There are not many differences between this waterproof Gorilla wood glue and normal Gorilla wood glue. Where this glue shines is, of course, the waterproofing features. It held up well in keeping the seal between the wood dry. 
What's more, the bond itself is not inferior in any way. Once it has been set and cured, the wood feels solid; the adhesion feels more substantial than the wood itself. 
A particularly useful quality about this glue is the thick consistency it has. By being so dense, it is able to hold its shape even when applied vertically. Using thinner glue will result in a runny mess, but this Gorilla glue was able to stick until it dried. 
Additionally, the working time of this glue allows for the best positioning of the pieces to be glued. Once they have been placed correctly and the adhesive is applied, a curing time of 20-30 minutes with clamping will thoroughly dry the glue. 
What Could've Been Better?
While a thick consistency can be a benefit, there are also some drawbacks to using such a thick viscous glue. For one, getting it out of the bottle can be a hassle, especially when being used multiple times. When the glue hardens in the bottle, it can be even more challenging to get it out.
Pros
Can be applied indoor/outdoor

Minimal clamping time

Cleaned up with water

Thick viscosity for vertical application
Cons
It can be difficult to remove from the bottle
Titebond offers a premium wood glue option in their 5003 II that has a strong tensile strength of up to 3750 PSI. What's more, the 5003 II was designed to be used on exterior surfaces, so water and UV resistance, as well as the ability to sand it down, are key features. 
Why Did We Like It?
Using a waterproof formula in this wood glue makes for an ideal outdoor adhesive. While it can be used indoors as well, this glue can be taken full advantage of on surfaces exposed to the elements. 
To put it in context, other wood glues that are not rated for outdoor use can yellow and crack if exposed to UV rays and moisture. For wooden surfaces outdoors, this glue did not have any such yellowing; the bond formed was maintained regardless of what it was exposed to. 
When applying the 5003 II, it forms a bond within five minutes on the surface; enough time to work with the material and get it into place. Thanks to the applicator top, the glue comes out in thin strips for a controlled flow. 
What Could've Been Better? 
Titebond has decided to use an applicator nozzle rather than a closed-off nozzle on the tip of the bottle. This can leave the glue exposed or even clogged within the nozzle. When using the glue on multiple occasions, it can be challenging to have an even application or unclog the nozzle. 
Pros
Water-resistant

Ideal for exterior application

Water clean-up

Easy application
Cons
Nozzle tends to clog and leak air
The 80070 Jel is a thicker, more viscous formula than the other adhesives in the 2P-10 line from FastCap. Due to this difference in consistency, this glue is able to hold its shape when applied on vertical surfaces. If a thicker glue is what you need, this FastCap option can be what you're looking for.
Why Did We Like It? 
Working with viscous glue is always easy in terms of having an even application. In particular,  the Jel wood adhesive is easy to spread across the surface and stick without running. This comes in handy when the surfaces are at an angle. 
Additionally, the glue does not drip or run when applied. Even when used on a vertical piece of wood, it stuck wherever it was applied. This helps to have a cleaner application overall. 
There is an option to use this adhesive with the activator included in the 2P-10 combo pack. However, the Jel wood adhesive by itself will cure and set within minutes without the activator. Regardless, having the option of a bond within seconds is always handy. 
What Could've Been Better?
Due to the design of the bottle's cap, the glue can potentially dry out or become stuck. The screw-on lid must be kept securely fastened between uses to maintain the quality of the glue. Even leaving the slightest bit exposed to air can begin the curing process and solidify the entire bottle. 
Pros
Does not run

Lifetime warranty

Fills large gaps easily

No clamping is required to set
Cons
Cap design can compromise the glue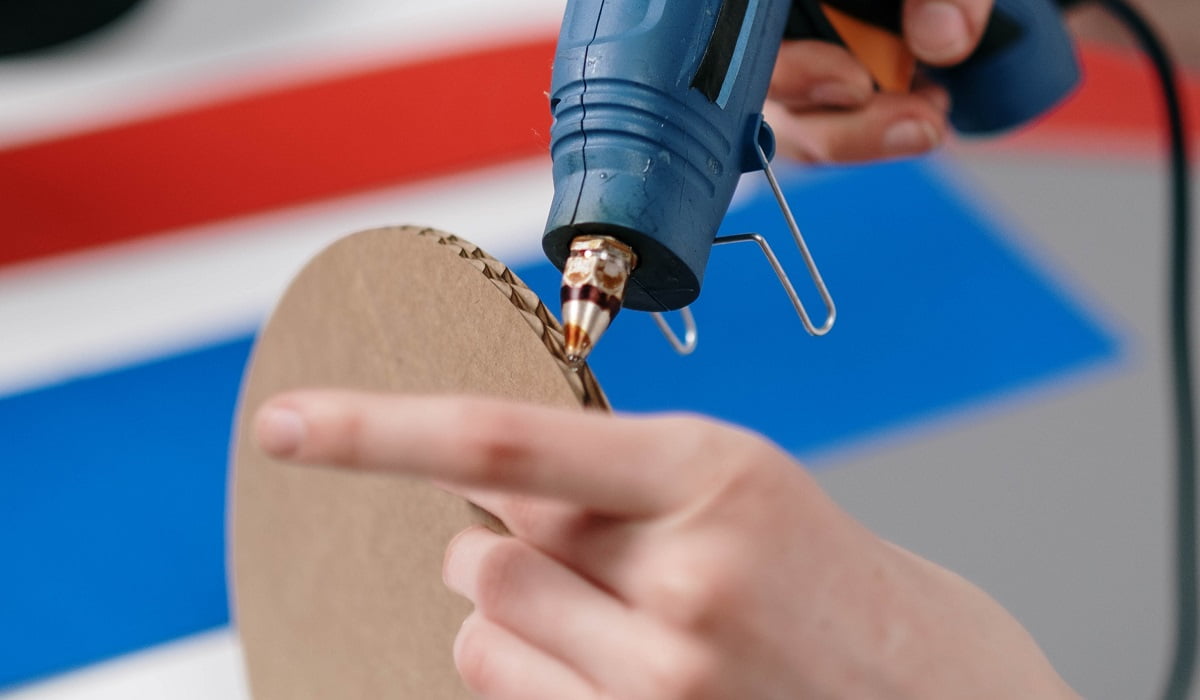 Glue for MDF Buying Guide
Working with MDF glues can be tricky, figuring out how each type of specialized glue differs from the other. To understand the main types and make the most informed purchase, keep in mind the following points. 
Types Of MDF Glue
Polyvinyl Acetate (PVA)
Made of a combination of polyvinyl acetate and water glues, this type of glue is a versatile option. It is able to work both indoors and outdoors with a minimum drying time to boot. However, it is most suited for indoor usage as it does not perform well in humid locations. 
What's more, these glues are usually affordable and readily available in woodworking shops. Overall, it is a basic glue that can be used in most DIY projects with ease.
Plastic Resin Glue
A contrasting glue from PVA, this type of glue is suitable for heavy-duty uses and large projects. The bond created is more robust; however, the application process can be more complex and dangerous. 
Although it has a longer drying time, the glue is next to impossible to remove once set. As such, ensure the adhesive is applied carefully. 
Additionally, there are a number of powders that are mixed into the resin that can match the resulting resin to different wood stains. 
Epoxies
Using epoxy with an MDF is the most flexible option available in terms of working time, as resin glues can be set fast or slow. So whether you need a long or short working time, you can choose an adhesive that matches your needs. 
One drawback to the epoxy type is the higher price tag that comes along with it. If the price tag is justifiable, then epoxy glue can be incredibly useful to give you full value for your money.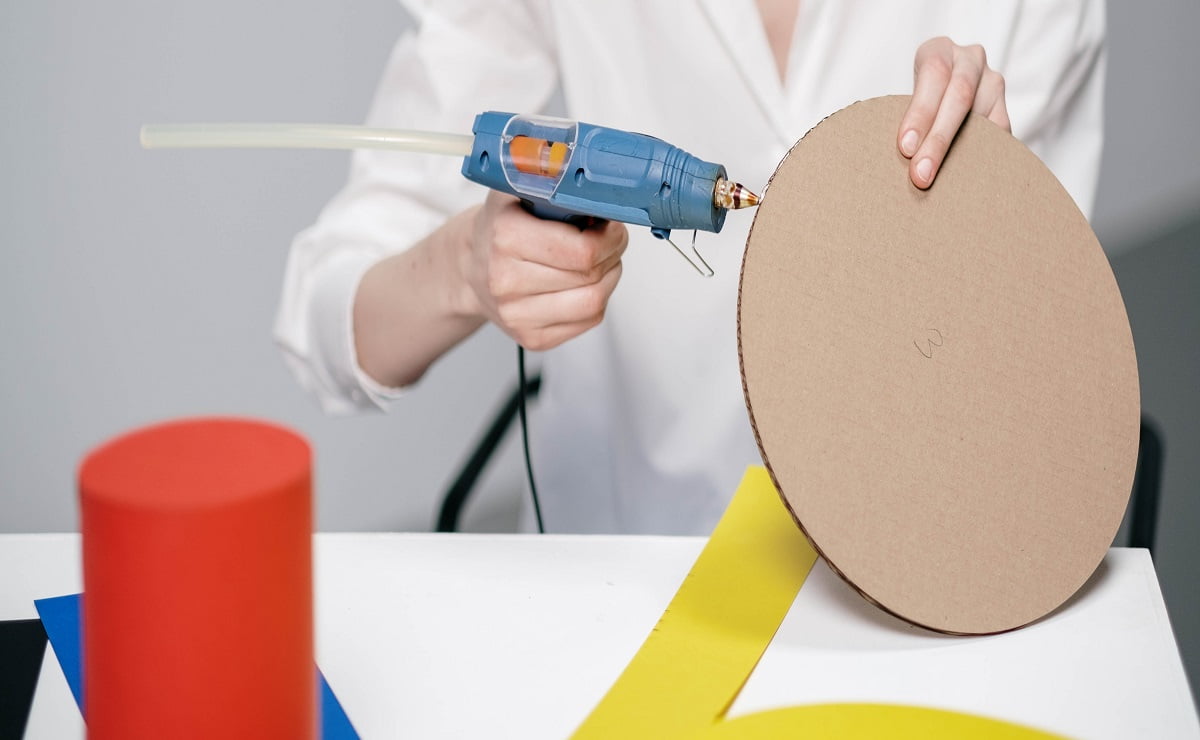 Verdict 
With a number of options listed having various beneficial features, it should be easy to pick the most compatible glue for your medium density fiberboards. 
If the bond must be set quickly, the FastCap 2P-10 adhesive and activator combo pack is a value buy that is also easy to apply. In the event your MDF must be joined with another wood having a different density, the Gorilla Wood Glue is a versatile option. 
Waterproofing features are essential for exterior projects. For this, we recommend the E7310 from Elmer's or the Titebond III, which is not only waterproof but food-safe as well. 
So long as you keep our pointers in mind, any of these glues will be sure to get the job done. With a little bit of glue and effort, your MDF will be looking pristine and whole in no time at all!
Related Articles
Food Safe Epoxy Guide 101 [All You Need To Know]
How to Remove Gorilla Glue From Skin Safely & Easily
How To Get Poster Putty Off Walls
The Difference Between Epoxy & Super Glue [Clear Winner?]
Types Of Glue | Everything You Need To Know
Wood Filler vs. Wood Putty [A Clear Winner?]
9 Best Glue for Metal to Wood [Reviews & Buyer's Guide]
9 Best Caulk For Your Showers and Bathtubs [Buyer's Guide]
10 Best Leather Glue on the Market
11 Best Permanent Fabric Glues [Reviews & Buyer's Guide]
11 Best Aquarium Safe Silicone
11 Best Glue For Paper & Paper Mache
10 Best Ceramic and Porcelain Glue
11 Best Glue for Polypropylene
3 Best Adhesive for Carbon Fiber
9 Best Glue For Acrylic Plexiglass
9 Best Glue for Plastic Eyeglass Frames
10 Best Glue For Stainless Steel
Polyurethane Glue 101 | All You Need to Know  
Gorilla Glue vs. Super Glue | Strengths, Weakness + Winner?
JB Weld VS Gorilla Glue | Comparison & Winner
9 Best Glue For Hardwood Floors
7 Best Glue For Particle Board
5 Best Glue To Fix Fridge Plastic
7 Best Adhesive For Acoustic Foam
Glue That Works On ABS And PVC