The popularity of hardwood flooring is steadily increasing, with more and more homeowners opting for this classic option.
Hardwood floors offer several advantages over other types of flooring, such as enhancing the look of your home, offering excellent durability, and easy maintenance. In fact, you can install hardwood floors without any professional help.
So, if you plan to install hardwood flooring at home, one of the first things to consider is the glue. The correct adhesive ensures the durability of the flooring and adds to the finishing.
On that note, selecting the right product can mean the difference between a successful and unsuccessful installation. However, choosing the best glue for hardwood floors from the many available options on the market can be quite challenging. 
But don't worry — we bring you this excellent guide to make things easier and our top nine recommendations to choose from. So without further ado, let's get started!
Best Products For Hardwood Floors
IMAGE
PRODUCT
DETAILS

Our Top Pick

Our Top Pick

Roberts 7350-1

Solvent-free
LEED compliant
Cross-linking formulation

VIEW LATEST PRICE →

DAP 142

VOC compliant
Non-flammable
Water-resistant bond

VIEW LATEST PRICE →

CalFlor GL82114CF

D3/Type II Eurobond Glue
FloorScore-certified
Formaldehyde and acrylamide-free

VIEW LATEST PRICE →

Titebond 2104

Low chalk temperature
Two-year shelf life
Water-resistant

VIEW LATEST PRICE →

Titebond 1415 III

Interior and exterior application
One-part glue
Low application temperature

VIEW LATEST PRICE →

Roberts 1407-1

Direct bond installation compatible
LEED-compliant
Low VOC

VIEW LATEST PRICE →

Henry W.W Co. 12236

Acrylic urethane adhesive
Samling TV-stocked hardwood compatible
450-500 sq ft coverage area

VIEW LATEST PRICE →

Bostik GreenForce

AXIOS Tri-Linking Polymer Technology 
Moisture control
Odorless

VIEW LATEST PRICE →

DriTac

Wood repair system
Refillable
Moisture barrier

VIEW LATEST PRICE →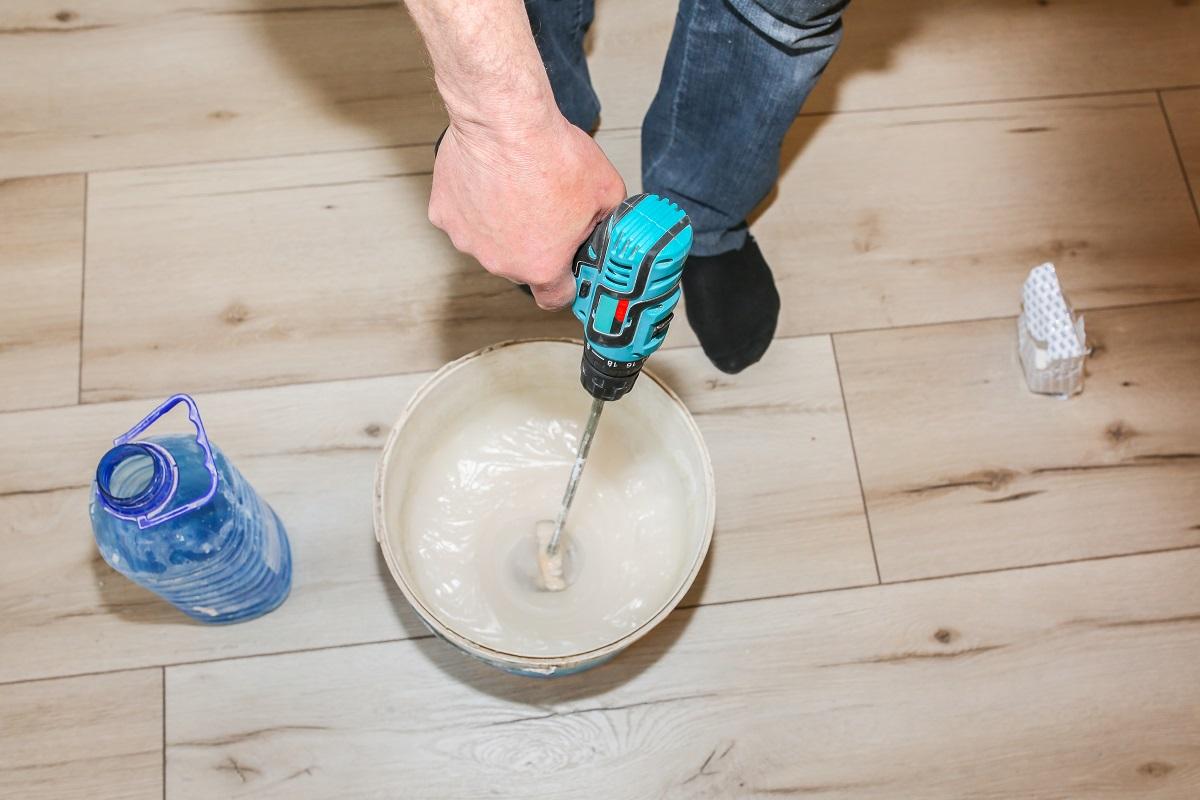 Let us begin with a product from the house of Roberts, a premiere brand known for its high-quality installation tools, adhesives, and accessories. The 7350-1 is an excellent product that can be used for joining together a range of flooring materials and is also an environment-friendly option.
Why Did We Like It?
The Roberts 7350-1 glue is one of the finest products we tested and comes with a solid cross-linking formulation for installing tiles and planks indoors for your hardwood floor. It is compatible with a wide range of materials, including luxury vinyl tile (LVT), luxury vinyl plank (LVP), and even wood composite.
Additionally, it can create a solid bond with concrete and plywood, steel, marble, and other materials. One of the things we liked most about this versatile product is that it is effortless to apply and clean up. All you need is a trowel for application and soap and water for clean up. 
Not to mention how the 7350-1 dries clear, leaving a polished and sophisticated finish. Moreover, the thickness of the glue makes it the perfect choice for using it for hardwood floors, as it enables application with great precision without running off across the surface.
What Could've Been Better?
We did not come across any significant downside to this excellent product during our testing phase. However, we wish that this hardwood floor glue did not take such a long time to dry, as it can even take over a couple of days. But the product redeems itself as it is firm and delivers excellent results.
Pros
Very easy to use

Strong bonding

Versatile

Easy to maintain and clean
Next up on our list is the DAP 142, a water-resistant multipurpose glue that is great for different types of flooring, including hardwood floors. DAP has been developing a range of caulks, sealants, and adhesives since 1965, and the 142 is another high-quality product that offers impressive performance.
Why Did We Like It?
We discovered the DAP 142 while looking for the best glue for hardwood floors with water-resistant capabilities and were delighted with this product. Besides creating a water-resistant bond, the 142 also increases shrink resistance during installation on hardwood flooring. This property allows you to reposition tiles or planks as required easily.
Another thing that you'll like is that, unlike most adhesives, the DAP 142 is a low odor and low VOC product, which makes it one of the safest options available. Since it emits a low amount of VOC, it is ideal for use indoors and in all types of locations. 
From a safety point, this item from DAP is also non-flammable. Besides being one of the safest options, this wood flooring glue is also very easy to clean and maintain. Just use some soap and water, and it will scrub off easily from unwanted areas. 
What Could've Been Better?
Once again, we have nothing to say against this outstanding product. However, we would like to point out that the instructions are not very clear, which might be tricky for first-time users. However, other buyers have provided detailed instructions online to help you out.
Pros
Powerful bond

Safest option

Reasonable pricing

Easy to clean
Moving on to the next product, we bring you the CalFlor GL82114CF, one of the most well-received glues for general flooring purposes. Apart from its water-resistant properties, this hardwood floor adhesive comes with a D3 certification, making it ideal for use indoors.
Sale
Why Did We Like It?
There are several things to like about the CalFlor GL82114CF, the first of which is its high-strength bonding capacity. This highlight makes it one of the best adhesives for hard surface flooring, including ceramic, concrete, and wood.
Not only is the GL82114CF strong, but it is also reasonably flexible once it dries. The flexibility also makes it more durable as your flooring can take a more significant amount of stress without breaking.
Also, this product comes with a D3 certification, which ensures that it is resistant to water and humidity. You can rest assured that your hardwood floor will not be affected by any short-term exposure to condensed water or give way to mold.
Other than that, this product from ClaFlor is a low-VOC option and comes with the FloorScore certification, making it an excellent choice to preserve indoor air quality. 
What Could've Been Better?
The CalFlor GL82114CF is undoubtedly one of the best products if you want to glue hardwood floors. However, it does not perform well on luxury vinyl plank (LVP) material. If you are looking for a more versatile option, better alternatives are available on the market.
Pros
Easy to use

Comes with safety certifications

Strong, durable bond

Low maintenance
Now we bring you an exciting product from Titebond, a leading manufacturer of high-quality products for hobbyists and homeowners. The Titebond 2104 is a dynamic product that promises solid and lasting bonds on all types of laminate and hardwood flooring with excellent results.
Why Did We Like It?
To begin with, the Titebond 2104 is one of the strongest adhesives that we came across for both laminate and floating floors. It can even be used on floors that lie over radiant heating systems without any issues.
It is also worth mentioning that the 2104 has passed the ANSI Type II water-resistance test. In other words, the glue creates a highly effective barrier against moisture, providing stability and durability to your hardwood floor.
Another thing that sets the Titebond 2104 apart from the competition is its two-year shelf life, so you won't have to throw out any leftovers. Also, it is entirely non-toxic and non-flammable, making it an environment-friendly option.
This wood floor glue has a low chalk temperature and maintains a strong bond. However, it dries to a white color, which may be favorable as it becomes easy to see and clean on all types of flooring. These include ceramic, concrete, and even engineered wood flooring. 
What Could've Been Better?
We were very impressed by the performance of the 2104 wood floor adhesive from Titebond. However, the manufacturer has recently increased the price of this superb product, making it one of the costlier options on our list. Despite the cost, this product remains a fan-favorite due to its excellent results.
Pros
Excellent bonding strength

Easy to apply

Can be stored for future use

Protects against moisture
Titebond has mastered the art of developing high-performance adhesives for all types of flooring requirements. On that note, here is another noteworthy product from the brand — ehe 1415 III Ultimate Wood Glue. Specially designed for use with hardwood floors, this glue guarantees exceptional results.
Why Did We Like It?
While most of the other items on our list are meant for a wide range of flooring substrates, the Titebond 1415 III is designed to be used as wood glue. It creates a powerful bond with wooden surfaces and remains one of the best hardwood flooring adhesive options to get today.
That is not to say that the 1415 III does not offer versatility. In fact, you can easily use it for indoor and outdoor applications. It can be the perfect solution for redoing your patio or installing and repairing hardwood floors in the kitchen — or perhaps, both.
The 1415 wood glue is also waterproof and can be easily used on flooring frequently exposed to moisture. On that note, some customers have used it on surfaces other than flooring with success.
Also, if you are looking for an option that gives you a longer working time for repositioning and making adjustments, this is the ideal choice.
What Could've Been Better?
We could not find any drawbacks worth mentioning while testing the Titebond 1415 III. The only thing to note is that the large handle on the bottle is not required and gets in the way when applying the adhesive. Perhaps, the manufacturer should look into improving the design of the bottle.
Pros
Wide application

Decent setting time

Waterproof bonding

Superior bond strength
Cons
Inconvenient bottle design
Another excellent product from Roberts, the 1407-1, is a wood glue that is specially manufactured for use with wood flooring, plain back parquet flooring, and acrylic impregnated planks. It is a high-performance product meant for heavy-duty use and is excellent for hardwood floors that witness heavy traffic. 
Why Did We Like It?
Being a product from the Roberts brand, we expected the 1407-1 to deliver impressive results and are delighted to say that it did not disappoint. Due to its high strength bonding, this wood floor glue is one of the best adhesives for engineered hardwood floors.
Despite being developed for use with hardwood flooring, the 1407-1 can also be used on concrete, plywood, and acoustic cork underlayment. While testing the product, we found that it comes with an easy-to-apply bottle that makes it ideal even for first-time users.
Even more impressive is the fact that this product is LEED compliant, making it one of the best environment-friendly options to get. Add to this the low VOC emitting property of this product, and you get one of the safest value for money options on the market.
What Could've Been Better?
While testing the product, we noticed that this glue has one of the strongest and foulest odors in the segment. It is highly recommended to use a face mask and keep your face covered while using this product. However, the odor fades away after a few weeks.
Pros
User friendly

Value for money

Strong and durable bond

Safe to use
The Henry W.W Co. 12236 is one of the best adhesives for all types of wood flooring, including engineered hardwood floors and solid wood flooring. Featuring urethane-enhanced acrylic technology, this product offers a long working time and excellent bonding strength for a great experience.
Why Did We Like It?
The Henry W.W Co. develops and manufactures high-performance resins and adhesives for both commercial and residential purposes. The 12236 urethane adhesive is one of the finest products from the brand that can be used on different types of wooden flooring.
We tested this product on engineered hardwood and solid hardwood floors with excellent results. It has an impressive initial grab and provides a long working time. So, if you need to make adjustments or reposition the planks, this is a great choice. It is also very easy to use, making it an ideal option for new users as well.
Additionally, the 12236 also provides an excellent moisture barrier, providing moisture from entering your floor and ensuring that the wooden floor is intact. Furthermore, cleaning it up is also very easy. We used mineral spirits to clean it up after installation, and we're happy with the results.
What Could've Been Better?
While we were very impressed by the performance of this excellent product, however, it is specifically meant to adhere wood to concrete. It is unsuitable for other purposes, such as gluing wood to drywall. For more versatile applications, we recommend going with another option.
Pros
Easy to use

Flexible

Easy to clean

Provides reposition and adjusting time
Cons
Only meant for wooden surfaces
Our penultimate product for you is the Bostik Greenforce, one of the most potent hardwood flooring adhesives. This glue for hardwood floors comes with an excellent bonding strength to keep your hardwood floor in place while also offering moisture control to prevent any damage to the flooring.
Why Did We Like It?
The superior green grab immediately caught our attention among the many impressive features that the Bostik Greenforce offers. Green grab refers to how effectively an adhesive can adhere to the wood plank on first contact. With this product, the wooden planks are set down and fixed in position, ensuring stability in your wood flooring..
Additionally, the manufacturer has developed this hardwood glue so that it does not let any moisture permeate through the subfloor. You do not need to worry about water spilling over your hardwood floors and damaging them.
What is more, we also like the fact that the Bostik Greenforce is a highly versatile product that can be used easily with almost any subfloor and flooring. You can use it over concrete, plywood, well-bonded vinyl, and more. 
What Could've Been Better?
Being a highly effective product, it is vital to read and follow the instructions properly for getting the desired results. This adhesive does not provide any space for experimentation, and you will not be able to get the desired results if you do not follow the exact results. 
Pros
Wide application

Protects against moisture damage

Easy to clean

Excellent bonding
Cons
No room for experimentation
Coming to the final product, the DriTac CECOMINOD081282 is another excellent option if you are looking for hardwood flooring adhesives. It also works exceptionally well for installing engineered wood flooring, even in situations where other products do not work, and can be used for repairs over concrete as well. 
Why Did We Like It?
The Dritac CECOMINOD081282 is one of the best glues for hardwood floors available on the market, and it is easy to see why. It is meant for repairing damages in hardwood flooring but works equally well for new installations, offering stability and durability to your wood floor.
One of the features we liked most about this product is that it comes with a refillable bottle that allows multiple uses. You can even store it for use on other projects later on. 
Besides that, this glue for hardwood floors is also very efficient in creating a solid moisture barrier. It can help protect your flooring from water spills. What is more, you can even fill voids between your flooring and the subfloor with this excellent product.
The Dritac adhesive is reasonably easy to use and is one of the more cost-effective options on the market.
What Could've Been Better?
The Dritac CECOMINOD081282 comes with a syringe that tends to clog up and requires frequent cleaning during the application process. You will need to keep a small pin or similar object handy to unclog the syringe while working. However, performance-wise this hardwood floor glue does an exceptional job.
Pros
Prevents moisture damage

Suitable for installations and repairs

Easy to use

Creates a strong bond
Cons
The syringe tends to clog up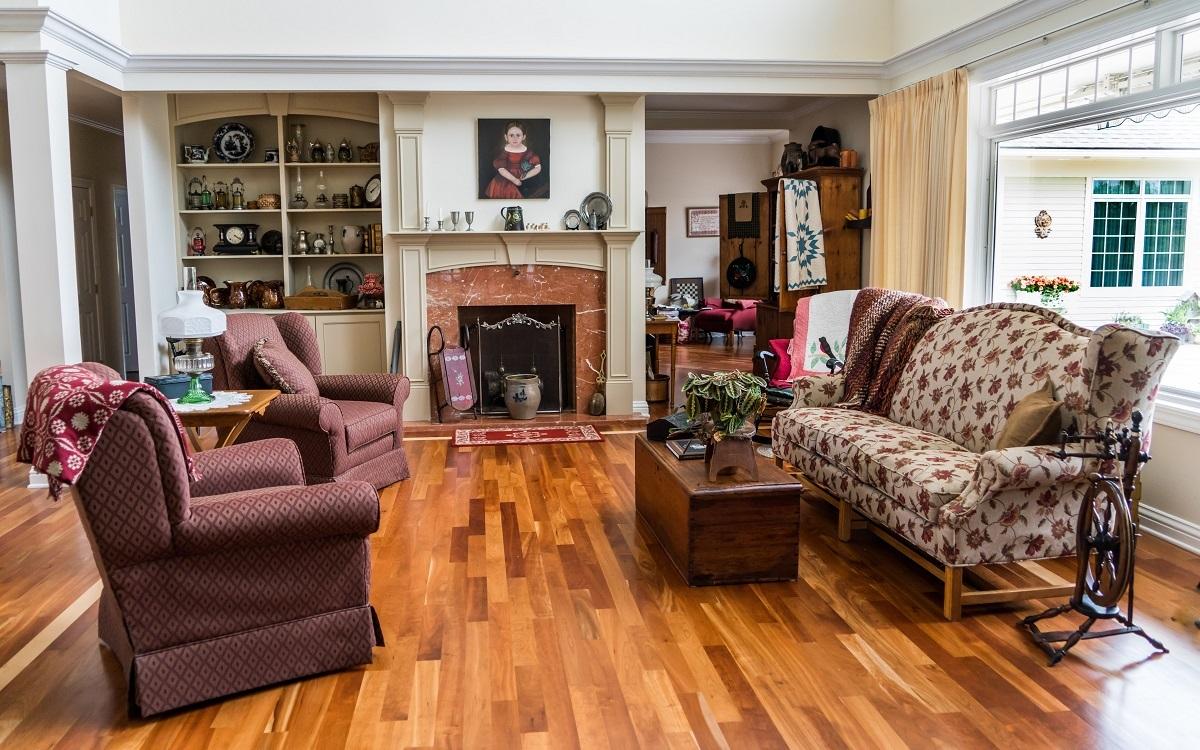 Glue For Hardwood Floors Buying Guide
We hope you enjoyed going through our review-based guide for the best glue for hardwood floors, and it proved helpful in your search for the right product. However, there are still a few things that we need to share before you can get down to selecting a product..
Even after knowing about the best options, several factors need to be considered before you can find the right product. In this section, we will share with you some of these factors that can help select the right product. 
1. Substrate Type
One of the primary factors to consider when buying flooring glue is the type of substrate you have. Substrate refers to the structure or material that lies directly below the wood flooring finish. Not all adhesives work well with all types of subflooring, which is why you need to select the glue that is most compatible with the subflooring installed. 
For instance, some adhesives can be used to install flooring over plywood subflooring, while others can even work over radiant heating systems. 
2. Flooring Type
Another equally essential factor is the type of flooring you plan to install or repair. There can be several types of flooring even within a particular segment. For instance, in the case of wooden flooring, you can have hardwood floors, engineered wood flooring, or even laminate wood floors. 
The type of flooring will determine which glue works best for it. Some products work well on a wide range of floors, offering versatility, while others are limited to a specific type of flooring. The greater the compatibility between the type of floor and glue, the better the results.
3. Drying Or Curing Time
The amount of time that glue takes to dry or cure directly affects how much time you get for the installation process. It also determines the amount of adhesive that needs to be prepared for each process stage. Furthermore, the curing time decides how soon the wood flooring is ready to support weight and can be put into use. 
Adhesives with a smaller curing or drying time will make your flooring ready to use sooner. On the flip side, however, you won't get much time for repositioning or adjustments with such products. 
4. Location
For interior installations, adhesives do not need to withstand a large amount of weathering or environmental damage. Most options available can be used for interior flooring installations or repairs. On the other hand, for exterior environments, it is advisable to get glue that can handle stress from environmental factors, such as the sun, rain, snow, etc. 
The location also determines the climate, which plays a critical role in the performance of the adhesive. Some adhesives work better in warm and humid conditions, while others are meant explicitly for hardwood floors in freezing temperatures.
5. Ease Of Use
Ease of use is a vital factor to consider depending on how you plan to get your flooring installed or repaired. If you plan to undertake the installation or repair without hiring any contractors, get a product that can be applied easily. 
Ease of use should also be considered if you are a first-time user. Those with prior experience using such products for repairs and installations can work with products that may not be very simple to use. However, even in that case, an easier-to-use option can help save a lot of time and effort.
6. Cleanup And Maintenance
Flooring glue can be one of the most challenging things to clean. Fortunately, manufacturers are now paying attention to this and altering their formula to make the adhesives easier to clean. 
Generally, water-based glues are easier to clean than solvent-based ones, but that also makes them more susceptible to moisture damage. Select the flooring glue depending on how much time you have to clean up the mess afterward.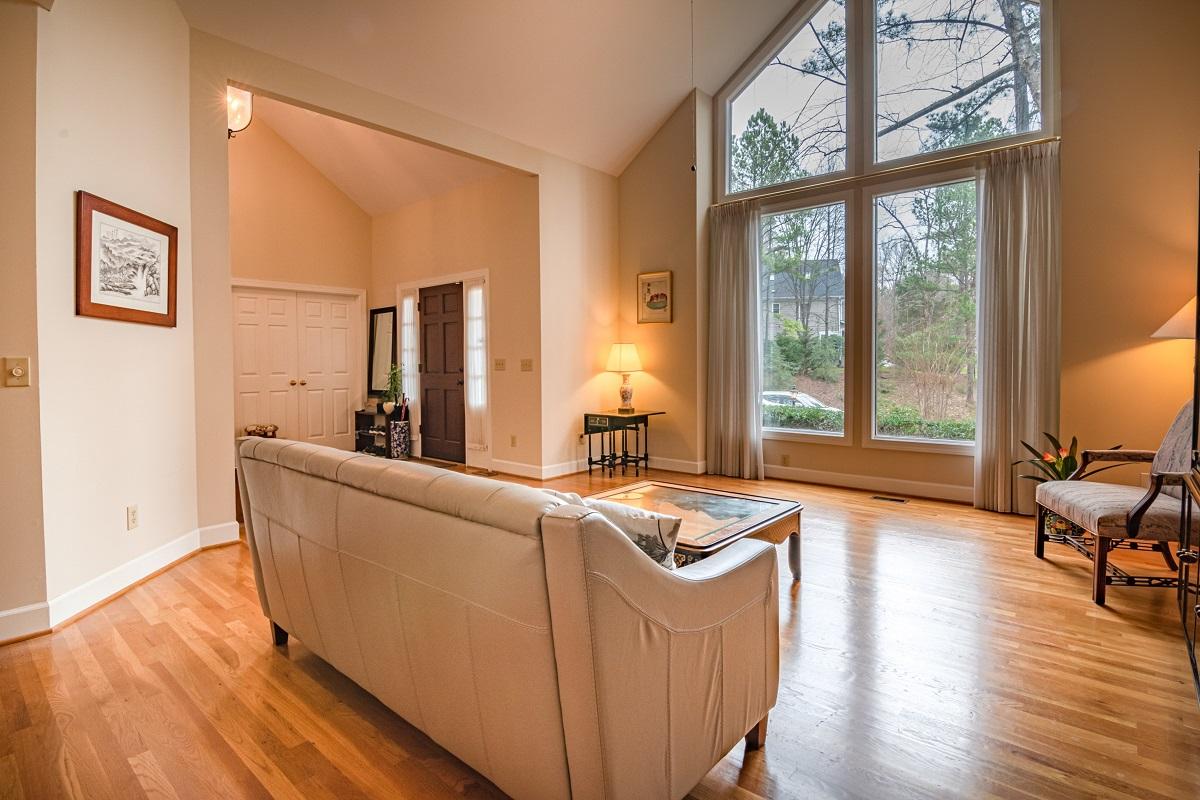 Final Verdict
With that, we've come to the end of our comprehensive review and guide to the best glue for hardwood floors. It is now time for us to leave you to make a decision, But before we go, here are a few of our top picks.  
Our overall favorite is the Roberts, which offers excellent performance and is LEED-compliant to boot. However, if you're looking for a multipurpose option for your hardwood floor that is also moisture-resistant, then the Henry W.W Co. is a better choice. 
Finally, there is the CalFlor if you are looking for a safe and beginner-friendly option. On that note, we will be signing off. Feel free to leave a comment below and let us know what you think of our recommendations. 
Until next time!
Related Links
13 Best Wood Glue for Firm and Durable Bonds
3 Best Adhesive for Carbon Fiber
9 Best Exterior Wood Stains Today
10 Best Leather Glue on the Market
11 Best Glue For Paper & Paper Mache
10 Best Ceramic and Porcelain Glue
11 Best Glue for Polypropylene
9 Best Glue For Acrylic Plexiglass
9 Best Glue for Plastic Eyeglass Frames
10 Best Glue For Stainless Steel
7 Best Adhesive For Acoustic Foam
Glue That Works On ABS And PVC