Placing acoustic foam panels on a wall can create a calm space to escape busy life or have a higher quality environment to work in, as they can help soundproof your room and improve noise reduction considerably.
Regardless of what you use these acoustic panels for, one thing is clear. They are only as effective as the bond that holds them to the wall. As such, the type of glue that you use will determine the lifespan of the acoustic foam panel.
We realize that finding the best adhesive for acoustic foam may prove to be difficult, as the foam is not the most solid surface to work on. So, to help you get started, we have gathered the best adhesive for acoustic foam options and how to pick the most suitable one.
With that said, let's get right into it and find the best adhesive for foam!
Best Adhesives For Acoustic Foam
Whether you are looking to improve the sound quality in your home theater or recording studio, acoustic foam is an essential component. But simply placing the foam on the walls won't be enough – you need to use the right adhesive to ensure the foam stays firmly in place. Here is the list of the 7 best adhesives for acoustic foam: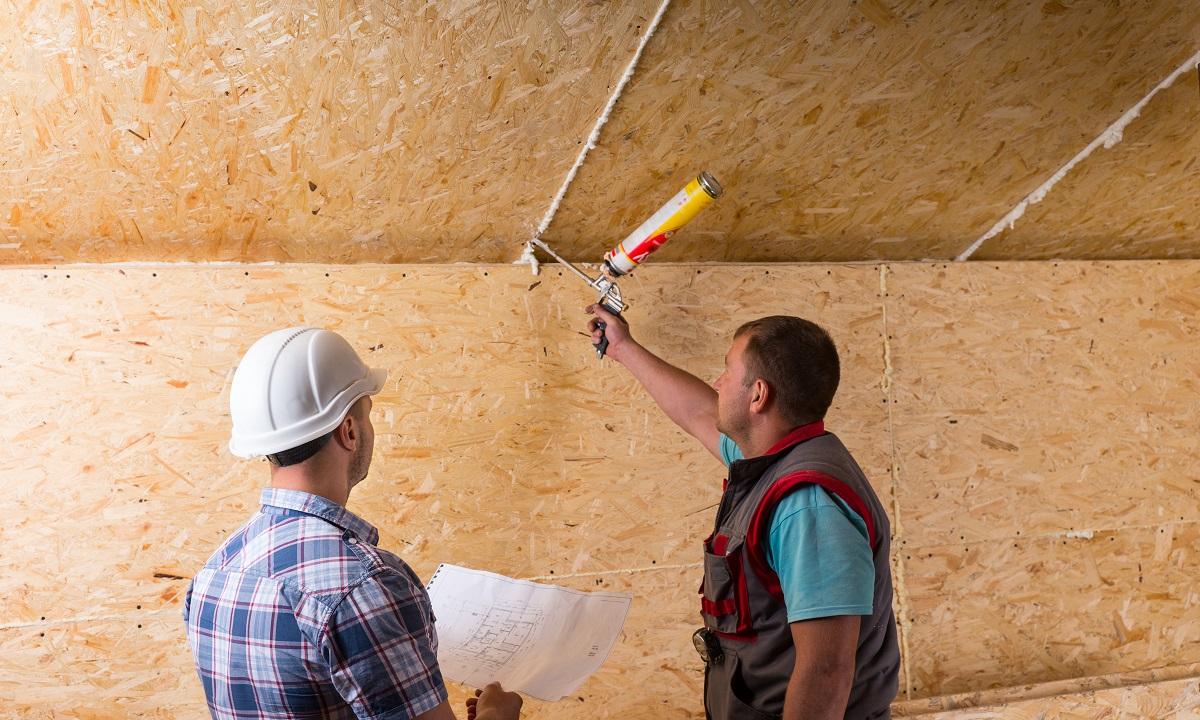 Gorilla Glue is always one of the leading contenders when it comes to achieving superior bonding quality without breaking the bank and it might be the best adhesive for foam. It makes sense, seeing as their acoustic foam spray adhesive is packed full of features to make it user-friendly. From versatility to a seamless application, this is a great glue to mount acoustic foam with.
Sale
Why Did We Like It?
Applying acoustic adhesives onto walls is a delicate task, which is why the ability to reposition acoustic panels after using the Gorilla Glue is a valuable feature to have. They peel off the walls cleanly to allow you to correct any accidental applications and have a clean-looking result.
Despite being able to peel Gorilla Glue off the walls,  it still has a superior bonding quality that makes it stand out from other spray adhesives. This is because of the wide pad nozzle that ejects the glue in a fine mist for precise applications. As a result, getting even coverage without clumps is more accessible than ever.
One consideration that we appreciated on Gorilla Glue's part was their forward-thinking in the lifespan of their acoustic adhesives. The bond between the acoustic foams and walls will not be photo-sensitive and break down or yellow over time, giving a high-quality, lasting finish.
What Could've Been Better?
Seeing as this spray adhesive comes out in a fine mist, it was no surprise that the working time it had was relatively less. In fact, extra moisture was needed at times to maintain the putty consistency before it was applied.
Pros
Adheres to new VOC standards

Clear color formula

Photo safe

Ergonomic nozzle
The Super 74 – Clear from the 3M brand is a strong contender for the best adhesive for acoustic foam, thanks to the unique formula explicitly made for foam surfaces. This is especially useful for bonding projects like acoustic panels to get a secure application that is more robust than other options.
Why Did We Like It? 
Like many other sprayed adhesives, the Super 74 – Clear uses a pattern distribution to spread the glue. In this case, 3M has decided to go with a lace design which helps to have a more cohesive coverage across the applied surface. This unique shape also has the benefit of securing the foam to the wall at multiple points, making for a firmer grip overall.
Furthermore, by specifically creating the adhesive formula to adhere to foam, 3M allows the bond time to be adjusted to your needs. Ranging from 15 seconds to a full 30 minutes, you will have ample working time to get the adhesive in place before it hardens.
Additionally, this 3M acoustic foam glue can be used with a variety of surfaces and weights. Attaching acoustic panels to wood and other types of wall materials is possible.
What Could've Been Better?
A caveat to working with the Super 74 is the potentially dangerous levels of fumes produced while spraying. There is a warning to wear safety equipment and use it in a well-ventilated area, which shows just how serious the VOCs can get. Those with respiratory ailments may want to reconsider this particular spray adhesive.
Pros
Rapid tack for quick assembly

Industrial strength bond

Bonds wood, foam, and more

Adjustable width pattern
Cons
High amount of fumes and VOCs
Truly one of the more unique spray adhesives, the FTSPRAY from Auralex Acoustics is a special multi-purpose spray that can adapt to whatever bonding projects you are working on. Whether it is temporarily gluing lightweight objects or permanent fixtures, it is able to give a solid performance every time.
Sale
Why Did We Like It?
One of the best adhesives for acoustic panels, the FTSPRAY from Auralex Acoustics is a feat of engineering in terms of its versatile application. It can be used for temporary applications, meaning you won't have to worry about the glue peeling when you move a piece around. At the same time, a more generous application will give you a permanent hold that can't be as easily removed.
Another noteworthy feature among the technical specifications of FTSPRAY is its composition. This formula uses more solids than other spray adhesives for acoustic foams. Essentially, this means there is more control afforded over the glue before it hardens.
What made working with this particular spray adhesive even more seamless was the lack of toxic fumes and the nasty stink it had. Even in lower-ventilated rooms, it didn't become uncomfortable or need to be aired out for long.
What Could've Been Better?
A slight inconvenience when it comes to the FTSPRAY is the clean-up after the application. Simple water and soap weren't enough to get it off the skin or walls; we had to use GooGone and other products to completely remove the spray adhesive, which made getting a clean, finished product difficult.
Pros
Compatible with multiple surfaces

Mounts up to 96 square feet

Straightforward application

Low odor and VOC
What makes the Loctite performance adhesive one of the best adhesives for acoustic foam panels is its fast drying time and clear composition. Its superior tacky quality allows it to adhere better to a range of surface materials for a highly effective bonding power. This is one spray adhesive that is worth checking out.
Why Did We Like It?
Right away, the first thing that stands out when working with the Loctite spray adhesive is the consistency of the formula. Yes, it is clear, but it is also incredibly tactile, almost like caulk. While it may be similar to a caulk gun in terms of sealant quality, the aerosol cans make for a more accessible method of application on bonded materials.
Additionally, the Loctite also helped create a unique shiny finish to the painted walls. As the formula is clear, this added sheen elevates the quality of the surface to give it a more professional appearance.
Furthermore, one of the more functional technical specifications of this "caulk gun in a can" is the mist spray pattern it uses. By spreading out, it is able to cover more areas with even coats rather than clumping up.
What Could've Been Better?
Loctite performance adhesive is a permanent bonding option, and as such, does not allow much room for error. Adjusting acoustic foam panels after they have been applied will see the glue peel even the paint from the walls in the process.
Pros
Easy mist application

High initial tack

Versatile compatibility

Quick repair capacity
Included in this pack of 3M command picture hanging strips are 18 pieces of small adhesives that give outstanding performance and value for their price. These strips don't leave residue on the walls and have a straightforward peel-and-stick application—definitely one for those who prefer a quick and easy process to hang up acoustic foams.
Sale
Why Did We Like It?
What makes the command picture hanging strips one of the best adhesive options is the fact that no tools are required in the installation. No nails or sprays are involved; the strips can be used as-is right out of the packaging, allowing for one of the most straightforward application methods possible.
Combining four hung strips will give you a total holding strength of four pounds. Using these pieces together should be more than enough strength to support the weight of acoustic foam with no issues. Whether it is on painted walls or wood, this adhesive is able to adhere to all types of surfaces.
Another valuable feature that these hanging strips have is the ability to remove the panels without causing damage to the wall or acoustic panels. It may take a few attempts to figure out the best arrangement of panels for you, so giving a large room for error and rectification is appreciated.
What Could've Been Better?
Despite being able to combine the holding power of the hung strips, they are pretty limited in their actual coverage. If you have a larger area to cover with acoustic panels, you may need multiple packs to keep the panels stuck and complete the installation.
Pros
Removes cleanly from walls

Range of compatible material applications

Seamless application

Repositionable after applying
Cons
Covering large areas is difficult
Hanging acoustic foam without glue is a common request and another option if you are planning to use sticky pads comes from UPINS in their considerable 120-pack model of double-sided foam tape. These square pieces are made of EVA foam to give them improved durability against various elements like heat and extra moisture.
Sale
Why Did We Like It?
In particular, the improved resistance against extreme temperatures and water proved to be the most noteworthy among the technical specifications of the double-sided tape for acoustic foam. Not having to worry about the adhesive falling off of a surface that was too hot or cold was a great relief.
Additionally, by having the double-sided tape for acoustic foam individual pieces made of EVA, UPINS allows you to customize the shape to fit any surface you are working with. Arranging acoustic panels is much more accessible by tailoring the adhesive to follow the contours of the foam.
Seeing as these are double-sided tape, it is no wonder they have such a straightforward application. Each piece measures only three mm thick, so they don't hang off of the wall; simply peel and stick them on the wall, and you're good to go.
What Could've Been Better?
Although there is an incredible 120-piece count included in this model, the strength of the individual adhesive does leave something to be desired. If you are working with heavier foams, then you may find the bonding strength insufficient to support their weight.
Pros
Versatile application on a range of materials

High durability

Easy to use square shape

Made of EVA foam
Cons
May need additional adhesive
Ultimate Acoustics has designed an acoustic spray foam glue that is both easy to apply and work with and effective at the same time. A unique spray pattern holds the acoustic foam firmly without seeping into the surface of the material. These features make it among the best adhesive for acoustic foam options out there today.
Sale
Why Did We Like It?
While there are many methods to apply acoustic adhesives, this Ultimate Acoustics spray glue uses a fast and efficient way to create a strong bonding quality. Thanks to the unique spray pattern and wider nozzle than other spray adhesives, it is able to cover more area in one pass. This can help you lower the quantity needed and save a few bucks in the long run.
Additionally, the wide spray nozzle creates a textured design on the acoustic foam panels, creating a superior bonding quality that lasts. When it comes to foam products, creating a grip for the adhesive to hold onto is imperative to maintain the tight bond between the surfaces.
Another handy feature is the range of bonded materials and surfaces to which it can be applied. From fabric to paper, and even wood panels as well, the low soak quality prevents the spray foam glue from getting lost in porous surfaces.
What Could've Been Better?
If there was one minor inconvenience faced while working with this spray glue, it has to be the nasty stink it gave off. While the fumes were not to the point of being highly toxic, we still highly recommend it be only used in a well-ventilated or open area.
Pros
Highly effective bonding power

uperior tacky quality

Thorough web-spray pattern

Easy application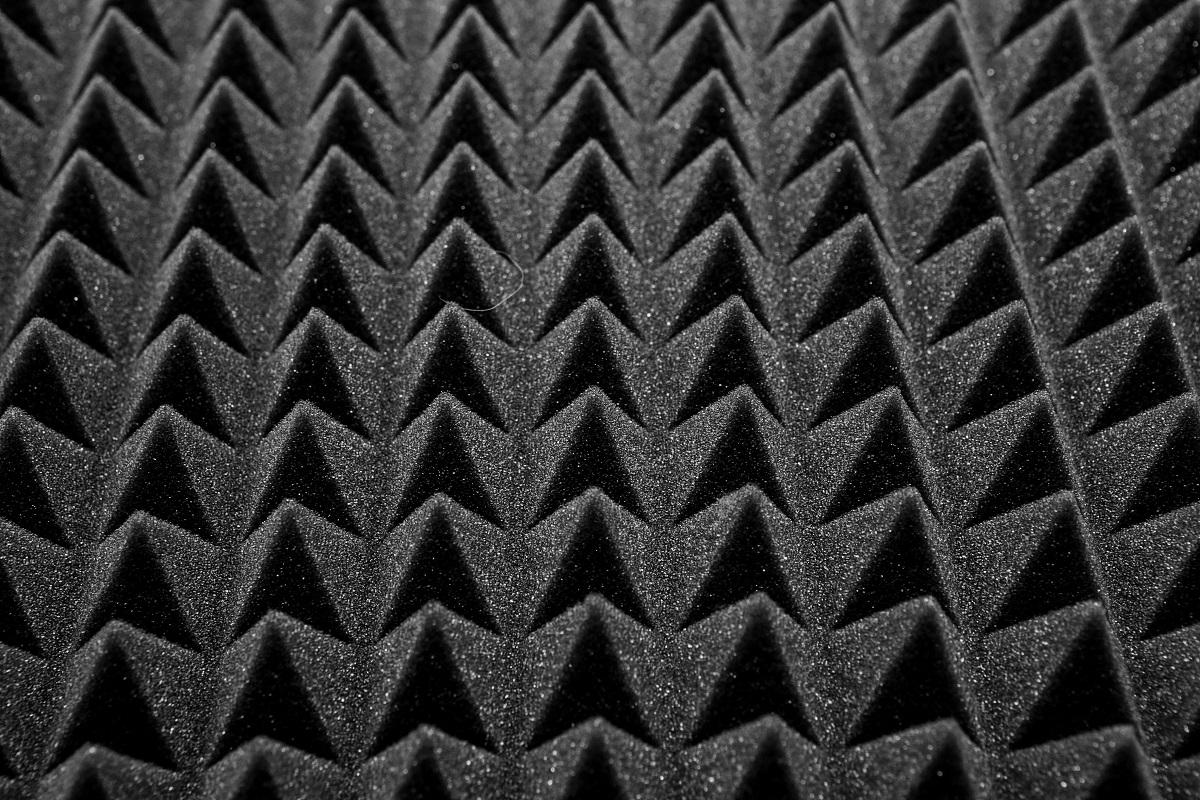 Adhesive For Acoustic Foam Buying Guide
Before deciding what the best adhesive for you would be, there are a few factors that you should be aware of to make the most informed decision possible. Knowing the type of adhesive can help you have a seamless experience and a higher quality result in the end. Safety should also never be compromised no matter the type of glue being used, so we have also included a few pointers to keep in mind as well.
1. Types Of Glue For Acoustic Foam Panels
One of the most common types of glue to apply for acoustic foam is a spray-on adhesive. It has the most basic application process; just aim the can at the surface to be bonded and sprayed.
Something to keep in mind is that acoustical foam adhesive may require additional safety equipment, even if it has an eco-friendly composition. The fine mist may enter the lungs and cause respiratory problems or even be an eye irritant, so goggles and gloves are a must.
PVA wood glue is the ideal choice if you are bonding acoustic foam to wood panels. Not only does this type of glue have a clear finish, but it can also give the wood elements some extra shine. Being designed specifically for wooden surfaces, the bond created is robust and resistant to strong impacts as well.
Having a rapid adhesion, liquid nails, as the name suggests, have an almost instant bonding time. Durability and lifespan are also incredibly robust in this type of glue, even when exposed to climate conditions. For those who want a fast and easy bond, then liquid nails are a great way to go.
2. Safety Tips
Being aware of the basic safety tips when working with adhesive can save you from serious injuries or accidents. Depending on the manufacturer, formulas used in adhesives can be highly toxic and cause a number of health risks such as respiratory ailments and eye irritation.
We recommend looking for an eco-friendly formula that does not include such toxic ingredients to prevent these risks. However, if you are working with an adhesive that has harmful components, using safety glasses and gloves is crucial. Sprays should also be used only in a well-ventilated area with the included manufacturer instructions followed closely.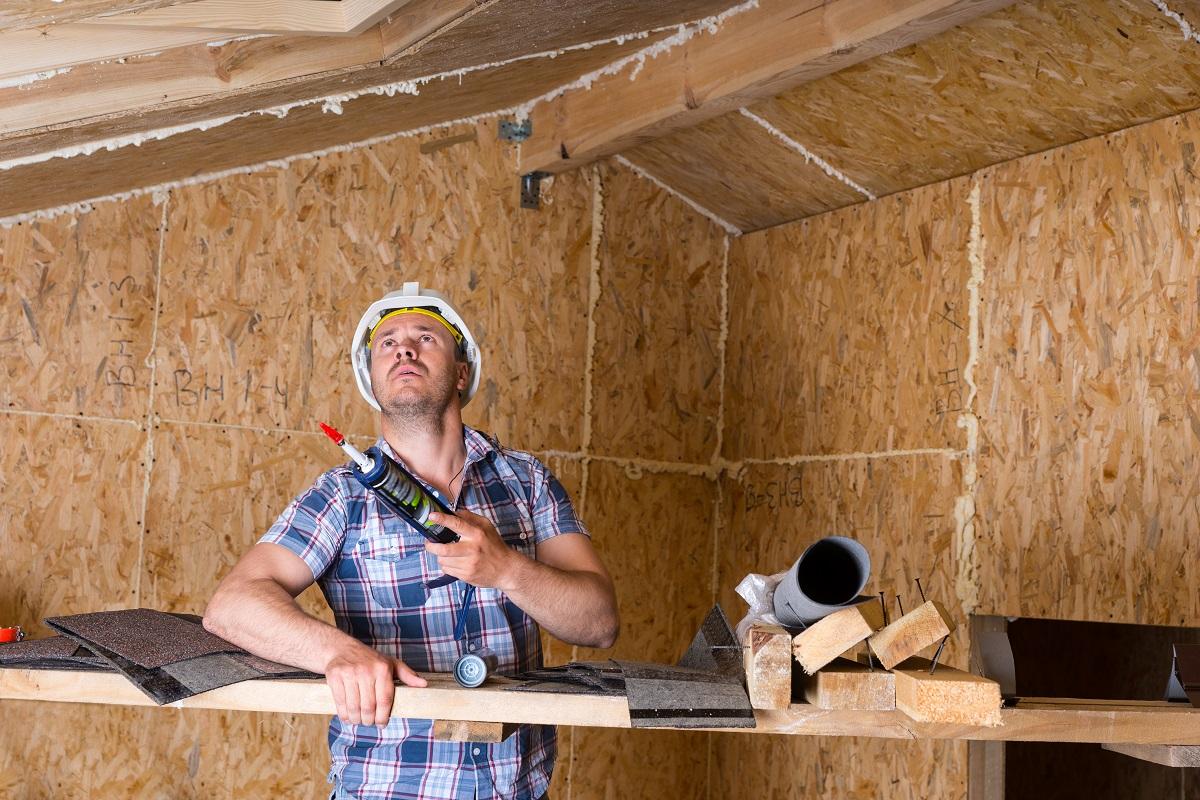 Acoustic Foam Adhesive Verdict
With that, we will conclude our guide on finding the best adhesive for acoustic foam. Hopefully, you were able to find what you were looking for to make the most informed decision possible.
Our top choice for the best adhesive is the Gorilla Glue for its low soak and even coating pattern. However, for a more heavy-duty option, the 3M Foam Fast is your best bet, as it is designed specifically for foams and fabrics, making the installation of acoustic panels a breeze with industrial strength.
By using these adhesives and keeping our pointers in mind, you will be sure to get those acoustic panels up in no time at all. As a general rule, make sure you are aware of all the safety tips of the adhesive as they vary across manufacturers.
Take care, and enjoy your secured acoustic foams without worrying about them falling!
Related Articles
11 Best Permanent Fabric Glues
11 Best Glue For Paper & Paper Mache
10 Best Ceramic and Porcelain Glue
11 Best Glue for Polypropylene
9 Best UV Light Glue for Amateurs & Professionals
The Difference Between Epoxy & Super Glue
How to Remove Gorilla Glue From Skin Safely & Easily
9 Best Glue For Acrylic Plexiglass
9 Best Glue for Plastic Eyeglass Frames
10 Best Glue For Stainless Steel
Gorilla Glue vs. Super Glue | Strengths, Weakness + Winner?
9 Best Glue For Hardwood Floors
9 Best Glue For Hardwood Floors
7 Best Glue For Particle Board
5 Best Glue To Fix Fridge Plastic