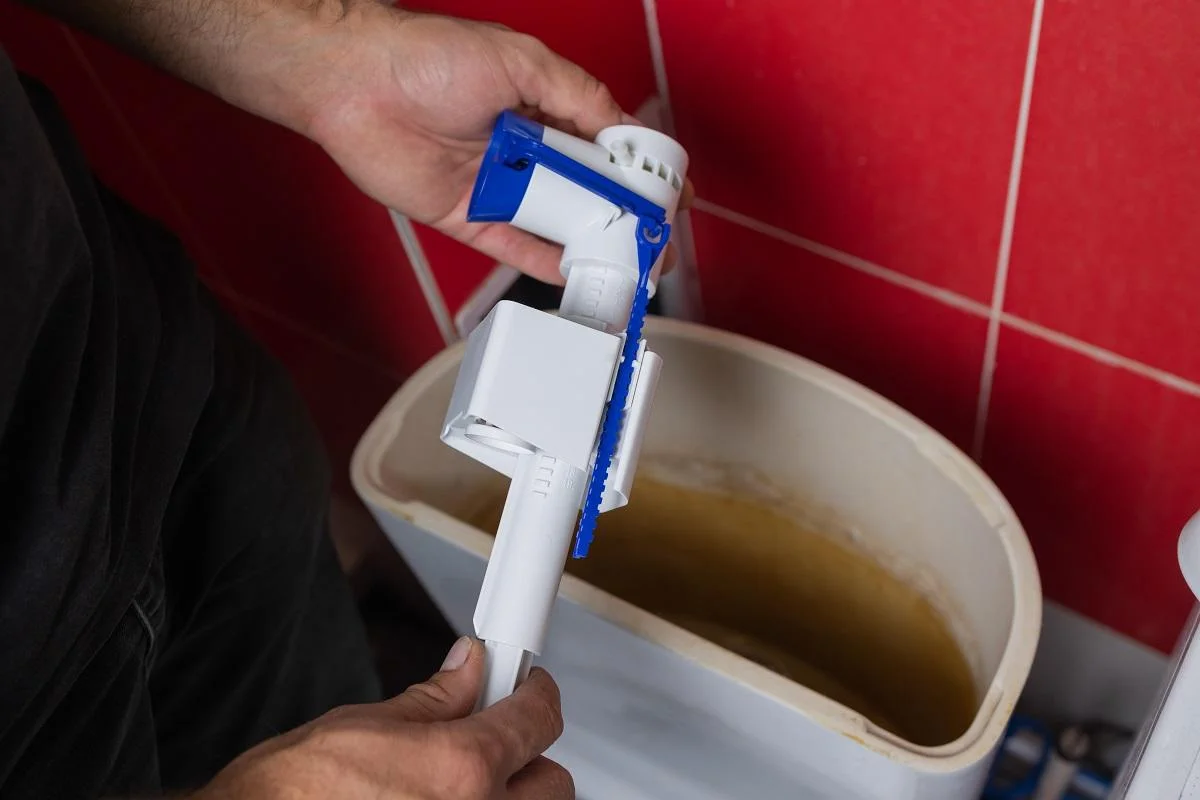 Do you have a broken toilet tank, and you're unsure what to do about it?
A toilet has two components, a tank, and a bowl. The tank is quite susceptible to damage and corrosion, irrespective of the brand. This is usually because it has many sub-parts and is a little weaker structurally.
In addition to that, toilet tanks have a handle for flushing and two valves, which also tend to break down and crack fairly easily. However, you can seal the cracks yourself without much difficulty.
So, now, if you're wondering how to fix this problem, you could get some epoxy glue that will effectively do the job. But are you unable to figure out which one to get? Don't worry, because we've got you covered with this guide on the best epoxy for toilet repair, so read on to know more!
Best Epoxy For Toilet Tank Repair
Are you looking for the best epoxy for toilet tank repair? We've got you covered! Here is a list of the 5 best epoxy for toilet tank repair that can help you fix your toilet tank quickly and easily: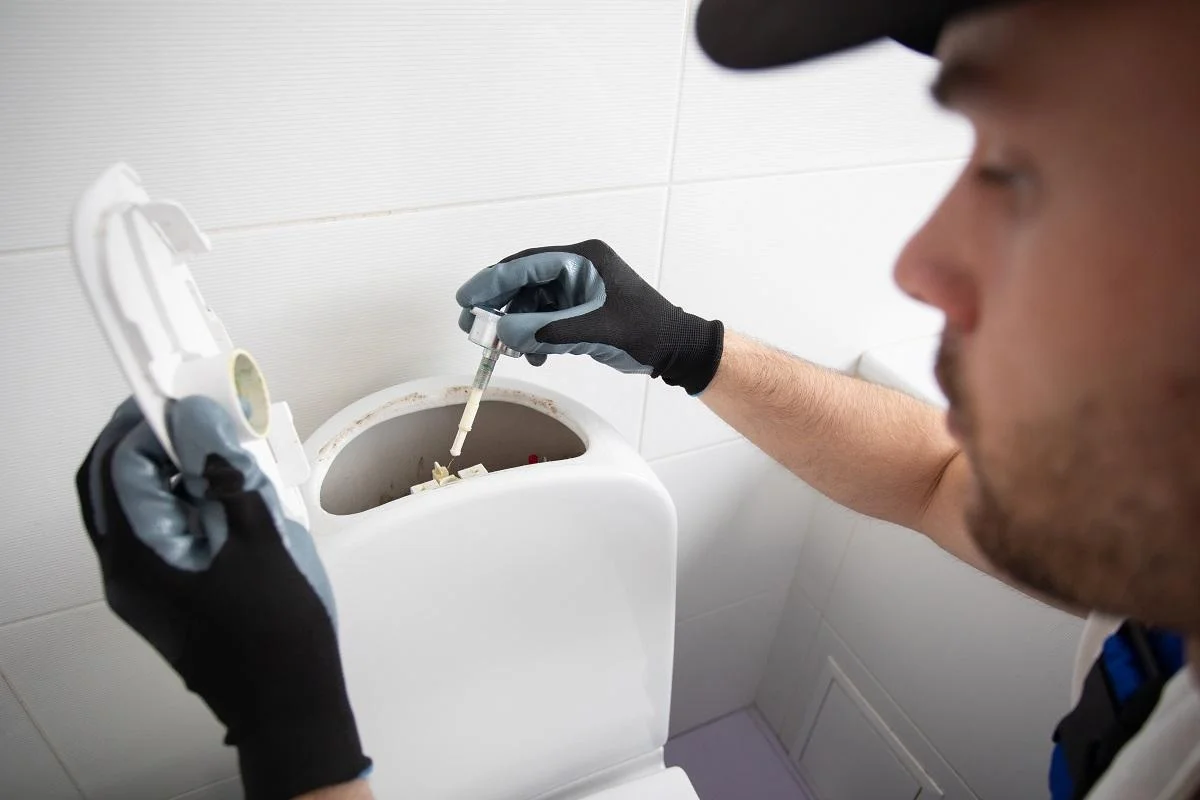 First up on our list is the J-B Weld 8277, which is a super-efficient glue that can fix porcelain surfaces, ceramic, plastic, concrete, and even marble. It can be used to plug holes and seal gaps in a toilet tank, which makes it handy to have around. What's more, it can also help fix drains, fuel tanks, and underwater objects.
Why Did We Like It?
This is a two-part epoxy stick that can be mixed by hand and is ideal for repairing a broken toilet tank. Once both the compounds are mixed together, the epoxy takes only 25 minutes to set and one hour to cure. As such, we love the speed and efficiency of this glue, as well as the smooth white finish!
In addition to that, the epoxy has a tensile strength of 1300 PSI, and it can resist extreme heat too, up to 350 degrees Fahrenheit. It's also non-reactive with chemicals like hydraulic fluid and petrol once it is fully cured.
We were impressed by how this adhesive can make firm bonds even underwater, which means that you can use it for marine repairs too. It's also been certified by the NSE as safe for contact with drinking water which makes it super non-toxic and reliable.
What Could've Been Better
Though our ultimate experience with the product was undoubtedly excellent, we did run into some issues. We received a defective product twice in a row, after which we lodged a strongly-worded complaint with customer support. After that, we got a functioning unit, but we did have some unnecessary hassle at the start.
Pros
Fast-acting

Resistant to heat

Durable

Bonds underwater

Safe for contact with potable water
Cons
Received defective product twice in a row
The final entry on our list is the Pratley 85139, a two-part epoxy that can repair your porcelain toilet effectively. It comes in an easy-to-use tube and can also be used with materials like glass, ceramic, stone, and concrete that are commonly found in homes.
Why Did We Like It?
To begin with, we liked how quickly the glue sets in and dries and also has great adhesive strength. If you're wondering how to fix your toilet problems without calling upon a professional, then this is a great tool to use. 
Apart from the above, the adhesive can also be used when runny glue is needed for a matching joint. This is a versatile product that can also join together objects made of glass, with the best part being that the epoxy won't show.
Moving on, this is a waterproof epoxy. Therefore, you can use it for repairing kitchen wares without worrying about water tampering with the bonds. Besides this, we dig into the design of the tubes that make it easy to dispense equal amounts of epoxy constituents.  
What Could've Been Better
The adhesive was effective but a hassle to apply properly. We needed to repair fine scratches on our toilet tank and used a brush to apply the glue. Unfortunately, the glue was too tacky to be applied in small amounts, and that's why we don't think this epoxy is great for use with smaller cracks.
Pros
Fast-setting and drying

Versatile

Waterproof

Elegant bottle design
Cons
Glue too tacky to be applied in small amounts
The Loctite 1919324 is a versatile epoxy that can be used to bind different kinds of materials together. It is compatible with glass wood, plastic and metal in addition to ceramic and porcelain and provides a shock-resistant adhesion that stands the test of time. In addition to this, its volume is 25 ml, and it gives a smooth white finish.
Sale
Why Did We Like It?
One of the features we really liked about this product was that even though it is supposed to be a marine epoxy, it does a great job of repairing toilet tanks and other ceramic objects. It is packaged in a syringe, which makes it convenient to use since it dispenses the same amount of the adhesive each time.
In addition to that, once the glue dries, it is extremely durable and can even be drilled into, with no signs of cracking. Moreover, it is solvent resistant and can even be sanded or cleaned up easily without any damage.
Another cool thing about this adhesive that we liked is it can be applied and cured even while it's below the water. This makes it truly resistant to water and eliminates the need to drain out water before applying the adhesive.
What Could've Been Better
This adhesive performed as we expected it to and did a great job of repairing our toilet tank. However, we did notice that once dry; it's a little shiny apart from being white. That worked for us since toilet tanks are usually a glossy white too, but that may not work with other products that need to be fixed.
Pros
Compatible with a lot of materials

Can be used applied underwater

Durable

Solvent-resistant
Cons
Extremely noticeable shine once dry
If you've been on the lookout for the epoxy to repair your toilet tank, then look no further because the XUDOAI EK4157 is perfect for it. Its strong and tough formula will quickly and permanently repair any ceramic, glass, wooden, metallic, or plastic items you might have.
Why Did We Like It?
We found this product pretty unique because it comes as a putty that needs to be cut and kneaded. Once you slice apart a piece and knead it for a minute, its color changes to a greenish-gray. Now, you have about five minutes to make the repairs and seal cracks on your toilet tank, which is sufficient because the epoxy mix has great elasticity.
After 24 hours, the epoxy putty is fully cured and is ready to be applied with a putty knife. You can drill it, sand it like wood, and even paint it since it has a greenish finish. This makes the adhesive ideal for repairing home appliances, as well as maintaining electrical devices.
Lastly, the adhesive is resistant to both heat and water, which means you can use it for outdoor projects as well. It's also incredibly resistant to any form of shrinkage, corrosion, or scratching. 
What Could've Been Better
Despite an impressive performance, we did notice one major flaw about this putty. Upon curing, it has a green-gray color that stands out on a toilet tank, which is usually white. So, if you want that the putty should blend in with the tank, you'll have to put in extra effort to paint it. This can become a hassle if there are multiple or thin cracks.
Pros
Super elastic

Water-resistant

Can tolerate high temperatures

Resistant to shrinking, scratches, and corrosion

Can be drilled, sanded, and painted
Cons
The color of the cured putty doesn't blend well with a toilet tank
This two-part epoxy is the perfect solution for those who need a way to undertake porcelain toilet repair such that it lasts. The product has a volume of 60 ml and comes in a soothing off-white color that blends perfectly with tank lids. Moreover, it is packaged neatly in an easy-to-use tube.
Why Did We Like It?
If you need to repair a toilet tank crack or scratches on the toilet bowl, you need something that is water-resistant yet effective. The PC Products PC-11 is the right fit for the job because it can be applied in wet, dry, and even underwater areas. Moreover, it is equally resistant to both fresh and saltwater.
In addition to the above, it has a thick consistency, which impressed us because this ensures that the glue won't sag or drip whether applied horizontally or vertically. What's more, if you want a white finish to your repair, which is free of cracks and stains, then this adhesive is an ideal pick.
We were also impressed by how fast-acting the epoxy is. It takes just 35 minutes to set, and up to 8-15 hours to cure, which is justified due to the industrial-grade strength of 1710 PSI that it provides.  
What Could've Been Better
When we used the product, it gave perfect results, and we were pleasantly surprised. However, reviews online state that the effectiveness of the product depends from batch to batch, and not all of them cure within the set period, or even after, for that matter. 
Pros
Water-resistant

Doesn't sag or drip when applied

White finish that blends in with the toilet tank

Industrial-grade strength
Cons
Effectiveness varies across different batches of the product
Epoxy For Toilet Tank Repair Buying Guide
According to us, a number of factors must be kept in mind before getting an effective glue to mend your toilet tank. Toilet tanks are made of porcelain, and from our experience, most kinds of porcelain are waterproof but have porous surfaces.
This means that water seeps in through the otherwise glossy surface. That's why we recommend getting an epoxy that is suitable for a toilet tank and waterproof; otherwise, it'll be a waste of money and effort!
Apart from that, the other factors that must be considered are:
1. Tensile Strength
Not all manufacturers reveal the tensile strength of the epoxy in the product description or on the label. However, we strongly advise getting an epoxy that is strong with high tensile strength because porcelain objects can have a lot of weight. If you end up getting glue that doesn't have much strength, you'll go back to square one when it falls apart!
This is why we recommend the J-B Weld epoxy glue, because of its industrial-grade strength, which will ensure that it works on your toilet tank.
2. Viscosity
The thickness of the epoxy should depend on the kind of repair you're thinking of carrying out. If you need to fix hairline cracks, we recommend thinner glues that flow and are easier to spread.
However, if you're trying to fix larger cracks, then glue that is compatible with wide surfaces and has a thick consistency would be a better pick. This is why we recommend the PratleyPratley because once it is kneaded, it thickens and is perfect to seal cracks that are significant in size.
3. Cure Time
The quicker the cure time the easier it will be to fix your toilet and make it operational once again. Ideally, a quick fix time translates into about 1 hour with 25 minutes of set time, these are the figures promised by the J-B Weld Waterweld in this guide, and thousands of reviews back it up too.
4. Water Resistance
If you are going to choose another product than the ones on this list, do make sure the epoxy you choose is waterproof and resistant to the chemicals in the water. Look for an epoxy that is designed for use in wet environments and is specifically formulated to be resistant to water and chemicals to ensure your fix is solid for years and years to come.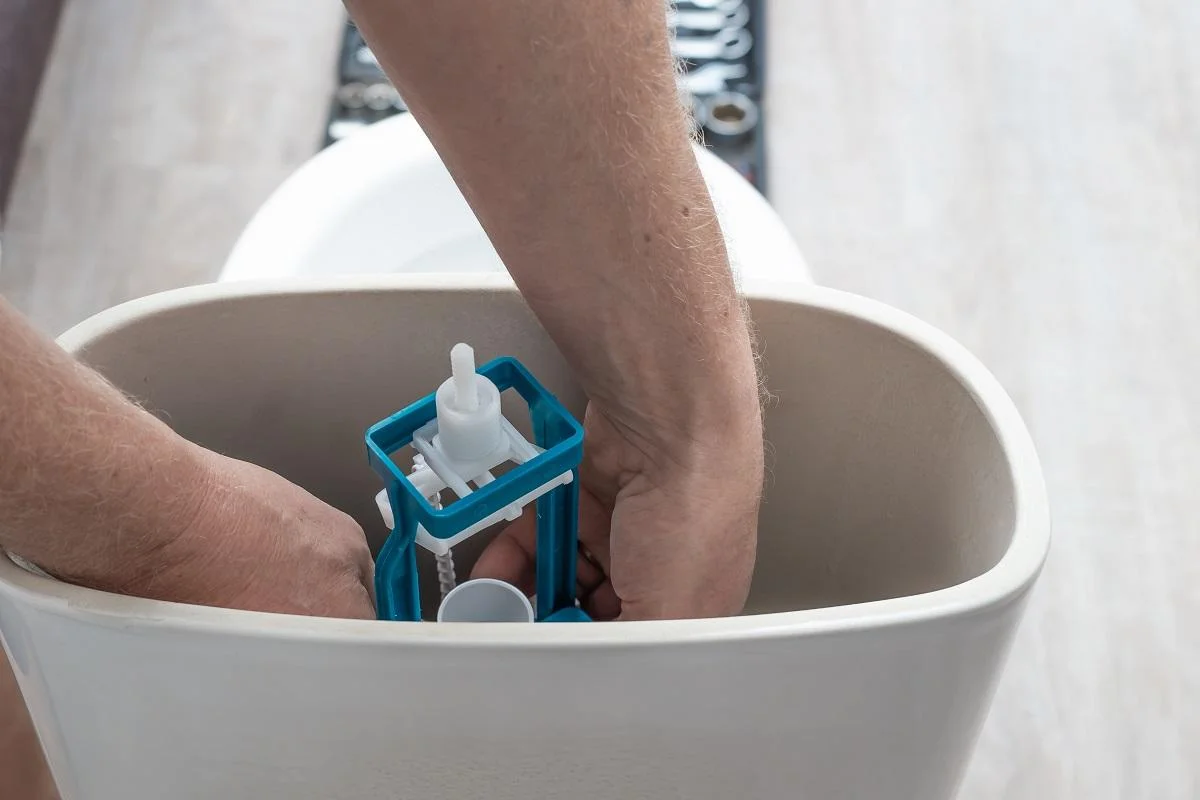 Toilet Tank Crack Repair Glue Verdict
As we mentioned earlier, it is possible to replace a toilet tank that has visible cracks and scratches. However, in our opinion, this is a temporary impediment that can be easily rectified by getting some value-pack glue. The glued surface will still be as strong as the rest of the tank.
With this, we'll be concluding our guide on the best epoxy that you can use for toilet repair. We hope you enjoyed reading it as much as we liked curating it. But before we bid you farewell, we'll let you know the ones we liked the most.
Overall, the classic Pratley and J-B Weld top our list because of their superior functionality. However, the Loctite is also a fantastic option since it is a marine epoxy and is guaranteed to work well with a toilet tank.
With that, we shall take your leave. Fingers crossed, you'll now be able to pick the best epoxy for your toilet repair.
That's all for today. Bye!
Related Articles
5 Best Epoxy Resin for Tumblers
9 Best Exterior Wood Stains Today
11 Best Epoxy Resin For Crafts
Waterproof Epoxy 101 [Is Epoxy Waterproof?]
What is Resin and How It's Used
10 Best Epoxy for Plastic Today
How to Color Clear Epoxy Resin [Coloring Resin
How To Fix Radiator Leak With Epoxy+ Best Radiator Repair Epoxy
Epoxy Garage Floor 101 [All You Need to Know]
Mold Release Guide + Best Epoxy Release Agents
Surfaces Resin Won't Stick to [All You Need to Know]
Epoxy Cement Guide 101 [How to Repair Concrete with Epoxy]
How To Mix Epoxy 101 [Measuring & Mixing Epoxy Resin Guide]
How To Harden Sticky Resin [Uncured Epoxy Solutions]
How To Fix Epoxy Mistakes [Tackling Common Epoxy Problems]
6 Best Pressure Pot For Resin Casting Right Now
7 Best Adhesive For Acoustic Foam
Glue That Works On ABS And PVC