Epoxy resin floors are the new go to!
The flooring industry has recently seen a boom in the use of epoxy resins, because of which multiple products have emerged on the market. This has consequently made it quite difficult for the buyers to choose which product to invest in.
If you find yourself in such a dilemma, our guide might be of help to you. We've put together a detailed review-based guide, talking about all the features of Totalboat resin epoxy.
We've also included a buyer's guide to further simplify the decision-making. We hope you'll get a better picture after going through it.
Let's get started without further ado!
What Is Totalboat Resin Epoxy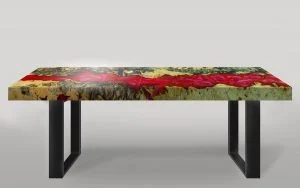 As you must already know, Totalboat resin epoxy is a formula used for fixing, repairing, or curing wooden objects like boats in particular. People also use it for artistic purposes like creating resin art or laying down different types of floors.
Don't let the name delude you because Tailboat resin isn't restricted to boat use only and has an extensive range of applications. The brand started with marine epoxy but now has a significant line of products, including hardeners, polyester resin, alcohol inks, powder pigments, fiberglass sheets, and epoxy adhesives.
A Little About The Company
Based near Massachusetts, Rhode Island, Totalboat is an American company that began by manufacturing simple epoxy resin for boats and the marine industry. As professional boaters, the team knew what people wanted when it came to epoxy. With an expert's eye, they expanded their product range and started developing various other specialized formulas.
The company aimed to make durable resins that had strong anchorage and stayed in place for years on end. It also strived to have a shorter curing period and easy application in its products without burning a hole in people's pockets. 
Such strong foundational pillars were bound to make the company a success, and soon its products took the market by storm. In today's time, Totalboat is a hallmark brand in its industry, and its epoxy resins are known for their versatility and sturdiness.
Why Should You Use Totalboat Resin Epoxy
Totalboat resin epoxies are one of the best options available on the market right now. They are known for their weatherproof and moisture-resistant properties. Once you use them on a project, you can quit worrying about a recoat or repair for years. 
All epoxies cannot be used on every project; for instance, it is not feasible to use the one made for artistic reasons on tough outdoor furniture. That's why the company offers a lot of options, and you can select the product that suits your needs and purpose the best.
Product Range
As we discussed, Totalboat has many epoxy resins that specialize in different areas. Let's have a look at the major types one by one.
As the name suggests, Tabletop epoxy is tailor made for covering tables, kitchen countertops, and bar counters. Ideal for remodeling projects in bathrooms and kitchens, this epoxy resin is ideal to use if you want an ultra-clear and top-quality finish.
You can use it on a variety of surfaces like metal, wood, stone, concrete, and ceramic. It is also suitable for resin art and serious applications like decoupage, casting, and embedding.
Furthermore, the resin is super-easy to apply and levels itself without much hassle. Just mix one part resin with one part hardener, and there it is! You can add liquid stain, mica pigments, or alcohol dye for coloration if you want some jazz, otherwise, leave it as it is, and you're good to go.
However, the epoxy might turn yellow if exposed to sunlight for a long time, so it's advisable to use another hard resin covering on top of it. Doing that will also protect it from scratches, making it long-lasting and rugged.
Pros
The finish is as smooth as glass

Easy to handle and pour

Self-setting and leveling

Simple mixing ratio
Cons
Might get yellow if exposed to the sun a lot
Apart from being good covering agents, resin materials are excellent sealants and can be used for curing holes and damage. The penetrating epoxy specializes in sealing and protecting purposes, especially when it comes to wooden objects or furniture.
It is a dual-part epoxy resin system that penetrates deep inside the wood and protects it from rotting. The formula hardens inside the damaged area and serves as a filling, preserving the object from moisture and environmental factors.
Moreover, Totalboat penetrating epoxy is one of the earliest products manufactured by the company and, therefore, is equipped with fantastic repairing and restorative properties. You can use this marine-grade resin for renovating your wooden boat, repairing wooden structures, and woodwork projects.
What's more, the formula has a sleek finish like that of paint yet doesn't release any toxic fumes or VOCs. It has a wide scope of application and sticks well on softwoods like cypress, pine, cedar, redwood, fir, and hardwoods, including maple, teak, oak, and mahogany.
Pros
Two different formulas for hot and cold climate

Has low viscosity

Sticks on almost all types of woods

Seals damaged and rotten wood
Cons
Can get really hot while curing
Sale
Living up to its name, Totalboat Thickset epoxy resin can be poured in multiple thick layers and is primarily used for molding. It has a crystal-clear sheen and is cast deeply on horizontal surfaces. The best part is, it is available in three different packages so you can get exactly the quantity you need.
The epoxy resin is mixed with a hardener in a 3:1 ratio, with a 1-inch thick pour for large molds and a 2-inch thick layer for smaller ones. You wouldn't need to level or smoothen out the final surface since the resin is self-leveling.
Although the epoxy has several upsides, it is slightly difficult to pour, given the thick formula and high viscosity. Other than that, this one is the go-to type for DIYers and professional artisans.
Additionally, the clear and glossy surface can easily be colored using mica granules and highly concentrated liquid dyes. The low VOC formula is ideal for both indoor and outdoor use.
Pros
Specially designed for moldings and thick pours

Easy to color or tint

Sufficient time for modification since the curing time is long.

High-end glossy finish
Cons
The mixing ratio is tricky
Makerpoxy is a professional-grade resin that Totalboat developed in collaboration with the immensely talented resin artist Jess Crow. With her experience and knowledge, Jess precisely knows which type of resin is well-suited for which project, and Makerpoxy was designed keeping in mind all her requirements.
The mixed formula flows freely and is used for furniture pieces like river tables, coffee tables, headboards, art (both resin and wall). Having been crafted by a designer, it's a given that the resin takes up color exceptionally well and can be used to create intricate patterns. That's because it has a very long curing period, giving you enough time to play around with the texture.
You get about sixty minutes after mixing the hardener and the resin ( at 75 degrees Fahrenheit) to create your design, which is ideal for beginners. In addition to that, you can secure the epoxy against UV radiations using an overcoat of urethane or varnish. The resinous surface has a glass-like and scratch-resistant finish that doesn't turn yellow over time.
Pros
Low odors, safe for a longer usage

Luxurious and elegant look with a glass-like finish

Extended work time, perfect for first-timers

Easy mixing ratio
Cons
The air bubbles are challenging to get rid of
Last but not least, we'll tell you about the all-inclusive high-performance epoxy kits. This one is made keeping in mind the convenience of the users, as it offers all the necessary equipment in one package.
The kit comes with a blush-free hardener, low viscous resin, mixing cups, and sticks. It also priorly measured hand pumps for dispensing hardener and epoxy accurately with ease. This means no more stress about taking accurate measurements while working on your projects.
Furthermore, the resin is made to be used on boats for coating, laminating, and vacuum bagging purposes. The hardener is clear and non-blushing, ensuring there isn't any pre-added tint and the epoxy coating remains clear. One part is mixed with two parts of resin to obtain the perfect composition.
Since there isn't any blush in the hardener, you wouldn't have to wash the surface repeatedly while working, and that saves a lot of time.
Pros
You get a choice between three different hardeners

A straightforward mixing ratio of 2:1

All in one kit, wouldn't need to buy anything else

No time-wasting washdowns

Top-quality end finish
Cons
Strong smell

Can soak into woods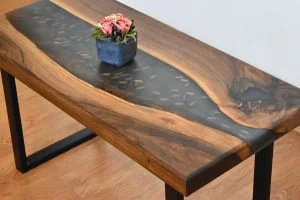 Totalboat Resin Epoxy Buying Guide 
Now that we've told you all about the Totalboat resin epoxy and its different products, we're done with the first half of our extensive guide. We'll proceed to discuss all the parameters and features that you must consider before buying a resin epoxy.
The following are the key points worth noting:
Application
First and foremost, you need to have a clear idea of where you'll use the epoxy resin before you buy any product. As we already discussed, there are different types of epoxies that specialize in different areas; for example, Totalboat Tabletop is the best for countertops and surfaces, Thickset works wonders in molding, penetrating epoxy is good for sealing, etc.
So, once you know your needs, choosing an epoxy resin becomes child's play. However, if you don't have any specific usage, you can go for a general multi-purpose resin to have a more comprehensive utility. In our opinion, the Totalboat high-performance epoxy kits are the best when it comes to all-around use.
Curing Period
The curing period is another crucial factor that you should consider while buying epoxy resin. Some products have a short drying period, while others take multiple days to set. If you're in a hurry to lay down your flooring or a basic tabletop, quick-drying epoxies are your best bet. 
However, when it comes to bigger artistic projects, a fast curing resin won't work when you want to create a detailed pattern in the epoxy. For that, you'll have to use the products with longer setting periods, so you have ample time to create your artistic pattern. That'll give you the freedom to manipulate the epoxy and work creatively on your piece.
Durability
Naturally, when you're spending your hard-earned money on something, you'd want to have good returns on your investment. That's why it's important to look at the longevity of an epoxy resin. If your project cracks up or loses its sheen in a couple of months, all will seem like a waste, a situation you must avoid.
The question is, how will you find out if an epoxy resin is sturdy or not? Well, it can only be found out after use, but a few ways can help you make an estimation. All Totalboat products are extremely durable as they have a formula that sticks well to most surfaces and acts like tough cement.
Also, more rugged formulas will come at a higher price range than usual, so avoid buying the cheapest option.
Weather Resistance
It matters whether the resin is weather-resistant or not, especially if you're going to use it for outdoor purposes. Some resins tend to get yellow when kept in the sun for a long time and lose their initial shine and finish. 
In contrast, many Totalboat epoxy resins are weatherproof and UV protected, making them immune to their surroundings' negative effects. They are also resistant to moisture and do not react badly to frequent water contact. Since the company specializes in boat resins, water resistance is the strongest suit in its entire product range.
Hardener
Hardeners are of different types; some are harsh, while others are soft. They come in different curing periods and can be categorized into slow, medium, and fast hardeners, depending on their drying time.
Tough hardeners are more likely to release noxious fumes. Hence it is advisable to restrict them for outdoor use or structures requiring high tensile strength, like laying down the floor. 
Additionally, some hardening agents have an inherent tint and are known for their blushing properties, while others are blush-free. If you want a crystal clear final finish, then avoid the former. It requires a lot of washing and water run down during the process and doesn't give the desired result. 
Where Can You Buy Totalboat Resin Epoxy
Totalboat resin epoxy products are very easily available in local hardware and DIY stores, and of course, if you don't want to go about searching in a store, you can order them online. 
An extensive range of resins is available on Amazon, which might be difficult to find in an actual store. Other than that, the company has its own line of online stores, and you can find all the details on their official website. 
The brand offers a very helpful customer assistance service, where boaters having hands-on experience answer all the queries. So, whenever you feel stuck with anything related to resin epoxy or boats, you can simply call them for solutions. 
Totalboat Resin Epoxy FAQs
Which Totalboat hardener is the best?

Well, that mostly depends on the qualities you're looking for, but to give you a general overview, we'll tell you our top picks. You can use a high-performance fast hardener if you're short on time and want faster curing. This hardener is best for overnight curing at 55 degrees Fahrenheit.

Most commonly, medium hardeners work effectively for general applications and cure overnight at room temperature (77 degrees Fahrenheit). Lastly, slow hardeners are better-suited for warmer conditions and higher temperatures.

Are Totalboat epoxy resin-coated tables safe for food?

Yes, Totalboat epoxy is BPA-free and is safe for indirect contact with food. You can go ahead and coat your table with this resin without any toxic hazards or health implications.

What are the ideal conditions for working on epoxy?

There aren't any hard and fast rules when it comes to working with epoxy, except being mindful of the temperature. The advisable temperature range for the resin application is 55 degrees Fahrenheit, but it can be slightly higher while pump dispensing.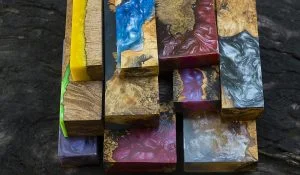 Final Thoughts On Totalboat Resin Epoxy
And with that, we've reached the end of our review-based guide on Totalboat resin epoxy. These resins are quite popular in the industry, and their buzz is completely justifiable, given all the features they offer.
Totalboat epoxy resins are strong, long-lasting, and give a beautiful finish. They have multi-dimensional applications, ranging from coating tables to creating patterned floors and artistic pieces. 
You can further research the specifications of products offered by the company to get a better idea. That's it for us guys.
Until next time!
Related Articles
11 Best Epoxy Resin For Crafts
5 Best Epoxy Resin for Tumblers
Waterproof Epoxy 101 [Is Epoxy Waterproof?]
What is Resin and How It's Used
Alcohol Ink and Epoxy Resin 101