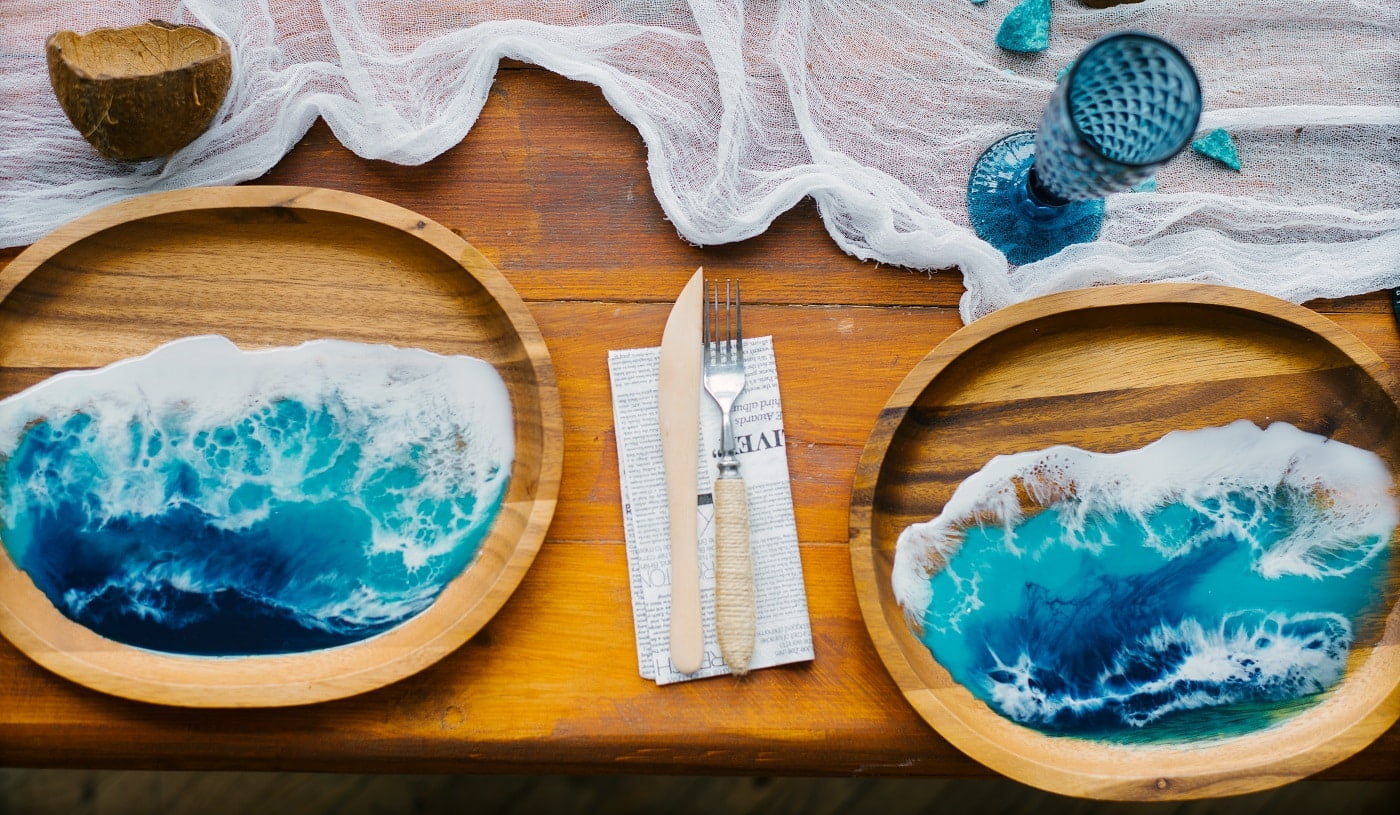 Epoxy resin is one of the most versatile and fun materials to work with. However, does it have any health disadvantages? Let's find out. 
Whether you're an artist trying to create a new masterpiece or a homeowner looking for a quick fix for a broken item, epoxy resin can come to your rescue. This material is extremely flexible and honestly, very enjoyable to work with. Furthermore, you can mold it into any shape, structure, and color you wish – according to the application. 
Although epoxy resin is commonly used for making household items like chopping boards, storage bins, furniture, and molds, is it really food safe? 
Well, in today's article, we will tell you everything you need to know about epoxy resin and its applications. Moreover, we will answer all your queries about whether or not it is food safe and how you can use it. 
So without further ado, let's get straight to the deets! 
Food Safe Epoxy Guide 101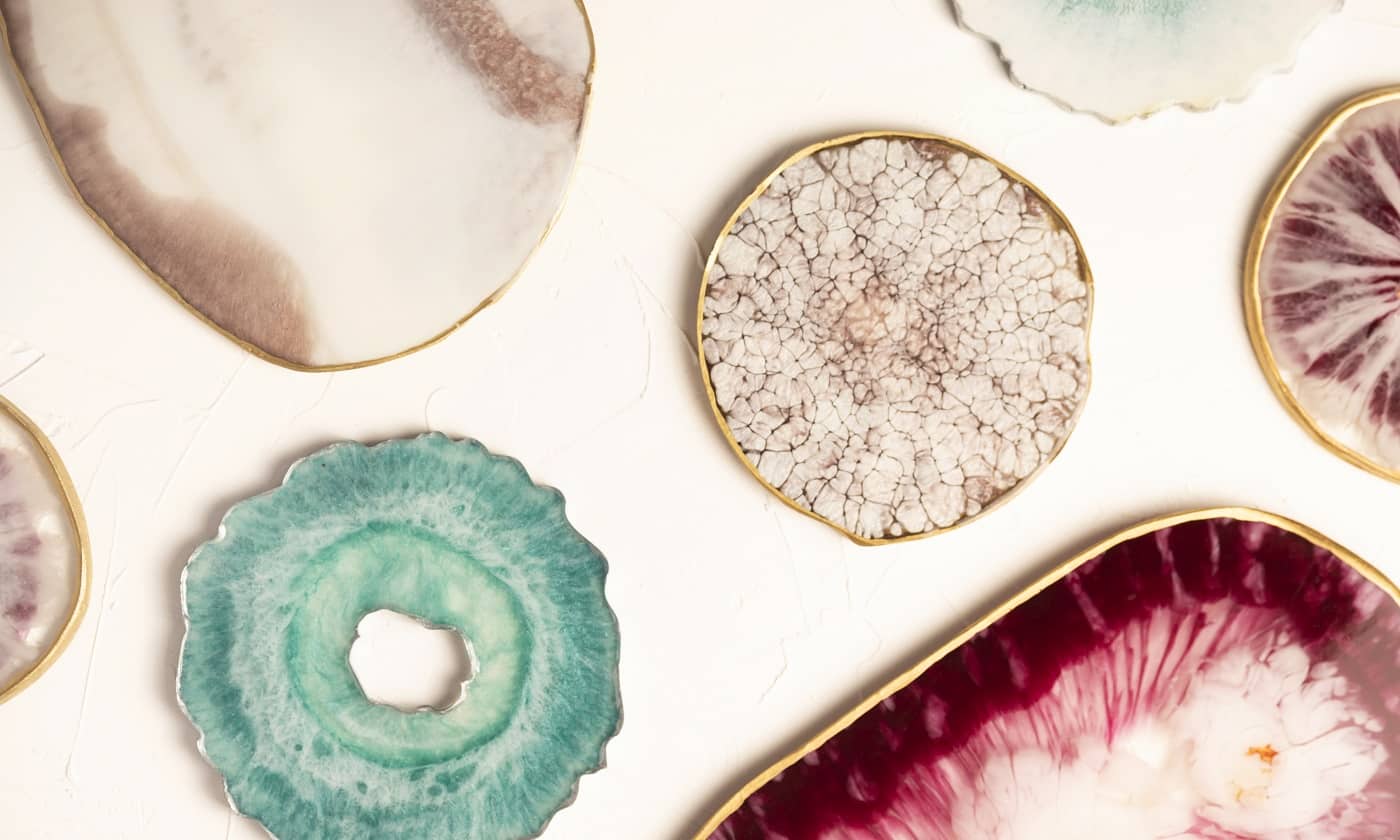 What Is Epoxy Resin?

Epoxy resin is widely popular amongst artists and DIY enthusiasts; however, not many are aware of what its components are. Epoxy resin is created by mixing two or more components that are complementary to one another. Depending on the ingredients used and their measurements, the results may vary distinctly. 
For example, you can mix a liquid resin with a hardener to create a solid, durable structure that is long-lasting and aesthetically pleasing. 
Moreover, you will find resin under several names – epoxy resin, laminating resin, casting resin, synthetic resin, and many more. Depending on the type of resin and its brand, its applications and uses may vary. It is essential to follow the manufacturer's instructions closely when working with a resin of any kind. 
How Versatile Is Epoxy Resin?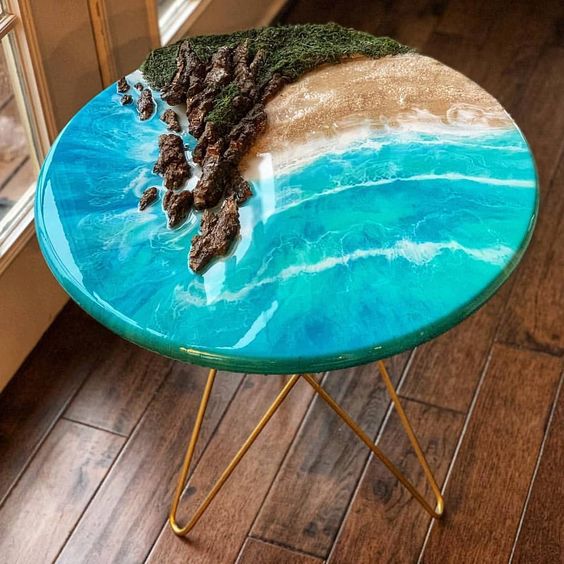 One of the most significant advantages of using resin over other materials is its versatility and flexibility. Not only can it be used for various arts and crafts projects, but it has a variety of other applications. 
Epoxy resin can be used as a soil sealant in living spaces

It can be used to make jewelry 

You can use it for quick repairs and sealing

For making molds in the food industry 

For making terrariums and aquariums 

To coat the interiors of ponds

To make prostheses and orthoses

To create modern renovations in buildings or interior decoration

To seal kitchen worktops using a cut-resistant material

For making resin art pictures and stone resin art 

For creating molds and figures

Used to fix cutting and chopping boards

For fixing stone carpets 

To use as a topcoat while building boats 

For model-making and other DIY projects 
While these are the most common applications of epoxy resin, you can be as creative as you want in finding other uses and applications. The advantage of using epoxy resin is how simple and intuitive it is. Of course, if you are working with resin for the first time, it is best to follow the manufacturer's instructions closely before proceeding. 
Depending on how much product you use and the complementary product you add in varying degrees, there is immense control over the outcome. 
As such, you can manipulate these factors easily, simply by changing products and how much of each ingredient you use:
The viscosity of the resin material 

The duration of its curing process

How adhesive it is on different materials 

The maximum thickness of each layer that you can apply per casting process

The degree of hardness of the completed material after curing 
How Do You Know If Epoxy Resin Is Food Safe?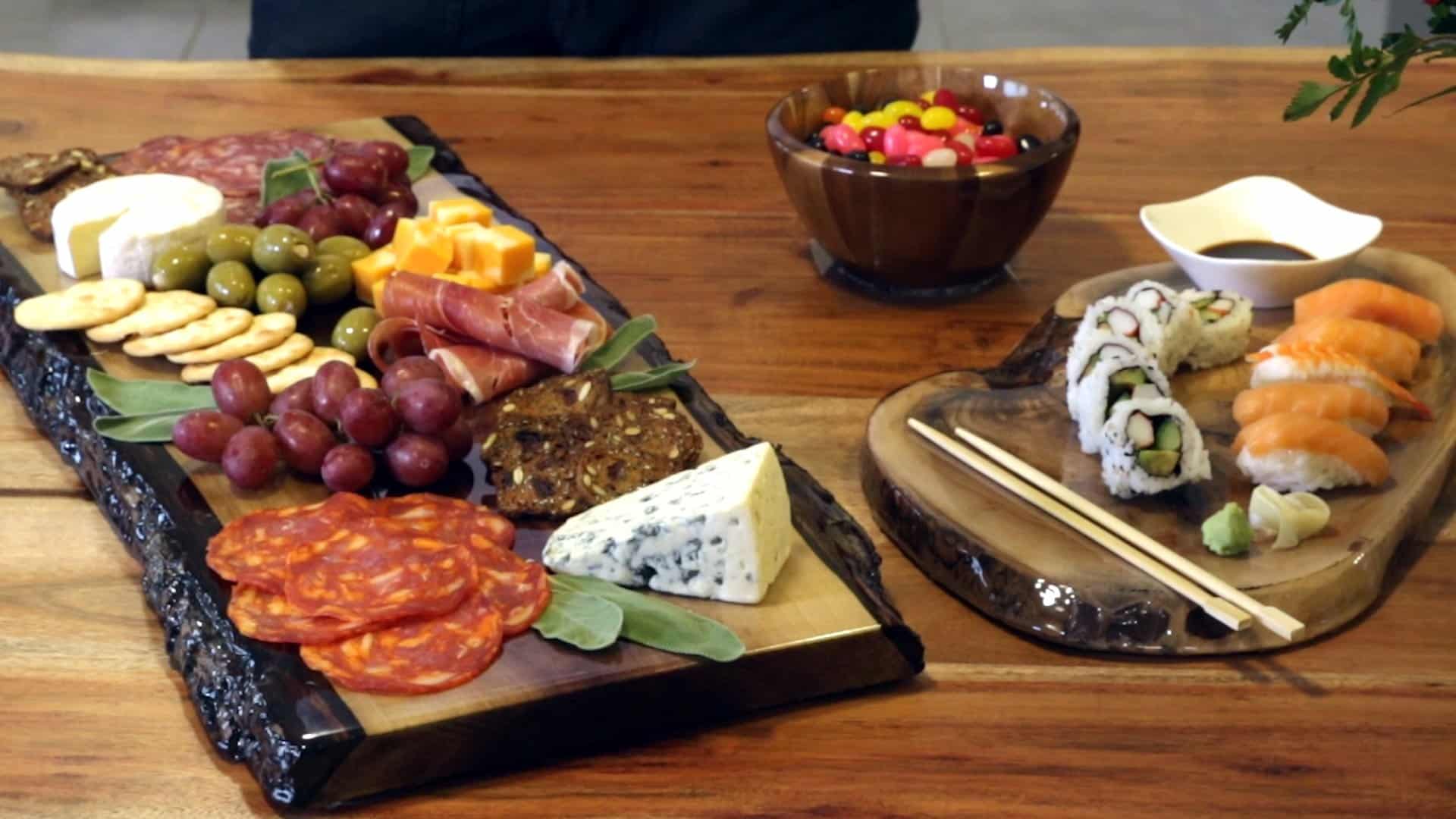 Let's begin by discussing what food safe epoxy means. 
Well, the test for the epoxy to be food safe is whether or not there is some reaction if the (resin) material comes in contact with your skin or food for an extended period. 
To determine whether the epoxy resin is food safe or not, the EU has developed an interesting seal test. The ingredients used to create the seal for these food safe materials are slightly different than regular ones. When these resin materials come in contact with food or skin for extended periods, it is observed that there are no allergic or adverse reactions, deeming them "food safe."
Some of the most common food safe epoxy resin items include – 
Prostheses and orthoses

Resin furniture 

Fruit bowls, cutting and chopping boards, mugs, etc.

Aquarium and terrarium

Molds used for food items 
Important Note – Epoxy resin is non-toxic and food safe only in its cured state. As such, any kind of liquid resin is always toxic if inhaled or if it comes in contact with food or skin. 
What Makes Something "Food Safe?"
For starters, there is no accurate definition of what constitutes "food safe" materials. That being said, there are specific requirements that must be met in order for a material to be considered "food safe." 
As such, it is essential for the material to conform to the requirements of the EU Regulation No. 10.2011, the Federal Office for Risk Assessment, and the Food and Drug Administration (FDA).
Long story short, a material can be considered "food safe" if it does not produce any adverse reactions or pose health risks after coming in contact with skin or food for a prolonged period. Here are the vital factors to consider for a material to be "food safe":
The material does not change or affect the smell or taste of food after coming in contact with it 

If the person's health is not at risk after coming in contact with the material

If the person's health is not at risk after consuming food from that material 

If the material does not release any (or very few) free components into the food 
Is Epoxy Resin Toxic Or Dangerous?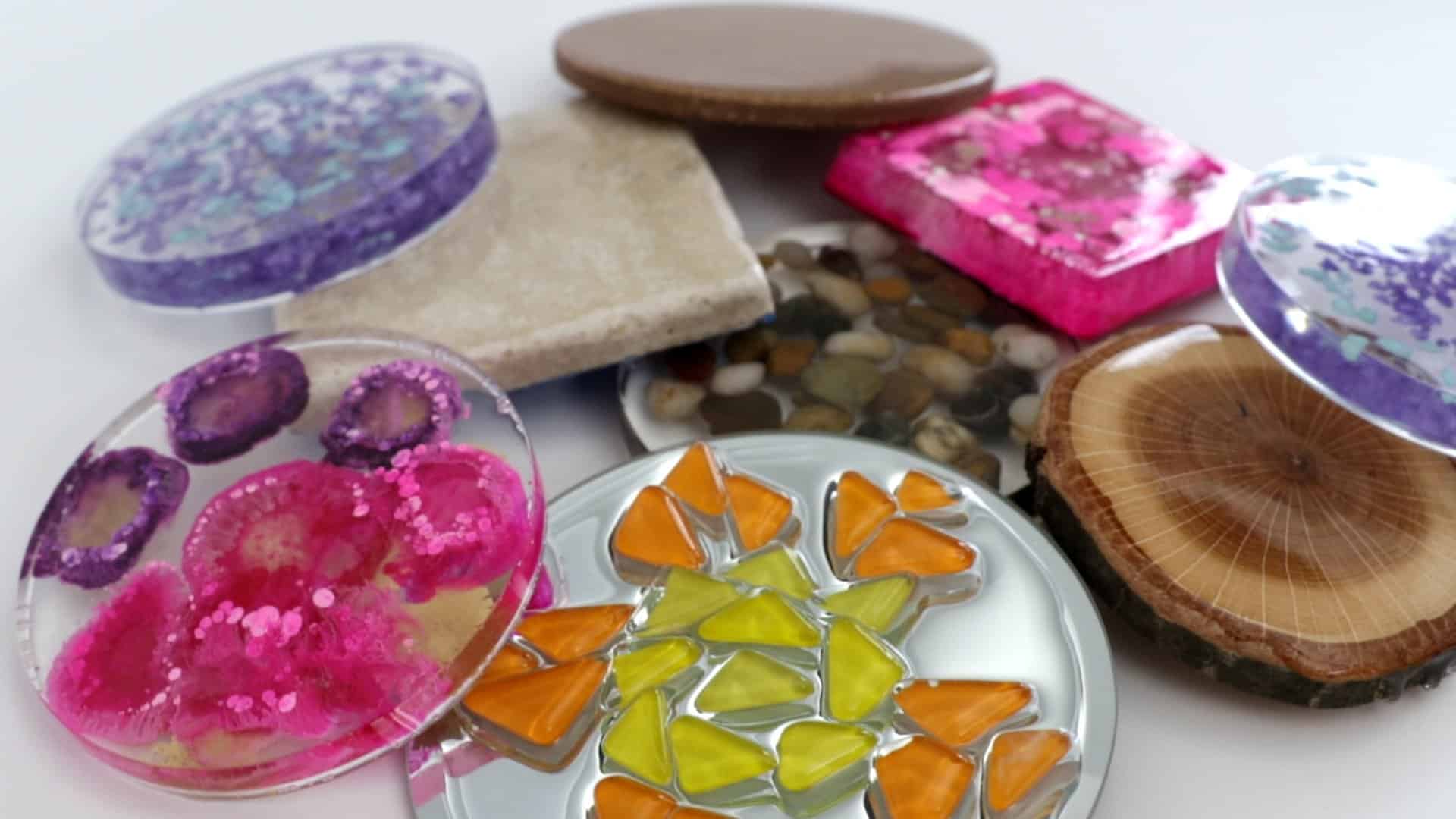 As such, an epoxy resin in its cured state is predominantly food safe and non-toxic. However, it is crucial to note that both the liquid resin and the hardener contain toxic and dangerous ingredients if consumed, inhaled, or applied to the skin. 
It is vital to work in well-ventilated rooms and wear proper protective gear when working with epoxy resin and hardeners. If either substance in its raw form comes in contact with your skin, ensure that you wash it thoroughly immediately. 
Furthermore, keep a close eye on any kind of adverse skin reaction, such as allergies, rashes, a burning sensation, or redness. Before you start working with the substances please read the manufacturer's instructions carefully, so you are aware of the correct procedure and protocols. 
Here are some of the common safety tips you should follow when working with epoxy resin –
Wear protective eye gear

Wear a protective suit or any old clothes with long sleeves and legs

Use nitrile gloves 

Work in a well-ventilated room

Wear a respirator mask (for additional safety) with an integrated filter 

Ensure that you follow the manufacturer's mixing instructions carefully 

In case of any adverse chemical or physical reactions, reach out to a doctor immediately 
Know More About BPA
BPA, also known as Bisphenol A, is one of the essential ingredients required to prepare epoxy resin. Although many people also use Bisphenol F, Bisphenol A is preferred due to its curing properties. 
Although the FDA is certified BPA as safe when used in low levels in certain foods, there is still an ongoing assessment about its adverse effects. 
BPA has been used in the manufacture of polycarbonate plastics and epoxy resin since 1960. In fact, research conducted to measure the amount of BPA found in urine samples showed that 2500 people tested had over 90% BPA in their systems. This research conducted by the Center for Disease Control was alarming, after which concerted efforts have been made to reduce the exposure we have to BPA.
Should You Use Resin That Has BPA In It?
Overall, cured resin is food safe and does not contain any toxic or harmful ingredients. However, the presence of BPA can make it slightly dubious, and there is a lot of speculation about using epoxy resin with BPA. 
When purchasing epoxy resin, it is essential to read the ingredients carefully to protect yourself and those around you. As such, it is best to avoid purchasing hardener compounds that contain any type of amine, as they are hazardous when consumed. 
Furthermore, it is vital to use epoxy resin in a way that it does not form carcinogenic and mutagenic compounds. So, what kind of hardener should you use for curing epoxy resin? 
It is best to opt for aliphatic and cycloaliphatic hardeners, as they are the safest choice for food grade epoxy. 
That being said, several researchers claim that low levels of BPA are non-toxic, even if they are consumed by humans. If you have the option of using BPA-free epoxy, we recommend opting for it – as it is safer in the long run. 
How To Safely Use Epoxy Resin With BPA In It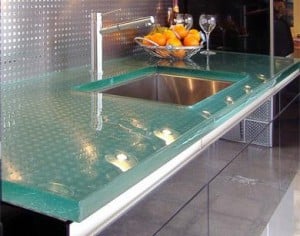 The use of BPA in epoxy resin is almost unavoidable. Since BPA cures epoxy so well, most manufacturers prefer using it as an active ingredient when creating resin. In many cases, you may not be able to avoid coming across epoxy resin with BPA in it. 
However, there are certain steps you can take that will keep you and others safe from the ill effects of BPA in resin. Here are some things you can do:
Don't Use Epoxy Resin With BPA For Long-Term Storage 
 Containers and storage bins are commonly made with epoxy resin and used for household storage. As long as you store food items in these containers for a short period, there won't be much to worry about. 
The issue starts when you use epoxy resin containers with BPA for long-term food storage. After a certain point, the BPA in the material is bound to penetrate your food items, making them unsafe for consumption. However, by using these containers to store food for short periods, you can significantly reduce any risk caused by BPA. 
Try And Keep Food Away From Epoxy With BPA
Whether or not BPA is hazardous, it works in your best interest to keep food items away from it as much as possible. When using epoxy resin for DIY projects, it is best to use them for applications where your food does not come in direct contact with the material. 
However, if you decide to make containers or mugs where food will come in contact with the epoxy, try and reduce the amount of exposure it has to be on the safe side. You can use an overlapping technique when applying epoxy resin as a sealant for materials that come in contact with food. 
Use Safety Gear When Working With Cured Epoxy 
Although we mentioned earlier that cured epoxy is considered food safe, it is ideal to use protective gear and work in a well-ventilated space. If you plan on sawing, drilling, or sanding an epoxy-coated product, ensure that you wear an A2 dust mask. Furthermore, put on protective eye gear to limit your exposure to the fine dust particles which you may otherwise inhale. 
Read The Manufacturer's Instructions Carefully When Mixing Epoxy Resin
Epoxy resin goes through a process known as polymerization. This occurs when you combine two components to mix the epoxy and create the final, cured item. Moreover, the polymerization process effectively helps in reducing the harmful effects of BPA in epoxy. 
That being said, it is essential to mix the epoxy and hardener with accuracy. Failing to do so can cause both the components to release their contaminants into your food items and skin. Not just that, measuring both components accurately can help prevent wastage of items. 
In most cases, the manufacturer will provide you with specific instructions on mixing the components to create the final item with epoxy. Although you may have followed a certain measurement for previous projects, we recommend going through the manufacturer's instructions thoroughly before proceeding with a new epoxy product. 
Each manufacturer specifies a different set of instructions for every product. So, ensure that you read the manufacturer's instructions carefully and use the right measurements and mixing process for your DIY epoxy resin projects. 
Best Food Safe Epoxy Resin You Can Consider
If you happen to look for food safe epoxy resin in local stores or online, you will likely come across dozens of brands and manufacturers. However, not all these brands are reliable or produce the best results. 
We understand, trying to choose the right brand of epoxy can get confusing and overwhelming. Well, we're here to help you. Below, we have provided you with some of the best food safe epoxy resin you can consider. Take a look! 
Stone Coat Art Coat Epoxy Resin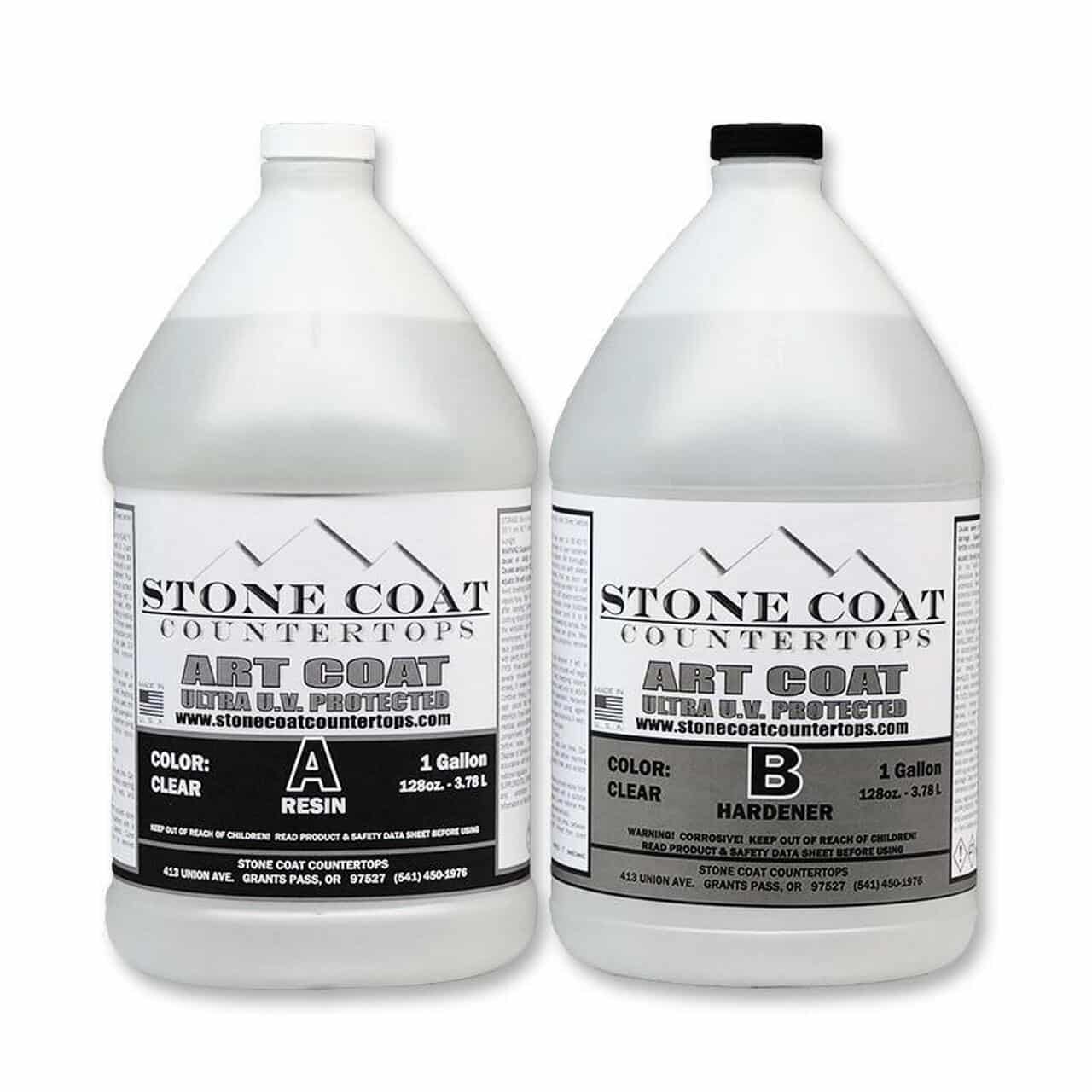 As the name tells you, this product is a high-quality coating resin that is useful for all types of art projects. The best part is, this product is FDA-approved and completely food safe, enabling you to use it for household items and storing food. Not to mention, the product is entirely UV-resistant and easy to use. 
It is essential for a resin coating to be water-resistant. Fortunately, Stone Coat Art Coat Epoxy resin follows this standard, so you can wash it or store liquid items in its cured state without worry. 
Since it is heat and scratch-resistant, you don't need to be too careful when using it as a top coat. As such, the coating will protect your items from scratches, scuff marks, stains, and heat efficiently.
Finally, we love that this product is compatible with alcohol ink, silicone oil, oil-based paints, metallics, dyes, and other pigments. This allows you to add color, texture, and patterns to the resin coating with ease. 
Art Resin Clear Epoxy Resin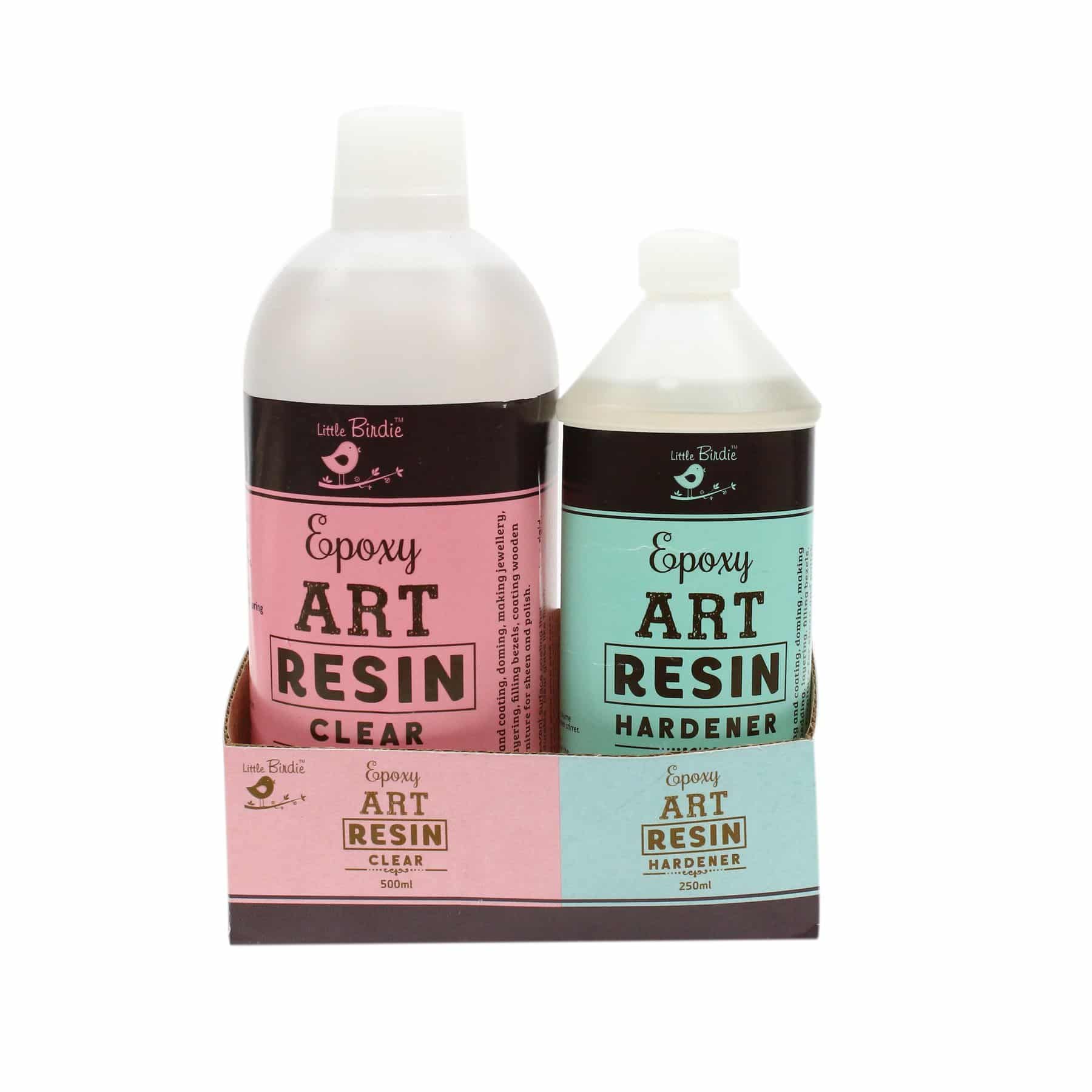 If you are looking for a high-quality epoxy resin that has a multitude of applications, consider the Art Resin Clear Epoxy Resin. This product is completely food safe, so you can rest assured when using it for household applications or for making storage containers for food and liquids. 
Furthermore, this resin coating can be used to seal and glue together items like cutting boards, furniture, containers and mugs, and other household applications. It does not contain any VOCs, which is another huge advantage. However, a yellowing filter is included with the product for those who want to use it. 
Once cured, the epoxy resin is completely water-resistant and does not allow scratch marks and scuffs to appear on its surface. Although this product is called "Art Resin," its applications are far more extensive. 
Ensure that you read the manufacturer's instructions carefully and follow the precise measurements when using this epoxy. Also, always work in a well-ventilated room with adequate safety gear. 
ZDSticky Epoxy Resin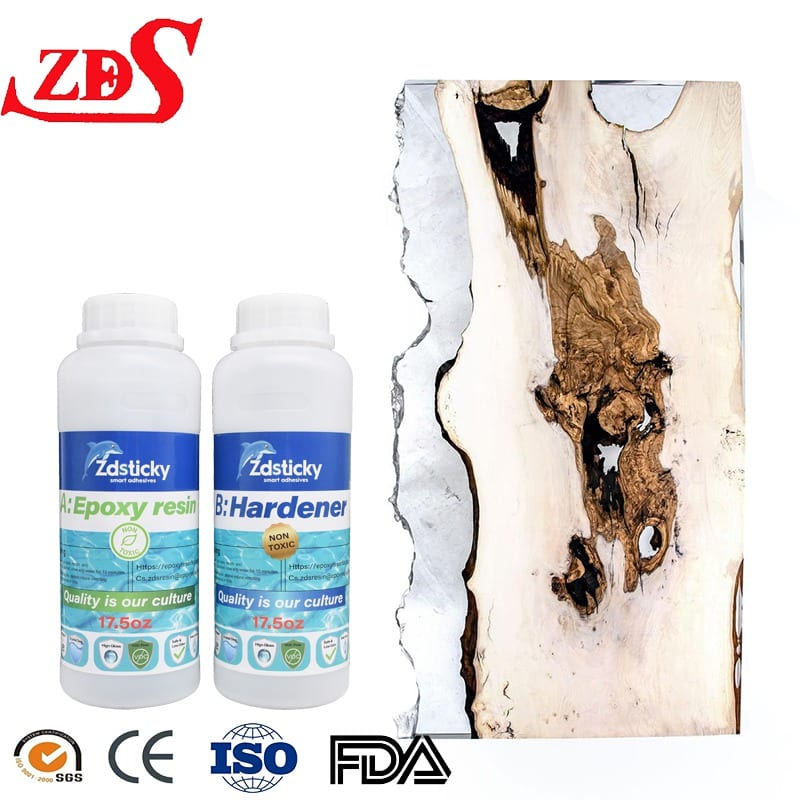 Are you looking for high-quality epoxy resin to make jewelry with? Well, look no further. This epoxy resin uses top-quality raw materials made in Germany. However, it has a thicker consistency compared to other products in the market. 
Its thick consistency might make it slightly challenging for some users, especially beginners who are trying to make DIY jewelry with this product. That being said, as long as you follow the manufacturer's instructions carefully, it won't be long before you can use this epoxy effortlessly. 
Being completely food safe and non-toxic, there is no harm if this resin comes in contact with your food after curing. However, ensure that you use the right protective gear when working with the product in its liquid state. 
The resin has a glossy, shiny quality and is entirely UV-resistant and water-resistant when cured. Moreover, it is relatively easy to use and offers excellent results, as long as you measure the components accurately and allow it to cure.
MAX CLR Epoxy Resin System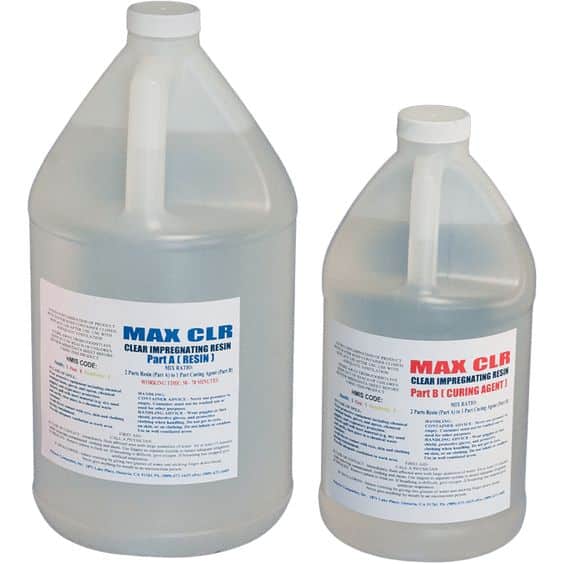 Moving on to one of the most popular and top-rated epoxy resins in the market – the MAX CLR Epoxy Resin System. This product consists of two parts that are combined to create a clear coat. The coat, after curing, is a high-gloss sealant that is entirely water-resistant, scratch-proof, and excellent for preventing absorption. 
This epoxy resin has one of the highest customer reviews and ratings in the market. However, it has a relatively long curing time of about 6 hours or more, depending on how much product you use. 
The product is FDA-approved food-safe so that you can use it for your kitchen countertops, cutting boards, mugs, and containers without fear. Not just that, it is easy to sanitize and produces a shiny, highly durable finish that lasts for years with proper use. 
One of the primary reasons why this resin is so popular is its ease of use. As such, this epoxy has a high viscosity. This enables you to make corrections and fill gaps in the resin product before it is fully cured. Furthermore, it prevents the formation of bubbles – which can create a highly unnatural and unappealing finish. 
Although this resin is slightly more expensive than its competitor products, most customers justify its extra price with the safety it offers. 
How To Purchase The Best Food Safe Epoxy Resin – Buyer's Guide
Now that you know about some of the best food safe epoxy resin in the market let's move on to the next section. Here, we will give you some tips that will help you purchase the best product that is safe, non-toxic, and convenient to use.
So, let's begin! 
Opt For Epoxy Designed For DIY Use Instead Of Industrial Use
Assuming you are looking for the best food grade epoxy resin for DIY projects, make it a point to search for products that are specifically designed for DIY use. Indeed, you will come across dozens of products in the market. However, each one is catered to a different set of audiences. 
As such, epoxy resin designed for industrial use is far more potent and contains far more traces of BPA than that prepared for DIY use. Furthermore, the manufacturer's instructions on mixing and using this epoxy will vastly vary from resin made for DIY use. 
Unless you plan on using a massive quantity of epoxy in a safe and controlled environment, we recommend opting for DIY food safe epoxy resin. You will find the components much easier to work with, not to mention, the toxic fumes and traces of BPA are also better controlled. 
You might find industrial use epoxy resin to be slightly cheaper than those designed for arts and crafts. Now, we understand that you may want to save that extra money. However, the level of toxicity in the former products tends to be higher than the latter. 
Since extraction is typically carried out in strictly insulated rooms where the danger of coming in direct contact with the substances is minimal, manufacturer's feel comfortable using higher amounts of dangerous ingredients. 
That being said, you may not have the necessary equipment and methods to use this epoxy, so avoid purchasing them for your safety. 
Read The Ingredients Carefully
Every consumer should inculcate this good habit – read the ingredients used in a product carefully. This applies to everything you buy, whether it is food items, furniture, clothes, or items for arts and crafts. 
When purchasing food safe epoxy resin, ensure that you spend some time reading the ingredients used carefully. If you are unsure about any ingredient mentioned on the label, run a quick Google search to know more about it. 
Furthermore, if the product label mentions that it is BPA and VOC-free, make it a point to check the ingredients, just to be sure. 
Manufacturers are notorious for masking harmful and toxic ingredients under fancy names in the ingredients list. However, when you are actively looking for a non-toxic, food safe product, it is imperative that you read everything carefully before purchasing. 
Here are a couple of ingredients that you need to be wary of:
Phenol or carbolic acid

Diglycidyl ether

Prepolymers or Epichlorohydrin
Epoxy resin designed for use in industries has a significantly larger amount of these toxic substances compared to epoxy made for DIY use. These ingredients are extremely harmful and can cause chemical burns on the skin, as well as cell and nerve poisoning. 
Moreover, some of these ingredients are suspected of being carcinogenic as well. It is vital to keep a close eye on any brand using such ingredients and try and purchase alternative products. 
Check The Manufacturer's Instructions
Did you know that epoxy resin products sold by different brands may have varying curing times and measurements? Well, a lot of people don't know this and end up ignoring the manufacturer's instructions printed on the container or box. 
Doing this can be a grave mistake, as accurate measurements are crucial when it comes to epoxy resin. Using the correct measurements is essential for the end product to look and feel perfect, but it is also vital to ensure the user's safety. 
When it comes to reducing the amount of toxicity produced by the components in epoxy (such as BPA,) following the correct measurements is vital. In fact, over or underusing any component while creating epoxy resin can lead to unhealthy and toxic fumes and an unsightly end product. 
Look For Food Safe FDA-Approved Epoxy Resin
Although there are several dozen epoxy resin brands in the market, not all are FDA-approved food safe products. Furthermore, even fewer products are BPA and VOC free. 
If you plan on using epoxy resin for sealing or creating items that will be in direct contact with food, it is best to look for these specific products. You can look for them in local art stores or search online to find the best FDA-approved food safe epoxy. 
The list of products we mentioned in this guide highlight some of the best FDA-approved food safe epoxy resin in the market. Of course, keep in mind that some of these products may cost slightly more than standard epoxy resin. That being said, we recommend opting for the safer brands as they are a better choice in the long run. 
Mix The Components In A 1:1 Ratio
One of the most vital aspects to ensure that your epoxy resin is food safe is to mix its raw components in a 1:1 ratio. This process, known as polymerization, ensures that the adverse effects of BPA and other toxic ingredients are minimized. Once the components solidify into the final state, the toxic ingredients are far less likely to leach out into your food or skin. 
When looking for the best food safe epoxy resin for personal use, ensure that the ingredients specify a mixture of 1:1. More often than not, this means that the components are less toxic for household or personal use. 
Look For The Curing Time
The right epoxy resin product will always mention its curing time somewhere on the packaging or instructions. It is essential to keep a check on this and choose the right product according to your requirements. 
If you are unable to invest longer periods for your resin product to cure, it is best to look for commercial brands that offer a shorter curing time. Keep in mind that a long curing time does not always mean that the end product is safer than others. However, it is a vital aspect to consider if you are purchasing epoxy resin for personal use. 
Why Choose Food Safe Epoxy Resin?
Most people are extremely selective of what they put in their mouths or on their bodies. While this selectiveness and awareness are extended to food items and clothing, most people do not pay much heed to art and crafts products. 
However, when it comes to ingredients that come in contact with our food, it serves our best interests to be aware and safe. Fortunately, most commercial epoxy resin products are considered food safe.
Even so, there can be minimal traces of BPA and other toxic chemicals that seep into our food items, especially if we use the products for extended periods. Since epoxy resin is rising in popularity, especially amongst DIYers and artists, it is recommended to use only the best, FDA-approved food safe resin.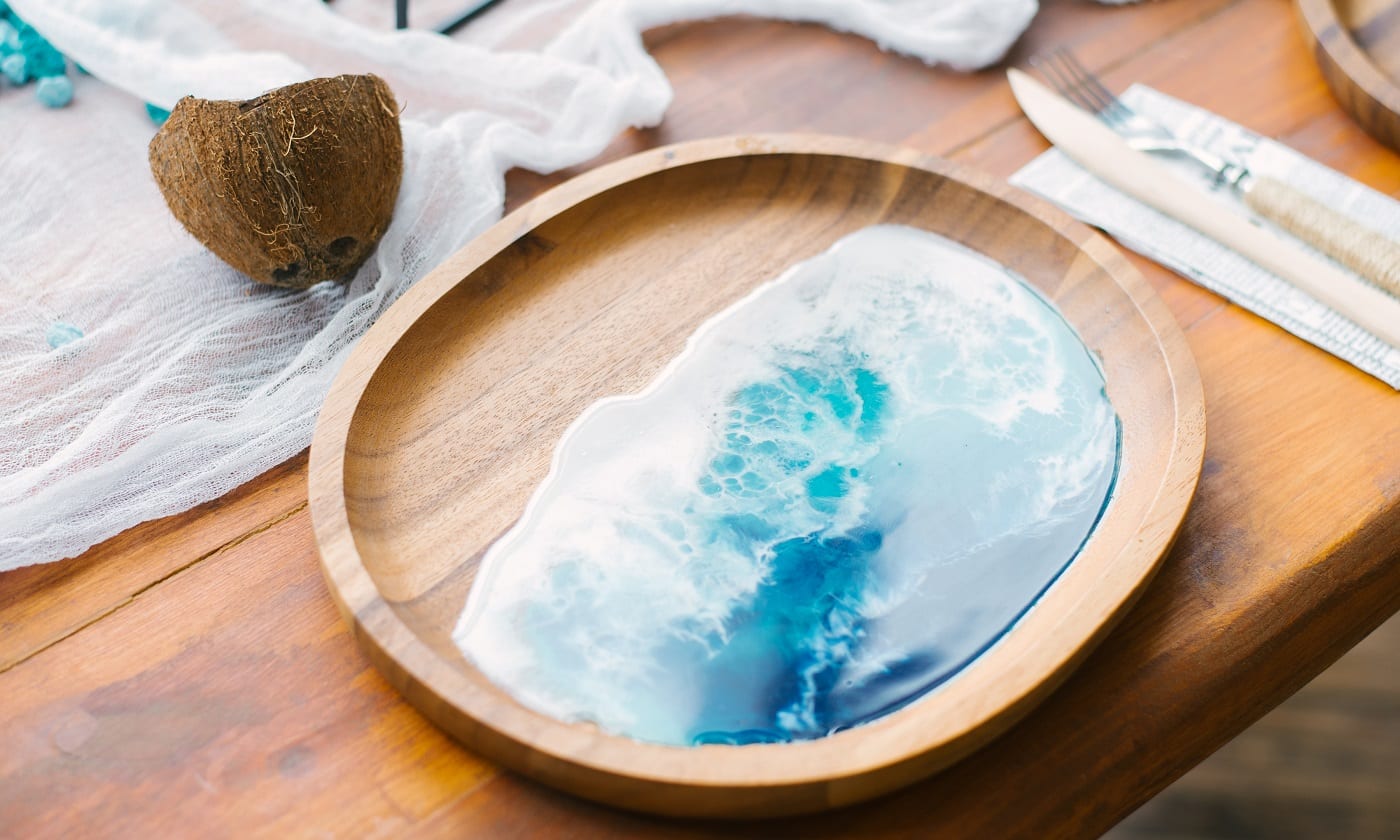 Summing It Up
The world is becoming increasingly health and food-conscious – which is a good thing. 
However, with increased awareness, all of us consumers must carefully consider the items we are using on a daily basis. And the effects they may have on our body, mind, and environment. 
The ingredients used in epoxy resin must be considered as well, as many of us love to work with it and use these items for our daily household items. We hope our guide helped you understand food safe epoxy resin better – and how to keep yourself safe while using it.
Fortunately, you no longer have to choose between safety and ease of use or practicality. Let us know which food safe epoxy resin you enjoy working with the most and why. We'll be waiting to hear from you in the comments below.
Until then, stay safe! 
Related Articles
13 Best Epoxy Spray Paint Resins
11 Best Polyurethane Protective Coatings
5 Epic Face Painting Supplies That Will Improve Your Designs
6 Best Body Paint For Cosplay Reviewed
Learn How to Body Paint With Brilliant Results Right Now
5 Best Airbrush for Body Painting Reviewed
16 Brilliant Face Painting Techniques to Feed Your Imagination
13 Best Paints for Bathroom Ceilings
13 Best Spray Paints For Metal
7 Best Airbrush for Miniatures & Model 
11 Best Epoxy Resin For Crafts 
5 Best Polyurethane for Floors
5 Best Epoxy Resin for Tumblers
9 Best Exterior Wood Stains Today 
Acrylic Pouring Medium Guide [All You Need to Know]
3 Best Polyester Resin [Reviewed & Buyer's Guide]
Sanding Epoxy Resin Guide 101 [All You Need to Know]
Acrylic Pour Painting [All You Need To Know]
Totalboat Resin Epoxy 101 | Reviews + Buyer's Guide
How To Make Resin Dice 101 [All You Need to Know]
How To Make A Resin Geode [Complete Guide]
Art n Glow Resin Review [All You Need to Know & Buyer's Guide]
Alcohol Ink and Epoxy Resin 101 [All You Need to Know]
How to Color Clear Epoxy Resin [Coloring Resin
How To Fix Radiator Leak With Epoxy+ Best Radiator Repair Epoxy
Epoxy Garage Floor 101 [All You Need to Know]
Mold Release Guide + Best Epoxy Release Agents
Surfaces Resin Won't Stick to [All You Need to Know]
Heat Resistant Epoxy 101 [A Guide for High Temperatures]
Epoxy Cement Guide 101 [How to Repair Concrete with Epoxy]
How To Mix Epoxy 101 [Measuring & Mixing Epoxy Resin Guide]
How To Harden Sticky Resin [Uncured Epoxy Solutions]
How To Fix Epoxy Mistakes [Tackling Common Epoxy Problems]