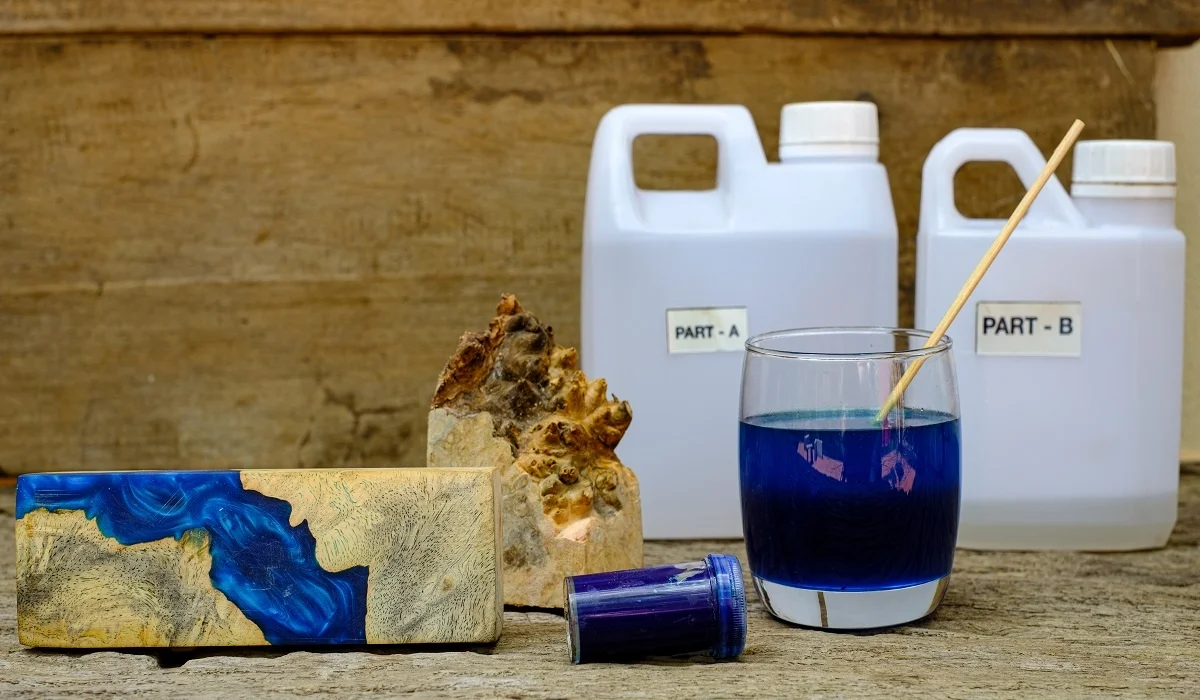 Are you fascinated by the waterfall river table that you just watched on YouTube? 
It's time you create such a masterpiece all by yourself using epoxy resins. Epoxy resins are fun to work with but are tricky to handle. They can either create exquisitely beautiful pieces or lead to a terrifying mess. 
However, if you're a DIY lover just like us, then epoxy resins must be your favorite too. They add life to your otherwise dull surfaces and make them bright and shiny. Unfortunately, epoxies turn yellow over time. Thus, what once was bright and shiny is now unpleasant and ugly. 
Therefore, colored epoxies are the best for all your DIY work. We decided to pen down a complete guide on "how to color clear epoxy resin" for all the newbies out there. Read on to know how you can create stunning artwork by adding colors to clear epoxy resins and start your own DIY business. 
How to Color Clear Epoxy Resin – Coloring Resin 101
Coloring Resin
If you're a DIY enthusiast going with the trend, we bet you know how intimidating it is working with resins. However, once you get the hang of it, you'll find it easy to work with it. Clear and colorless epoxy resins are versatile and offer a plethora of applications. 
Nevertheless, adding a dash of color to your clear and colorless epoxy resin will let your creativity flow. You can create stunning artwork such as jewelry, keychain charms, pendants, coasters, and much more. 
Whether filling cracks on an old table or designing a river tabletop, colored epoxies can help you create stunning DIY artwork that you can sell online for thousands of dollars. 
Now, there are a variety of pigments available on the market that you can use to add colors to clear epoxy resin. But, not all of them get along well with epoxy resins. So, which epoxy resin will work best for you? We've got all the answers for you in this section. 
If you want to give a unique look to your DIY artwork, adding pigment powders to clear epoxy resins will transform the look of every project. Pigment powders' bright, vivid hues are perfect for jewelry making. 
When mixed with epoxy resin, they produce subtle color changes that enhance the aesthetic appeal of the finished product. Simply add a pinch of pigment powder to your epoxy resin, and stir well to make sure no lumps are formed. This is it. You're done! Now pour it onto the jewelry molds or the canvas for geode art. 
While searching for ways to color your clear epoxy resins, you might have stumbled upon resin dyes. Haven't you? If you don't know yet, let me tell you that resin dyes are compatible with almost all kinds of resins. 
After mixing Part A and Part B epoxy resins, add a few drops of resin dyes to the measuring cup. Also, make sure to stir the mixture properly until you're confident that the dye has mixed evenly with the epoxy resin. 
They are most popular among DIY enthusiasts, mainly because they are easy to mix with epoxy resins. Moreover, they are available in both paste and liquid forms. Also, you can find both transparent and opaque pigments according to your needs. 
While light can pass through the casting, transparent dyes add color to your epoxy resins. Hence, you may use them for making pendants, jewelry, coasters, or charms. Meanwhile, the opaque ones do not let the lights pass through them. Therefore, they're perfect for geode canvas, wall clocks, river tabletops, and the list goes on!
If you're a newbie with epoxy resins, resin dyes will be the perfect pick for you, mainly because they are easy to mix and work with. However, if you're looking for more options, then keep reading, for the list goes on!
For all your DIY countertops, tabletops, or waterfall river table, mica resin powder is a must-have in your DIY resin kit.To be honest, this is one of our favorites, too. Mica resin powders add an exquisite and subtle shine to your projects. 
Whether you want to create riverbed tables or fill the cracks of your old coffee table, mica resin powders will be a perfect choice for creating stunning masterpieces. Also, it mixes easily with resin without forming lumps into the mixture. 
While working with molds, you can even brush the corners of the molds with mica powders to coat the borders. However, you must keep in mind to swirl the mixture with a toothpick after pouring it into the molds. That will surely yield amazing results. But, remember this is slightly more expensive than others. 
Another popular resin colorant is alcohol ink. Its beautiful, rich saturation makes it a perfect pick for creating resin petri dish art. After mixing part A and part B resin, add a few drops of ink in the mixture and stir well. 
However, you can also add a few drops of alcohol ink after pouring the resin on the molds. Alcohol inks also work best for designing tumblers. Simply cover the tumbler with epoxy resin, and pour a few drops of ink on the tumbler. And your gorgeous marbled cup is ready for use. 
Ever thought of pairing acrylic paints with epoxy resins? If not, now is the time to try it. Because of their wide variety of colors, acrylic paints are best to enhance the aesthetic appeal of your objects. 
It is an excellent colorant choice because of its abrasion and water-resistant properties. Plus, they are highly durable. However, you must mix acrylic paint and epoxy resin together with great care. It's best to stick to a ratio of 1:10. 
We recommend going for acrylic paints only if you're a pro at handling epoxy resins. Otherwise, it's futile to choose acrylic paint as a colorant for epoxy resins. For all newbies, we suggest sticking to other colorants. 
If you're a DIY enthusiast who loves to add a dramatic effect to DIY projects, it's time you lay hands on glitter powders. From holographic to classic metallic, there are limitless varieties to let your creative juices flow. 
Although they don't really add colors to epoxy resin, they add stunning effects to your pieces. With just a pinch of glitter, you can transform your dull object into a bright, eye-catching one. 
How To Color Clear Epoxy Resin 
While you know which colorants go along well with epoxy resins, adding colors perfectly to clear epoxy resins still remains a challenging task. When you add any colorant to epoxy resin, the mixing ratio between the hardener and resin is altered. Therefore, it is important you work carefully to avoid creating any mess. 
So, herein, we've laid down the steps on how to color clear epoxy resin just for you! Take a look –
Step 1| Keep Things Handy
We all are aware of the fact that resin cures pretty quickly. Therefore, keep things handy to avoid any last-minute rush. Resin, hardener, mixing cups, ice cream sticks, blow torch, and everything you may need. 
Step 2| Mix Hardener And Resin
Whether you're about to create a stunning countertop or a beautiful two-tier cake stand, the first thing you need to do is to prepare the epoxy resin mixture. Therefore, the most important step to creating your masterpiece is to mix the hardener and resin in the proportion recommended by the manufacturer. 
Most epoxy resins mix at a ratio of 3:1 or 2:1. However, we recommend you follow the instructions given by the manufacturer for an error-free experience. To ensure you mix accurate proportions, you should use a resin calculator and a weighing machine.
Step 3| Add Colorant To The Mixture
After mixing hardener and resin in equal proportion, it's time to add colorants to them. If you're using pigment powder or glitters, add no more than a pinch to the mixture. Stir it well to mix the pigment evenly with the resin. Also, make sure lumps aren't formed. 
However, if you go for the liquid pigments or resin dyes, you need to pour just a few drops. Stir it well to mix the color evenly. Alternatively, follow the 1:10 ratio with acrylic paints. As a rule of thumb, add no more than 5% colorant to your epoxy resins because adding more will hamper its functionality. Also, you must use only high-quality branded colorants for epoxy resins because they yield better results. 
Coloring Epoxy Resin| Tips And Tricks
Working with epoxy resin is quite a challenge. Hence, you must work with utmost caution to avoid making artsy-craftsy a messy affair. Therefore, we've mentioned a few tips and tricks for you. Check them out. 
Opt for highly pigmented colors because they do not tamper much with the mixing ratio of epoxy resin. 

Always mix the colorant with epoxy resin in a small batch to see whether it is compatible with it or not. 

Add colorants to only those epoxy resins that you've handled in the past, as it will be easier for you to control the reaction – if any occurs. 

Using water-based colorants with epoxy resins is a big no-no! 

Choose only colorants that are sufficiently lightfast because this will ensure the longevity of your project. 

Remember, resins dislike moisture, so avoid adding more than what is necessary. 
Safety Measures To Take While Coloring Epoxy Resin
A Well-Ventilated Space
First off, a well-ventilated space is important for working with epoxy resins. Its fumes are carcinogenic, and of course, you wouldn't want to inhale them. Therefore, work outdoors. 
However, if you work indoors, make sure you work near the windows. Switch on the ceiling fan to ensure proper ventilation. 
Wear Safety Glasses
Resins don't splash because of their thick viscosity. However, it's better to wear safety glasses to protect your eyes while working with epoxy resins. 
Put On A Plastic Apron
Spills and drips are inevitable while working with epoxy resin. And let's be honest, who would want to ruin their beautiful shirt with epoxy resin stains? Of course, no one! That's why we recommend you wear a plastic apron while working on your masterpiece. You can either clean it after work or toss it in the bin. 
Wear Gloves
Epoxy resins are chemicals, and you need to protect yourself from them. Therefore, you must wear a pair of gloves to keep your hands safe. We recommend you use nitrile gloves against latex ones that obstruct curing. 
But, what should you do if resin accidentally gets on your hands? Baby wipes are great for wiping resin from your skin, so keep that handy. 
Next, wash your hands with soap and water. Pumice soap works great for sticky resins. Also, keep acetone or alcohol handy to avert the reaction of resin on your skin. 
Use A Respirator
After following every safety measure, don't forget to put on a respirator. To be precise, you're dealing with chemicals. And so, it's better to be safe than sorry. If you think fumeless resin isn't dangerous just because they don't smell, you're wrong. All epoxy resins are harmful and so put on a respirator while working. 
Use Epoxy Resin Formulated For Art Purposes
You must buy only those epoxy resins that conform to ASTM D-4236 because they are safe for DIY use. However, this does not mean they are non-toxic, location-safe, or food-safe. We recommend you read the instructions along with the do's and don'ts of the product you'll be using to understand the product better. Also, don't forget to use protective gear. 
What Can You Do With Colored Epoxy Resin
Adding colors to epoxy resin allows you to turn your imagination into reality. One of the best things that you can create with epoxy resin is river tabletops. Adding them to your living room is sure to enhance the aesthetic appeal of your home. 
Moreover, if you're into DIYs, you'll love creating this masterpiece. Also, you can open up your DIY crafts store and make hundreds of bucks by selling these online. Simply add a few drops of blue pigment to the resin mixture and pour it on the wooden tabletop. 
From pouring colored epoxy in the center coupled with wood planks on the sides to a live edge table with irregular pieces of wood with colored epoxies, you can create anything you want. Not only do the colored epoxies add aesthetic beauty to the table, but they also act as an adhesive to bond the wood strongly. 
Also, you can use them to design countertops, tabletops, geode artwork, wall clocks, and decorating tumblers. They are best for all your DIY projects. One of the benefits of using colored epoxy is that they don't turn yellow over time, unlike clear epoxy resins. As such, your objects and surfaces remain bright and shiny for years. Thus, they age much better than clear epoxies. 
How to Color Clear Epoxy Resin FAQ
   1. Is Painting Epoxy Resin In Color Possible?
Yes, it is possible to paint epoxy resin in color. However, we recommend you use premium-quality two-component paint or car paints. However, adding color directly to the mixture during the casting process will yield a better result than painting it afterward.
    2. What Doesn't Work To Color Resin?
Epoxy resin is challenging to deal with. Therefore, you must avoid using nail polish, oil paints, and latex paints.
Nail polish will turn your epoxy resin into a hideous amber. Oil paints will form lumps and create a mess. To be honest, we've tried latex paint and found that it makes resin stringy. So, make sure you never make the mistake of adding these to your epoxy resin.
     3. Are Colored Epoxy Resins Heat-Resistant?
Yes, they are heat-resistant up to 100 degrees celsius. However, it also depends upon the brand, the colorants, and the products used. Therefore, we recommend you layer the colored resin tabletops with a layer of transparent resin to add extra protection.
     4. Are Protective Gears Necessary While Working With Epoxy Resin?
Of course, it is necessary for you to wear a respirator and safety glasses while working with epoxy resin. Epoxy resins are no doubt chemicals, and are therefore toxic. To keep yourself safe from health hazards, you must always use a respirator.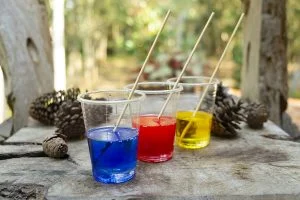 Final Words
From aesthetically pleasing countertops to pendants and tumblers, colored epoxy resin lets you create whatever you want. Add colors to epoxy resins and create all that you want. Live edge and waterfall table tops are fun to create but don't forget to follow safety measures. 
However, handling epoxy resin is no child's play. Therefore, if you're a newbie, we recommend you experiment with epoxy resin crafts under the guidance of an expert because epoxy resins aren't forgiving. 
With that, we come to the end of our informative guide. We hope we were able to answer your questions regarding coloring epoxy resins. In case you have any queries, reach out to us. We'll be glad to help you. 
Hope you have a fun time experimenting with epoxy resin! 
Related Links
The Difference Between Epoxy & Super Glue
What is Resin and How It's Used
Waterproof Epoxy 101 [Is Epoxy Waterproof?]
13 Best Epoxy Spray Paint Resins To Consider Today
11 Best Bar Top Epoxy [Reviews & Buyer's Guide]
11 Best Epoxy Resin For Crafts [Reviews & Buyer's Guide]
10 Best Epoxy for Plastic Today [Reviews & Buyer's Guide]
10 Best Epoxy Resins For Wood [Reviews & Buyer's Guide]
5 Best Epoxy Resin for Tumblers [Complete Tutorial]
5 Best Epoxy Wood Filler [Review & Buyer's Guide]
3 Best Polyester Resin[Reviewed & Buyer's Guide]
How To Fix Radiator Leak With Epoxy+ Best Radiator Repair Epoxy
Epoxy Garage Floor 101 [All You Need to Know]
Mold Release Guide + Best Epoxy Release Agents
Surfaces Resin Won't Stick to [All You Need to Know]
Heat Resistant Epoxy 101 [A Guide for High Temperatures]
Epoxy Cement Guide 101 [How to Repair Concrete with Epoxy]
How To Mix Epoxy 101 [Measuring & Mixing Epoxy Resin Guide]
How To Harden Sticky Resin [Uncured Epoxy Solutions]
How To Fix Epoxy Mistakes [Tackling Common Epoxy Problems]