Using the thread and needle every time you have to mend a torn fabric or add decorations to your favorite dress can be frustrating.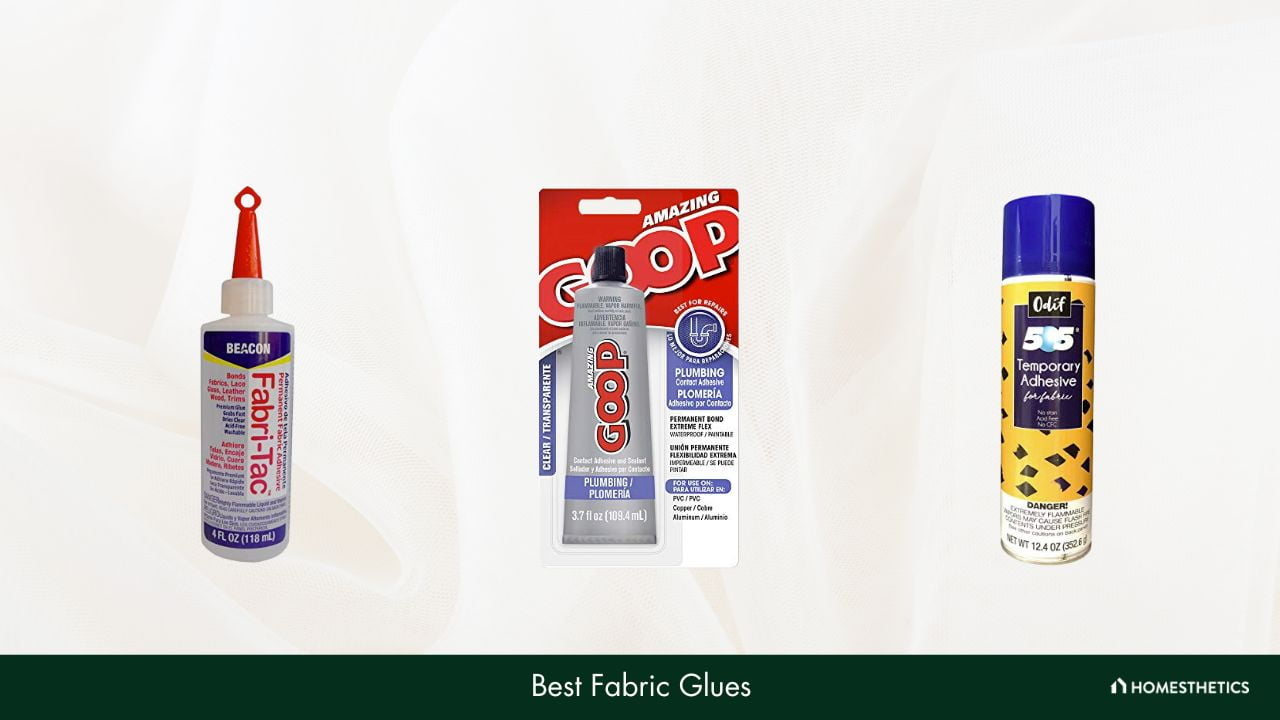 Not only is the process time-consuming, but the bond might not always remain as strong as you want it to be. So, what's the way out? Well, we'd say it's pretty simple- just buy a good-quality fabric glue and bring it on!
These fabric and leather glues can indeed create strong bonds in fabrics and are super-convenient to handle. And the best part is that most of them are available at very pocket-friendly rates. Hence, using such glue for your projects will undoubtedly be a wise decision. 
But the tons of options on the market can seem overwhelming to anyone. That's why we've tried to help you out by curating this guide to the 11 top-notch options you should consider. 
So, let's head on to the reviews!
Best Fabric Glues
Here is the list of the 11 best fabric glues that you can use to easily and efficiently mend any fabric or clothing item.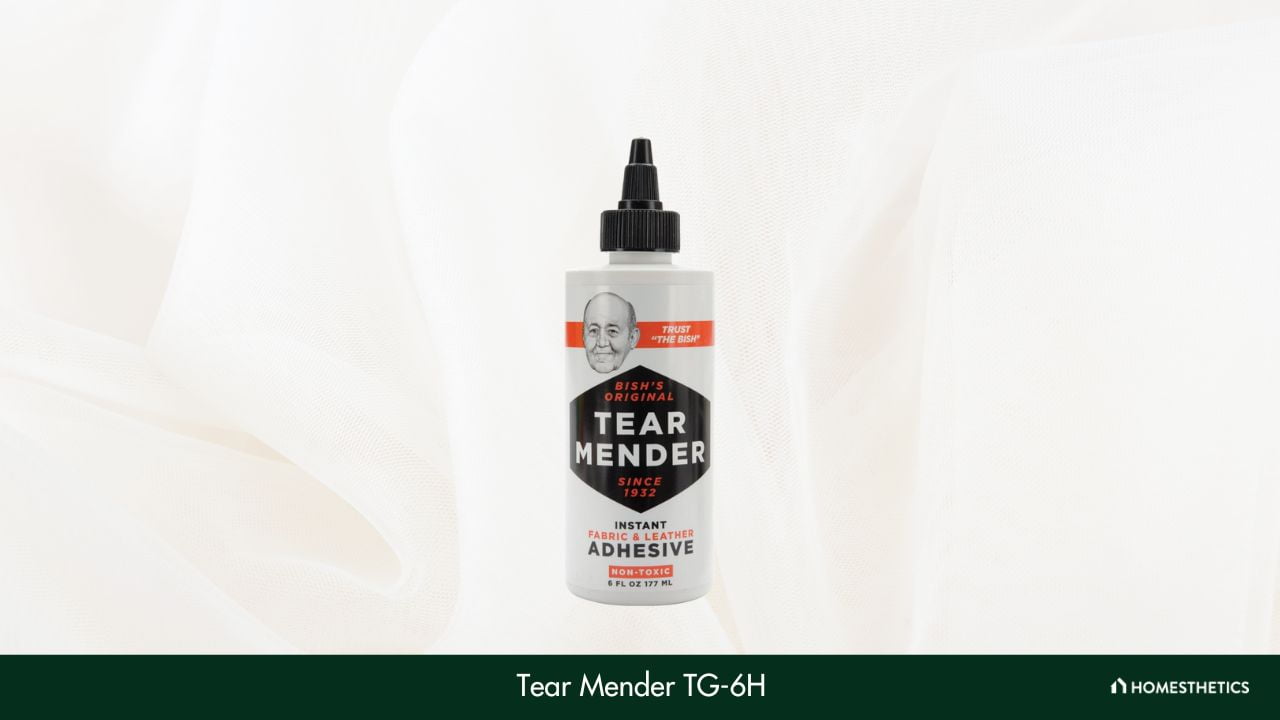 Adept at mending fabric tears and strengthening any fixtures on fabric, the Tear Mender is among the strongest glues on the market. Homeowners have appreciated it far and wide for its powerful formula, and it is sure to get your job done quickly. As such, it is definitely among our top picks from the list. 
The best thing about this glue is its ability to create unbreakable bonds in a matter of minutes by seeping into the various tiny crevices within the fabric. As such, you can mend any dress in just 3 minutes after the job is done and can wash it in 15 minutes. 
Another advantage is that it utilizes a water-based formula containing natural latex, which makes it non-toxic and acid-free. That's why it would never harm your skin as most cheaper products do. Plus, it's easy to clean as it doesn't stick to any hard surface. 
The bond that this glue creates is also UV-resistant and waterproof, making it highly durable. Last but not least, it is highly versatile since you can use it for leather, home décor, clothing, upholstery, and many more fabrics. 
After it arrives, make sure you check whether the glue bottle is devoid of wear and tear. That's because the packaging used is weak and makes it prone to damage during delivery. Nevertheless, the performance that it delivers is highly satisfying. 
What We Like
Quick action
Unbreakable bonds
Safe for use
Highly durable
Quantity: 1 Bottle | Volume: 6 fl oz | Set Time/Dry Time: 3 Minutes | Dry Color: Tea
Next in line is another high-performing glue from the popular brand Aleene's that provides strong and permanent bonds in fabric with ease. There are lots of other amazing features as well, which make it one of the most loved fabric glues in the country. So, let's move on and have a look at all that it offers. 
To begin with, this glue can be the ultimate solution for fixing tears and joints in a range of fabrics, including flannel, cotton, leather, and many more. And you can even use it for sticking embellishments like sequins, trims, and beads on fabric. 
So, the next time you find some loose beads on your favorite party dress just before heading out, having this glue at home can indeed save the day! Another noteworthy feature is its clear, non-stringing, and low-odor formula, which makes it effortless to work with. 
You also don't need to worry about the glue stiffening after washing, as in the case of other products, since it always remains flexible. Just make sure you wash the fabric in cool water and then air dry it as that would fetch the best results. 
The only drawback of this glue is that the wrong size may be delivered sometimes. So, it's best to check the size soon after the product arrives. But we have no complaints regarding its performance, as it does the job perfectly. 
What We Like
Highly versatile
Doesn't string
Low-odor formula
Remains flexible
What We Don't Like
Wrong size may be delivered
Quantity: 1 Bottle | Volume: 4 fl oz | Set Time/Dry Time: Up to 24 Hours (Dry Time) | Dry Color: Clear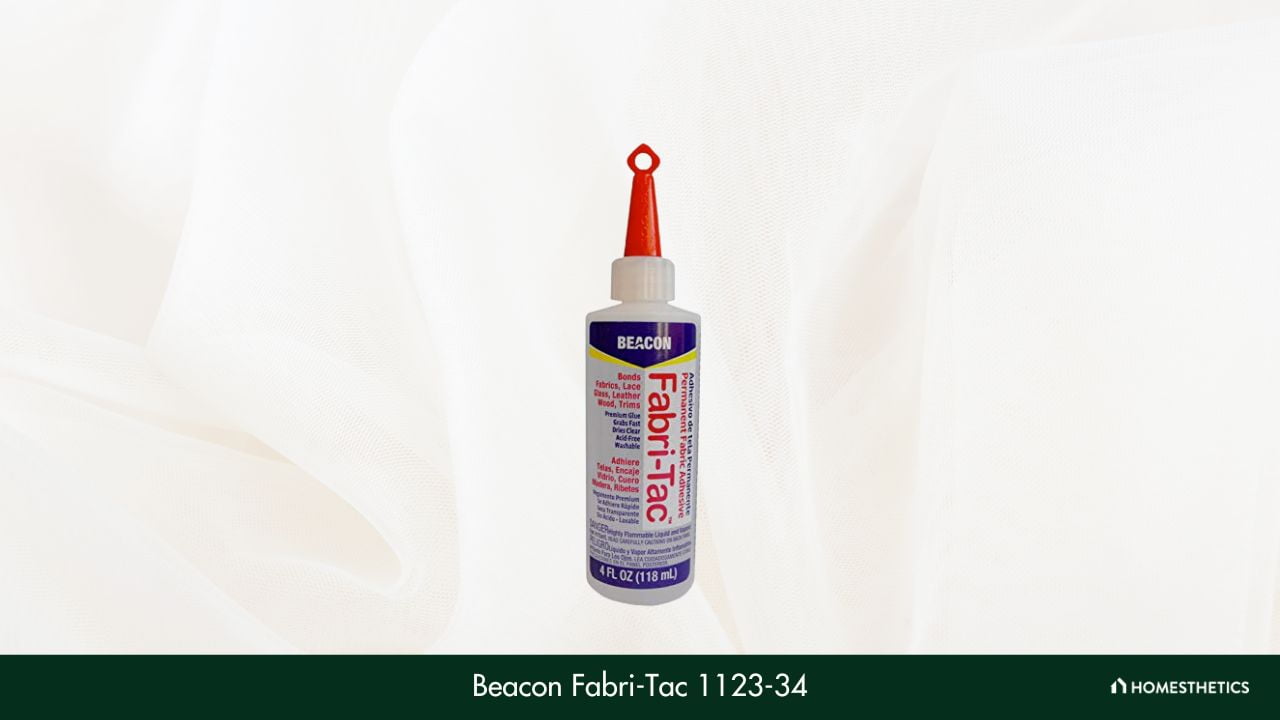 This Beacon glue can be an ideal fit for quickly fixing ill-maintained fabrics with lots of loose ends. It even comes in handy for DIY lovers who love to modify their fabrics in their own unique style. As such, this glue is a must-have for anyone looking for an all-around solution for fixing fabrics.
We loved how this glue dries within minutes of application, which ensures you can wear the garments almost instantly after they're fixed. Also, its fast-grab formula ensures that the bond is strong and durable so that the loose ends are gone for good. 
Another great quality is its incredible flexibility, as it never stiffens after drying. Hence, you'll never feel uncomfortable after you put it on. 
The versatility on offer is also praiseworthy as you can use it for a variety of applications, including attaching laces, fixing shoes of leather, and hemming clothes. Lastly, the formula is completely acid-free, so you can rest assured that it's safe for use. 
Although this glue works wonderfully to fix most types of fabric, we felt the quantity of glue in each bottle was insufficient for long-term use. So, it would be better to purchase two to three bottles together. 
What We Like
Dries within minutes
Strong and durable bond
Highly versatile
Safe for use
Quantity: 1 Bottle | Volume: 4 fl oz | Set Time/Dry Time: Fast Drying | Dry Color: Clear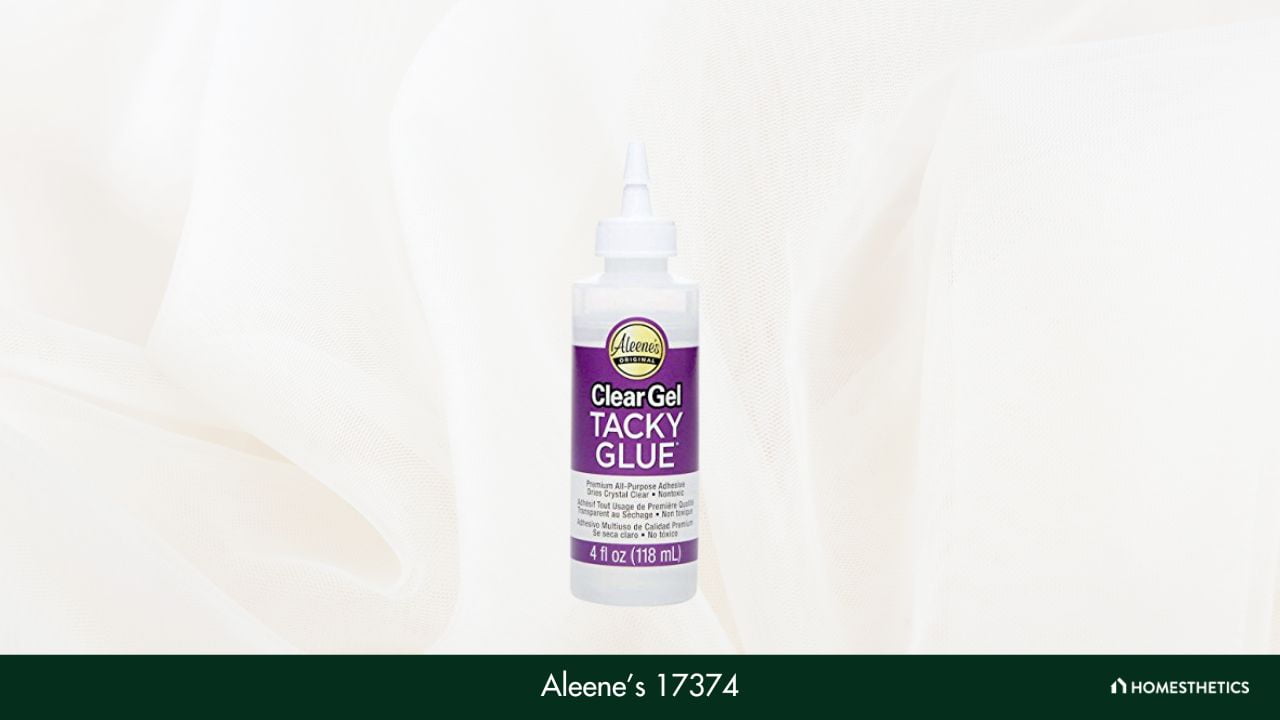 Here's yet another glue from Aleene's, which is a pro in handling bonds in fabrics of different types. It's an excellent choice for people engaged in DIY projects with fabrics as well and helps create them just the way you desire. On the whole, it gives you value for your money and is even very convenient to work with. 
Firstly, this glue comes in a crystal-clear form, so you can rest assured that it will never stain any fabric you're working with. And the clarity remains intact even after it has dried. 
As for the bond strength, there are no complaints as all the fabrics have been fixed permanently after using this product. You can even use it to stick glitter, beads, or other embellishments and apply appliques to decorate your dresses. In fact, by utilizing this glue for your appliques, you can get much better results than by sewing them. 
Another great benefit is that the gel is soluble in water, allowing you to correct any wrong applications easily. What's more, it comes with a convenient squeezable, which is super-soft and offers a customizable tip. To make sure that the thickness of the glue lines is consistent with your needs, you just have to cut the tip accordingly. 
Some customers complained that this glue took longer to dry up than other products, so they had to wait for a couple of hours before using the fabrics. They further pointed out that the drying time was also neither mentioned on the bottle nor in the user manual. 
What We Like
Never stains fabrics
Perfect bond strength
Washable with water
Convenient to use
Quantity: 1 Bottle | Volume: 4 fl oz | Set Time/Dry Time: Longer Drying Time | Dry Color: Clear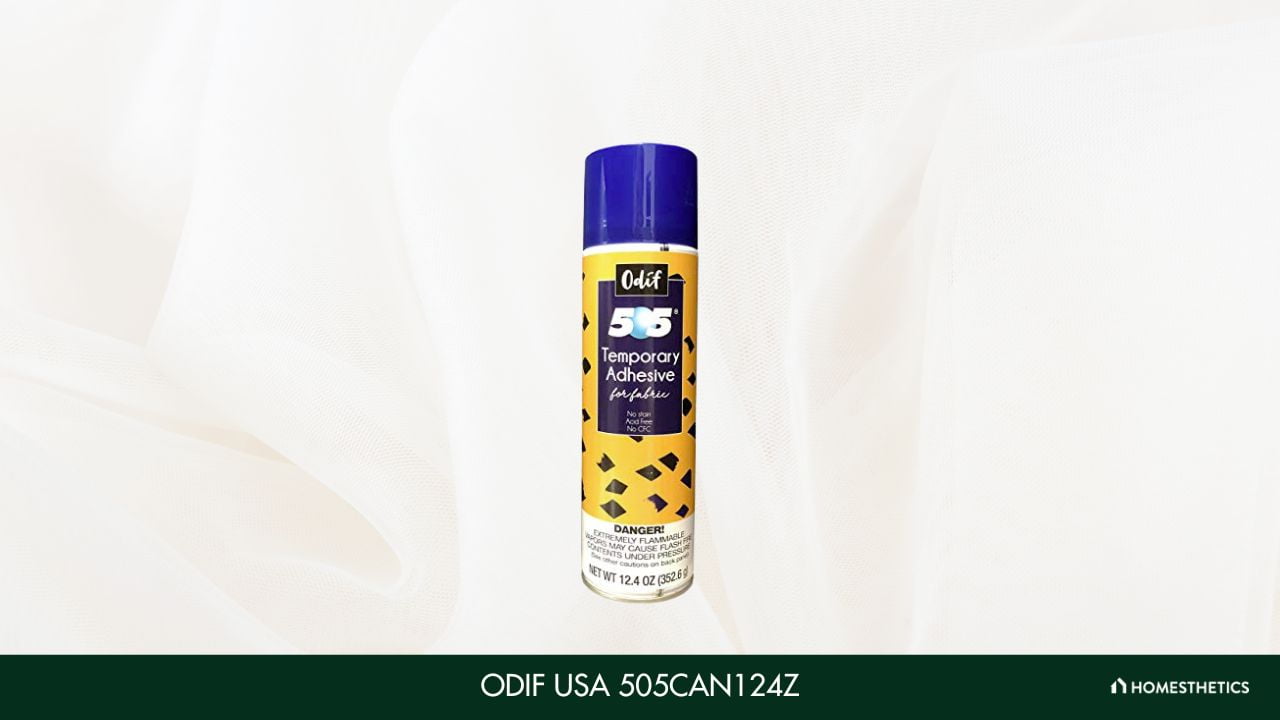 If you are searching for a good-quality temporary glue for bonding fabrics, one of the best options you'll find on the market is the Odif USA 505 spray. Known for its effective and safe formulation, this glue performs pretty well in securing your bonds temporarily. 
People who are new to DIY cloth design and repair jobs may not prefer permanent glues for their work. That's because they are likely to make errors at times and would want to reposition their bonds in such cases. Hence, an effective temporary glue such as the Odif USA 505 will be the ideal choice for such users. 
It is also useful for basting while preparing for long stitches like hems and quilting to arrange layers of fabrics for other stitches. So, it is indeed suitable for a wide range of applications.
Another advantage is that this glue won't stick to needles during stitching, making the job much easier and smoother. Plus, it's completely odorless and produces no mist, so you can also rule out chances of discomfort while using it. 
The spraying action of this glue might sometimes slow down or cease in between, which probably occurs due to some fault in the mechanism. But you can deal with this problem by shaking the bottle a few times. However, as far as its quality is concerned, we're quite satisfied with the product. 
What We Like
Useful for beginners
Helps in basting and quilting
Doesn't stick to needles
Odorless
What We Don't Like
Faulty spraying mechanism
Quantity: 1 Can | Volume: 12.4 oz | Set Time/Dry Time: N/A | Dry Color: Clear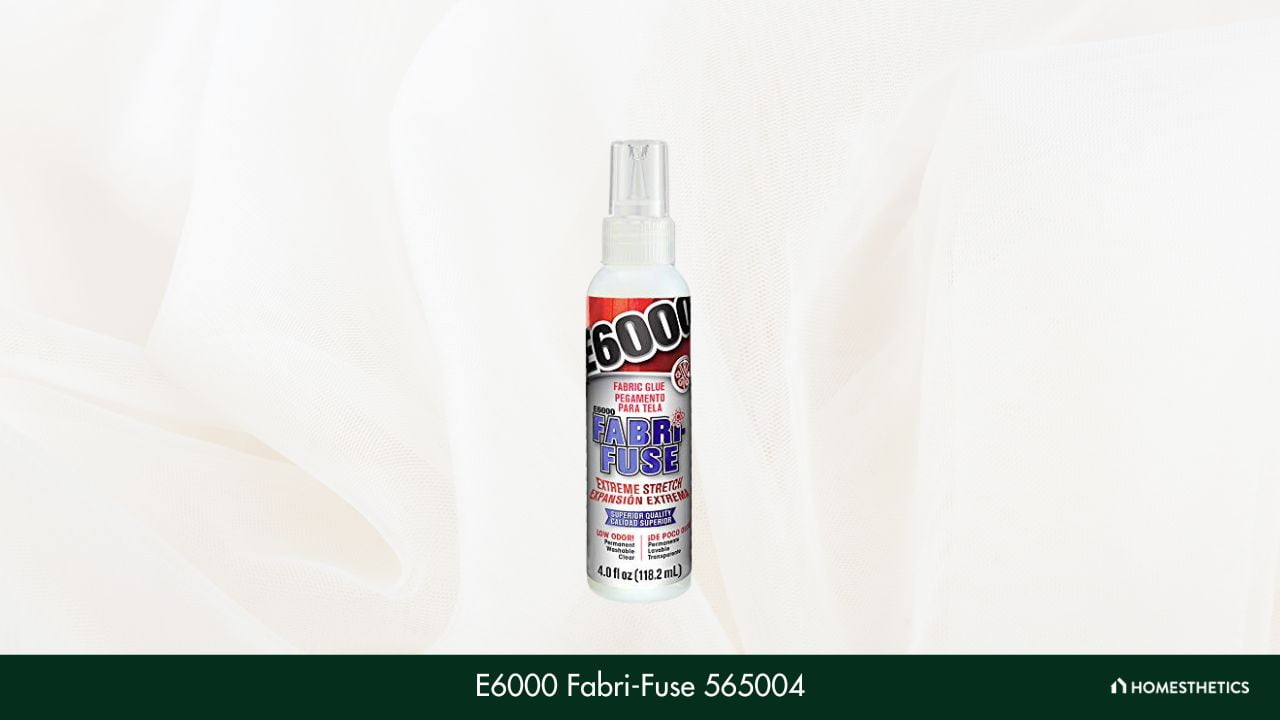 Repairing, designing, and decorating fabrics can also be a pretty smooth sailing affair with this glue from E6000. It offers the strength and durability required to hold your bonds for years without any signs of loosening. As such, this glue is definitely one of those that you can count on for your DIY projects on fabric. 
Right off the bat, this glue offers exceptional flexibility, which ensures your clothes never feel stiff no matter how much glue you've used for mending them. And this flexibility stays on even after you wash them thoroughly. 
The bond strength is also commendable as each of the bonds possesses absolute firmness. Added to this, it's suitable for almost all kinds of fabrics and felts. And you'll be glad to know that it's regarded as one of the best glues for cotton. 
Its low-odor property is another thing that we appreciate. Plus, the glue tub comes with a convenient loop at the end so that you can hang it anywhere on the wall. This makes it easy to spot and hence less prone to be lost like other small glues.  
This glue can leave white stains or traces if used in excessive amounts, so you must be careful to use just the quantity that's needed for the purpose. In fact, these marks may take time to be removed completely. Other than that, you won't face any issues as such while using it. 
What We Like
Exceptional flexibility
Creates firm bonds
Versatile
Low-odor
What We Don't Like
May leave stains if used in excess amounts
Quantity: 1 Bottle | Volume: 4 fl oz | Set Time/Dry Time: Allow 8 to 24 Hours to Dry | Dry Color: Clear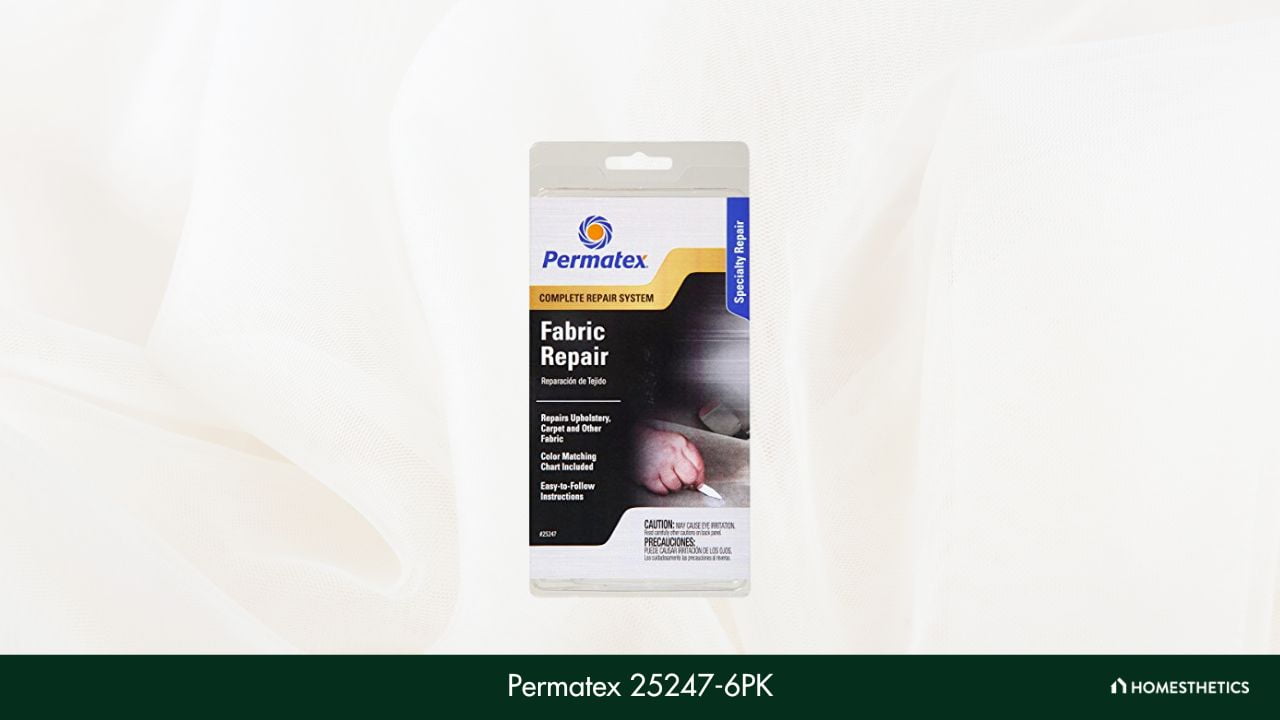 For those who are regularly engaged in a lot of fabric repair projects, a single tube of glue won't suffice. That's why we've included this complete fabric repair kit in our list that comes with pretty much everything they'll need. This kit also ranks high in terms of performance, getting the job done flawlessly each time. 
The contents of this kit include two cup-fulls of air-dry adhesive for fabrics, seven cup-fulls of a compound for fabric repair, a spatula, a screen applicator, and a mixing bottle. Plus, a descriptive instruction card and a color-matching chart are included to guide you smoothly through the process. 
Each unit of the repair compound is of a different color, which ensures you can always achieve the color combination matching your upholstery. In fact, you can complete the process in just around 20 minutes, with the item being restored so efficiently that it becomes impossible to spot the repaired area. 
As for the screen applicator and spatula, these facilitate mess-free application each time, so you'll never feel uncomfortable while handling the items. Even the adhesive is really strong, ensuring an unbreakable fixture for each of the repairs.
Some customers were unsatisfied with the flexibility of the items in the kit, as they complained that the fabrics were slightly stiff after washing. Also, it comes at a slightly higher price than single glues since quite a few items are included. 
What We Like
All-in-one kit
Different colors included
Quick procedure
Mess-free application
Quantity: 1 Pack | Volume: 21.4 oz | Set Time/Dry Time: Allow 12 to 24 Hours to Dry | Dry Color: Assorted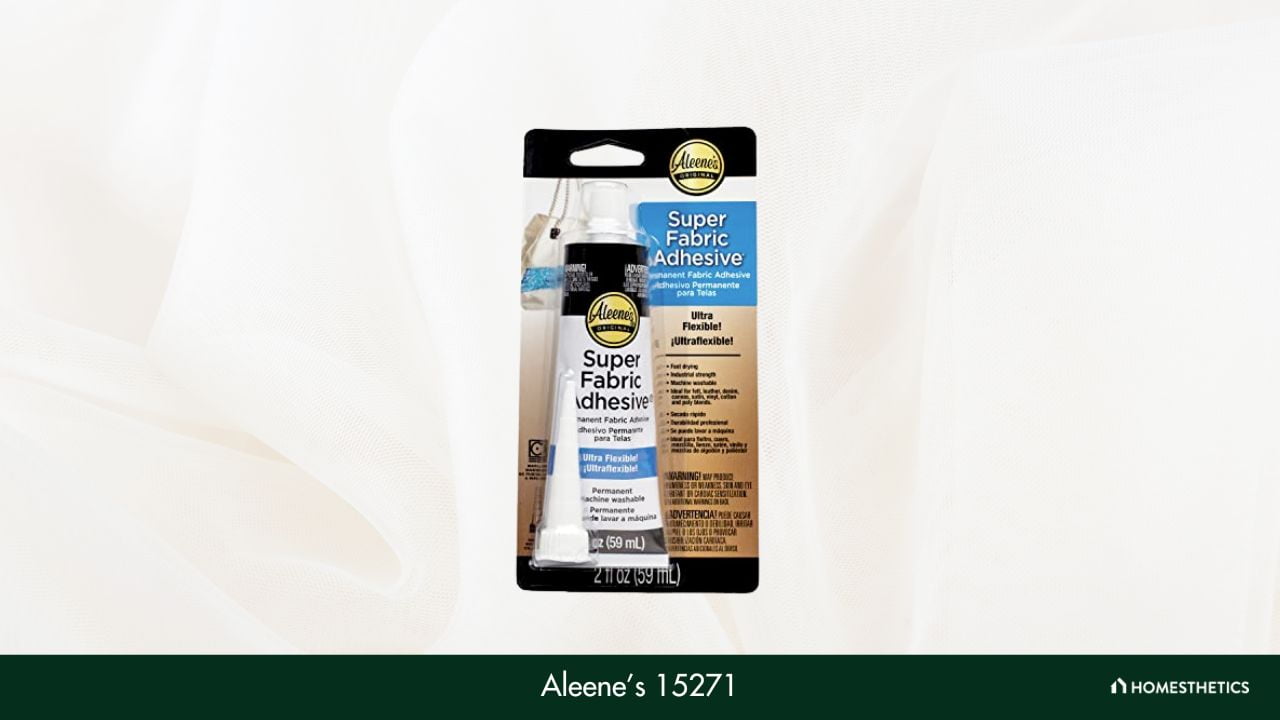 This industrial-grade glue from Aleene's can be your constant companion for a variety of fabric design projects and repair jobs. It works wonders by creating strong and long-lasting bonds and even offers great user convenience. To know more about the product, let's proceed to the next few sections. 
The most striking feature of this glue is its ability to work with heavy and light fabrics alike, something that very few glues offer. Its formula is powerful enough for securing bonds in dense materials such as wool but acts gently for sticking small embellishments on light and thin clothes such as party wear. 
Furthermore, you will never find any murky residue or yellow stains on the fabrics as it dries clear. And the ultra-strong bond dries to keep the softness and stretchable nature of the fabric intact. Plus, you don't need to worry even if you need to cope with a busy schedule as the fabrics are machine washable. 
Apart from that, a very useful addition to the pack is a multi-size applicator with a tip that is customizable to accommodate different flow needs. The tip has ridges to mark the point where users must cut it to increase the flow of the glue. 
The only downside to this glue is that it produces a strong odor that's a bit disturbing. But in most cases, this odor will fade away after a few washes of the fabric. But the product did live up to our expectations with regard to its performance. 
What We Like
Highly versatile
Leaves no residue
Fabrics are machine washable
Applicator meets different flow needs
Quantity: 1 Tube | Volume: 2 fl oz | Set Time/Dry Time: Fast Drying | Dry Color: Clear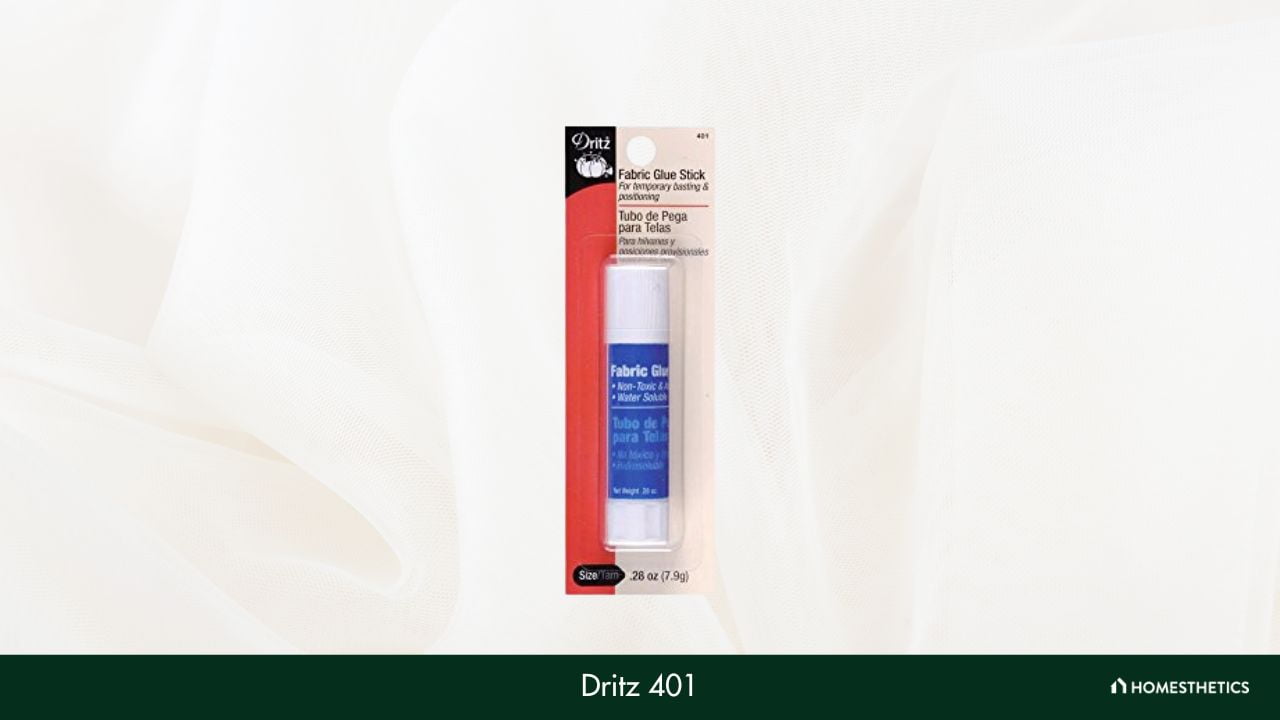 A handy and reliable accessory to include in any sewing kit is this glue from Dritz, which can be highly useful for quick fixes and design projects alike. Coming with 0.28 ounces of glue, each stick can last for a couple of months, helping you get through a number of DIY projects comfortably. 
Be it applying a unique touch to your clothes, positioning laces, or repairing any loose ends in fabrics- this glue does the trick in minutes. You can even use it for matching stripes and plaids or basting zippers and hems. And what's common to all these applications is the strength of the bond, which stays intact over time. 
The glue is also perfectly water-soluble so you can correct any wrong application just by rinsing the fabric lightly with water. This makes it equally suitable for users who are relatively new to fabric repair and design. 
Its acid-free formulation is another advantage, as that ensures complete safety in case the stick comes in contact with your skin. Lastly, the glue is available at a very budget-friendly price. 
In case of repairs or decorations where you require using very little glue, this stick might not be convenient in itself as you might end up applying too much. You can deal with this problem by using a small stick to apply the glue on such spots. 
What We Like
Highly versatile
Long-lasting bond
Water-soluble
Safe for use
What We Don't Like
Inconvenient for small applications
Quantity: 1 Stick | Volume: 0.28 oz | Set Time/Dry Time: N/A | Dry Color: Clear
Our next pick for you is glue from Amazing Goop which performs considerably well in securing different fabric bonds though it's meant for plumbing applications. It is also quite popular on the market owing to the consistency and ease of use on offer. 
First and foremost, this glue cures to create a very strong bond that's hard to break, irrespective of the type of fabric you're using it on. That's why you can use it for a variety of applications, including repairing leather shoes and fixing badges on your little one's school vest. 
Also, the glue is rubbery and quite flexible after it has dried, so the garments won't be uncomfortable to wear. Another feature that places it at an advantage over many other types of glue is that it comes in a larger tube of 3.7 fl oz, which makes sure it lasts for a couple of months. 
What's more, its waterproof property enhances its durability and helps retain the strength of the bond after the fabrics are washed. 
A disadvantage of going for this glue is that it contains some harsh chemicals that aren't safe for the skin, unlike other varieties that come with natural formulations. Hence, it would be best to put on rubber gloves while you're using it. 
What We Like
Durable bond
Larger tube
Highly versatile
Retains strength after washing
Quantity: 1 Tube | Volume: 3.7 fl oz | Set Time/Dry Time: N/A | Dry Color: Clear
Towards the end of our list, we've chosen another glue from Dritz that offers a pretty decent performance when it comes to fixing and decorating fabrics. Its utility-based features ensure DIYers never face any problems during use. As such, the glue is equally suitable for beginners and pros. 
What we liked the most about this glue was the clear and permanent bond that it creates after drying. And this is applicable to most types of fabrics, which is why you'll never find any loose or improper bond on your clothes, furniture upholstery, or leather shoes. 
In fact, you can even utilize it for a variety of home decor projects as well. Coming to the flexibility offered, that's also appreciable as the fabrics won't stiffen a bit after drying. 
Its crystal-clear form is another notable feature as that facilitates ease of use and prevents any stain on your fabrics. You can even clean up the extra glue sticking out of the bond very easily by rinsing it lightly, thanks to its water-soluble properties. Just make sure you do this cleanup before drying. 
Like one of our other recommendations, this glue comes with a slightly disturbing odor that some users might find difficult to stand for a long time. However, a few washes of the fabric may help in getting rid of the smell to a large extent. 
What We Like
Clear and permanent bond
Great flexibility
Doesn't stain fabrics
Easy cleanup
Quantity: 1 Tube | Volume: 1.25 fl oz | Set Time/Dry Time: Dries Within a Few Minutes | Dry Color: Clear
Best Fabric Glues Comparison Table
Buying Guide for the Best Fabric Glue
Buyers often think choosing a small item such as fabric glue just needs looking at some of the best products on the market. But it's actually not so, since glues play an important role in any project and won't yield the desired results if you zero in on just any product hastily. 
You must take into account some key features of fabric glues that determine the quality of their performance. On that note, we'll be briefly discussing the essential factors that you need to keep in mind before heading on to purchase a product. 
Permanent or Temporary?
Fabric glues are available in permanent and temporary variants, and the ideal choice would depend on your needs. For instance, those who will need some basting prior to making long stitches should go for a temporary glue since this variety easily washes out on applying water. 
But in case you're carrying out a project that needs permanent bonds, you will have to go for a permanent glue. This is the case when you have to use glue instead of permanent stitches or when you have to fix embellishments on some garments. 
Water Resistance
In the long term, the ideal glue should possess great water resistance as you might have to wash your fabrics in a while. The more water-resistant the glue is, the better the chance that the bonds will remain intact.  
All the options that we've included in our list offer great water resistance. But some of them are water-soluble in nature, so if you're going for such an option, you must wash the fabrics only after the glue has dried. Also, keep in mind that most good-quality fabric glues are machine-washable but not dry-cleanable. 
Fabric Type
Considering the type of fabric that you'll be dealing with is also important as not all glues are equally versatile. To be on the safe side, you should go for an option that offers greater versatility. After all, you never know when you'll have to deal with a new type of fabric in the future. 
So, while going through the product details, make sure you read some customer reviews as well to get a fair idea about its versatility. 
Flexibility
This is, of course, a very crucial factor to consider while you're purchasing fabric glue. It shouldn't make any garment stiff and uncomfortable to wear after a repair or decoration. In this regard, too, you'll need to scan through the customer reviews to know whether the fabrics remain stretchable after the glue dries. 
Safety
The glue you're buying shouldn't have toxic ingredients as that might affect the skin on coming in contact with the fingers or hands accidentally. Some of them may also produce toxic fumes that might make you uncomfortable. So, remember to consider these factors when you're choosing a suitable fabric glue. 
It's always better to go for varieties that don't release any toxic fumes, are safe for the skin, and are odorless. 
Hence, checking the ingredients of the glue or any mention of the presence of harmful chemicals is important. And in case you happen to be using a product that does contain harsh chemicals, remember to take adequate protective measures such as wearing gloves and masks. 
Can fabric glues be used as a substitute for sewing?
Although fabric glues can be used as a temporary or permanent alternative to sewing, it is important to consider the specific application. Some projects may require the support and flexibility that sewing provides, while others can be successfully completed with fabric glue alone.
Do fabric glues work on all types of fabrics?
It is essential to choose the right type of glue for the specific fabric being used. Some fabric glues are designed for natural fabrics such as cotton, while others are more suitable for synthetic materials like polyester. Always check the manufacturer's recommendations for compatibility with your fabric.
Can fabric glues be used to hem garments?
Yes, fabric glues can be used for hemming garments and are often marketed as "no-sew" solutions. However, the strength and durability of glued hems may not be as long-lasting as those that are sewn.
Are fabric glues safe for children to use?
Many fabric glues are non-toxic with age-appropriate packaging and warnings, making them suitable for children's use. However, adult supervision is recommended to ensure proper application and to avoid potential skin or eye irritation.
Conclusion
Working with the right glue can make your repair work or design projects a cakewalk. We hope you find our reviews and buyer's guide helpful in choosing the ideal product. So, go ahead and start afresh with your fabric repair and design work! 
But before we sign off, let us quickly take you through our favorites from the list. The Tear Mender TG-6H will be an ideal choice if you plan to use glue for some specific projects with fabric and leather. But in case you want a water-soluble product that offers greater versatility, Aleene's Fabric Fusion 23473 will be the best option to go for. 
Do you agree with our verdict? Let us know in the comments section below. Till then, adios! 
Related Articles
3 Best Adhesive for Carbon Fiber
The Difference Between Epoxy & Super Glue
How to Remove Gorilla Glue From Skin Safely & Easily
11 Best Permanent Fabric Glues
11 Best Glue For Paper & Paper Mache
10 Best Ceramic and Porcelain Glue
11 Best Glue for Polypropylene
9 Best UV Light Glue for Amateurs & Professionals
9 Best Glue For Acrylic Plexiglass
9 Best Glue for Plastic Eyeglass Frames
10 Best Glue For Stainless Steel
Polyurethane Glue 101 | All You Need to Know
Gorilla Glue vs. Super Glue | Strengths, Weakness + Winner?
JB Weld VS Gorilla Glue | Comparison & Winner
9 Best Glue For Hardwood Floors
7 Best Adhesive For Acoustic Foam
Glue That Works On ABS And PVC