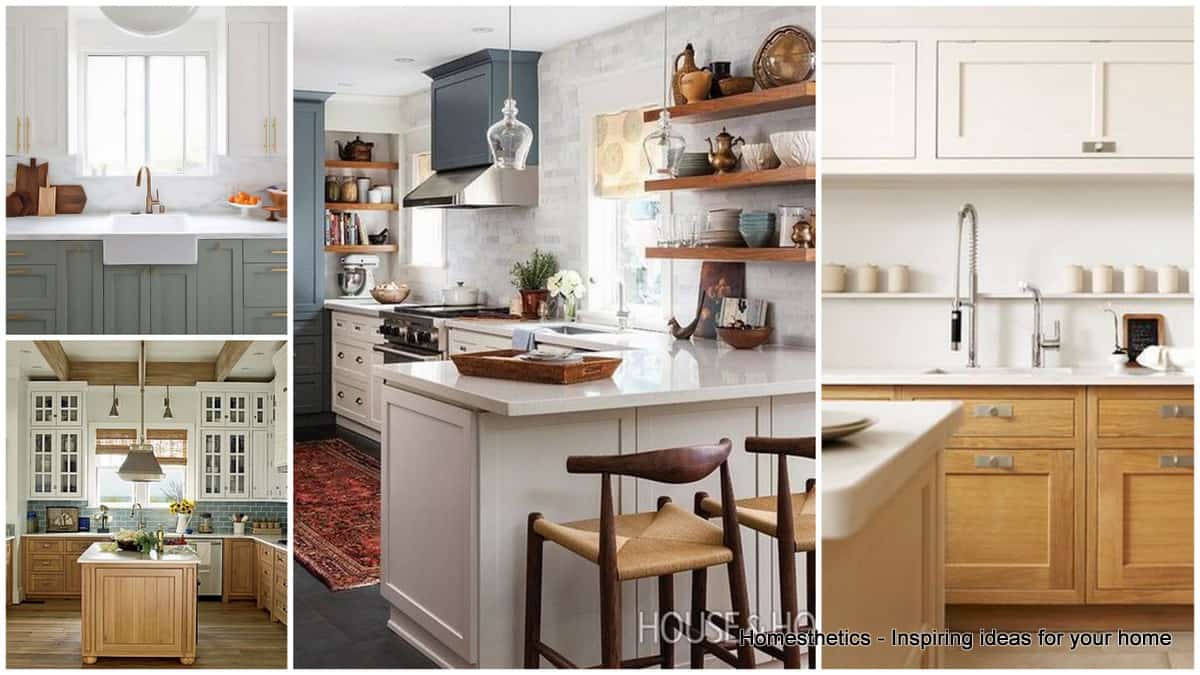 Two tone kitchen cabinets have become a trend that swept hundreds of homeowners off their feet. The idea is to have a lighter base and darker shades or tones for the cabinets, usually a combination of gray, blue, black and white. The combinations of such colors bring out a classical look for any kitchen, eliminating the dull component of one tone cabinet designs. If the kitchen needs a little revamp, here is a pool of sensational two tone kitchen cabinets for inspiration, enjoy!
1 .cream and Coventry gray cabinets perfect for a classic look
Light and dark tones are a classic combination that never gets old. This simple combination of cream and gray cabinets creates a stunning look that fits just right for the classic French country kitchen look.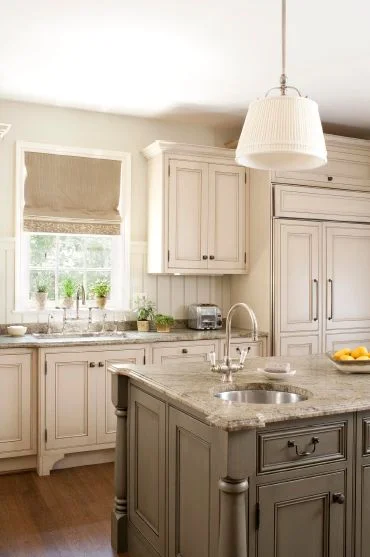 2 .a soft touch of teal in a dainty kitchen
Small kitchen areas can look all wrong or smaller when darker colors are used. These light colors used for this two tone kitchen cabinet design makes the kitchen airy and spacious especially with the bright lighting inserted.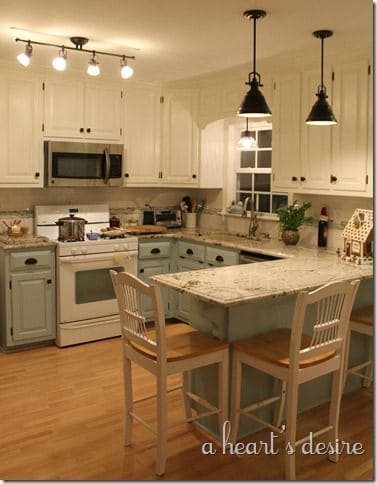 3. perfect sapphire blue and white combination for a lovely kitchen
The usual modern kitchen need not have strong colors to be on point. The white tones used for the kitchen cabinets bring out an exquisite look while the sapphire blue gives emphasis on the modish edge that complements all the other elements and colors of the kitchen.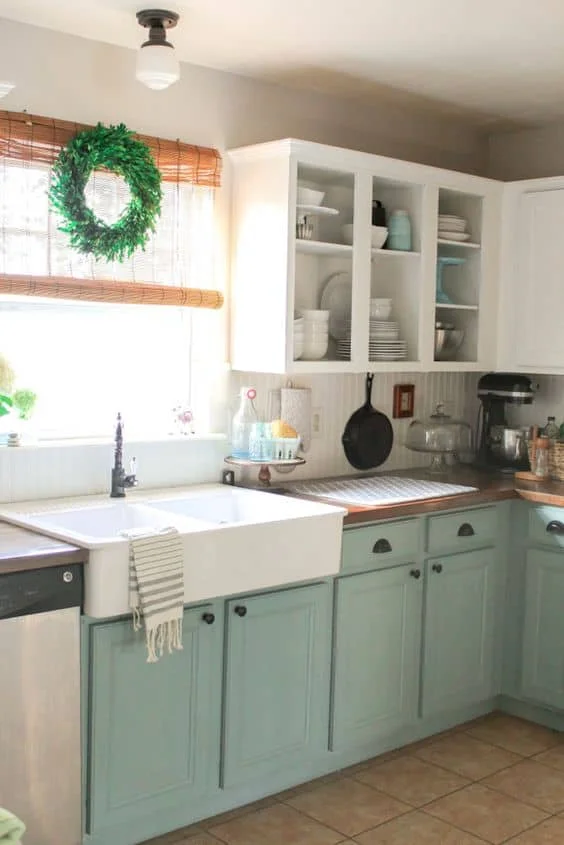 4. stimulating mix of white and gray
This combination of color is simply invigorating for the eyes. Both colors are light and act as great backgrounds for the other items and decorations of the kitchen. The natural light and white washed back splash illuminate the whole kitchen effortlessly.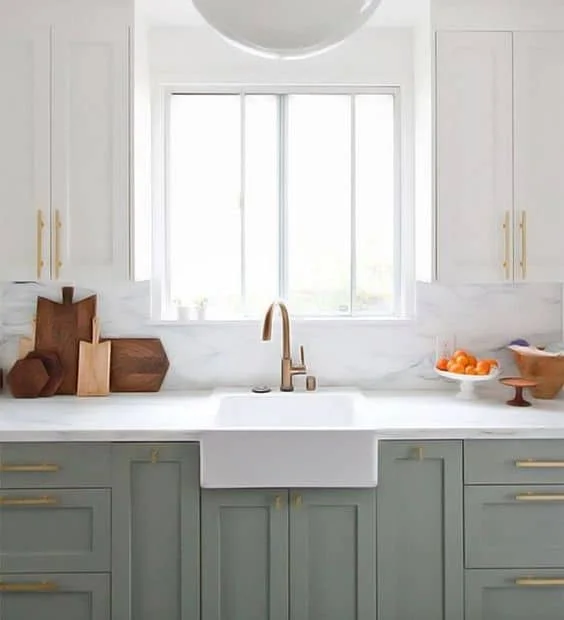 5. a vibrant tone with a clean background
Vibrant colors are perfect for the kitchen as they create and stimulate a merry cheerful mood. The sky blue toned cabinets get enough intensity because of the lighter white shade.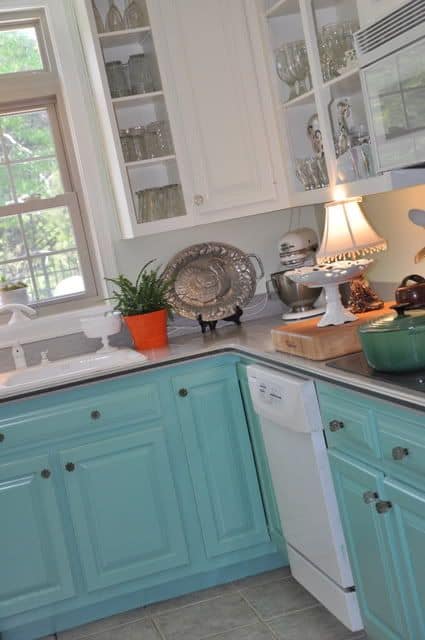 6.the natural color of wood looks majestic
Gray, blue and black are the common choices for the darker tones, but the natural colors of wood are not to be excluded. One of the most natural earthy tones, wood acts as a perfect darker tone for both modern and classic kitchens. Not only is it refreshing, it also creates a warm ambiance in the kitchen area.
7. the lovely ocean blue and white kitchen cabinets
Ocean blue is relaxing for the eyes and the white cabinets amplify this relaxing vibe.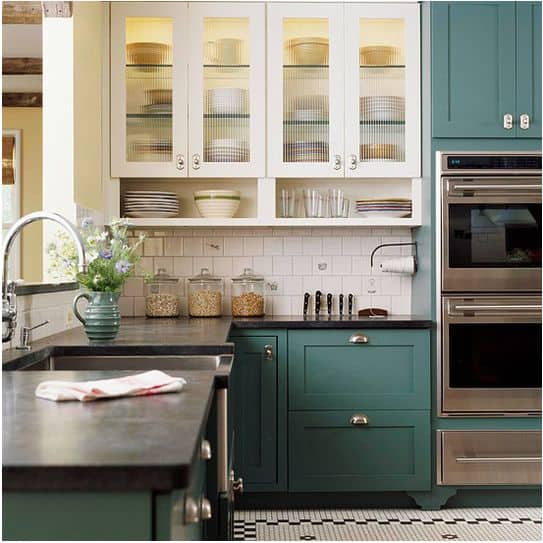 8. perfect burlap and dark blue for the modern kitchen
While cream and white are lovely light tones, the light burlap color gives a perfect texture against a darker tone. The dark blue looks edgier, older, more powerful against its complementary.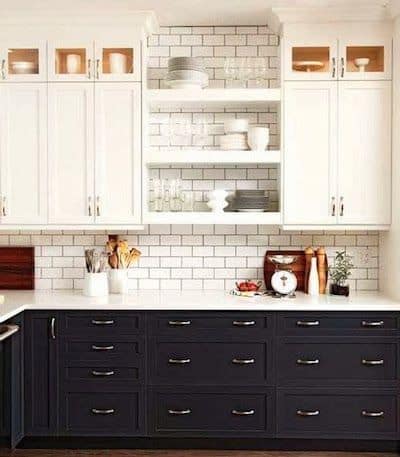 9. simple but awe-inspiring white and gray kitchen cabinets
This two tone kitchen cabinet inspiration is truly amazing whether it is used for a large or small kitchen. The gray tone is perfect for the modern oven and kitchen utensils. The white tone is a lovely background for the classic chandelier, making the whole look chic.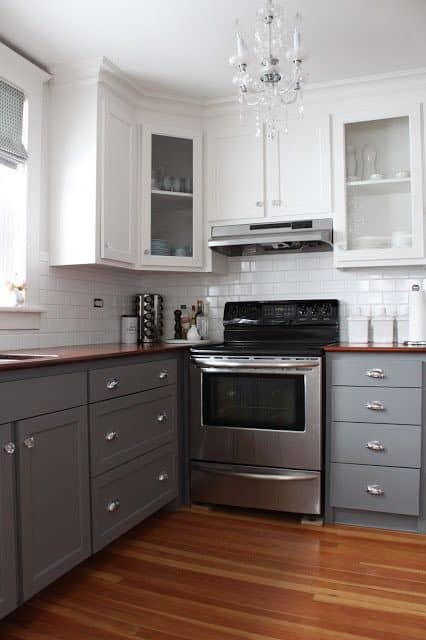 10. light gray on white is never a wrong choice
This design may not look like a two tone kitchen cabinet design on a first glance, but the lower cabinets have the gray that still looks amazing against the white background. Anyone who wants to maintain a clean look on their kitchens but still wants the two tone cabinets will find this an ideal choice.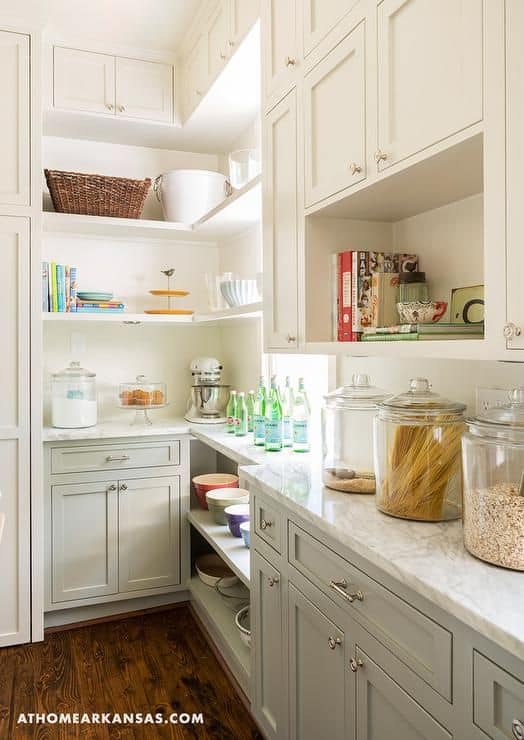 11. dark wood in perfect blend with cream tones
Dark brown or mahogany is a lovely tone that can look even more gorgeous in combination with a lighter tone. White is a common option, going for cream can make the whole look better and give more texture.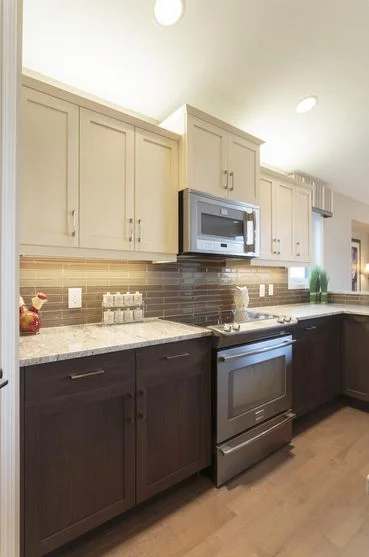 12. two toned cabinets face to face
These cabinets in two different tones facing each other is another wonderful option of inviting contrast into your kitchen. It is a balanced look, like a yin yang that has the stunning dark tone and an incredibly immaculate lighter tone.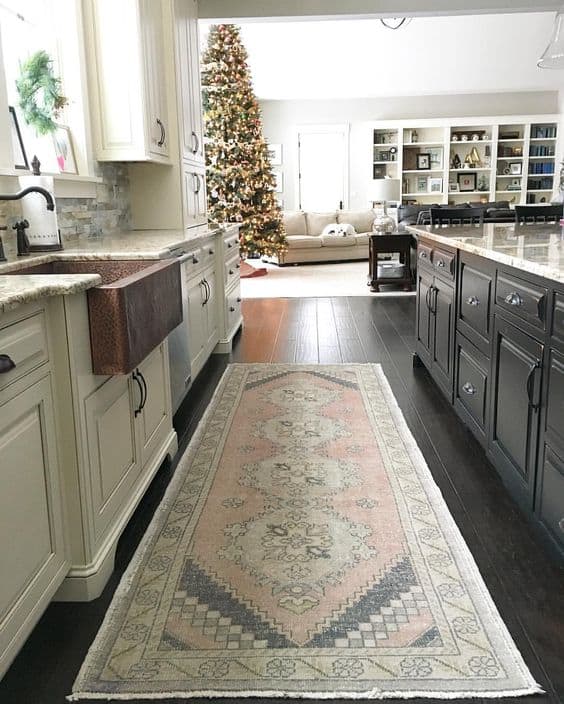 13. simple, elegant and refreshing white and brown cabinets
The kitchen needs to look fresh and clean everyday, and the design below is the epiphany of minimal elegant pure design.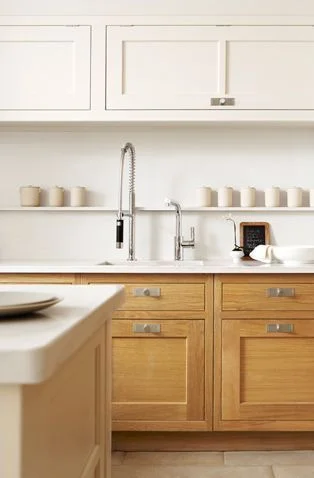 14. two tone cabinets for a spacier look
The illusion of having more space can be achieved with the right colors and organization of items inside a kitchen. The darker gray cabinets along with the black floor tiles make a stunning background, allowing the lighter toned cabinets and kitchen wall pop. The wooden items and chairs bring the country kitchen feel to the whole design of the kitchen.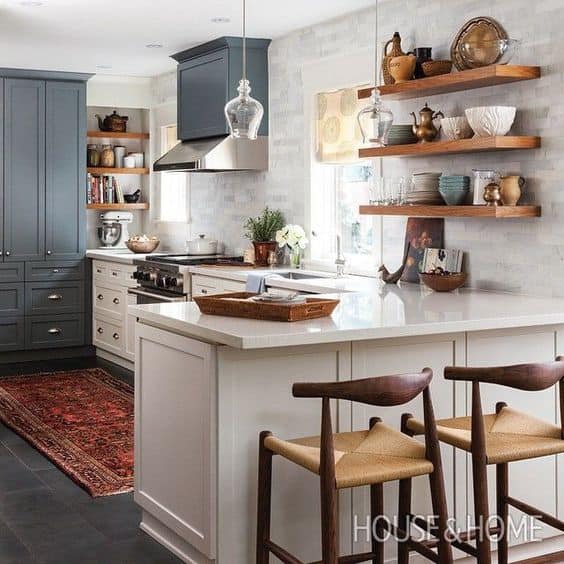 15. clean white and majestic Navy blue
Blue is a color that works well in any kitchen because of how intense or soft it can look depending on tone. This majestic navy blue tone sets a great contrast on the white cabinets and on the vintage looking back splash. The result is a striking kitchen fit for any home.
16. a subtle blend of white and gray for a simple kitchen
There are more people who choose to have little to no decorations or visible utensils in a kitchen- a clean, simple look. The same simplicity is present in this two tone kitchen cabinet design. The combination still has an impeccable look that can rival more complicated and well decorated kitchens.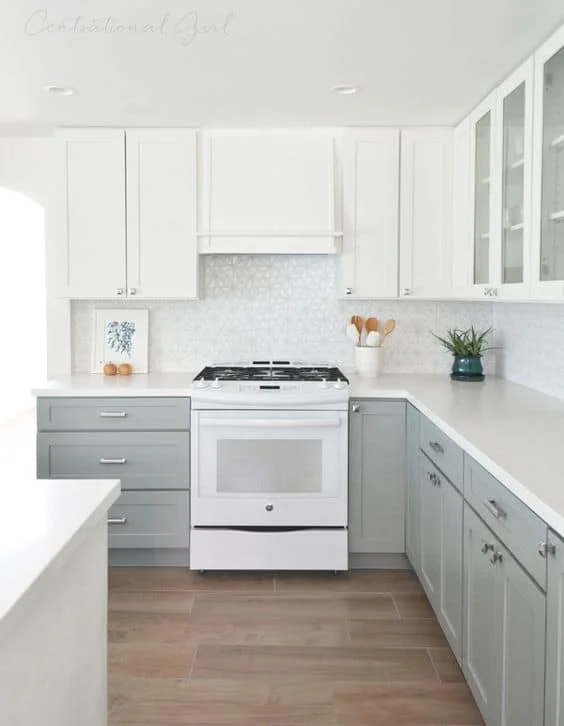 17. glimpse of how a simple change of color makes a kitchen stunning
When a revamp in the kitchen is needed, a change of color can be a foolproof choice. With the right combination of colors, two tone kitchen cabinets will surely create a stunning result and bring out the beauty of a kitchen once more.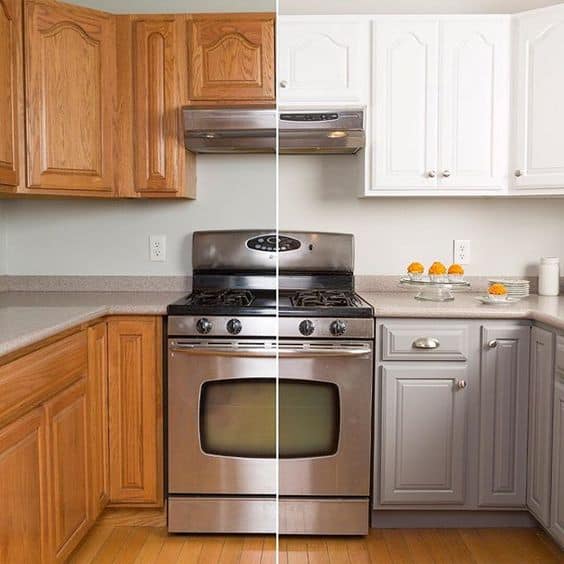 What do you think about the idea of two tone kitchen cabinets? Is is something you would consider? Feel free to share your opinions in the comment section below.